This Russian tea is a delicious blend of strong black tea, orange juice, pineapple juice, and warm spices like cinnamon and cloves. It's a lovely drink for cold days, or anytime you want a cozy hot beverage. And the best part is it takes just minutes to make the Russian tea mix and then the crockpot does the rest!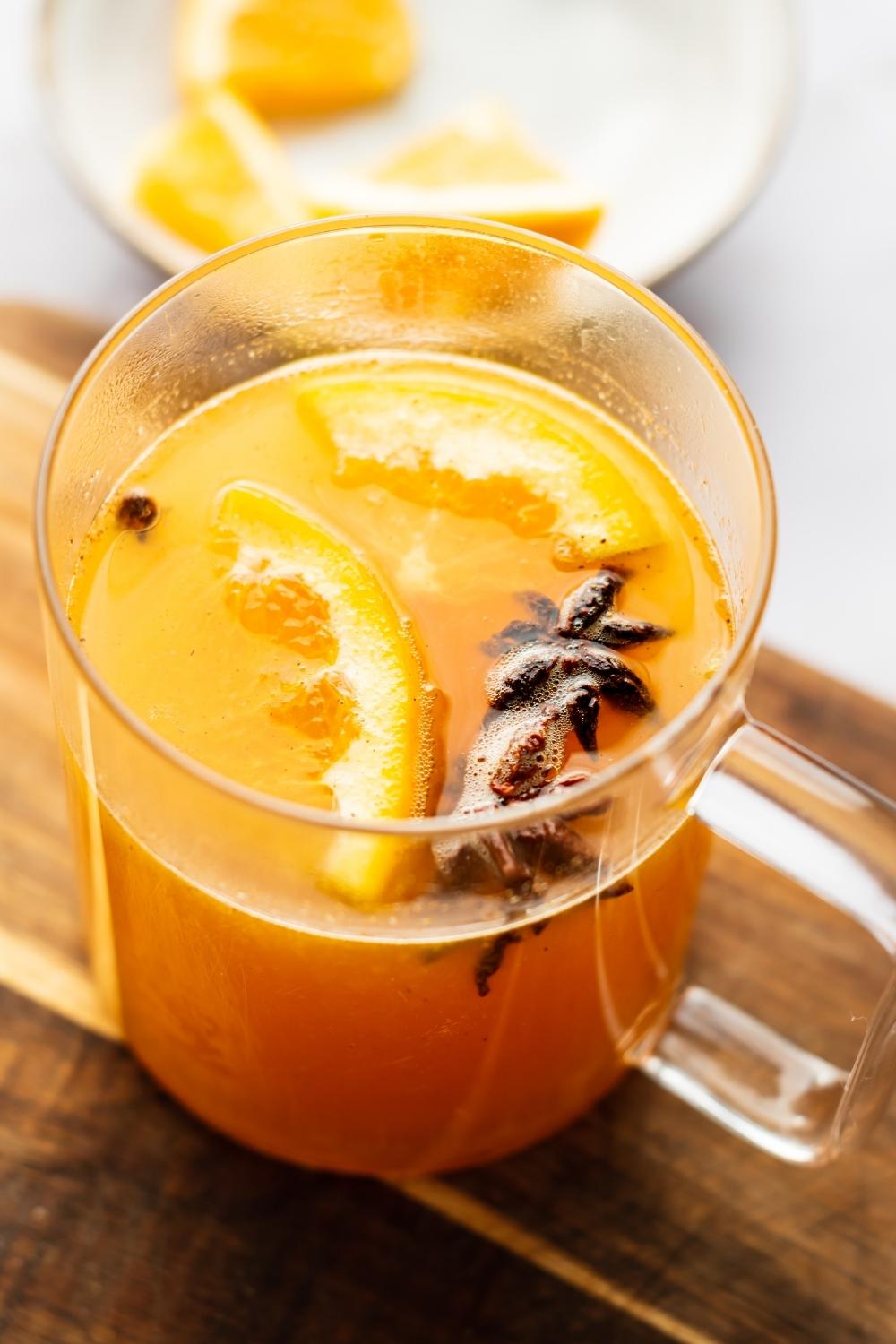 The Best Russian Tea Recipe
Russian Tea is a classic drink guaranteed to make you feel warm and cozy.
This sweet tea is packed with fall spices like cinnamon, star anise, and cloves, and it's brightened up with pineapple and orange juice. Then, all of those delicious flavors and notes are balanced out by the strong bold flavor of black tea.
How good does that sound?!
Along with how delicious it is though, it's also super easy to make. Simply put everything in your slow cooker - or pot - and let it simmer so the flavors can infuse.
Then, after 15-20 minutes tops, you're ready to fill your mug and enjoy!
Just so you know though, you can either drink this tea hot, or let it cool down a little, pour it over some ice, and enjoy it as iced tea too. It's tasty either way!
Also, for what it's worth, I've found that it tastes even better the day after I make it. So it's a really great drink to make the day/s before you're doing some entertaining. Just store it in a pitcher in the fridge, and enjoy it whenever you like.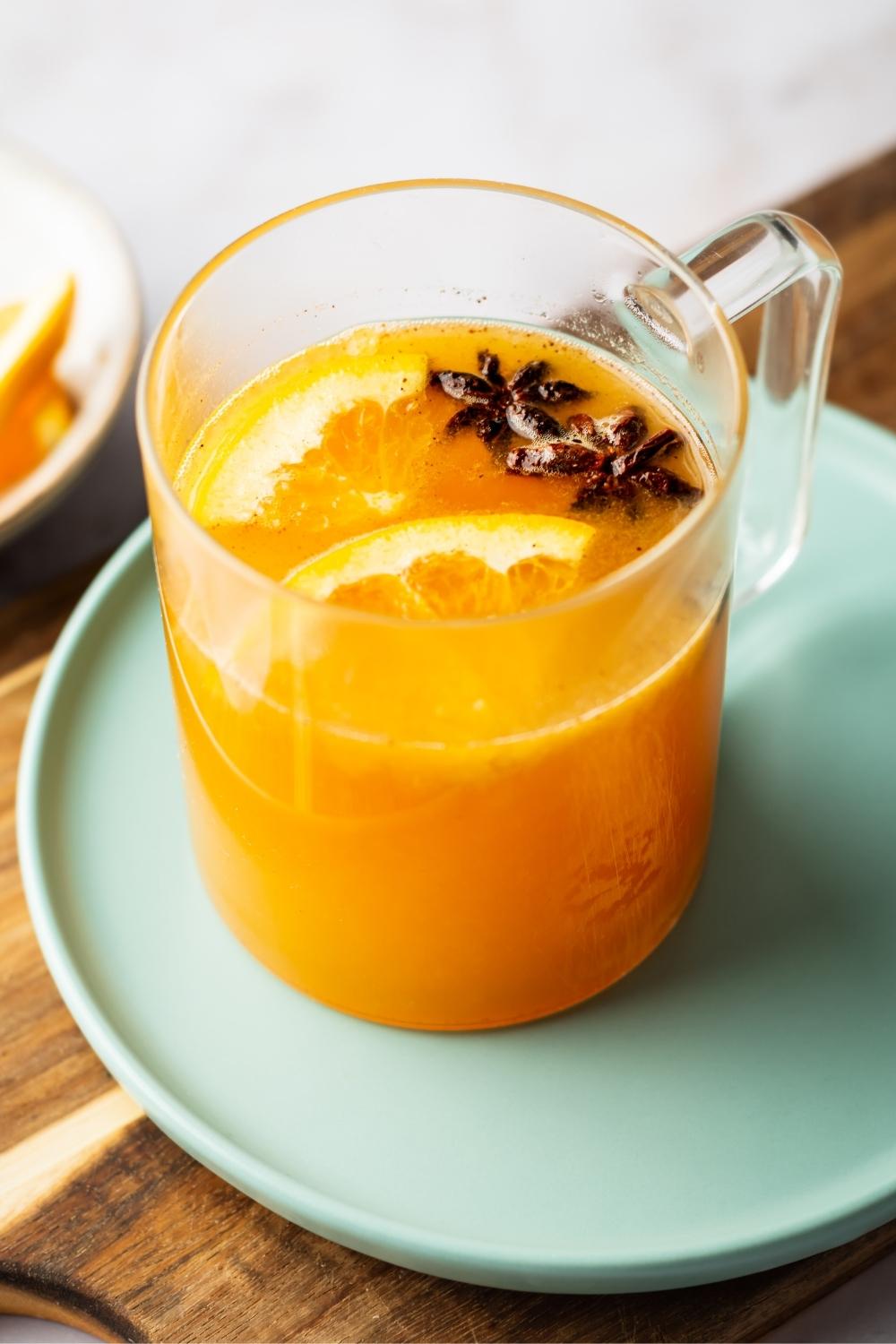 Ingredients
This recipe makes three servings, but you can easily scale it up as needed. And you can definitely make a few substitutions to this recipe to alter the flavor.
But before we talk about that, here's what you'll need to make the Russian tea mix:
3 cups of hot water
3 black tea bags (feel free to use instant tea bags, instant powdered tea, or loose black tea leaves, but adjust the steeping time accordingly)
1 orange, sliced into rounds
1 cup of orange juice (or lemon juice)
1 cup of pineapple juice (use fresh or canned)
¼ cup of sugar (or to taste)
2 pieces of star anise
1 teaspoon of cinnamon powder
1 cinnamon stick
3 ground cloves
Ingredient Substitutions
While black tea is traditionally used to make this recipe, you can also use a green or white instant tea mix to make it too. Just remember that the latter two will have a more delicate flavor, so you might want to increase the steeping time.
Also, if you use those other kinds of tea just know that the flavor will be different from what's typically expected of Russian tea - which is a strong, full-bodied drink.
As for the sweetener, you can use white sugar, honey, agave, simple syrup, or any calorie-free sweetener.
For the fruits, I encourage you to use fresh as much as you can! But, there's nothing wrong with using canned pineapple juice and bottled orange juice. It's not only easier to use those options, but it's also cheaper to use those
Finally, speaking of the juices, if you want to replace the orange juice with lemon juice or lemonade mix you totally can. Both are great alternatives to switch up the flavor and vibe of this tea recipe.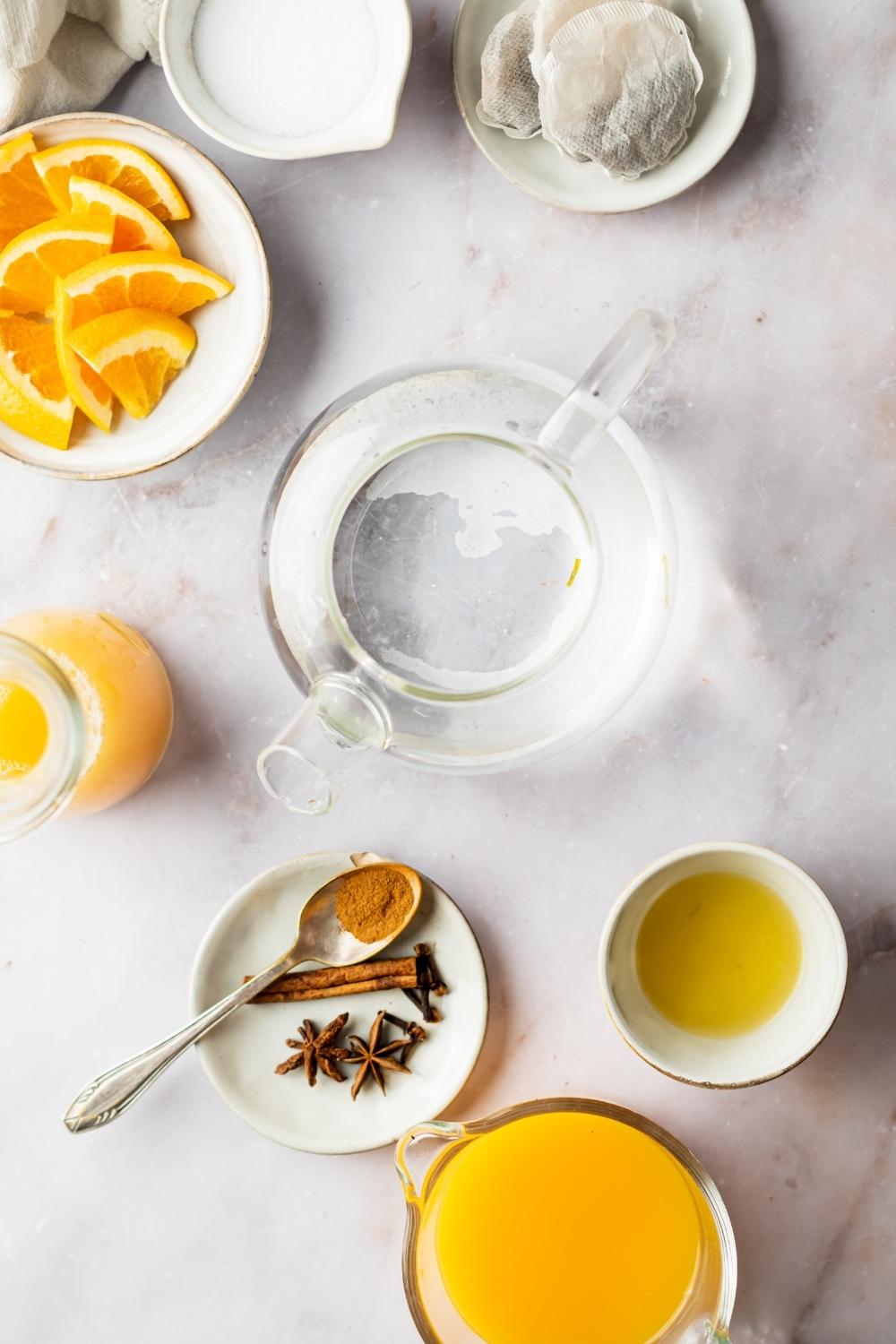 How to Make Russian Tea
Ok, so this recipe is super easy to make, and literally only requires minutes of prep. Then, you can sit back while the slow cooker does the rest.
Now, let's not waste any more time and jump into how to make Russian tea.
Step 1: Prep Work
First, slice the oranges, measure out the pineapple juice and orange juice, and gather the rest of the ingredients.
Having everything prepped will make it easy to just add everything to the slow cooker within seconds.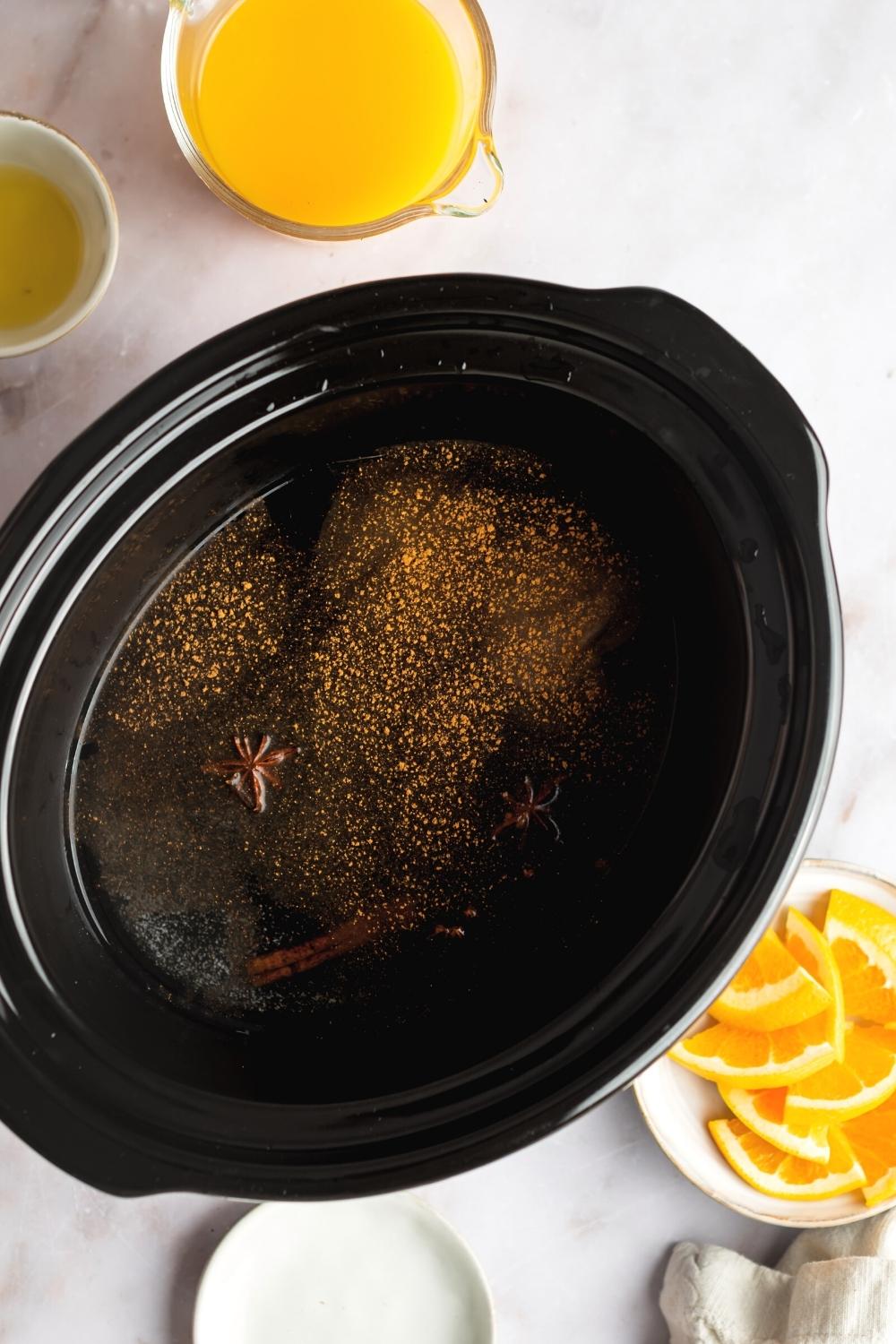 Step 2: Simmer The Tea Mix
Now, place the water, tea, orange juice, pineapple juice, sugar, anise, cloves, and cinnamon in your slow cooker - or crock pot - and set it to low heat. Then, let the mixture simmer for 15 to 20 minutes.
You'll want it to simmer until the tea is barely bubbling - do not let it go past the point of bubbling.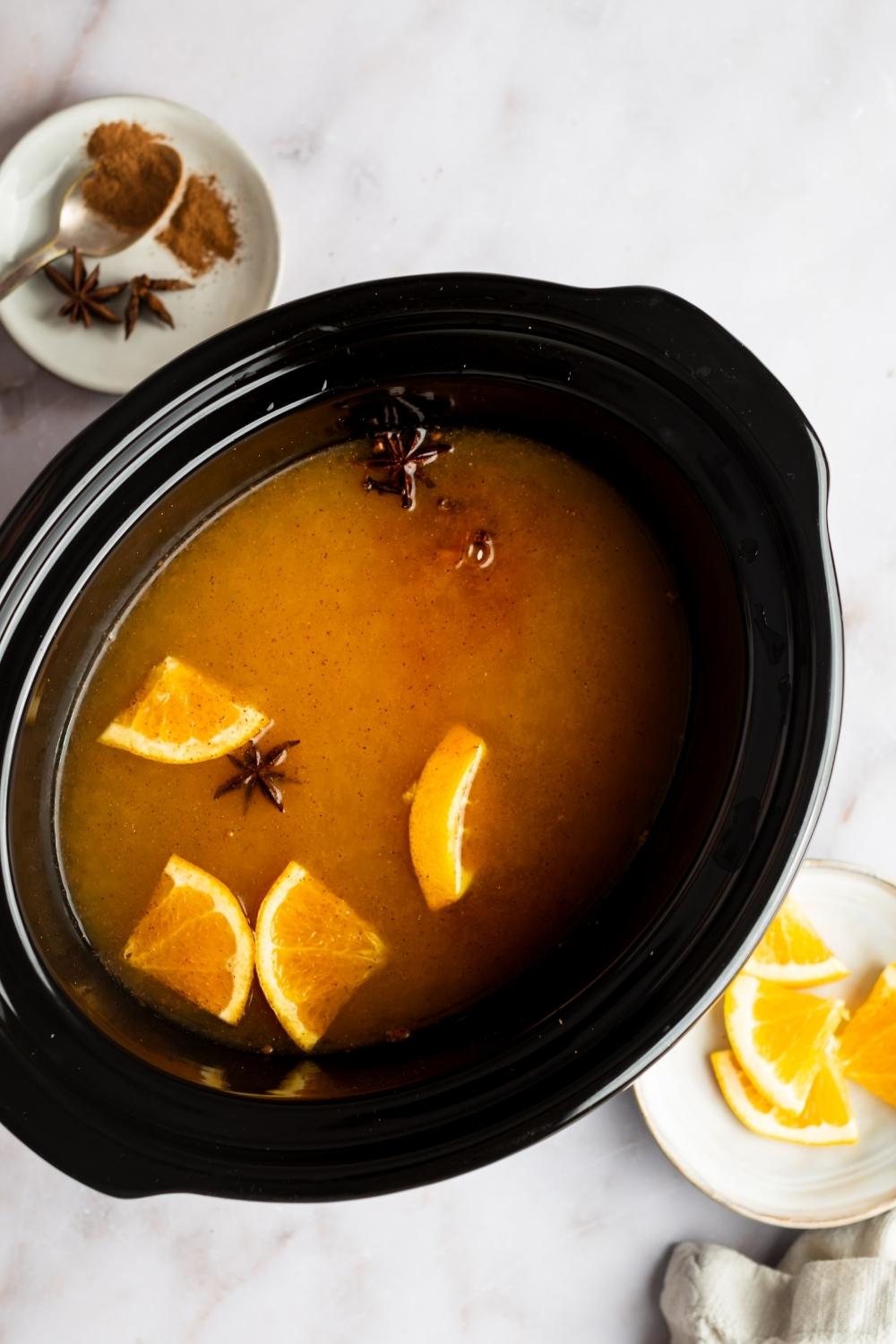 Step 3: Strain and Serve
Now, after 15 to 20 minutes, remove the lid and let the hot water tea mix cool for a minute.
Then, carefully strain the warm tea into cups - or mason jars - and enjoy it with some orange slices on top. You can also turn it into a simple iced tea by pouring the mixture into glasses filled with ice.
Either way, it'll be delicious, enjoy!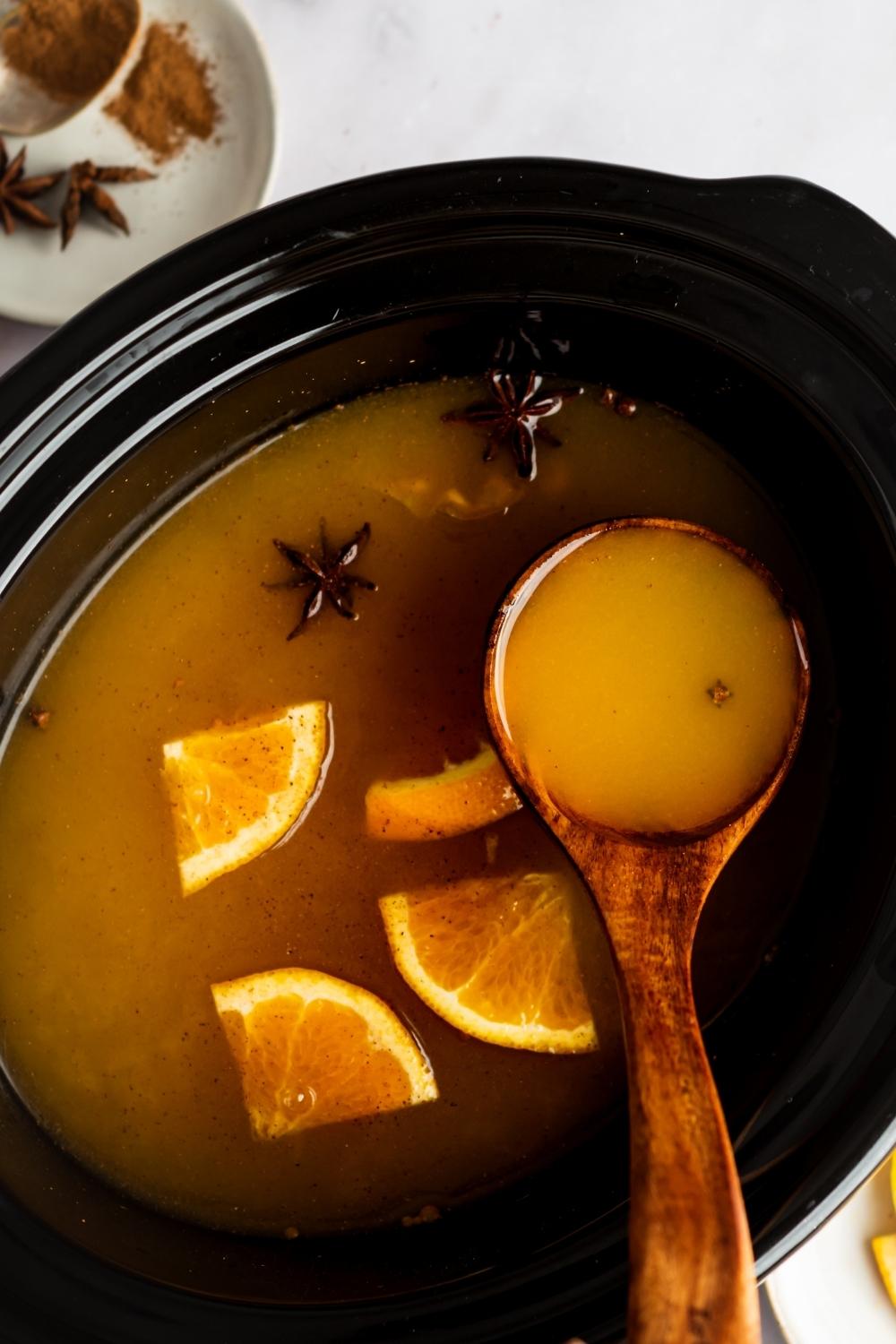 What to Pair with Russian Tea
This comforting drink is perfect on its own, but it's also lovely with some light snacks.
Try this Russian tea with some of these recipes: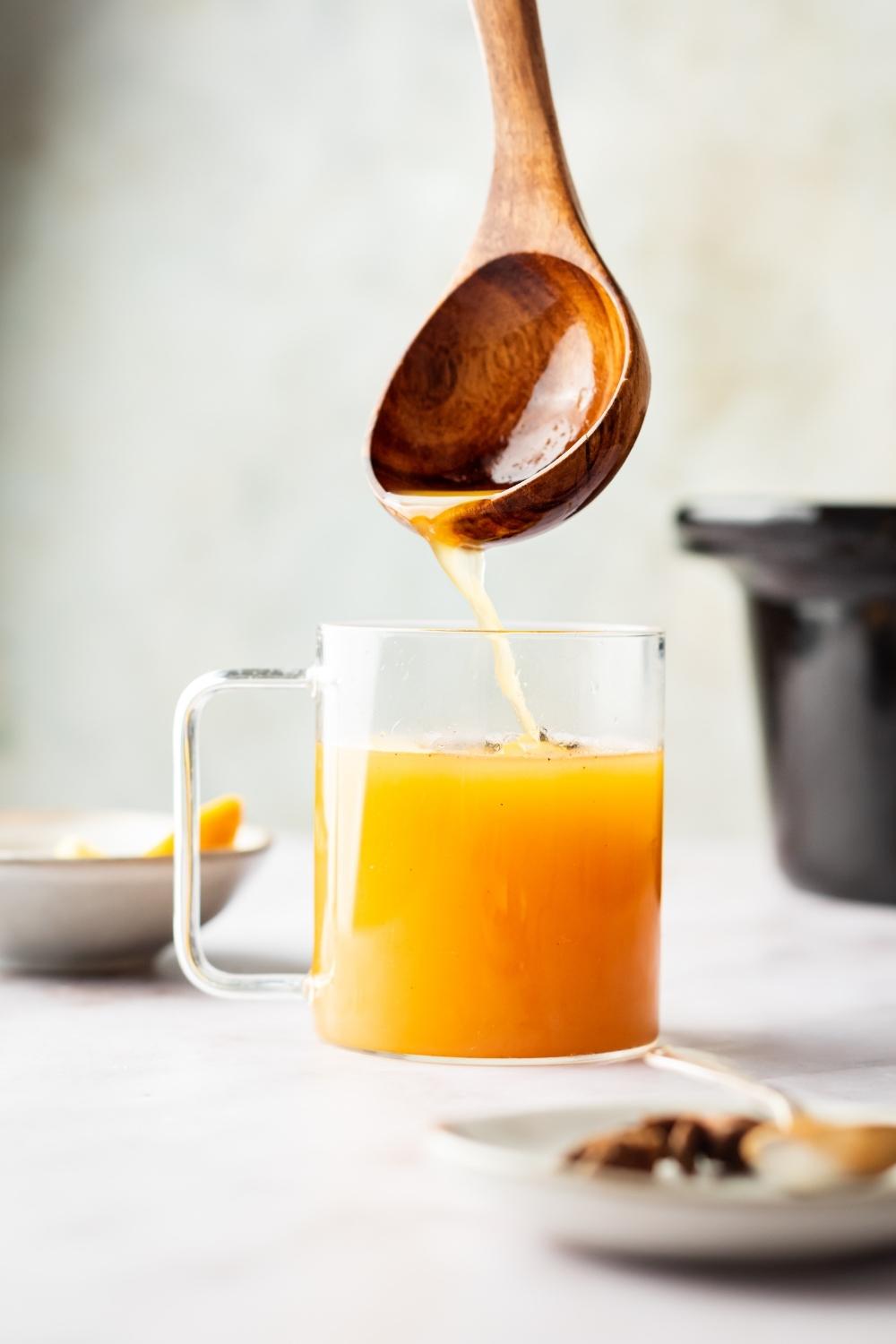 How to Store Russian Tea
The best part about this recipe is it makes 3 servings, so you should have a few cups of tea left over.
You can store the leftover Russian tea in a pitcher in the fridge for about 3 days. However, if you store it in an airtight container, it should last a couple of days longer than that - up to 5 days.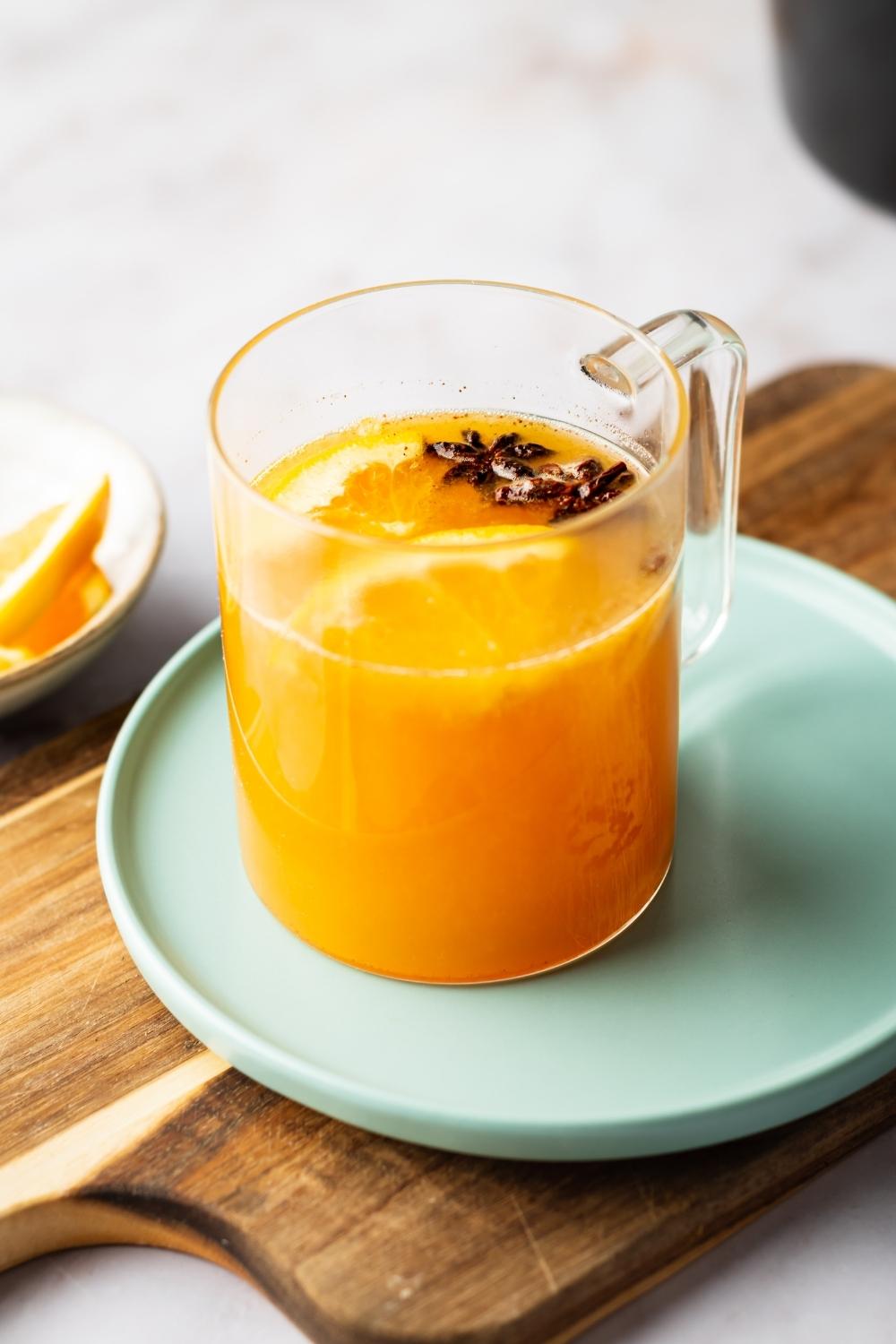 How to Reheat Russian Tea
So, this tea is delicious cold, but you can reheat it if you want. To reheat the instant tea, put it in a pot and let it come to a simmer.
Alternatively, you can put the tea in a microwave-safe glass and microwave it in 20-second increments until it reaches your desired temperature.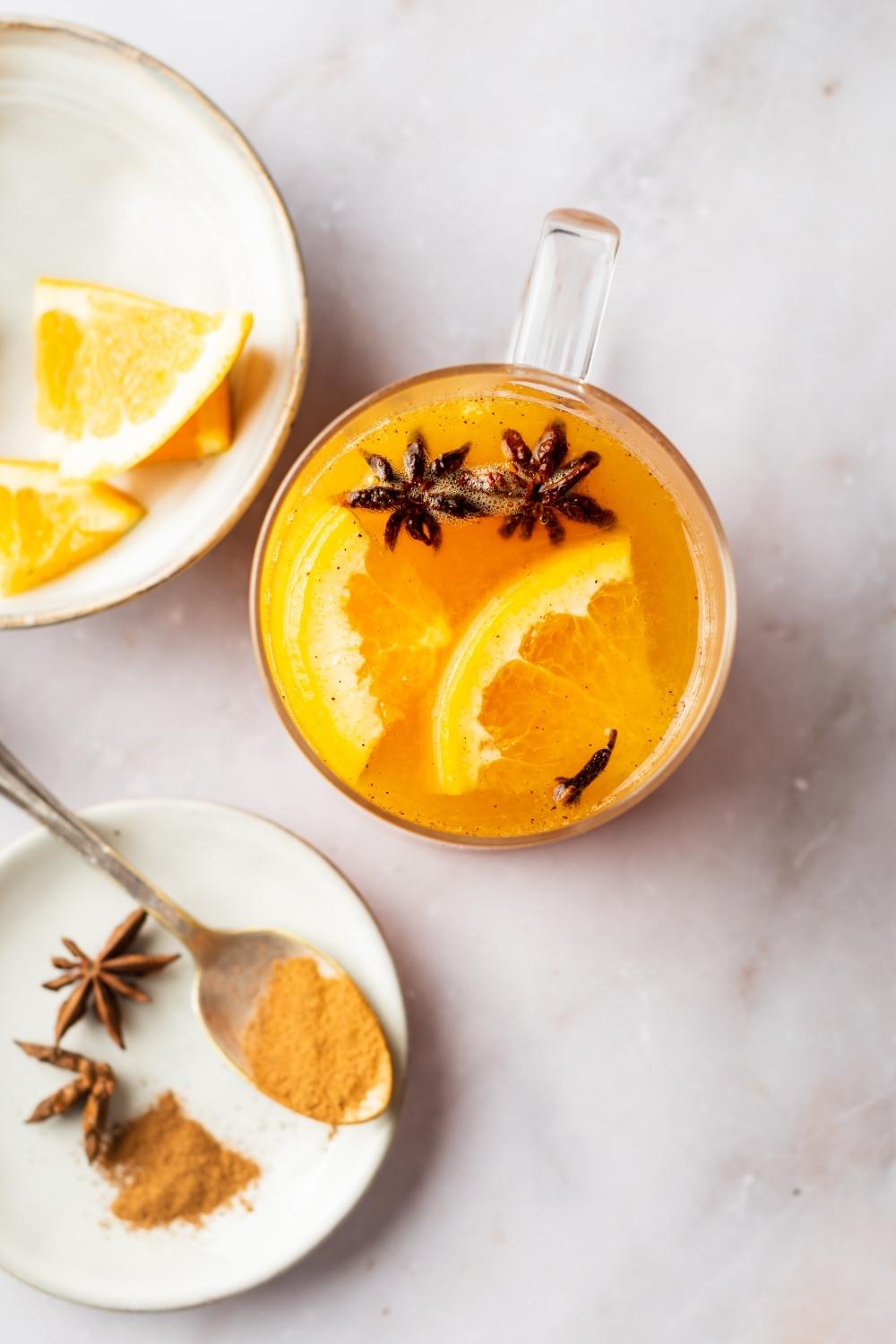 FAQS ABOUT THIS RUSSIAN TEA RECIPE
What Is Russian-Style Tea?
Russian-style Tea is a sweetened, spiced tea that's typically made with black tea leaves. Although you can get instant tea from the store, this Russian tea mix made at home is much tastier. It's popular in the colder months and is often served with light snacks like cookies or pastries.
Why Is Russian Tea Called Russian Tea?
Russian Tea is called Russian Tea because it was the preferred beverage of upper-class Russians in the late nineteenth and early twentieth centuries. The tea takes its name from the country of its origin and the recipe for it was passed down in church cookbooks for decades upon decades.
What Is Russian Tea Made Of?
Today's most common recipes for Russian Tea call for black tea, sugar, citrus juice, spices like cinnamon and cloves, lemonade mix or orange juice, and sometimes pineapple juice.
What Is Russian Tea Good For?
Russian Tea is a delicious, warming drink during cold seasons like winter and autumn. However, it's also a refreshing beverage during warmer months and tastes incredible served over ice.
Is Russian Tea Good for You?
Yes, Russian Tea is good for you! Black tea, the main ingredient in the tea, is packed with antioxidants and has been linked to a lower risk of heart disease and stroke. Also, for what it's worth, citrus-based tea recipes are typically a good source of Vitamin C as well - and Russian tea is no exception to this.
Does Black Tea Have a Lot of Caffeine?
Compared to other tea varieties like green tea and white tea, black tea contains more caffeine.
Specifically, an average cup of black tea contains between 47mg to 90mg of caffeine. In comparison, a cup of green tea has 20mg to 45mg of caffeine, while a cup of white tea contains 6mg to 60mg of caffeine.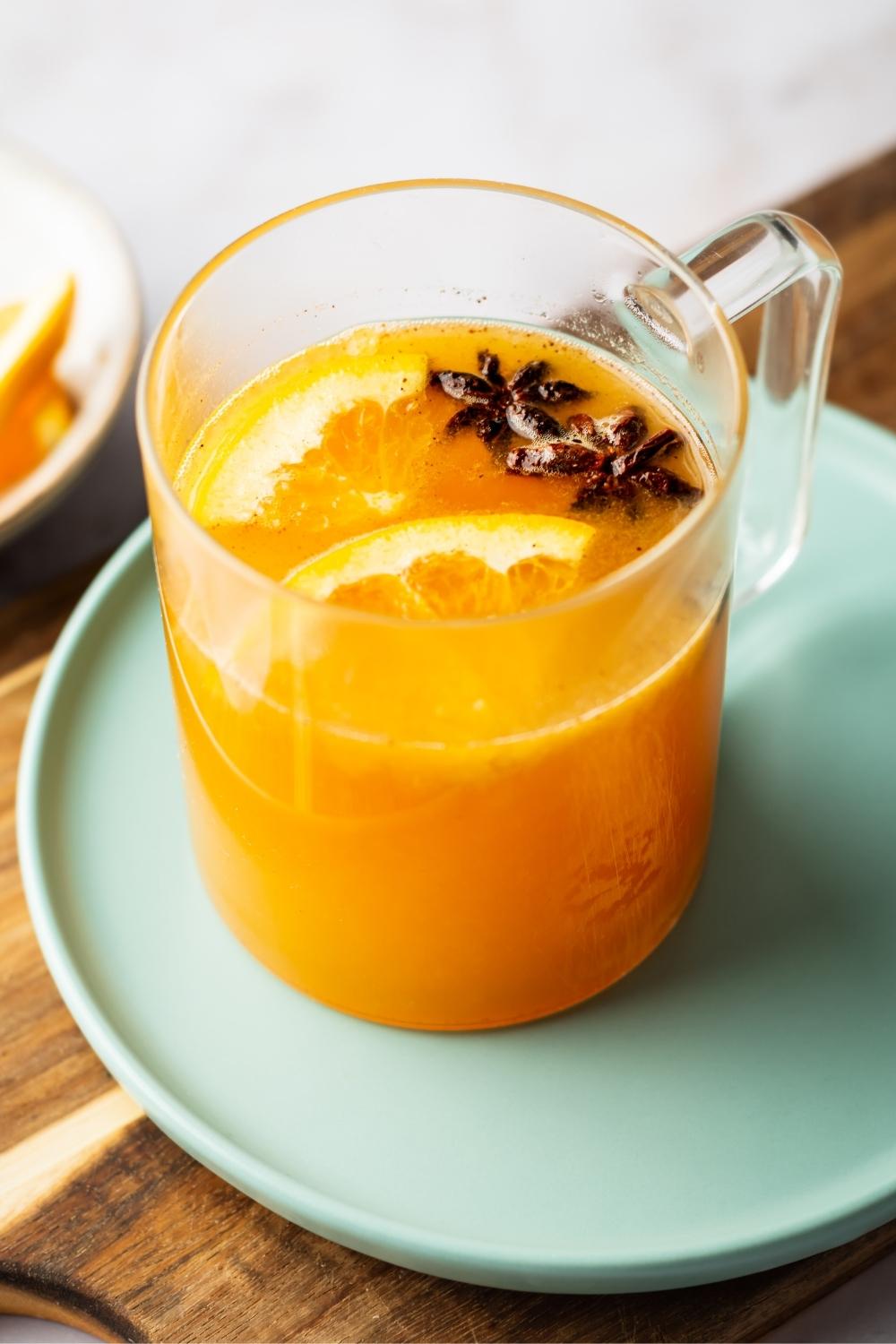 Wrapping It Up
Well, that's how to make Russian tea! It's a yummy drink that's perfect for any day of the year, but especially on chilly fall or winter days.
Anyway, I hope you enjoy this tasty and refreshing drink as much as I do. I'd love to know what you think if you made it or if you made some tweaks to make your own version. So let me know in the comments below!
And as always, for more tasty recipes just like this one, be sure to check out our Instagram, TikTok, and Youtube pages/channels. We post new recipes on them everyday.
More Drink Recipes
If you enjoyed this drink recipe, we have a ton of really tasty ones on the blog as well.
Give one of these a try next:
Print
Easy Russian Tea Recipe | Takes Just Minutes To Prep
This Russian tea is a delicious blend of strong black tea, orange juice, pineapple juice, and warm spices like cinnamon and cloves. It's a lovely drink for cold days, or anytime you want a cozy hot beverage. And the best part is it takes just minutes to make the Russian tea mix and then the crockpot does the rest!
Author:
Prep Time:

5 minute

Cook Time:

15 minutes

Total Time:

20 minutes

Yield:

3

servings

1

x
Category:

Drink

Method:

Slow Cooker/Crock Pot

Cuisine:

Tea
3 cups of hot water
3 black tea bags (feel free to use instant tea bags, instant powdered tea, or loose black tea leaves, but adjust the steeping time accordingly)
1 orange, sliced into rounds
1 cup of orange juice (or lemon juice)
1 cup of pineapple juice (use fresh or canned)
¼ cup of sugar (or to taste)
2 pieces of star anise
1 teaspoon of cinnamon powder
Nutrition
Serving Size:

1 serving

Calories:

73

Fat:

0

Carbohydrates:

17

Protein:

1
Keywords: russian tea, russian tea recipe, how to make russian tea, easy russian tea, easy russian tea recipe, russian tea mix, russian tea with pineapple juice, instant russian tea mix