This authentic Thai tea recipe is incredibly flavorful, rich, and creamy. It's made from scratch with whole spices and tastes just as delicious as the ones from your favorite tea spots. Best of all, it's ready in only 15 minutes!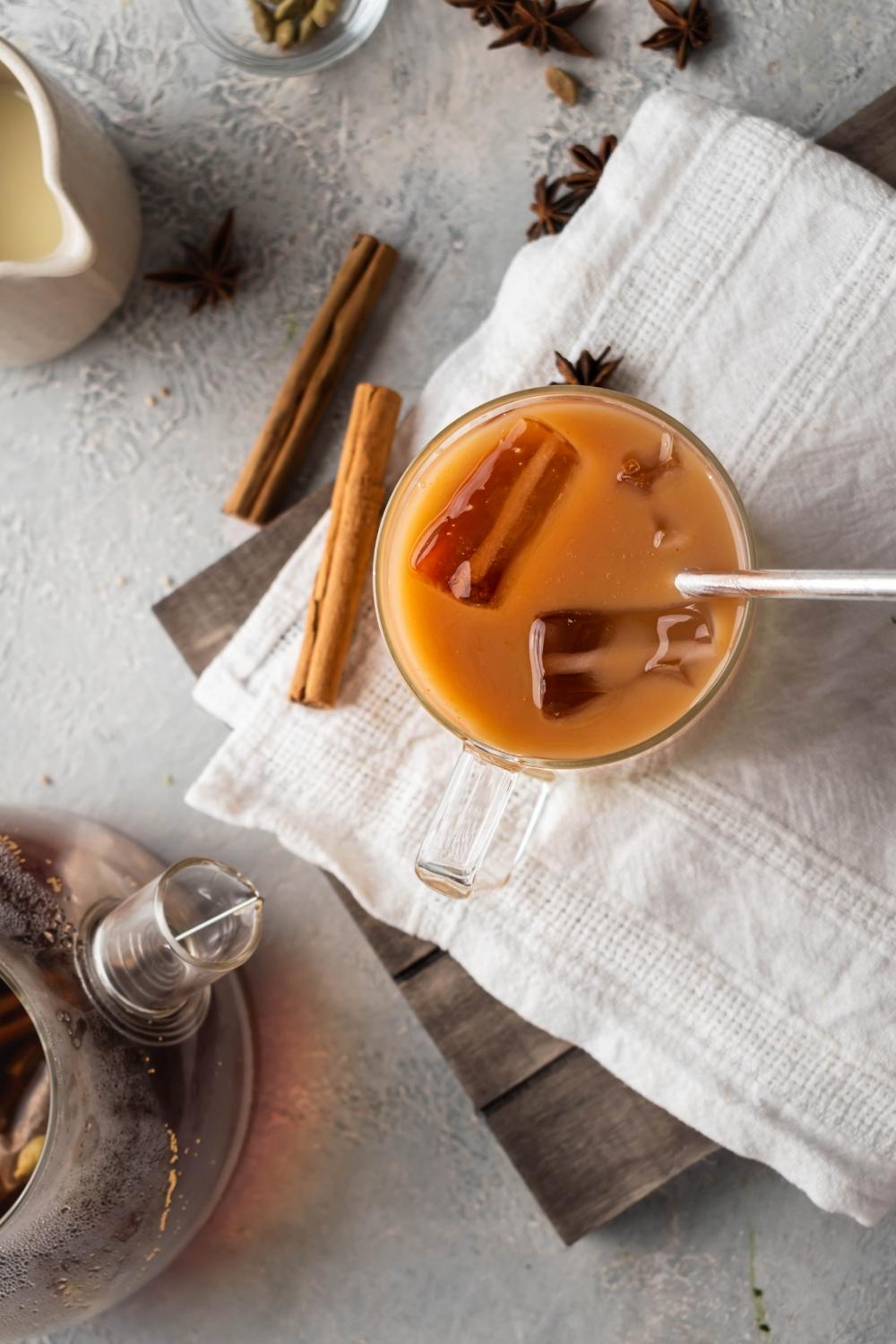 The Best Thai Tea Recipe
If you've never had homemade Thai iced tea before, you're in for a treat!
Thai tea is a spiced black tea, mixed with vanilla and sweetened condensed milk, and served cold with ice. The result is a wonderfully sweet, milky, and fragrant drink that you can't stop sipping.
Now, as far as the flavor goes, this Thai tea is super reminiscent of an iced chai latte you could get at Starbucks. The warm spices and creamy vanilla are a match made in heaven!
With that said, a lot of places make Thai iced tea with Thai tea mix. While the Thai tea mix still tastes wonderful, nothing beats the flavor of Thai tea made on the spot with fresh spices. And that's where today's recipe comes in.
Seriously, once you try this homemade Thai iced tea recipe, you won't want to go back to the premade Thai tea mix ever again!
By the way, I highly recommend serving it with some Biscoff cheesecake or pumpkin custard pie to compliment the tea flavor.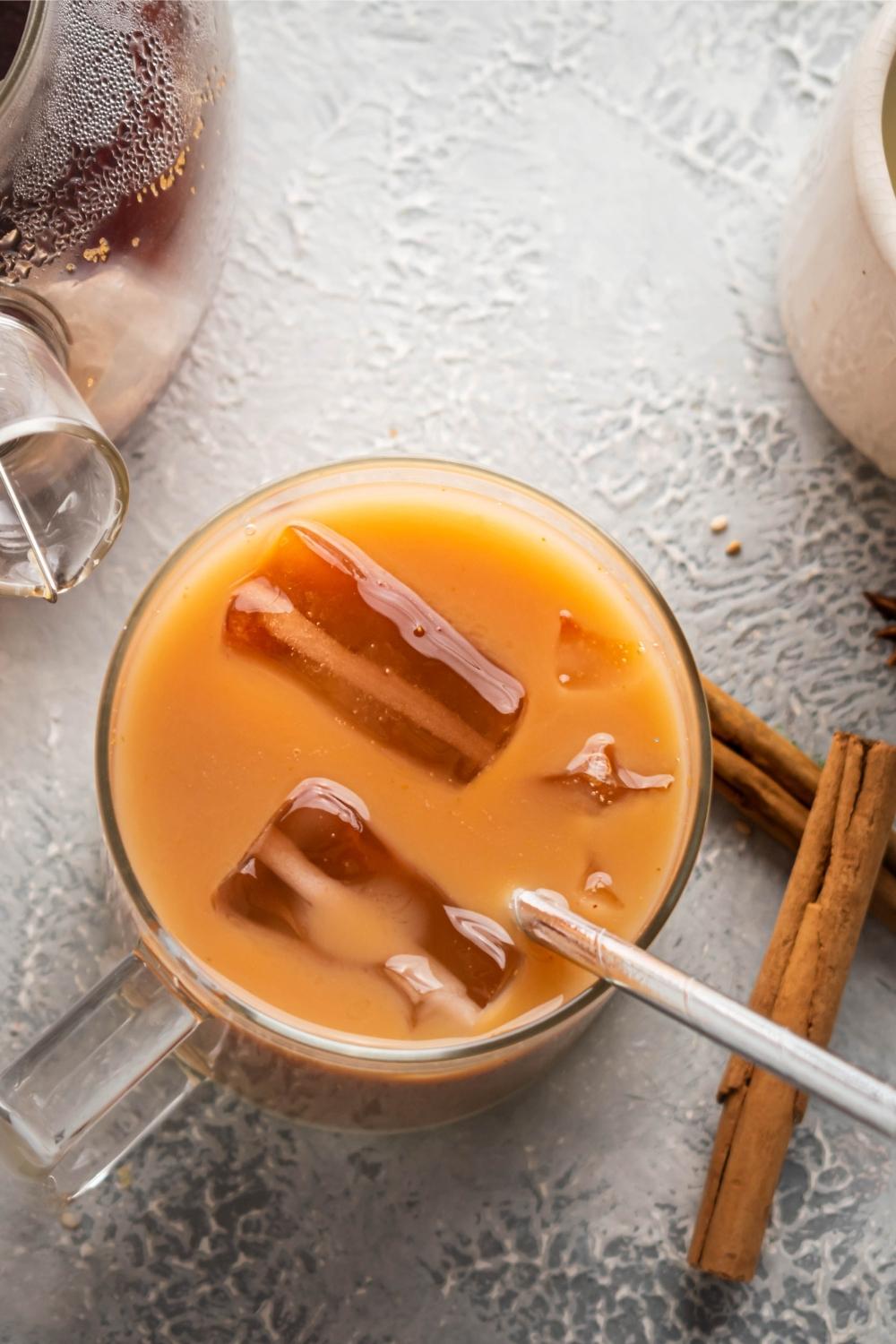 Ingredients
So, the ingredients list on this Thai iced tea recipe might be a little intimidating at first, but if you take a closer look, you'll find that most of these ingredients are staples in any supermarket spice aisle and shouldn't be too hard to find.
You can also buy them online or look up spice shops in your area for the best quality.
Anyway, here's what you'll need for the homemade Thai tea mix:
6 Black Tea Bags
2 ½ cups Water
2 teaspoons Vanilla Extract
2 pieces Star Anise
1 tablespoons Whole Cardamom
1 Cinnamon Stick
¼ piece Vanilla Bean
2 teaspoons Ground Turmeric
2 tablespoons Sugar
And for the sweetened milk mixture:
¼ cup Sweetened Condensed Milk
2 tablespoons Evaporated Milk or whole milk
Also, don't worry about wasting any leftover spices. You can use a lot of the same ingredients to make this Russain tea next!
Plus, you'll definitely be making this Thai tea a LOT once you've tasted it. So you'll find yourself needing a restock in no time!
By the way, for a vegan version of this Thai tea recipe, you can swap out the sweetened condensed milk and evaporated milk mixture for full-fat coconut milk and evaporated coconut milk. And, honestly, this is a great switch-up, especially if you love the taste of coconut milk!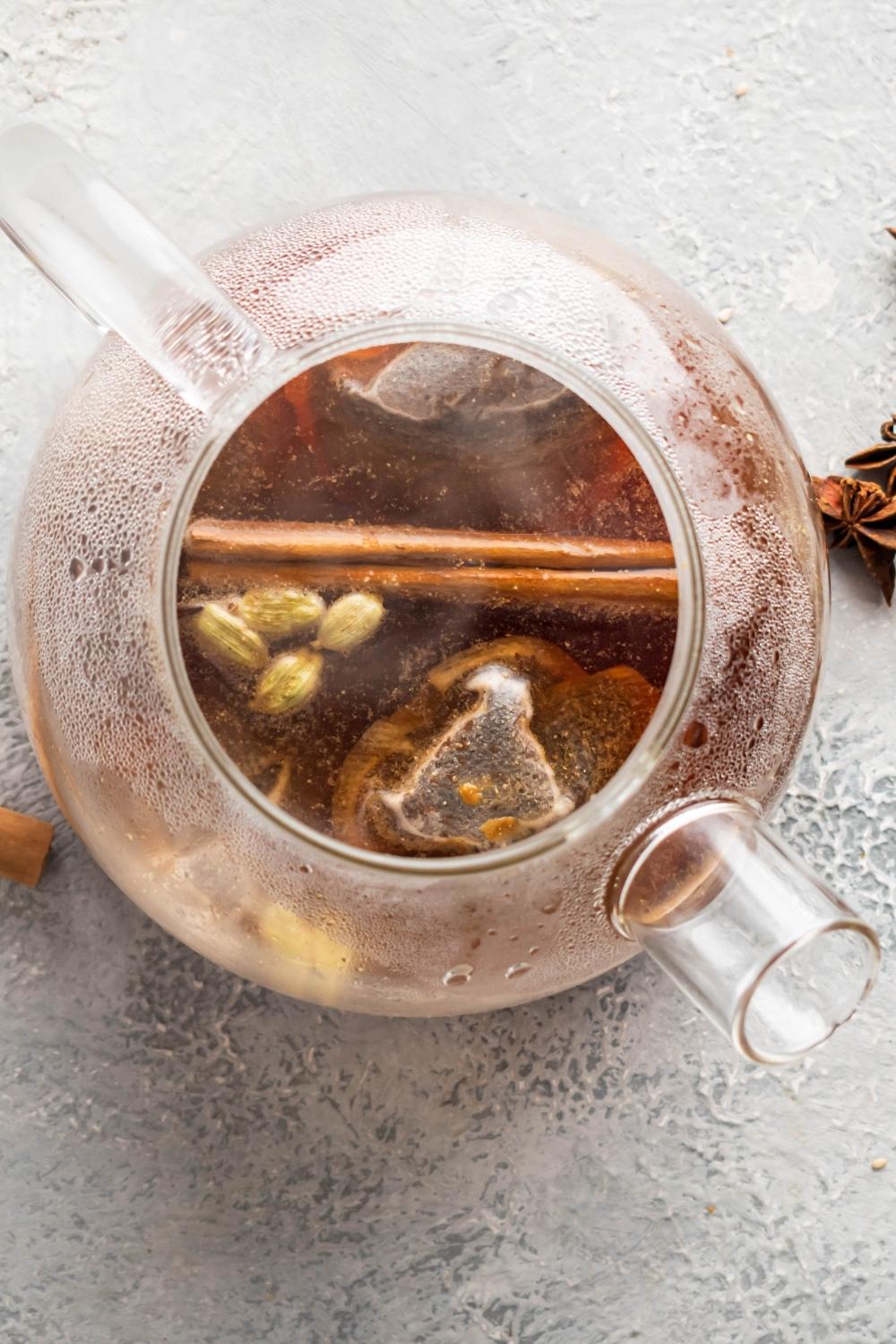 How to Make Thai Tea
This homemade Thai iced tea isn't that different from making a normal cup of tea.
All you have to do is steep the whole spices and tea in water, then strain and mix with the sweetened condensed milk.
If you have a tea kettle with a built-in infuser basket - or strainer - it'll come in handy here and make straining and pouring the tea even easier.
Alright, let's grab our ingredients and make this Thai iced tea recipe.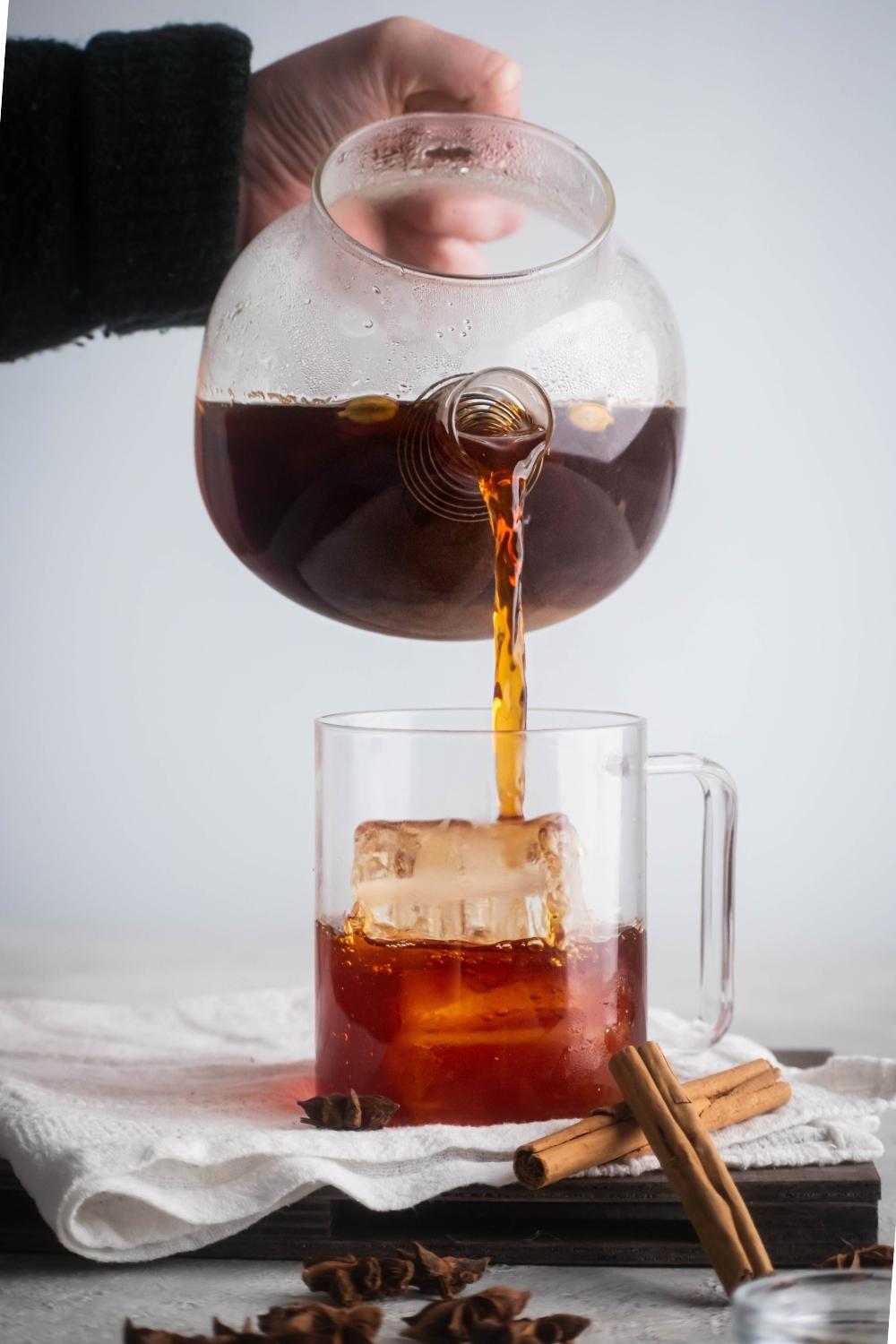 Step 1: Brew the Spiced Thai Tea Mix
First, fill your teapot with the water and bring it to a boil.
Then, add the tea bags, vanilla extract, vanilla bean, sugar, and spices to the hot water. Let it infuse for about 10 minutes.
The longer steeping time will give the Thai tea a strong flavor that'll be perfectly diluted by the condensed milk. Once the 10 minutes are up, strain out the whole spices. Keep in mind, if you're using a teapot with a strainer already included, you can skip this step.
Anyway, now you can fill two glasses with ice and pour in the brewed Thai tea.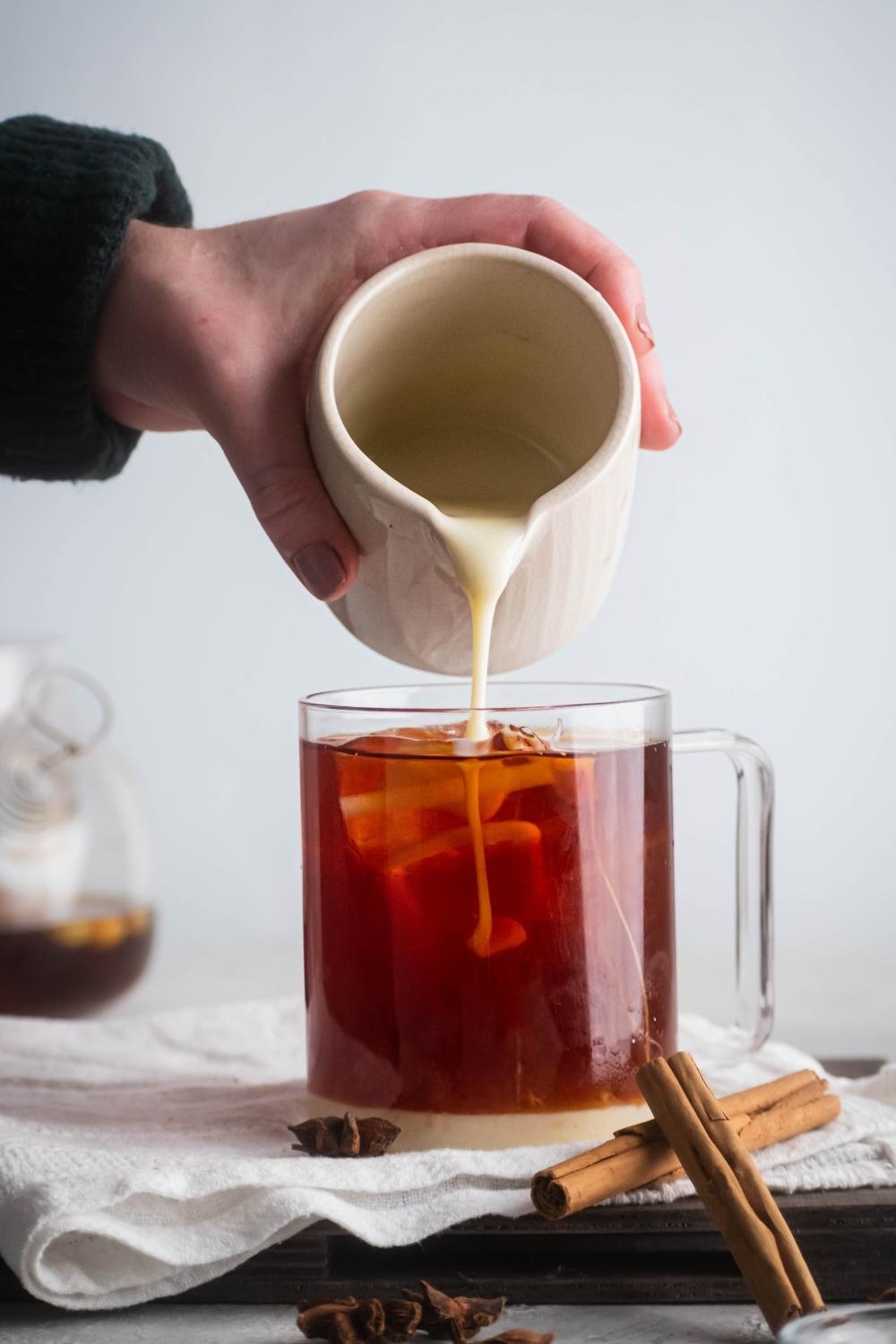 Step 2: Prepare the Sweetened condensed milk
While your Thai tea is steeping, you can go ahead and prepare the sweetened milk mix
To do that, pour the sweetened condensed milk and evaporated milk or whole milk into a small bowl or small milk pitcher.
Whisk the two together (you can use a milk frother if you have one) until smooth and well-combined.
Step 3: Assemble the Thai Iced Tea
Finally, pour the mixed sweetened condensed milk into the glasses with the ice and Thai tea.
For that picture-perfect pour, pour the milk in gently without stirring to get that lovely swirled milk pattern over the Thai iced tea.
Then, serve, stir, and enjoy!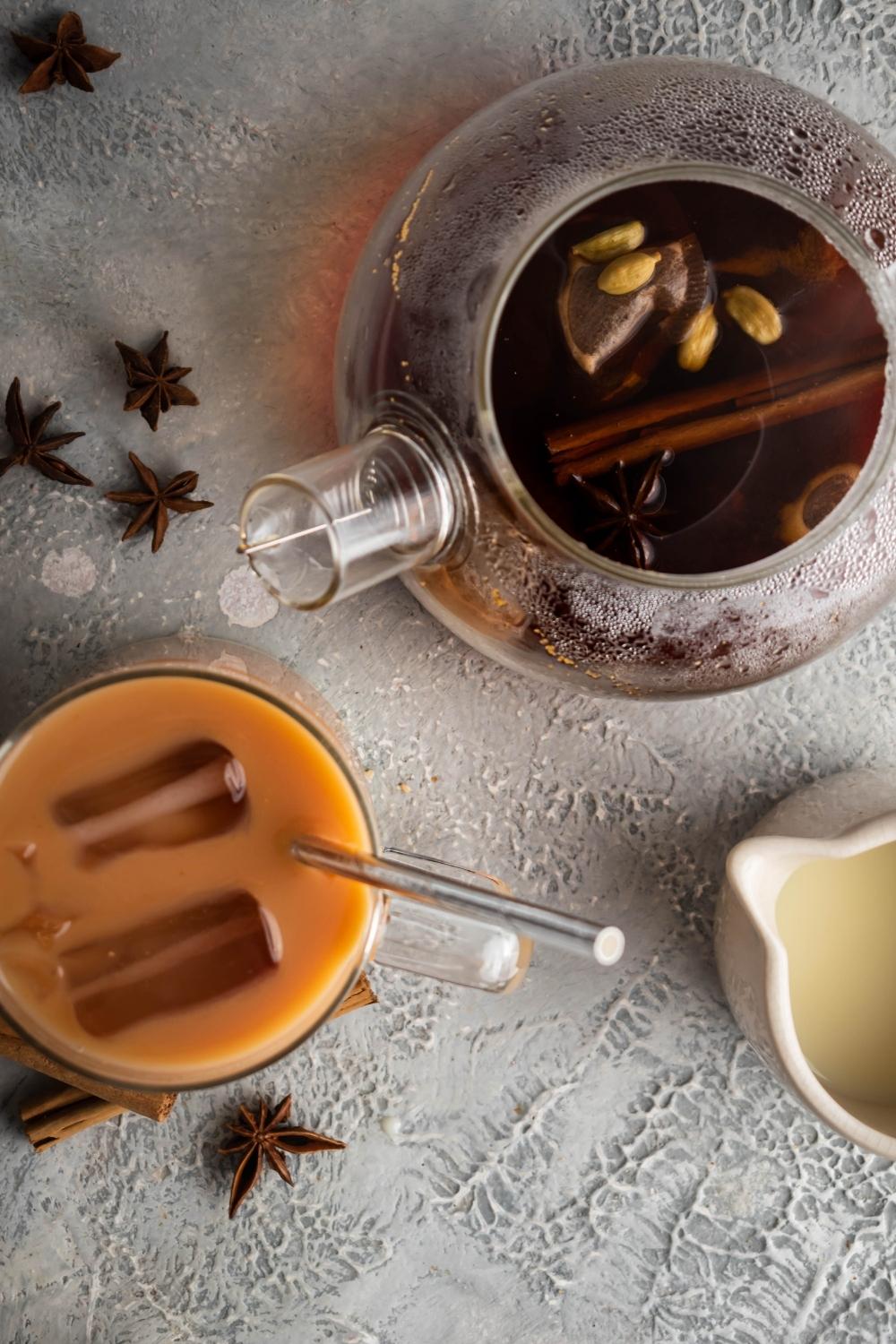 Storing Your Thai Tea
So, this Thai milk tea recipe makes 2 servings, but you can always multiply it to serve more.
The best way to store a big batch of Thai iced tea recipe is by making it in a large covered jug over ice. If you brew tea, it'll keep for about 24 hours.
Then, you can pour out a glass as the need arises.
I highly recommend making a huge batch of this refreshing Thai tea chilling on hot days. I mean, who doesn't want to drink tea that is ice cold on a hot day? This delicious drink is always a huge hit if you serve it to guests!
And to make things even easier for you, you can just stir the condensed milk and tea in the jug together instead of doing it per glass.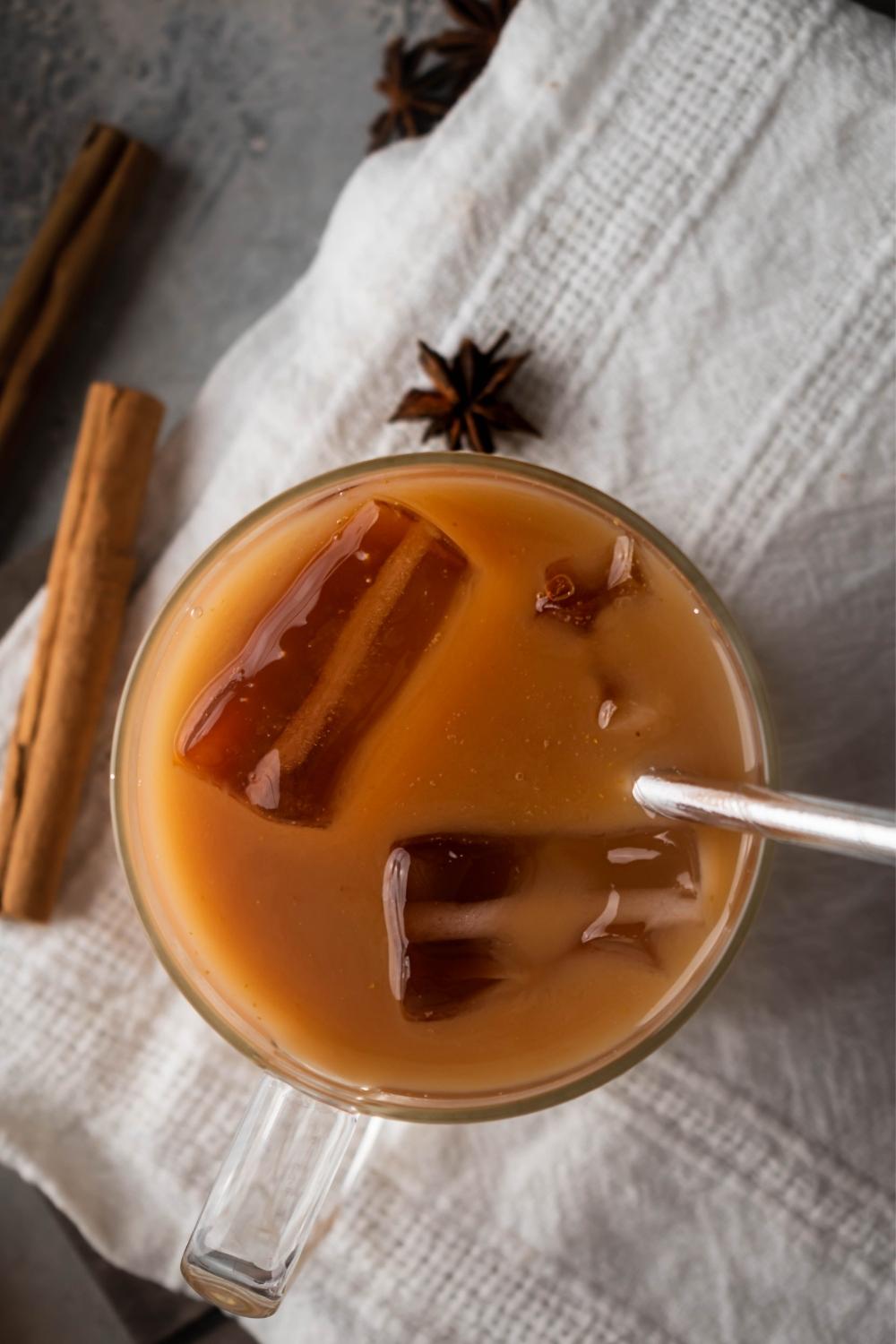 FAQs About This Thai Tea Recipe
What is Thai Tea?
Thai tea is a combination of Ceylon tea - which is a kind of black tea - and warming spices like cardamom, cinnamon, star anise, and turmeric, usually with vanilla bean or extract added in. The tea is almost always served chilled with ice and sweetened with condensed milk. Thai tea was created when tea made its way to Thailand's shores in the nineteenth century. The Thai people then added their own spices to the black tea and sweetened it with condensed and evaporated milk, which was easier to come by than fresh milk. Hot tea didn't make a lot of sense in a climate like Thailand's, so this drink was always meant to be served cold.
What does Thai tea taste like?
Thai ice tea recipe is sweet and creamy with earthy and nutty undertones from the black tea and spices. It has some similarities to chai tea but is noticeably sweeter and creamier. If you like any kind of black tea, you'll find the flavors to be super enjoyable. This Thai teas tastes almost like an elevated black tea experience with a creamy finish.
Wrapping It All Up
Well, that's how to make Thai tea!
This Thai iced tea recipe is creamy, sweet, and packed with delicious flavor from warm spices and black tea.
It's a wonderfully refreshing drink that's incredibly quick and easy to make and is a fantastic change-up from your usual iced tea or iced coffee drinks.
Best of all, it isn't made with premade Thai tea mix, but with whole spices for the best flavor and an absolutely intoxicating scent.
As always, I hope you enjoy this Thai tea recipe as much as I do!
Be sure to let me know what you think in the comments if you make it.
More Drink Recipes
If you liked this delicious drink, we have a few drink recipes on the blog that I think you'll enjoy!
Check these out next:
And, as always, find even more of our delicious recipes on our YouTube channel and Instagram page as well.
Print
Thai Tea Recipe
This authentic Thai tea recipe is incredibly flavorful, rich, and creamy. It's made from scratch with whole spices and tastes just as delicious as the ones from your favorite tea spots. Best of all, it's ready in only 15 minutes!
Author:
Prep Time:

5 minutes

Cook Time:

10 minutes

Total Time:

15 minutes

Yield:

2

servings

1

x
Category:

Drink

Method:

Mixing

Cuisine:

Thai
Instructions
Bring the water to a boil in a tea pot. Add the tea bags, water, vanilla extract, star anise, cardamom, cinnamon stick, vanilla bean, and turmeric and let it rest for about 10 minutes.

Pour the tea mixture through a strainer to remove the whole spices (if you are using a tea pot with strainer you can skip this step). Fill two glasses with ice and pour the tea over the ice.

In a small bowl whisk the sweetened condensed milk and evaporated milk (or whole milk) together until smooth.

Pour the milk mixture over the iced Thai tea.
Nutrition
Serving Size:

1 serving

Calories:

133

Fat:

4

Carbohydrates:

21

Protein:

3
Keywords: Thai tea, Thai iced tea, Thai milk tea, Thai tea recipe, How to make thai tea, thai tea recipe easy, thai tea recipe with black tea, thai tea recipe from scratch, What is thai tea, What does thai tea taste like, thai milk tea, thai tea mix, thai iced tea recipe, traditional thai iced tea, authentic thai tea recipe, iced tea at home, how to make thai milk tea