This fried dough tastes like it's from the country fair but comes together in the comfort of your own home. It is light, crispy, airy, and every bite melts in your mouth. Plus, this fried dough recipe is incredibly easy to make and only takes about 15 minutes!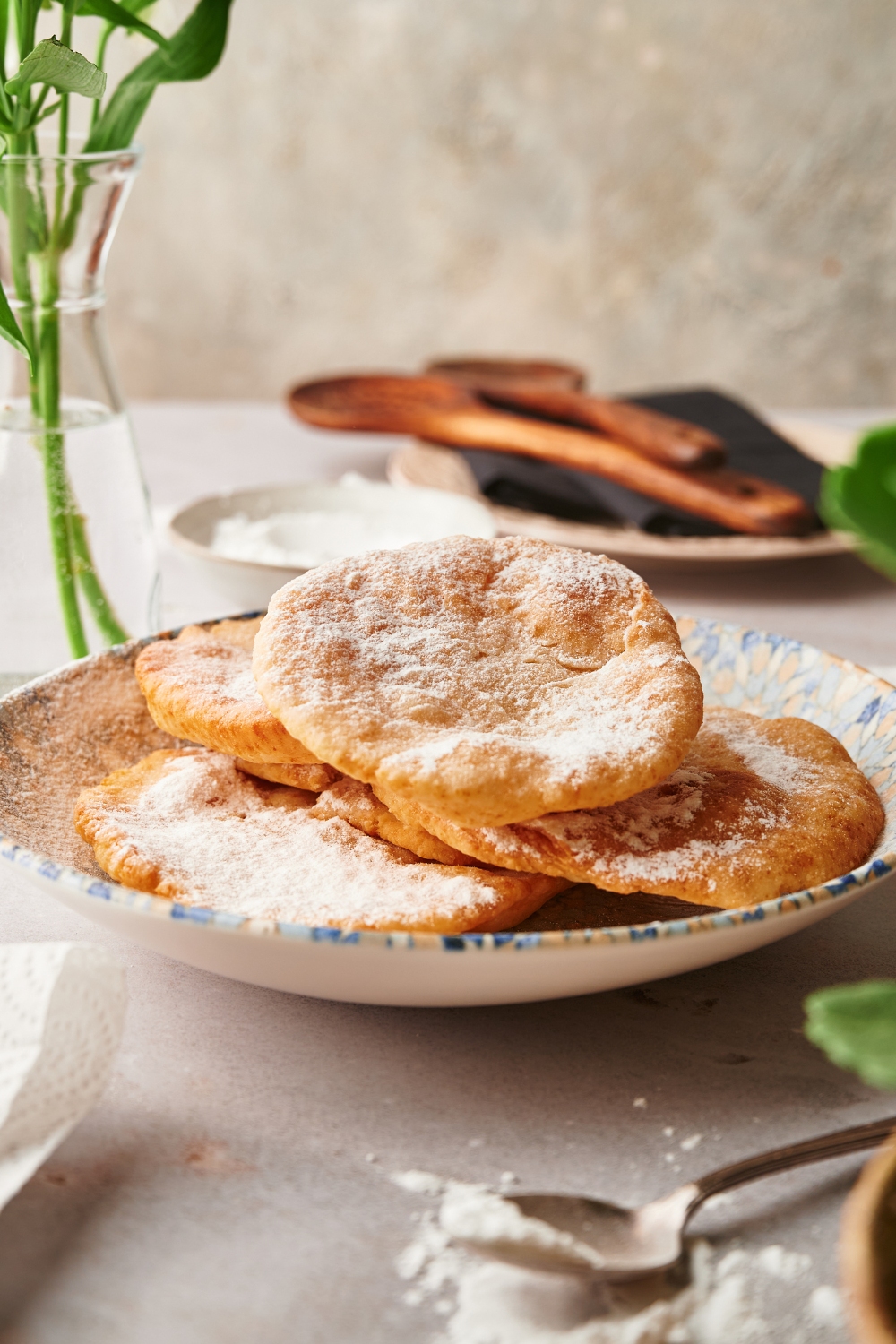 MY TAKE ON FRIED DOUGH
Fried dough, Chinese donut, or elephant ears food - you can call these little disks of deliciousness whatever you want.
Now, I don't know about you, but my favorite thing to do at the fair is get fried dough. I mean, did you even go to the fair if you didn't get some fried dough?
There truly isn't anything like it...until now.
This fried dough recipe brings the fair right into your kitchen. The dough gets super crunchy and crispy outside, with the iconic lightness and airiness on the inside.
Sprinkled some powdered sugar on top, and you've got yourself a treat that the entire family will love!
Fair warning - it is crazy addictive - and there is a very small chance everyone doesn't polish off all eight pieces. I know whenever I make it, all of the fried dough pieces are gone in a flash!
And as I mentioned earlier, this recipe is super easy to make and is totally home-baker tested. I literally haven't had anyone who's tried this recipe tell me it didn't turn out perfect. It's seriously foolproof! That's why it's one of our most popular desserts on the blog, along with these air fryer fried Oreos.
Oh, and if you want to make another classic fried dessert that's like this recipe, you have to try this funnel cake made with pancake batter or this homemade funnel cake recipe next. I can't decide which one is better, so you'll have to test all of them out and let me know!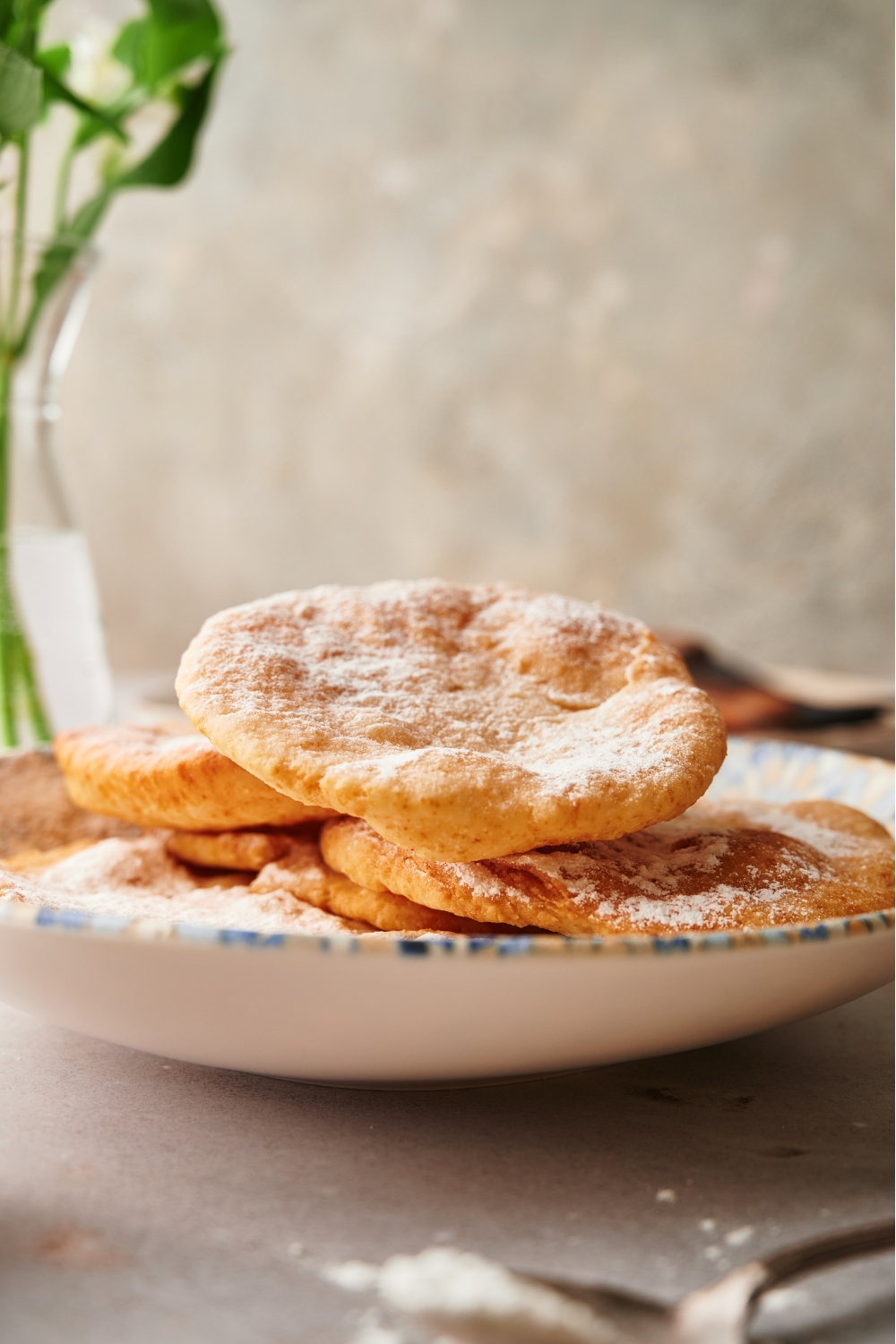 FRIED DOUGH INGREDIENTS
So, surprisingly, this homemade fried dough only requires a few ingredients to make.
And they are the most common baking ingredients there are, so I'm almost positive you'll have everything on hand.
Here is what you'll need to make county fair fried dough:
1 ¾ cups flour
1 teaspoon baking powder
½ teaspoon salt
1 tbsp sugar
2 tbsp melted butter
⅔ cup milk
Powdered sugar for sprinkling
Oil for frying (like vegetable oil)
I love the ingredients this recipe uses - it makes it so convenient to whip up this delightful dessert at the drop of a dime.
I mean, almost all of us have this lineup of ingredients at home at any given time, so shopping is hardly ever necessary to make this homemade fried dough recipe. And you can use many of these same ingredients to make these incredibly thick and fluffy churro pancakes.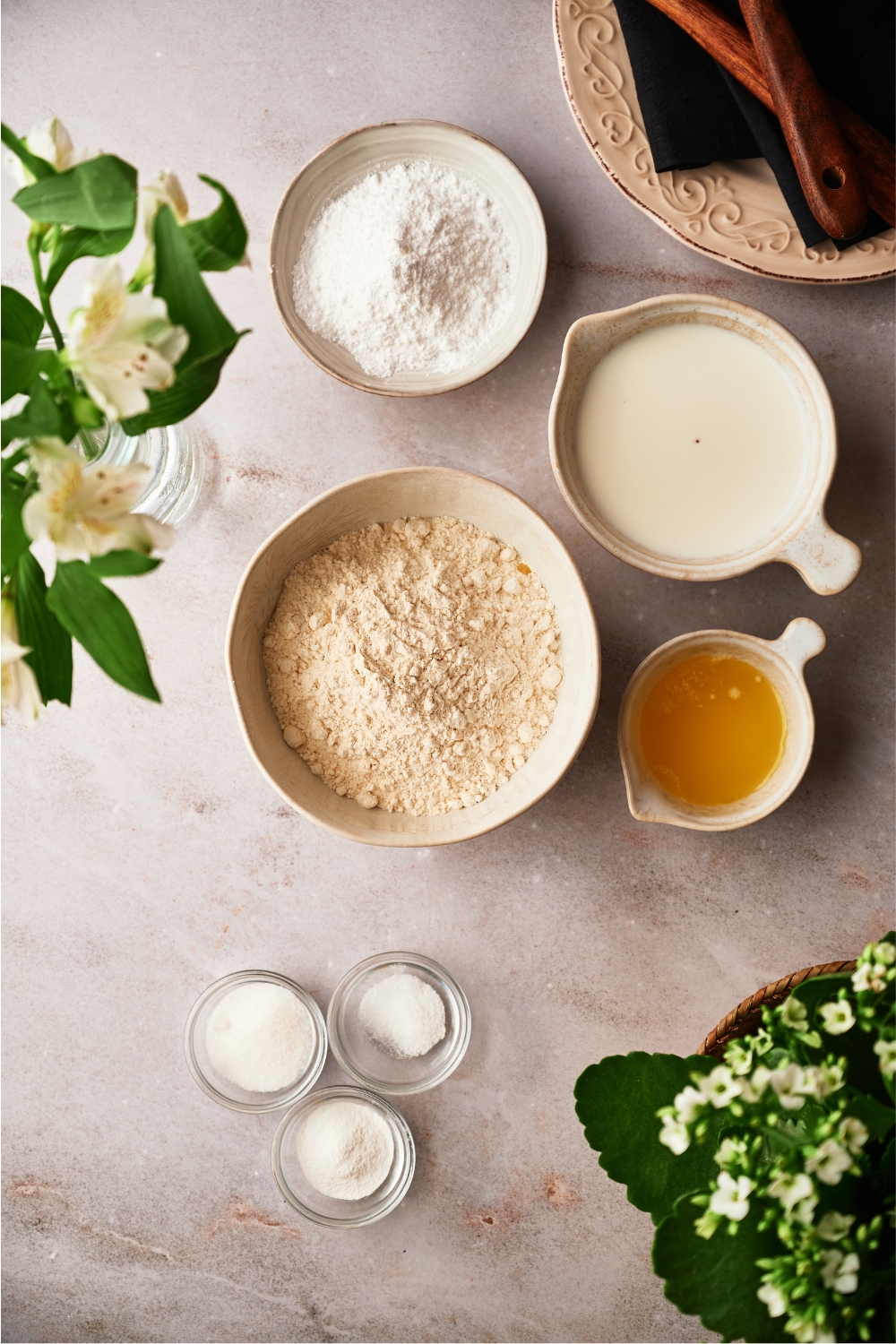 HOW TO MAKE FRIED DOUGH
Making this recipe is a fun activity to do with the whole family!
So if you have kids, have them help you make and roll the dough - it will make eating it together that much better.
Now let's fry up some dough!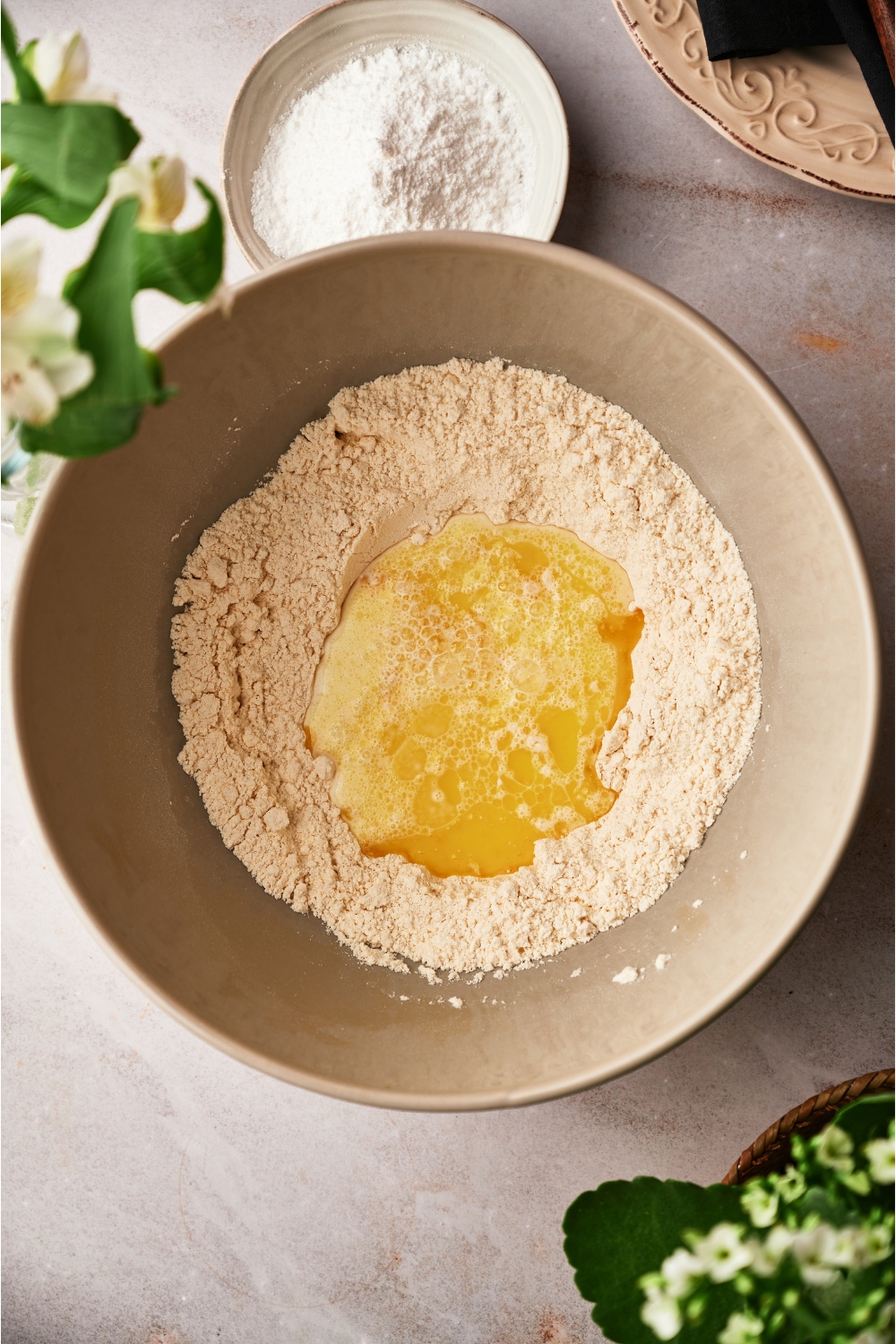 STEP 1: MAKING THE DOUGH
First, add all of your dry ingredients - flour, baking powder, salt, and sugar - to a large mixing bowl.
Then add in your milk and melted butter and give everything a good mix with a fork.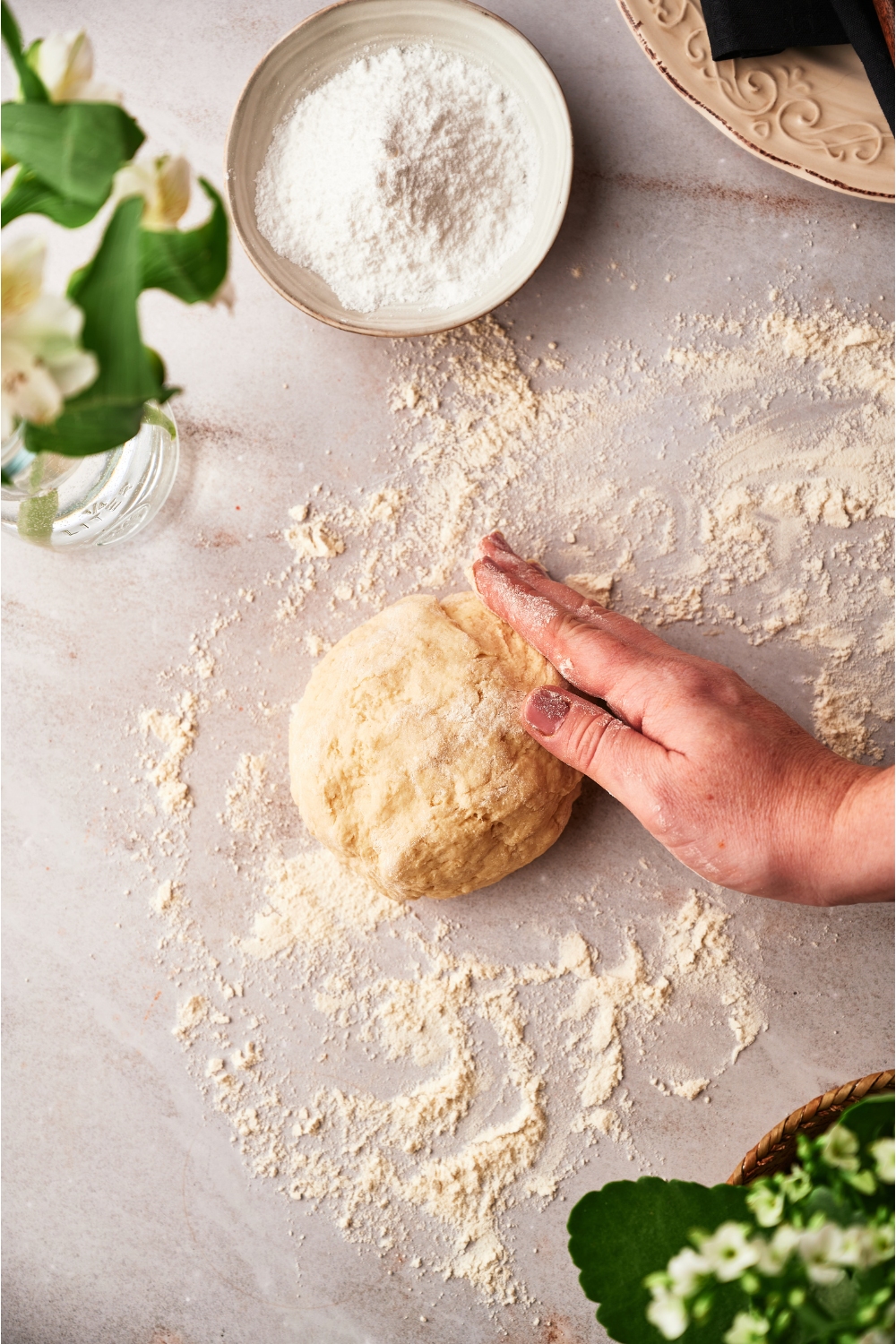 STEP 2: KNEADING THE DOUGH
After the ingredients start to combine in the large mixing bowl, transfer your dough to a board or flat surface and knead it with your hands for about 2 minutes.
Once kneaded, form a dough ball and let it rest for 10 minutes.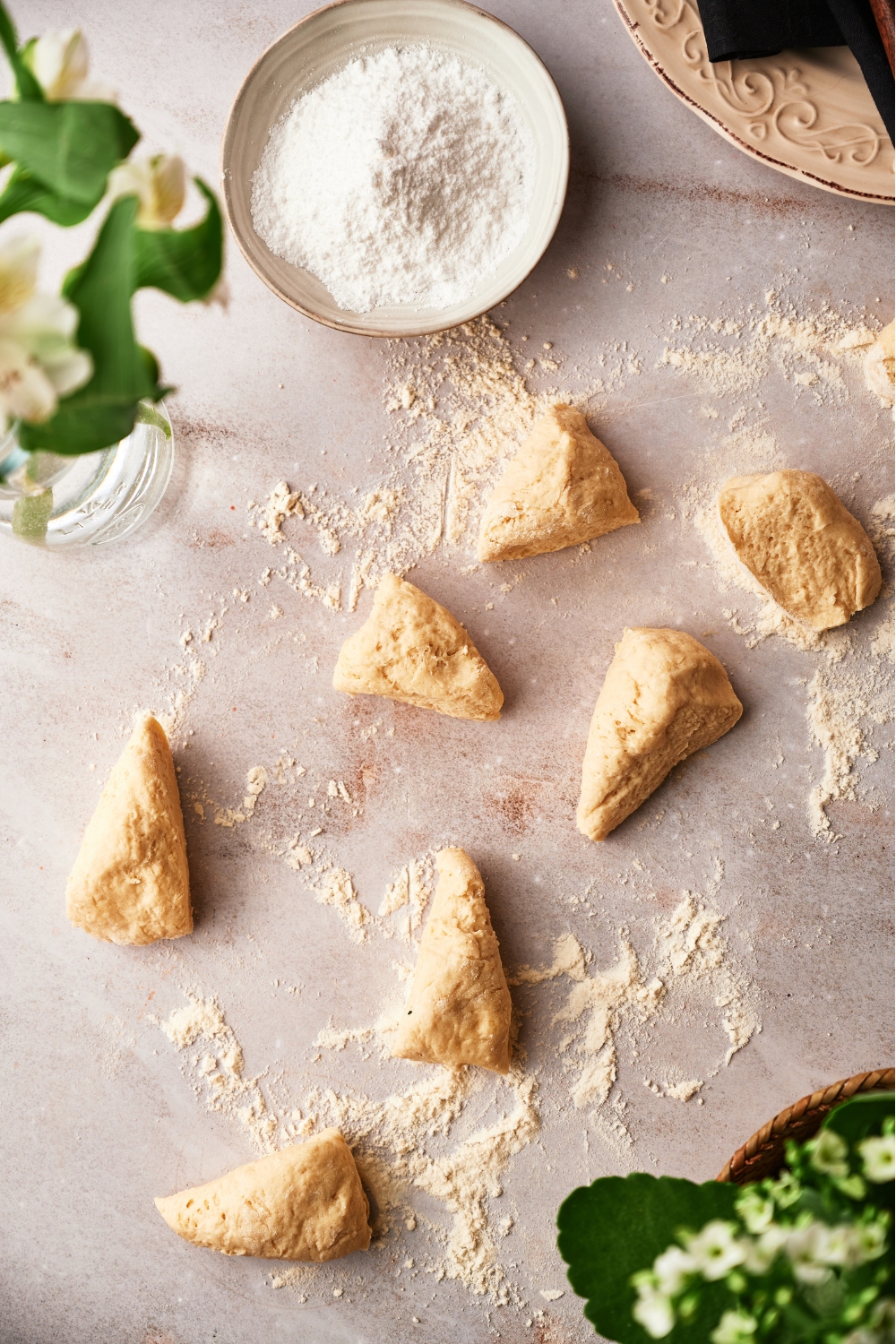 STEP 3: FRYING THE DOUGH
Ok, so once 10 minutes is up, divide your dough ball into 8 pieces and roll each piece until it is about ⅜" inches thick.
Next, heat about 1 inch of vegetable oil in a pan over medium heat until it reaches 375°F (190°C). And using a deep pan will be best to keep the hot oil from splattering while frying.
After your oil is heated, carefully lower your rolled dough into the pan. And you will have to cook it in batches - you do not want to overcrowd the pan.
Then let your dough cook for 1 minute, flip it over, and cook for 1 minute on the other side. And then you can cook the remaining fried doughs.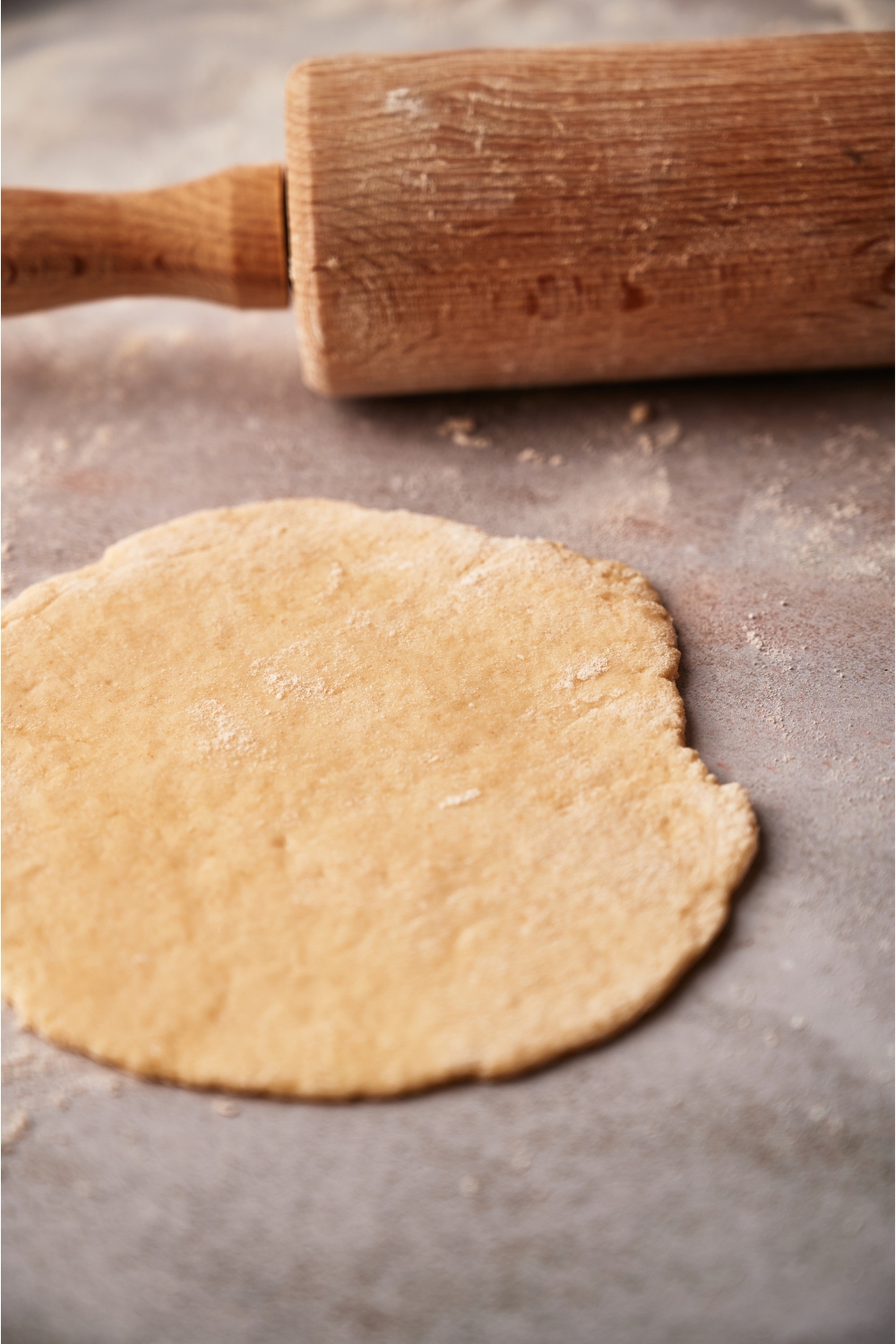 STEP 4: SERVING THE FRIED DOUGH
Once cooked, transfer your fried dough to a paper towel-lined plate or wire rack and cover it with as much powdered sugar as you want!
When all of the dough fries nicely, coat 'em in powdered sugar, dig in, and enjoy this hot fried dough!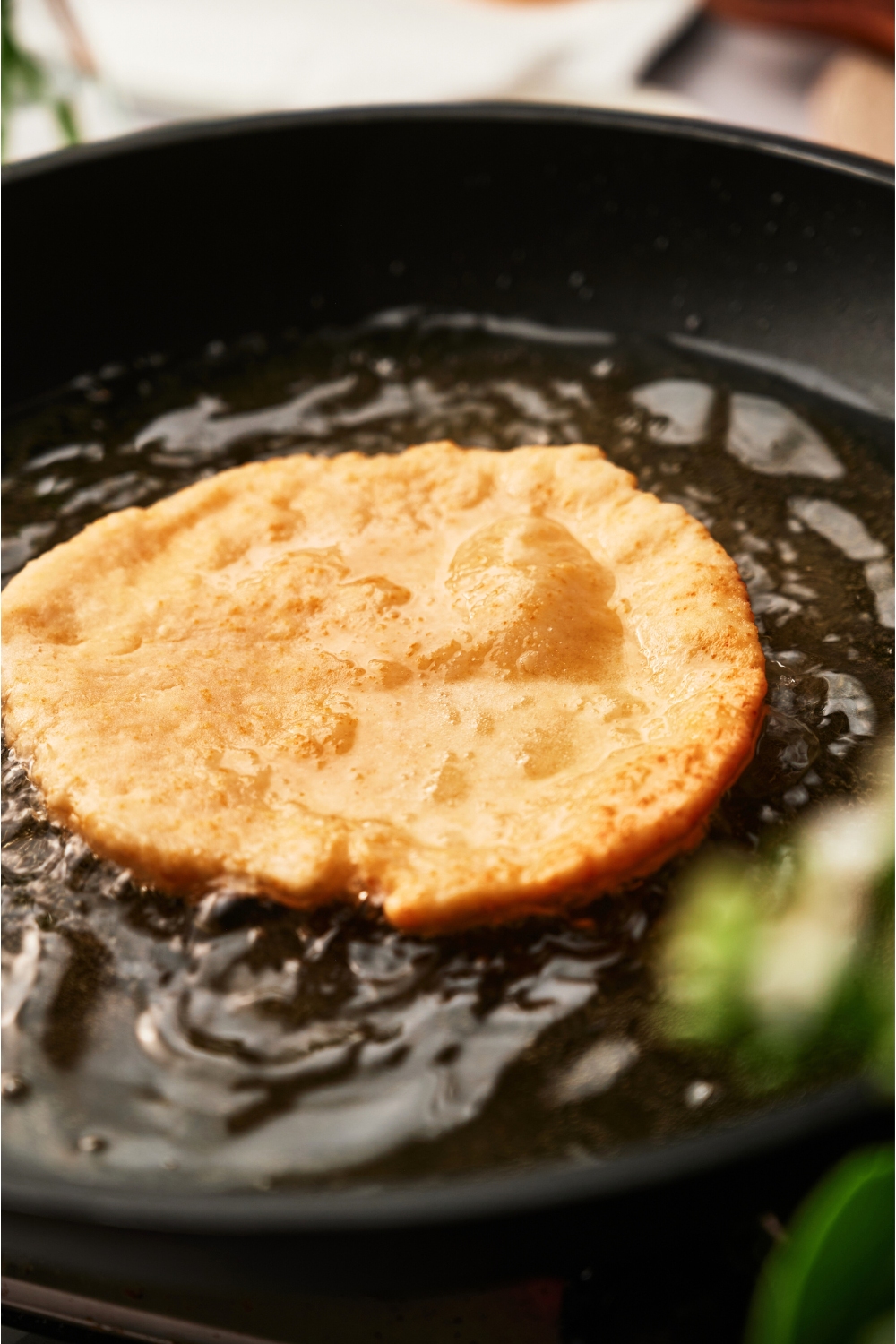 FAQS About This Fried Dough Recipe
CAN I STORE THIS FRIED DOUGH?
Although it is best to eat right after frying, you can store your leftover fried dough. Just put your leftovers in an airtight container, and it will stay good at room temperature for up to 2 days. Then to crisp it back up, I like to put it in the oven at 350°F (170°C) for a few minutes until warm.
WHAT IS THE DIFFERENCE BETWEEN FRY BREAD AND FRIED DOUGH?
There actually is really no differences between fry bread and fried dough. They are both flat dough mixtures that are typically fried in oil until crispy.
WHAT ARE THE INGREDIENTS FOR FRIED DOUGH?
Fried dough is made with classic baking ingredients like flour, butter, sugar, baking powder, milk, and salt. Of course, it has powdered sugar on top for that melt in your mouth flavor.
DO I HAVE TO FRY THE DOUGH?
For the best results and experience, I definitely suggest frying your dough as instructed above. But if you don't want to fry it, you can also try making your fried dough in the air fryer. First, spray your air fryer basket with baking spray and preheat to 350°F (180°C). Then place as many pieces of dough in that fit, so they are lying flat - again, you'll have to cook in batches and do not want to overcrowd. Cook for about 5 minutes, then flip and cook for another 5 minutes or until crispy.
WHAT ELSE CAN I PUT ON THIS FRIED DOUGH?
For a classic fried dough, you'll want to top it off with powdered
sugar right after it's fried. But you can also put a mix of cinnamon sugar on top to make cinnamon sugar fried dough, and it will be delicious!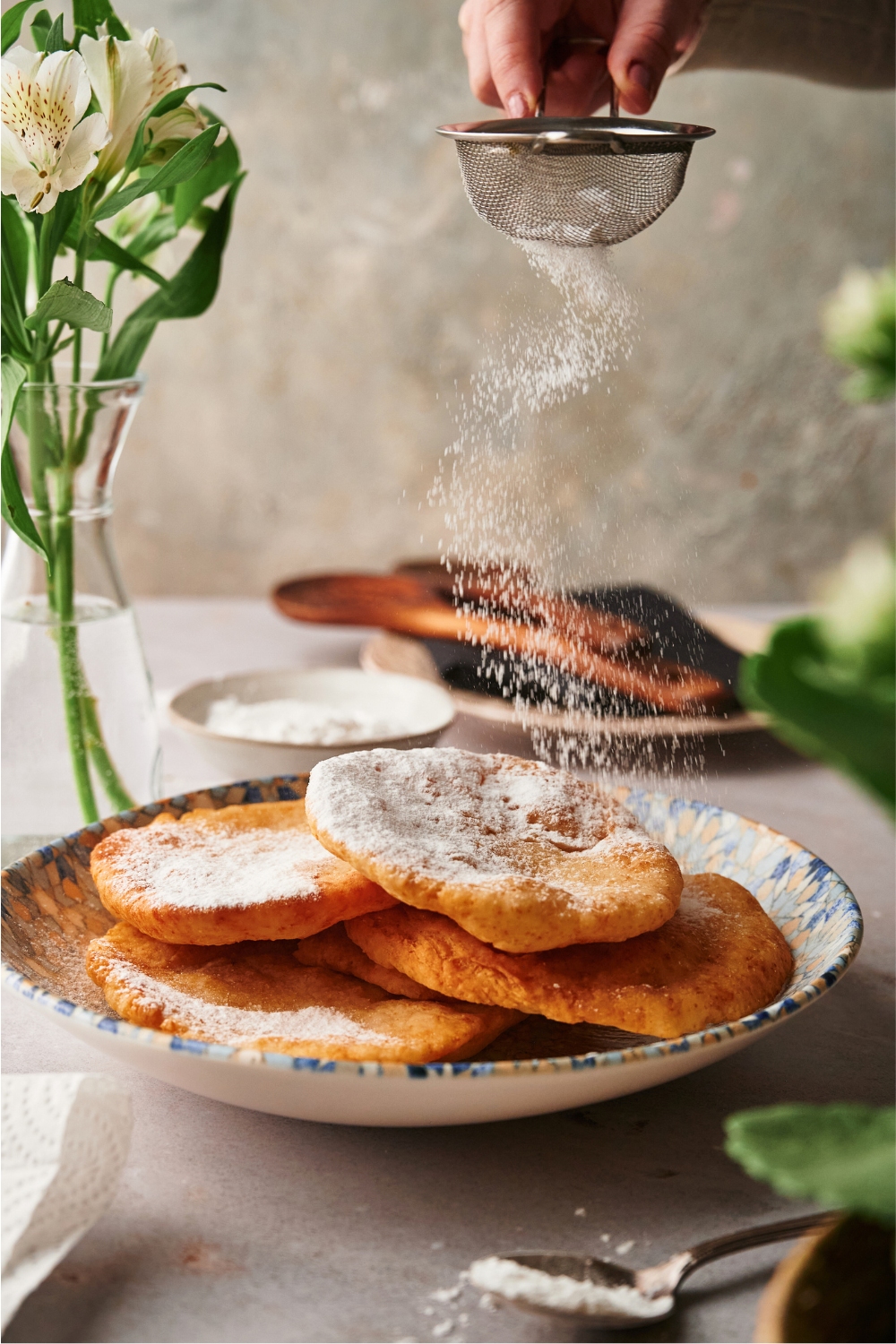 MY FINAL THOUGHTS
And that is how you make a homemade fried dough that tastes like it's from the fair!
This county fair fried dough is sure to become a family favorite. I know it has in my household, and I love making it since it's so simple, and I always have the ingredients on hand to whip up some fry bread.
Anyways, I hope you enjoy this fried dough recipe as much as I do. If you make it, leave a comment below and let me know what you think!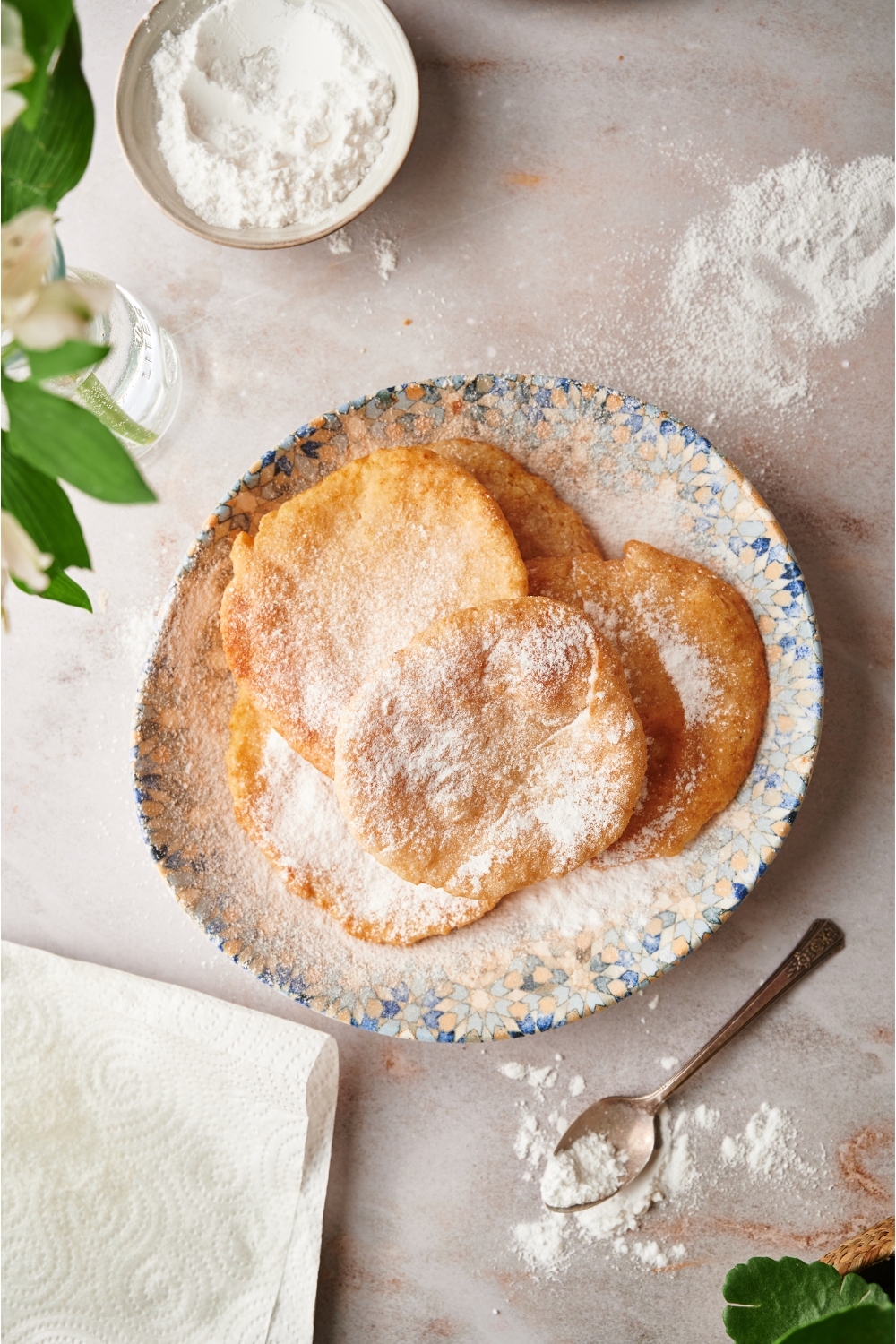 MORE DESSERT RECIPES
And if you want some more delicious recipes that everyone will love, try making one of these next:
Yield: 8 servings
Fried Dough | The Best Homemade Fried Dough Recipe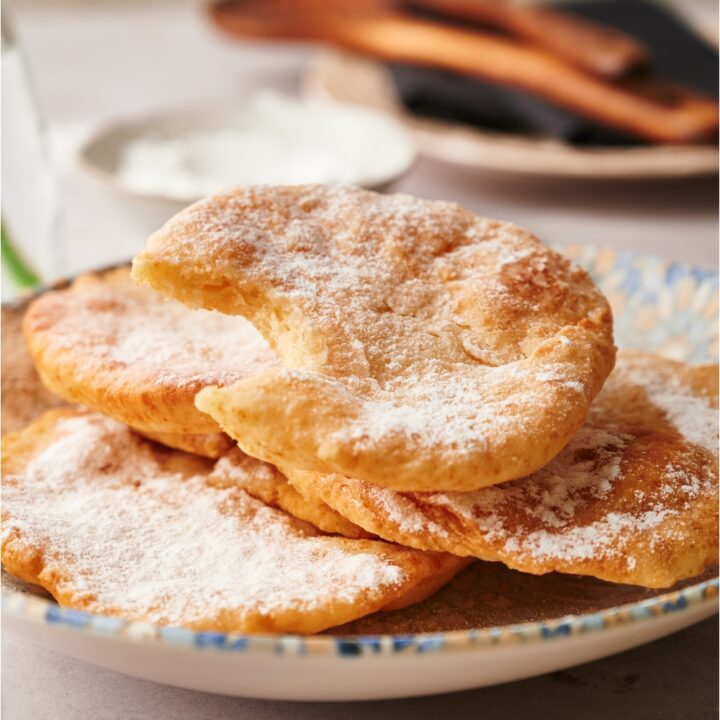 This fried dough tastes like it's from the country fair but comes together in the comfort of your own home. It is light, crispy, airy, and every bite melts in your mouth. Plus, this fried dough recipe is incredibly easy to make and only takes about 15 minutes!
Instructions
Mix dry ingredients in a large bowl.

Add milk and melted butter. Mix with a fork, then transfer to a board and knead with hands for 2 minutes.

Form a ball and let the dough rest for 10 minutes.

Divide into 8 pieces and roll to ⅜" thick.

Heat 1 inch of oil in a deep pan to 375°F (180°C) over medium heat.

Carefully lower the rolled dough into the pan - fry the dough in batches, do not overcrowd the pan.

Let it cook for 1 minute, then flip over and cook 1 more minute on the other side.

Top with powdered sugar and enjoy!
Notes
The scale up function does not change the gram measurements.
Nutrition Information:
Serving Size:
1 serving
Amount Per Serving:
Calories:

138.6
Total Fat:

3.7g
Saturated Fat:

0g
Trans Fat:

0g
Unsaturated Fat:

0g
Cholesterol:

0mg
Sodium:

0mg
Carbohydrates:

21.8g
Fiber:

0.8g
Sugar:

0g
Protein:

3.4g