Every bite of this rich and chocolatey Missippi mud pie recipe is pure Southern decadence. From the buttery oreo pie crust to the gooey double chocolate filling and the pillowy whipped cream topping, this Mississippi mud pie doesn't hold back!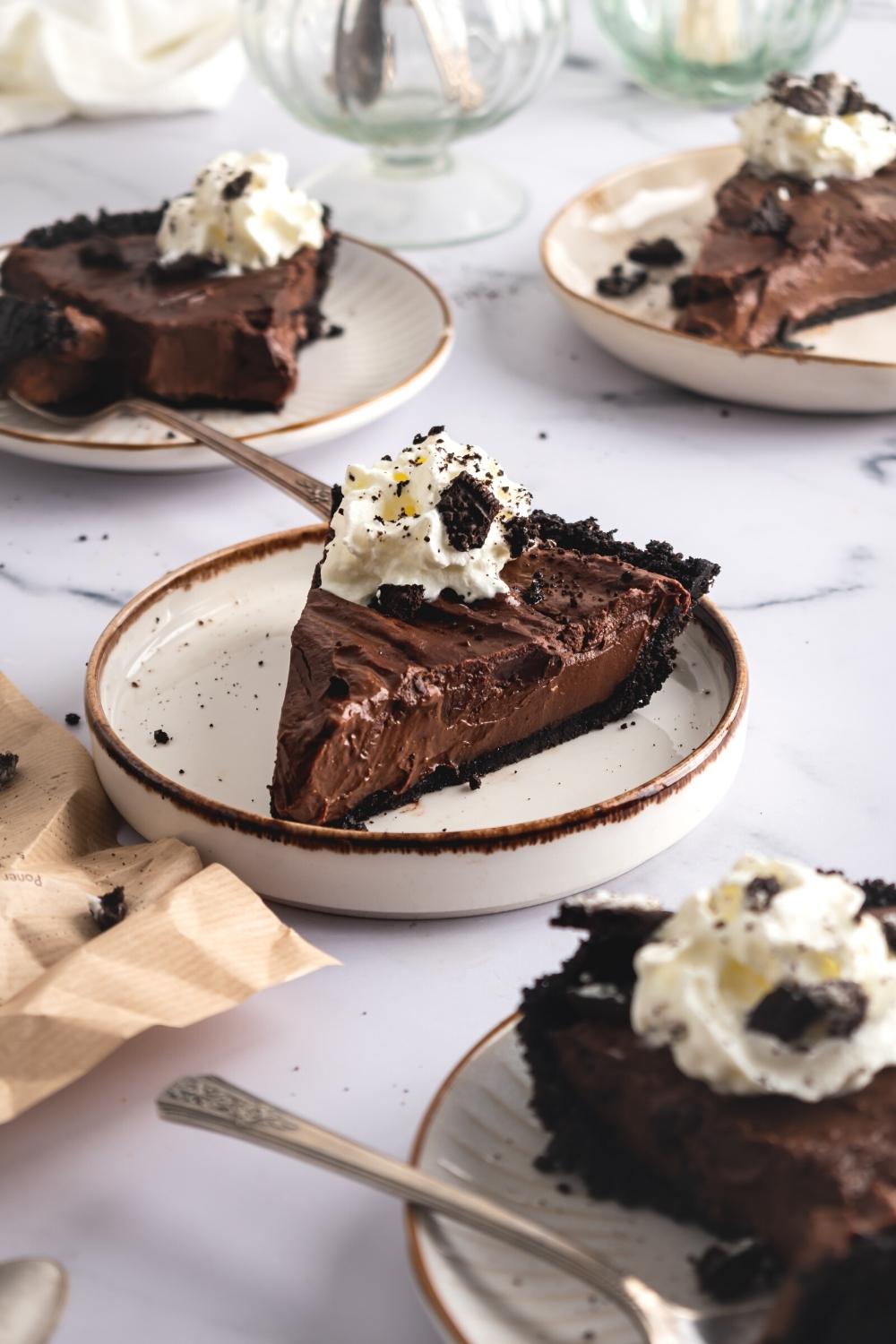 The Best Missippi Mud Pie
When I'm craving a truly rich and indulgent chocolate dessert, I can't think of anything better than this Mississippi mud pie.
It's got everything you love in a classic mud pie - the silky chocolate pudding filling, a layer of chocolate ganache, and the fluffy whipped cream top.
And it's made even more amazing with a crushed Oreo crust, so this is guaranteed to satisfy your sweet tooth! It's very similar to my no bake chocolate pie, so you should definitely give that a try sometime too.
Best of all, this Southern favorite is really easy to whip up at home. It's made with common pantry staples, and it requires no oven! All it needs is just a couple of minutes on the stovetop and some time to chill in the fridge.
Then, after that little bit of work, you'll have a one-of-a-kind chocolate pudding pie that everyone will love. And it's so good, that they'll think you bought it from a bakery! If you want another bakery-worthy pie, give this Reese's pie a try next!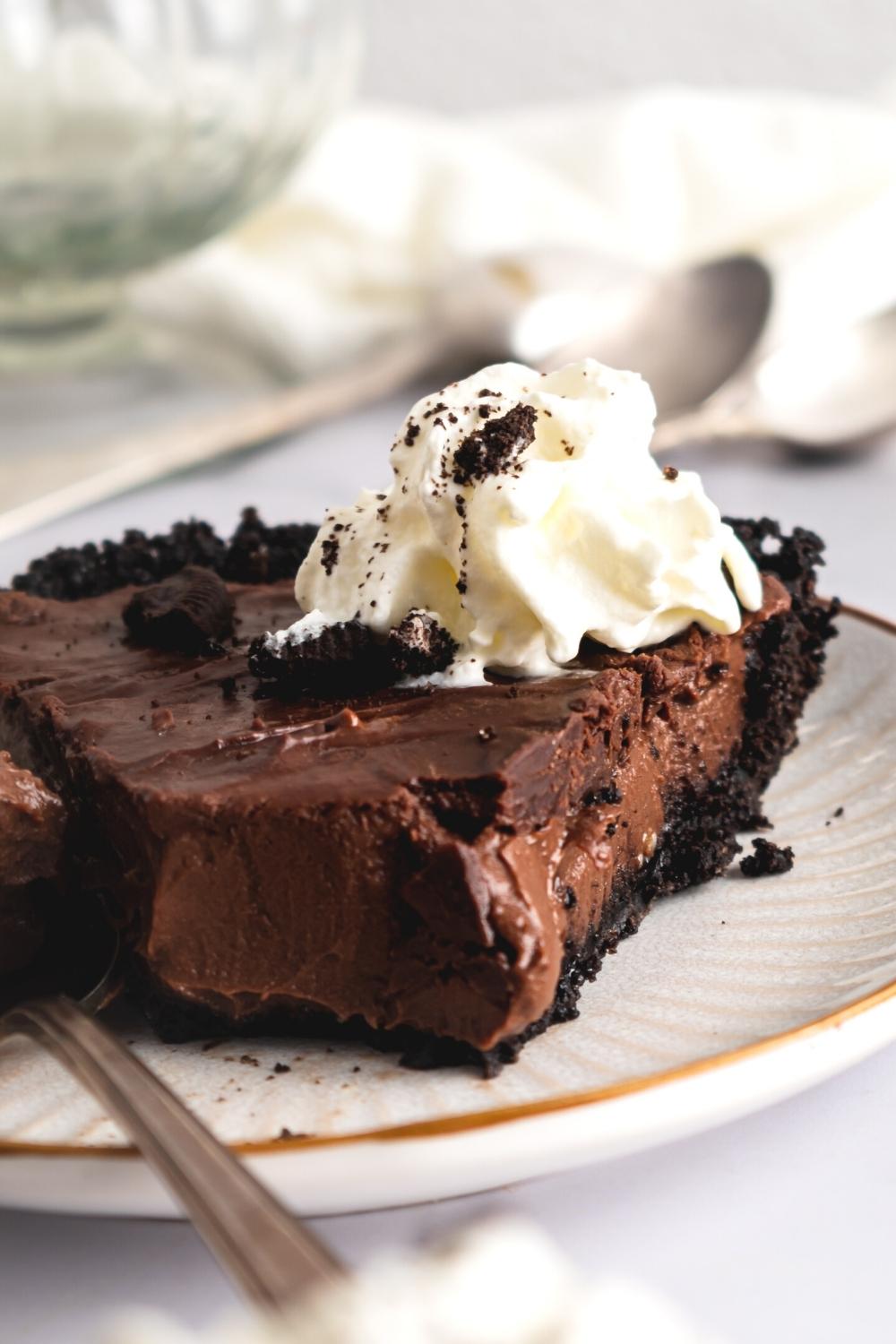 Ingredients
As you'll see below, the ingredients for this Mississippi mud pie are basically everything a chocolate lover could want.
And, as I mentioned earlier, the great thing is that you likely have most - if not all - of this stuff in your pantry already.
Anyway, here's everything you'll need for this Mississippi mud pie recipe:
1 cup chocolate
24 Oreos
5 tbsp. melted unsalted butter
5 eggs, separated
½ cup milk
¼ cup cornstarch
1 cup cream
1 ½ cup milk
1 teaspoon salt
⅔ cup sugar
1 tsp. espresso
1 cup chocolate ganache
Whipped cream, to serve
Oreos, to serve
And don't be afraid to pick up some extra Oreos on your grocery run. We have a couple more Oreo desserts you can make, like this famous Oreo mug cake recipe, these fried Oreos, or 10-minute air fried Oreos.
By the way, if you're serving this pie for a holiday or celebration and want something to go with it, this ricotta pie and custard pie are a great balance to the deeply chocolatey mud pie.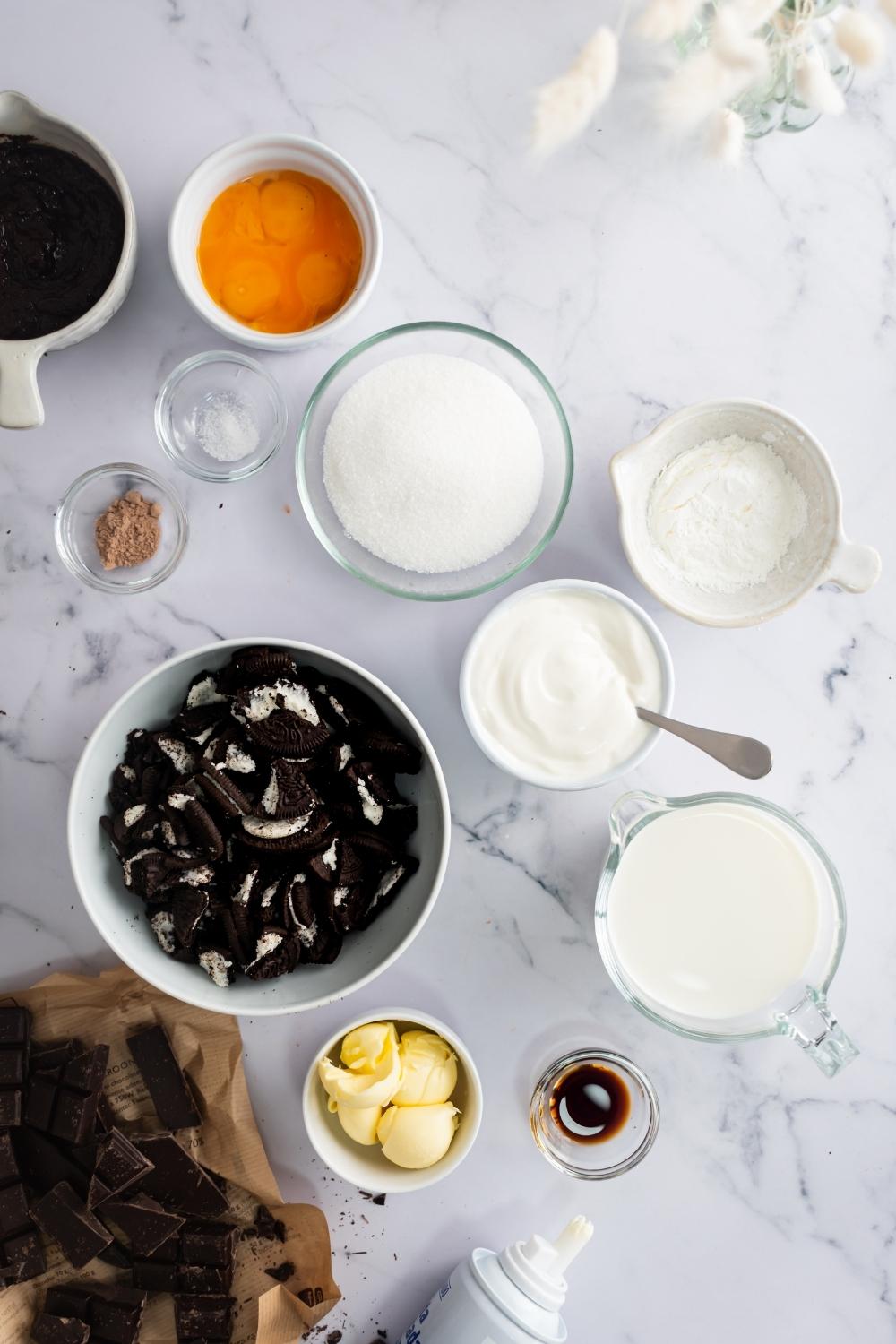 How to Make Mississippi Mud Pie
Again, this chocolate pudding pie is super simple to make. The whole process should only take about an hour. Then you can just chill the mud pie in the fridge until you're ready to dig in.
With that said, let's get into the details of how to make Mississippi mud pie.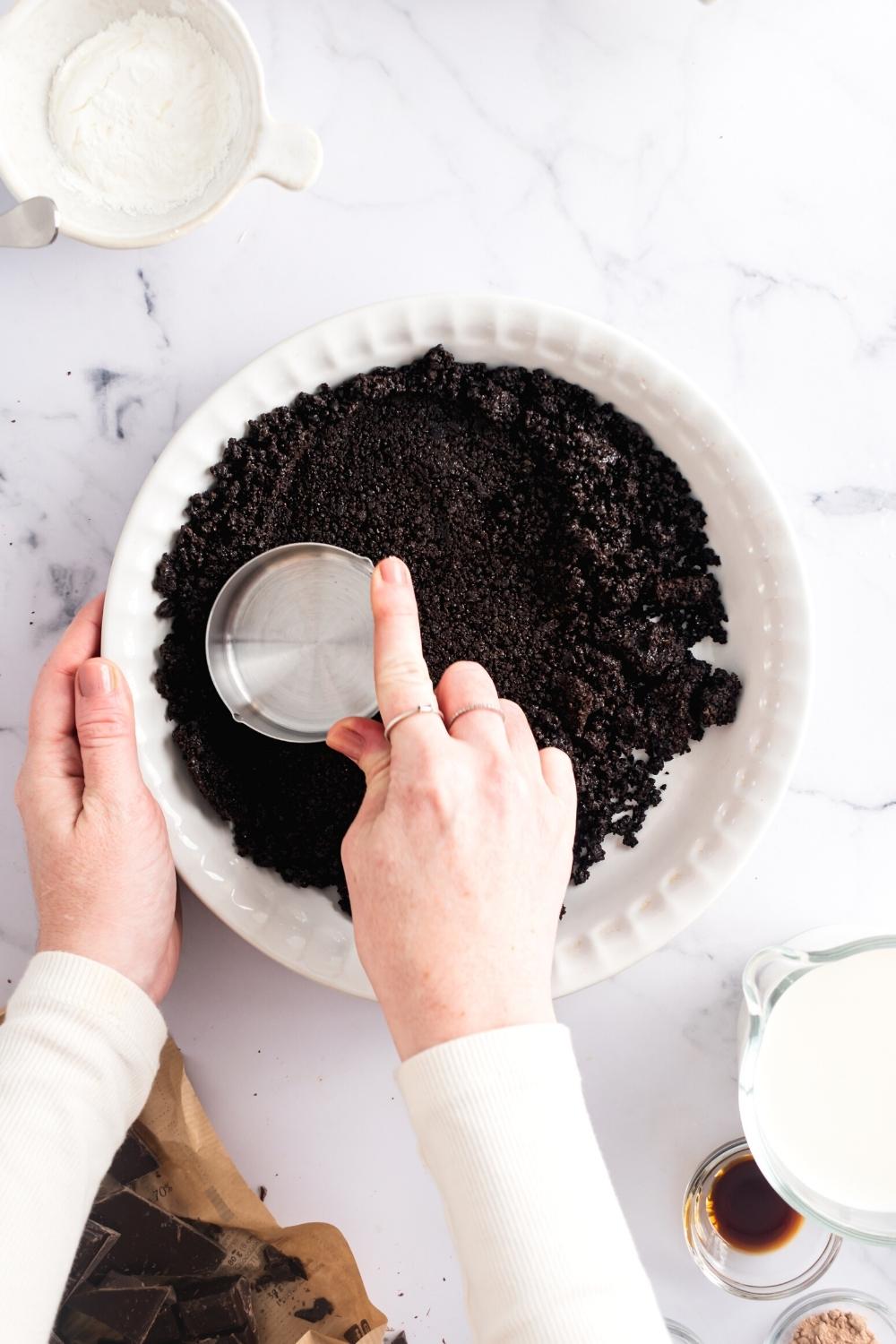 Step 1: Make the Oreo Crust
First, chop your chocolate into chunks and set them aside for later - we'll be using these for the chocolate filling.
Next, blend the whole Oreos - with the filling - into crumbs in a food processor. Alternatively, you can also crush them up in a bag if you don't have a food processor.
Then, when those are crushed, add in the melted butter and mix until you've got a well-combined mixture.
Now press the buttery Oreo mixture into a pie dish, spreading it into an even layer on the bottom and around the sides.
By the way, make sure not to leave any bare areas in the pan for your chocolate cookie crust.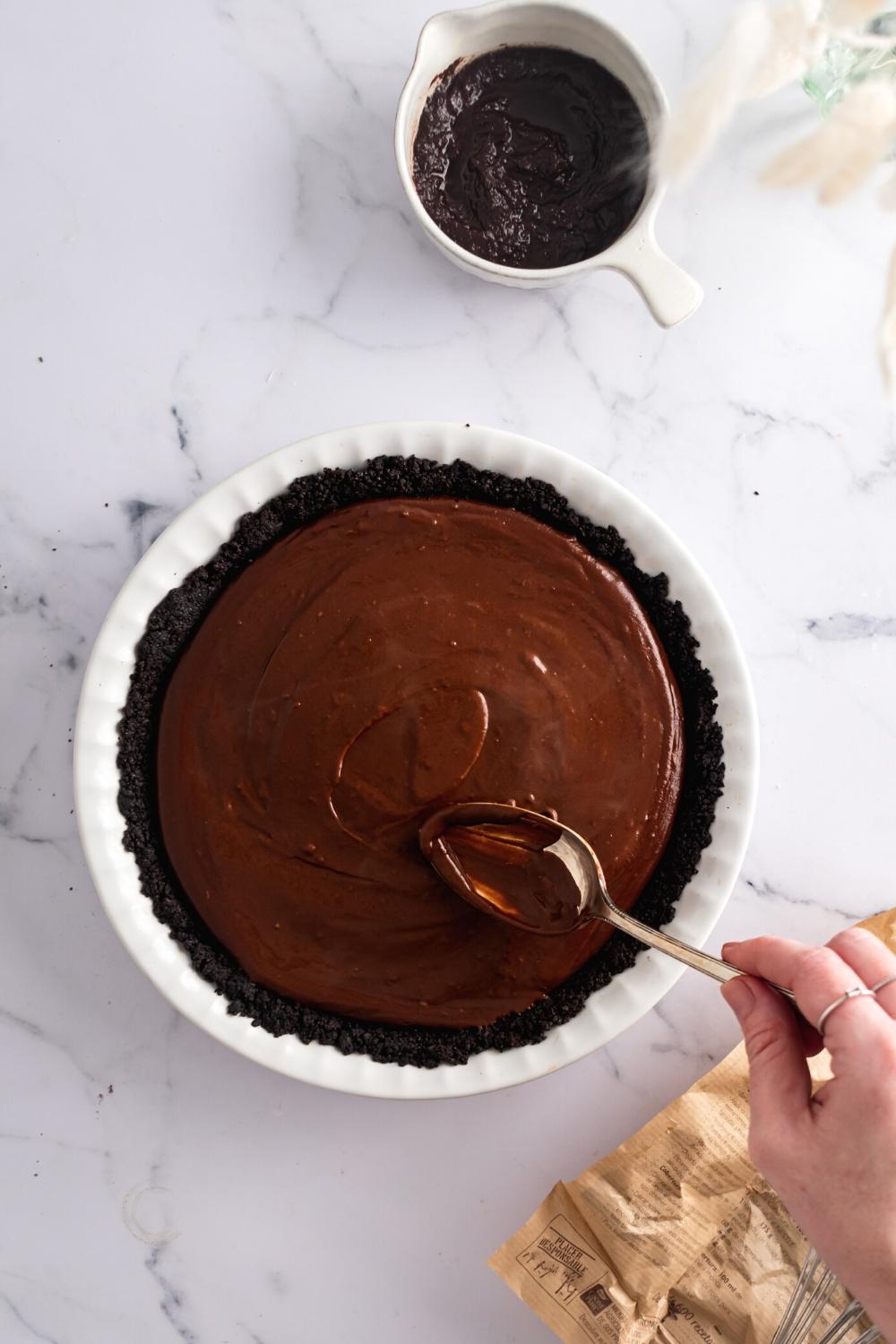 Step 2: Make the Chocolate Filling
Once your Oreo pie crust is ready and set aside, whisk the egg yolks together in a medium-sized bowl. Then whisk in the ½ cup of milk and ¼ cup of cornstarch, stirring until blended.
Now, in a small pot or saucepan, add the cream, the rest of the milk, salt, and sugar, and whisk until combined.
Then, bring the stovetop to medium heat and mix in the espresso powder.
Once the liquid starts boiling, remove it from the heat and slowly pour it into the bowl with the whisked egg yolk mixture. And make sure to mix everything together as you do this.
Then, add it back into the pot and continue heating with continuous whisking.
When the mixture has thickened, add your chocolate chunks in and stir until melted and well-incorporated.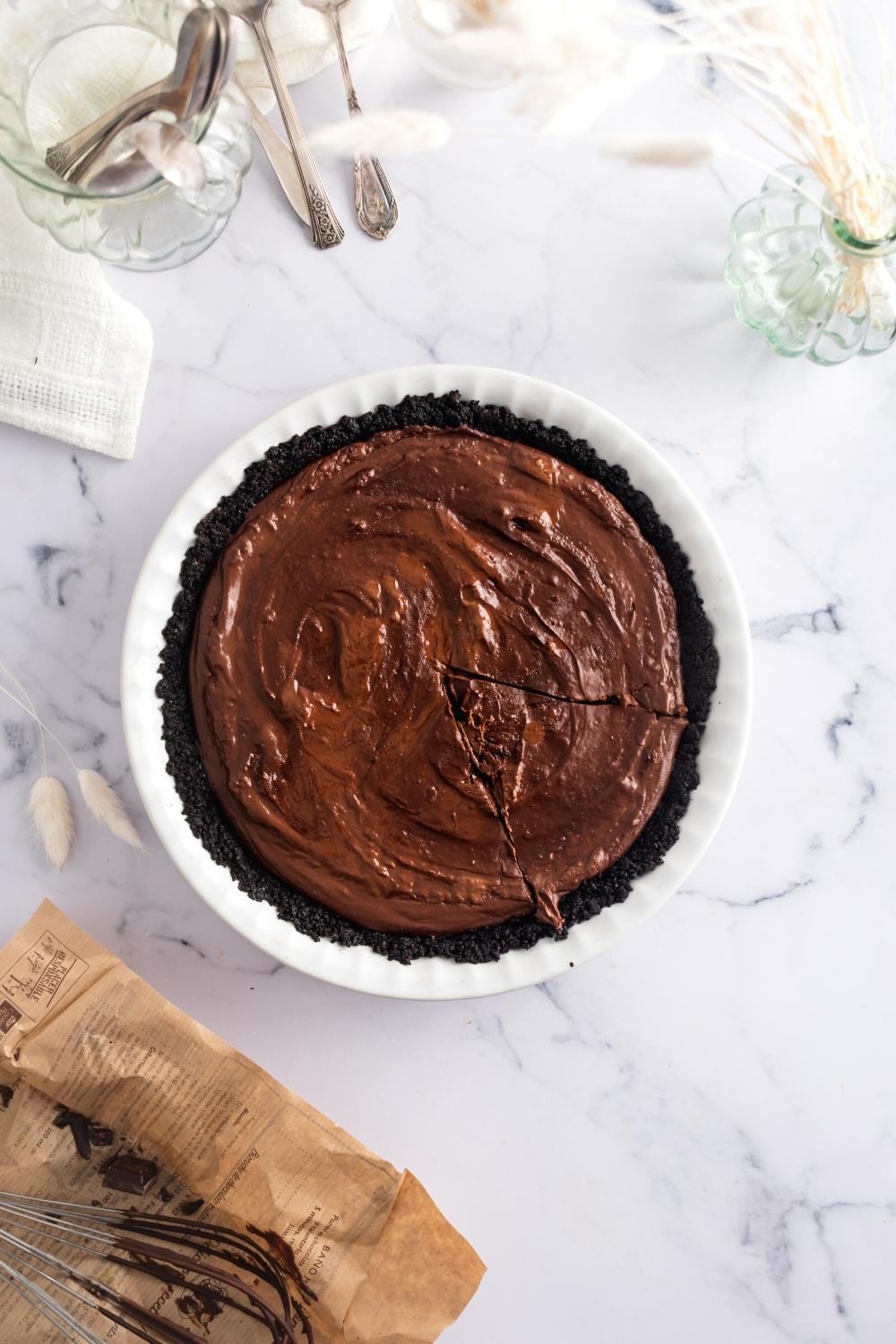 Step 3: Finish and Chill the Pie
After all is combined, remove the chocolate filling from the heat and pour it into the pie pan over the prepared pie crust. Smooth it out with a spatula and top with the chocolate ganache.
Now cover the mud pie and transfer it to the fridge to set for at least 2 hours or overnight.
Or, if you're in a hurry, you can place your newly-formed pie in the freezer to speed up the setting process. It will set faster and be ready to serve in less time - just don't let it chill too long!
Finally, top it with whipped cream and some more Oreos to your liking, serve chilled, and enjoy this indulgent dessert!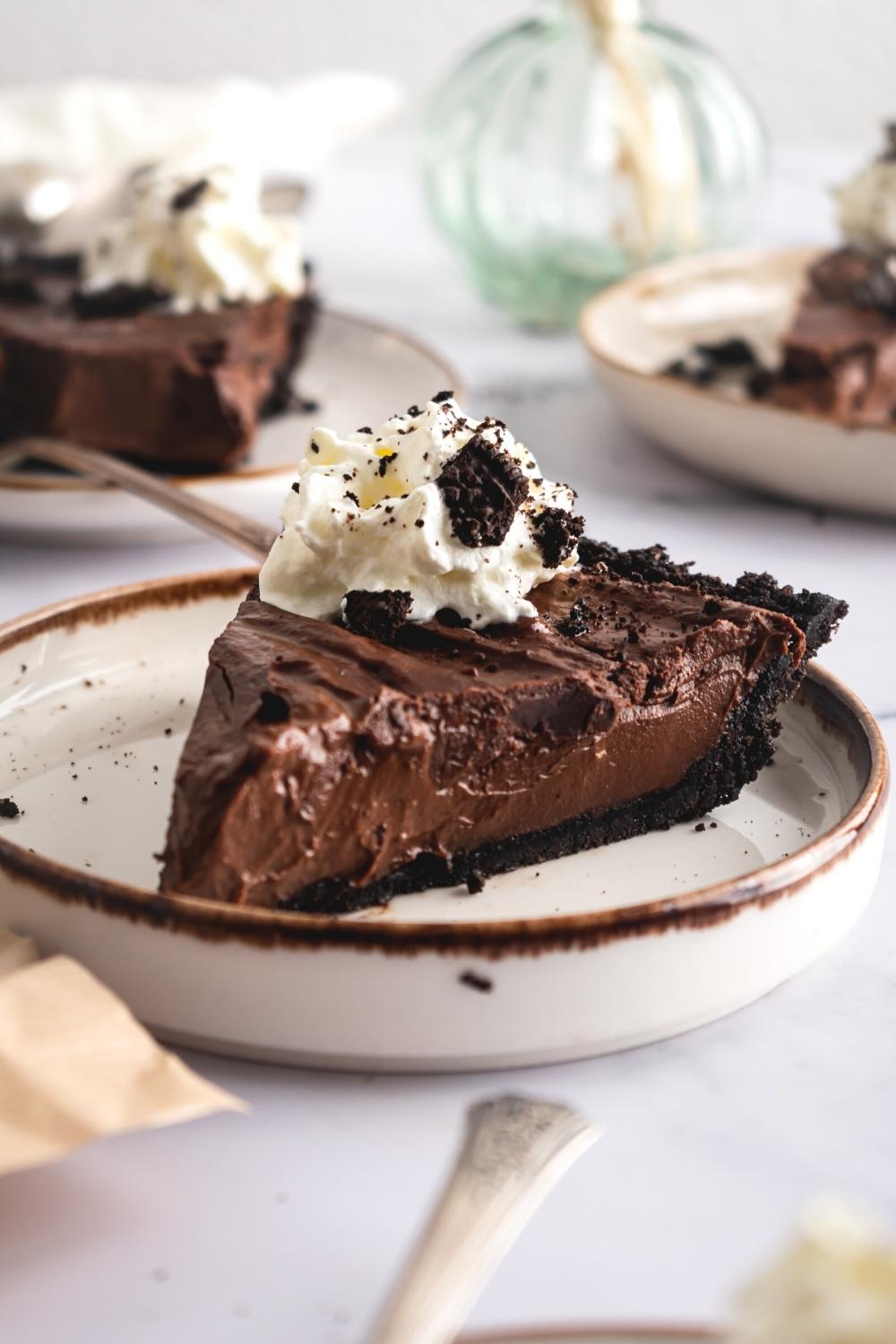 How to store Mississippi Mud Pie
This delicious chocolate pie recipe will make about 8 slices.
And I know it's tempting to eat this whole chocolate pudding pie in one sitting, but if you want to store leftovers for your family and friends (or your future self), you'll be glad to know this pie keeps really well in the fridge.
You can store any extras in an airtight container or you can leave them in the pie dish and cover it tightly with plastic wrap. Then, all you have to do is store it in the fridge - it'll stay good for up to 4 days.
Of course, you can also freeze the pie, and here is a great way to do that.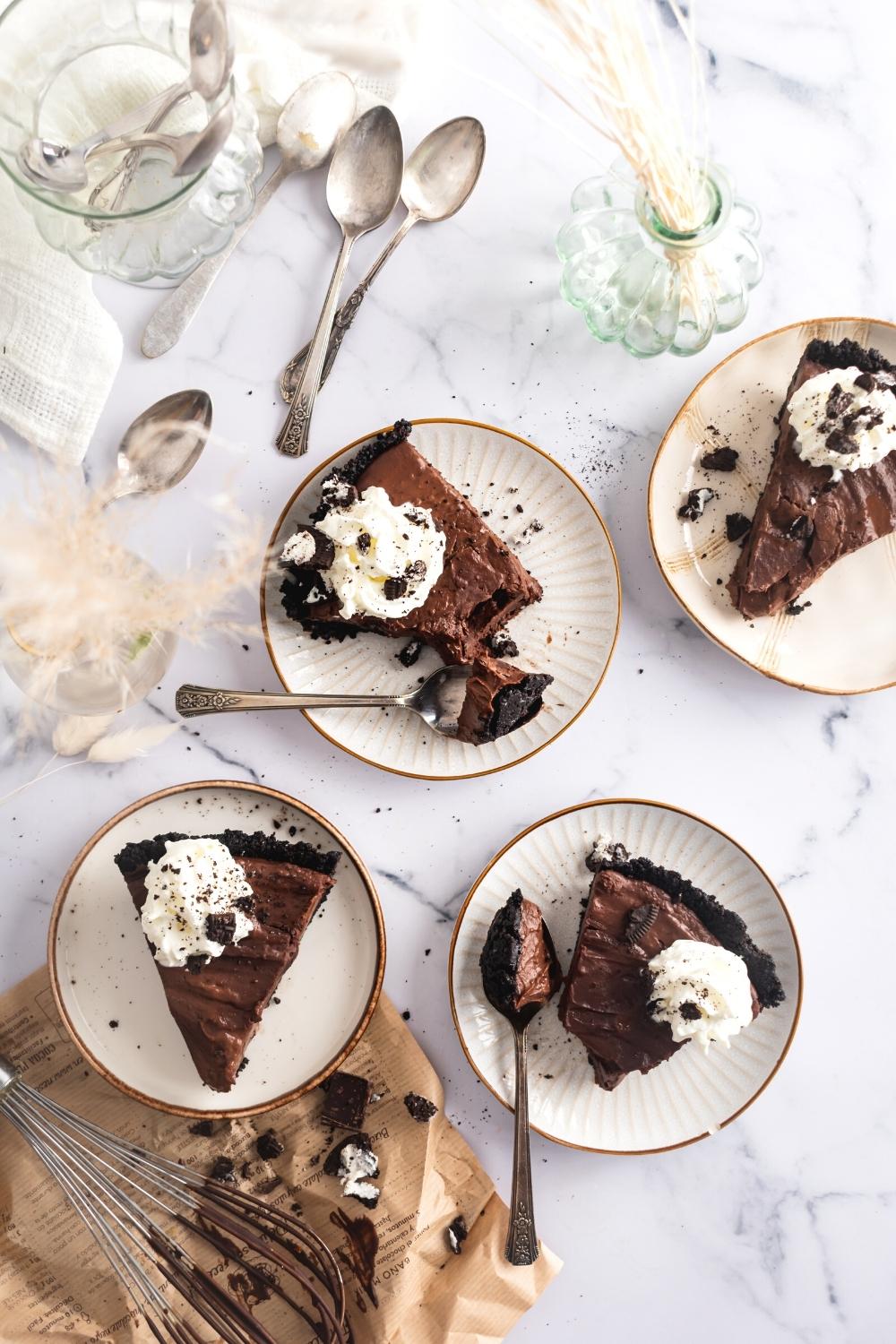 FAQs About This Mississippi Mud Pie Recipe
What is Mississippi mud pie made of?
Mississippi mud pie is usually made with at least two chocolate based layers - usually chocolate pudding, brownie, chocolate cake, or chocolate ganache. And then the filling is on top of a chocolate or biscuit crust, finished with a layer of whipped cream. I like to put the filling on an Oreo pie crust for the most decadent and chocolatey flavor.
Why is it called Mississippi mud pie?
The name of the iconic pie is a reference to its rich and gooey chocolatey filling, which looks slightly similar to the dense brown mud of the Mississippi River. I know that sentence doesn't make it sound appetizing, but that's actually where the name comes from.
What is the most popular dessert in Mississippi?
Mississippi mud pie is undoubtedly one of the most popular - if not the most popular - desserts in the state of Mississippi. It's famous both in and outside the Magnolia State. Mississippi is also famous for a lot of other pies too!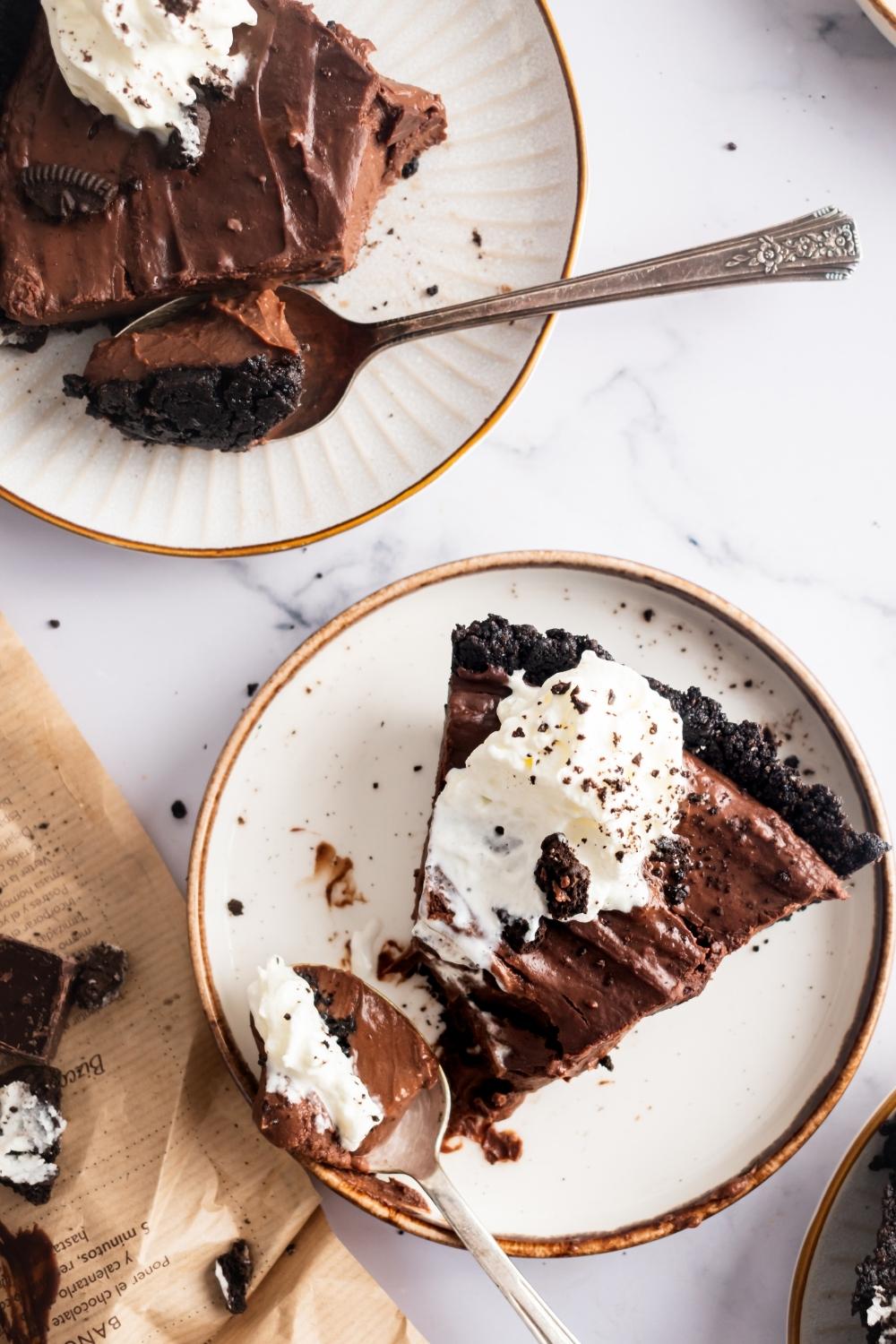 Wrapping it all up
Well, that is how to make a Mississippi mud pie with an Oreo crust! It's definitely the ultimate dessert for chocolate lovers and practically anyone with a sweet tooth.
I mean, who can resist a good homemade rich dessert? Especially one as good as this chocolate pie!
What I love most about this dessert is that you can make it for any occasion. This mud pie makes a great addition to a summer picnic, an office party, or a holiday gathering. It's easy enough to make the day before and is always a huge hit with everyone.
The possibilities are truly endless!
Anyway, I hope you enjoy this Mississippi mud pie recipe as much as my family and I do. Let me know what you think in the comments below if you've made it. I'm excited to hear from you.
Oh, and be sure to check out our Youtube channel, TikTok, and Instagram page for more quick and easy dessert recipes.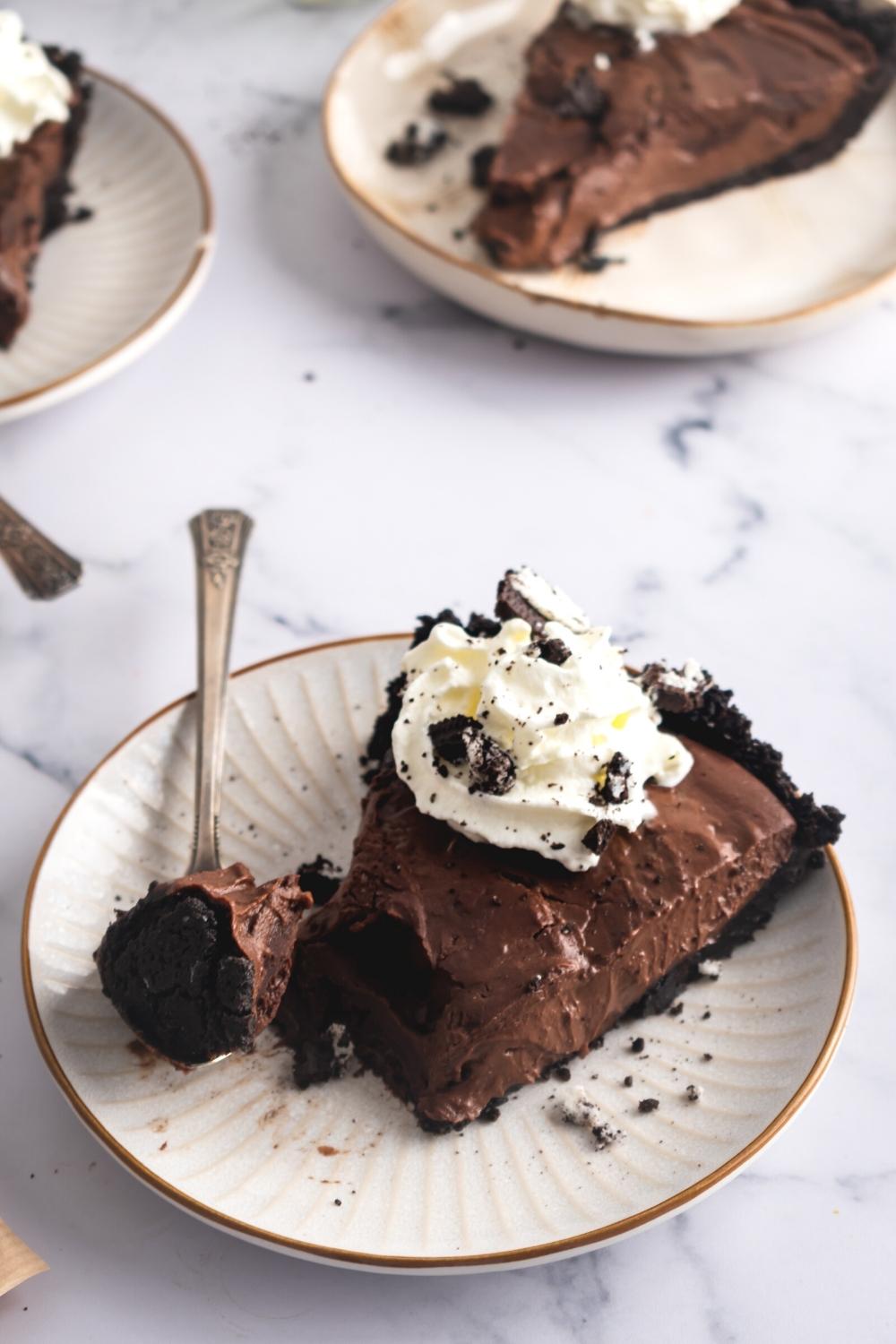 More Dessert Recipes
If you want to try some more delicious desserts, we have a ton on the blog to try next!
Here are some of our most popular desserts:
Print
Mississippi Mud Pie Made With An Oreo Crust
Every bite of this rich and chocolatey Missippi mud pie recipe is pure Southern decadence. From the buttery oreo pie crust to the gooey double chocolate filling and the pillowy whipped cream topping, this Mississippi mud pie doesn't hold back!
Author:
Prep Time:

30 minutes

Cook Time:

0 minutes

Total Time:

30 minutes

Yield:

8

slices

1

x
Category:

Dessert

Method:

Mixing

Cuisine:

Pie
1 cup (170g) chocolate (chips or melting chocolate)
24 Oreos
5 tbsp. melted unsalted butter
5 eggs, separated
½ cup milk
¼ cup cornstarch
1 cup (240ml) cream
1 ½ cup milk
1 tsp salt
⅔ cup sugar
1 tsp. espresso powder
1 cup chocolate ganache
Whipped cream, to serve
Oreos, to serve
Instructions
Chop the chocolate in chunks.

Process the Oreos in a food processor and add the melted butter.

Transfer to a pie dish. Spread it around and make it flat on every side, pressing the mixture together.

Whisk the egg yolks.

In a bowl mix milk and cornstarch.

In a pot add the cream, milk, salt and sugar and whisk it up.

Turn the heat on and add the espresso.

Once it starts boiling, remove from the heat and add it to the egg yolks. Mix it in the bowl and transfer back to the pan, continue heating and whisking until it thickens.

Add the chocolate and stir until it's all dissolved.

Transfer to the pie mold and top with the ganache.

Refrigerate until it sets.

Top with whipped cream and Oreos.
Nutrition
Serving Size:

1 slice

Calories:

399

Fat:

24

Carbohydrates:

45

Protein:

1
Keywords: Mississippi mud pie, Mississippi mud pie recipe, Mud pie, Mississippi mud pie oreo crust, Mississippi mud pie recipe no bake, Mississippi mud pie recipe easy, how to make mud pie, how to make Mississippi, Mississippi mud pie recipe with Oreos, mud pie recipe easy