These 3 ingredient sugar cookies are so soft, buttery, sugary, and just too delicious to put into words! And to make them even better, these sugar cookies are loaded with M&Ms that melt in your mouth with every bite.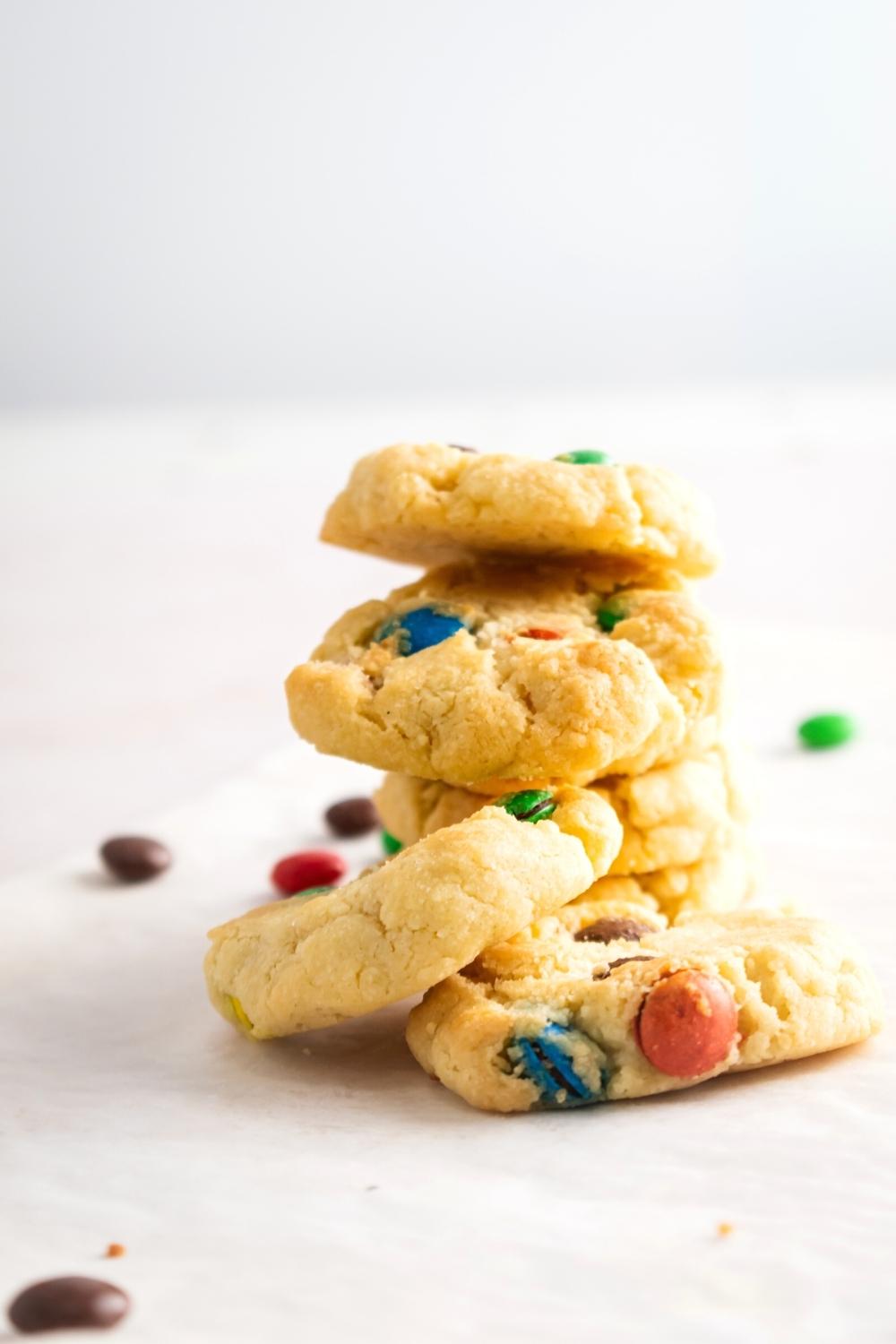 THE BEST 3 INGREDIENT SUGAR COOKIES
You won't believe that sugar cookies can taste this good with only 3 ingredients, but trust me, they do.
These M&M sugar cookies are super soft, perfectly chewy, and have a buttery and sugary flavor that melts in your mouth with each bite. And the added chocolate from the M&Ms is the finishing touch that takes them from good to amazing.
But, the best part is they take under 20 minutes to make!
Honestly, this might be one of the best sugar cookie recipes in existence. Quick, easy, and delicious - yeah, you just can't beat it.
In fact, I'd say they're just as good as these snickerdoodles, milky bar cookies, and marshmallow cookies. So you might as well treat yourself and try those delicious cookies next!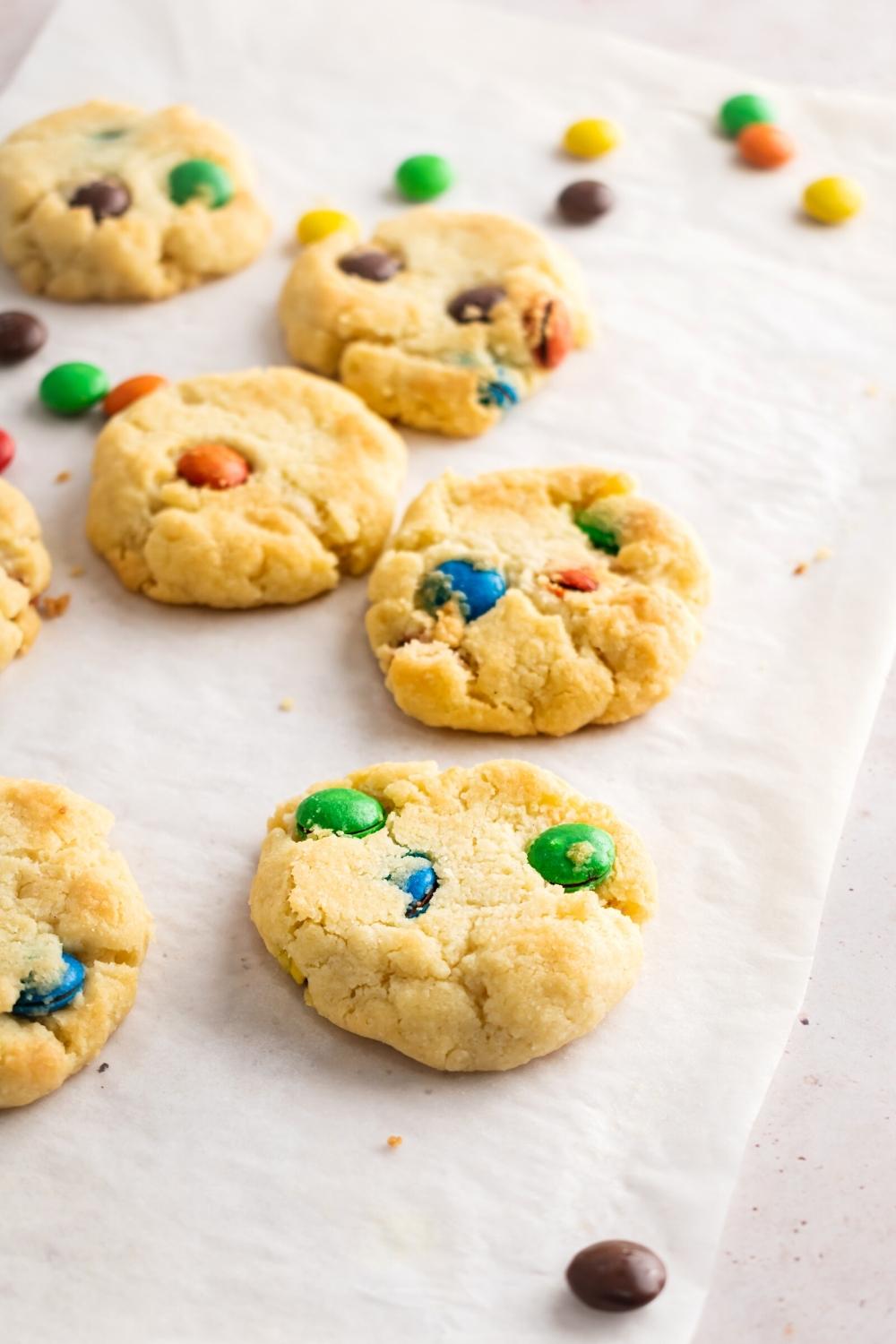 INGREDIENTS FOR THIS SUGAR COOKIE RECIPE
So, the best part about this easy sugar cookie recipe is for sure the fact that you only need 3 ingredients - plus the M&Ms of course - to make them.
Oh, and the ingredients are all basic pantry staples!
Here's everything that you'll need for this sugar cookie recipe:
1 Stick Softened Butter
¼ Cup Sugar
1 ¼ Cups Flour
45g M&Ms (optional)
Pretty great, right? You can use salted butter or unsalted butter to make the cookies. I used unsalted butter, but both work well.
Now, as I mentioned, the M&Ms are optional, but I think they complete these 3 ingredient sugar cookies. Of course, if you want to leave them out, this will still make a great recipe!
By the way, if you want to try another dessert cuisine made with just a few ingredients, give this 2 ingredient Oreo mug cake a shot next!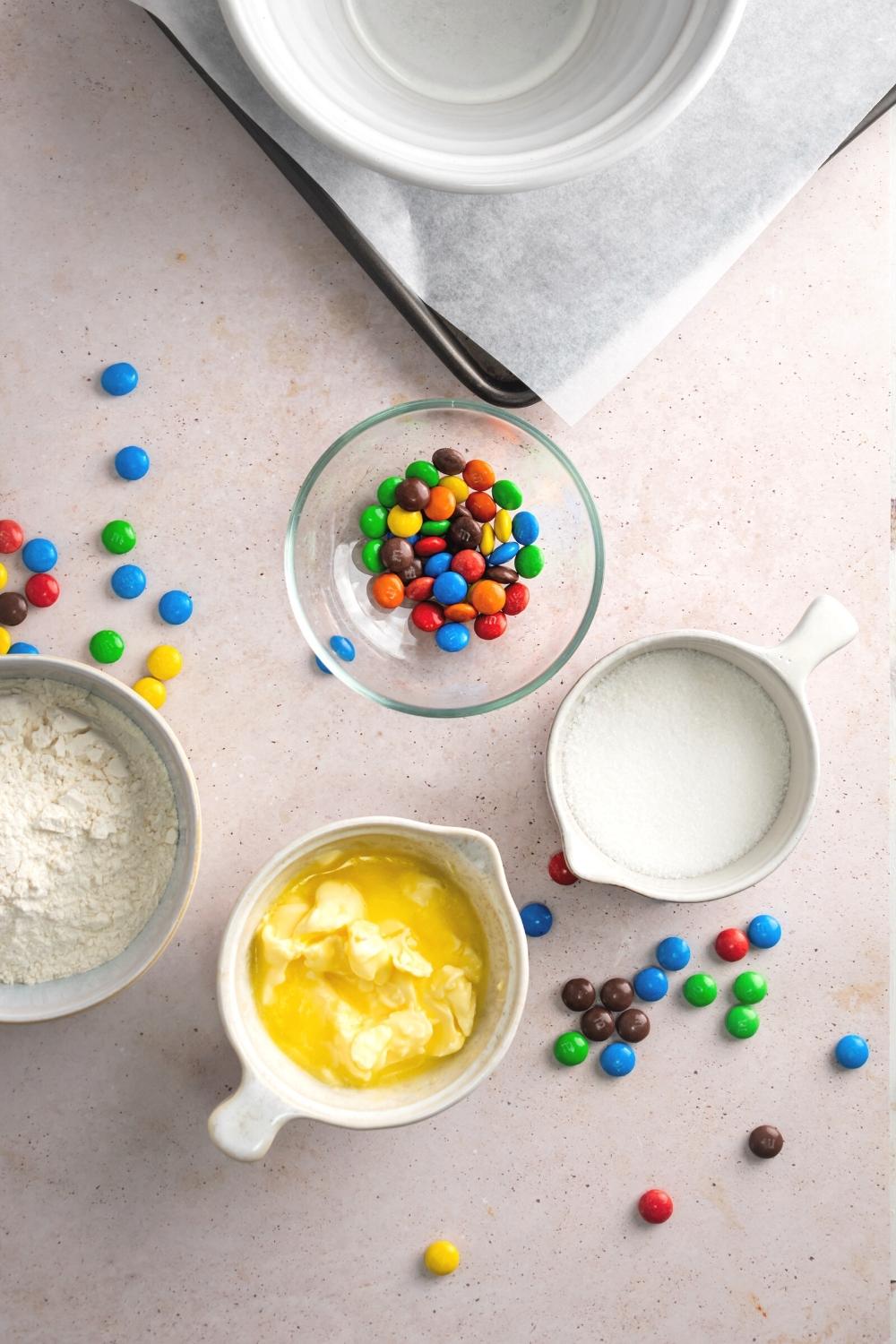 HOW TO MAKE 3 INGREDIENT SUGAR COOKIES
Another reason to love these 3 ingredient sugar cookies - if you needed another one - is that they're unbelievably easy to make. And the entire process of easy baking takes under 20 minutes total!
So get out those 3 ingredients, and let's get baking!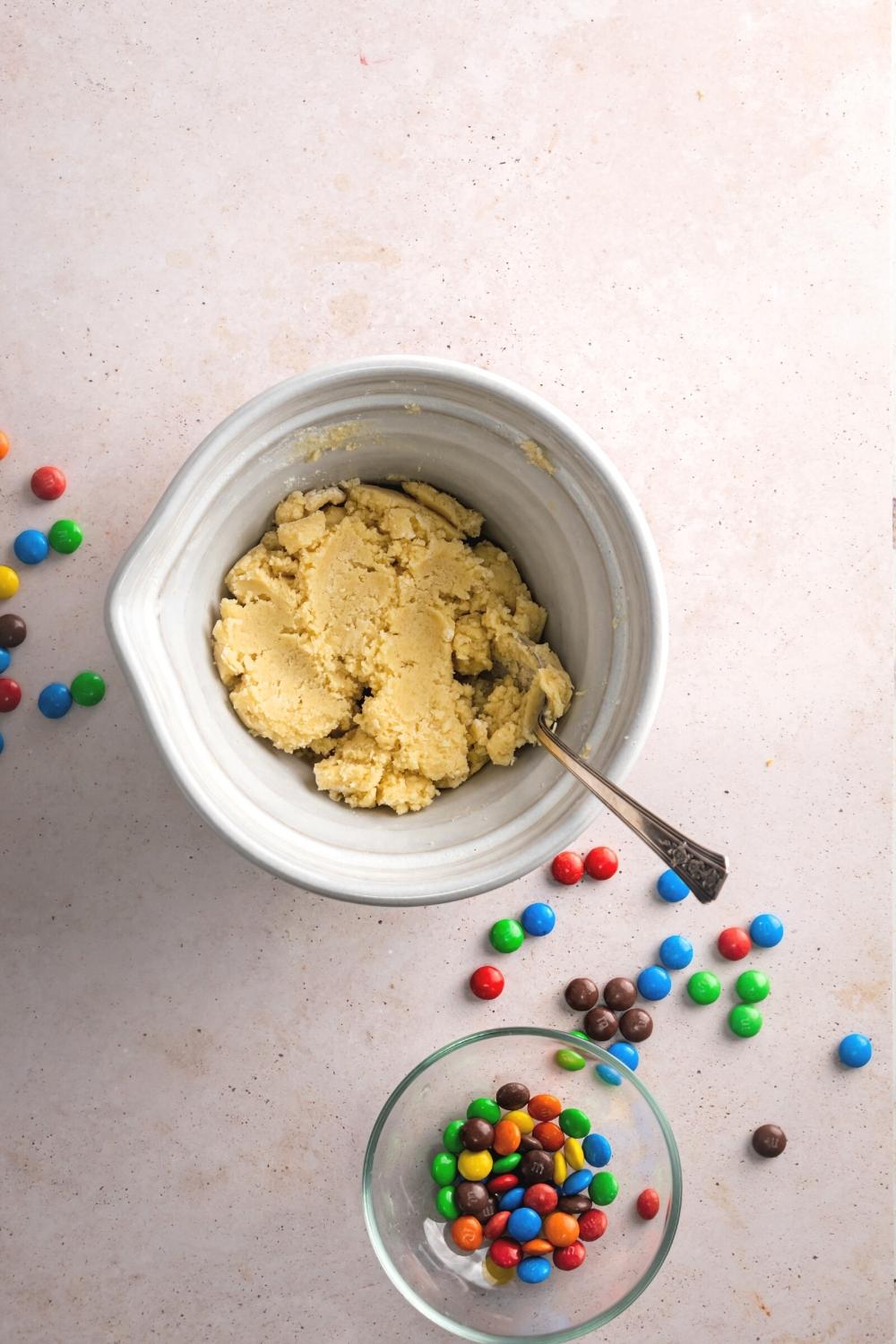 STEP 1: MAKING THE DOUGH
First things first, preheat the oven to 350 degrees Fahrenheit (175°C).
Next, take out a medium-sized bowl and add the softened butter, sugar, and flour. Then, mix the dough with your hands until the ingredients combine into a crumbly consistency. Fair warning, your hands will get a little messy when working with the butter mixture!
Once the dough is crumbly, add the m&ms to the bowl and mix them in with your hands to incorporate them into the dough.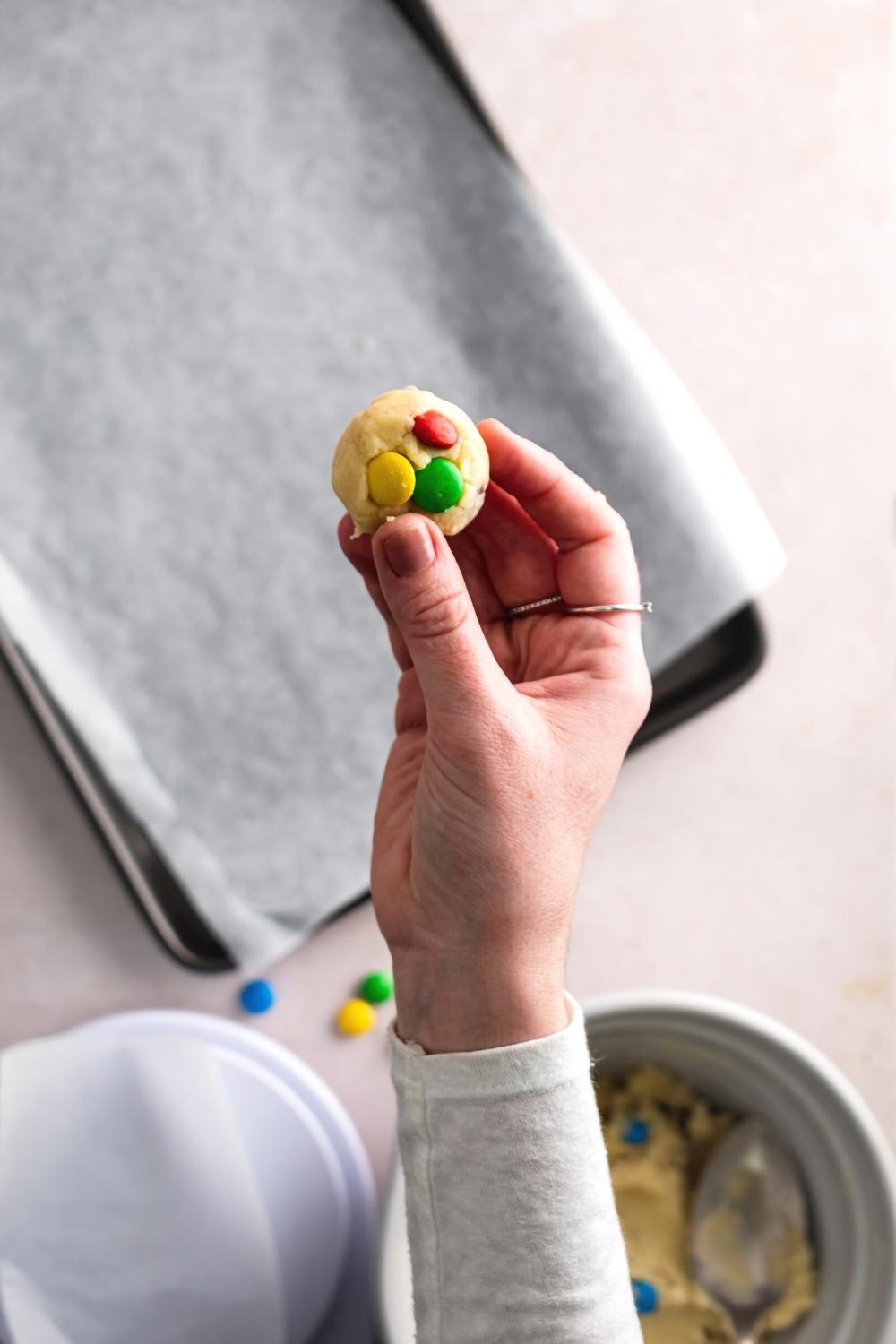 STEP 2: FORMING & BAKING THE COOKIES
Before you form the cookies, line a cookie sheet with parchment paper and set it to the side.
Now scoop about 1 tablespoon worth of dough and use your hands to form it into dough balls. Then, flatten cookies with your fingers since they won't expand much while baking.
After you shape all of the cookies, put them on the prepared baking sheet and bake for about 10 minutes or until lightly golden. Then finally, let the amazing cookies sit on the baking sheet to cool completely, and enjoy warm!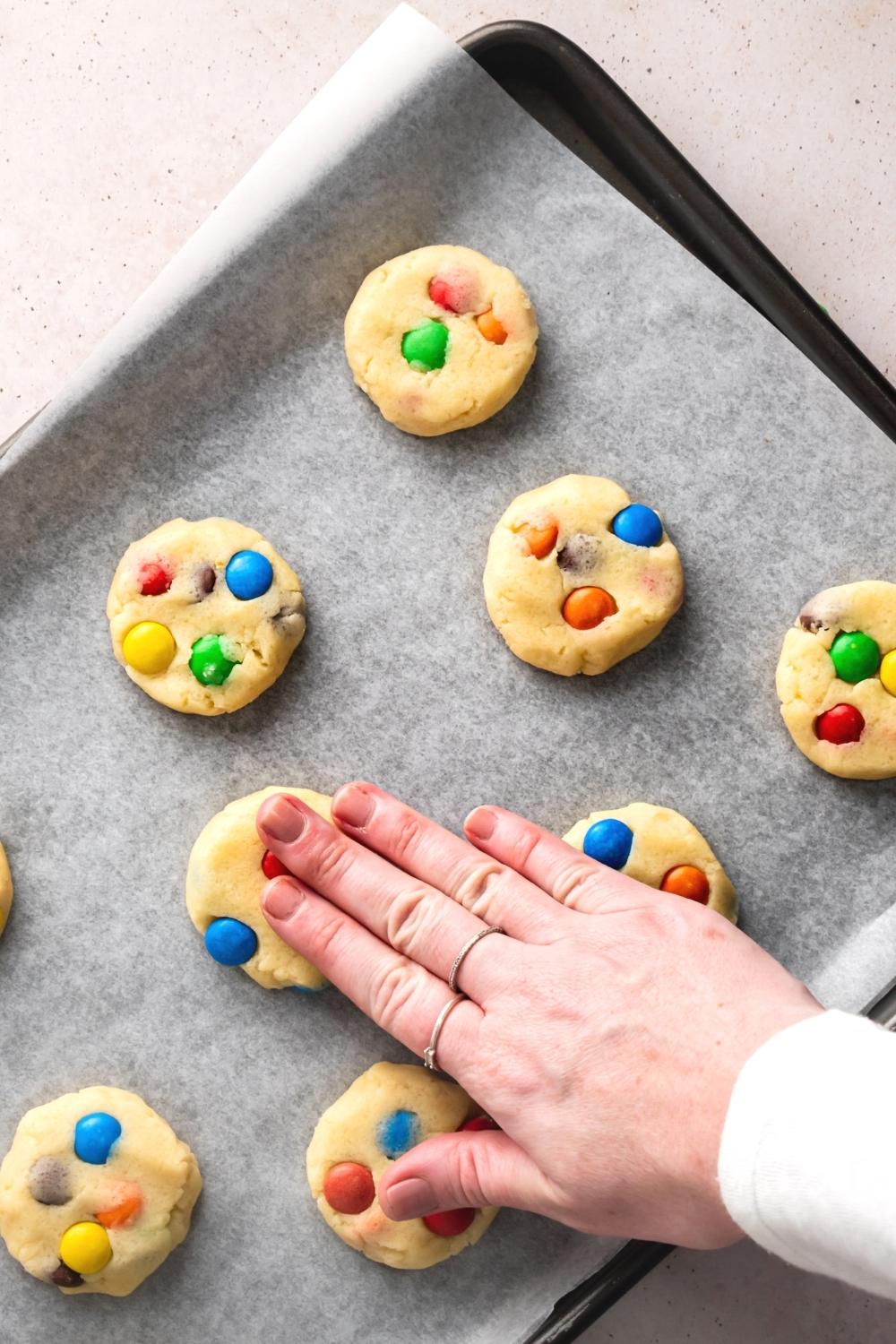 HOW TO STORE SUGAR COOKIES
This sugar cookies recipe will make about12 cookies depending on how big you shape them. And if you have anyone in the house while they're baking, the smell will have them lined up at the kitchen counter.
So, odds are you'll only have a few leftover cookies, if that.
But if you did end up saving some, you can store cookies in an airtight container on the counter at room temperature for up to 2 weeks. And if you don't have an airtight container, you can store them in a sealable plastic bag. With that said, they are absolutely their best when consumed in the first 5 days of making them.
And for the best experience, I suggest enjoying them with a glass of milk!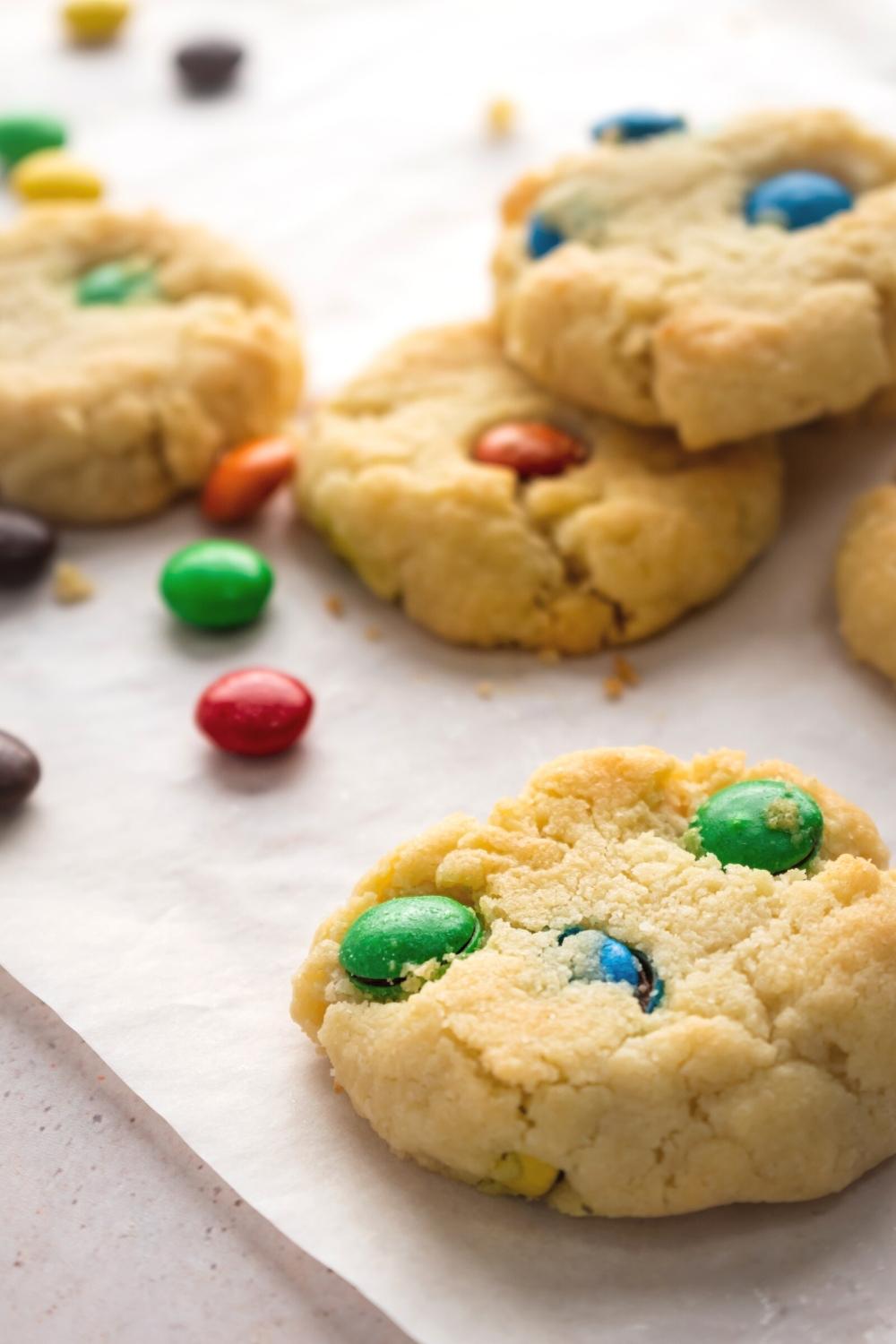 FAQS ABOUT THIS 3 INGREDIENT SUGAR COOKIE RECIPE
Are butter cookies and sugar cookies the same?
Butter cookies and sugar cookies are super similar. The biggest difference is typical sugar cookies make a dough that gets rolled out to make a thinner cookie. So this recipe is really a cross between the two, kind of like a shortbread cookie.
What are soft sugar cookies made of?
If you want your sugar cookies to be soft, they should be made with a lot of butter for that soft and melt in your mouth texture.
Can I add anything to these cookies?
If you want to enhance the flavors, you can add a pinch of salt and ½ a tablespoon of vanilla extract.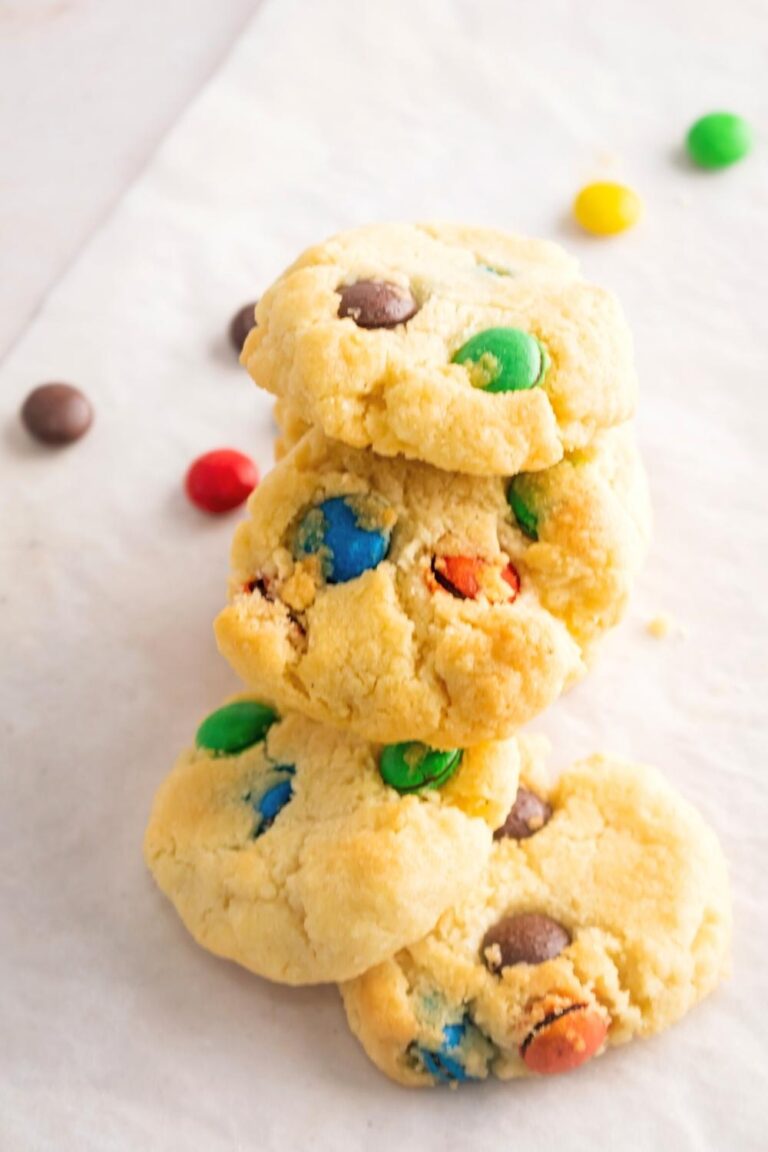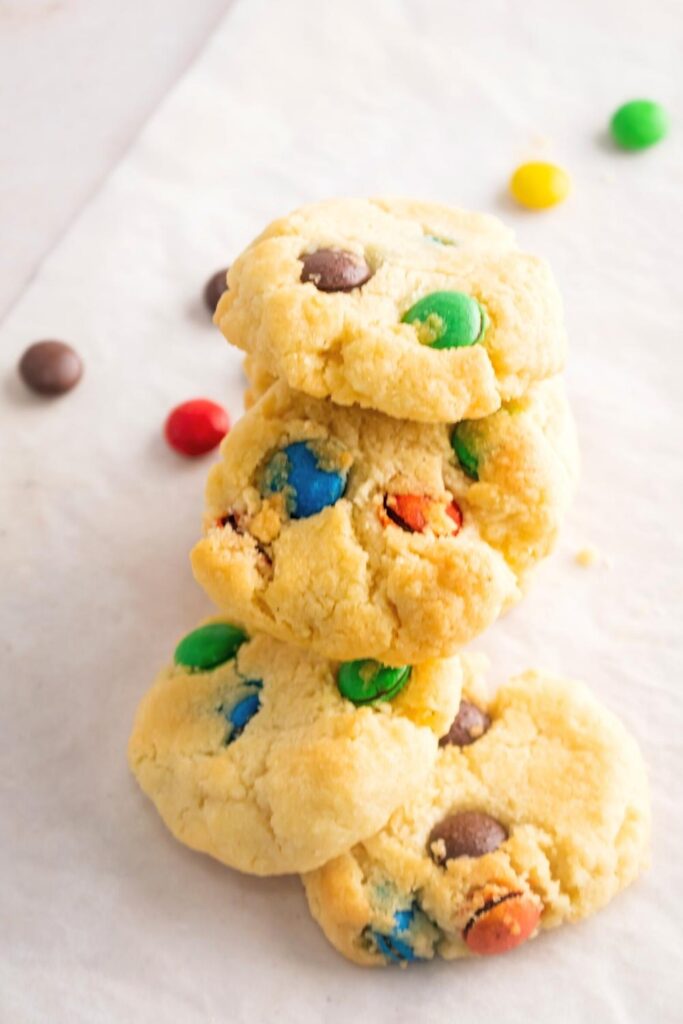 WRAPPING IT ALL UP
Well, that is how to make delicious sugar cookies with only 3 ingredients! From the basic ingredients and total time it takes to make them, to the flavor and texture - you won't find a better recipe for sugar cookies than this one.
Anyway, I hope you enjoy these 3 ingredient sugar cookies as much as I do. If you make them, leave a comment below and let me know how your cookies turned out.
And for more delicious recipes like these easy cookies one, don't forget to check out our Youtube channel!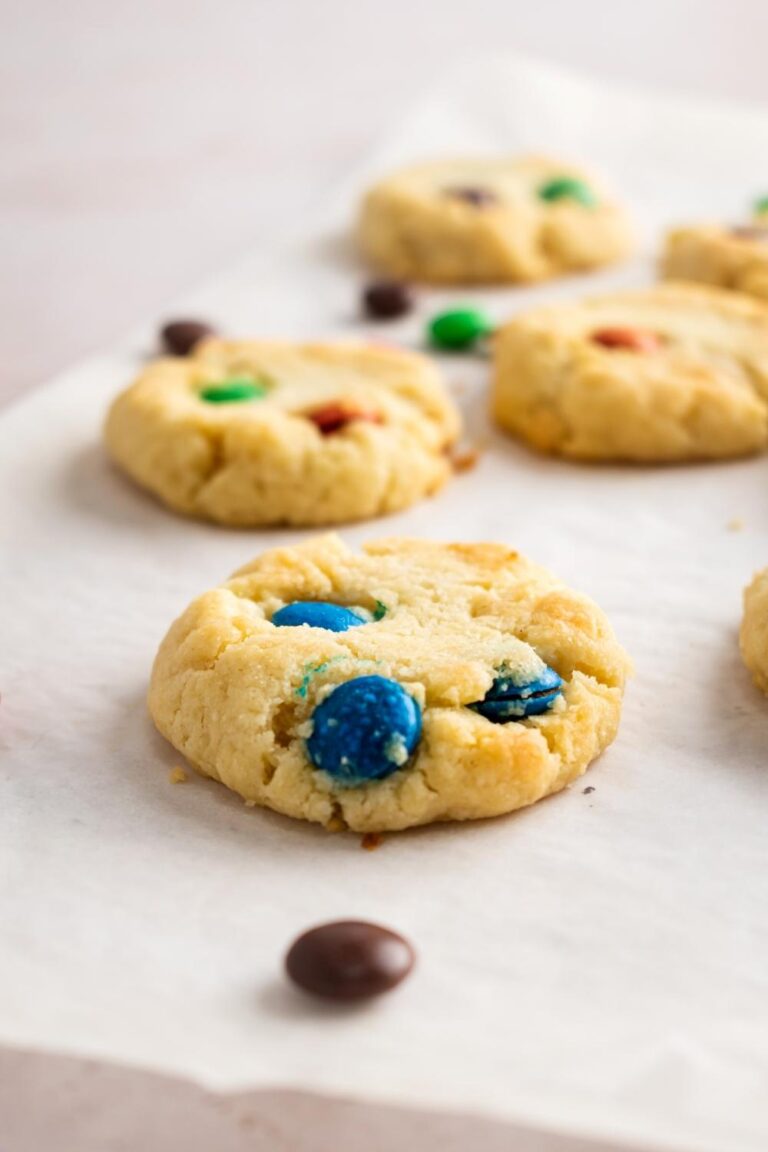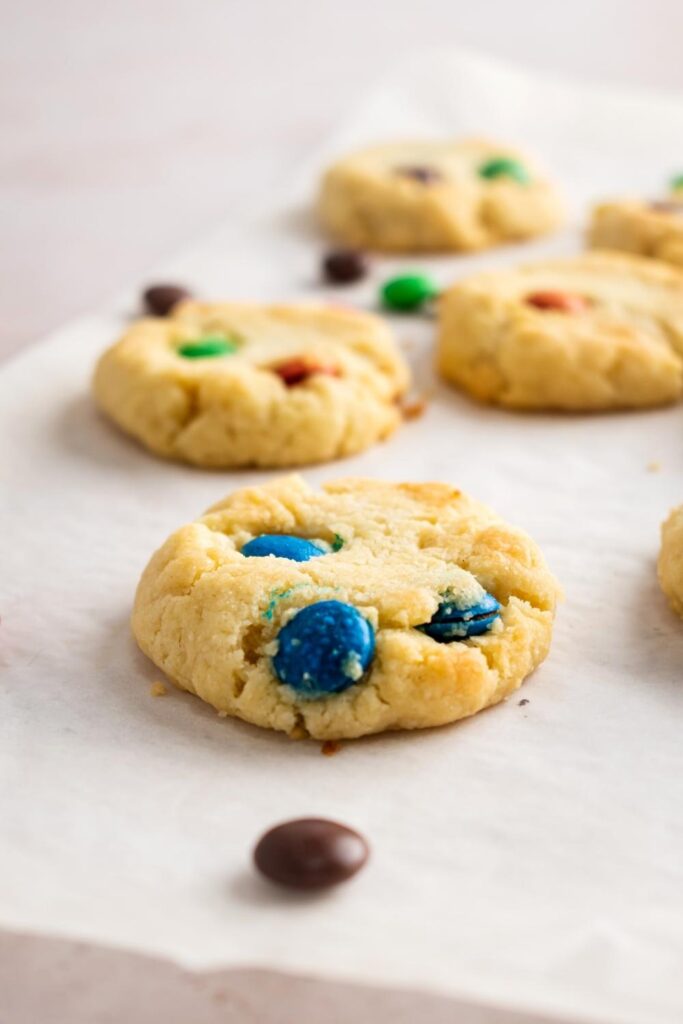 EASY DESSERT RECIPES
Oh, and if you're looking for more easy desserts, we've got plenty on the blog for you to try!
Check out some of our favorite recipes:
3 Ingredient Sugar Cookies
These 3 ingredient sugar cookies are so soft, buttery, sugary, and just too delicious to put into words! And to make them even better, these sugar cookies are loaded with M&Ms that melt in your mouth with every bite.
Author:
Prep Time:

5 minutes

Cook Time:

10 minutes

Total Time:

15 minutes

Yield:

12

cookies

1

x
Category:

Dessert

Method:

Oven

Cuisine:

Cookies
1 Stick Butter,  softened
¼ Cup (55g) Granulated Sugar
1 ¼ (160g) Cups Flour
45g M&Ms (optional)
Instructions
Preheat the oven to 350°F (180°C).

Add butter, sugar, and flour to a bowl.

Mix with hands until crumbly.

Mix in half the M&Ms with your hands.

Scoop about 1 Tbsp. of dough and form into a ball with your hands. Then flatten into a cookie shape and top with M&Ms.

Bake for about10 minutes and enjoy .
Nutrition
Serving Size:

1 cookie

Calories:

92

Fat:

7.66

Carbohydrates:

6

Protein:

0.33
Keywords: 3 ingredient sugar cookies, sugar cookies, best sugar cookies, best three ingredient sugar cookies, m&m sugar cookies, m&m sugar cookies recipe, m&m cookies recipe easy, how to make sugar cookies with three ingredients, three ingredient sugar cookies, how to make 3 ingredient sugar cookies, m&m cookies recipe, m&m cookie recipe, 3 ingredient sugar cookie recipe, 3 ingredient sugar cookies recipe,