These Deep fried Oreos have a flaky outside, tender inside, and are stuffed with cookies and cream goodness. And they're just as good, if not better, than the ones you'd get at the fair! But, the best part is you only need simple ingredients and just 15 minutes to make these fried Oreos!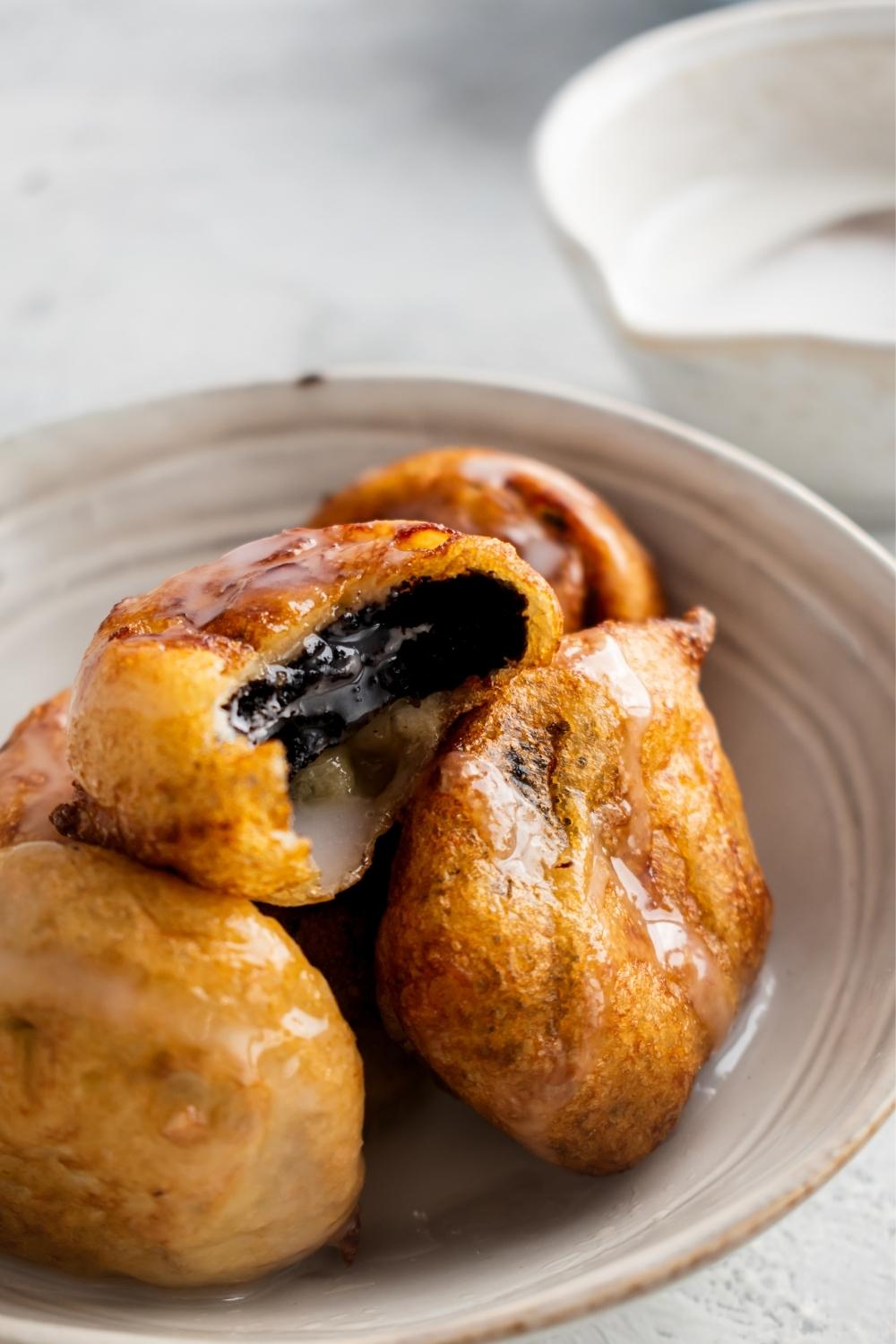 THE BEST FRIED OREOS
Deep Fried Oreos are the ultimate fair food or carnival snack, and it's easy to see why! The iconic cookies are coated in a simple batter and then deep fried to create the ultimate flavor and texture combination.
Fried Oreos have a hot and crunchy outside, gooey inside, and have a rich chocolate flavor with vanilla cream in every bite. Then, the Oreos are topped off with some powdered sugar to make them even more addicting! How could you not love all of that?!
Now, if you've never had deep fried Oreos before, they taste like a freshly fried glazed doughnut - or beignet - with a melty Oreo in the middle. And yes, it's as awesome as it sounds!
As if that's not enough, there are so many ways to make them even better. One way to jazz up Fried Oreos is to add a dash of cocoa powder to the batter for an extra-chocolatey treat. Or you can drizzle them in melted white chocolate, caramel sauce, or even roll them in cinnamon sugar.
And if you want to go the extra mile, serve them with a buffet of dips, like strawberry sauce, Dulce de Leche, and chocolate ganache.
You can even go all out with the ultimate Fried Oreo experience by adding them to a bowl with a scoop of vanilla ice cream and whipped cream on top.
As for the Oreo flavor, the sky's the limit! Try using Double Stuf Oreos, peanut butter birthday cake, or any of their limited-edition flavors.
By the way, if you love Oreo cookies, you have to give these Oreo balls a try. They're made with only three ingredients and are one of my favorite Oreo desserts (next to these fried Oreos, of course).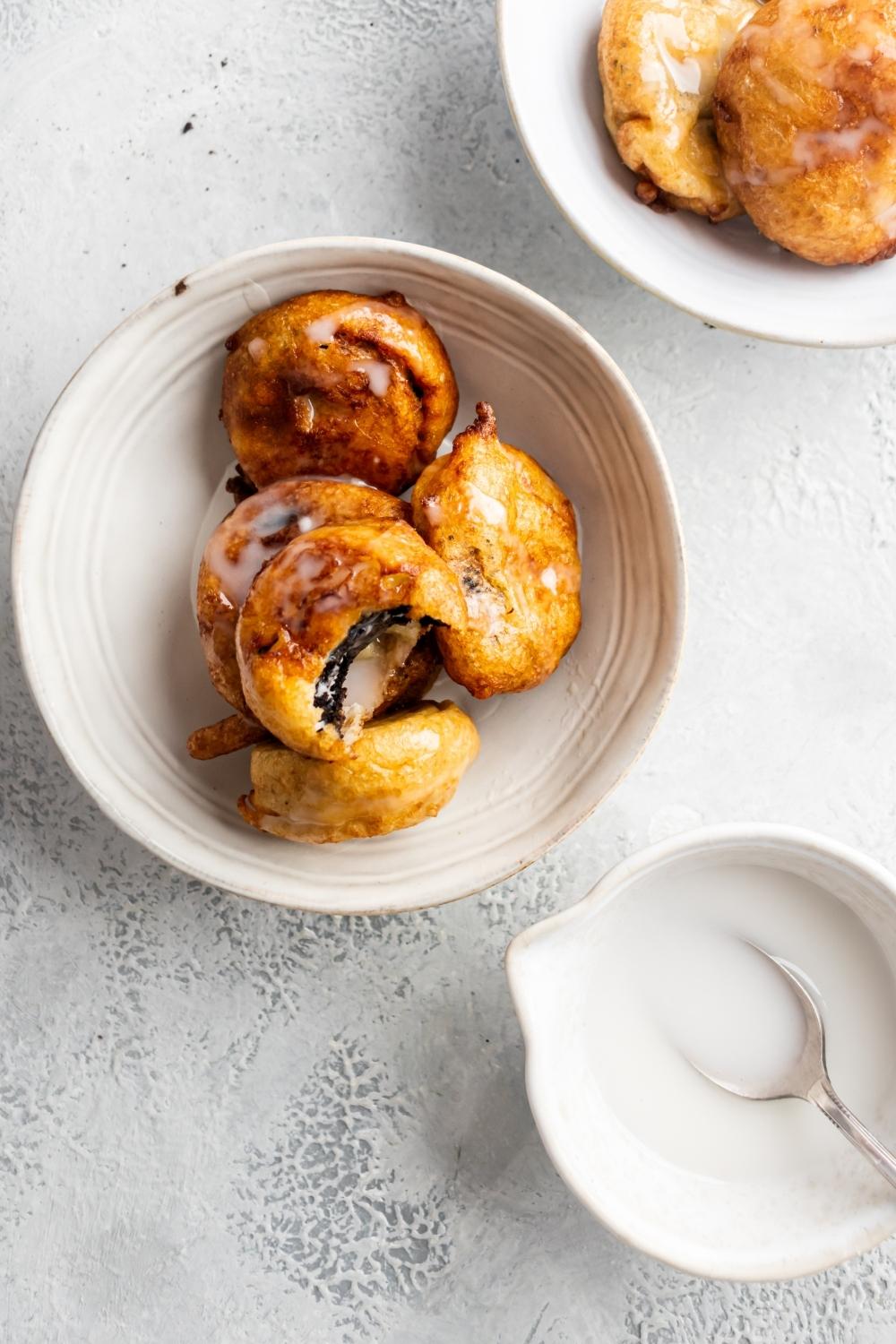 Ingredients
So, as I just mentioned, we'll be using simple ingredients to make these fried Oreos.
For the batter, we'll be using pancake mix as the base. It cuts down on the prep and delivers consistent results every time. This makes it a breeze to double or triple the recipe too!
With that said, here's everything you'll need to make 'em:
18 Oreo cookies
1 ½ cups pancake mix
1 egg
¾ cup milk
¼ teaspoon vanilla extract
¼ cup powdered sugar
Oil for frying
And for the optional glaze:
½ cup Powdered sugar
1 tbsp. milk
Not bad, right? And you can actually use almost all of these ingredients to make these funnel cakes made with pancake mix and this elephant ears food, so you'll definitely want to check that recipe out next.
Oh, and these fried Oreos are terrific with this kettle corn. I always make the two together for the ultimate snack!
Diving Into The Ingredients
Now, another great thing about these deep fried Oreos is that the ingredients are flexible.
Don't have vanilla extract? Leave it out. For the milk, you can use oat milk, soy milk, or almond milk instead of regular milk.
As for the oil, you'll want to use a neutral-flavored one that can take high heat. Peanut oil is fantastic, but you can use canola oil or vegetable oil as well.
For the topping, you can leave the golden brown deep fried Oreo cookies as is, top them with powdered sugar, or the glaze that's suggested.
Oh, and make sure to pick up some extra Oreos so you can make this cookies & cream mug cake for a quick and easy dessert!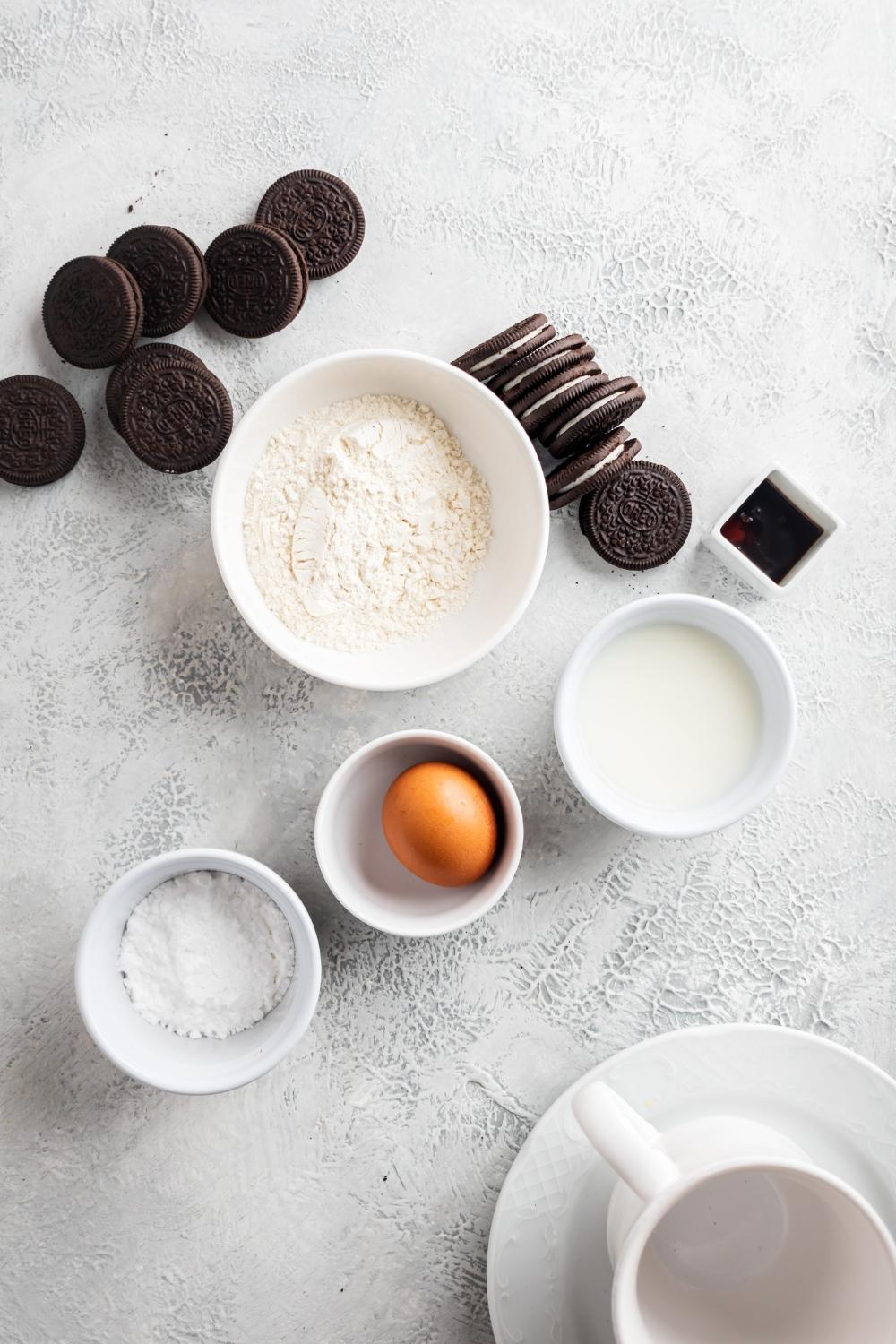 How to Make Deep Fried Oreos
Now, as I've mentioned a few times already, these fried Oreos actually could not be any easier to make.
All you have to do is a little mixing, and they'll fry up to golden perfection on their own.
Okay, I've hyped these bad boys up enough - here's how to make fried Oreos!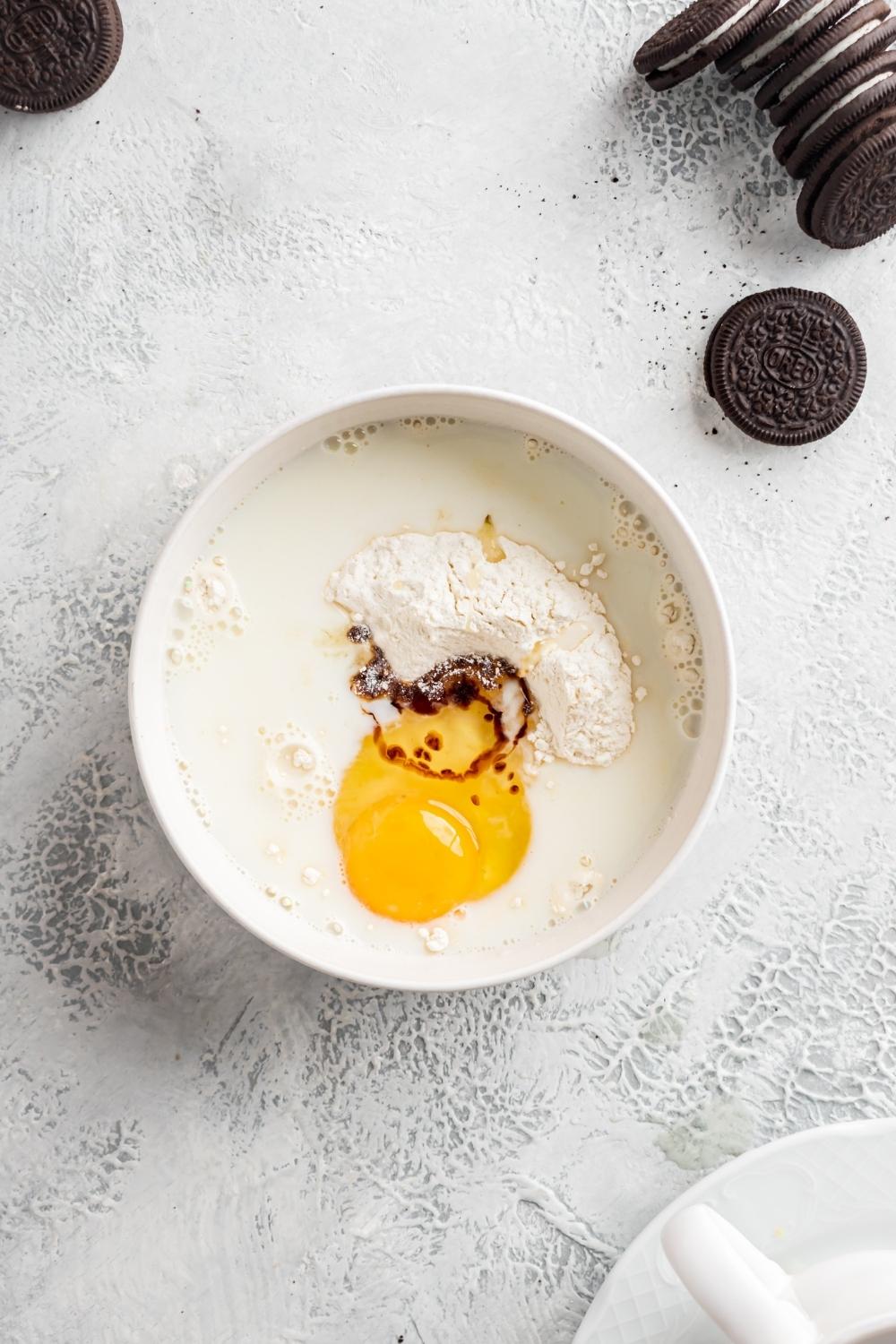 Step 1: Heat up the oil
Stary by pouring the oil into a deep pot and heating it on medium high. If you have a thermometer, 350°F (180º C) is the magic number.
But if you don't have a deep frying thermometer, drop a tablespoon of batter first to check the oil temperature. It should bubble happily the moment it hits the oil.
If you ask me, the perfect temperature is the most important part of deep frying anything. You want that oil to be at just the right temperature. Not hot enough, and the batter and Oreos sit there too long, soaking up a ton of oil. Too hot, and the shell will burn before the insides are cooked.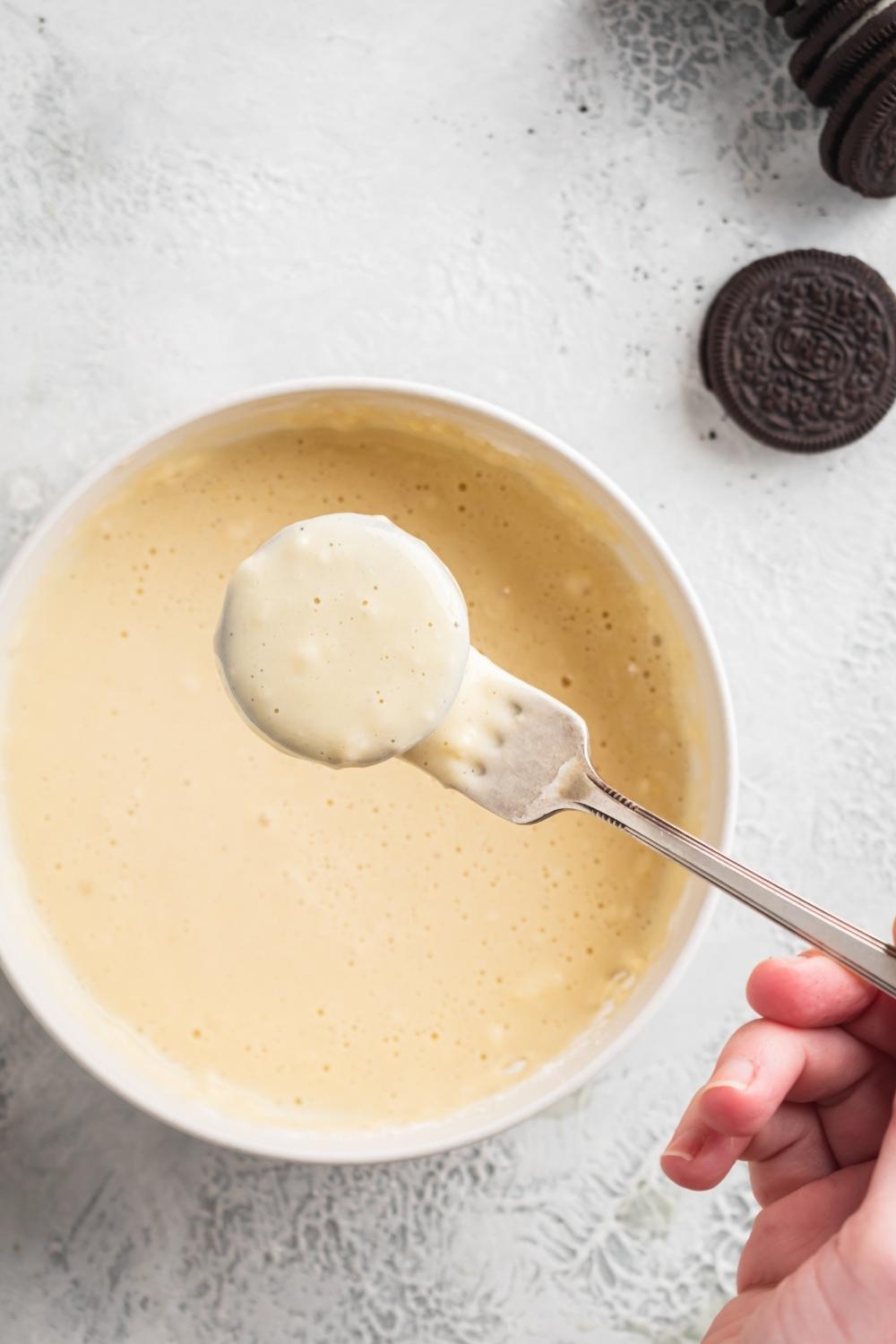 Step 2: Make the batter
Next, get take out a medium bowl and add the pancake mix, vanilla, milk, and egg to it. Then, stir until the pancake batter just combines and is smooth.
Also, I like to add the milk a little at a time and mix it in between to make sure the batter is nice and thick. The thickness depends on the type of milk you use, so add ¼ cup at a time until it reaches a thicker consistency.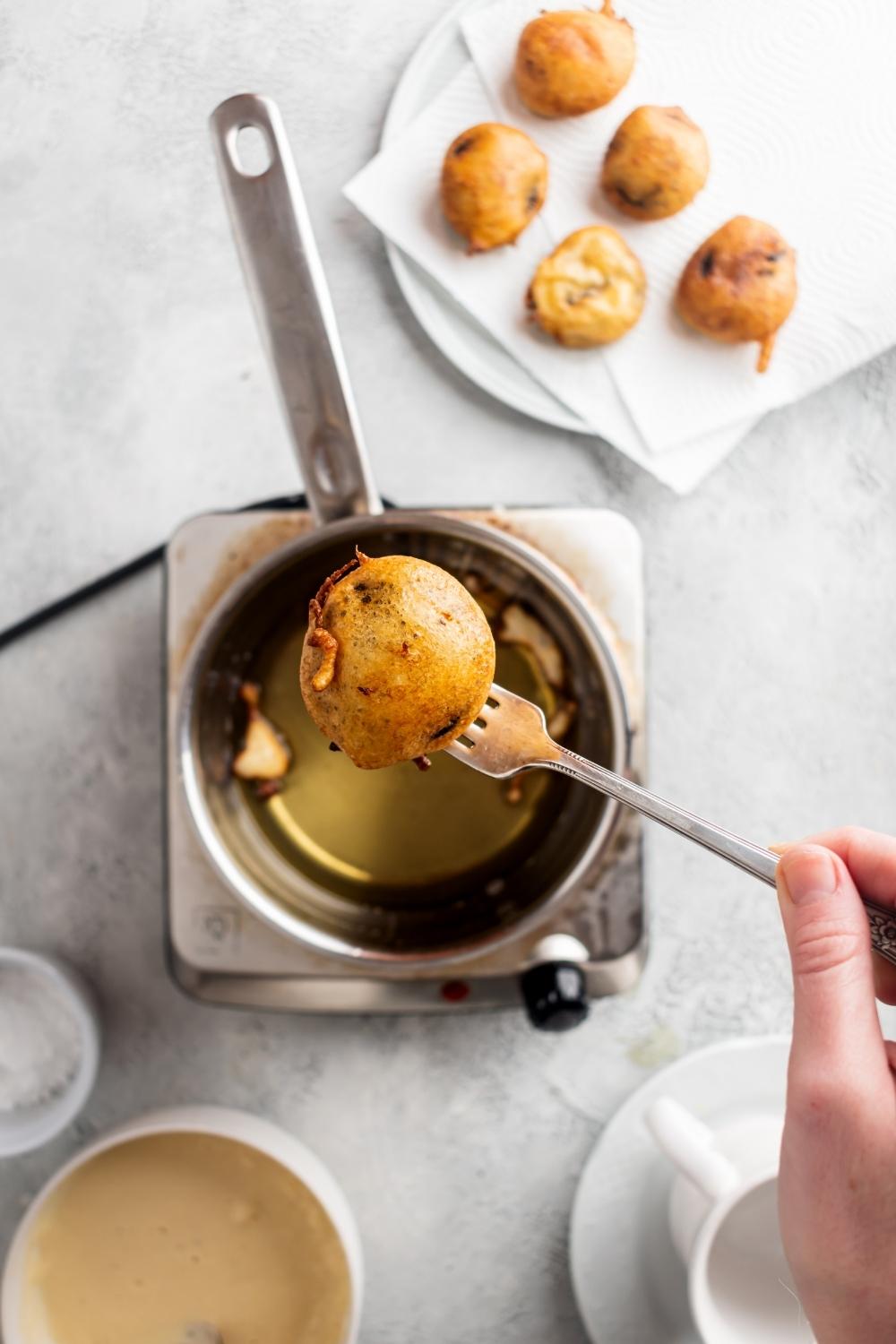 Step 3: Dip and fry the Oreos
Now we're ready for the main event!
To start, take an Oreo, dunk it into the pancake batter, then drop it into the hot oil. It should sizzle right away - if not, your oil might be too cold and you'll want to let it heat up before proceeding.
You can fry about 4-6 Oreo cookies at a time in the hot oil, depending on how big your pot is. You'll want to leave enough room in the pot, so the Oreo cookies are not touching one another. Overcrowding the pot will also decrease the temperature and lead to uneven frying.
Now, fry the Oreos for a minute or so, then flip it over and fry on the other side for about 2 more minutes.
Once the coated Oreo cookies are golden brown all over, remove them with a slotted spoon and place them on a paper towel lined plate to drain any excess oil.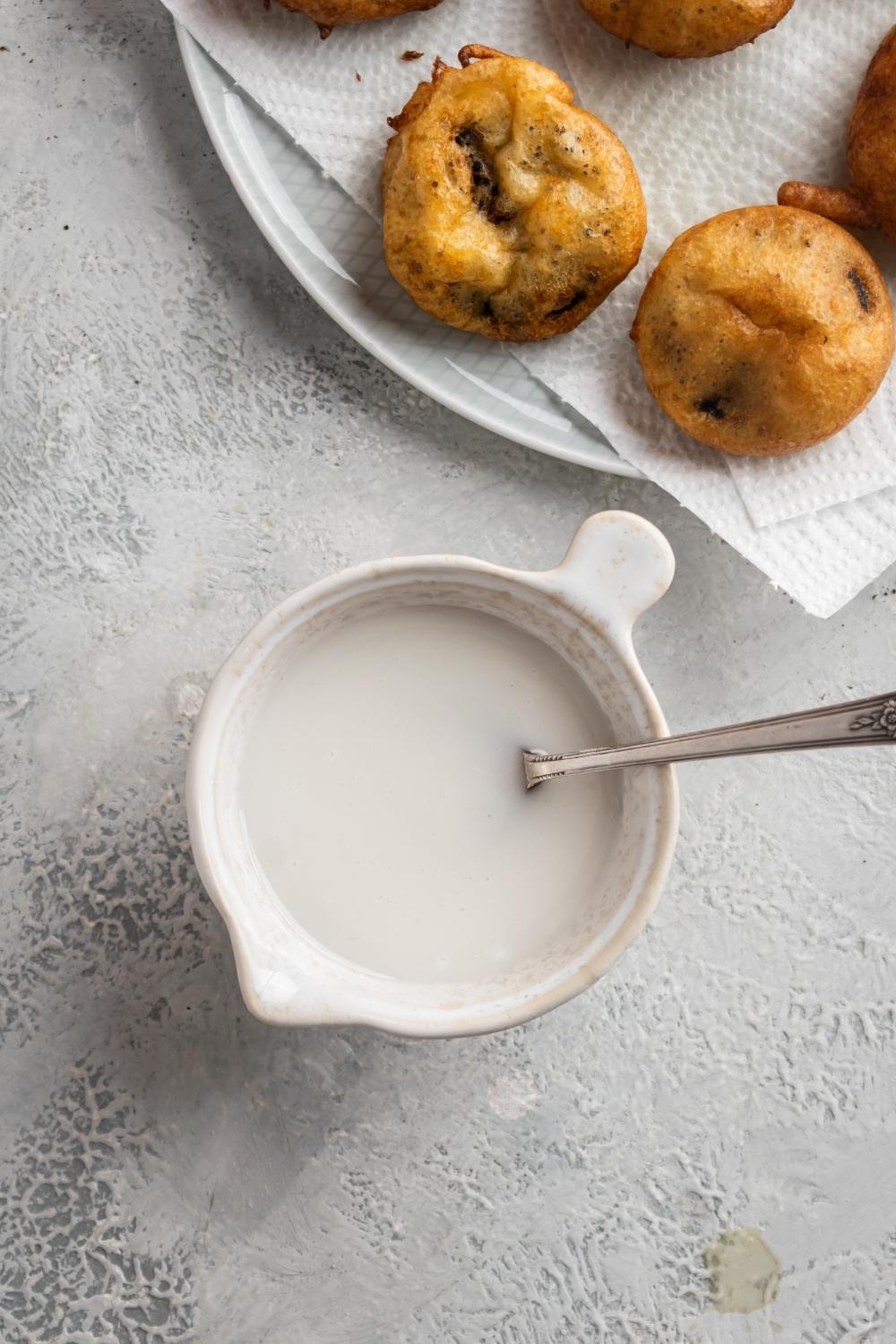 Step 4: Glaze The Oreos
Ok, so to finish off these decadent deep fried Oreo cookies, you have to whip up this easy glaze.
To make it, sift powdered sugar into a bowl, add the milk, and mix until smooth. You can make the glaze as thick or as thin as you want - just adjust the amount of milk you use depending on your glaze preference.
If you want to drizzle it on the fried Oreos, use more milk. And if you want to dip the Oreos in the glaze, use less milk so it's nice and thick.
However you decide to eat the fried Oreos, they'll be delicious, so dig in and enjoy!
Storing These Deep Fried Oreos
As with anything deep fried, these fried Oreos are best eaten immediately, while they're still warm and crispy!
And if you're serving them at a party or get-together, all 18 of these deep fried Oreos will disappear in a flash! But if you're making them for a family dessert, you might have some leftovers.
If you do, let the Oreo cookies cool down completely first - they'll get soggy if you pack them up while still warm.
Once they're completely cooled, transfer them to an airtight container with a paper towel on the bottom to absorb any excess oil. Then the deep fried Oreos will last in the refrigerator for about 3-5 days.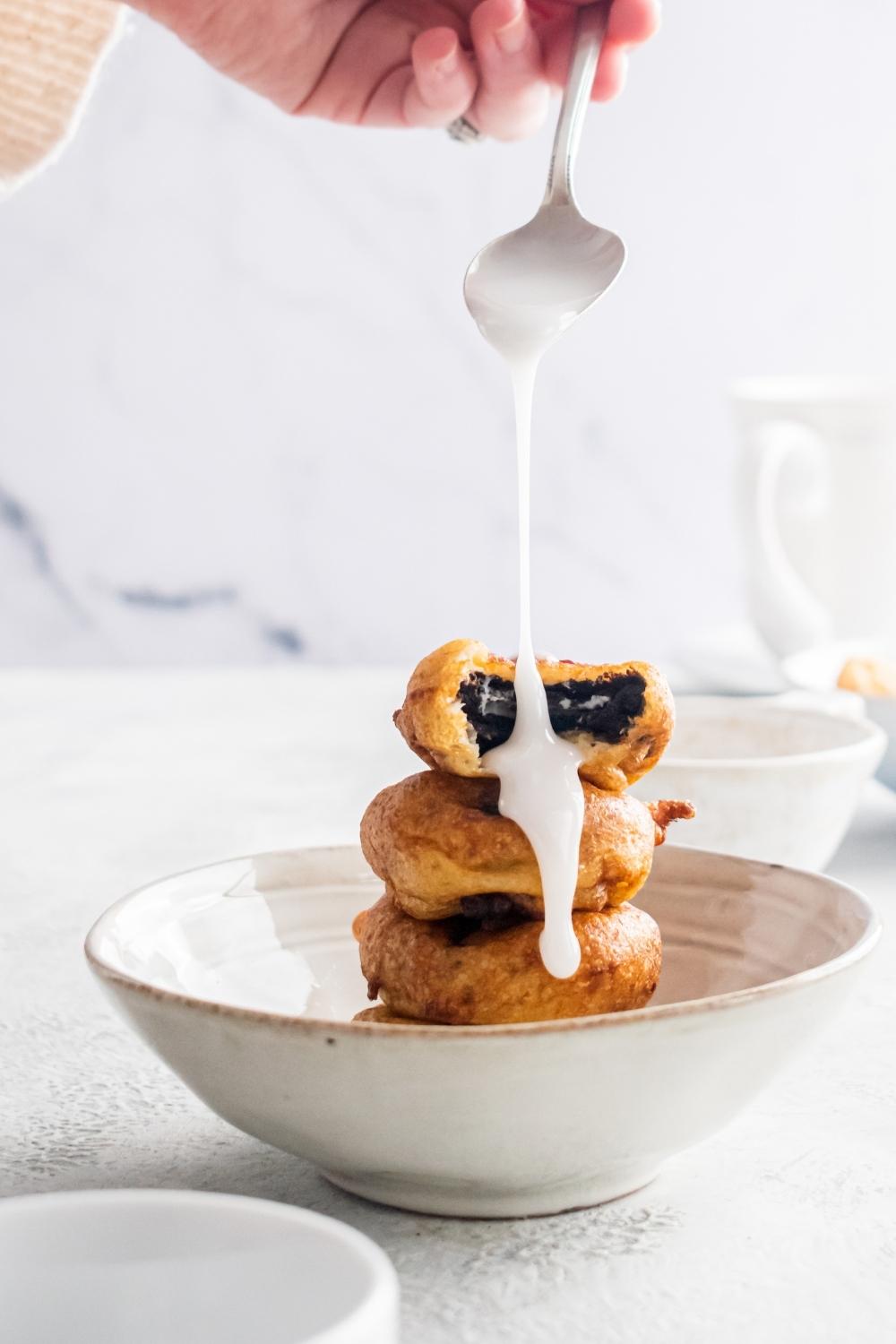 How to Reheat Fried Oreos
These fried Oreos are actually pretty tasty cold, but you can definitely reheat them!
Air-frying or using a toaster oven is the best way to re-crisp and warm-up fried Oreos. Just pop them in there at 350°F (180°C) for a few minutes and they're ready to enjoy.
If you don't have access to an air fryer, you can also pop them into a preheated oven at 350°F (180°C) for 5-10 minutes, until nice and crisp.
I don't recommend microwaving them because they usually turn out soggy. And don't re-fry them because they'll just absorb more oil.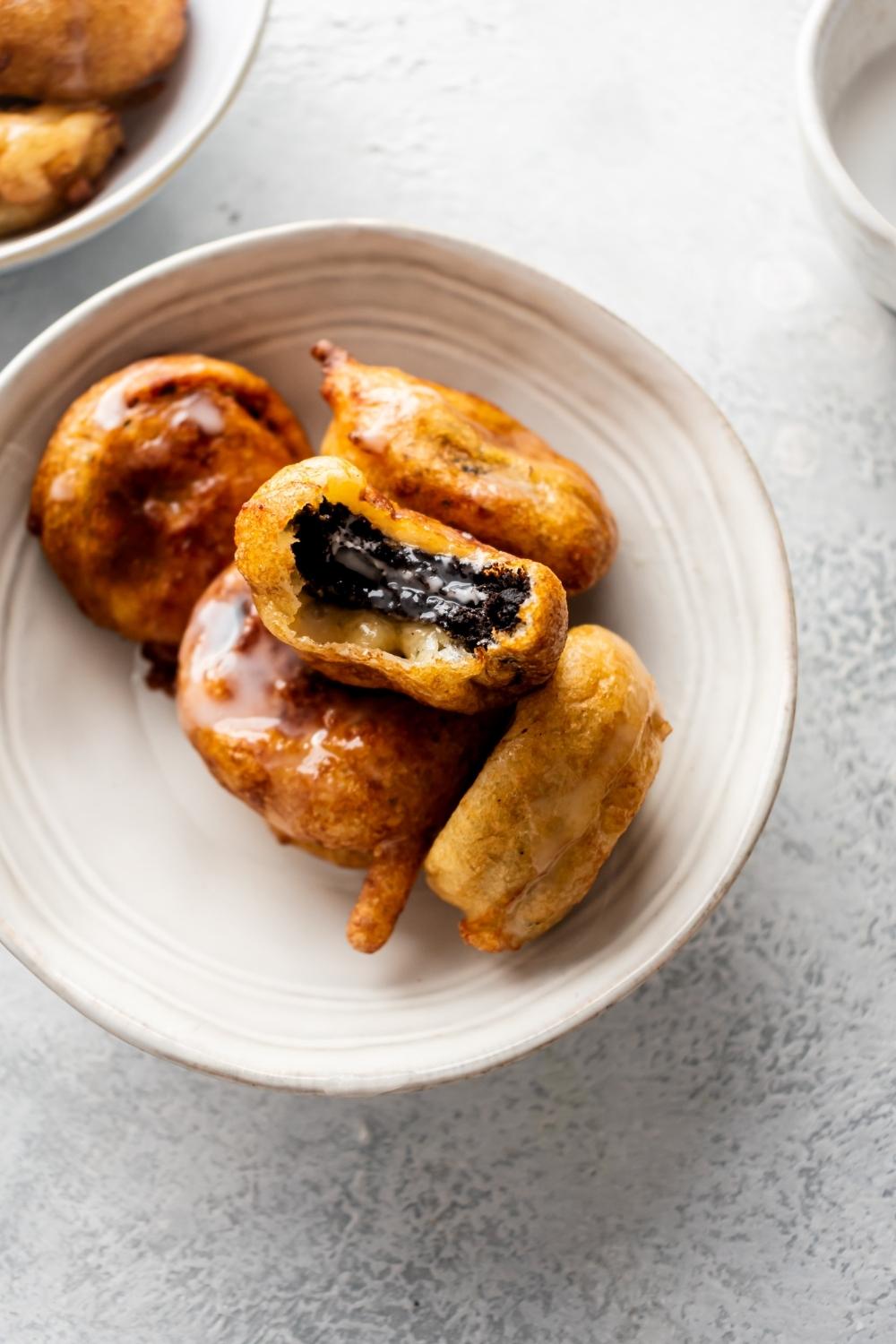 Wrapping It All Up
Well, there you have it! That is how to make fried Oreos that will satisfy any sweet tooth. This classic American carnival treat makes one decadent dessert made in the comfort of your own home.
These little bites of deliciousness are truly a treat like no other, and everyone who tries them instantly falls in love with them.
With that said, I hope you enjoy this fried Oreos recipe as much as my family and I do. If you give this deep fried Oreo recipe a try, leave a comment below and let me know your thoughts!
And for even more recipes, make sure to check out our Instagram page and Youtube channel.
MORE DESSERT RECIPES
Want to give more delicious dessert recipes a try?
If you do, we have a ton on the blog that you can make next!
Here are some of our most popular recipes:
Print
Fried Oreos Made In Only 15 Minutes
These Deep fried Oreos have a flaky outside, tender inside, and are stuffed with cookies and cream goodness. And they're just as good, if not better than the ones you'd get at the fair! But the best part is you need simple ingredients and only 15 minutes to make these fried Oreos!
Author:
Prep Time:

10 minutes

Cook Time:

4 minutes

Total Time:

14 minutes

Yield:

18

Fried Oreos

1

x
Category:

Dessert

Method:

Frying

Cuisine:

American
18 Oreo cookies
1 ½ cups pancake mix
1 egg
¾ cup milk
¼ teaspoon vanilla extract
¼ cup powdered sugar
Oil for frying
½ cup Powdered sugar
1 tbsp. milk 
Instructions
Combine the pancake mix, egg, milk, and vanilla extract in a bowl. Stir to combine.

Heat the oil in a deep pot to medium-high (180º if you are using a thermometer)..

Dip each Oreo into the batter, then place in the oil. Cook for 3-4 minutes, turning occasionally, until golden brown all over.

To make the glaze combine the powdered sugar with the water.
Nutrition
Serving Size:

1 Fried Oreo

Calories:

107

Fat:

3

Carbohydrates:

18

Protein:

2
Keywords: fried oreos, fried oreos recipe, fried oreo, deep fried oreos, deep fried oreo, how to make fried oreos, easy fried oreos, deep fried oreos recipe, fried oreos with pancake mix, how to make deep fried oreos,