These Oreo balls are an easy no bake dessert that are sure to satisfy any sweet tooth craving. They have a delicate white chocolate shell with an ooey-gooey center made out of crushed Oreos and cream cheese. And the best part about these Oreo truffles is that they only take 10 minutes to prepare!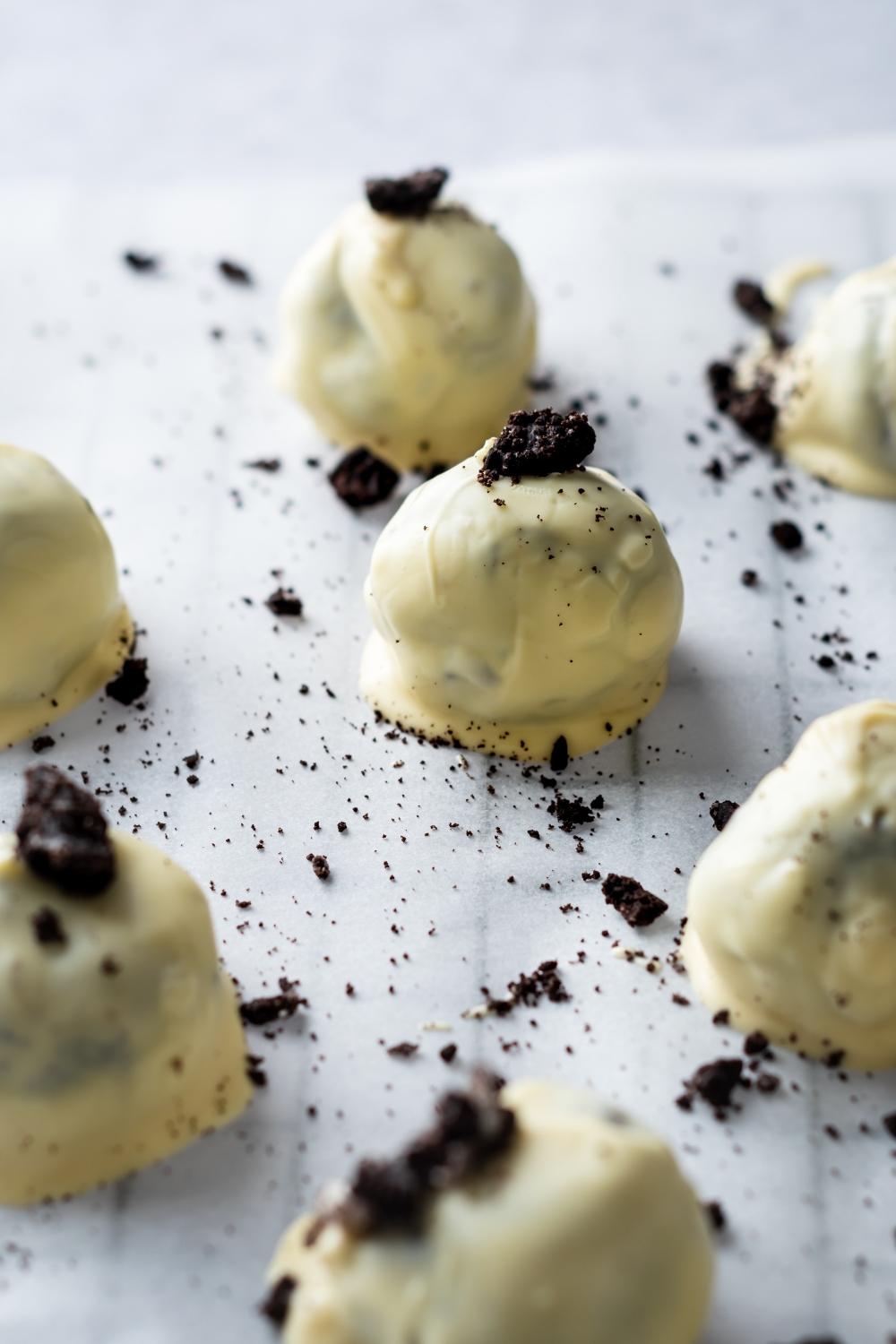 The Best Oreo Balls
Personally, I think Oreos are one of the best cookies out there. And, they are the number one cookie in the world, so I'm definitely not the only one that feels that way, am I right?!
I mean, Oreo cookies are chocolatey and creamy, and they are the perfect two-bite-sized snack what's not to love?
So, being that I am obsessed with Oreos, I needed to share this Oreo balls recipe with you.
It transforms Oreos into a delicious cake-like cookie ball covered with a tasty white chocolate shell. Once you get your first bite of the slight crunch and soft sweetness in the center, you'll never want to make any other dessert again!
And these Oreo truffles are a breeze to make, which is another reason they'll become your new favorite dessert.
Plus, since they're so easy to whip up, these Oreo balls are the perfect treat to set out on a dessert table for any party - like a birthday party, baby shower, or summer cookout. And for a balance of flavors, you can serve them with these Starbucks cake pops.
Seriously, this Oreo balls recipe will wow your guests. They always do when we make them.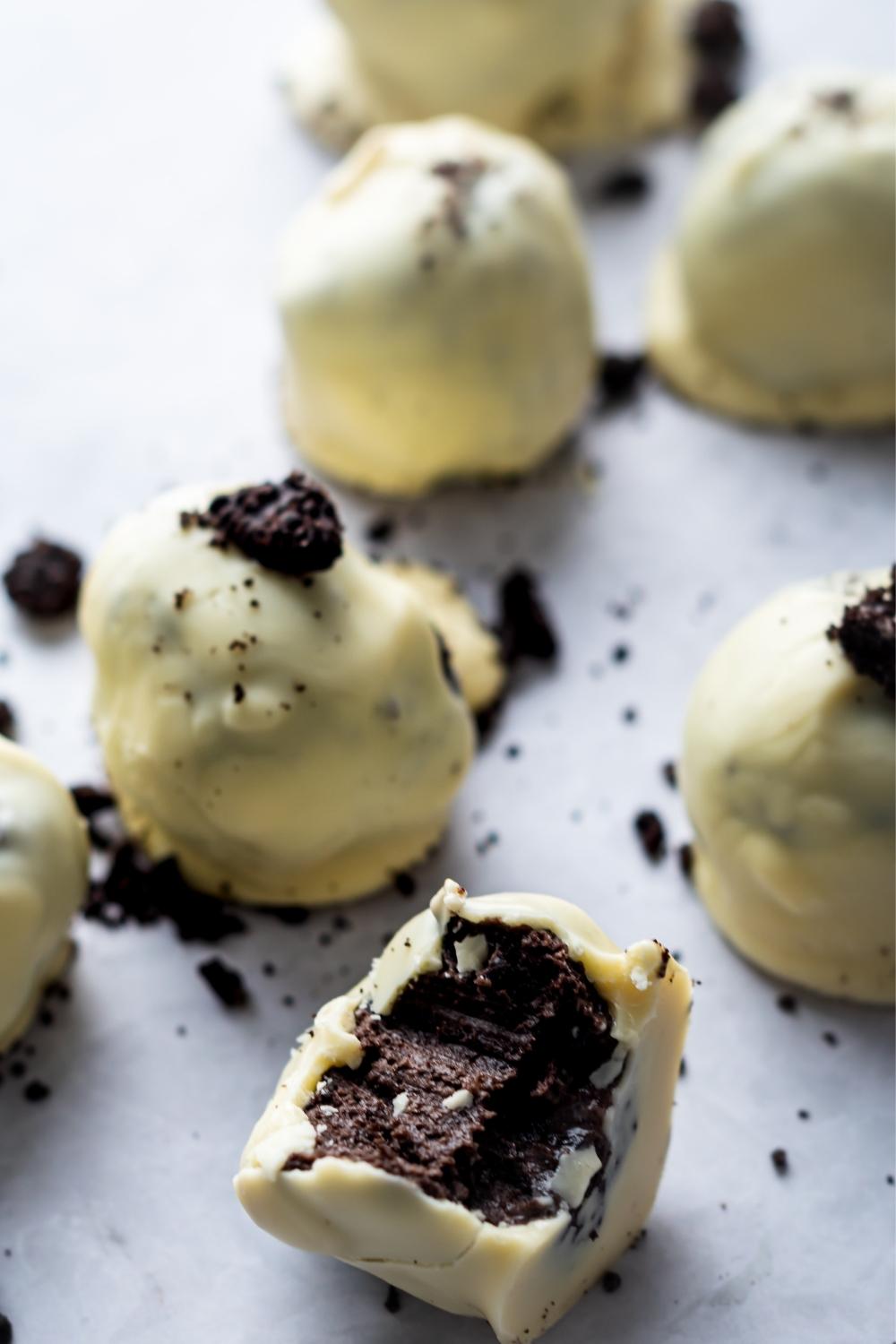 Ingredients
These Oreo truffles are made with only 3 simple ingredients!
I know, crazy right?
And honestly, you probably already have all of them already!
Here's what you'll need to make these no bake Oreo balls:
12 Oreos
2 oz. Cream Cheese
1 ½ cups White Chocolate, melted
How simple is that?
By the way, if you like cream cheese and chocolate together, you have to make this peppermint cheesecake next!
Ingredient Additions and Substitutions
Now, I think using regular Oreo cookies and white chocolate is the best combination, but these Oreo truffles are actually super customizable!
First off, you can use any chocolate chips or melting wafers for the chocolate. You can use milk chocolate, dark chocolate, or, my favorite, white chocolate. All of them will work great.
For the cream cheese, you can use full fat cream cheese or light cream cheese, both actually work great.
As for the Oreos, any flavored Oreos work! You can use golden Oreos, peanut butter Oreos, birthday cake Oreos, or literally any flavor that you want!
And if you're making them for the holidays, you can even add in some peppermint extract and crushed candy canes to make them super festive.
All of these options end up making some delicious Oreo balls, so feel free to add your own personal touch or change it up each time you make this recipe.
Oh, and if you're picking up Oreos from the store, grab a family pack so you can make some more of our Oreo desserts like these Oreo cupcakes, air fried Oreos, 1 minute Oreo mug cake, and this no bake Oreo pie.
Now that you know what you need to make these Oreo truffles let's dive into the process.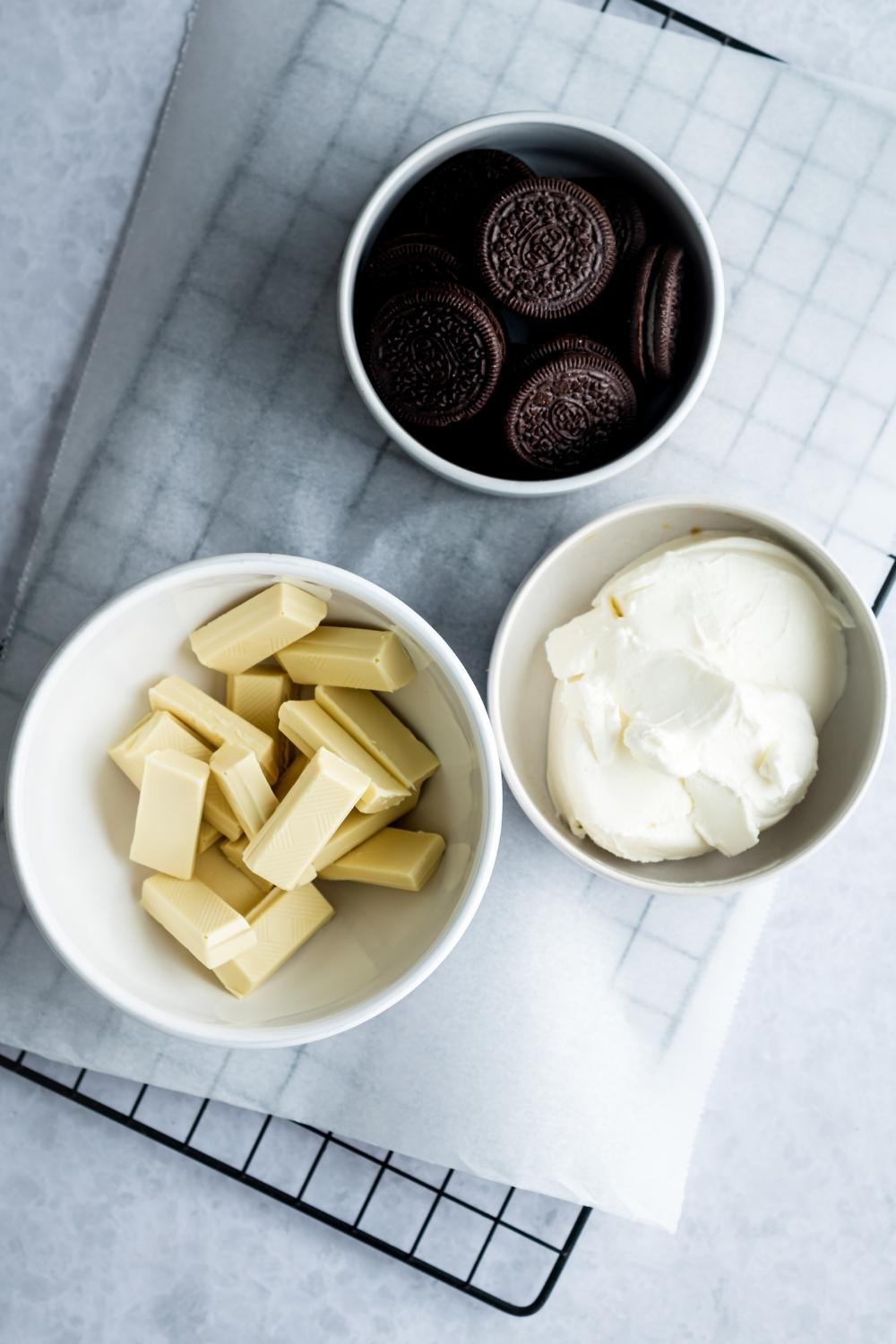 How to Make Oreo Balls
As I mentioned before, these cream cheese Oreo balls are super simple to make. I mean, there are only 3 ingredients needed to make 12 servings of them! Not to mention, it takes under 10 minutes of prep work to complete this recipe.
By the way, if you want to watch me make these white chocolate Oreo cream cheese balls, check out this video.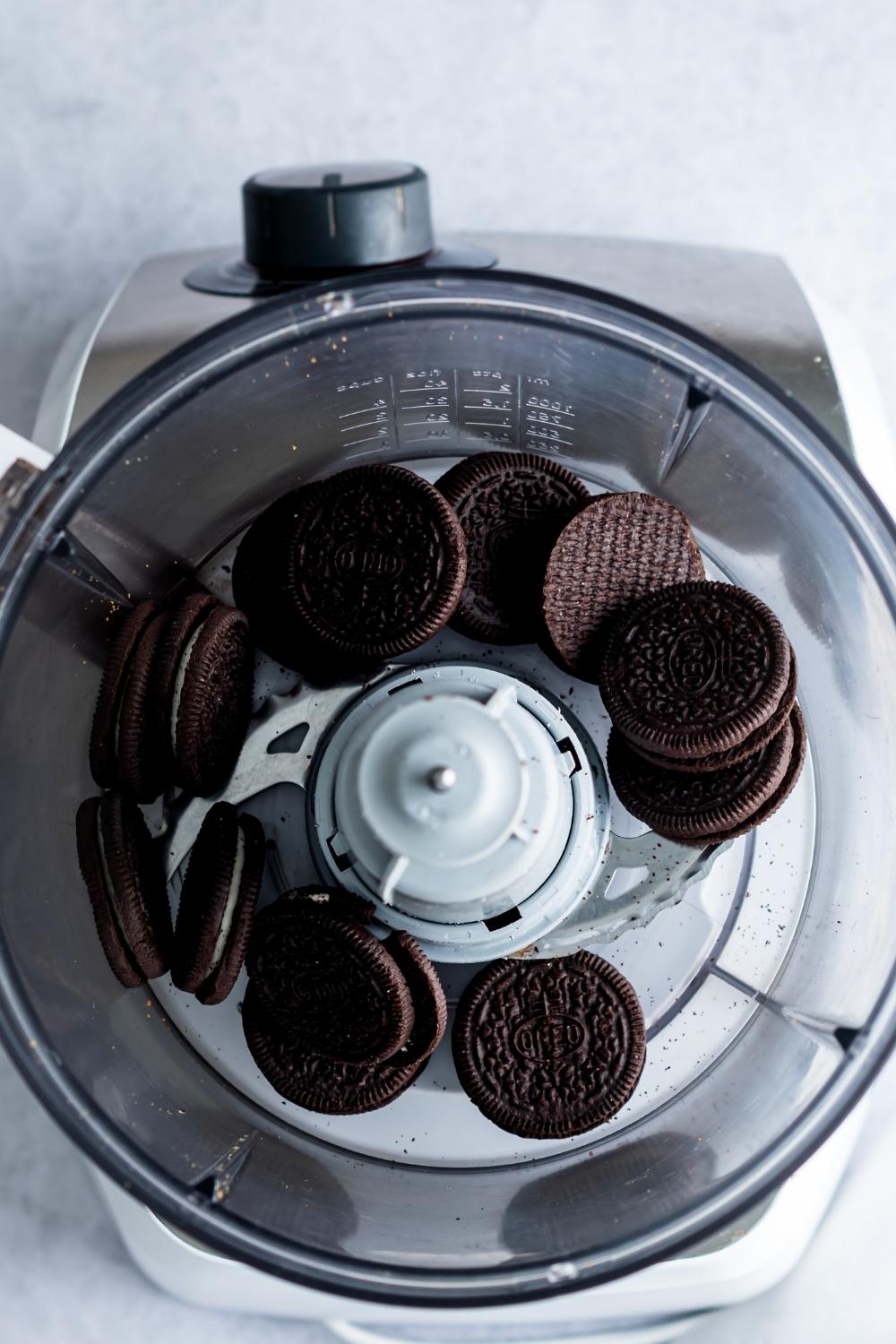 Step 1: Crush the Oreos
First, you'll crush Oreos so they can be formed into balls later on. To do this, put the Oreo cookies in a blender or food processor. Now use the pulse function until the Oreo cookies are a grainy consistency.
By the way, if you don't have a blender or food processor, you can crush Oreos by adding all of the Oreos to a Ziploc bag and crushing them with something like a rolling pin. This method will work just as well to make the Oreo cookie crumbs.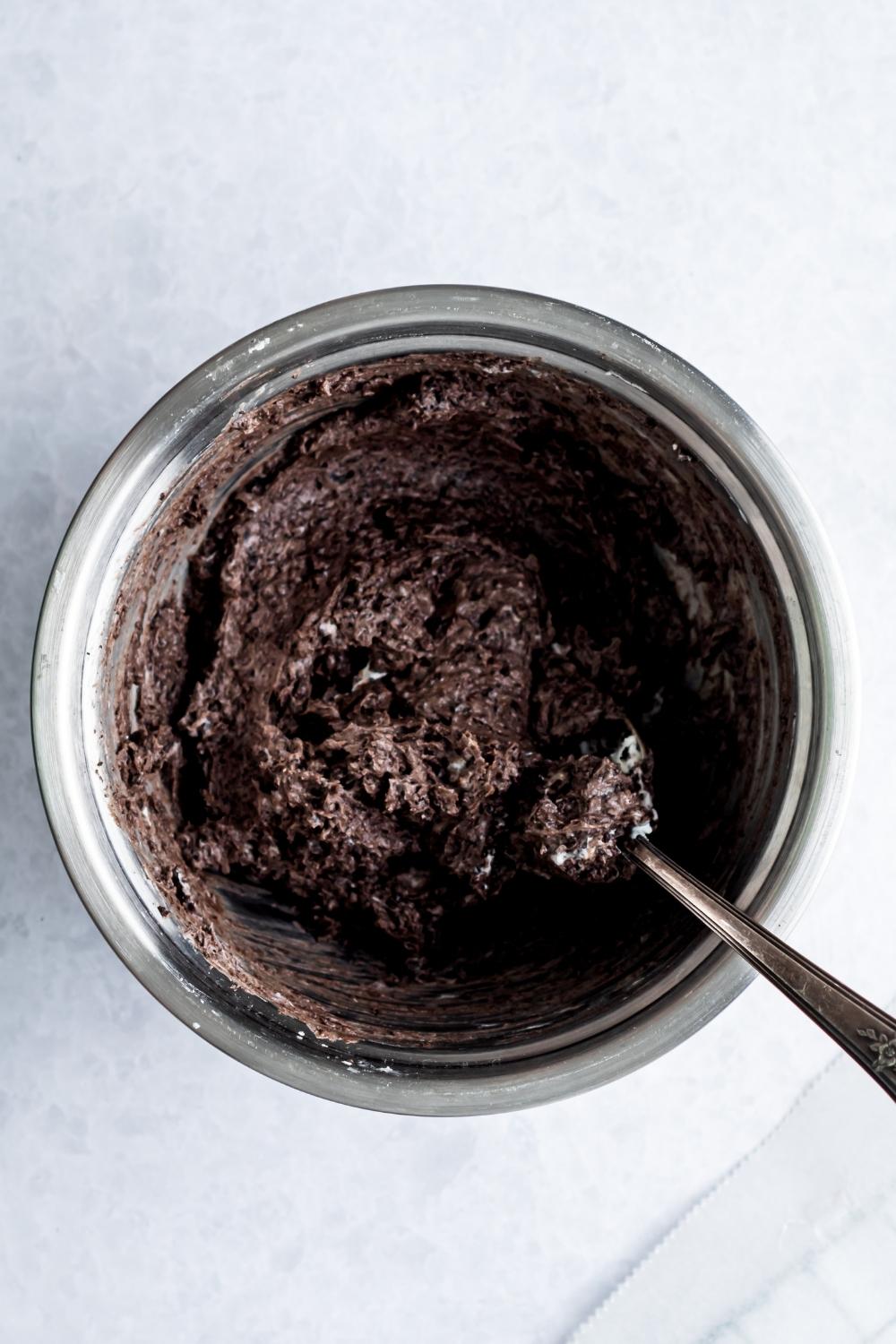 Step 2: Form the Oreo Balls
Next, transfer the crushed Oreo crumbs to a large mixing bowl and add the softened cream cheese to it.
Then, mix the Oreo crumbs with the packaged cream cheese until they are thoroughly combined and a paste-like consistency forms.
Once the ingredients combine, you'll want to form 12 balls out of the Oreo mixture and place them on a baking tray lined with parchment paper. Then, put the tray in the freezer for about 15 minutes to let the Oreo balls set.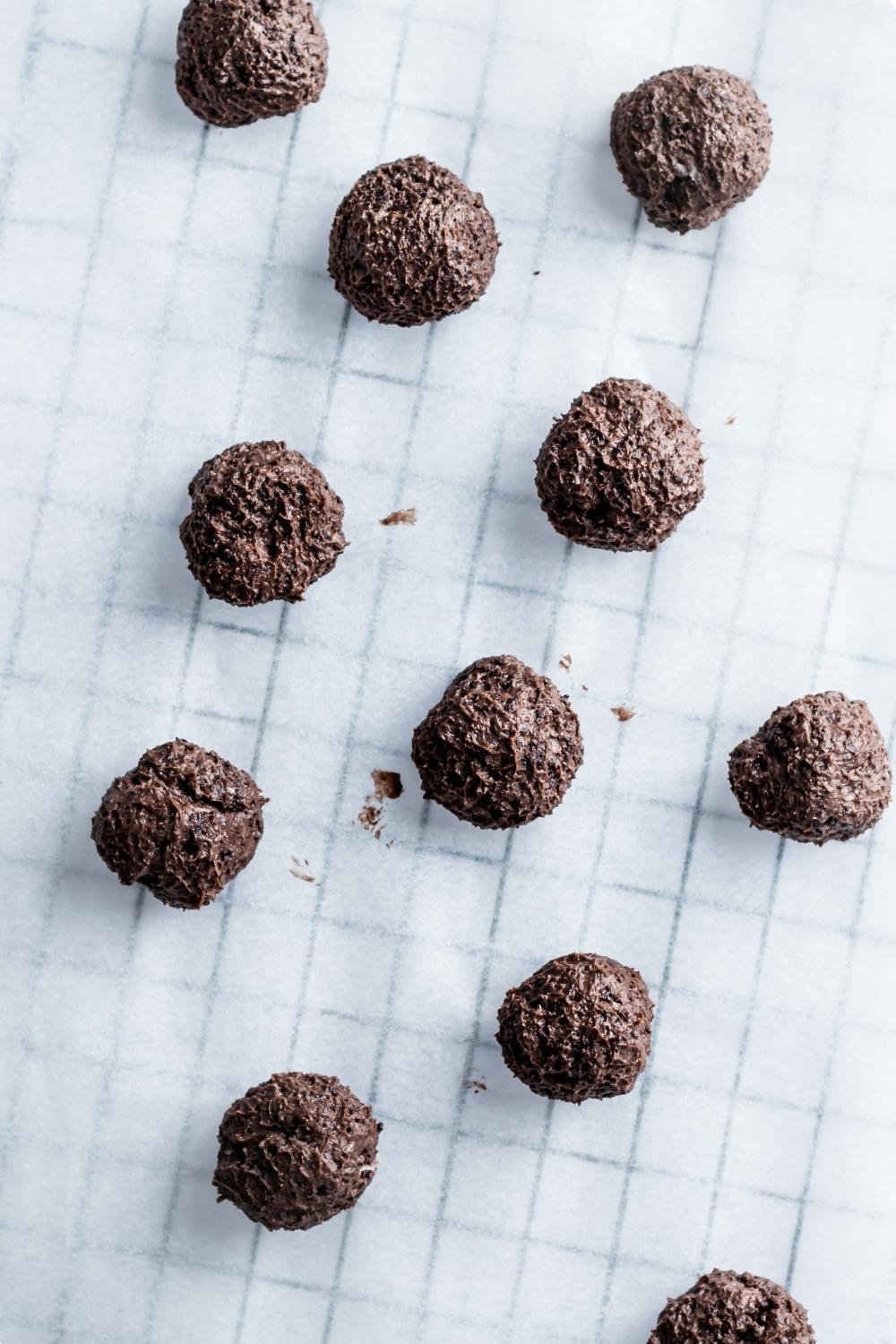 Step 3: Dip the Oreo balls
So, once the Oreo cream cheese balls have been in the freezer for 15 minutes, you can start making the chocolate coating to complete them.
Put the white chocolate candy melts - or white chocolate chips - in a microwave-safe bowl and microwave in a few 30-second increments, stirring between each one until the chocolate has fully melted.
Then, use a spoon to dip each Oreo ball into the chocolate. And make sure to turn the Oreo ball around in the chocolate to completely cover it.
Then, transfer the Oreo balls dipped in chocolate to the parchment paper-lined baking sheet and top with some crushed Oreos.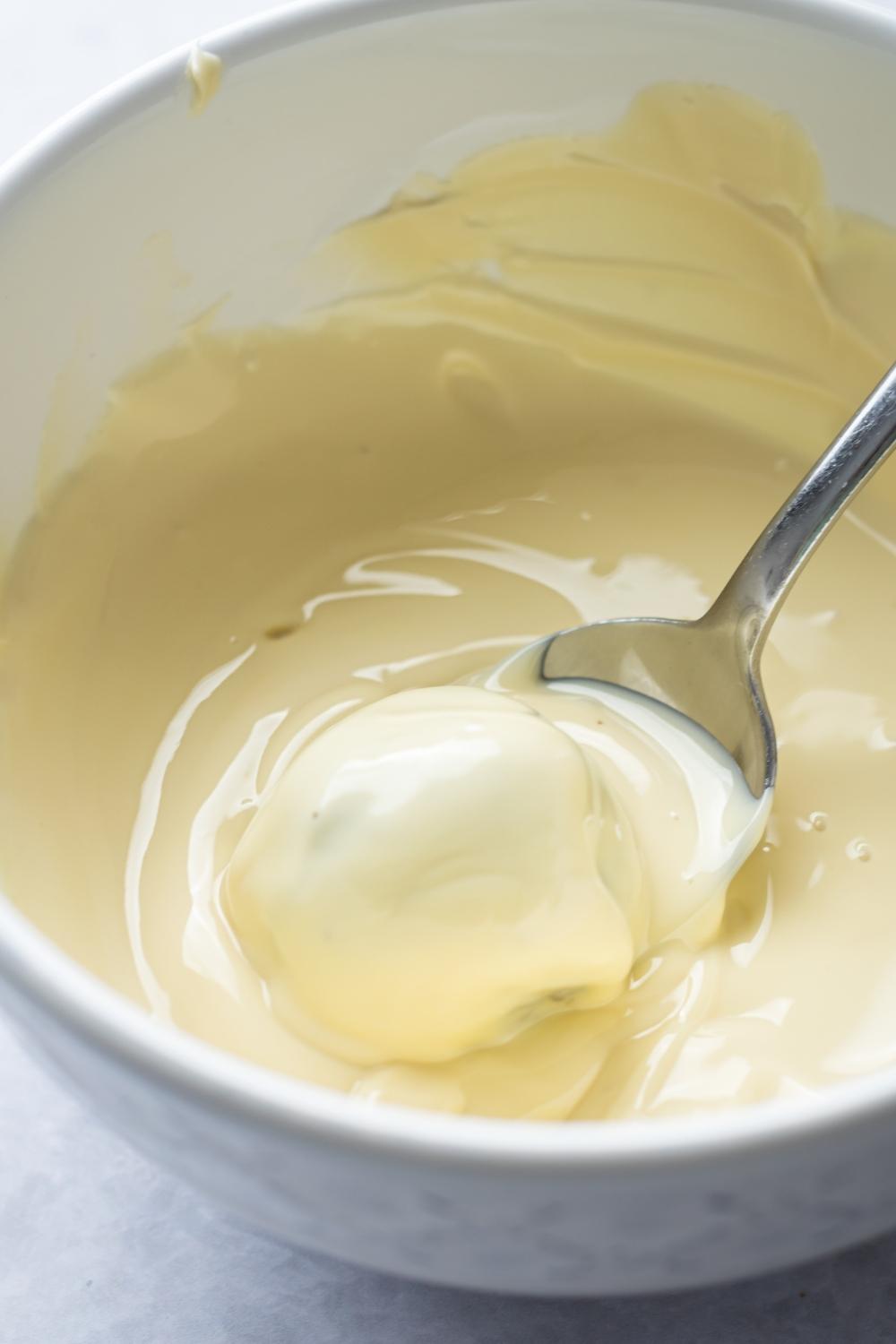 Step 4: Serve
Once you have all of the Oreo balls dipped in chocolate, refrigerate them for a few minutes until the chocolate hardens.
Then take the Oreo balls out of the fridge and enjoy!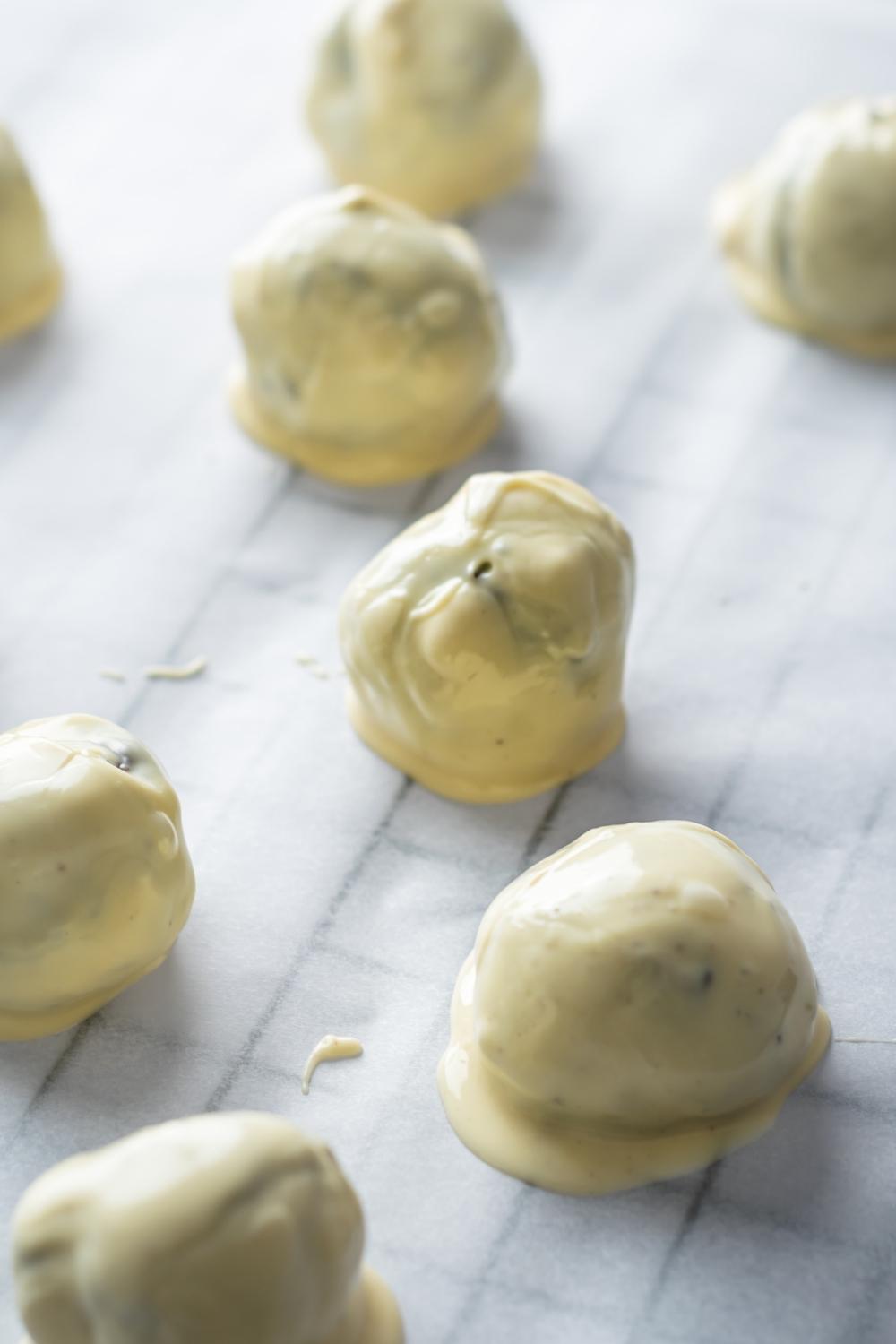 How to Store Oreo Balls
So, as I mentioned, this recipe will make about 12 Oreo balls. And if you're serving them at a party - or get-together - odds are there won't be any leftovers.
But, if you do happen to save a few - or if you're just making them to treat yourself - you can store these Oreo balls in an airtight container in the refrigerator for about 1 week.
And since these cream cheese and chocolate Oreo bites store so well, this is a great make ahead no bake dessert recipe that you can have ready to go in the fridge when you need it! Whip up these Oreo balls a day or more in advance, store them in the fridge in an airtight container, and then bring them out to serve for dessert at your convenience.
By the way, to freeze Oreo balls, just put them in an airtight container or freezer-safe bag, and they'll last for about 3 months. Just make sure you thaw them before enjoying them again.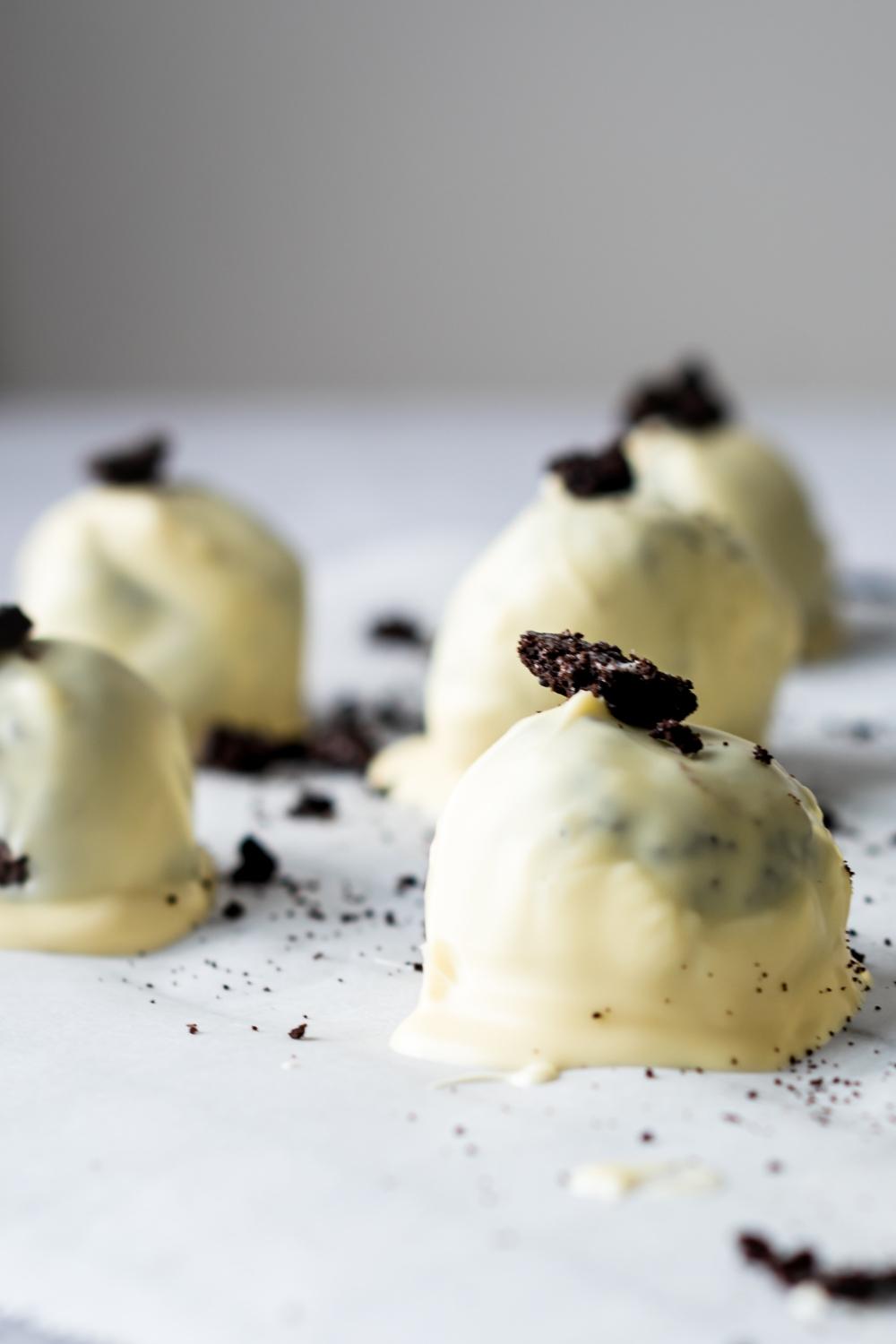 Wrapping It All Up
Well, that's how to make Oreo balls with only 3 ingredients!
These Oreo balls are so smooth, rich, chocolatey, and addictively delicious.
They truly make the perfect bite-sized treat that everyone will fall in love with. From the creamy, dreamy Oreo center to the hard chocolate shell, you just can't beat these treats.
And on top of all that, they're a no bake dessert recipe that takes just minutes to make.
Anyway, I hope you enjoy this Oreo dessert as much as I do.
If you make it, leave a comment below and let me know what you thought!
And for more dessert recipes, check out our Instagram, TikTok, and Youtube. We post new stuff on them daily.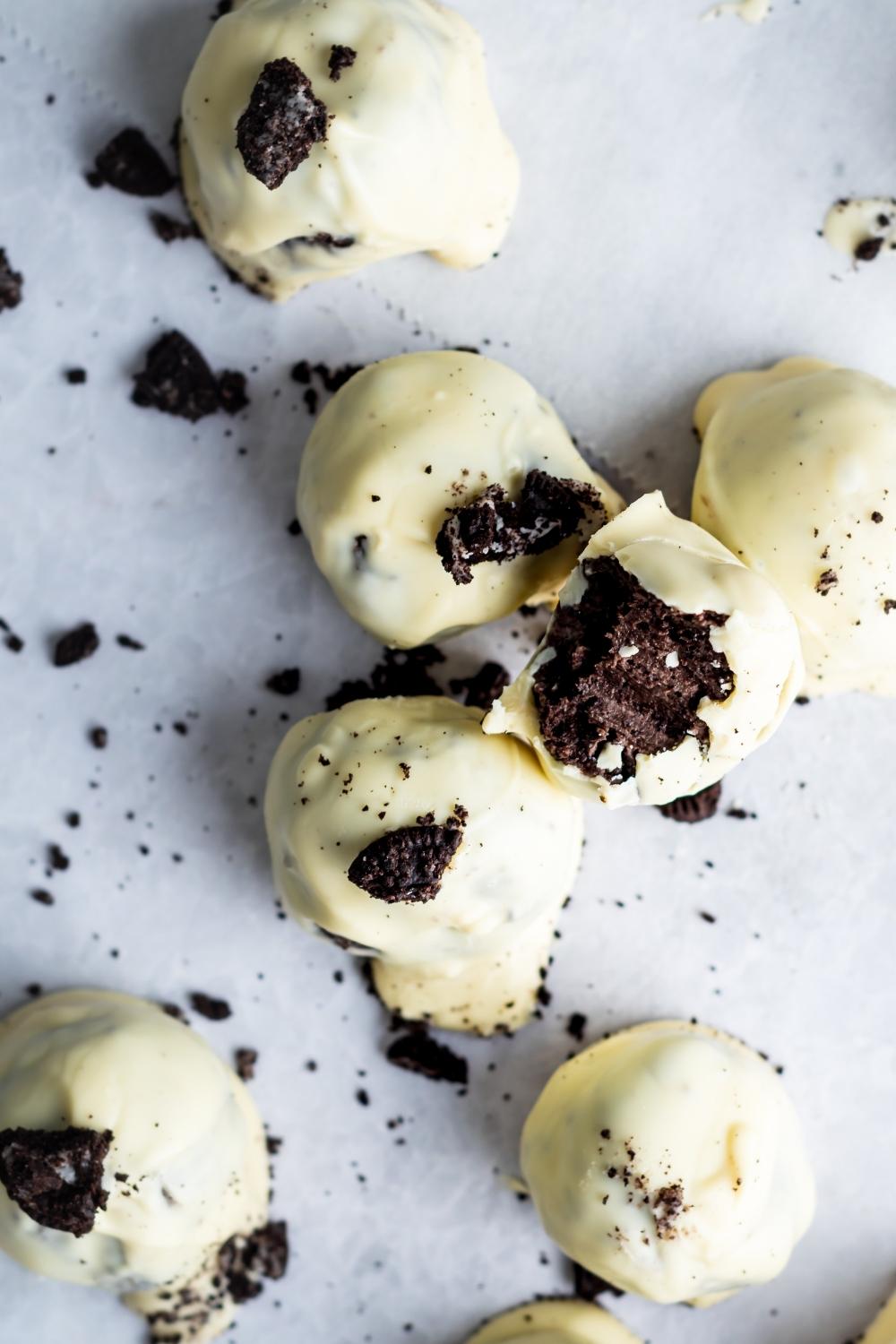 More Dessert Recipes
If you want to try even more deliciously easy dessert recipes, we have a bunch on the food blog that I think you'll really like.
Give one of these a try next:
Print
Oreo Balls Recipe | The Best No Bake Dessert & Only 3 Ingredients
These Oreo balls are an easy no bake dessert that are sure to satisfy any sweet tooth craving. They have a delicate white chocolate shell with an ooey-gooey center made out of crushed Oreos and cream cheese. And the best part about these Oreo truffles is that they only take 10 minutes to prepare!
Author:
Prep Time:

5 minutes

Cook Time:

0 minutes

Total Time:

25 minutes

Yield:

12

Oreo Balls

1

x
Category:

Dessert

Method:

Mixing

Cuisine:

Oreo
12 Oreos
2 oz. Cream Cheese
1 ½ cups White Chocolate, melted
Instructions
Place the Oreos in a food processor or blender and pulse until grainy (If you don't have a food processor, you can crush the Oreos in a bag).

Transfer to a bowl and add the cream cheese. Mix until fully combined.

Make 12 tablespoon-sized balls and freeze for about 15 minutes.

Melt the white chocolate and cover the Oreo balls completely in the chocolate.

Transfer them to a parchment-lined baking sheet, top with a bit of Oreo crumbs.

Refrigerate for a few minutes until the chocolate hardens and enjoy!
Nutrition
Serving Size:

1 Oreo Ball

Calories:

114

Fat:

6

Carbohydrates:

12

Protein:

1
Keywords: oreo bites, oreo bites recipe, oreo balls, oreo balls recipe, how to make oreo balls, how to make oreo bites, oreo balls ingredients, oreo truffles, no bake oreo balls, oreo desserts, oreo dessert recipes, oreo balls with cream cheese, oreo balls oreo truffles, oreo balls no bake, oreo balls recipe no bake, oreo balls recipe easy,oreo truffles ingredients, how to make oreo truffles,