This caramel fudge is so deliciously sweet, salty, and fudgy. Each bite just melts in your mouth and leaves a decadent caramel flavor that will satisfy your sweet tooth. Plus, All you need is about 15 minutes and 5 ingredients to prepare this easy fudge recipe!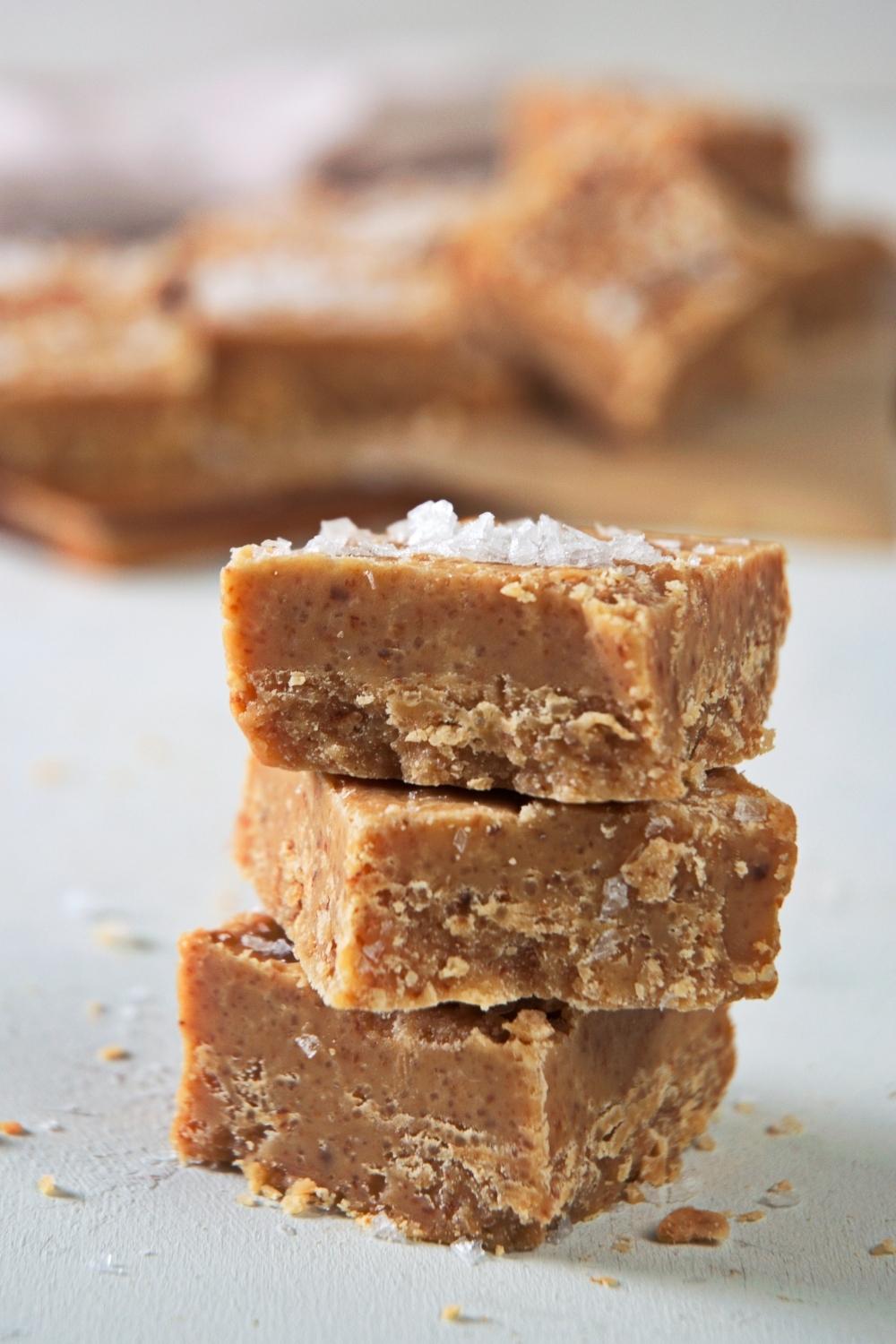 The Best Salted Caramel Fudge
Fudge is one of those delicious desserts that never last long in the Cunningham household. Especially this smooth, divine caramel fudge. It's so addicting that two or three squares disappear every time someone passes by the kitchen.
Now, some fudge recipes typically take a long time - and a lot of steps to make - this salted caramel fudge couldn't be easier. In fact, it requires no stovetop, no thermometer, and no experience for it to turn out perfect.
Yup, it's really that simple.
This caramel fudge isn't just easy to make, but it's also ridiculously delicious. It has a slightly chewy and creamy texture with a flavor that's a cross between caramel and brown sugar and a chocolate finish that'll leave you coming back for more.
Oh, and if you're an all-things caramel lover like me, you should try our salted caramel cream cold brew. It's a delicious way to incorporate caramel into your morning coffee, and it tastes just like the one from Starbucks!
And for another caramel dessert, you have to make these caramel rolls or this caramel cake.
Anyway, let's look at the ingredients we'll need to make this delicious caramel fudge recipe.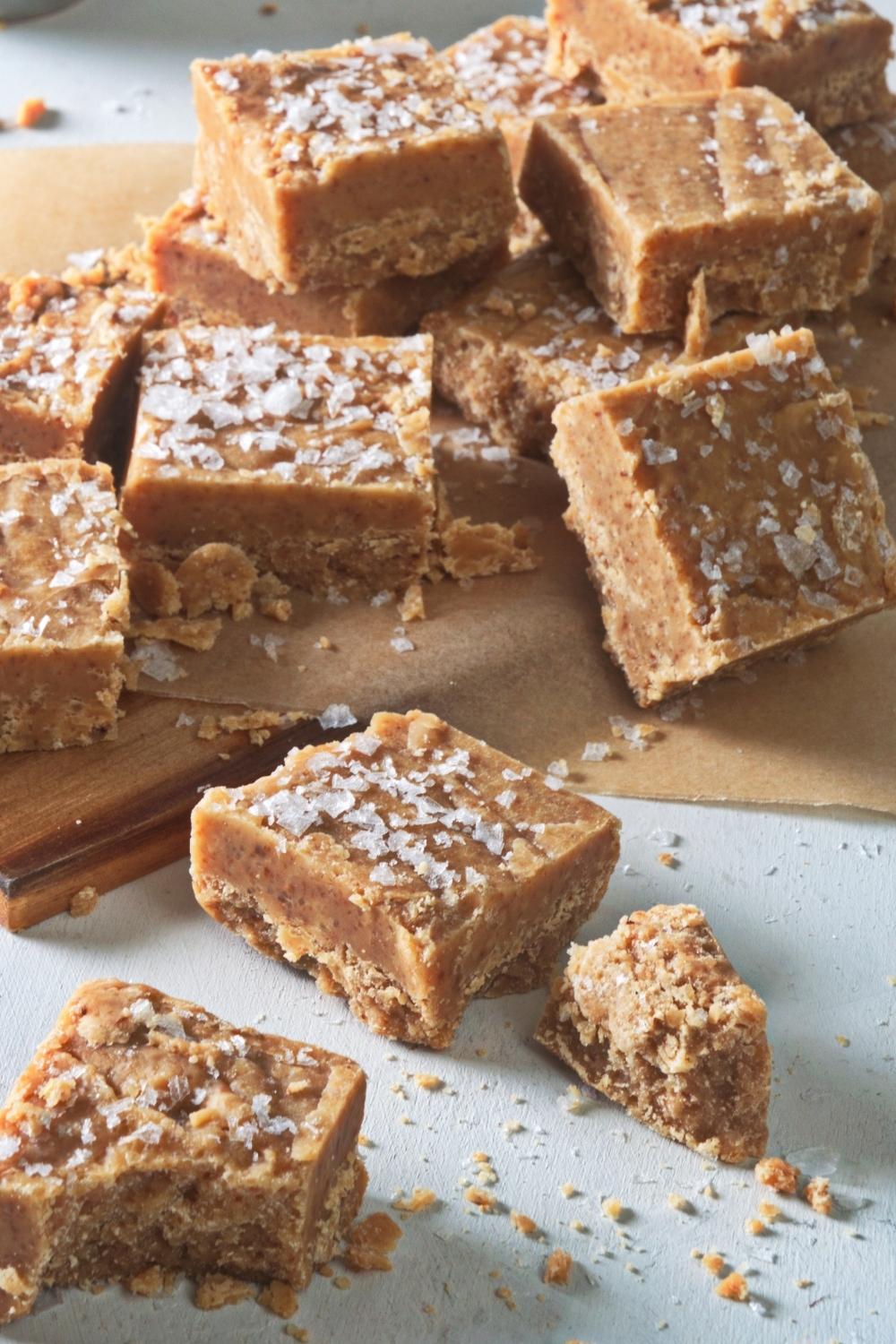 Ingredients
As I mentioned earlier, you only need 5 ingredients to make this fudge recipe. And I can almost guarantee that you have most/all of these ingredients at home already.
With that said, here's everything you'll need to make this salted caramel fudge:
8 ½ Tbsps. Unsalted Butter

1 can Sweetened Condensed Milk

Just under 3 cups Light Brown Sugar

1 ¾ cups White Chocolate

Sea Salt
I recommend using white chocolate melts - or chocolate chips - for this recipe. They tend to melt easier than a white chocolate bar broken into chunks. But as long as you use good quality white chocolate, you can't go wrong.
Oh, and if you're interested in more fudge recipes, you have to give this Fireball fudge, Reese's cup fudge, creamy peanut butter fudge. And if you like chocolate fudge, give this Nutella fudge a try next!
Ok, if you have all your ingredients ready, let's dive into making our caramel fudge!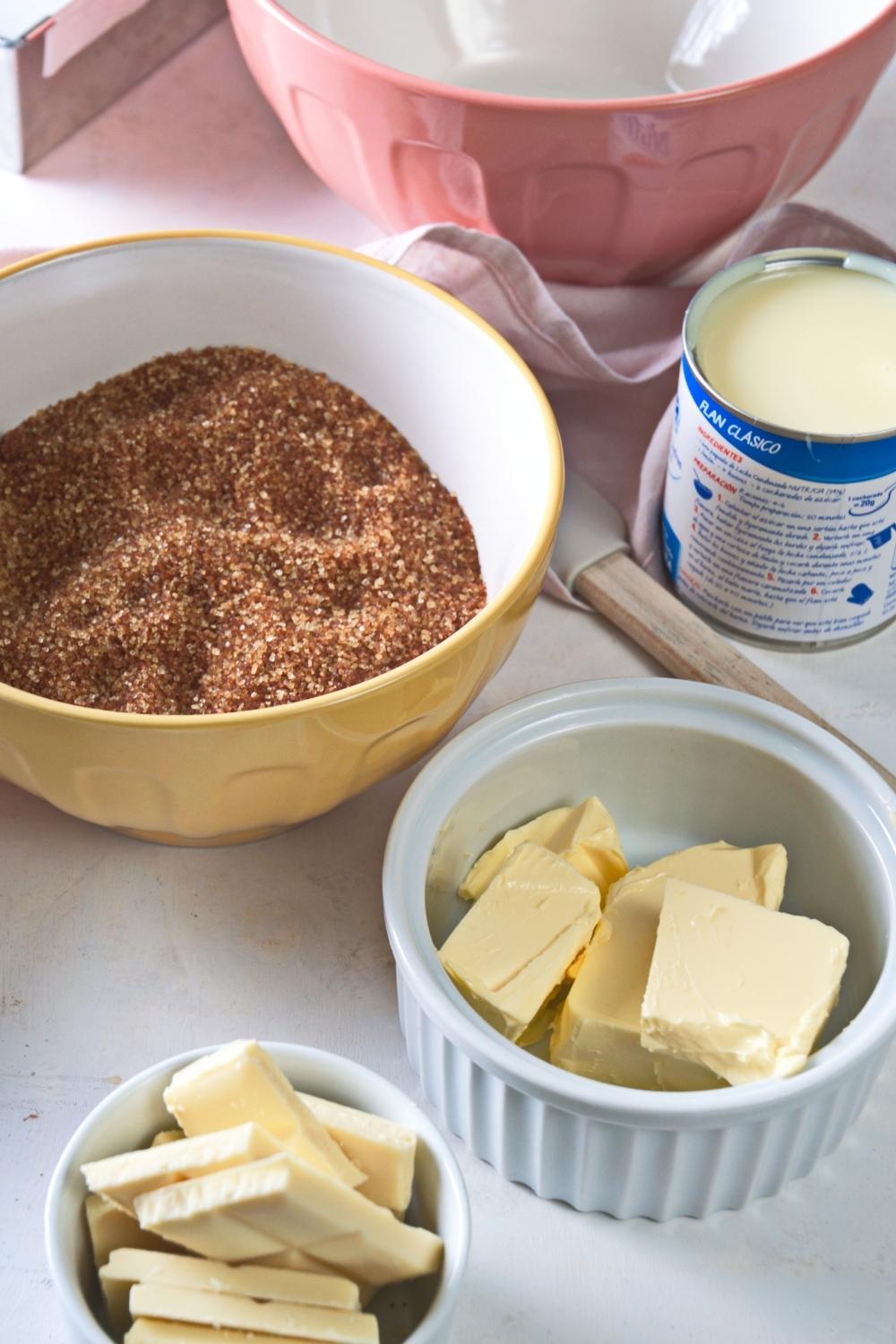 How to Make Salted Caramel Fudge
I've already mentioned a few times that this recipe is super easy to make - because it is! All it takes is about 15 minutes to prepare, and then you just have to wait for the fudge to set.
Oh, and this recipe makes enough for 20 pieces of salted caramel fudge. But, if you want more, you can easily double or even triple the recipe if you need more.
By the way, if you want to watch how to make this recipe, check out this video.
Anyway, let's make caramel fudge from scratch!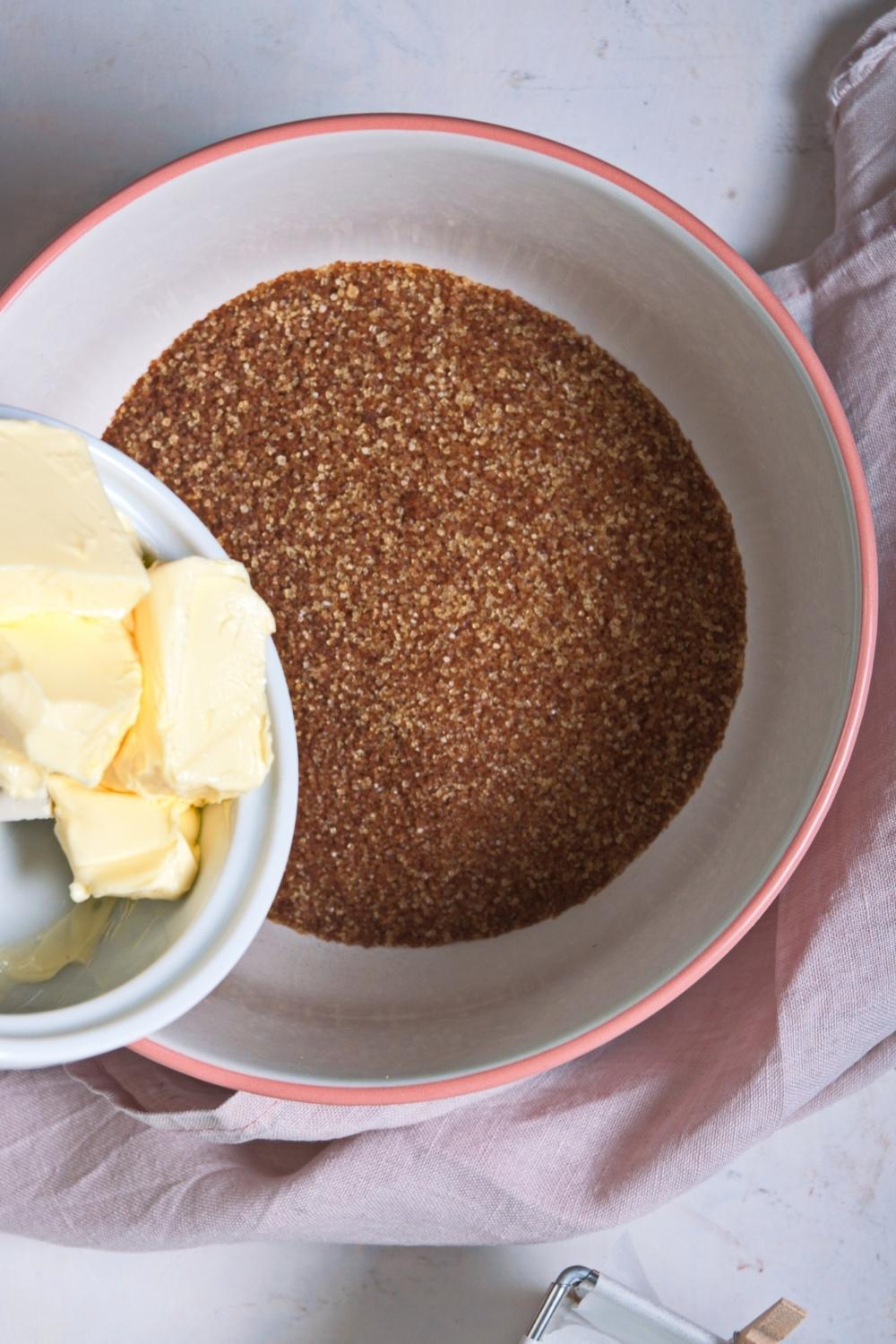 Step 1: Prep Work
First, line a baking tray with parchment paper. I used a 10x7 inch, but any size will work to make the fudge!
All the tray sizes do is change the fudge's thickness, so if you want thicker fudge, use a smaller tray. And if you want thinner fudge squares, use a larger one.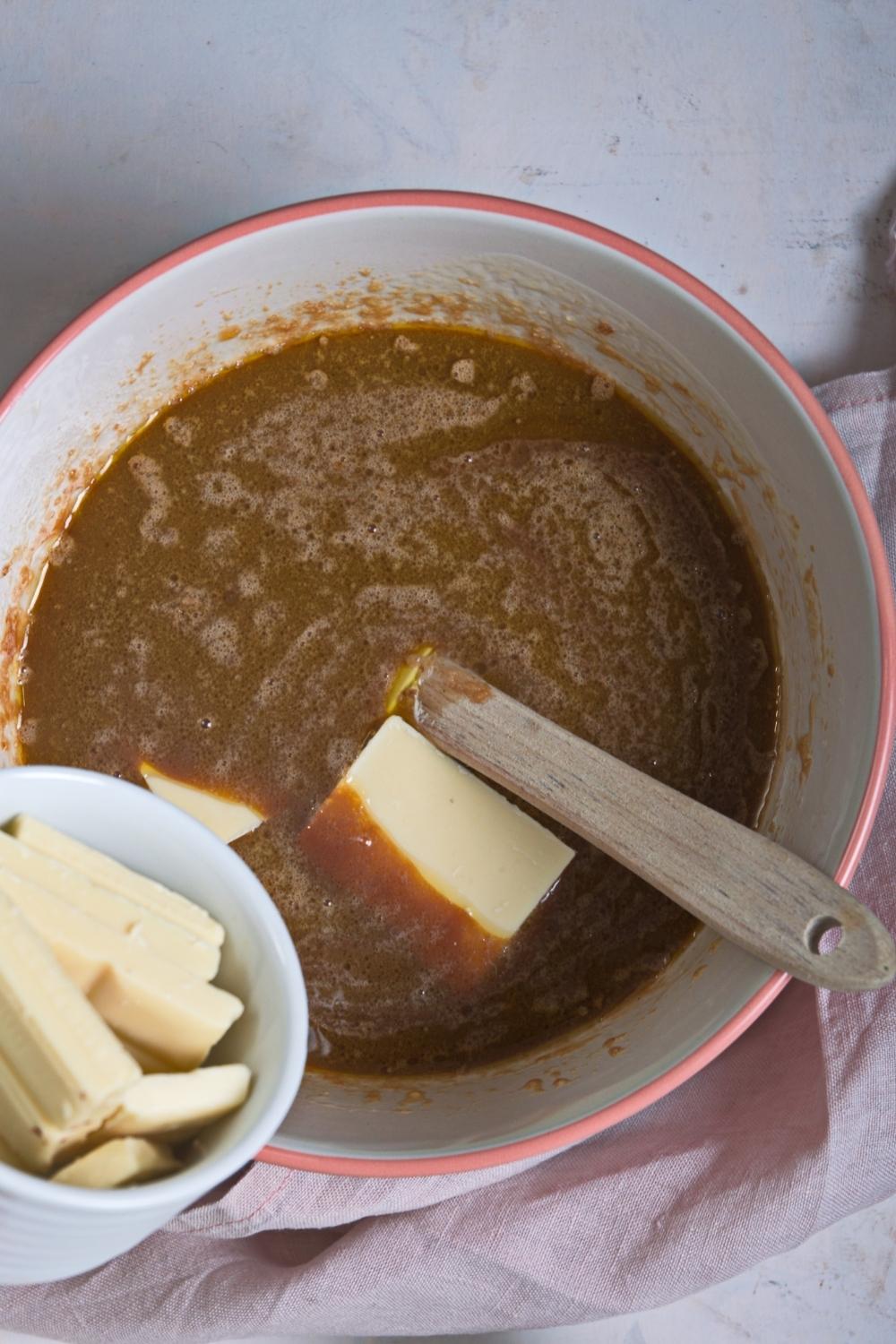 Step 2: Mixing and Stirring
Next, add the unsalted butter, condensed milk, and brown sugar into a large microwave-safe bowl. Microwave this mixture in about 2-4 one-minute intervals.
After each minute, take the bowl out of the microwave and give the mixture a stir to evenly combine the ingredients. Then, once the ingredients are fully combined - and you have a smooth mixture - you don't have to microwave it anymore.
Next, add the white chocolate melts (or chocolate chips) to the bowl, and continue stirring until the white chocolate fully melts and combines with the fudge base mixture.
By the way, if you're using a full white chocolate bar, make sure it's chopped into white chocolate chunks.
Anyway, now you'll want to pour the fudge mixture into the prepared pan and sprinkle as many sea salt flakes as you want on top.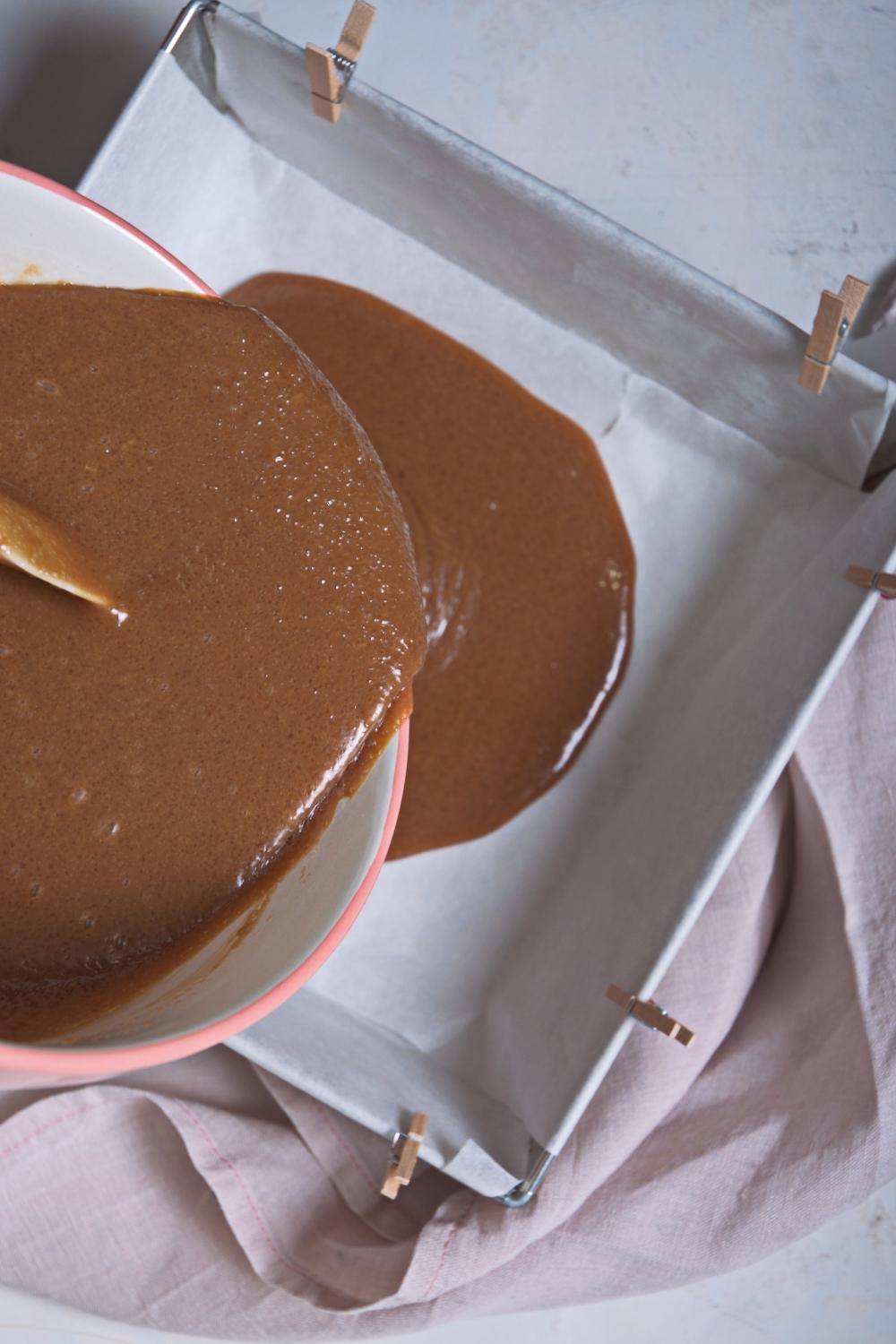 Step 3: Refrigerating
Ok, so to turn this delicious mixture into fudge, you'll have to give it time to set.
So place the tray in the fridge for about 2 hours or until it firms up. Alternatively, you can also put it in the freezer if you want the fudge ready faster.
Once the homemade fudge is set, you can cut it into small squares and serve them on a serving plate. Enjoy!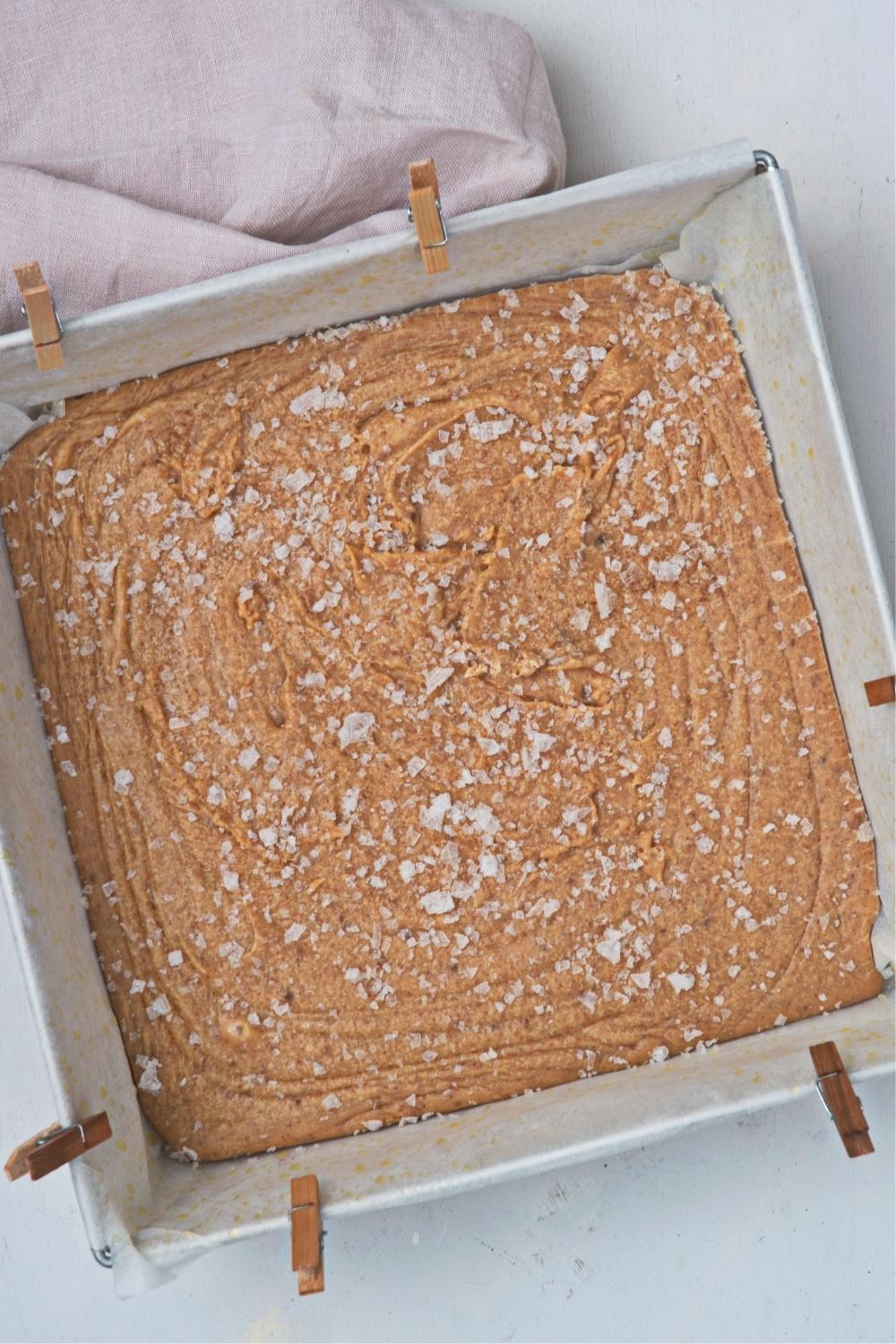 How to Store Salted Caramel Fudge
This recipe for salted caramel fudge yield about 20 squares, depending on how you cut it. Now, one of the best parts about making this caramel fudge is that it stores really well for an extended period of time.
To store fudge, transfer all of it to an airtight container with parchment paper between each layer of fudge to keep it from sticking. Stored like this, the fudge will last at room temperature for about 2-3 weeks.
However, if you want to keep it for longer, you can freeze fudge in an airtight container or freezer-safe bag. Stored this way, you can freeze the fudge for 3 months. Then whenever you want a piece, just let it thaw before enjoying.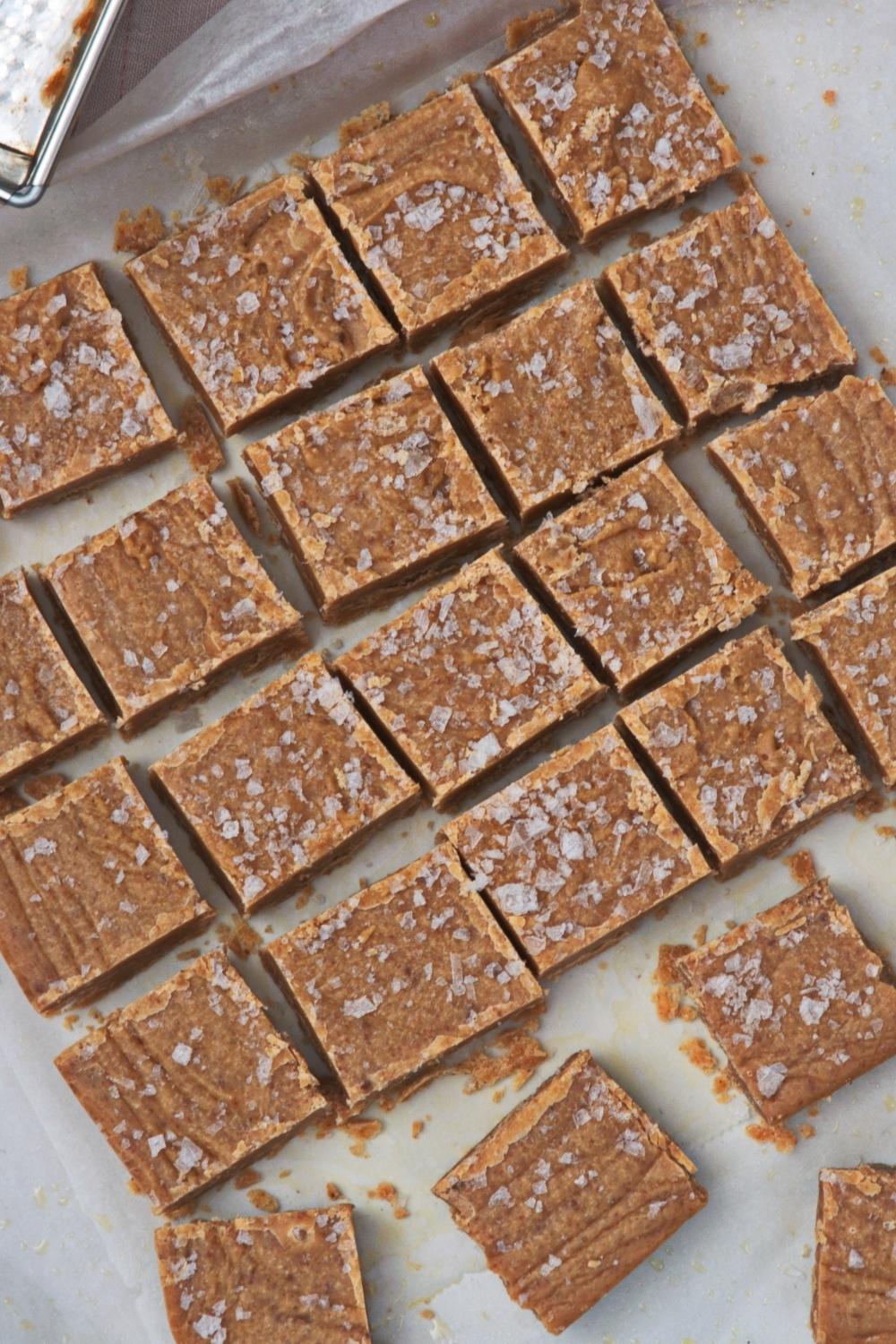 Wrapping It All Up
And there you have it.
That's how to make salted caramel fudge from scratch!
This fudge recipe delivers just the right balance of saltiness and sweetness to your tastebuds, and it couldn't be simpler to make.
And these little decadent squares of heaven are sure to impress your guests no matter the occasion you serve them.
Anyway, I hope you enjoy this delicious fudge recipe as much as I/we do. If you tried it, leave a comment below and let me know what you think. I'd love to hear!
Oh, and for more delicious recipes, check out our Youtube channel and Instagram page.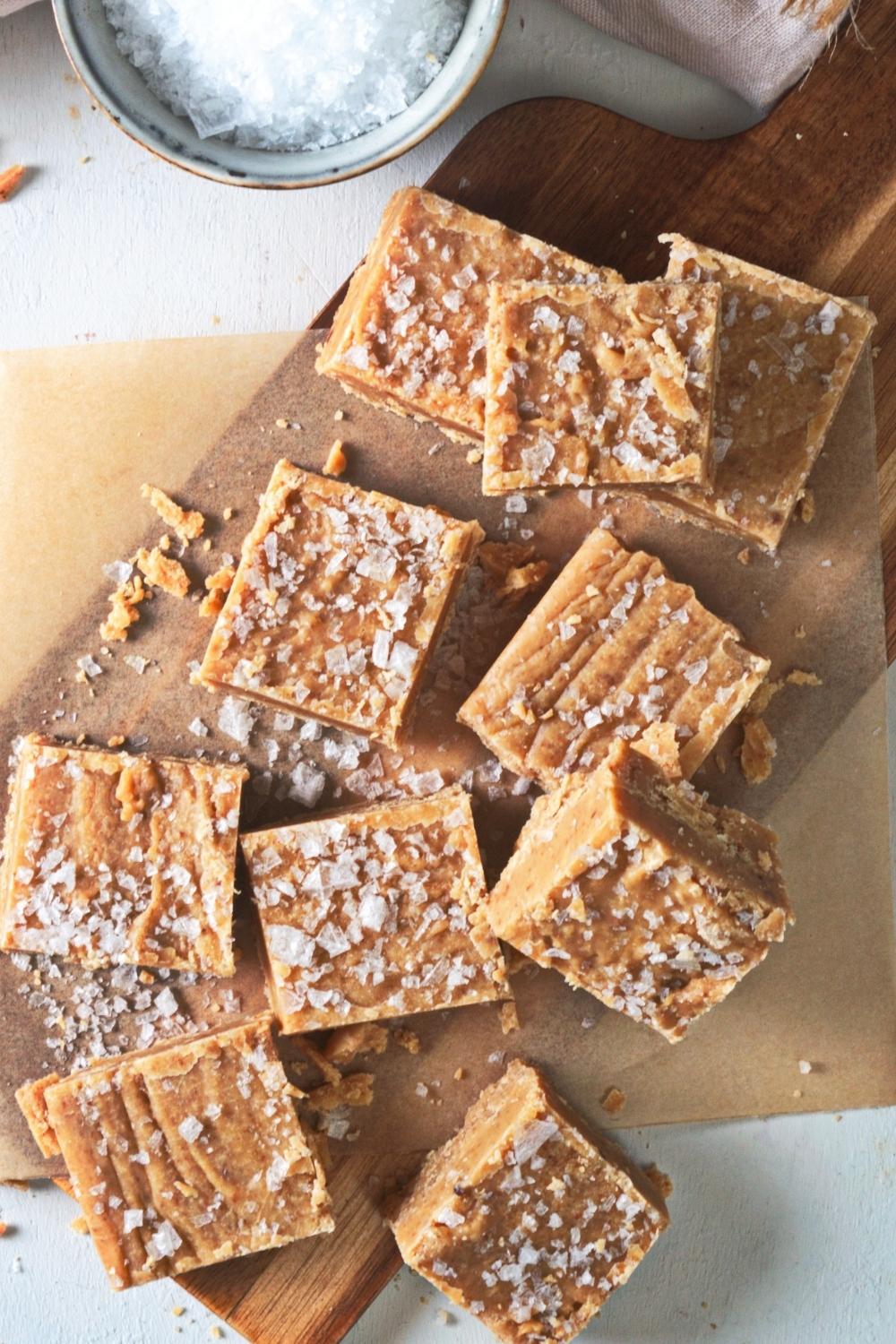 More Dessert Recipes
If this caramel fudge was a hit, these recipes will surely wow you as well!
Give one of these a try next:
Print
Salted Caramel Fudge Recipe | Only 5 Ingredients Needed To Make It
This caramel fudge is so deliciously sweet, salty, and fudgy. Each bite melts in your mouth and leaves a decadent caramel flavor that will satisfy your sweet tooth. All you need is about 15 minutes and 5 ingredients to prepare this easy fudge recipe!
Author:
Prep Time:

10 minutes

Cook Time:

0 minutes

Total Time:

10 minutes

Yield:

20

squares

1

x
Category:

Dessert

Method:

Mixing

Cuisine:

Fudge
Instructions
Grease and line a rectangular tin with baking paper and set aside (any size works, it will just change the thickness of your fudge).

Place the butter, condensed milk, and brown sugar into a microwave-safe bowl. Melt together in the microwave for about 2-4 minutes (take out and stir every minute until fully combined) - see tips below. It's really important that the sugar is completely dissolved at this stage, so if you need to add a couple more minutes feel free to do it.

Add the white chocolate to the bowl and stir until it incorporates with the rest of the mixture. 

Pour the fudge into the prepared tin and sprinkle the sea salt on top. 

Place into the fridge to set for 2 hours before cutting into pieces.
Nutrition
Serving Size:

1 serving

Calories:

261

Fat:

10

Carbohydrates:

40

Protein:

3
Keywords: caramel fudge, salted caramel fudge, caramel fudge recipe, salted caramel fudge recipe, caramel fudge recipe with condensed milk, caramel fudge recipe with sweetened condensed milk, caramel fudge recipe easy, caramel fudge recipe microwave, salted caramel fudge recipe easy, salted caramel fudge recipe microwave, how to make salted caramel fudge, how to make caramel fudge