This Starbucks cafe mocha recipe is exactly what you need in the morning. It's chocolatey and frothy and gives you that kick of energy to start your day off right. And, what's even better is that this homemade cafe mocha takes only 5 minutes to make!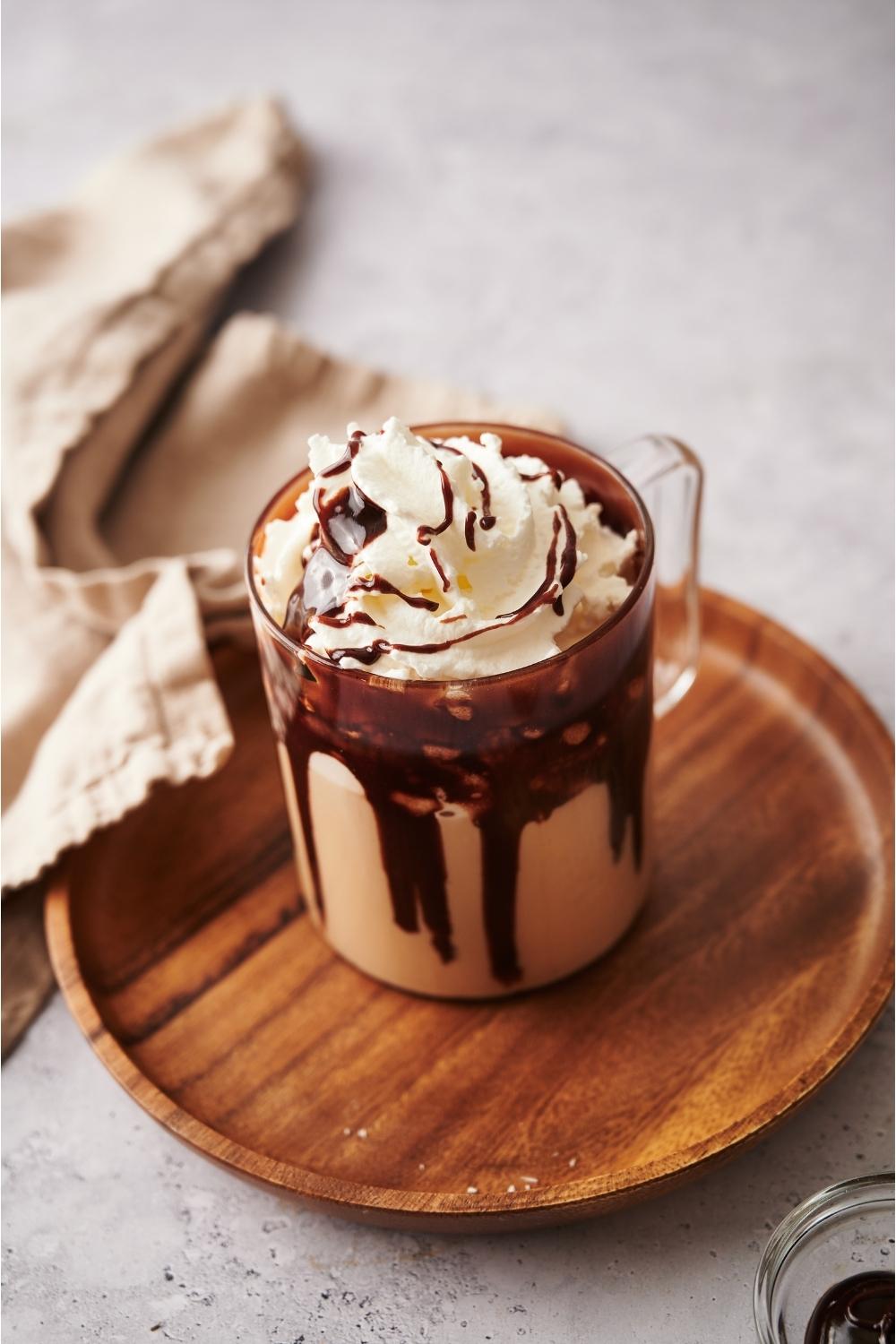 The Best Starbucks Cafe Mocha
Finally, no more waiting in line or spending money to get the most delicious latte. This cafe mocha recipe has it all - steamed milk for a creamy base, sweet chocolate syrup for that rich flavor, and an espresso shot to give you a buzz of energy. And, to top it all off, some whipped cream and another drizzle of mocha sauce.
How good does that sound?
I know, pretty darn good, right?!
Now, with that said, this copycat Starbucks cafe mocha isn't just delicious though, it's super easy to make too.
In fact, this homemade cafe mocha is so easy to make just 3 simple steps are all you need to follow to make it. And the whole process will take you less than 5 minutes to do.
By the way, if you love Starbucks coffee drinks - and you're looking for a copycat coffee recipe as equally delicious as this one - I highly recommend giving this Starbucks salted caramel cream cold brew or peppermint mocha frappuccino a shot next!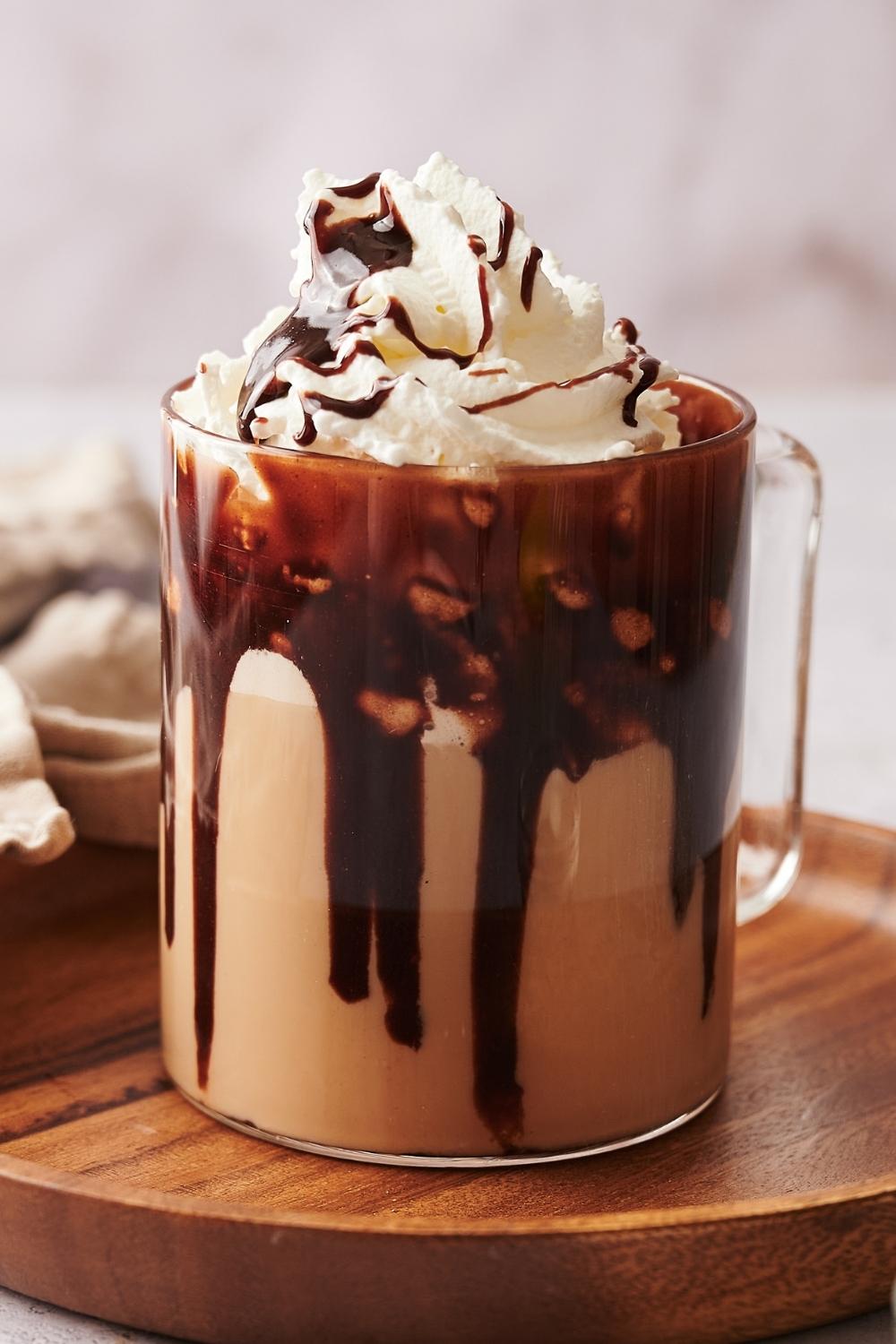 Ingredients
Now, this recipe for Starbucks cafe mocha uses only a couple of simple ingredients. Only four, to be exact. And if you're a regular coffee drinker, you probably have everything you need at home already!
Anyway, here's what you'll need to make this Starbucks mocha:
1 cup Milk

2 tbsp. Chocolate Syrup

2 oz. Espresso Coffee

Vanilla Whipped Cream
Simple ingredients, right?
Now, even though this recipe is so simple, it's also super versatile. You can swap out any ingredients for the ones you'd prefer. I've listed a few ideas below.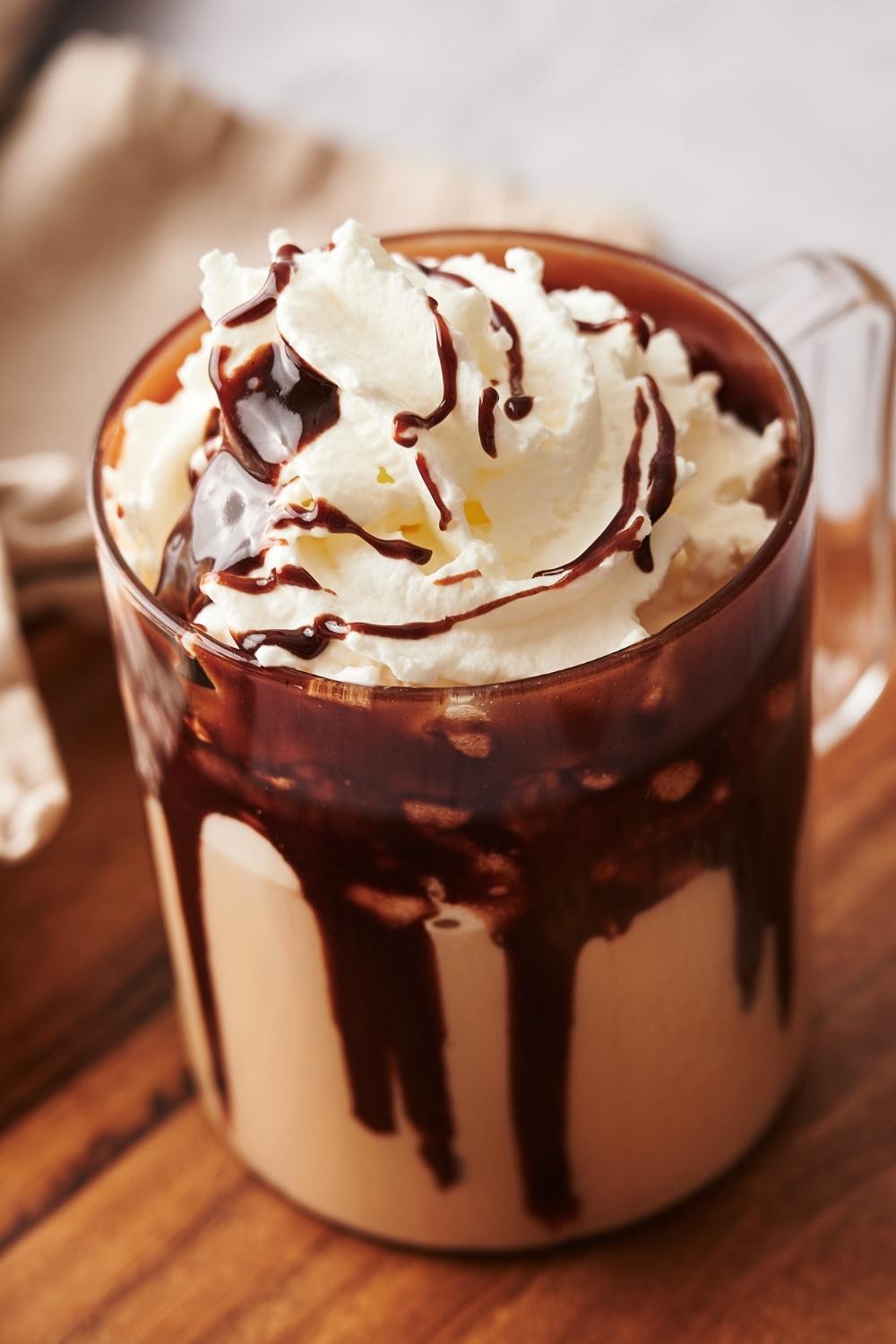 Substituting Ingredients
So, if you want to make this a vegan - or dairy-free drink - just swap out the milk for any kind of plant-based milk. I personally like oat milk because of how creamy it is, but you can use coconut milk, almond milk, cashew milk, and so on. Then, of course, you can top it off with coconut milk whipped cream or another dairy-free whipped cream.
Oh, and if you're looking for more vegan drinks from Starbucks, you have to check out my vegan Starbucks drinks list! It's a comprehensive guide on how to order plant based drinks at Starbucks.
By the way, if you don't have an espresso machine, don't worry. You can make this recipe without it! If you have a french press, just add two tablespoons of coffee and one cup of hot water, and use it to brew the coffee for your mocha.
Alternatively, you can make just regular coffee or strongly brewed coffee in place of the espresso as well.
Just keep in mind that the flavor will change a bit if you use regular coffee instead of espresso.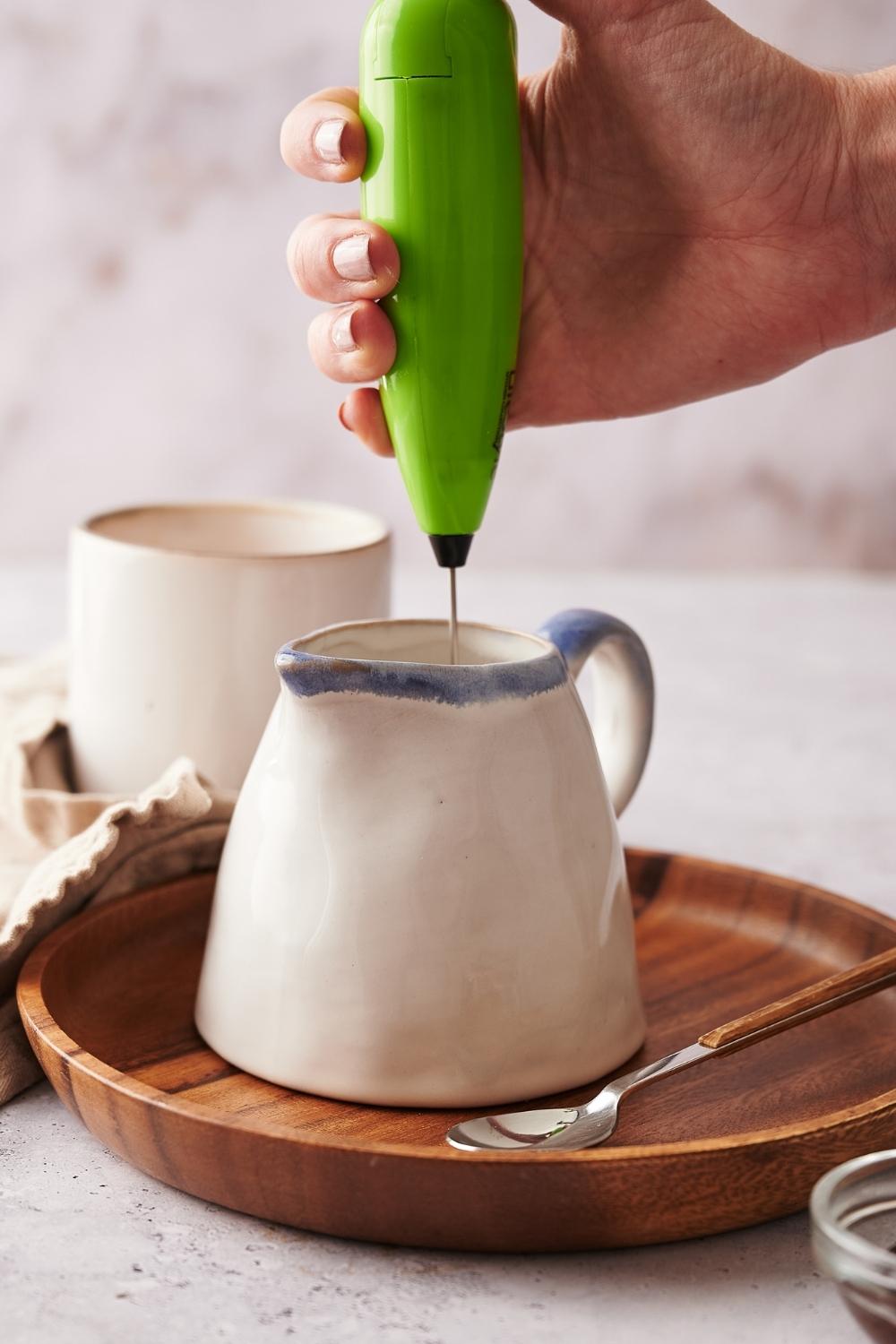 How to Make Starbucks Cafe Mocha
Alright, so as I mentioned, this cafe mocha recipe will only take 5 minutes, and it could not be any easier to make!
Honestly, it's easier to make it at home than it is to go to Starbucks to pick it up. And another plus is it's so much cheaper too.
Now, let's get into the steps you'll want to follow to make it.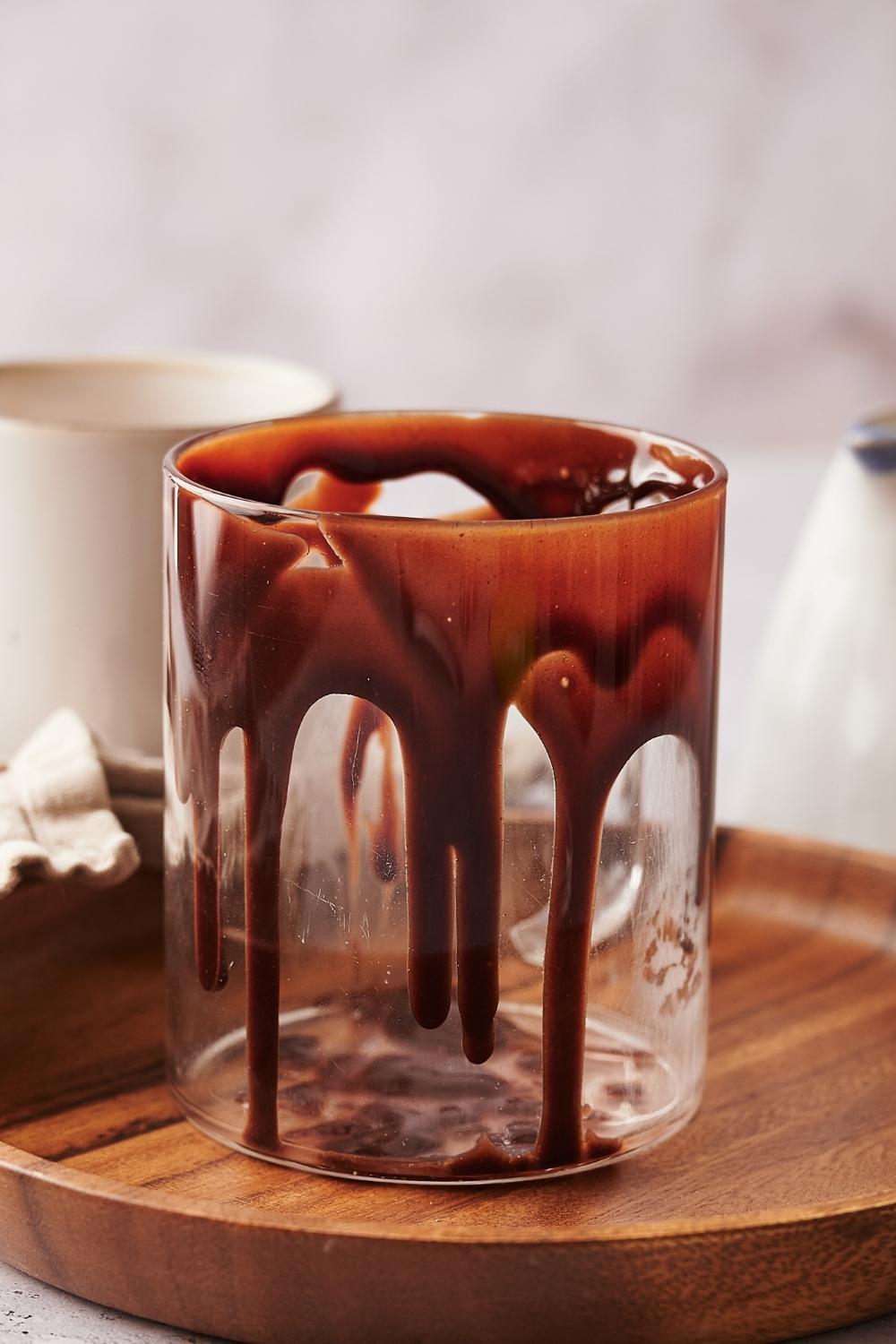 Step 1: Froth the Milk
First, you're going to start by heating the milk in the microwave in 30-second increments until it's steaming but not too hot. Alternatively, you can heat the milk in a saucepan over medium heat until hot but not boiling.
Then, using a handheld frother - or immersion blender - froth the milk until it's nice and foamy. However, if you don't have a frother, you can pour cold milk into a jar that can be sealed with a lid. Fill it ⅓ of the way, shake it until it nearly doubles in volume - and is foamy - and then pour it into a microwave-safe cup and microwave it in 30-second increments until it's warmed to your liking.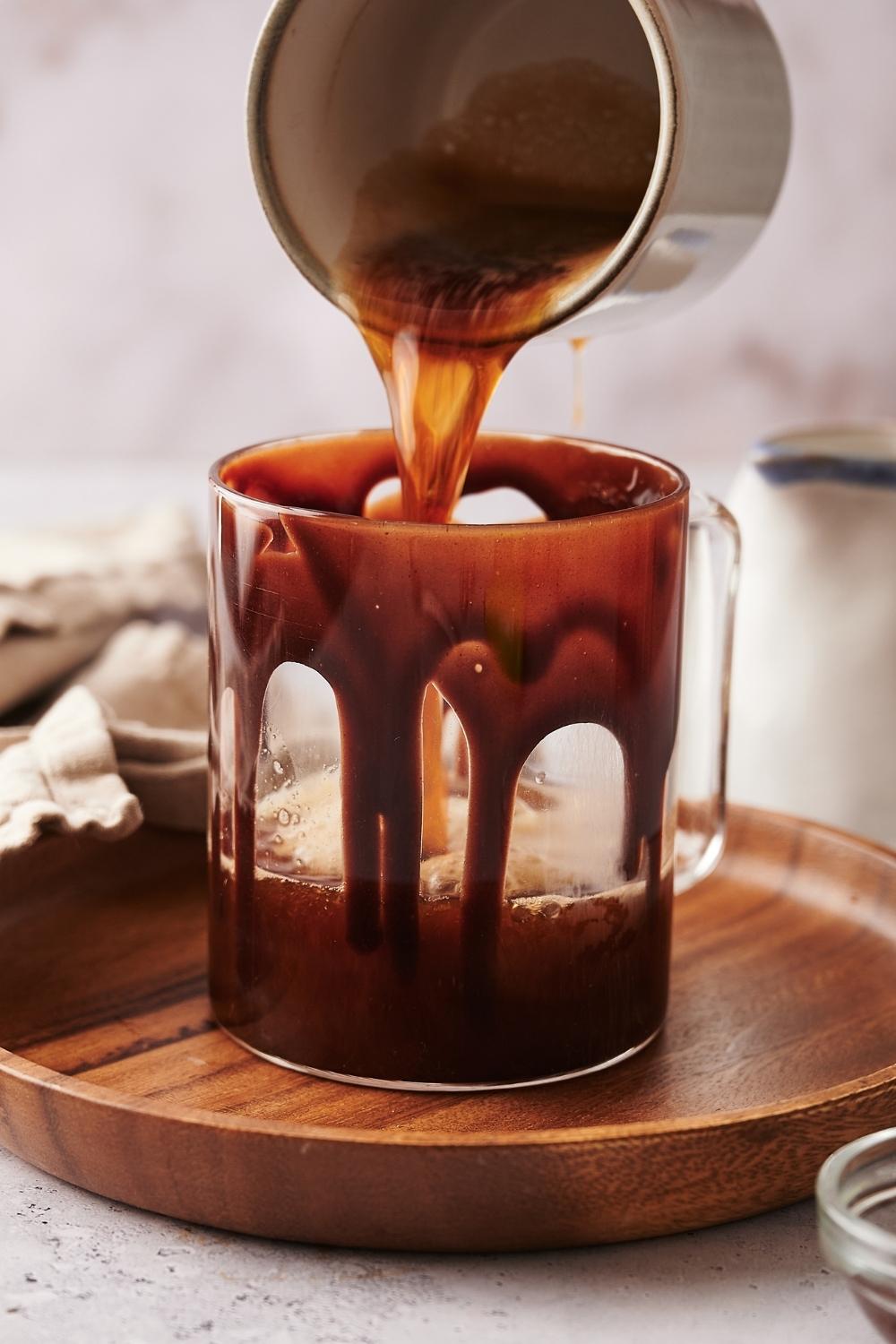 Step 2: Create the Mocha Drink
Next, drizzle a mug of your choice with the mocha sauce. I like to use a clear mug so I can see the aesthetically pleasing design!
Anyway, add the espresso to the mug along with the steamed milk. It will pretty much mix itself, but you can give it a mix if you want.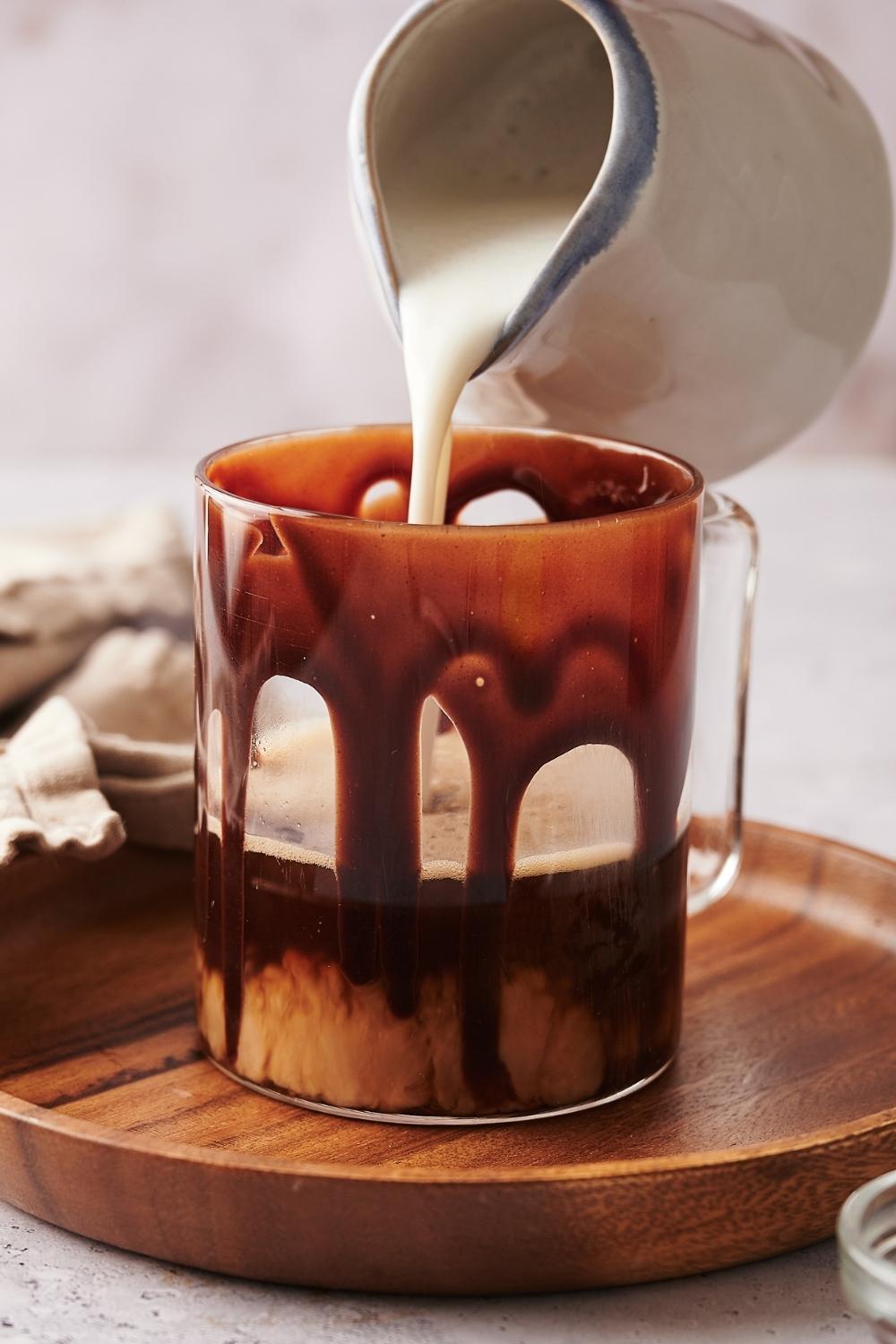 Step 3: Top and Serve
Finally, top your delicious latte with whipped cream - or even cool whip - and a drizzle of more chocolate syrup
Also, if you're feeling a little extra, you can add some chocolate shavings on top. Enjoy!

Wrapping It All Up
Well, that's how to make Starbucks cafe mocha at home!
From the frothy milk to the bold espresso and chocolate sauce, a coffee drink really doesn't get better than this.
Since this is so darn delicious and easy to make, I have a feeling it'll become your new go-to morning drink. You can whip it up right before you run out the door or make it to enjoy it on a relaxing morning.
And if you're ever having company over in the morning, it's the perfect drink to make for two.
Anyway, I hope you're as obsessed with this Starbucks cafe mocha copycat recipe as much as I am. I'd love to hear how you liked it in the comments below!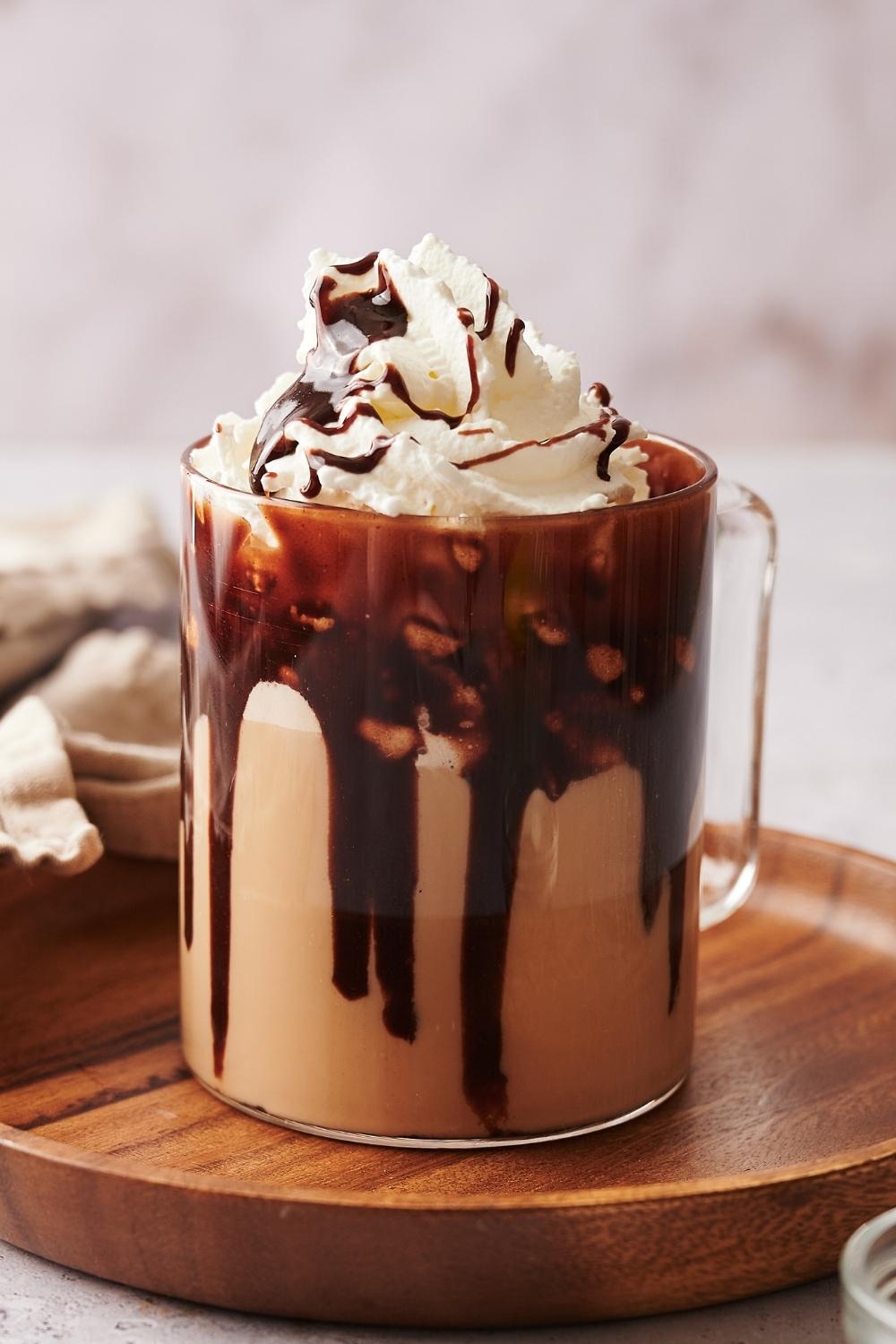 More Drink Recipes
If you enjoyed making this Starbucks cafe mocha and want to give some more copycat recipes a try, we have a ton of easy drink recipes on the blog I think you'll like!
Try making some more of our go-to Starbucks copycat recipes:
And for more recipes, make sure to check out our Instagram, YouTube, and TikTok. We post new ones on them daily.
Print
The Best Starbucks Cafe Mocha Recipe Made In Under 5 Minutes
This Starbucks cafe mocha recipe is exactly what you need in the morning. It's chocolatey and frothy and gives you that kick of energy to start your day off right. And, what's even better is that this homemade cafe mocha takes only 5 minutes to make!
Author:
Prep Time:

5 minutes

Total Time:

5 minutes

Yield:

1

serving

1

x
Category:

Drink

Method:

Mixing

Cuisine:

Starbucks
Nutrition
Serving Size:

1 serving

Calories:

170

Fat:

0

Carbohydrates:

33

Protein:

9
Keywords: starbucks cafe mocha, cafe mocha recipe, starbucks cafe mocha recipe, starbucks cafe mocha ingredients, starbucks cafe mocha at home, starbucks cafe mocha copycat recipe, starbucks hot caffe mocha recipe, how to make a starbucks cafe mocha at home