If you ever wondered how to cook ramen in the microwave, get ready to be blown away by this recipe. In under 5 minutes, you'll have perfectly cooked ramen noodles ready for lunch or dinner!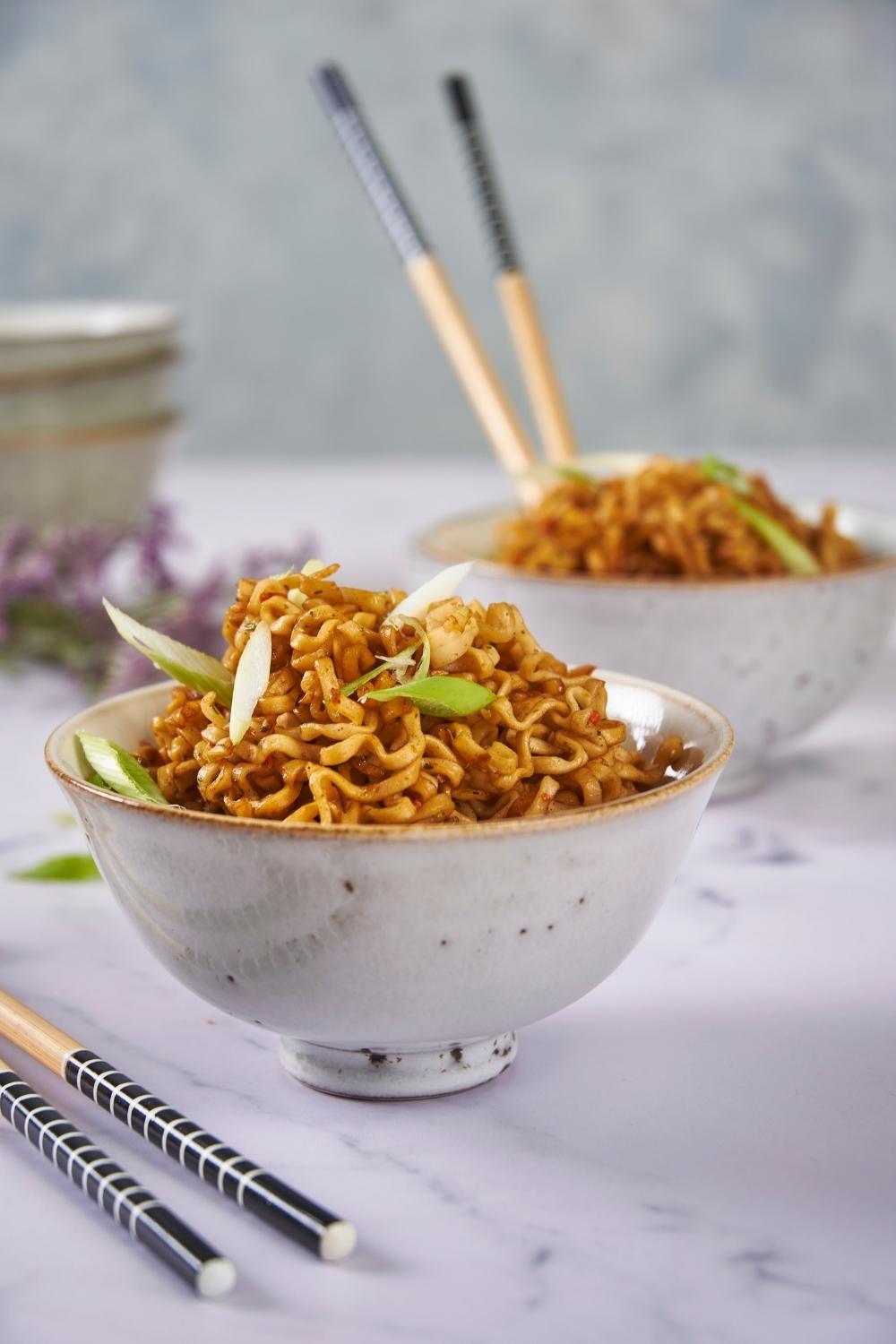 The Best Microwave Ramen Noodles
Instant ramen noodles are one of those staples to have in the pantry. They're quick and easy, and you don't need a ton of ingredients to make them taste great.
And although they're easy to make with boiling water on the stovetop, they're even easier to make in the microwave! As I mentioned, you can have this microwave ramen done in under 5 minutes.
Plus, the entire process of making these instant ramen noodles couldn't be simpler. Seriously, all you have to do is click a few buttons on the microwave.
Basically, if you're in college - and especially living in the dorms - and you don't have access to a stove this recipe for instant ramen will be a lifesaver.
With that said though, if you're in the mood for some more elevated ramen recipes, you have to try this Korean ramen, spicy ramen, cheesy ramen, and birria ramen. They might not be as quick to make as this recipe is, but they're really, really delicious.
And if you're looking for another quick and easy noodle recipe, you can check out how to cook rice noodles next!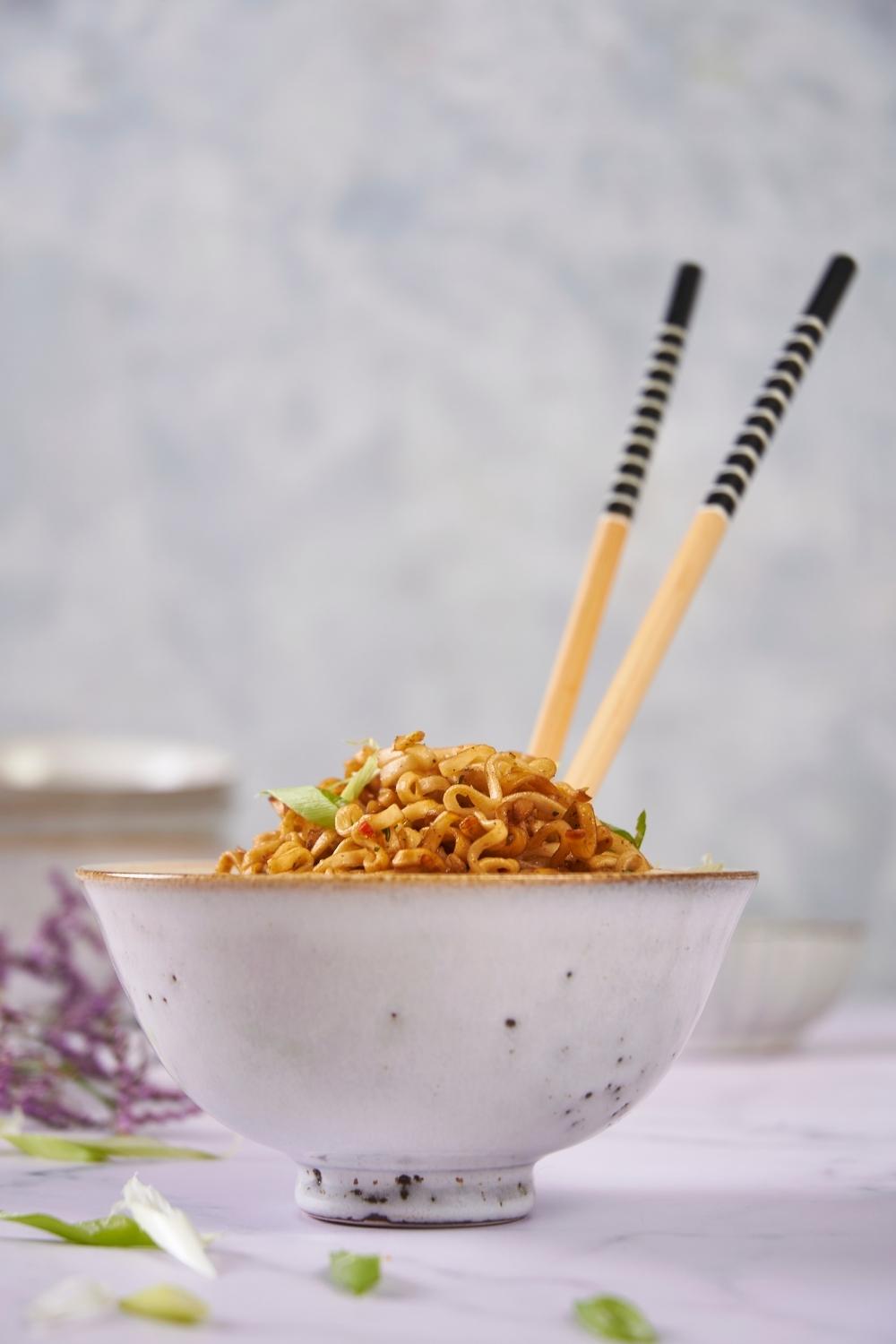 Ingredients
As if this microwave ramen recipe couldn't get any better, you need just two ingredients to make it! And I can almost guarantee you have both of them on hand already.
Here's what you'll need to make 'em:
1 Package ramen noodles plus the flavoring packet
Around 1 cup water
How awesome is that?
Now, when it comes to the flavoring of your ramen noodles, that's entirely up to you. If you're new to the ramen world, I personally prefer chicken ramen. But you can use the beef, shrimp, vegetable, or any flavor packet you want!
Oh, and by the way, if you want an elevated ramen hack, you have to make this TikTok ramen next.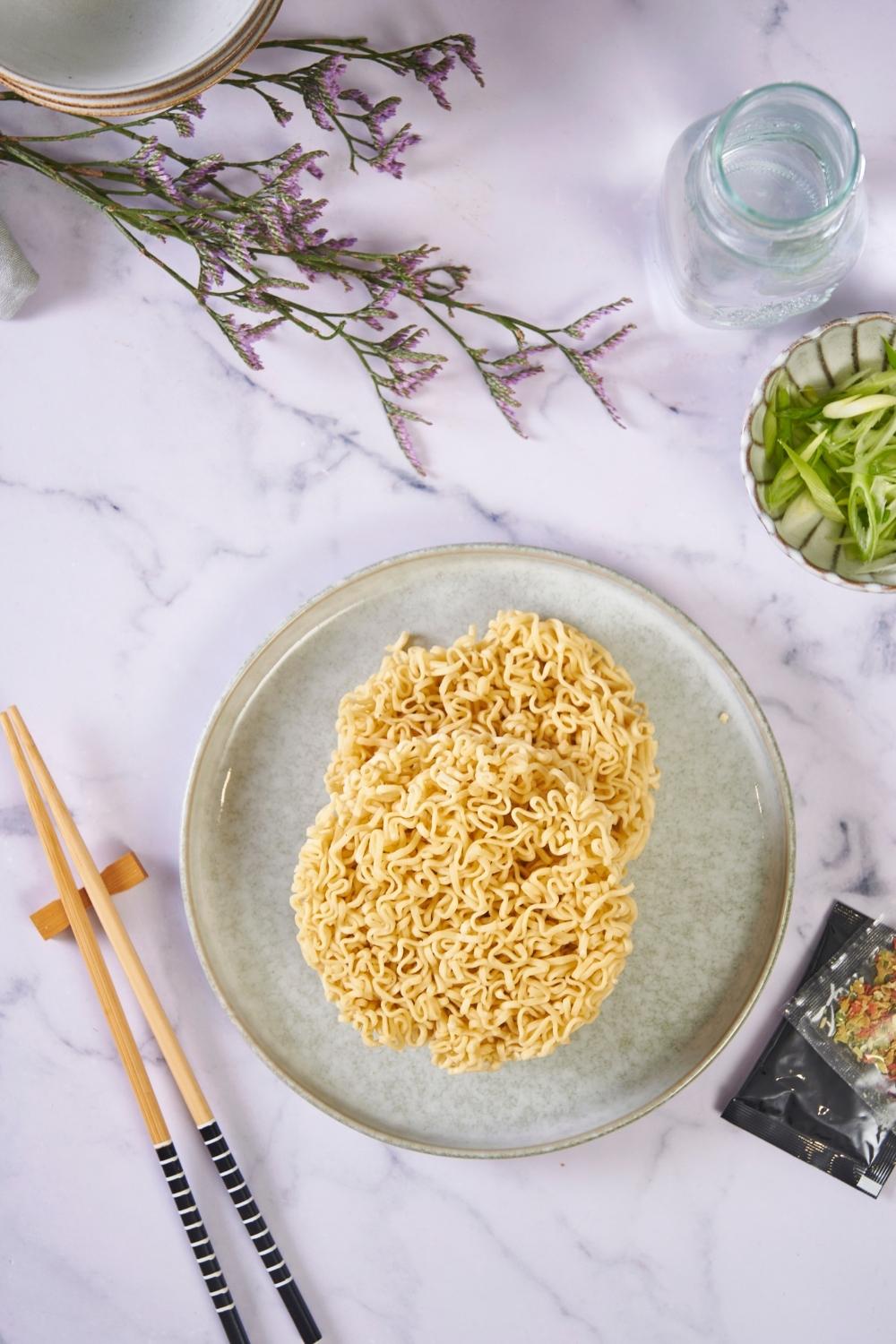 How To Cook Ramen In The Microwave
As I've mentioned a few times, this microwave ramen will take you no more than 5 minutes to make. And I have no doubt that it's one of the easiest instant ramen recipes ever.
So, with that said, let's stop wasting time and dive into how to make microwave ramen!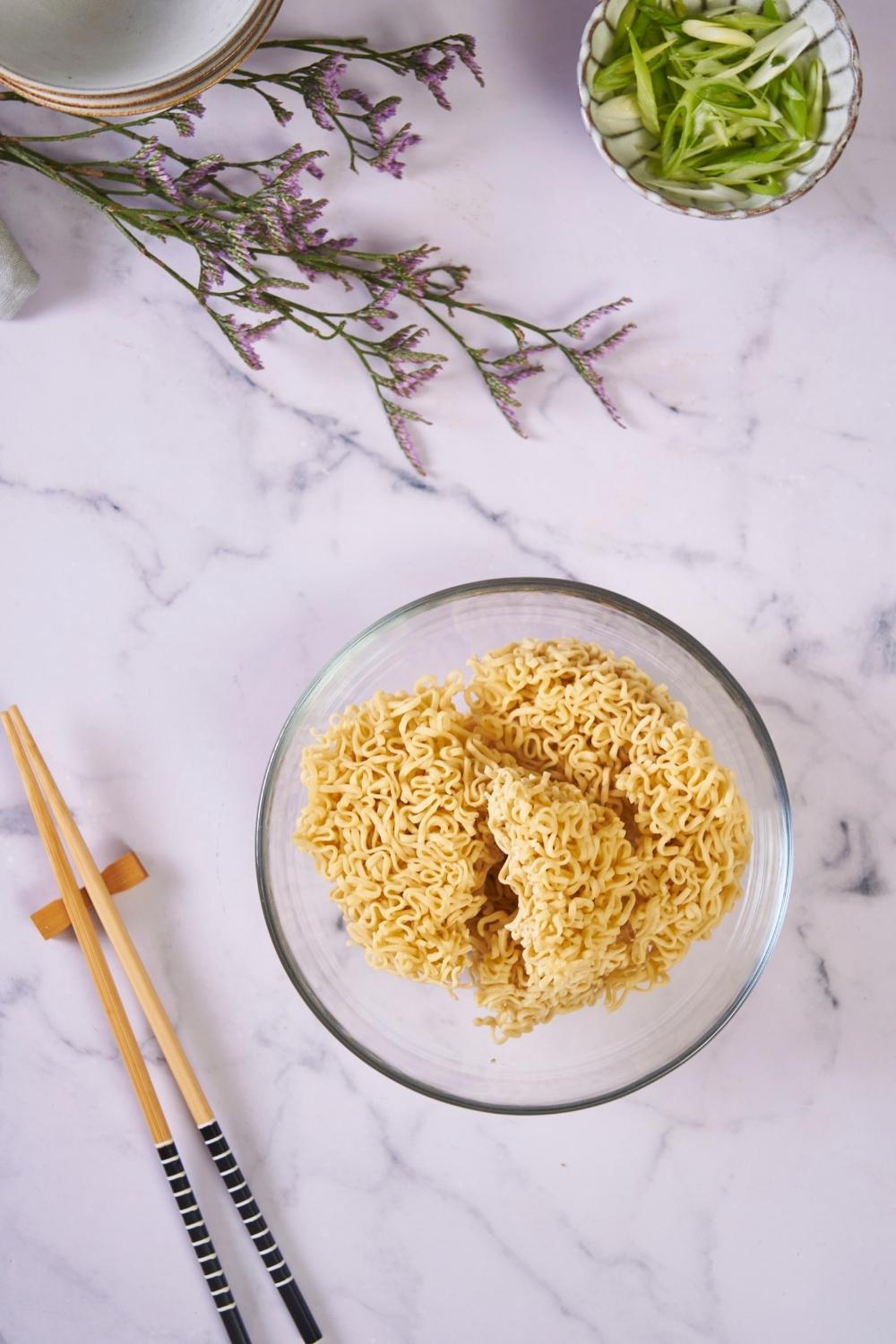 Step 1: Prep The Noodles
First, you'll want to carefully break the instant ramen noodles apart. This will make it easier to submerge them in the water and mix everything later.
Then, put the dried ramen noodles in a microwave-safe bowl that is wide enough to fit all the noodles and deep enough to cover the noodles in water. However, if you buy Instant ramen noodles that come in a noodle cup, you can skip this step and simply use the cup that the ramen noodles come in.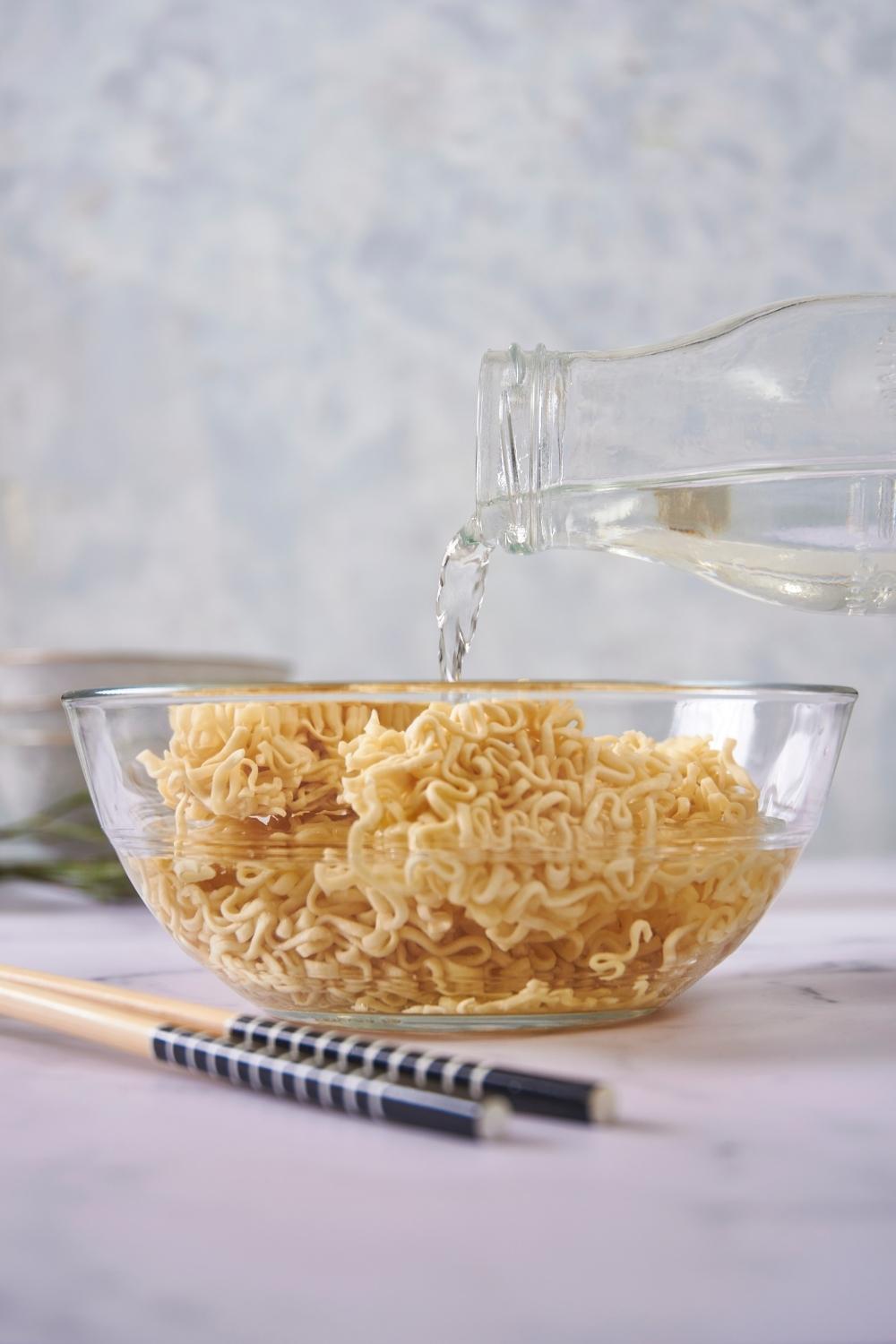 Step 2: Cook The Ramen
Next, add enough water to the bowl to cover the broken noodles - about one cup usually does the trick.
Now microwave the noodles for 1 minute, give them a stir, and microwave 'em for another minute. Then, after the ramen noodles have cooked for that second-minute you'll want to check on 'em and see how they're cooking.
By the way, if you want ramen noodles more well done, just continue to 'em for an additional 30 seconds to a minute - or until they have reached your desired level of doneness.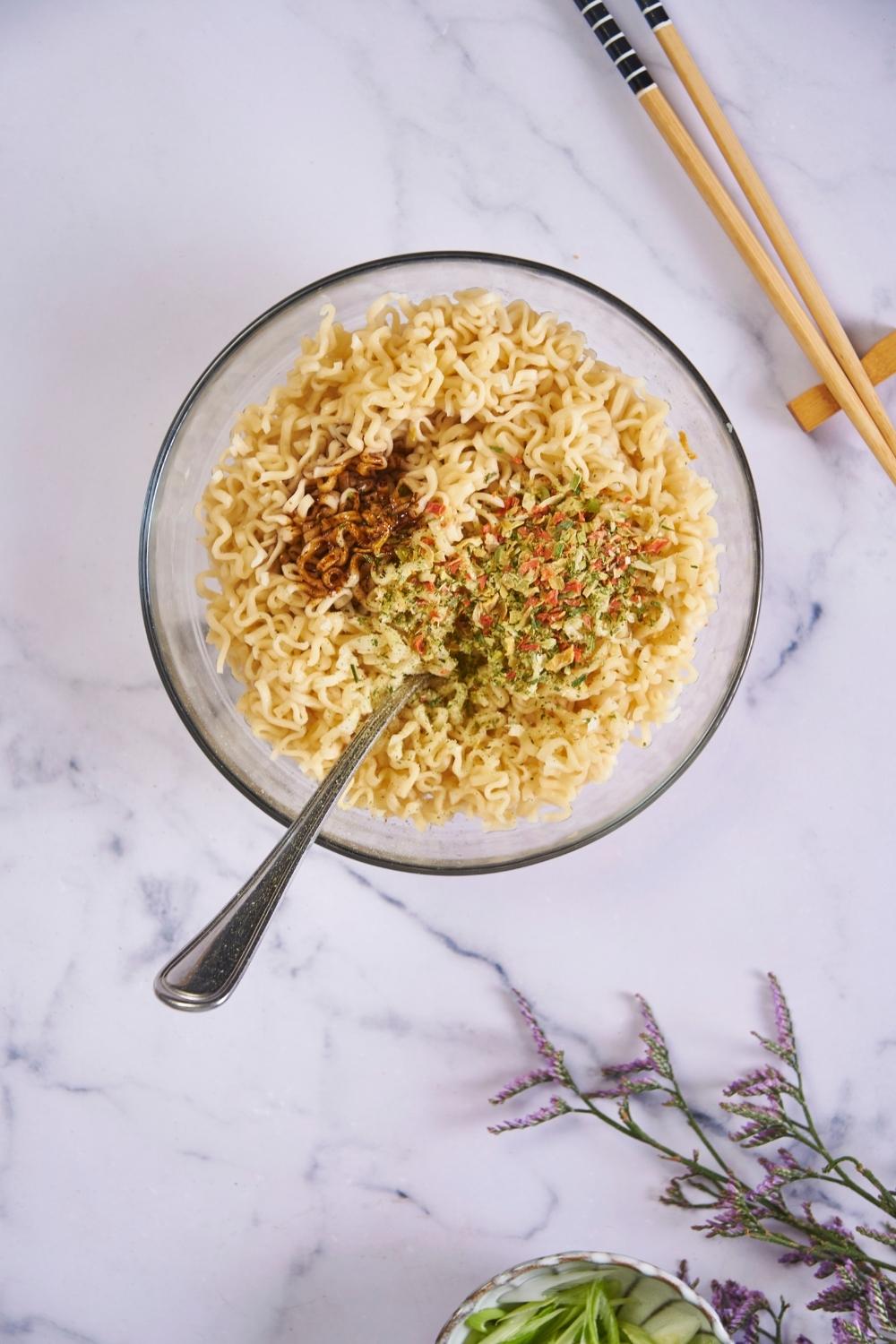 Step 3: Add The Flavor Packet
Now, once the microwaved ramen is cooked to your liking you can carefully remove the bowl from the microwave.
Then, you'll want to add the seasoning packet to the ramen and give the noodles a good stir to combine them with the seasoning.
Finally, serve hot and enjoy!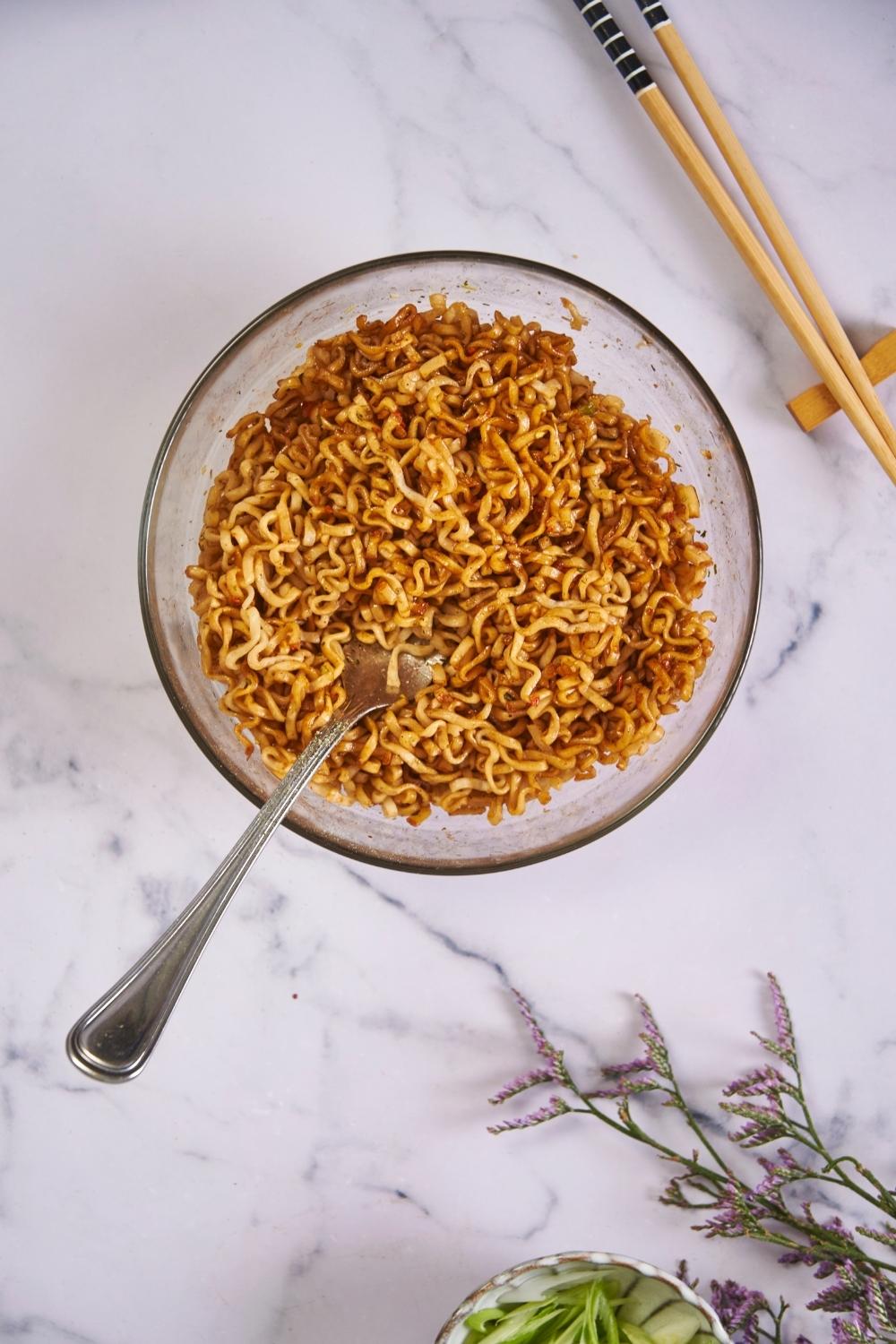 How To Modify Your Ramen Noodles
Now, the seasoning packet usually adds a good amount of flavor to the instant ramen. But, if you want to go the extra mile and make your ramen noodles taste even better - like in this Kylie Jenner ramen - here are some of my favorite tweaks:
Add 1 tablespoon of soy sauce and ½ tablespoon of sesame oil.

Garnish with sesame seeds and diced green onions.

Swap water for beef broth, chicken broth, or vegetable broth (or better yet, add additional liquid for ramen noodle soup).

Add in some of these sugar snap peas.

Top ramen with a soft-boiled egg.

Drizzle hot sauce, sriracha, or hoisin sauce over it to make it more of a spicy ramen recipe.

Add a sprinkle of parmesan cheese and garlic powder for some extra flavor.

How To Store and Reheat Cooked Ramen
So, this recipe for microwave ramen will make one serving. But, if you're still hungry, you can always make more in a flash!
However, in the event that you can't finish your ramen, you can save the leftovers in a sealable container and store them in the fridge for about 2 days.
Then, when you're ready to eat the ramen again you can just microwave it until it's hot. I simply just place my leftover instant ramen in a microwave-safe bowl and heat it in 20-second increments - stirring between each one - when I heat mine back up.
Also, when you go to reheat the ramen, I recommend adding a splash of water, chicken broth, beef broth, or vegetable broth to it to avoid drying the ramen out.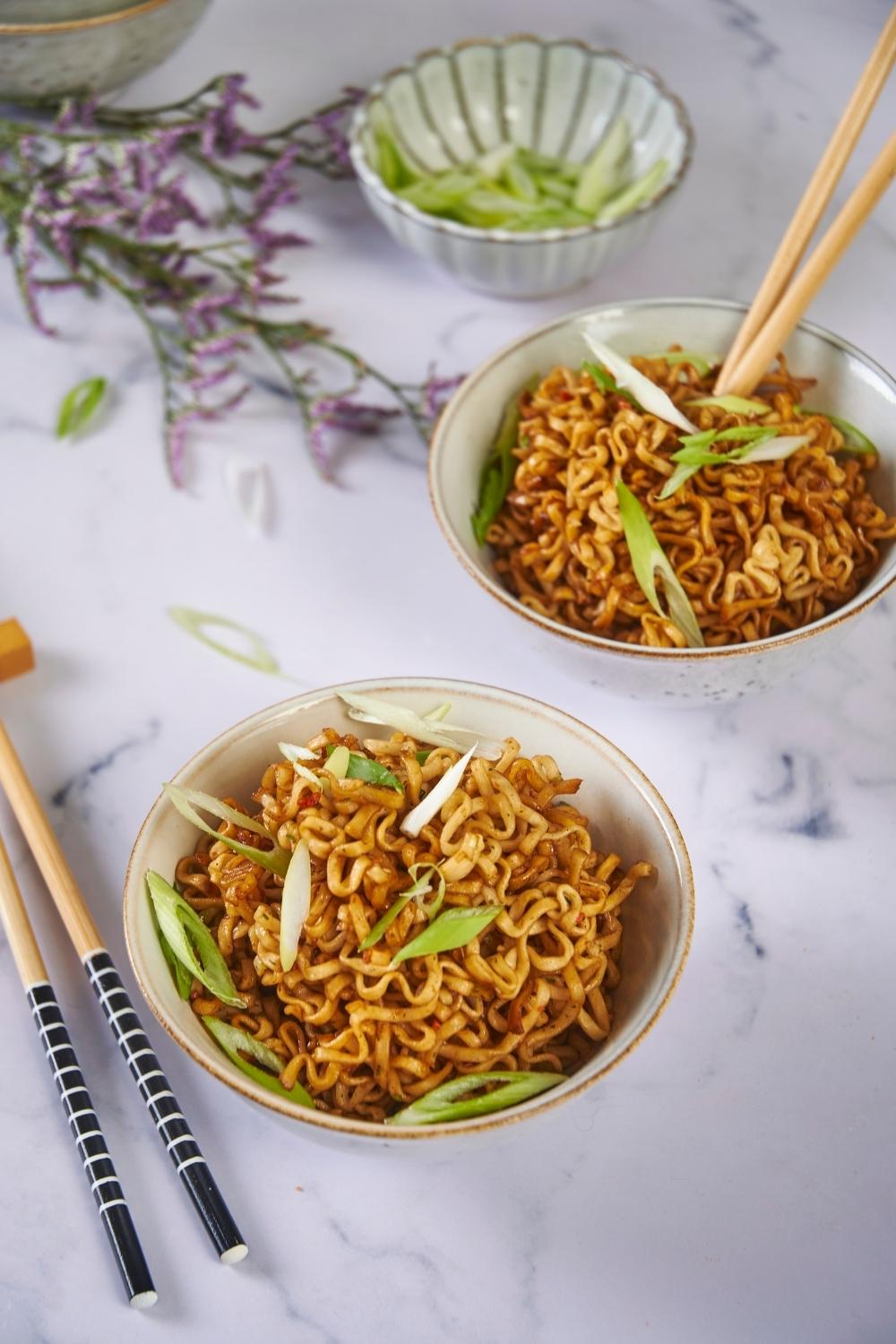 Wrapping It Up
Well, that's how to make ramen in the microwave!
This might be the easiest recipe for instant ramen noodles ever! Seriously, it could not be easier. Just a couple of ingredients and less than 5 minutes is all that it takes to make, and the results are drool-worthy.
Honestly, even if you've never tried to make ramen before, your microwave ramen will turn out on point if you follow the steps - and tips - I went over earlier.
As always, if you give this microwave ramen recipe a try, leave a comment below and let us know your thoughts! Oh, and for another ramen recipe, give this beef ramen a try!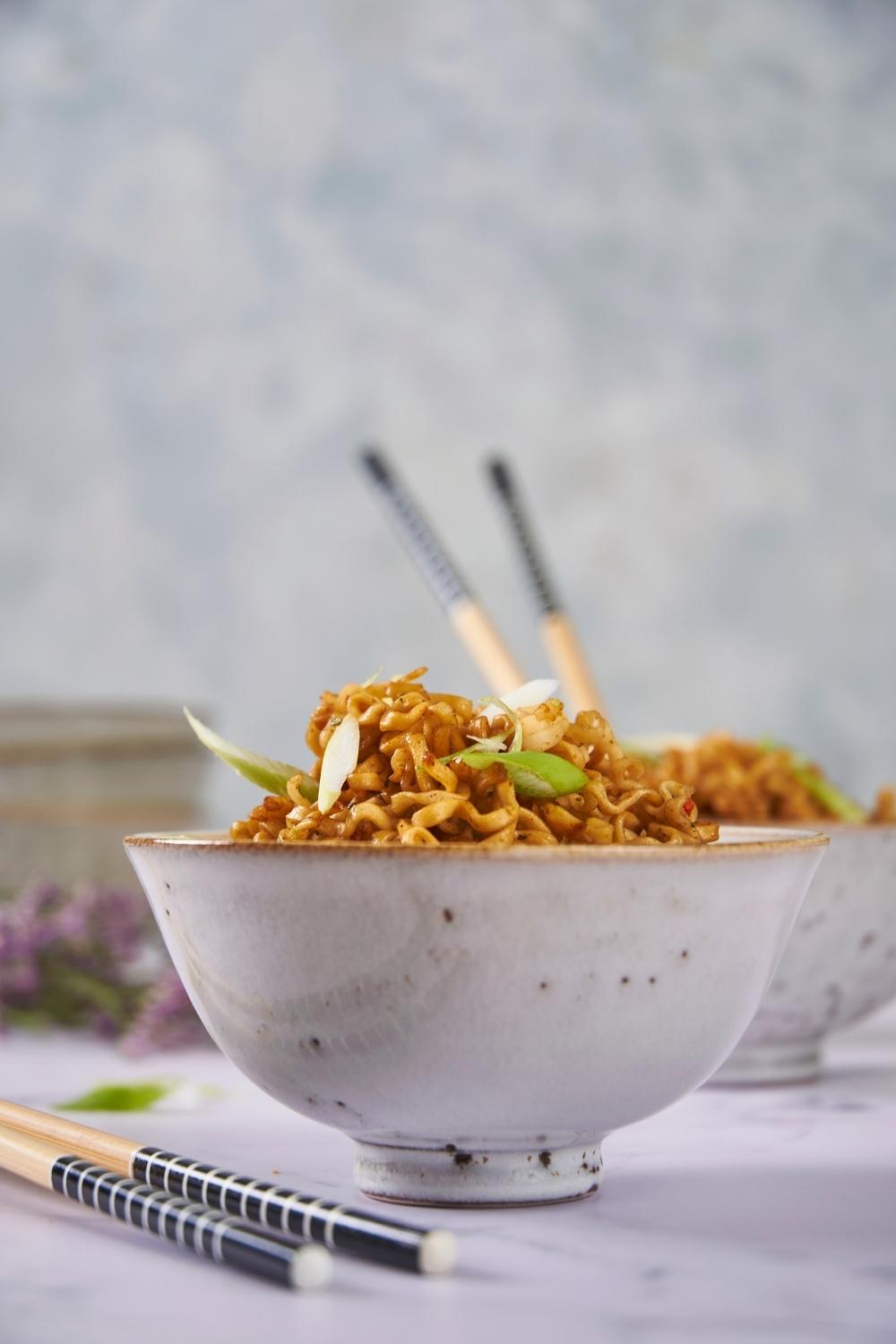 More Recipes Made In The Microwave
If you liked how simple this recipe was, we have a ton of other easy recipes that you can make in the microwave on the blog!
Give one these a try next:
Oh, and, as always, for even tasty tastiness, give us a follow on YouTube, TikTok, and Instagram. We post new recipes on them every single day.
Yield: 1 serving
How to Cook Ramen In The Microwave | Takes Less Than 5 Minutes To Make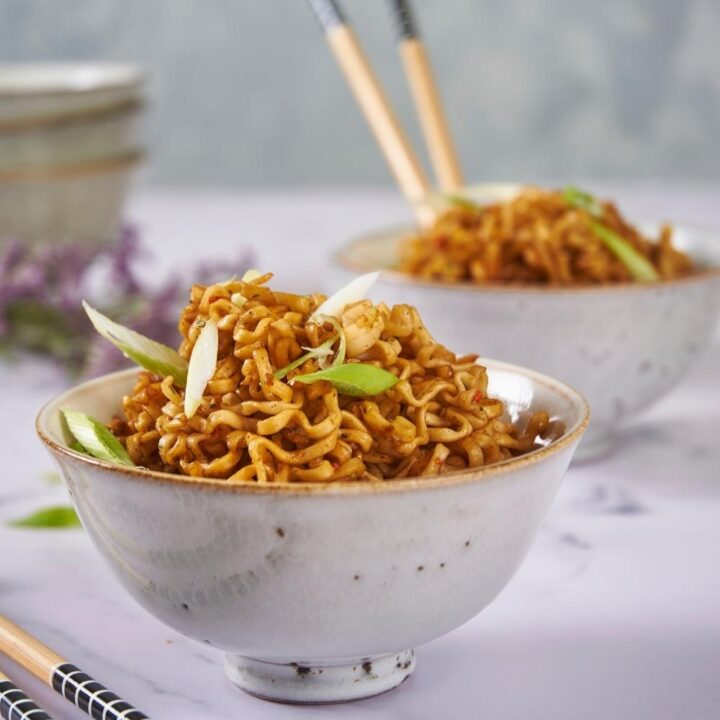 If you ever wondered how to cook ramen in the microwave, get ready to be blown away by this recipe. In under 5 minutes, you'll have perfectly cooked ramen noodles ready for lunch or dinner!
Instructions
Break the noodles apart.
Place the broken noodles in a microwave safe bowl.
Add the water over the broken noodles.
Microwave for 1 minute. Stir and microwave for another minute. Check on the ramen and cook it another 30 seconds – 1 minute, depending on how you like them.
Carefully remove the bowl from the microwave.
Add the seasoning packet and stir to combine.
Serve hot.
Nutrition Information:
Serving Size:
1 serving
Amount Per Serving:
Calories:

384
Total Fat:

15g
Saturated Fat:

0g
Trans Fat:

0g
Unsaturated Fat:

0g
Cholesterol:

0mg
Sodium:

0mg
Carbohydrates:

52g
Fiber:

0g
Sugar:

0g
Protein:

10g