This simple and delicious cheesy ramen recipe can transform your favorite pack of instant ramen noodles into a quick, cheesy, and easy meal. All you need is a package of ramen noodles, a handful of simple ingredients, and 10 minutes to make it!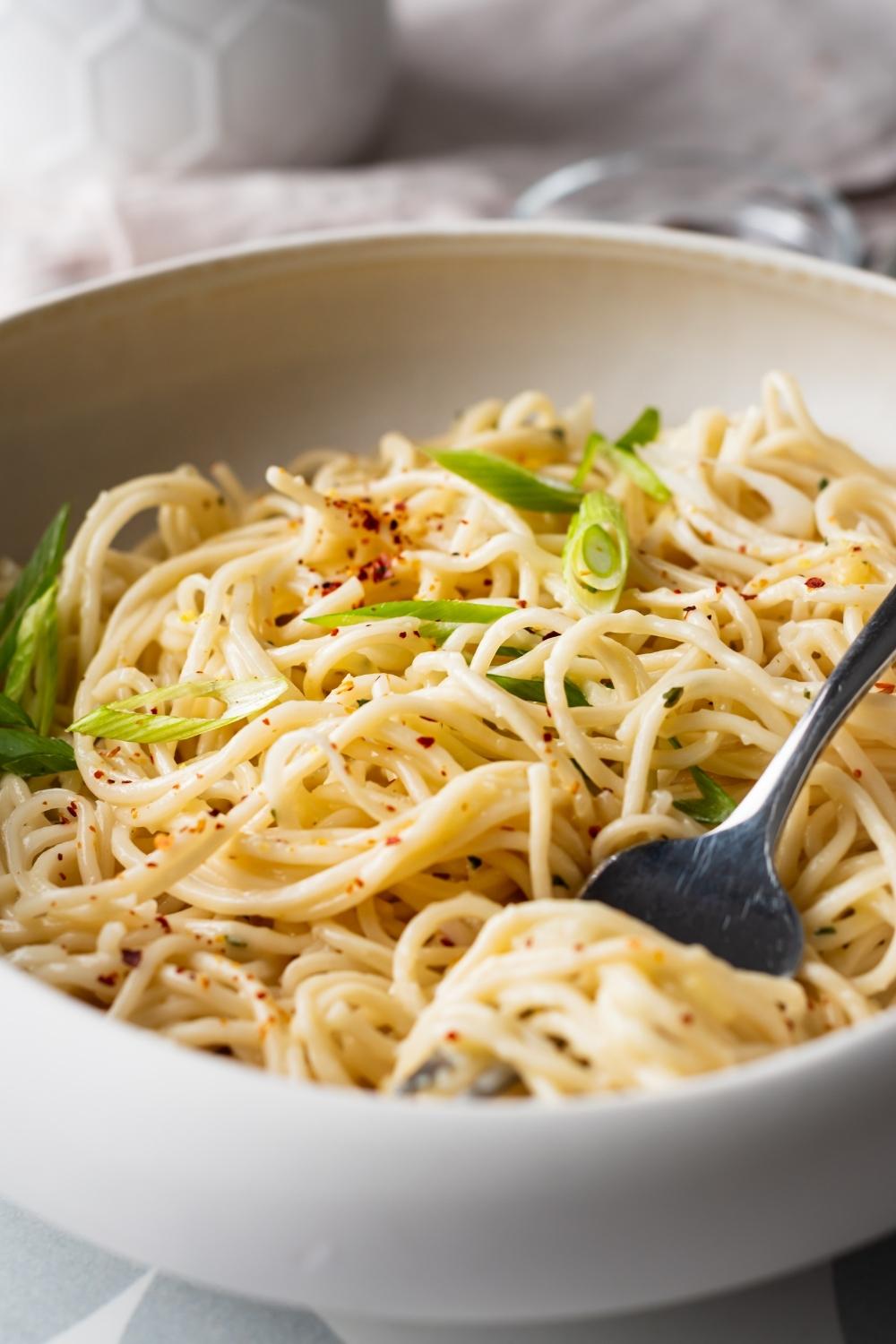 The Best Cheesy Ramen Recipe
Ramen noodles are the ultimate pantry staple for when you're too busy or too tired to cook. And, I'm not going to lie, that describes me more than I'd like to admit!
Anyway, if you love instant noodles, this cheesy ramen noodles recipe is a hack you absolutely have to try! It's basically instant noodles topped with creamy, melty cheese, garlic powder, and butter for an addictive yet simple meal.
You can use plain ramen noodles - as I did - or use this recipe to dress up practically any flavor of ramen noodles you have. Also, just so you know, this hack pairs amazingly well with spicy noodles, like the famous Korean fire noodles (a.k.a. buldak noodles), and you can also add it to ramen noodles with broth.
Yup, it's that versatile!
Plus, you can adapt it with whatever you have available. I like adding vegetables or cooked shredded chicken to mine. It's like the perfect leftover add-in recipe!
By the way, before we get into things, if you love ramen noodles you'll def want to give our take on Kylie Jenner's ramen noodle recipe a try too. And you can also make our spicy ramen recipe if you want a little heat.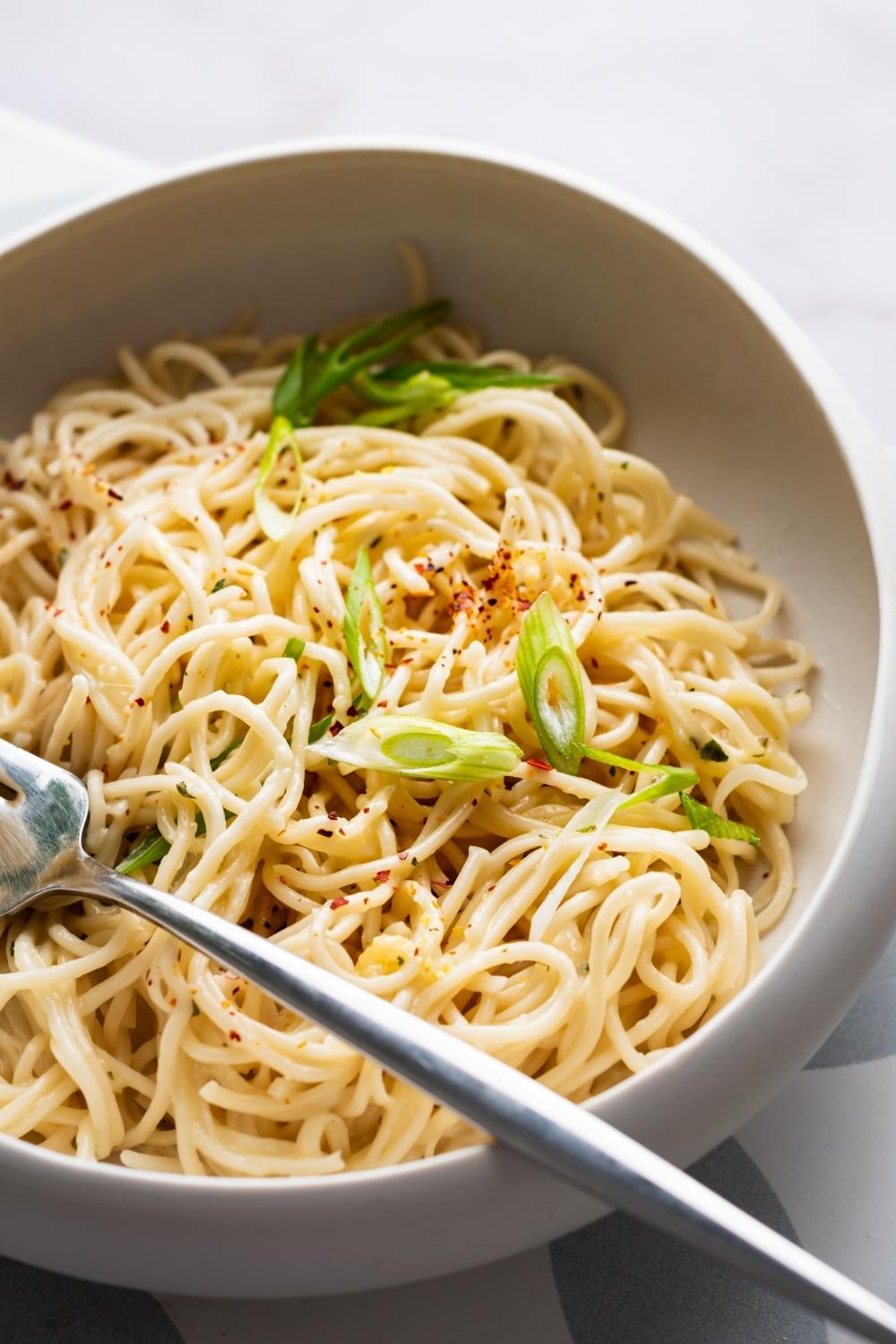 Ingredients
Ok, so all you need to make these cheesy instant ramen noodles, is a package of instant noodles and 5 pantry staples. And, honestly, I'm willing to bet you already have most, if not all of these ingredients, at home already!
If not, the great news is it's such a simple and basic recipe, you can probably substitute any one you have available and still get a delicious, creamy, and cheesy outcome!
Anyway, here's what you need to make this cheese ramen:
1 package (3 oz) of Instant Ramen Noodles
2 cups Water
½ tsp. Garlic Powder
1 tbsp. Butter
¼ cup Mozzarella Cheese, shredded
¼ cup Green Onion, sliced
Of course, the one thing you can't skip for this recipe is the instant noodles! But, as I mentioned earlier, you can use any flavor you want - both dry or brothy ramen noodles will work great.
With that said, another super important ingredient to this ramen recipe is the cheese. I love the texture of shredded mozzarella in this, but you can actually use any cheese you want as long as it melts. American cheese and Monterey Jack are some good swaps.
You can even mix different types of cheeses! I've done some variations of this recipe with parmesan cheese and cheddar cheese added. And if you love cheese, you have to make this Outback mac and cheese recipe sometime!
As far as the seasoning packets go - if you're using an instant ramen - you can use them or skip them altogether. It really is up to you if you want to use them. Sometimes it's nice to skip using the packets and just make this a super simple, garlicky, cheesy noodle dish - instead of one exploding with umami.
Last, don't forget the toppings. I love to add some green onions, a bit of grated parmesan cheese, toasted sesame seeds, ground black pepper, cream cheese, or even a fried egg. Just go with whatever you're craving - or what's on hand!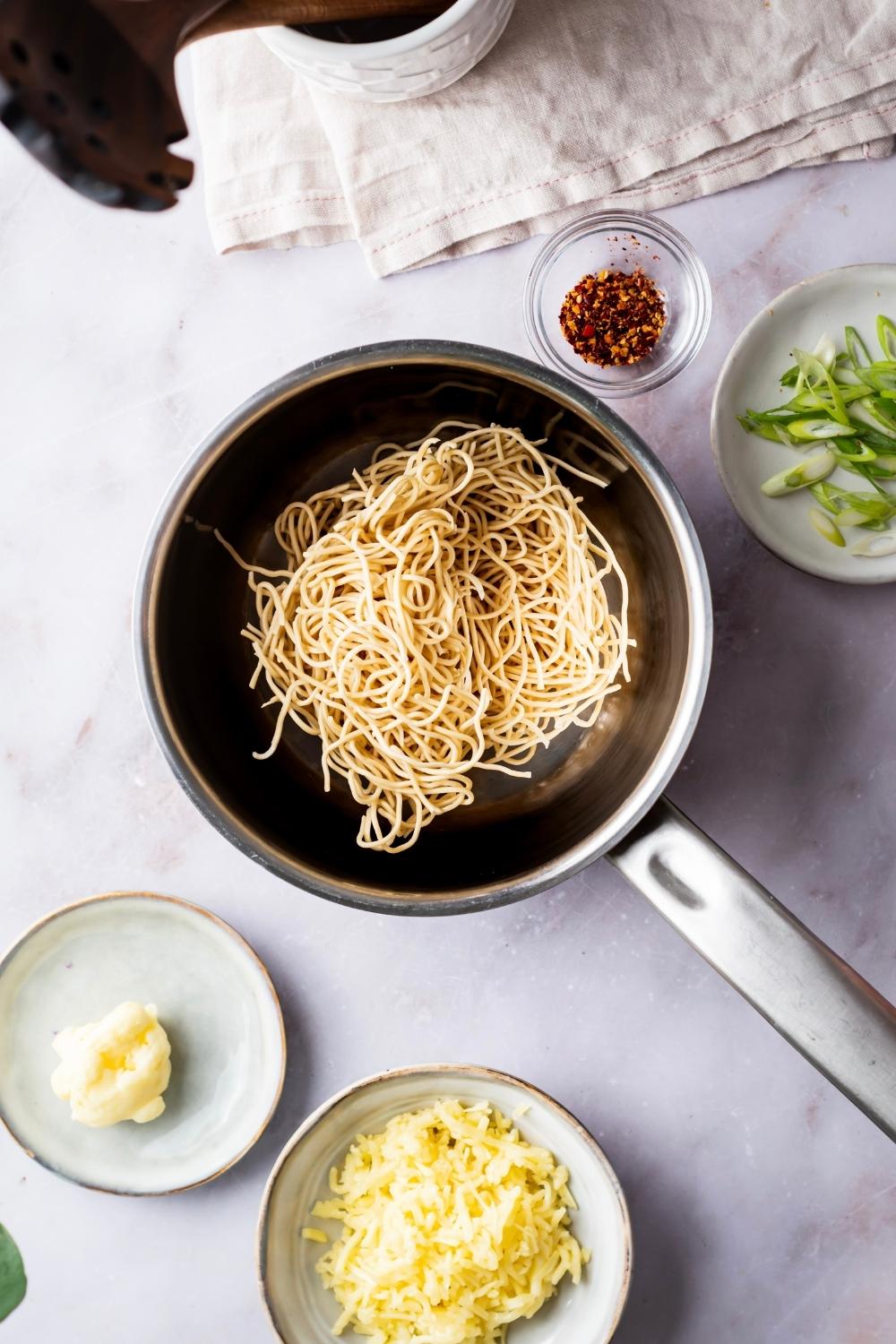 How to Make Cheesy Ramen with Instant Noodles
So, this recipe makes 1 serving of cheese ramen and will only take about 10 minutes.
Seriously, all you have to do is cook the noodles then stir in the rest of the ingredients. It's that easy!
Now, let's get right into the instructions for this recipe.
Step 1: Cooking the Noodles
First, take out the instant ramen noodles and cook them according to the package instructions.
This is typically just as simple as boiling some water in a pot and adding the instant ramen noodles to it for a few minutes. Other noodles can be cooked in a bowl using the microwave. It just depends on what package of ramen you're working with.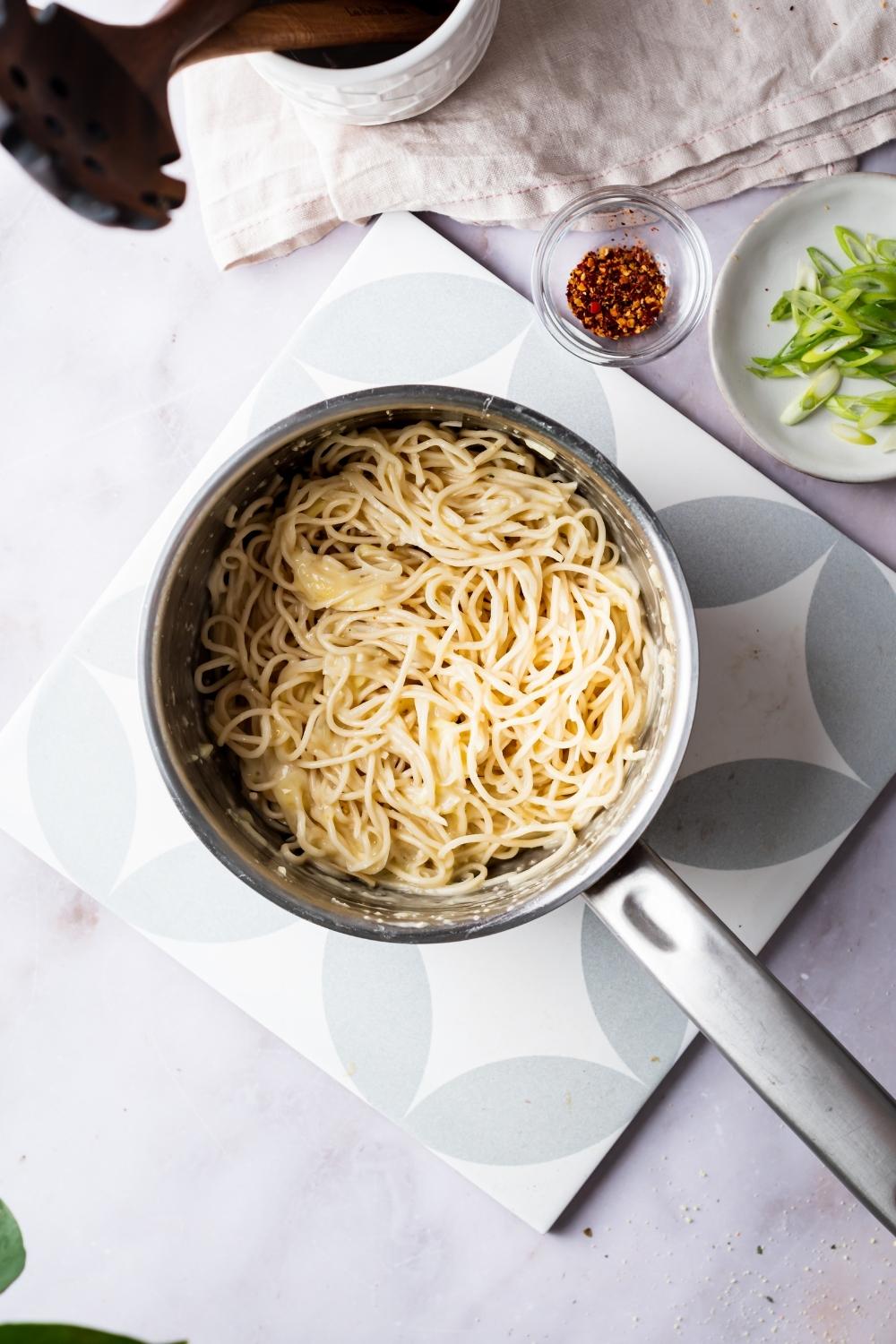 Step 2: Mixing The Cheese Ramen Ingredients
Next, transfer the cooked instant ramen noodles to a skillet or pot. Then, add the seasoning packet - if you're using it - along with the garlic powder, butter, and mozzarella cheese.
Now mix all of these ingredients together with the noodles with a wooden spoon until well combined.
The steam/heat from the noodles and the insulation of the pot should be enough to melt the chees. But, if it isn't, you can set the pot of ramen over low heat until you get things nice and melty.
Step 3: Serving
Finally, serve your cheesy ramen noodles on a plate or in a shallow bowl.
Garnish the noodles with green onions, and add some cheese - grated parmesan and shredded cheese work great - and any other toppings of your liking.
Then, serve and enjoy!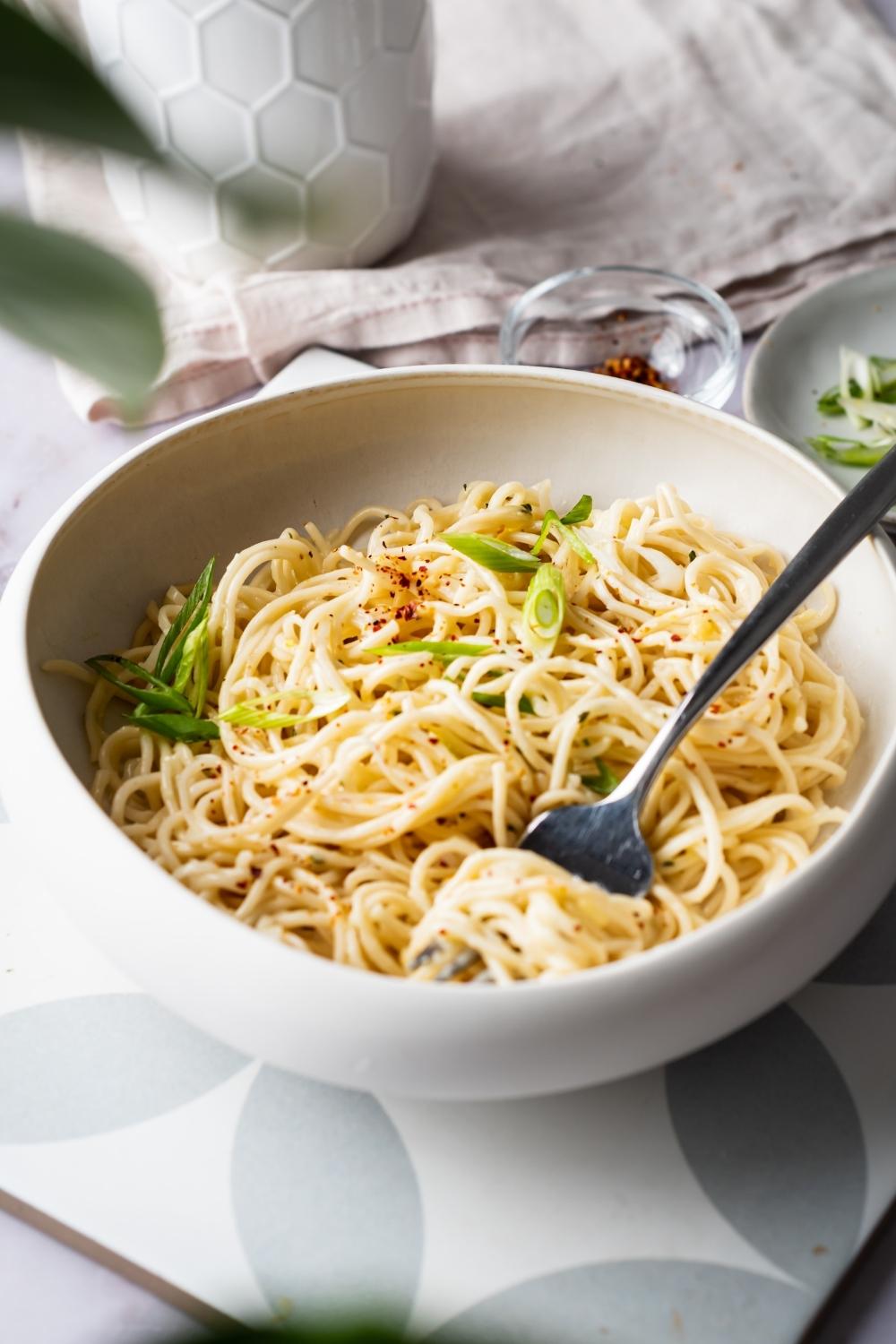 How to Store and Reheat Your Cheesy Ramen
Now, you likely won't have any leftovers for this recipe since it's the perfect single-serving amount.
But, if you do, store them in an airtight container. They will last in your fridge for up to 2 days.
To reheat your cheese noodles, warm them in a pot on the stove or in a bowl in the microwave.
Just add milk - or a splash of water - before heating to revive the creamy cheesy goodness.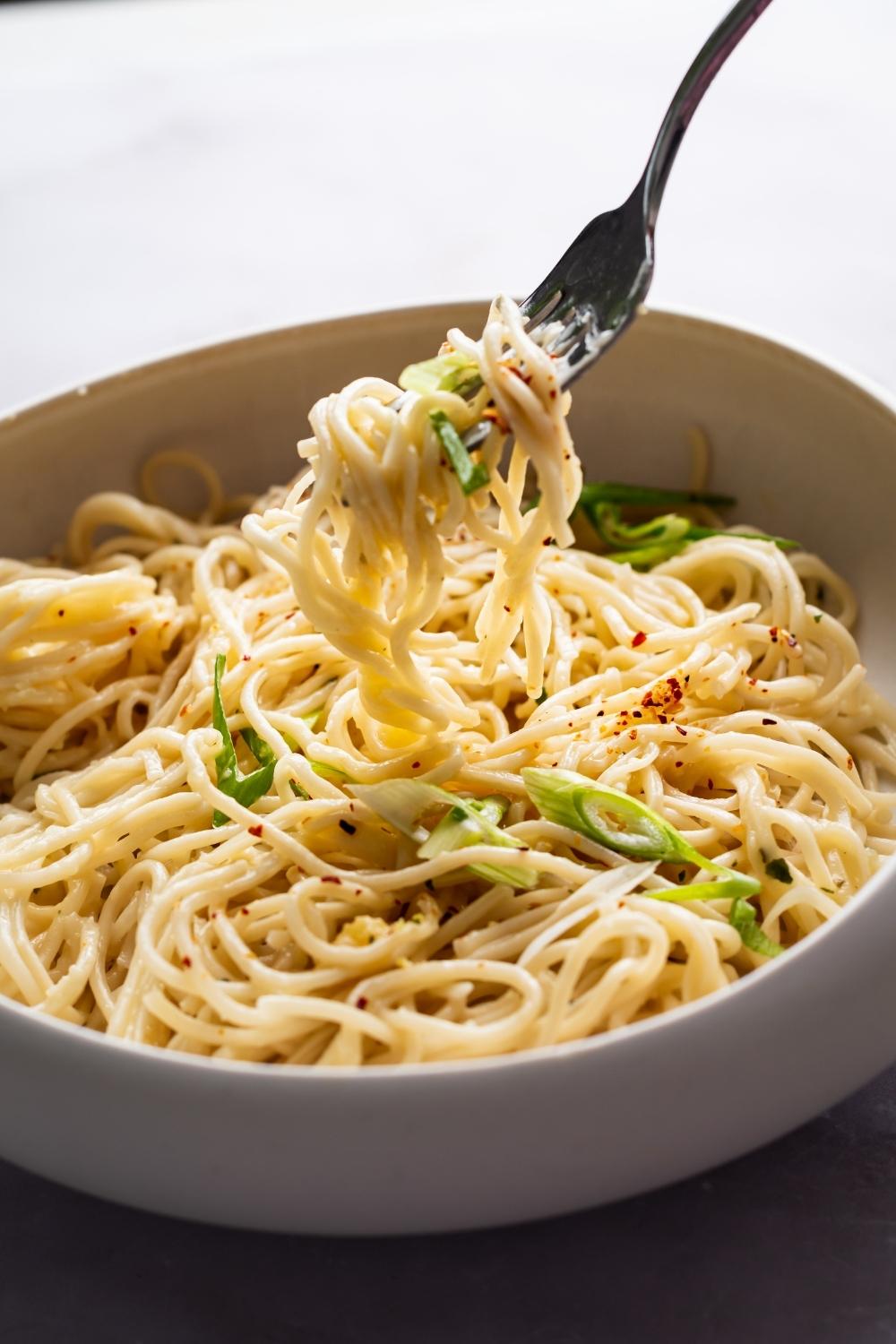 FAQs About This Cheesy Ramen Recipe
Is cheese good with ramen?
Absolutely! Though not traditional, cheese is a delicious addition to ramen. The best cheese varieties to pair with ramen are ones that melt well, like shredded mozzarella, cheddar cheese, or Monterey jack.
How do you melt cheese in ramen?
As I described above, the heat from the noodles after cooking is usually enough to melt cheese if you shred it before adding it to the noodles. If it isn't, you can add everything to a pan set to low heat to help the cheese melt faster. Also, be sure you're using a variety of cheese that melts like the ones I just mentioned above!
What is Kylie Jenner ramen?
Kylie Jenner ramen is a ramen recipe made from a package of instant noodles, some garlic powder, butter, and a beaten egg. If you want to make it yourself for another delicious ramen meal, we've already made it for the blog.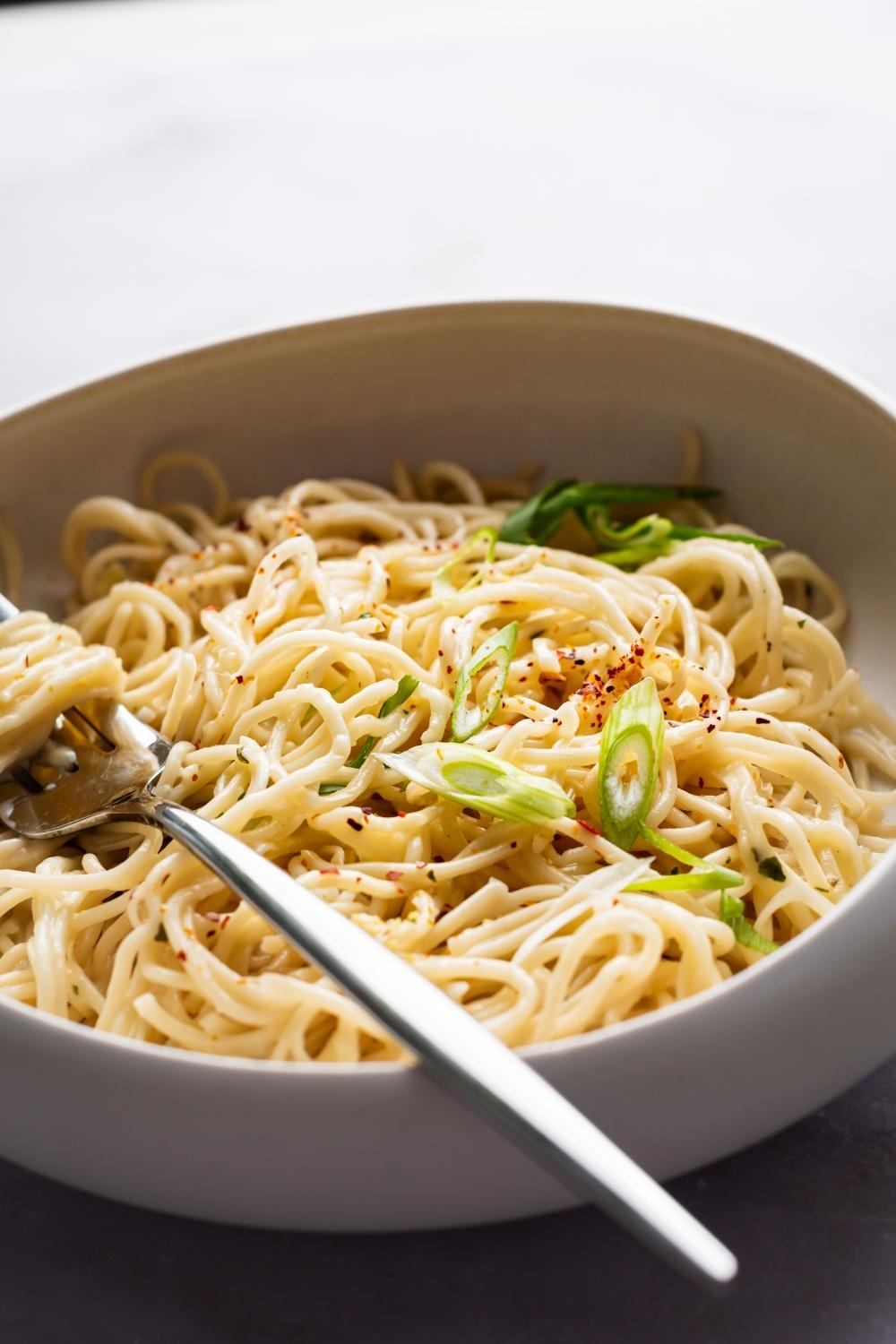 Wrapping It All Up
Well, that's how to make cheesy ramen!
This tasty cheese ramen recipe is a quick and easy meal anyone can make. Plus, it's a meal you can make anywhere, even in your dorm room or the office break room.
Just a package of instant noodles, shredded cheese, and some toppings is all you need for this easy, cheesy deliciousness!
Anyway, I hope you enjoy this cheesy ramen hack as much as I do. If you make it be sure to let me know in the comments below how it goes for you.
Also, don't forget to check out our Youtube channel, Instagram, or TikTok pages for even more quick and easy recipes. We post new ones everyday on them.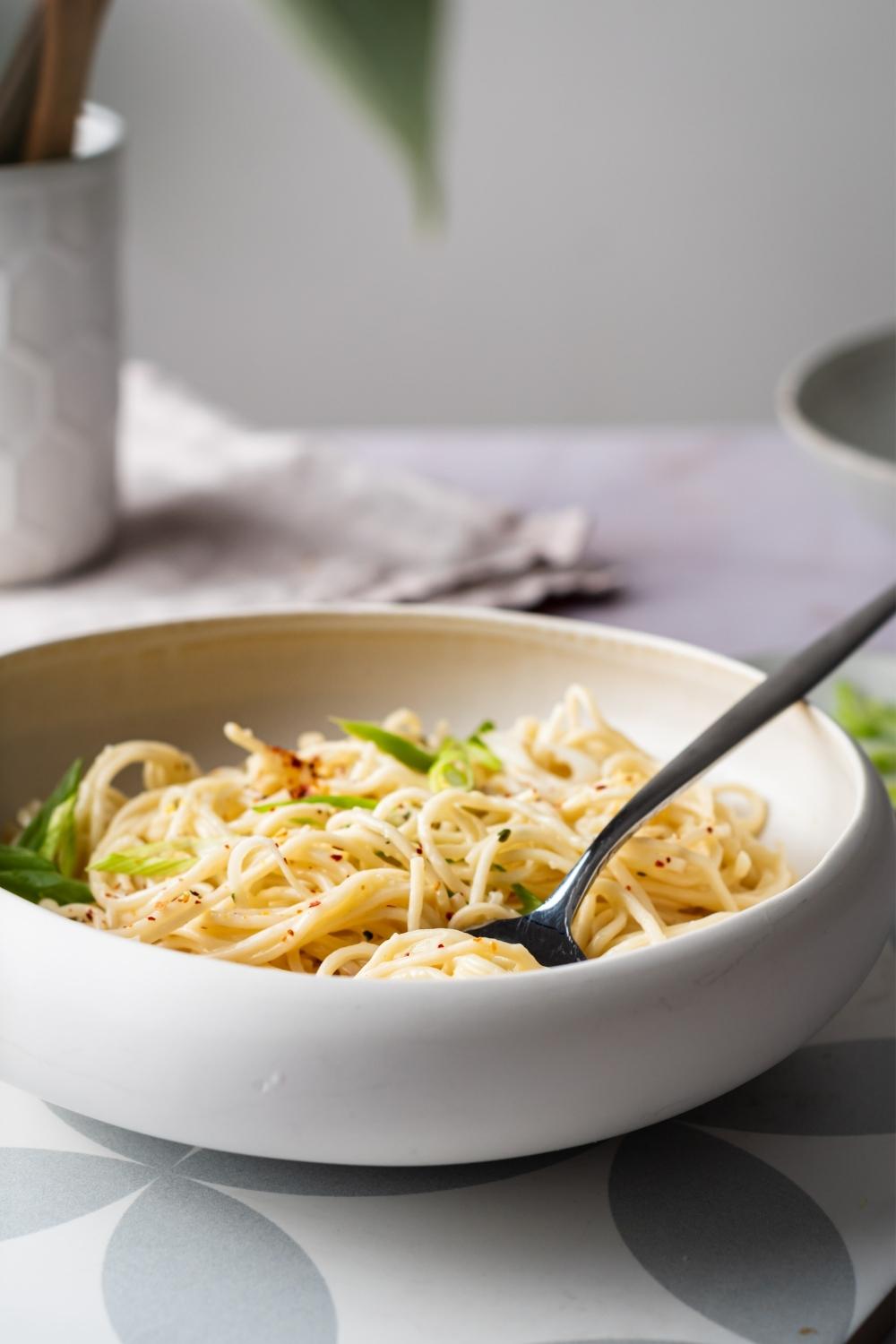 More Easy Recipes
If you're looking for a couple of really tasty recipes to pair with these cheesy ramen noodles this Din Tai Fung cucumber salad or this 10-minute sweet and sour shrimp are always great options.
However, these recipes also go great with this ramen as well:
Print
Cheesy Ramen With Instant Noodles Made In 10 Minutes
This simple and delicious cheesy ramen recipe can transform your favorite pack of instant ramen noodles into a quick, cheesy, and easy meal. All you need is a package of ramen noodles, a handful of simple ingredients, and 10 minutes to make it!
Author:
Prep Time:

5 minutes

Cook Time:

5 minutes

Total Time:

10 minutes

Yield:

1

serving

1

x
Category:

Dinner

Method:

Stovetop

Cuisine:

Korean
1 package (3 oz) Instant Ramen Noodles
2 cups Water
½ tsp. Garlic Powder
1 tbsp. Butter
¼ cup Mozzarella Cheese, shredded (or any cheese you want)
¼ cup Green Onion, sliced (optional for topping)
Instructions
Cook the noodles in the package or in a pot adding boiling water and closing it up (or as instructed on the package).

Transfer the cooked noodles to a skillet or pot and add the garlic powder, butter, and mozzarella cheese. Mix everything until well combined.

Serve with green onions on top or anything you want.
Nutrition
Serving Size:

1 serving

Calories:

468

Fat:

22

Carbohydrates:

56

Protein:

14
Keywords: cheese ramen, cheese ramen recipe, cheesy ramen, cheesy ramen recipe, how to make cheesy ramen, how to make cheese ramen, cheese ramen noodles, cheesy ramen easy, cheesy ramen recipe easy, cheesy instant ramen recipe