This Kylie Jenner ramen recipe is a quick and tasty switch-up from your basic instant noodles. All you need is 5 minutes and 3 simple add-ons to transform regular ramen into this viral TikTok ramen recipe. It's easy, satisfying, and celebrity-approved!
THE BEST KYLIE JENNER RAMEN
TikTok has been a surprisingly great place to find easy and delicious recipes, and by far one of my favorite hacks I've learned from there is the Kylie Jenner ramen recipe.
And if you haven't heard of Kylie Jenner ramen, it's basically instant ramen with a few add-ins that elevate the flavor. The result is buttery, garlicky ramen that's a lot more satisfying than your average instant noodles.
Best of all though, this recipe only takes about 5 minutes to make from start to finish, and all you need is instant ramen noodles, boiling water, and 3 simple ingredients.
So, if you're getting bored with typical ramen - or want an easy switch-up - you'll want to give this recipe a try. It might just become your favorite way to make ramen!
By the way, if want to give some more viral recipes a try, check out this Gigi Hadid Pasta, 2-Ingredient Oreo Mug Cake and Uncle Roger Egg Fried Rice next!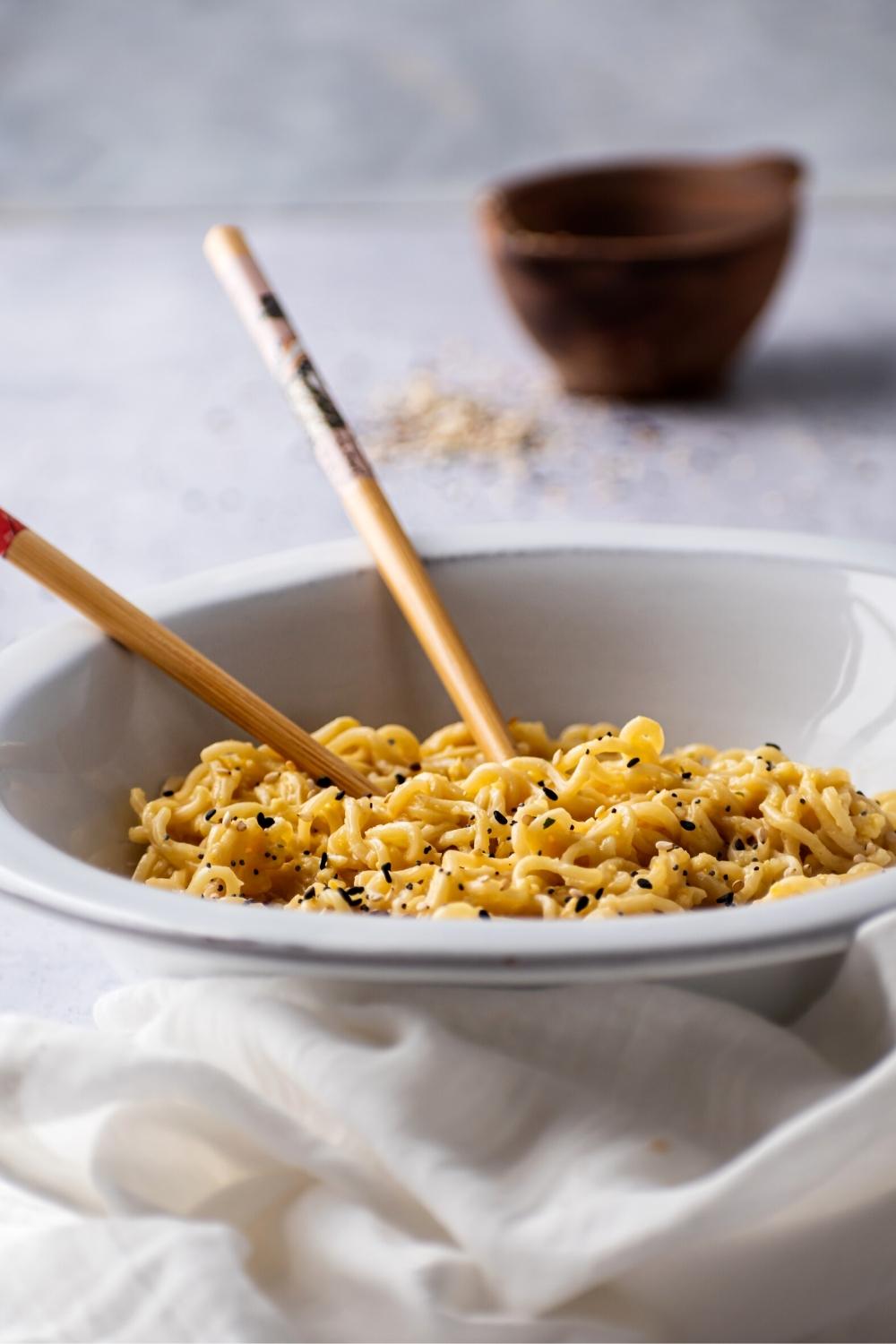 INGREDIENTS
As I mentioned, you only need 3 extra ingredients to make this recipe besides the noodles and water.
And, honestly, it's more than likely that you have everything in your kitchen already because they're all incredibly common pantry staples.
So, here's what you'll need to make Kylie Jenner ramen:
1 Instant Ramen Noodle Pack
1 Cup Boiling Water
1 Tablespoon Butter
1 Teaspoon Garlic Powder
1 Egg Beaten
Everything Bagel Seasoning (optional)
Now, Kylie didn't specify what type of instant ramen she used, so I went with chicken flavored for this recipe since it looks the closest to the one she made.
That being said, you can use pretty much any flavor you want! I've tried this hack with a few different flavors of ramen noodles, and they come out fantastic every time.
And if you're picking up ramen noodles from the store, grab a few extra packs! You can use them to make this easy cheesy ramen recipe, birria ramen, or spicy ramen recipe next.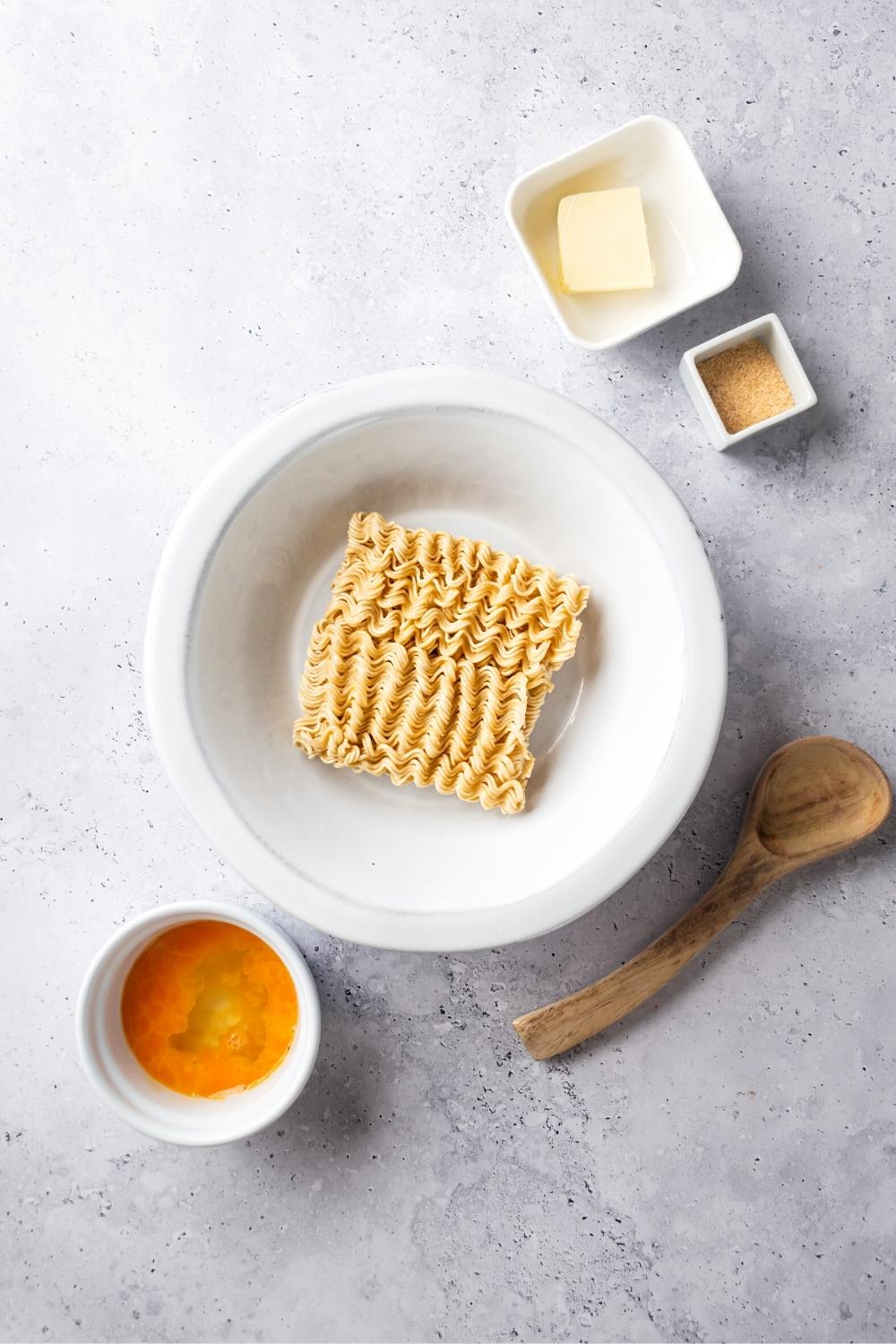 HOW TO MAKE KYLIE JENNER RAMEN
So if you've ever boiled water on the stove, you already have all the cooking skills you need to make this recipe. Seriously, it's that simple!
Now, let's get cooking!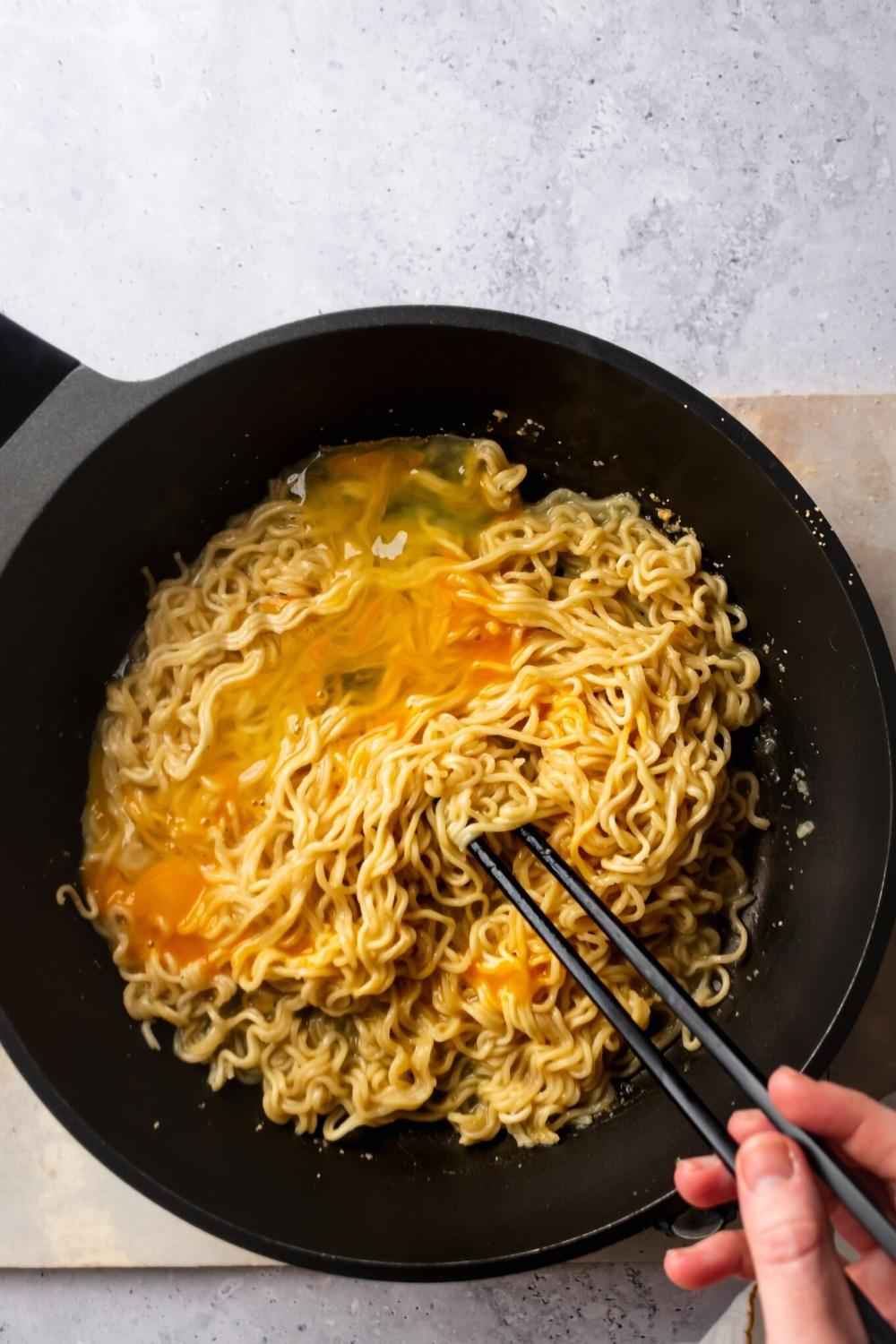 STEP 1: PREPARE THE RAMEN NOODLES
First, cook the ramen according to the instructions on the package.
In the meantime, crack the egg in a small bowl and beat it with a fork until the yolk and white combine. Then, set it aside.
Once the ramen is ready, add the noodles and broth to a saucepan and bring it to a simmer. You can add another tablespoon - or two - of water if you need to.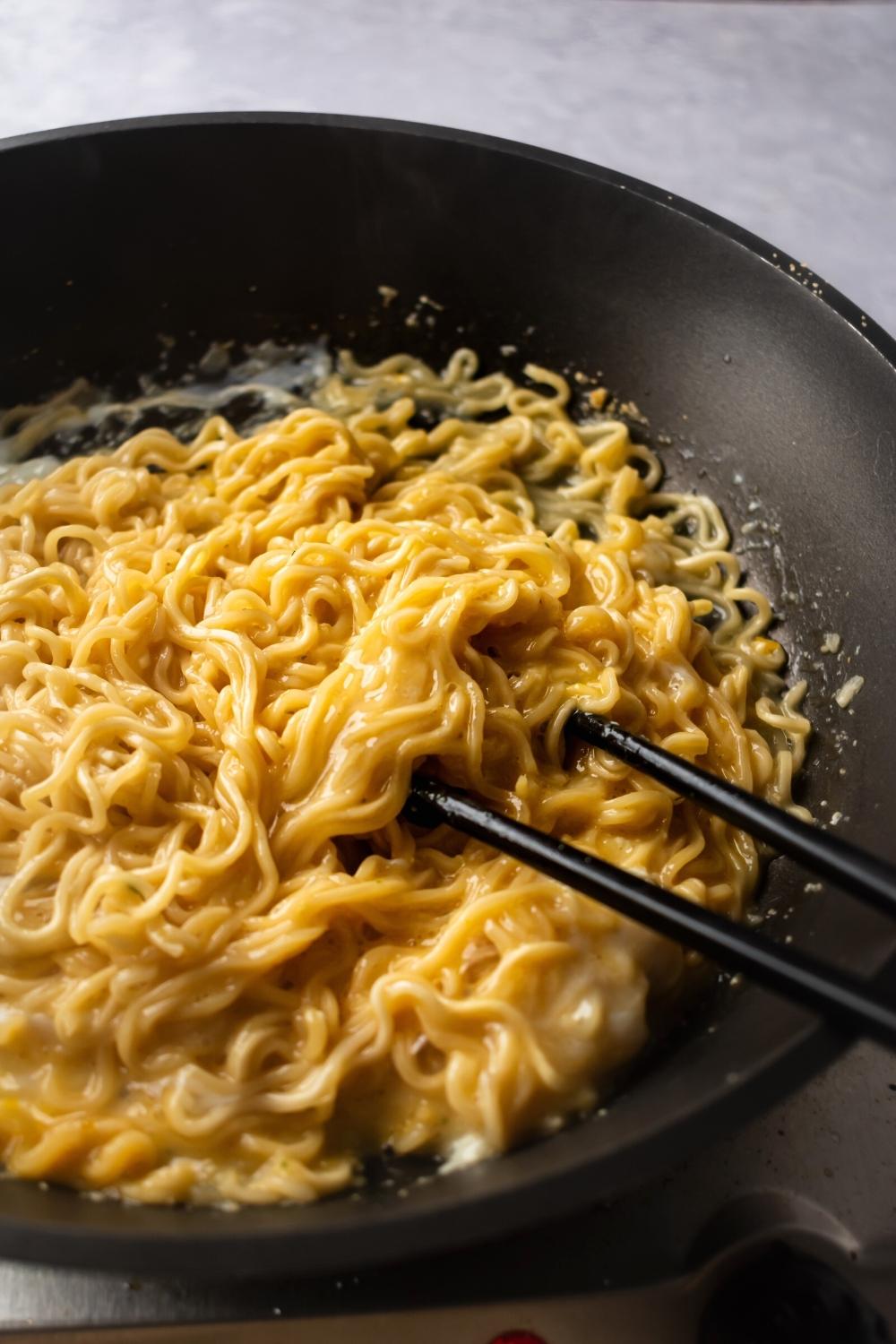 STEP 2: ADD THE MIX-INS
Now, get your stove set to medium heat, and add the garlic powder and butter, stirring until everything's evenly distributed.
Next, gently swirl in the beaten egg and cook for another minute.
Finally, transfer the noodles to a bowl - or keep it in the saucepan, you do you - and enjoy!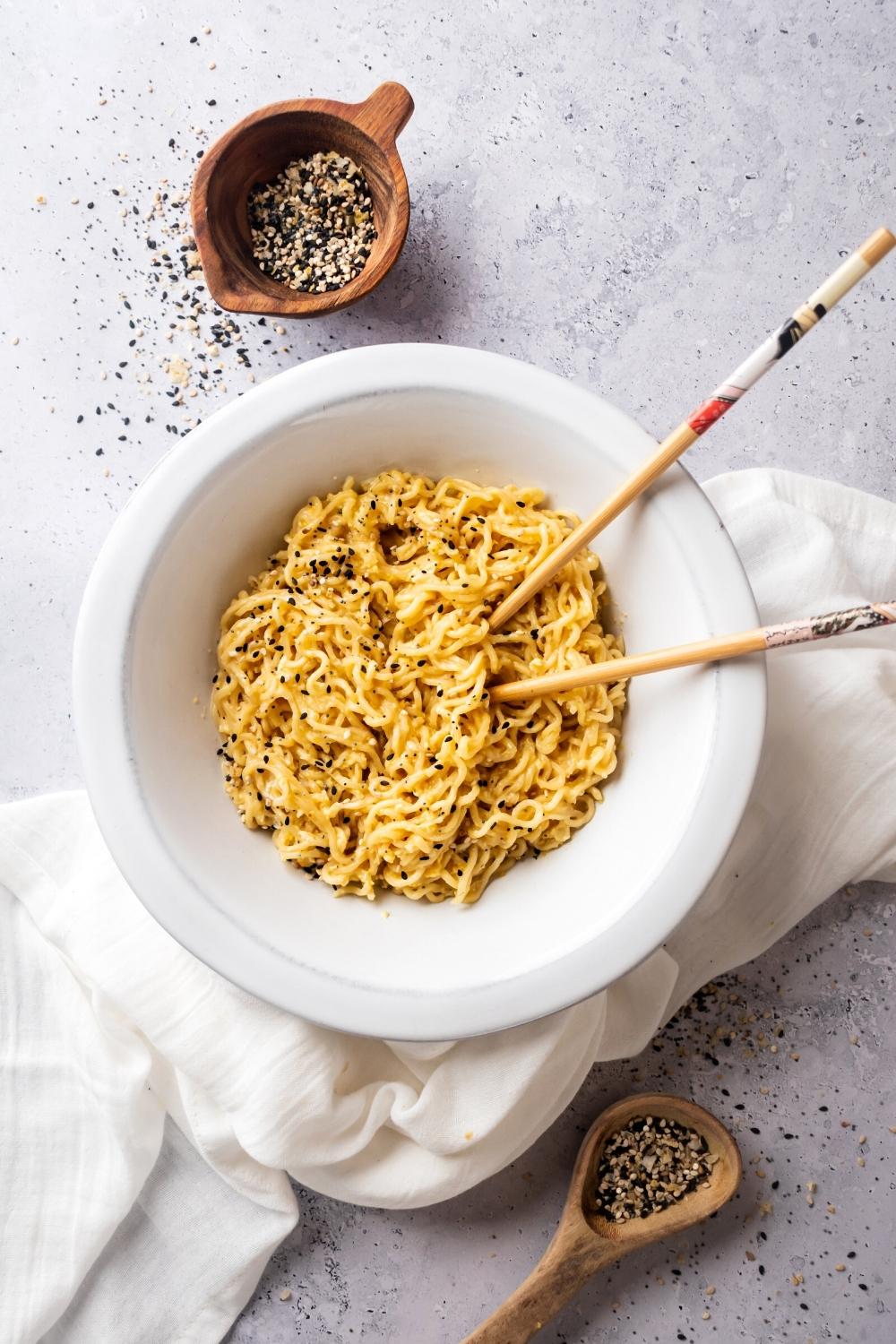 HOW TO MAKE KYLIE RAMEN HACK WITHOUT A STOVE
If you're making this recipe in a dorm room or break room and don't have access to a stove, you can use just hot water!
Add the noodles, seasoning packets, butter, and garlic powder to a bowl with boiling water. Cover it and let it sit for 3-4 minutes, depending on the thickness of the noodles.
Then, uncover the noodles to quickly mix in the beaten egg (make sure it's room temperature) and cover it again for another 3-5 minutes to cook the egg. If the egg isn't fully cooked by then, you can transfer the ramen to a microwave-safe bowl and heat it for 30 seconds to a minute.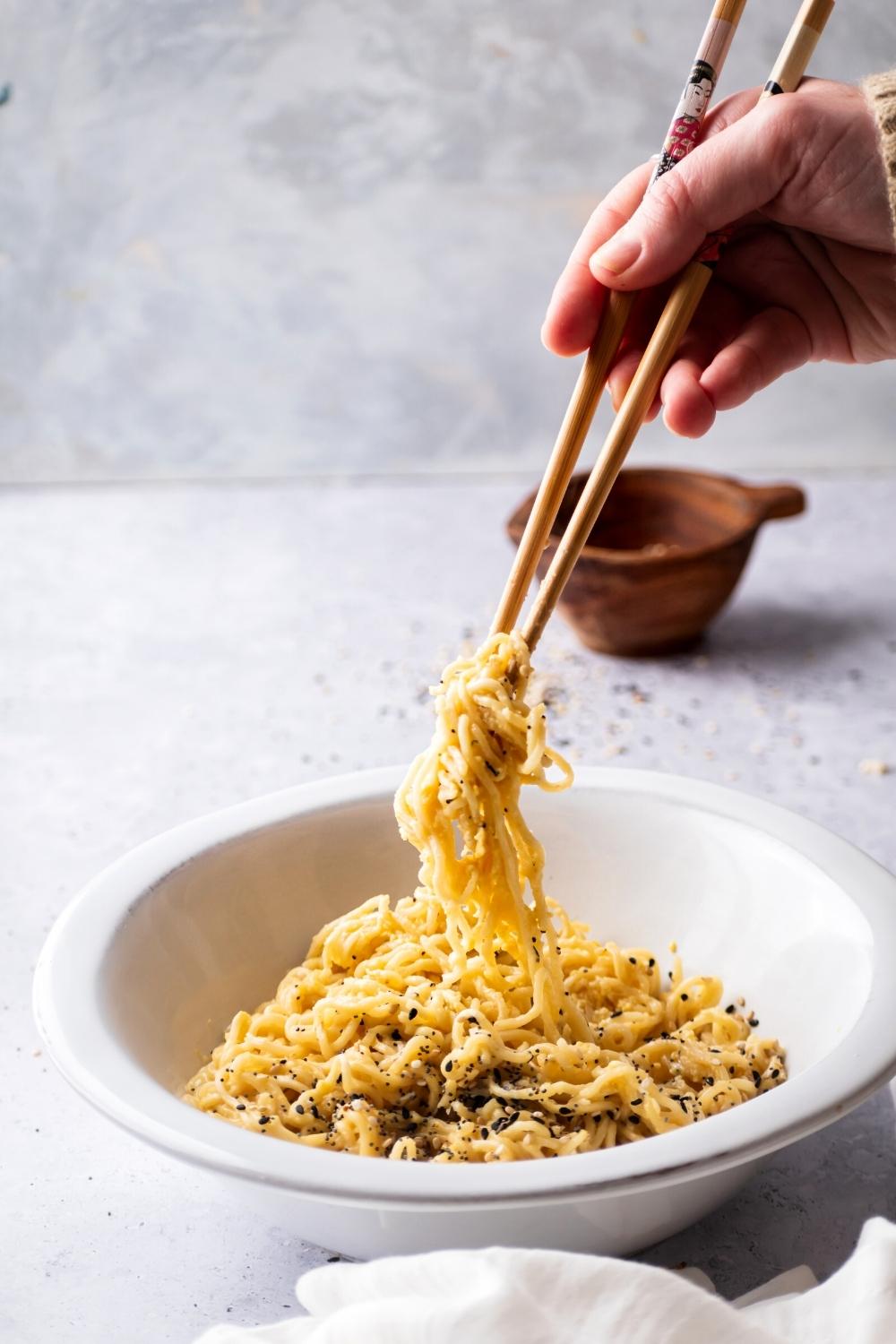 HOW TO STORE AND REHEAT COOKED RAMEN NOODLES
This Tiktok ramen cooks up pretty fast and is the perfect single-serving size, so you probably aren't going to have any leftovers after this.
That said, if you happen to cook too much and want to keep the extras, the best way to do this is to strain the noodles and egg from the broth and keep the liquids and solids in two different airtight containers. They'll keep for up to 3 days in the refrigerator.
Then, to reheat them, combine the noodles, egg, and broth, then warm them up on the stovetop over medium heat or in the microwave for a couple of minutes.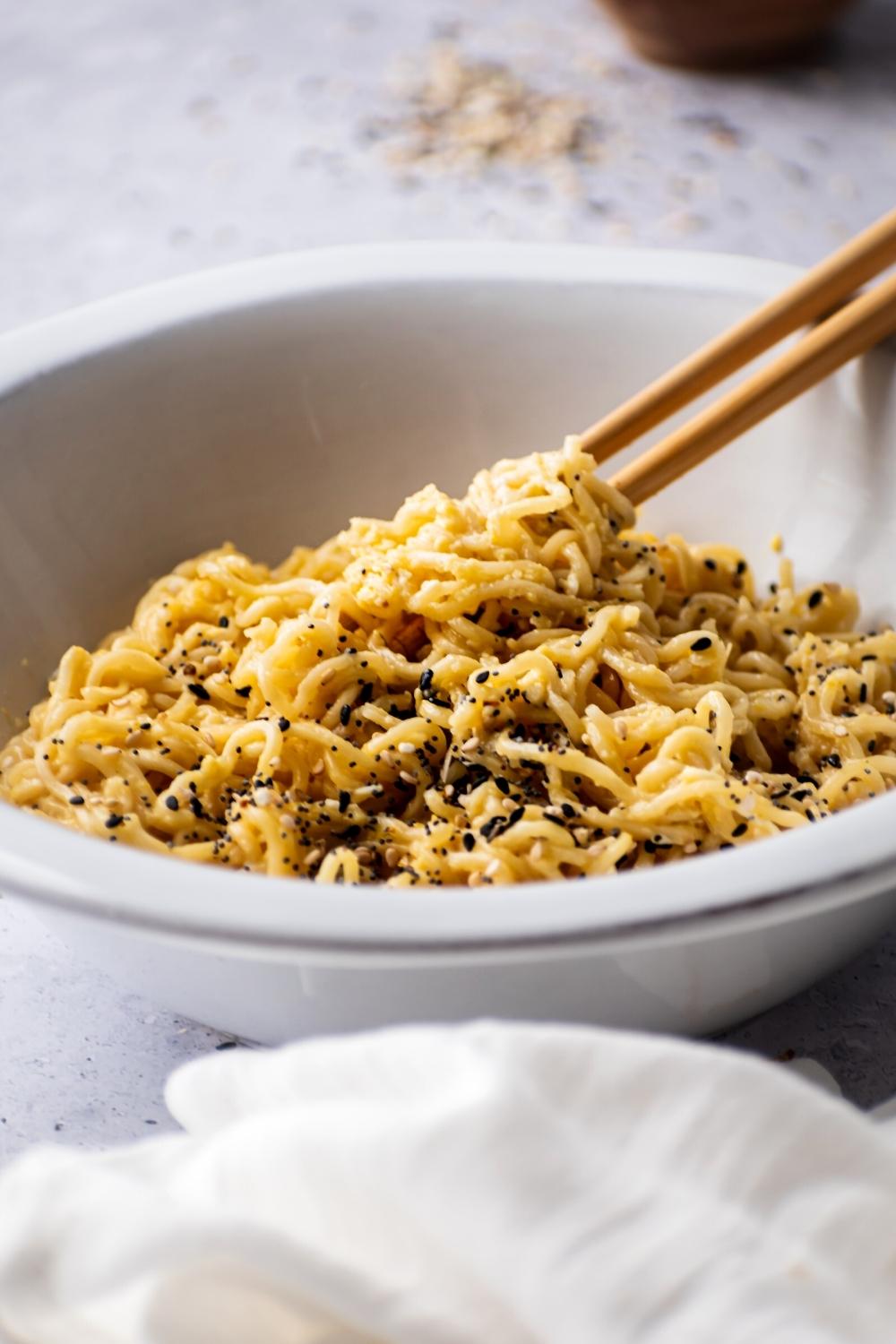 WRAPPING IT ALL UP
Well, that's how to make Kylie Jenner's ramen recipe!
Honestly, this TikTok ramen hack is pretty addictive for how simple it is. Ever since I made it, I just can't imagine having ramen the plain way again.
And if you've never tried adding other ingredients to your ramen, this is a great starting point for customizing your instant noodles - the possibilities are endless!
Next time you can add everything bagel seasoning, parmesan cheese, and so many other things.
Anyway, I hope you like this ramen recipe as much as I do. Be sure to let me know in the comments if you make it and what you think!
Oh and if you need a tasty dessert recipe to go along with this ramen definitely give our famous tangulu recipe a shot. It's an incredibly popular street food you'll find in Asia, and it's a refreshingly tasty treat to eat after some soup.
As always, you can check out even more of our recipes on our YouTube channel. There's a ton of really delicious recipes up on there that we're sure you'll enjoy.
Also, if you want to give another fun pasta-like recipe a try next, you have to try this trenette al pesto. It's the exact pasta recipe from Disney's movie Luca!
Yield: 1 serving
Kylie Jenner Ramen | The Best Way To Make Ramen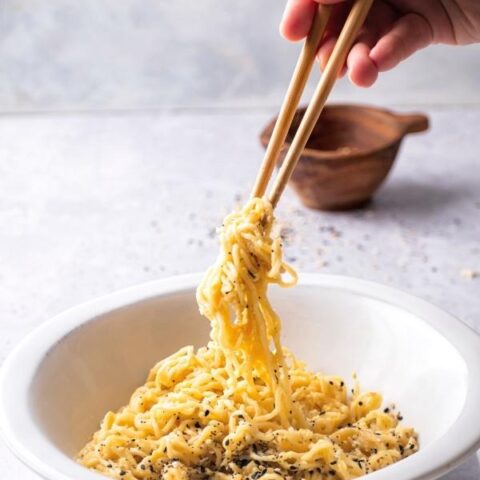 This Kylie Jenner ramen recipe is a quick and tasty switch-up from your basic instant noodles. All you need is 5 minutes and 3 simple add-ons to transform regular ramen into this viral TikTok ramen. It's easy, satisfying, and celebrity-approved!
Instructions
Cook the ramen according to package instruction

In a saucepan add the ramen once cooked. Add more water if needed (1 tablespoon or so)

Add the garlic powder and butter and stir until butter melts.

Add the beaten egg and cook for 1 more minute.

Serve and enjoy!
Nutrition Information:
Serving Size:
1 serving
Amount Per Serving:
Calories:

172
Total Fat:

24g
Saturated Fat:

0g
Trans Fat:

0g
Unsaturated Fat:

0g
Cholesterol:

0mg
Sodium:

0mg
Carbohydrates:

27g
Fiber:

1g
Sugar:

0g
Protein:

11g