These no milk waffles are a delicious, dairy-free alternative to one of the most classic breakfast foods there is. And these waffles are made with a simple homemade batter that delivers that sweet flavor of Sunday morning to your taste buds. Not to mention, they're perfectly crispy on the outside, fluffy inside, and oh-so-ymmy.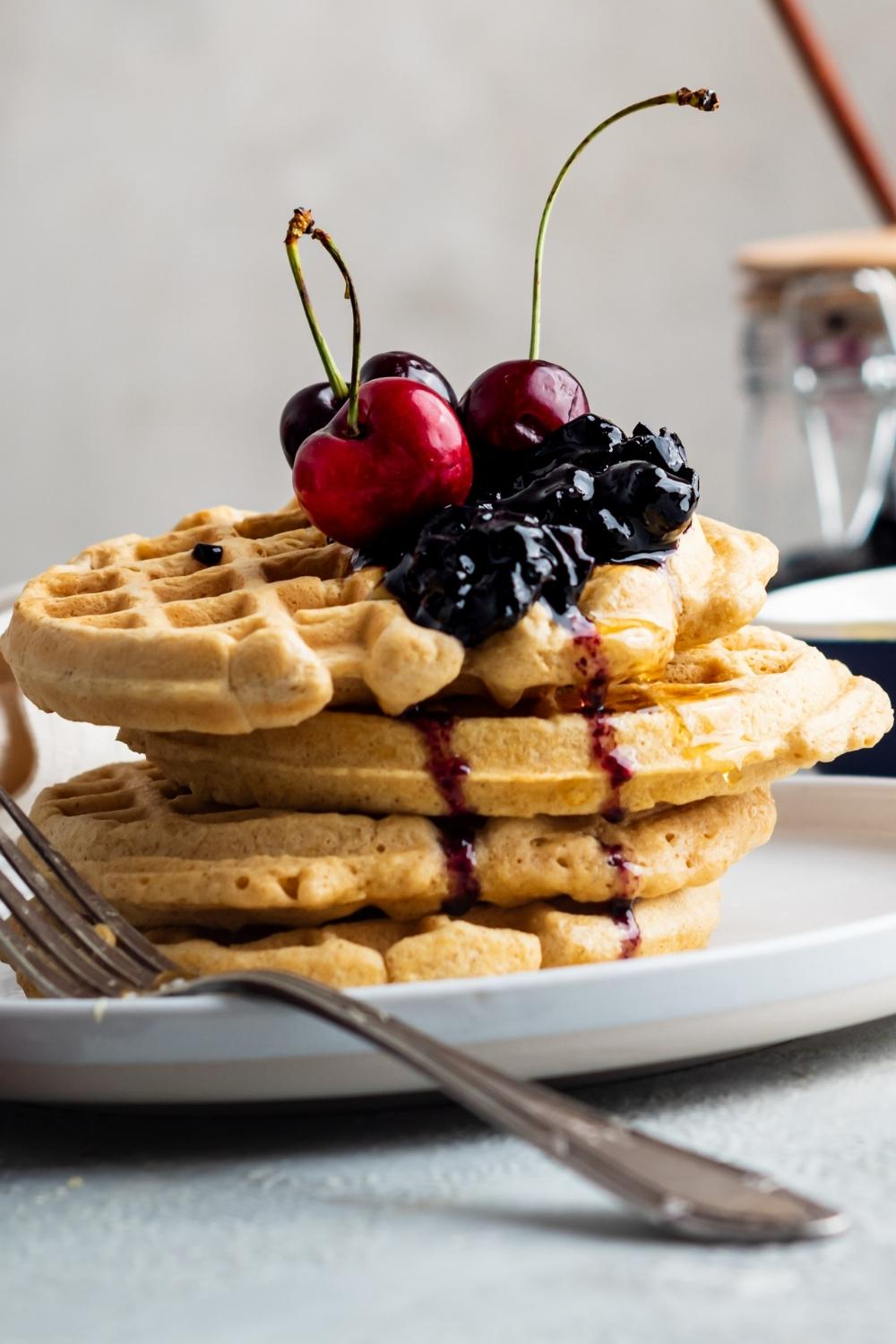 The Best No Milk Waffle Recipe
Waking up to a plate of hot, crispy waffles with a light and fluffy center is one of life's greatest pleasures. Put a slab of butter on top, followed by a drizzle of maple syrup, and the first bite will have you smiling for the rest of that day!
Now, don't let this dairy free waffles recipe fool you. The waffles come out just as fluffy and delicious as regular waffles!
Plus, the ingredients used to make these perfectly crispy waffles are super simple grocery store finds. In fact, these waffles without milk come together in just a few minutes and you can have all of them cooked in under 20 minutes.
Anyway, let's go over everything you'll need to make these waffles without milk.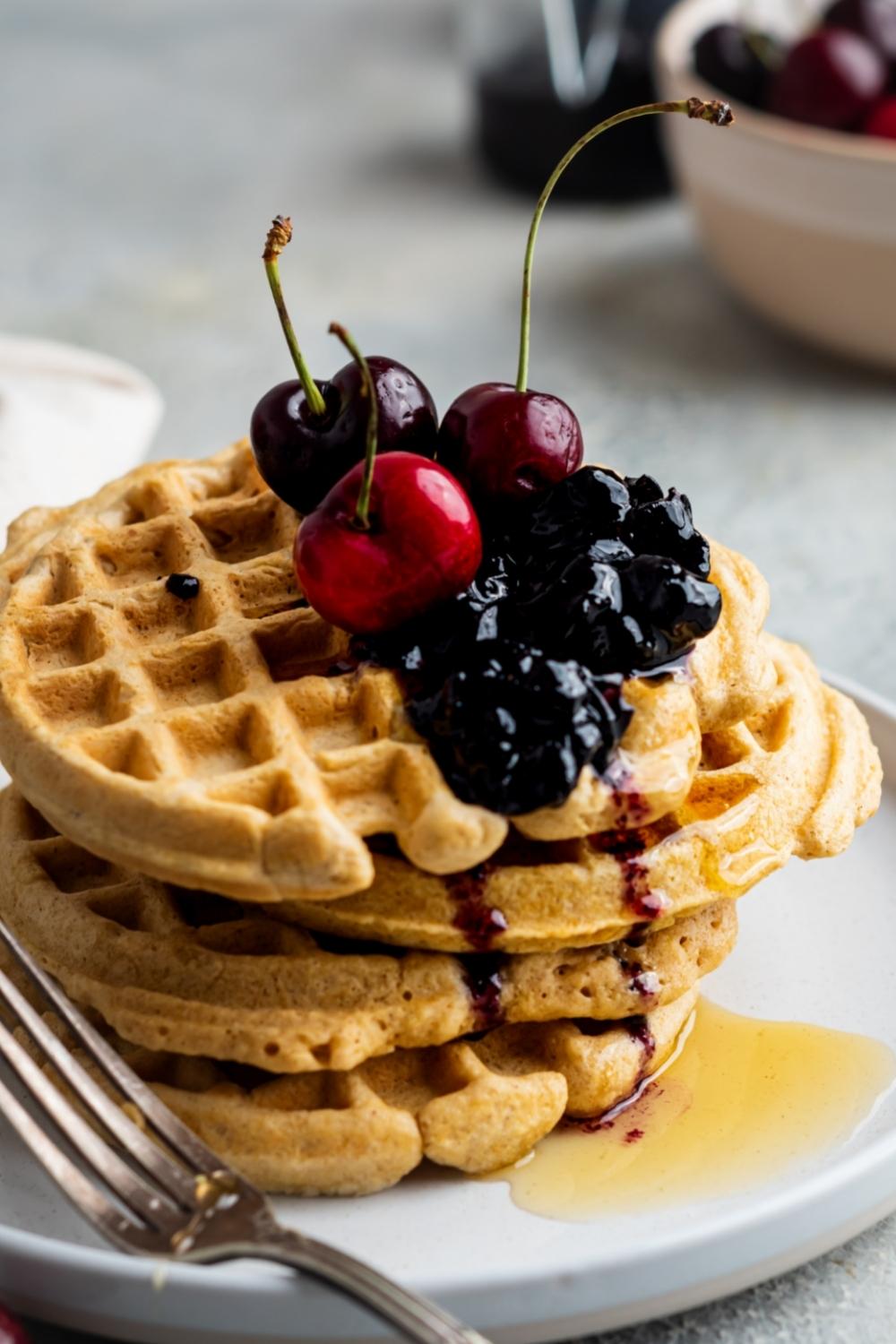 Ingredients
As I mentioned earlier, this recipe uses really simple ingredients that you can easily find at your local grocery store. In fact, you might already have a majority of these ingredients already on hand!
Here's what you'll need to make these no milk waffles:
1 ½ cup Oat Flour

2 tsp. Baking Powder

½ tsp. Salt

¾ cup Water (or Almond Milk)

¼ cup Coconut Oil

2 Eggs

2 tbsp. Maple Syrup

1 tsp. Vanilla Extract
Simple, right?
Now, if you want an even easier waffle recipe - and are ok with dairy - these Belgian waffles are a great one to make too. And if you want a super healthy waffle recipe, these 3 ingredient banana waffles are a great option as well!
Diving Into The Ingredients
So, to keep this recipe dairy free, we're making a few simple ingredient swaps. Instead of dairy milk, we're using almond milk. And instead of butter, we're using coconut oil. We're also using oat flour, so this recipe makes not only dairy free waffles, but gluten free waffles too!
With that said, you can substitute any ingredient on the list for a similar alternative.
For instance, substitute the almond milk with your favorite nut milk or oat milk. Replace the coconut oil with any neutral oil you like. And if you're okay with gluten, use all-purpose flour instead of oat flour.
By the way, the secret to the best waffles ever is adding a touch of maple syrup and vanilla to your waffle batter. Trust me, it gives the best sweet aftertaste that makes you crave these waffles again and again.
As for how to serve these deliciously crispy waffles, go crazy with it!
Craving something sweet? Throw in a handful of blueberries or any fresh fruit and top with maple syrup and whipped cream.
Or, if you want a chocolatey experience, add some chocolate chips and cocoa powder to the batter.
Of course, you can add any of your favorite toppings to them, and these waffles without milk will be exquisite!
Anyway, now that you know just how simple this recipe is, let's get cooking!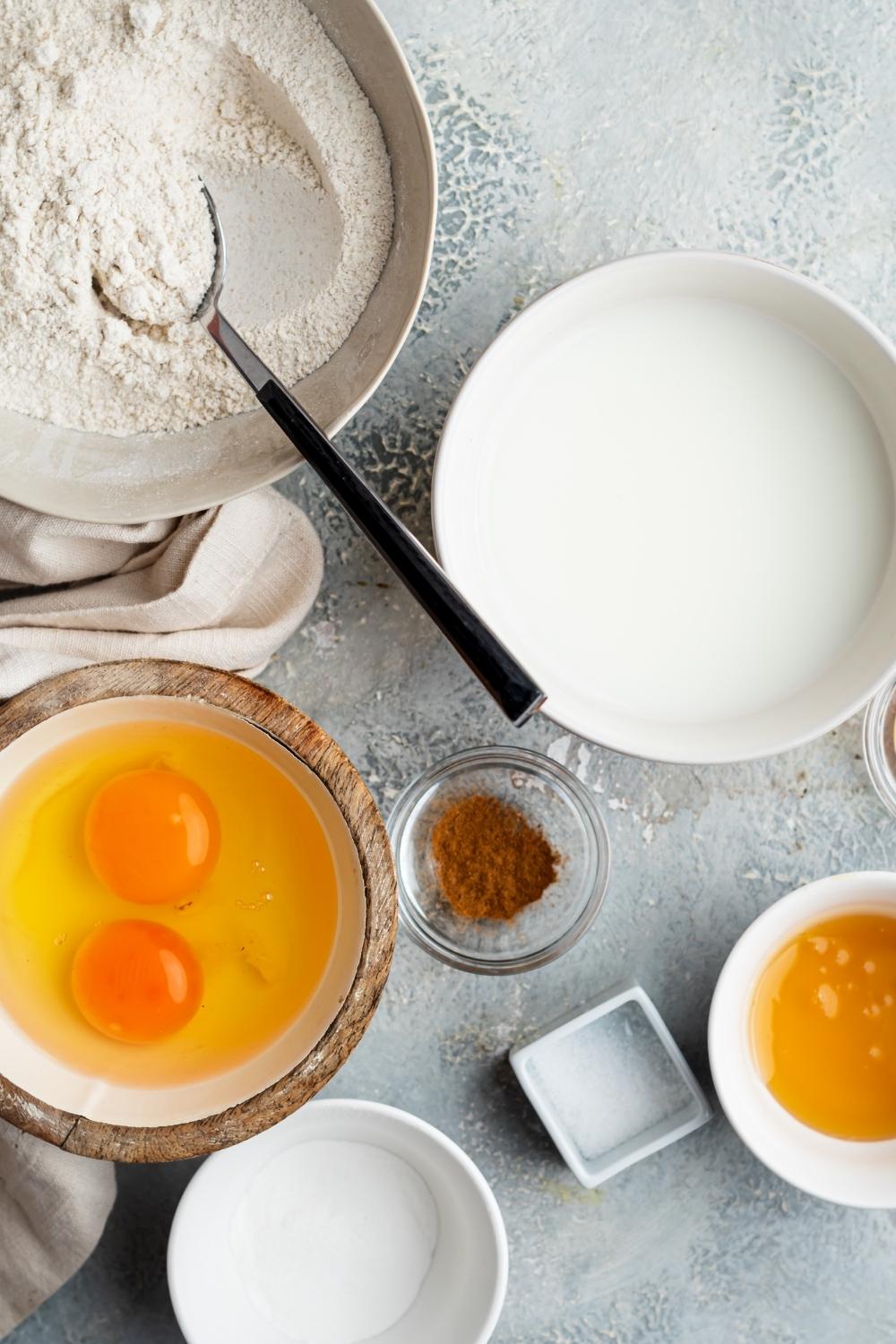 How to Make No Milk Waffles
So this recipe will take you no more than 20 minutes, and it'll make about 4 servings - give or take - depending on the size of your waffle iron.
Now, here's how to make dairy free waffles!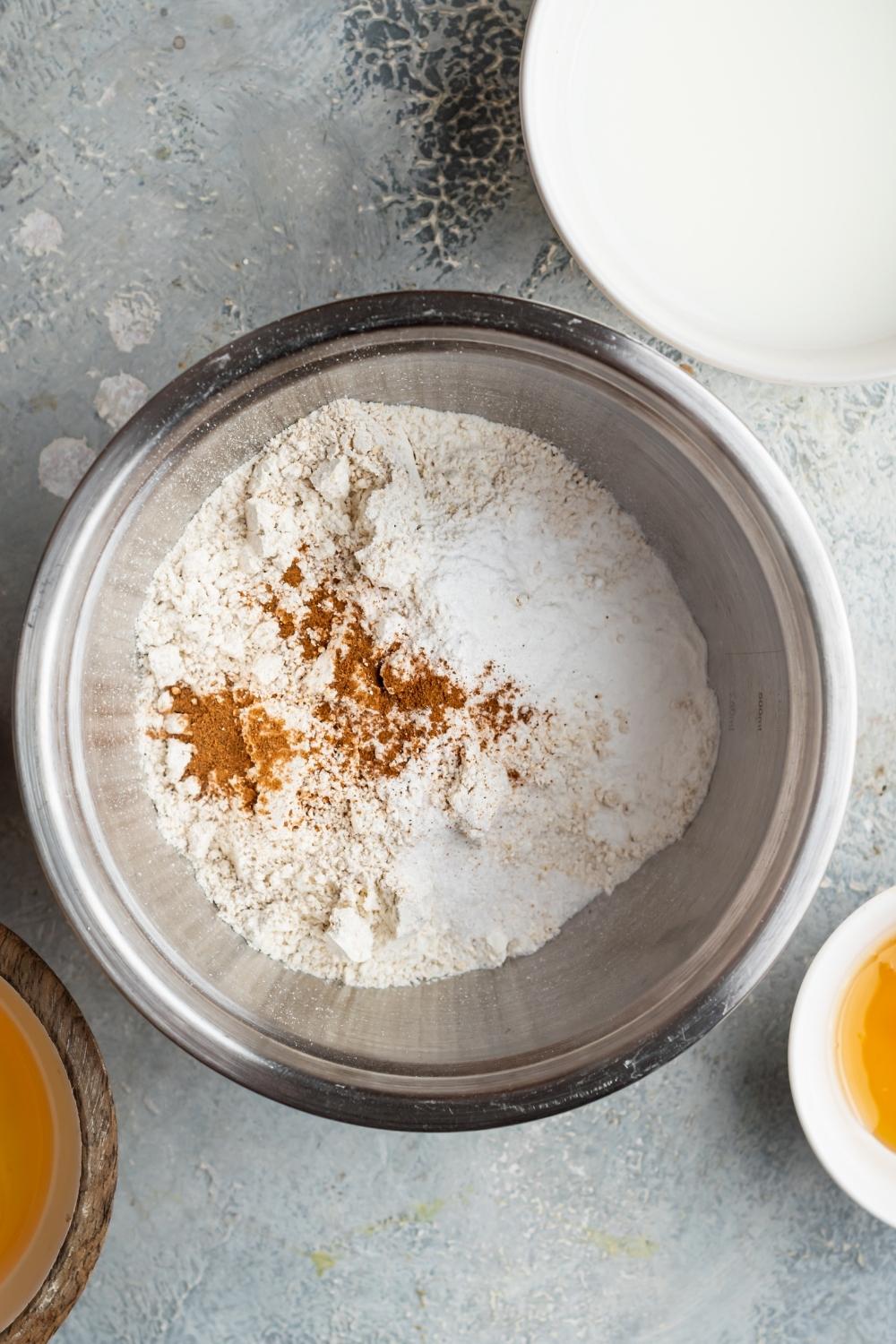 Step 1: Mix The Waffle Batter
First things first, preheat your waffle iron.
Next, put all of the ingredients together in a large mixing bowl and whisk them together until everything is completely mixed and has a batter consistency.
Alternatively, you can add all of the wet ingredients and then the dry ingredients to a blender and blend until a smooth batter forms.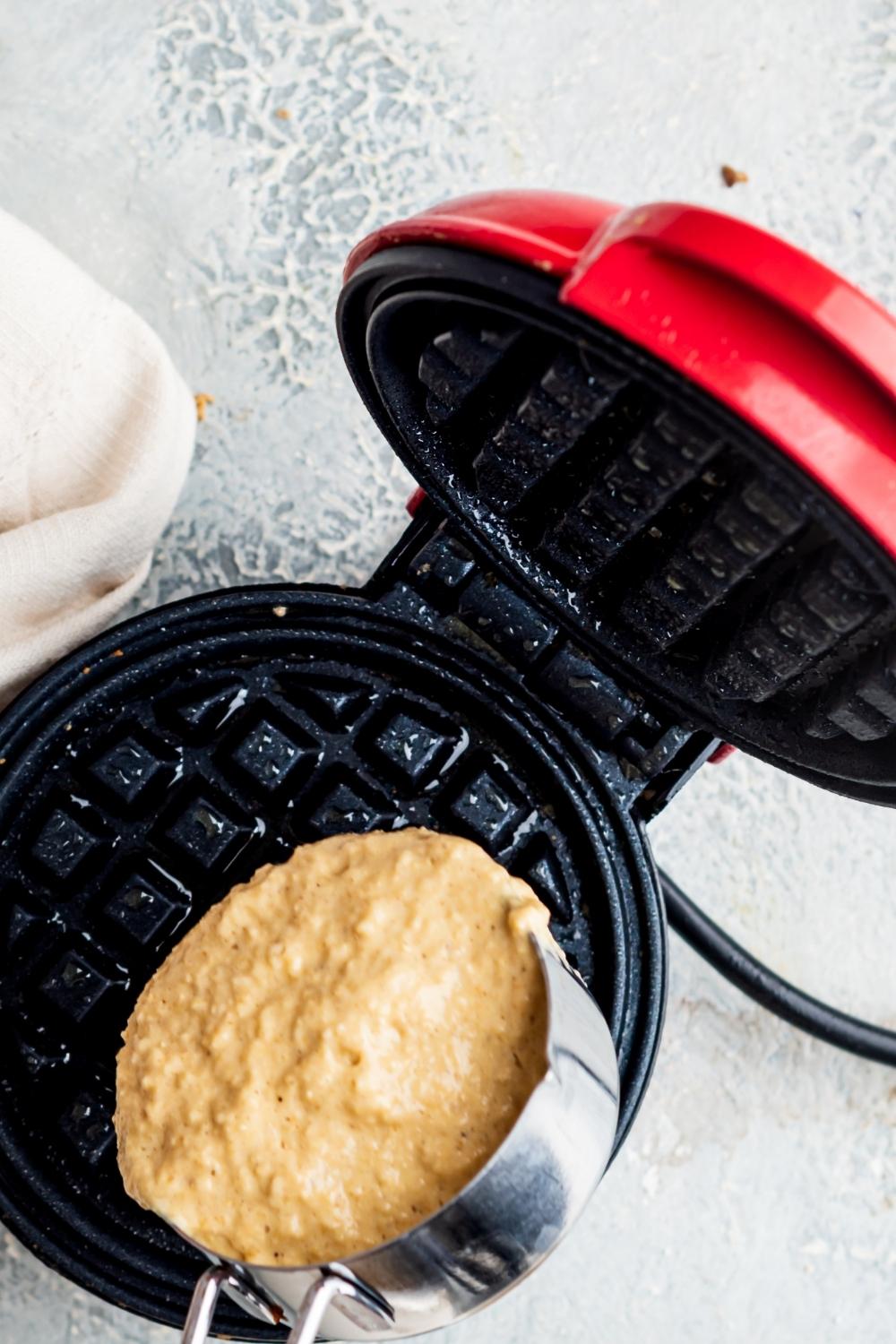 Step 2: Cook The Waffles
Now it's time to cook your waffles!
By now, the waffle iron should be heated and ready to go.
So grease your waffle iron with a little oil or cooking spray. Then, pour in enough batter to cover the waffle iron surface - about ¼ cup for smaller waffle irons and up to ½ cup for larger ones.
Once the waffles are golden brown and cooked through, remove them from the iron and repeat with the remaining batter.
A good indicator is when the steam stops coming out of the waffle iron. And here are some more tips to know when they're done cooking in the Belgian waffle maker.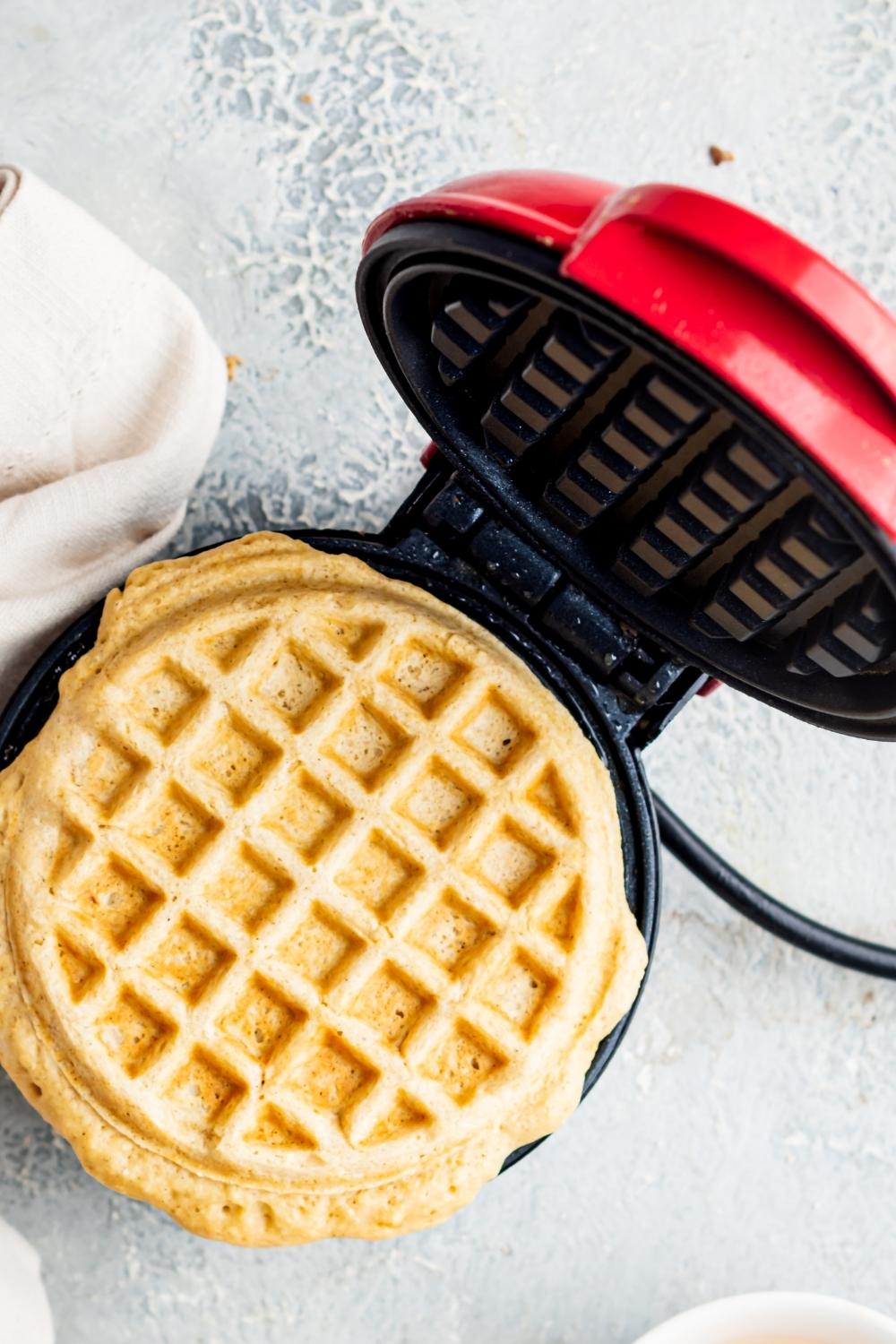 Step 3: Serve The Waffles
And just like that, you're ready to top and serve your waffles!
Top your dairy free waffles with whichever toppings you prefer. I love fresh berries and a drizzle of honey, but it's up to you!
Serve the waffles fresh off the Belgian waffle maker, and enjoy!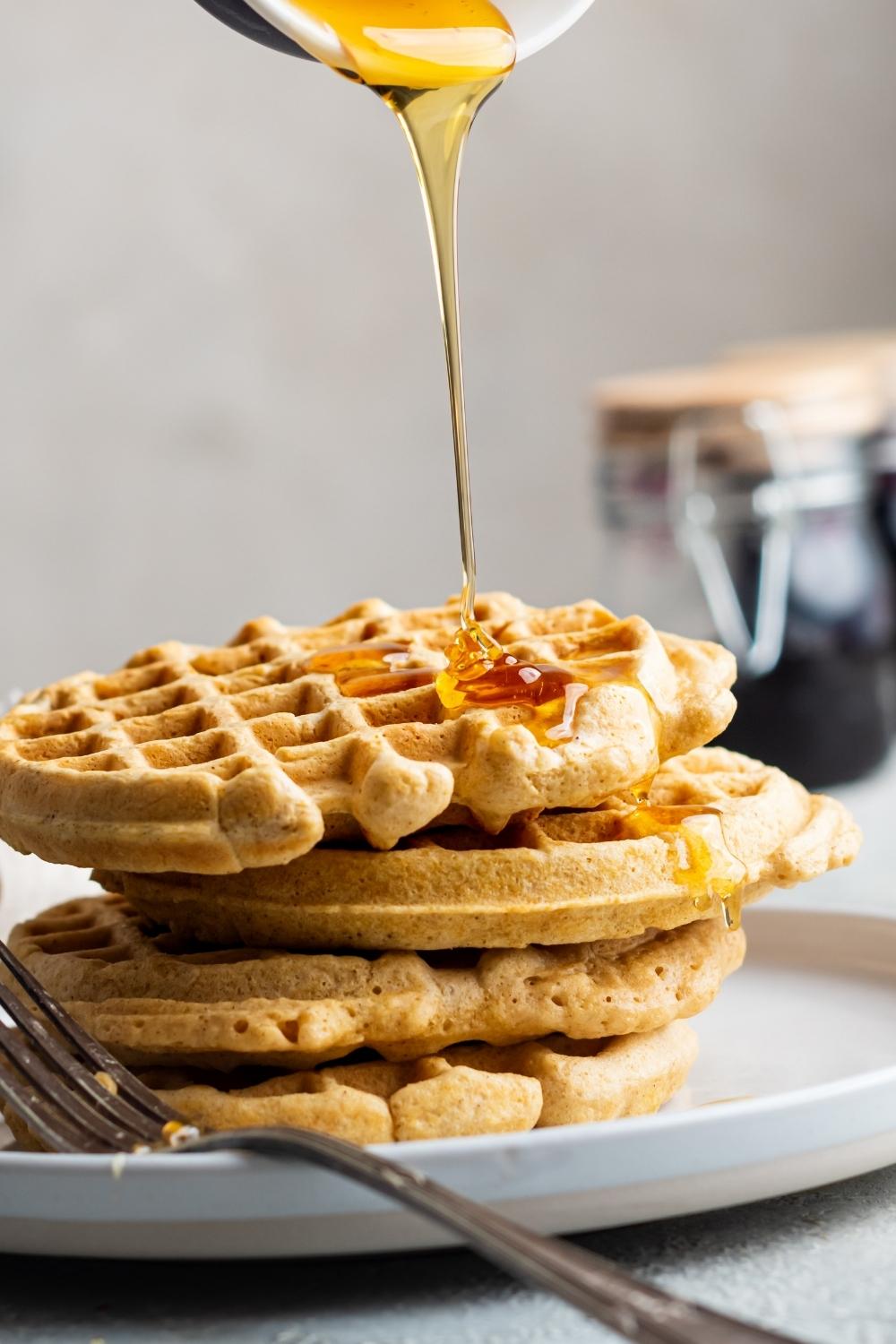 What To Serve With Waffles
Not sure what to serve your amazing dairy free waffles with? Boy, do I have some ideas!
Waffles are delicious on their own, but they're even better with a little something extra.
For a hearty breakfast, pair them with this air fryer ham steak, air fryer hash browns, or Jimmy Dean breakfast sausage.
Feeding a crowd? Try setting out a waffle buffet! Put out a few toppings and let everyone create their own masterpiece. Here are some of our favorite waffle toppings:
Fresh fruit

Chopped nuts

Whipped cream or ice cream

Yogurt

Maple syrup

Honey

Chocolate sauce

Caramel sauce

Peanut butter

Jam or jelly

Powdered sugar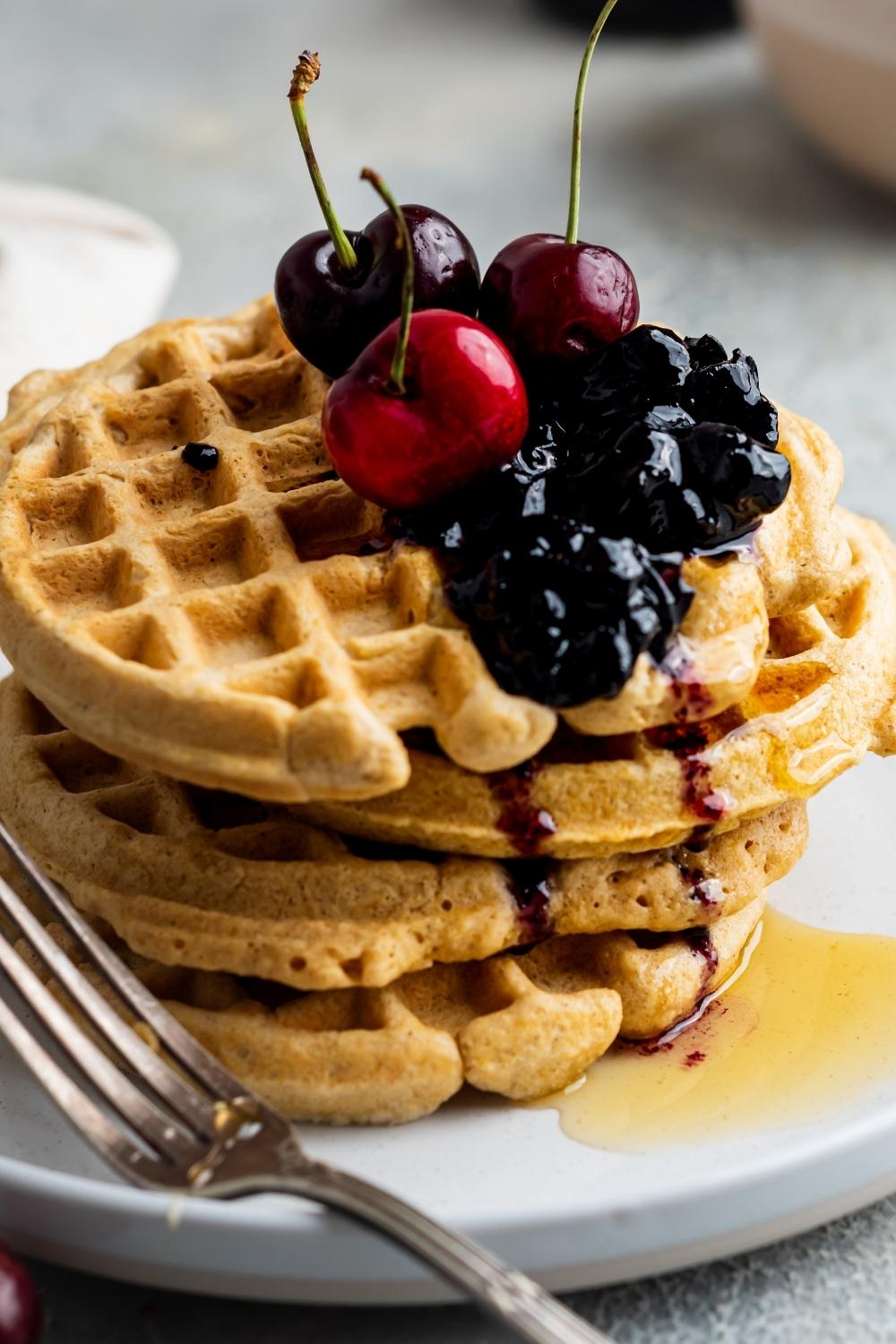 How To Store No Milk Waffles
One of my favorite things with this recipe is to make two or three batches and then save some leftovers to have these delicious waffles on hand whenever the cravings hit.
And these homemade waffles keep so well! Seriously. I think they're better than Eggo waffles.
So, if you have leftovers, once they've cooled, transfer them to an airtight container and store them in the fridge for about 5 days.
You can also freeze them for longer storage - this is what I like to do. To freeze the waffles, put them on a baking tray and flash freeze until frozen. Then, put the leftover waffles in a freezer-safe bag and store them in the freezer for several months.
How To Reheat Homemade No Milk Waffles
Reheating these waffles is a breeze! Just pop them in the toaster - or toaster oven - for about 4-6 minutes or until warmed through.
You can also heat them up in the microwave for 30-60 seconds, but I find the toaster keeps it a crispy waffle.
If you need to reheat a big batch, preheat it to 375°F and warm the waffles for 5-10 minutes or until hot.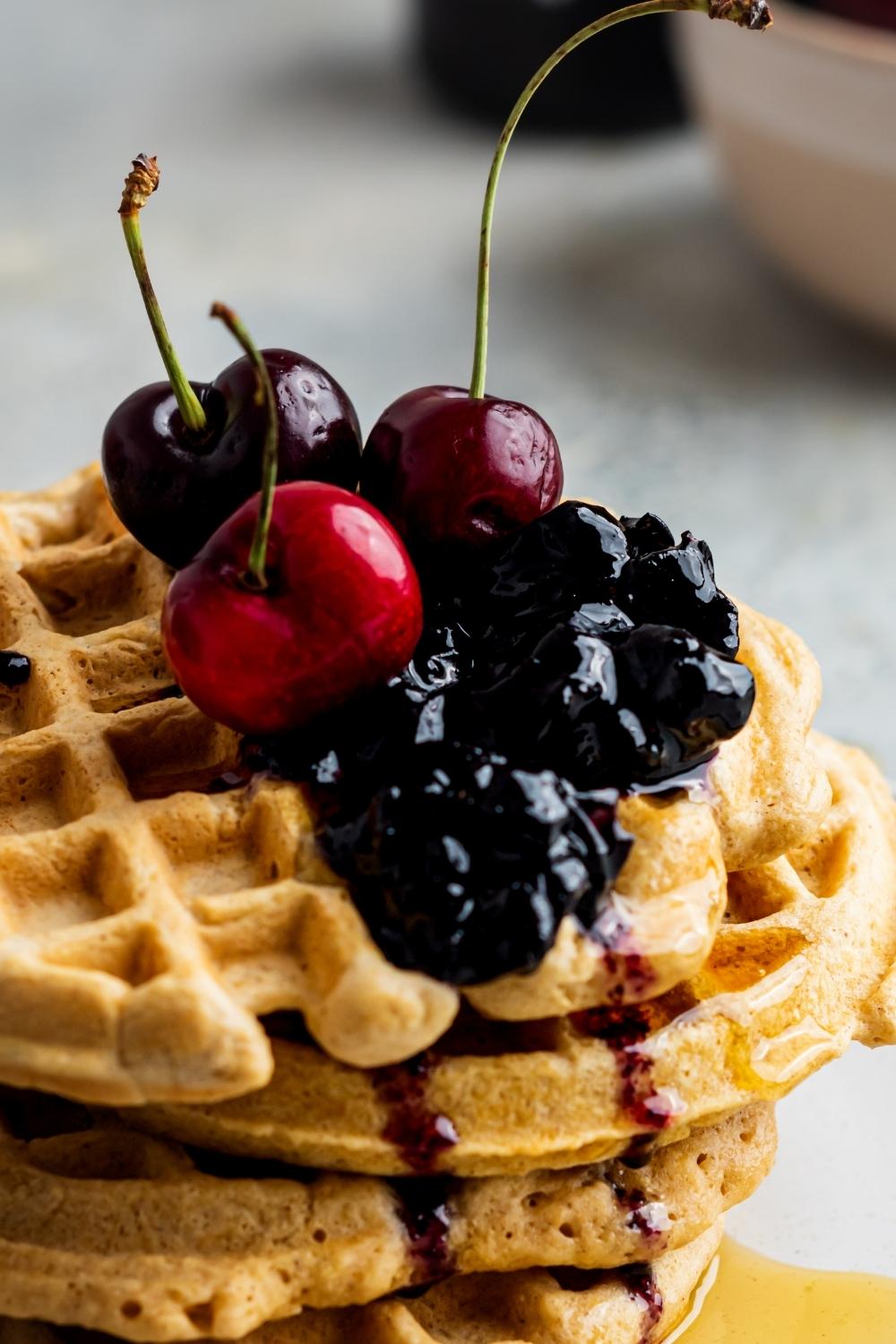 FAQS About This No Milk Waffle Recipe
What can I use instead of milk in waffles?
Instead of milk in waffles, you can use either water or a milk substitute like any dairy free milk such as coconut milk, soy milk, or oat milk.
Can I use water instead of milk for waffles?
Yes, you can use water instead of milk for waffles. Just substitute the milk for an equal amount of water.
What does milk do in a waffle?
The milk in a waffle helps bind all of the ingredients together, and it makes the waffle batter richer, resulting in fluffy waffles.
Does waffle mix have milk in it?
No, waffle mix does not have milk in it. However, the majority of waffle recipes call for milk to be added to the mix to create waffles.
Wrapping It All Up
And there you have it! That's how to make waffles without milk.
Whether you make them for breakfast, brunch, or even dessert, these dairy free waffles are sure to satisfy. They're fluffy, flavorful, and totally customizable to your liking! And making waffles has seriously never been easier.
So go ahead and whip up a batch – I know you'll love this homemade waffle recipe as much as I do!
Anyway, if you try this dairy free waffle recipe, leave a comment below to let me know how it went! And as always, for more delcious recipes, make sure to check out our Youtube channel and Instagram page.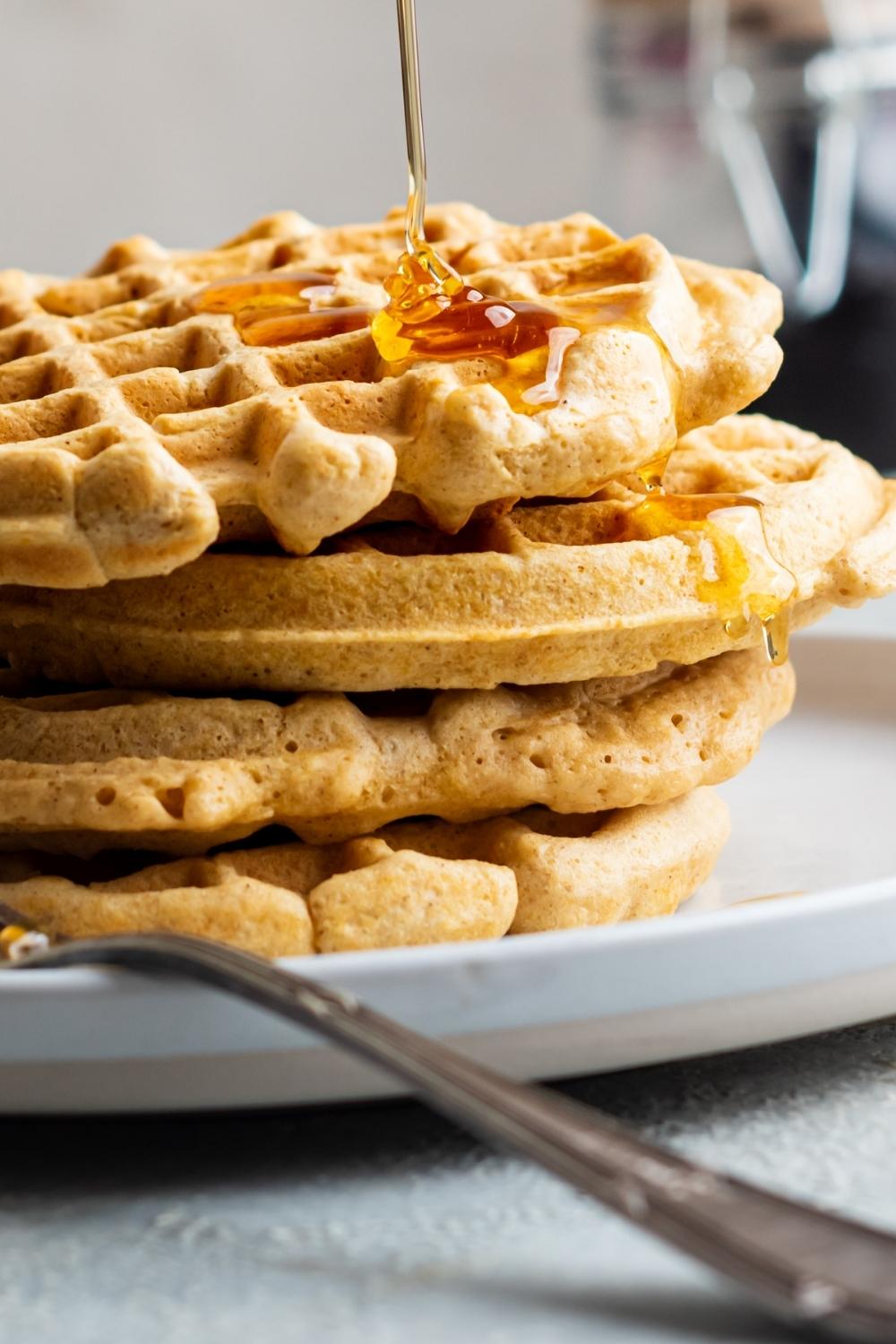 More Breakfast Recipes
If you enjoyed making this recipe and want to give some more breakfast recipes a try, we have a ton on the blog that you have to make next!
Here are a few of our most popular ones:
Yield: 4 waffle
Waffle Recipe No Milk Needed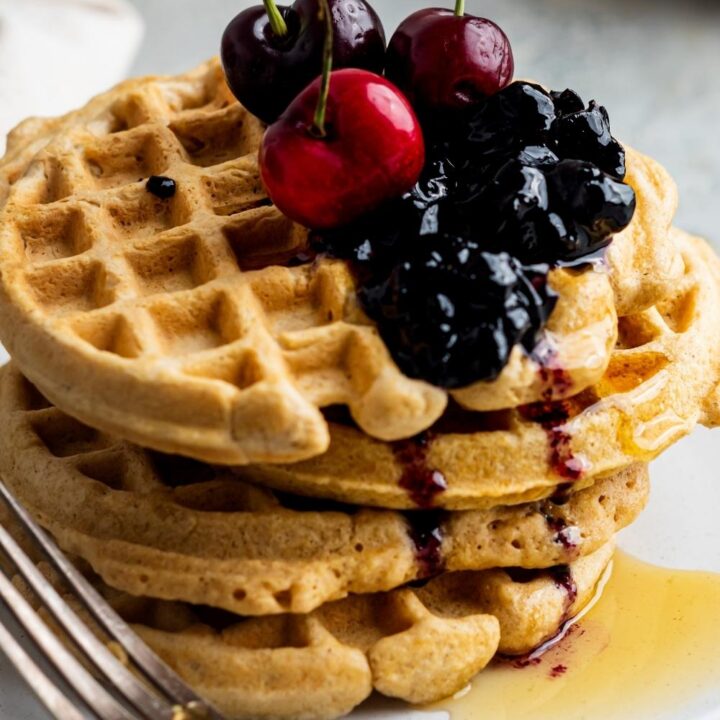 These no milk waffles are a delicious, dairy-free alternative to one of the most classic breakfast foods there is. And these waffles are made with a simple homemade batter that delivers that sweet flavor of Sunday morning to your taste buds. Not to mention, they're perfectly crispy on the outside, fluffy inside, and oh-so-ymmy.
Instructions
Whisk together all the ingredients in a mixing bowl until smooth. Or blend all of the ingredients in a blender.

Grease the waffle iron and pour the batter in batches. Cook for a few minutes until golden brown.

Serve with berries and honey.
Nutrition Information:
Serving Size:
1 waffle
Amount Per Serving:
Calories:

306
Total Fat:

19g
Saturated Fat:

0g
Trans Fat:

0g
Unsaturated Fat:

0g
Cholesterol:

0mg
Sodium:

0mg
Carbohydrates:

26g
Fiber:

2g
Sugar:

0g
Protein:

9g