What's the secret ingredient for a perfect weekend morning? Piping hot, crispy, and undeniably fluffy waffles, of course! And that where this Aunt Jemima waffle recipe comes in. These waffles will have you looking forward to early breakfasts and will be a staple for you to indulge in every weekend!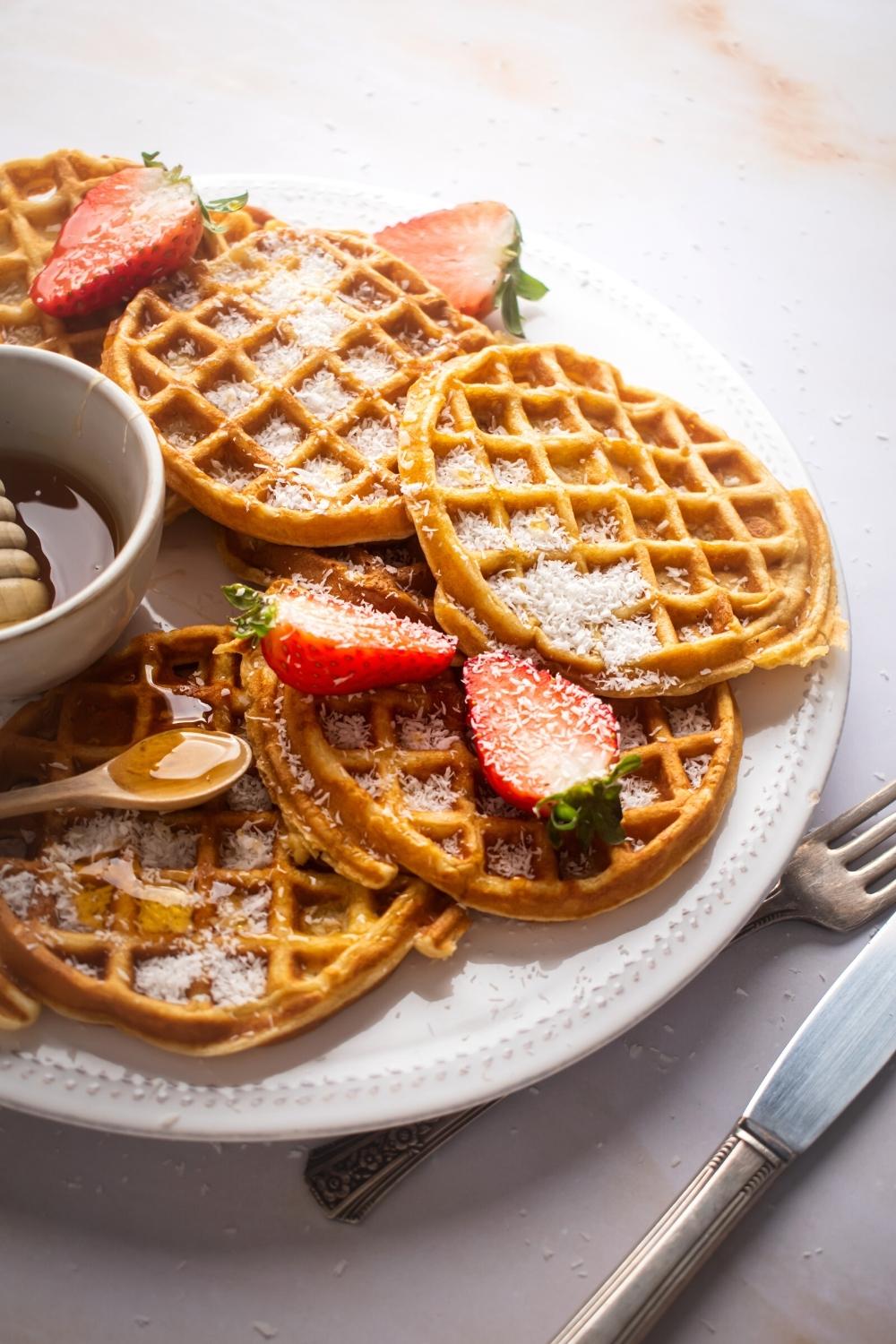 THE BEST AUNT JEMIMA WAFFLE RECIPE
Waffles are a family favorite. Atleast they are in our house.
And these waffles are crispy, crunchy, and have a cloud-soft, fluffy center. Gah, they're good.
Not to mention, one of the best parts of waffles is how incredibly easy they are to make! All you need is some Aunt Jemima pancake mix - most recently known as Pearl Milling Company - and just a few other ingredients to make 'em.
How easy does that sound?!
Not to mention, waffles are arguably one of the most versatile foods out there - and the Aunt Jemima waffles are no different.
You can add some chocolate chips or blueberries to them, top them off with fresh fruit and whipped cream, or just go with the classic combination of syrup and butter.
And if you're looking for more inspiration to take your breakfast and brunching to the next level, I recommend checking out my McDonald's Egg McMuffin and McGriddle copycat recipes. Both of those are easy breakfast recipes to make when you're short on time, just like this recipe is.
Or you can just make this Jimmy Dean breakfast sausage recipe or million dollar bacon to go with the waffles.
With that said, if you're looking for something on the sweeter side, you can go with these air fryer cinnamon rolls using Pillsbury cinnamon roll dough. They never disappoint.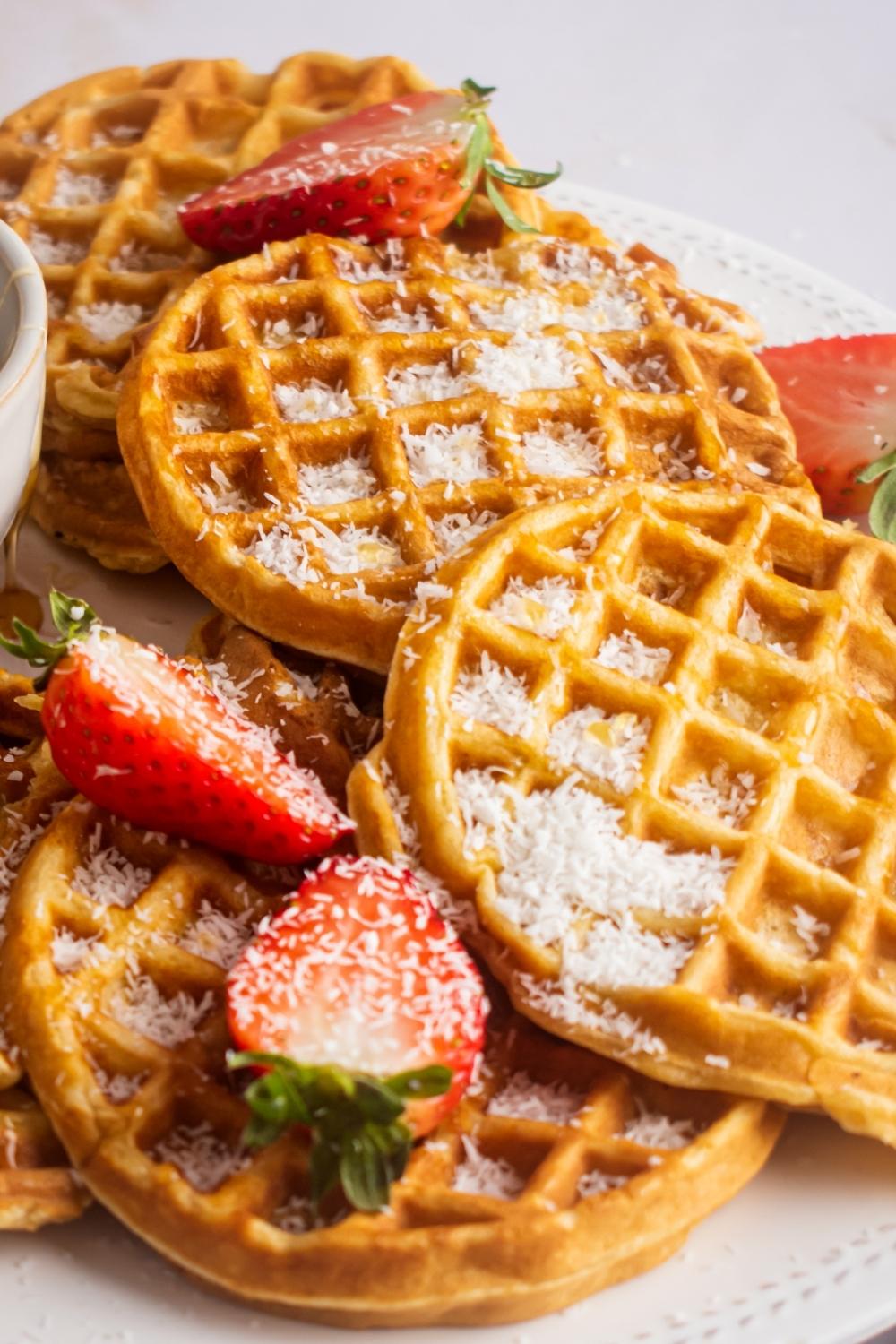 Ingredients
Standing at just 4 ingredients that you likely already have in your cupboard, this Aunt Jemima waffle recipe gives you incredibly easy to make waffles in no time.
And you won't be able to tell the difference between your favorite breakfast spot versus the kitchen magic you can create with this waffles recipe!
Anyway, here's everything you need for this Aunt Jemima Waffle Recipe:
1 Cup Aunt Jemima Mix (Pearl Milling Company Mix)
¾ Cup Milk (any works)
1 Egg
2 Tbsps. Oil (any works)
Now, Aunt Jemima changed their name to Pearl Milling Company. The box looks the exact same, but if you're looking for the mix in the grocery store or online, look for this Pearl Milling Company box.
Oh, and you may be wondering - is pancake mix the same as waffle mix? Waffle mix and pancake mix are very similar, and the majority of mixes are both pancake and waffle mix. So you can use the mix to make either pancakes or waffles, like in this recipe!
Typically all you have to do is add in a few extra ingredients to make waffles so that's what we'll be doing today. If you want to make pancakes, then make sure to check out this Aunt Jemima pancake recipe.
By the way, if you're looking for another waffle mix recipe, you have to try these Krusteaz waffles sometime.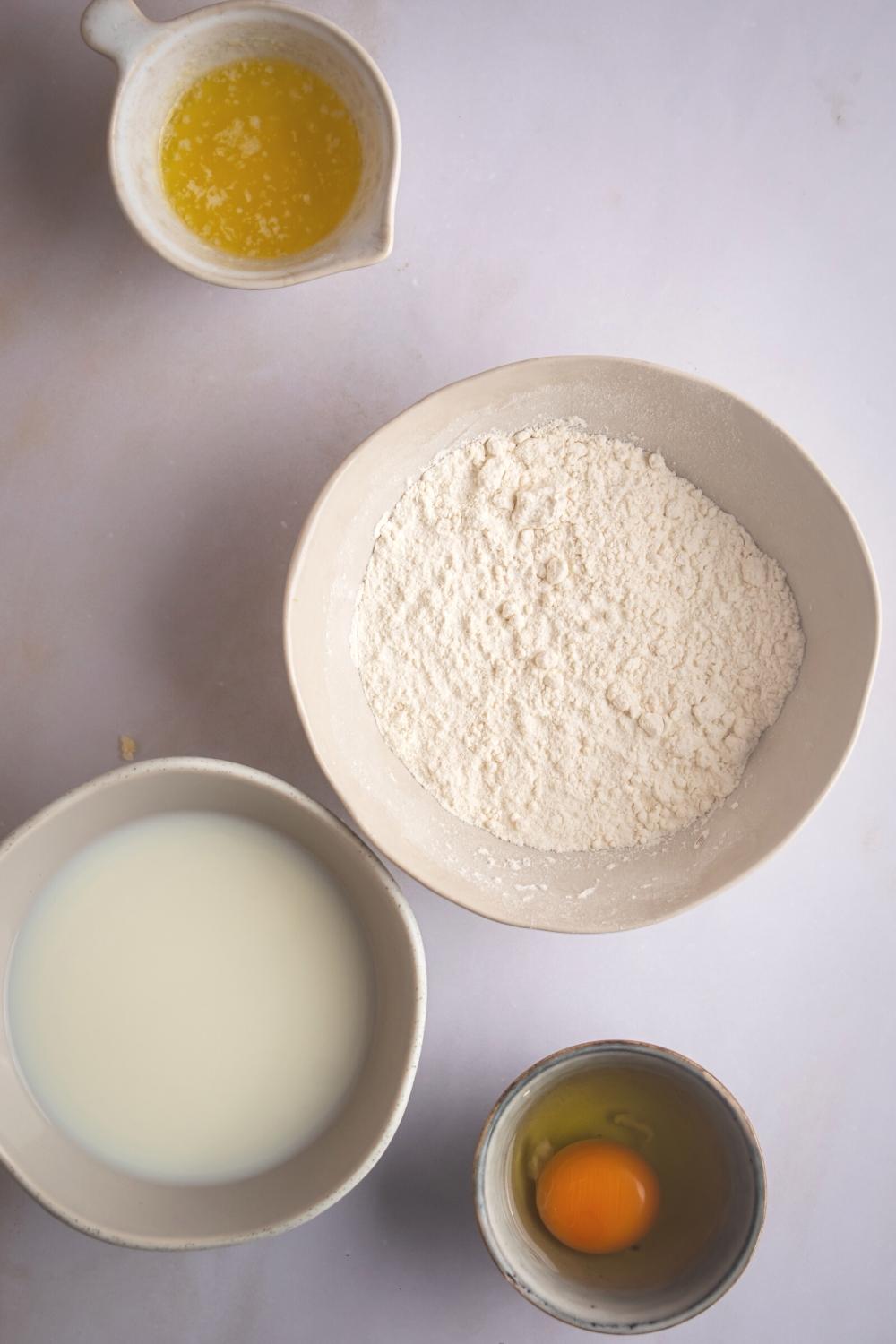 How To Make Waffles With Pancake Mix
Making this Aunt Jemima waffles recipe is incredibly easy. And if you've ever made anything with a pre-made mix before, you'll nail this recipe.
But, even if it's your first time cooking breakfast, this recipe is the perfect place to start!
So, without further ado, I'll show you how to make waffles with Aunt Jemima pancakes mix!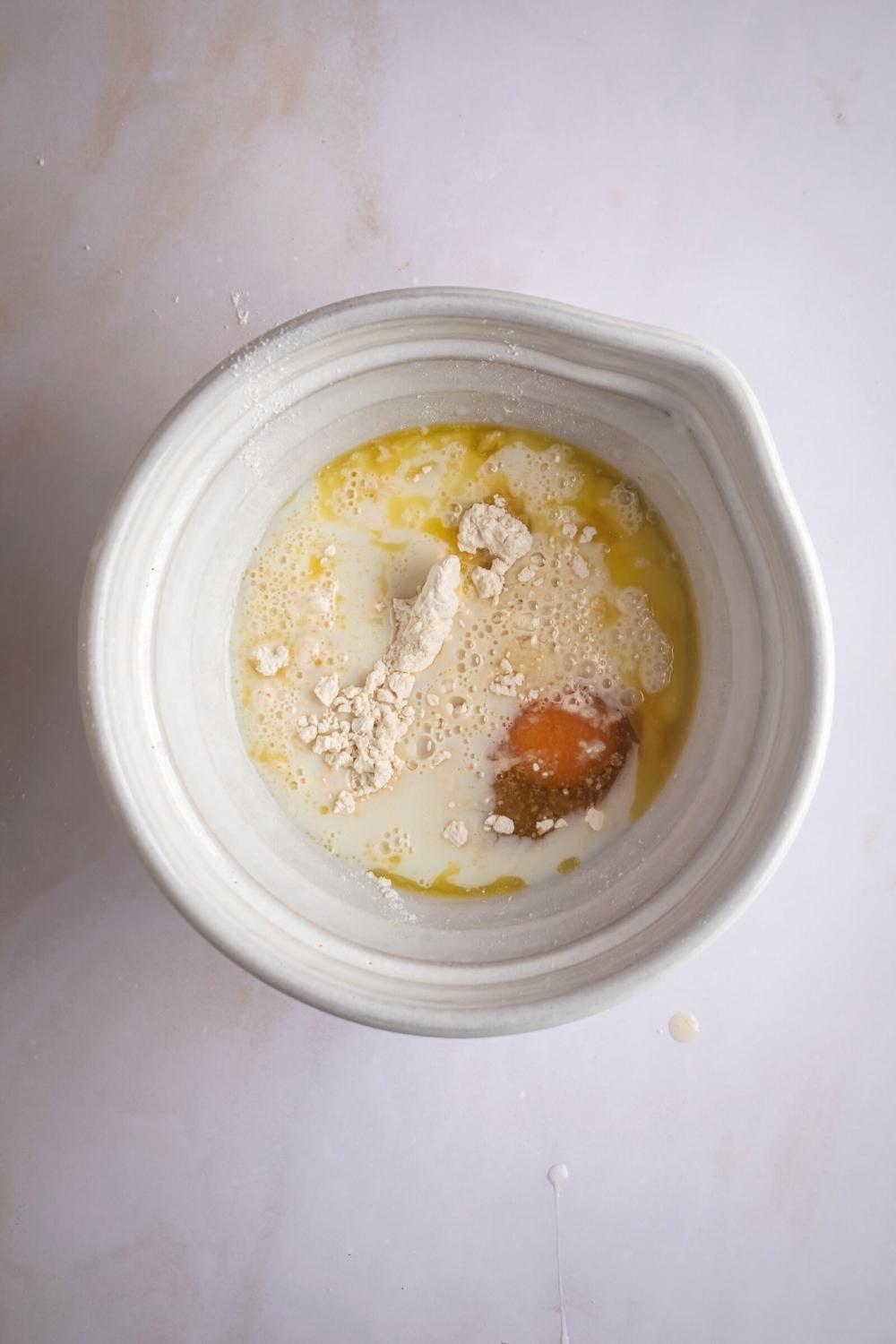 Step 1: Prep
Start by greasing a waffle iron and plugging it in to preheat it. Most irons have a light that indicates when it's ready to fill.
Oh, and you can use a regular waffle iron or mini waffle iron for this recipe! Both work great - the only difference will be the size and number of waffles you make.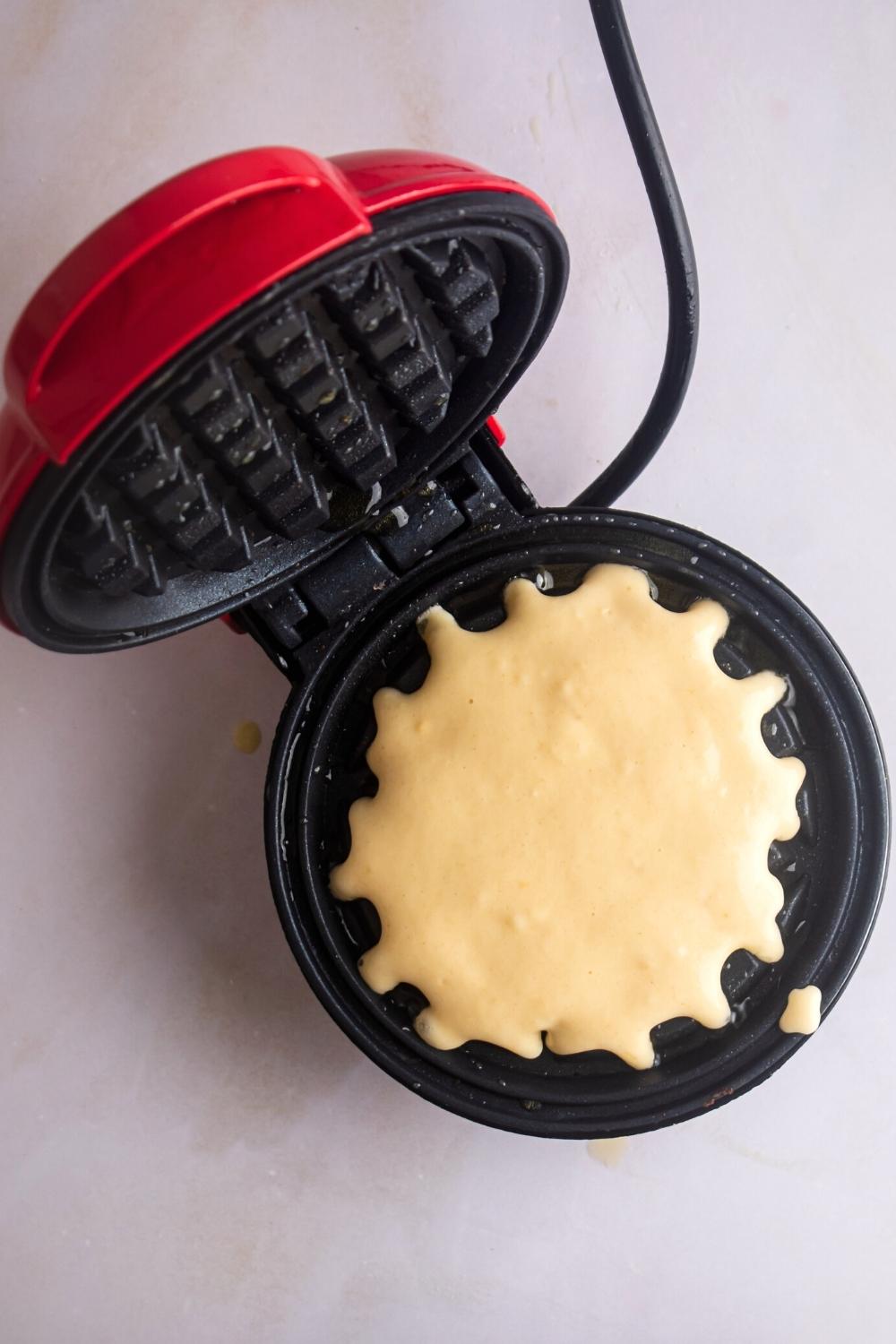 Step 2: Mixing The Batter
Now, add the egg, oil, and Aunt Jemima pancake mix to a large mixing bowl.
Give these ingredients a good mix until they just combine. By the way, make sure you do not over stir the mixture!
Now, once you have a waffle batter, set it aside and let it rest for 4-5 minutes - this is a little secret tip that will take your waffles from good to incredibly delicious.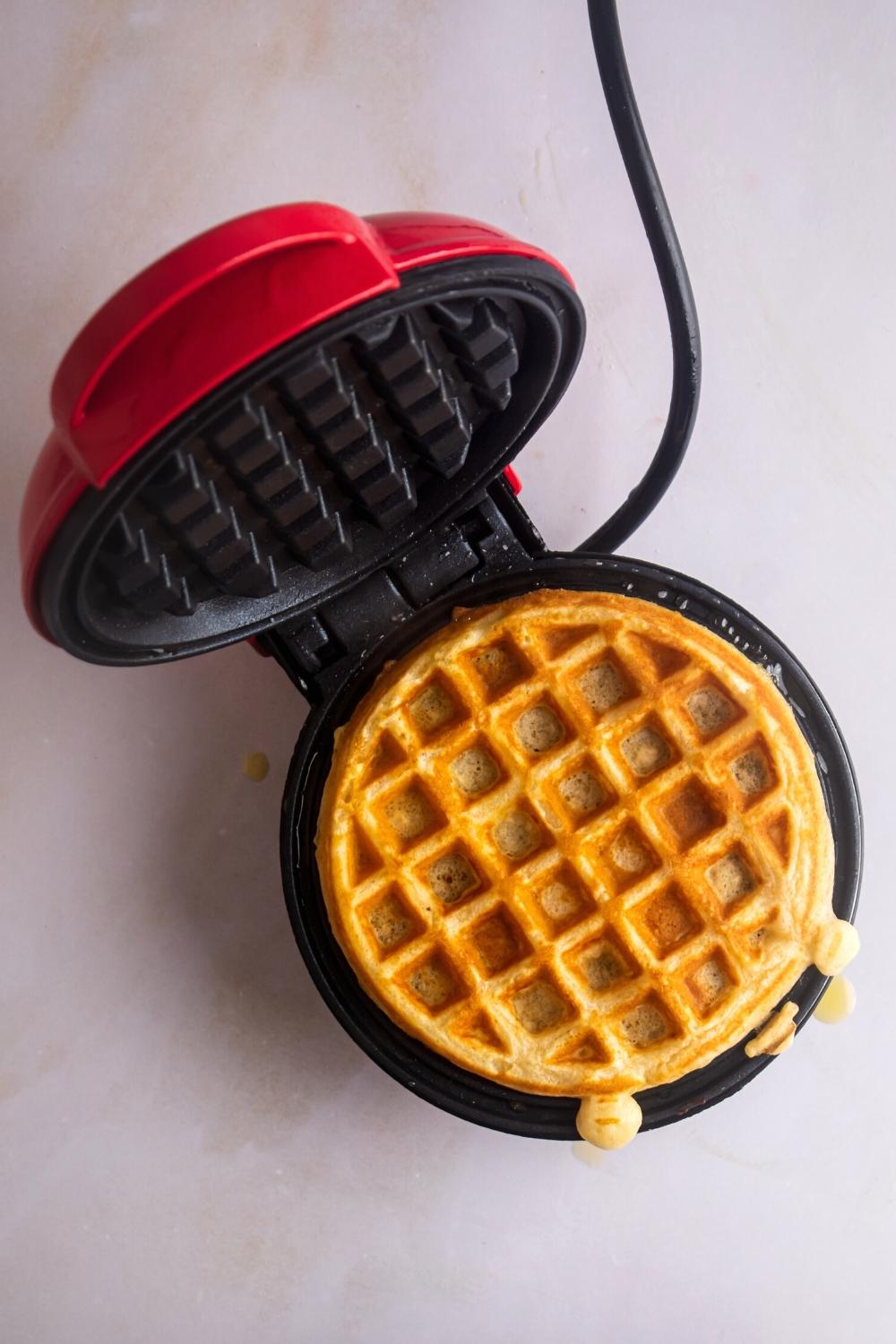 Step 3: Cooking The Waffles
So, now that the 5 minutes is up pour some batter into the hot waffle maker and close the lid. And you'll only want to pour enough batter just to cover the surface of the waffle maker, as the batter will expand after you close the lid.
Cook the waffle the steam stops coming out from the waffle maker. The steam is a good indicator that the waffle is done, but you can check it before then to see how it's cooking.
Anyway, once the waffle is cooked, remove it from the waffle iron and put it on a plate. And make sure to use tongs - or a spatula - to remove the waffle because the waffle will be hot!
Then, just repeat this cooking process until all of the batter has been used.
Now serve with whatever you want, and enjoy!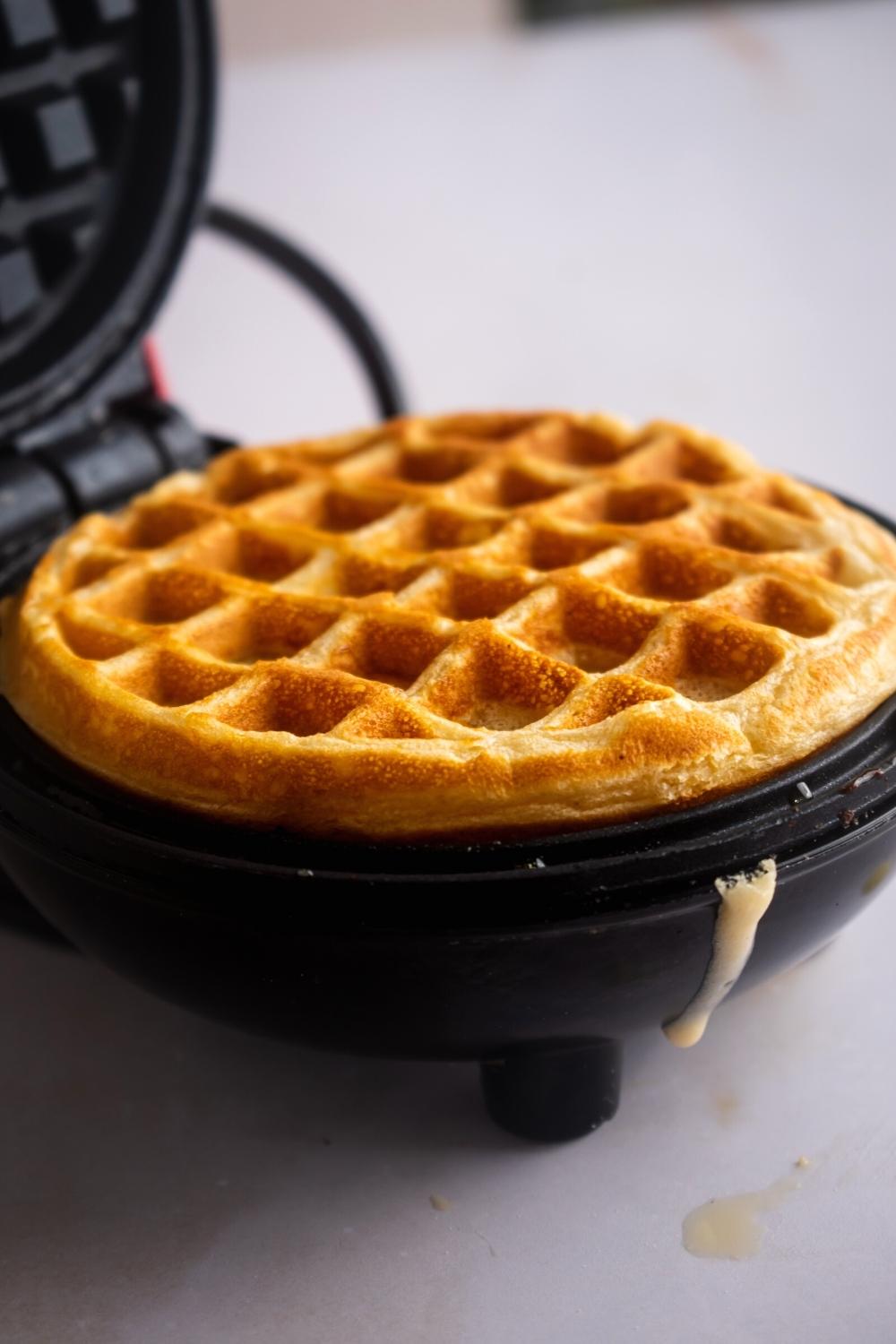 Serving tips
These waffles are the perfect backdrop for just about anything you could want! You could opt for sweet, savory, or a little bit of both — there is no wrong answer!
Some of our favorite toppings to go with these Aunt Jemima Waffles include:
Maple syrup
Honey
Powdered sugar
Whipped cream
Cut fruit (think strawberries, blueberries, etc.)
Nuts
Jam or jelly
Peanut butter or any nut butter
Chocolate sauce
Caramel sauce
Bacon bits
Cheese
There aren't any rules when it comes to waffle enjoyment. You can also grab two and use them to make a delicious bacon, egg, and cheese waffle breakfast sandwich!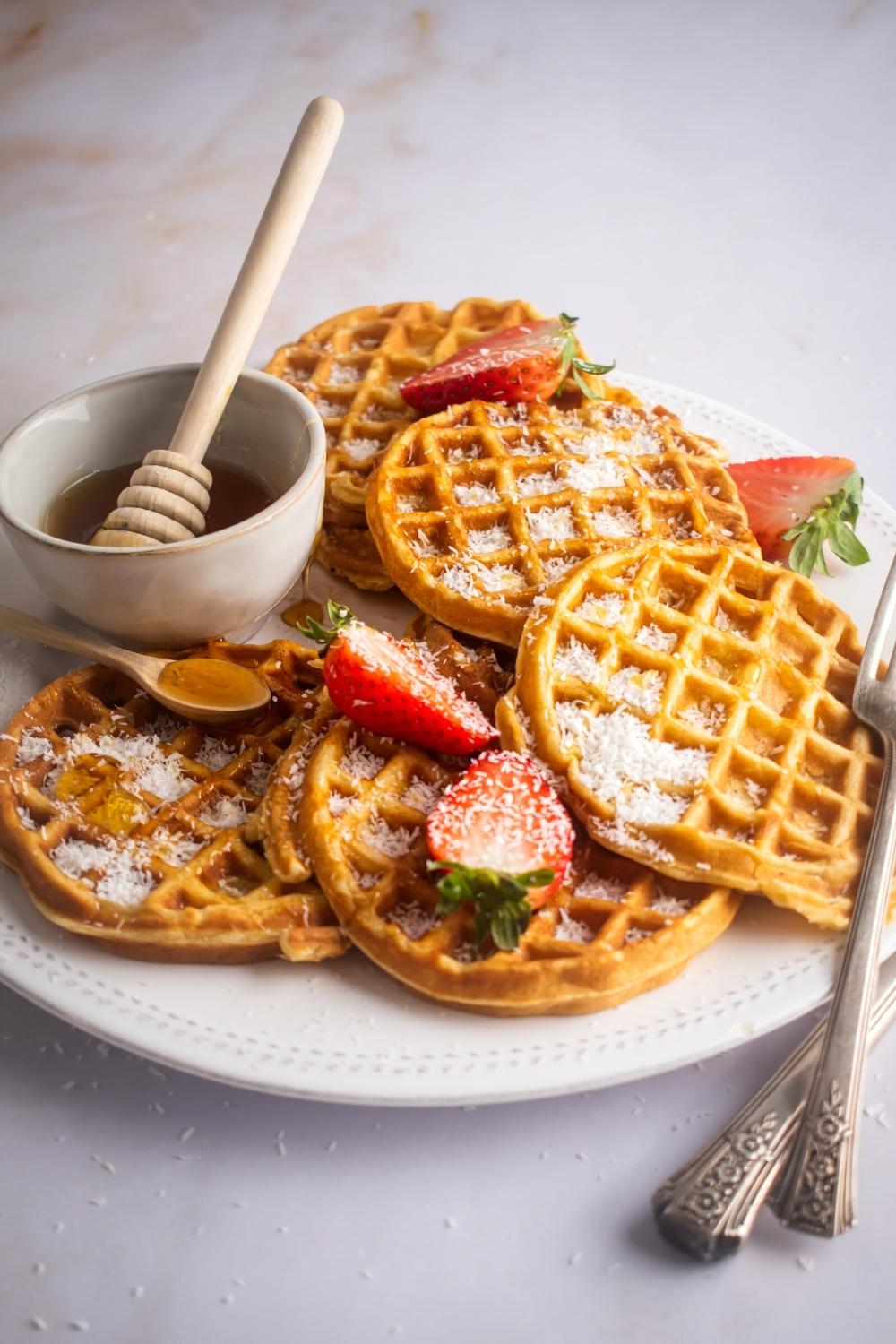 How To Store Leftover Waffles In The Fridge
So, this waffle recipe Aunt Jemima style will make 6 regular-sized waffles.
If you're making them for a family breakfast, there's a slim chance you'll have any left. Honestly, you'll end up having to make another batch!
But, if you do have leftovers, you can wrap them tightly with plastic wrap - or aluminum foil - and store the waffles in an airtight container in the fridge for 5-7 days.
How To Freeze Waffles
My favorite thing to do is make an extra large batch of these homemade waffles and freeze them. It's like having Eggo waffles in the freezer but so much better!
To freeze, let the waffles cool first and then arrange them on a baking sheet. Put the baking sheet in the freezer for an hour or so until the waffles are frozen solid. Then, you can store the froze waffles in a freezer-safe bag with parchment paper between each one for about 3-4 months.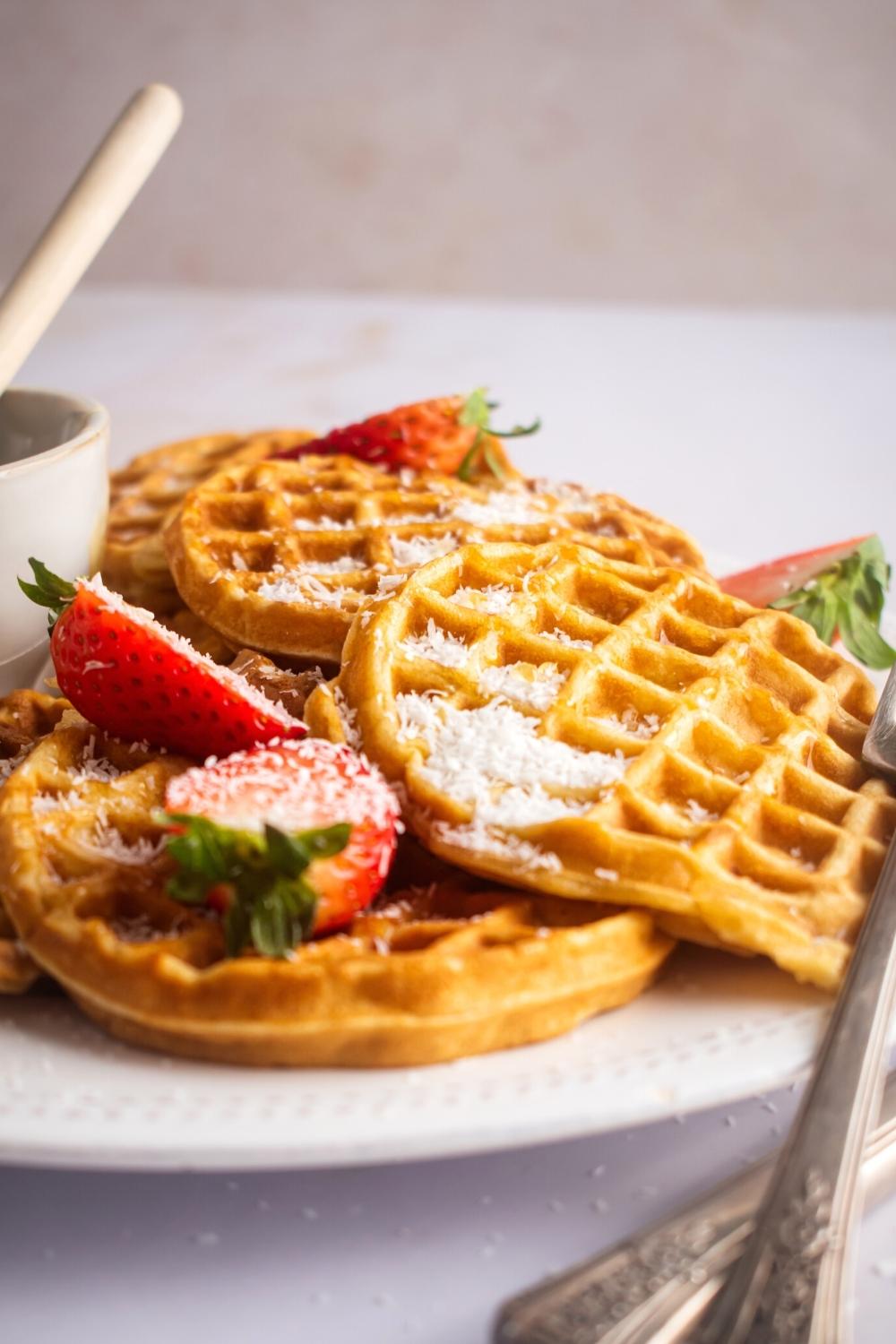 How To Reheat Waffles
The best way to reheat waffles is by far using the toaster oven. All you have to do is pop the waffles in the toaster for a few minutes until they reach your desired temperature or crispiness.
But if you want a quicker method, you can warm them in the microwave for about 20-40 seconds or until they are warm.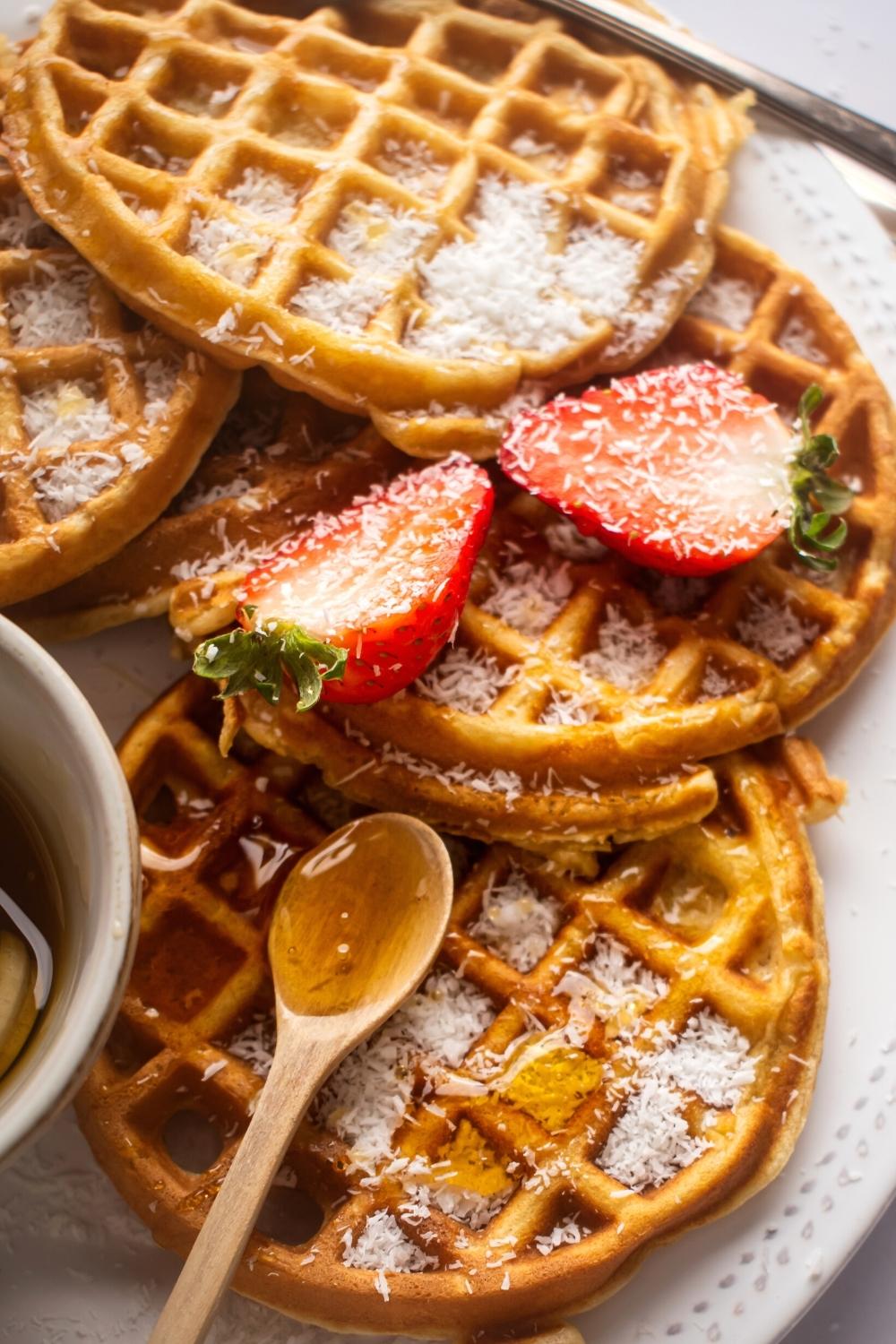 Wrapping It All Up
Well, that is how to make waffles with pancake mix!
The Aunt Jemima - also known as Pearl Milling Company - pancake and waffle mix creates incredibly thick, light, fluffy waffles with the perfect amount of crispiness on the outside.
These waffles are the perfect way to enjoy an effortlessly upgraded breakfast or brunch that everyone will love.
Have them with any of your favorite toppings, and get creative with how you enjoy these light and fluffy waffles.
Anyway, I hope you enjoy this Aunt Jemima Waffle recipe as much as I do!
If you make it, leave a comment below and let me know your thoughts.
And, of course, as always check out our YouTube Channel for even more delicious recipes like this one!
Print
Aunt Jemima Waffle Recipe (Pearl Milling Company)
What's the secret ingredient for a perfect weekend morning? Piping hot, crispy, and undeniably fluffy waffles, of course! This Aunt Jemima Waffle Recipe will have you looking forward to early breakfasts and will be a staple for you to indulge in every weekend! 
Author:
Prep Time:

5 minutes

Cook Time:

10 minutes

Total Time:

15 minutes

Yield:

6

waffles

1

x
Category:

Breakfast

Method:

Mixing

Cuisine:

Waffles
Instructions
Prepare a waffle iron by greasing and preheating it.

Pour milk, egg, oil, and Aunt Jemima mix into a mixing bowl. Stir well until well-combined. Set aside for 4-5 minutes before cooking.

Put some of the batter into the heated waffle iron and close it. Cook the waffle until no steam is released. Remove the waffle from the iron. 

Make sure you cook all the batter by repeating step 3. Enjoy!
Nutrition
Serving Size:

1 waffle

Calories:

95

Fat:

1

Carbohydrates:

18

Protein:

4
Keywords: aunt jemima waffle recipe, waffle recipe aunt jemima, how to make waffles, waffles recipe, how to make waffles with pancake mix, aunt jemima recipe with egg, aunt jemima recipe pancake mix, best waffle recipe using aunt jemima pancake mix, pearl milling company waffle recipe, pearl milling company complete waffle recipe, pearl milling company buttermilk complete waffle recipe