These banana waffles have a soft and fluffy inside with a touch of crispiness outside. And they are filled with a delightfully sweet and very subtle banana flavor that is just delicious!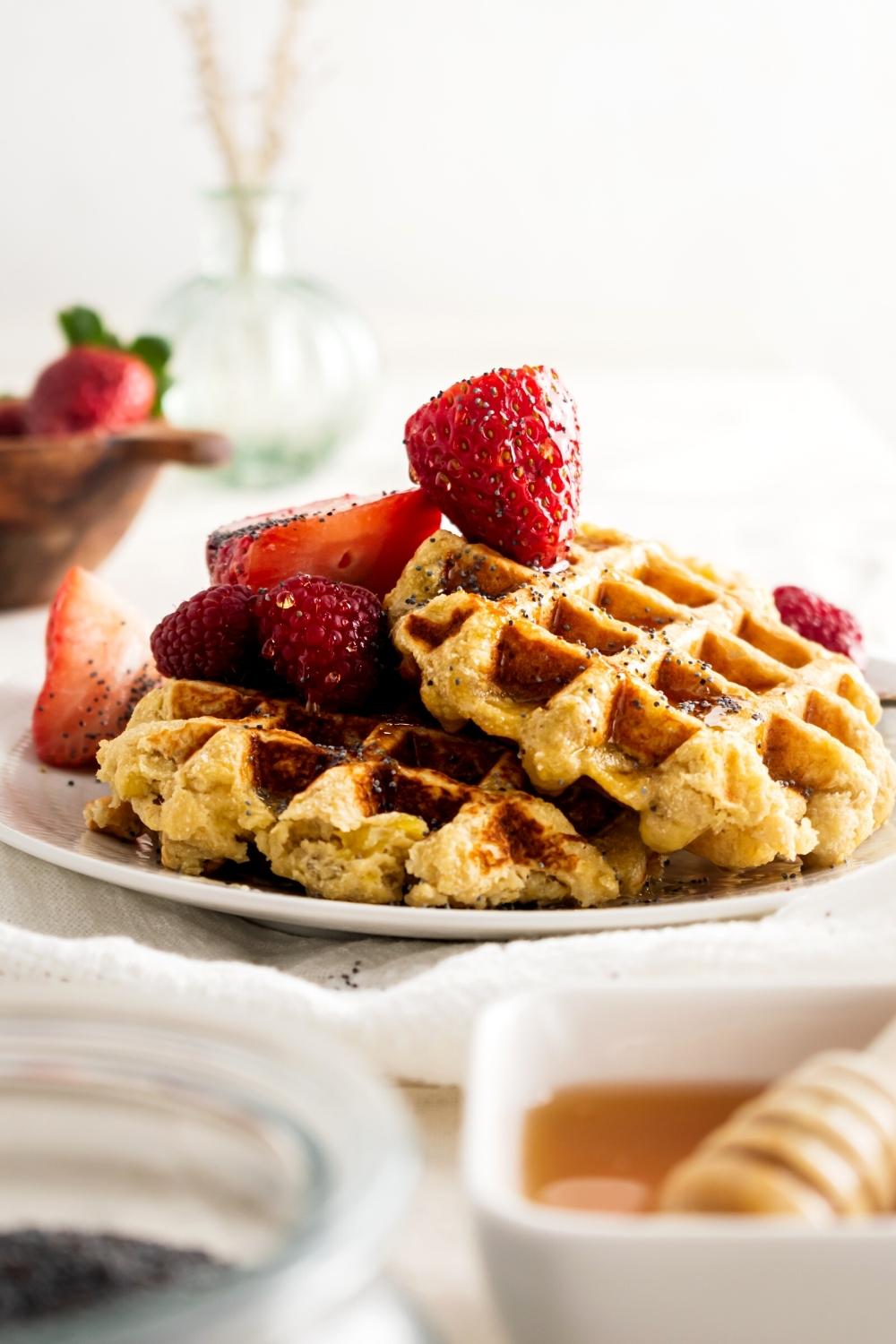 The Best Banana Waffles
These delicious banana waffles were something that I experimented with, and I'm not going to lie I was super skeptical at first. But the results joyfully exceeded my expectations!
They have such an incredible texture that kind of reminds me of my Aunt Jemima waffle recipe. But they stay softer and fluffier thanks to the waffle maker. Plus, they're way healthier, so they're a great waffle alternative for kids!
Not only is the texture awesome, but the flavor is out of this world, too. They're perfectly sweet with a subtle banana flavor, kind of like banana bread. They're delicious!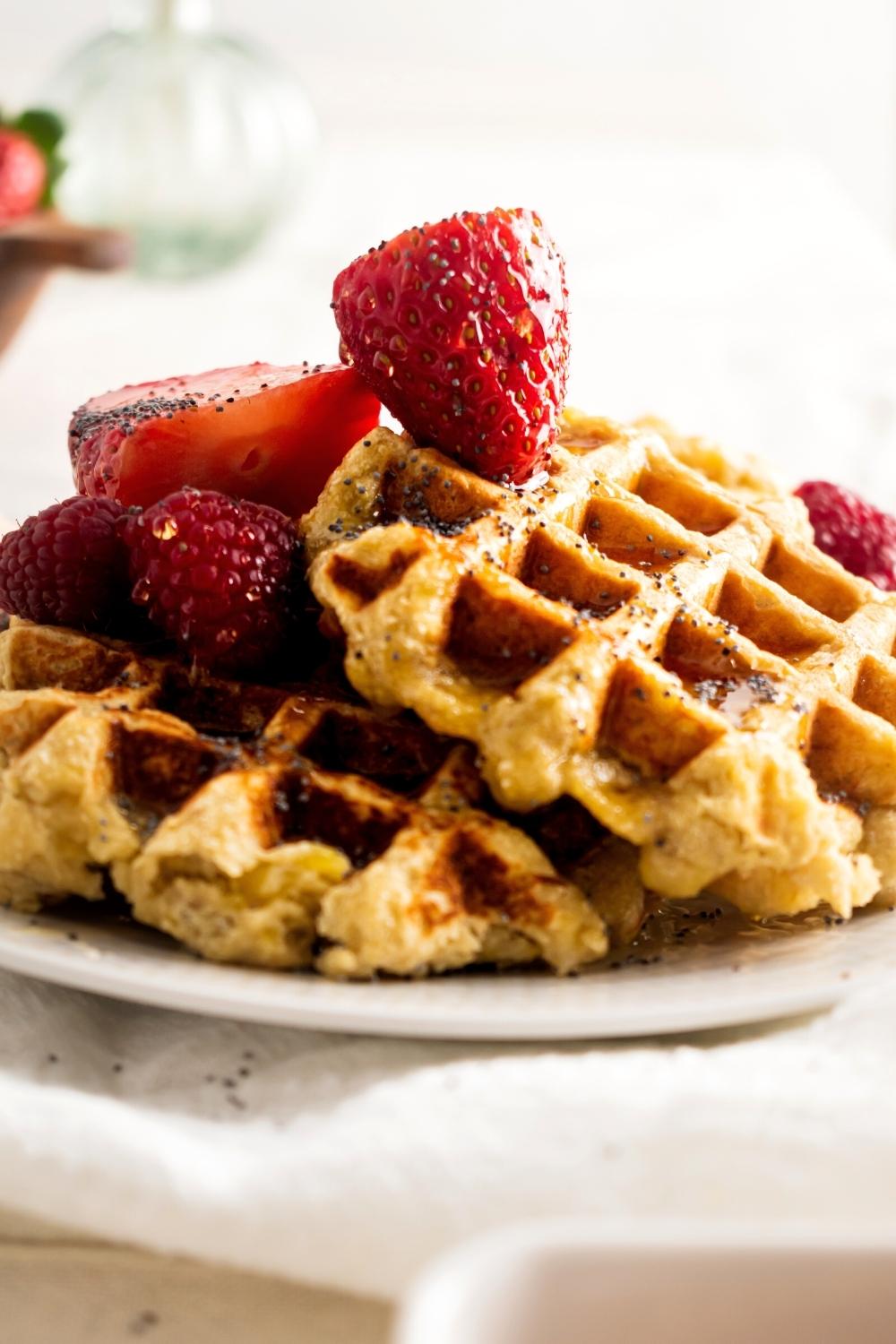 Why You'll Love This 3 Ingredient Waffle Recipe
Healthy waffles. Bananas are the main ingredient in these waffles, so they're way healthier than regular waffles.
3 ingredients. That's right, three ingredients are all you need to make these easy banana waffles.
Family favorite. Kids and adults both love these waffles! They're perfect for making a delicious and healthy breakfast the whole family will enjoy.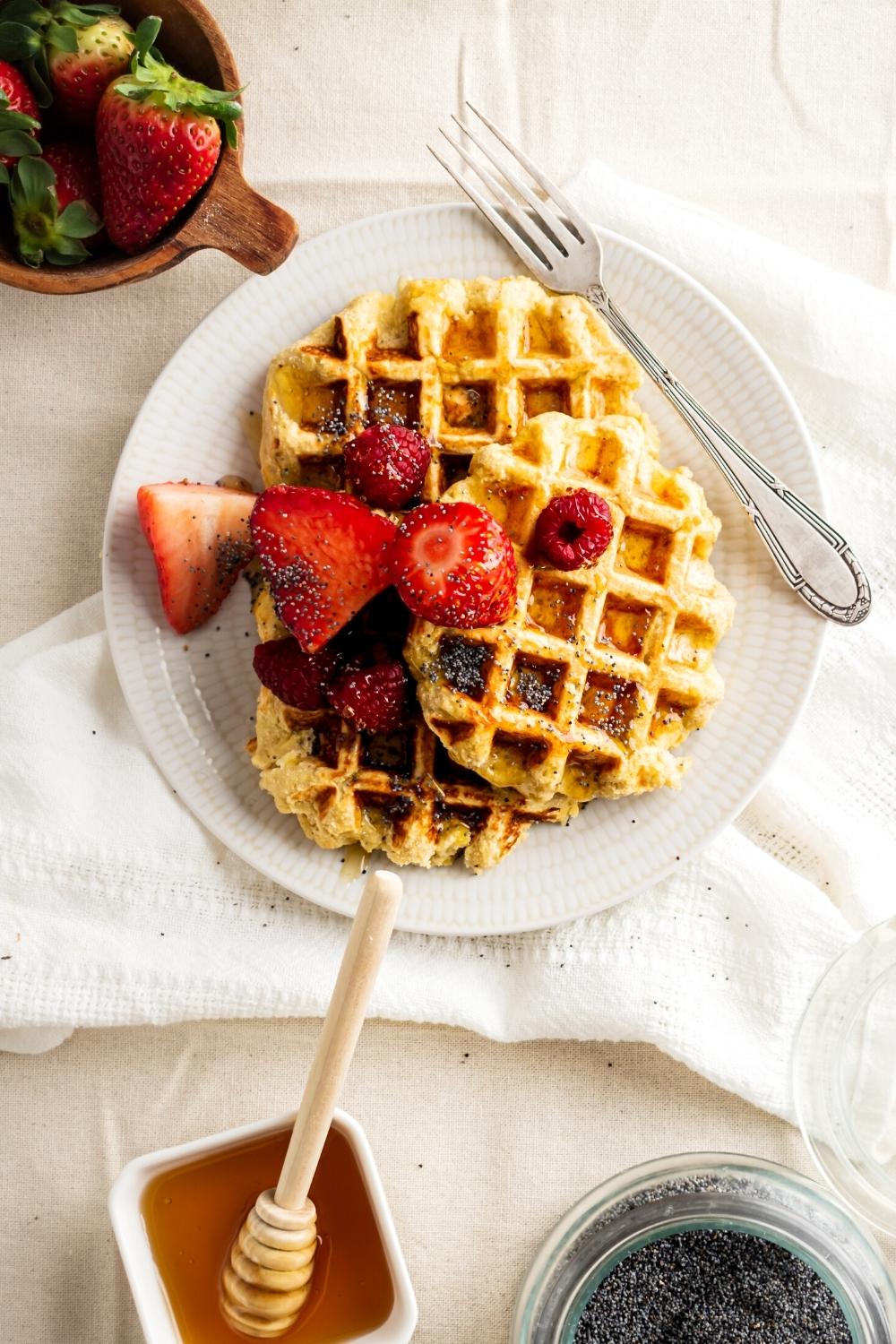 Ingredients Needed
Bananas- make sure to use ripe ones.
Eggs- two large ones.
Coconut flour- to bind the ingredients and make the waffles fluffy.
Oh, and these waffles go great with this air fryer turkey bacon, so you might want to pick up some turkey bacon to make it on the side!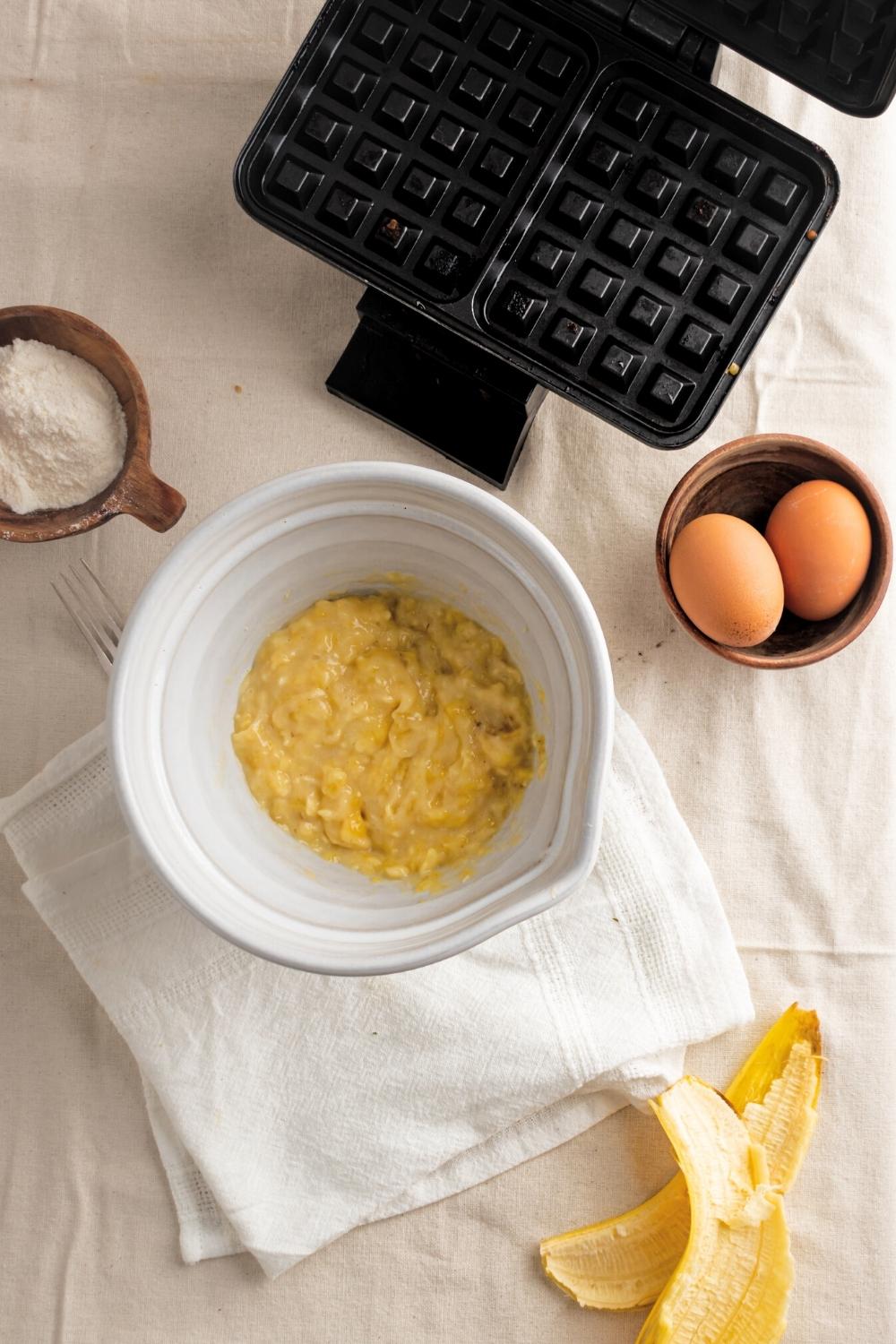 How To Make 3 Ingredient Waffles
1. Prep: Preheat the waffle iron of your choice. I like to use a mini waffle iron.
2. Make the batter: Mash the ripe bananas in a large mixing bowl until smooth. Add the eggs to the mashed bananas and mix until combined. Add the coconut flour and fold it into the mashed banana and egg mixture until all of the ingredients are incorporated and a thick batter forms.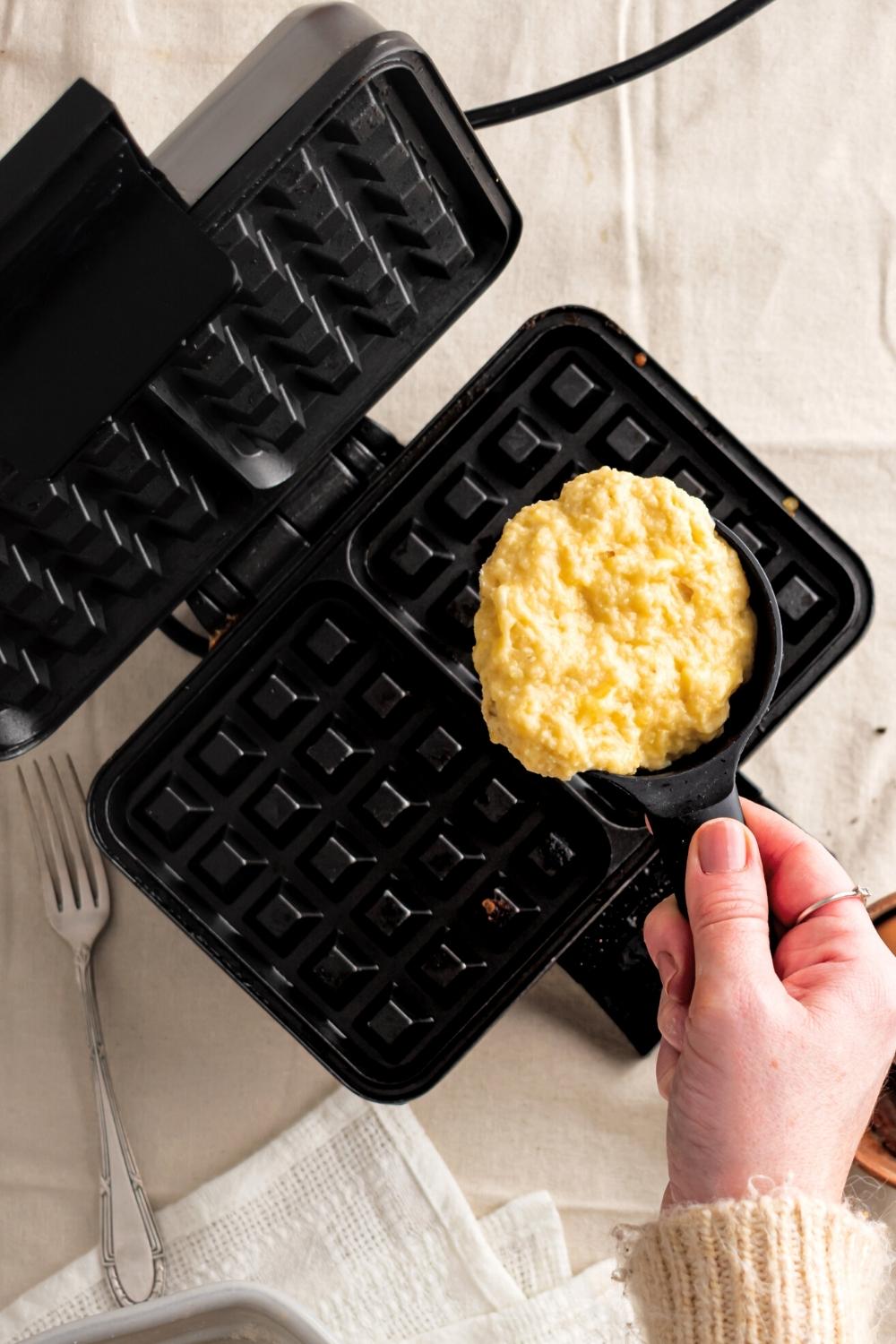 3. Cook the waffles: Spray the hot waffle iron with cooking spray. Pour the banana waffle batter into the greased waffle iron and close the lid. Let the waffles cook for a few minutes until golden brown on both sides.
4. Serve: Serve the fluffy banana waffles hot with anything you want, like fresh fruit and maple syrup, and enjoy!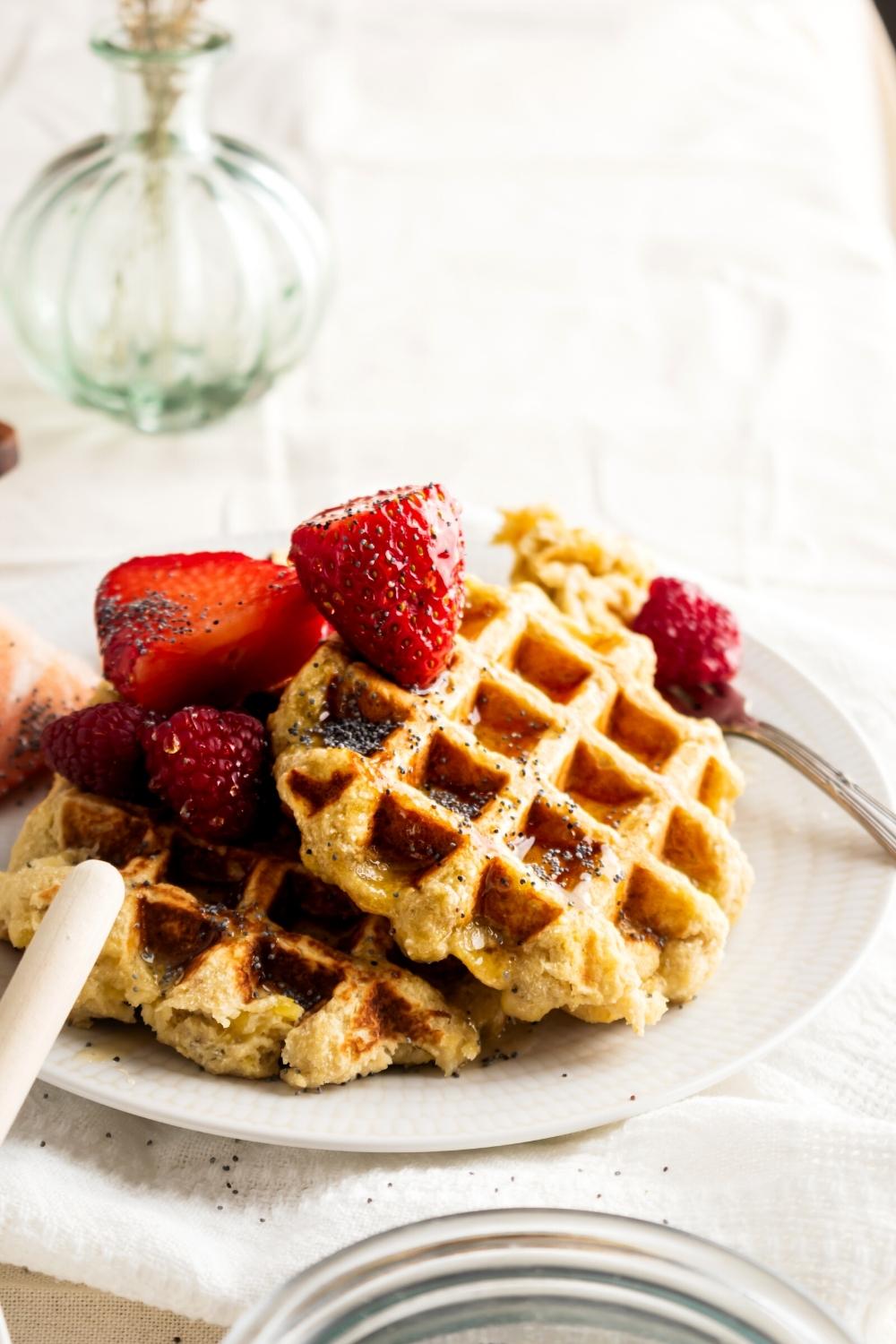 Tips To Make The Best Recipe
Add half a teaspoon of vanilla extract to complement the banana flavor.

Add a sprinkle of pumpkin pie spice for a different flavor.

Sprinkle cinnamon sugar on top to give them a similar flavor as these churro pancakes.

Fold chocolate chips into the batter to make chocolate chip banana waffles.

Only pour enough batter to cover about ¾ of the waffle iron and spread it out.

You'll know the waffles are done when steam stops coming out of the waffle maker, and they are firm on the surface.

Serve the waffles with butter, maple syrup, sliced strawberries, or whipped cream.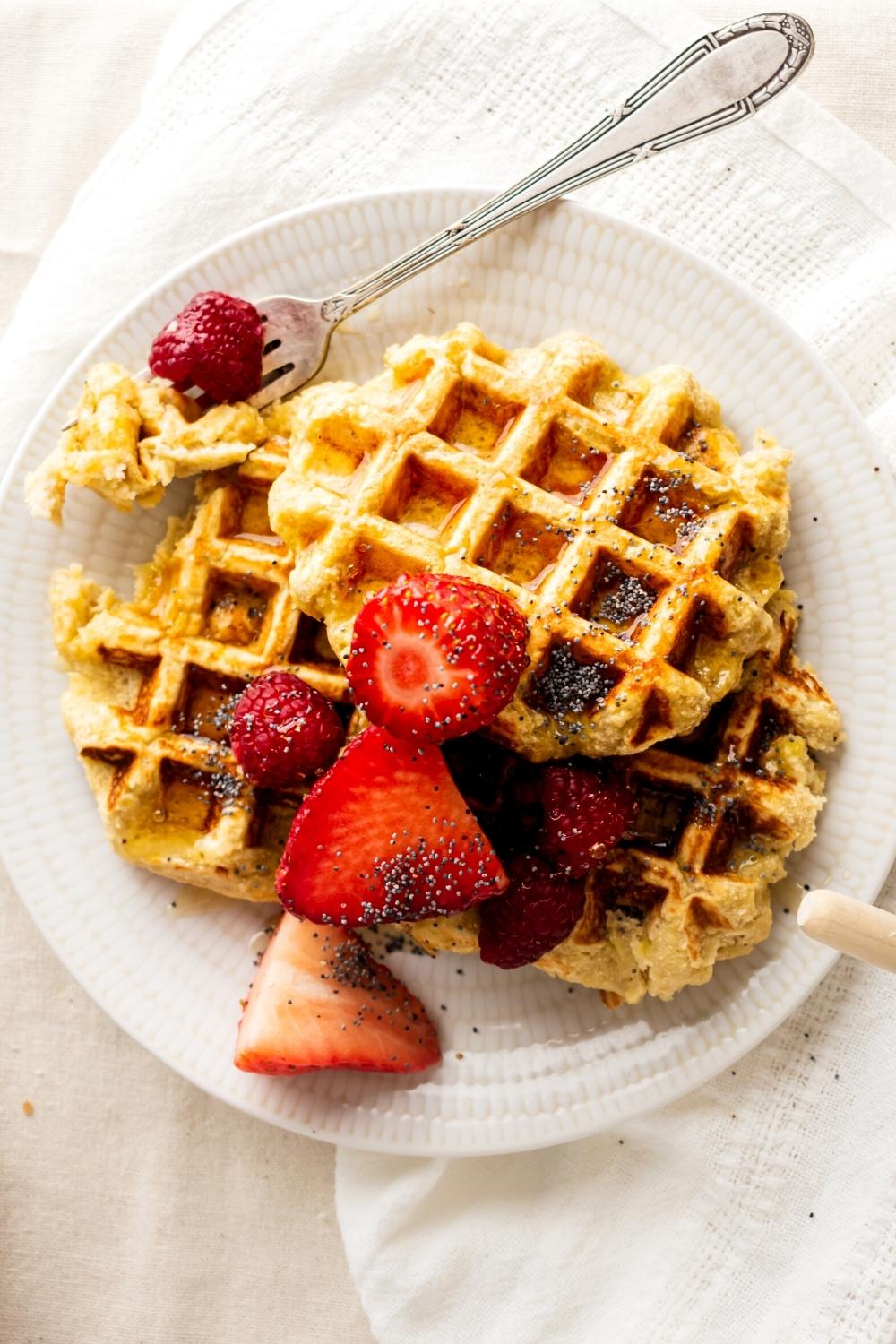 How To Store These Banana Waffles
In the fridge: Wrap these 3 ingredient waffles in plastic wrap or aluminum foil and store in a Ziploc bag for about 3 days.
In the freezer: To freeze homemade waffles, put the waffles on a baking sheet and flash freeze until solid. Then transfer them to a freezer bag and store them for up to 3 months.
Reheating: Put the waffles or frozen waffles in the toaster oven for a few minutes to make perfectly crispy waffles. It's just like having Kellogg's Eggo waffles but healthier since they're homemade banana waffles!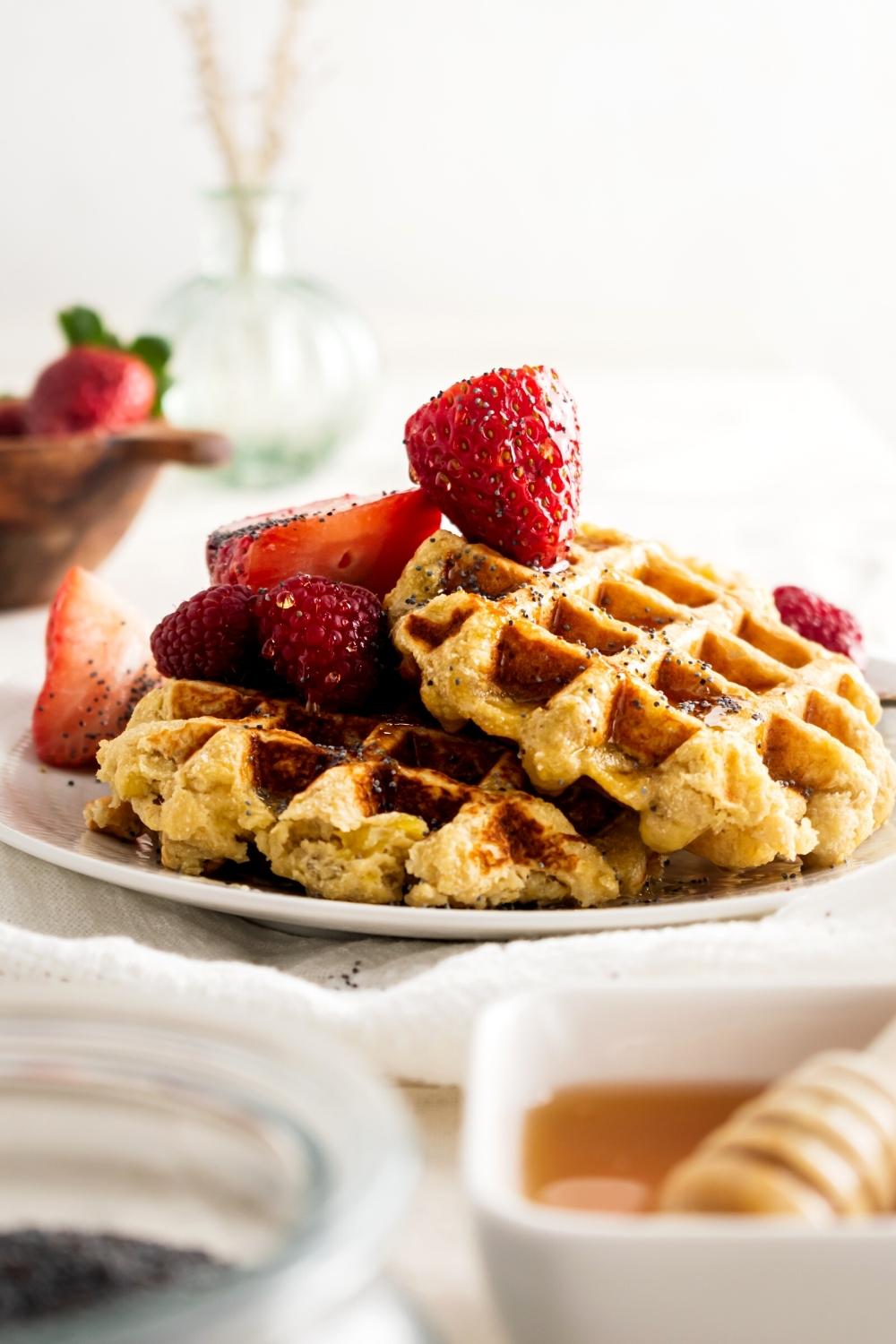 Frequently Asked Questions
Can waffles be healthy?
Yes, making these 3 ingredient waffles with only eggs, bananas, and coconut flour makes them super healthy! You get a serving of fruit and more protein than regular waffles.
Can I use fresh or frozen bananas?
Yes, you can use either fresh or frozen bananas to make the waffles. If you're using frozen bananas, you'll need to let them thaw and then drain the excess liquid.
How long do you cook waffles?
The time will vary depending on your waffle iron and how much batter you pour into it, but you can expect to cook the waffles for about 3-6 minutes.
More Breakfast Recipes
If you liked these homemade waffles and want to give some more delicious recipes a try for breakfast, we have a ton on the blog that I think you'll like.
Give one of these a try next:
Yield: 4 mini waffles
Banana Waffles Made With 3 Ingredients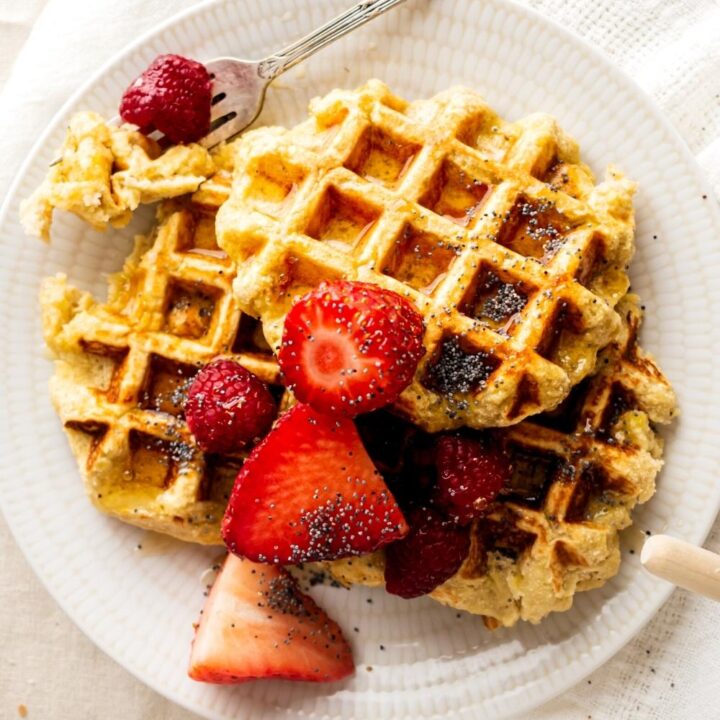 These banana waffles have a soft and fluffy inside with a touch of crispiness outside. And they are filled with a delightfully sweet and very subtle banana flavor that is just delicious. 
Ingredients
2 medium bananas or 3 small 
2 eggs
¼ cup coconut flour
Instructions
Heat a waffle maker (I used a mini one).

Mash 2 bananas in a medium bowl until smooth.

Add the eggs and mix until combined.

Add the coconut flour and mix until everything is incorporated and a thick batter forms.

Pour the batter in the hot waffle maker and close the lid. Cook until golden brown on both sides.
Nutrition Information:
Serving Size:
1 waffle
Amount Per Serving:
Calories:

117
Total Fat:

3g
Saturated Fat:

0g
Trans Fat:

0g
Unsaturated Fat:

0g
Cholesterol:

0mg
Sodium:

0mg
Carbohydrates:

18g
Fiber:

4g
Sugar:

0g
Protein:

5g