These banana waffles have a soft and fluffy inside with a touch of crispiness outside. And they are filled with a delightfully sweet and very subtle banana flavor that is just delicious!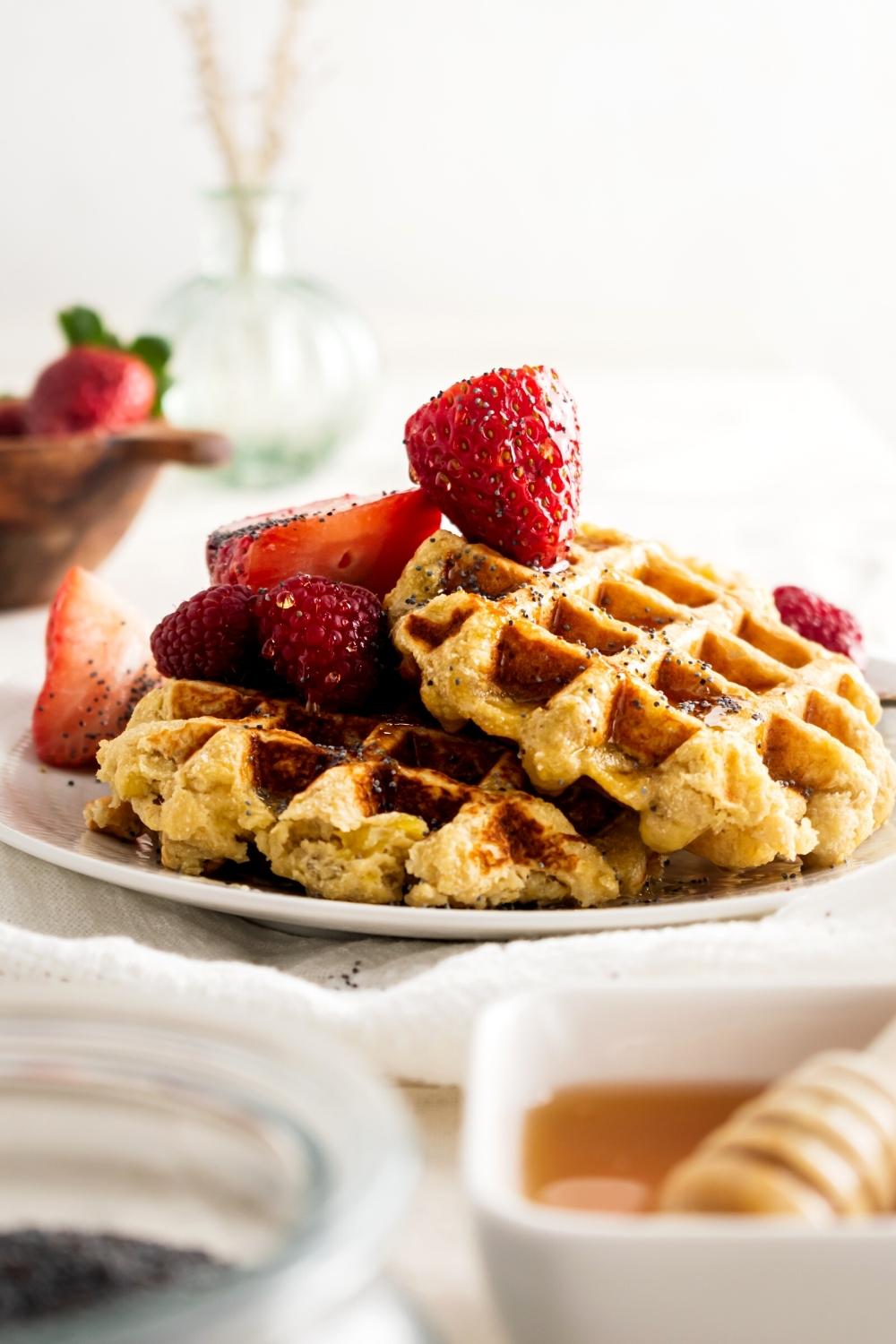 THE BEST BANANA WAFFLES
These banana waffles were something that I experimented with, and I'm not going to lie, I was super skeptical at first. But the results joyfully exceeded my expectations!
They have such an incredible texture that kind of reminds me of Kellog's Eggo toaster waffles. But they stay softer and fluffier thanks to the waffle maker. Plus, they're way healthier so they're a great waffle alternative for kids!
And not only is the texture awesome, but the flavor is out of this world too. Perfectly sweet with a subtle banana flavor that is kind of like banana bread.
You'd honestly have no idea that these were healthy waffles. And to make this recipe even better, all you need to make it is 3 simple ingredients and about 10 minutes!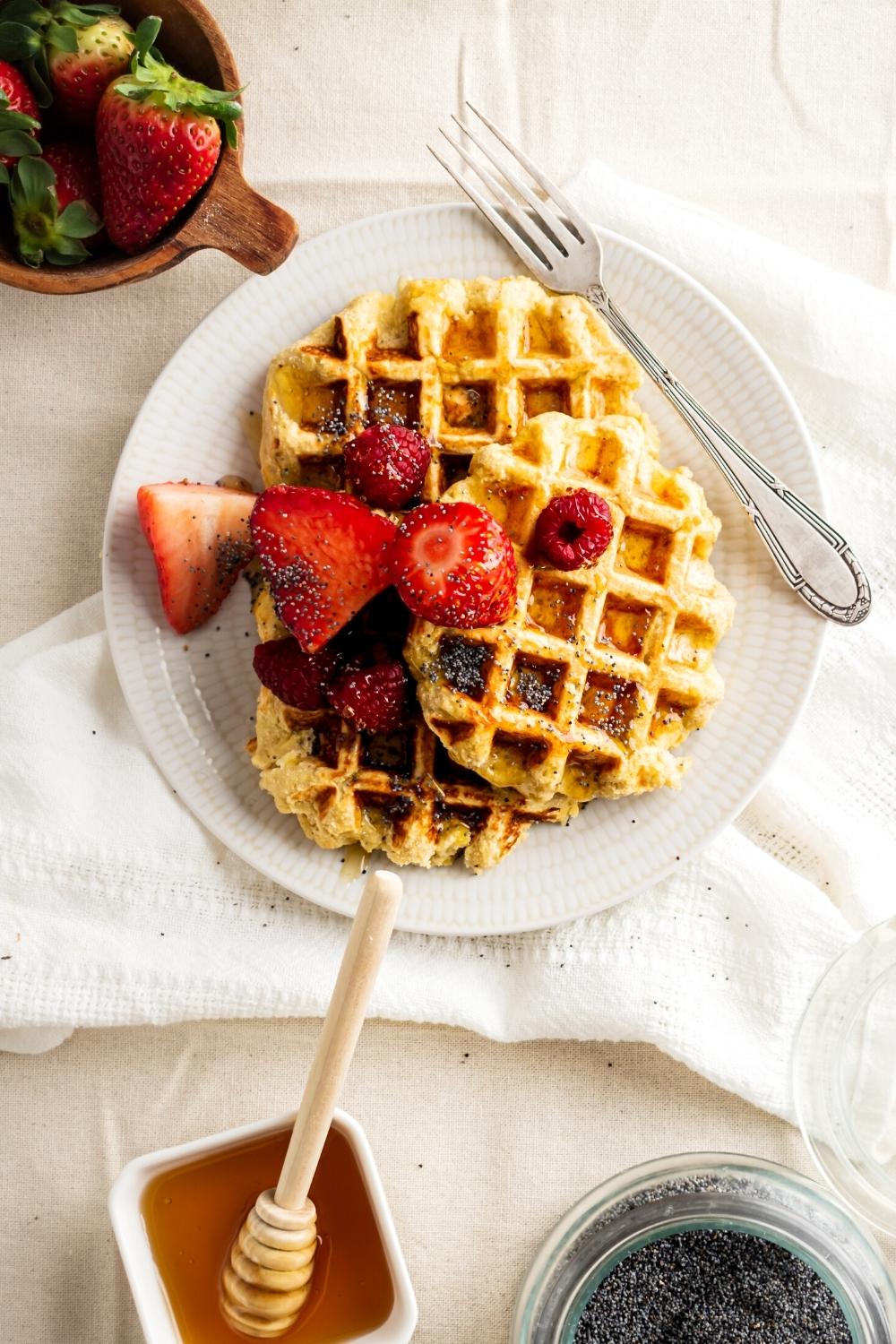 INGREDIENTS
So, as I just mentioned, you'll only need a few ingredients for this healthy waffle recipe!
Here's what you'll need to make them:
2 medium bananas or 3 small
2 eggs
¼ cup coconut flour
This banana waffle recipe will give you plenty of reasons to always have bananas on hand.
And what's great is this recipe works even if they aren't as ripe as you'd need them for banana bread. Just ripe enough to mash will do the trick and make some pretty incredible waffles.

Oh, and these waffles go great with this air fryer turkey bacon, so you might want to pick up some turkey bacon to make it on the side!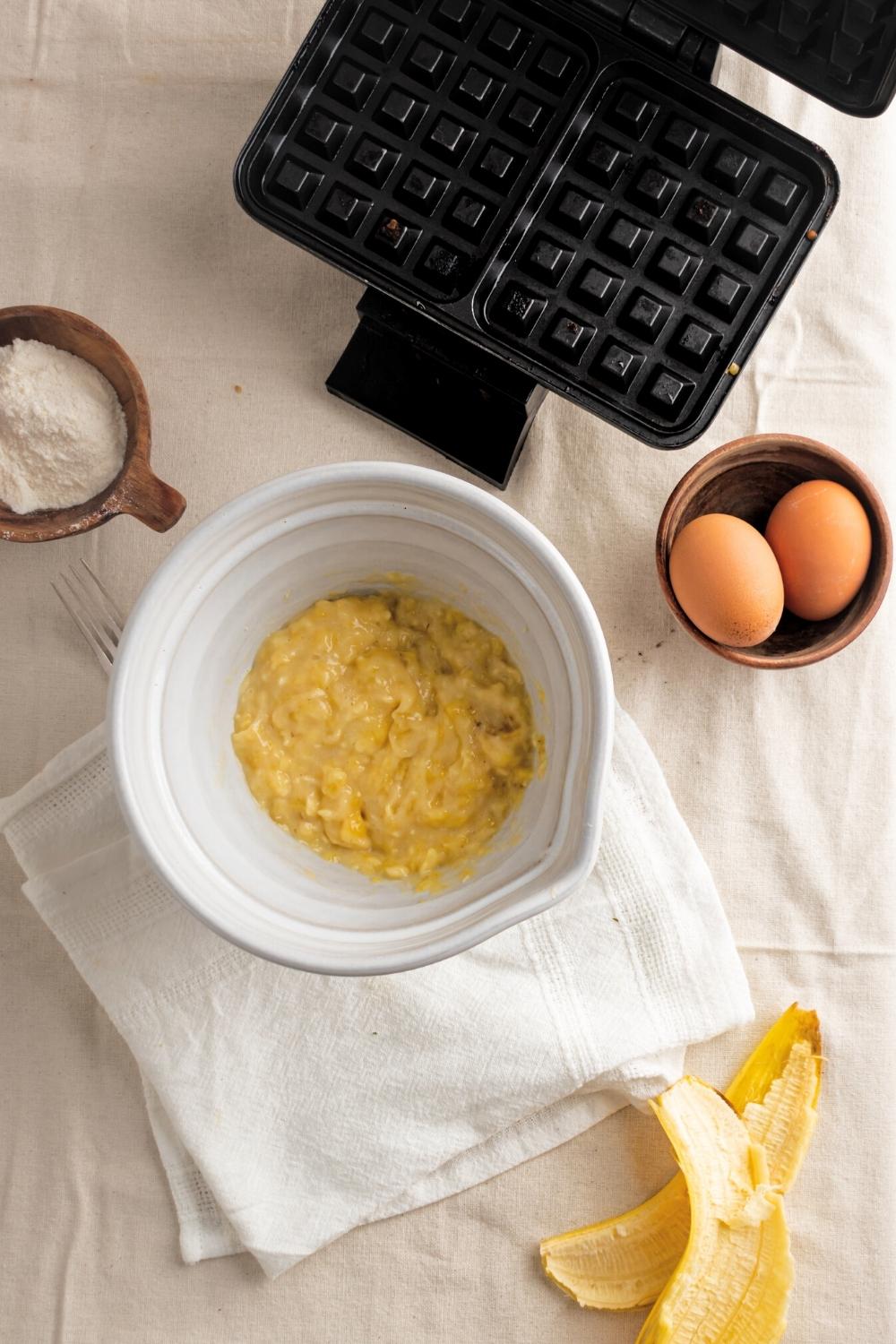 OPTIONAL INGREDIENTS
These waffles are honestly delicious by themselves with nothing added! But if you've ever wondered how can I add flavor to my waffles, I have a few ways to elevate them.
The first one is to add ½ a teaspoon of vanilla extract and a pinch of sugar to the batter. This really enhances the sweet flavor and compliments the subtle banana flavor super well.
If you love chocolate, add chocolate chips to the waffle batter for some chocolate chip waffles. And you can make them even better with some whipped cream.
Once the homemade banana waffles are cooked, you can go for a classic combination and top them with some butter and maple syrup.
Another great waffle topping is putting some fresh fruit, powdered sugar, and a drizzle of honey on top.
Or, if you want to use my favorite topping lately, pour maple syrup on the waffles and then top them off with whipped cream.
And for another great topping, sprinkle some cinnamon and sugar on them to give them a similar vibe as these churro pancakes.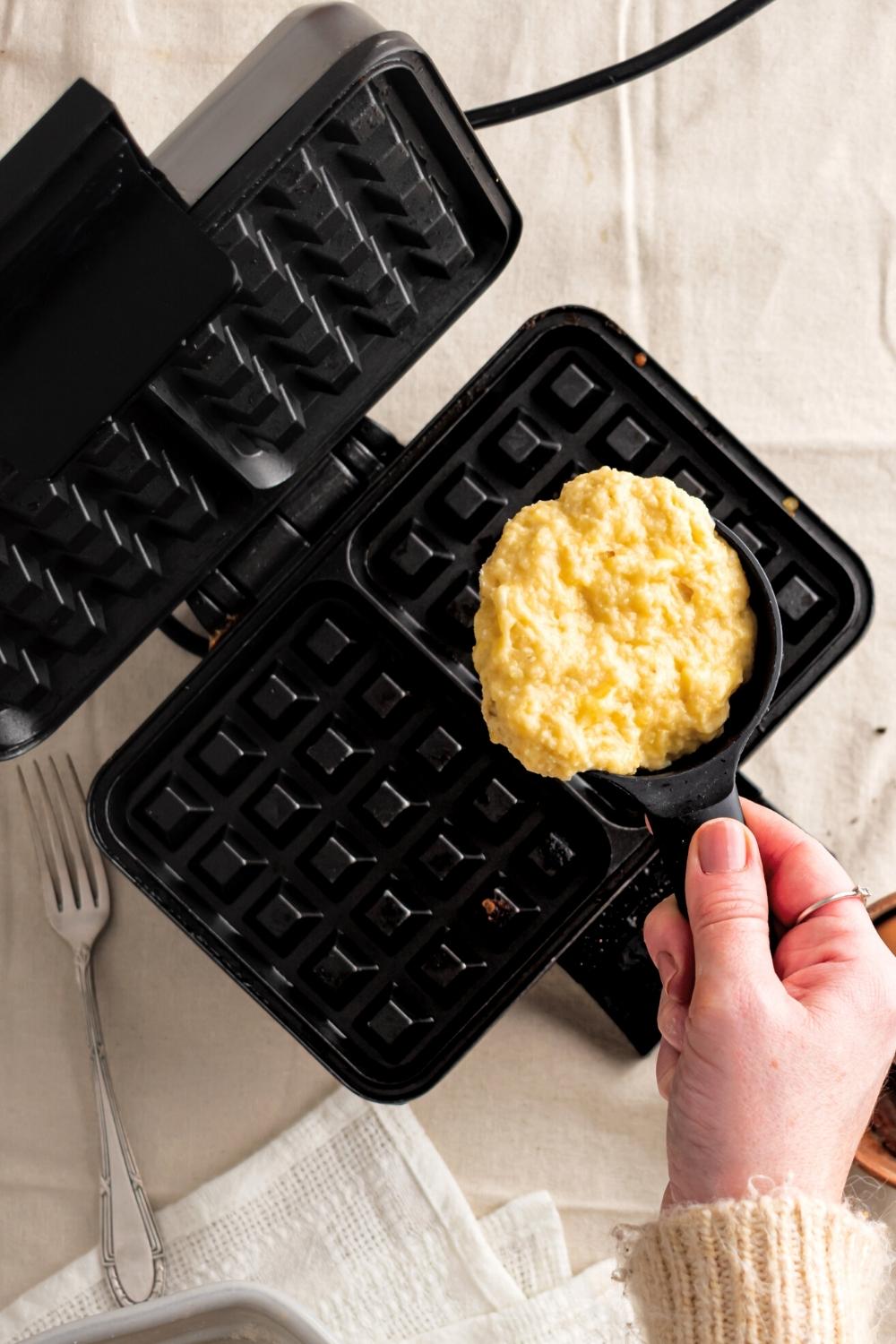 HOW TO MAKE BANANA WAFFLES
My favorite part about these banana waffles is how easy they are to make. It's seriously such an easy breakfast recipe to whip up on busy weekday mornings.
So next time you - and your kids - need a quick, nutritious, and delicious breakfast, this recipe is the one to make!
Now let's not waste any more time and make some homemade waffles.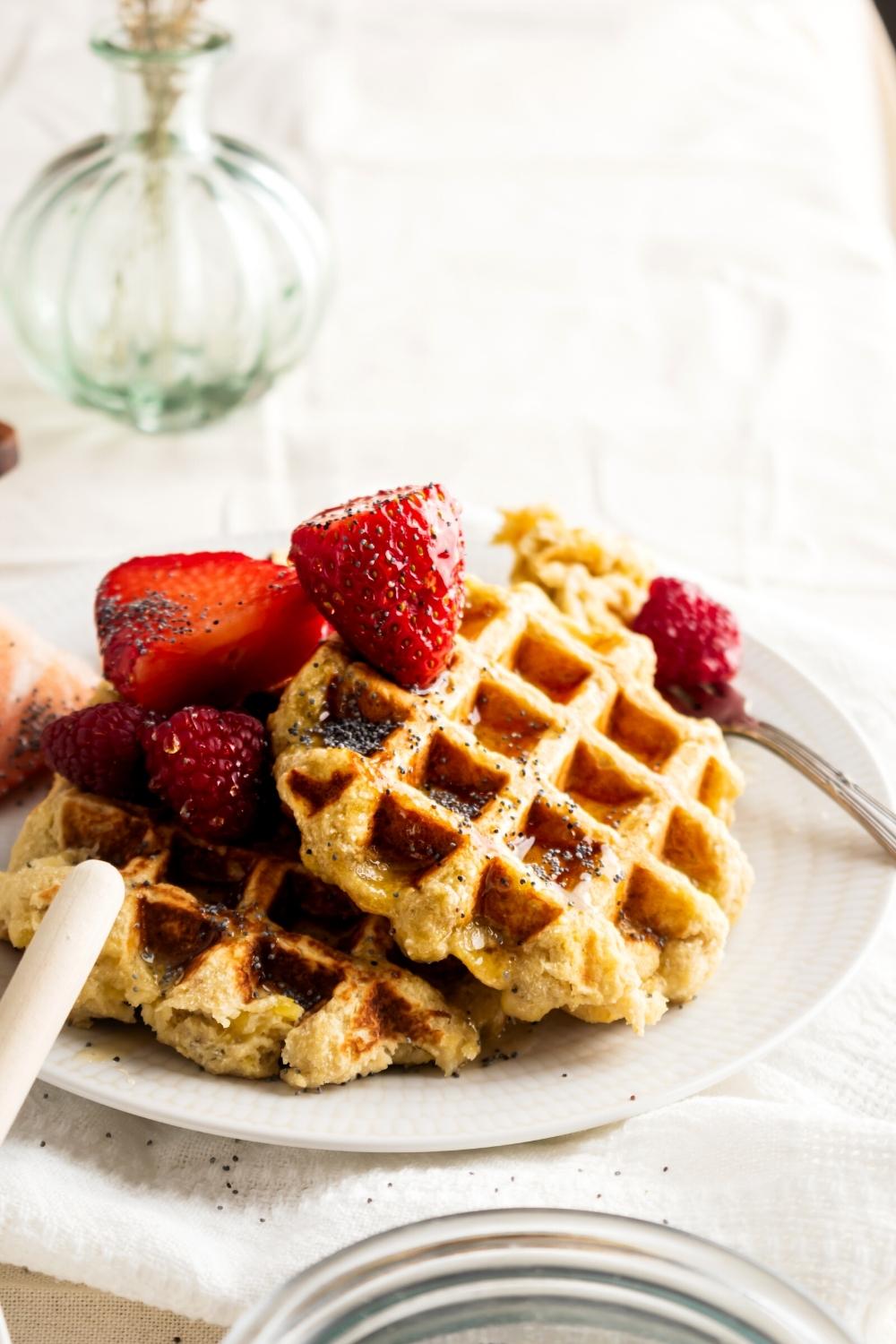 STEP 1: MAKING THE BATTER
Before you start making the batter, plug in a waffle iron so it can heat up. I used a mini waffle maker, but you can use any that you have!
Next, add the bananas to a medium bowl and mash them unit they are smooth. Try to get as many lumps out as you can, but don't worry if you can't get a few.
Then add the eggs to the bowl and whisk them with the mashed bananas until combined.
Now add the last ingredient - the coconut flour - and mix everything until incorporated and a thick batter forms.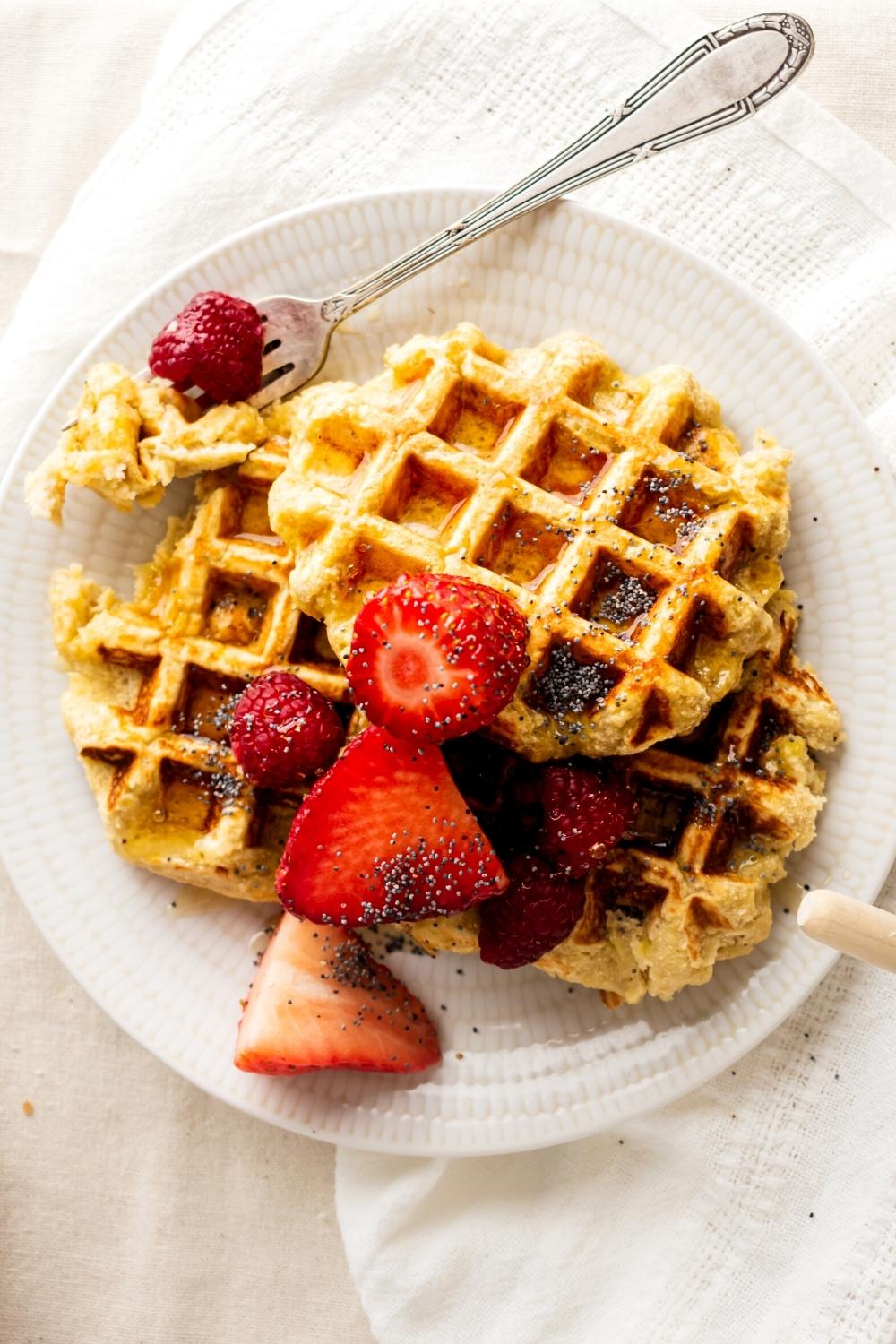 STEP 2: COOKING THE WAFFLES
By now, the waffle iron should be hot and ready to go!
First, coat it with baking spray so the batter doesn't stick. And you'll want to spray the waffle maker each time before you add batter.
Next, pour in some batter to cover about ¾ of the surface and spread it out with a rubber spatula. The batter will expand, so make sure not to overfill the iron.
Now cook waffles for about 1-3 minutes or until they are golden brown. When the steam stops, it's a good indicator that they're done.
STEP 3: SERVING
Once you use up all of the batter - a mini waffle iron will make about 4 waffles - transfer the cooked banana waffles to a plate.
Then add on whatever toppings you want and enjoy these fluffy banana waffles!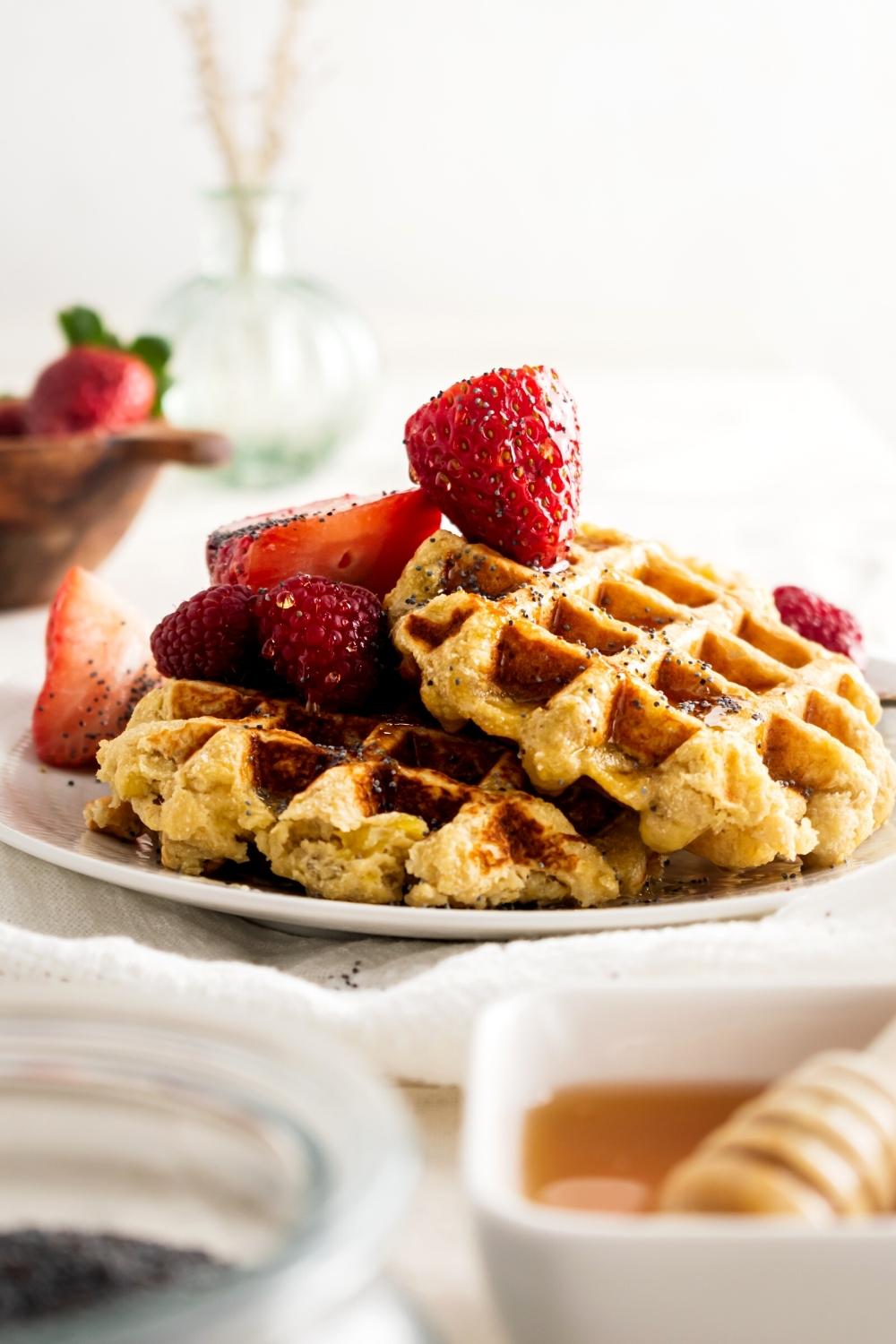 HOW TO STORE WAFFLES
So, as I just mentioned, this banana waffles recipe will make about 4 mini or 1 regular sized waffle. And it'll be hard not to finish off all of them, but if you don't, they store super well.
My preferred method is to make frozen waffles them after they cool. First, put the waffles on a baking sheet and flash freeze until solid. Then transfer them to a freezer bag, and they'll last for up to 3 months.
And when you want to reheat frozen waffles, all you have to do is put them in a toaster oven for perfectly crispy waffles. It's just like having Kellog's Eggo waffles but healthier since they're homemade banana waffles!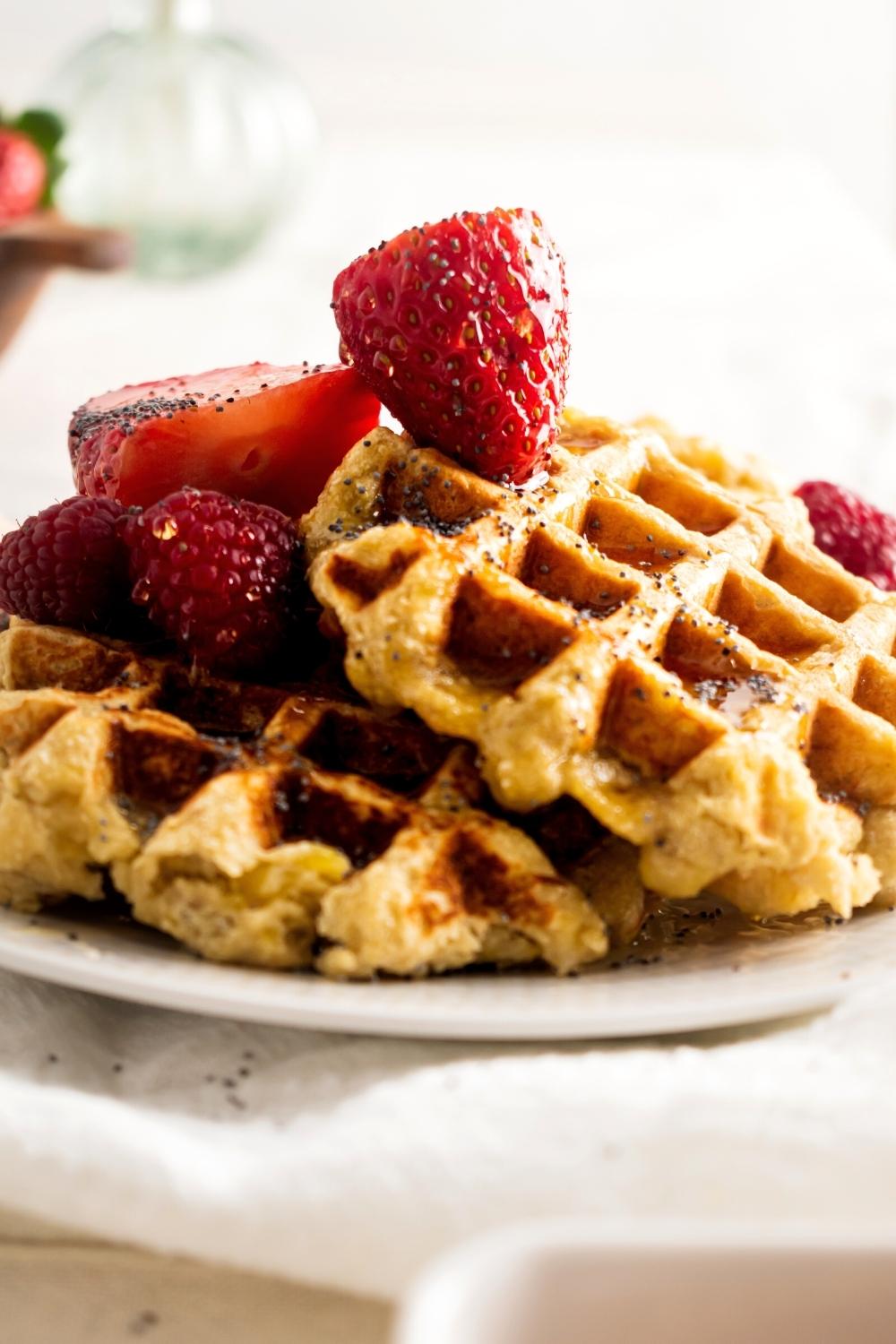 WRAPPING IT ALL UP
That is how to make homemade banana waffles from scratch with only 3 ingredients!
These are so soft and fluffy inside with a golden crust and wonderfully sweet flavor. They are the perfect quick breakfast to make on the spot or make ahead breakfast to have stocked in the freezer.
So I hope you enjoy these banana waffles as much as I do! If you make them, leave a comment below and let me know what you think.
More Breakfast Recipes
If you liked these homemade waffles and want to give some more delicious recipes a try for breakfast, we have a ton on the blog that I think you'll like.
Give one of these a try next:
Yield: 4 mini waffles
Banana Waffles Made With 3 Ingredients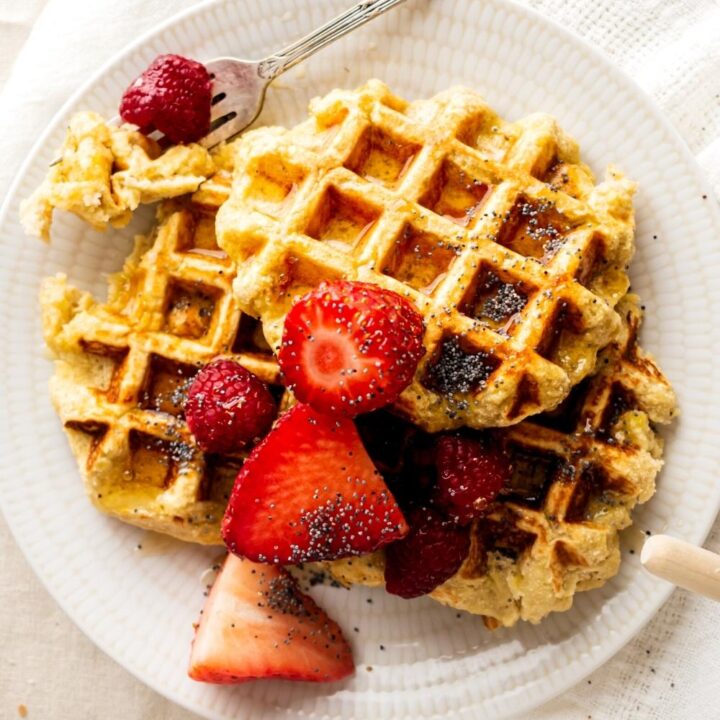 These banana waffles have a soft and fluffy inside with a touch of crispiness outside. And they are filled with a delightfully sweet and very subtle banana flavor that is just delicious. 
Ingredients
2 medium bananas or 3 small 
2 eggs
¼ cup coconut flour
Instructions
Heat a waffle maker (I used a mini one).

Mash 2 bananas in a medium bowl until smooth.

Add the eggs and mix until combined.

Add the coconut flour and mix until everything is incorporated and a thick batter forms.

Pour the batter in the hot waffle maker and close the lid. Cook until golden brown on both sides.
Nutrition Information:
Serving Size:
1 waffle
Amount Per Serving:
Calories:

117
Total Fat:

3g
Saturated Fat:

0g
Trans Fat:

0g
Unsaturated Fat:

0g
Cholesterol:

0mg
Sodium:

0mg
Carbohydrates:

18g
Fiber:

4g
Sugar:

0g
Protein:

5g