If you like matcha lattes, then you'll love these easy matcha brownies. They've got the perfect balance of rich matcha flavor and velvety white chocolate in one super indulgent brownie. And the best part is they take just 30 minutes to make.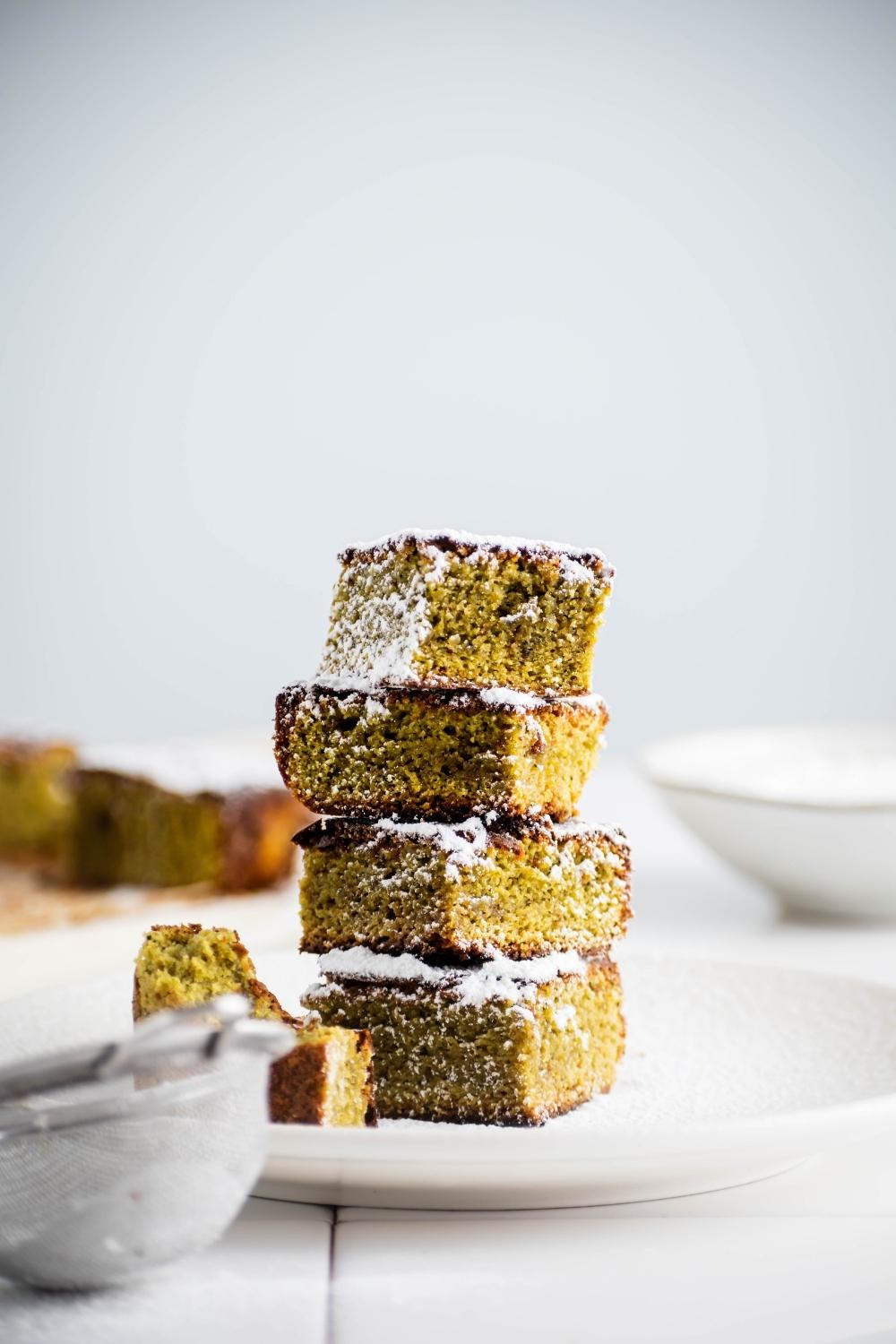 The Best Matcha Brownies
If you're a fan of matcha - or have a matcha lover in your life - then you need to try these white chocolate matcha brownies.
These matcha brownies are incredibly fudgy and full of creamy white chocolatey goodness. They're seriously the perfect matcha dessert!
Matcha also gives you a nice kick of caffeine but without the jitters from coffee. So, if you're looking for a quick easy dessert recipe to jumpstart your day - or give you a boost of energy in the afternoon - these matcha brownies are the answer
Best of all, they're ready in just 30 minutes - and 20 minutes of that is baking time. So, not only are these some of the best matcha brownies you'll ever taste, but they're also ridiculously easy to make.
Oh, and if you want to try out more irresistible yet easy brownie recipes like this one, I highly recommend these 3 ingredient brownies and these no bake protein brownies.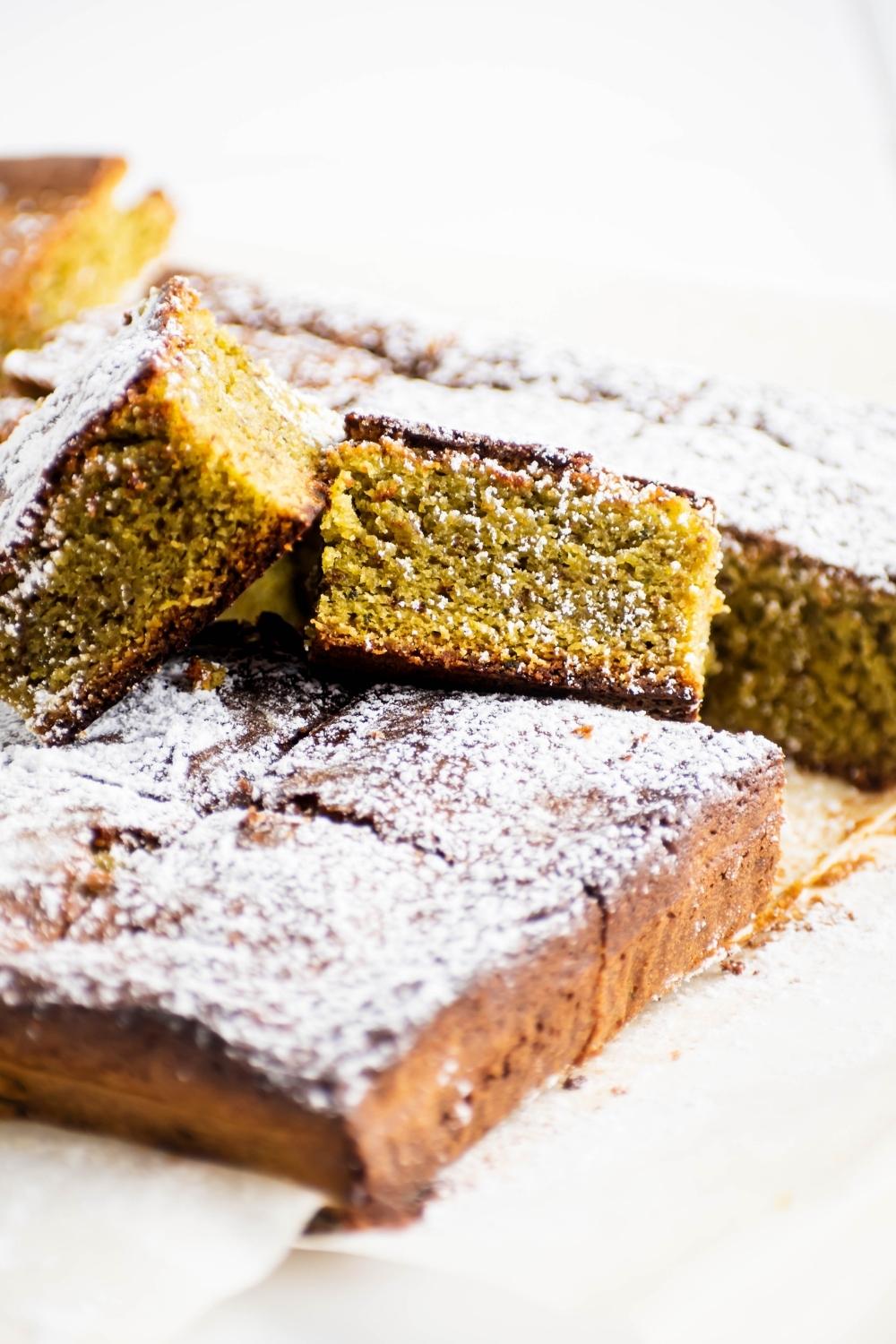 Ingredients
Aside from the matcha powder, which is obviously the star ingredient of these brownies, all you need for this recipe are simple baking ingredients and staples that you probably already have on hand.
Also, you don't need a lot of matcha for this recipe, since it naturally has a strong flavor. So even if you're down to your last couple of scoops, you can make these matcha brownies with no problem.
Anyway, here's everything you'll need to make these matcha brownies:
½ cup butter
4 oz white chocolate
½ cup brown sugar
¼ cup granulated sugar
2 eggs
1 yolk
½ Salt
1 teaspoon Vanilla extract
¾ cup Flour
2 tablespoon Matcha powder
¼ teaspoon Baking powder
Powdered sugar
Simple, right?
As you can see, these are basically really good white chocolate brownies boosted with some matcha deliciousness.
Oh, and speaking of matcha, I definitely suggest trying out these addictive matcha-glazed mochi donuts next. They're another fantastic matcha dessert I'm positive you'll enjoy. Plus, the recipe uses a lot of the same ingredients!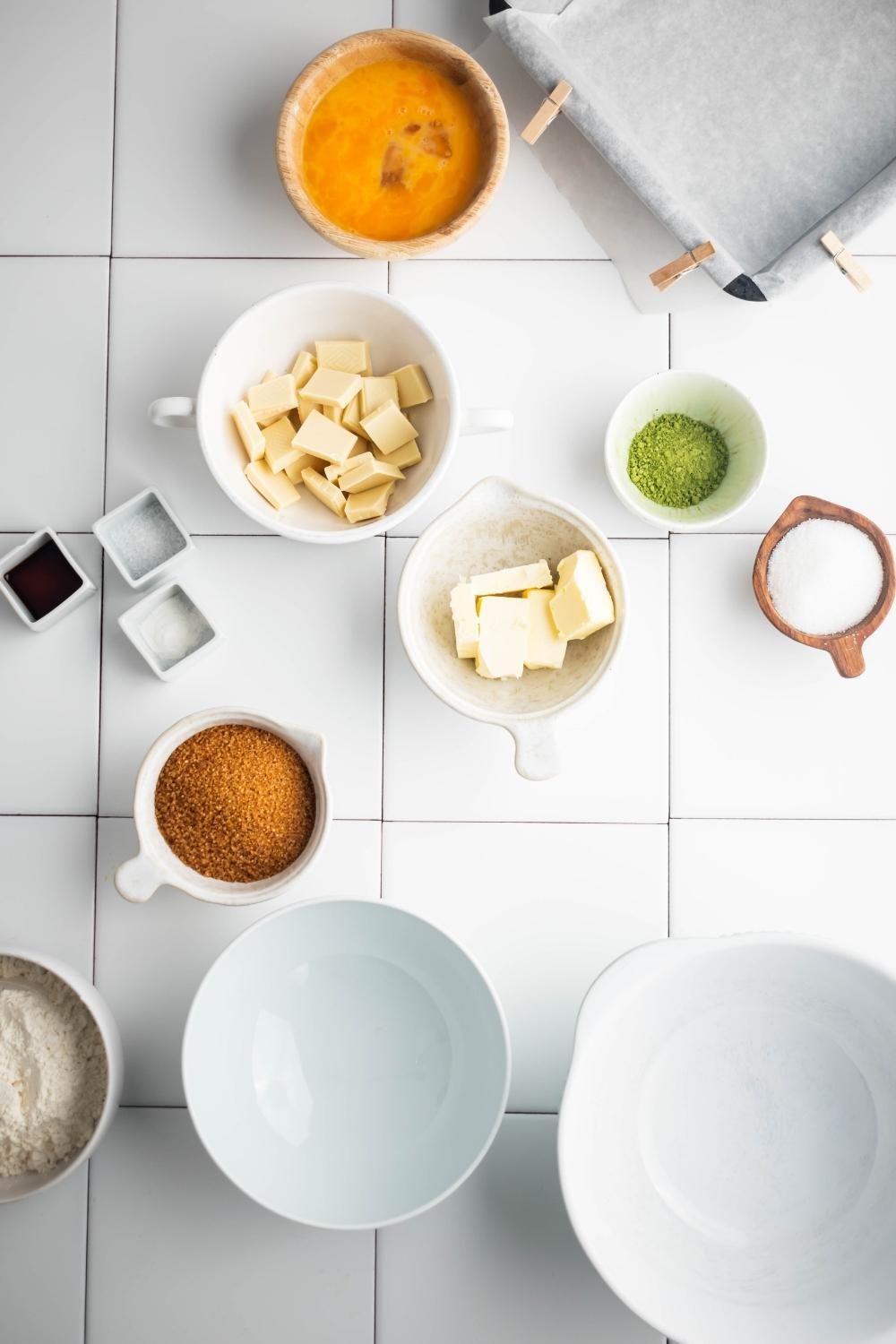 How to Make Matcha Brownies
As I mentioned earlier, these matcha brownies can be prepped in as fast as 10 minutes.
A microwave definitely speeds up the process of melting the butter and chocolate, but a double boiler will get the job done in minutes too.
Then, all you have to do is combine everything for your brownie batter and bake for 20 minutes. Like I said, super simple stuff!
Now, grab your ingredients, and let's get baking.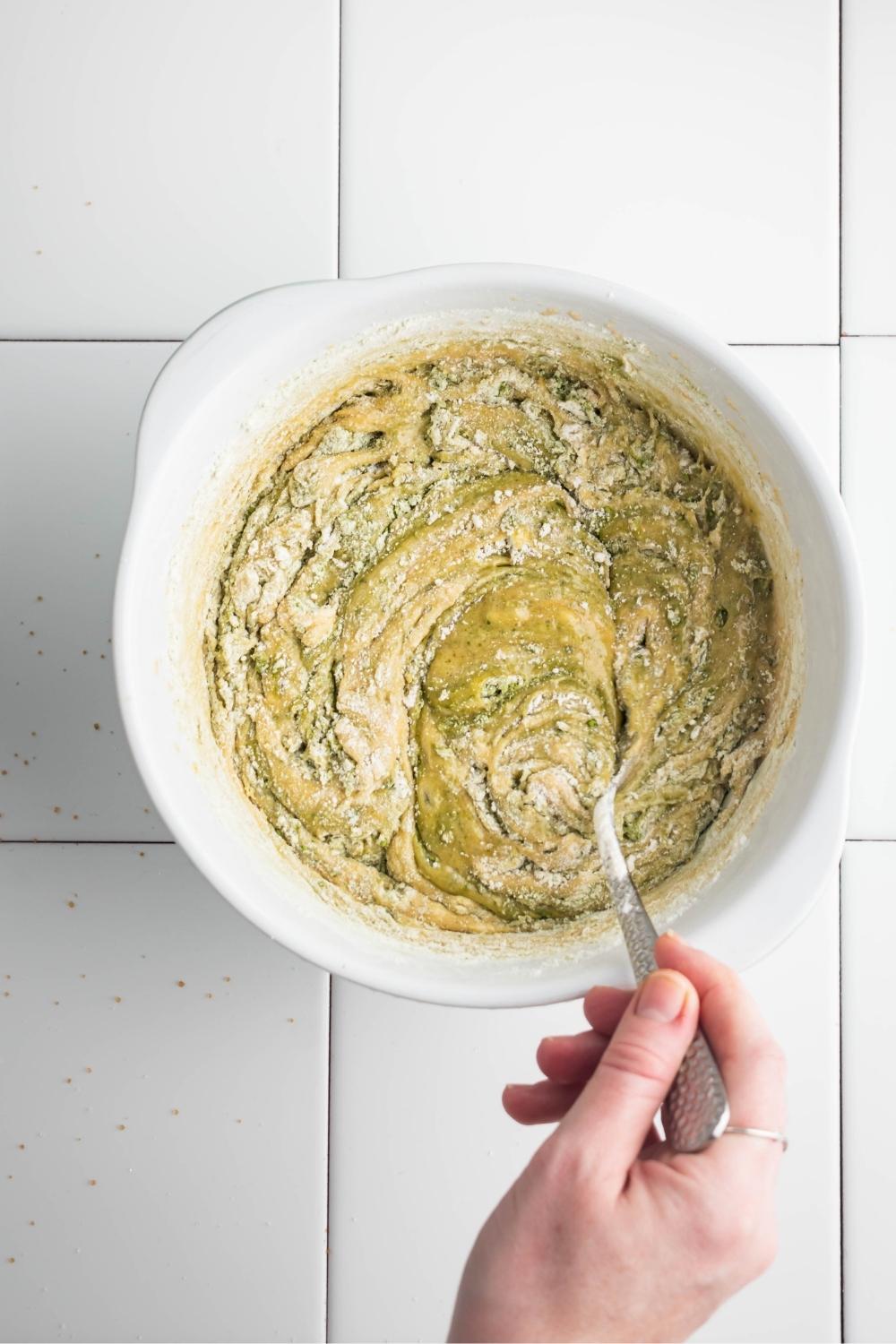 Step 1: Prep Work
First things first, preheat the oven to 350ºF (175ºC).
Then, line an 8x8 inch baking sheet with parchment paper.
Next, place the butter and the white chocolate in a microwave-safe bowl. Warm them up in the microwave in 30-second increments, giving the mixture a stir in between, until melted and smooth.
You can also do this over a double boiler, stirring the butter and white chocolate together until melted and combined.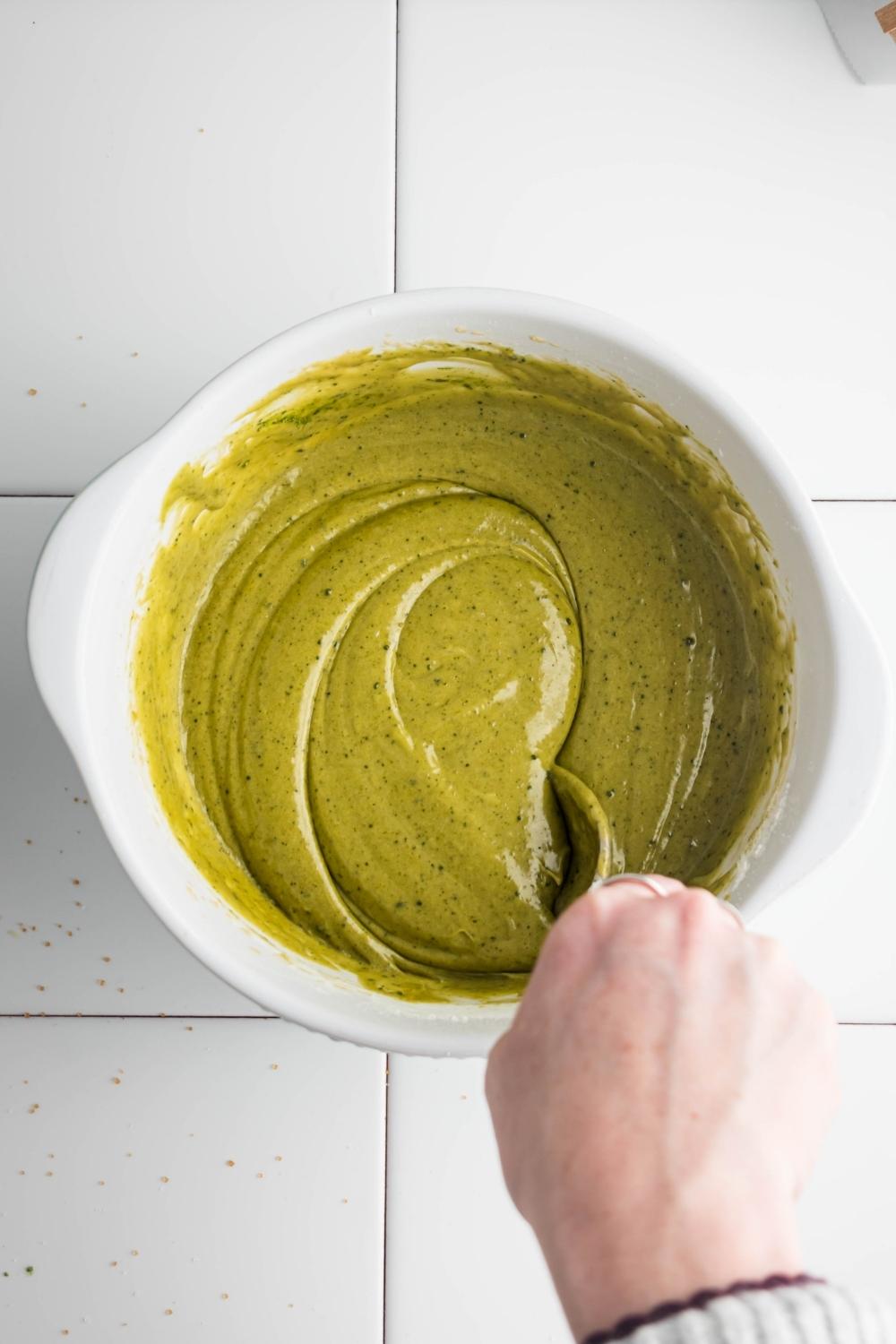 Step 2: Make the Batter
Now, in a mixing bowl, combine the brown sugar, granulated sugar, eggs, salt, and vanilla extract with an electric mixer - or a whisk - until everything is evenly incorporated.
Then, add the melted chocolate & butter mixture to the batter and mix with a spoon.
Lastly, sift in the flour, matcha powder, and baking powder, and mix again until the batter is smooth.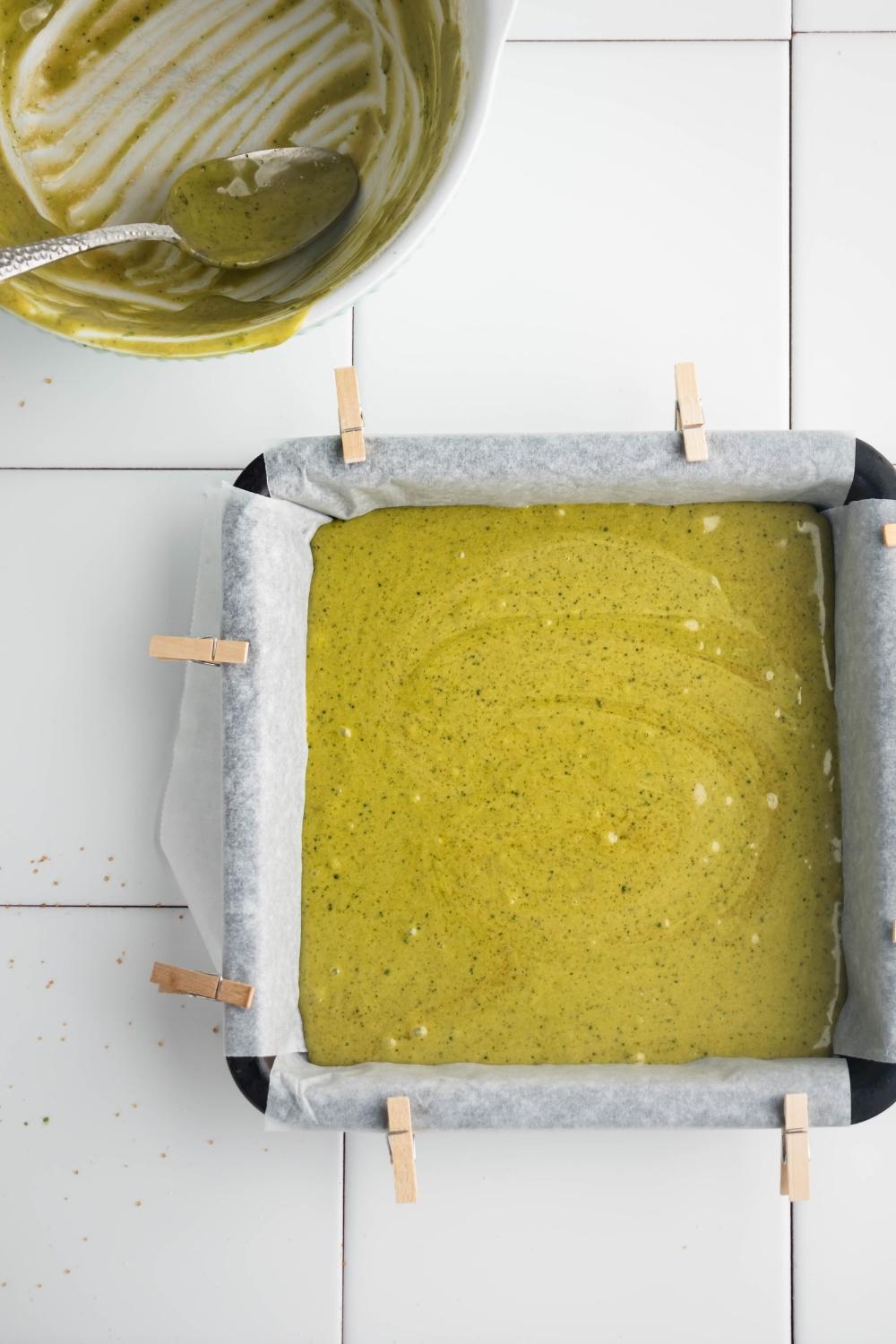 Step 3: Bake and Enjoy
Once your batter is ready, pour it into the lined baking sheet. Then, after you've added the batter in there, I recommend the sheet a couple of gentle taps on the counter to get rid of any air bubbles. Bake the brownies for about 20 minutes.
Finally, take your finished matcha brownies out of the oven and allow them to cool for a few minutes before topping them with the powdered sugar.
Then, slice the brownies into squares, serve, and enjoy!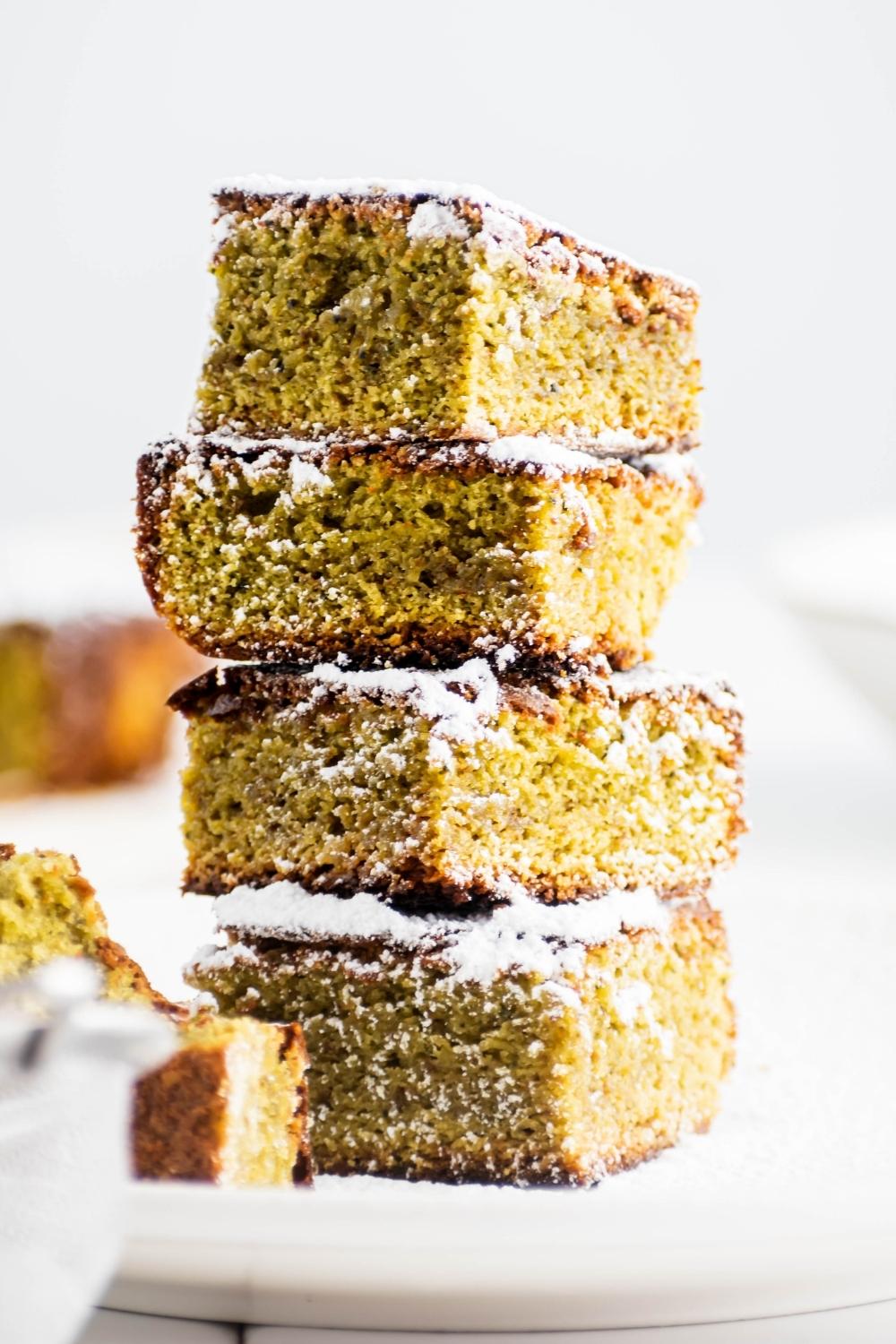 Storing and Reheating Your Matcha Brownies
Like with most brownies, it's going to be very hard to keep these around - especially if you have little ones in the house.
But if you do happen to have extras, they can be stored in an airtight container for up to 7 days in the fridge or for 2-3 days at room temperature. You can also store them in a freezer bag (with all the extra air squeezed out) for up to 3 months.
To reheat your matcha brownies, just pop them in an oven preheated to 350ºF (175ºC) and bake until warm all the way through - about 5-10 minutes for refrigerated brownies or 15-20 minutes for frozen ones.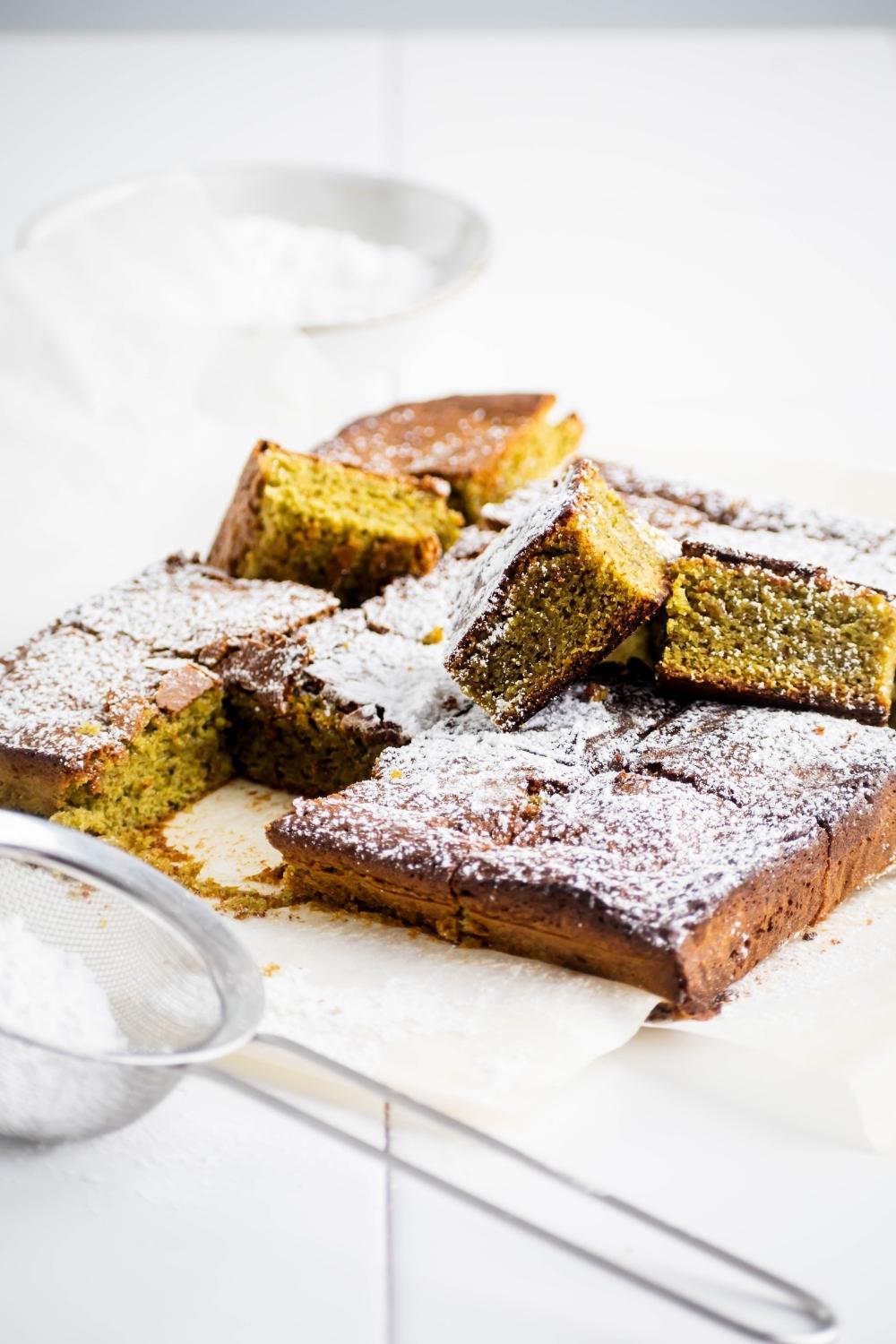 FAQs About This Matcha Brownie Recipe
Does chocolate and matcha go together?
Chocolate and matcha do go together because they both have an earthy richness and pair well with a lot of the same flavors. White chocolate with matcha also makes an amazing pairing. The creamy sweetness of the white chocolate helps balance out the slight bitterness of the matcha.
Should I cut brownies hot or cold?
It's best to cut your brownies when they've cooled to at least room temperature. Hot brownies can be pretty gooey and sticky so you can make a bit of a mess when cutting into them. But who doesn't love a hot brownie, especially with a scoop of ice cream!
How to cut brownies neatly?
First, let your brownies cool completely since warm brownies tend to get messy when cut. Then, you can use either a chef's knife warmed in hot water, a chef's knife greased with cooking spray, or a serrated plastic knife. Make sure to wipe the knife clean after each cut. All three of these methods have proven to be really effective at making neat cuts in brownies, so choose whichever works best for you!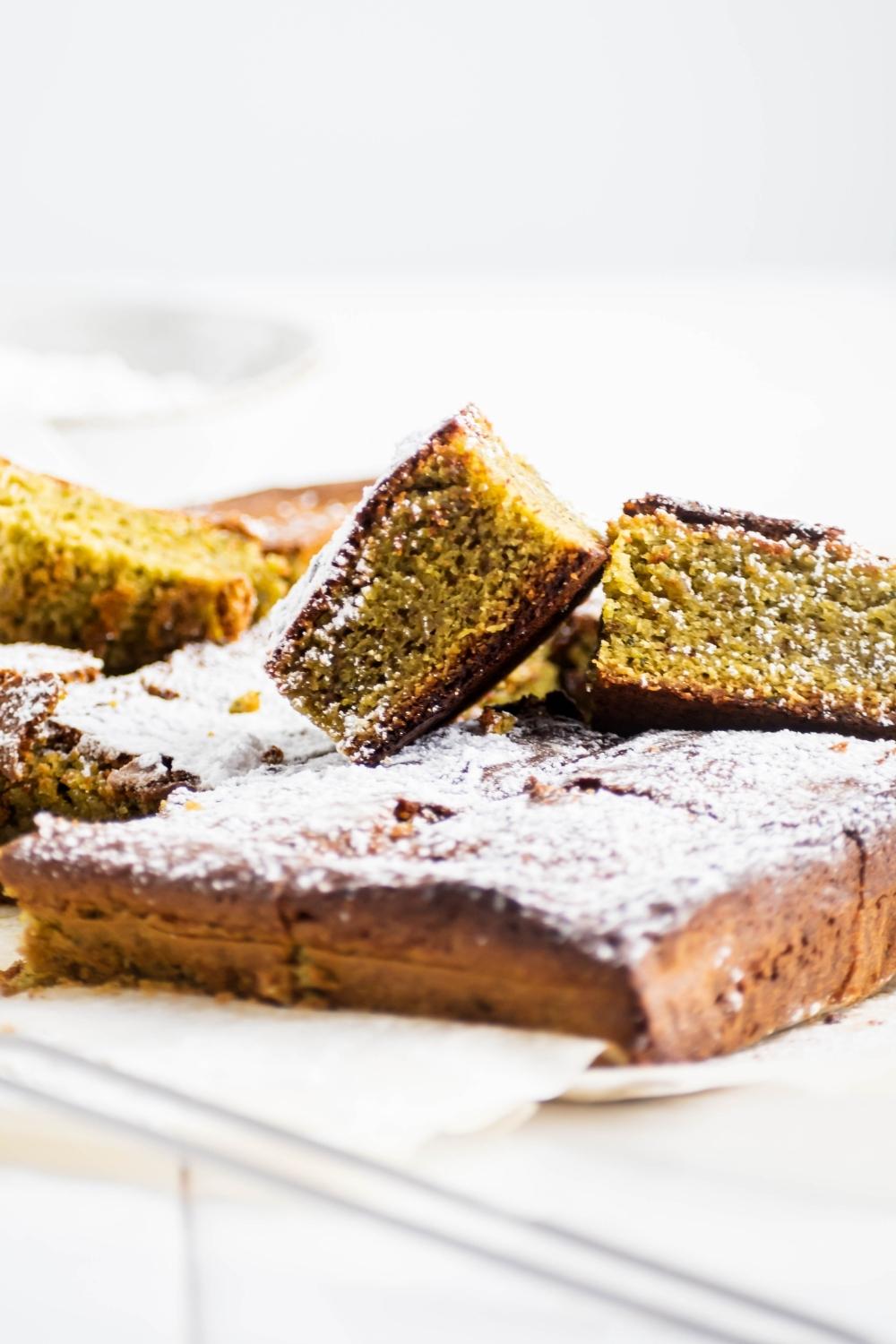 Wrapping It Up
Well, that is how to make matcha brownies in just a few easy steps.
Honestly, these fudgy matcha brownies are so addictive that even just thinking about them is making me crave one! And once you've tried this recipe, I'm sure you'll find yourself craving them all the time just like I am.
Anyway, I hope you love these matcha white chocolate brownies as much as I do. If you make them, don't forget to let me know how it went in the comments below.
Oh, and don't forget to check out our Youtube channel and Instagram page too. We post tons of easy and tasty recipes just like this one on them.
More Dessert Recipes
If you love dessert and want to give some more quick easy dessert recipes a try, we have a ton on the blog that I think you'll enjoy!
Print
Matcha Brownies Made With White Chocolate & Matcha Powder
If you like matcha lattes, then you'll love these easy matcha brownies. They've got the perfect balance of rich matcha flavor and velvety white chocolate in one super indulgent brownie. And the best part is they take just 30 minutes to make.
½ cup Butter
4 oz White chocolate 
½ cup brown sugar
¼ cup granulated sugar
2 eggs]
1 yolk
½ Salt
1 tsp Vanilla extract
¾ cup Flour
2 tbsp Matcha powder
¼ tsp Baking powder
Confectioner's sugar
Instructions
Preheat the oven to 350ºF (180°C).

Line a 8 x 8 inch baking sheet with parchment paper.

Melt the butter and white chocolate in the microwave and stir to combine.

In another bowl, cream the brown sugar, granulated sugar, eggs, salt and vanilla extract.

Add the chocolate and mix with a spoon.

Add the flour, matcha powder and baking powder. Mix until everything is well combined.

Transfer to the prepared sheet and bake for 20 minutes.

Top with confectioner's sugar.
Keywords: Matcha brownies, White chocolate brownies, Matcha brownie, Matcha dessert