This smores dip is filled with ooey-gooey golden marshmallows and warm melted chocolate. It allows you to bring the iconic treat of s'mores by the campfire into your kitchen. And you only need 2 classic ingredients and about 10 minutes to make it!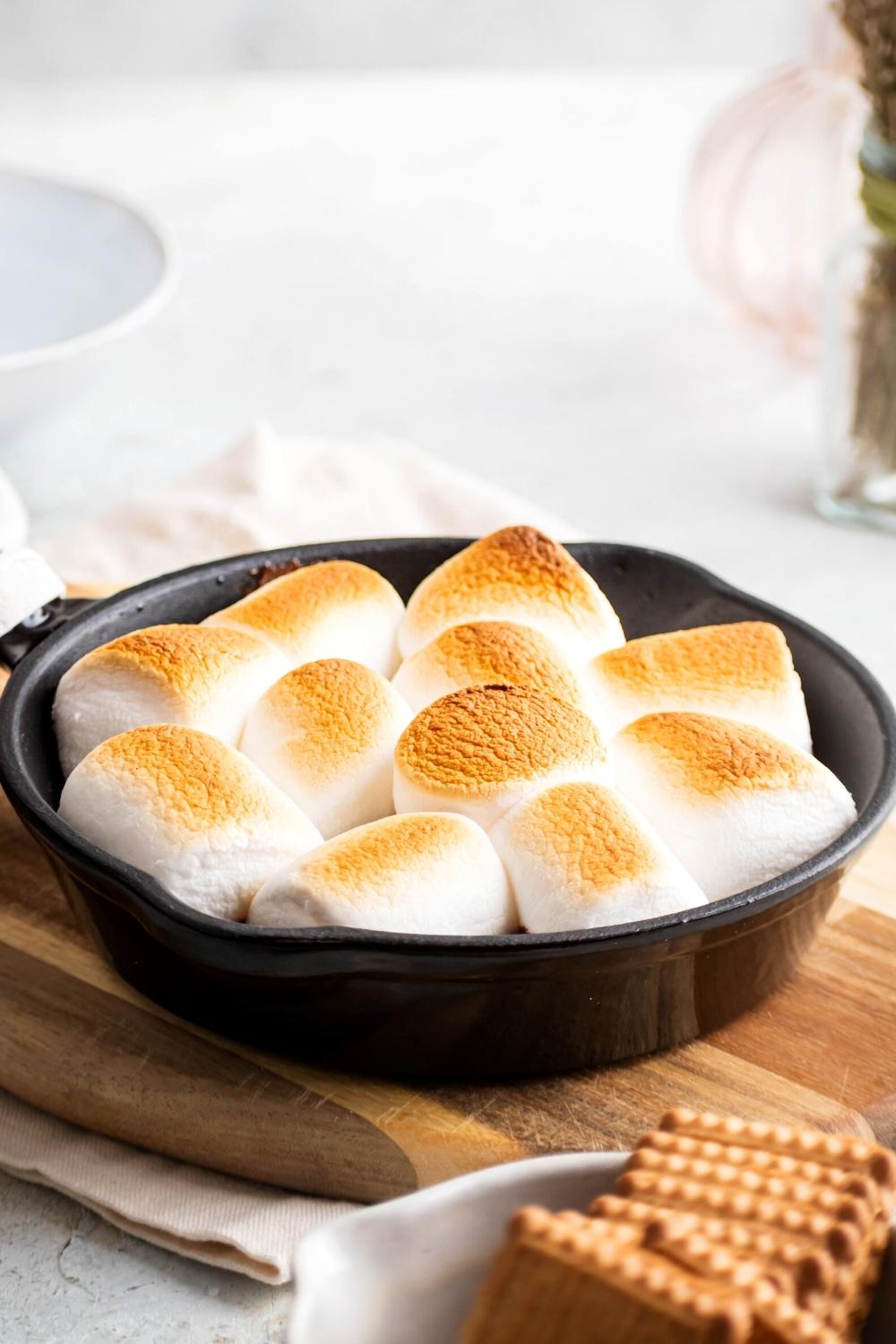 THE BEST SMORES DIP
S'mores are typically a dessert made outside by a bonfire in the backyard or wilderness. But they don't just have to be for camping trips and summer nights.
This smores dip recipe lets you enjoy everything you love about the chocolate, marshmallow, and graham cracker combination but in dip form!
You can make it in the comfort of your own home in about 10 minutes! And the process is beyond easy. Honestly, I think it's ever easier than roasting marshmallows over the fire. Plus, since this s'more dip is baked in the oven, the marshmallows turn out perfectly golden brown on top without getting too burnt.
Not to mention, this dessert dip recipe is always a hit if you're hosting, and it's a great way to bring a little piece of summer inside during the cold weather. Or, if it is summer but it's raining, and you can't have a bonfire, this smores dip comes in clutch!
Oh, and if you are hosting and want another easy dessert to put out, these 3 ingredient sugar cookies are a good balance to have with the chocolatey marshmallow dip.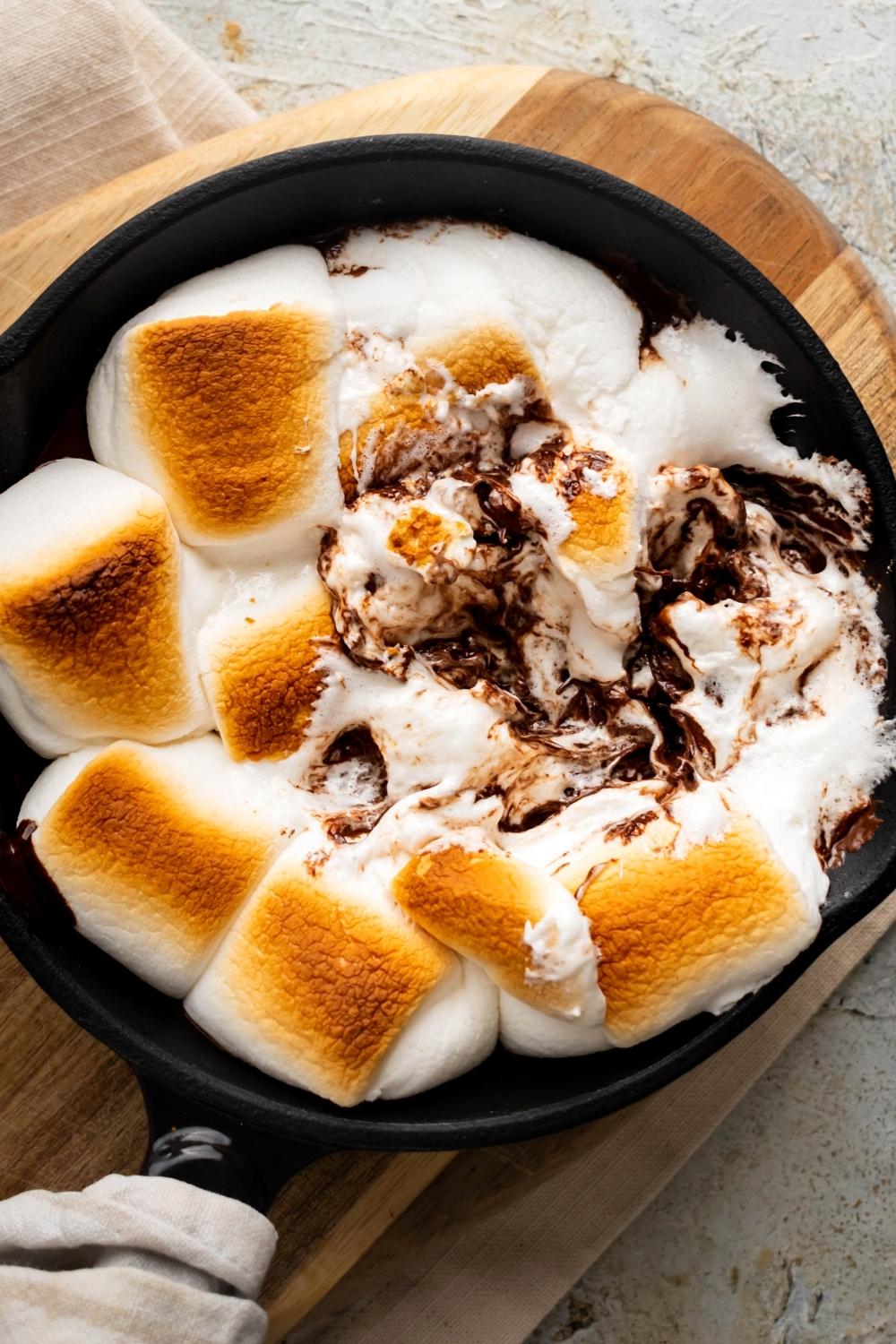 INGREDIENTS
You likely won't have to go very far to get the ingredients you need to make this smores dip. In fact, if you have everything you'd need for a regular s'more, you'll have what you need for this dip.
Here are all the ingredients you'll need:
2 cups Chocolate Chips (or Hershey Chocolate Bar)
2 cups Marshmallows
Graham crackers or anything you want for dipping
So, you can either use chocolate chips which is my preferred method, or a Hershey chocolate bar. And you can use any type of chocolate you want like milk, dark, white or even flavored!
For dipping, you can keep it classic and use graham crackers, but there are a ton of other things you can use as well. I'll go over all of my favorites later on.
Oh, and make sure to pick up extra chocolate chips from the store. You can use them to make this 2 ingredient Nutella fudge next!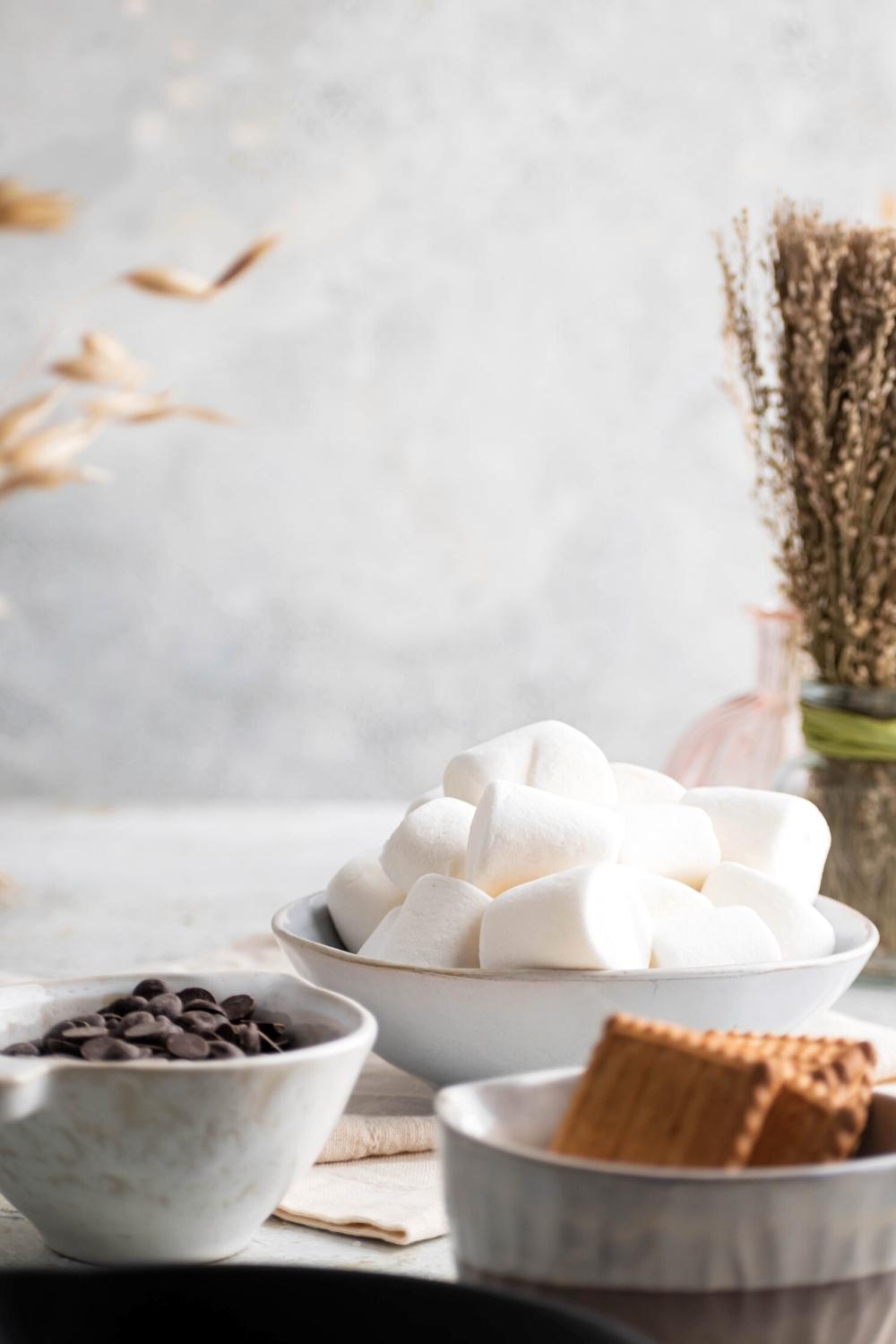 How to make Smores Dip
Instead of using a fire, we'll use the oven to toast the marshmallows and melt the chocolate.
So all you have to do is prep the dip - which is beyond easy - and then let the oven do the rest.
Now without further ado, here's how to make smore's in the oven!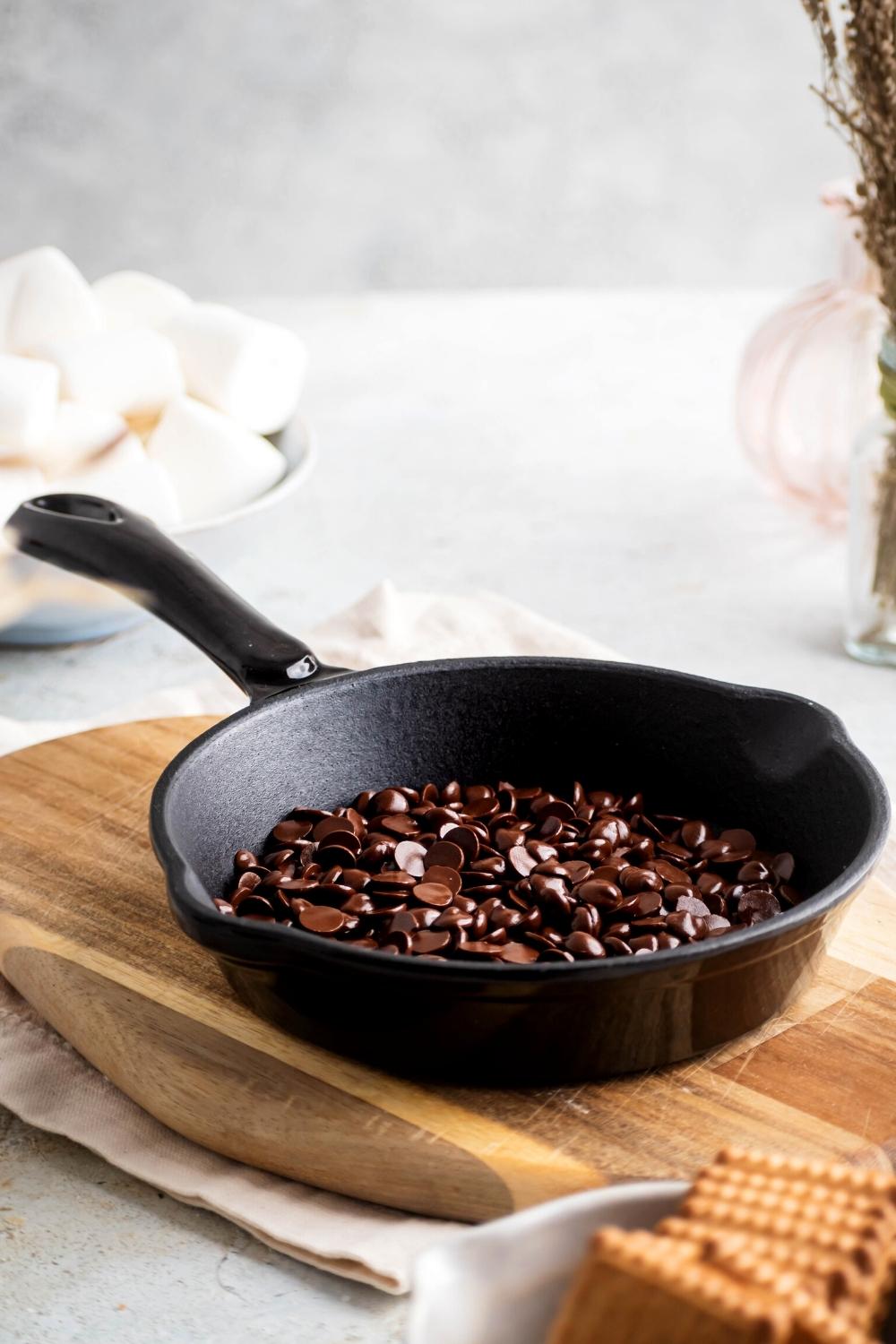 STEP 1: Melting the Chocolate
First things first preheat the oven to 350 degrees Fahrenheit (175°C).
Then, while the oven is preheating, evenly arrange the chocolate in a cast-iron skillet or oven-safe pan. Then put the skillet in the heated oven for 3 to 4 minutes, or until the chocolate is glossy and semi-melted.
Once it is, remove the skillet from the oven with an oven mitt and set it on a hot plate.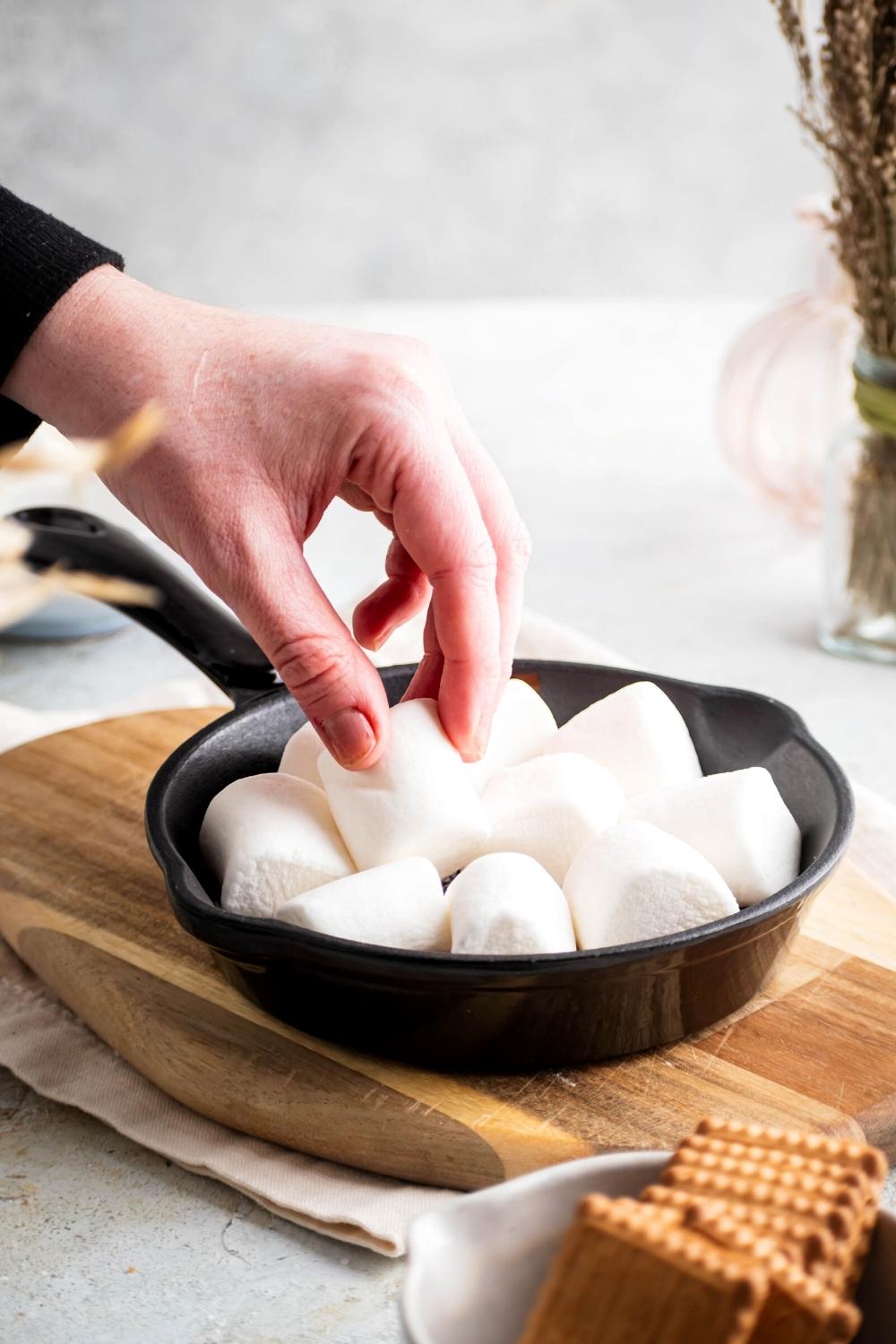 Step 2: Toasting The Marshmallows
Now cover the partially melted chocolate completely with marshmallows arranged in a circular pattern.
Then, put it back in the oven to bake for another 7 to 10 minutes or until the marshmallows turn golden brown.
After the marshmallows are golden, serve the dip hot with graham crackers or you can even eat it with a spoon. Enjoy!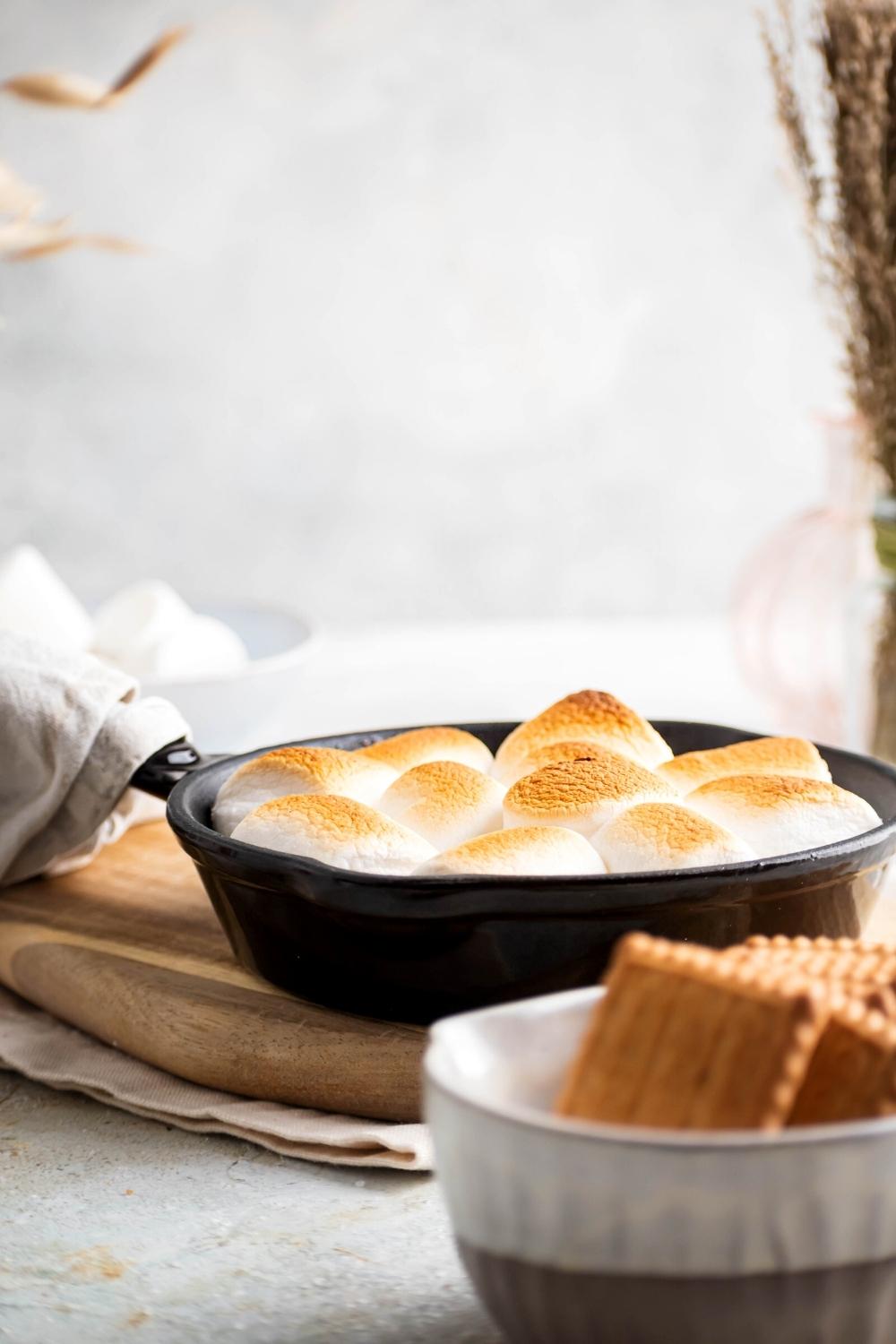 WHAT TO SERVE WITH SMORES DIP
Let's be honest there's nothing that beats graham crackers, marshmallows, and chocolate.
But this dip gives you the freedom to switch it up from traditional s'mores and eat the chocolate and marshmallows with anything you want!
One of my favorite things to dip in it is fried Oreos. They're the perfect size for dipping and make for one heck of a treat.
Here are some other great choices to use as dippers:
Vanilla or chocolate wafer cookies
Nutter Butters
Pretzels
Apple slices
Strawberries
Any of the choices above will be delicious, and anything else that you think of will be just as good! So make sure to get creative and try anything you want!
How to store Smores Dip
This dreamy dip will be best enjoyed hot out of the oven as the marshmallows and chocolate will begin to harden as they cool.
But if you don't finish all of it, don't throw it out! This smores dip actually stores and reheats really well.
So if you have some leftover, transfer it to an airtight container, and it will last in the fridge for about 5 days.
HOW TO REHEAT
When you go to indulge in the leftovers, you'll want to heat it up first.
To reheat, put the dip in a skillet or greased baking pan and heat in the oven at 350°F for about 5 minutes or until warm.
Another method is to put the dip in a microwave safe bowl and heat it until the chocolate melts, and the marshmallows become gooey again.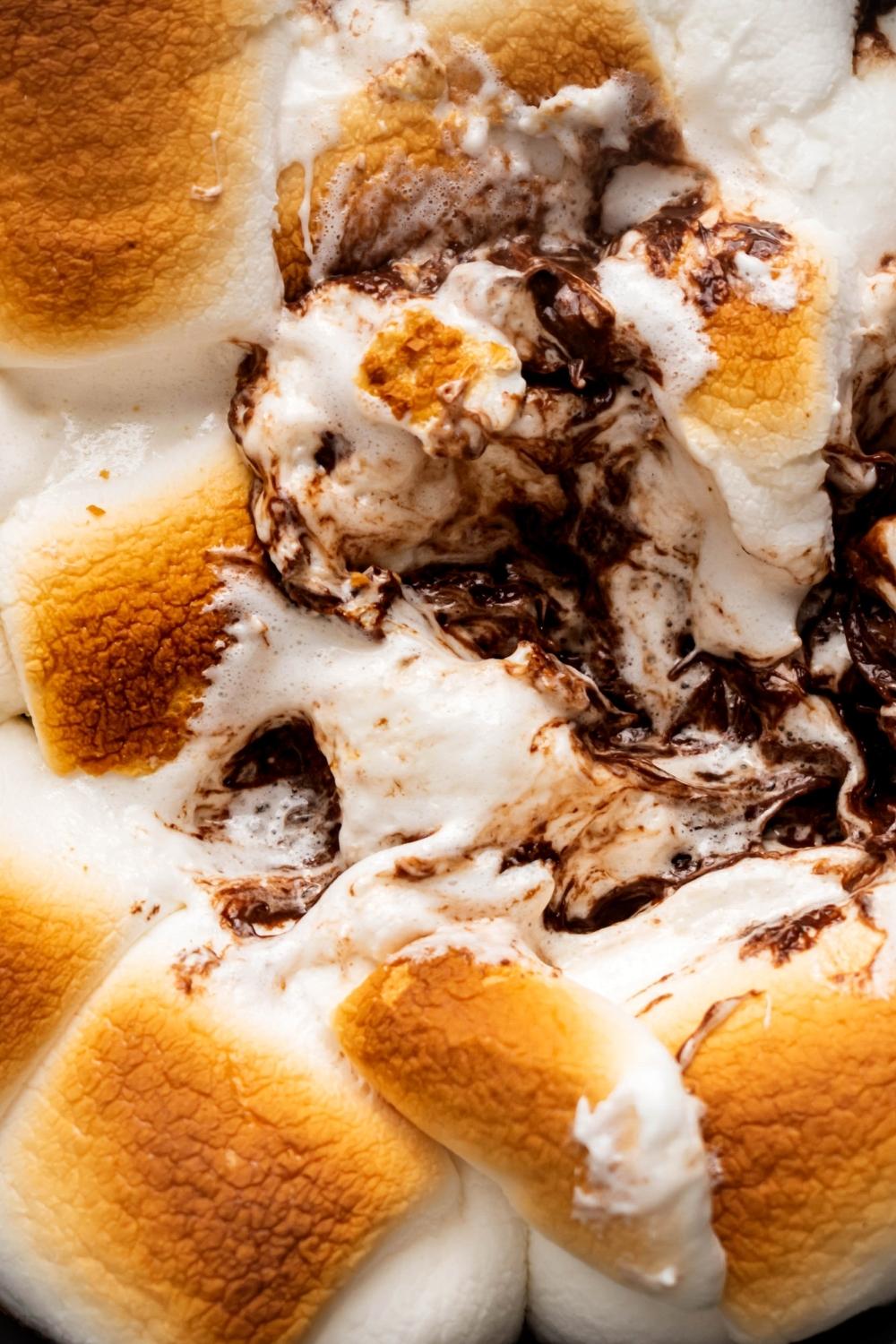 FAQ's About This Smores Dip Recipe
Do I have to use chocolate chips?
No, you can also use Hershey's chocolate bars to make the dip. Or you could use Reese's peanut butter cups! Just make sure you use enough chocolate to cover the bottom of the skillet.
What type of marshmallows can I use?
You can use any type of marshmallows that you want! Some great options are vegan marshmallows, jumbo marshmallows, mini marshmallows, or even stuffed marshmallows.
Can I make this without a cast-iron skillet?
Yes, you can. Any oven-safe pan is perfectly fine to use but make sure you coat it with baking spray before adding the chocolate.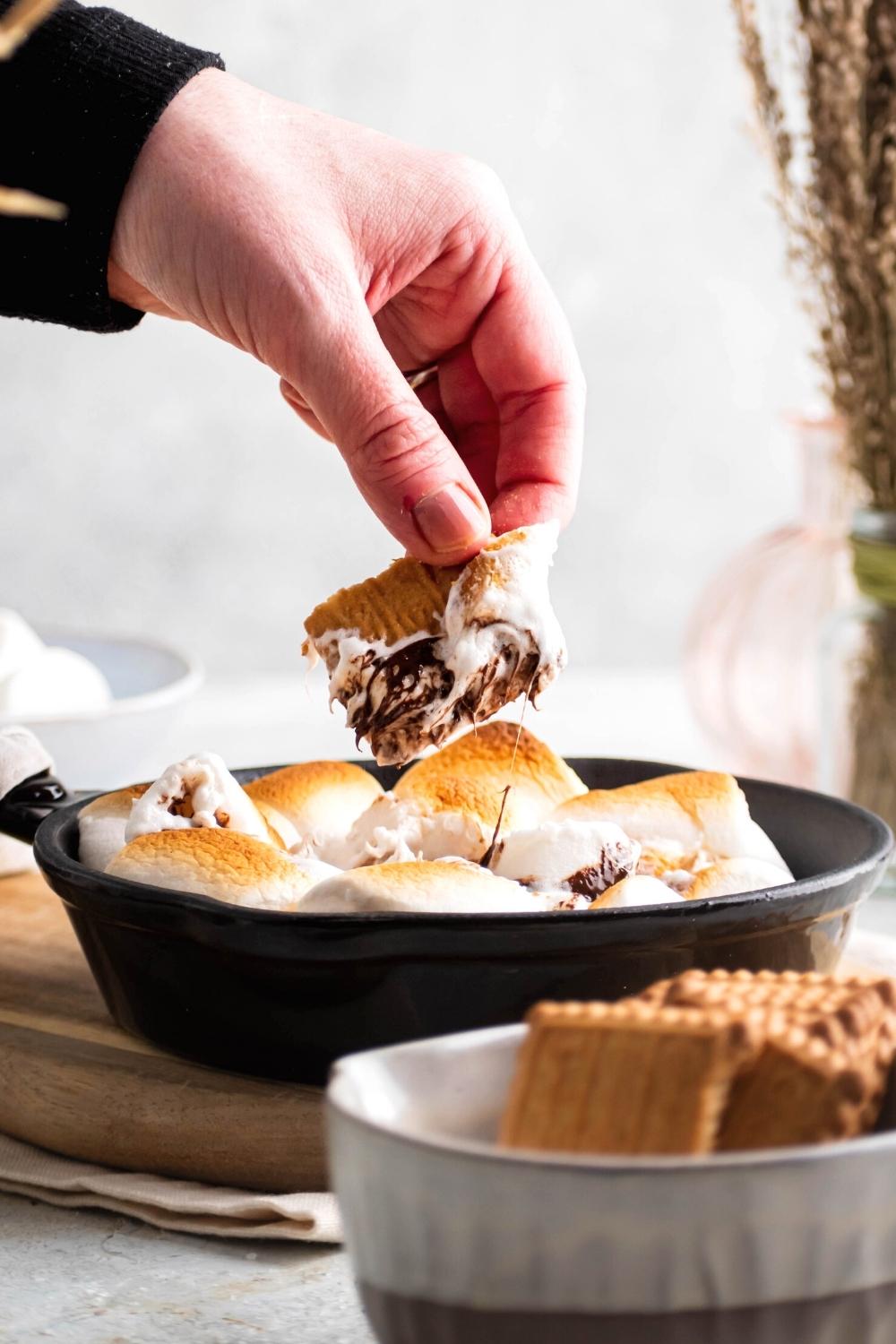 Wrapping it all up
Well, that is how to make smore's dip in the oven in only 10 minutes!
It uses simple, staple ingredients, it's easy to make, and it brings the summer flavors of bonfires and camping right to your kitchen. And every bite is just as good - if not better - than the original version.
Try making this for a family dessert, for movie night, or next time you're hosting. Everyone will fall in love with it!
Anyway, I hope you enjoy this smores dip recipe as much as my family and I have. If you make it, leave a comment below and let me know what you think!
Print
S'mores Dip Made In 10 Minutes
This smores dip is filled with ooey-gooey golden marshmallows and warm melted chocolate. It allows you to bring the iconic s'mores by the campfire into your kitchen. And you only need 2 classic ingredients and about 10 minutes to make it!
Author:
Prep Time:

1 minute

Cook Time:

9 minutes

Total Time:

10 minutes

Yield:

8

servings

1

x
Category:

Dessert

Method:

Oven

Cuisine:

S'mores
Instructions
Preheat the oven to 350ºF (180°C). 

Place the chocolate chips in a cast iron skillet and insert in the oven. Bake for 3-4 minutes or until the chocolate is melted.

Remove from the oven with an oven mitt and arrange the marshmallows evenly on top.

Bake for 7-10 minutes or until the marshmallows are golden brown.

Serve with graham crackers and enjoy!
Nutrition
Serving Size:

1 serving

Calories:

336

Fat:

16

Carbohydrates:

49

Protein:

4
Keywords: smores dip, smores dip recipe, s'more dip, s'mores dip, s'more dip recipe, smore dip, how to make smores dip, how to make s'mores in the oven, s'mores dip cast iron, s'mores dip skillet, s'mores dip recipe oven, s'more dip oven, s'more dip easy