This mar far chicken recipe has an iconic flavor that you can't get in any other chicken dish. It's savory and tangy with a sweet finish that leaves you wanting more. Plus, you won't believe how simple the ingredients and cooking process is to make it!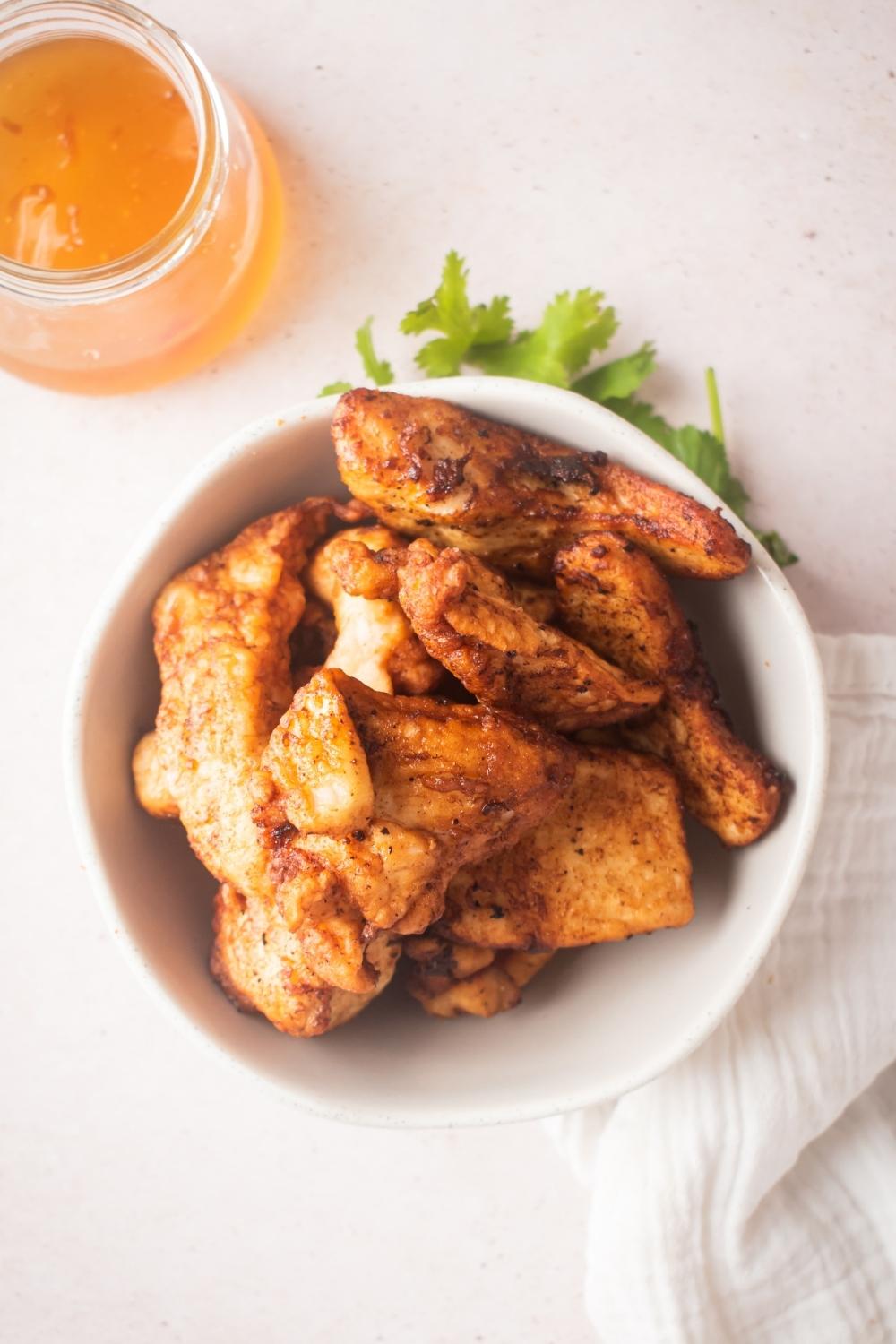 The Best Mar Far Chicken
If you've never heard of mar far chicken before, it's a popular Chinese chicken-style dish that is said to have become popular at Kim's restaurant in Medford, Oregon. And I think it become so popular because it has one of the most unique flavors you'll find in a chicken recipe.
The blend of milk and soy sauce in the batter has a flavor that just can't be matched, and the way the chicken is cooked makes it an irresistible combination. I'm seriously obsessed with eating it with this coconut rice, and I know once you try it, you will be too!
Now, these bite-sized chicken breasts are the perfect dish to bring into your weeknight dinner rotation because of their simplicity. As I mentioned earlier, this mar far chicken recipe uses simple cooking concepts and common household ingredients.
And this recipe makes 4 servings but can be easily doubled or tripled to feed more people. So it's perfect for a big family dinner or to make for meal prep for the week.
Plus, this mar far chicken recipe is so versatile that you can enjoy it with any number of sides, like some baked potatoes, Southern cornbread, or this spicy southwest salad.
Better yet, you can serve it with these crack green beans or honey butter brussell sprouts for a serving of veggies.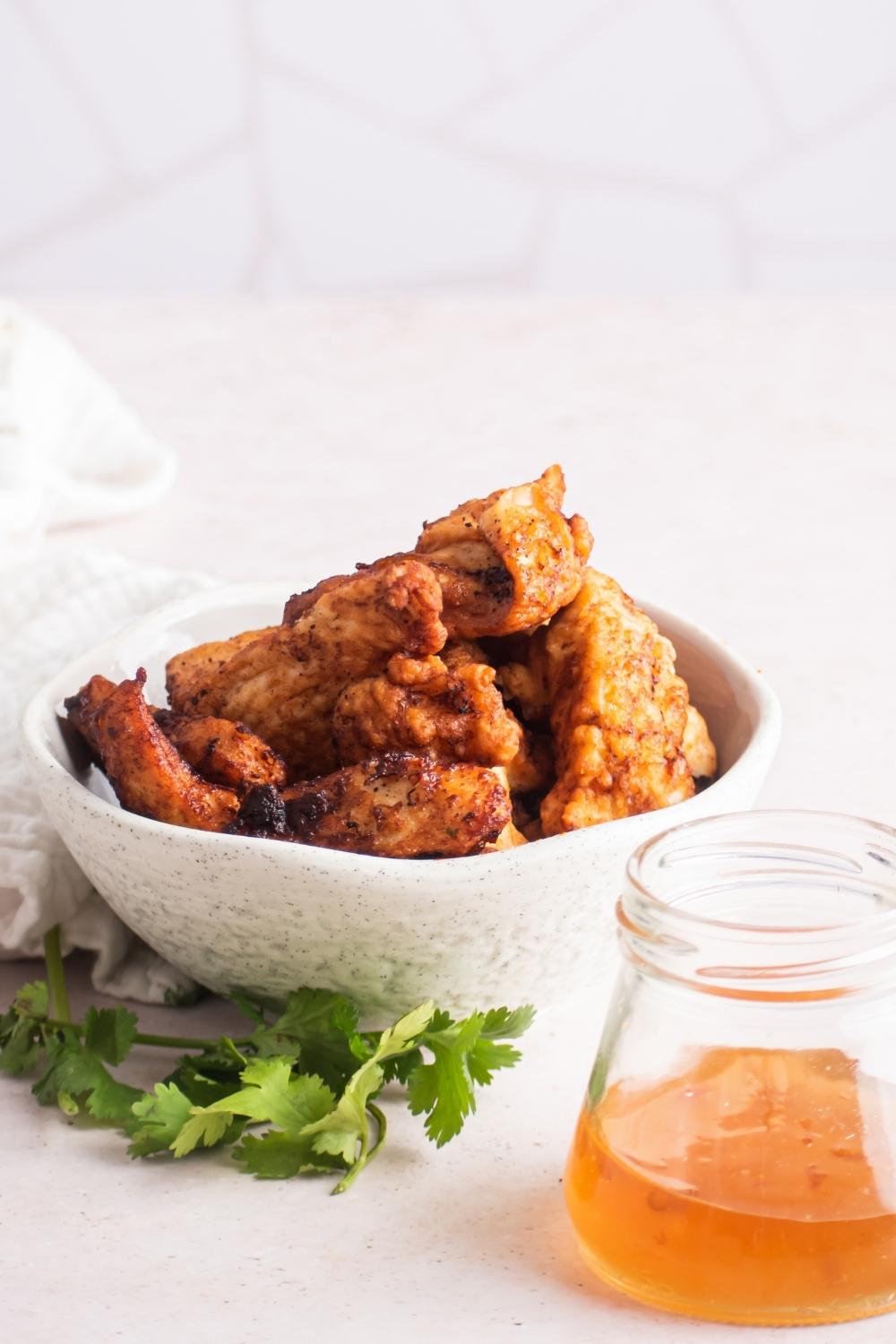 Ingredients
As I mentioned earlier, the ingredients for this Mar Far Chicken recipe are so common, that I'm willing to bet you already have all of them in your house already.
Here's everything you'll need to make mar far chicken:
2 chicken breasts, cut into bite-sized chunks

¾ cup flour

2 tsp. salt

1 tsp. baking powder

1 large egg

¾ cup milk

3 tbsp. soy sauce

Oil, for frying
How simple is that?
Now, the original Kim's mar far chicken was traditionally paired with their Chinese pink shrimp sauce. However, if you don't have a go-to shrimp sauce recipe, we've got you covered. try this mar far chicken with our deliciously creamy tiger sauce, or add a little heat with our sweet chili sauce.
Or, you can do what I like to do, and eat the chicken with some homemade Chick-Fil-A sauce.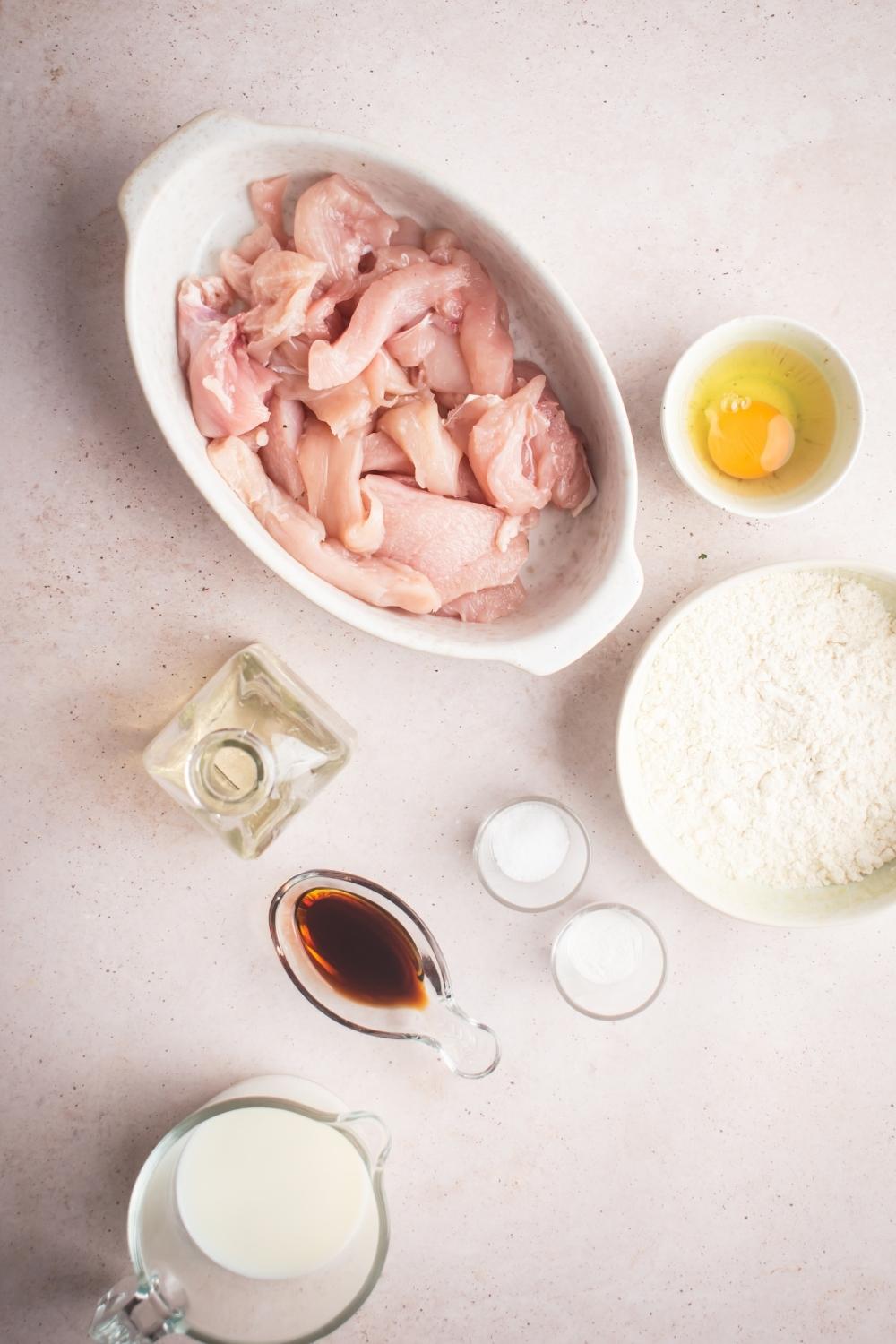 How to Make Mar Far Chicken
In just a few easy steps - and less than 30 minutes - you'll have some delicious mar far chicken ready to devour.
So, now that you have your ingredients ready let's get cooking.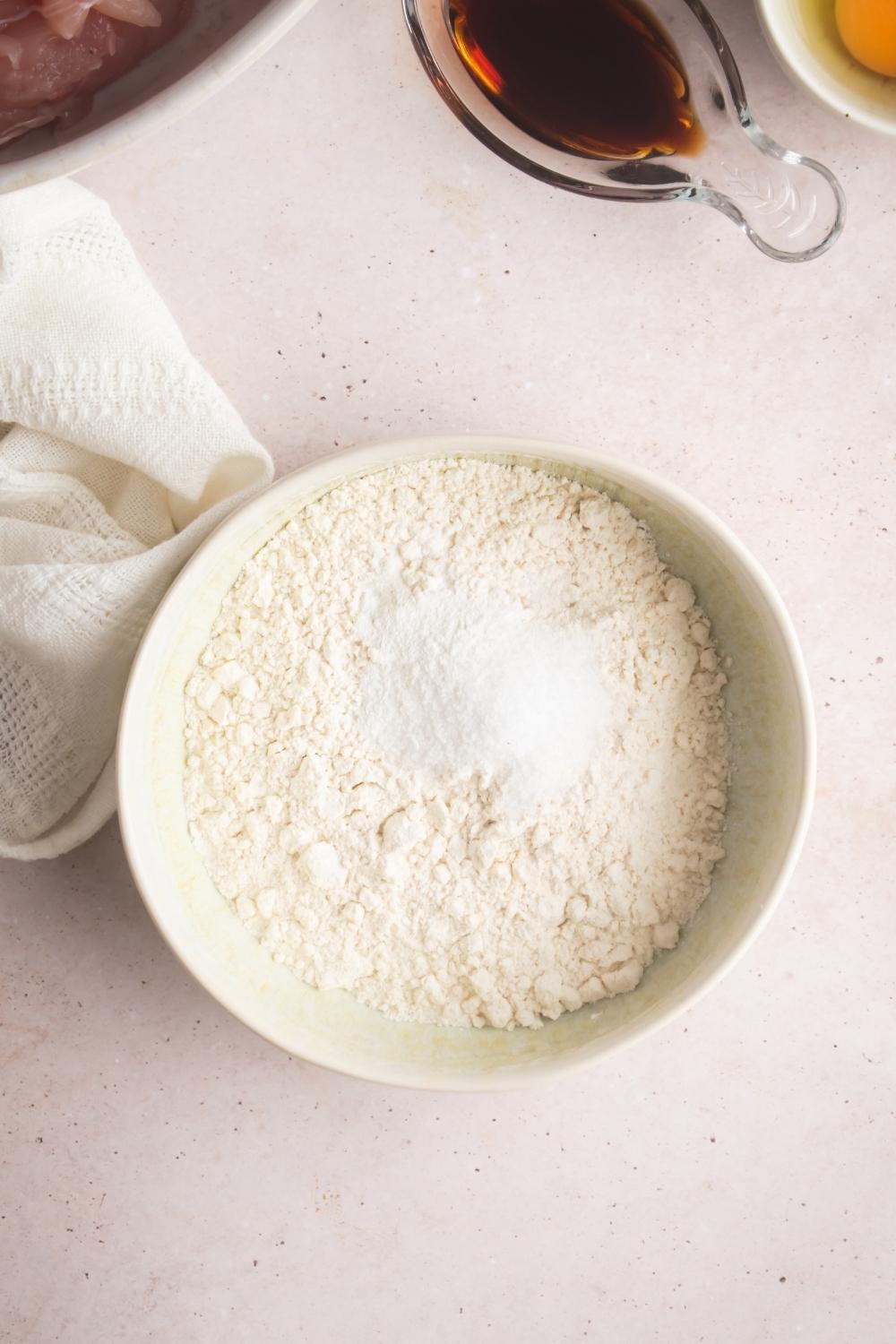 Step 1: Preparation
First, prepare the chicken breast by cutting the chicken breasts into chunks.
Next, sift the flour into a medium-sized bowl - sifting the flour is important for us to get fluffier flour and batter without any lumps.
Then, you'll add the salt and baking powder to the bowl of flour and mix to combine them.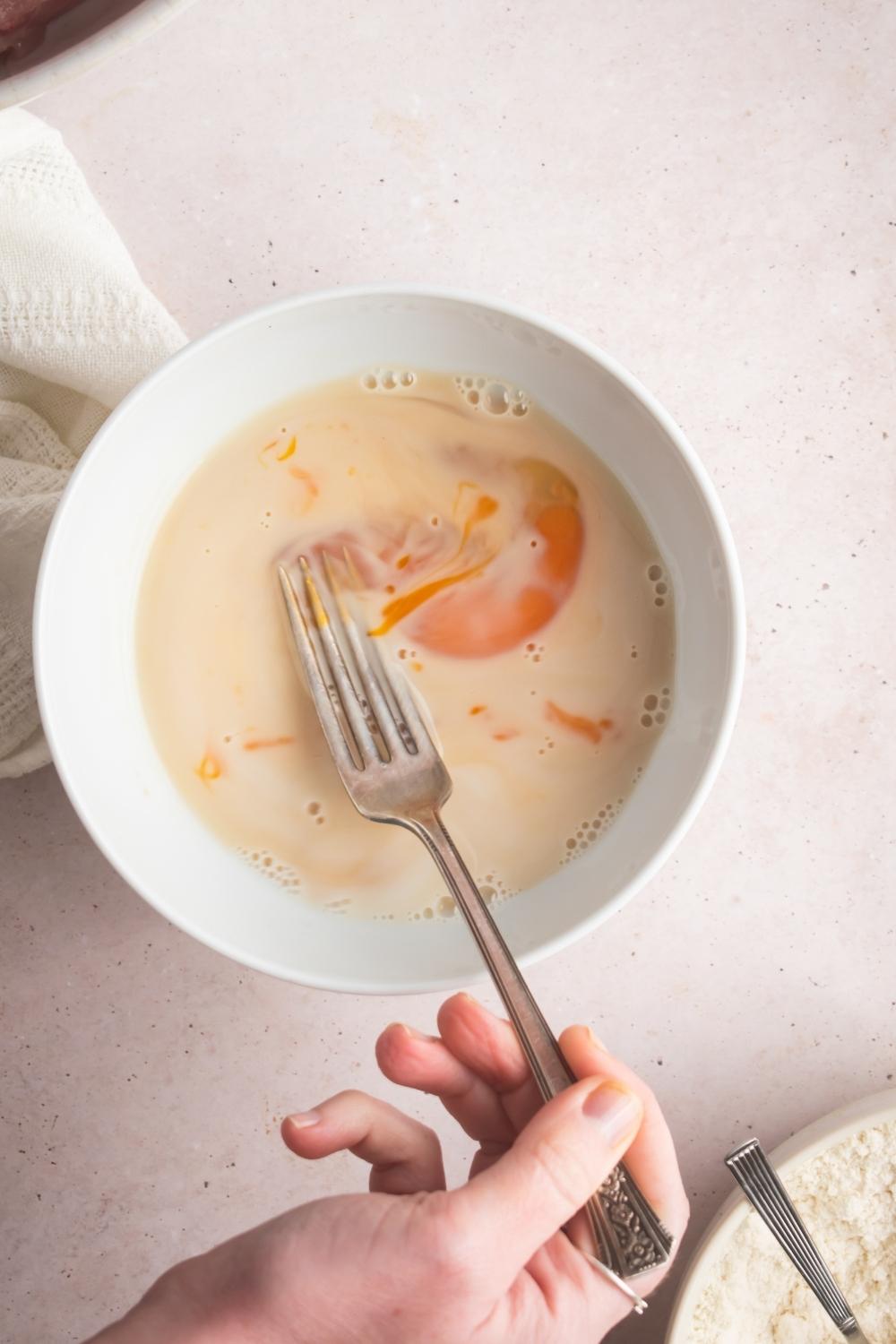 Step 2: Making the Batter
Now, it's time to make the batter for this tasty chicken.
First, take out another medium bowl and add the egg, milk, and soy sauce to it. Then, mix everything thoroughly with a fork or a whisk until you get a thin, combined batter.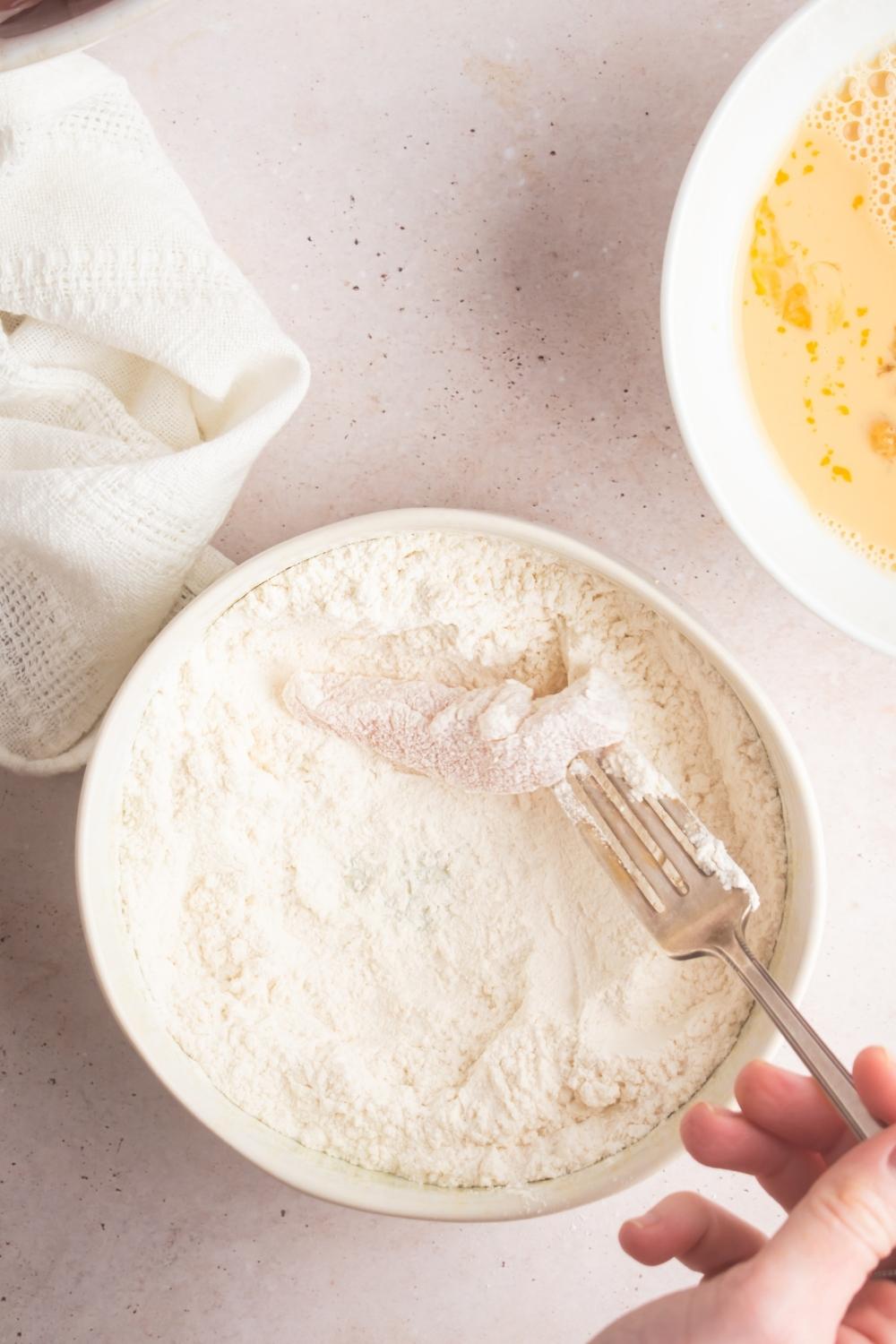 Step 3: Breading The Chicken
So, to bread the chicken, first, dip it into the flour mixture and make sure it's coated evenly in it. And make sure not to overcoat the chicken in the flour because a thinner coating is what gives this mar far chicken recipe its flakey crunch.
Anyway, after it's coated, dip the chicken into the batter to get an even coating. Then, bring it out, and remove excess batter with a gentle shake of each piece. Also, it's best to use a fork for both of these breading steps.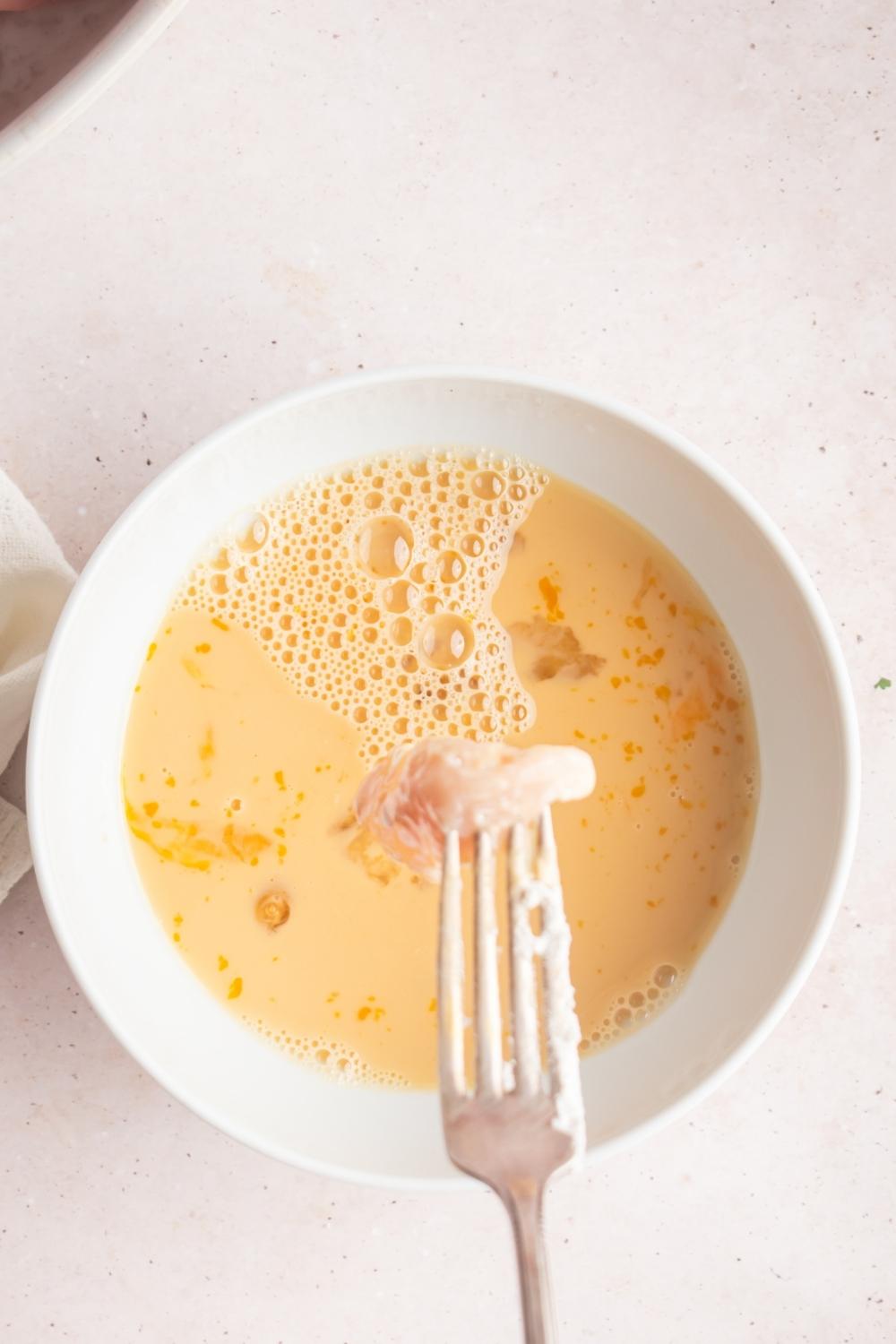 Step 4: Frying the Chicken
Now it's time to fry the chicken to perfection.
To do this, preheat a large frying pan with oil over medium-high heat. And you'll want to allow the oil the reach a temperature of 365°F.
Once the oil is hot, add the batter-dipped chicken pieces into the pan and fry, fry, fry! You'll want to be sure to fry them all the way through - about 7 to 10 minutes - or until the internal temperature reaches 165°F.
Then, when you remove the cooked chicken from the pan, place it on a plate lined with an absorbent paper towel to soak up the excess oil.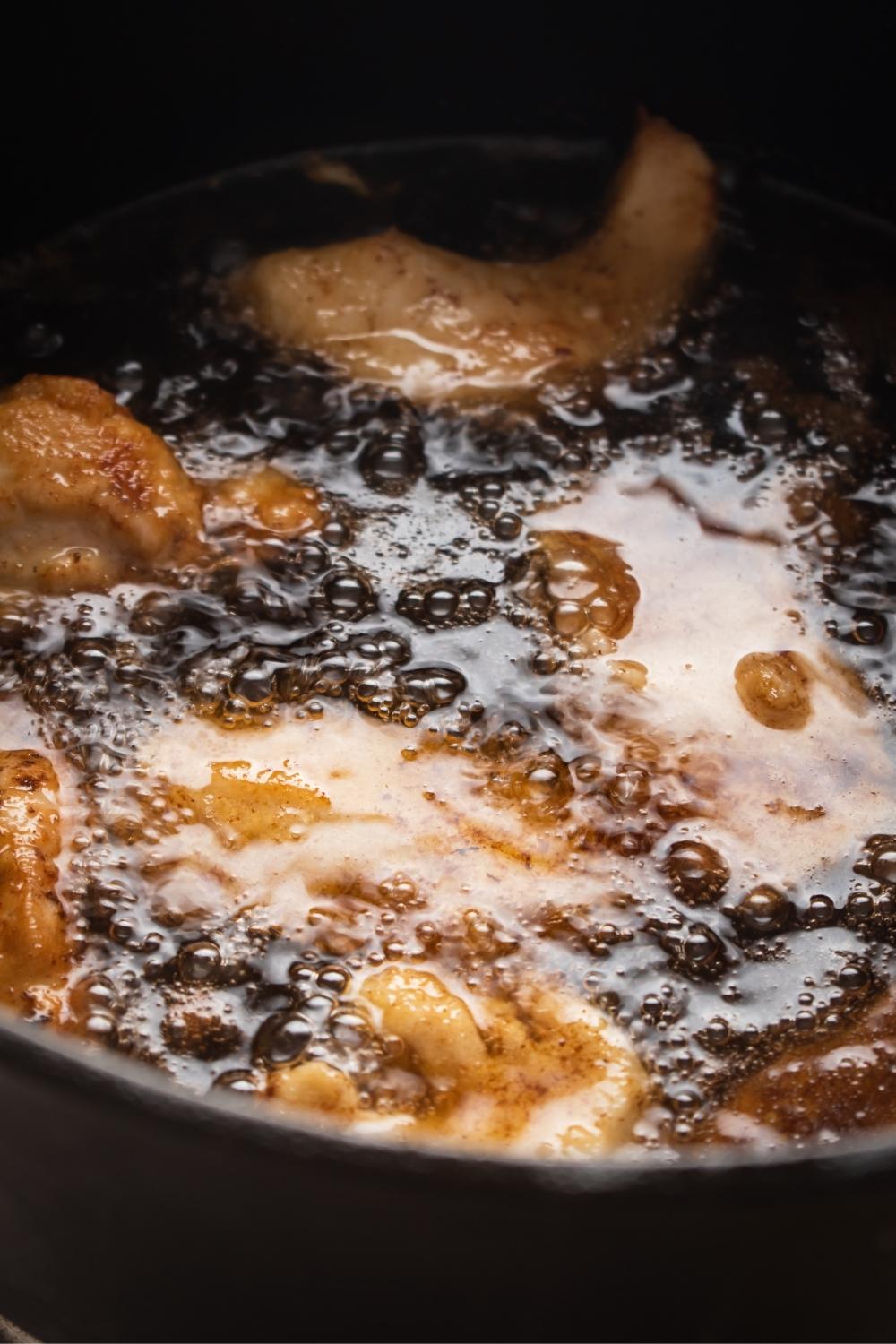 Step 5: Finishing Touches
So, now that this delicious mar far chicken is fried up, you can serve it with any sides that you want and one of the sauces I mentioned above to dip it in.
Enjoy!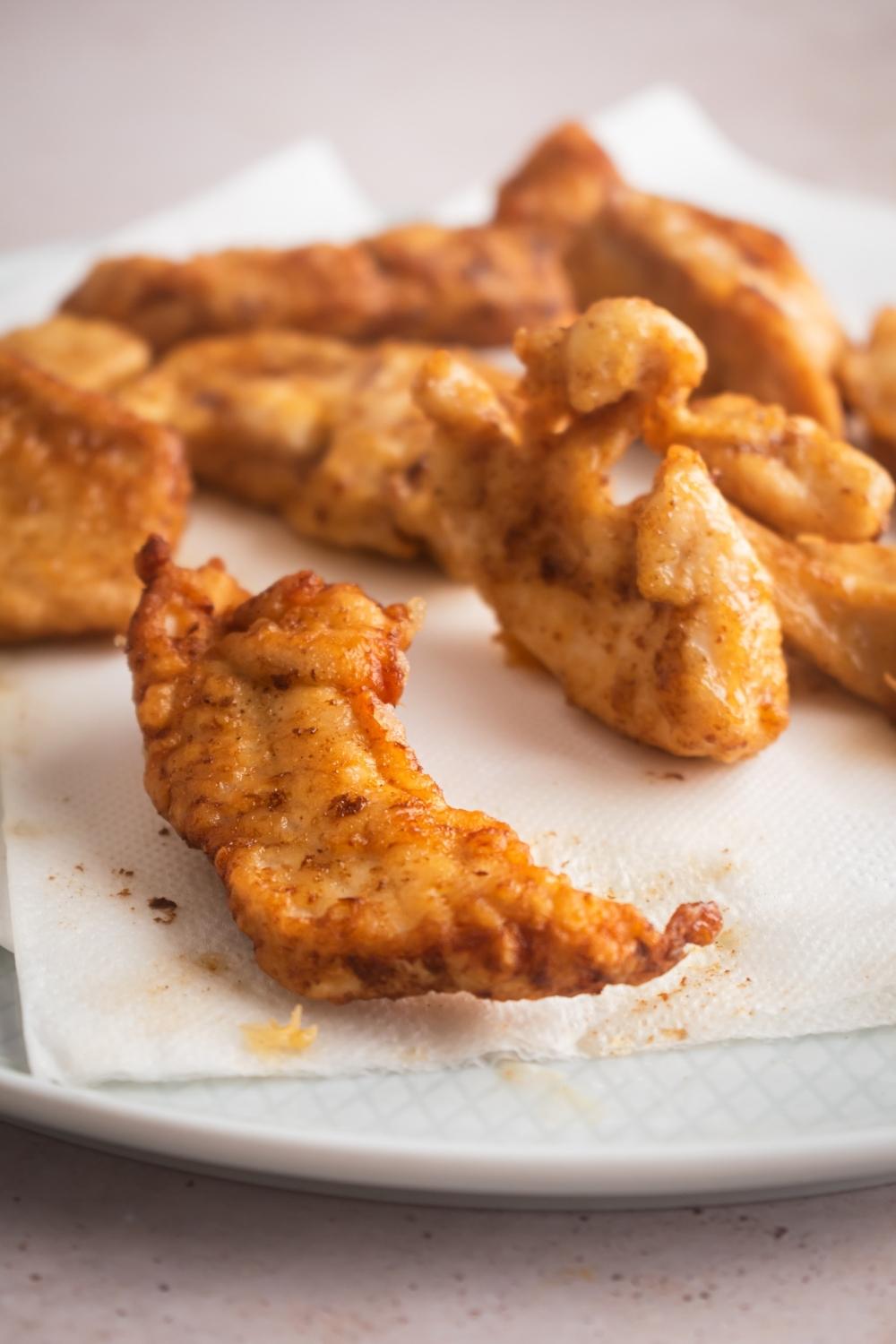 How to Store Mar Far Chicken
So, this recipe will make about 4 servings of mar far chicken. And if you have leftovers, it tastes just as good days after making them.
For this reason, I like to double the recipe to have some on hand throughout the week.
You can store this mar far chicken in an airtight container - or Ziploc bag - in the fridge for up to 4 days.
How to Reheat Mar Far Chicken
The best way to reheat your Mar Far Chicken is to use the oven.
To reheat, preheat the oven to a temperature of 350°F.
Then, put your mar far chicken into an oven-safe dish and cover.
Next, place the dish in the oven, and reheat for about 15 minutes or until it reaches your desired temperature.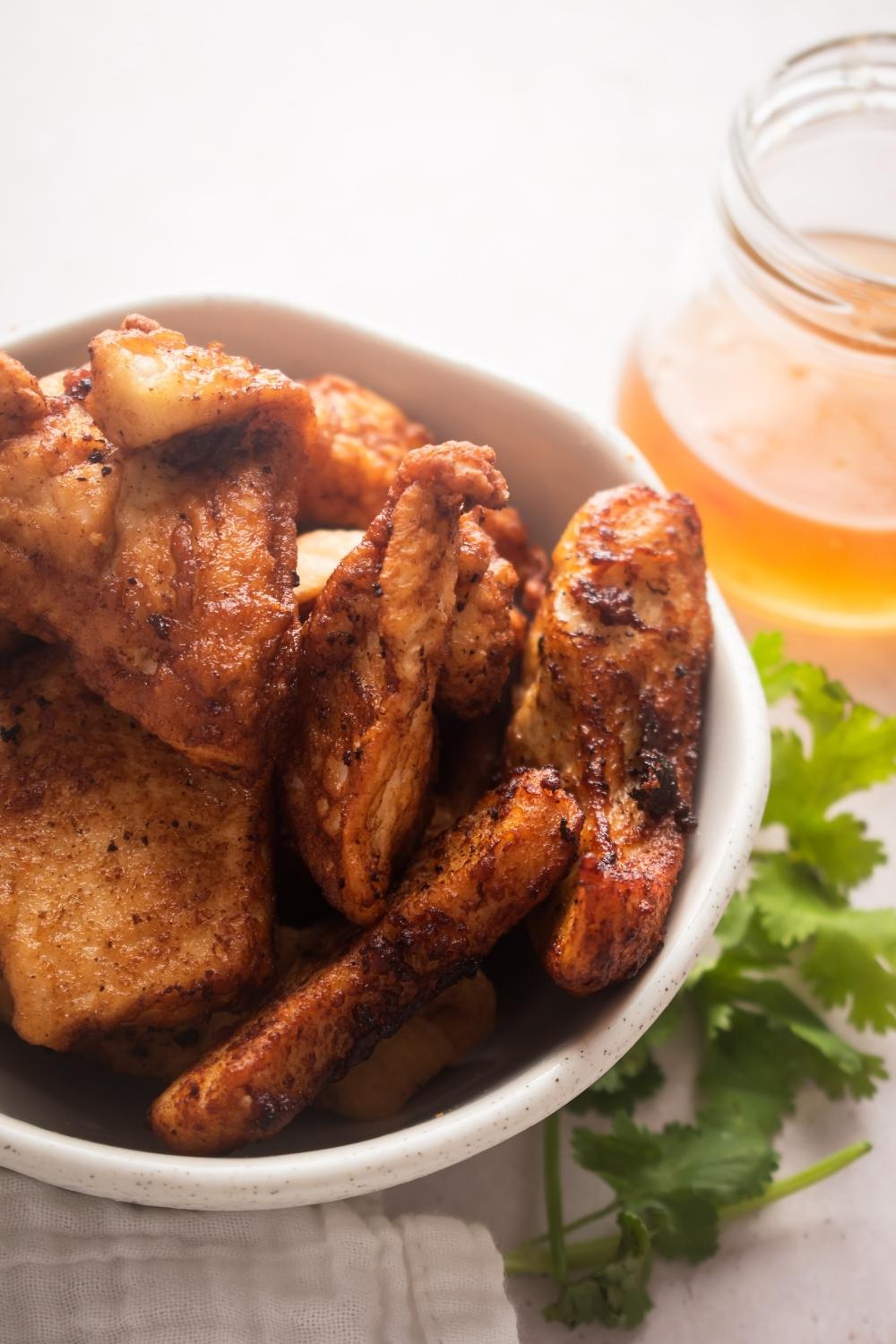 Wrapping it Up
Well, that's how to make mar far chicken!
Seriously you'll want to make this every night, It's just such an easy chicken recipe to whip up and the whole family is sure to love it!
As always, if you make it, leave a comment below and let us know how it turned out.
By the way, check out our YouTube Channel and Instagram for delicious dessert recipes.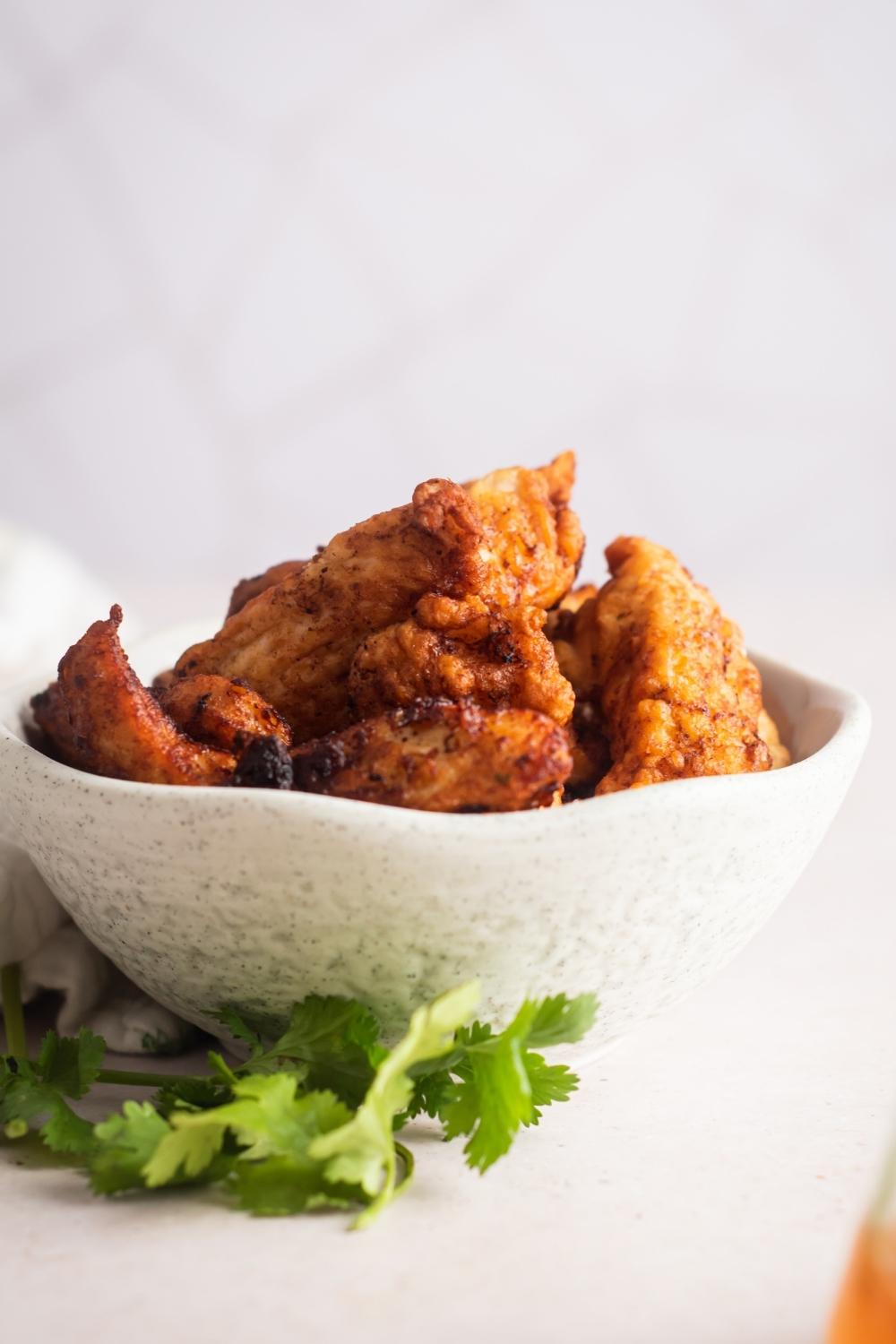 MORE CHICKEN RECIPES
If you're looking for more chicken recipes, we have quite a number of them on the blog that you have to try next.
Check out these easy chicken recipes:
Print
Mar Far Chicken Recipe
This mar far chicken recipe has an iconic flavor that you can't get in any other chicken dish. It's savory and tangy with a sweet finish that leaves you wanting more. You won't believe how simple the ingredients and cooking process is to make it! 
Author:
Prep Time:

5 minutes

Cook Time:

10 minutes

Total Time:

15 minutes

Yield:

4

servings

1

x
Category:

Dinner

Method:

Stovetop

Cuisine:

American
2 chicken breasts, cut into bite-sized chunks
¾ cup flour
2 tsp. salt
1 tsp. baking powder
1 large egg
¾ cup milk
3 tbsp. soy sauce
Oil, for frying
Nutrition
Serving Size:

1 serving

Calories:

155

Fat:

2

Carbohydrates:

17

Protein:

16
Keywords: mar far chicken, mar far chicken recipe, mar far chicken easy, easy mar far chicken, how to make mar far chicken, mar far chicken description, chinese mar far chicken, mar far chicken batter recipe,