This crack green beans recipe takes a healthy veggie and makes it addictively delicious. The crack green beans are coated in a sweet and savory glaze, then topped with crispy bacon and baked to perfection.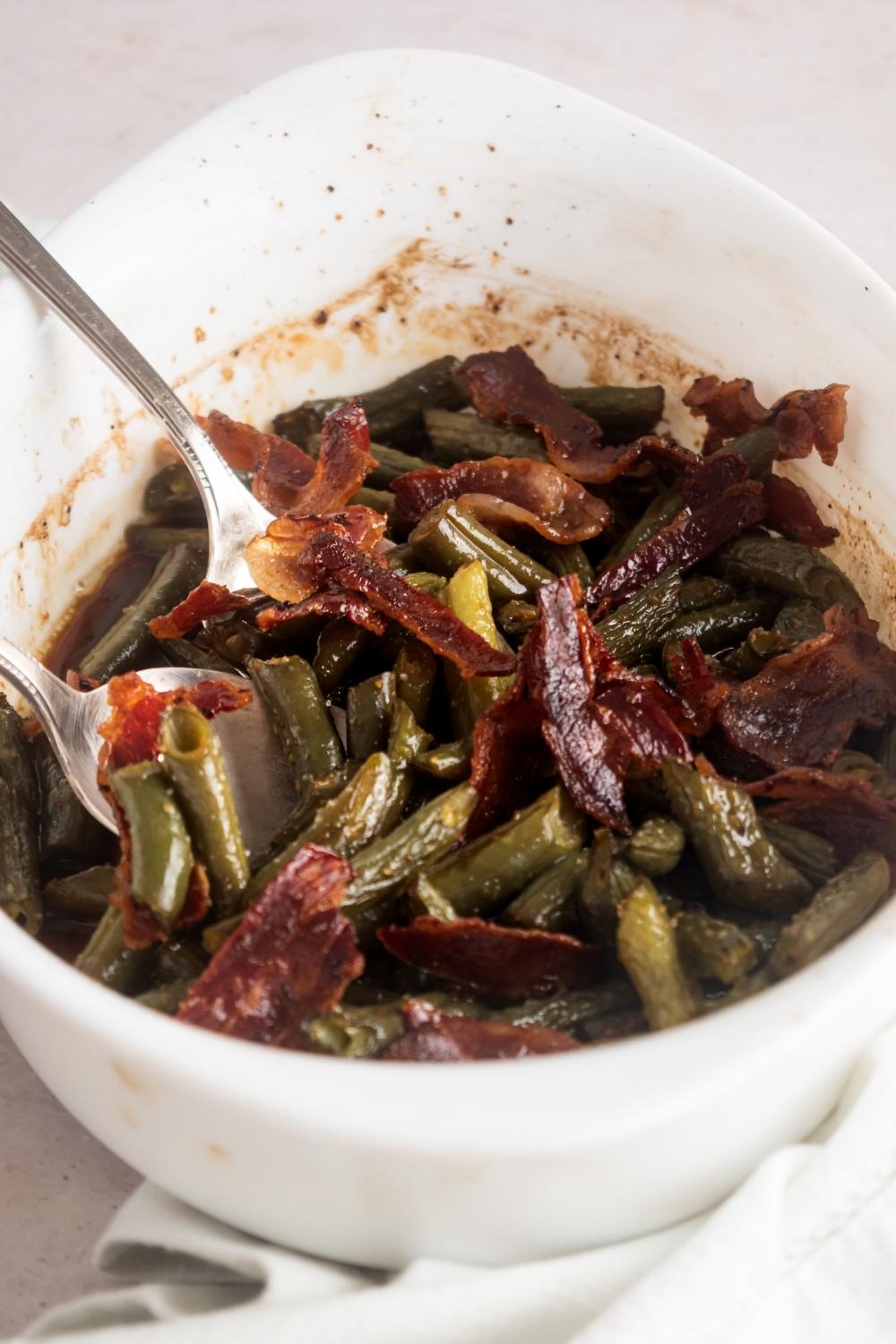 My Take On Crack Green Beans
Let's be honest, vegetable sides are typically bland.
Am I right?!
Well, that's where today's recipe comes in. These crack green beans are just as addictive as they sound. And that's mostly thanks to the sweet and savory glaze-like sauce that fills each bite of them with deliciousness.
Also, to make these crack green beans even better, they have crispy bacon on top.
Honestly, there's no doubt that once you try this crack green beans recipe, it will quickly become a favorite staple side dish to your family dinners. At least, that's been the case at our house.
My two year old actually asks for them for dinner, so they're a great way to get your kiddos to eat more veggies!
In fact, I'd even put them on the same level of vegetable deliciousness as these Longhorn brussel sprouts. Not to mention, they go so well with a variety of dishes like this grilled chicken margherita and million dollar chicken casserole.
Plus, I love that these crack green beans only take only about 10 minutes of prep work. Making them is a breeze!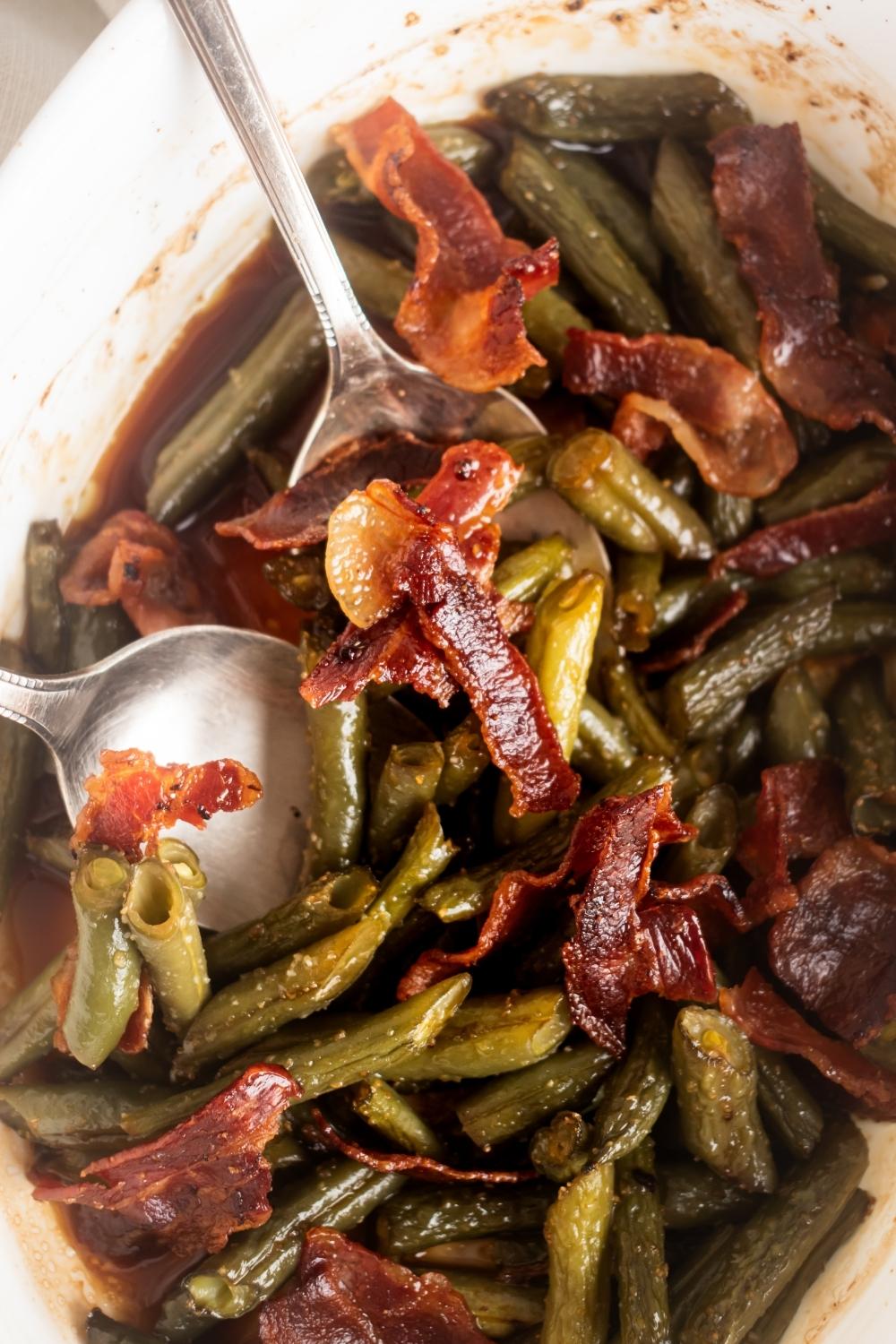 Ingredients
I've already gone on about how delicious these crack green beans are, but do you want to know my favorite part about this recipe? It uses mostly pantry staples to create that addictive flavor.
So, with that said, let's take a closer look at the secret ingredients that make this recipe so great.
Here's everything you'll need to make crack green beans:
3 14.5oz. cans cut green beans, drained
6 bacon slices, cook until crispy
⅔ cup brown sugar
¼ cup melted butter
6 tsp. Tamari soy sauce
2 tsp. garlic powder
2 tsp. onion powder
See? Nothing crazy here. Sometimes, all you need are some basic ingredients that can come together to create one heck of a meal.
Now, if for whatever reason you do have to run to the store, I highly recommend picking up whatever you need for these air fryer baked potatoes. They pair perfectly with the crack green bean.
By the way, you can use fresh green beans or frozen green beans to make this recipe. If using frozen green beans, just make sure to thaw them first before baking!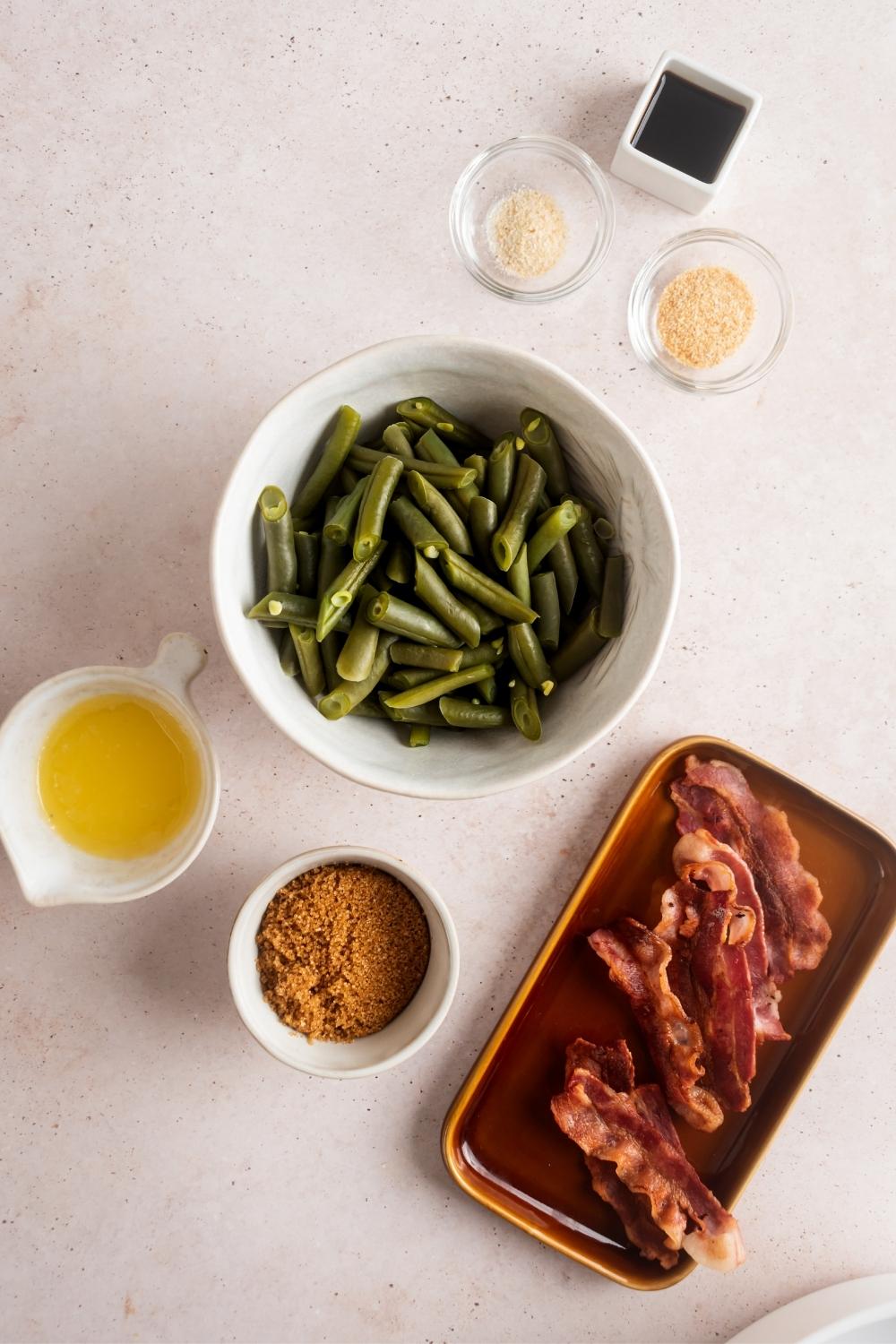 How To Make Crack Green Beans
Alright, are you ready to learn how to jazz up your average green beans?
Luckily, the whole process is super easy, and the oven does most of the work. I usually have plenty of time to make a main dish to go with this crack green bean casserole.
Anyway, enough talking.
Grab your ingredients, and let's get cooking!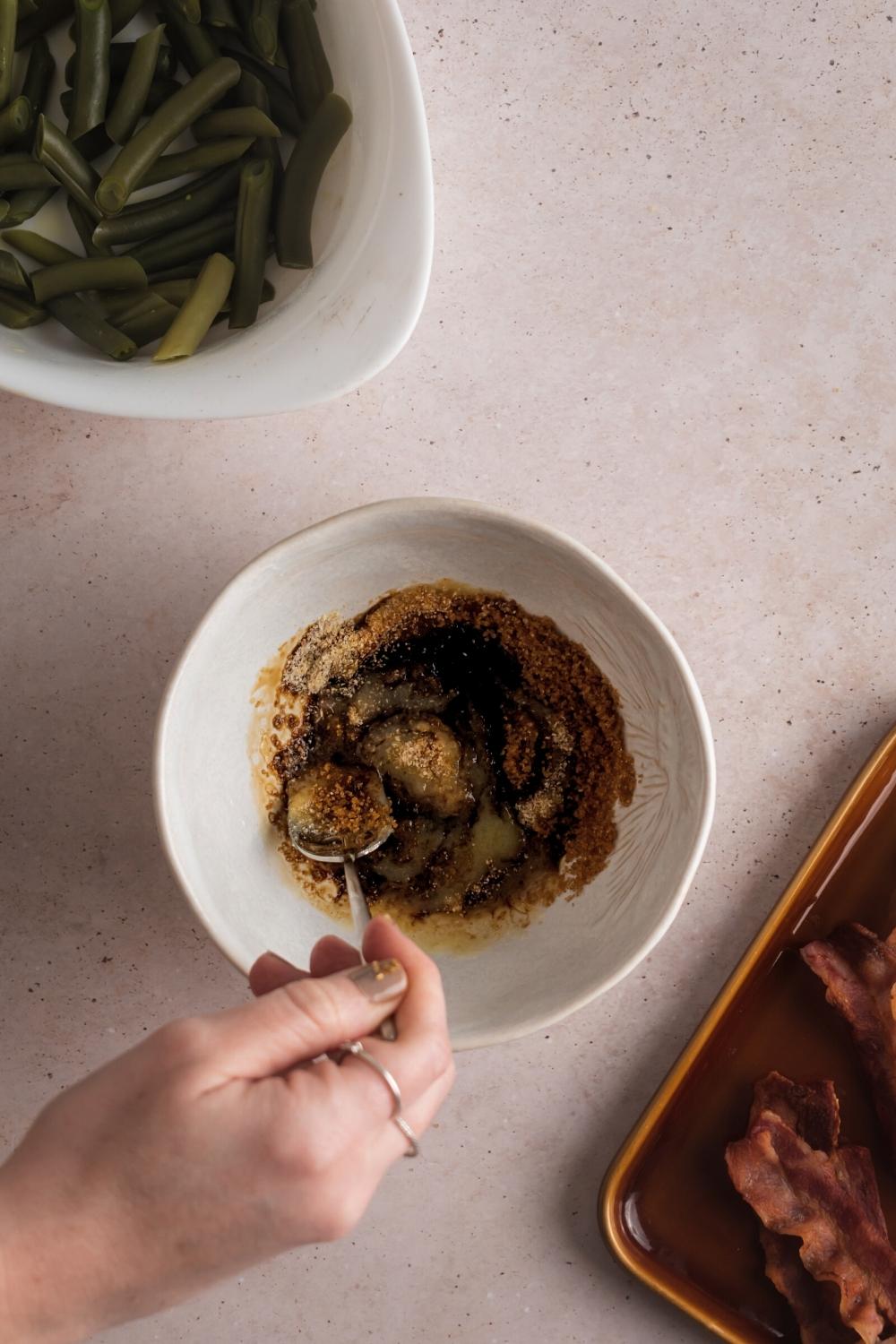 Step 1: Prep Work
First, preheat the oven to 350°F (180°C).
Then, spray a 9x13 pan with non-stick cooking spray. And if you don't have this size pan, anything close to it will work.
Next, lay the green beans -fresh green beans or frozen green beans- flat in the pan in one even layer. By the way, try not to let the green beans overlap each other too much.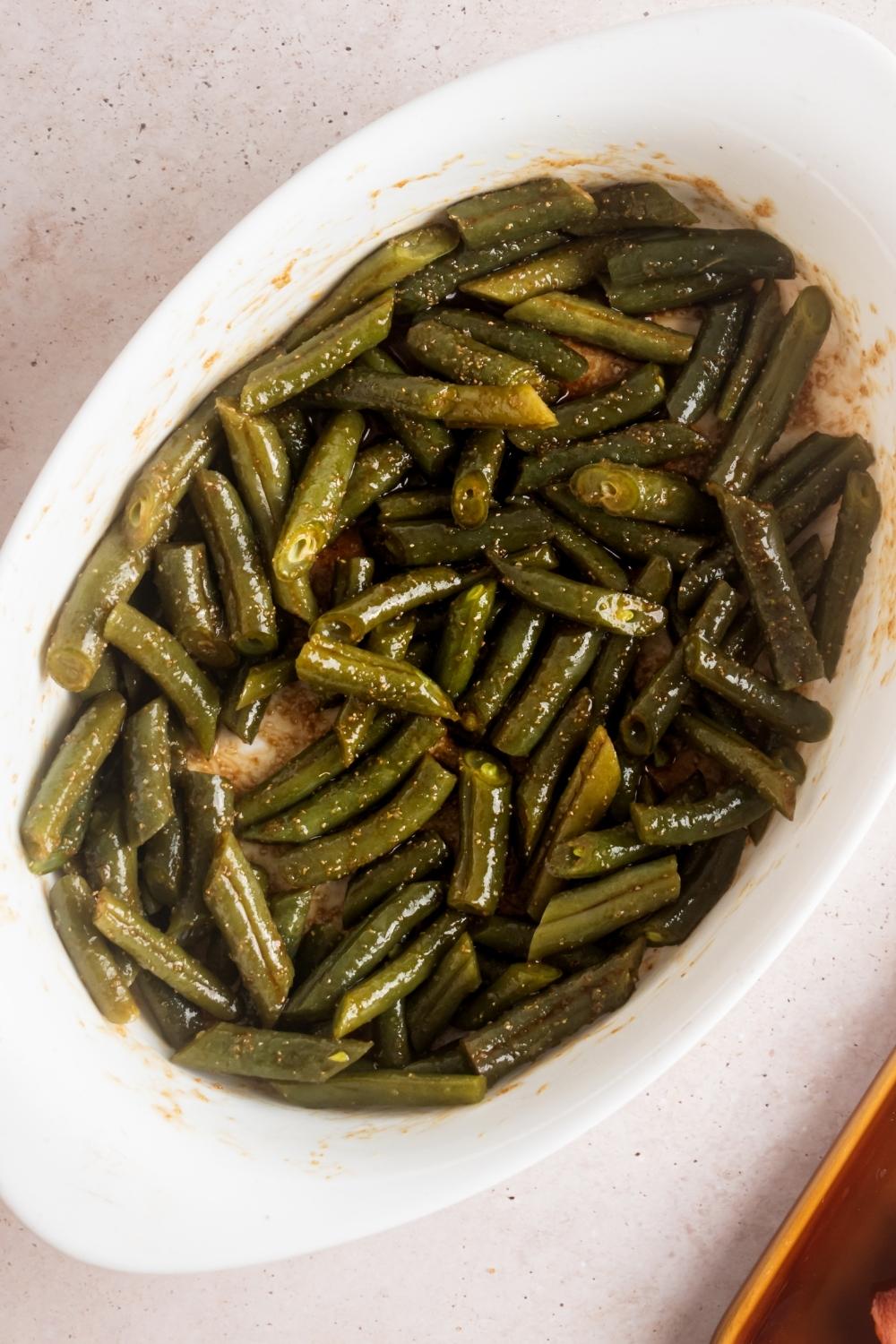 Step 2: Making the Sauce
Okay, so before we make the sauce, cook any bacon you want. You can use the microwave kind or fry it up on the stove. Sometimes I'll even make my air fryer turkey bacon to add on top to make this recipe a little healthier.
Now, for the sauce, add the melted butter, brown sugar, tamari soy sauce, onion, and garlic powder to a bowl and give them a good mix. The mixture will be slightly thick and almost syrup-like.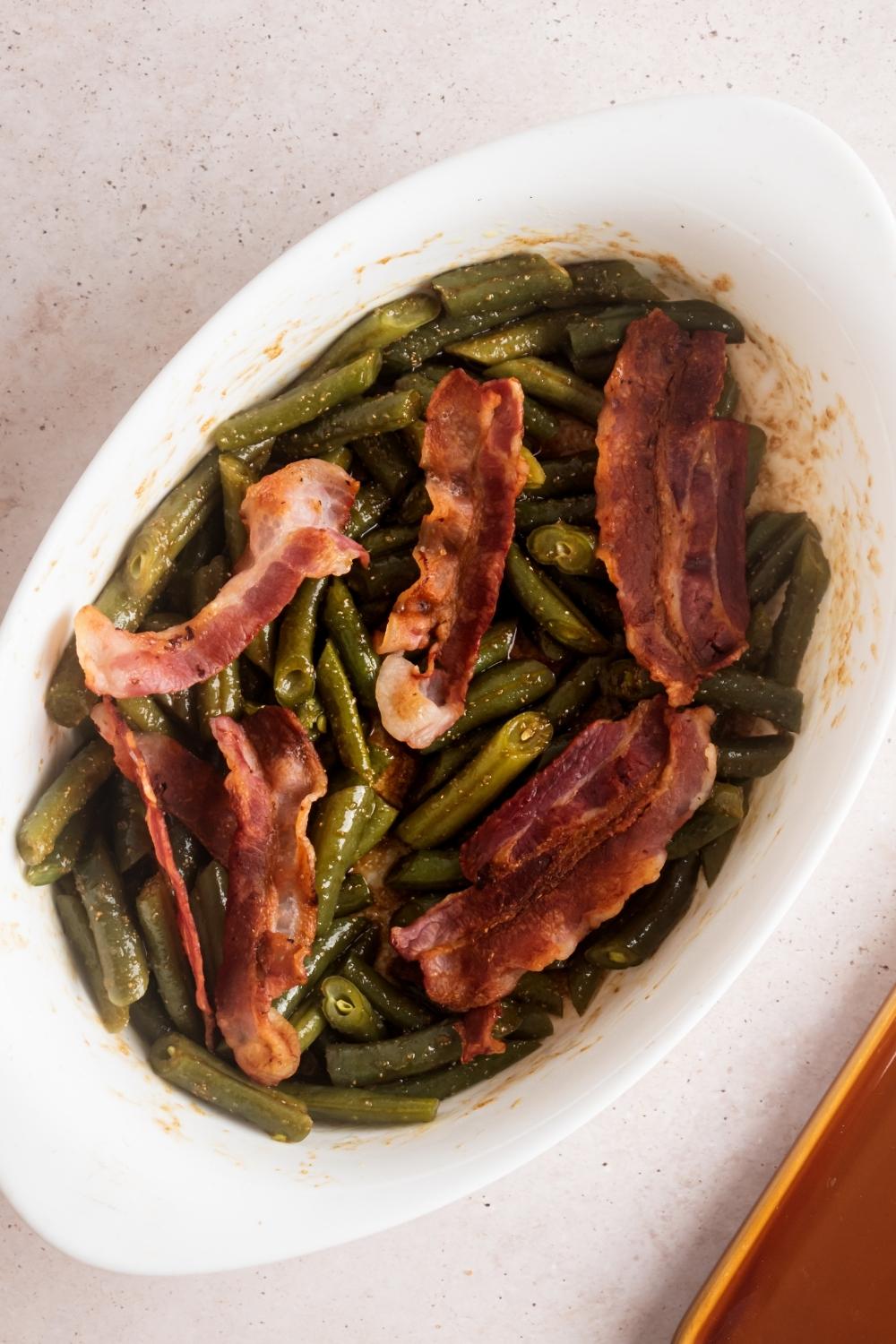 Step 3: Baking The Crack Green Beans
And now it's time to bring everything together!
Pour the sauce evenly over the green beans and make sure they are all well coated. Also, you can use a cooking brush to spread the sauce out or leave it on top.
Then, either lay the bacon on top in strips, or crumble it up and sprinkle it over the top.
Finally, bake the green beans for 25 minutes in the oven and serve alongside the rest of your meal!
Enjoy.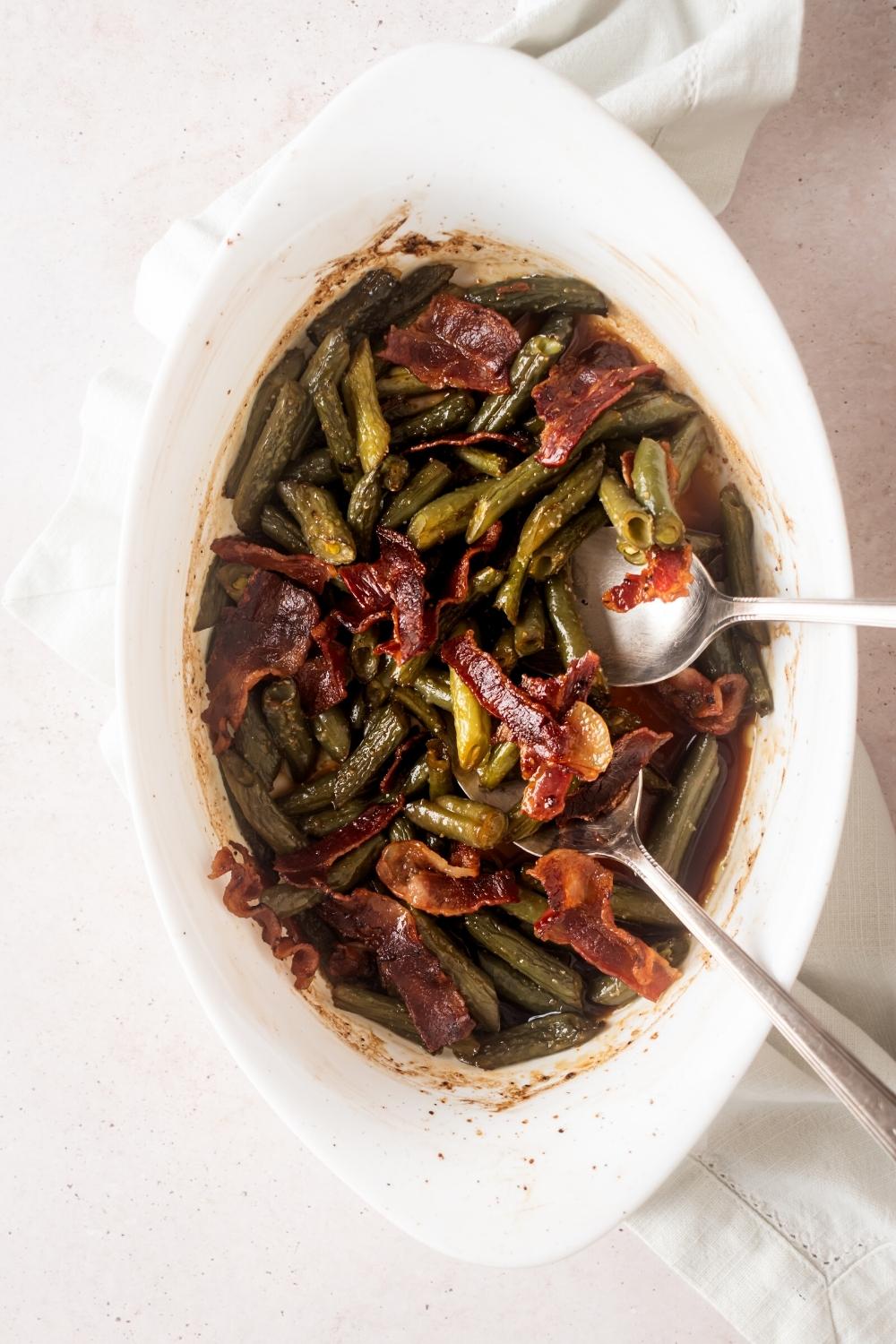 Storing & Reheating Crack Green Beans
This cracked green beans recipe will make about 4 large servings. Which is always the perfect amount for me for a family dinner.
Don't worry about having leftovers either, because they store really well and taste great the next few days.
With that said, you can store the green beans in a shallow airtight container in the fridge for 3-5 days. Then, you can reheat the green beans whenever you want, and enjoy them again & again!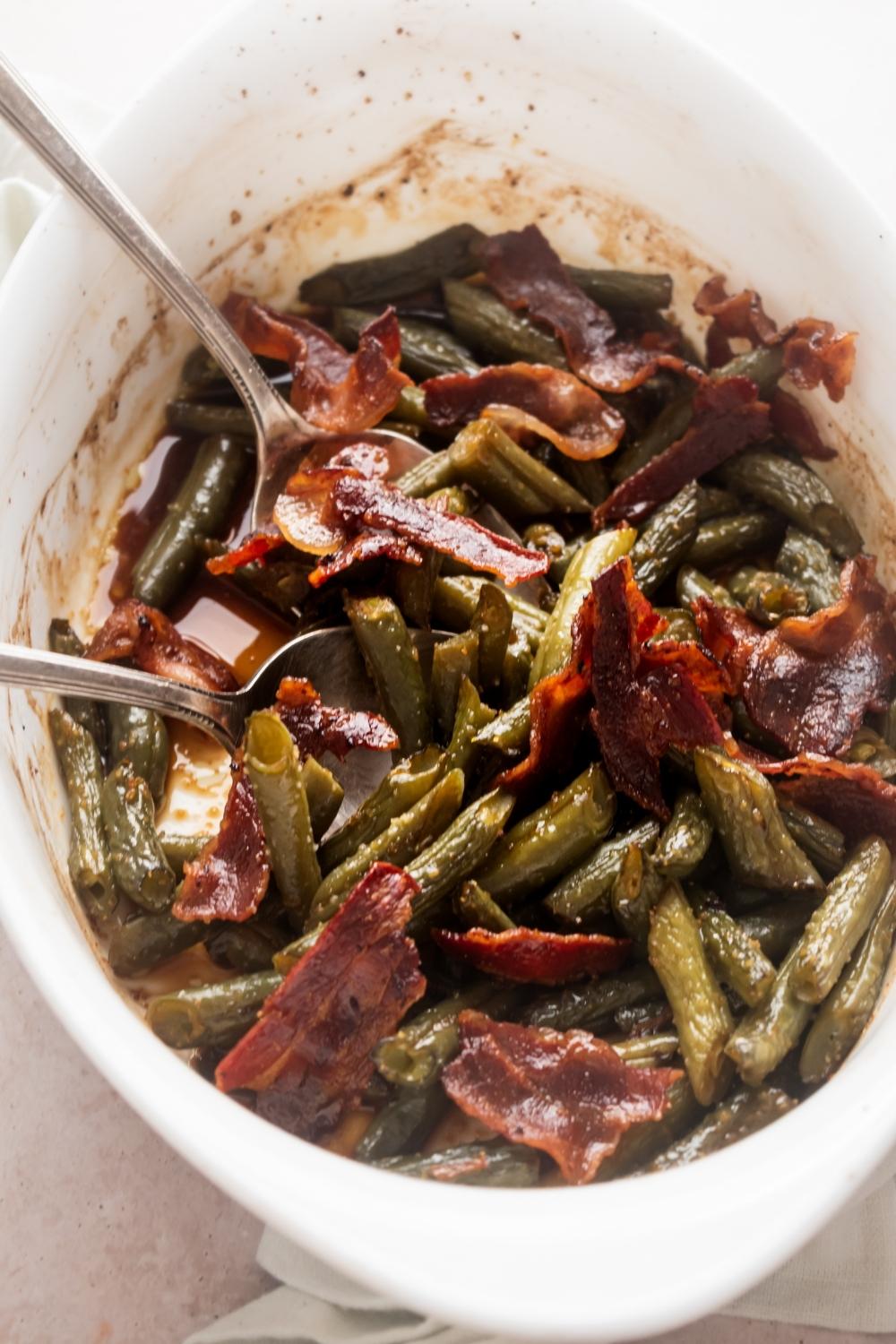 Wrapping It Up
Well, that is how to make crack green beans in just a few easy steps.
You'll never have tasteless green beans again with this recipe. With the secret sauce and the addition of some crispy bacon, this crack green beans recipe is one I'm obsessed with and everyone always loves.
Anyway, I hope you enjoy making this easy crack green bean recipe as much as I do.
Leave a comment below if you do make it, and let us know your thoughts.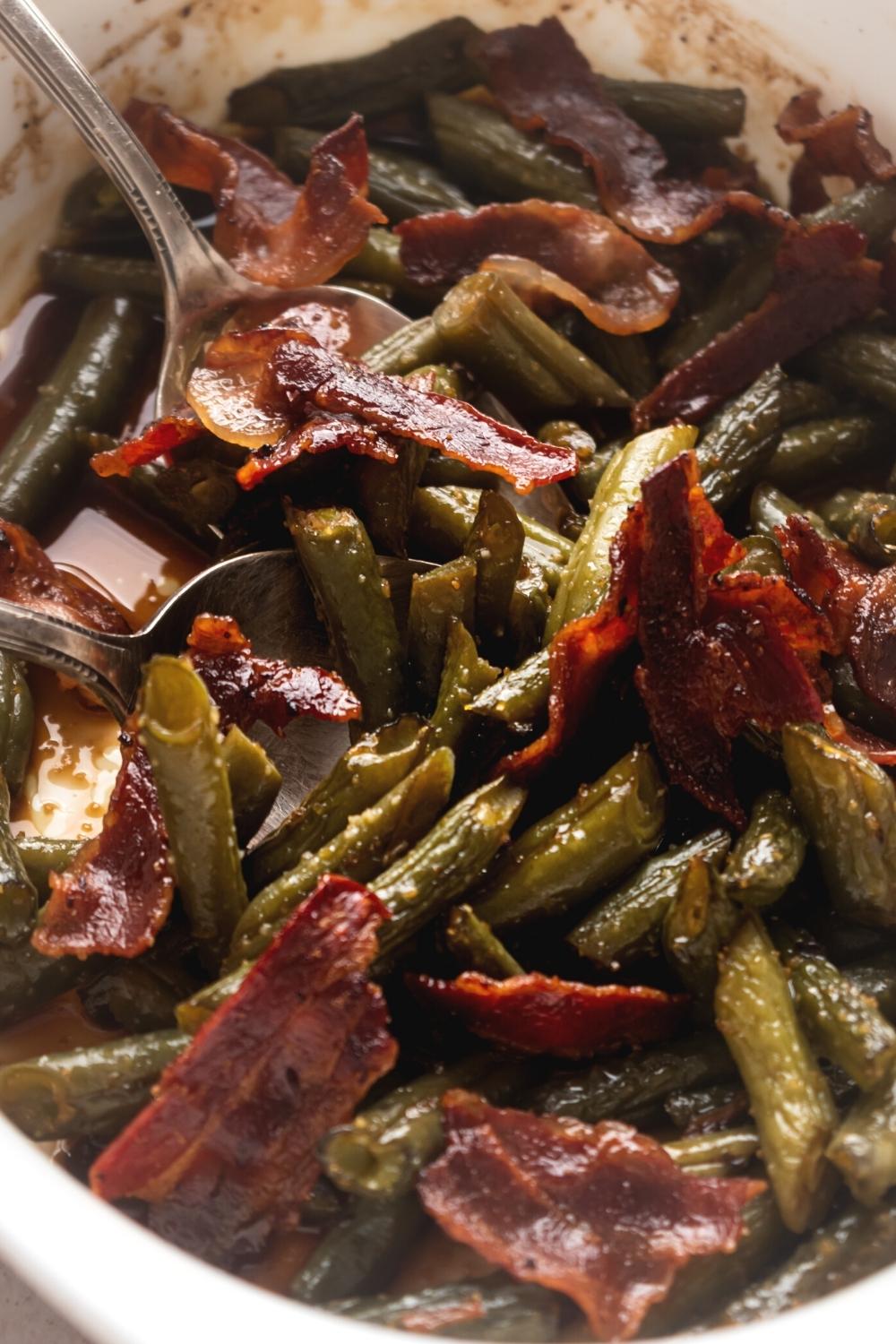 More Side Dish Recipes
If you want to give some more delicious and easy side recipes a try, we have a ton on the blog.
Here are some of our most popular sides:
Oh, and for even more delicious recipes just like this one check out our YouTube channel. We post new recipes on it almost every day.
Yield: 4 servings
Crack Green Beans Recipe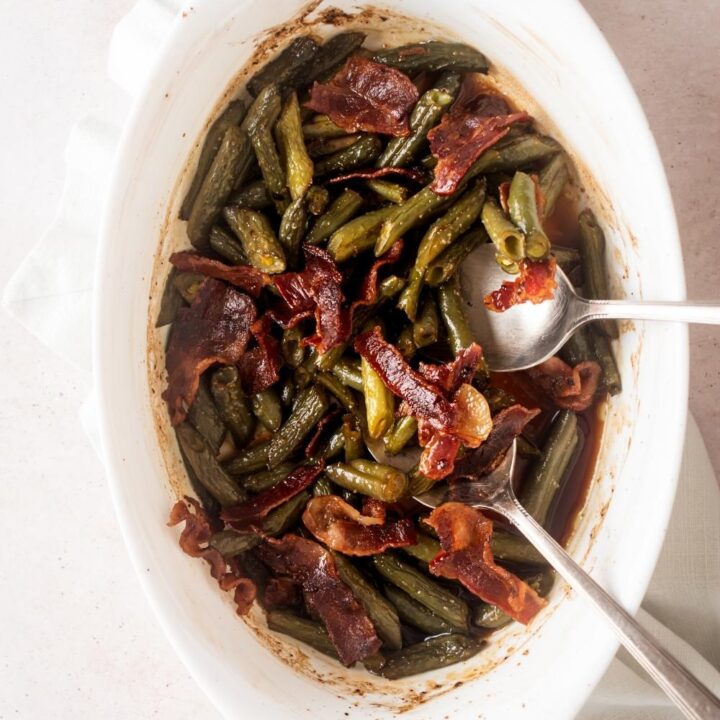 This crack green beans recipe takes this healthy veggie and makes it addictively delicious. The crack green beans are coated in a sweet and savory glaze, then topped with crispy bacon and baked to perfection. 
Instructions
Preheat the oven to 350°F

Spritz a 9 x 13 pan with your favorite cooking spray.

Put drained green beans into the pan.

Mix the brown sugar, melted butter, tamari soy sauce, garlic powder, and onion powder. Pour over green beans.

Add the cooked bacon.

Bake for 25 Minutes in the oven.
Nutrition Information:
Serving Size:
1 serving
Amount Per Serving:
Calories:

374
Total Fat:

16g
Saturated Fat:

0g
Trans Fat:

0g
Unsaturated Fat:

0g
Cholesterol:

0mg
Sodium:

0mg
Carbohydrates:

51g
Fiber:

0g
Sugar:

0g
Protein:

9g