This Egg McMuffin recipe has fluffy eggs, melty cheese, and salty-savory Canadian bacon all sandwiched between toasted and buttery English muffins. Best of all, this homemade egg McMuffin tastes just like the one from McDonald's - or maybe even better!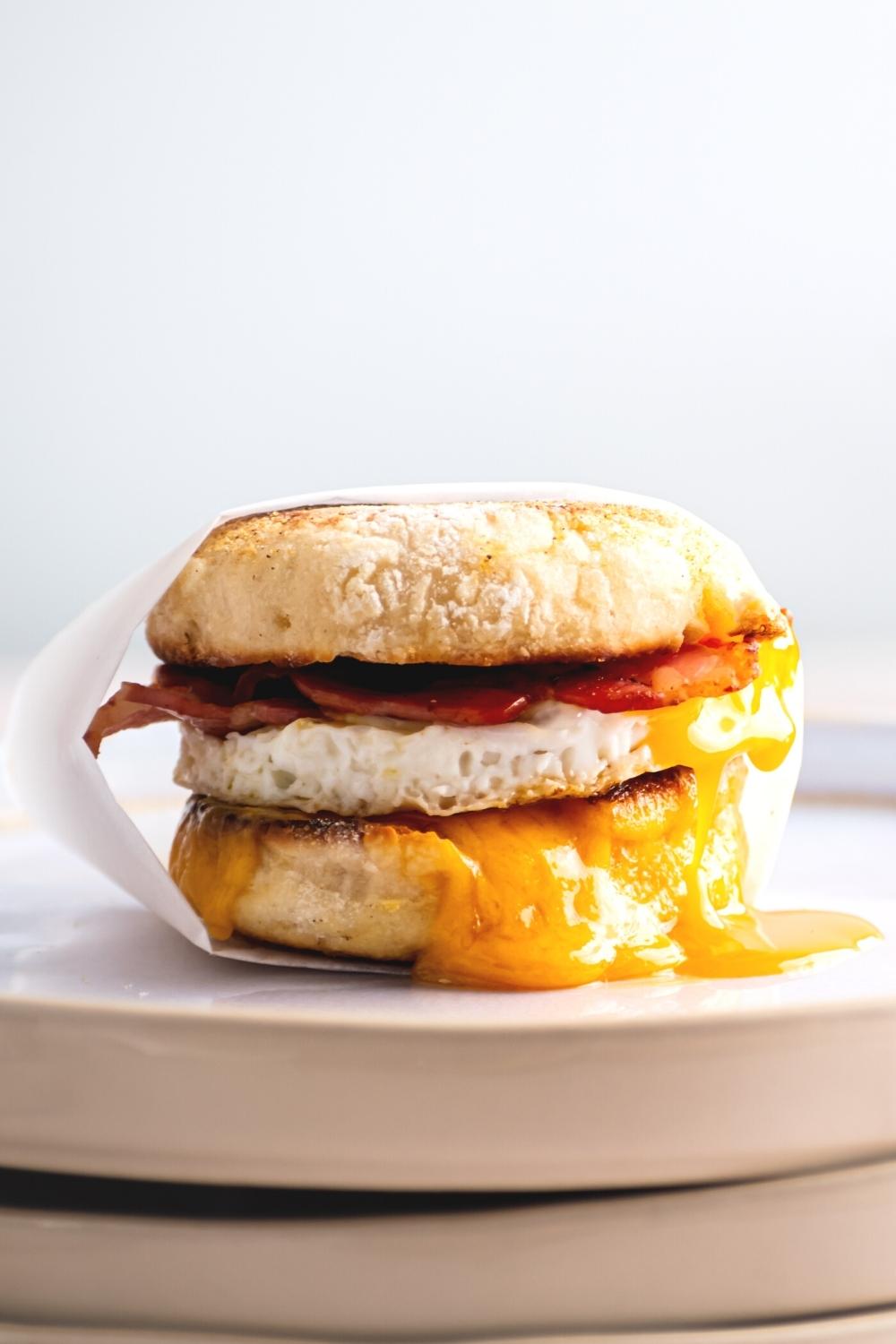 The Best Egg McMuffin Recipe
Now I don't know about you, but I think the McDonald's Egg McMuffin might actually be the best breakfast sandwich of all time.
And, in my opinion, the only thing better than getting an egg McMuffin from the restaurant is making it yourself at home! The best part is you can customize this egg McMuffin recipe however you want - double the cheese, make your muffins extra toasted, and you can use bacon, Canadian bacon, sausage, or leave out the meat altogether.
Also, this homemade egg McMuffin recipe is just as delicious - if not more delicious - than the one from McDonald's. And it's definitely way fresher.
Plus, it's super easy to make! Under 30 minutes is all you need to put it together.
Also, you can make as many as you like - they keep really well in the fridge or freezer. And I'm almost positive you'll want to make extra servings once you've seen how quick, easy, and delicious this egg McMuffin recipe is!
By the way, we also have a McDonald's biscuit recipe, homemade McGriddle recipe, and breakfast burrito recipe if you want to try more of your McDonald's favorites at home.
And if you're in the mood for lunch, give these McDonald's chicken nuggets a try!
Both recipes take 30 minutes or less!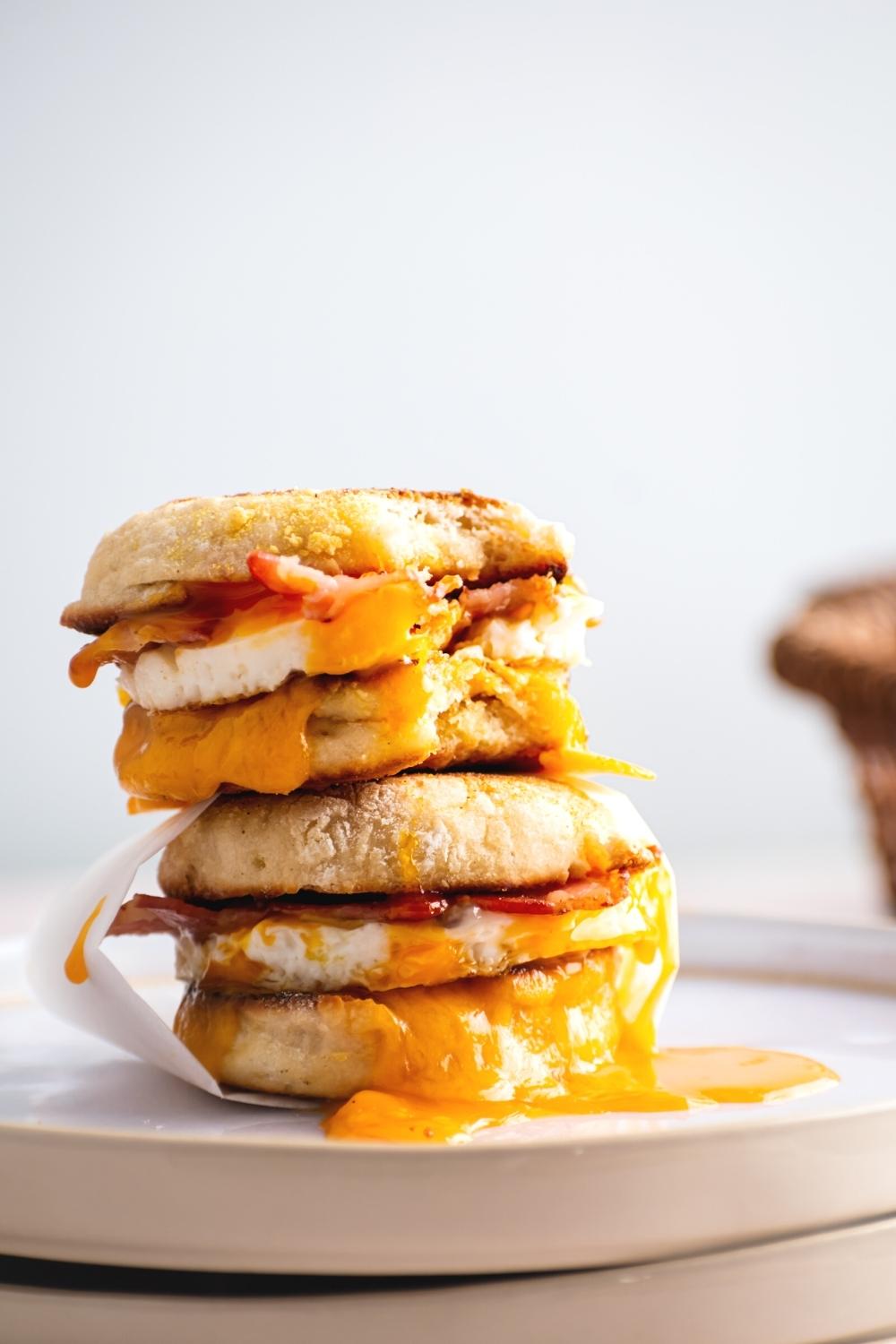 INGREDIENTS
So, all you need to make this Egg McMuffin recipe is 5 simple ingredients.
And anything you don't already have on hand should be easy to find in your nearest supermarket.
Here's everything you'll need for these Egg McMuffins:
2 Tbsp. Butter, divided

2 English Muffins

2 Slices Canadian Bacon (or regular bacon or sausage)

2 Eggs

2 Slices American Cheese
As I mentioned earlier, you can really customize this Egg McMuffin recipe however you want!
My favorite way to elevate the flavor of this breakfast sandwich is by adding on this Mcdonalds breakfast sauce. It honestly makes this one of the best breakfast sandwiches you'll ever have.
As for the meat, this million dollar bacon is an excellent option if you're looking to elevate the flavor of this already delicious breakfast cuisine. Or you can use sausage, regular bacon, or just skip the meat altogether.
By the way, if you want to pair these McMuffins with something equally as delicious, try serving these fried potatoes and onions with them!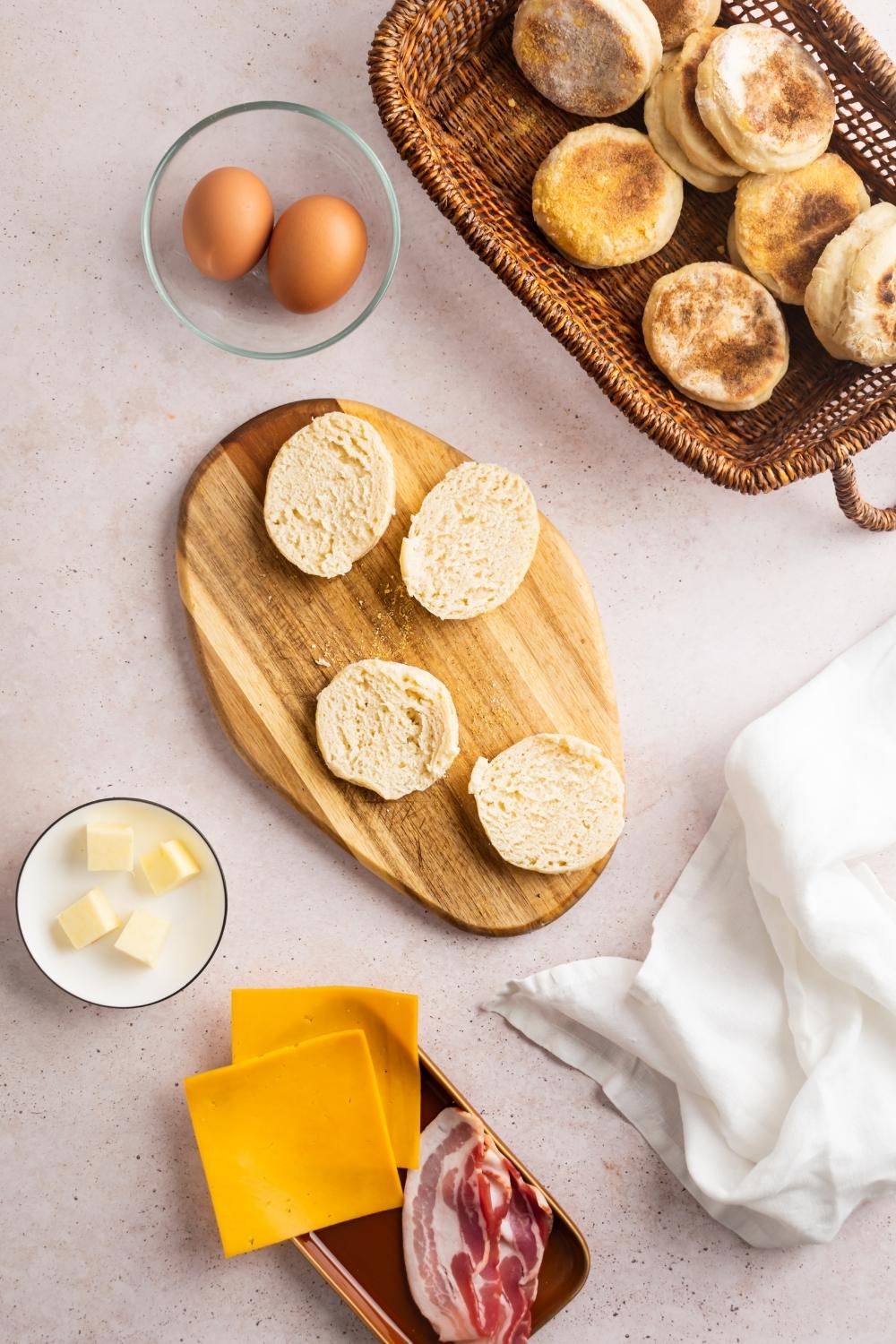 HOW TO MAKE EGG MCMUFFIN
Making your own egg McMuffin at home couldn't be simpler. All the cooking is done in one skillet and the only thing you need to cook from scratch are the eggs.
Plus, everything cooks in just a couple of minutes.
Then, it's just a matter of assembling your McMuffin!
All in all, it'll only take about 20 minutes to make 2 homemade egg McMuffins. And even if you triple the recipe, it should take about the same time!
So, with all that said, let's dive into the recipe!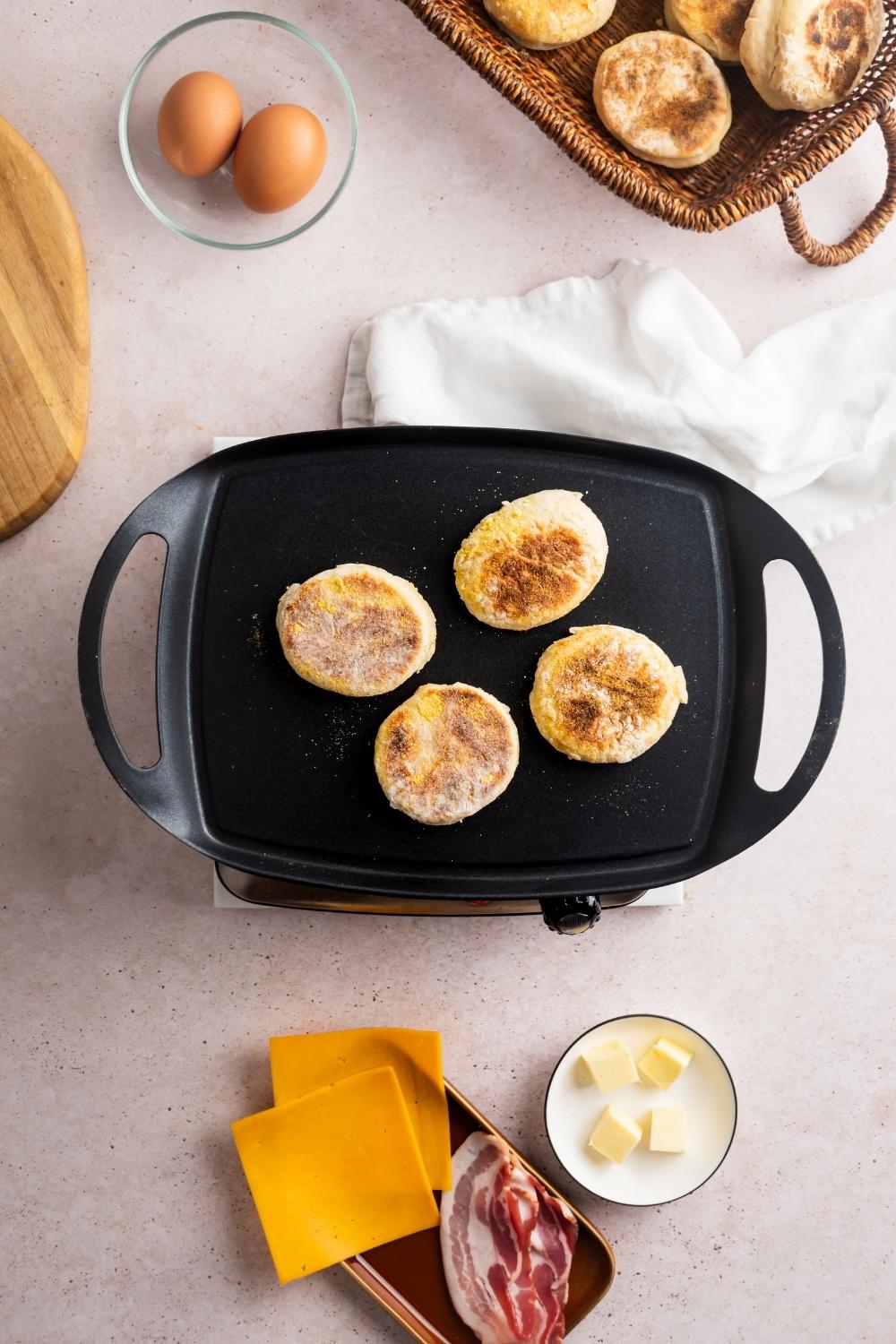 STEP 1: PREPARE THE MUFFINS AND BACON
First, split the English muffins into halves. You can use a knife to do this, but I find the best way is to poke around the perimeter of the muffin with a fork, then gently tear the muffin in half with your hands. This gives you the same craggy texture that the McDonald's muffins have and is perfect for toasting.
Anyway, once you've done that, top each half with butter and toast them on the skillet - or grill - until you get some golden brown edges. Then, when that's looking good, put those to the side for later.
Then, in the same pan, cook the bacon on both sides until it is as crispy as you want!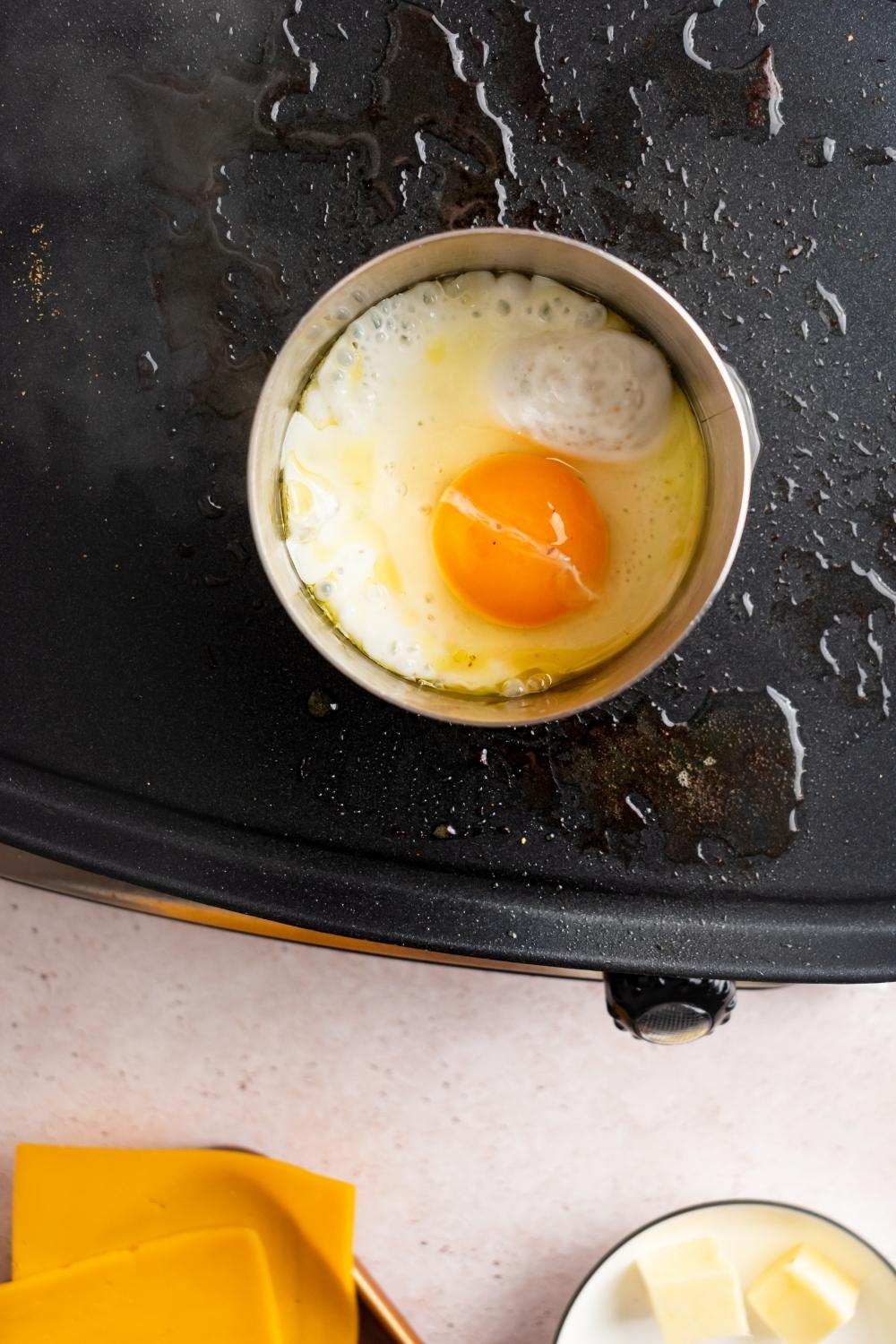 STEP 2: MAKE THE ROUND EGGS
Ok, so without removing any of the leftover oil from cooking the bacon, place an egg ring (or a round metal cookie cutter, or any other round metal mold) into the skillet.
Brush some of the remaining bacon grease in the interior of the molds, then crack an egg into each egg mold.
Cook the fried eggs until they've reached your desired doneness, then pop them out of the molds and set them aside.
By the way, if you don't have the molds, you can just cook the egg on its own, and your breakfast sandwich will still be delicious!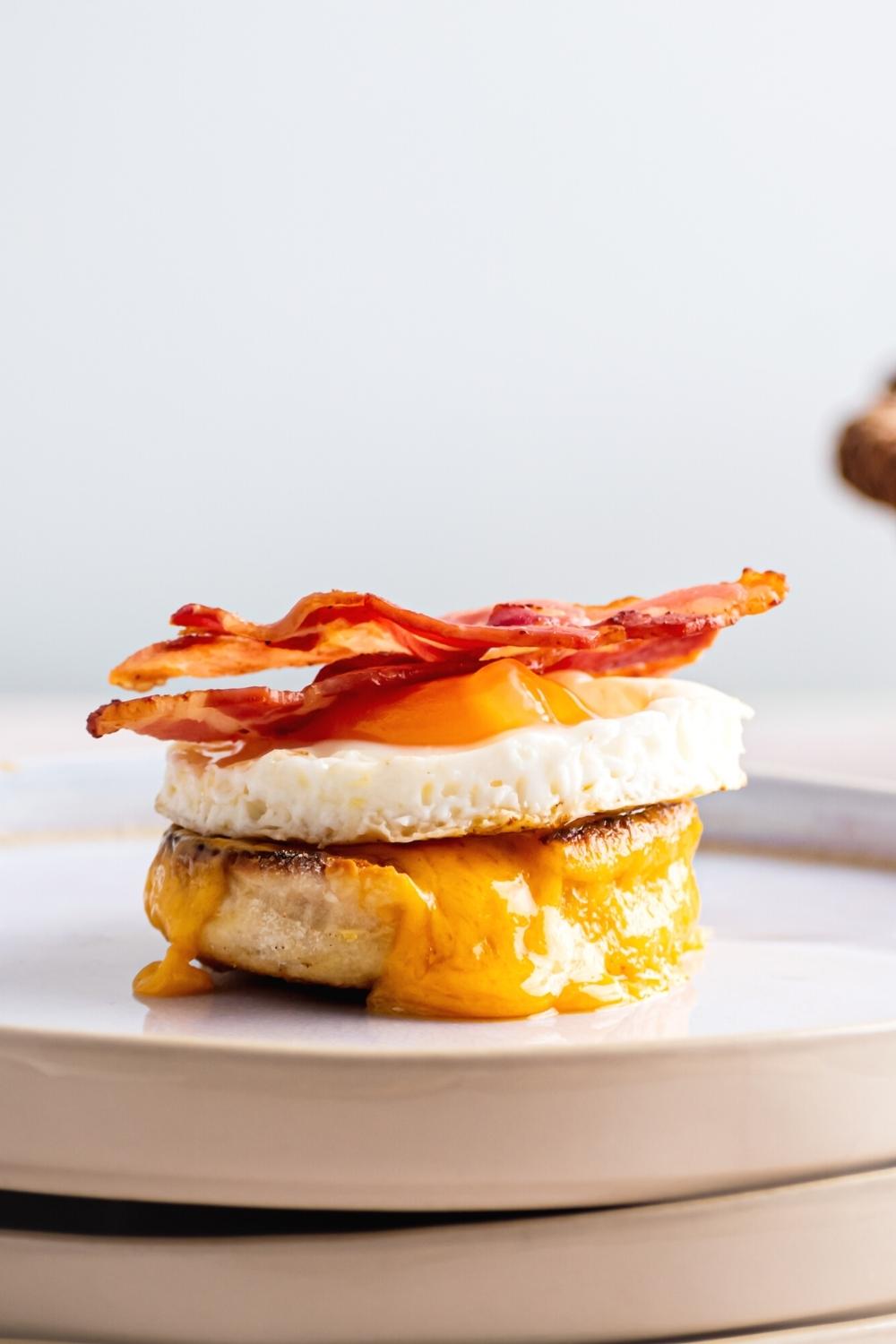 STEP 3: ASSEMBLE THE MCMUFFINS
Next, take the bottom halves of each buttered English muffin and lay a slice of cheese on top. Microwave the muffin with the cheese on it for a few seconds, just until the cheese slice is soft and melty.
Finally, top it with the round egg, the slice of Canadian bacon, and the tops of the English muffins.
Now you can eat your homemade egg McMuffins as is or wrap them in parchment paper for the most authentic breakfast sandwich experience (and the best portability).
And for the ultimate breakfast, whip up this McDonald's caramel frappuccino in under 5 minutes.
Enjoy!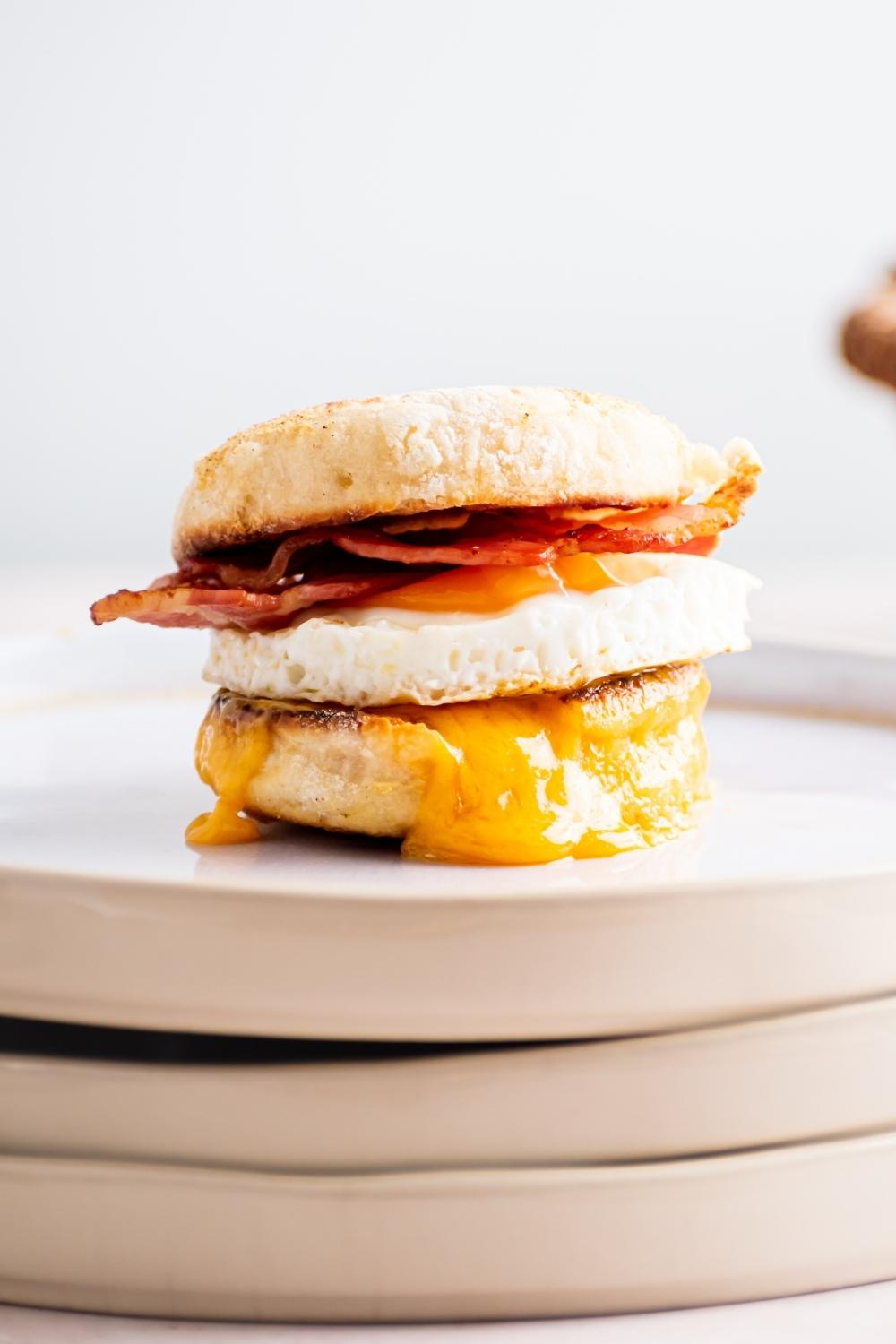 HOW TO STORE LEFTOVER EGG MCMUFFINS
So, just like the Mcdonald's Egg McMuffin, these homemade Egg McMuffins store really well.
This copycat egg McMuffin makes a really great quick breakfast or grab-and-go breakfast for those busy mornings. And they're a great breakfast for kids before they leave for school!
All you have to do to store them is individually wrap the assembled breakfast sandwich in parchment paper and then keep them in an airtight container. Stored like that they'll last for 3-5 days in the fridge or up to 2 months in the freezer.
You can reheat the copycat egg McMuffin in the microwave for about 1 minute for refrigerated sandwiches or around 3 minutes for frozen ones.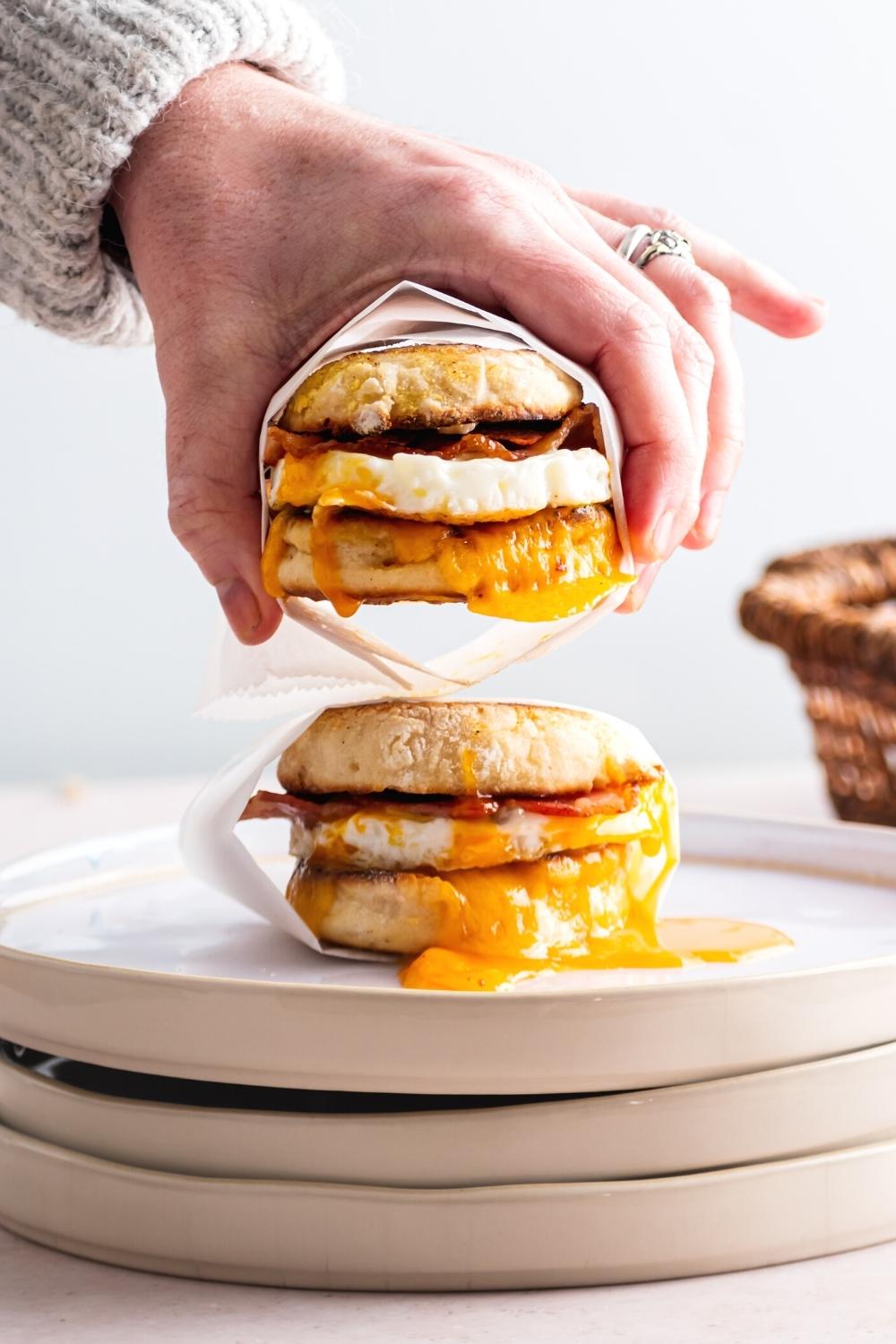 FAQ'S ABOUT THIS EGG MCMUFFIN RECIPE
How does McDonald's make their eggs for Egg McMuffins?
McDonald's egg stations are equipped with an egg cooker machine that heats and steams the eggs.
The egg rings in the machine are brushed with melted butter, and a fresh egg is cracked into each one. The yolks are slightly broken to prevent them from becoming too runny, then the cooker is closed, and a little water is added in to help poach the eggs.
The result is consistently cooked round eggs that are soft and bouncy.
How do you make perfectly round eggs?
Now, if you want to make your own McDonald's style circle eggs at home, you can use an egg ring, a round metal cookie cutter, or any other circle mold that can take the heat of the skillet. One popular hack is using the metal ring from a mason jar lid.
Grease the rim of the mold with your choice of oil and place it on the skillet. Crack the egg into the mold and let it cook until you reach your desired doneness. If necessary, you can add a little water outside the mold and cover the pan to steam the eggs.
What are the ingredients in an Egg McMuffin?
The staple ingredients that McDonald's uses in an egg McMuffin are English muffins, American cheese, a fried egg, salted butter, clarified butter, and Canadian bacon.
But McDonald's serves a few variations of this classic sandwich like the sausage McMuffin which is just the English muffin and sausage, and the sausage egg McMuffin which is everything I listed above but with sausage instead of the Canadian bacon.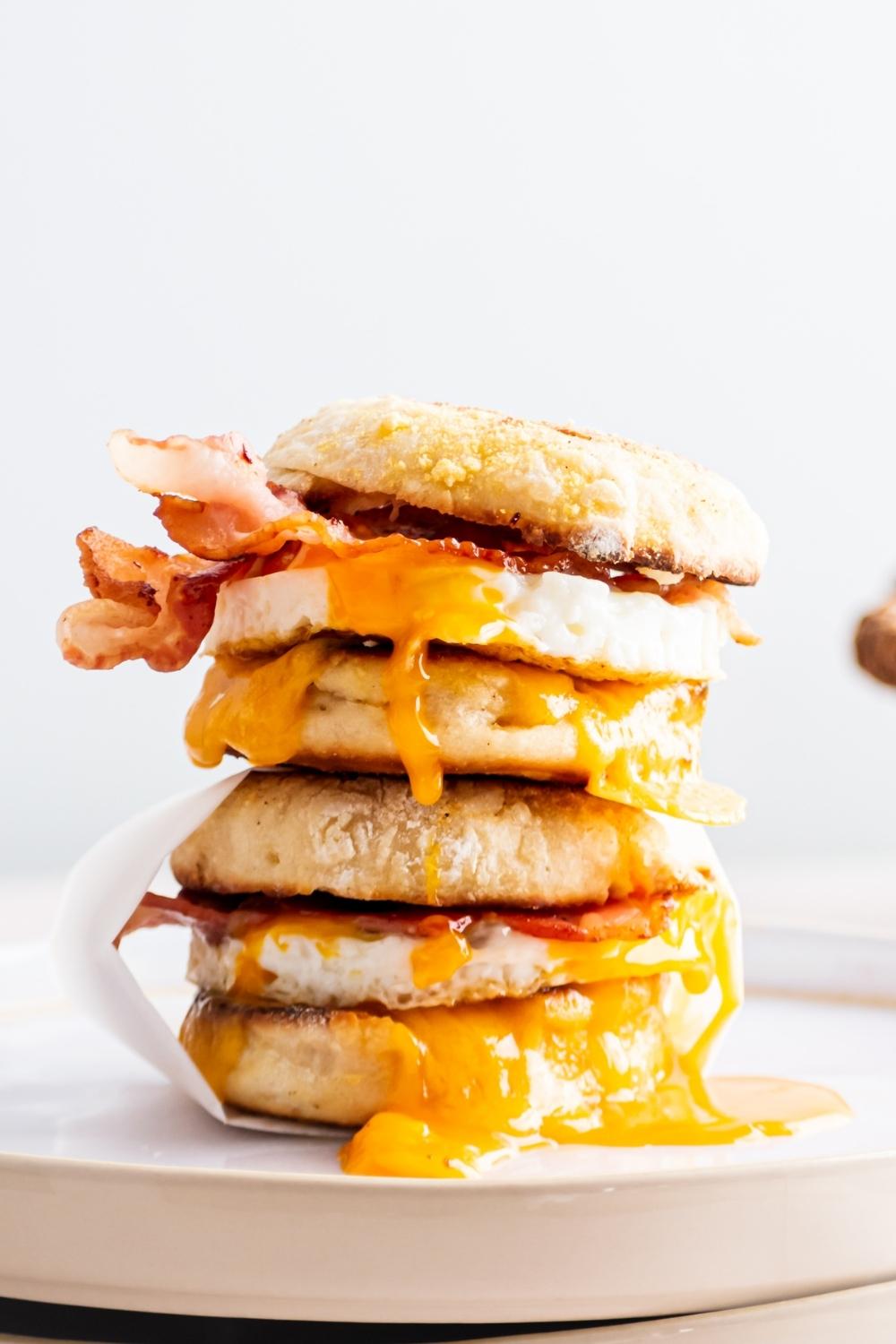 WRAPPING IT ALL UP
Well, that is how to make McDondalds egg McMuffin at home!
And, as you can see, your favorite McDonald's breakfast sandwich is surprisingly easy to make.
These homemade Egg McMuffins taste just like the ones from the restaurant, and honestly, making your own McDonald's Egg McMuffins just feels so much more rewarding and tastes so much fresher!
Anyway, I hope you love this copycat McDonald's Egg McMuffins as much as I do.
Once you've tried it, let me know what you think in the comments. I'd love to hear from you!
Oh, and don't forget to check out our Youtube channel - we're always posting new quick and easy recipes on there.
More McDonalds Copycat Recipes
If you liked these homemade Egg McMuffins, we have a ton of McDonalds copycat recipes on the blog that you have to try next!
Try out these copycat McDonalds recipes next:
Print
Homemade Egg McMuffin McDonalds Copycat Recipe
This Egg McMuffin recipe has fluffy eggs, melty cheese, and salty-savory Canadian bacon all sandwiched between toasted and buttery English muffins. Best of all, this homemade egg McMuffin tastes just like the one from McDonald's - or maybe even better!
Author:
Prep Time:

5 minutes

Cook Time:

5 minutes

Total Time:

10 minutes

Yield:

2

McMuffins

1

x
Category:

Breakfast

Method:

Stovetop

Cuisine:

American
2 Tbsp. Butter, divided
2 English Muffins
2 Slices Canadian Bacon (or regular bacon or sausage)
2 Eggs
2 Slices American Cheese
Instructions
Open the English muffins, top them with butter, and heat them on a skillet or grill until it's toasted and the edges are golden brown.

In the same skillet, cook the bacon until golden and crispy. Reserve.

Use an egg mold or other metal round mold to cook the eggs. Place the mold in the skillet (that has the grease of the bacon still), grease the rims of the metal mold and crack the eggs into them. Cook them until the eggs reach your desired doneness.

Top the bottom of each English muffin with the cheese and microwave for a few seconds, just until it melts.

Top it with the egg, bacon, and muffin top. Enjoy!
Nutrition
Serving Size:

1 McMuffin

Calories:

506

Fat:

23

Carbohydrates:

57

Protein:

19
Keywords: Egg McMuffin, Egg McMuffin recipe, breakfast sandwich recipe, Homemade egg McMuffin, mcdonalds egg and cheese mcmuffin recipe, McDonalds egg McMuffin, egg mcmuffin recipe mcdonalds, easy egg mcmuffin recipe, best egg mcmuffin recipe, McDonalds egg McMuffin recipe,