These copycat McDonald's snack wraps are filled with crispy chicken tenders, zesty ranch dressing, fresh lettuce, and shredded cheddar cheese. For how simple they are, these snack wraps are incredibly satisfying and make a filling lunch or dinner. The best part is, they're practically effortless to make!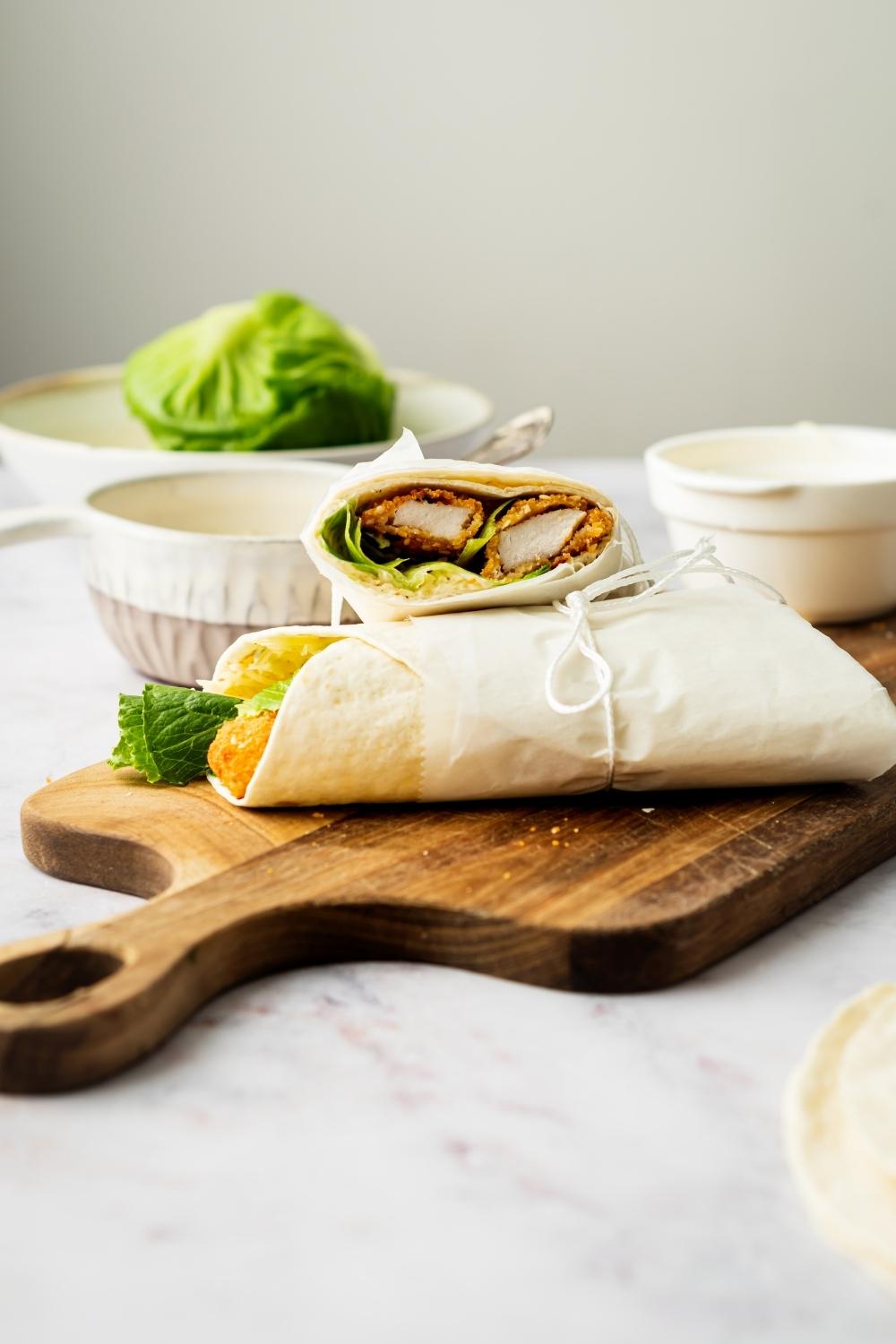 The Best McDonalds Snack Wraps
There's nothing quite like a snack wrap to satisfy your hunger and cravings.
And while it's definitely convenient to pop into a McDonald's to get your snack wrap fix, these homemade wraps are honestly unmatched in terms of flavor and quality.
These homemade McDonald's snack wraps take 30 minutes or less to make. And most of that is just baking the tenders, so you're only looking at around 10 minutes of actual hands-on time.
The snack wrap is the perfect packed lunch or quick dinner - and, honestly, they also make excellent afterschool snacks for the little ones.
Plus, you can make a big batch of these pretty easily, for convenient meal prep.
Not to mention, they're super customizable too. You can start with this classic ranch chicken snack wrap, and branch out to garlic mayo chicken wraps, grilled chicken wraps, or spicy veggie wraps with just a few ingredient swaps! More on that later.
Oh, and if you like this McDonald's snack wrap, you should also check out our other fast food chain recipe hacks, like these McDonald's chicken nuggets or this steak bagel recipe. And for dessert, you can make these McDonalds chocolate chip cookies.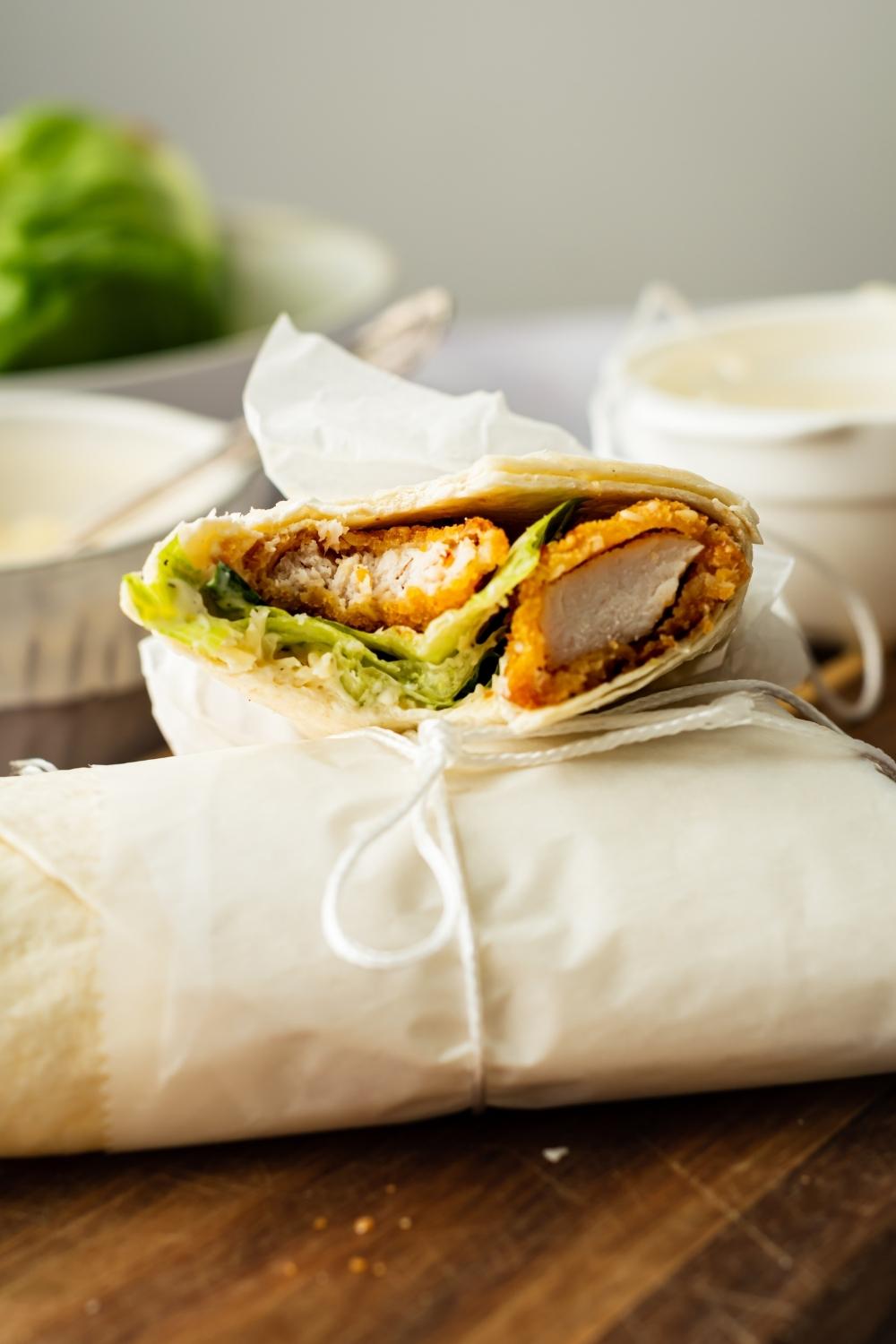 Ingredients
The ingredients required for these delicious snack wraps could not be easier.
For starters, you may have most of the ingredients chilling in your fridge already. If not, everything's just a quick trip to your nearest grocery store away!
Now, here is what you'll need to make these McDonalds snack wraps:
6 Chicken Tenders
2 Fajita Flour Tortilla
1 cup Shredded lettuce
½ cup Cheddar Cheese, shredded
¼ cup Ranch Dressing
That's it!
Now, I used frozen chicken tenders for this recipe to make it as convenient as possible to make. But, you can also make this snack wrap recipe with homemade ones.
Also, just so you know, you can use a lot of these same ingredients to make this McDonald's breakfast burrito too! So you may want to save that recipe for later.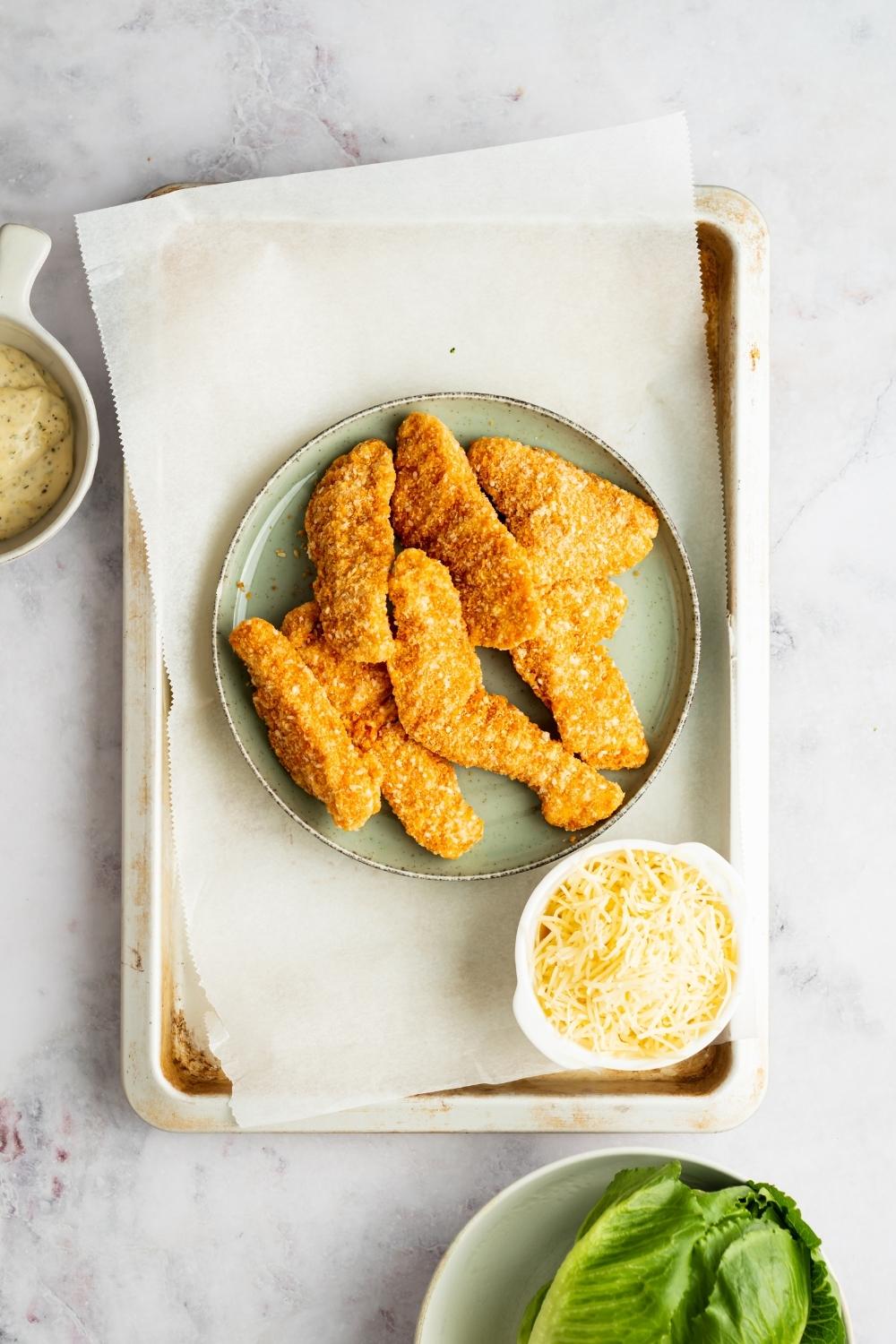 Modifying Your Crispy Chicken Snack Wraps
After you make these snack wraps once, you'll want to make them all the time.
And as good as this snack wrap is, you might want to try these simple swaps to switch them up:
As you can see, the possibilities are endless! So feel free to change up your snack wrap each time you make it.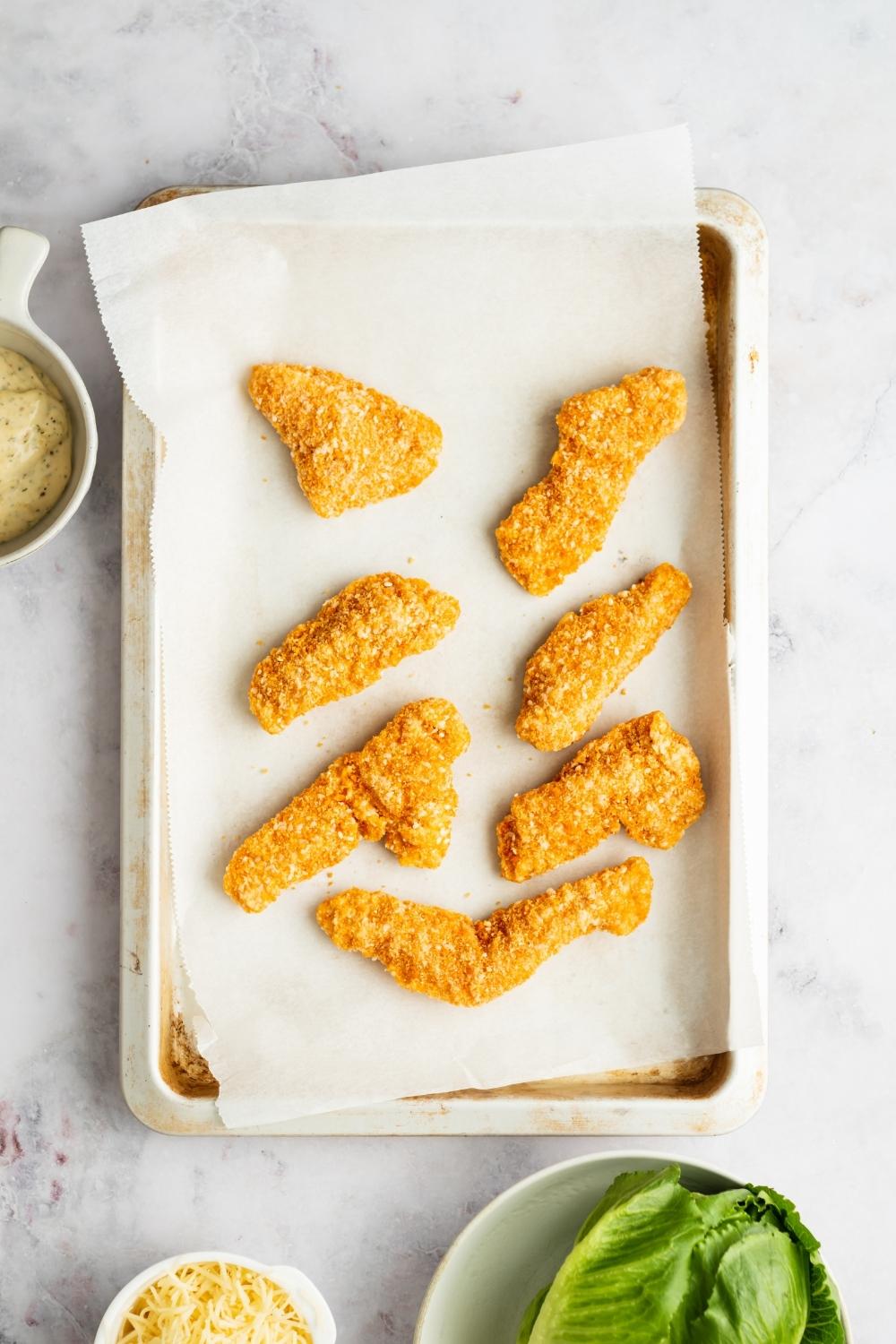 How To Make These McDonalds Snack Wraps
It's crazy easy to make these snack wraps. In fact, you can even make them with the kids as a fun after-school activity.
Very little cooking is required, and you can easily use an air fryer or toaster oven to make the tenders.
Now, let's stop wasting time and get into it!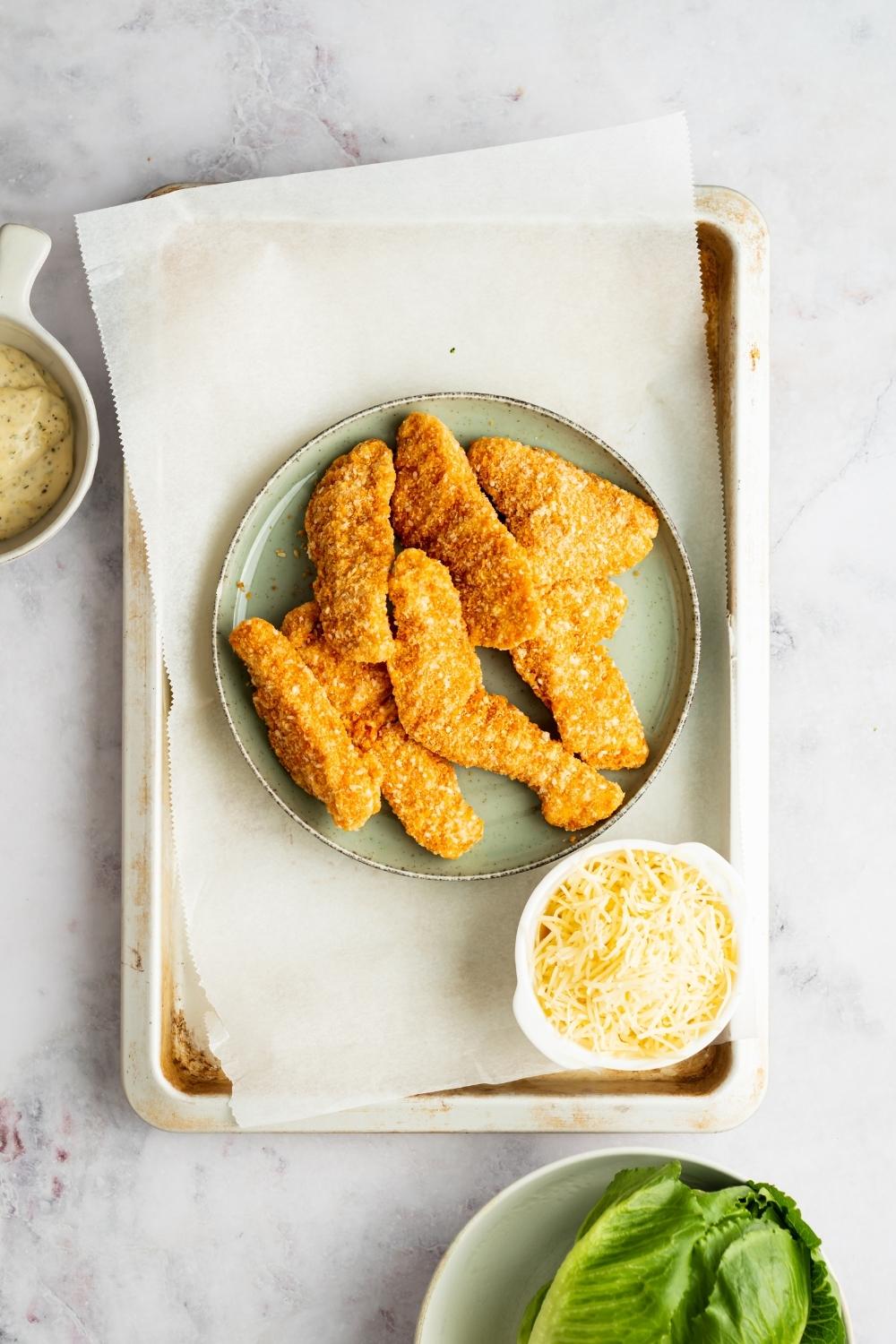 Step 1: Bake Your Chicken Tenders
First, preheat the oven to 350ºF (180°C) and line a baking sheet with parchment paper.
Then, take your frozen chicken tenders and place them on the lined baking sheet. Pop them in the oven and bake for about 20 minutes, or until they're golden brown and crisp.
You can also do this in an air fryer at 350ºF (180ºC) for around 12 minutes.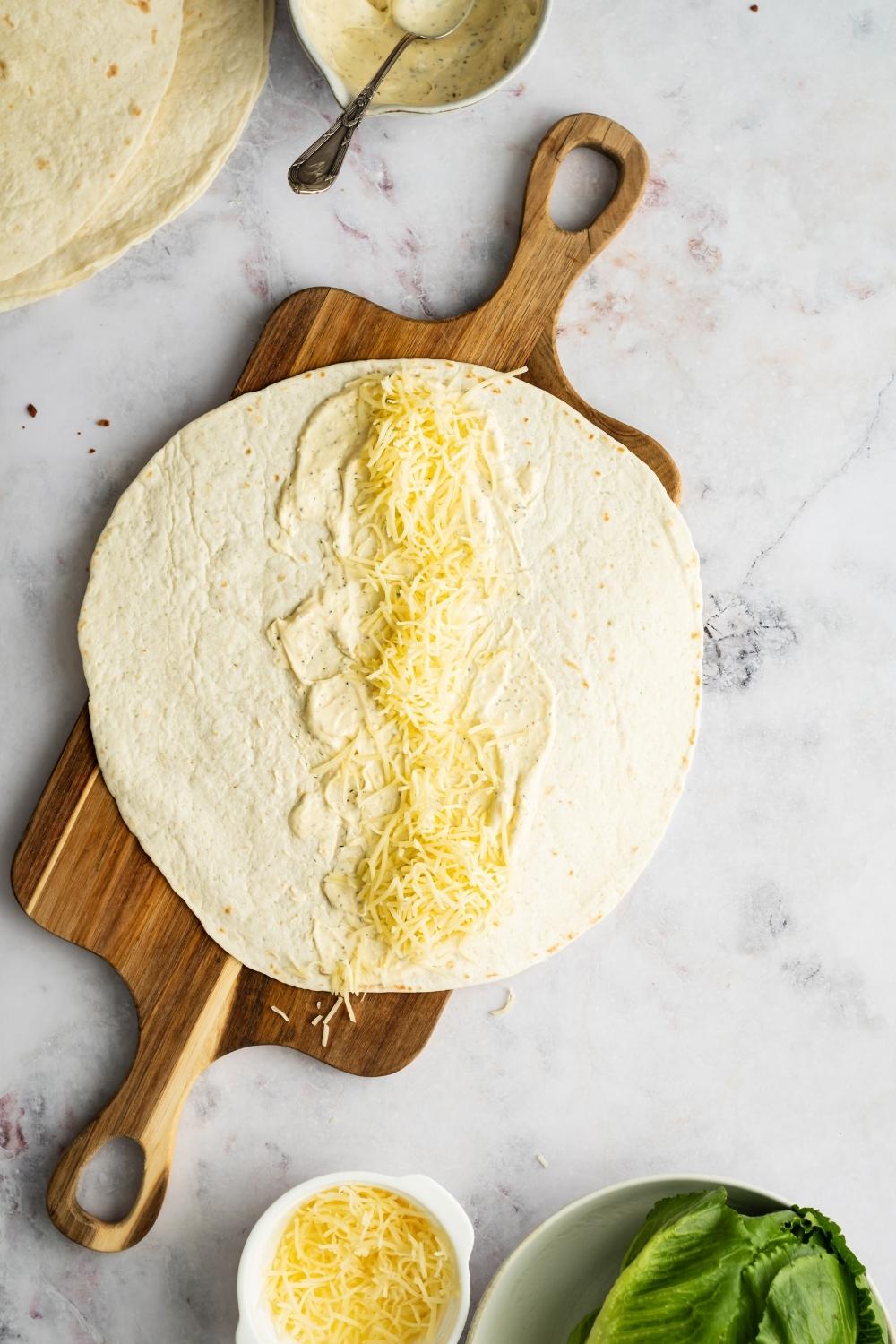 Step 2: Prepare the Wraps
In the meantime, while the chicken cooks, prepare your snack wraps.
First, spread the ranch dressing in a thin layer over the flour tortillas, then add your shredded lettuce, followed by shredded cheese.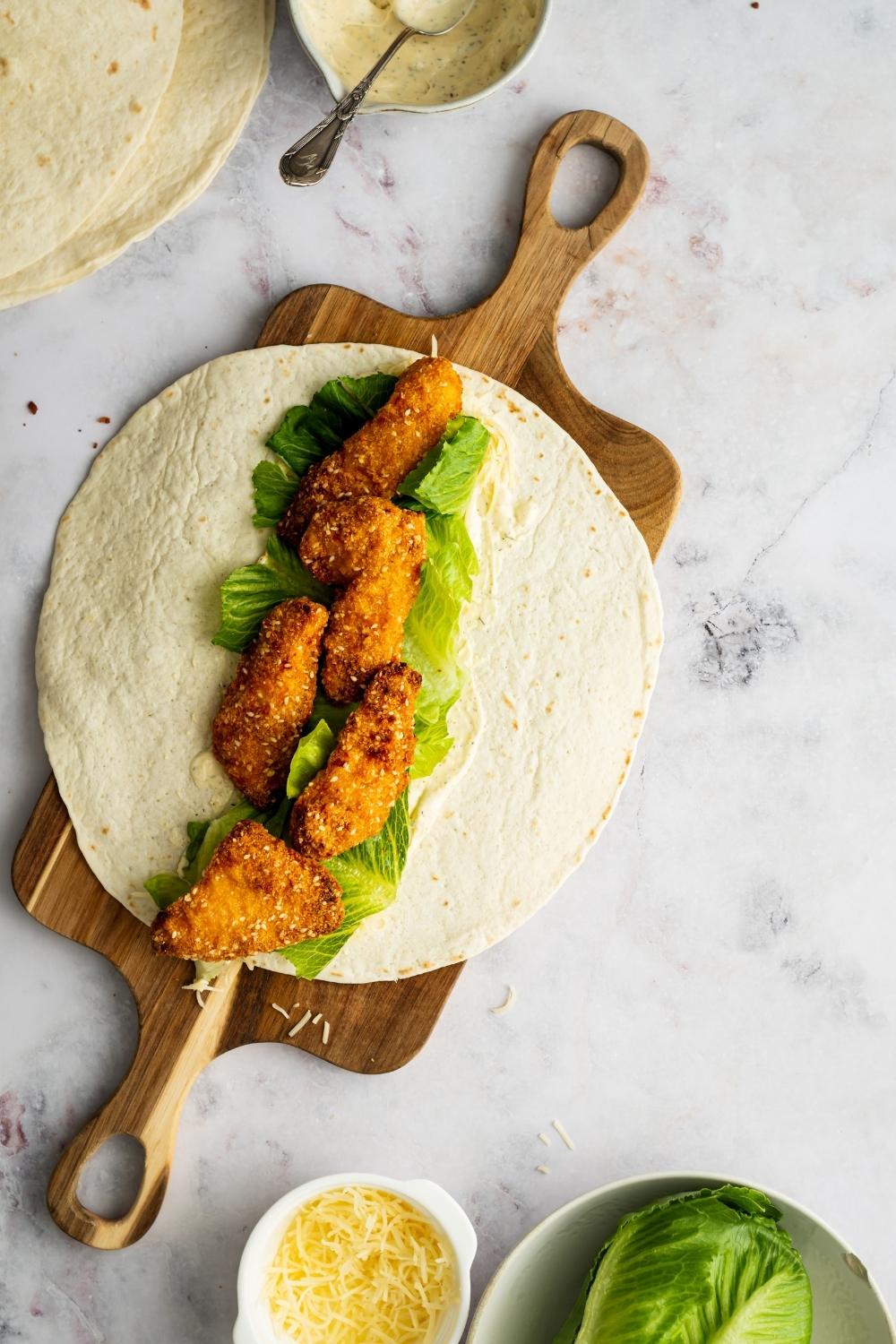 Step 3: Assemble the Snack Wraps
Once your chicken tenders are ready, take them out and let them cool for a few minutes.
Then, place three tenders on top of the other filling ingredients in each wrap.
Roll your wraps with parchment or foil on the outside. Optionally, you can tie them with some twine for more hold, as I did here.
Finally, serve and enjoy!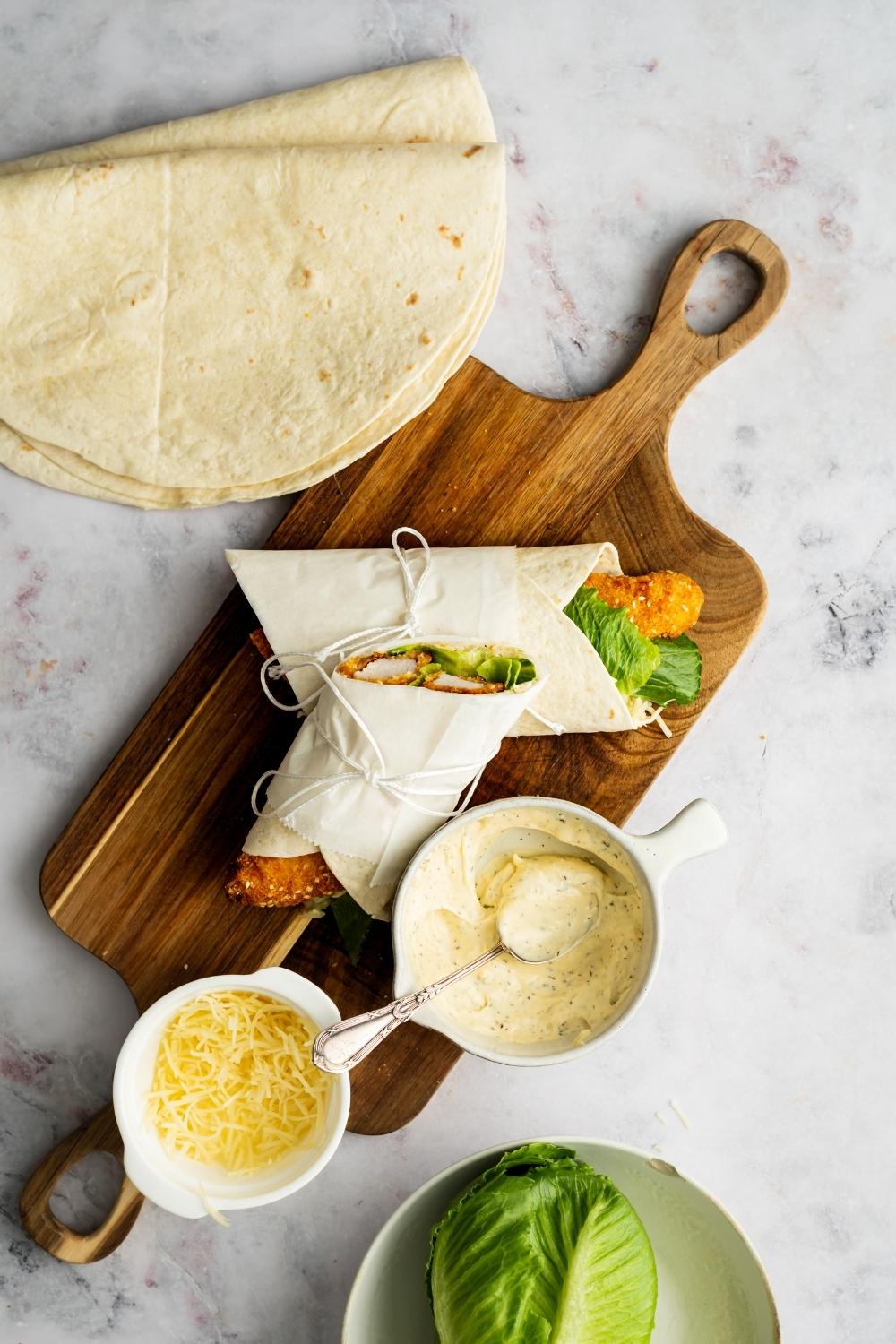 Steps For Rolling Your Wraps Burrito-style
Now, just in case you want to roll your wraps burrito style (with the sides tucked), here's a quick play-by-play to help you get the perfect snack wrap:
Step 1: Line Up Your Filling
First, line up the filling ingredients along the middle, closer to one end of the tortilla.
Step 2: Tuck The Corners
Next, take the sides of your tortilla and bring them into the middle, then wrap one half of your tortilla (the one that the filling is closer to) and wrap tightly.
Step 3: Roll The Wrap
Your tortilla should easily roll to close it.
That's it!
It may take some practice, but in no time at all, you'll be known for your epic wrapping skills.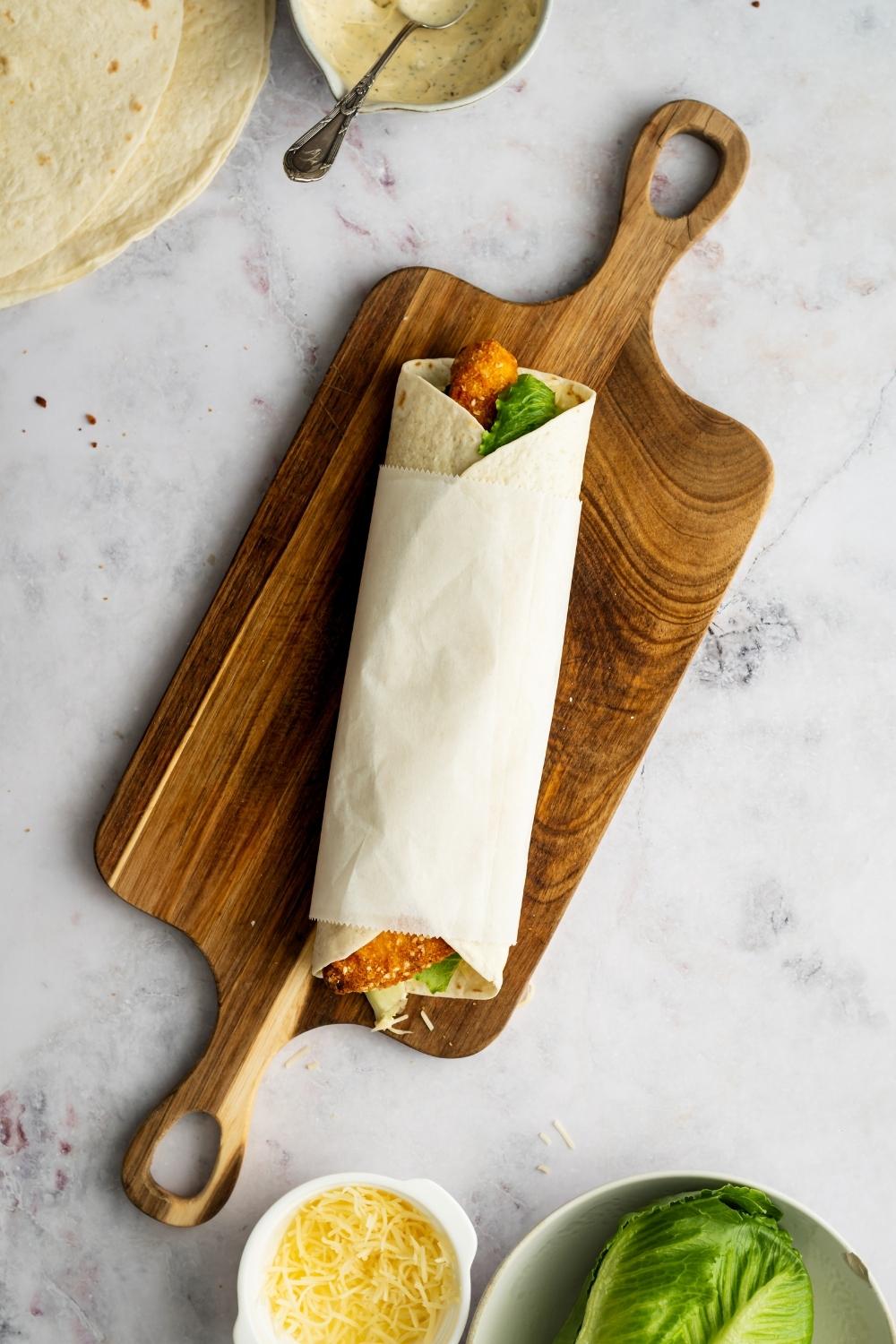 How To Store Your Chicken Wraps
Just in case you can't finish your chicken wraps, they make for great leftovers. A finished chicken wrap will keep in an airtight container wrapped in plastic wrap or aluminum foil in your fridge for up to 5 days.
If you know you're not going to eat all your wraps in one day or want to meal prep them, I recommend keeping the ingredients separate and wrapping them right before you're ready to eat, so the lettuce doesn't get soggy.
As for reheating, I don't recommend reheating the whole wrap if you've already added the lettuce and ranch. But, the good news is that these wraps are great when eaten cold!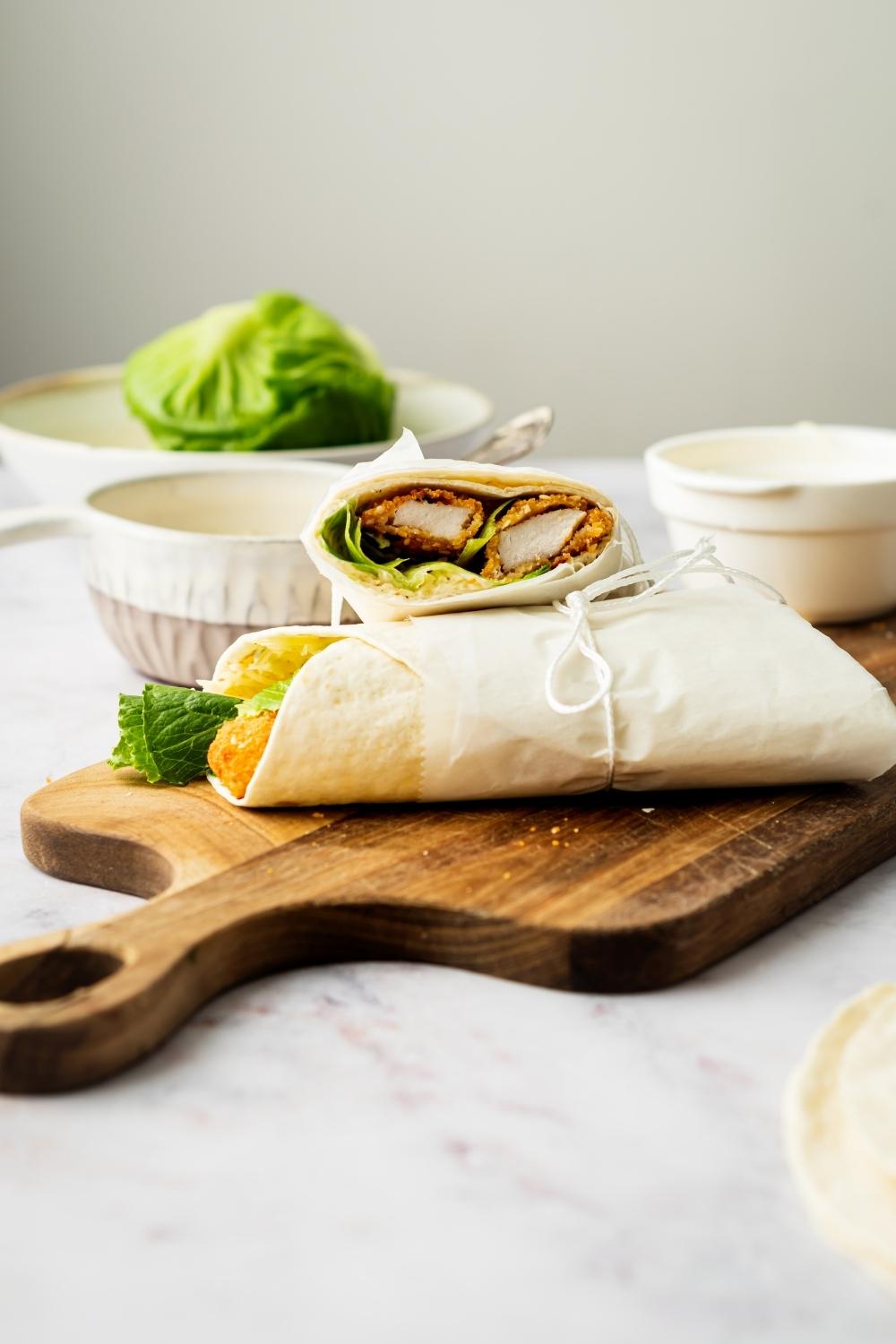 Wrapping It Up
Well, that's how to make McDonald's snack wraps at home!
These homemade snack wraps are so delicious you'll never want to line up at a McDonald's again!
Honestly, I like to make a double or triple batch of these wraps in one go. That way, I have them in my fridge, ready for me to grab at a moment's notice. They're just so tasty and convenient, and I love having them ready to eat at a moment's notice.
Anyway, if you gave this recipe a try, don't forget to leave a comment below and tell me how it went. I'd love to know your thoughts!
Also, be sure to check out our Instagram, TikTok, and YouTube, where we're always posting easy and delicious recipes like this one.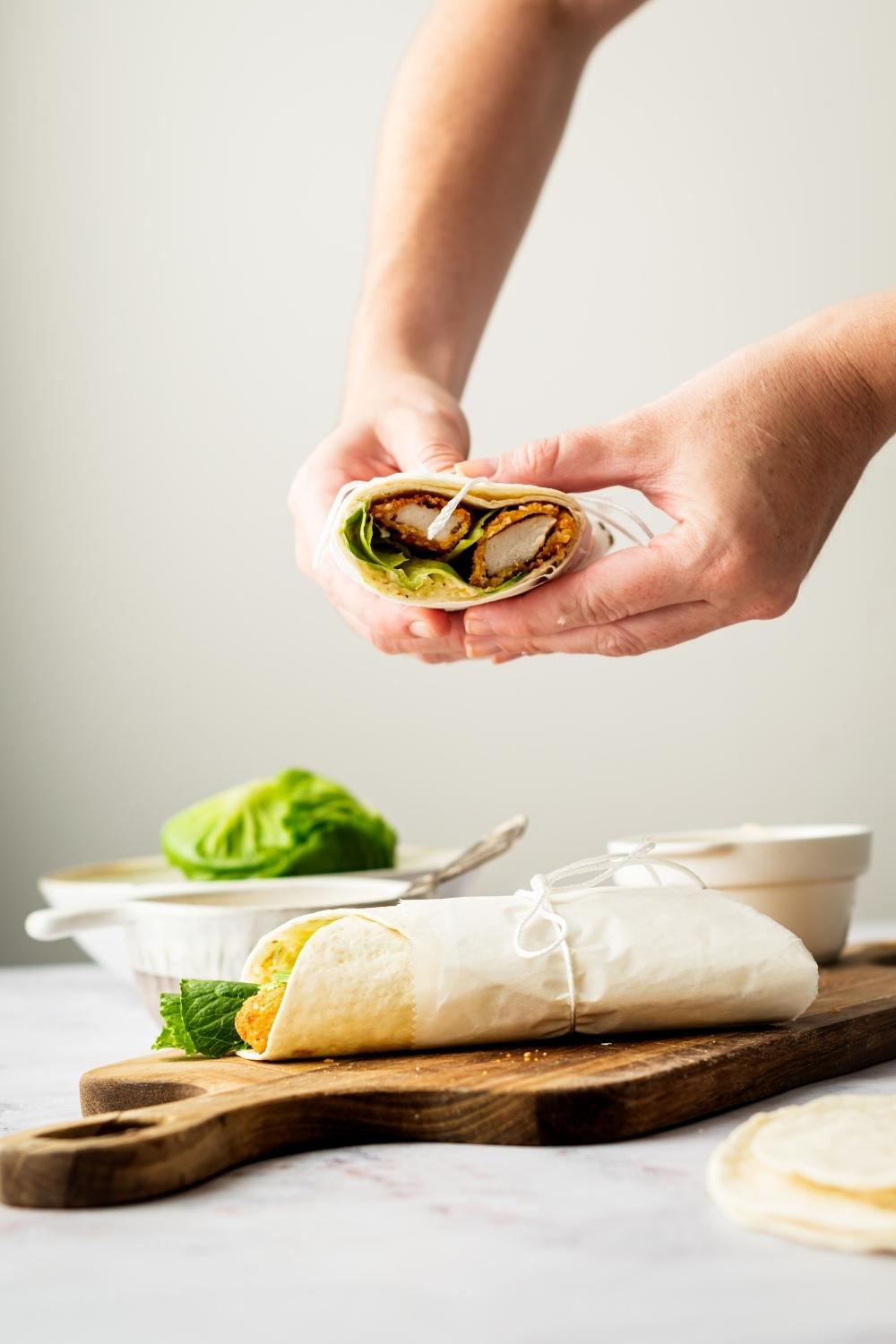 More McDonald's Recipes
If McDonald's is your favorite fast food chain and you want to recreate some more Mcdonald's menu items at home, we have a ton of recipes you can try!
Check out our other McDonald's copycat recipes.
Print
McDonalds Snack Wraps | Easy To Make With 5 Ingredients
These copycat McDonald's snack wraps are filled with crispy chicken tenders, zesty ranch dressing, fresh lettuce, and shredded cheddar cheese. For how simple they are, these snack wraps are incredibly satisfying and make a filling lunch or dinner. The best part is, they're practically effortless to make!
Author:
Prep Time:

5 minutes

Cook Time:

20 minutes

Total Time:

25 minutes

Yield:

2

snack wraps

1

x
Category:

Lunch

Method:

Oven

Cuisine:

McDonalds
6 Chicken Tenders
2 Fajita Flour Tortillas
1 cup Lettuce
½ cup Cheddar Cheese, shredded
¼ cup Ranch Dressing
Instructions
Preheat the oven to 350°F (180ºC).

Place the chicken tenders on a tray and bake for 20 minutes, or until super crispy.

Make the wraps by spreading the ranch dressing over the flour tortillas, add lettuce, cheddar cheese, chicken tenders, and wrap into a burrito shape.
Nutrition
Serving Size:

1 snack wrap

Calories:

440

Fat:

29

Carbohydrates:

26

Protein:

20
Keywords: mcdonalds snack wraps, mcdonalds snack wrap, mcdonalds snack wrap recipe, mcdonalds snack wraps recipe, mcdonald's snack wrap ingredients, mcdonald's chicken snack wrap recipe, mcdonald's snack wrap copycat recipe, homemade mcdonald's snack wrap, snack wrap recipe, chicken snack wrap recipe, best snack wrap recipe