These marshmallow cookies are soft, chewy, super fudgy, and filled with ooey-gooey marshmallows. They taste like a dream, and you can make these stuffed cookies in under 30 minutes!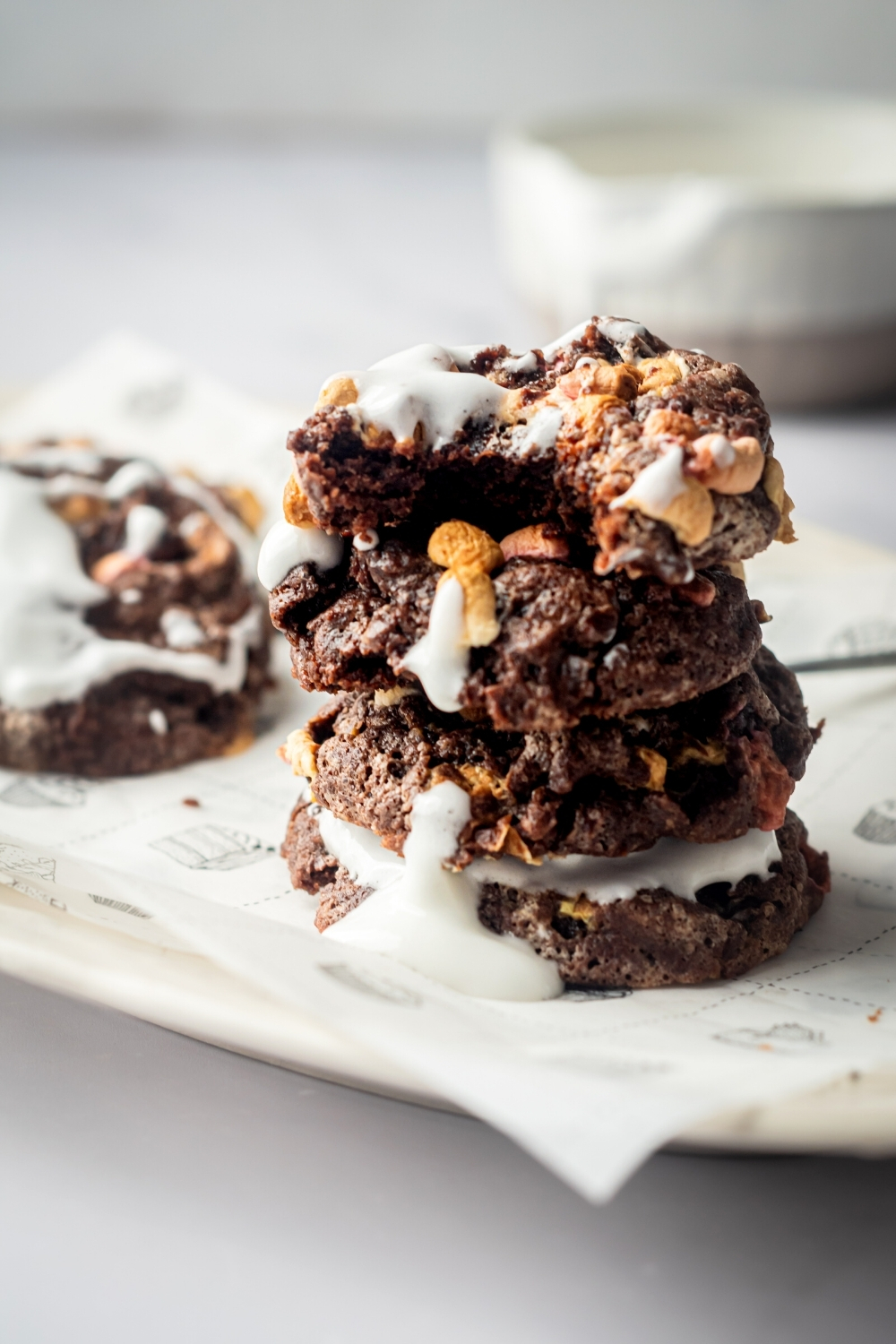 The Best Chocolate Marshmallow Cookies
Chocolate and marshmallow is such a delicious combination that makes s'mores irresistibly good. And if you like s'mores and cookies, you'll fall in love with these chocolate marshmallow cookies.
This recipe creates soft, chewy, and thick chocolate cookies stuffed with marshmallows and topped with some fluff for an extra sweet marshmallowy finish.
These stuffed cookies elevate a classic double chocolate cookie into an indescribably delicious combination of flavors like no other.
And with just a few staple baking ingredients, you can make a batch of these marshmallow cookies in under 30 minutes!
Honestly, they are one of the best cookie recipes you can make for the holidays, but they're so good you'll find yourself making these marshmallow delights with a gooey center all year long.
Plus, it is the perfect recipe to make with kids - or friends - so you've got yourself a holiday activity that everyone will love! And if you want another easy and delicious cookie recipe to make, these 4 ingredient Funfetti cookies are perfect.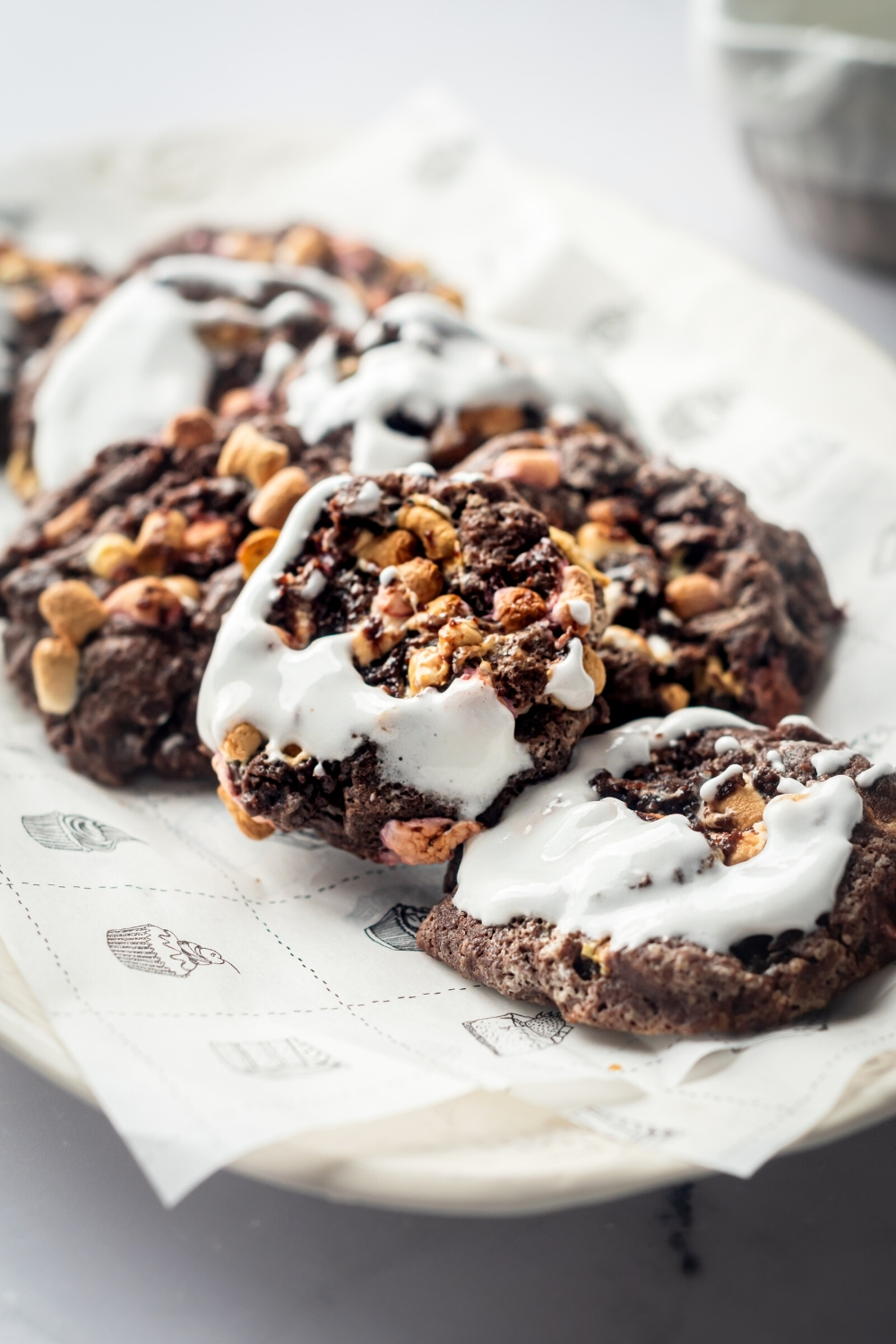 Ingredients
What's great about these marshmallow cookies is they require basic ingredients that you can find at your local grocery store.
And you probably have the majority of them in your kitchen already!
Here's everything you'll need:
8 tbsps. Unsalted Butter, softened
⅓ cup Brown Sugar
⅓ cup Granulated Sugar
1 Egg
1 tsp. Vanilla Extract
1 ⅓ cup All-Purpose Flour
½ tsp. Baking Soda
⅓ cup Cocoa Powder
1 tsp. Salt
½ cup Mini Marshmallows
⅔ cup Marshmallow Fluff
Pretty simple stuff, right?
And a bonus is you can use a bunch of these ingredients to make these chocolate chip cookies! Between these, the traditional chocolate chip cookie, and our white chocolate macadamia nut cookies, you'll have three delicious recipes for whatever cookie mood you're in!
Speaking of chocolate chip cookies, you can actually add some chocolate chips to this cookie recipe if you want to make them even more decadent. I recommend using semi sweet chocolate chips or milk chocolate chips for a subtle chocolate flavor. But if you want a richer flavor, you can use dark chocolate chips instead of the semi sweet chocolate chips or milk chocolate chips.
Oh, and to add some more s'more vibes to the cookies, add in some graham cracker crumbs. That'll really make the cookies taste like a s'mores!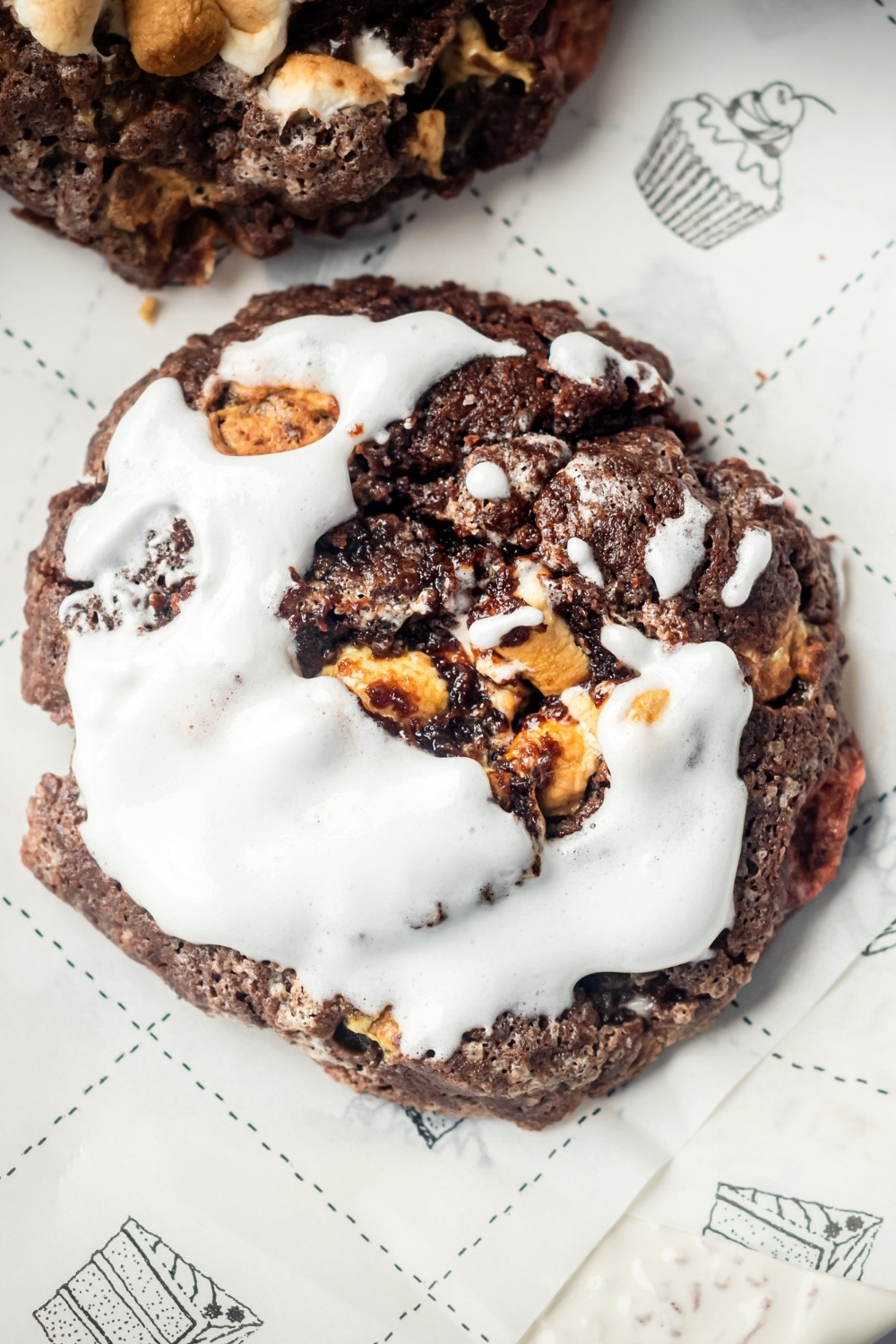 How To Make Chocolate Marshmallow cookies
The baking process is simple, and as I mentioned, these stuffed cookies are super fun to make with friends and family!
So, get everyone in the kitchen, take out the ingredients, and let's make some stuffed cookies!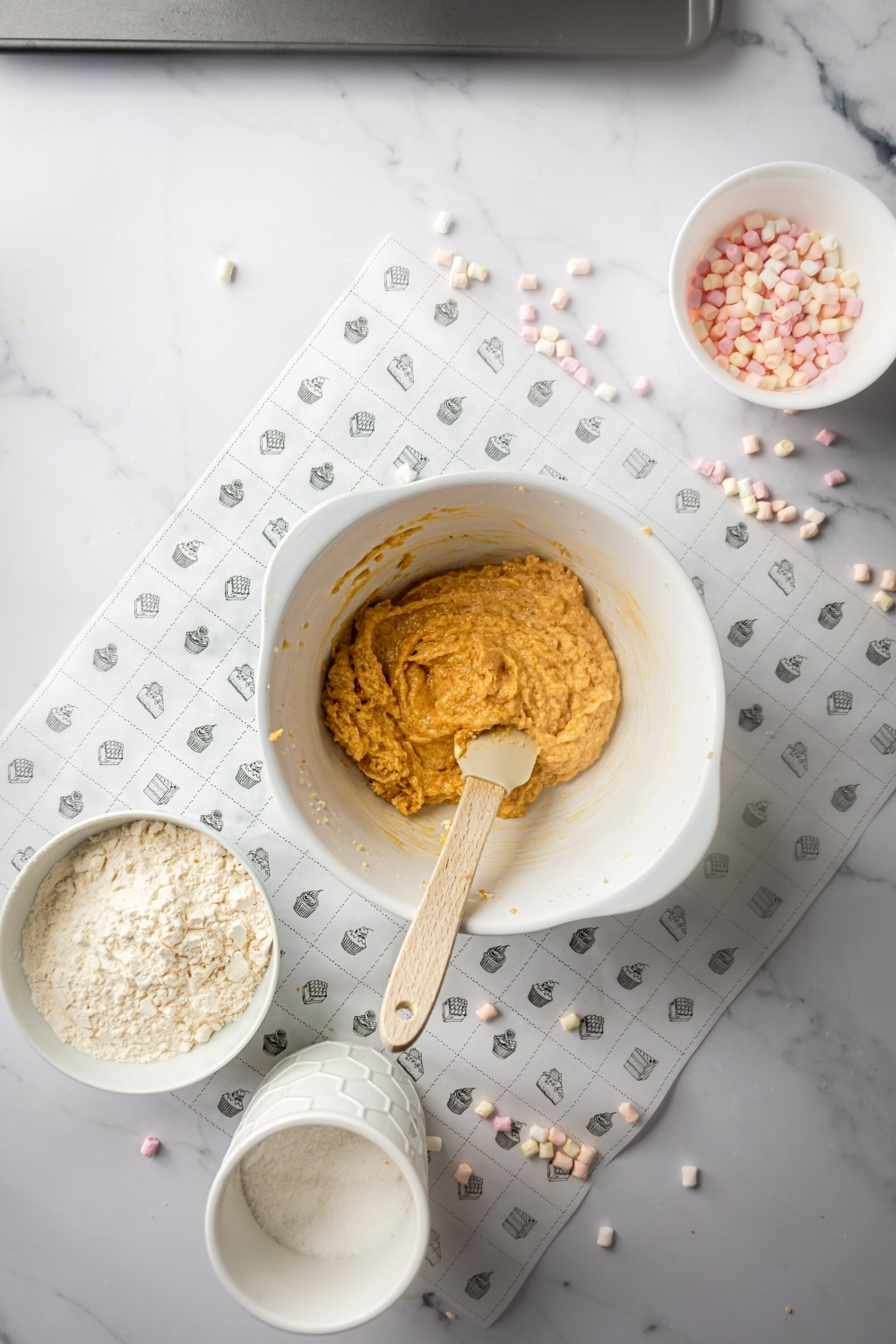 Step 1: Mixing The Ingredients
First things first, preheat the oven to 375 degrees Fahrenheit (190°C).
Then, add the unsalted butter to a mixing bowl, whisk it with a hand -or stand mixer - followed by both brown sugar and granulated sugar, and mix until combined.
Next, add the egg and vanilla extract to the mixing bowl, and mix the ingredients until they are soft and creamy.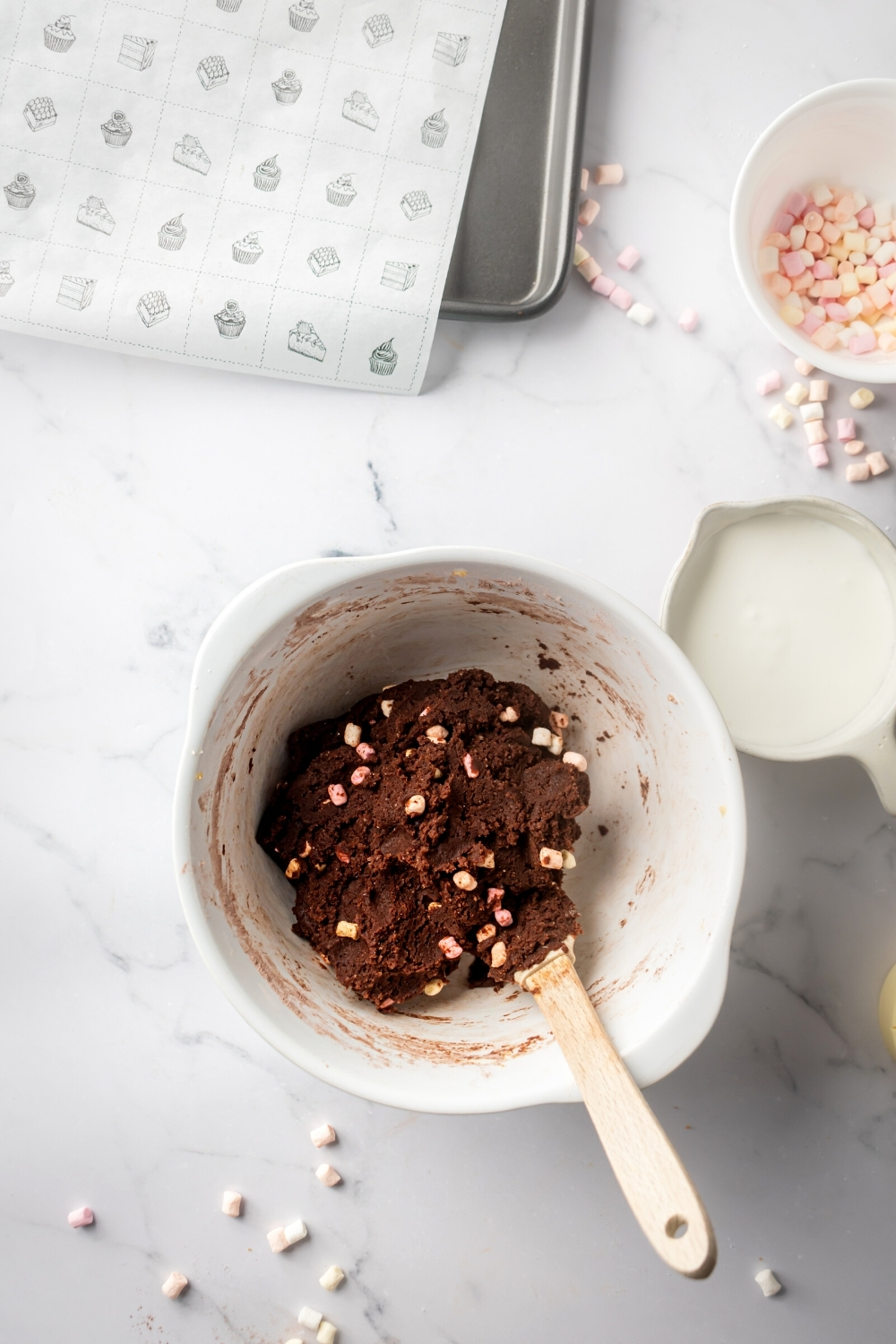 Step 2: Adding The Dry Ingredients
Now that you have a creamy dough, you'll want to take out a separate bowl for the rest of the ingredients.
First, add the all purpose flour (or gluten free flour), cocoa powder, baking soda, and salt to the bowl, and then combine them with a rubber spatula.
Next, add the cocoa powder and flour dry ingredient mixture into the bowl of creamy dough and mix until a cookie dough forms. Then add the mini marshmallows and mix them into the cookie dough ball.
After that, add ½ cup of marshmallow fluff to the bowl of cookie dough and swirl it into the dough cookie with the rubber spatula.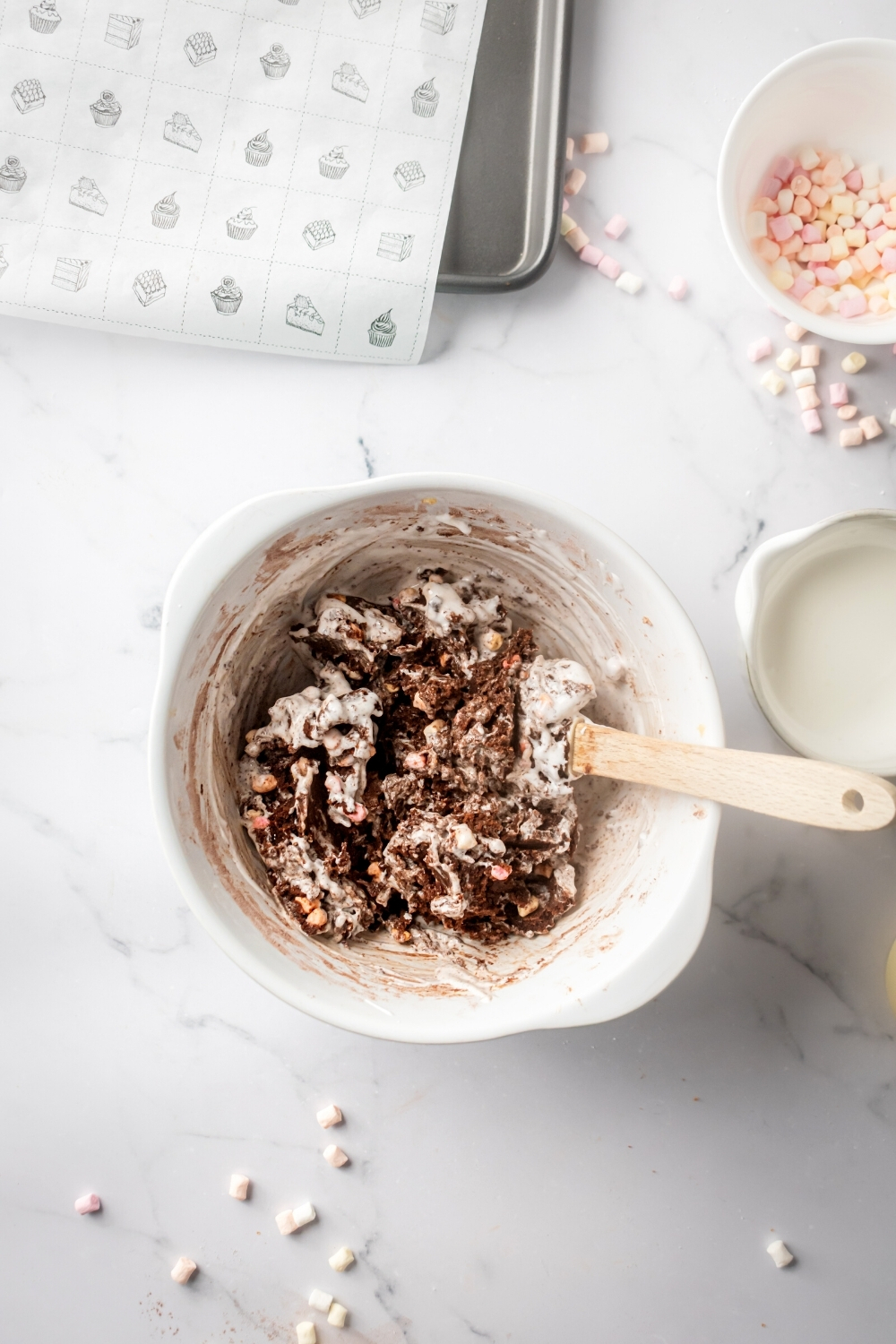 Step 3: Baking The Cookies
Once your dough looks something like the picture above, it's time to bake these marshmallow cookies. First, line a baking sheet with parchment paper.
Then, scoop about 1 tablespoon-sized cookie dough balls onto the prepared baking sheet, leaving about 1 ½ inches of separation between each as the cookie dough balls will flatten a little while baking. You will probably have to bake the cookie dough balls in two batches depending on the size of your baking sheet.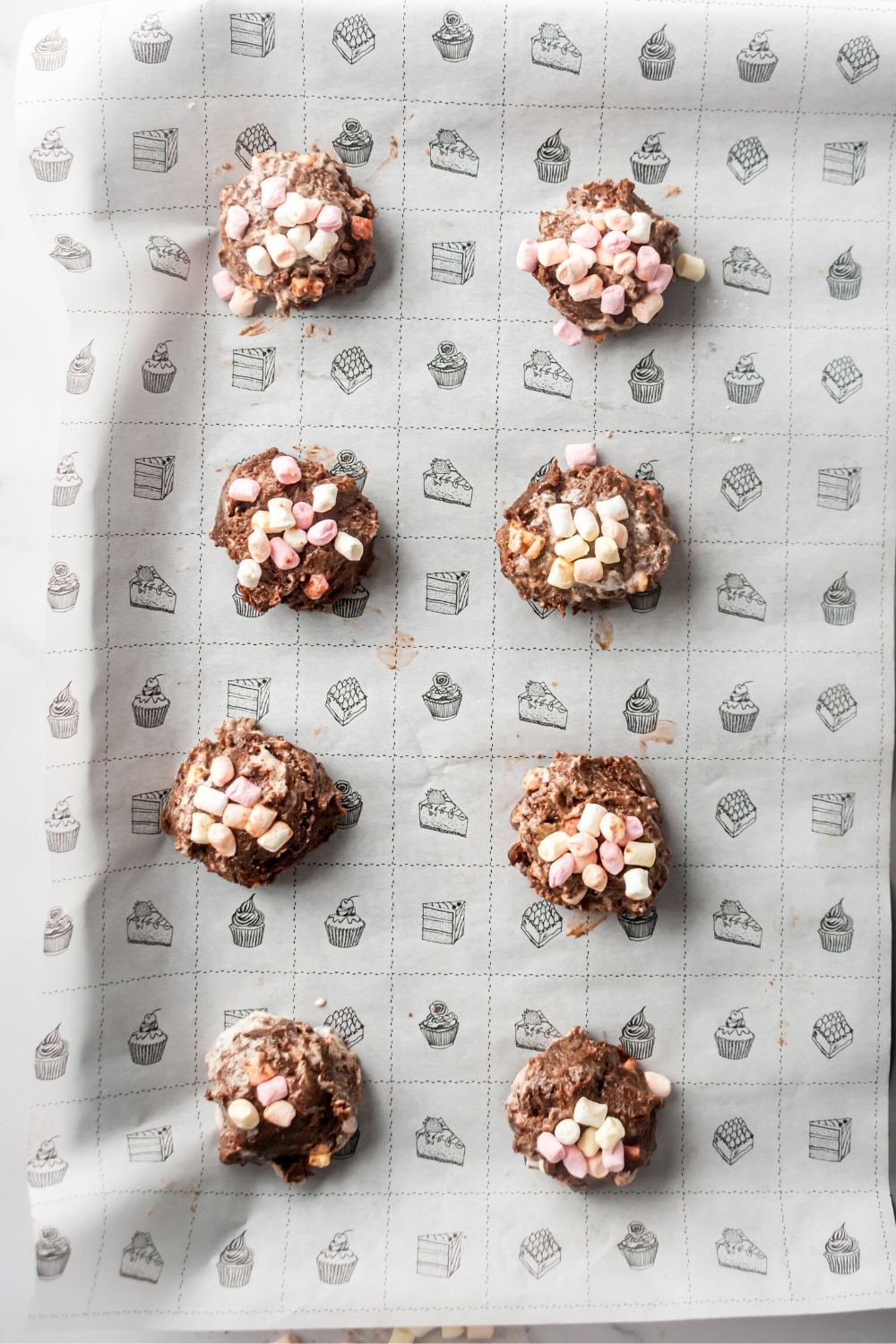 Now top all of the cookie dough balls with a couple of mini marshmallows and bake them for about 10 minutes.
Once you bake cookies, let the cookies cool completely on the tray and top each one with a swirl of marshmallow fluff.
Then pour yourself a big glass of milk, hot chocolate, or make this festive gingerbread latte, grab a few cookies, and enjoy!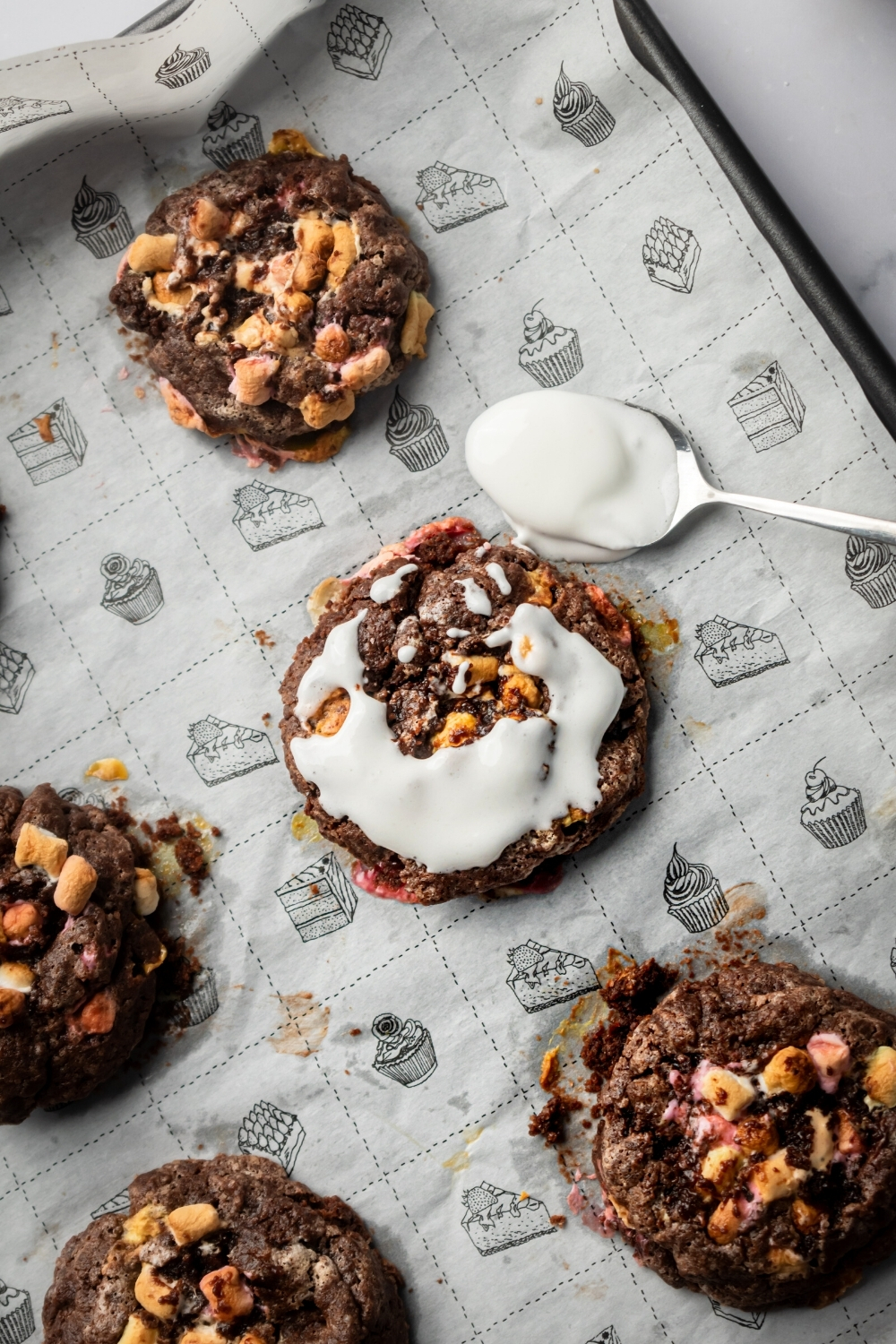 How to Store Marshmallow Cookies
So, this recipe marshmallow cookies will make about 16 cookies, and if you manage to save a few, consider yourself lucky.
Every time I put these cookies out on the table, they're gone before I even get a chance to have a second one!
But, if you have a few leftovers, you can store cookies in an airtight container at room temperature for up to 4 days. I do not recommend keeping them in a plastic bag - they will stick to it, and it's just a mess, so definitely go with the airtight container.
HOW TO REHEAT THE COOKIES
If you were able to sneak a few cookies away and have some leftovers, the cookies taste delicious days after making them. But let's be honest, there's nothing like a hot cookie fresh out of the oven.
And in this case, the cookies out of the oven are like when you pull a s'more right out of the fire and onto the graham cracker and chocolate.
So you have to recreate that warm, ooey-gooey marshmallow experience when enjoying them leftover. To do that, just pop the cookie in the microwave on a microwave-safe plate for about 10 seconds.
Or you could even put the cookies back in the oven! Preheat oven to 350°F, then put the cookie on a baking sheet and warm for about 5 minutes or until you have a gooey center.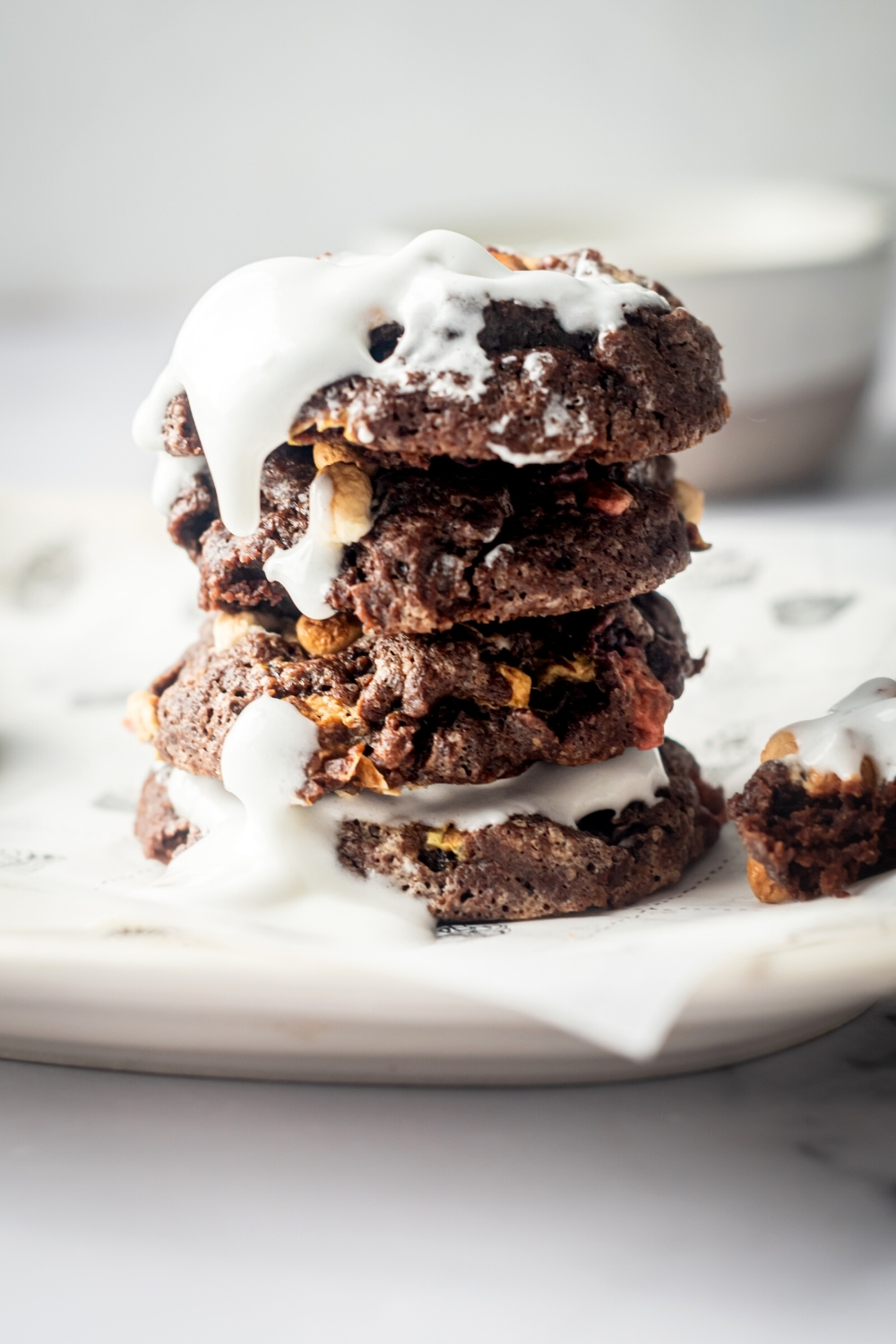 Wrapping It Up
Well, that is how to make chocolate marshmallow cookies that are totally drool-worthy.
These cookies are super popular with both kids and adults, and they are always a hit when you want to do some holiday baking! Because there's nothing like dessert cuisine during the holidays.
When it comes to marshmallow desserts, I think these stuffed cookies are by far one of the best ones. And I know I'm a little biased, but after you try them, I think you'll agree.
Anyway, I hope you enjoy this amazing recipe as much as my friends and I do!
As always, leave a comment below if you make them, and let me know what you think.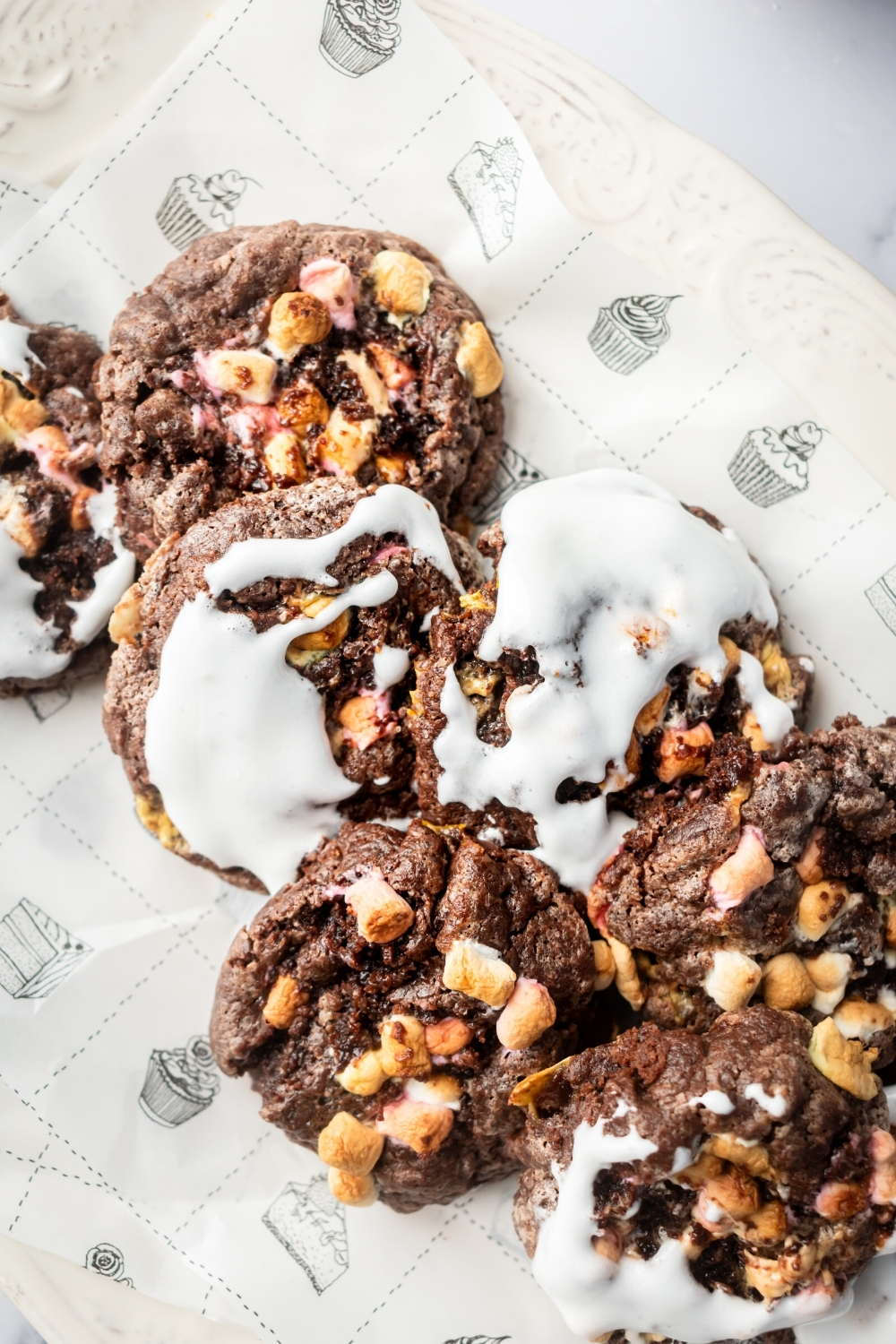 More Cookie Recipes
If you liked this marshmallow cookie recipe and want to make some more delicious cookie recipes, we have some more on the blog that I think you'll like.
Give one of these easy cookies recipes a go next:
Print
Chocolate Marshmallow Cookies | The Best Stuffed Cookies You Can Make
These marshmallow cookies are soft, chewy, loaded with chocolate, and filled with ooey-gooey marshmallows. They taste like a dream, and you can make these stuffed cookies in under 30 minutes!
Author:
Prep Time:

15 minutes

Cook Time:

10 minutes

Total Time:

25 minutes

Yield:

16

cookies

1

x
Category:

Dessert

Method:

Oven

Cuisine:

Cookies
Instructions
Preheat the oven to 375ºF (190°C).

Cream the butter in a mixing bowl with a hand or stand mixer. Add the sugar, brown sugar, vanilla extract, and egg and mix until soft and creamy.

Mix the flour, baking soda, cocoa powder, and salt in a separate bowl with a rubber spatula. 

Add the dry ingredient mixture into the bowl of creamy dough and mix with the spatula until a dough forms, then add the mini marshmallows and mix. 

Add ½ cup of marshmallow fluff, mix and make swirls into the dough.

Line a baking sheet with parchment paper and scoop 1 tbsps. of cookie dough onto it, leaving around 1 ½ inches of separation between each. 

Top each cookie with more mini marshmallows and bake for 10 minutes.

Let them cool and top with a bit more marshmallow fluff. Enjoy!
Nutrition
Serving Size:

1 cookie

Calories:

160

Fat:

6

Carbohydrates:

25

Protein:

2
Keywords: marshmallow cookies, chocolate marshmallow cookies, recipes with marshmallows, stuffed cookies, marshmallow desserts, smores cookies, marshmallow cookies recipe, marshmallow cookies with chocolate, chocolate marshmallow cookies recipe, s'mores cookies recipe without graham crackers, chocolate s'mores cookies recipe, marshmallow cookie recipe, chocolate marshmallow cookie recipe, chocolate covered marshmallow cookie