This 2 ingredient fudge is a chocolate peanut butter dream. It's rich, smooth, and tastes like a Reese's cup in fudge form! And all you need is just 5 minutes to prepare this easy fudge recipe!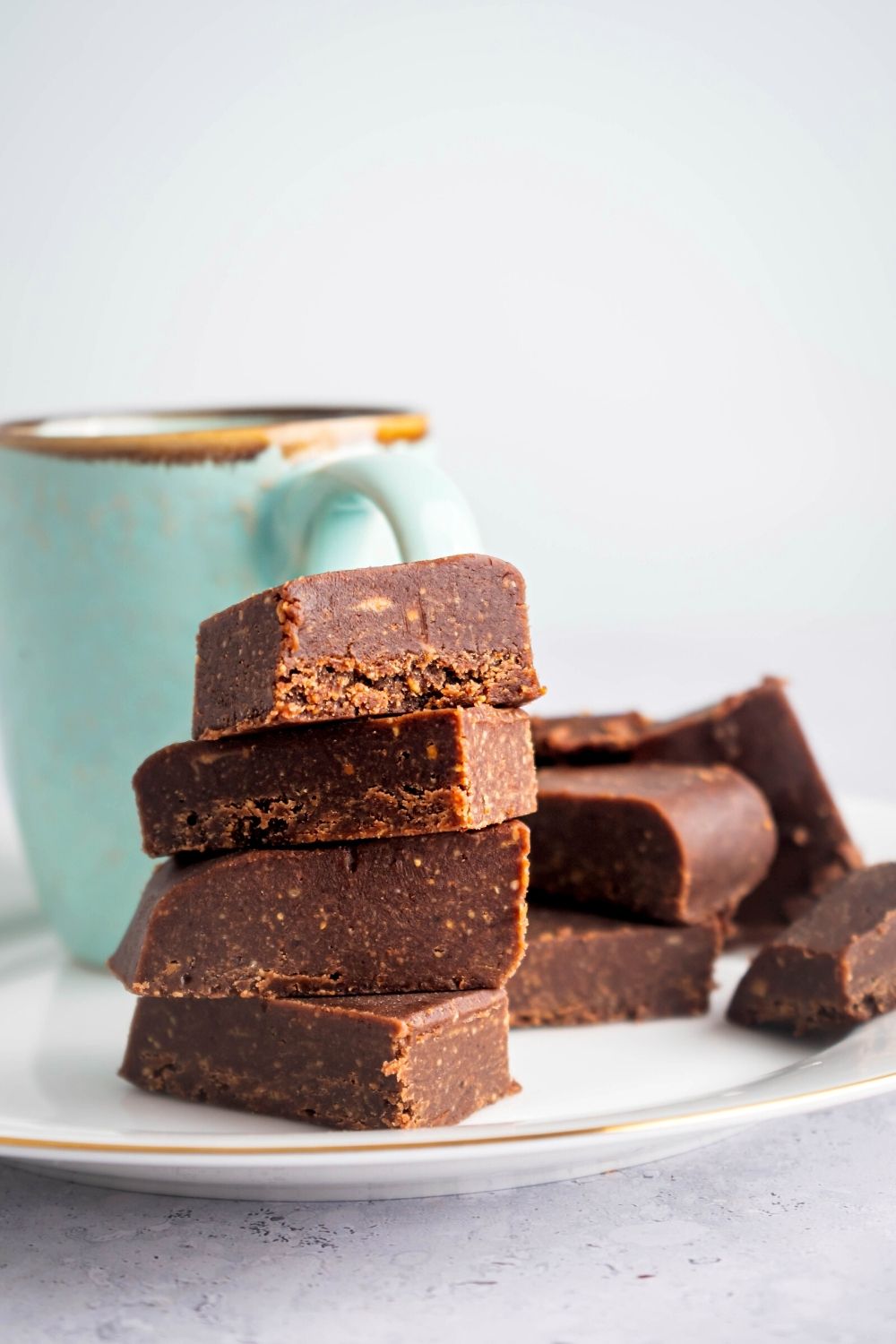 The Best 2 Ingredient Fudge
Chocolate and peanut butter is one of the best combinations on the planet. And whenever you're craving the iconic pair, this 2 ingredient fudge recipe is just what you need.
It combines soft and creamy peanut butter with rich chocolate frosting to make a melt in your mouth fudge that is too good to be true.
You seriously won't believe that just 2 ingredients can make such a smooth, creamy, and delicious fudge. It's as mind-blowing as my other 2 ingredient fudge recipe made with Nutella and chocolate chips! So if you like Nutella, you'll want to check that out next.
But for now, let's focus on this 2 ingredient peanut butter fudge with a Reese's cup flavor. It takes under 5 minutes to make and is about as simple as any dessert cuisine gets.
A bonus is there's minimal clean-up. The ingredients come together in one bowl, and it's a microwave fudge recipe, making it even easier!
I love making this peanut butter chocolate fudge whenever I need a quick dessert if I'm hosting or want to have a little treat in the fridge all week long.
And it's a no bake dessert that is a chilled treat, so it's perfect for making if it's hot outside, just like these no bake chocolate oat cookies.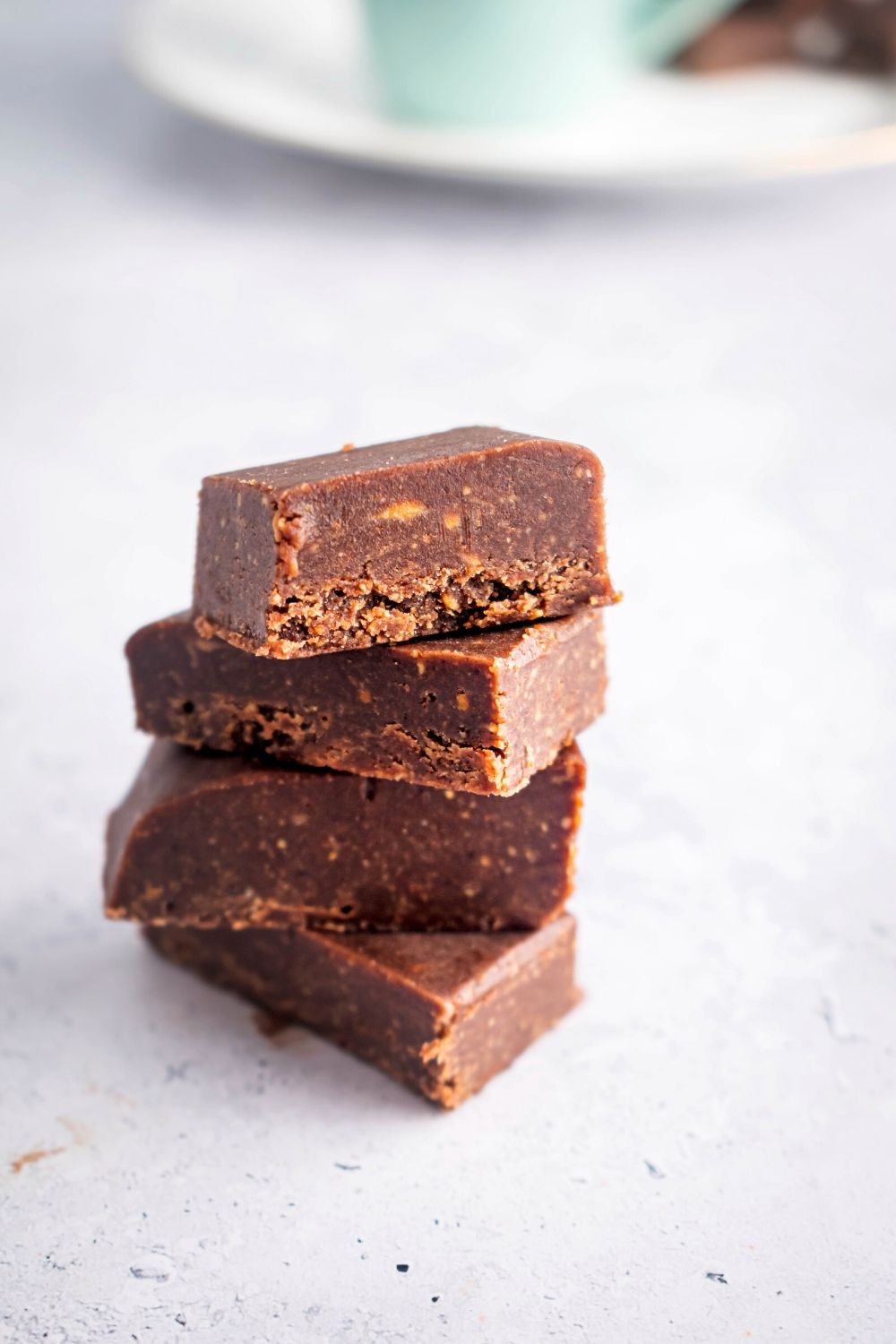 Ingredients
So, as you know by now, this is a 2 ingredient fudge made with frosting and peanut butter.
They're two cheap ingredients that you can always have on hand to whip up this recipe whenever the cravings hit. Plus, the ingredients keep really well, so there's no rush to use them up!
Anyways, here's how much you'll need of each ingredient:
16 oz jar of peanut butter

16 oz container of chocolate frosting
It's seriously crazy that just a couple of ingredients can make such a delicious dessert! And it literally tastes like a Reese's cup, just like this no bake peanut butter pie.
Oh, and if you want to give some more easy dessert recipes a try that use only a few ingredients, check out this Oreo mug cake, Nutella mug cake, and M&M sugar cookies next.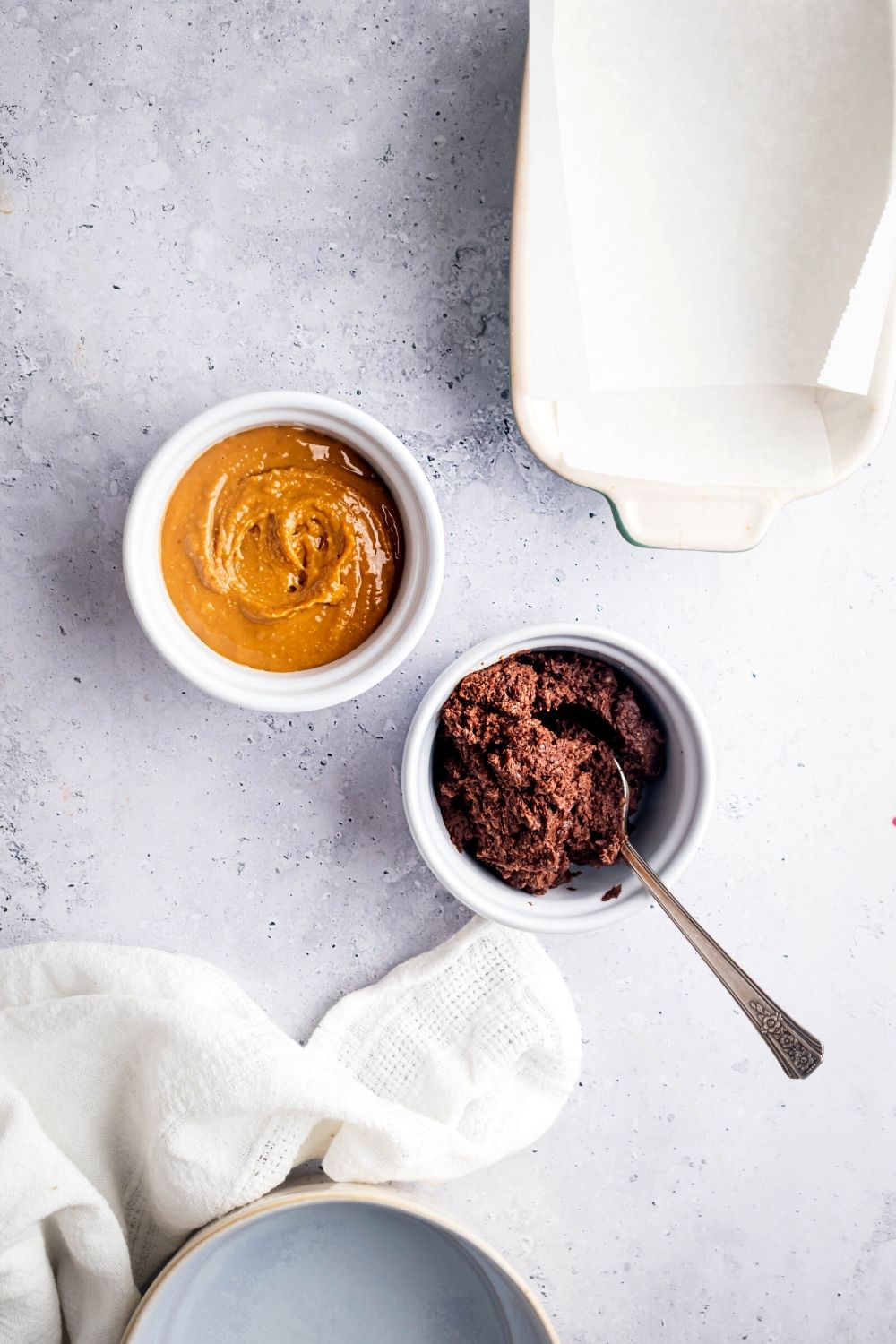 2 Ingredient Fudge Variations
I made this recipe with peanut butter and chocolate frosting, but you can customize it however you want!
For a 2 ingredient peanut butter fudge that has a solely creamy peanut butter flavor, use vanilla frosting instead of chocolate. Or you can just change up the flavor by using milk chocolate frosting or dark chocolate frosting.
If you're allergic to peanuts, you can use any nut butter like almond butter, sunflower seed butter, or cashew butter. If you want to add some texture to the fudge, you can use crunchy peanut butter instead. Oh, and you can also sprinkle peanut butter chips or milk chocolate chips on top for an added texture.
So you can make a ton of different 2 ingredient fudge variations using the same simple ingredients!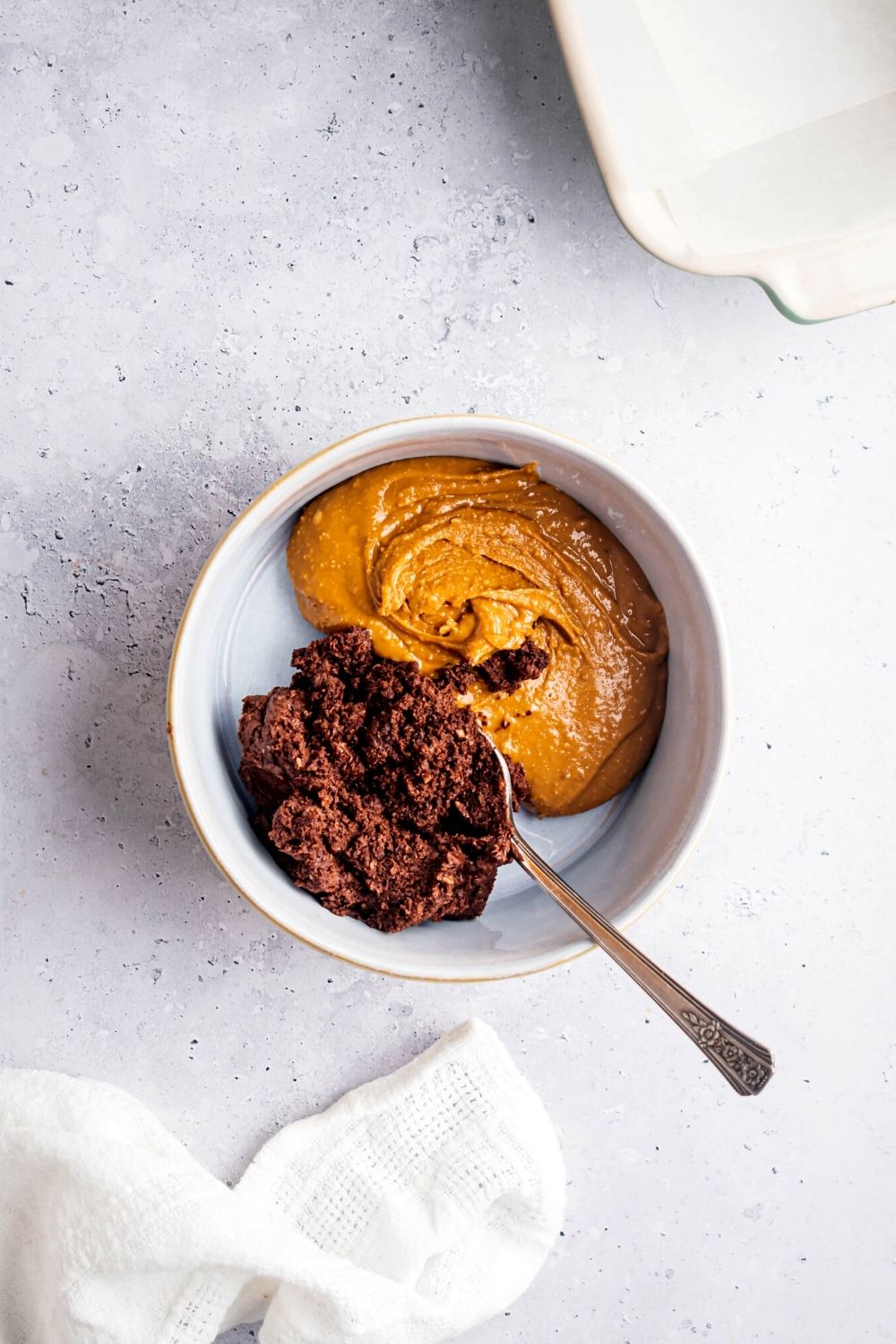 How to Make 2 Ingredient Fudge
As I alluded to a few times, this recipe is super quick and easy to make. And even if this is your first time making fudge, you'll find the process to be a breeze and the result to be extraordinary.
It's a great recipe to make with kids as they can help stir everything together after it microwaves!
So get out the ingredients, and I'll show you how to make frosting and peanut butter fudge!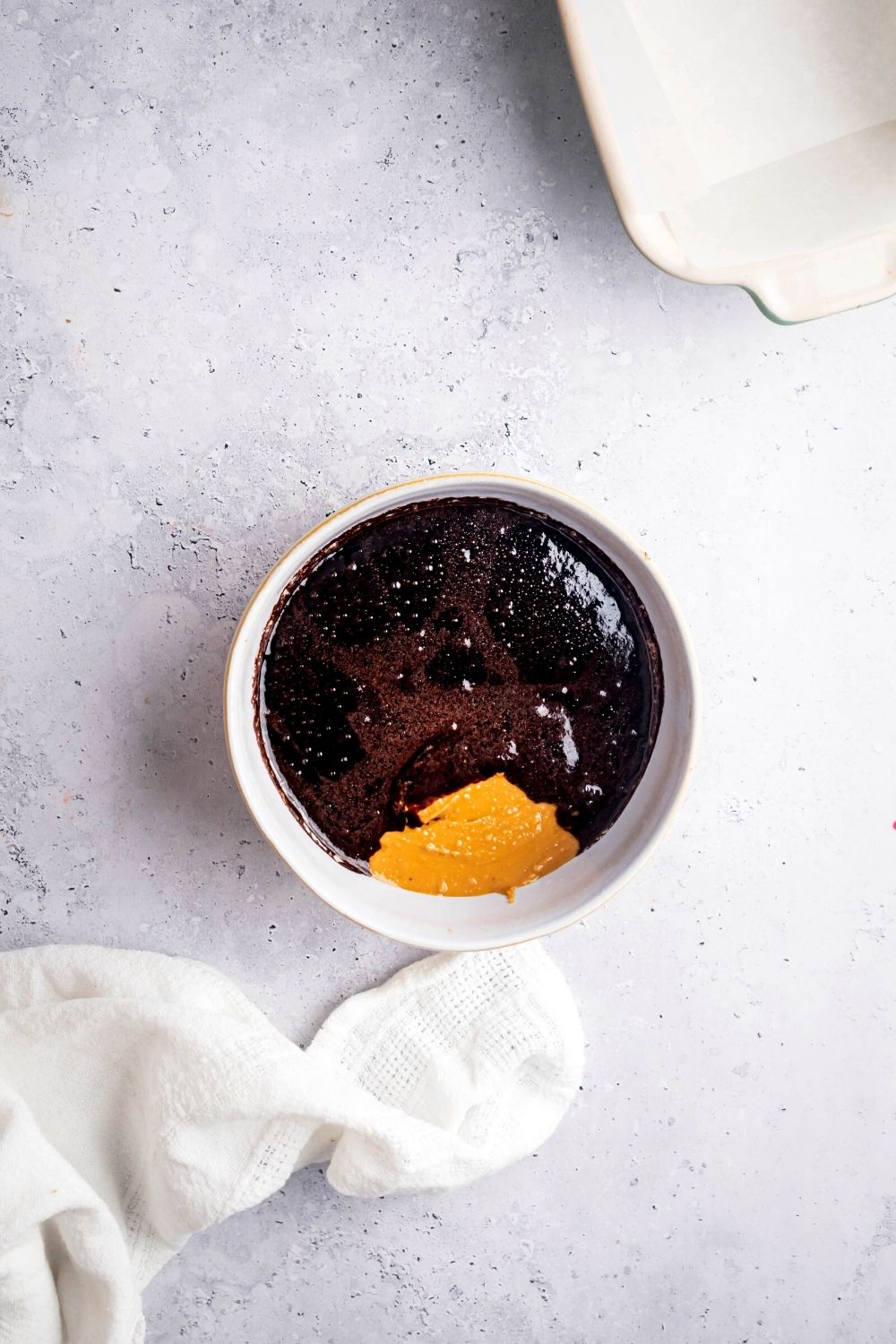 Step 1: Microwaving The Ingredients
First things first, put the frosting and peanut butter into a microwave-safe bowl and microwave it for 1 minute. Then take the mixture out and give it a good stir until the frosting and peanut butter start to combine.
Next, you can microwave it for 1 more minute and stir until you have a fully combined, thick chocolate sauce-like mixture.
And make sure you do this in two 1 minute intervals - trying to heat it for two straight minutes will burn the ingredients.

Step 2: Chilling The Fudge
Now line a baking tray or loaf pan with parchment paper. A 9x9 or 8x8 size works well, but really any size will work! The size of the pan will just determine the thickness of the fudge.
Next, pour the peanut butter chocolate fudge mixture into the tray or pan and evenly smooth out the top with a rubber spatula.
Then you can put the fudge in the refrigerator for about 1-2 hours or until it sets.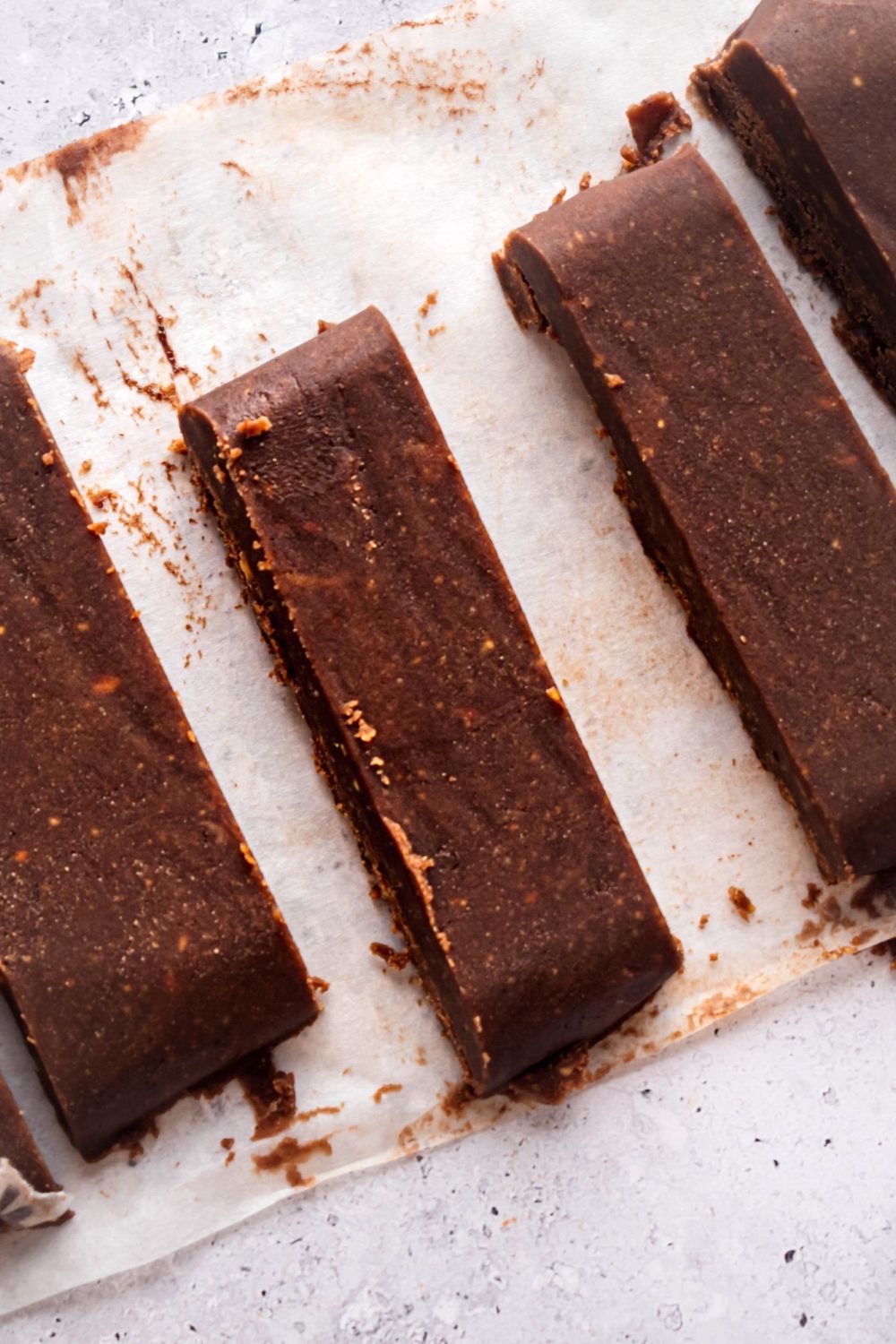 Step 3: Serving The Fudge
Once the fudge has set, take it out of the fridge to thaw for a couple of minutes. And it won't take long for the fudge to soften up.
Then once it is slightly soft, cut the peanut butter chocolate fudge into any sized squares you want and enjoy!
How To Store Fudge
This recipe will make 24 squares of fudge, but how you cut it will determine how many pieces you end up with. Now, I love making this fudge because it's a tasty dessert that can be enjoyed for a long time!
You can keep the leftover fudge in an airtight container in the fridge for about 2-3 weeks. First, wrap the fudge in some parchment paper and then transfer it to an airtight container or resealable bag.
I personally like putting the peanut butter chocolate fudge right into the refrigerator instead of storing it at room temperature. I think this has a better texture and flavor when slightly chilled.
If you want to keep it for even longer, you can freeze the fudge for up to 6 months!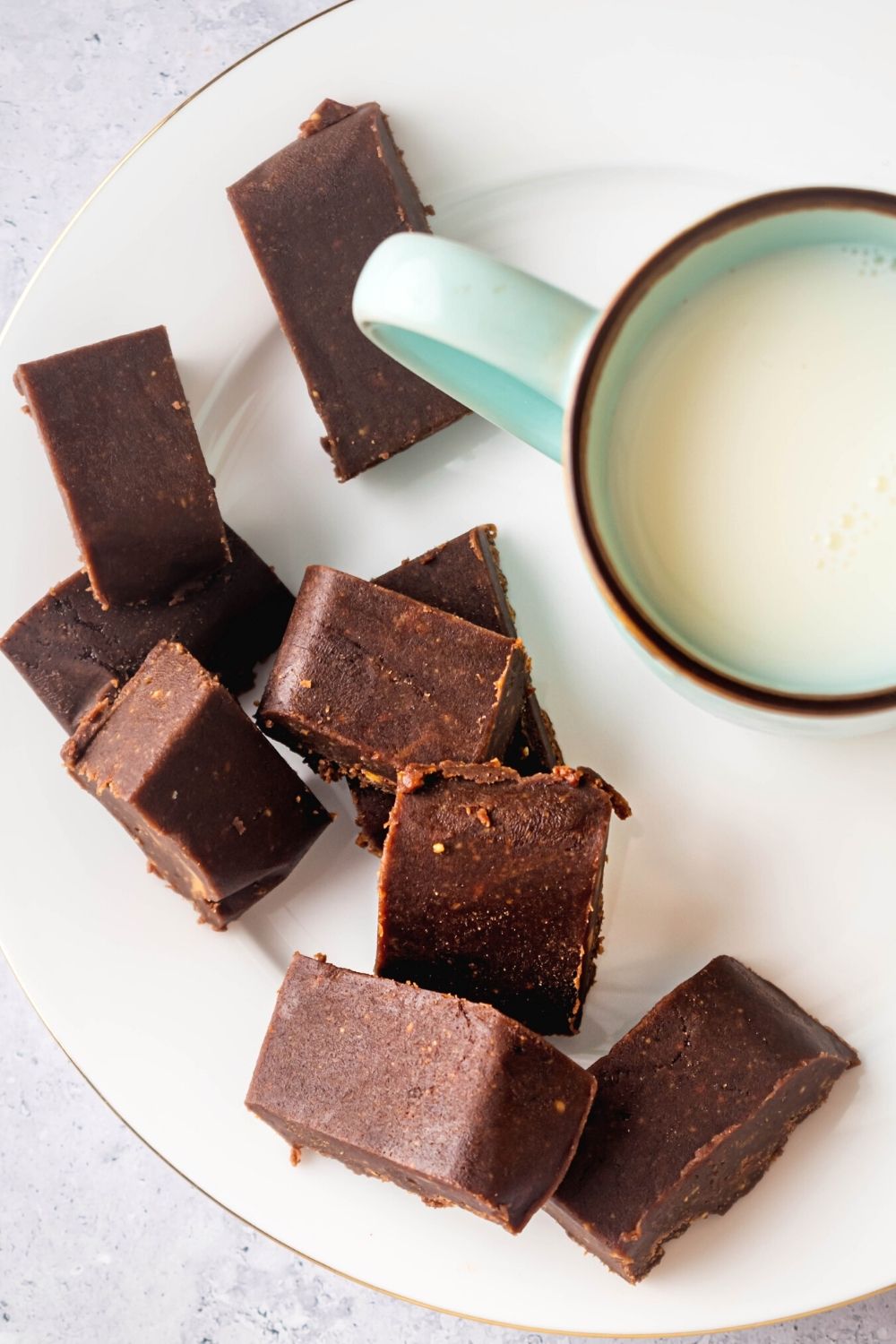 Faqs About This 2 Ingredient Fudge Recipe
Is 2 ingredient fudge good?
I think 2 ingredient fudge is pretty darn good. You wouldn't think that chocolate frosting and creamy peanut butter would actually make a legit fudge, but this recipe is as legit as it gets. The fudge texture is so smooth and soft with a rich, fudgy flavor that tastes spot on to traditional fudge.
What are the ingredients in fudge?
The staple ingredients in fudge are traditionally butter, milk, sugar, and chocolate in the form of cocoa powder. In some recipes, sweetened warm condensed milk is used to replace the butter, milk, and sugar to make it easier to make. But you actually don't need all of these ingredients and the complicated cooking process to make chocolate fudge. The creamy peanut butter and milk chocolate frosting combined in the microwave recreate all of the deliciousness of classic, smooth fudge.
Wrapping It All Up
That is how to make 2 ingredient fudge with frosting and peanut butter! It is one of the smoothest, richest, and creamiest fudges you'll ever make.
Having it in the fridge to look forward to for a little mid-day snack or late-night treat is the best. And since it's so easy, you'll want to whip up a batch every time you run out!
Well, I hope you like this 2 ingredient fudge as much as my family and me do. And if you're anything like us, you'll be addicted pretty quickly. So if you give it a try, leave a comment below and let me know what you think.
And for more easy desserts, make sure to check out our Instagram TikTok, and Youtube channel.
More Easy Dessert Recipes
If you liked this fudge, we have a ton of other easy dessert recipes on the blog you can try next!
Check all of these out:
Yield: 24 servings
2 Ingredient Fudge Made With Frosting & Peanut Butter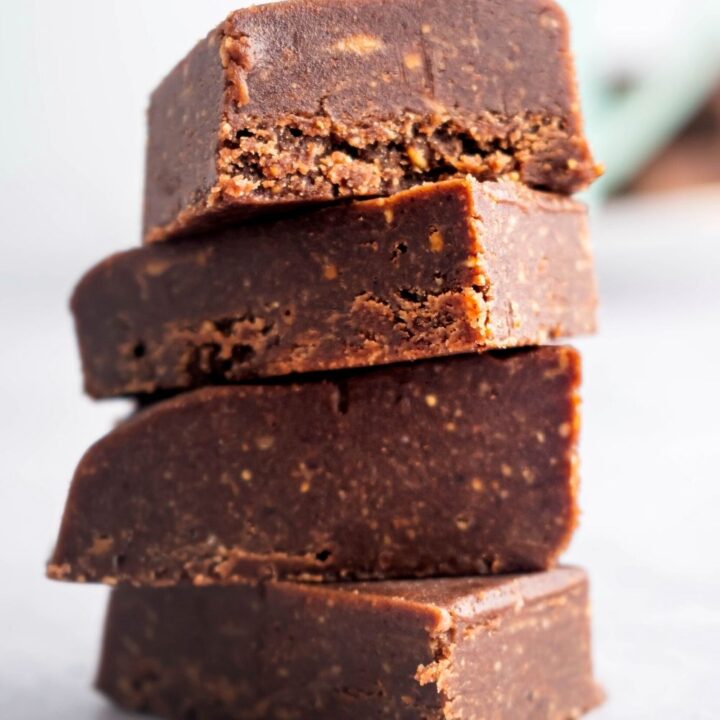 This 2 ingredient fudge is a chocolate peanut butter dream. It's rich, smooth, and tastes like a Reese's cup in fudge form! And all you need is just 5 minutes to prepare this easy fudge recipe!
Instructions
Add both ingredients to a microwave safe bowl. Microwave in 2, 1- minute intervals, stirring between each one until fully combined.

Line a tray or loaf pan with parchment paper (a 9x9 or 8x8 works well) and transfer the mixture to it.

Place in the fridge for about 1-2 hours or until set.

Let it thaw for a few minutes at room temperature, then cut into squares, and enjoy!
Nutrition Information:
Serving Size:
1 square
Amount Per Serving:
Calories:

197
Total Fat:

13g
Saturated Fat:

0g
Trans Fat:

0g
Unsaturated Fat:

0g
Cholesterol:

0mg
Sodium:

0mg
Carbohydrates:

16g
Fiber:

2g
Sugar:

0g
Protein:

4g