This Bisquick waffle recipe makes the most perfect waffles. Crispy on the outside and fluffy on the inside with a sweet flavor, I just can't stop making them!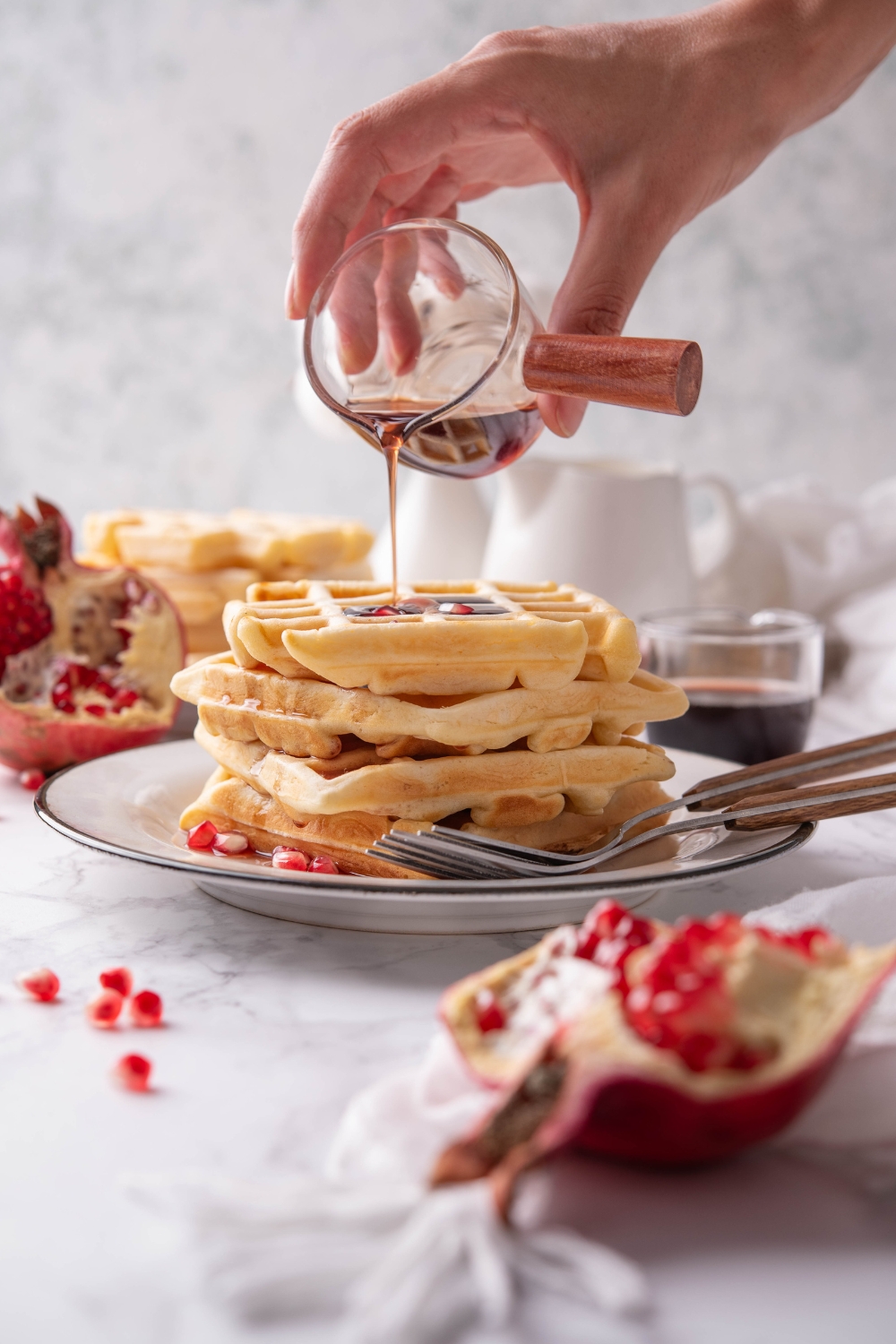 My Homemade Bisquick Waffles
There's something so nostalgic about the smell of homemade waffles in the morning. Honestly, they're probably my favorite breakfast food ever. That's why I'm so excited to share my easy Bisquick waffle recipe that makes the classic mix ten times better!
This recipe combines Bisquick mix with a few of my secret ingredients to make diner-worthy waffles. They have a golden brown and slightly crisp crust, yet pillowy soft inside. The texture is so good you don't even need maple syrup, but that certainly makes them even more delicious!
I love whipping up this recipe when I'm having friends over for brunch since it's simple to make but always blows everyone away. If I have the time, I'll make this recipe to complete my chicken and waffles for the ultimate brunch.
Why You'll Love This Recipe
Customizable. The waffles are delicious alone, but you can customize them any way you want by adding toppings like fresh fruit and whipped cream or fillings like chocolate chips or blueberries.
Easy to make ahead. I love making a big batch and freezing a bunch of the waffles. It's my favorite quick breakfast, and the waffles taste amazing reheated.
Kid-approved.I make this recipe a bunch when my nieces stay over, and they love it so much that we usually have breakfast for dinner and then eat the leftovers in the morning!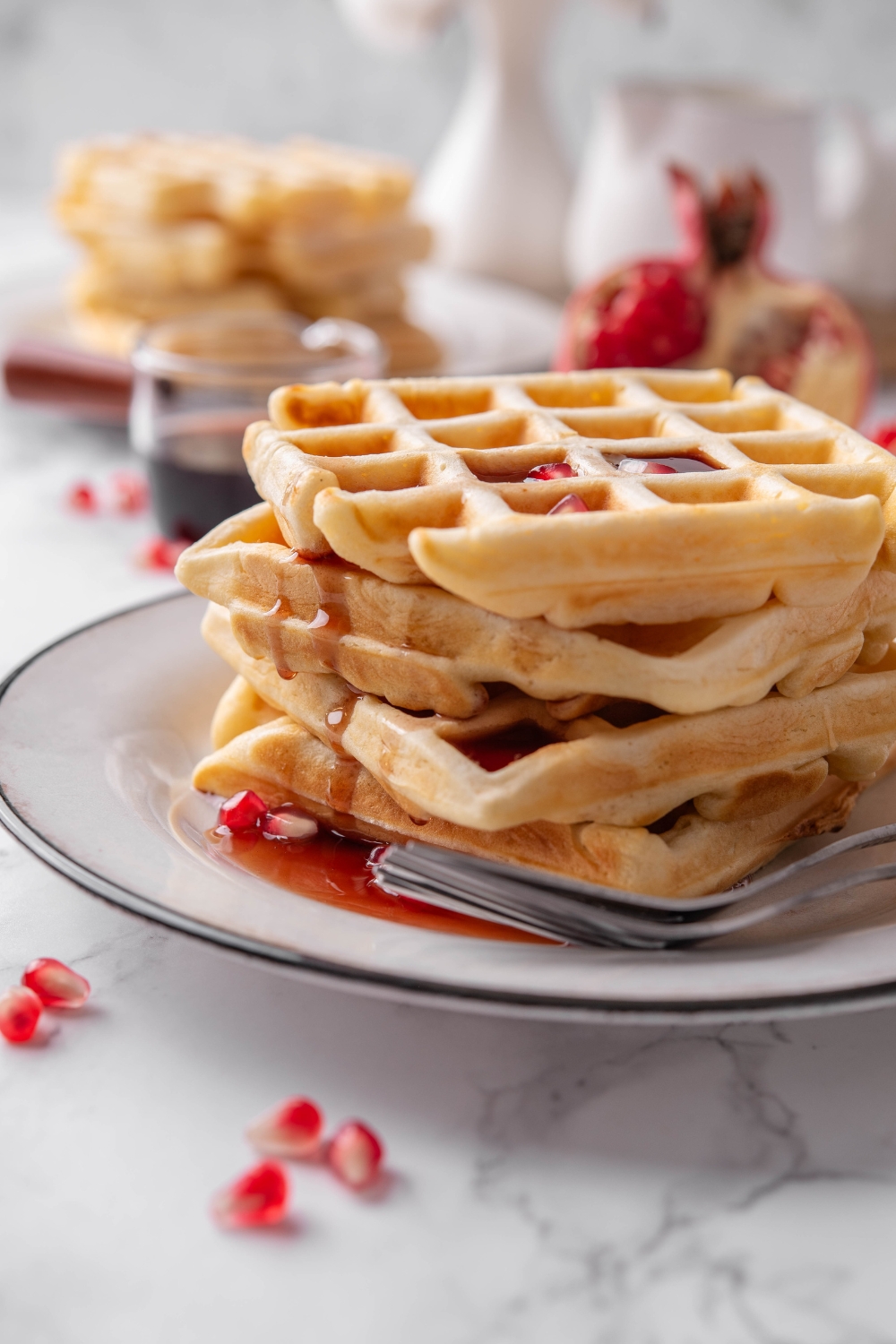 Ingredients
Bisquick mix- I use the original Bisquick pancake and baking mix.
Whole milk- you can use any milk you want, but I think full-fat gives the waffles a better texture.
Eggs- use large eggs.
Vegetable oil- for the batter. You can also use coconut oil.
Sugar- for a touch of sweetness that's addictive.
Vanilla extract- to enhance all of the flavors.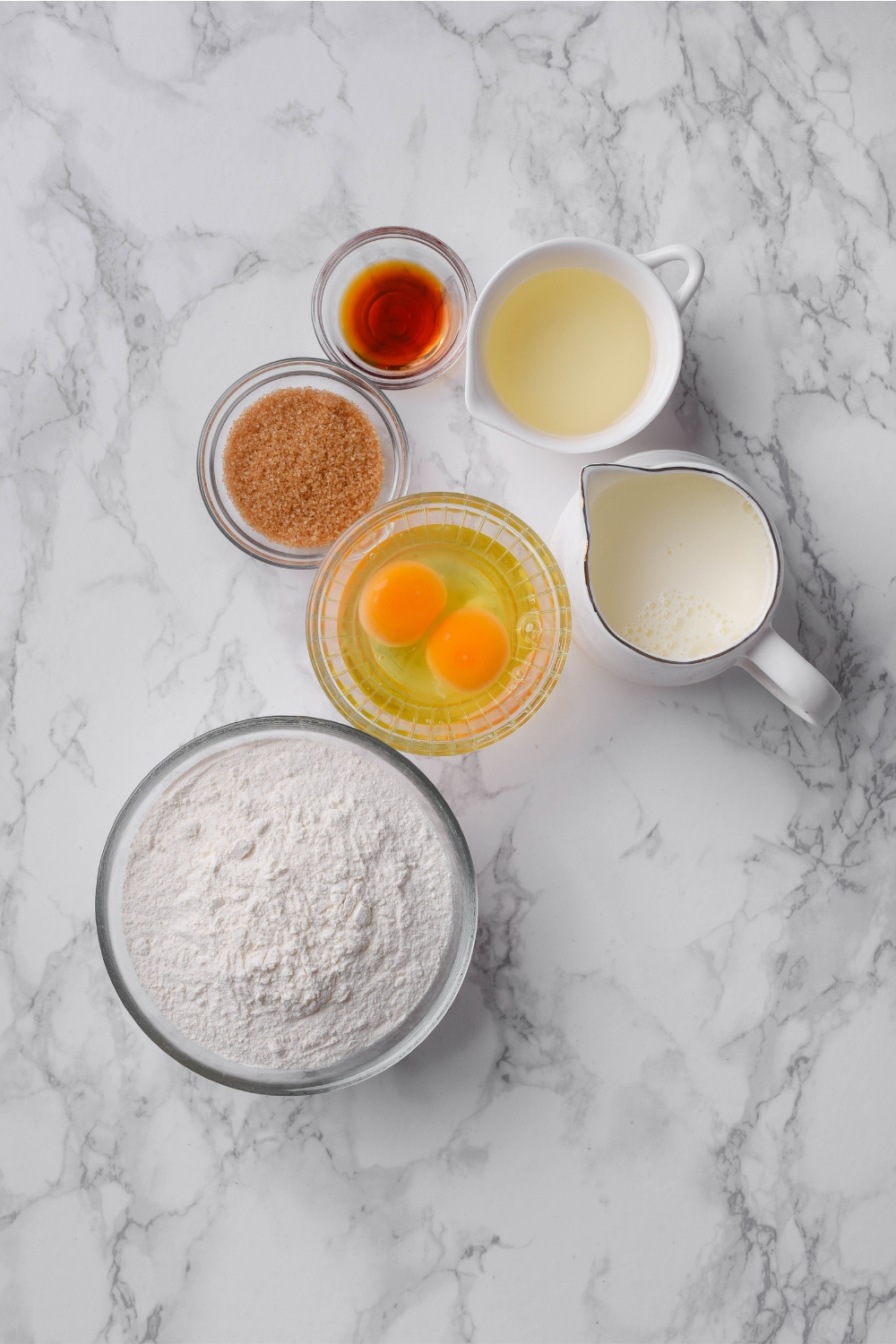 How To Make Bisquick Waffles
Step 1: Make the batter. Add the baking mix, milk, eggs, oil, vanilla extract, and sugar to a large bowl. Whisk everything together to form a smooth batter and let it rest for 5 minutes.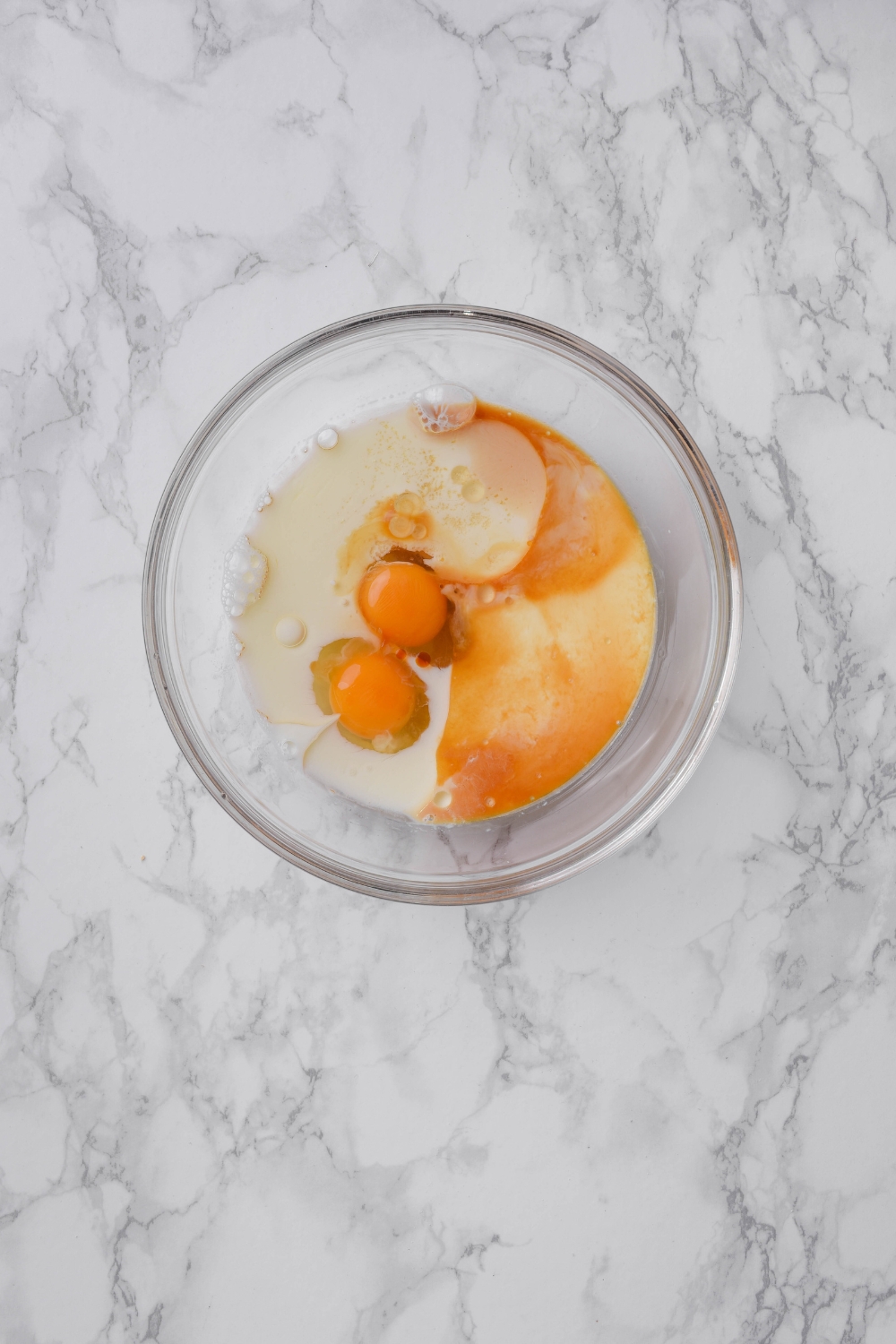 Step 2: Cook the waffles. Preheat the waffle iron, then lightly spray it with nonstick cooking spray. Scoop some of the batter into the waffle iron to fill it about three-quarters and close it. Let the waffles cook for 3-4 minutes until golden and crisp. Remove and set aside, then repeat with the remaining batter, greasing the waffle iron in between cooking each one.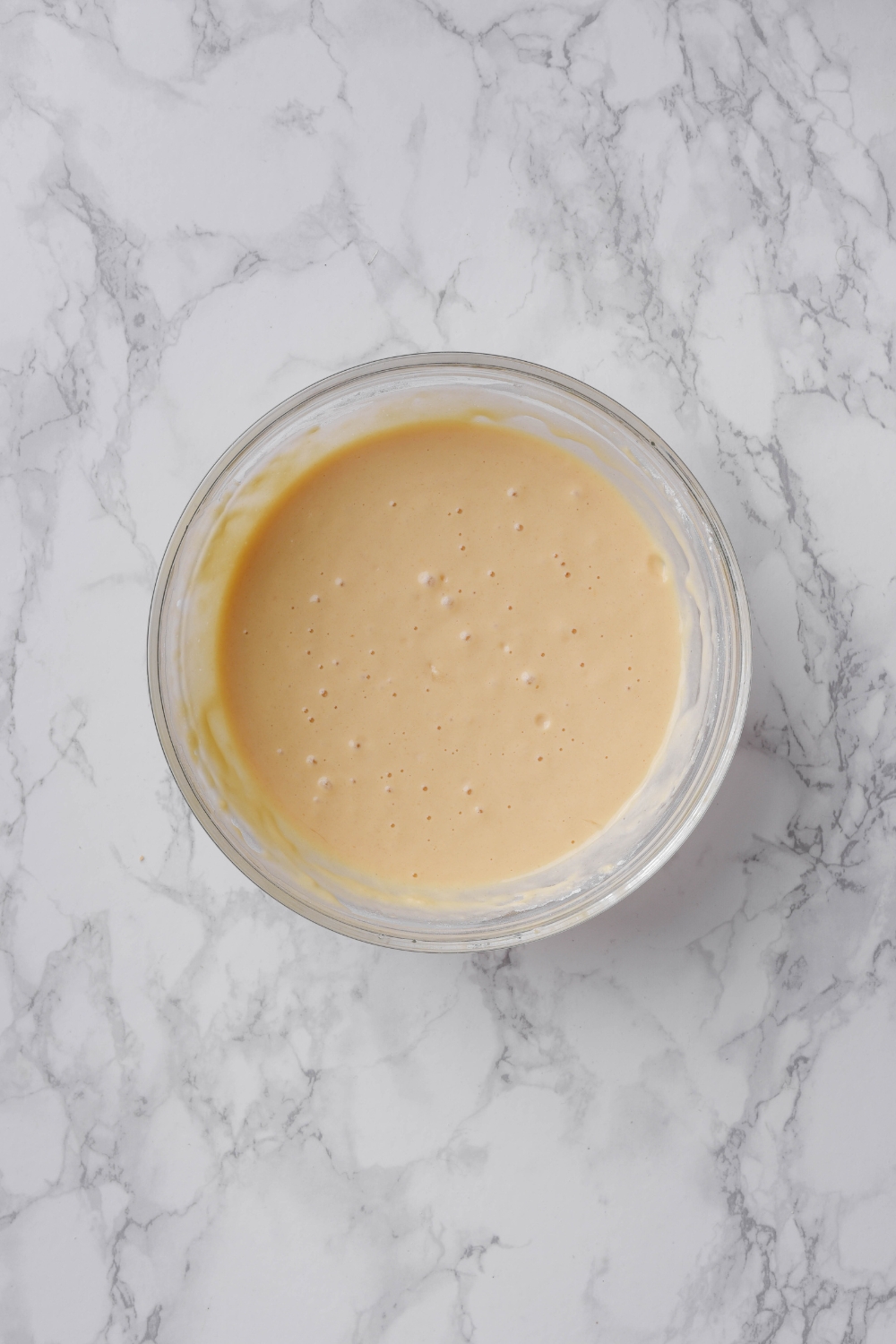 Step 3: Serve. Once all of the waffles are cooked, serve them warm with your favorite toppings and enjoy!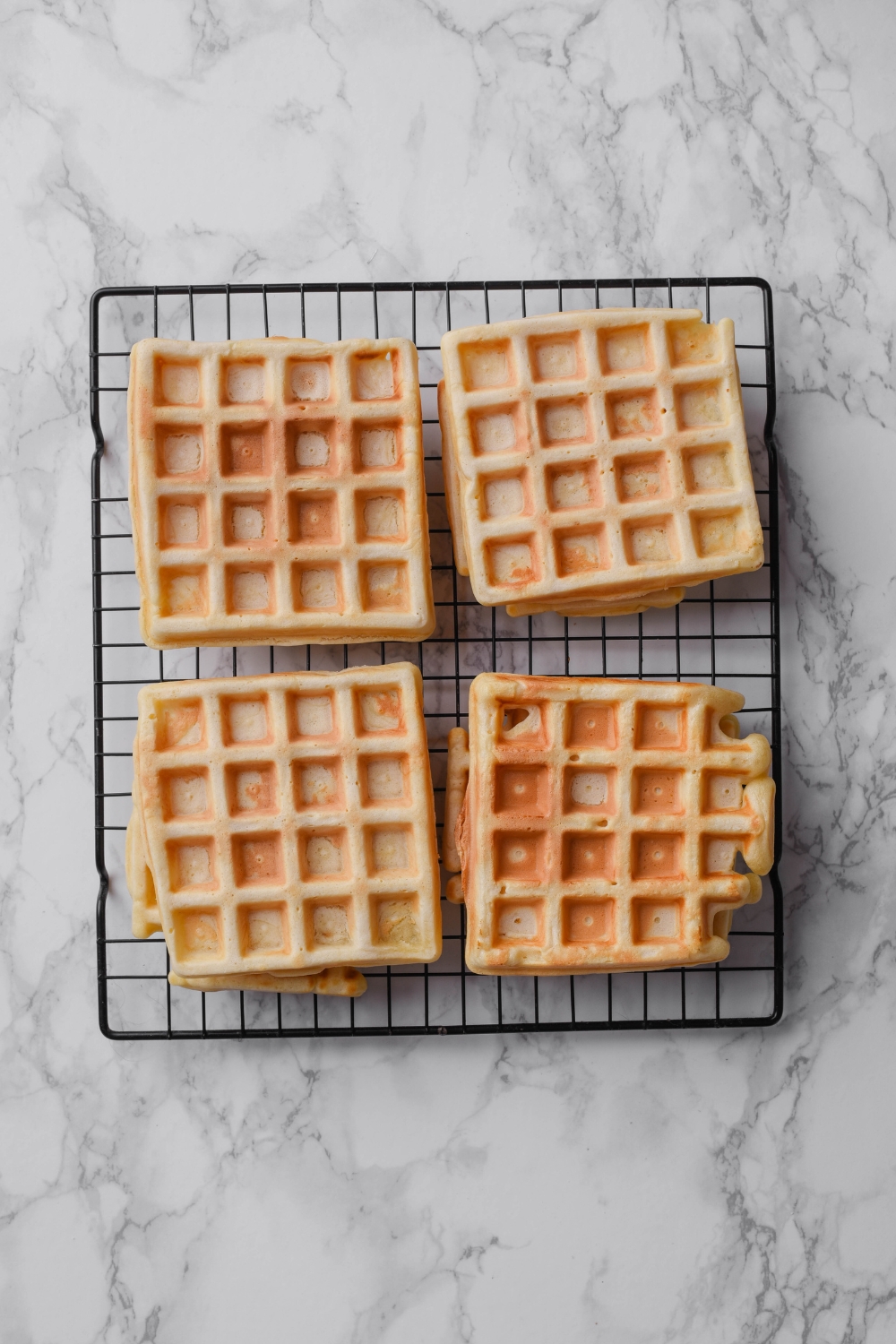 Can I Add Anything To These Waffles?
Absolutely! To change up the flavor, try adding things like chocolate chips, blueberries, nuts, cinnamon, or pumpkin pie spice to the batter.
For different toppings, you can add things like fresh fruit, powdered sugar, whipped cream, chocolate syrup, caramel sauce, honey, or just classic butter and maple syrup.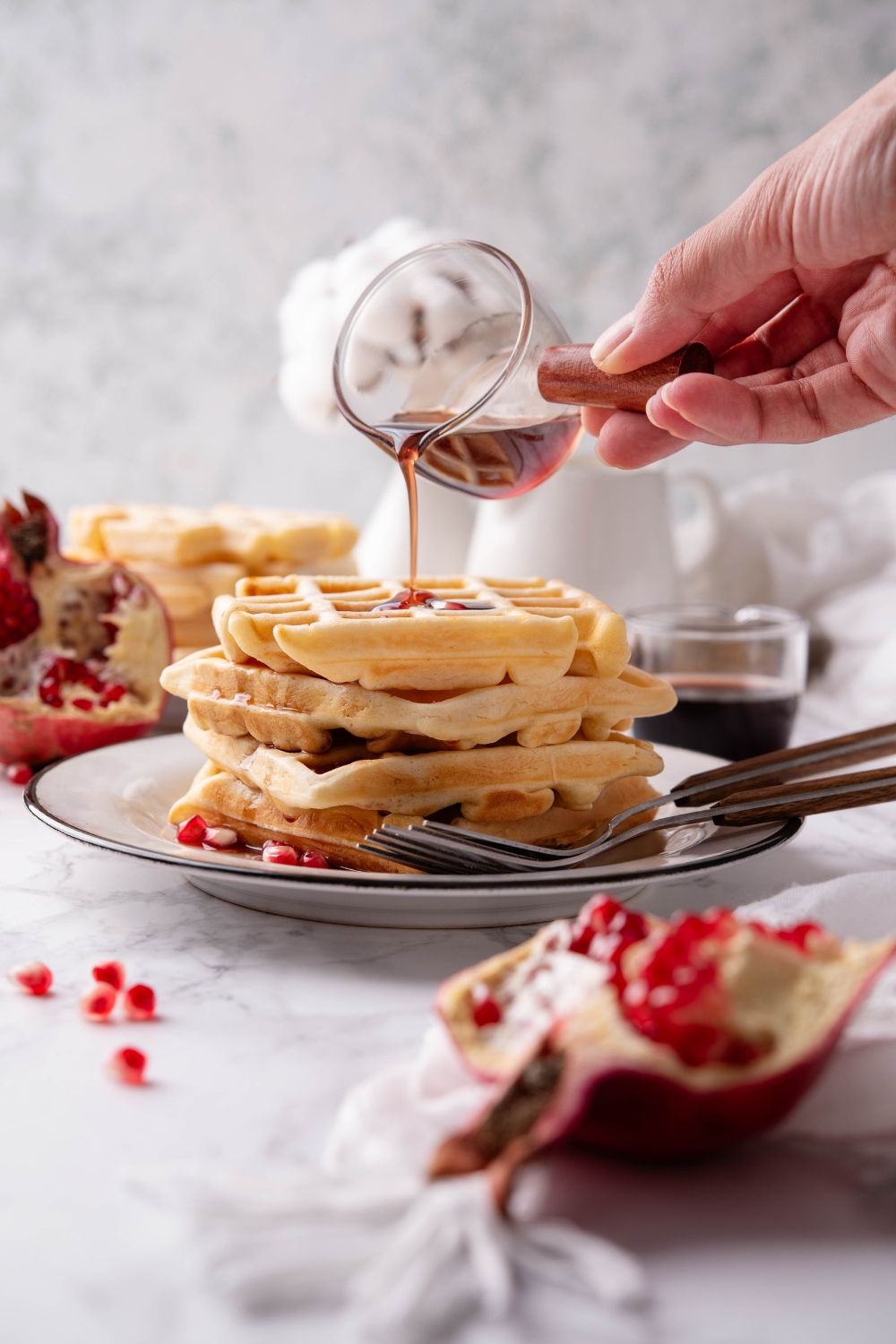 My Pro Tips To Make The Best Recipe
Be careful not to overmix the batter. Just mix until the ingredients first combine for the best texture.

Make sure you let the batter rest before cooking. This allows the texture to be extra light and fluffy. Patience is key!

After you cook each waffle, put it on a baking tray in the oven at 200°F to keep it warm.

Make sure to refer to the instructions on your waffle maker regarding how much waffle batter to add and the cooking time.

How To Store and Reheat Leftovers
In the fridge: Store leftover waffles by wrapping them in foil and keeping them in an airtight container in the fridge for about 5 days.
In the freezer: I personally like to freeze the leftovers immediately. Just put all of the waffles on a baking tray and freeze till solid. Then store in a freezer-safe Ziploc bag for up to 3 months.
Reheating: My favorite way to reheat the waffles is in the toaster oven for a few minutes until they're nice and crispy. To reheat a bunch at a time, add them to a baking sheet in an even layer and bake at 350°F for about 10 minutes or until they're fully reheated.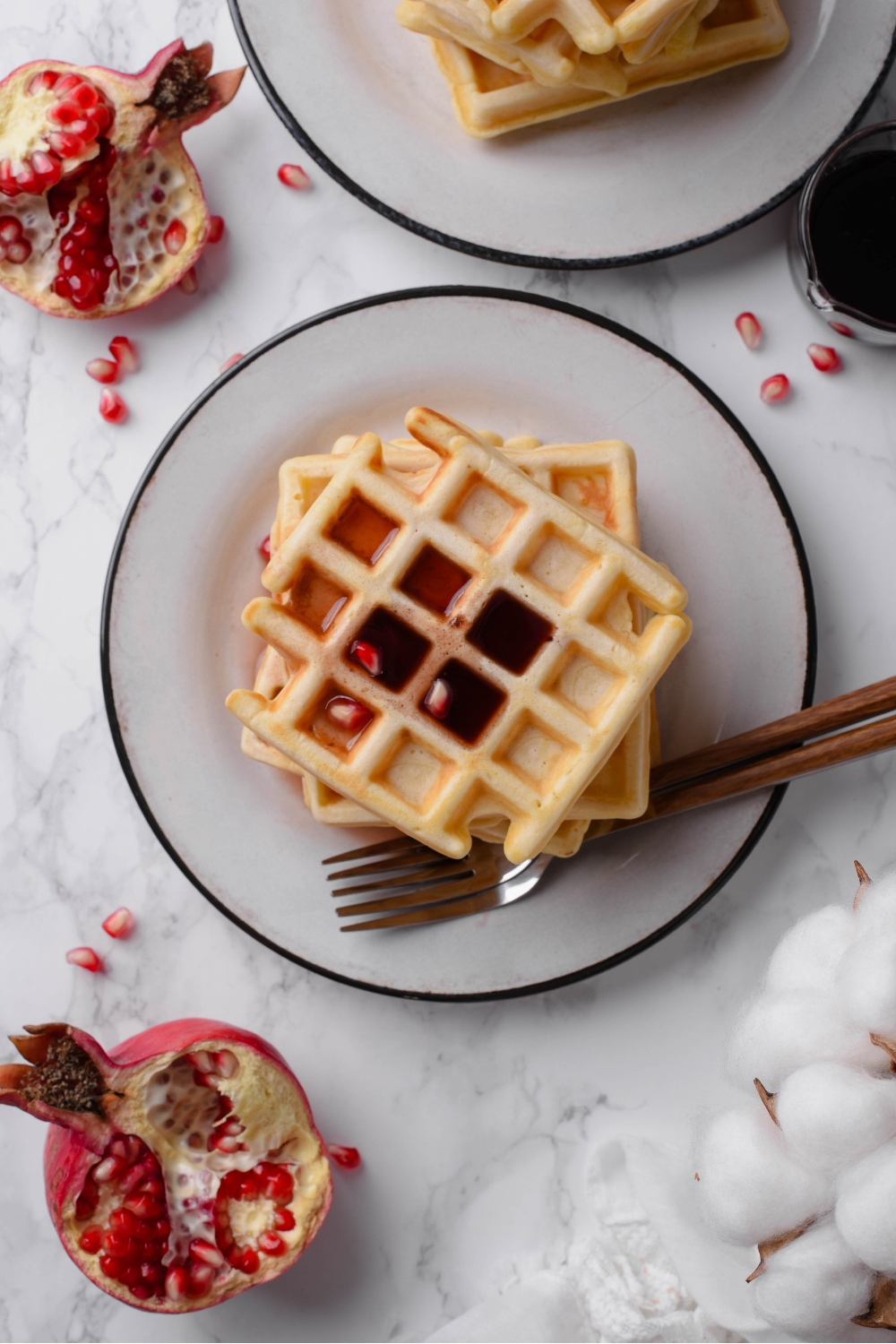 More Breakfast Recipes
Yield: 6 waffles
Bisquick Waffles (Crispy and Fluffy)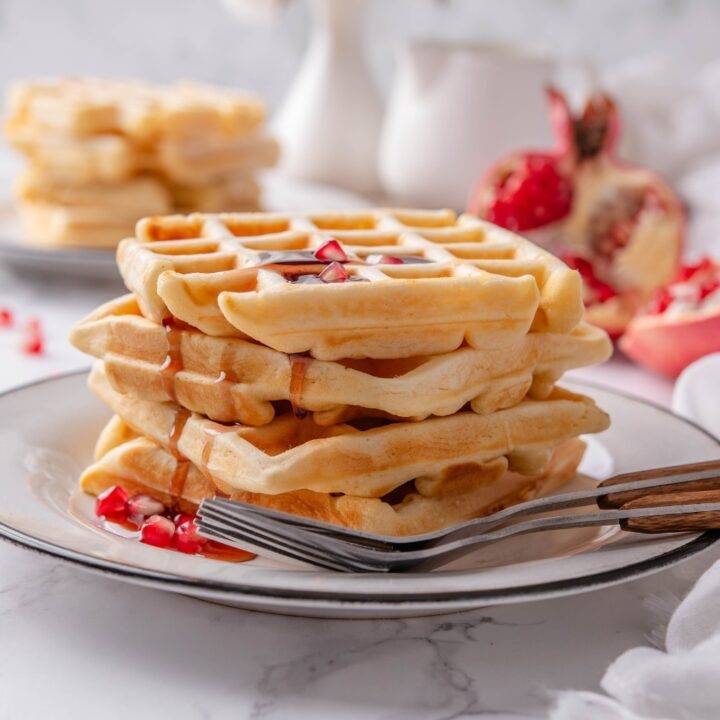 This Bisquick waffle recipe makes the most perfect waffles. Crispy on the outside and fluffy on the inside with a sweet flavor, I just can't stop making them!
Ingredients
2 cups Bisquick mix
1 cup full-fat milk
2 eggs
1 ½ tablespoon sugar
3 tablespoon vegetable oil
1 teaspoon vanilla extract
Instructions
Combine all ingredients in a large bowl. Mix until you have a smooth batter. Let the batter sit around for 5 minutes.

In the meantime, preheat the waffle iron.

Lightly spray the waffle iron with cooking spray.

Scoop some batter to fill the waffle iron about three-quarters of the way and close it. Cook for 3-4 minutes until golden and crispy.

Repeat with the remaining batter, greasing the waffle iron as needed between each waffle.

Serve the waffles warm with your favorite toppings like butter and maple syrup.
Notes
Make a double batch and freeze the leftover waffles in a freezer-safe bag for up to 3 months. For a quick breakfast, just warm the waffles in a toaster oven until hot and crispy.
Nutrition Information:
Serving Size:
1 waffle
Amount Per Serving:
Calories:

281
Total Fat:

15.7g
Saturated Fat:

4.1g
Trans Fat:

0g
Unsaturated Fat:

0g
Cholesterol:

60mg
Sodium:

536mg
Carbohydrates:

31.5g
Fiber:

0g
Sugar:

6.2g
Protein:

6.2g