This ultra comforting - and easy-to-make - sopa de conchas recipe features a rich, tangy tomato broth with tender pasta shells. Plus, it's made with just a handful of simple budget-friendly ingredients and you can have it on the table in under 30 minutes!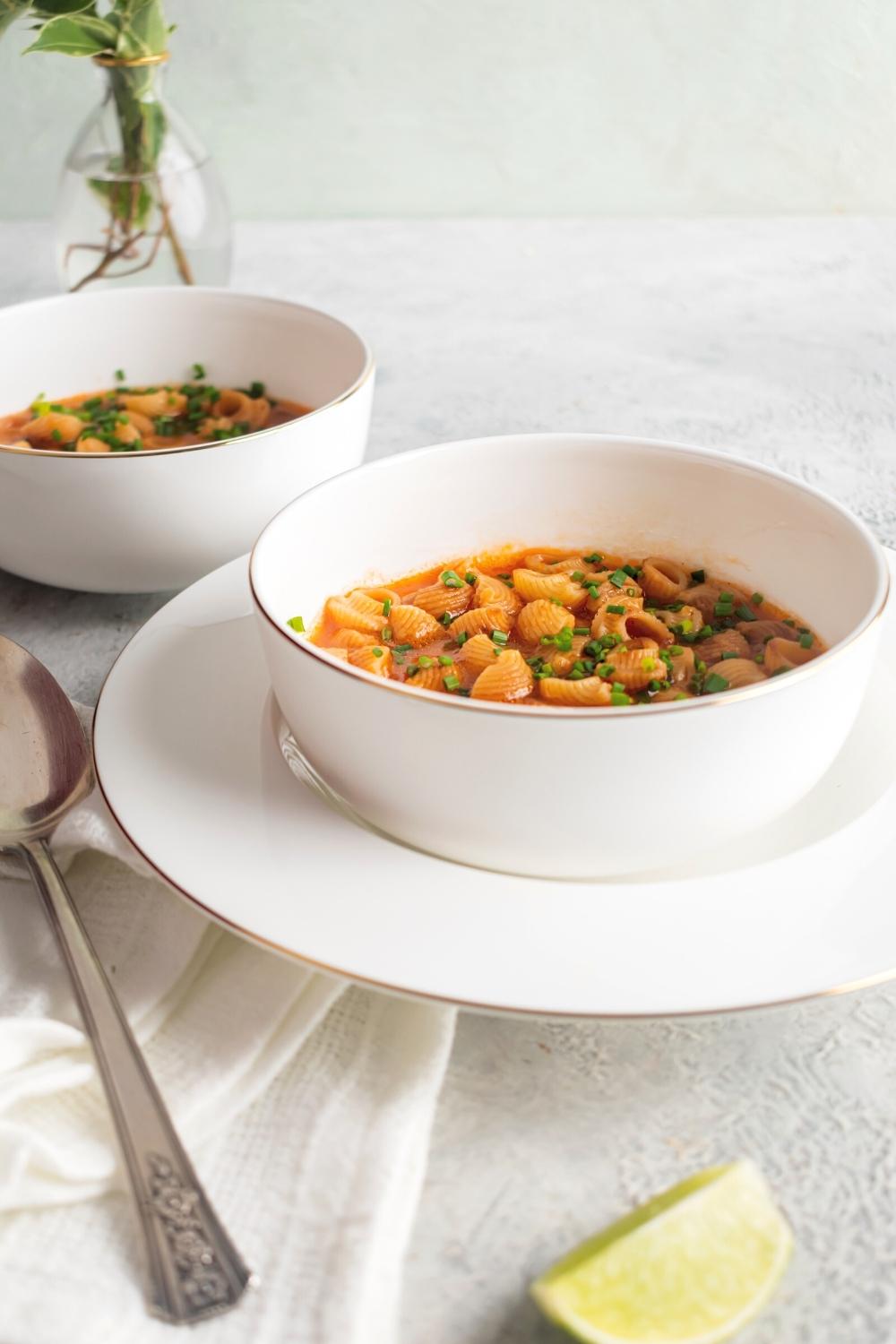 THE BEST SOPA DE CONCHAS
Whenever I'm in the mood for something comforting, healthy, and delicious that won't take a lot of time and effort to make, soup is definitely one of my go-to's.
I mean, who doesn't love a bowl of warm and hearty soup? Plus, bonus points if it comes with pasta mixed in!
And, if you're anything like me, then you simply can't miss out on this sopa de conchas. It's easily one of the best Mexican soups you can make.
This silky, savory tomato soup with perfectly cooked pasta shells is one of those quick and easy recipes that will make even the picky eaters in the family happy - kind of like this vodka pasta and this Doritos casserole.
Not to mention, to make this soup all you'll need is just 3 main ingredients and less than 30 minutes!
How easy does that sound?!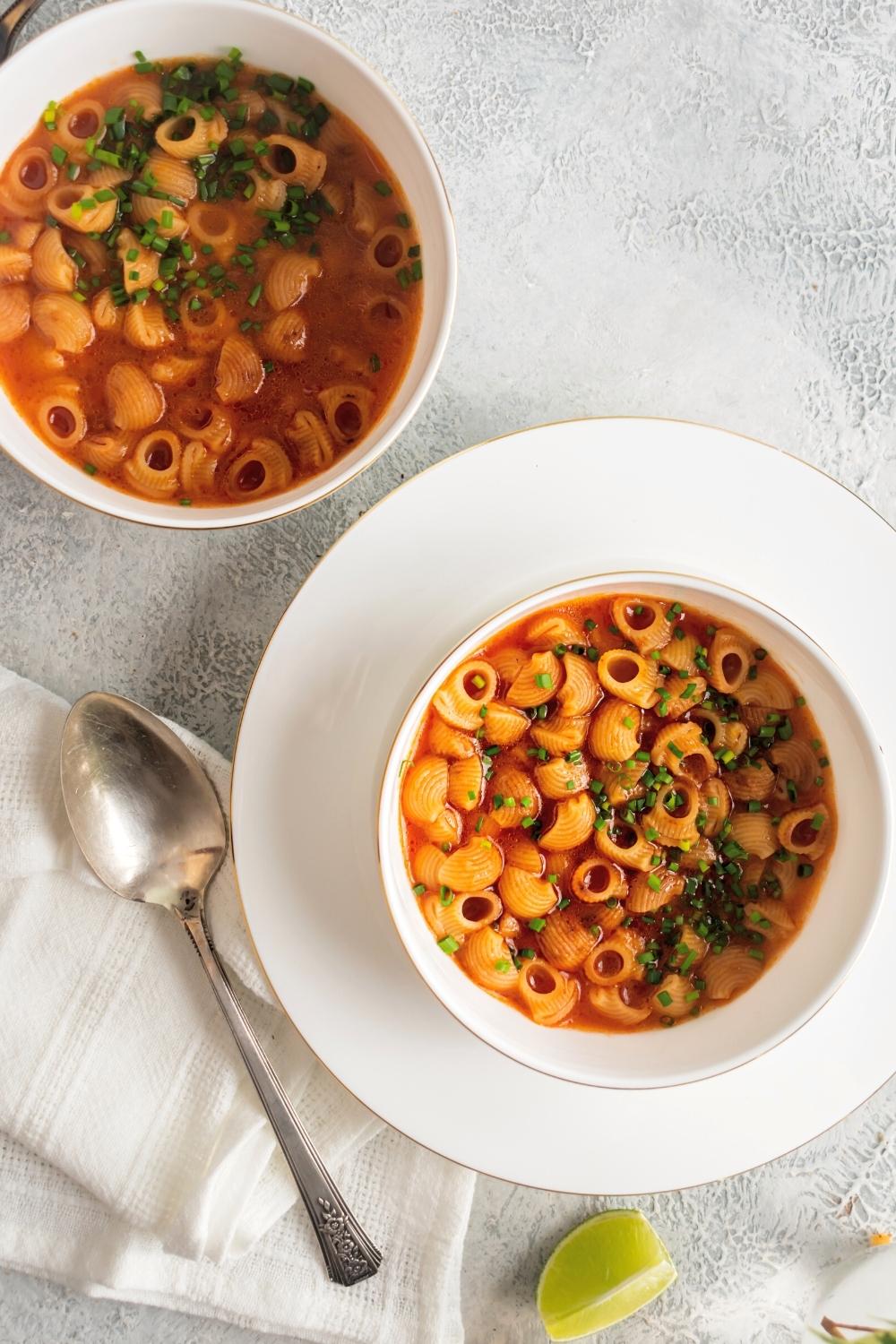 INGREDIENTS
Now, as I just mentioned, a few simple ingredients are all you need to make this Mexican shell pasta soup.
And if you don't have these in your pantry already, I'm sure they'll become instant household staples once you've tried this recipe!
Here's what you'll need:
2 Cups of medium-sized pasta shells

2 ½ Tablespoons of Knorr granulated chicken bouillon

½ Cup Tomato Sauce

5 Cups water

3 Tablespoons olive oil

Chives, to serve
By the way, I highly recommend picking up some Del Fuerte tomato sauce for this recipe. It's a favorite in Mexican households and gives this soup a really authentic and homey flavor. Plus, you can use it to make the most amazing chicken empanadas.
That being said, if you can't find Del Fuerte, you can use any Mexican-style tomato sauce and it'll come out just as fantastic!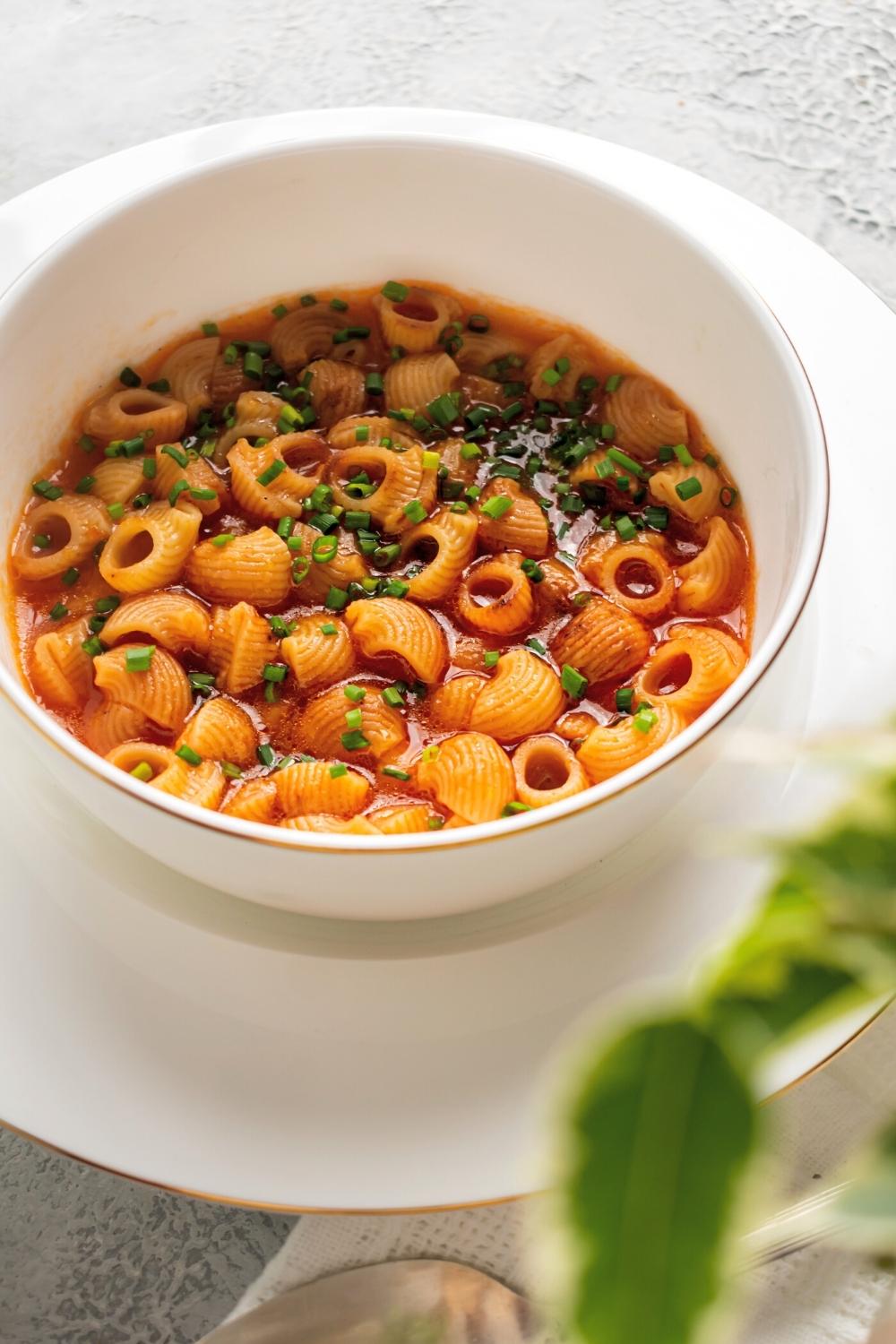 CUSTOMIZING SOPA DE CONCHAS
Since this sopa de conchas recipe is so simple, you can switch it up however you want with ingredients you already have at home.
Customize it with some herbs and spices, chopped veggies, or your choice of protein - whatever your heart desires! Cumin, cilantro, and queso fresco are a few great add-ons you can try.
You can even replace the conchita shells with other pasta shapes. Using elbow macaroni transforms this recipe into sopa de coditos (elbow soup) and pasta stars turns into sopa de estrellitas (star soup).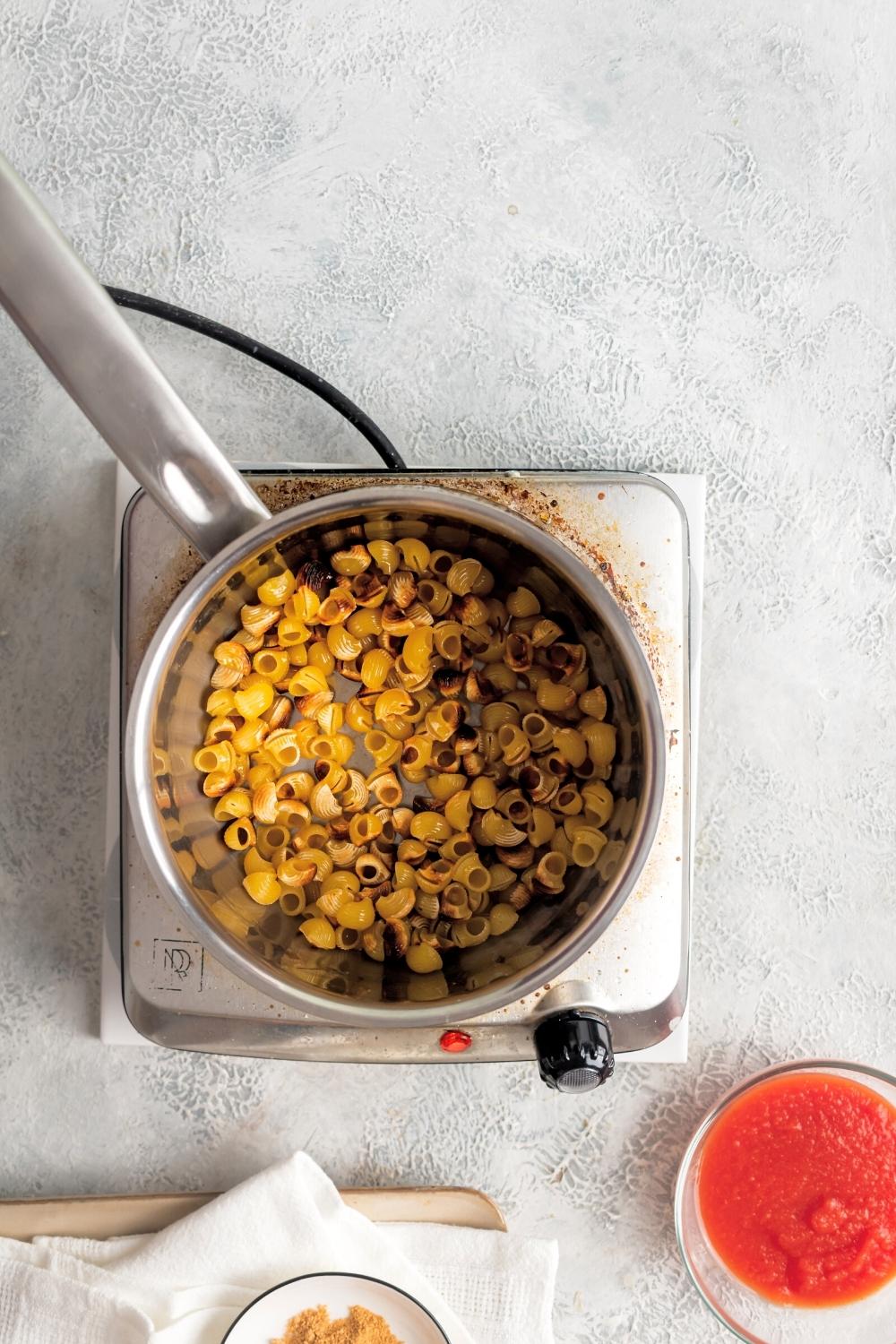 HOW TO MAKE SOPA DE CONCHAS
What sets this Mexican shell pasta soup apart from other pasta soups is that you lightly fry the pasta shells before adding the broth. It's such a small extra step but really brings out the flavor of the pasta and makes this soup unlike any other in my opinion.
After that, you just toss in the rest of your ingredients and simmer. It's that simple!
All told, it should only take you about 25 minutes to make this recipe - and more than half of that is hands-off time.
So, now that you know the secret to this delicious soup recipe, let's dive into the details.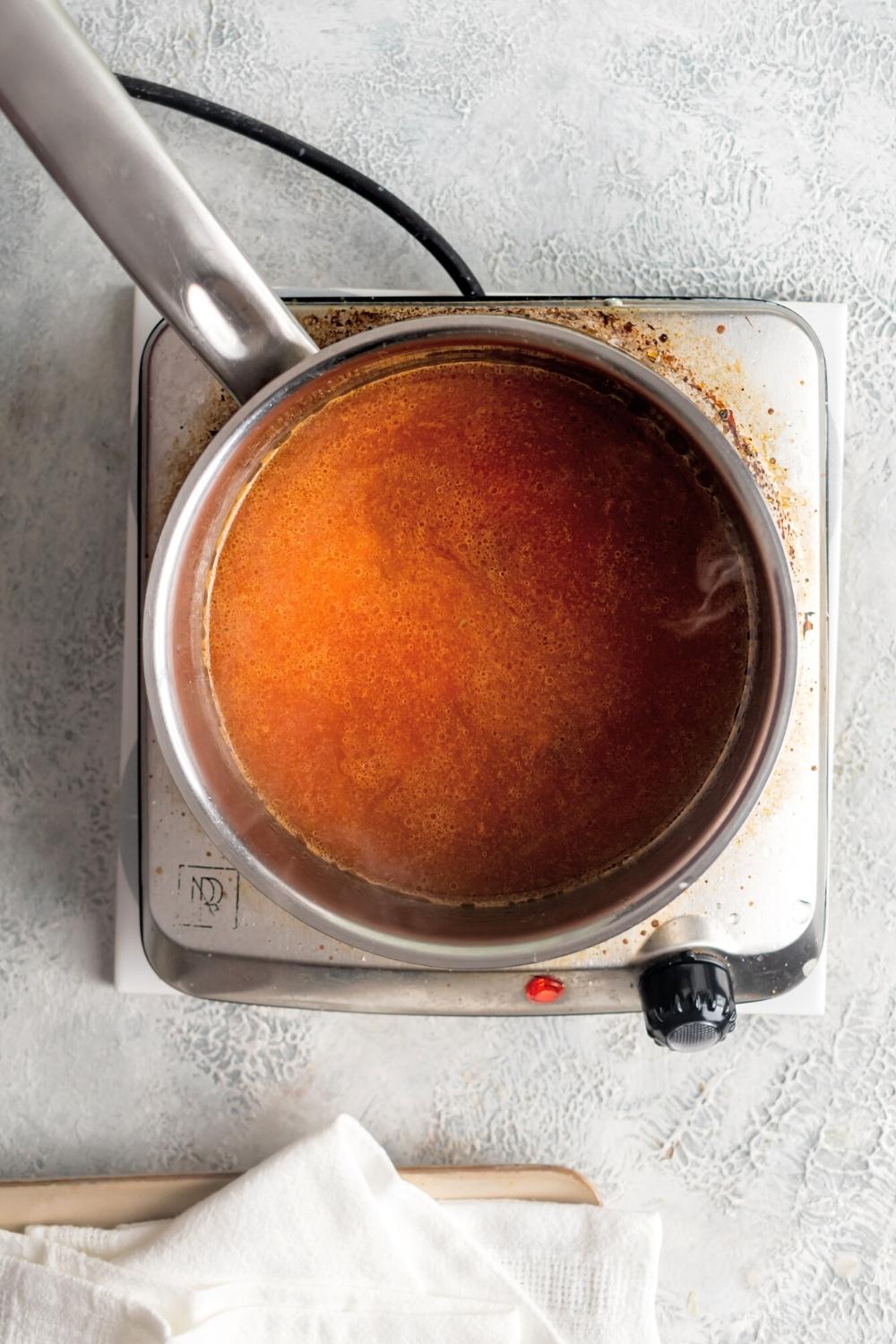 STEP 1: COOKING THE PASTA
First, take out a large pot, add the olive oil to it, and heat it over medium-high on the stove.
Next, add the 2 cups of dry conchita shells to the pot of heated oil.
Now, toast the pasta shells in the pot, making sure to stir constantly so they don't burn. What we're looking for here is a toasty golden brown color.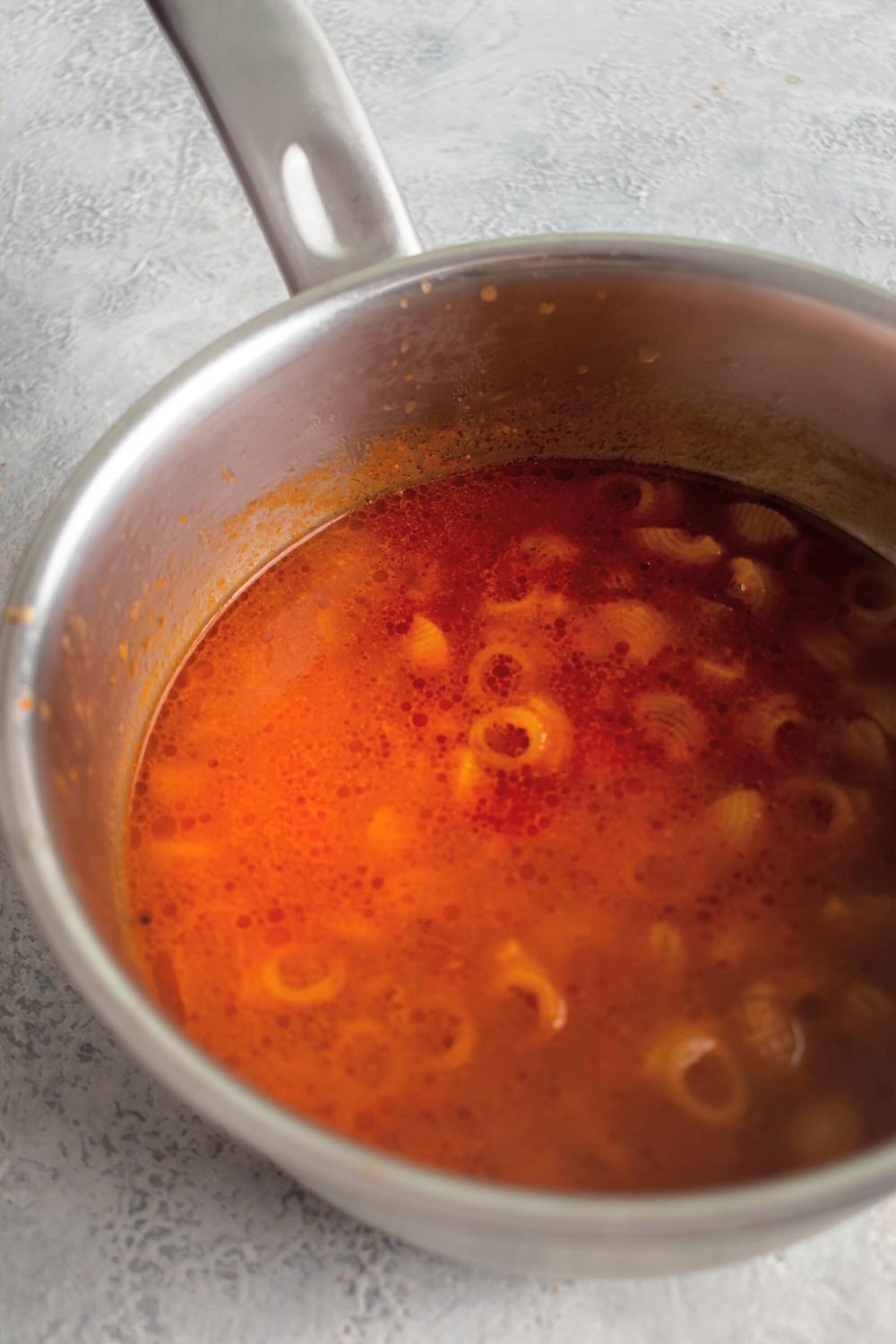 STEP 2: MAKING THE SOUP
Once the pasta is golden brown, pour in the water followed by the granulated bouillon and the tomato sauce. Then, stir everything together until well-combined.
Next, cover the pot and bring the soup to a gentle boil on medium-high heat for 10-12 minutes - or until the pasta is tender.
At this point, you'll want to take the pot off the heat to make sure the pasta doesn't continue to cook.
Finally, ladle the sopa de conchas into individual bowls and top with chives before serving. Enjoy!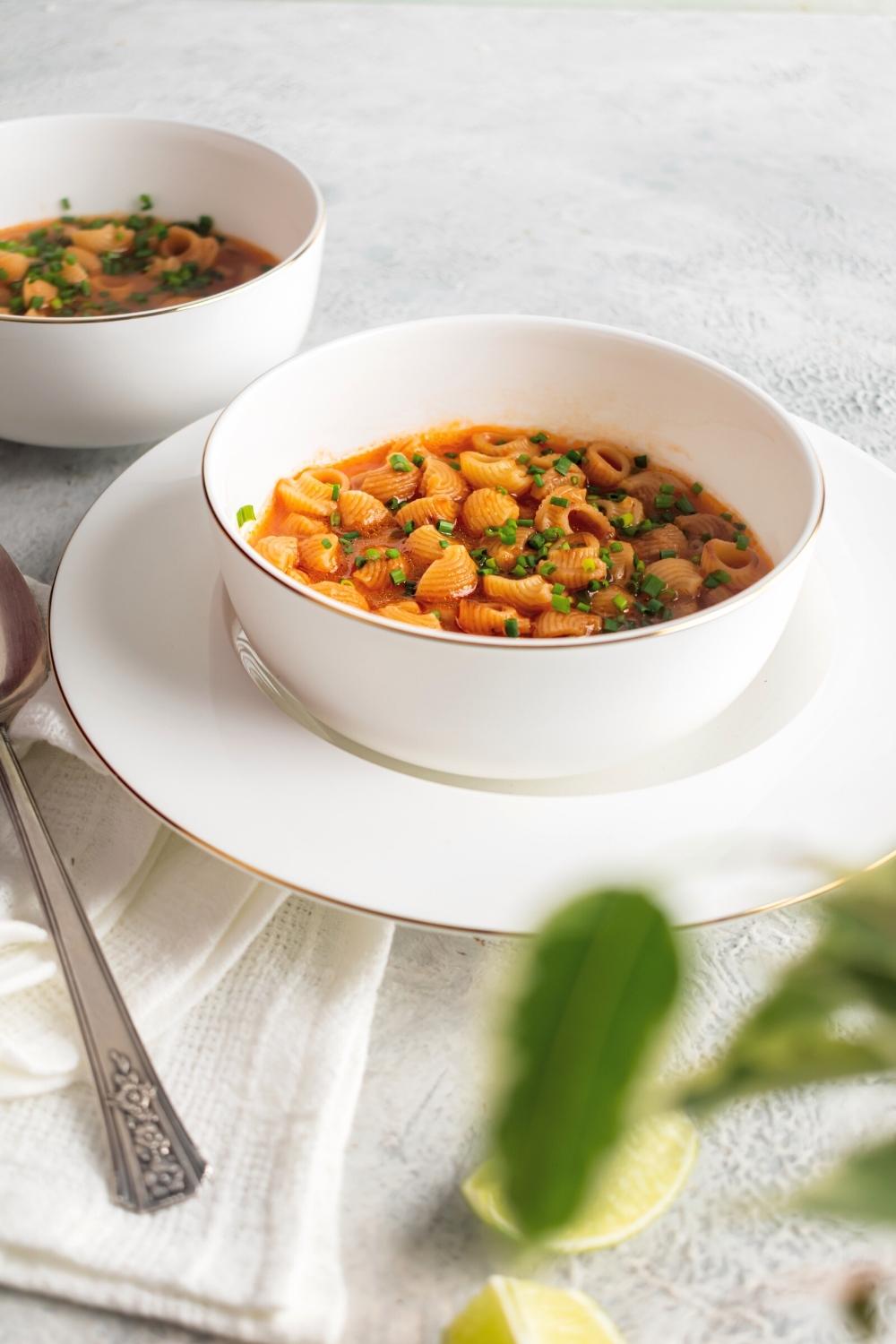 WHAT TO EAT WITH SOPA DE CONCHAS
This Mexican shell pasta soup is already pretty great on its own, but it's even better when served as part of a meal.
Here are some of my favorite recipes to serve with sopa de conchas: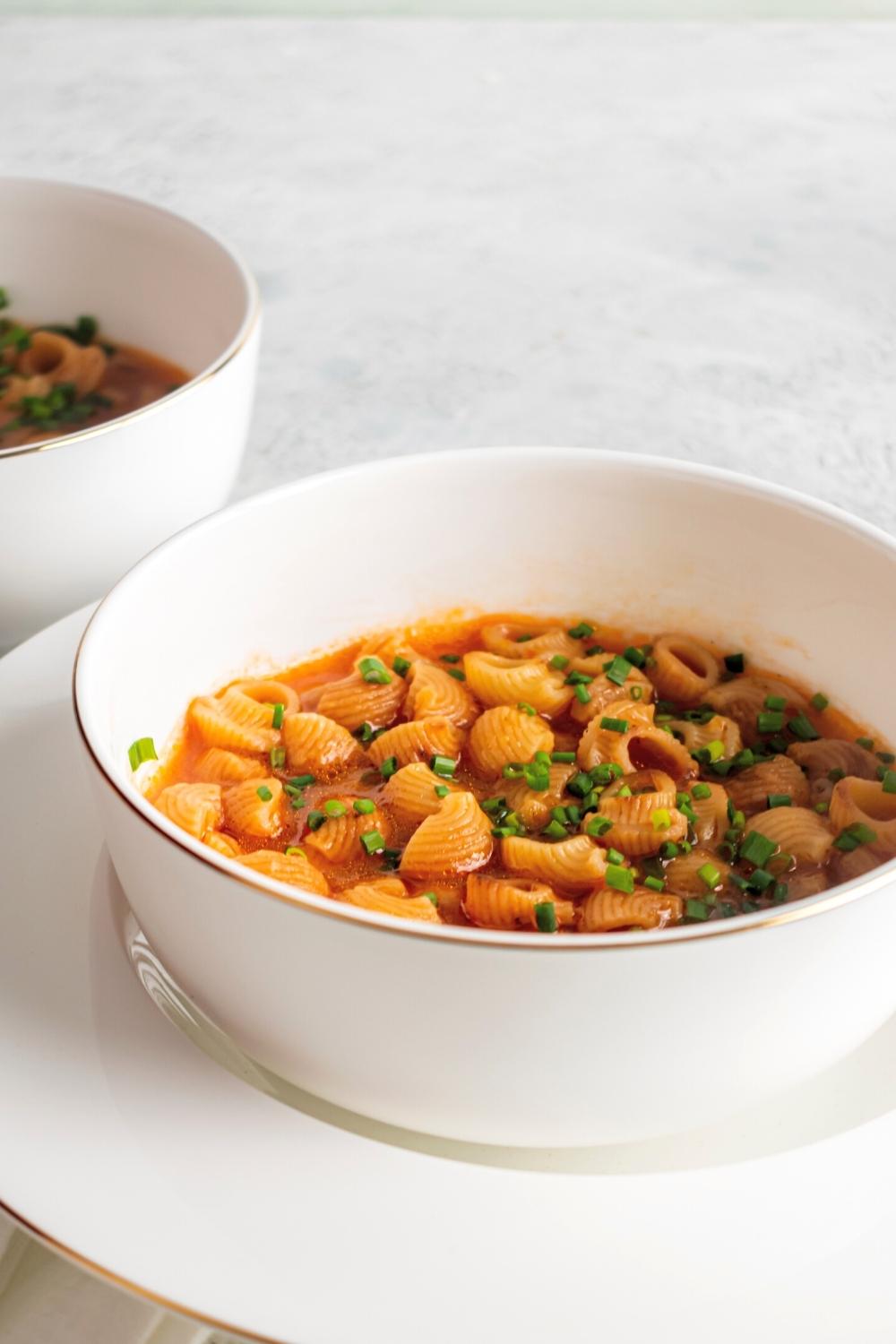 HOW TO STORE SOPA DE CONCHAS
So, this sopa de conchas recipe makes 2 hearty servings. And of course, you can easily double or triple the recipe to serve a bigger group.
If you want to save the extra Mexican soup for later, strain the pasta shells out of the broth and store the soup and pasta in two separate airtight containers (freezer safe ones if you're planning to keep them longer). You can store them in the fridge for up to 3 days or in the freezer for up to 3 months.
To reheat, bring the Mexican shell pasta soup to a boil then add the pasta shells and simmer until they're warmed through.
Alternatively, you can heat the broth up in the microwave (in a microwave-safe bowl) in 30-second increments until warm. Then, add in the pasta and heat for another 1 to 2 minutes or until the Mexican shell soup is fully warmed.
Oh, and if you're starting from frozen, let the soup and pasta thaw in the refrigerator for a day or two before reheating for the best texture and flavor.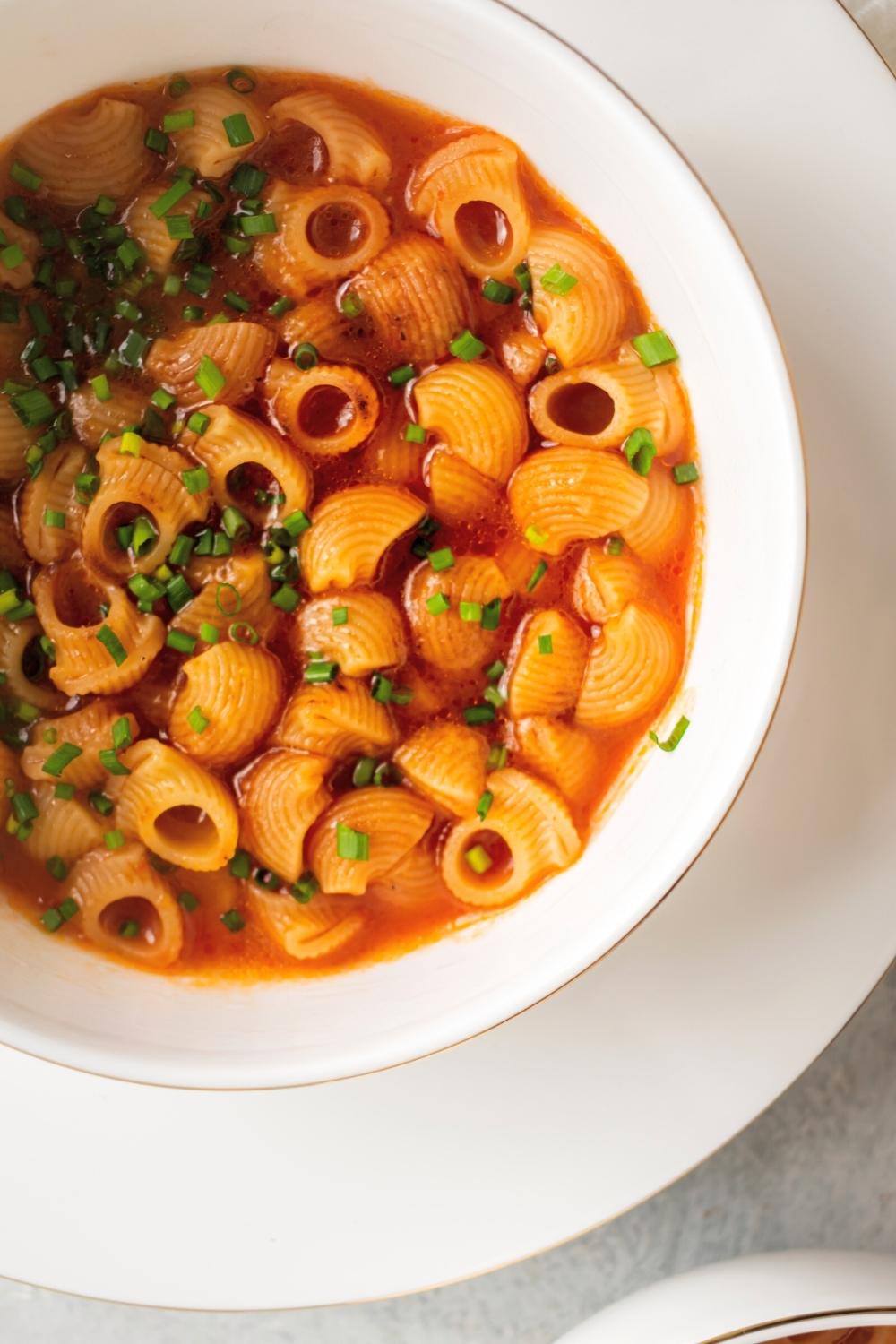 WRAPPING IT ALL UP
Sopa de conchas is a staple throughout Mexico, and once you've tried this quick and easy recipe, I'm positive it'll be a staple in your home too!
This simple Mexican shell pasta soup has become one of my go-to recipes whenever I need a speedy and healthy main - or side dish - that's sure to satisfy the family.
And I love that it's incredibly easy to customize, so I can always find new ways to switch it up.
Well, I hope you love this sopa de conchas recipe as much as my family and I do. As always, be sure to let me know if you try it by leaving a comment below. I'd love to hear your thoughts!
And don't forget to check out our Youtube channel for more delicious recipes like this one.
By the way, if you want to make another delicious Mexican soup recipe, you have to try this fideo soup or caldo de pollo next!
Print
Sopa de Conchas | Mexican Pasta Shell Soup
This ultra comforting and easy-to-make Mexican soup features a rich, tangy tomato broth with tender pasta shells. It's made with just a handful of simple budget-friendly ingredients and is on the table in just under 30 minutes, making it perfect for busy weeknight dinners!
Author:
Total Time:

25 minutes

Yield:

2

servings

1

x
Category:

Dinner

Method:

Stovetop

Cuisine:

Mexican
Instructions
Heat a large pot to medium-high and pour in the olive oil.

Pour the 2 cups of shells into the pot and continuously stir to prevent burning until they turn a golden brown color.

Once you achieve a golden brown color, add in the water, granulated Knorr bouillon, and tomato sauce. Stir until combined. 

Cover the pot and soft boil between 10-12 minutes (medium high heat).

Turn off the heat and move the pot away from the heat source.

Serve with chives on top and enjoy.
Nutrition
Serving Size:

1 serving

Calories:

326

Fat:

1

Carbohydrates:

67

Fiber:

4

Protein:

12
Keywords: Sopa de conchas, How to make sopa de conchas, mexican soup recipe, sopa, sopa, sopita, conchas recipe, concha recipe, sopa recipe, shell soup, shell soup recipe, mexican shell soup recipe, tomato shell soup recipe, shell soup sopa recipe shells, Mexican soup, Mexican soups, how do you make sopa de conchas, mexican soup recipe easy,