These red skin mashed potatoes are buttery, hearty, and only require six ingredients to make! Plusm they're ready in less than 30 minutes and require minimal prep work! This mashed potato recipe is perfect for both weeknight dinners and holiday gatherings.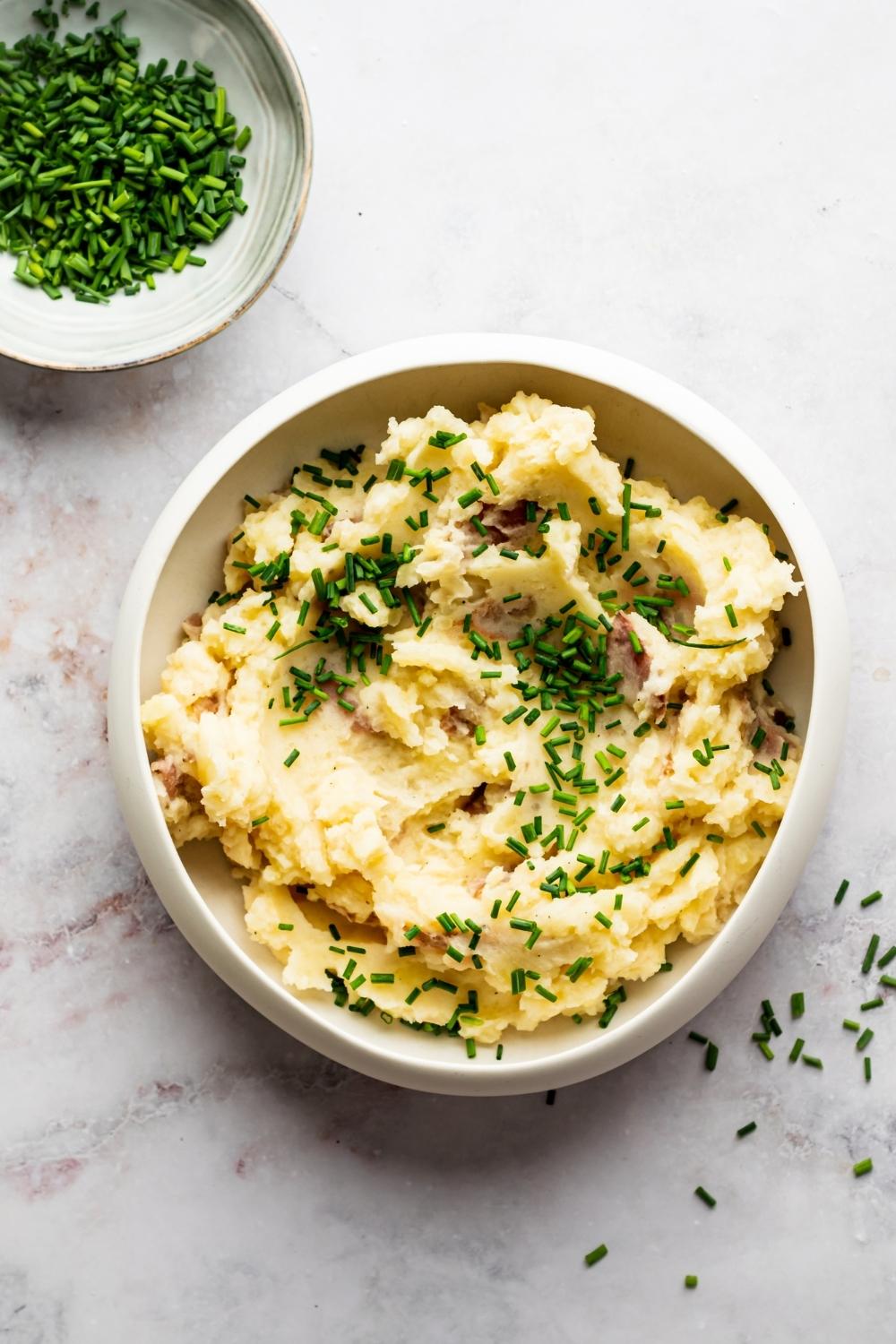 The Best Red Skin Mashed Potatoes
There's nothing like mashed potatoes to complete a roast dinner or a Thanksgiving table!
For this recipe, we're using red skin potatoes for their creamy texture and earthy flavor. They make for the perfect fluffy, buttery, and delicious mash.
I love making these creamy mashed potatoes for a side dish that I know everyone will enjoy. It can be eaten just as is or topped off with this rich brown gravy.
Not to mention, this red skinned mashed potatoes recipe cannot be easier to make. In fact, just 3 simple steps are all you need to follow to make them.
Oh, and since these mashed potatoes are always a hit, this has become a regular recipe for my family during the holiday season. We love serving it with this candied carrots, pioneer woman stuffing. and sweet potato cobbler!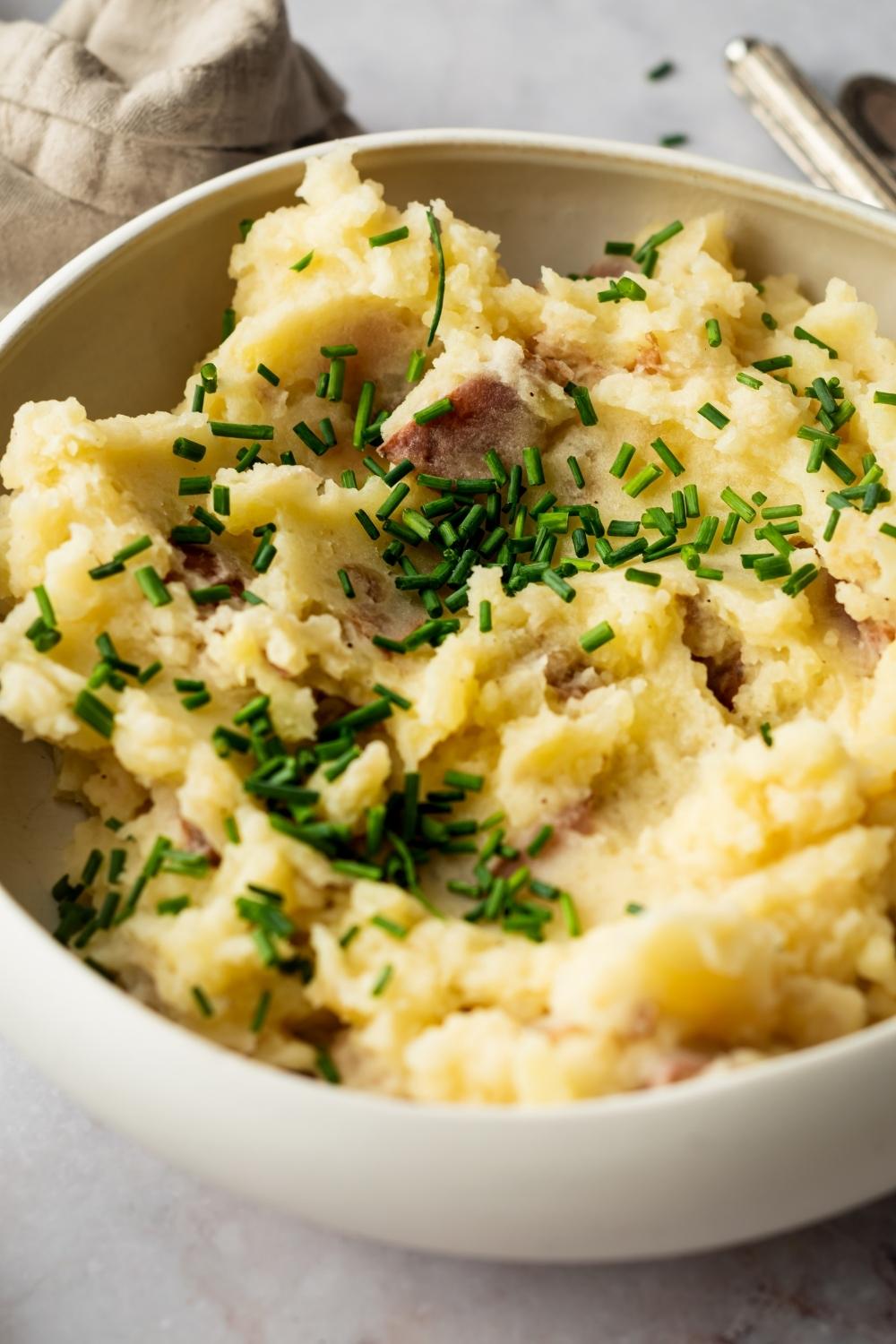 Ingredients
Again, we're using red skin potatoes here. Compared to other common potato varieties like Russet potatoes or Yukon Gold potatoes, red skin potatoes have a lower starch content.
That means they hold their shape really well. So, if you love chunky mashed potatoes, red skins are the way to go!
They work great for mashing, too, as long as you don't overmix them. Otherwise, you'll get gluey instead of creamy potatoes.
With that said, let's run down what you'll need to make this red skin mashed potatoes recipe:
6 large red potatoes, washed well
1 teaspoon salt
¼ cup of melted butter
¾ cup of warm milk
½ teaspoon ground pepper
¼ cup chopped ciboulette
Yup, that's it!
Just basic pantry ingredients for the most delicious mashed potatoes ever. If you don't have milk, feel free to use half and half or heavy cream for these red mashed potatoes.
For an extra pop of flavor and color, we're adding some finely-chopped green onions. But, if you don't have any on hand, chopped chives or fresh parsley would work just as well. You can even skip 'em if you want to keep things really simple.
By the way, if you want to switch things up, you totally can! Add some garlic powder, minced garlic, and roasted garlic to make garlic mashed potatoes. Or, mix in your favorite shredded cheese, bacon, and sour cream to make loaded mashed potatoes!
By the way, if you like loaded mashed potatoes, you have to try these cheesy mashed potatoes or twice baked mashed potatoes next!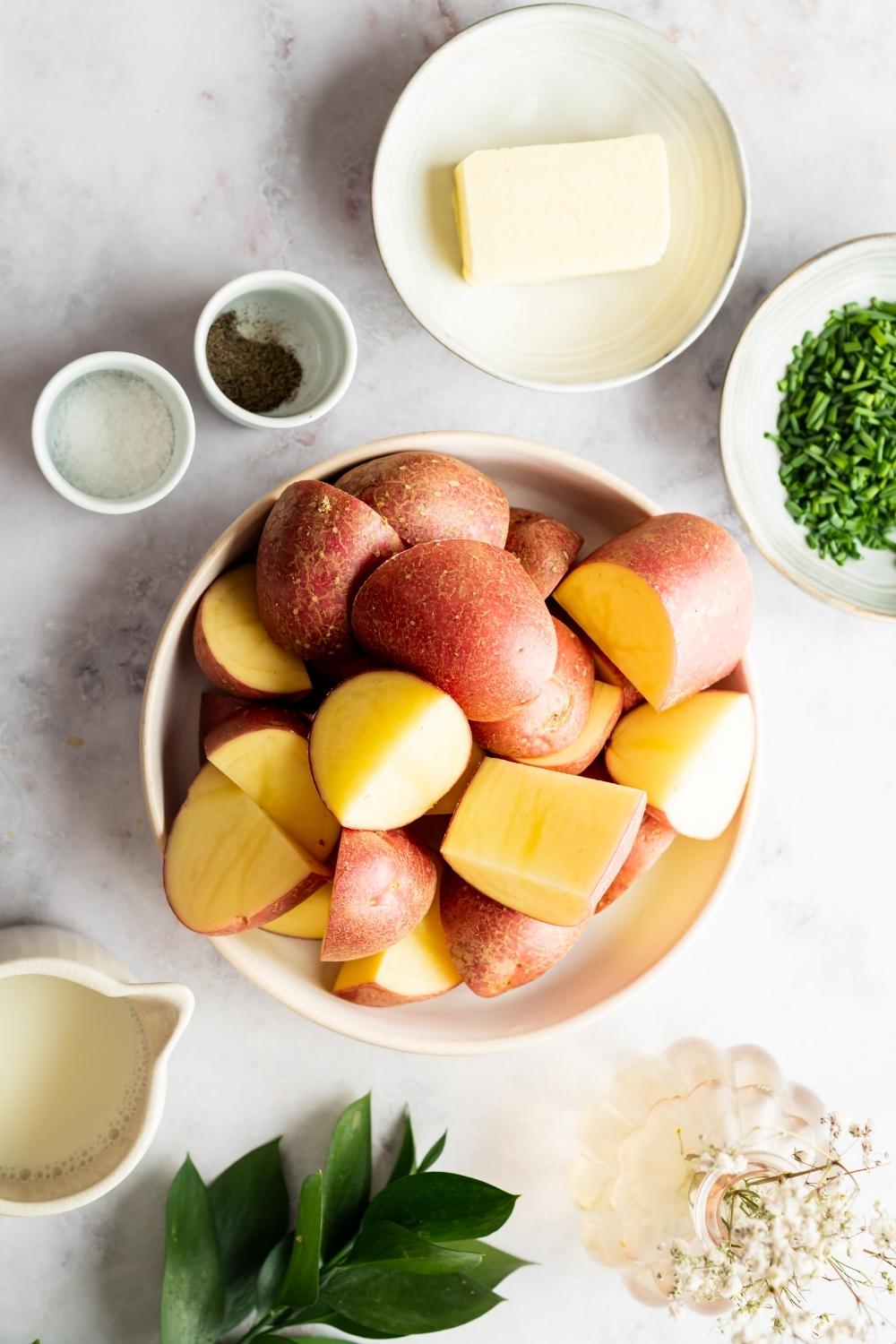 How to Make Red Skin Mashed Potatoes
These mashed potatoes are one of the easiest red skin potato recipes out there. As I said, you don't even need to peel the potatoes if you don't want to!
All in all, this recipe should take 30 minutes total, and since everything is prepared in just one pot, clean up is a breeze.
Now, let's not waste any more time and dive into the recipe!
Step 1: Boil The potatoes
First, wash your red skin potatoes thoroughly to remove all dirt.
Then, either peel them - or leave the skin on - before boiling the potatoes. Flecks of skin in mashed potatoes actually add a nice rustic touch.
Anyway, now cut the potatoes into even-sized pieces and place them in a large pot. The smaller you slice your potatoes, the faster they cook.
Next, cover the potatoes with water and add a pinch of salt.
Wait for the salted water to come to a rolling boil, then reduce to medium low heat. Let them cook while stirring occasionally for about 25 minutes.
Check the boiling potatoes for doneness by sticking a fork in the middle - they're ready when the fork easily pierces the potato.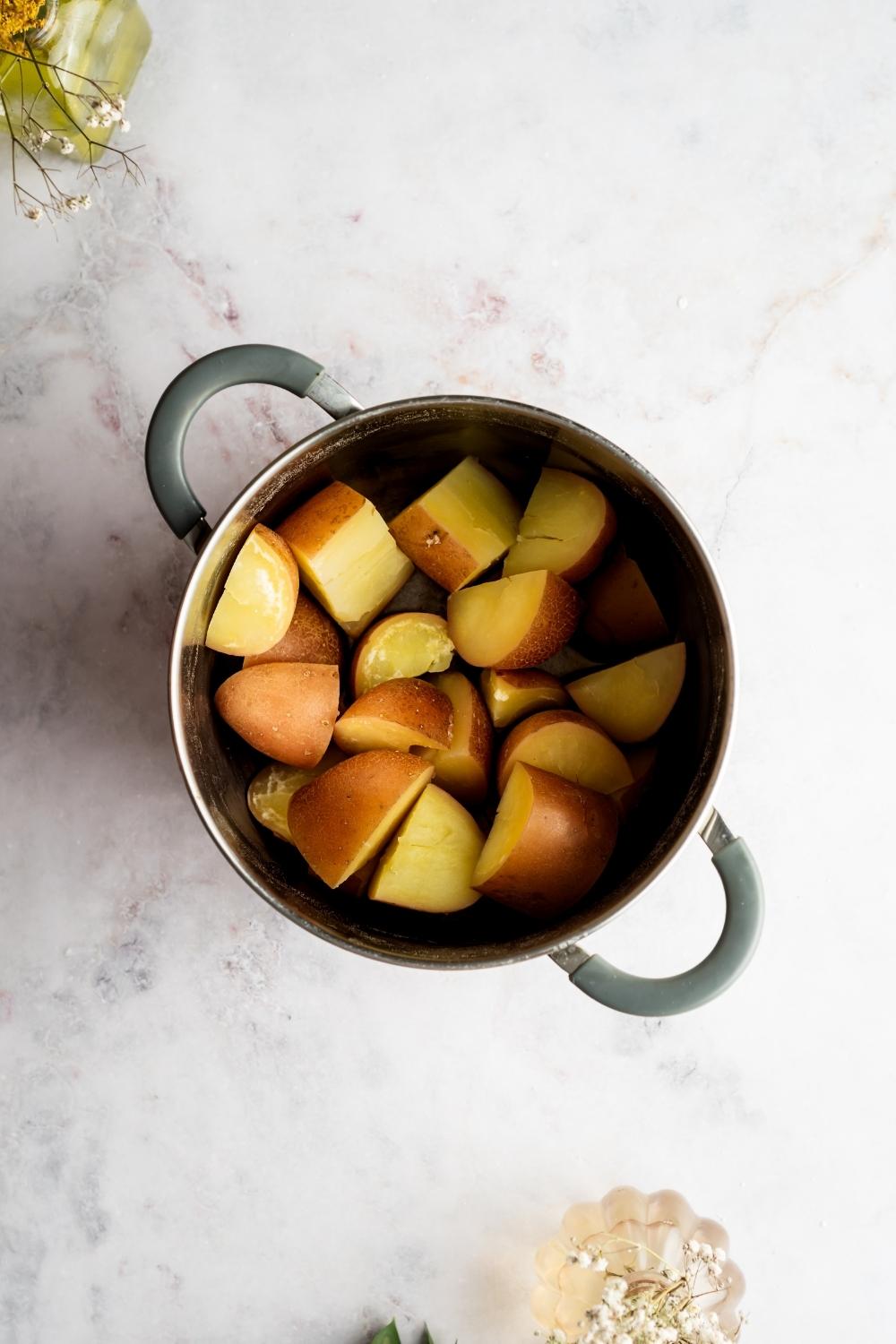 Step 2: Mix in the butter, milk, and seasonings
Now that the potatoes are cooked, drain the water and place the cooked potatoes back into the pot. Then, mash the potatoes with a potato masher - or just two forks - until they're nice and smooth.
By the way, if you want your red skin mashed potatoes on the chunkier side, just stop mashing them when there are still a few small pieces of potato chunks in the bowl.
Next, add the milk, butter, and chopped green onions to the mashed potatoes. Mix until the ingredients are thoroughly combined with the potatoes.
Now, season to taste with salt and freshly ground pepper and add more milk if you want to make the potatoes smoother.
Lastly, give the mashed potatoes a final stir when you get your desired consistency.
Step 3: Serve and enjoy
Once your red mashed potatoes are done, transfer the red mashed potatoes to a serving dish or large bowl and top with more green onions.
Dish out four servings and enjoy!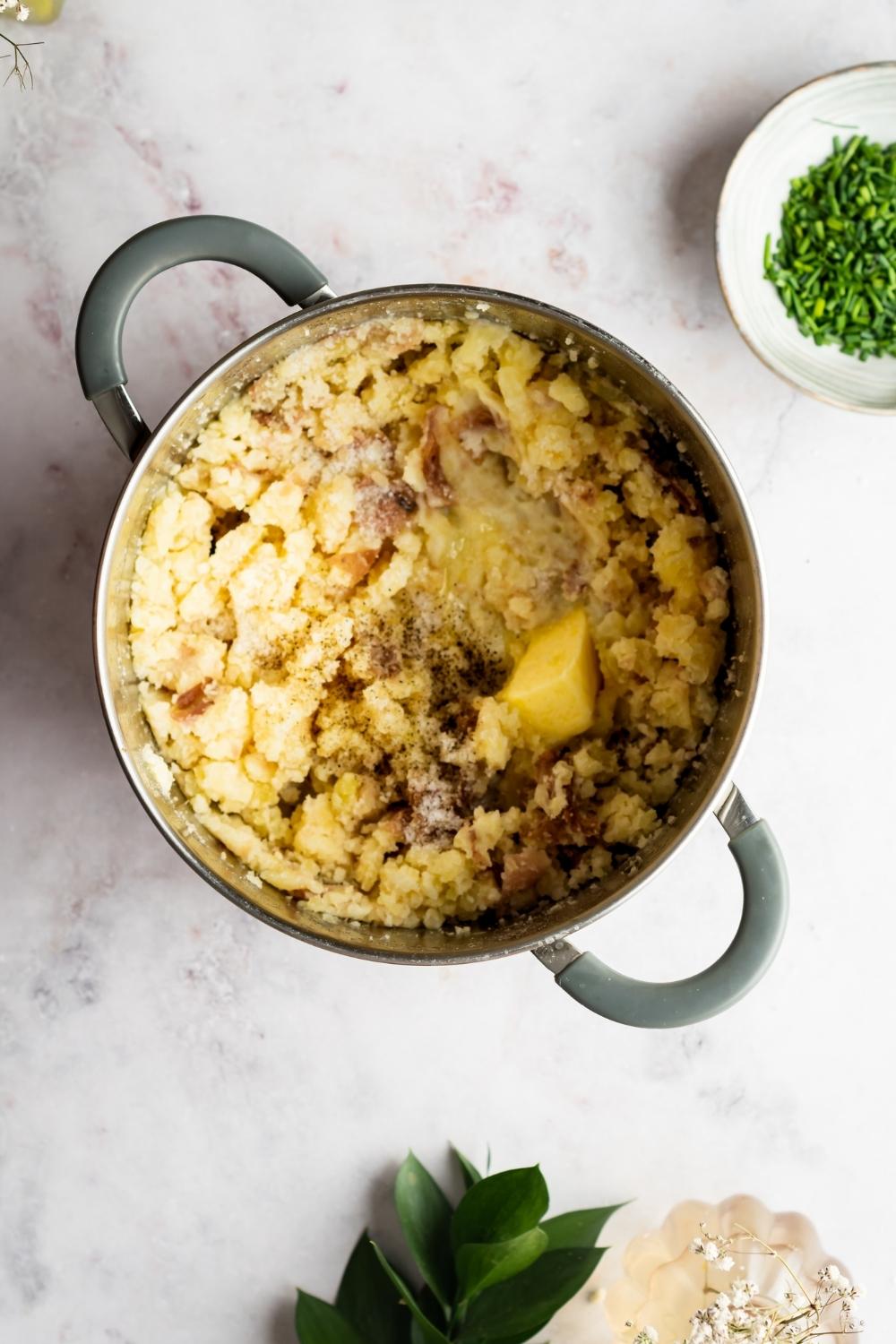 What to Serve with Red Skin Mashed Potatoes
Red skin mashed potatoes pair well with almost any main dish. Serve them with roasted or fried chicken, steak, pork chops, or even fish.
They're also great as a side dish for Thanksgiving dinner or any other holiday meal! Try serving them with roasted turkey, honey-baked ham, lamb breast, or even prime rib.
Of course, you can also enjoy them on their own as a simple and satisfying snack. Try topping 'em with some cheese, crumbled crispy bacon for a bit of texture, or a dollop of sour cream.
Mashed potatoes are also great for meal prep! Make a big batch and reheat them throughout the week for an easy and satisfying lunch or dinner.
Leftover mashed potatoes can also be used to make delicious potato pancakes, shepherd's pie, or potato soup. So don't throw them out - put them to good use!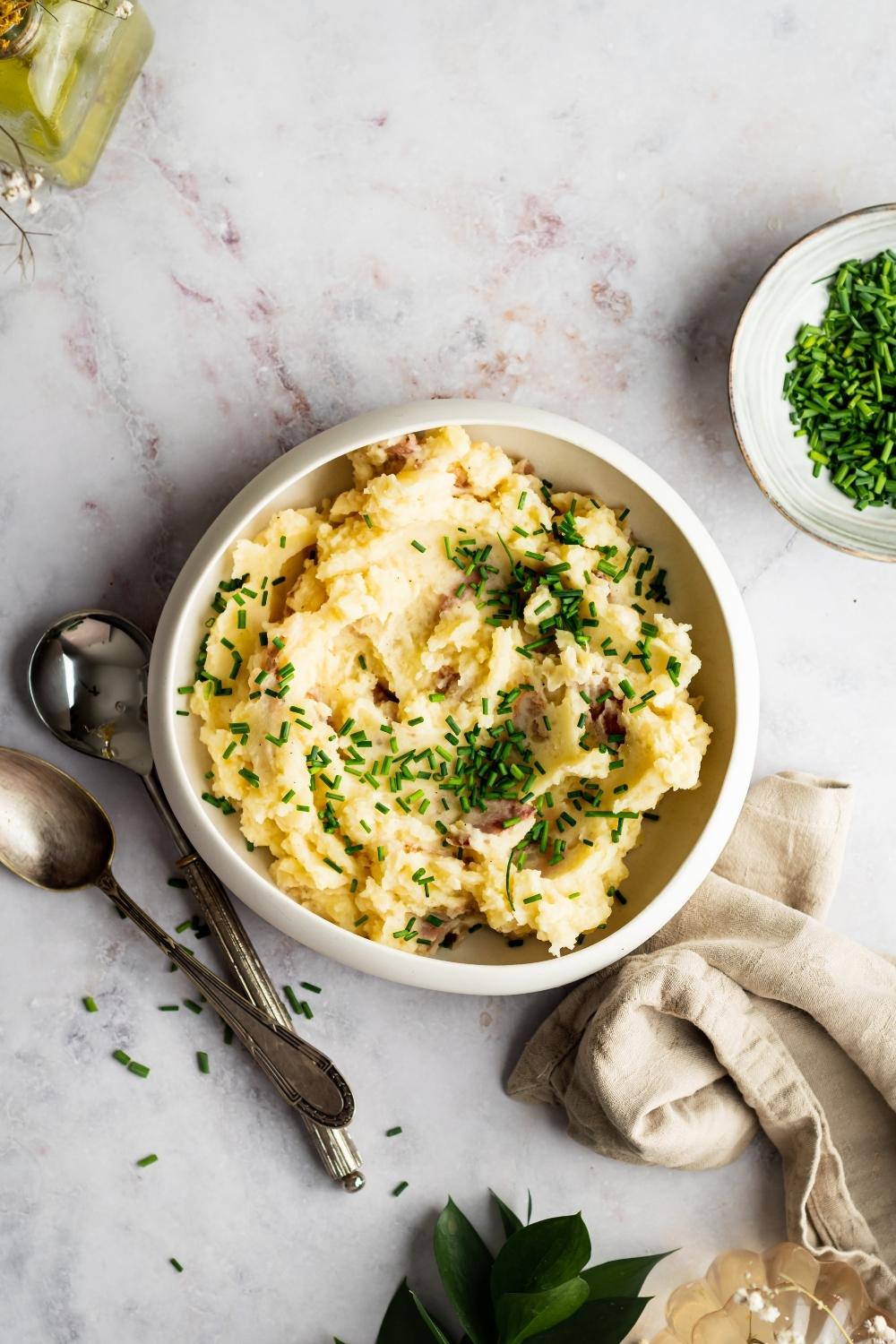 How to Store Red Skin Mashed Potatoes
As I mentioned above, this recipe will make 4 servings of mashed potatoes. So, you might want to double or triple this recipe if you're planning on serving it for a big family dinner.
Then, if you have leftover mashed red potatoes, they can be stored in the fridge for up to 4 days. Let them cool completely, then transfer to an airtight container and store in the fridge.
With that said, freezing mashed potatoes lets you store them for up to three months. Again, let them cool completely before transferring them to a freezer-safe container.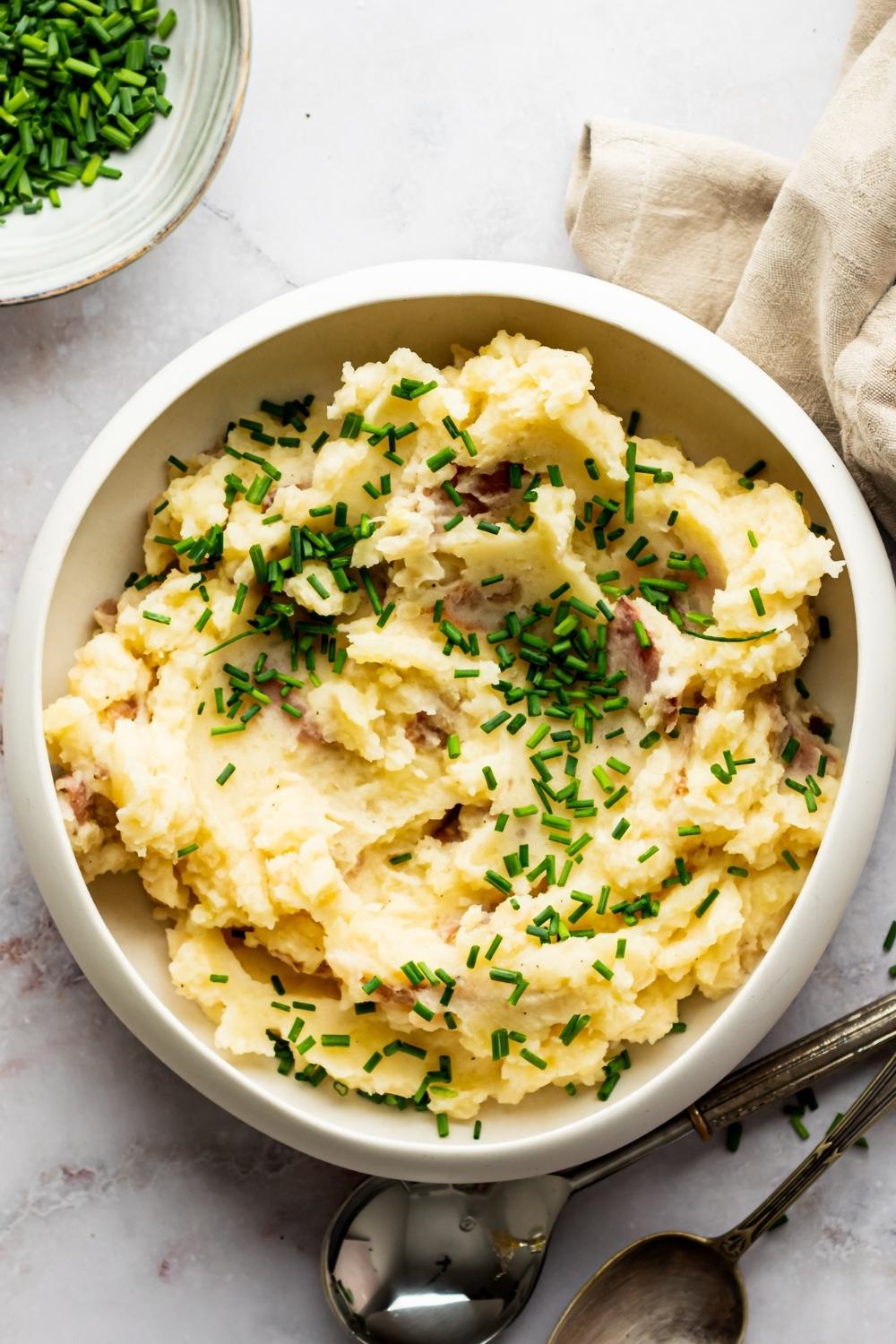 How to Reheat Red Skin Mashed Potatoes
To reheat red skin mashed potatoes place the potatoes in a pot over low heat and add a splash of milk to help them rehydrate. You can also add a bit more butter at this point if you like. Then, heat for a few minutes, stirring frequently, until warmed.
You can also bake them in the oven to reheat. To do this, place the mashed potatoes in a baking dish, cover with foil, and heat at 350 degrees Fahrenheit until warmed through.
If you're short on time, you can also reheat them in the microwave. Place the potatoes in a microwave-safe dish and heat for a minute, then stir and heat for another thirty seconds to a minute. Repeat until the potatoes are heated through.
Just keep in mind that if you're reheating frozen mashed potatoes you'll want to thaw them first before following any of the reheating instructions above.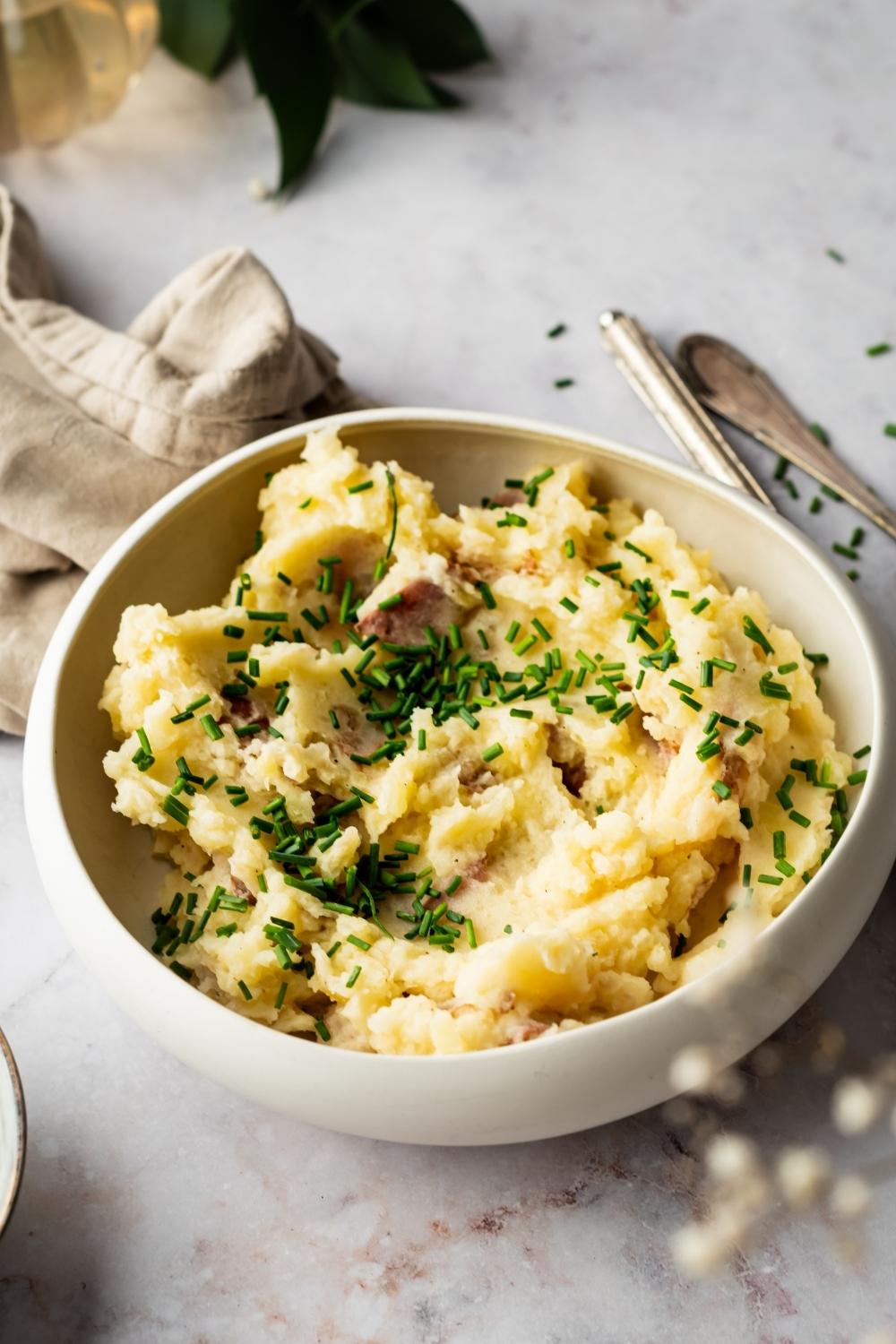 FAQs About This Red Skin mashed potatoes recipe
Are red potatoes better for mashed potatoes?
While any type of potato can be used for mashed potatoes, red potatoes are a great option. They're relatively small and have thin skin, so they don't require peeling. They also have a high moisture content, which makes them extra creamy and delicious.
What are red skinned potatoes good for?
Because red skin potatoes hold their structure well, they're excellent for adding to stews, soups, and for potato salads. You can also use them to bulk up savory pot pies and gratins. Or, you can even roast red skinned potatoes and make a simple and tasty side dish with them.
With all of that said though, my favorite way to use red skinned potatoes is by making these mashed potatoes.
Should you peel red skinned potatoes?
You can, but you don't really need to. The skin is thin and delicate, so it will break down during cooking. Plus, it's visually appealing and packed with nutrients, so there's no need to peel it off.
Are red or yellow potatoes better for mashed potatoes?
It really depends on how you like your mashed potatoes.
Generally, starchy potatoes like Russet or Yukon gold make for the best creamy mashed potatoes.
But, if you like your mashed potatoes on the chunky side, red potatoes are what you'll want to use.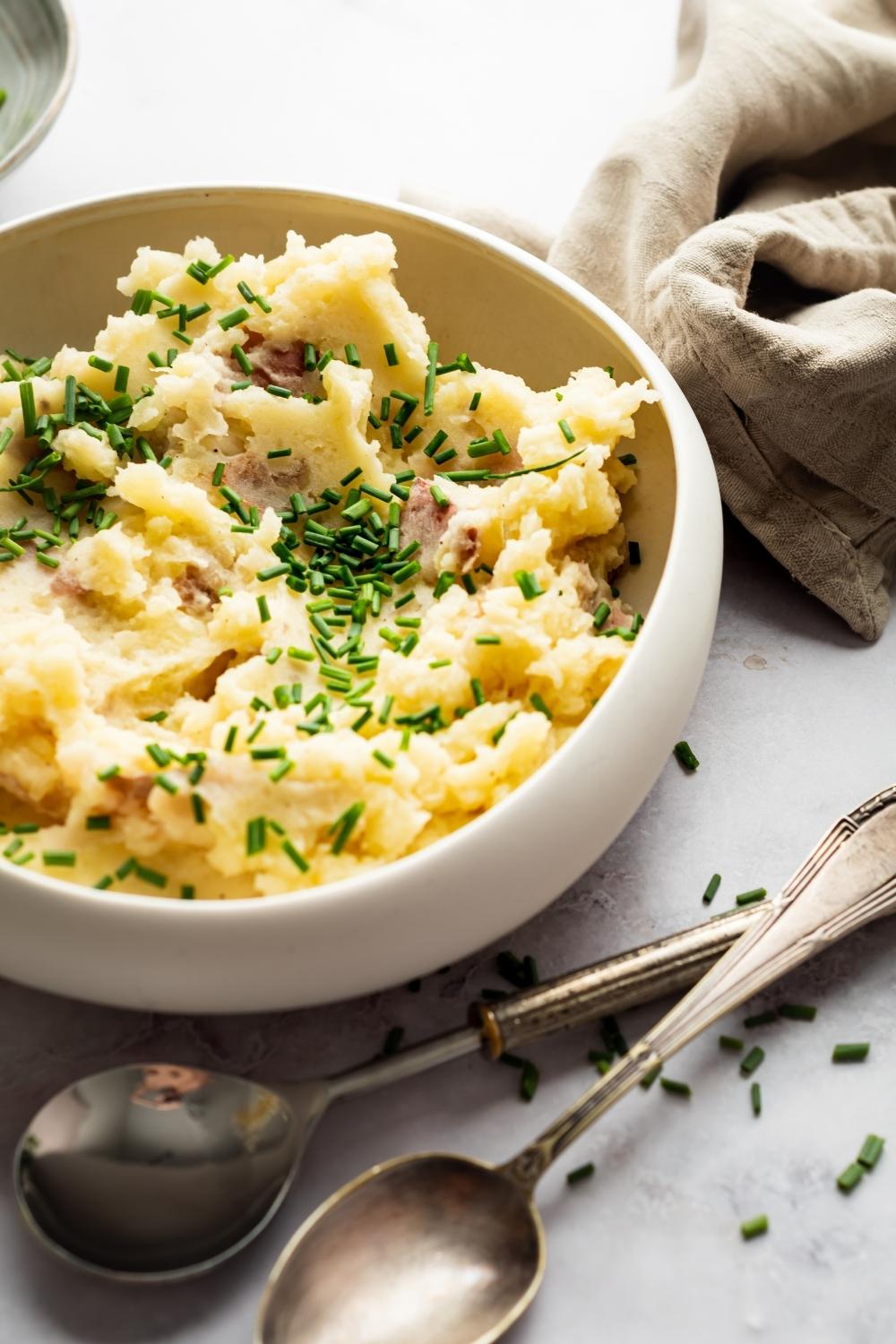 Wrapping It Up
Well, that is how to make red skin mashed potatoes!
I make this recipe constantly, and I have a feeling that it's one you'll be hooked on too.
As always, if you try this recipe, leave a comment below and let me know your thoughts! I'd love to hear if you liked these red skinned mashed potatoes and what you served them with.
Oh, and as always, if you'd like to check out even more of our delicious recipes be sure to check out our Instagram, TikTok, and Youtube pages. We post new recipes every day on them!
More Potato Recipes
If you love potatoes and want to give some more potato recipe ideas, we have a bunch on the blog!
Give one of these a try next:
Print
Red Skin Mashed Potatoes Recipe Prepped In 5 Minutes
These red skin mashed potatoes are buttery, hearty, and only require six ingredients to make! Plusm they're ready in less than 30 minutes and require minimal prep work! This mashed potato recipe is perfect for both weeknight dinners and holiday gatherings.
Author:
Prep Time:

5 minutes

Cook Time:

25 minutes

Total Time:

30 minutes

Yield:

4

servings

1

x
Category:

Side

Method:

Stovetop

Cuisine:

Potatoes
6 large red potatoes, washed well
1 teaspoon salt
4 tbsps. (¼ cup) of melted butter
¾ cup of warm milk
½ teaspoon ground pepper
¼ cup chopped ciboulette
Instructions
Place potatoes in a pot and cover with water. Add salt and bring to a boil, cook for 25 minutes, or until they are tender when pinching them with a fork.

Remove the water and mash the potatoes in the same pot, add milk, half of the ciboulette, butter, and pepper. Mix until creamy.

Serve topped with more ciboulette.
Nutrition
Serving Size:

1 serving

Calories:

280

Fat:

11

Carbohydrates:

41

Protein:

6
Keywords: red skin mashed potatoes, red skin mashed potatoes recipe, red potatoes recipe, red skin mashed, creamy mashed potatoes, red skinned mashed potatoes, red skinned mashed potatoes recipe, how to make red skin mashed potatoes