These red skin mashed potatoes are buttery, hearty, and only require six ingredients to make! It's the perfect recipe for both busy weeknight dinners and holiday gatherings.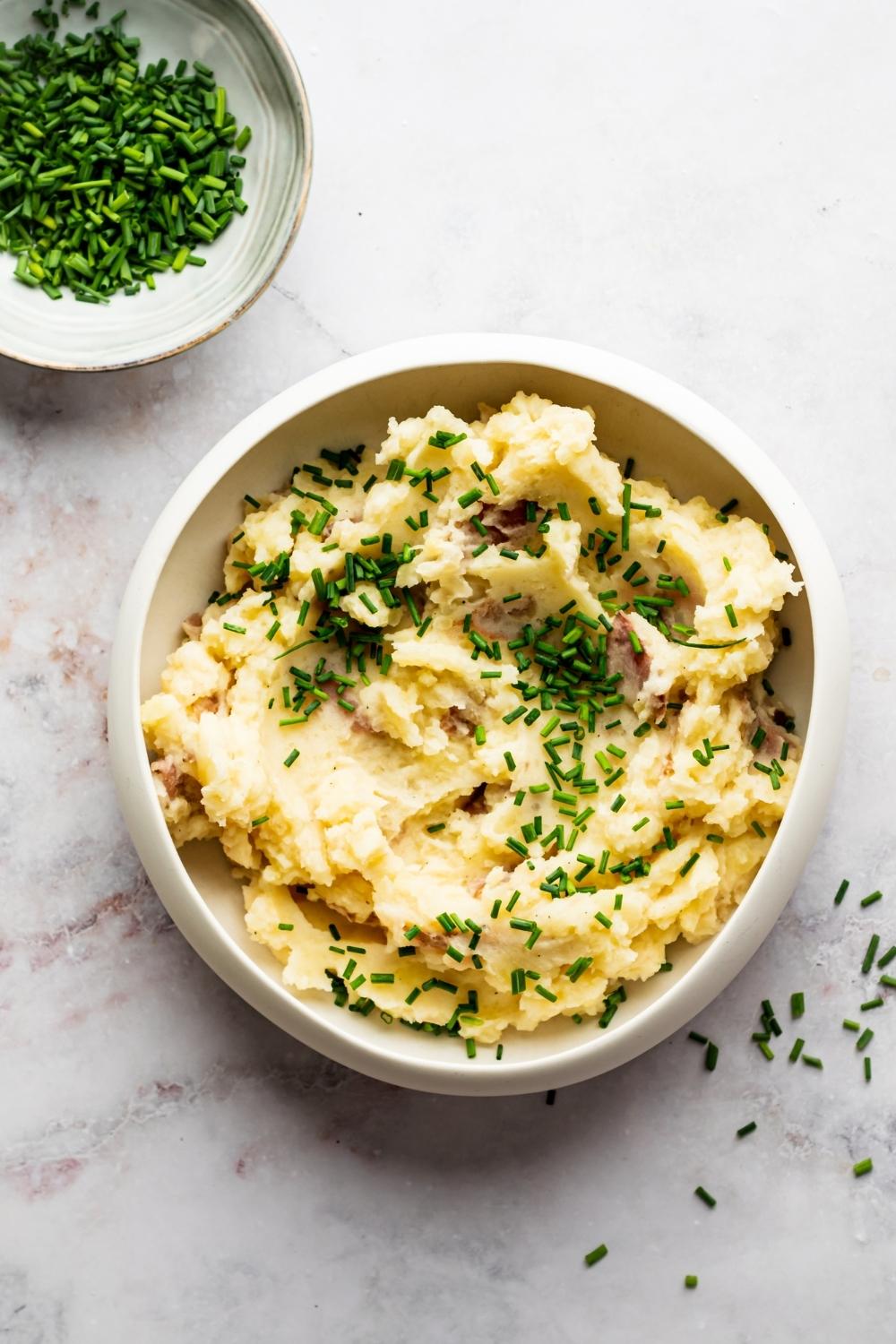 The Best Red Skin Mashed Potatoes
There's nothing like mashed potatoes to complete a roast dinner or a Thanksgiving table!
A regular mash is delicious, but this recipe puts an even more delicious spin on the comfort food classic. It uses red skin potatoes for their creamy texture and earthy flavor. They make for the perfect fluffy, buttery, and delicious mash.
The potatoes are honestly delicious as is, but can also be eaten topped off with this rich brown gravy.
Since this recipe is always a hit, it has become a regular recipe for my family during the holiday season. I love serving it with this turkey tenderloin, candied carrots, pioneer woman stuffing. and sweet potato cobbler for a feast!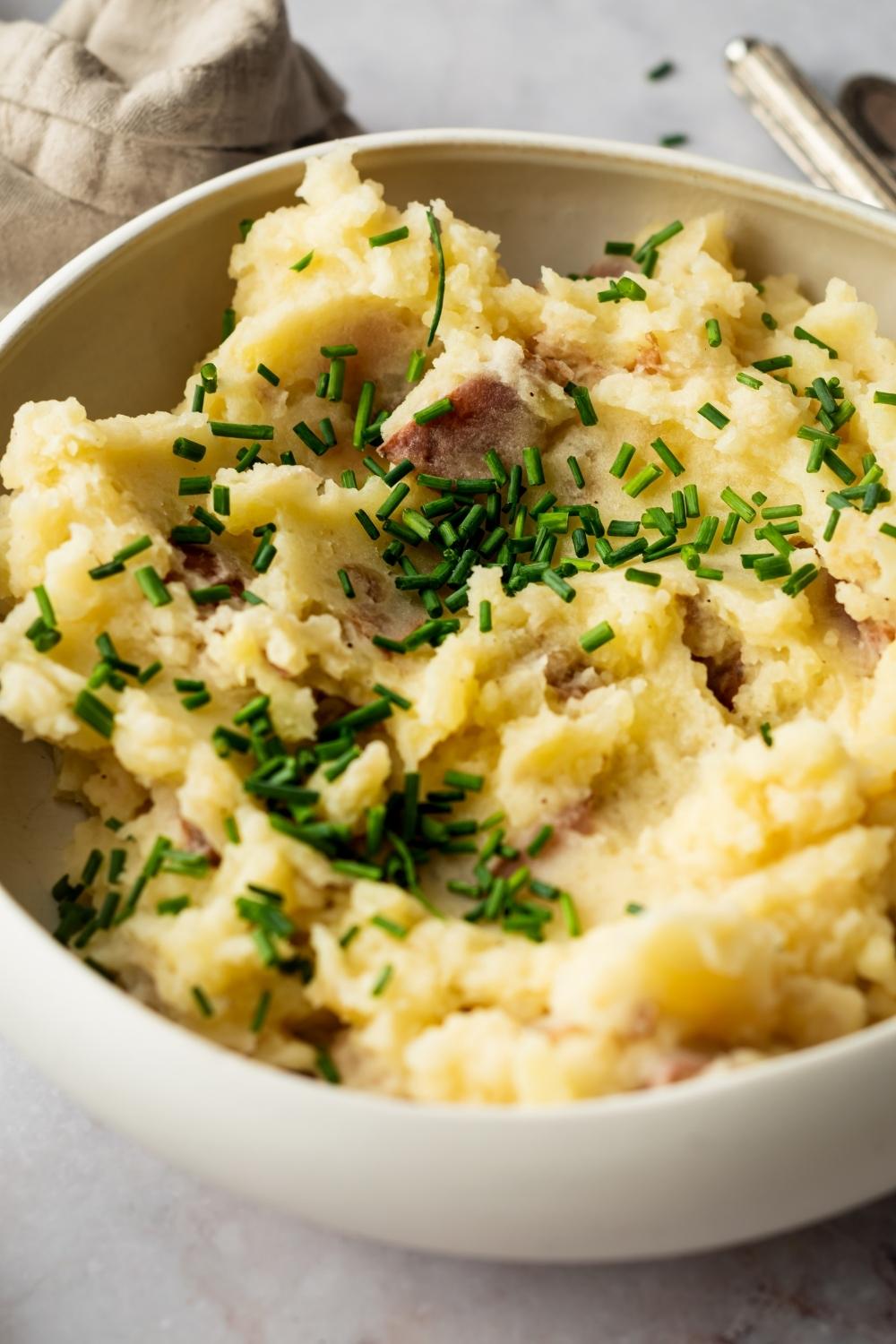 Ingredients
Red potatoes- the star of this recipe that gives mashed potatoes delicious and unique flavor and texture. You'll want to grab large ones.

Salt and pepper- for flavor

Melted butter- to add some buttery flavor.

Warm milk- creates that wonderfully creamy texture.

Chopped ciboulette- for a savory garnish.
If you have extra red potatoes, you can use them to make these pan fried potatoes next! By the way, if you like loaded mashed potatoes, you have to try these cheesy mashed potatoes or twice baked mashed potatoes next!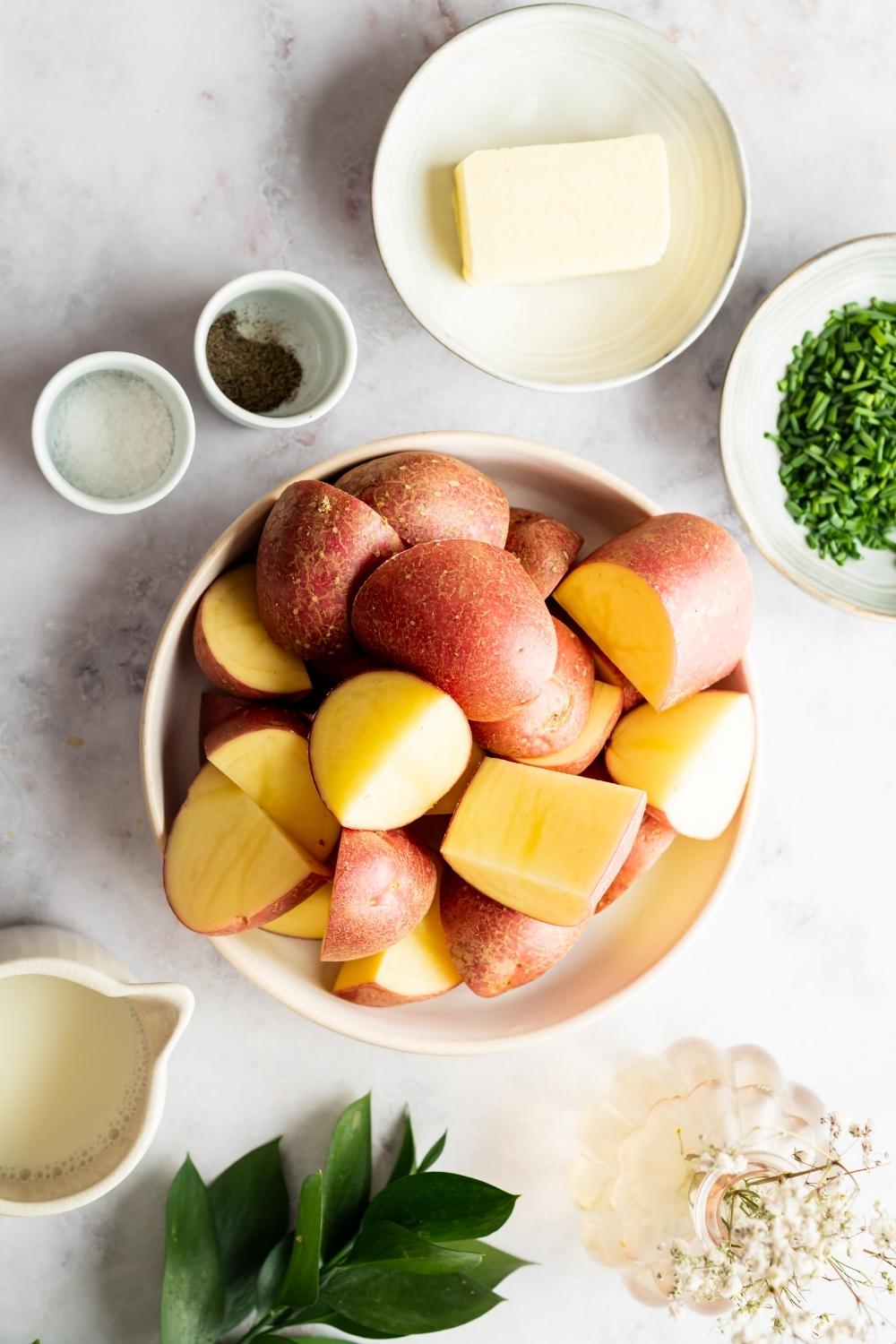 How To Make Red Skin Mashed Potatoes
Step 1: Prep the potatoes. First, wash the potatoes thoroughly to remove all dirt. Either peel them or leave the skin on before boiling the potatoes. Flecks of skin in mashed potatoes actually add a nice rustic touch. Cut the potatoes into even-sized pieces and place them in a large pot. The smaller you slice your potatoes, the faster they cook.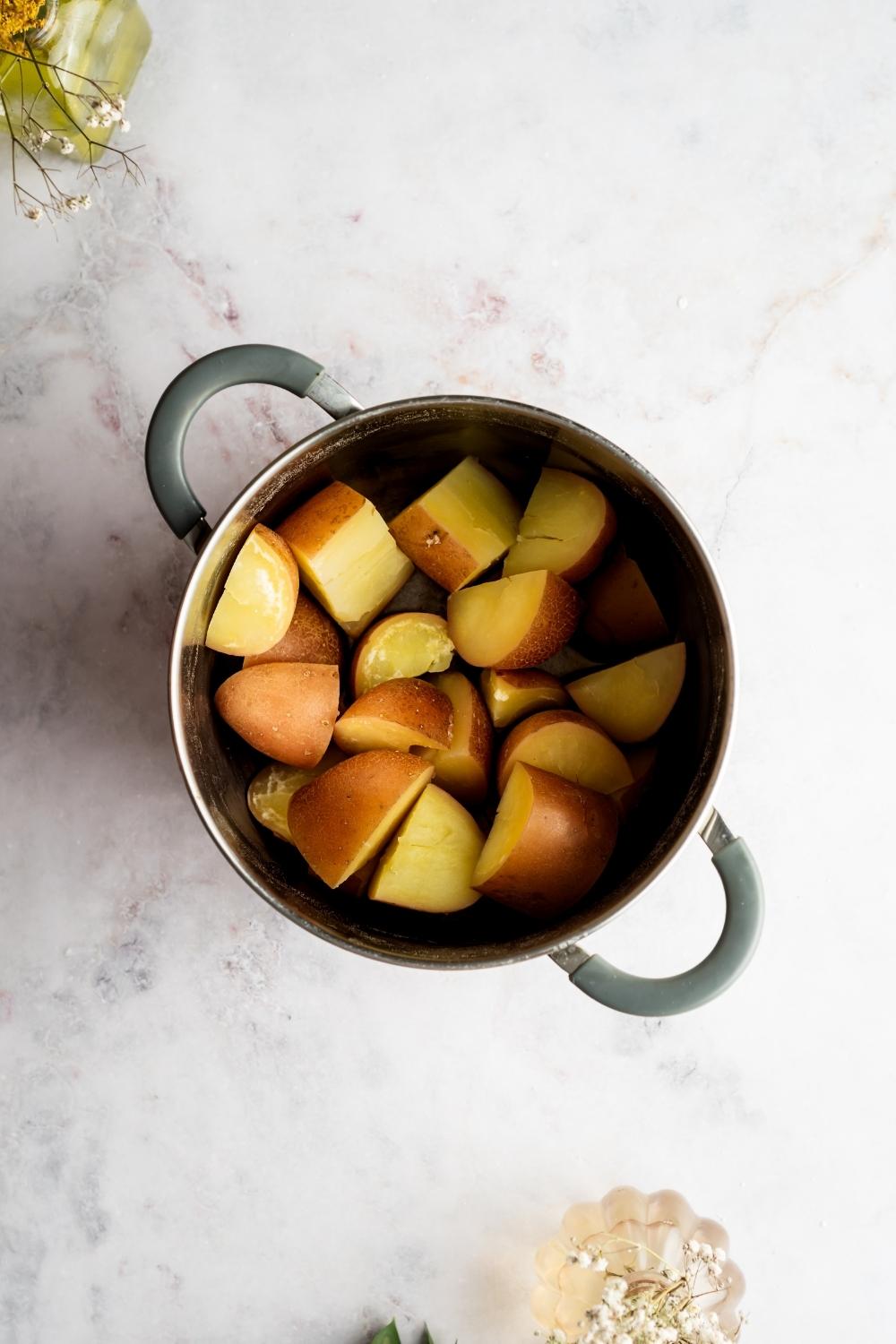 Step 2: Boil the potatoes. Cover the potatoes with water and add a pinch of salt. Wait for the salted water to come to a rolling boil, then reduce to medium low heat. Let them cook while stirring occasionally for about 25 minutes. Check the boiling potatoes for doneness by sticking a fork in the middle. You'll know they're ready when the fork easily pierces the potato.
Step 3: Mix in the rest of ingredients. Dain the water and place the cooked potatoes back into the pot. Mash the potatoes with a potato masher or just two forks until they're nice and smooth. Add the milk, butter, and chopped green onions to the pot. Mix until the ingredients are thoroughly combined. Season to taste with salt and freshly ground pepper, and add more milk if you want to make the potatoes smoother. Give everything a final stir.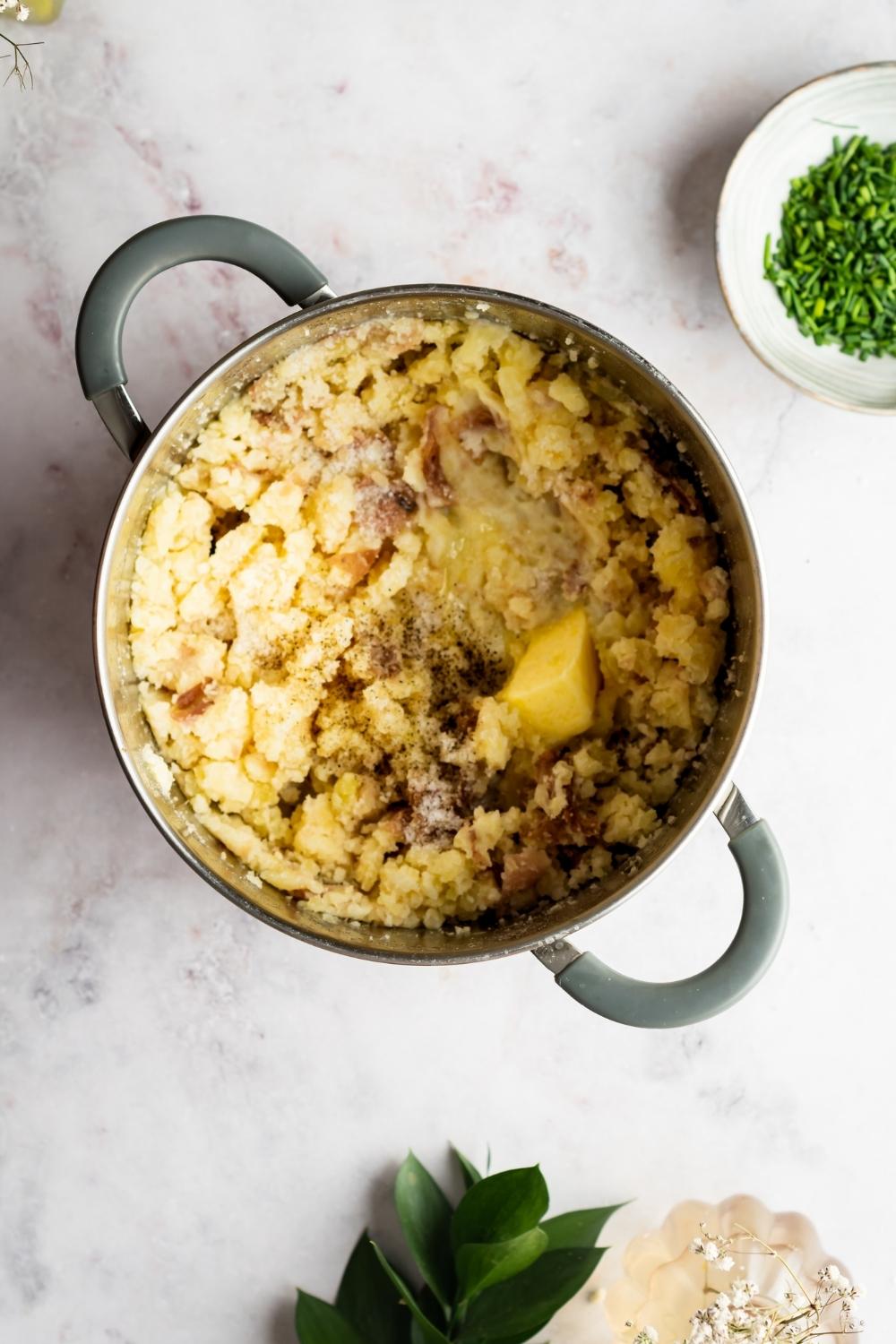 Step 4: Serve. Transfer the potatoes to a serving dish or large bowl and top with more onions if you want a savory flavor. Serve warm and enjoy!
What Can I Serve With These Potatoes?
They're delicious with things like roasted or fried chicken, pork steaks, BBQ meatloaf, lamb breast, or even salmon bites.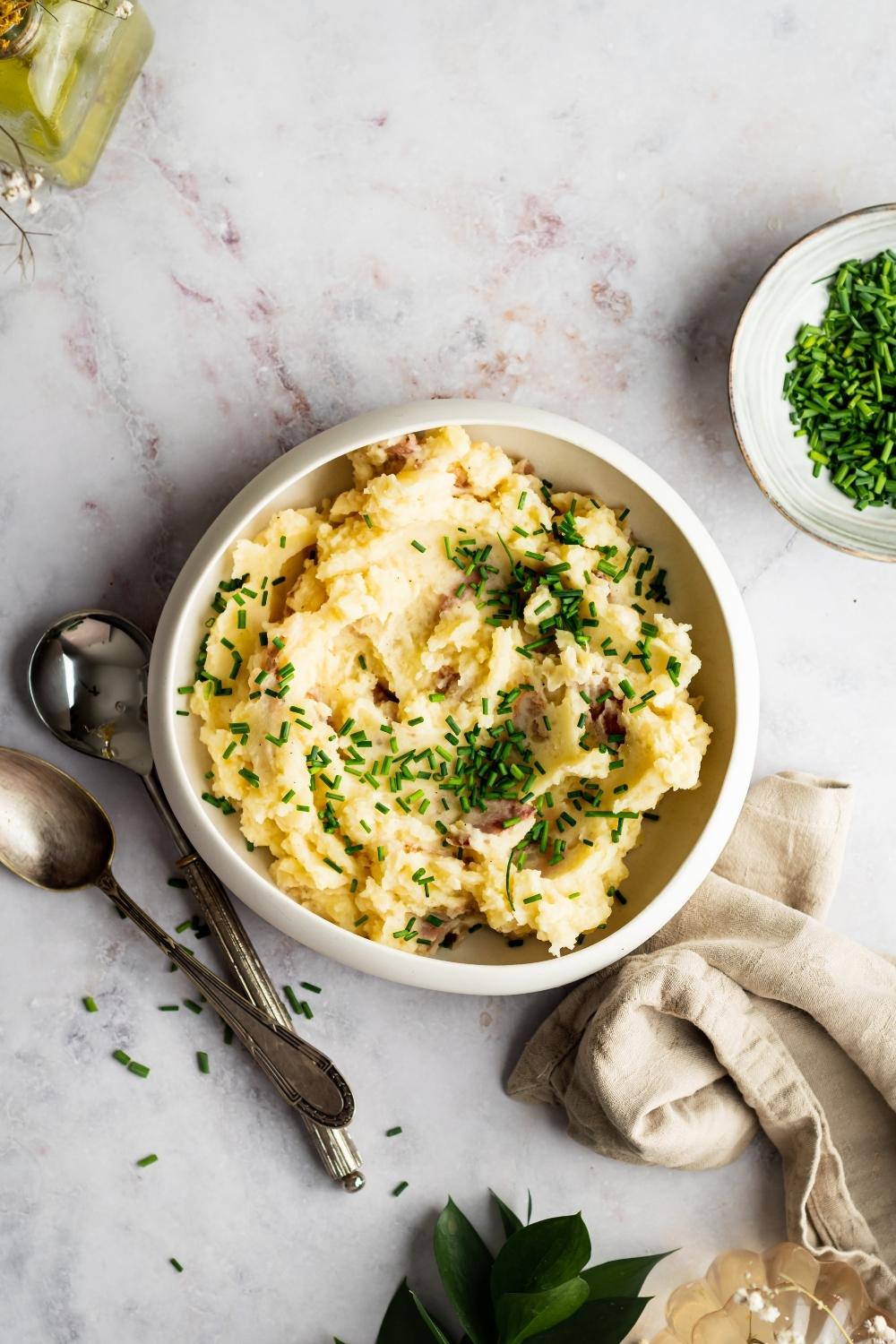 My Pro Tips To Make The Best Recipe
Stop mashing the potatoes when there are still a few small pieces of potato chunks in the bowl if you want them to be chunky.

Add more milk to the pot after mashing for creamier, thinner potatoes.

Swap the milk for heavy cream for a richer flavor.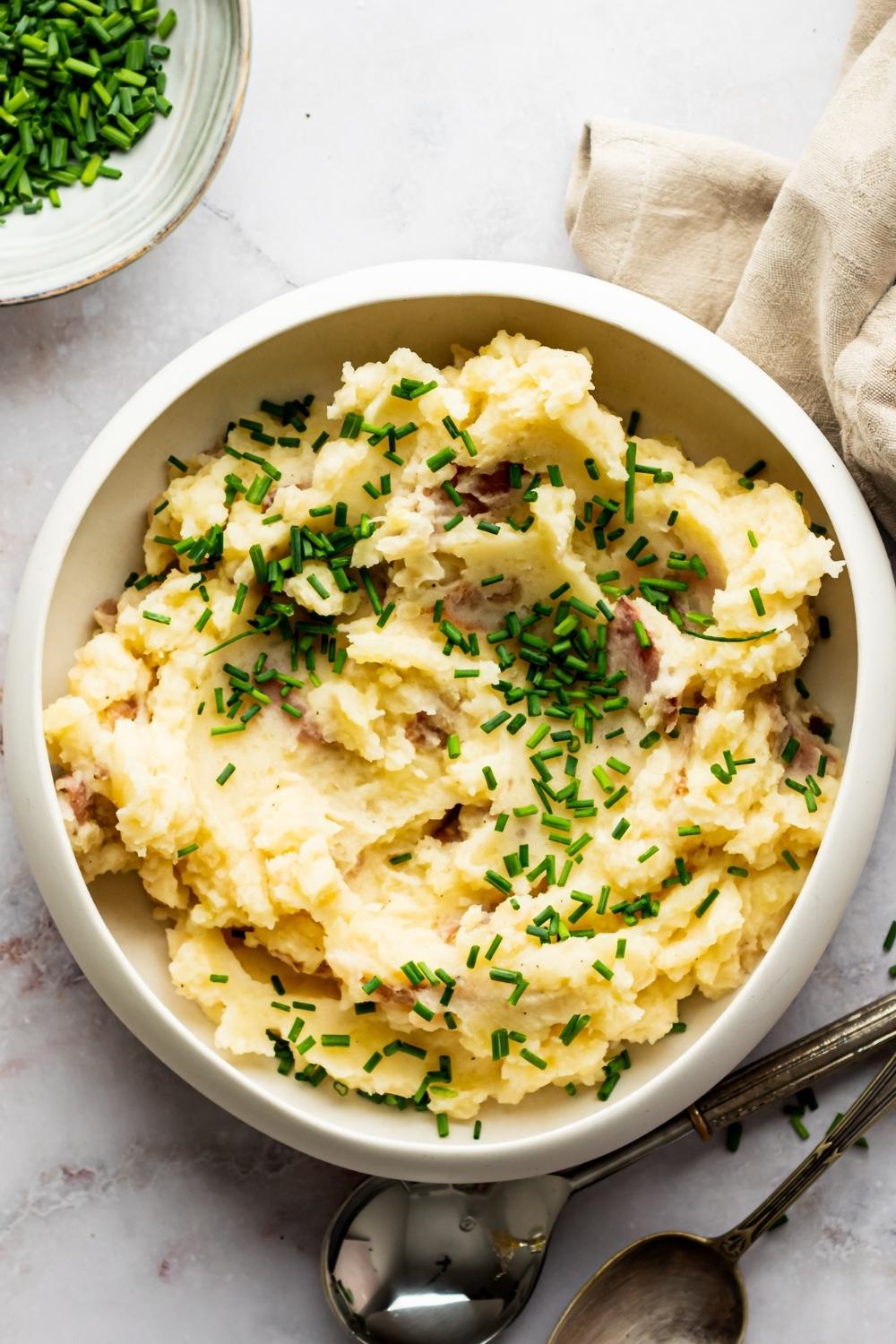 How I Recommend Storing and Reheating Leftovers
Store any leftovers in an airtight container in the fridge for up to 4 days. Freeze in an airtight container for up to 3 months.
I like to reheat the mash in a pot over low heat with a splash of milk to help them rehydrate. You can also add a bit more butter at this point if you like. Heat for a few minutes, stirring frequently, until warmed. If you're short on time, you can also reheat them in the microwave. Place the potatoes in a microwave-safe dish and heat in 30-second increments.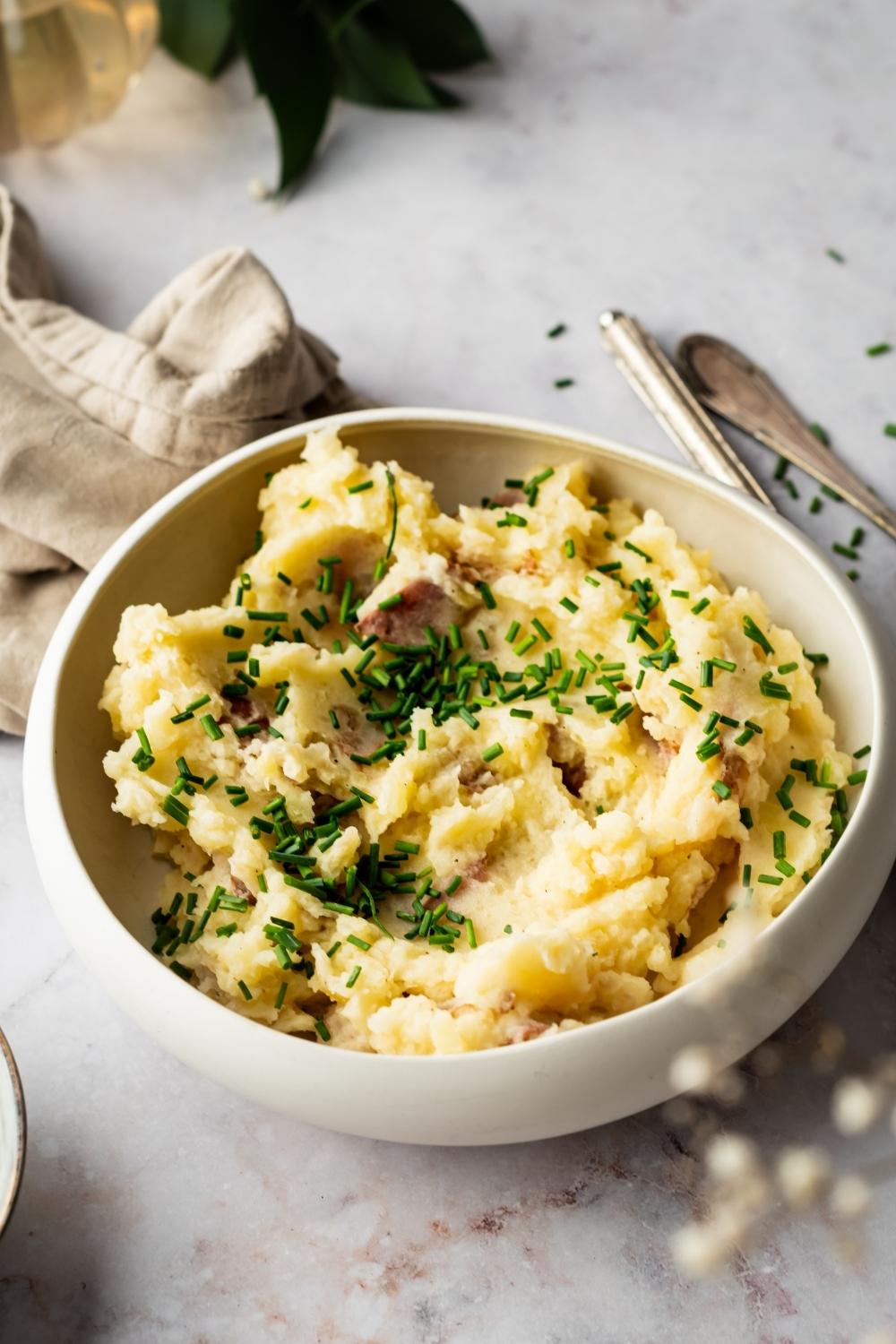 Frequently Asked Questions
Are red potatoes better for mashed potatoes?
While any type of potato can be used for mashed potatoes, red potatoes are a great option. They're relatively small and have thin skin, so they don't require peeling. They also have a high moisture content, which makes them extra creamy and delicious.
What are red skinned potatoes good for?
Because they hold their structure well, they're excellent for adding to stews, soups, and potato salads. You can also use them to bulk up savory pot pies and gratins. Or, you can even roast red skinned potatoes and make a simple and tasty side dish with them. With all of that said, though, my favorite way to use them is by making this recipe.
Do I have to peel red skinned potatoes?
You can, but you don't really need to. The skin is thin and delicate, so it will break down during cooking. Plus, it's visually appealing and packed with nutrients, so there's no need to peel it off.
Are red or yellow potatoes better for mashed potatoes?
It really depends on how you like your mashed potatoes. Generally, starchy potatoes like Russet or Yukon gold make for the best creamy mashed potatoes. But if you like them on the chunky side, red potatoes are what you'll want to use.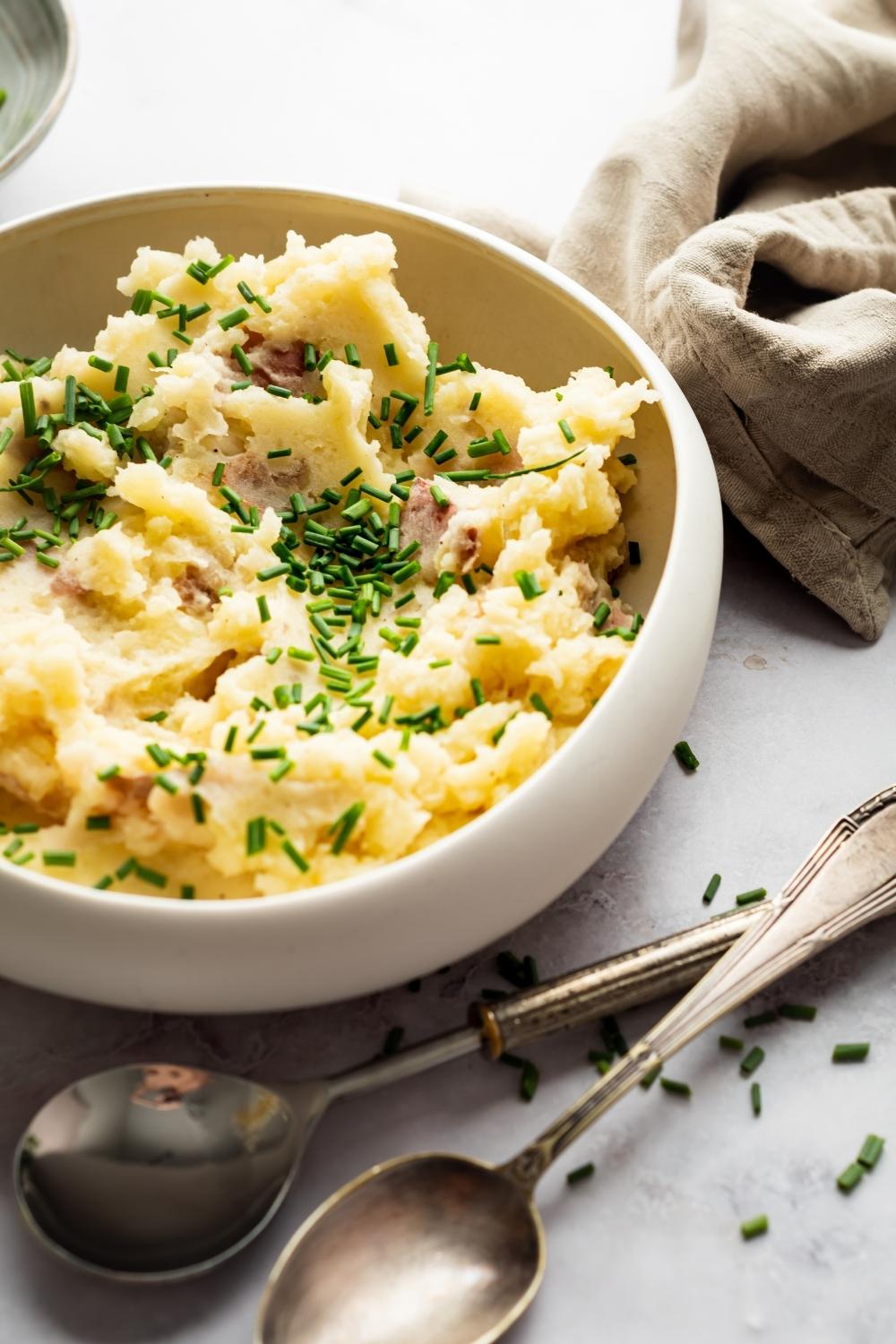 More Potato Recipes To Try Next
Yield: 6 servings
Red Skin Mashed Potatoes Recipe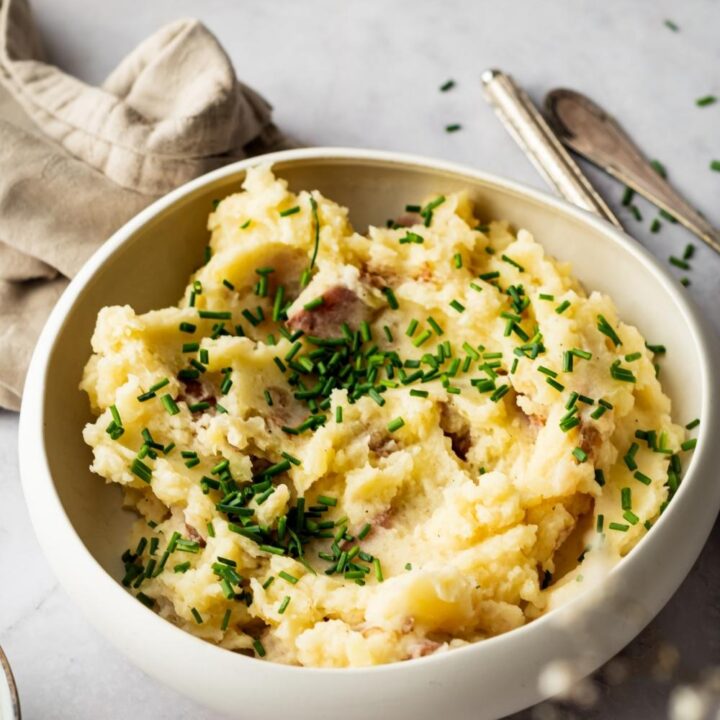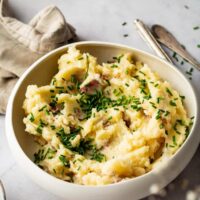 These red skin mashed potatoes are buttery, hearty, and only require six ingredients to make! It's the perfect recipe for both busy weeknight dinners and holiday gatherings.
Ingredients
6 large red potatoes, washed well
1 teaspoon salt
4 tbsps. (¼ cup) of melted butter
¾ cup of warm milk
½ teaspoon ground pepper
¼ cup chopped ciboulette
Instructions
Place potatoes in a pot and cover with water. Add salt and bring to a boil, cook for 25 minutes, or until they are tender when pinching them with a fork.

Remove the water and mash the potatoes in the same pot, add milk, half of the ciboulette, butter, and pepper. Mix until creamy.

Serve topped with more ciboulette.
Nutrition Information:
Serving Size:
1 serving
Amount Per Serving:
Calories:

342
Total Fat:

8.8g
Saturated Fat:

5.4g
Trans Fat:

0g
Unsaturated Fat:

0g
Cholesterol:

23mg
Sodium:

479mg
Carbohydrates:

60.3g
Fiber:

6.3g
Sugar:

5.1g
Protein:

8.1g