These candied carrots have the most delicious salted honey glaze on 'em. They're oh-so tender and oh-so sweet and they're super simple to make too. In fact, all you need are a handful of pantry staples to make 'em!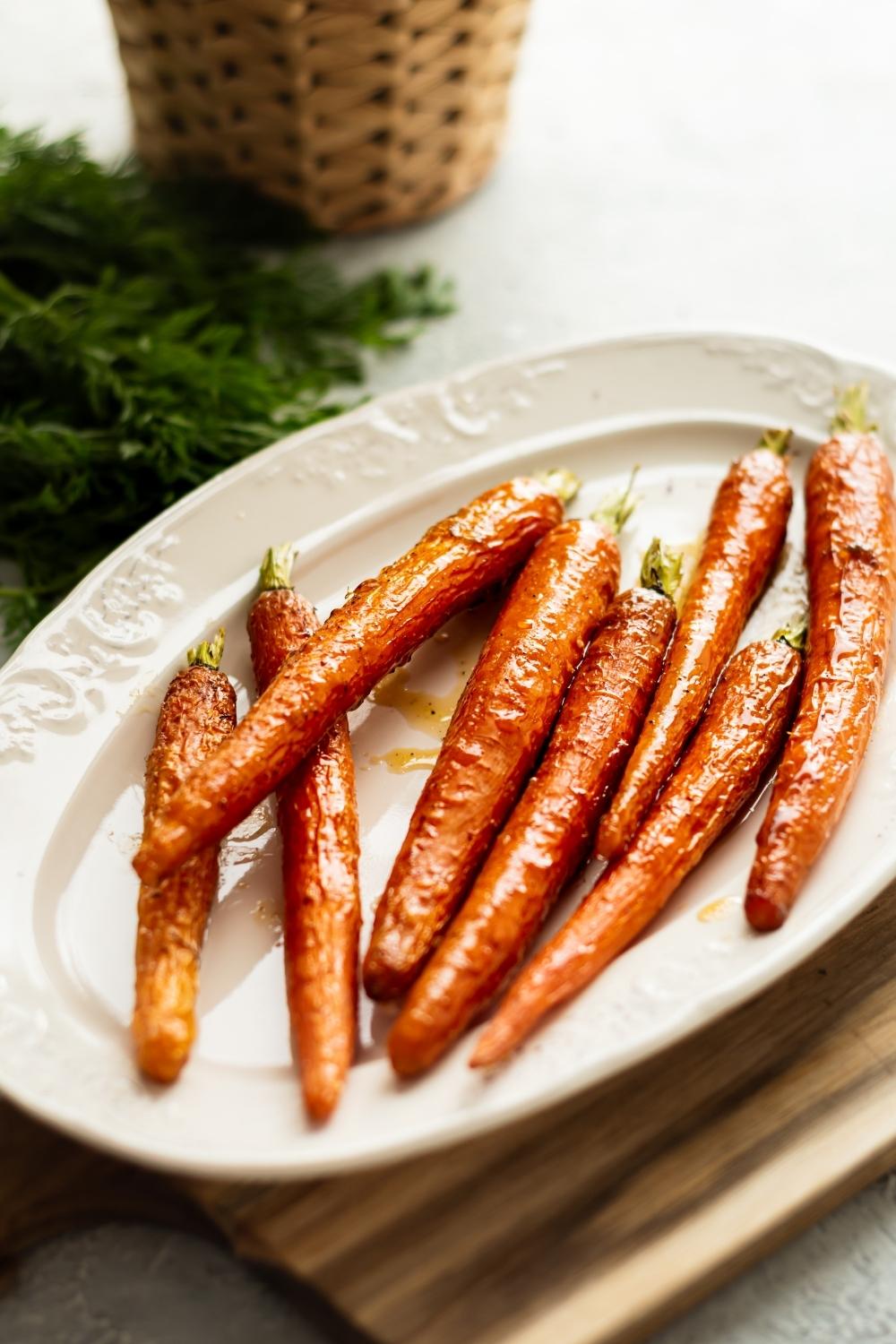 My Take On Honey Glazed Carrots
These honey-glazed carrots are one of my go-to vegetable side dish recipes. They're a cheap and easy way to elevate any dinner spread and they go with so many things, from this braised beef shank to this herb crusted chicken, and even these salmon bites.
Not to mention, only need 5 simple ingredients, and an oven is all it takes to make 'em.
Also, since these glazed carrots are so effortless to put together you'll have plenty of extra time to prepare your main, or even another side dish for a holiday meal, like mashed potatoes - these red skin mashed potatoes and these twice baked mashed potatoes are a couple of my favorites.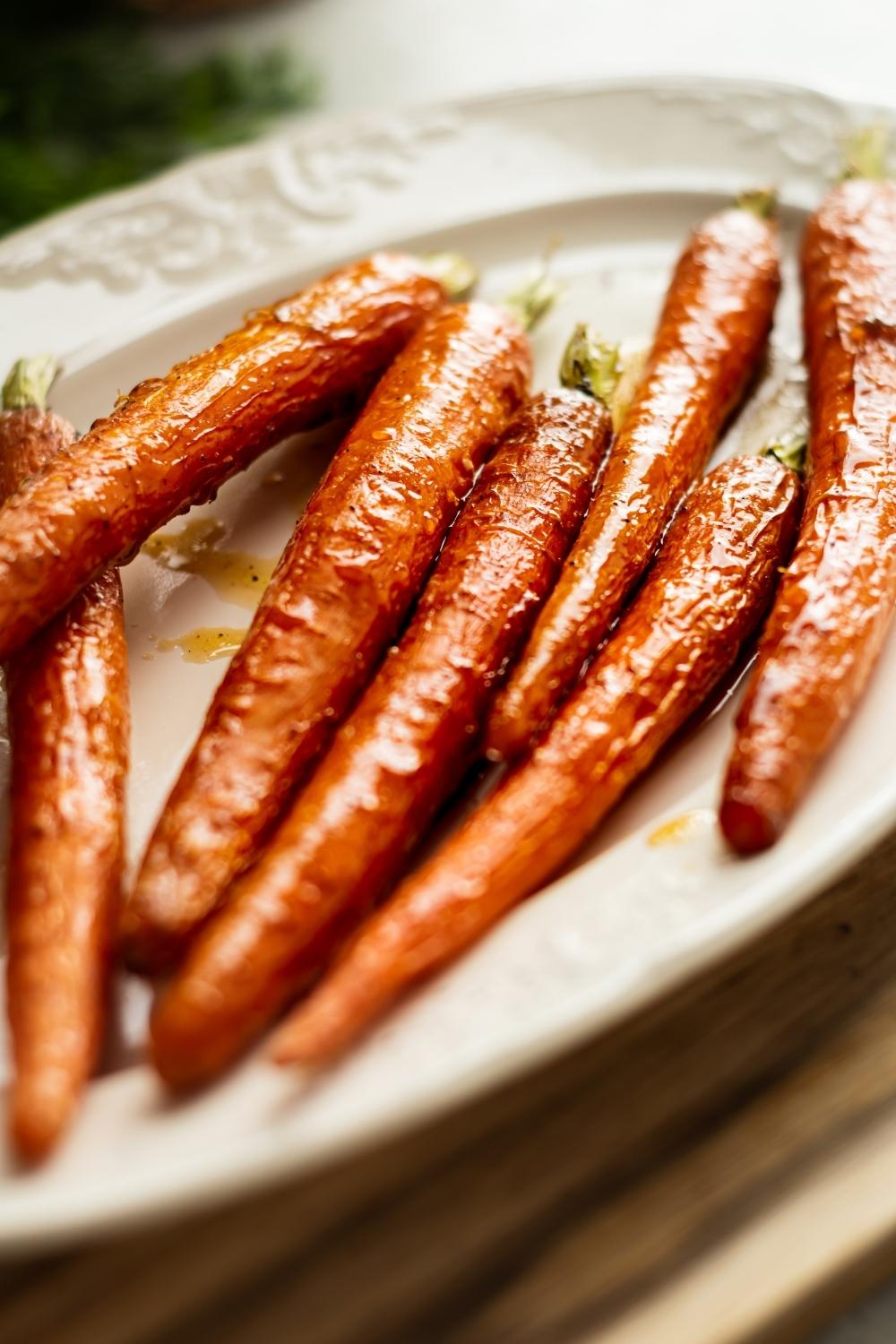 Ingredients You'll Need
One of my favorite things about this recipe is that it's made entirely out of kitchen staples. Honestly, there's a good chance you have all of them on hand already.
Anyway, here's what you'll need to make these glazed carrots:
8 Medium Size Carrots
2 tbsp. Olive Oil
2 tbsp. Honey
⅛ Tsp. Light Brown Sugar (optional)
2 tbsp. Water
Salt and Pepper
Simple stuff, right?
By the way, if you have extra carrots, you can put them to good use by making this carrot casserole next!
Ingredient Substitutions
Now, colored carrots or even baby carrots would work great here too. Just keep in mind that if you use baby carrots they'll take less time to cook.
For a vegan version of these glazed carrots, you can substitute the honey for maple syrup - this will give you maple glazed carrots. Or, you can even use dark brown sugar mixed with water to make brown sugar glazed carrots.
For more variation, you can add your own choice of herbs and spices to the recipe. For instance, woody herbs like thyme or rosemary pair great with these candied carrots. I actually have made this recipe with those spices a few times and it turned out super yummy each time.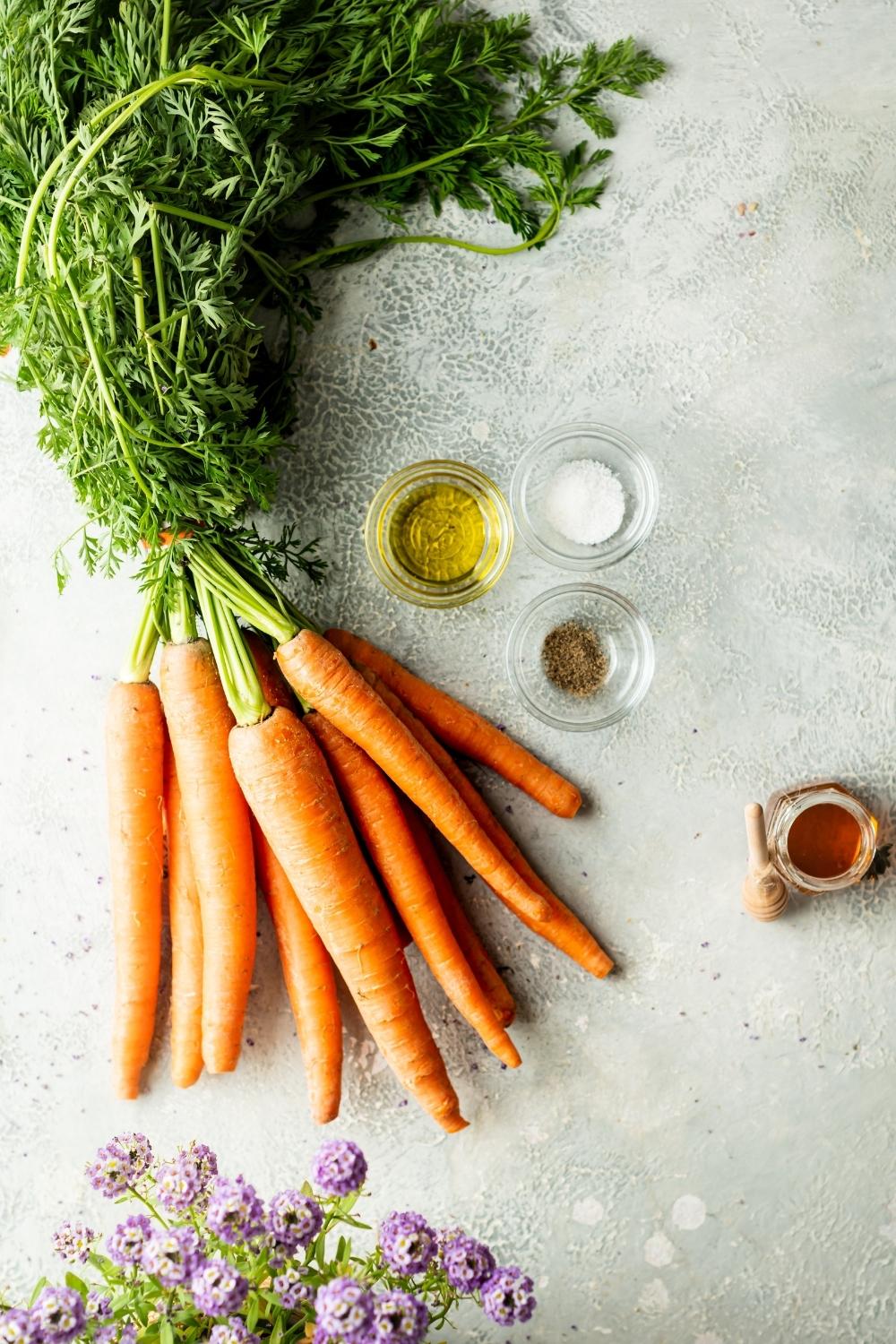 How To Make Candied Carrots
So, besides having a simple ingredients list, this glazed carrots recipe has short and sweet instructions too.
Honestly, these carrots are one of the easiest side dishes to whip together at a moment's notice. It will only take about 45 minutes from start to finish with super minimal prep time to make 'em - 10 minutes tops.
Now, let's stop wasting time and get to cooking!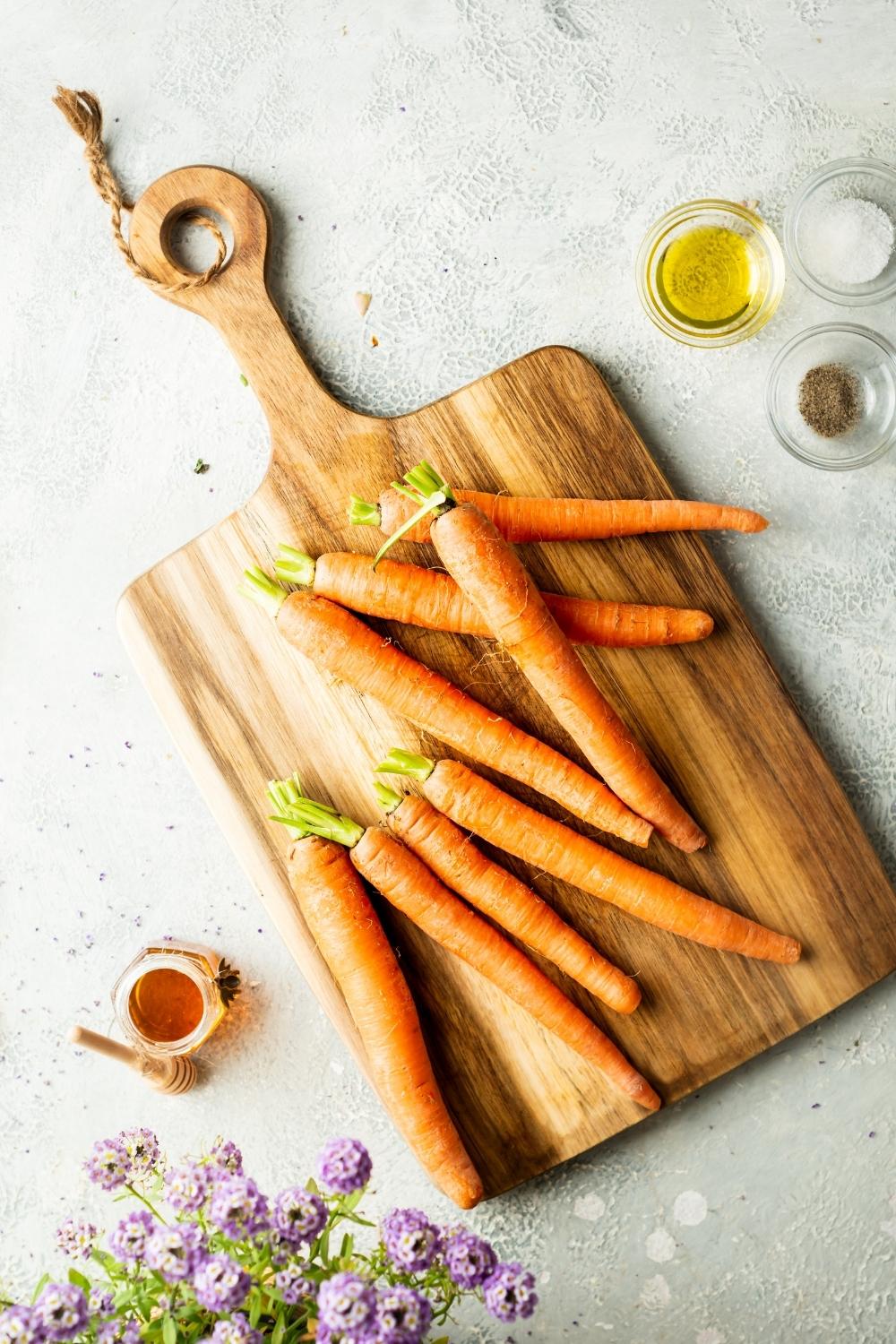 Step 1: Prepare the Carrots
First, preheat your oven to 350°F (180ºC). Then, clean your carrots with water and give them a quick scrub if necessary.
Next, trim the bottom ¼ inch of the whole carrots, so they're roughly the same size, and remove the stems and leaves from each one as well.
By the way, just so you know, you can save the carrot greens and use them as a garnish, or you can even make a pesto sauce from them for another recipe. They taste similar to fresh parsley!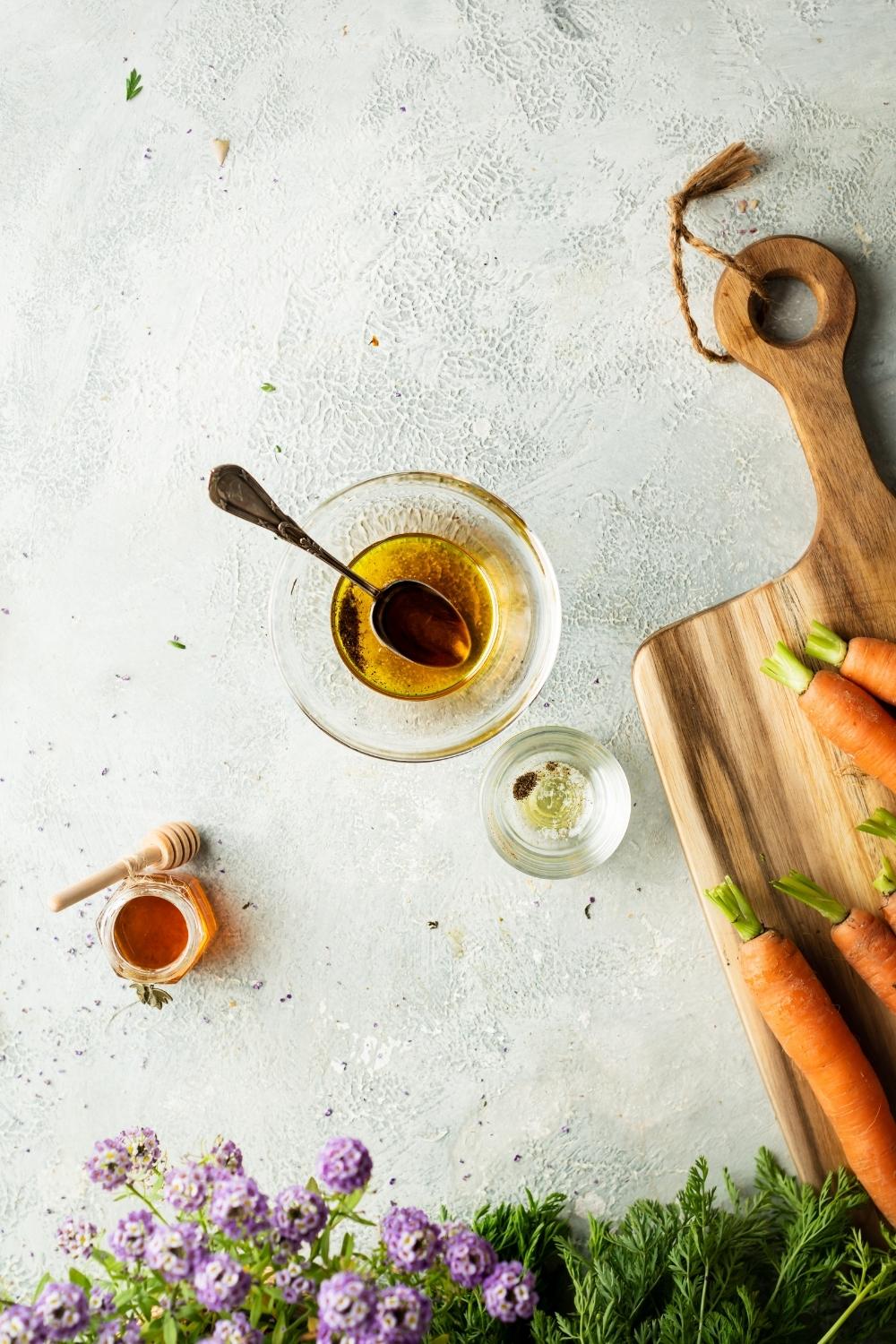 Step 2: Make the Glaze
Next, in a small bowl, combine olive oil, honey, water, salt, and pepper to make your honey glaze.
Then, mix all of these ingredients with a fork, or whisk until well combined.
Step 3: Bake the carrots
Now, line a baking sheet with parchment paper, place your prepared carrots on the baking sheet, and brush them with the honey glaze.
Bake your candied carrots for 30 minutes, or until they're fork tender.
Then, serve with your choice of mains and enjoy!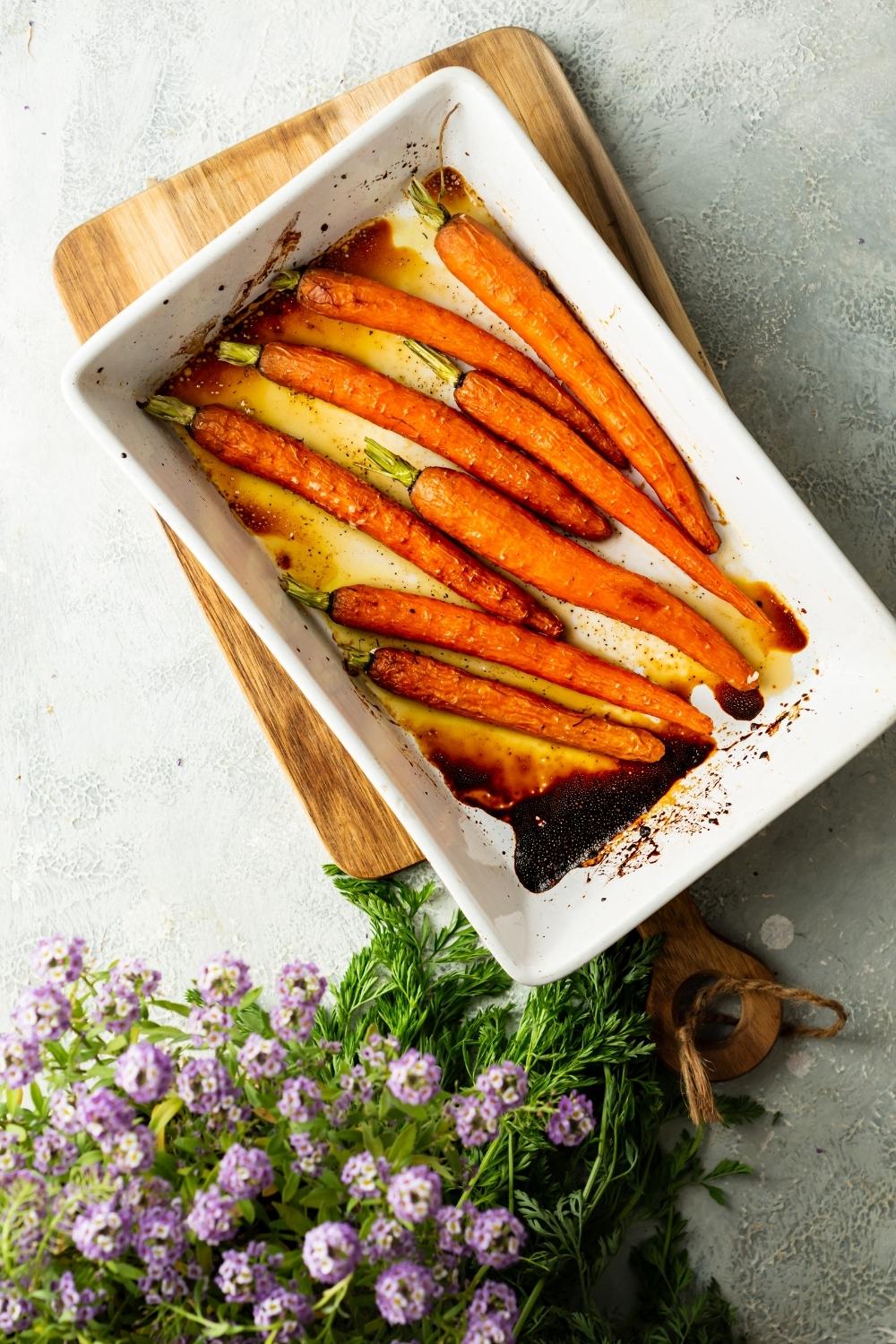 How To Store The Carrots
This recipe makes enough for 4 servings of carrots as a side.
If you don't finish all your glazed carrots, don't worry, you can easily store the leftovers. Just keep them in an airtight container in your fridge and they'll last for up to 5 days. Or, if you want to store them for even longer you can freeze them and they'll stay good for up to 10 months.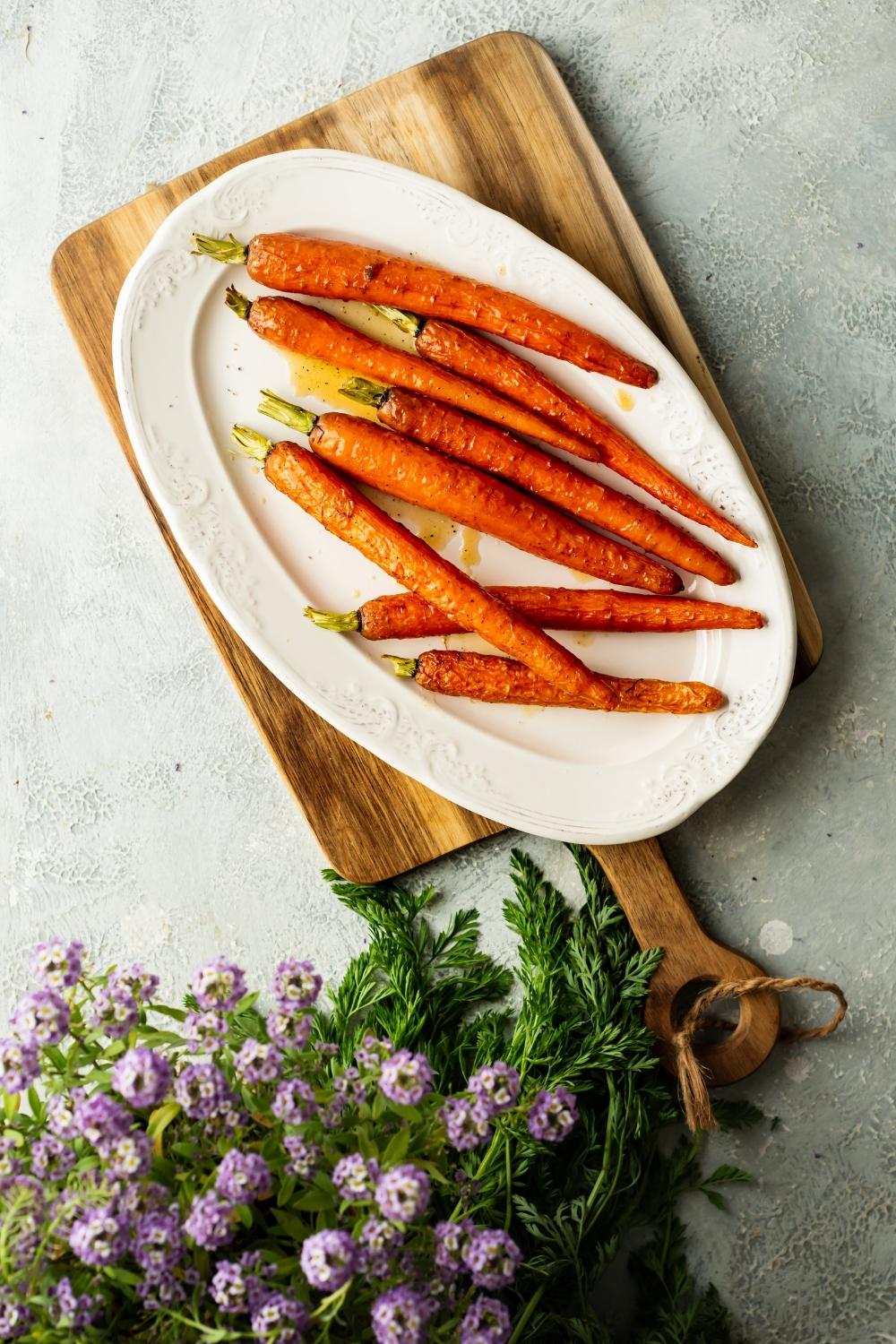 How To Reheat The Carrots
To reheat your carrots, I recommend heating them on a skillet set to medium heat, with some butter to prevent sticking. This will give the carrots an almost fried texture - it's so, so delicious.
Alternatively, you can pop them in the microwave in 20-second intervals until they're warm.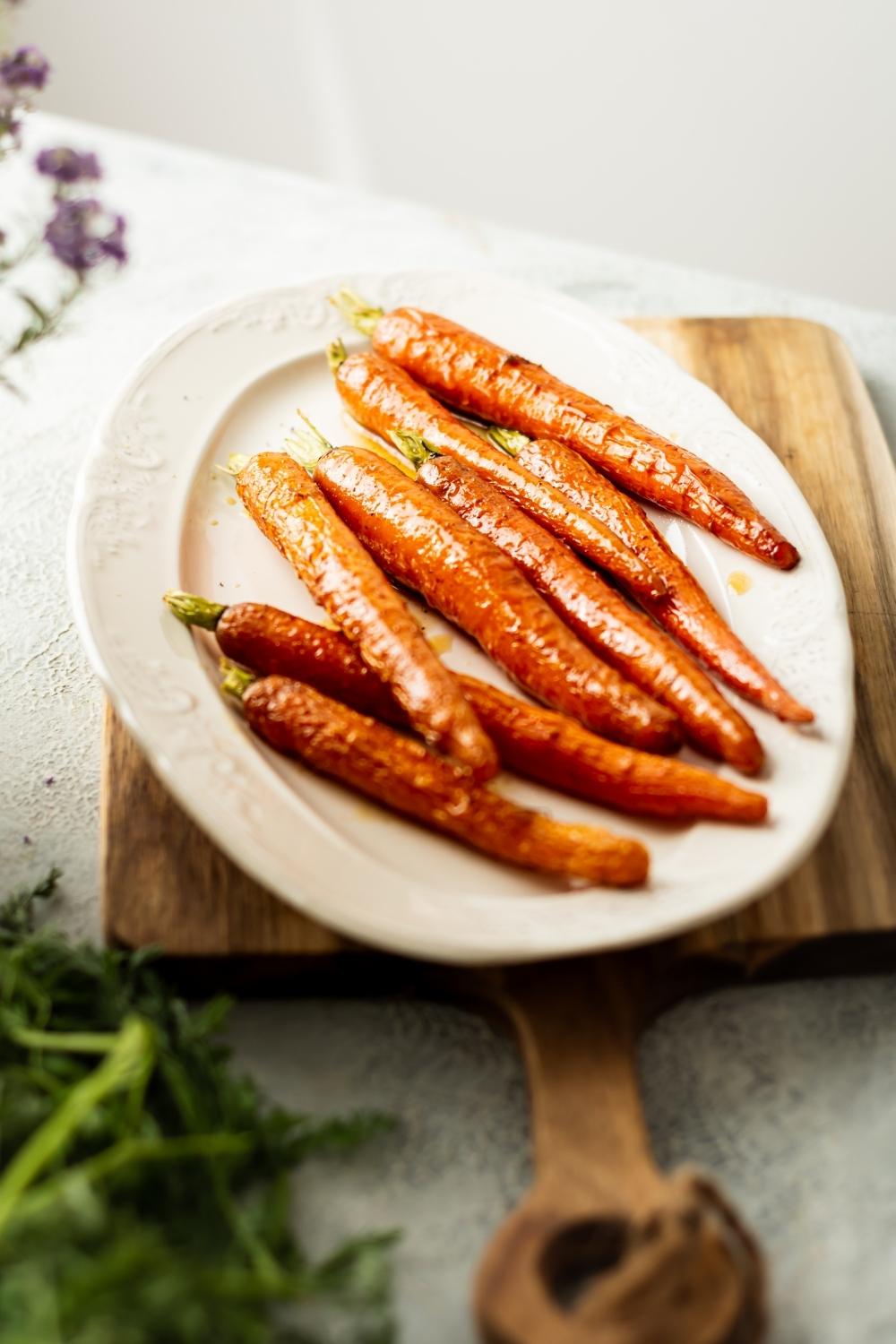 My Final Thoughts
Well, that's how to make honey glazed carrots!
These caramelized carrots are so simple to make and they're so delicious too. In fact, they're so good that even the pickiest of eaters will love eating them.y.
Anyway, if you decide to give these tender glazed carrots a try, leave a comment below and let me know your thoughts.
And, as always, be sure to give our Youtube channel, TikTok, and Instagram a follow, too. We're always posting new tasty recipes on 'em.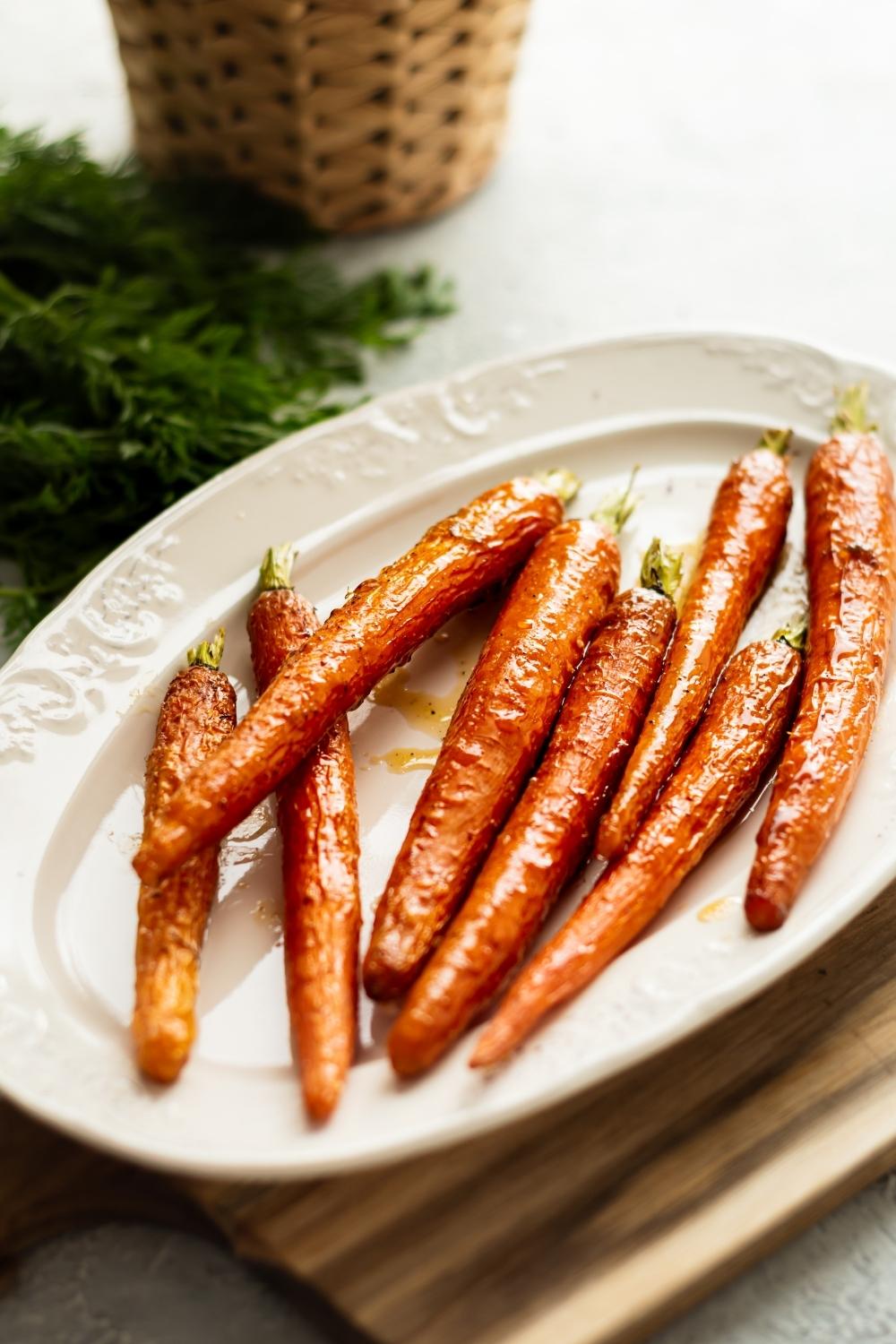 More Delicious Recipes
If you liked these carrots, we have a ton of equally delicious and easy side dish recipes on the blog.
Here are a few of my favorites:
Yield: 4 servings
Honey Glazed Candied Carrots Recipe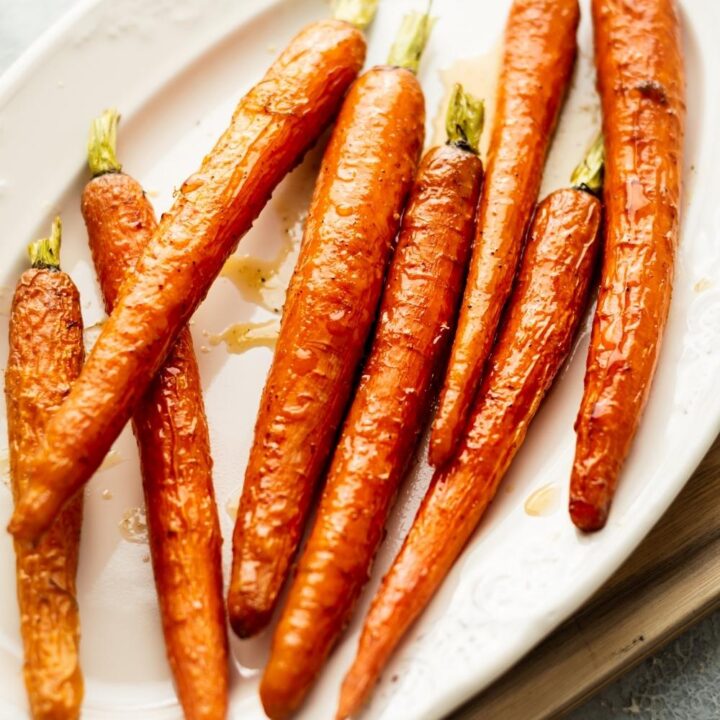 These candied carrots are tender and sweet with a salted honey glaze. They're a fantastic simple and healthy side dish that's practically effortless to make, and all you need are a handful of pantry staples to make 'em!
Ingredients
8 Medium Size Carrots
2 tbsp. Olive Oil
2 tbsp. Honey
2 tbsp. Water
⅛ Tsp. Brown Sugar (optional)
Salt and Pepper
Instructions
Trim and clean carrots.

In a bowl, combine olive oil, honey, water, salt, and pepper.

Preheat the oven to 350°F (180ºC).

Place carrots in a baking dish and brush with the honey mixture.

Bake for 30 minutes or until tender.
Nutrition Information:
Yield:
4
Serving Size:
1 serving
Amount Per Serving:
Calories:

124
Total Fat:

7g
Saturated Fat:

1g
Trans Fat:

0g
Unsaturated Fat:

6g
Cholesterol:

0mg
Sodium:

128mg
Carbohydrates:

16g
Fiber:

3g
Sugar:

12g
Protein:

1g