This copycat McDonald's Szechuan sauce recipe is just what you need to bring the iconic sweet, spicy, and tangy sauce to life. And, best of all this copycat sauce recipe is so easy to make! In fact, it takes less than 20 minutes to make it.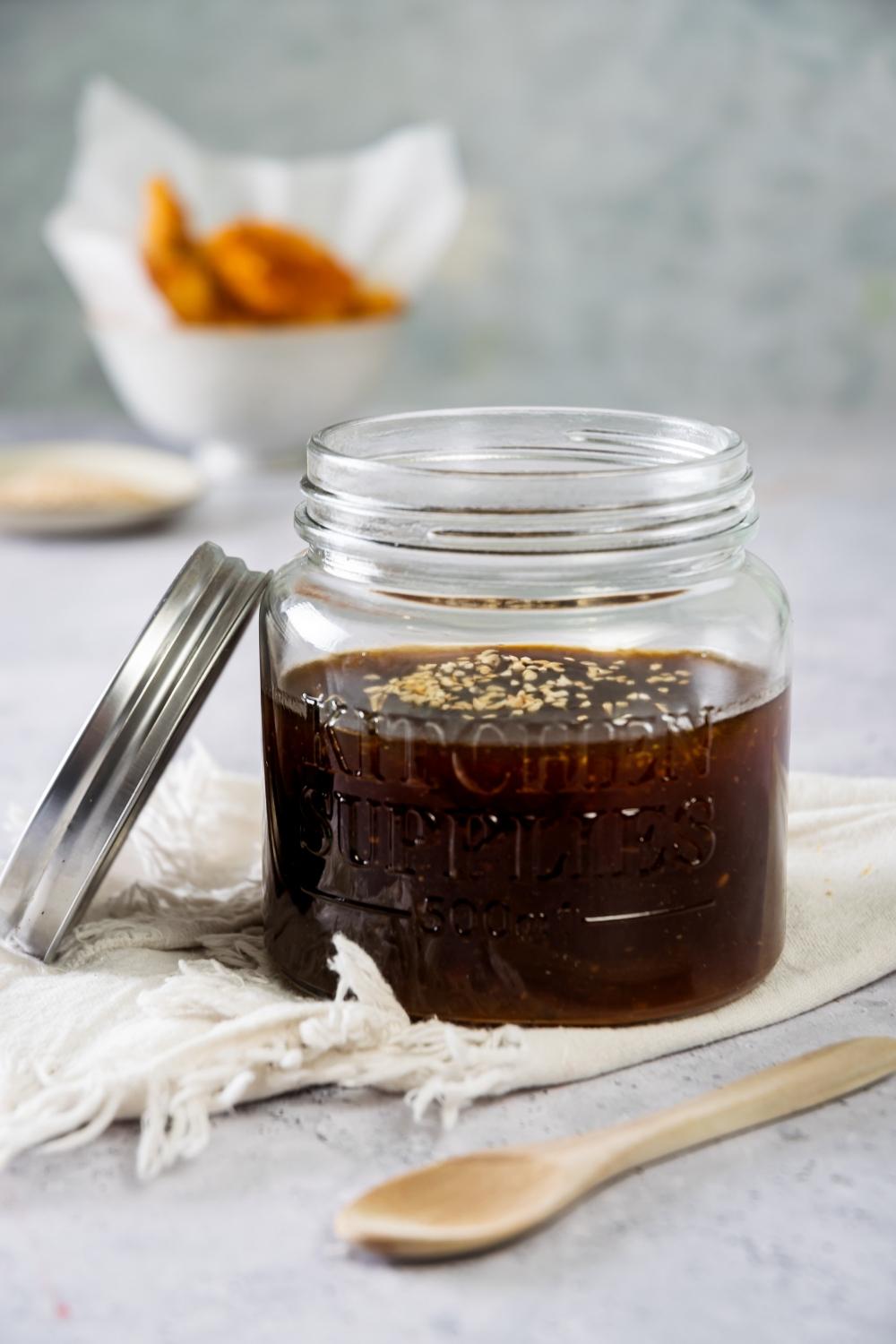 The Best McDonald's Szechuan Sauce
McDonald's Szechuan sauce is no doubt one of the most iconic dipping sauces from the fast food chain. And, that's not only because it tastes fantastic, but because it's also only released for limited-time offer promotions.
Anyway, I'm guessing if you're here, then you've probably heard of the sauce from one of two ways. Either you found out about it through McDonald's insanely popular Rick and Morty promotion through the McDonald's app. Or, you might've even come across this delicious sauce in the 90's when the original Mulan Disney film was released.
However, in between those 2 times, it's been almost impossible to order Szechuan sauce at McDonald's.
So, that's exactly why I decided to come up with this recipe!
And, I've got to say, this stuff is pretty darn close to the "real" one from Micky D's. I mean, it's just as flavorful as the original sauce - it's got a nice tingly heat, the perfect amount of sweetness, and a tanginess that goes well with just about anything.
Seriously, once you make this homemade Szechuan sauce, don't be surprised if it lasts just a few days! I have a feeling you'll be putting it on just about everything - that's what happens in our house when we make it anyway.
Oh, and speaking of things to use the Szechuan sauce on, I also have a few other McDonald's recipes that might work perfectly for it. Like these chicken McNuggets, this egg McMuffin recipe, and these McDonald's breakfast burritos!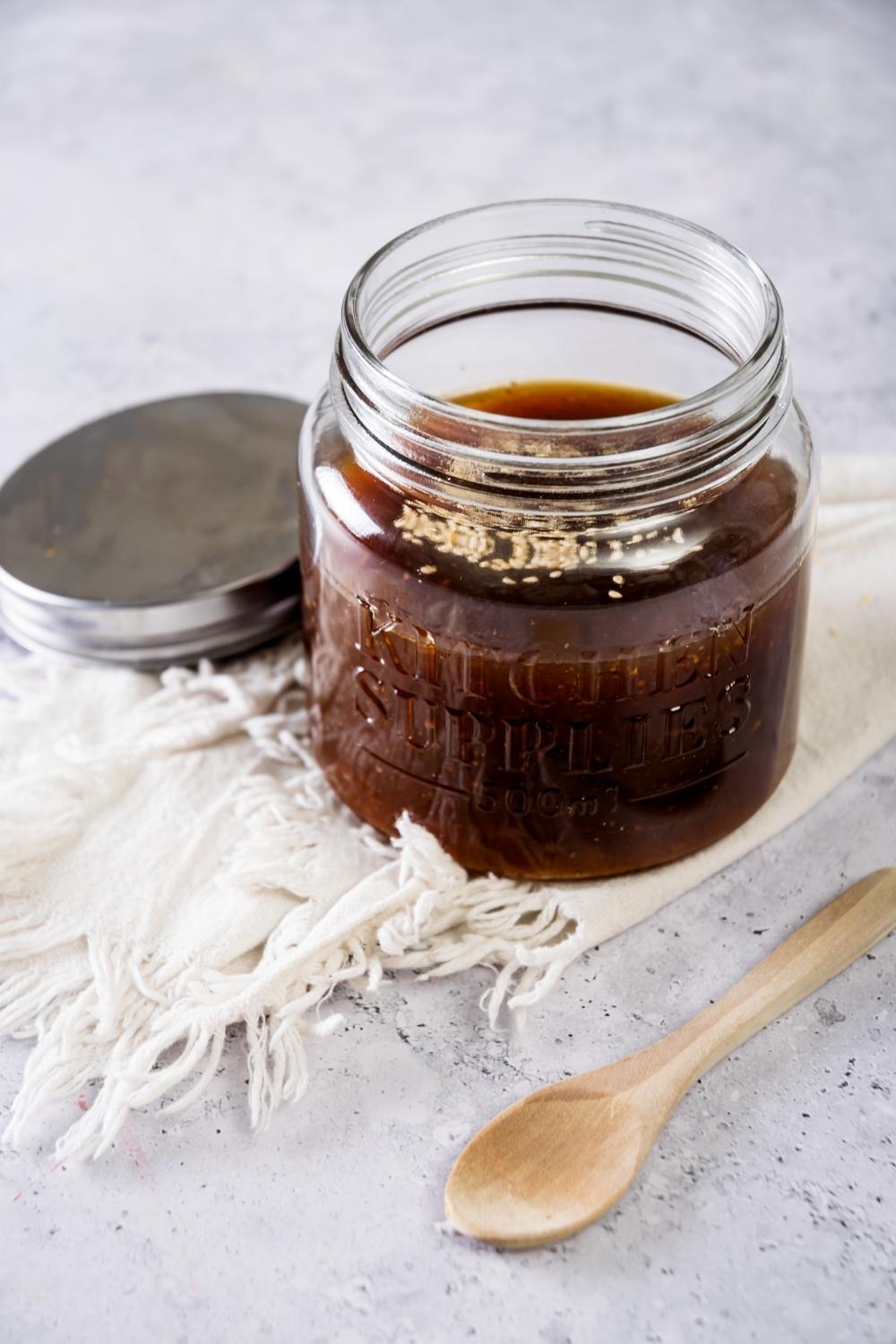 Ingredients
Now, there are a good number of ingredients in this dipping sauce recipe, but I promise they're all essential to making this dipping sauce taste so amazing.
Anyway, here's everything you'll need to make this copycat McDonald's Szechuan sauce:
2 tbsp. Ginger, minced
1 tbsp. Garlic Clove, minced
½ cup Soy Sauce
1 tbsp. Sesame Oil
¼ cup Sugar
2 tbsp. Cornstarch
1 tsp. Schezuan Peppercorns
½ tsp. Coriander
¼ tsp. Black Pepper
1 tsp. Apple Vinegar
1 tbsp. Lime Juice
½ cup Water
As for the Schezuan peppercorns, you should be able to find them in any Asian grocery or online.
But, if you need a swap in a pinch, you can also use salt-free lemon pepper seasoning with extra black pepper. Or, you could even use a combination of black pepper and coriander seeds. It won't taste exactly the same, but it will give you a pretty similar flavor.
That said, I highly recommend trying to use Szechuan peppercorn if you can. It's in the name of the sauce, after all!
Oh, and just so you know, you can swap the apple cider vinegar for white vinegar or rice wine vinegar if you need to.
Also, if you're thinking of other ways to use the ingredients, I use a lot of the same ones to make this Panda Express honey sesame chicken recipe and this Cheesecake Factory Thai coconut lime chicken recipe. So give those a shot next!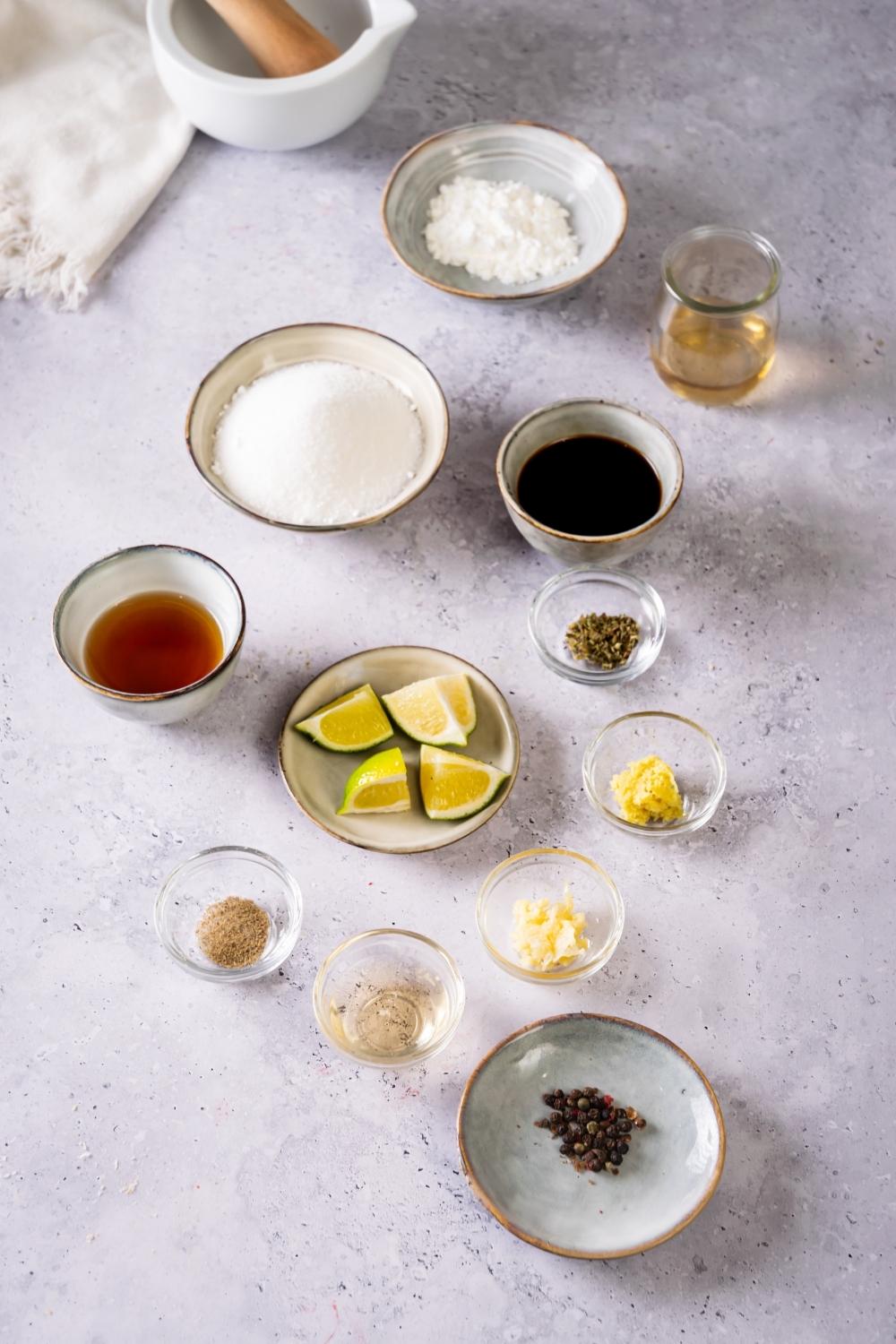 How To Make McDonald's Szechuan Sauce
Anyway, now that you're all caught up on the ingredients, let's dive into the steps for this McDonald's sauce recipe.
To make the sauce, all you need is a small saucepan, a spatula, and a mortar to grind the peppercorns.
All told, it should only take about 20 minutes to make this recipe from start to finish, so let's get to it!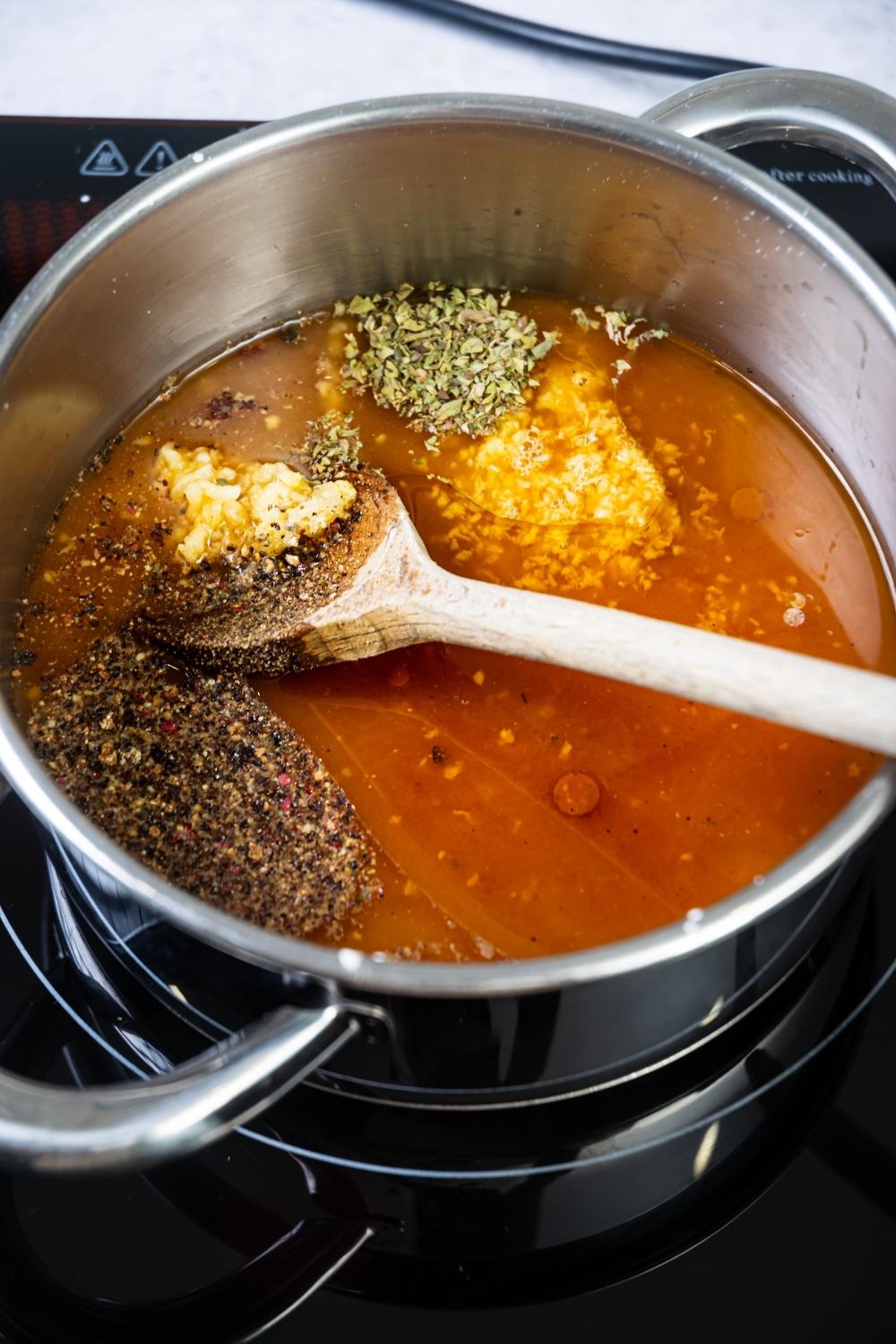 Step 1: Prepare the Peppercorns
First, toast your peppercorns by cooking them in a dry saucepan over medium-low heat.
Stir frequently to prevent them from burning, and take them off the heat once they become super fragrant.
Give them a few minutes to cool down, then transfer them to a mortar or spice grinder and grind as finely as you can.
Alternatively, you can use a coffee grinder, just make sure it's been thoroughly cleaned.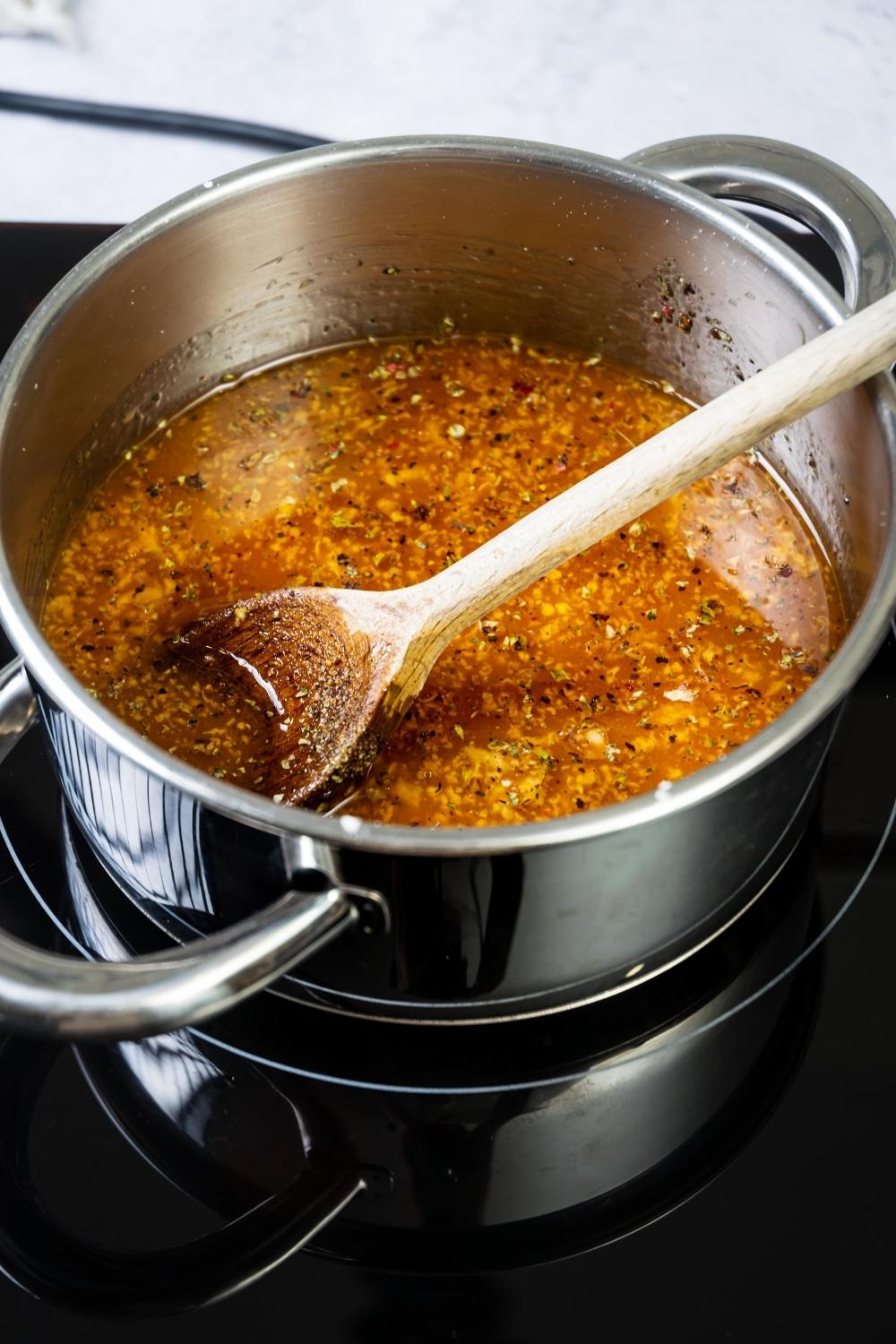 Step 2: Simmer the Sauce
Next, add the ground peppercorns and the rest of the ingredients to the saucepan. Then give it a stir to combine, and bring the heat to medium.
Then, let the sauce reach a simmer, then cook for 10 minutes or until the sauce has thickened up nicely.
Finally, let the sauce cool to room temperature, then transfer it to an airtight container, or serve it immediately.
And that's it! Before you know it, you'll be chilling on your couch with a plate of chicken Mcnuggets and some tasty Szechuan sauce.
Enjoy!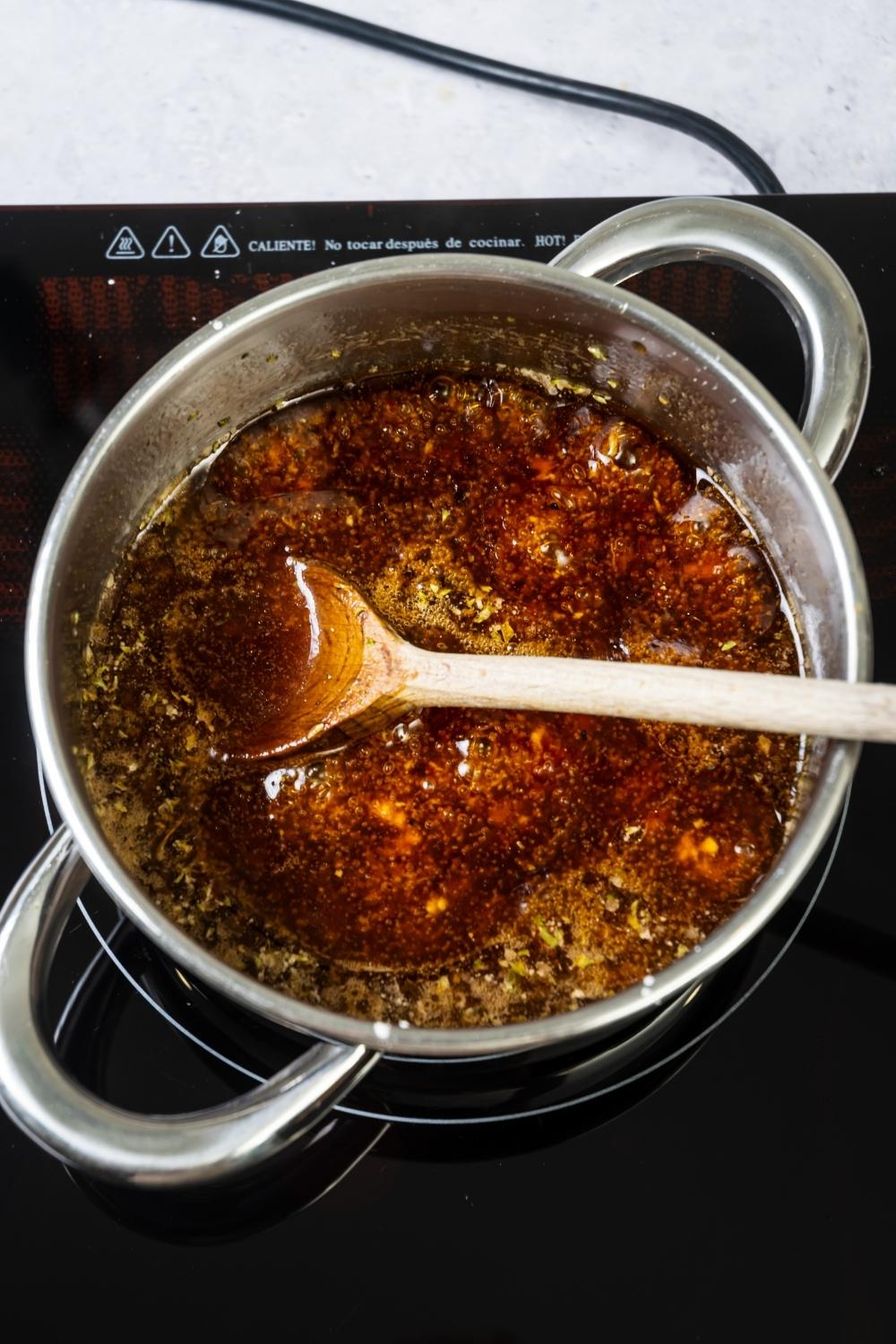 Ways to Enjoy this McDonald's Szechuan Sauce
There are so many uses for this Szechuan sauce aside from your basic chicken nuggets sauce.
Here are some of my favorite ways to enjoy this delicious sauce:
Use it as a marinade and glaze for baked or grilled chicken and pork chops.

Need a stir-fry sauce? This Szechuan sauce is always a hit as one.

You can even use it as a dipping sauce for anything fried - I love serving it with popcorn shrimp, fried salmon, and mar far chicken
As you can see, this sauce is super versatile, so I always keep some in a squeeze bottle for easy grabbing.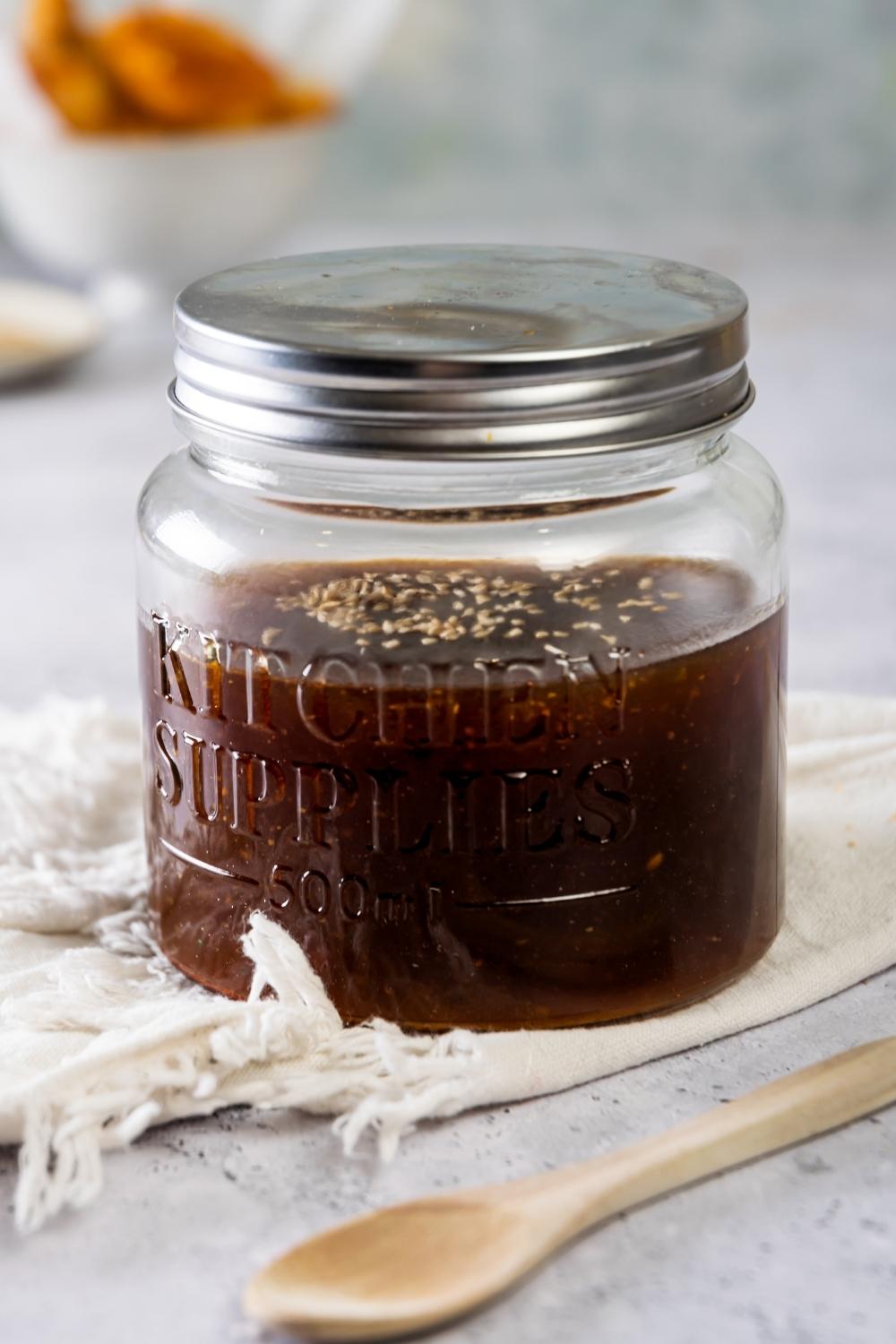 How To Store And Reheat Your McDonald's Szechuan Sauce
This recipe will make about 1 cup worth of sauce. So if you want more, just double or triple the recipe! It stores really well, so you can never make too much.
You can transfer the cooled sauce to an airtight container or sealable glass jar and store it in the fridge for up to 2 weeks.
And to keep it longer, you can also freeze it for up to 6 months in an airtight container.
Then, to bring it back to room temperature, just thaw it in the fridge overnight and let it come to room temp on the counter.
And if you want it slightly warmed up, you can place your sauce in the microwave and heat for 15-20 seconds, or until warmed through. Or, you can warm it up in a small saucepan on the stovetop over medium-low heat.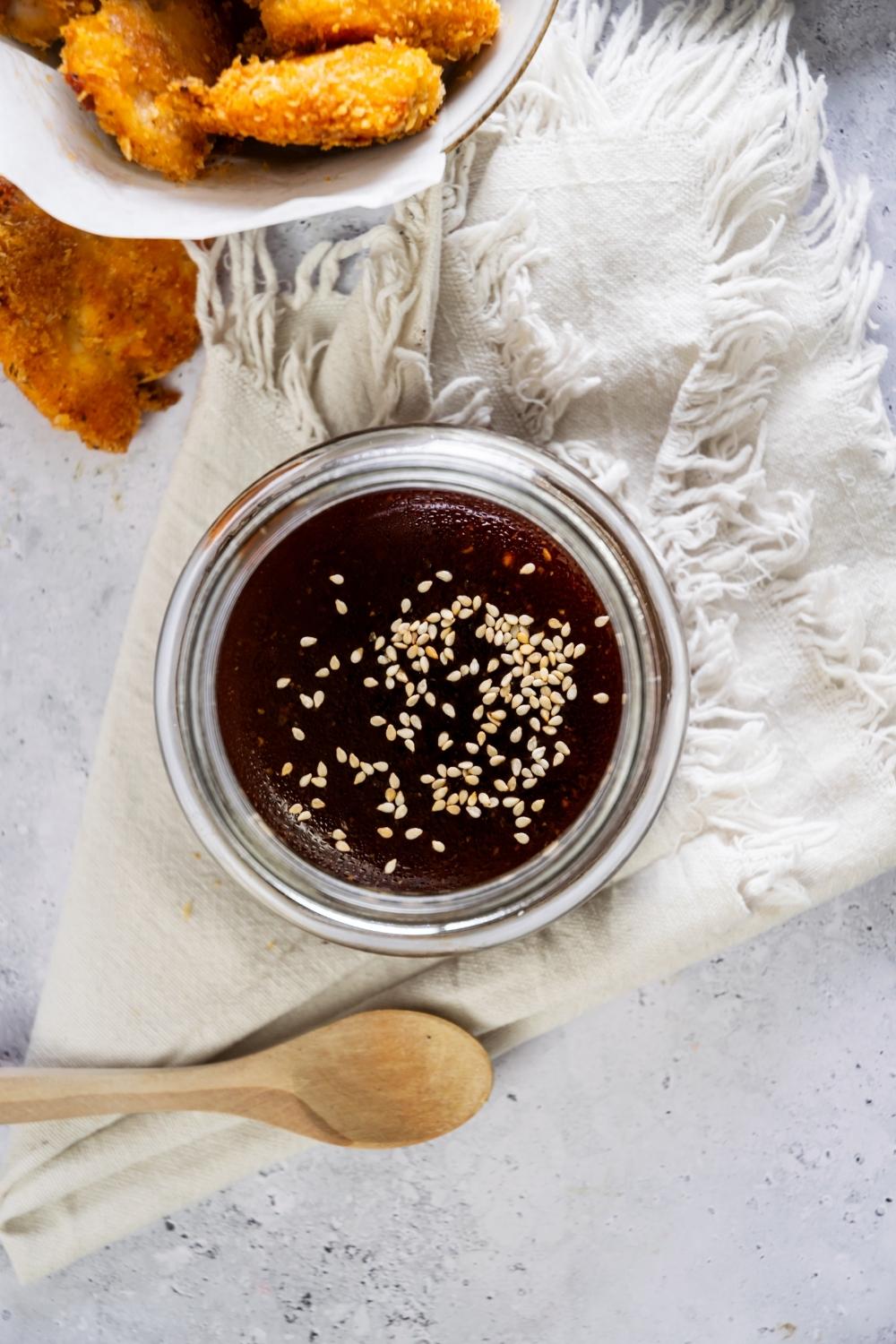 Wrapping It Up
Well, that's how to make McDonald's Szechuan sauce at home from scratch!
Honestly, this sauce is the ultimate dipping sauce option for anything and everything. It's an umami flavor bomb that's equal parts spicy, sweet, tangy, and savory.
I've got a feeling you'll want to have a stash in your fridge at all times. And with this easy copycat recipe, you can!
Anyway, if you gave this Szechuan sauce recipe a try, leave a comment below and let me know how it went. I always love reading through the comments and seeing what you think.
Also, be sure to check out our Youtube channel, TikTok, and Instagram page. We post new recipes on them daily.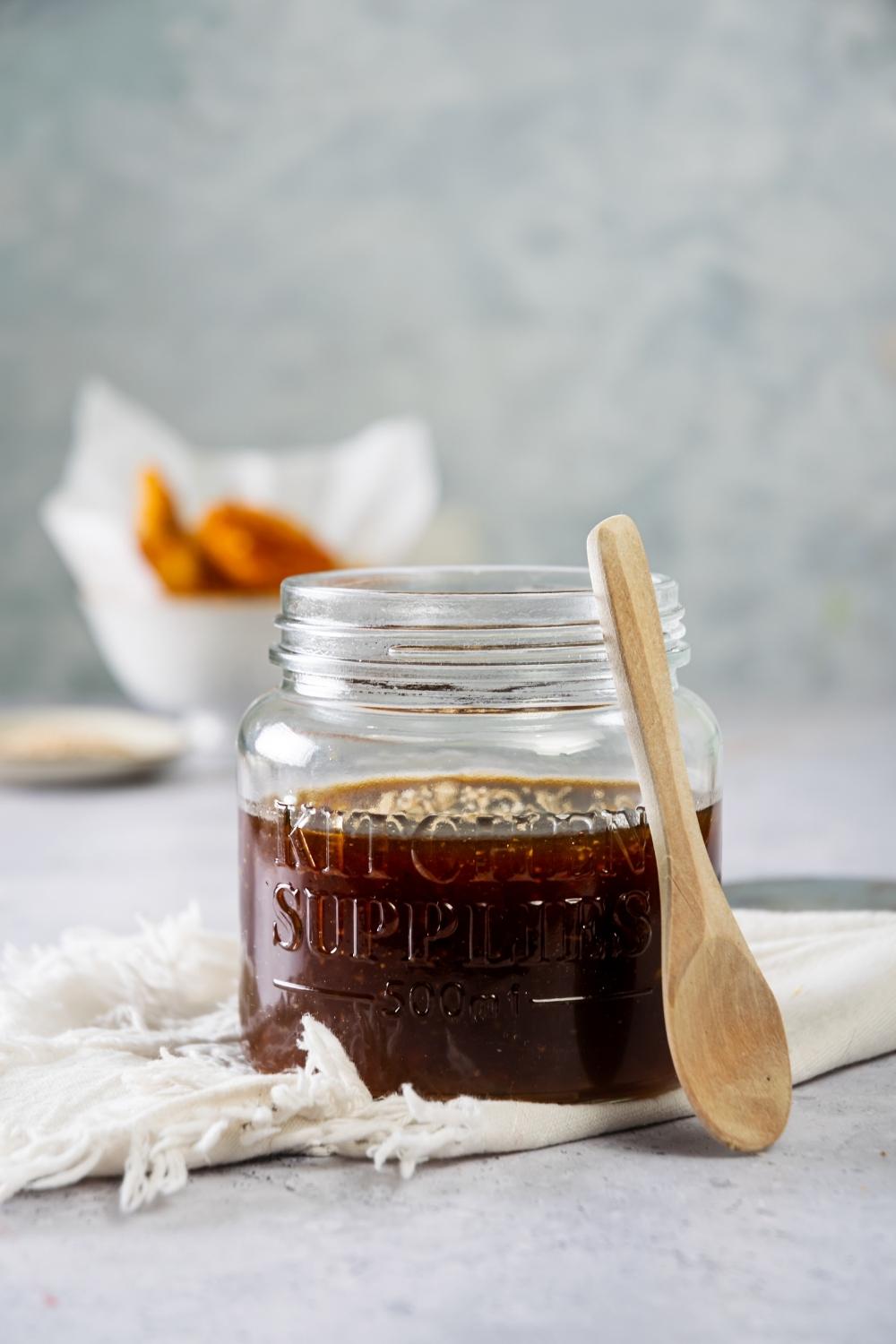 More McDonald's Recipes
Looking for some more copycat McDonald's recipes? Well, if you are, you're in the right place!
Check out all of these McDonald's recipes:
Print
Quick & Easy Homemade McDonald's Szechuan Sauce Recipe
This copycat McDonald's Szechuan sauce recipe is just what you need to bring the iconic sweet, spicy, and tangy sauce to life. And, best of all this copycat sauce recipe is so easy to make! In fact, it takes less than 20 minutes to make it.
Author:
Prep Time:

5 minutes

Cook Time:

15 minutes

Total Time:

20 minutes

Yield:

1 cup

1

x
Category:

Sauce

Method:

Stovetop

Cuisine:

McDonalds
2 tbsp. Ginger, minced
1 tbsp. Garlic Clove, minced
½ cup Soy Sauce
1 tbsp. Sesame Oil
¼ cup Sugar
2 tbsp. Cornstarch
1 tsp. Schezuan Peppercorns
½ tsp. Coriander
¼ tsp. Black Pepper
1 tsp. Apple Vinegar
1 tbsp. Lime Juice
½ cup Water
Instructions
Toast the peppercorn. And transfer to a mortar to grind them.

Transfer all the ingredients to a pot and mix well. Bring the heat to medium, until you reach a soft boil, and cook for 10 minutes, or until it thickens.

Transfer to an airtight container and store in the fridge for 2 weeks.
Nutrition
Serving Size:

⅛ cup

Calories:

41

Fat:

0

Carbohydrates:

9

Protein:

1
Keywords: mcdonalds Szechuan sauce, mcdonalds szechuan sauce recipe, szechuan sauce, szechuan sauce recipe, how to make mcdonalds szechuan sauce, homemade mcdonald's szechuan sauce, how to make szechuan sauce, mcdonald's szechuan sauce ingredients,