This parmesan noodle recipe turns plain noodles into one of the most versatile dishes ever. It combines noodles, butter, and parmesan cheese to create a pasta dish that's drool-worthy. Plus, it's so easy to make too. Not only are the ingredients super simple, but you can have this recipe ready in less than 15 minutes.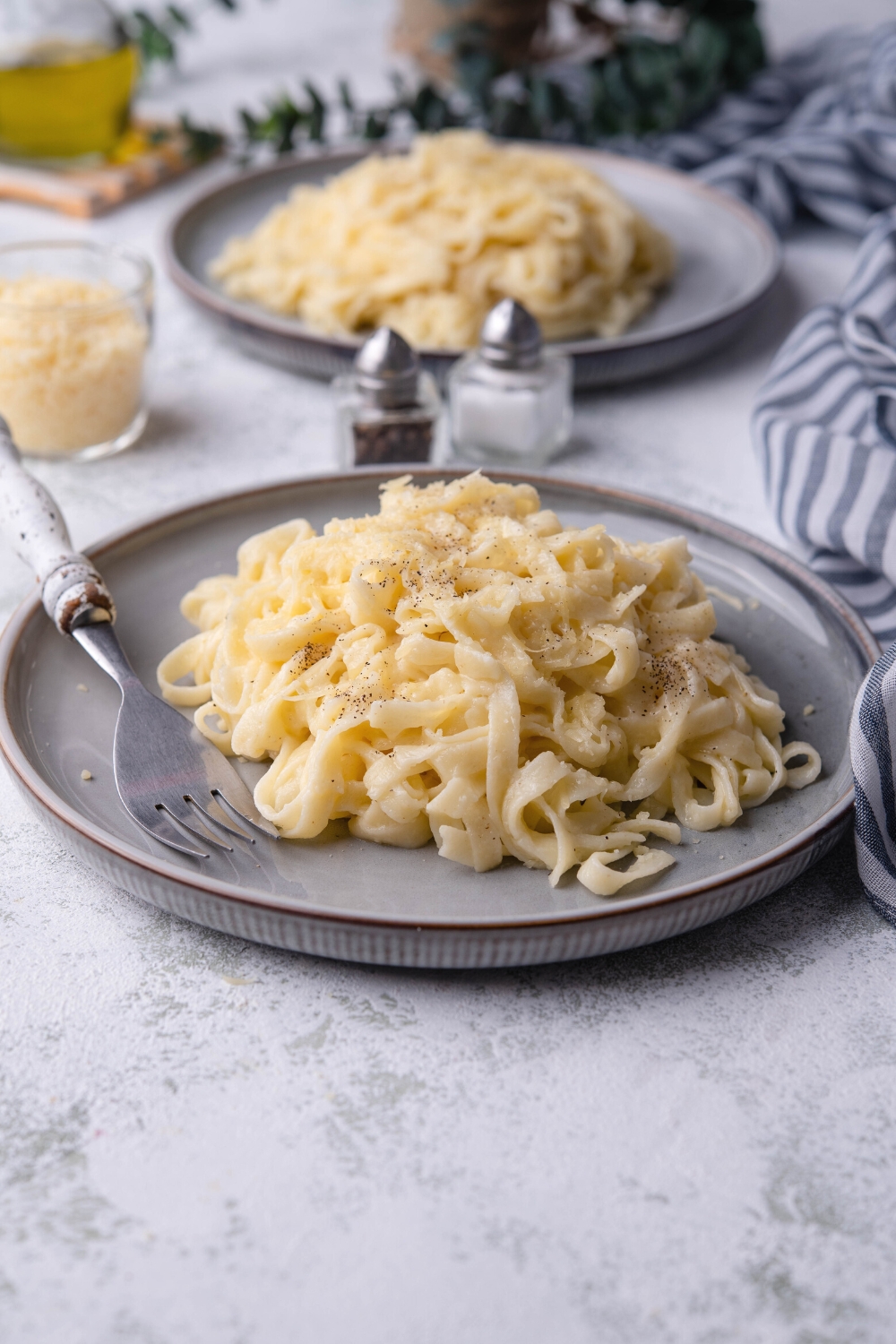 The Best Parmesan Noodles
I may be alone here, but thinking about parmesan noodles brings me back to the good ol' days as a kid growing up around the dinner table.
I have countless memories of my parents whipping together a plate of creamy noodles multiple times a week. Whether it was served as a side or in a bowl of its own, these delicious noodles were always on the menu, no matter the season.
As a parent myself, I can now see why those parmesan noodles were such a staple in the house. Not only are they super easy to make, but this pasta recipe also only requires four simple common ingredients that you're almost guaranteed to have at your house.
Also, as I mentioned, the process of making these parmesan noodles could not be more straightforward. You simply cook your choice of pasta, toss it with some melted butter, and then add in some parmesan cheese and freshly ground black pepper.
By the way, if you're thinking of making these parmesan noodles as a tasty side, I highly recommend pairing them with an equally delicious main dish. This ranch chicken recipe, this meatloaf with stuffing recipe, and this panko breaded chicken recipe are a few of our favorites to pair with 'em.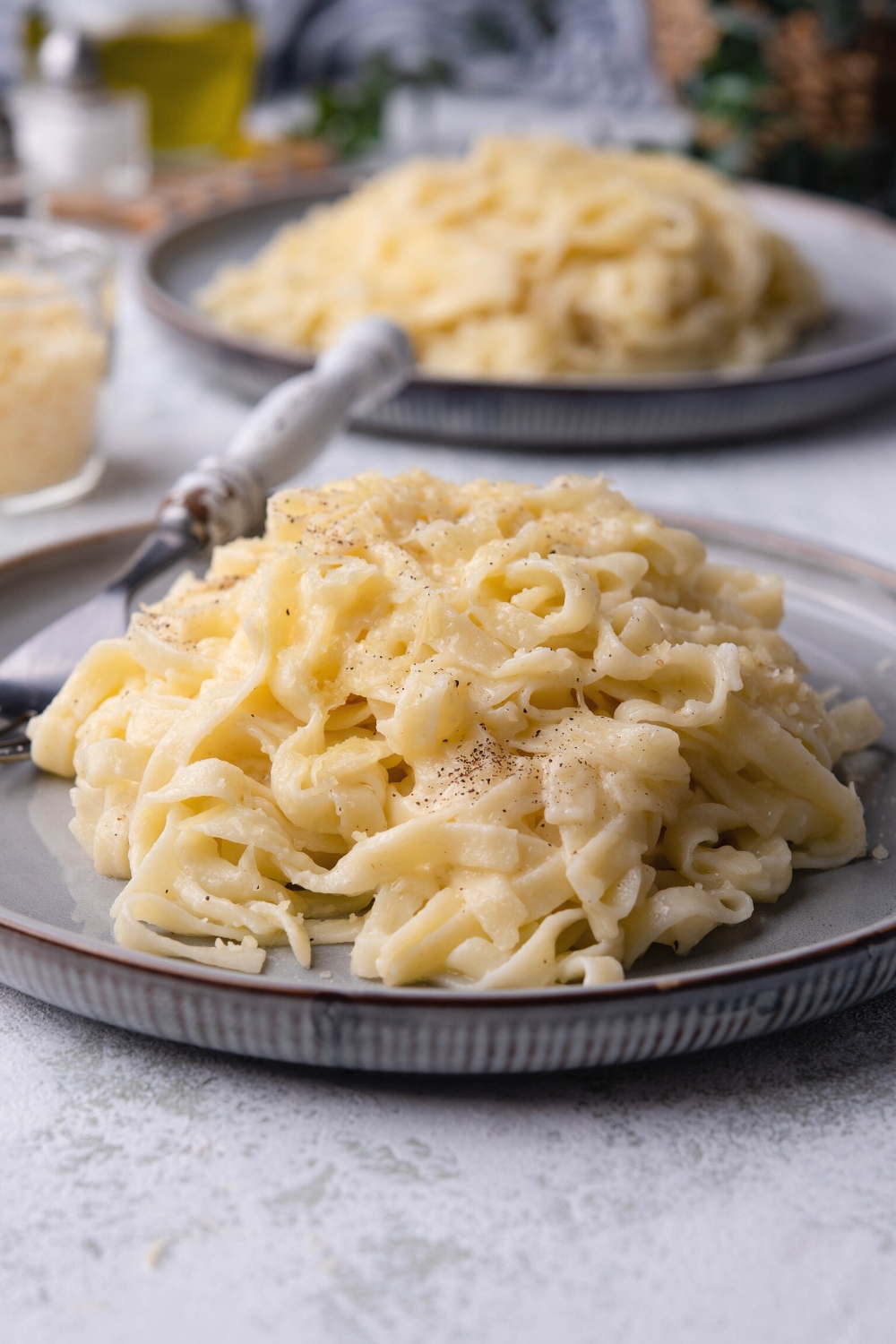 Ingredients
Again, one of the best parts about this easy parmesan noodles recipe is that all the ingredients are kitchen/pantry staples. In fact, you probably have most - if not all - of them at your house already.
Alright, here's what you'll need to make these parmesan noodles:
8 oz long noodles of choice (I used fettuccine noodles)
3 Tbsp salted butter
1 Cup freshly grated parmesan cheese
Salt and pepper, to taste
1 Tsp minced garlic cloves (optional)
Simple stuff, right?!
By the way, I use a lot of these same ingredients to make this shrimp pasta, this spinach pasta, and this creamy carbonara. So, if you've got some extra noodles, butter, and/or parmesan cheese, I highly recommend giving one of those recipes a shot.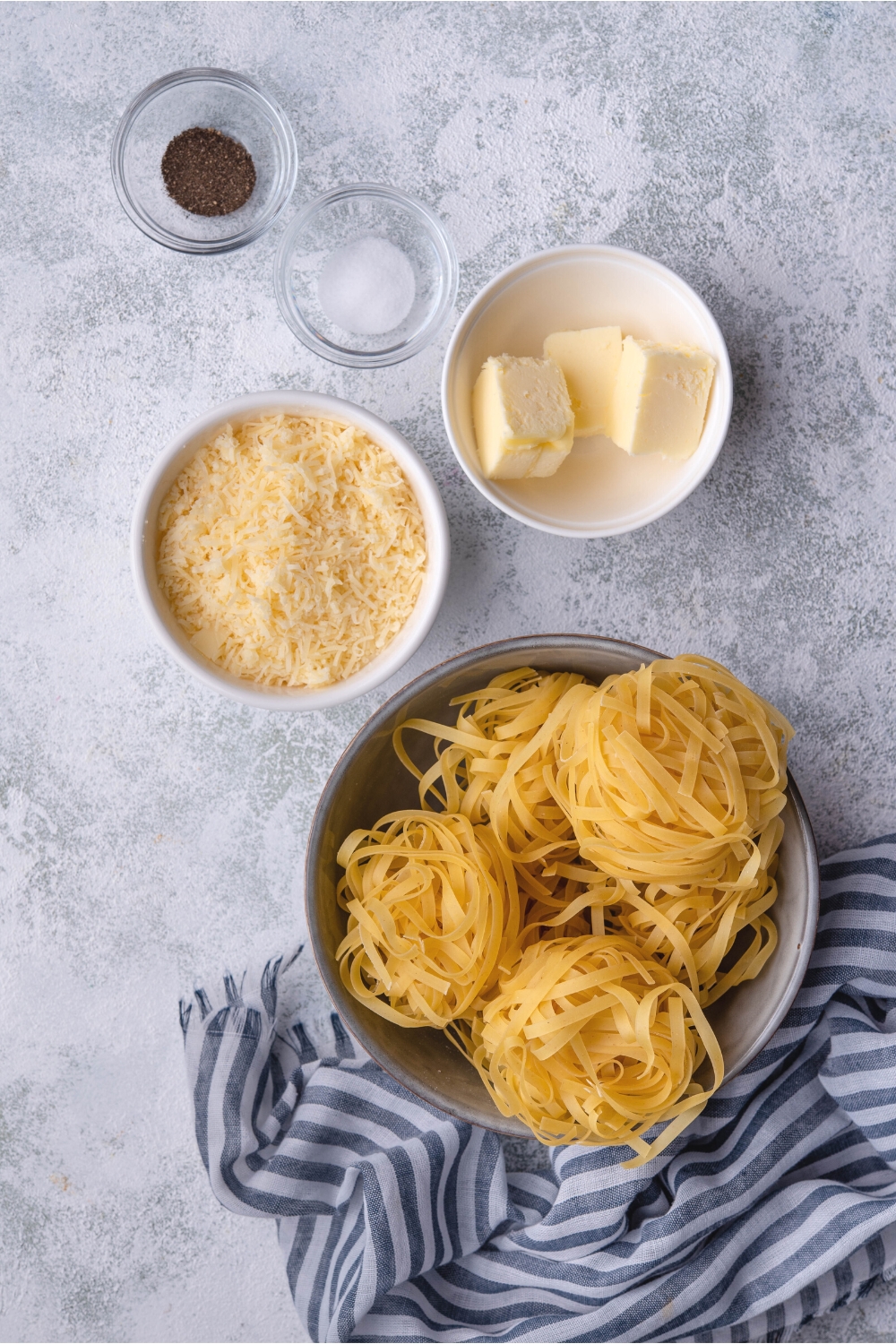 Ingredient Substitutions and Suggestions
While I recommend making these parmesan noodles with the ingredients mentioned above, there's a lot of room to add your own spin to 'em.
With that said, I'll go over some ideas on how you can go about doing that below.
Switch up the pasta
For the pasta, I have always found longer noodles work best when making a creamier dish such as this. Fettuccine is the classic choice, but if you don't have those on hand, spaghetti or angel hair pasta make great substitutions. In fact, angel hair pasta is my wife's favorite pasta to use for this dish, so we use it a bunch to make this dish.
Honestly, though, I was in a pinch one time, and I used egg noodles to make these cheesy buttered noodles, and they turned out great. So feel free to experiment.
Substitute the parm
As for the cheese, I, of course, recommend using either freshly grated or shredded parmesan cheese, as it helps to create a more decadent and flavorful dish.
However, there are some great alternative cheese options that you have at your disposal to make this dish with. Asiago, pecorino romano, romano, and even grana padano will work as decent substitutes for the parmesan cheese - if you're in a pinch.
Add In Some garlic
Lastly, if you want to take the flavor of these buttered noodles up even more, you can use some minced garlic and make garlic parmesan noodles. Just add one teaspoon of garlic to your skillet while the butter is melting, and then when it becomes fragrant, you can add your cooked pasta noodles to the party.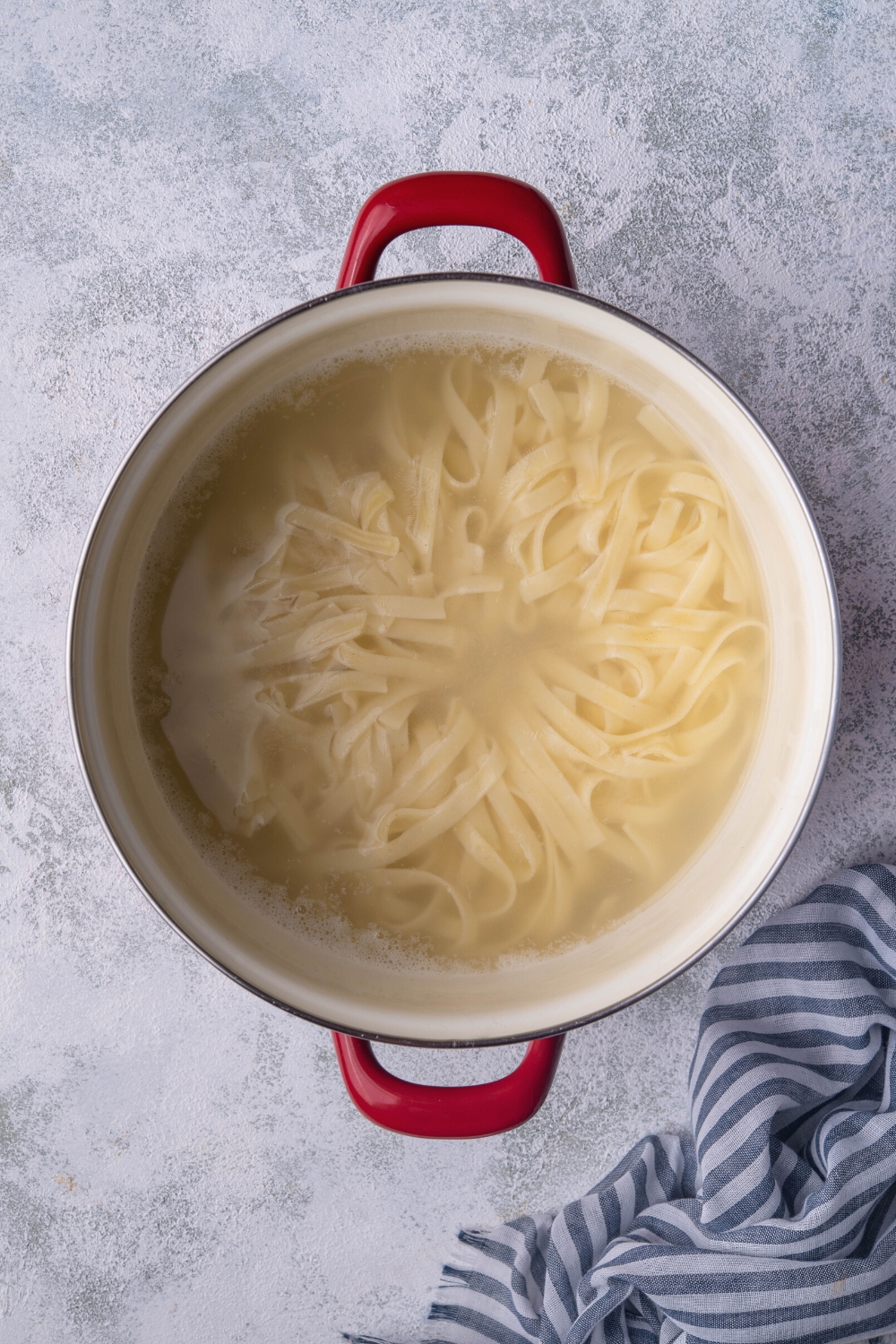 How to Make Parmesan Noodles
As I mentioned earlier, these parmesan noodles are ridiculously easy to make.
All in all, you're looking at approximately 8 minutes of cooking time, which is mainly accounted for cooking your pasta.
Everything else can be done in a flash and only requires one extra pan. So, once your noodles are ready, you're well on your way to a delicious dinner.
With that said, I now present you with the ultra-easy steps to make these delicious parmesan noodles.
Step 1: Cook The Noodles
You'll want to start by cooking the noodles per the package directions in a large pot. I personally like to cook pasta, so it's al dente noodles, so shoot for approximately 6-8 minutes - depending, of course, on your pasta.
Once your noodles are cooked to your liking, save ½ cup of starchy pasta water and put this off to the side. Then, you can drain the pasta and set it off to the side as well.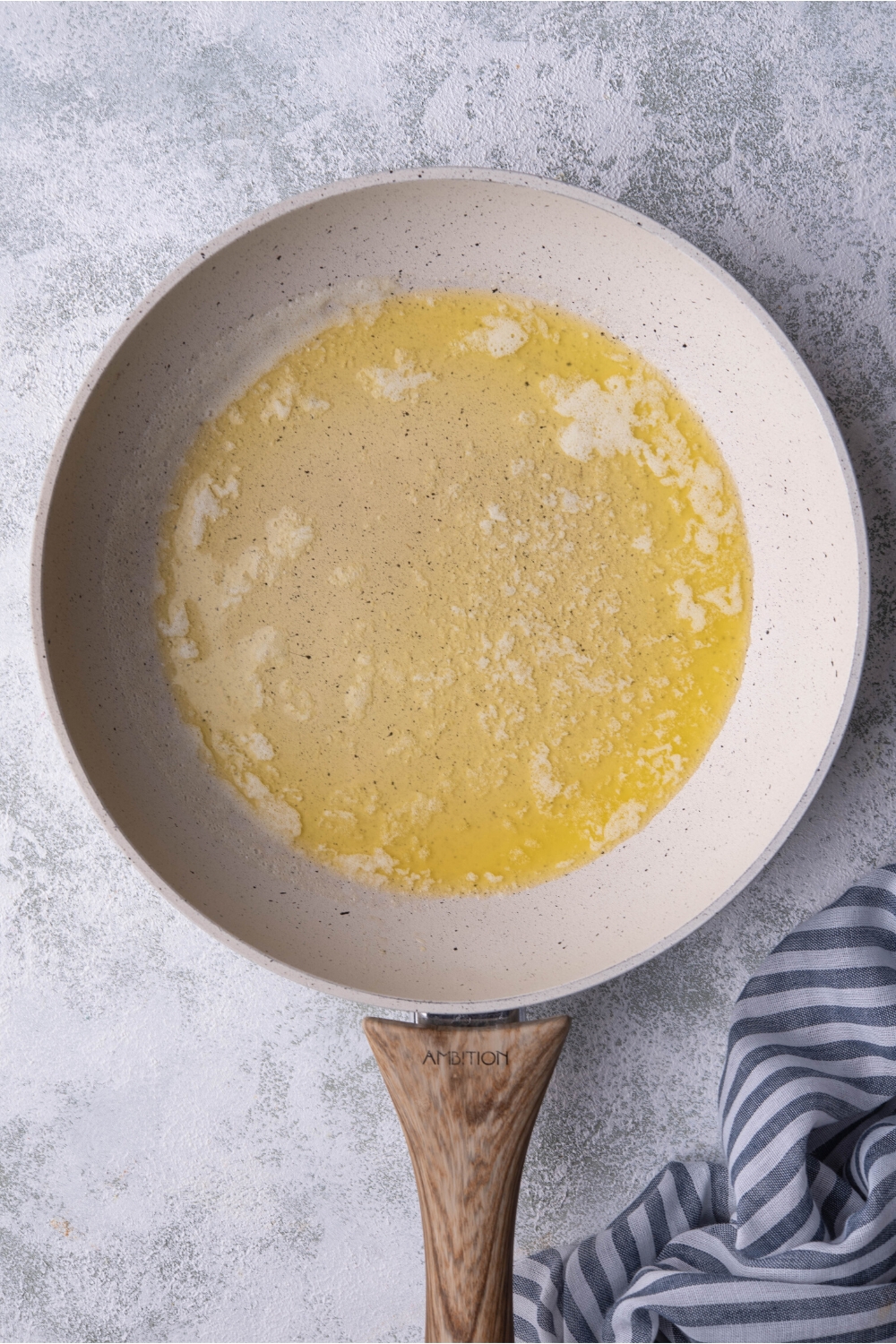 Step 2: Melt the Butter and add the noddles
Next, you'll want to melt the butter in a skillet set over low heat. This is also the time when you'll want to add in some minced garlic - that is, of course, if you're planning on making garlic parmesan noodles.
Once the butter has melted, you can add the cooked noodles to the skillet and gently toss it all together. You want to make sure all of the cooked noodles are coated in butter - and minced garlic if using it - and have reached a nice consistency throughout.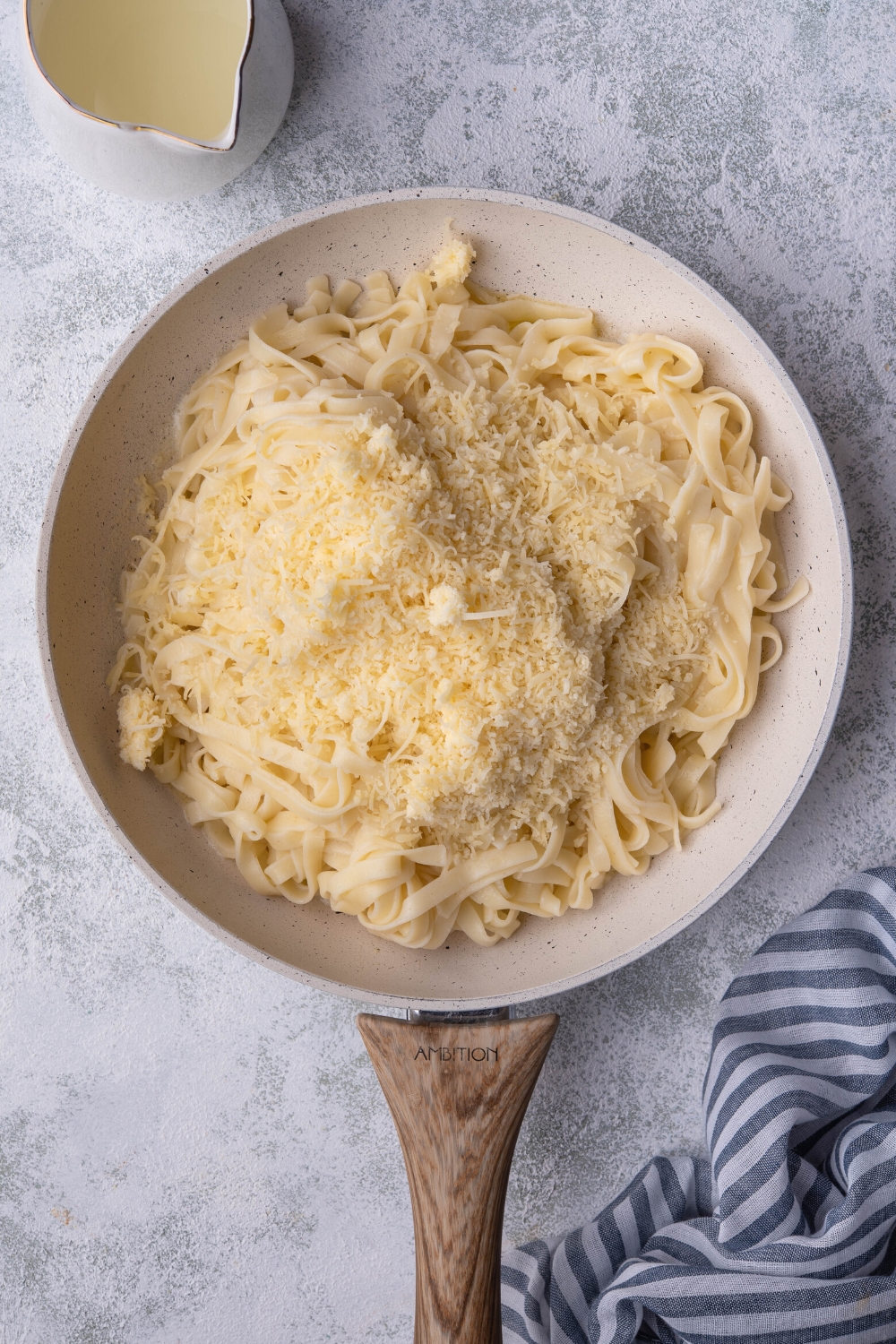 Step 3: Add Parmesan Cheese
Now you can add the parmesan cheese to your buttered pasta, and you can also add a ¼ cup of pasta water to it as well. Just make sure to stir everything as you go. The idea is to use the pasta water with the parmesan cheese as it helps melt everything together with the buttered noodles.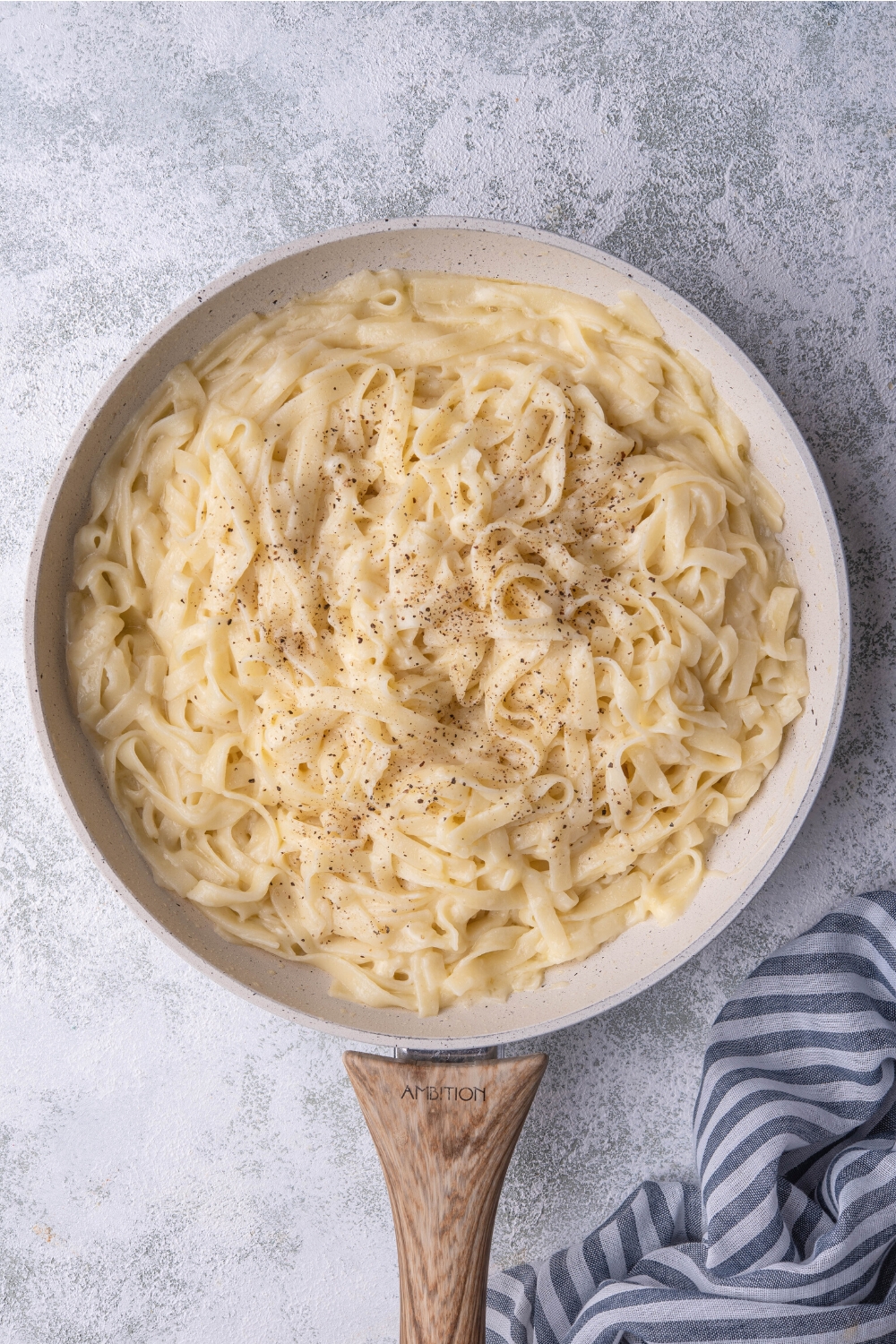 Step 4: Season and Serve
Finally, you can add a little salt and plate up your garlic parmesan pasta.
Then, just garnish it with some extra grated or shredded parmesan cheese before serving it. A pinch of freshly ground black pepper and fresh parsley goes great on top of it too.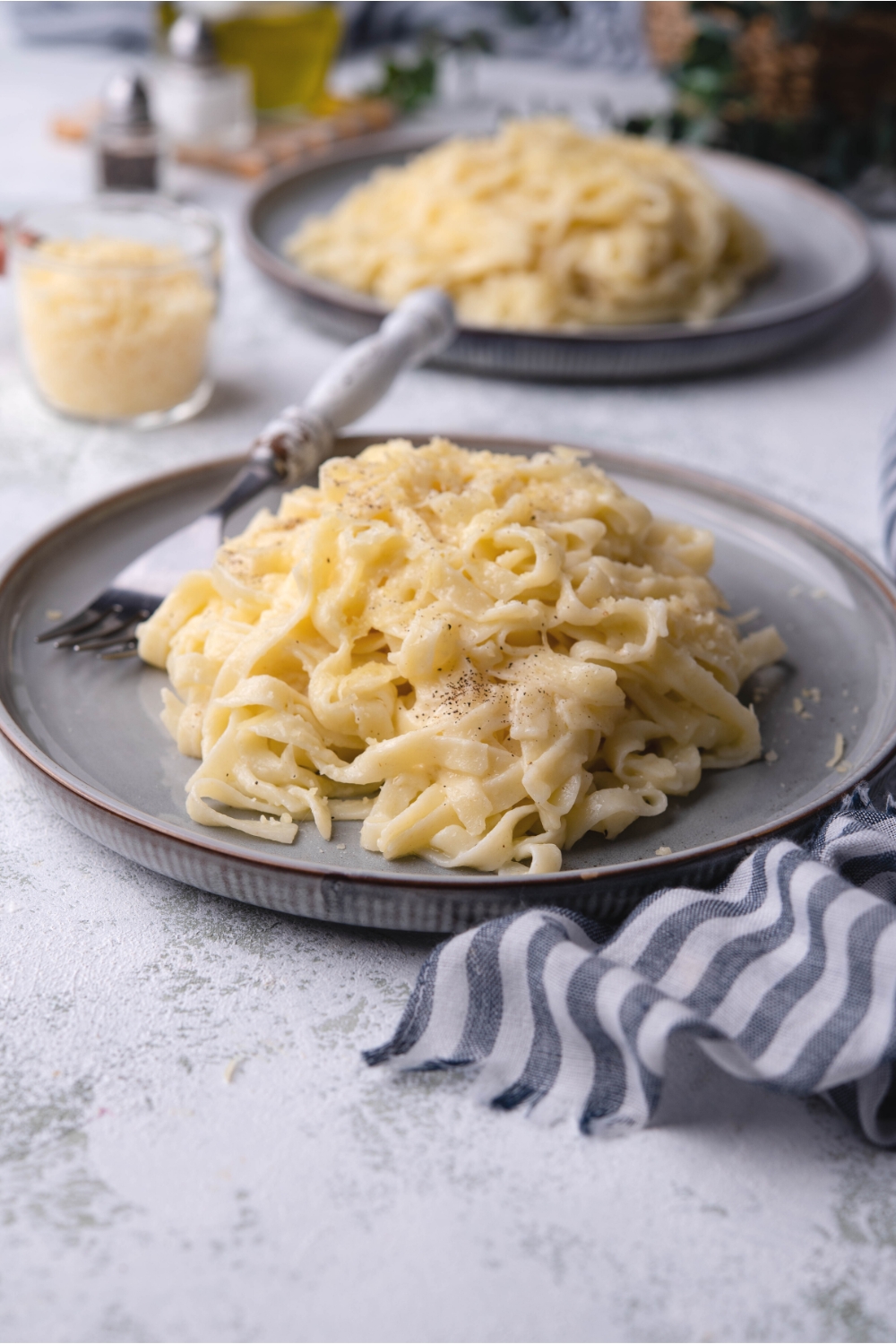 How To Store Parmesan Noodles
This recipe for easy parmesan noodles will make about 2 large servings, so it's the perfect amount to share with your significant other. And as I've said already, this recipe will go even further if you are planning on using this dish as a side.
Either way, you can count on having delicious leftovers of these garlic parmesan noodles for later.
With that in mind, if you hope to save the leftovers for another day, you can store them in an air-tight container in the fridge for up to 2 days.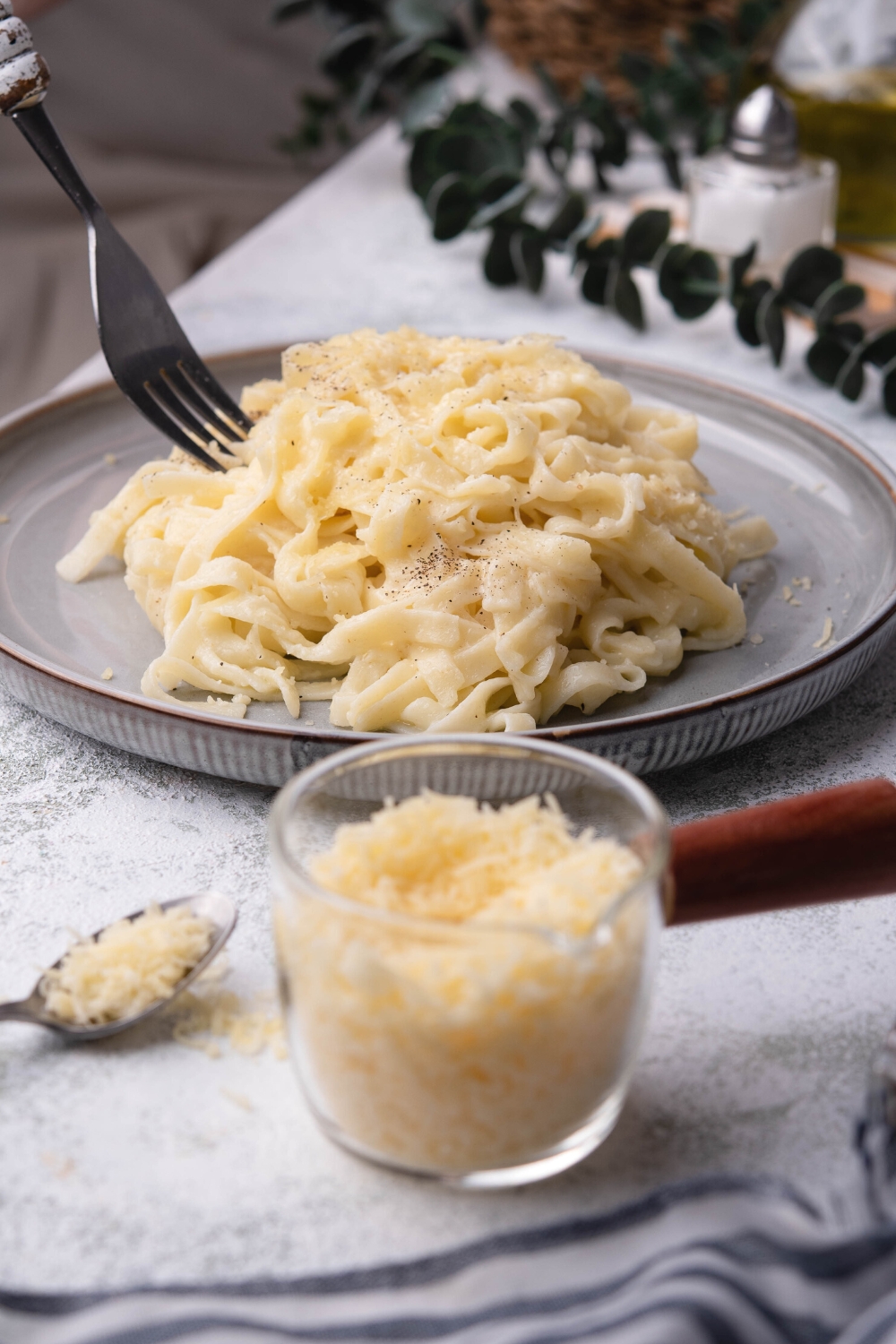 How to Reheat Parmesan Noodles
Once you're ready to reheat your garlic parmesan noodles, you can use the stovetop or microwave to heat 'em back up.
If you prefer to use your stovetop to reheat the noodles, simply pour your desired amount into a pan coated in olive oil and cook on medium heat, stirring occasionally, until your dish is nice and warm. Sometimes I even like to add a splash of chicken broth to bring the noodles back to life as they're cooking in the pan as well.
Alternatively, the microwave is a great solution to reheat your noodles in a flash. I recommend warming your pasta in increments of 30 seconds, stirring after each round of heating until they're hot.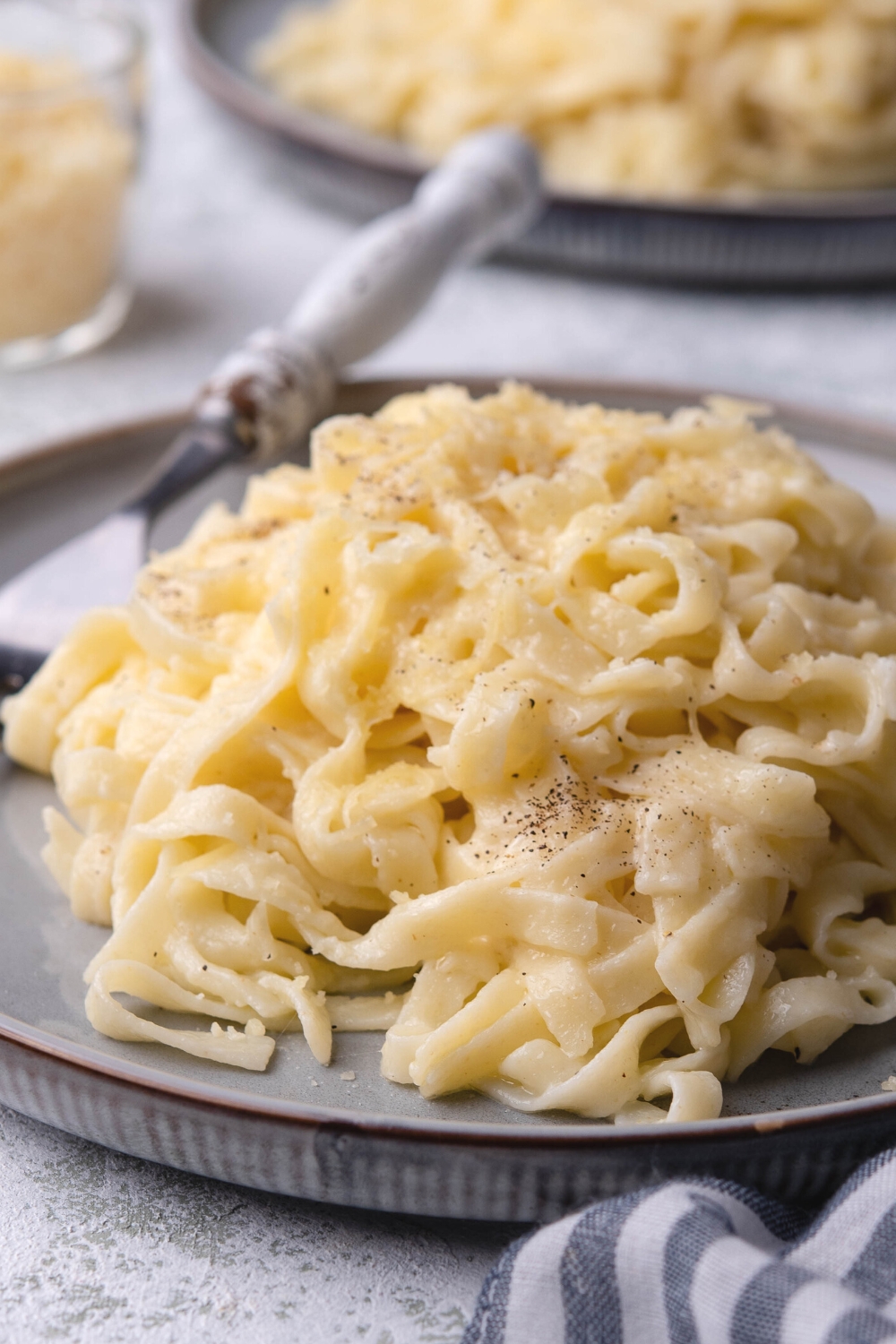 Wrapping It Up
Well, that's how to make parmesan noodles!
I can't overstate just how simple this recipe is. And with only 4 ingredients needed, this recipe may go down as one of my easiest ever.
Better yet, the taste of these easy parmesan noodles may just win you some bonus points with your family - that is of course if they're lucky enough to taste it.
Anyway, I hope this delicious parmesan noodle recipe becomes a staple for your family just as it is for mine.
Oh, and as always, if you end up trying this recipe out, be sure to leave a comment below and let us know how it went.
More Pasta Recipes
Craving more easy pasta recipes? Well, if you are, we have a ton of really tasty options on the blog for you to try next!
Here are some reader favorites:
Also, for even more deliciousness, don't forget to follow us on YouTube, Instagram, and TikTok. We post new ones on them every single day.
Print
The BEST Parmesan Noodles (Buttery, Cheesy, & Easy To Make)
This parmesan noodle recipe turns plain noodles into one of the most versatile dishes ever. It combines noodles, butter, and parmesan cheese to create a pasta dish that's drool-worthy. Plus, it's so easy to make too. Not only are the ingredients super simple, but you can have this recipe ready in less than 15 minutes.
Author:
Prep Time:

5 minutes

Cook Time:

8 minutes

Total Time:

13 minutes

Yield:

4

servings

1

x
Category:

Dinner

Method:

Stovetop

Cuisine:

Pasta
8 oz long noodles of choice (I used fettuccine noodles)
3 Tbsp salted butter
1 Cup freshly grated parmesan cheese
Salt and pepper, to taste
1 Tsp minced garlic cloves (optional)
Instructions
Cook the pasta according to the package directions.

Reserve ½ cup of the pasta cooking water for later and drain the pasta.

Melt butter in a skillet over medium heat. If using garlic, cook the garlic with the butter until fragrant.

Once the butter is melted, add pasta and toss it gently to coat with butter.

Add ¼ cup of the pasta water at a time and parmesan cheese. Season to taste with salt.

 

If you want pasta with more sauce, then add more pasta water.

Toss the pasta gently to coat it with the parmesan cheese and serve warm.

Garnish it with some extra parmesan before serving and a bit of freshly ground black pepper.

 
Nutrition
Serving Size:

1 serving

Calories:

266

Fat:

15

Carbohydrates:

20

Protein:

11
Keywords: parmesan noodles, parmesan noodles recipe, garlic parmesan noodles, garlic parmesan noodles recipe, buttered noodles, buttered noodles recipe, buttered pasta, buttered pasta recipe, easy parmesan noodles, easy noodle recipe, garlic parmesan pasta, parmesan noodles easy,