This creamy carbonara recipe is so darn delicious and so indulgently creamy. It combines perfectly cooked spaghetti with pancetta, a creamy sauce, and parmesan cheese to create a drool-worthy bowl of Italian pasta. What's even better is that this pasta carbonara takes just 15 minutes to make. It's so fast, so easy, and just so, do delicious too!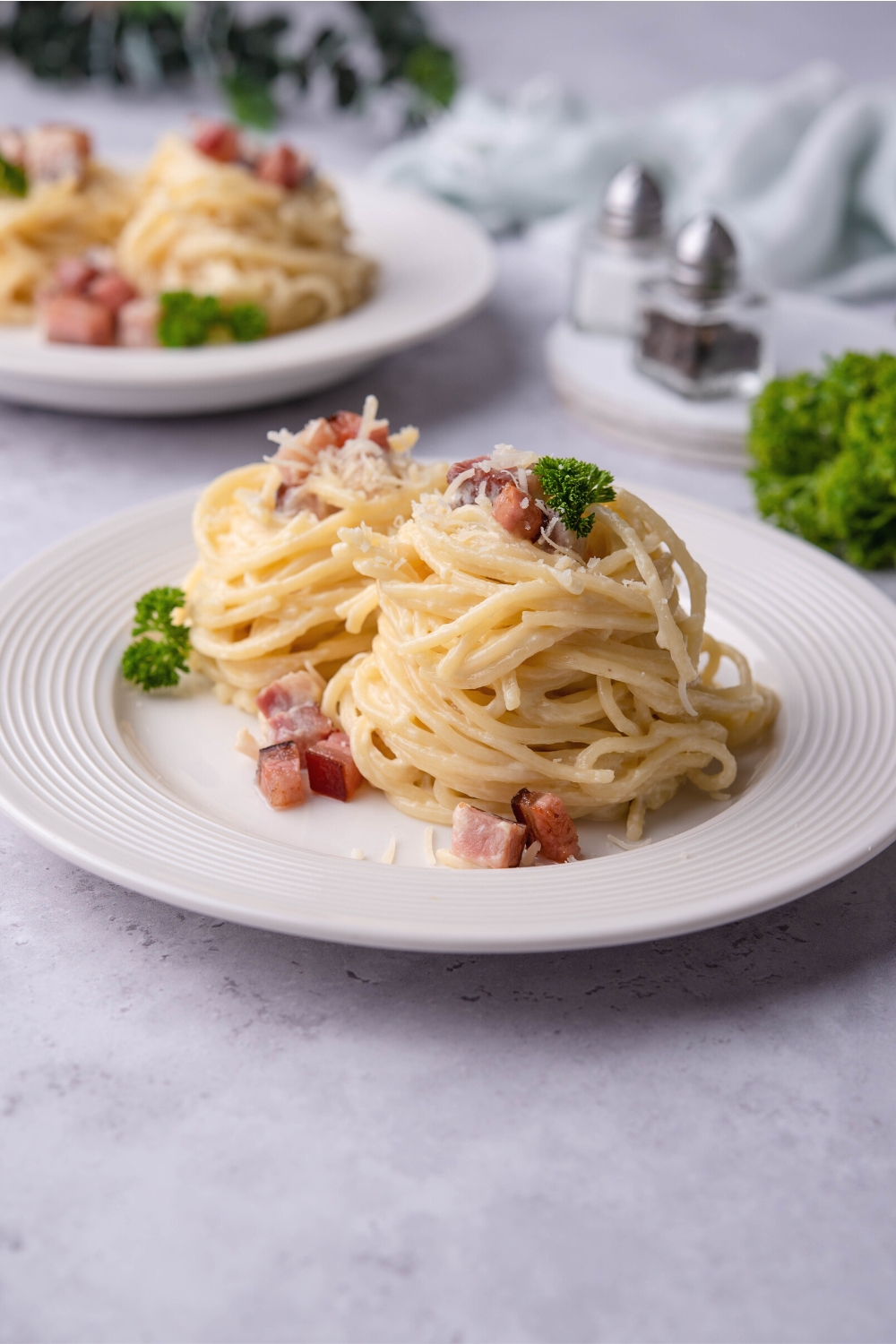 The Best Creamy Carbonara
If you like pasta, you're going to love this easy creamy carbonara recipe. This dish is packed full of great flavor with a creamy sauce, delicious cheese, and salty pancetta coating every bit of that incredible freshly cooked spaghetti.
Honestly, just thinking about it makes my taste buds tingle! And it's really so simple to cook too. Just four easy steps are all you'll need to follow to make it. And as far as equipment goes, all you need is a pan to cook your spaghetti and a single skillet to make the carbonara sauce. That means less time for washing up and more time for eating!
Now, I love making this spaghetti carbonara whenever I'm in the mood for something a little indulgent or when I'm having people over for dinner. There really is nothing like twirling that delicious spaghetti around your fork and mopping up the creamy sauce with some rustic bread.
Speaking of which, this air fryer garlic bread and this Italian cheese bread go perfectly with the carbonara. So, if you're looking for some tasty bread to pair with this pasta, those are my recommendations.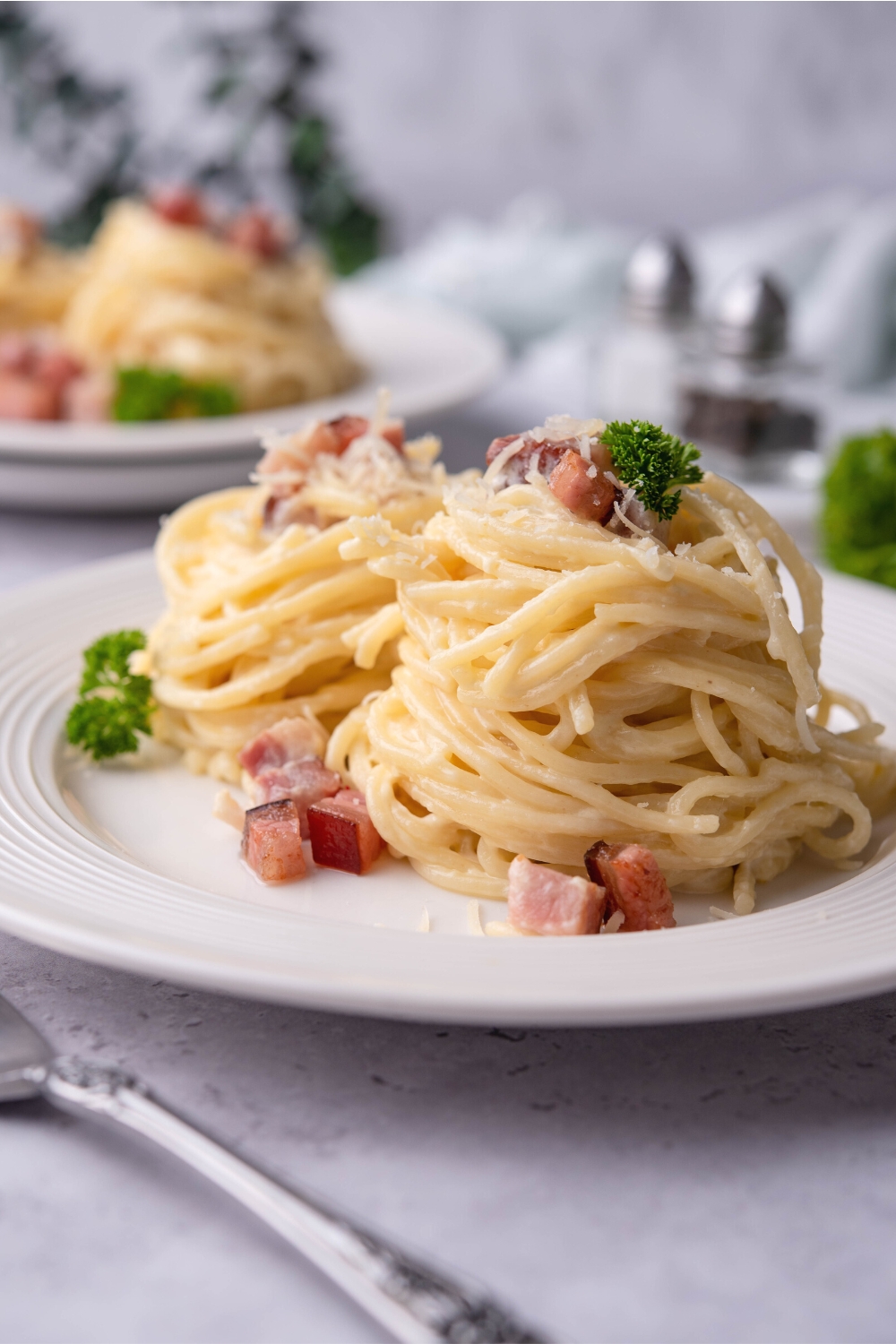 Ingredients
Like all the best Italian recipes, the secret to this pasta carbonara is using a few simple, fresh ingredients. And I can almost guarantee that you'll have most - if not all - of them at your house already since they're all basically kitchen/pantry staples.
Anyway, here's everything you'll need to make this creamy spaghetti carbonara:
8 oz. spaghetti or desired long pasta
6 oz. pancetta, chopped
2 cups half and half cream
2 egg yolks
1 cup freshly grated parmesan cheese
Salt and black pepper, to taste
Super simple stuff, right?
By the way, if cooked too much spaghetti, don't throw it away! Leftover spaghetti noodles are perfect for this fried spaghetti recipe. It's honestly one of my wife's favorite ways to reheat day old spaghetti.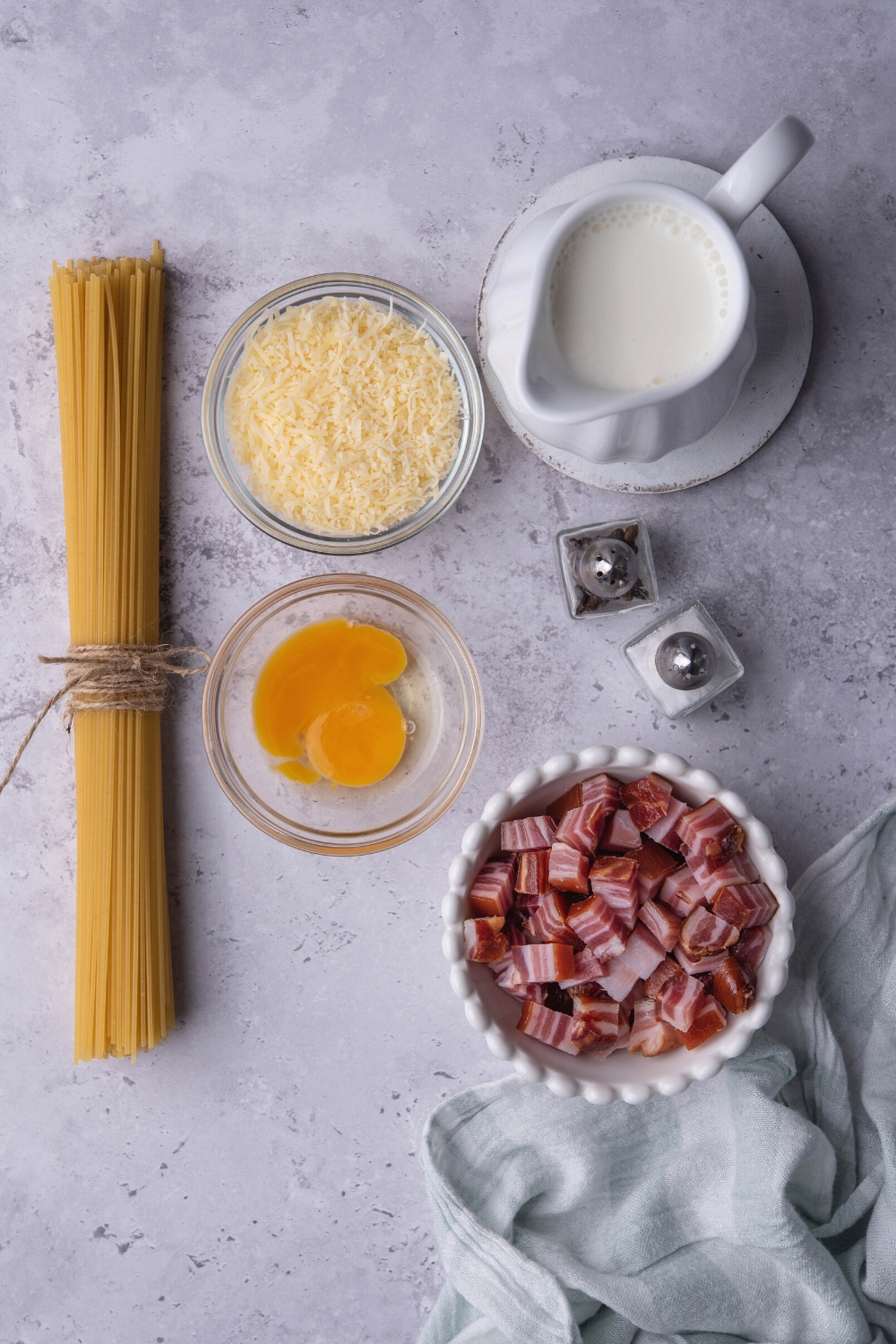 INGREDIENT SUBSTITUTIONS & SUGGESTIONS
While I recommend making this creamy carbonara with the ingredients listed above, there are loads of great ways to customize this recipe. So I'll go over a couple of ideas.
Use different types of pasta
While this recipe is a classic spaghetti carbonara, you can also use other types of pasta, like fettuccine, to give your dish a different texture. Honestly, I've actually used fettuccine a few times to make this carbonara, and it's turned out fantastic every time.
Substitute the pancetta
Diced pancetta gives this spaghetti carbonara a fantastic rustic saltiness, but you can also add bacon or cured pork instead. In fact, Italians use Guanciale in a traditional carbonara which is a cured pork you can find in most specialty Italian supermarkets. Just remember, whether you are using pork, pancetta, or bacon, be careful with adding too much additional salt to the dish.
Ramp up the seasonings
For extra dimensions of flavor, minced garlic, red pepper flakes, and chopped parsley are all great additions to this recipe. I especially like to add red pepper flakes if I'm looking to incorporate a little spice into the dish.
Use heavy cream instead of half and half cream
Heavy cream can be used instead of half and half cream. It will just result in a more decadent, fuller carbonara sauce since heavy cream has a higher fat content.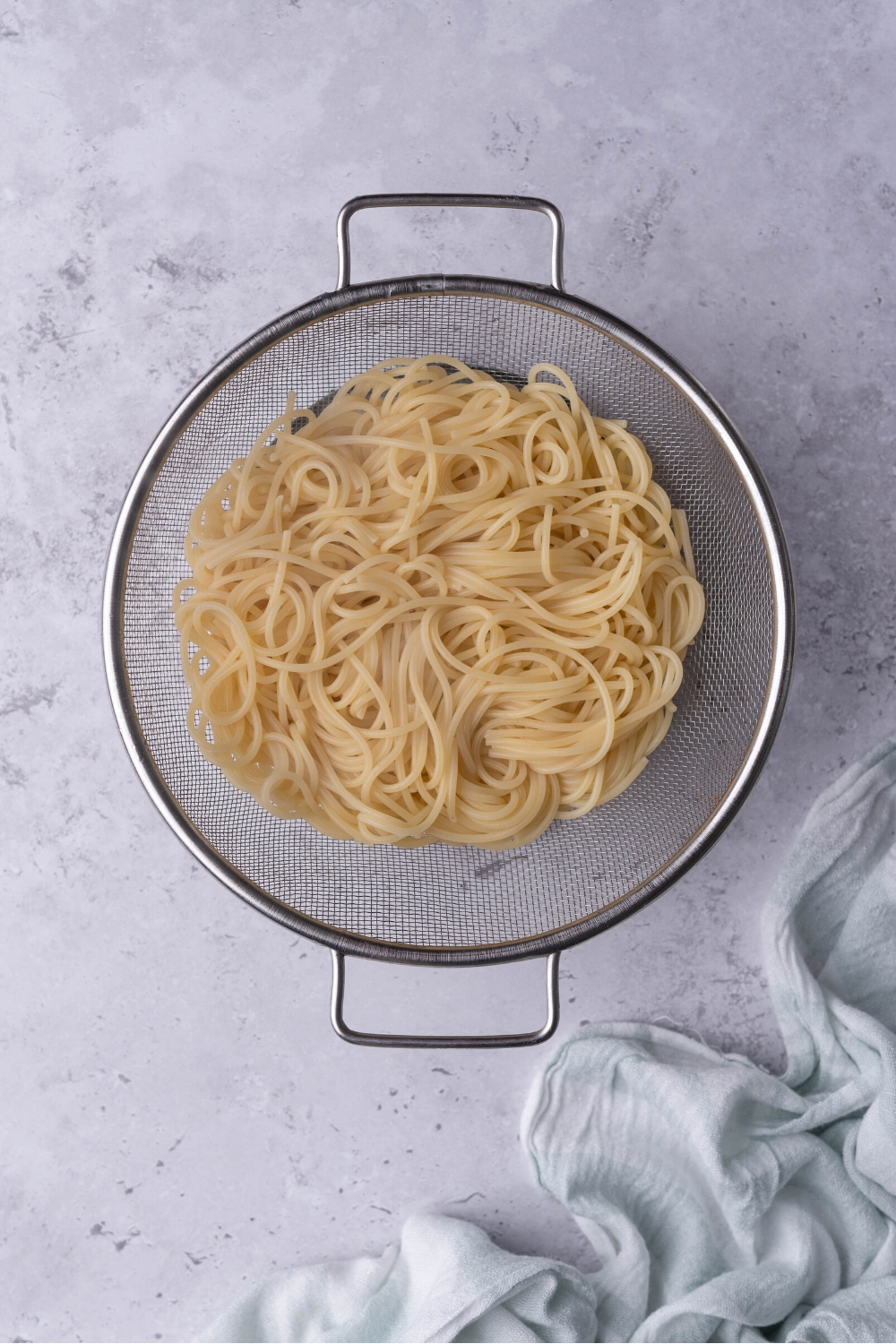 How to Make Creamy Carbonara
Alright, now it's time for the fun part - making the pasta carbonara!
And, again, making this creamy pasta carbonara recipe is about as easy as it gets. I mean, any recipe that can cook in just one pan and in only 15 minutes is tough to beat.
So with that said, let's not waste any more time and get cooking!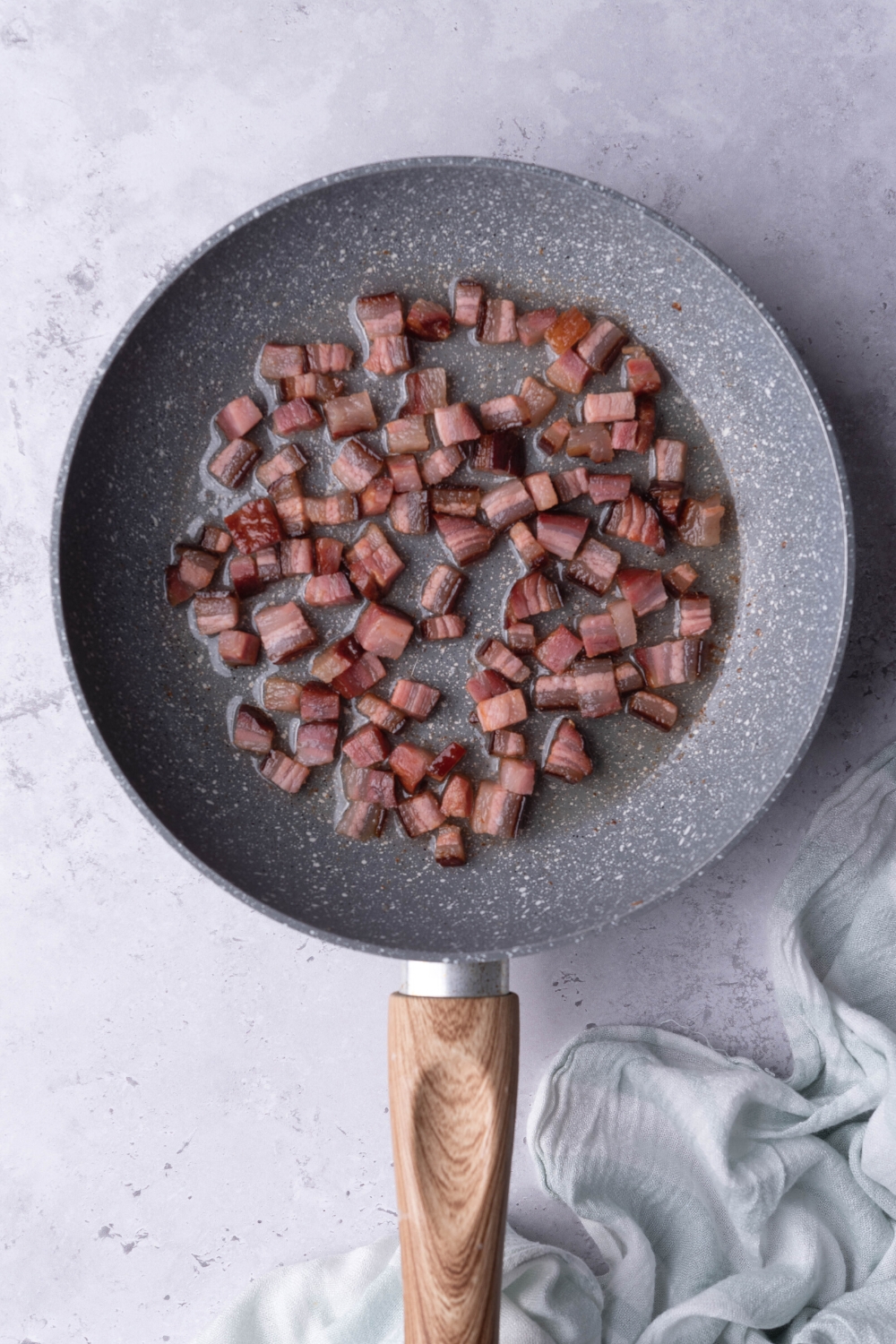 Step 1: Cook The spaghetti
In a large pot, bring salted water to a boil, and then cook your spaghetti according to the package instructions. You want your pasta to be al dente, so taste it regularly to make sure you don't overcook the spaghetti.
This may take slightly longer or shorter than the package directions, so give it a taste test every few minutes.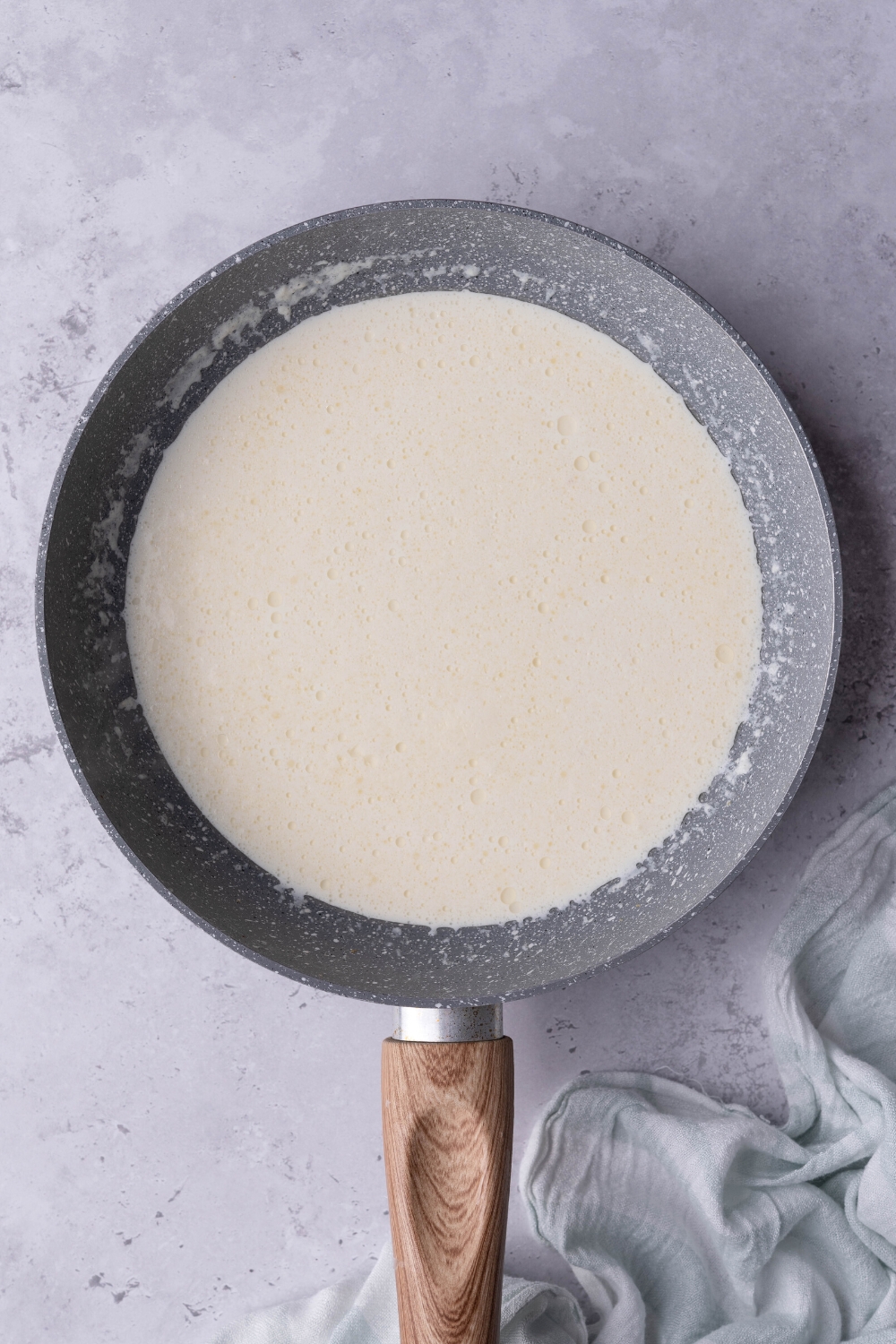 Step 2: Cook the pancetta
In the meantime, put a large nonstick skillet over medium-high heat and cook the diced pancetta in it for 6-7 minutes or until crispy.
Pancetta is very fatty, so you shouldn't need to add any oil - or bacon - grease to the skillet when you're cooking it. Just make sure to move it around the pan while cooking so you don't burn it. You want the pancetta to be golden brown to add all that lovely, crispy, salty flavor to your pasta.
Anyway, once the pancetta is cooked, you'll want to use a slotted spoon to transfer it to a bowl and set it aside for later.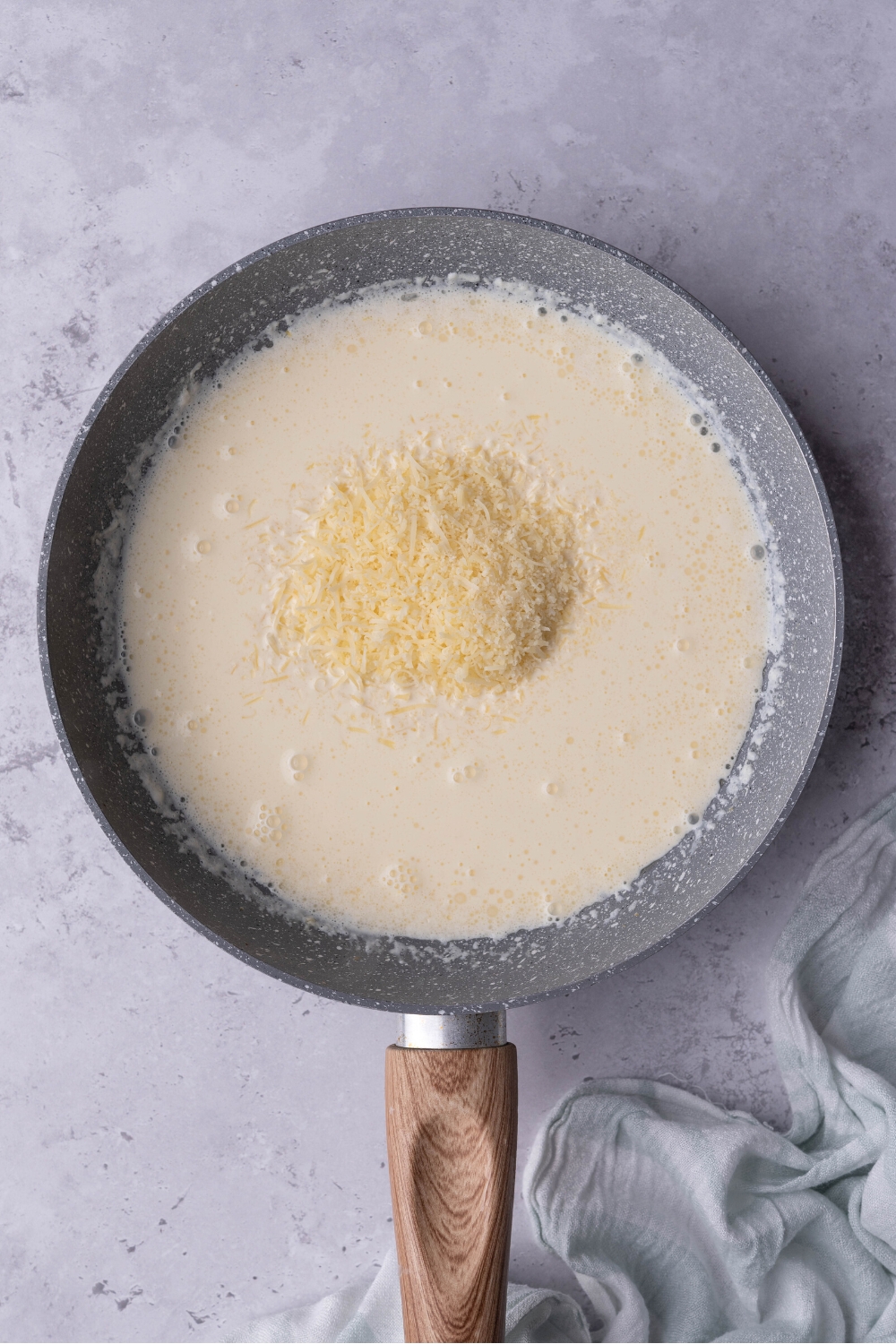 Step 3: Prepare the carbonara sauce
Making the sauce is my favorite step because the aromas are just incredible!
So to make the sauce, you'll wantto add the half and half the cream to your skillet you just cooked the pancetta in and bring it to a simmer.
Then, once the sauce is simmering, you'll want to whisk in the egg yolks and add the parmesan cheese. Also, keep in mind that you'll want to make sure your egg mixture doesn't scramble, or it will ruin your sauce. So, make sure your heat is on low when you add the yolk in.
Finally, you can simmer everything until all the cheese is melted and you have a rich cream sauce.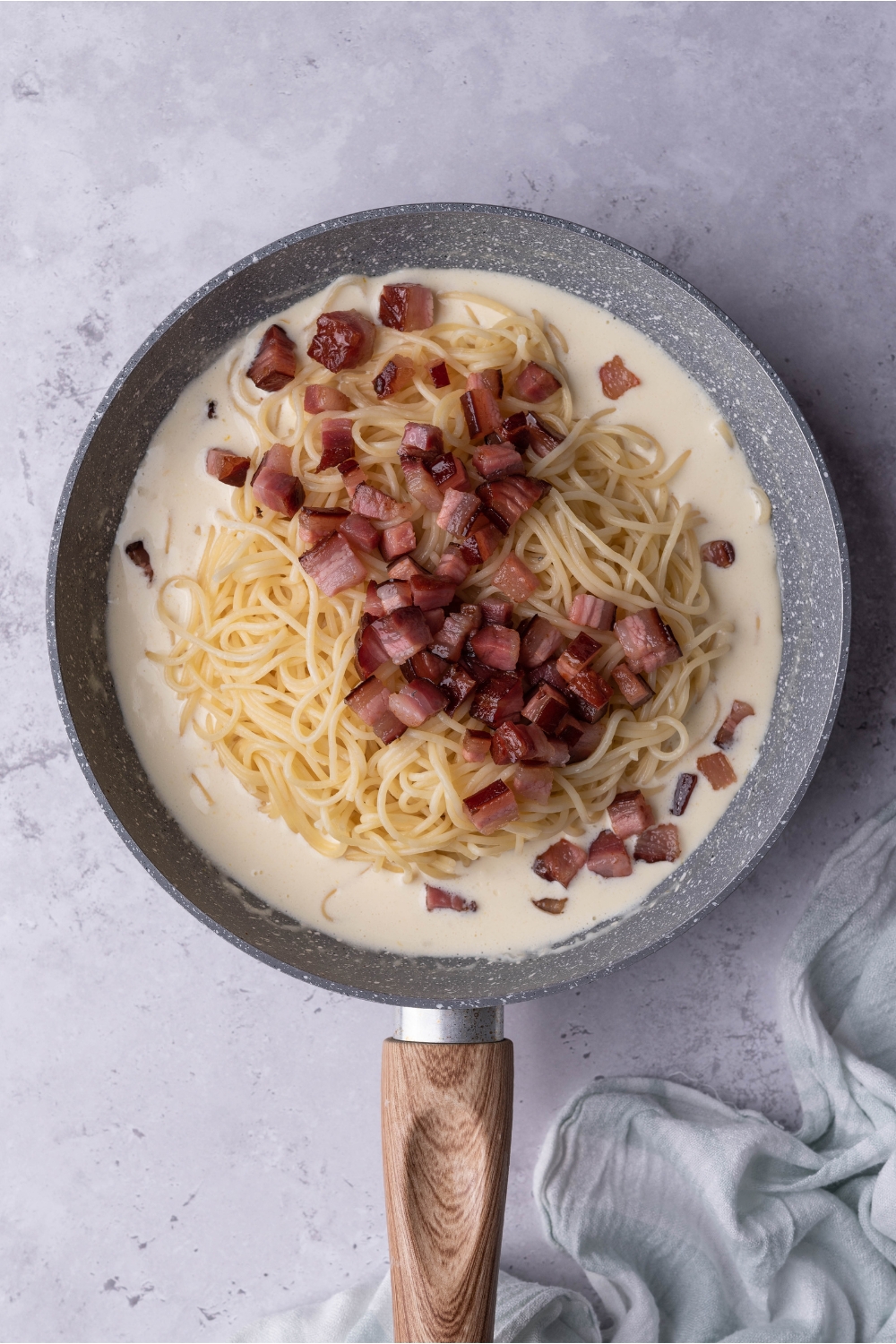 Step 4: Add The cooked spaghetti and pancetta
Once the pasta is cooked to your liking, you can drain it and slowly add it to the egg and cream mixture you just made in the pan.
By the way, if the sauce is a little thick, you can add a little of the pasta water to the pan to thin it out, but be very careful. You don't want to thin out the sauce too much.
Anyway, next, you'll want to add the cooked pancetta on top and stir gently to fully incorporate it into the pasta.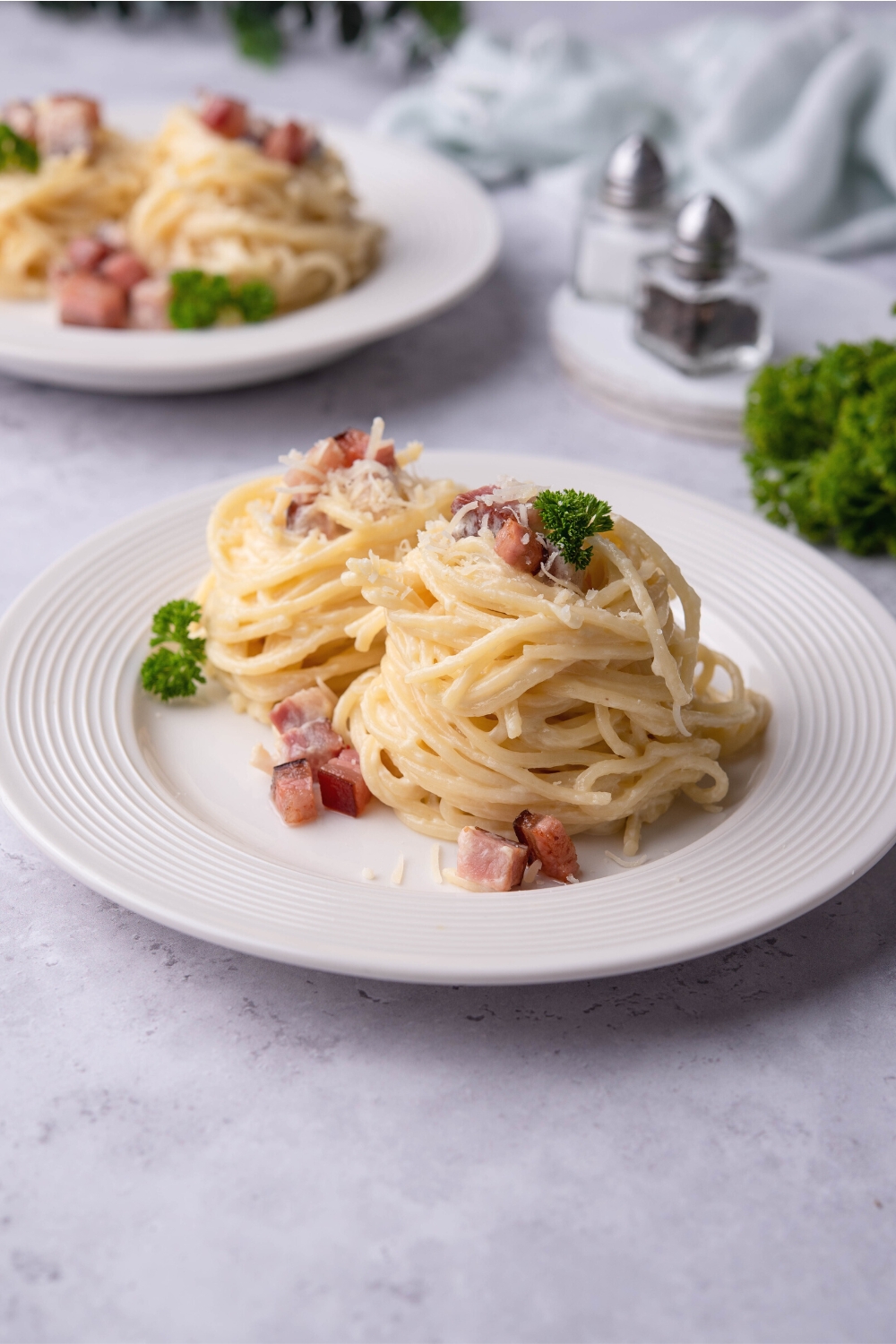 Step 5: Plate the pasta and serve hot
To finish up, you'll want to add some black pepper and freshly chopped herbs - like basil - for a fragrant garnish.
Then, you can serve this delicious creamy pasta carbonara and enjoy it!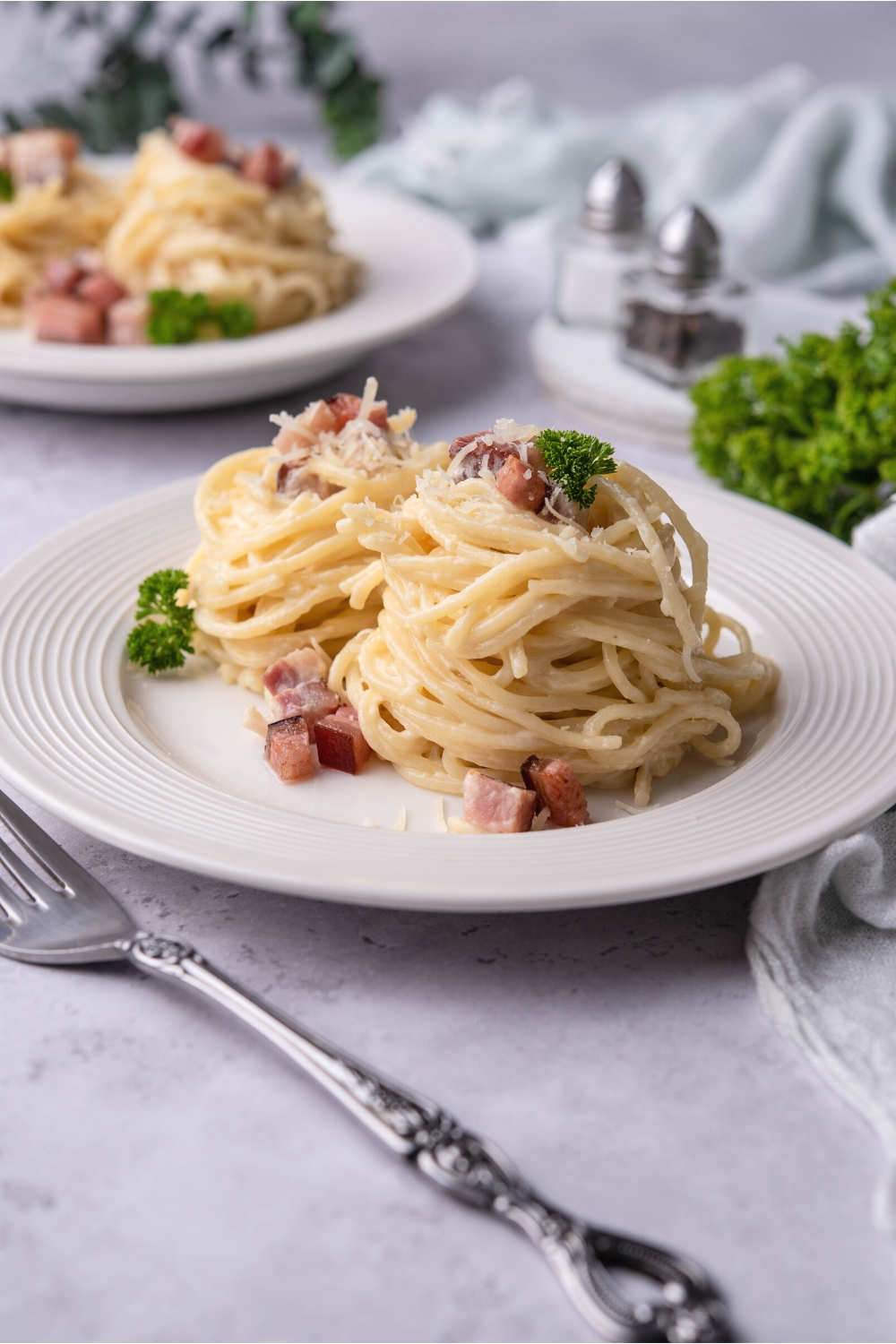 How to Store Creamy Carbonara
This recipe for creamy carbonara will make about 2 servings, so it's the perfect date night dinner or meal to make if you want leftovers the next day.
Speaking of leftovers, if you have any, you can store your cooled pasta carbonara in an airtight container and place it in the refrigerator. It should store safely in the refrigerator for up to four days.
How to Freeze Pasta Carbonara
To freeze your pasta carbonara, again you'll want to allow it to cool and then you can transfer it to a freezer-safe airtight container.
However, it is worth noting that carbonara does not always freeze well, as the pasta can become mushy and the sauce can split. Anyway, you can freeze the pasta for up to 3 months.
How to Reheat Pasta Carbonara
Once you're ready to enjoy this delicious pasta dish again, it's best reheated. So to reheat carbonara, put it in a small microwave-safe bowl and add a few drops of water to it. Then cover the bowl and microwave in 30-second intervals, stirring between each one until it's hot throughout.
You can also put the pasta back in a skillet on the stovetop over medium heat with a little water and warm it up for a few minutes. Just make sure to stir it frequently until it reaches your desired temperature.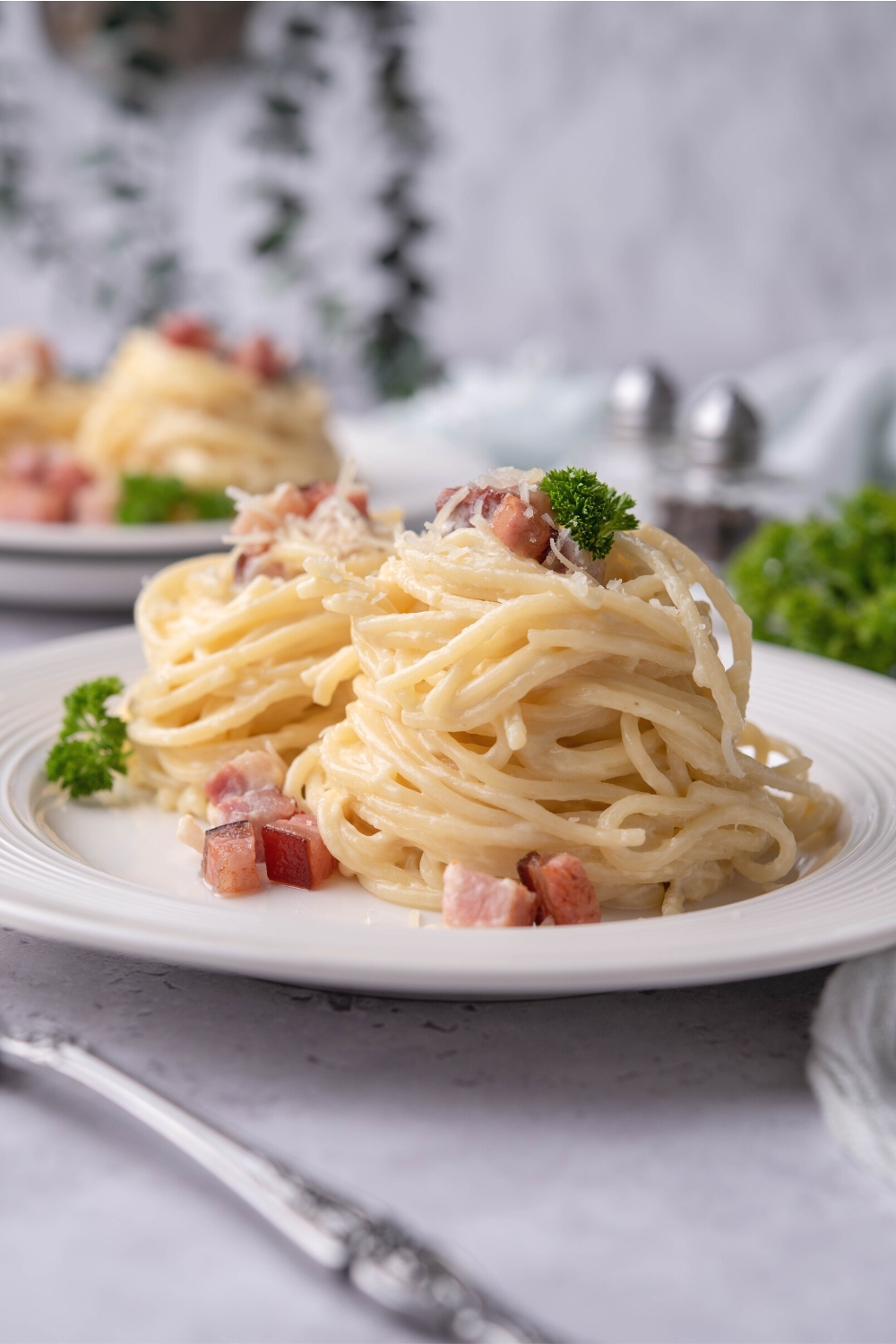 FAQS About This Creamy Carbonara Recipe
Can I add chopped mushrooms to my carbonara?
Sure! Chopped mushrooms make a great addition to carbonara, and you can cook them along with the pancetta or bacon.
Why does this carbonara recipe use just the yolks?
There are two reasons for this; first, egg yolks give this creamy carbonara recipe the perfect richness, and second, separating the egg yolk from the white reduces the risk of ending up with scrambled eggs when you make the sauce.
Do I need to add cream to my pasta carbonara sauce?
A traditional spaghetti carbonara doesn't use any cream, so it is a bit drier than this creamy carbonara recipe. However, if you don't like cream - or want to maker this dish a bit healthier - feel free to leave out the cream.
Can I use pecorino romano cheese instead of parmesan cheese?
Absolutely! Pecorino romano makes a great substitute for parmesan cheese when making carbonara. Just keep in mind that it is a little saltier so you'll want to be careful with adding extra salt to your pasta. Especially since there will already be salt in your pancetta or bacon.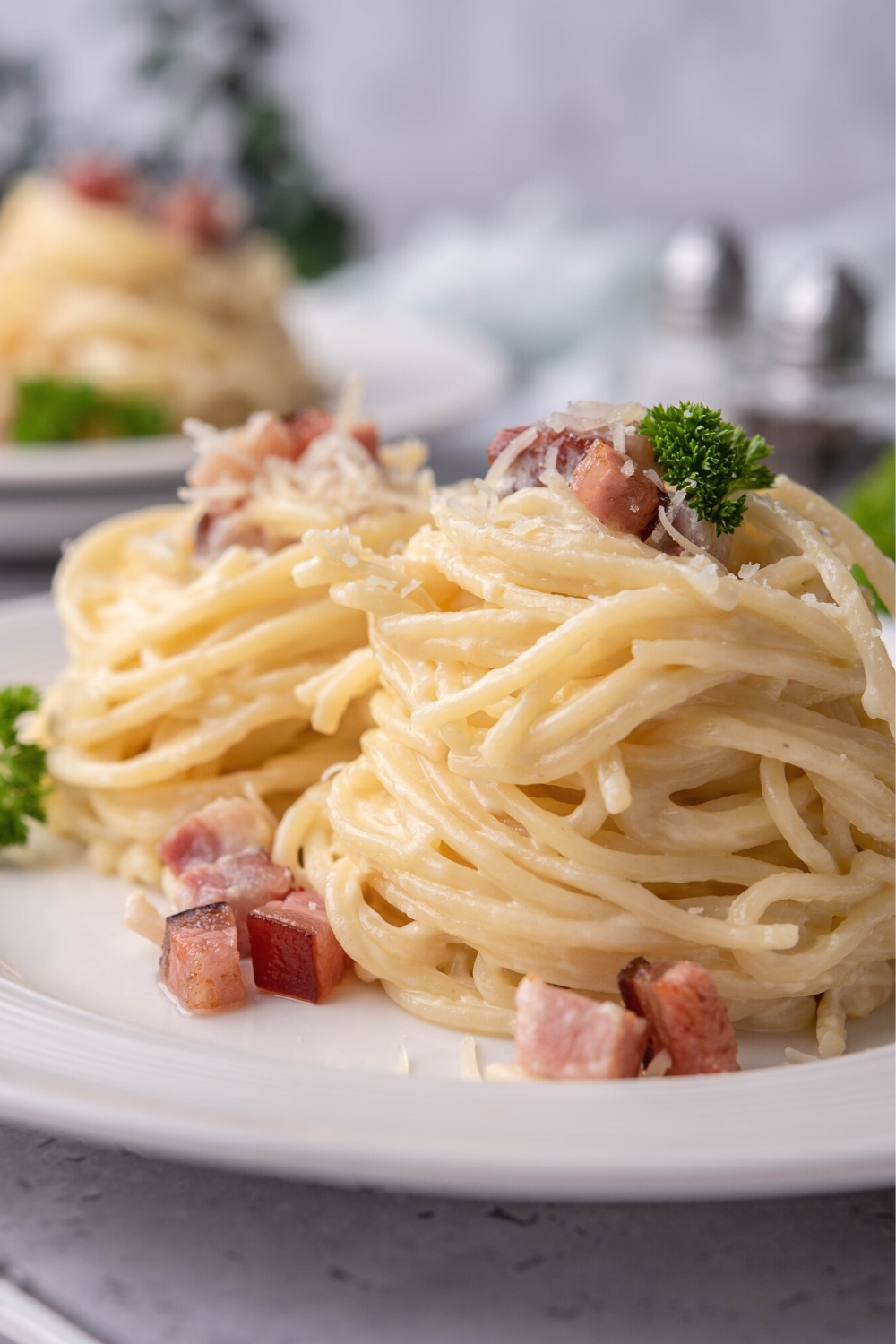 Wrapping It Up
Well, that's how to make creamy carbonara in just a few simple steps!
This has to be one of my all-time favorite pasta recipes. I don't know if it's the parmesan cheese sauce, the crispy pancetta, or that delicious al dente spaghetti, but this recipe really is hard to beat! All I can tell you is that every time I cook it, I swear it tastes better than the last.
Anyway, I hope you enjoy this pasta carbonara recipe as much as I do.
As always, if you give it a try, let me know in the comments what you think.
More Pasta Recipes
If you enjoyed this easy pasta recipe, we have a ton of other delicious pasta recipes on the blog that you can try next:
Here are some reader favorites:
Oh, and as always, make sure to check us out on TikTok, Instagram, and YouTube! We post new recipes on them every day.
Print
The BEST Creamy Carbonara Recipe Made In Just 15 Minutes
This creamy carbonara recipe is so darn delicious and so indulgently creamy. It combines perfectly cooked spaghetti with pancetta, a creamy sauce, and parmesan cheese to create a drool-worthy bowl of Italian pasta. What's even better is that this pasta carbonara takes just 15 minutes to make. It's so fast, so easy, and just so, do delicious too!
Author:
Prep Time:

5 minutes

Cook Time:

10 minutes

Total Time:

15 minutes

Yield:

2

servings

1

x
Category:

Dinner

Method:

Stovetop

Cuisine:

Pasta
8 oz. spaghetti (or desired long pasta)
6 oz. pancetta (or bacon), chopped
2 cups half and half cream
2 egg yolks
1 cup freshly grated parmesan cheese
Salt and black pepper, to taste
Instructions
Cook the pasta according to the package directions. 

In the meantime, cook the pancetta in a skillet over medium heat for 6-7 minutes or until crispy.

 

Transfer the pancetta to a bowl with a slotted spoon and set aside.

Add the half and half cream to the skillet and bring to a simmer.

Whisk in egg yolks and add parmesan cheese.

Simmer until the cheese is melted. Drain the cooked pasta and add it to the skillet with the prepared sauce.

 

Add the cooked pancetta on top and stir gently to coat the pasta with the prepared sauce. Taste and check to see if it needs any salt and pepper.

Plate the pasta and serve.

 
Nutrition
Serving Size:

1 serving

Calories:

435

Fat:

32

Carbohydrates:

12

Protein:

23
Keywords: pasta carbonara, creamy carbonara, creamy carbonara recipe, pasta carbonara recipe, how to make pasta carbonara, how to make creamy carbonara, creamy carbonara recipe Italian style, carbonara recipe with cream, carbonara recipe easy, easy carbonara recipe