This Instant Pot sushi rice is fluffy, springy, and perfectly seasoned. And it's just what you need to make the best sushi, poke bowls, and onigiri at home! All you need are 5 simple ingredients, and the sushi rice is ready in just 15 minutes.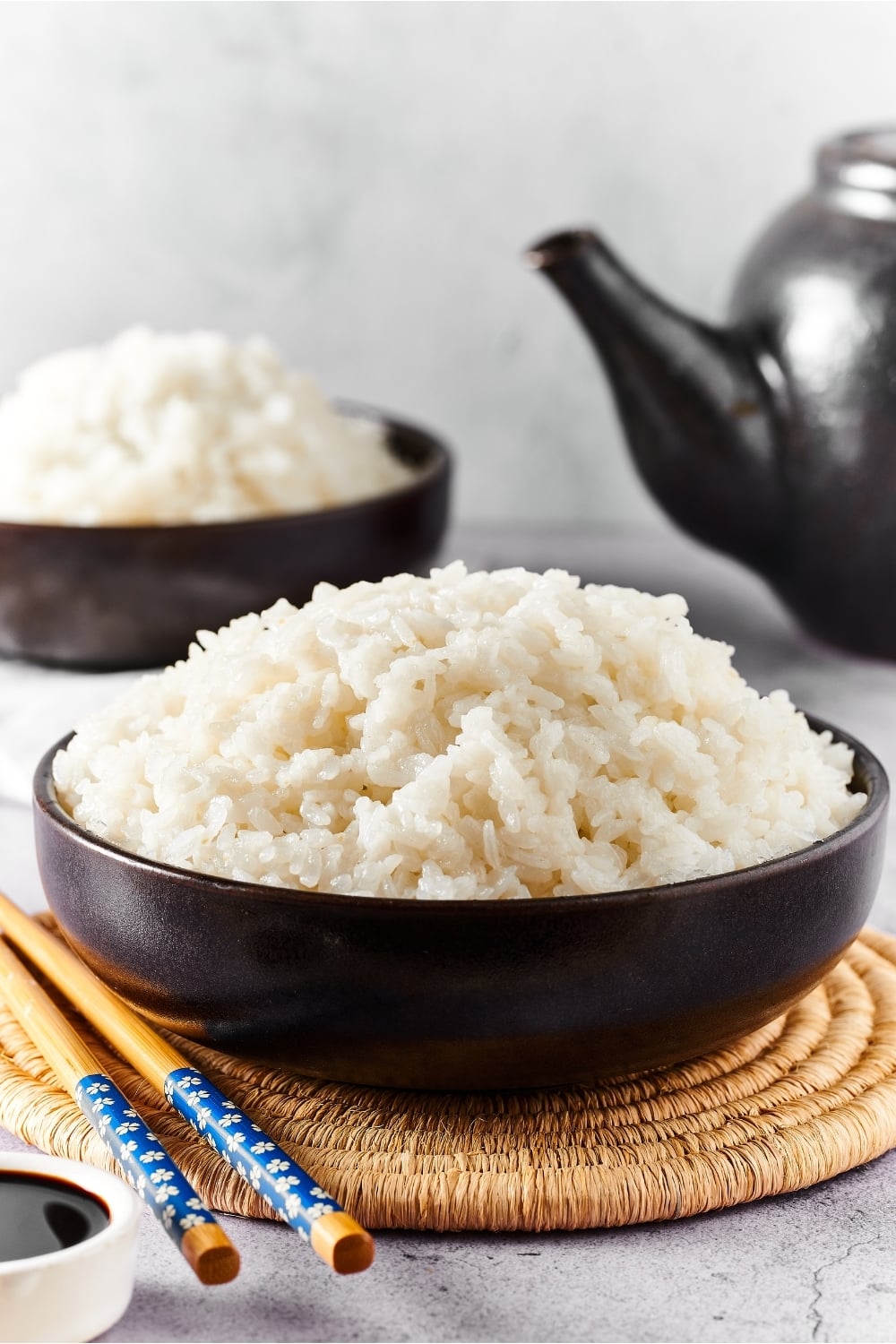 THE BEST INSTANT POT SUSHI RICE
This is the best sushi rice if you want a quick, easy, versatile, and delicious addition to your cooking repertoire.
You can eat it as a side, use it to make sushi, create your own sushi bowls, and so much more.
And it has everything you want in flavorful sushi rice – tender and fluffy grains, a sticky and springy texture, and a subtle savoriness that really brings out the flavor of the other ingredients.
With that said, what I really love is cooking sushi rice only takes 15 minutes in the pressure cooker, and you just need a few simple ingredients.
Not to mention, with this sushi rice Instant Pot creation, you can easily replicate the experience of your favorite Japanese restaurant right in your own home! And you can make this Japanese Curry Recipe to complete the experience.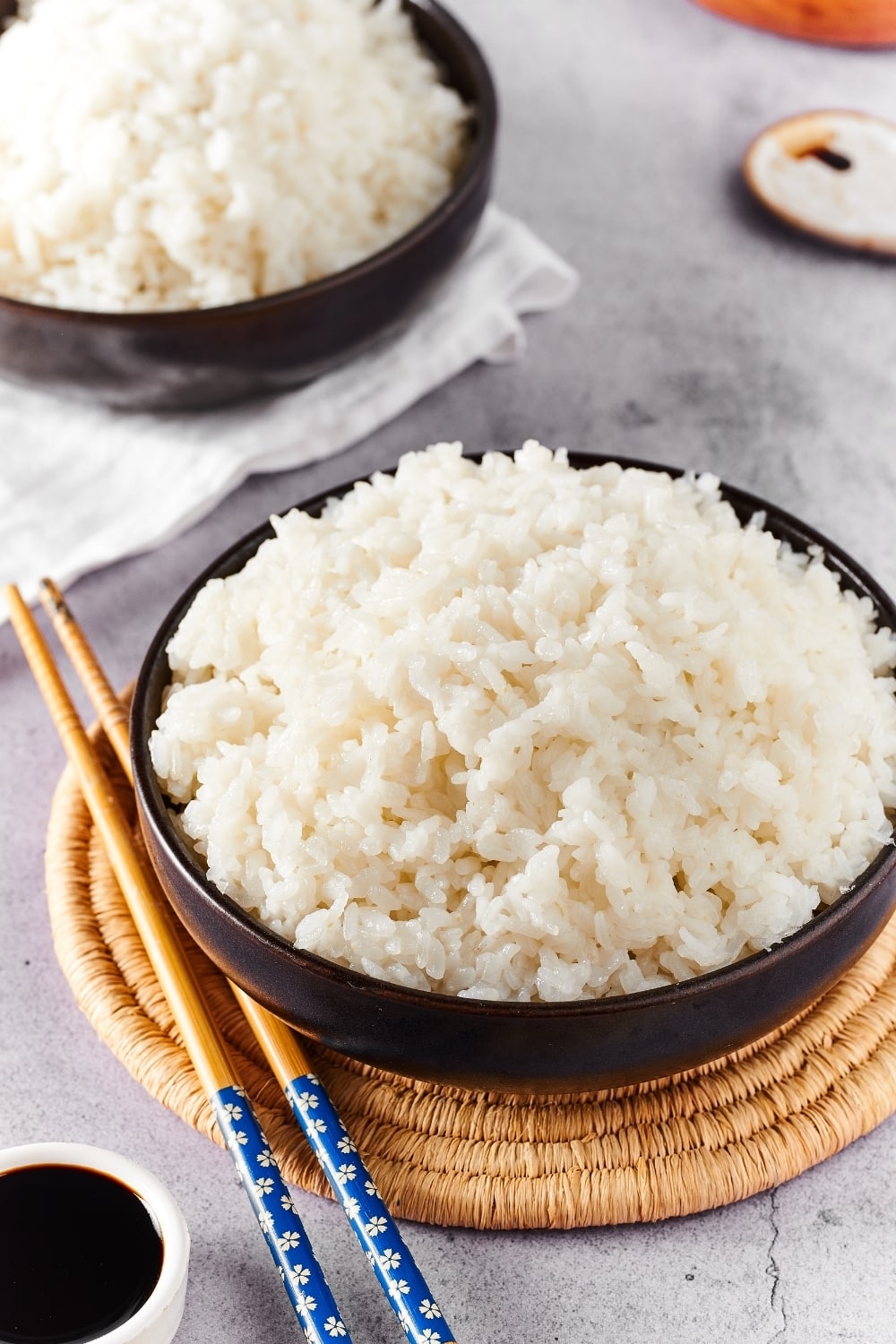 INGREDIENTS FOR INSTANT POT SUSHI RICE
So, there are two main components to this Instant Pot Sushi rice recipe: rice and sushi vinegar.
And the vinegar is what gives this sticky rice that hint of savoriness that really sets it apart from regular white rice.
Check out what you'll need for the rice:
2 cups sushi rice
Just over 2 ¼ cups water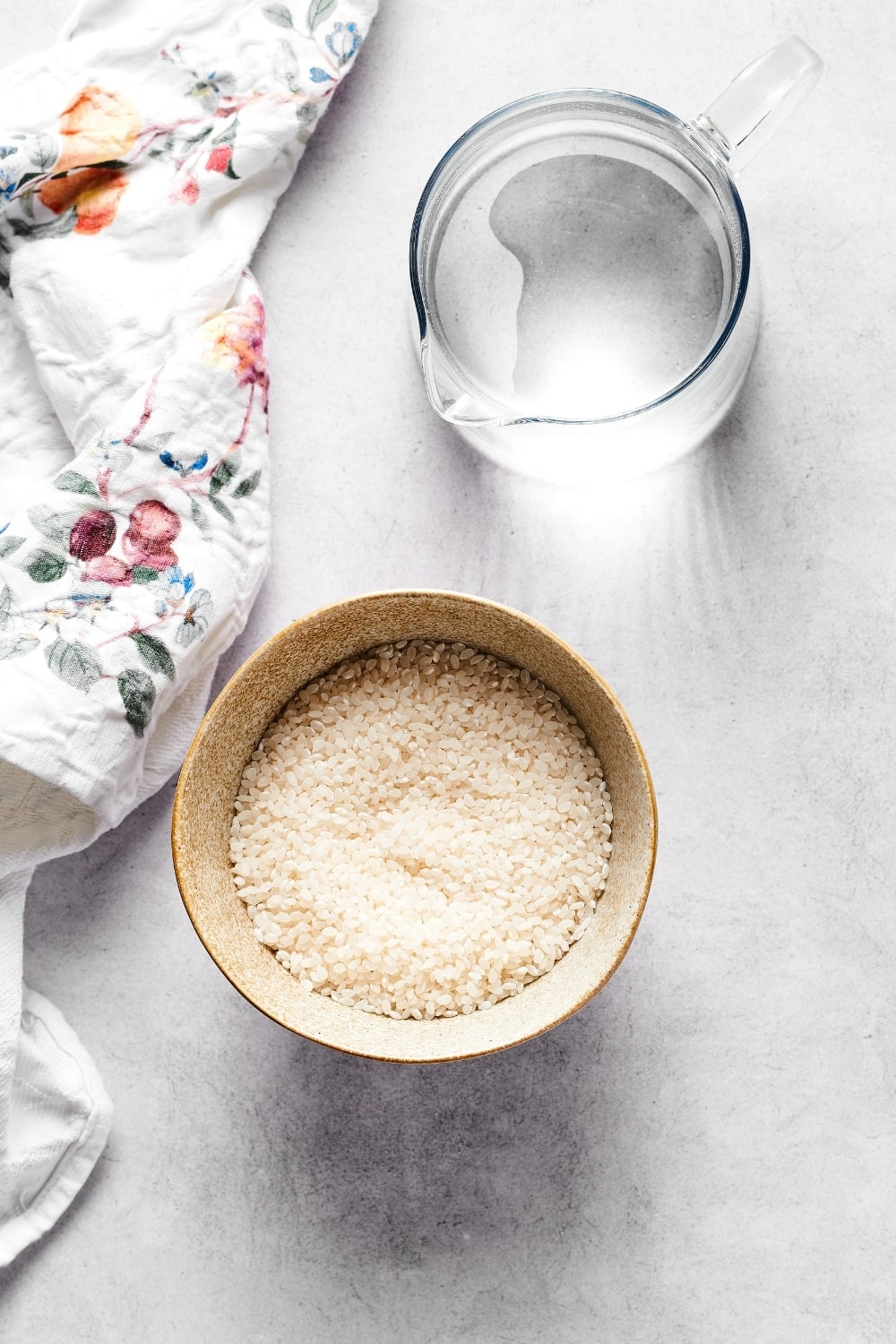 And for the sushi vinegar:
2 tbsp rice vinegar
2 tbsp sugar
1 tsp sea salt
Pretty common stuff, right?
It's crazy just a few ingredients can make such delicious homemade sushi rice! And you can use the sushi rice to make this fried sushi next!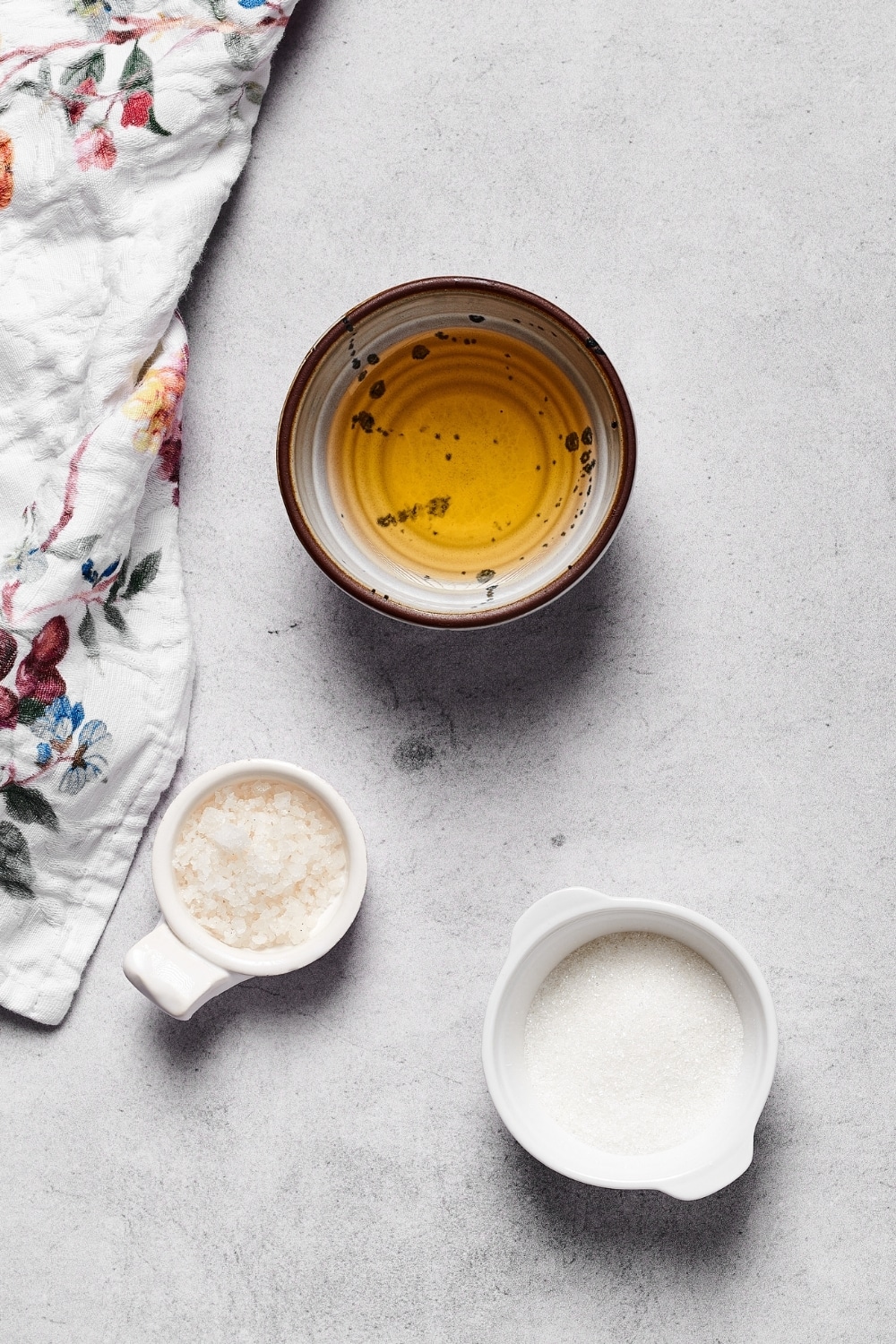 Oh, and by the way, if you want to try some more Instant Pot rice recipes, check out this coconut rice, risotto, and Spanish rice next!
THE BEST RICE FOR SUSHI RICE
When choosing your rice, find the white rice labeled "sushi rice."
It usually is a short-grain Japanese rice, but some places have it as medium-grain California rice.
For the best results, you'll want to avoid long-grain rice or whole grain rice because they won't have the same texture and stickiness that you need for this recipe.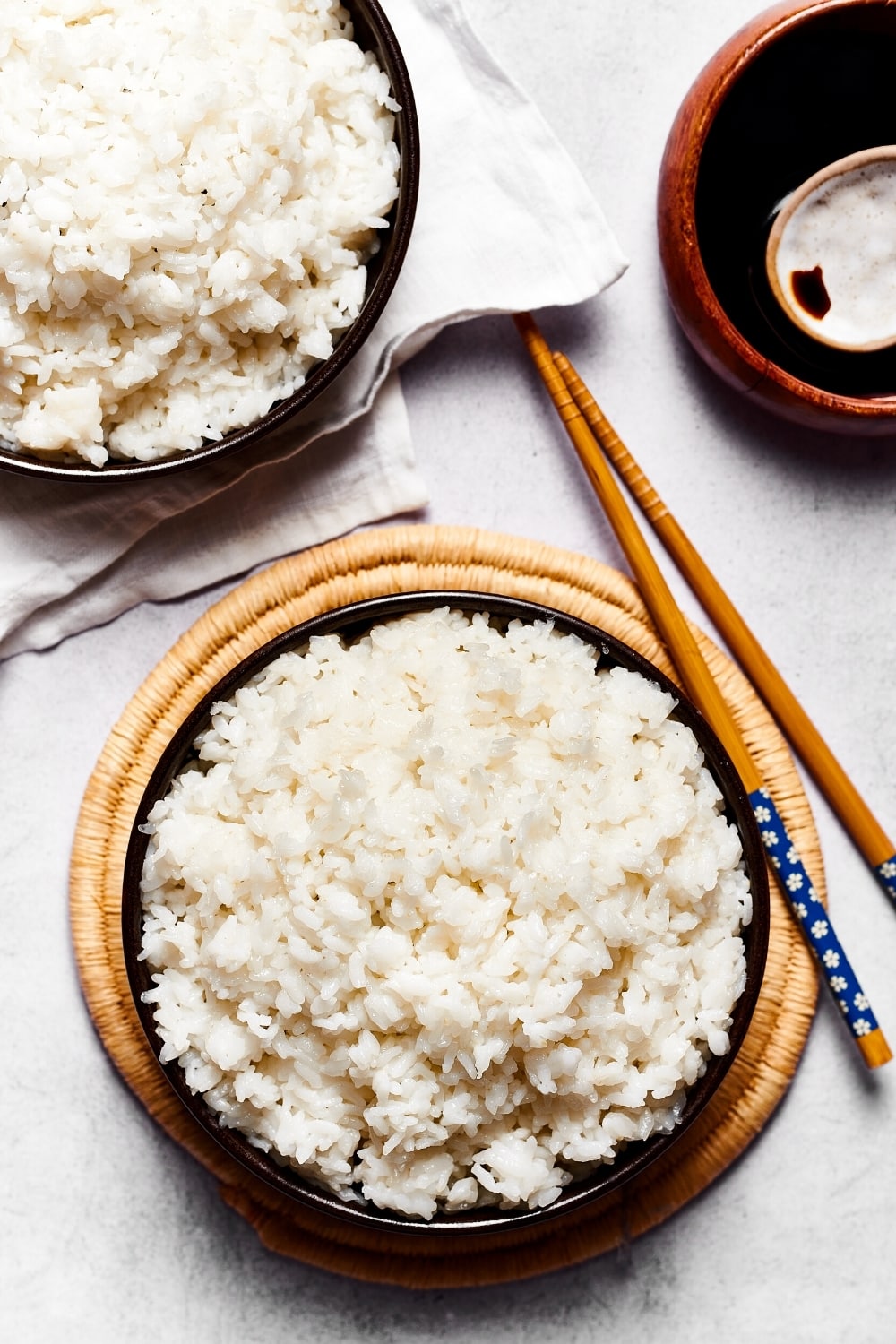 HOW TO MAKE INSTANT POT SUSHI RICE
Once again, the process of making sushi rice couldn't be any easier to make.
All you have to do is make the sushi vinegar and let the pressure cooker do its thing. And if you have a rice cooker, you can also use that instead.
So if you're ready to whip us this recipe, let's get to it!
STEP 1: COOKING THE RICE
The first thing you'll want to do is rinse your sushi rice a few times until no more starch comes out from the water.
And to do that, place your rice in a mesh strainer and wash until the water passing through becomes clear. Or you can rinse rice in a bowl about 5 or 6 times, using clean water each time.
Next, transfer your washed rice to the Instant Pot along with the water, and set it to the "rice" function - on my Instant Pot, the automatic time set by this function to pressure cook for 9 minutes.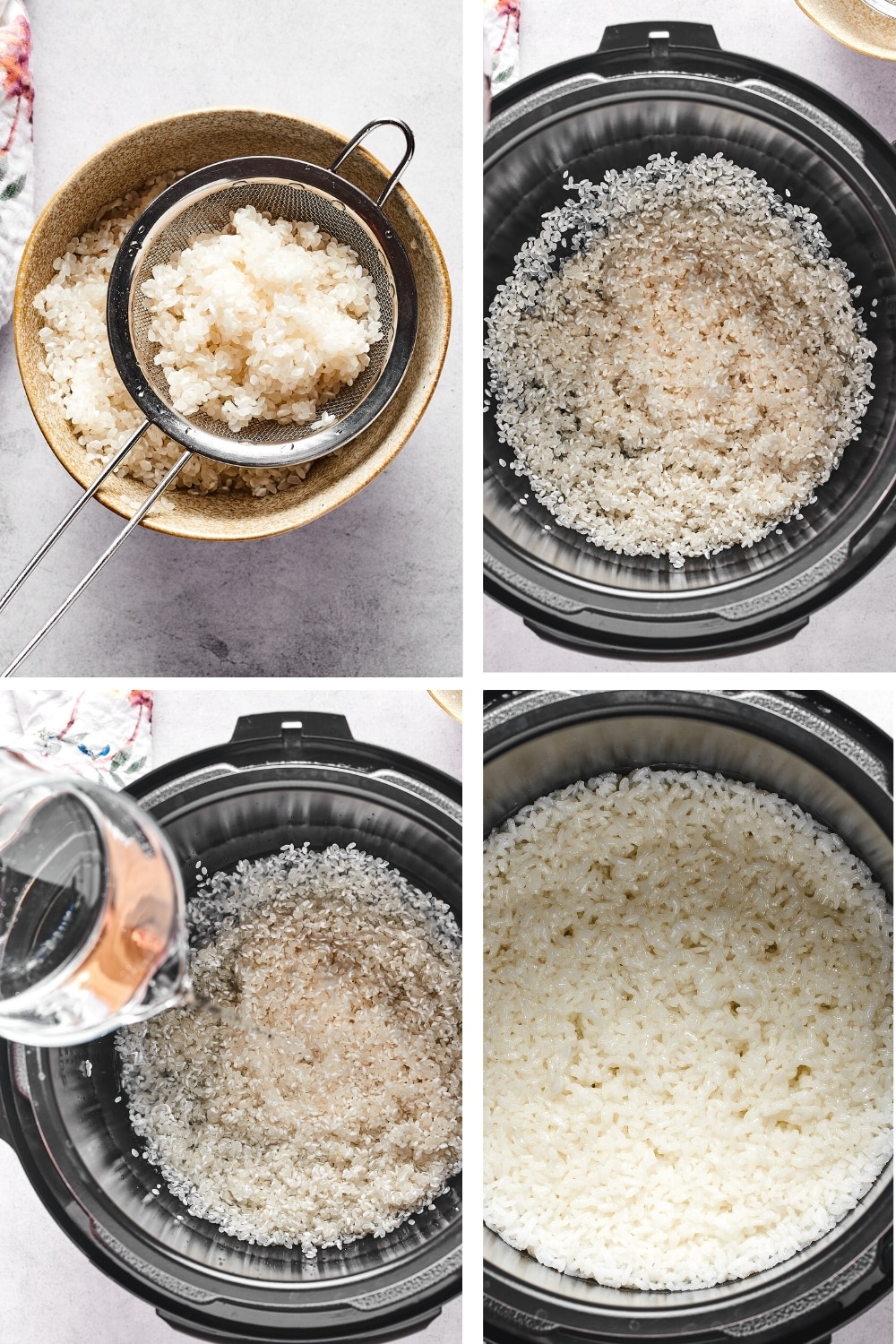 STEP 2: MAKING THE SUSHI VINEGAR
While you're waiting for the rice to cook, you can get started on the vinegar.
First, add the rice vinegar, sugar, and sea salt to a small bowl and mix until well combined.
And if you're having any trouble dissolving the sugar, you can place the bowl in a bigger one filled with hot water to warm the mixture up a little.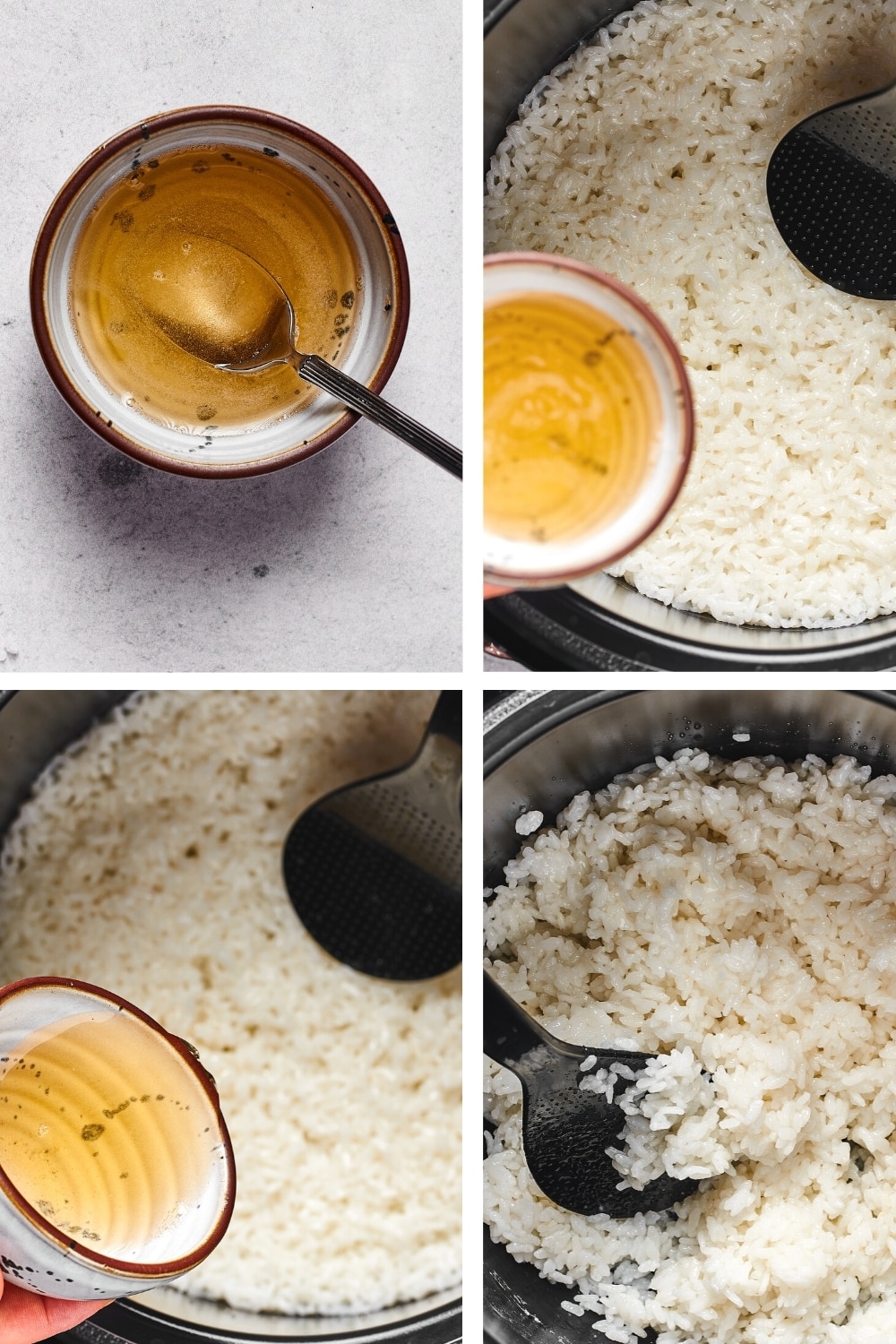 STEP 3: SEASONING THE RICE
Once you pressure cook the rice, pour the sushi vinegar over it while the rice is still hot.
Then, quickly mix the rice a few times with a spatula or wooden spoon to thoroughly coat it with the vinegar. And be careful not to smash the rice as you do this - you want to do a kind of cutting motion across the rice with your spatula, then gently fold it over and repeat.
Next, cover the perfectly cooked rice with a clean damp cloth to prevent it from getting too dry, and let it cool to room temperature.
After it cools, use this perfect sushi rice for whatever you want and enjoy!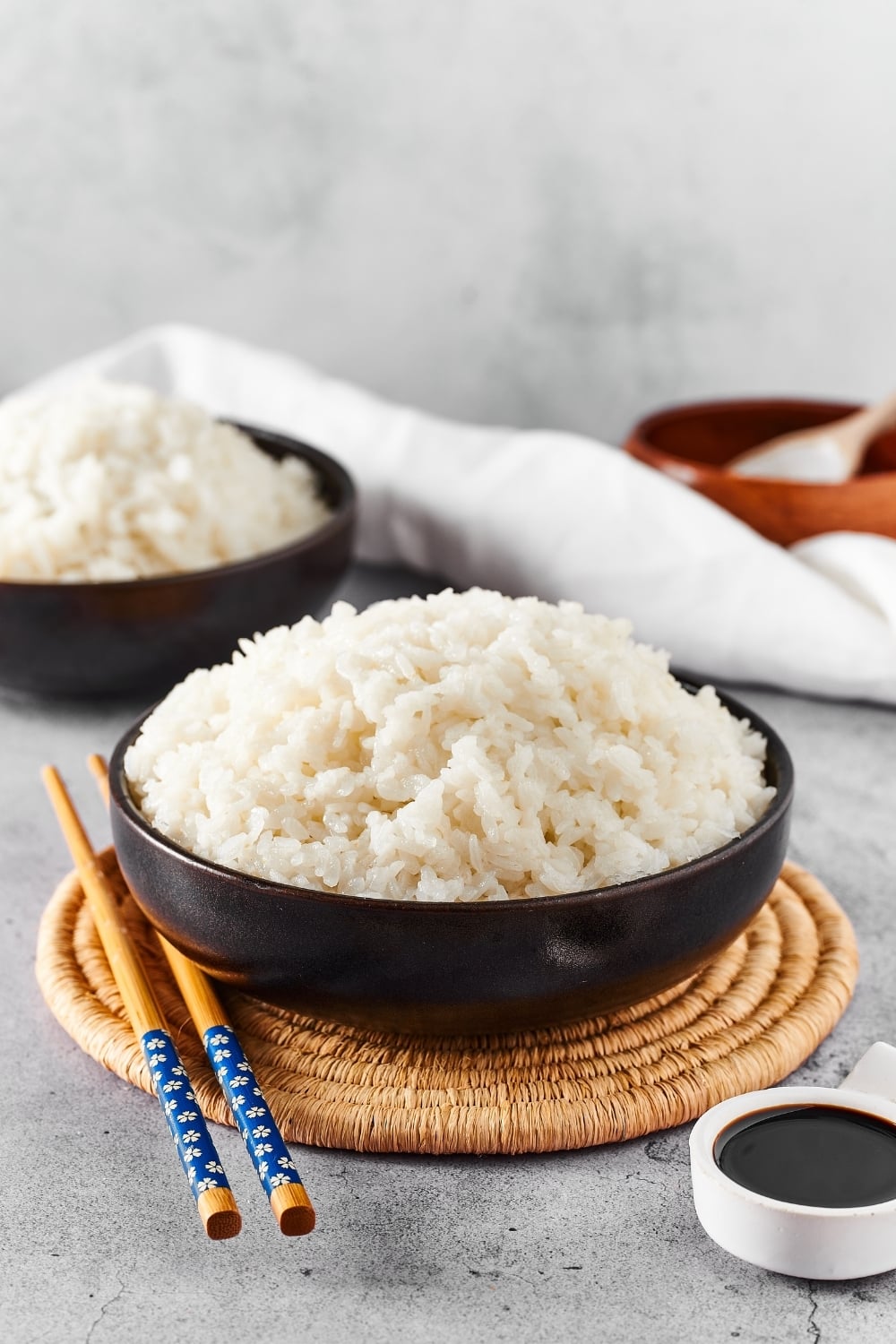 What To Serve With Sushi Rice
This Japanese rice will help you make some killer sushi rolls and onigiri, but there are a ton of other things you can make with it too.
But, if you are making sushi rolls or onigiri, dip your hands in a bowl of cold water to prevent the rice from sticking to your hands while you work.
Ok, so you can use the hot rice as a base for poke bowls, bibimbap, or even add it to a stir fry.
And you can also use it as a side dish - here are some of my favorite recipes to pair it with: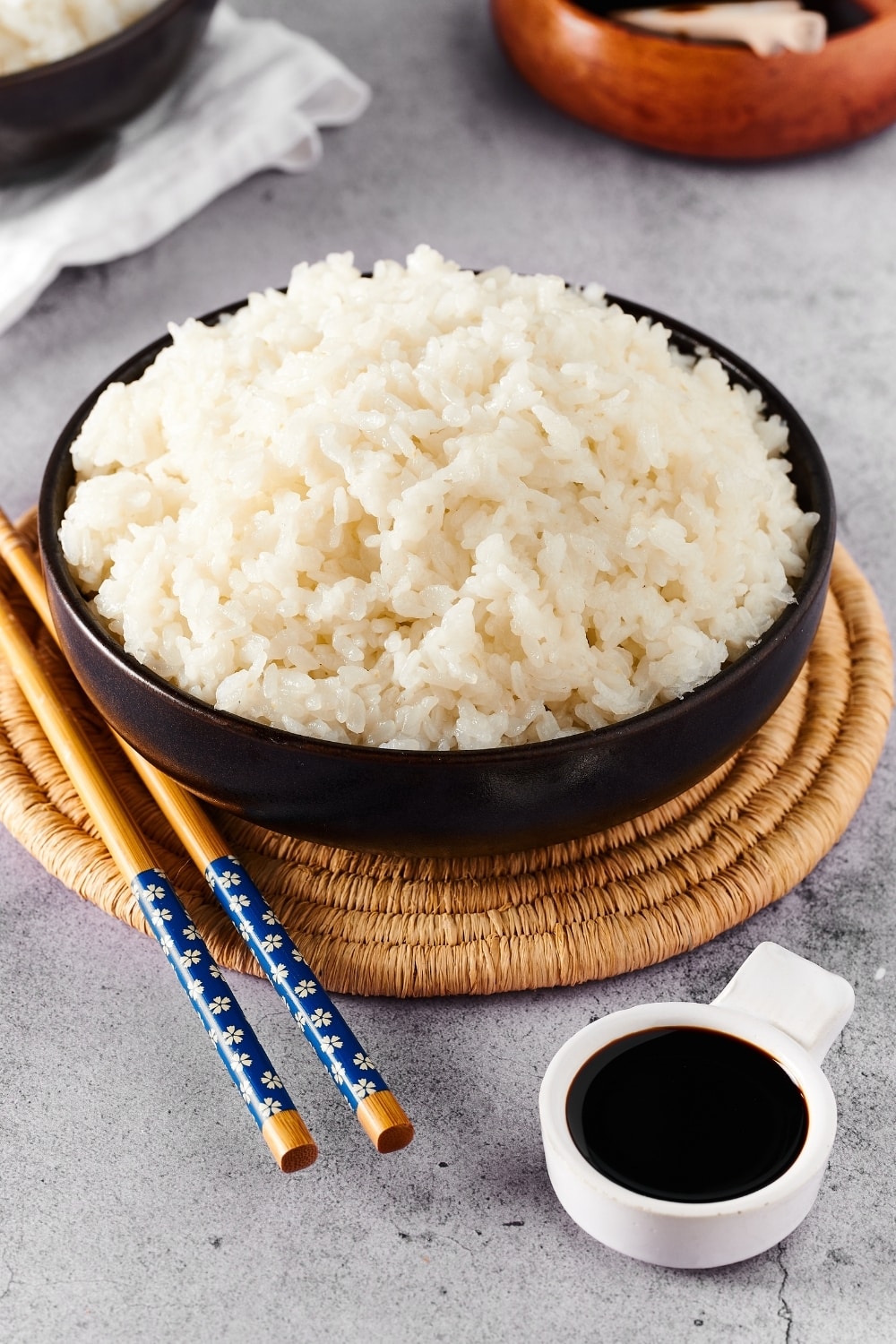 HOW TO STORE SUSHI RICE
This recipe for sushi rice makes about 3 or 4 servings - perfect for creating anything I listed above or pairing it with one of those recipes for a family dinner.
Now, this pressure cooker sushi rice is best eaten the day you make it because the texture changes, and it can lose some of its fluffiness when refrigerated.
But since this rice in Instant Pot comes together so quickly and is made with just a few pantry staples, you can always make a fresh batch!
With that said, however, you can store your leftover rice in an airtight container, and it will stay good in the fridge for up to 4 days.
FAQS About This Sushi Rice Recipe
Do you have to rinse sushi rice?
Yes, you have to rinse sushi rice. Just rinse the rice in a fine mesh sieve under cold water for a minute or so until the water becomes clear and the rice has no more excess starch.
What is sushi rice?
Sushi rice is a white short grain rice that is coated in seasoned rice vinegar, sugar, and salt. It's slightly sticky rice that holds its shape really well, so the cooked rice is perfect for things like this salmon sushi bake or homemade sushi rolls.
What does vinegar do to rice?
The vinegar is what gives the rice its unique sticky texture and subtly sweet flavor that allows you to cook perfect sushi rice.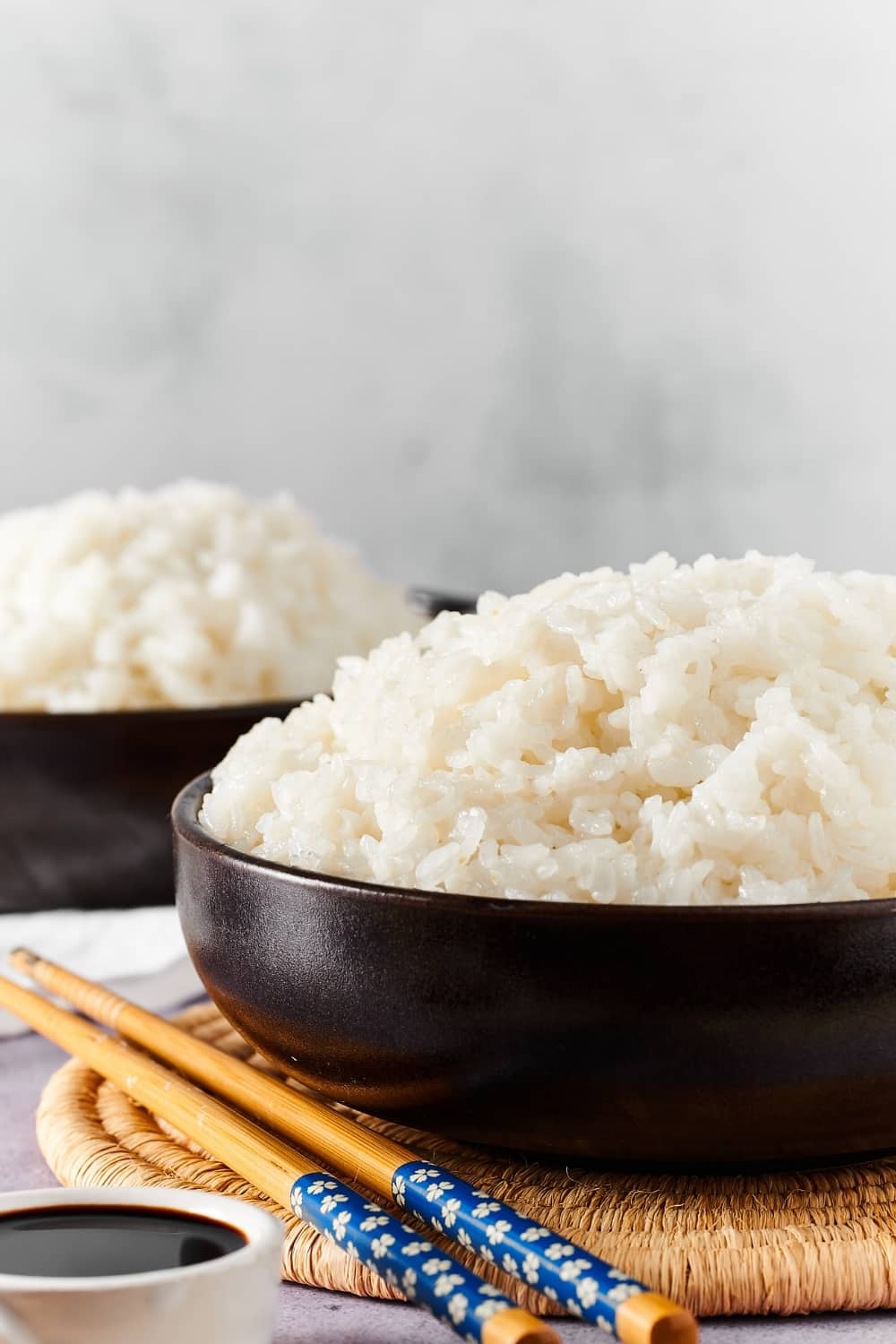 WRAPPING IT ALL UP
This Japanese rice is an incredibly versatile side dish that can transform a simple dinner into a restaurant-quality meal.
You can use it for sushi, sushi bowls, a stir-fry, or as a side dish for almost anything.
And after you try this pressure cooker recipe, you'll see that cooking rice has never been easier or more delicious!
I hope you enjoy this Instant Pot sushi rice recipe as much as I do. If you make it, be sure to let me know in the comments how it went!
MORE INSTANT POT RECIPES
If you like this Instant Pot recipe and are looking for more delicious recipes, we have a ton on the blog!
Give one of these pressure cooker recipes a try next:
Yield: 3 servings
Instant Pot Sushi Rice In Just 15 Minutes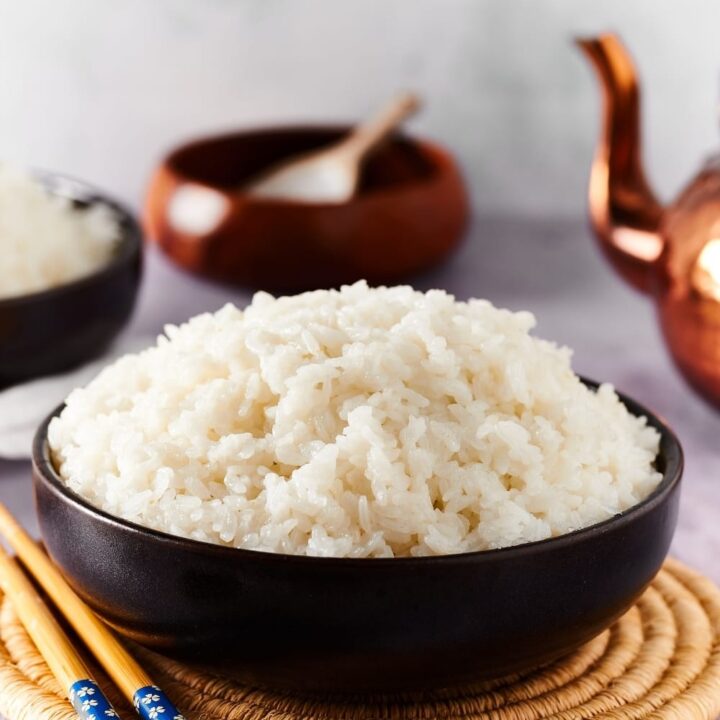 This instant pot sushi rice is fluffy, springy, and perfectly seasoned. It's just what you need to make the best sushi, poke bowls, and onigiri at home! All you need are 5 simple ingredients, and the sushi rice is ready in just 15 minutes. 
Instructions
Rinse the rice a few times in a strainer until the water becomes clear.

Place the rice in an instant pot or rice cooker and add the water.

Set your instant pot or rice cooker to the "rice" function (my automatic time set by this option is 9 minutes).

While the rice cooks, prepare the sushi vinegar. Mix the rice vinegar, sugar, and salt in a bowl until combined. Gently heat if needed to dissolve the sugar.

Once the rice is cooked, pour the sushi vinegar over the rice while the rice is still hot, and quickly fold the rice with a spatula (be careful not to smash the rice, use more of a cutting motion)

Let the rice cool at room temperature and place a moistened cloth over it to avoid getting dry.

Shape the rice for sushi or enjoy it however you want.
Notes
The scale up function does not change the gram measurements.
Nutrition Information:
Serving Size:
1 serving
Amount Per Serving:
Calories:

186
Total Fat:

0.3g
Saturated Fat:

0g
Trans Fat:

0g
Unsaturated Fat:

0g
Cholesterol:

0mg
Sodium:

0mg
Carbohydrates:

42g
Fiber:

0g
Sugar:

0g
Protein:

3g