This Crumbl Cookies recipe makes the most buttery soft and chewy sugary cookies! Seriously, these cookies are so addicting! The texture of the cookie combined with the sweetness of the frosting will have you head-over-heels in love with this copycat Crumbl cookies recipe. And the best part is they only take about 10 minutes to prepare!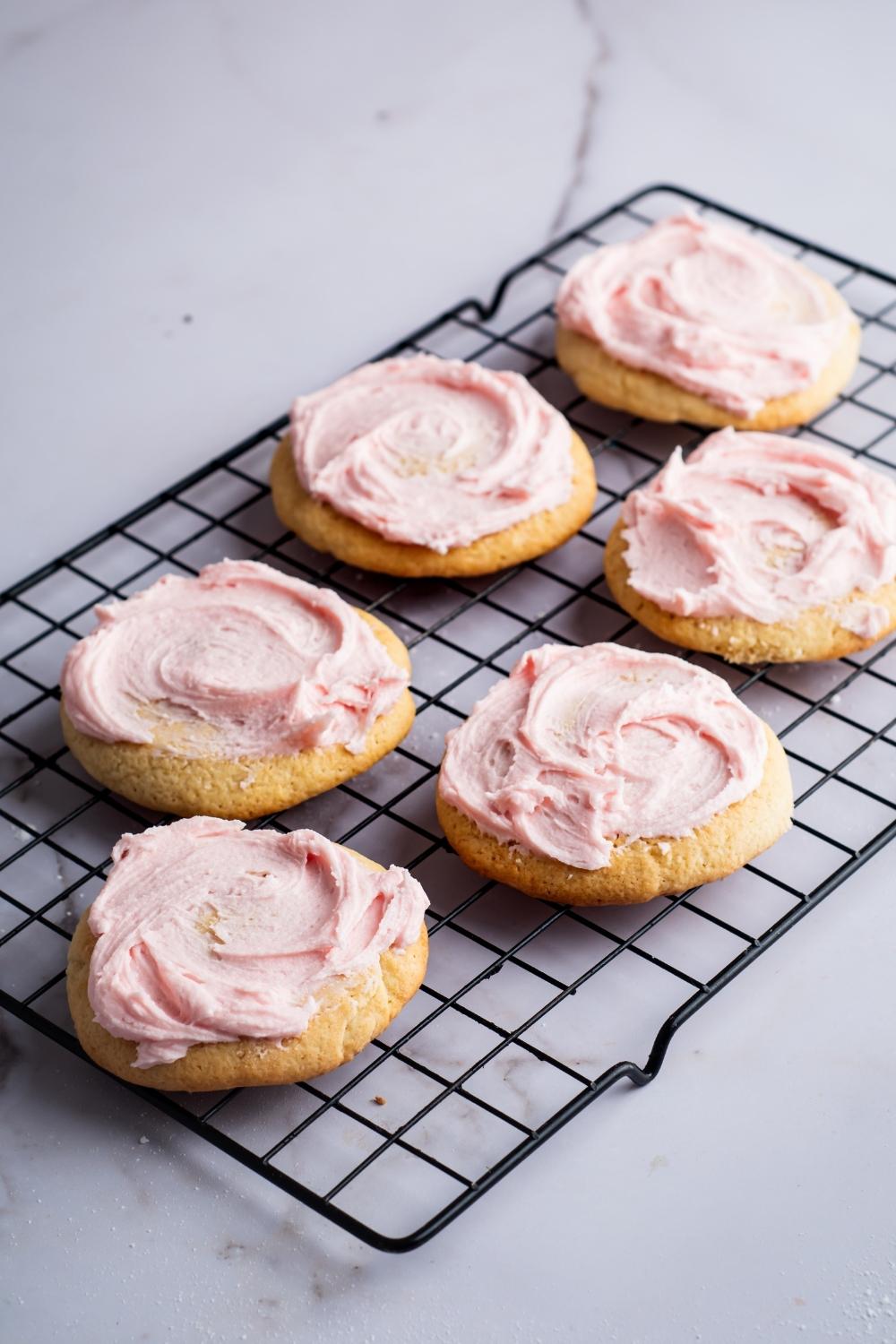 THE BEST CRUMBL COOKIES RECIPE
With Crumbl Cookies taking their iconic pink sugar cookie off the weekly menu, they've left us to fend for ourselves. And if you've ever been to the popular cookie chain and tasted one of these cookies, you know how darn good they are.
Luckily, you can recreate the popular Crumbl sugar cookie thanks to this copycat recipe! And this chilled sugar cookie recipe is about as spot-on as it gets. Seriously, they taste just like the ones from the Crumbl bakery!
The cookies are ultra soft and buttery with a sweet and sugary flavor, and then the icing on top adds another flavor element that ties everything together. Honestly, the sweet almond icing that is the signature part of these cookies is so good, that you'll want to just eat it with a spoon! Atleast that's always what I want to do.
Now, I know you might be thinking that this recipe has to be super complicated to make since the results are so incredible. But, the truth is that this chilled sugar cookie recipe is actually super easy to make!
In fact, in under 30 minutes, you'll have about 8-10 cookies ready to devour.
Oh, and this recipe is perfect as an activity for kids! You can add some food coloring to the icing, make batches of different colors, and have them decorate the cookies.
By the way, if you like Crumbl Cookies, you have to try this recipe for the iconic oatmeal cookies with chocolate chips, peanut butter chips, and toffee bits. I think it's one of the best Crumbl Cookie copycat recipes. And I think they're even better than the classic milk chocolate chip cookies that Crumbl has.
Anyway, I know by now you can't wait to make this recipe, so let's move on to the ingredients to make these delicious chilled sugar cookies.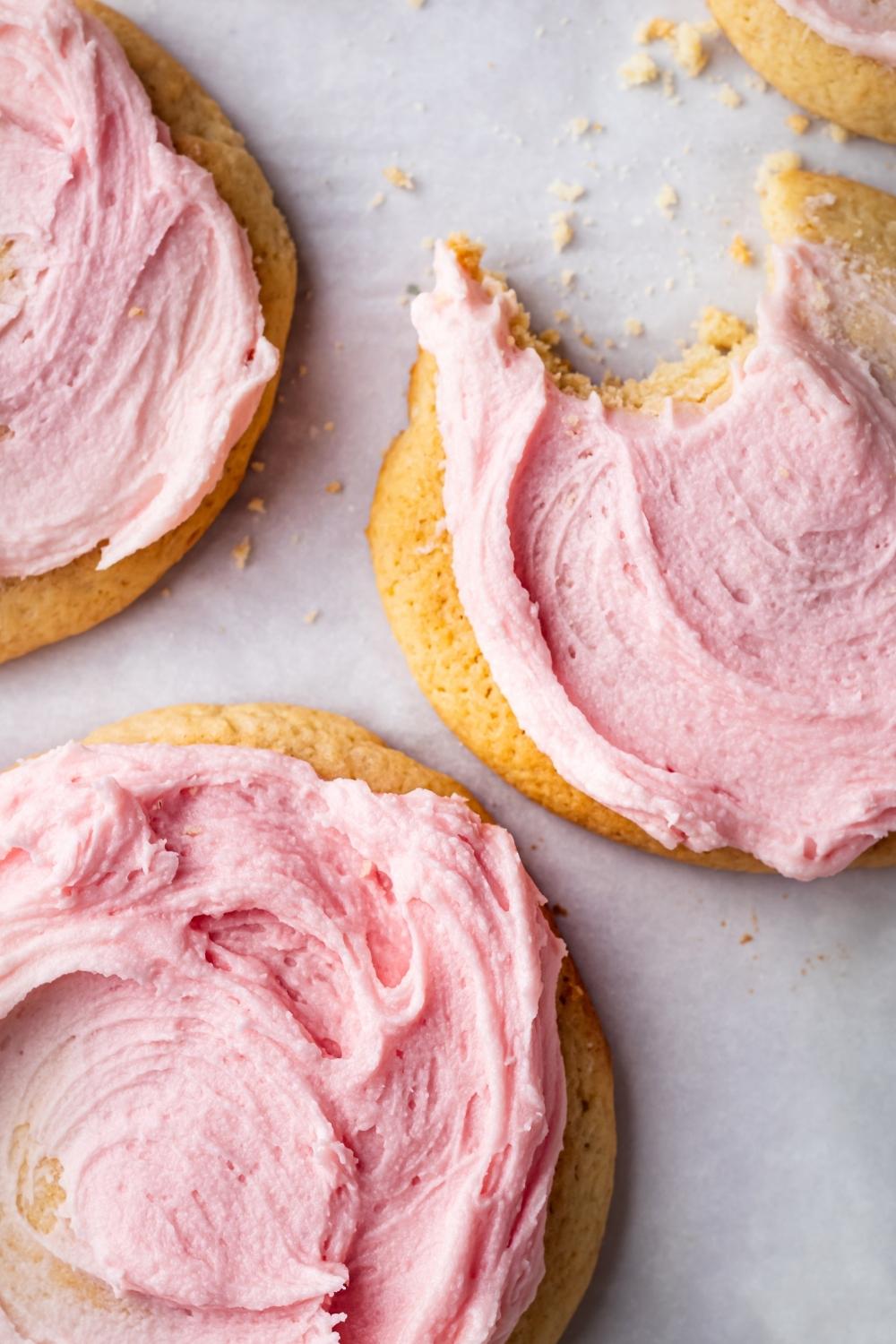 Ingredients
The ingredients to make these copycat Crumbl cookies are no different than the majority of cookie recipes. And if you're a regular baker, I guarantee you have most - if not all - of the ingredients below to make this copycat recipe.
Here's what you'll need to make the Crumbl chilled sugar cookie:
1 cup salted butter
1 cup granulated sugar
2 eggs
1 tsp vanilla extract
½ tsp almond extract
3 cups all-purpose flour
2 tsp baking powder
And to make the sweet almond icing, you need:
½ cup salted butter softened
3 cups powdered sugar
1 tsp almond extract
1-3 tbsp milk
Now, the secret ingredient that is used to make these copycat Crumbl cookies is the almond extract.
And I know you might be thinking that you don't want these chilled sugar cookies to have an almond flavor, but trust me, they don't! The almond extract adds a subtle flavor that blends really well with everything else in the cookies.
But, of course, if you are allergic to almonds, you can just replace them with vanilla extract, and these soft cookies will be just as delicious!
By the way, you can use a lot of the ingredients in this recipe to make these M&M sugar cookies and this edible sugar cookie dough next!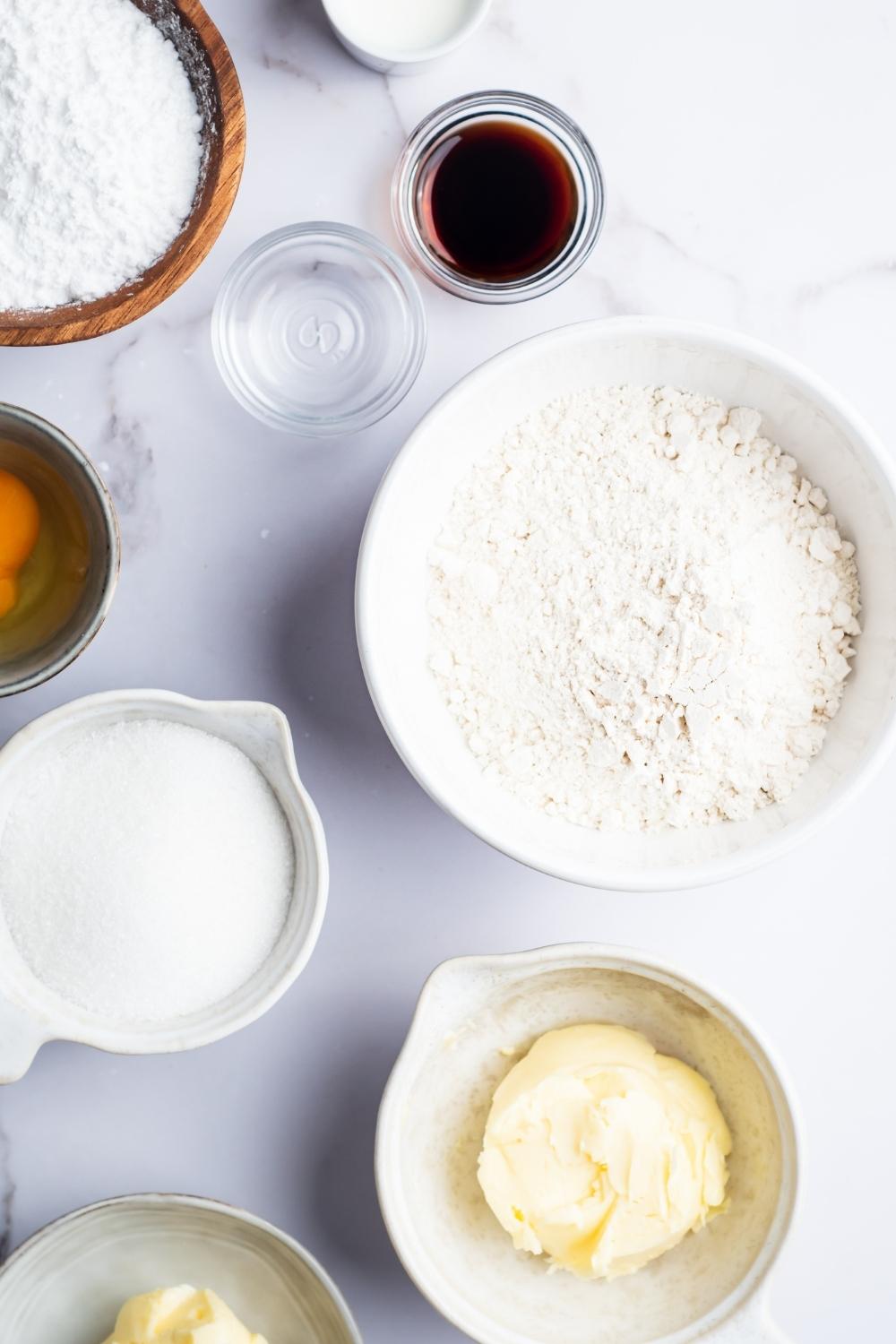 How To Make Copycat Crumbl Cookies
As I eluded to earlier, this Crumbl chilled sugar cookie recipe isn't particularly hard to make.
Honestly, it's about as easy as any basic cookie recipe that you've made in the past, so I know that you'll nail this recipe.
By the way, this recipe Crumbl sugar cookie recipe will make about 8-10 cookies. So, if you want to make more, just double or triple the ingredients to make some more delicious cookies!
Now, let's not waste any more time and make this Crumble Cookie recipe.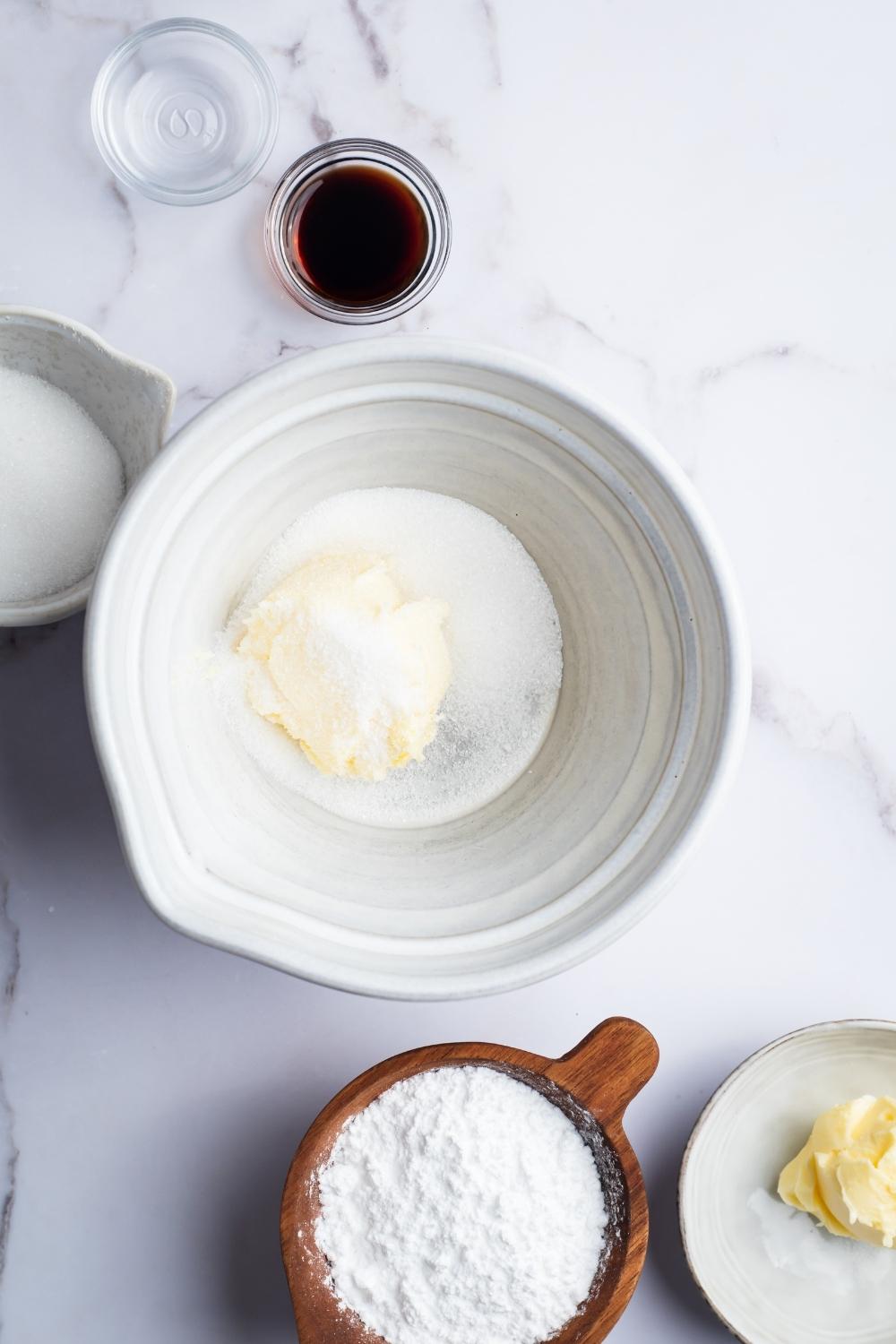 Step 1: Combining The Butter and Sugar
To start, preheat the oven to 350ºF (180°C), and then line a cookie sheet - or two - with parchment paper.
Next, cream the unsalted butter and granulated sugar with an electric mixer - or stand mixer - until it's light in color, and the consistency looks soft and fluffy. And make sure you cream these two ingredients together, it's a necessary step to get the cookies super soft.
Oh, also, a pro tip is to leave the butter out at room temperature about 10 minutes before you start making the cookies, so it's easier to combine with the sugar.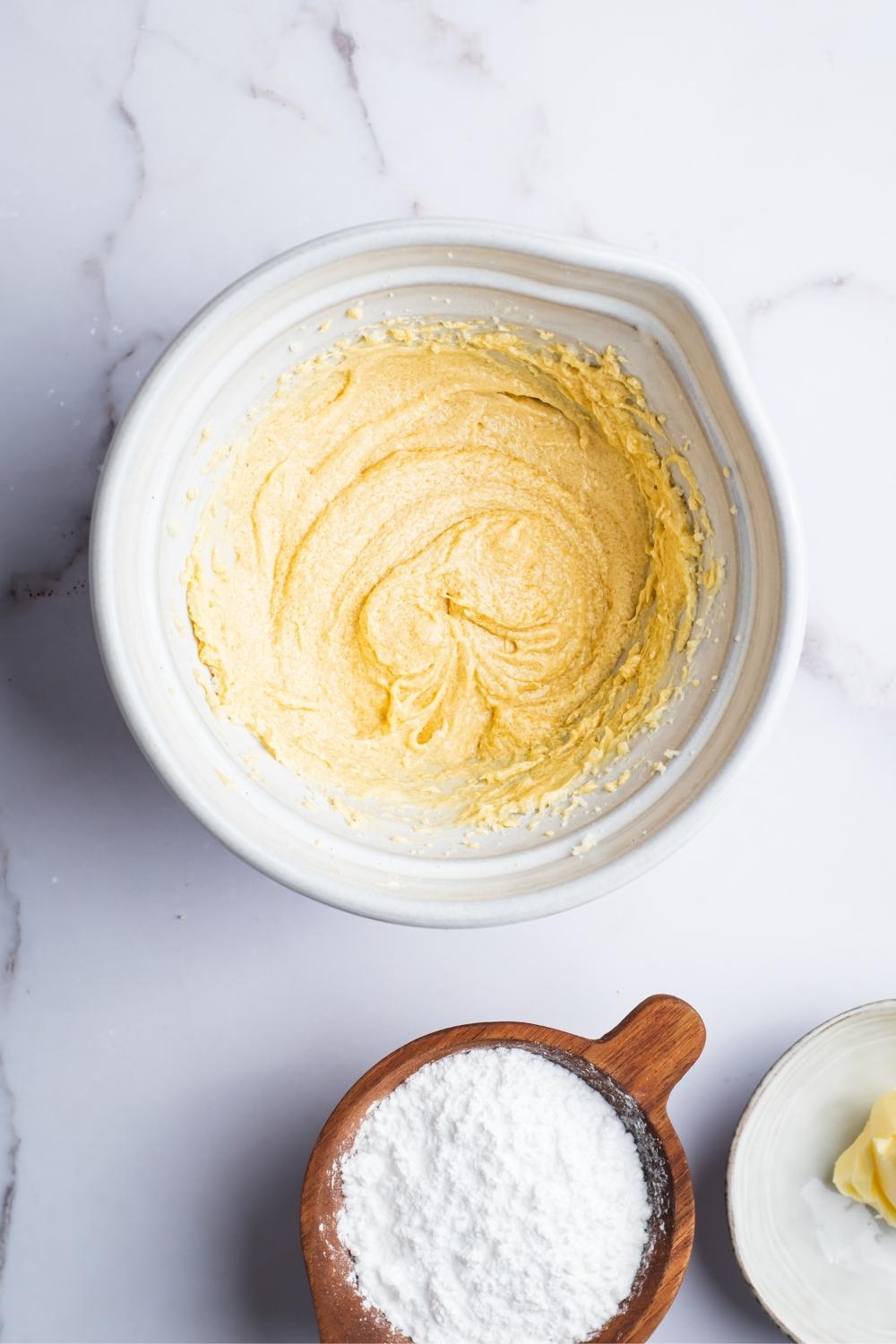 Step 2: Adding The Wet Ingredients
After the butter and sugar have been creamed, add the eggs, vanilla extract, and almond extract. Then, mix everything together for a couple more minutes until fully combined.
Now, make sure you do not overbeat the ingredients, you don't want the butter to get too warm.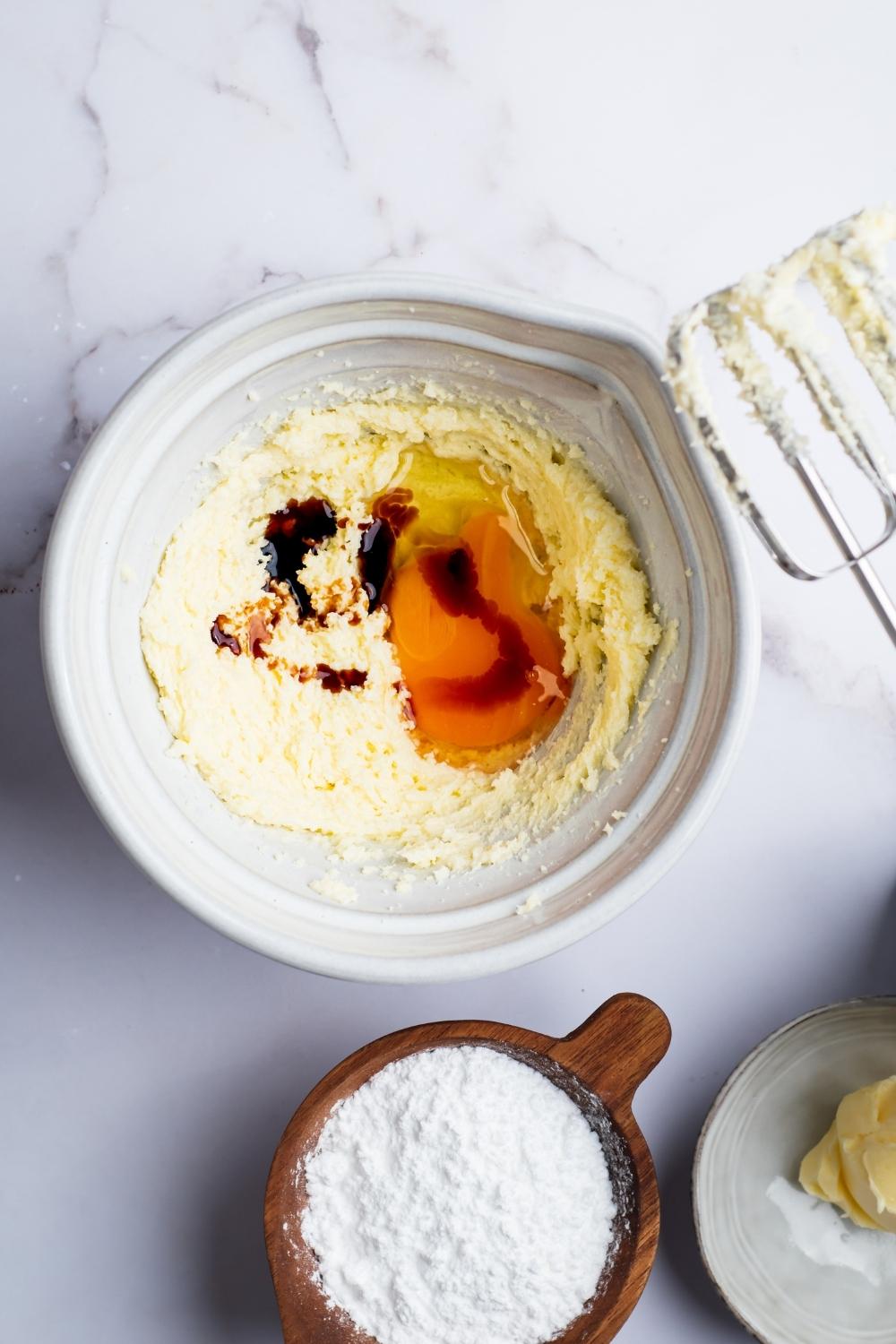 Step 3: Adding The Dry Ingredients
Once the wet ingredients are combined, add the flour and baking powder to the bowl.
Now, this part is a little tricky so be patient - you'll want to mix the flour mixture with a wooden spoon or rubber spatula until there are just no streaks left. And be sure not to mix past when they combine - overmixing the flour mixture can make your cookies harder.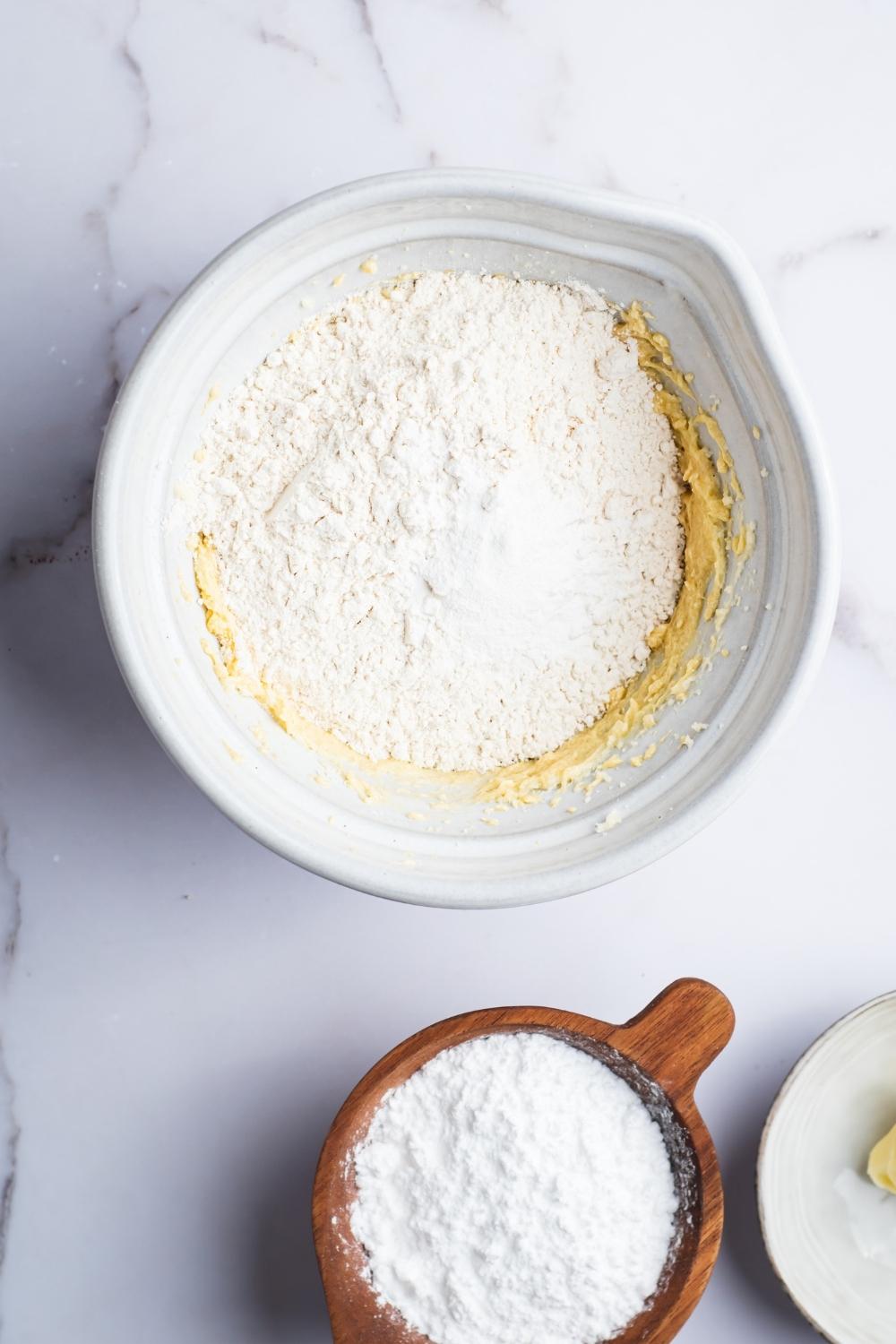 Step 4: Baking The Cookies
Now that you have the dough, divide it into 8-10 cookie dough balls, depending on how big you want to make the cookies.
Then, arrange the cookies on the parchment paper prepared cookie sheet, and make sure to leave a little space between each one.
Next, bake the cookies for about 8-10 minutes until each copycat Crumbl cookie is golden brown and baked to your desired doneness.
Once they're baked, transfer the cookies to a wire rack and let them cool completely.
Now, while those cool, you can make the icing.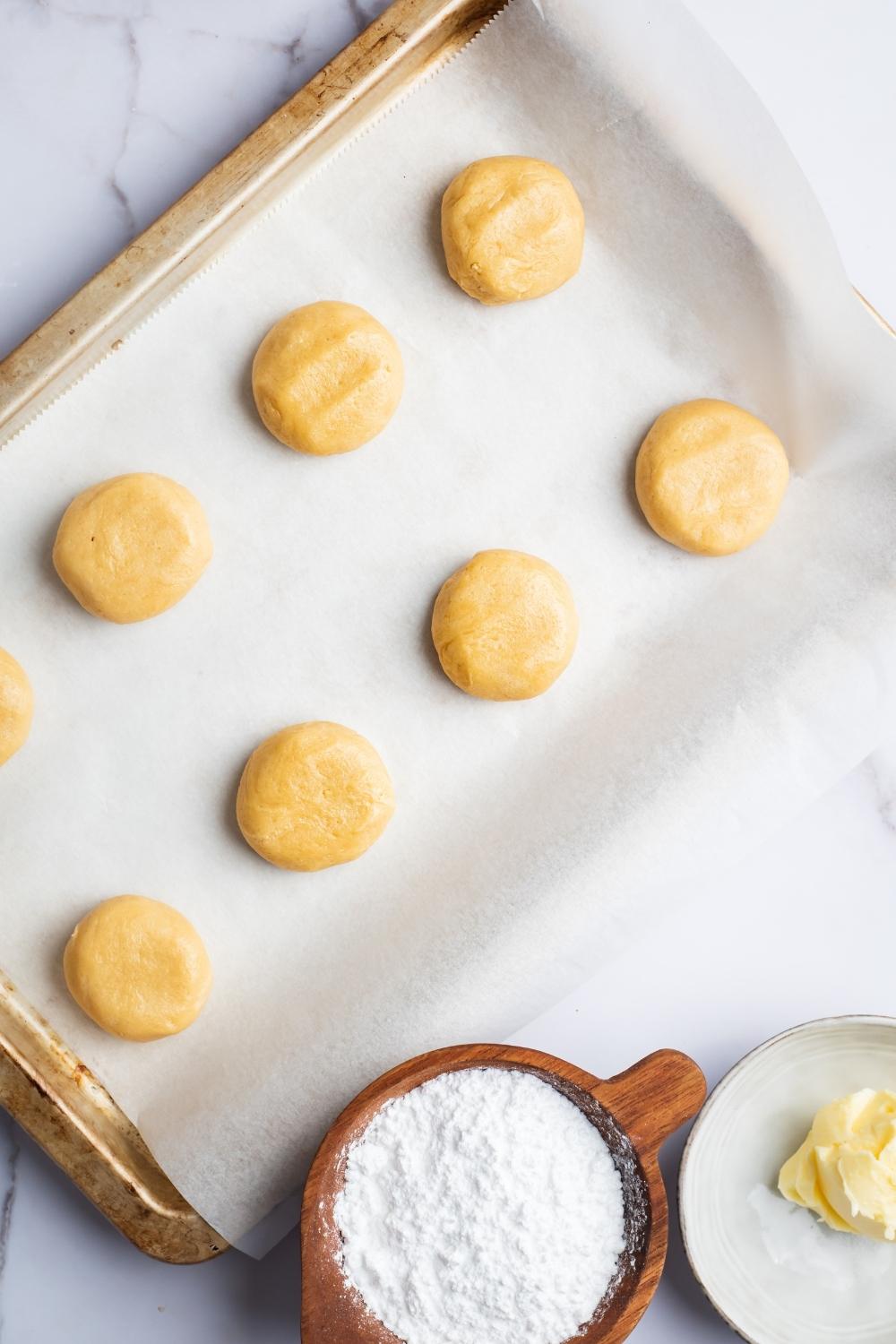 Step 5: Making the Frosting
Ok, now it's time for the sweetest step, making the icing!
To make the icing, add the salted butter, powdered sugar, almond extract, and milk to a medium-sized bowl. Then, just mix everything until an icing/frosting consistency forms.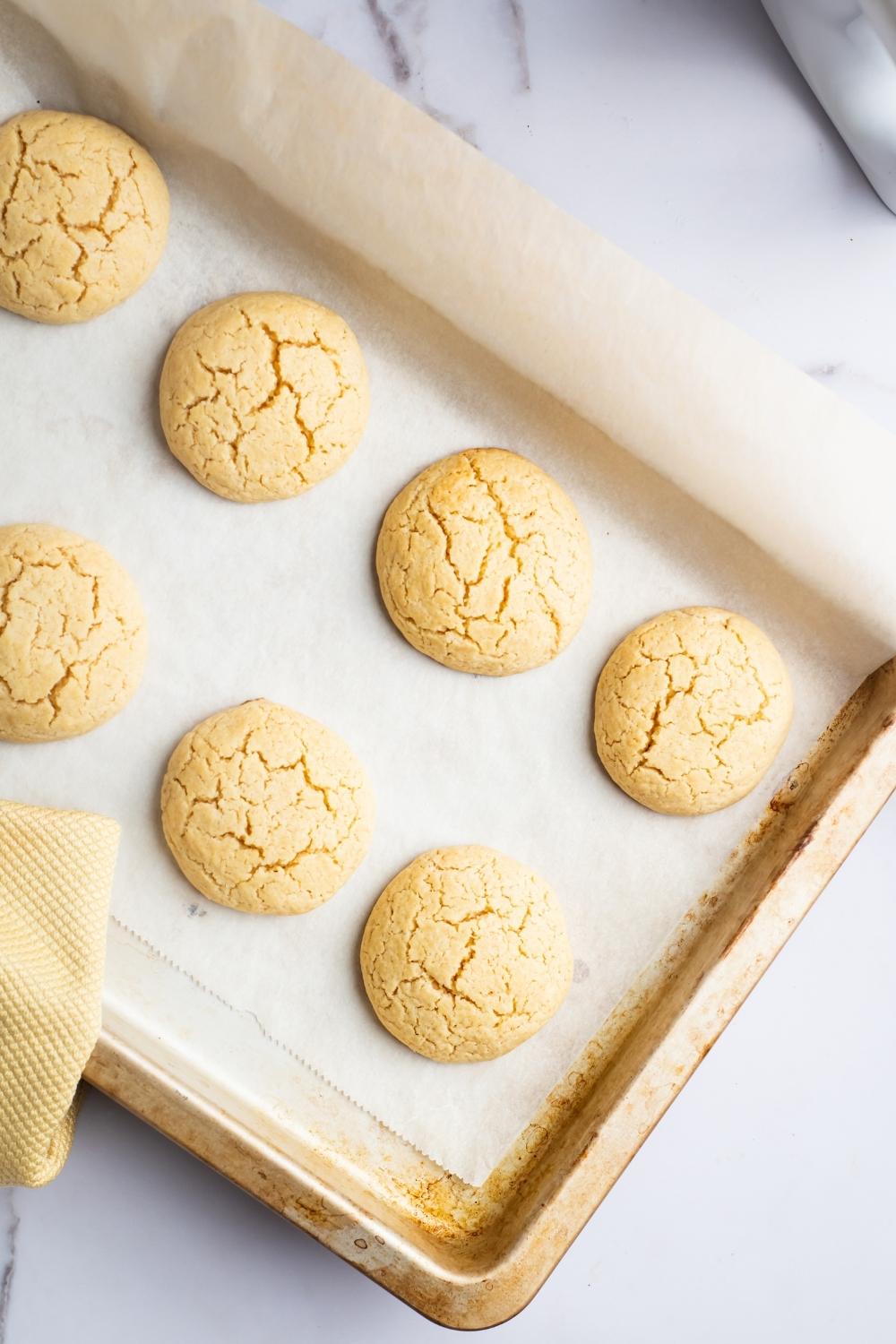 Step 6: Finishing The Cookies
Once the ingredients are combined and have created an icing, it's time to ice the cookies.
With that said, before you ice the cookies, make sure they're cooled completely. Then, when they are, you can spread the sweet icing on each buttery sugar cookie.
Finally, let the icing set for a minute or two, and then enjoy your chilled sugar cookies!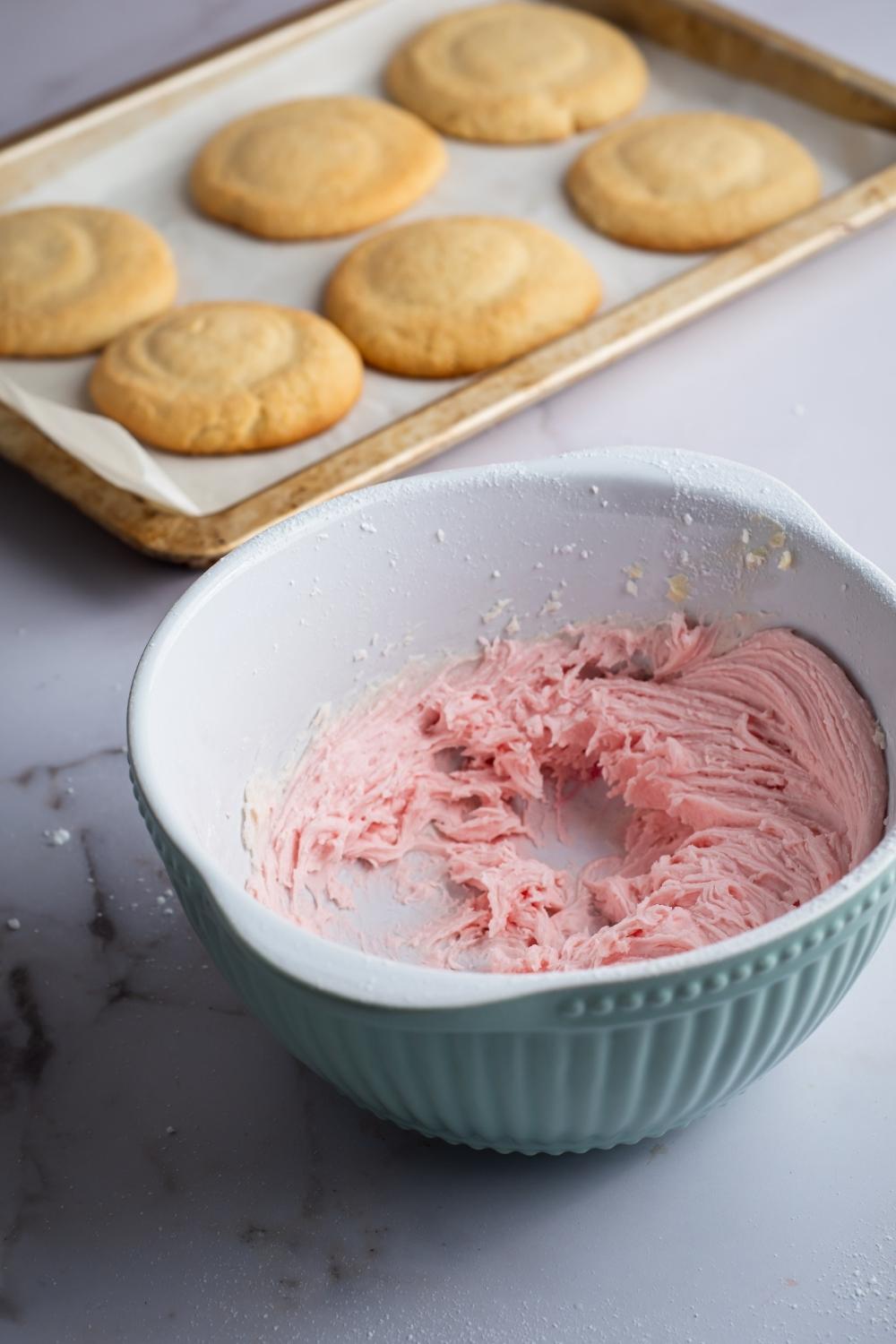 How To Store These Crumbl Cookies
As you know by now, this Crumbl copycat recipe makes about 10 cookies. And if you have any leftovers, you're in luck because they're the most delicious leftover cookies ever.
To store these Crumbl cookies, you'll want to put them in an airtight container that is big enough for the cookies to lay flat. Or you can use more than one airtight container. With that said, you can stack the cookies, but the frosting might stick to the bottom of the others.
Anyway, when you've got each copycat Crumbl cookie situated in the container you'll want to store them in the refrigerator - they'll last for up to a week in there.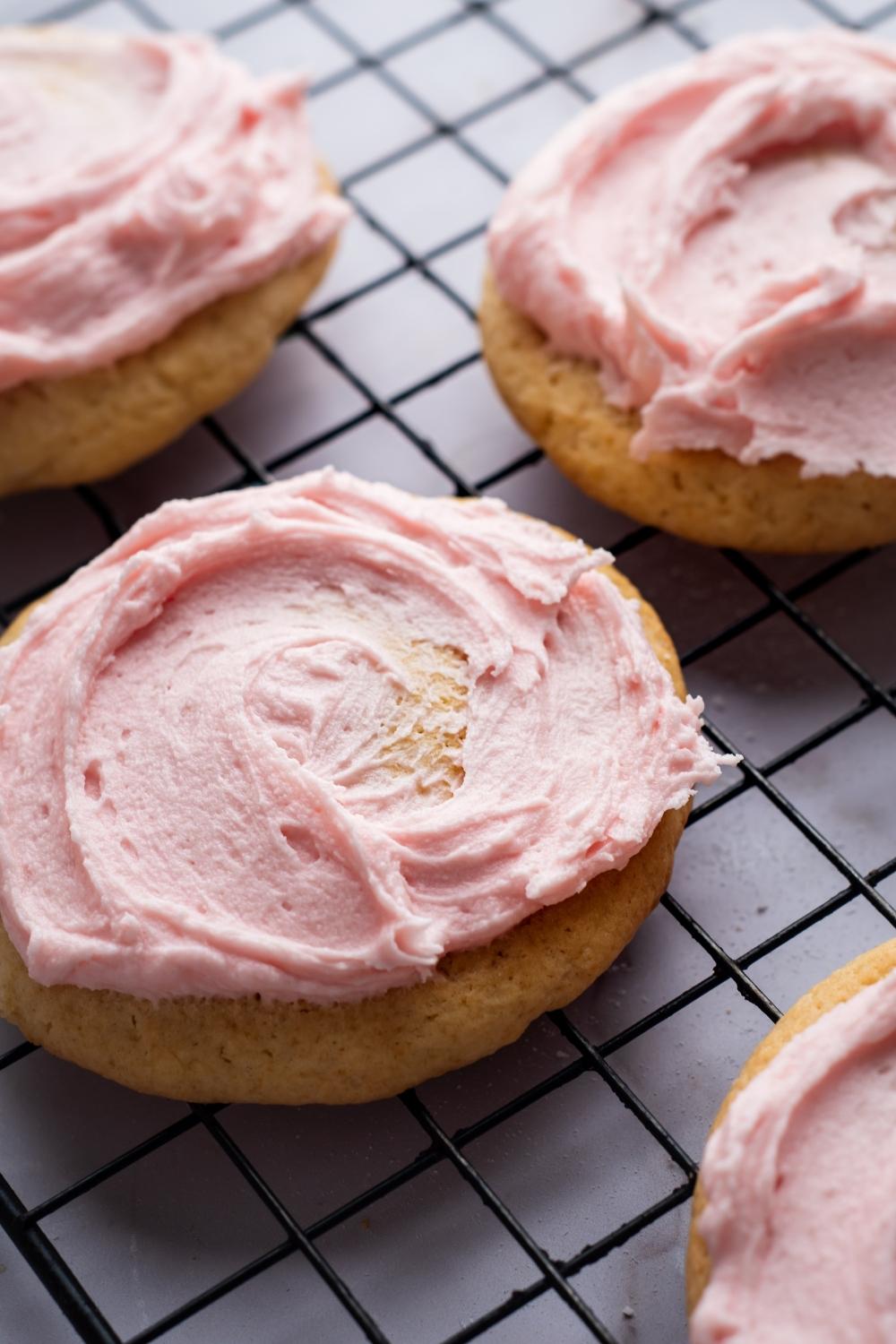 FAQS About Crumbl Cookies Recipe
What are Crumbl cookies made of?
Crumbl cookies are made mainly of butter, sugar, eggs, baking powder, and all-purpose flour. For extra flavor, these cookies have vanilla extract and almond extract with sweet frosting on top. The Crumbl bakery has rotating flavors, so they are all made of different ingredients depending on the cookie.
What's the secret to perfect Crumbl cookies?
The secret to the perfect Crumbl cookies is the baking process. You want to make sure to cream the butter and sugar, so the cookies have a soft texture. Then the way the rest of the ingredients are mixed will create a cookie dough that makes the perfect Crumble sugar cookie.
What is the frosting on Crumbl sugar cookies?
The frosting on Crumbl sugar cookies is made of butter, powdered sugar, almond extract, and milk. The combination of these ingredients makes for a perfectly sweet icing that has just the right amount of thickness to it. Honestly, it's so good I could eat it with a spoon!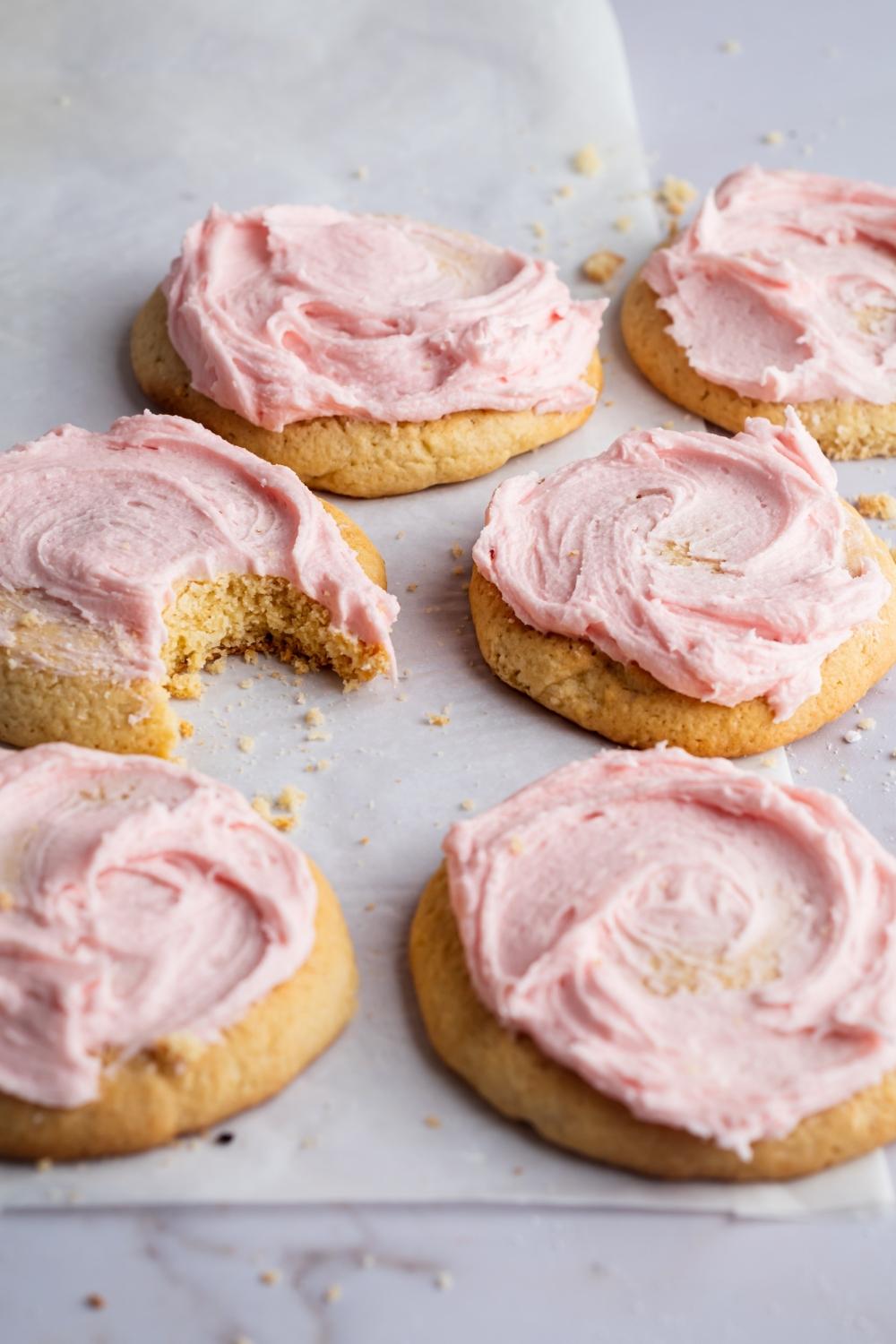 Wrapping It All Up
Well, that is how to make Crumbl cookies at home.
These sugar cookies are so incredibly delicious and make the perfect comfort dessert. You can enjoy them while you watch a movie, have coffee, or create a fun activity for your kids' birthday party!
Once you give these chilled sugar cookies a try, I have a feeling that they'll become one of your new favorite cookie recipes. They certainly have become one of our favorite Crumbl cookie recipes!
Also, if you give this Crumbl copycat recipe a try, leave a comment below and let me know what you think! And for more delicious recipes, check out our Youtube, Instagram, or TikTok.
More Delicious Cookie Recipes
If you enjoyed this Crumbl cookie recipe, we have a ton of other delicious cookies on the blog that I think you'll like just as much!
Here are some more delicious cookie recipes:
Print
Crumbl Cookies Recipe
This Crumbl Cookies recipe makes the most buttery, soft, chewy, and perfectly sugary cookies! The combination of the texture of the cookie and frosting on these will have you obsessed with this copycat Crumbl cookies recipe. And the best part is they only take about 10 minutes to prepare!
Author:
Prep Time:

10 minutes

Cook Time:

10 minutes

Total Time:

20 minutes

Yield:

10

cookies

1

x
Category:

Dessert

Method:

Mixing

Cuisine:

Crumbl Cookies
Instructions
Preheat the oven to 350ºF (180°C). Line a baking sheet with parchment paper.

Cream the butter and granulated sugar until light in color and soft in a large bowl.

Add the eggs, vanilla extract, almond extract, to the bowl and mix for a couple more minutes.

Add the flour and baking powder and mix as little as possible with a spoon.

Divide the dough into 10 balls and arrange them on the tray.

Bake for 8-10 minutes.

Place on a wired rack.

Mix all the icing ingredients until combined. Use less milk for a thicker icing. Spread in the middle of each cookie. 

Refrigerate to chill and enjoy!
Nutrition
Serving Size:

1 cookie

Calories:

675

Fat:

27

Carbohydrates:

104

Protein:

4
Keywords: crumbl cookies, crumbl sugar cookies, crumbl cookie recipe, crumbl cookies recipe, crumbl sugar cookies recipe, how to make crumbl cookies, crumbl chilled sugar cookie, crumbl chilled sugar cookies, how to make crumbl chilled sugar cookies, crumbl cookies recipe sugar,