This air fryer turkey bacon crisps up to perfection in under 10 minutes! And it's such a healthier alternative to regular bacon, but it's just as crispy and just as delicious.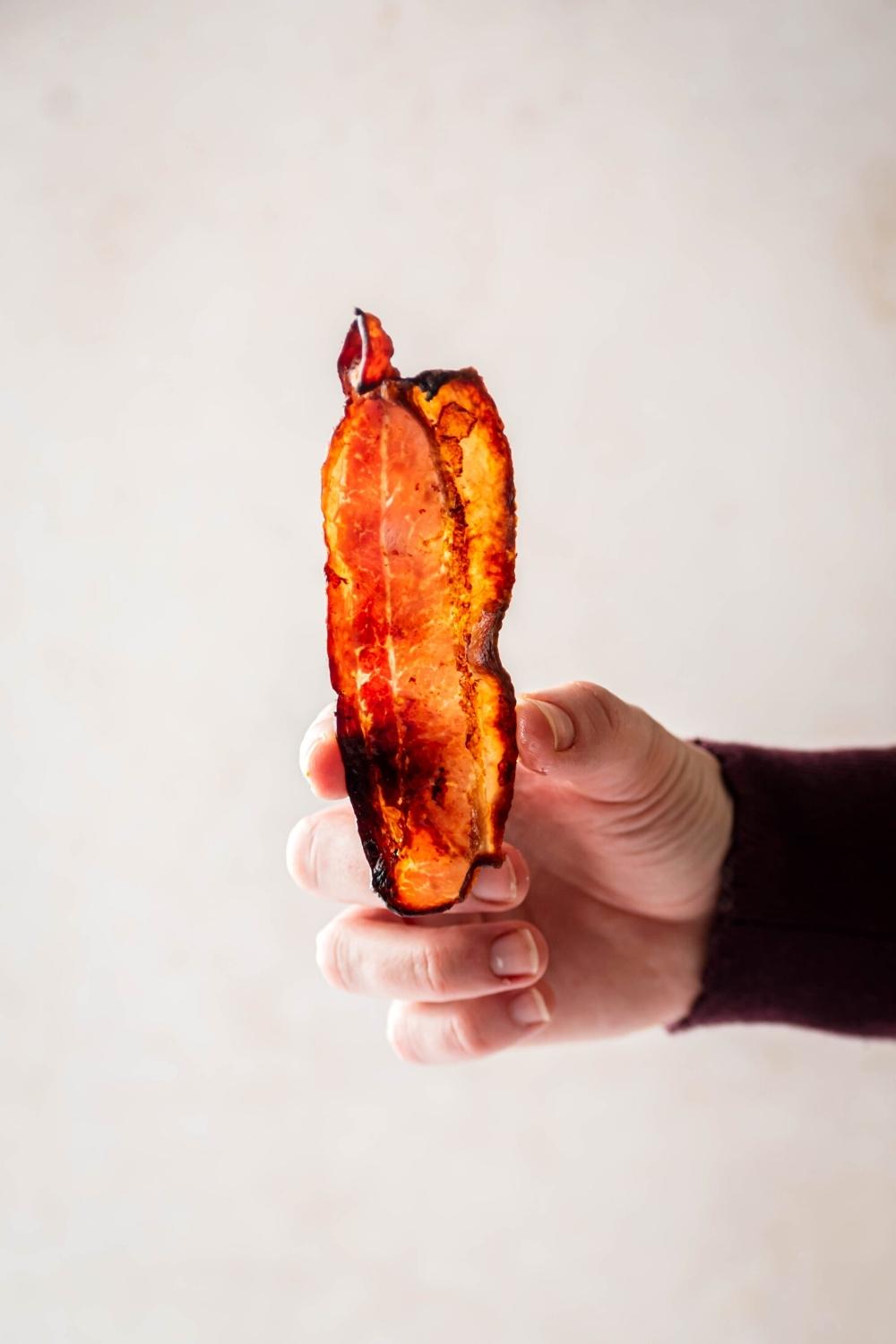 The Best Air Fryer Turkey Bacon
There's nothing quite like crispy and crunchy bacon with breakfast. But, I don't know about you but, frying bacon on the stove is more of a once in a blue moon thing in our house. Mostly since it's so messy, and also not the healthiest thing to eat either.
With that said, if you're looking for a quicker, healthier, and mess-free alternative for pan-frying bacon, you might want to try making some turkey bacon in the air fryer! It's seriously changed the "bacon game" for us here at the Duff household.
Making air fryer turkey bacon is also a sure-fire way to get perfectly crispy crunchy bacon that is just as satisfying as the regular kind.
Best of all, it air fries to maximum crispiness in just 6 minutes. So you can whip up some eggs and these McDonald's biscuits to make a breakfast sandwich!
Or you could even use the bacon to put on these crack green beans for a dinner side.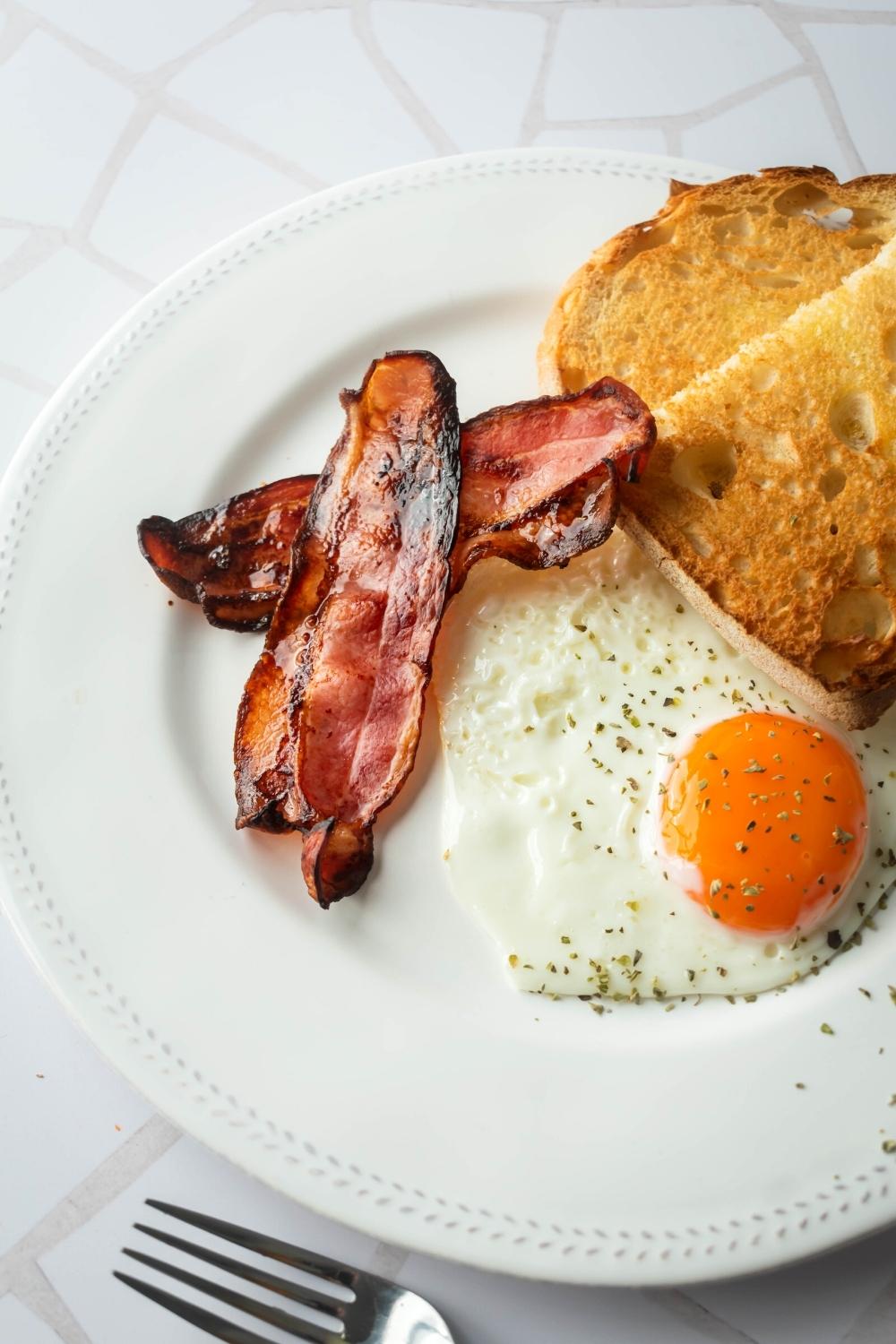 Ingredients
As far as ingredients goes, the list is as short as it gets.
Here's what you'll need:
Of course, you'll need an air fryer too.
By the way, if you want to make more slices of turkey bacon, feel free to cook as much as you want!
Oh, and since you'll have the air fryer out, I highly suggest making this air fryer French toast to complete your breakfast! Or you can make this air fryer grilled cheese for lunch.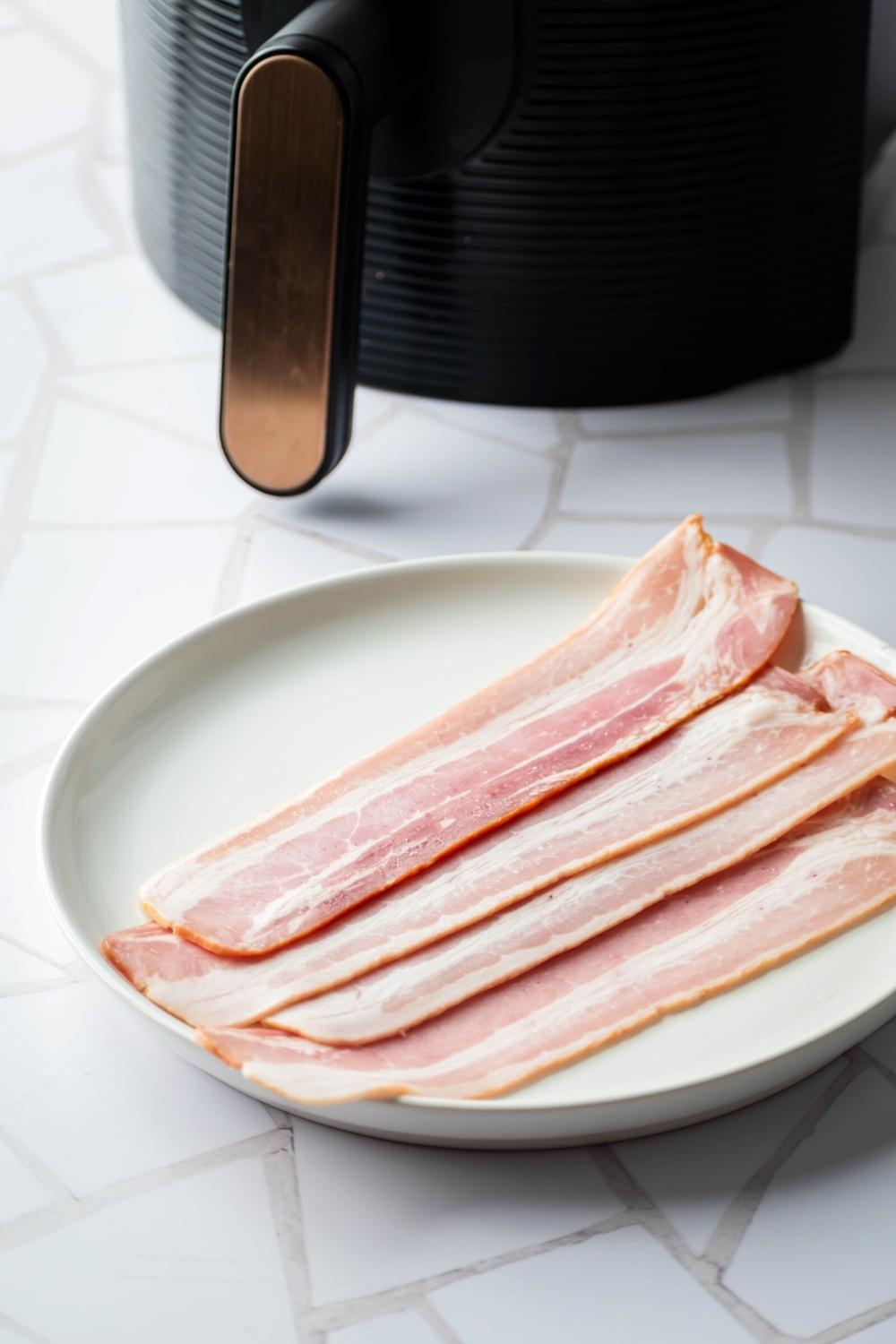 How to Cook Turkey Bacon in Air Fryer
Making turkey bacon in the air fryer is an easy 2-step process.
And since it's so quick and easy, it's a convenient recipe to make not only for breakfast but also to add to a sandwich for lunch or whenever you want something high in protein.
Now, get out your air fryer, and let's cook some turkey bacon!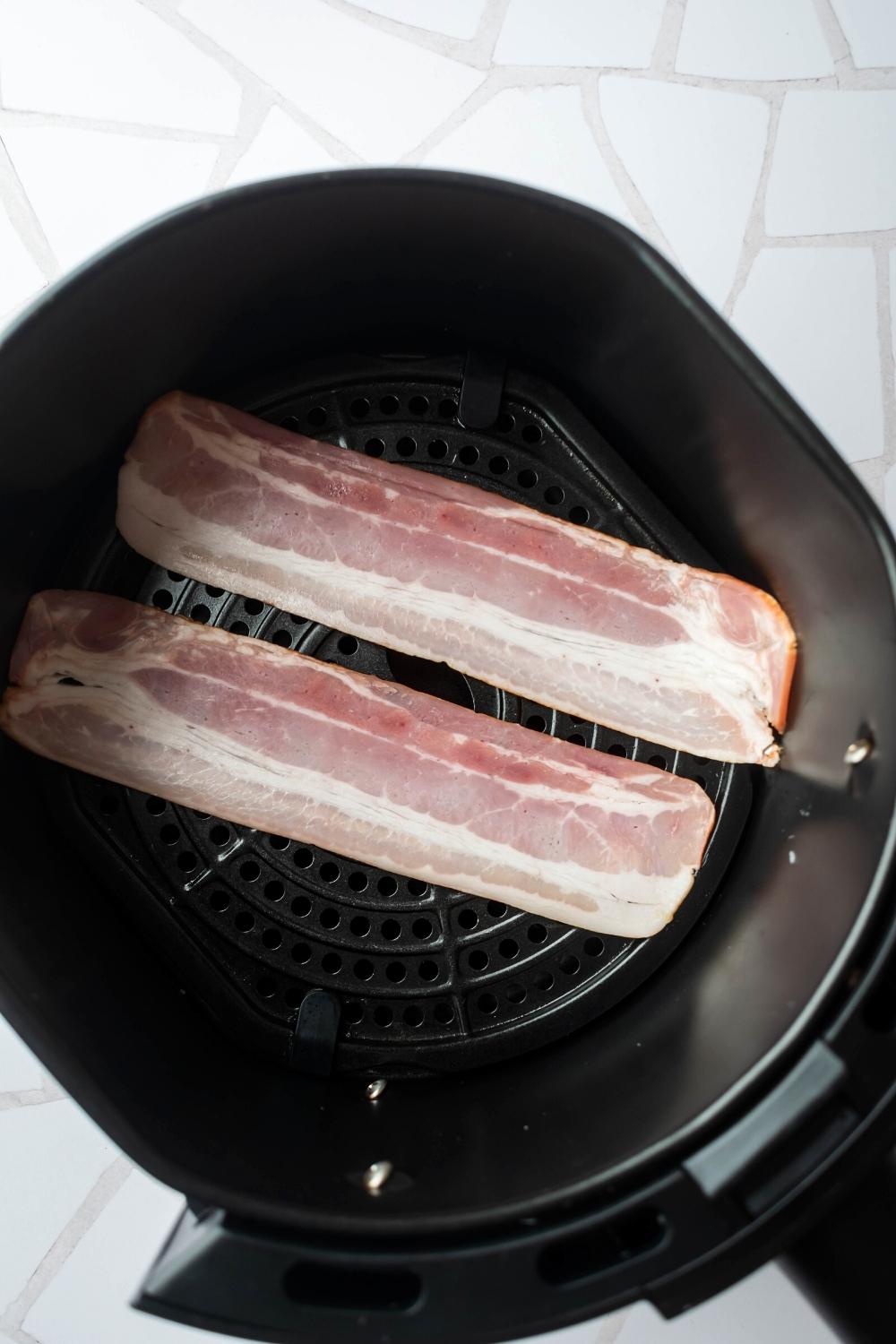 Step 1: Prep
Start by preheating the air fryer to 390°F (200ºC).
Once it's preheated, spray the air fryer basket with baking spray and lay the turkey bacon slices flat in the air fryer basket.
Also, make sure the slices are not touching one another and are not overlapping - this is the first step to getting evenly browned and crispy bacon strips.
Now, depending on how many slices you're cooking - and how big your air fryer is - you may need to cook them in batches. Also, if your turkey bacon strips are too big for the air fryer basket, just cut the strips in half.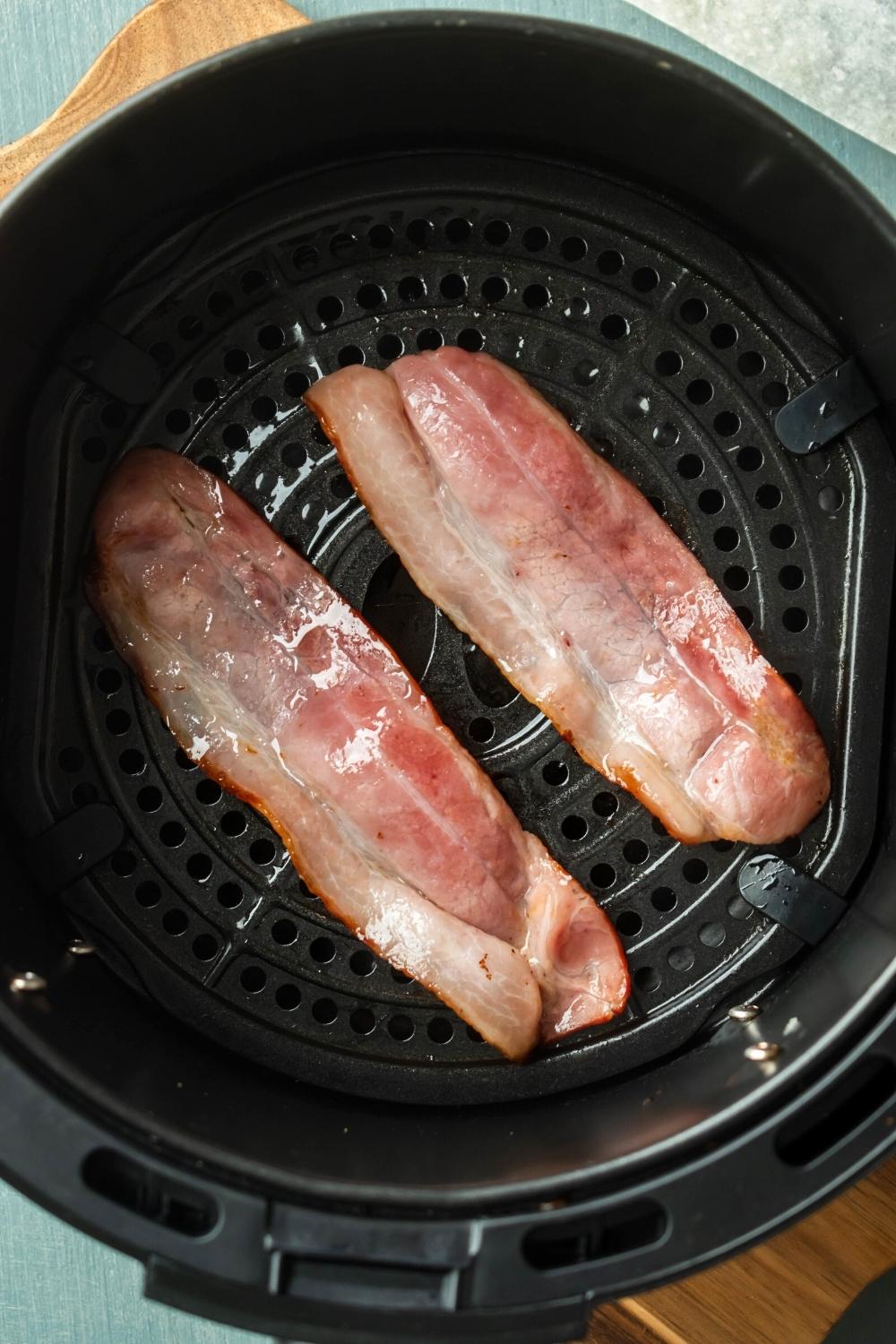 Step 2: Cooking The Turkey Bacon
Now you're all set to cook the turkey bacon in air fryer for 4 minutes. And if the tops are nicely brown and evenly cooked, you're ready to flip the slices over and cook for about 2 more minutes.
By the way, if you want more well-done slices, you can cook them for a few minutes longer. The cooking time totally depends on your preference.
Anyway, once it's cooked to your liking, take the turkey bacon out of the air fryer and serve with whatever you want. Enjoy!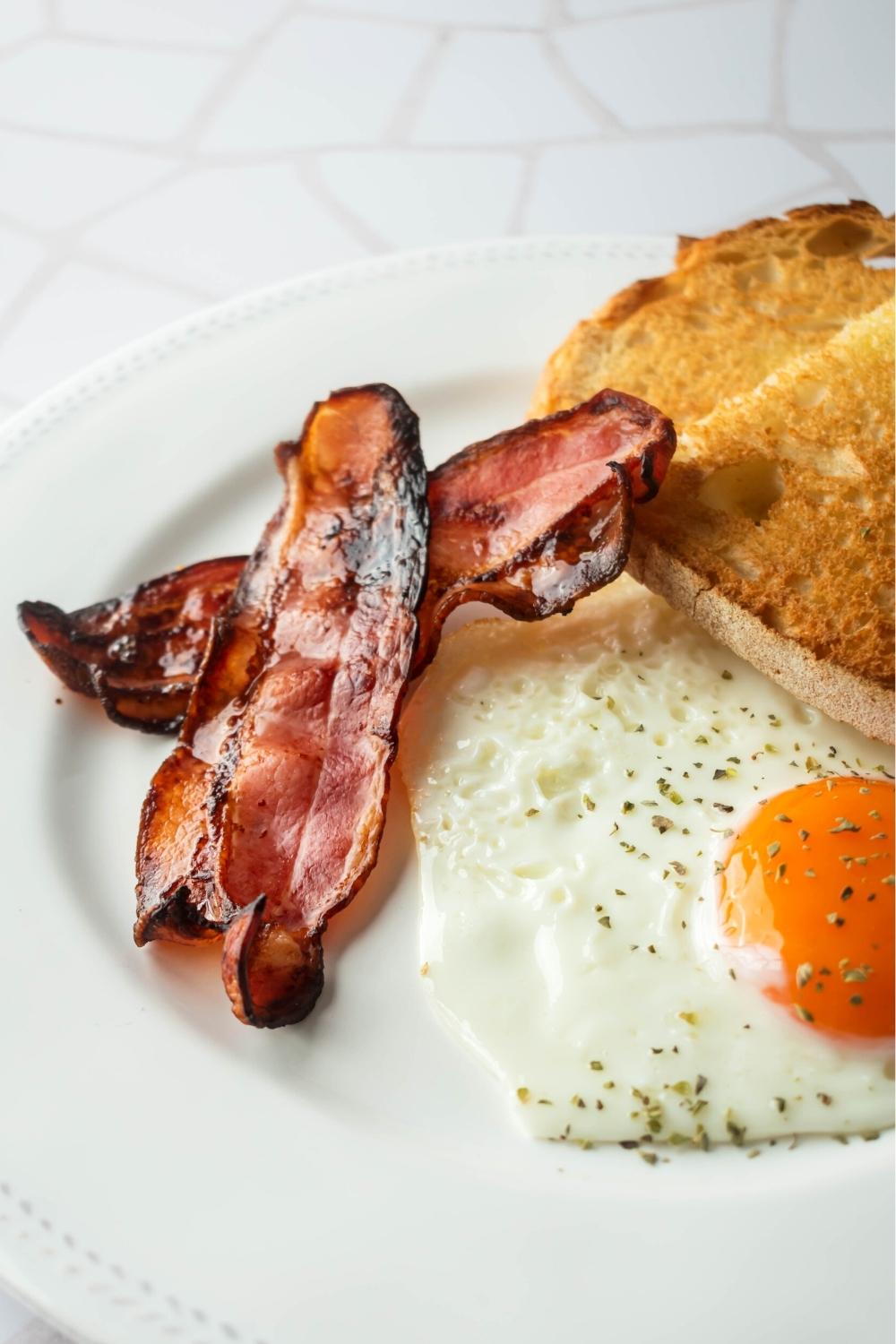 What to Eat With Turkey Bacon
Since this is the best turkey bacon, it's pretty delicious to just eat alone.
But if you want to pair it with some more delicious recipes, here are all of my favorites: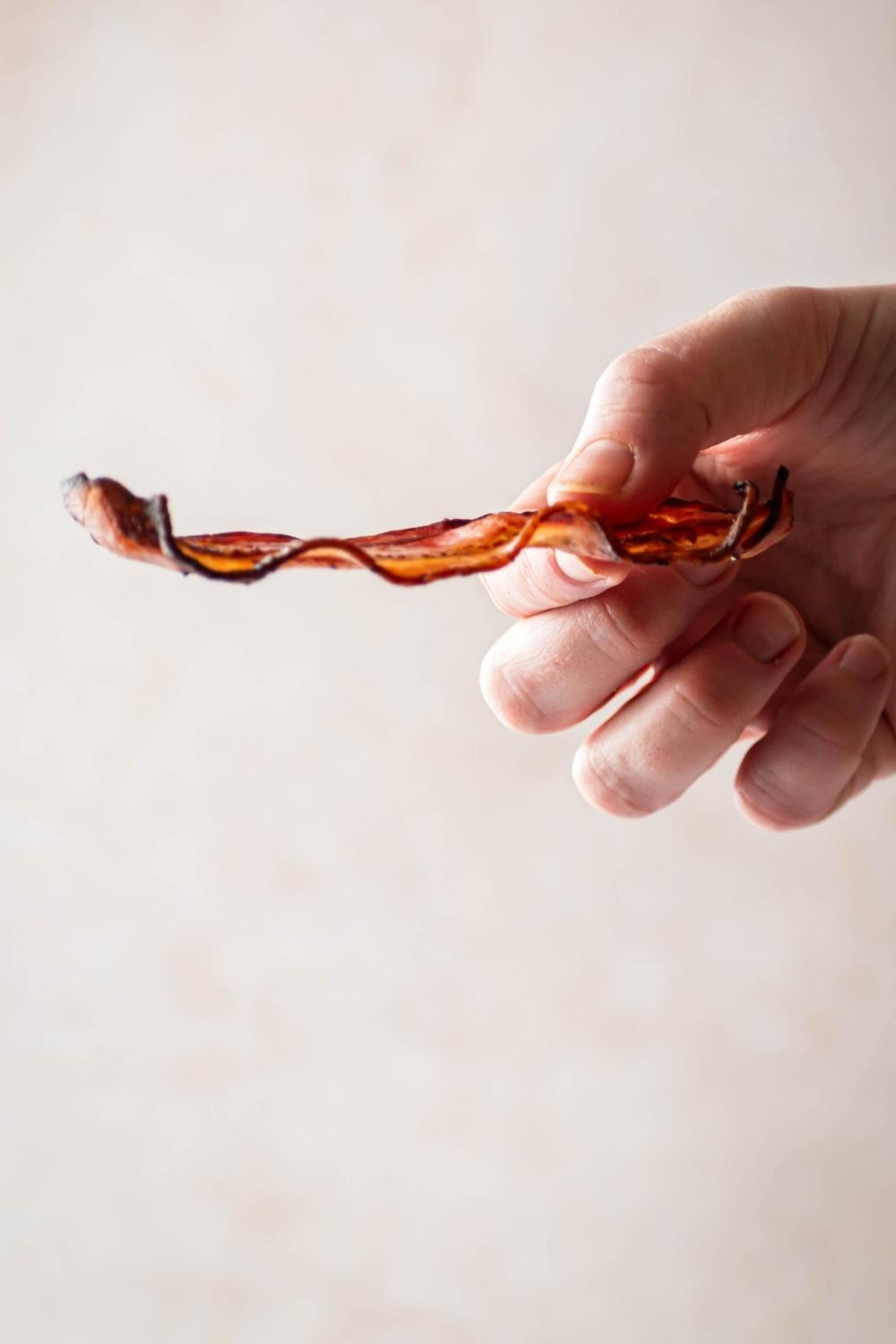 How to Store Turkey Bacon
Ok, so this recipe really makes as many slices of turkey bacon as you want. And it'll be hard not to eat everything you make.
But if you can't finish all of the slices, you can store it in a shallow airtight container in the fridge for about 4 days. Just make sure that the turkey bacon cools down to room temperature before refrigerating.
How To Reheat Turkey Bacon
Also, if you want to reheat the turkey bacon, you can put it back in the air fryer at 390°F (200°C) for a couple of minutes until warm.
You can also reheat the bacon in the oven at 350°F on a baking sheet covered in aluminum foil for about 5 minutes as well.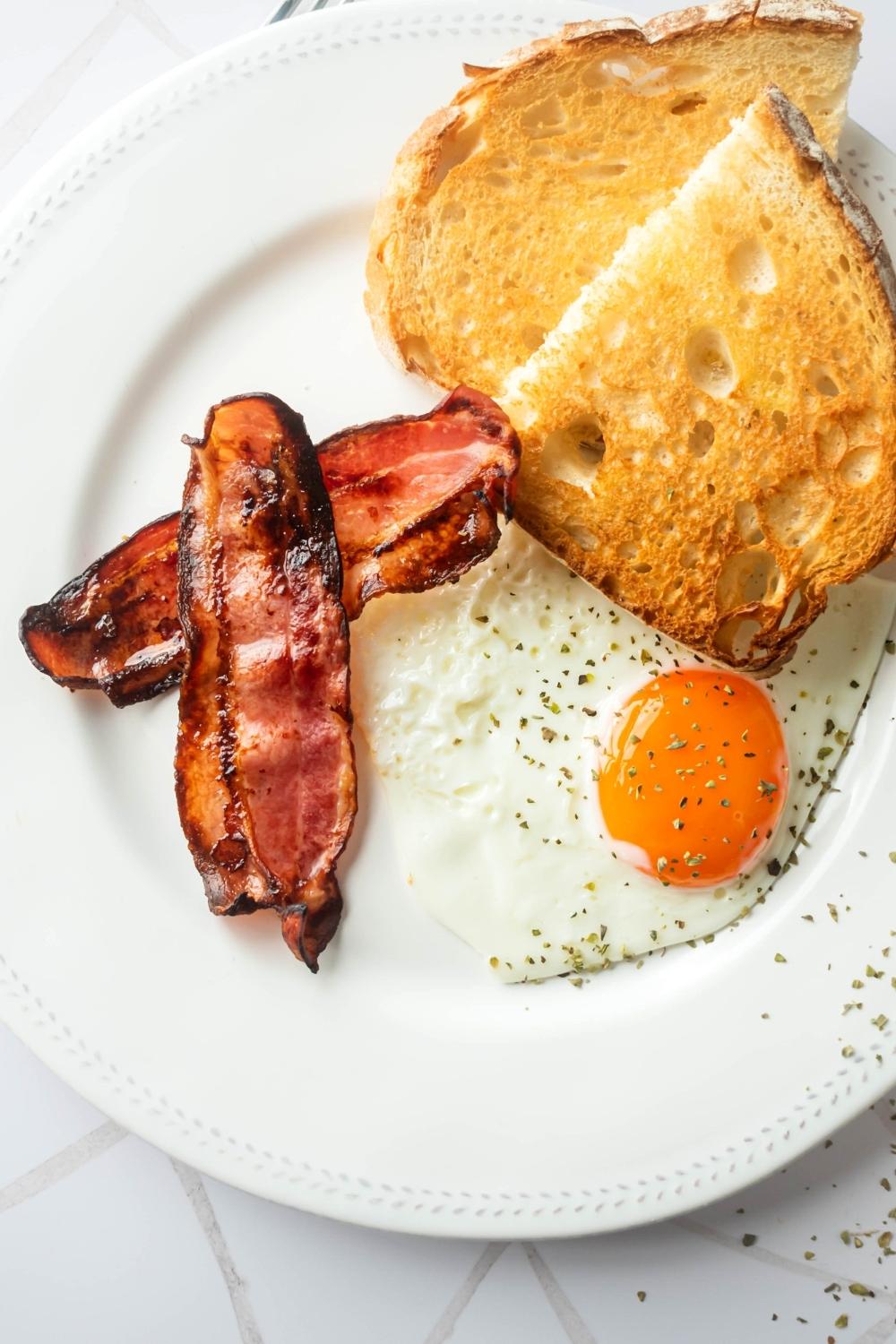 Wrapping It All Up
Well, that is how to make turkey bacon air fryer style - that's what we call it at our house, anyway. It's the healthiest, quickest, and easiest way to whip up some super crispy bacon.
And the best part is you don't have to watch it cook. The air fryer will take care of everything and give you consistently cooked turkey bacon every single time. Plus, there's no mess!
Anyway, I hope you enjoy this air fryer turkey bacon recipe.
If you make it, let me know how you liked it in the comments below.
More Air Fryer Recipes
If you're looking for more air fryer recipes, give one of these a try next:
By the way, if you want another turkey meat recipe, you have to try these turkey wings next!
Print
Crispy Air Fryer Turkey Bacon
This air fryer turkey bacon crisps up to perfection in under 10 minutes! And it's such a healthier alternative to regular bacon, but it's just as crispy and just as delicious.
Author:
Prep Time:

0 minutes

Cook Time:

6 minutes

Total Time:

6 minutes

Yield:

4

slices

1

x
Category:

Breakfast

Method:

Air Fryer

Cuisine:

Keto Low carb
Instructions
Preheat the air fryer to 390°F (200ºC).

Lay the turkey bacon flat in the air fryer basket without them touching each other.

Cook at 390°F (200ºC) for 4 minutes, flip them over, and cook for 2 more minutes or until it reaches your desired crispiness.

Serve with eggs and toast. Enjoy!
Nutrition
Serving Size:

1 slice

Calories:

35

Fat:

1.5

Carbohydrates:

0

Protein:

6
Keywords: air fryer turkey bacon, turkey bacon in air fryer, turkey bacon air fryer, how to cook turkey bacon in air fryer, best turkey bacon, how to make turkey bacon in air fryer, air fryer turkey bacon recipe, how long do i cook turkey bacon in an air fryer, turkey bacon air fryer time, turkey bacon in air fryer time, turkey bacon recipes