This addictive Olive Garden chicken parmigiana is coated in crunchy parmesan breadcrumbs, topped with marinara sauce, and smothered with rich, melty mozzarella cheese. It's a restaurant-quality that's easy enough to make for a weeknight dinner!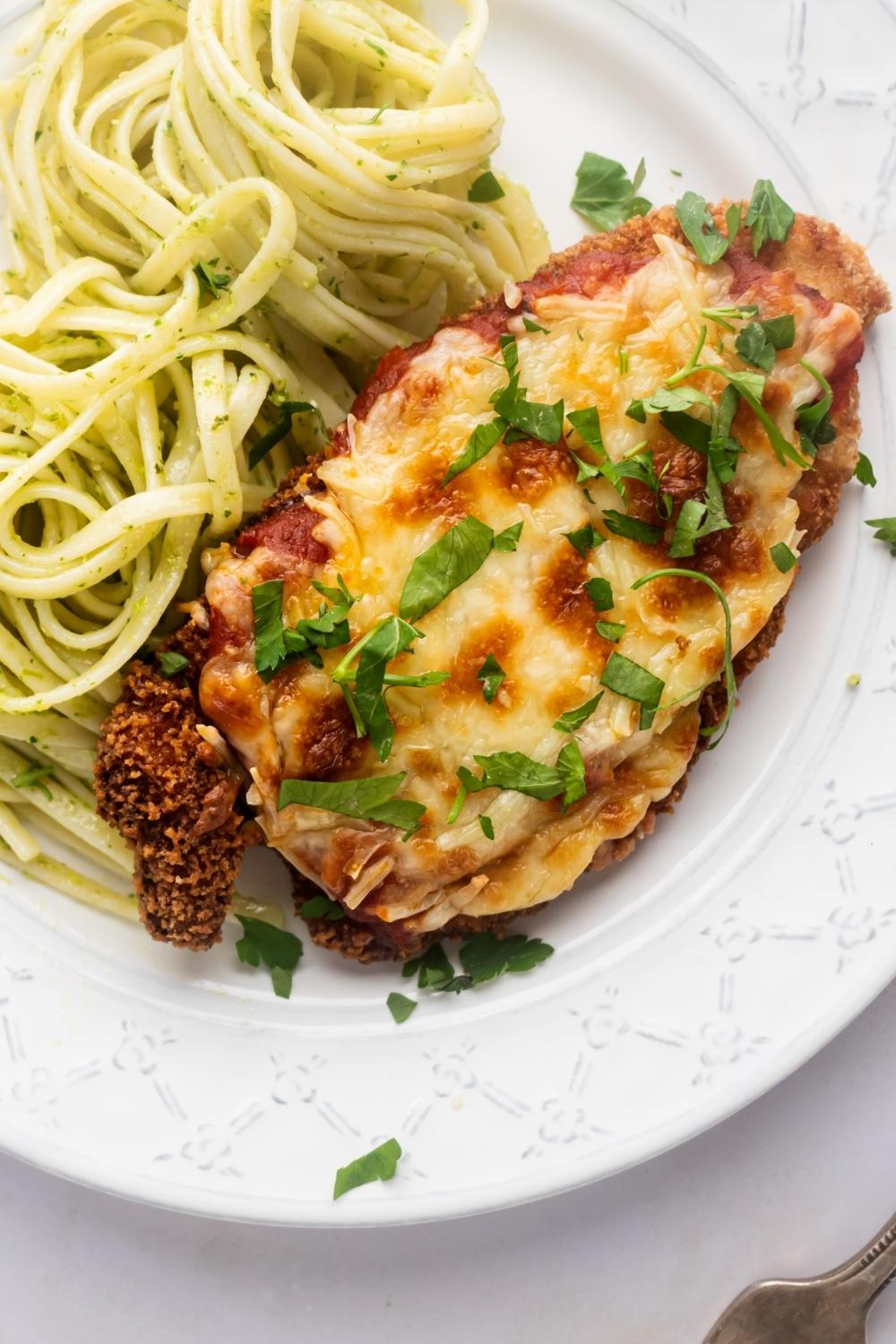 Homemade Olive Garden Chicken Parm
Chicken parmigiana is a staple Italian meal that is just so delicious.
My grandma was Italian, and she was a pretty tough food critic, but she loved the chicken parmigiana from Olive Garden. And, well, because she loved it so much, I knew I had to make my own version at home!
This recipe is juicy and flavorful, coated in a golden parmesan crust and covered with savory marinara sauce, plus melty mozzarella cheese on top. Not to mention, it's super easy to make!
Serve it with this fried spaghetti and these Olive Garden breadsticks, and you've got a winning combination that'll have everyone at the table asking for seconds. Then for dessert, you can make this Olive Garden tiramisu for the full restaurant experience!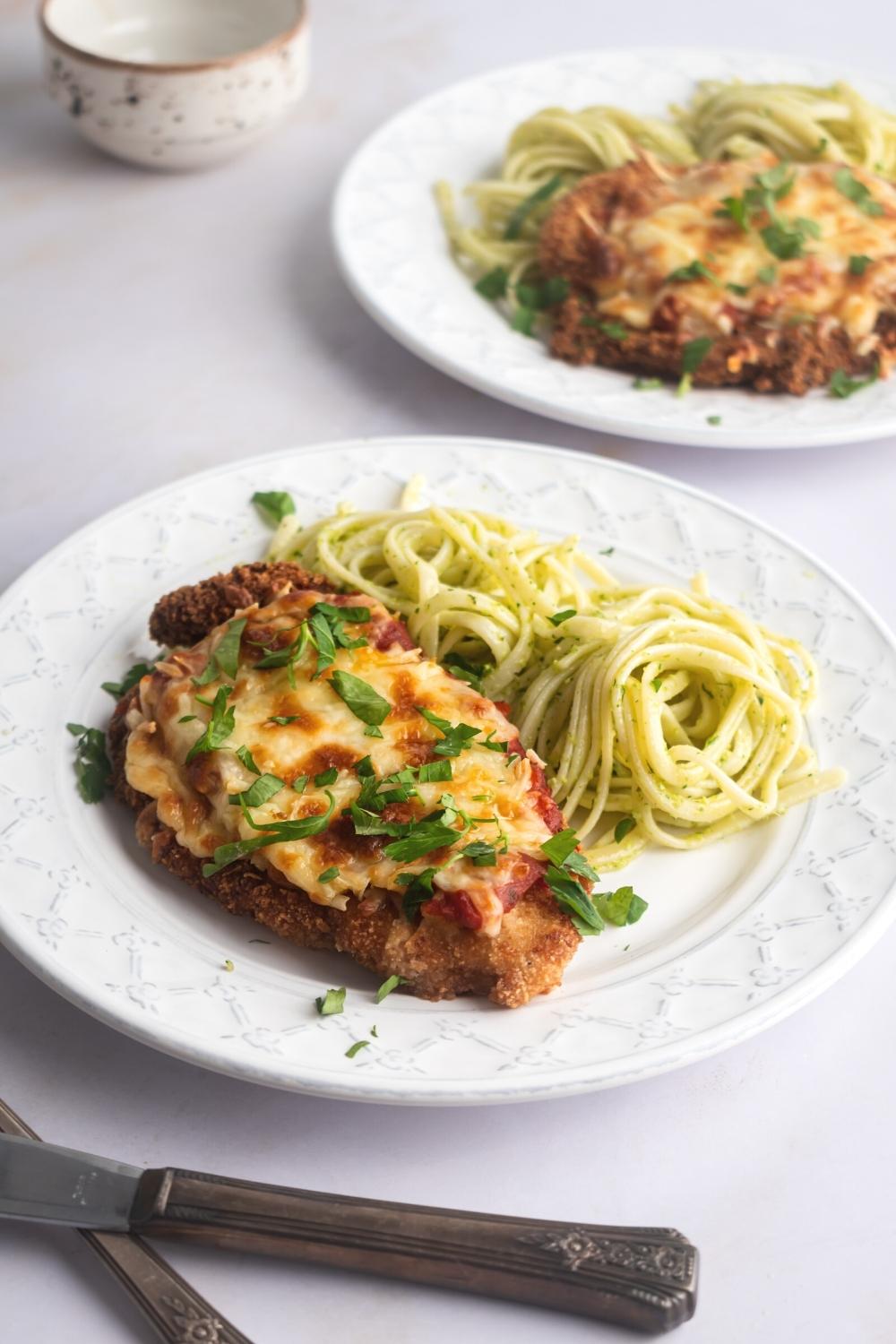 Ingredients
Chicken breasts-

the main part of this dish.

Flour-

to first coat the chicken.

Milk and e

ggs-

to help the breading stick.

Italian breadcrumbs-

to give the chicken that delicious crunchy texture.

Marinara sauce-

for the base to top the chicken.

Grated parmesan cheese and m

ozzarella cheese-

for the second part of classic chicken parm.

Vegetable oil-

for frying the chicken.

Chopped parsley- for an optional garnish.

Another thing to love about this dish is that you can use most of these same ingredients to make some more Olive Garden recipes throughout the week like these cheese stuffed shells and crispy lasagna fritta.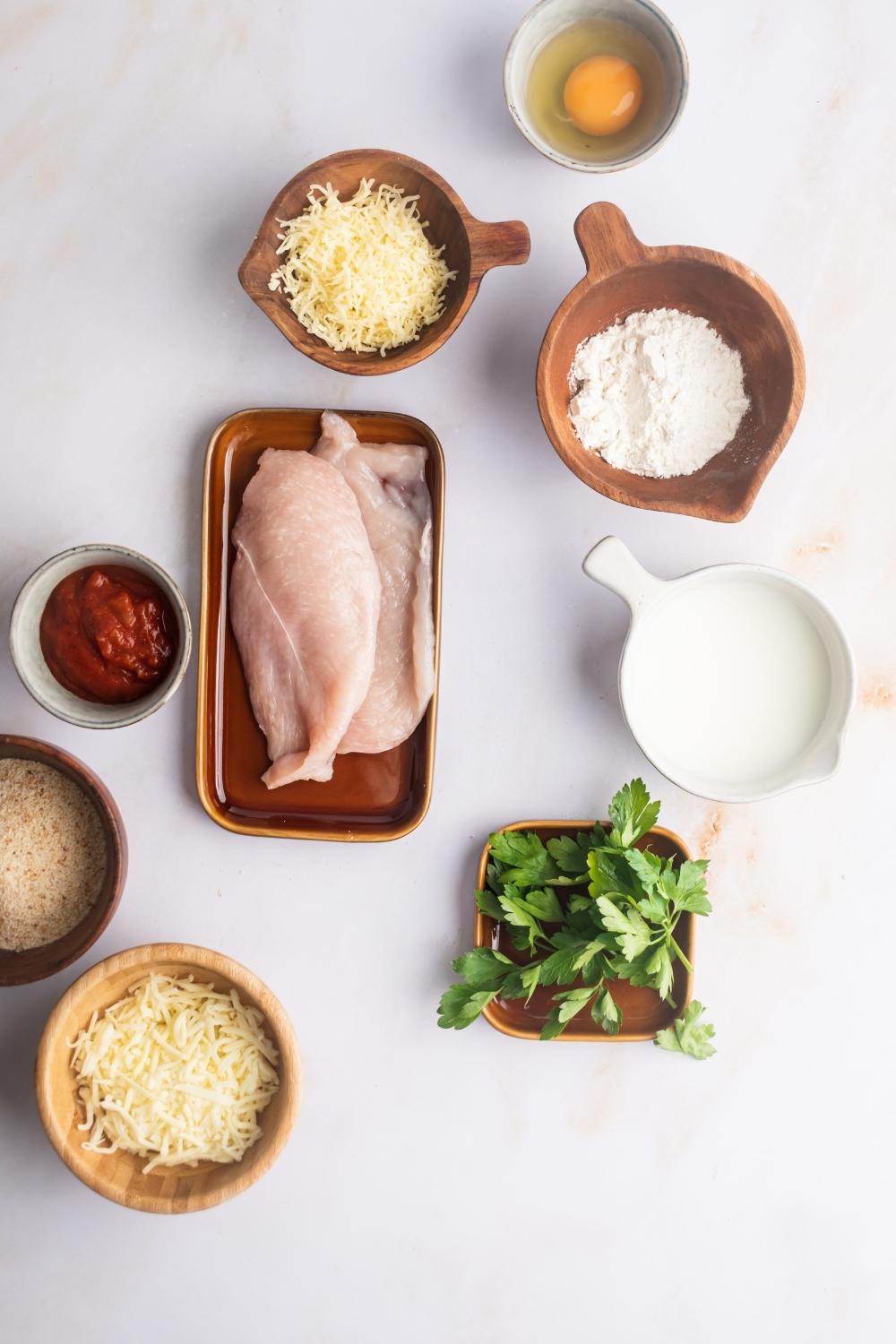 How To Make Olive Garden Chicken Parmigiana
1. Prepare the breading. First, prepare three shallow bowls for the breading ingredients. In the first bowl, add the flour. In the second bowl, combine the milk and eggs. Then, in the third bowl, mix the breadcrumbs and grated parmesan.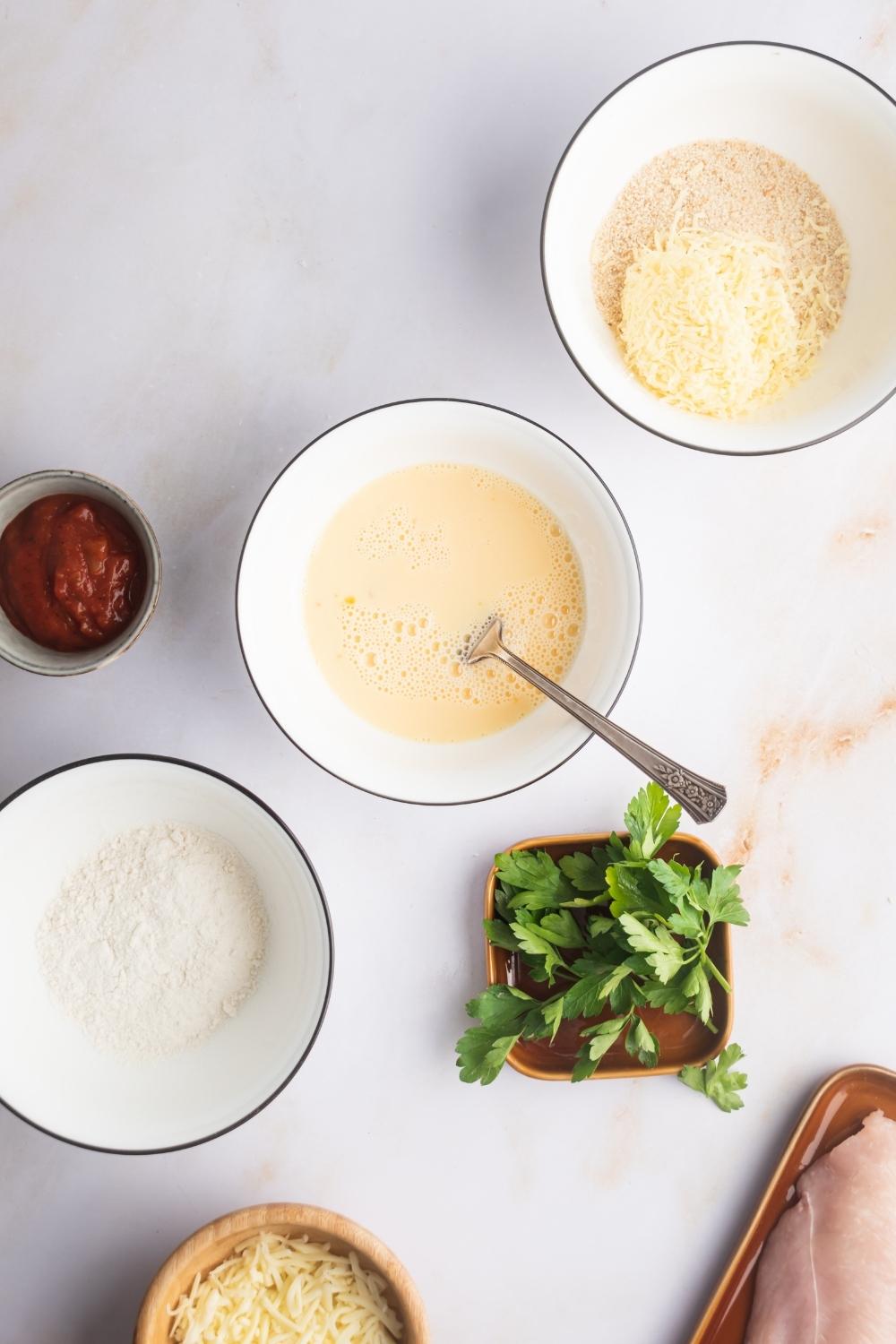 2. Bread the chicken. Next, season the pounded chicken breasts on both sides with salt and pepper. To bread the chicken, start by coating it in the flour, making sure to get all sides covered. Follow that up by dipping the coated chicken in the milk and egg mixture. Lastly, coat it evenly with the breadcrumbs, gently pressing them into the chicken so it gets evenly covered.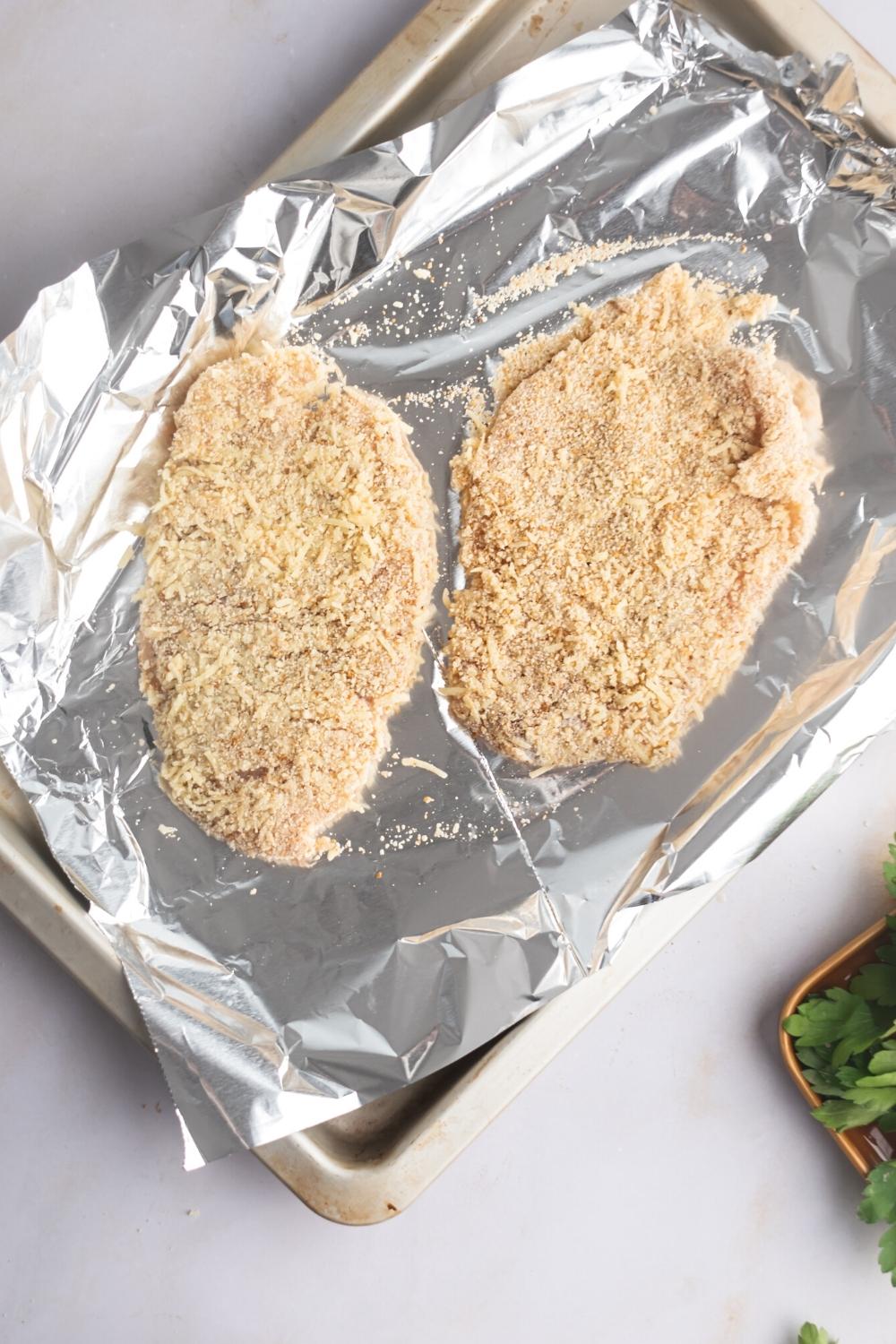 3. Pan fry. Now, preheat the oven to broil or around 500°F (260°C) and prepare a sheet tray lined with tin foil. Then, heat some oil in a cast-iron pan over medium heat. Once the oil is heated, fry the breaded chicken for about 5 minutes on each side or until it's fully cooked through and golden brown. Now, set the chicken on a plate lined with a paper towel to soak up any excess oil.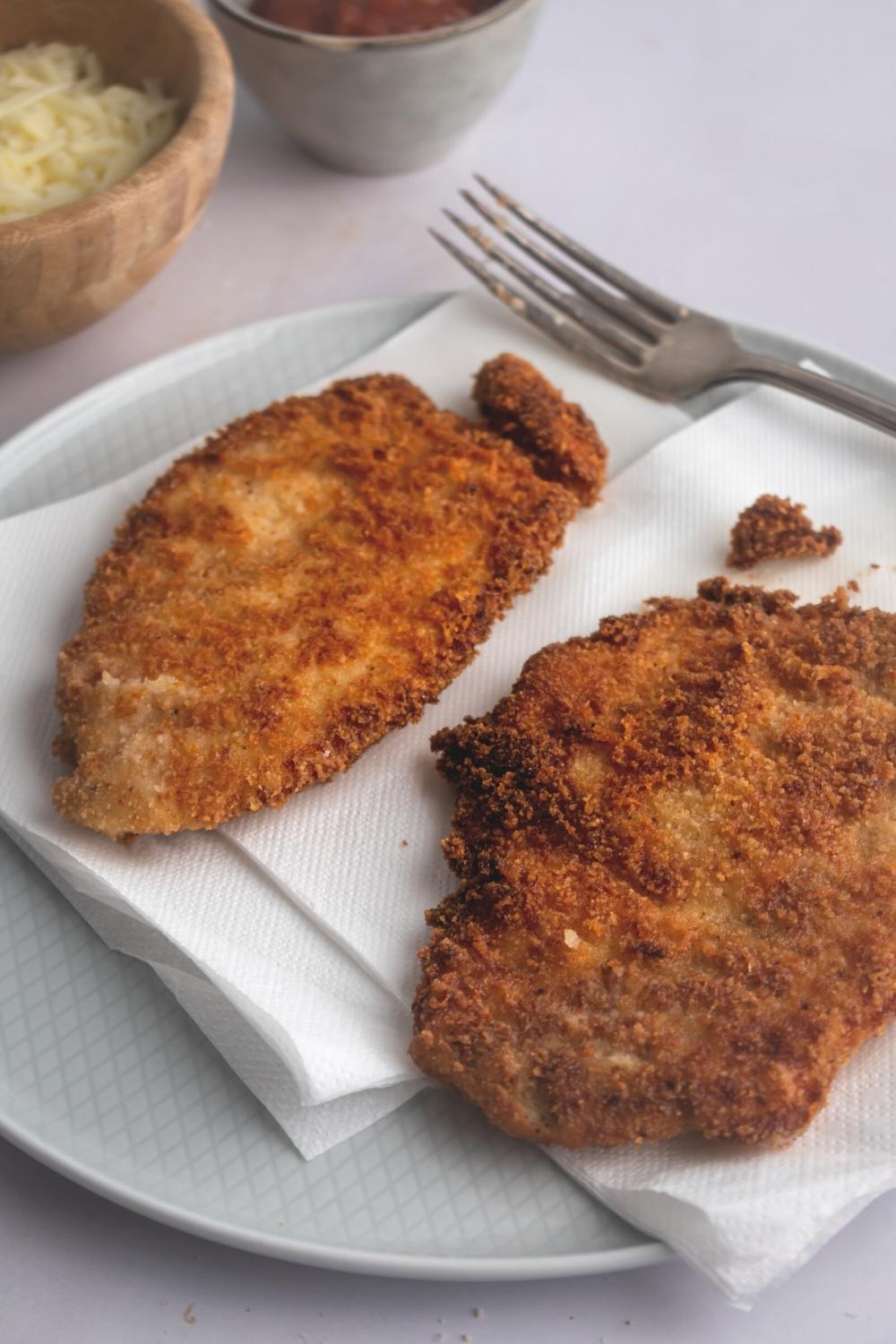 4. Bake the chicken. Next, place the fried chicken in a single layer on the lined sheet tray. Then, cover each piece with the marinara sauce and the mozzarella cheese to create the chicken parmesan. Now, once that's all set, broil it in the oven until the cheese is melty and slightly golden, around 2-3 minutes. Finally, garnish the finished chicken parmigiana with fresh parsley and serve with spaghetti or your choice of sides.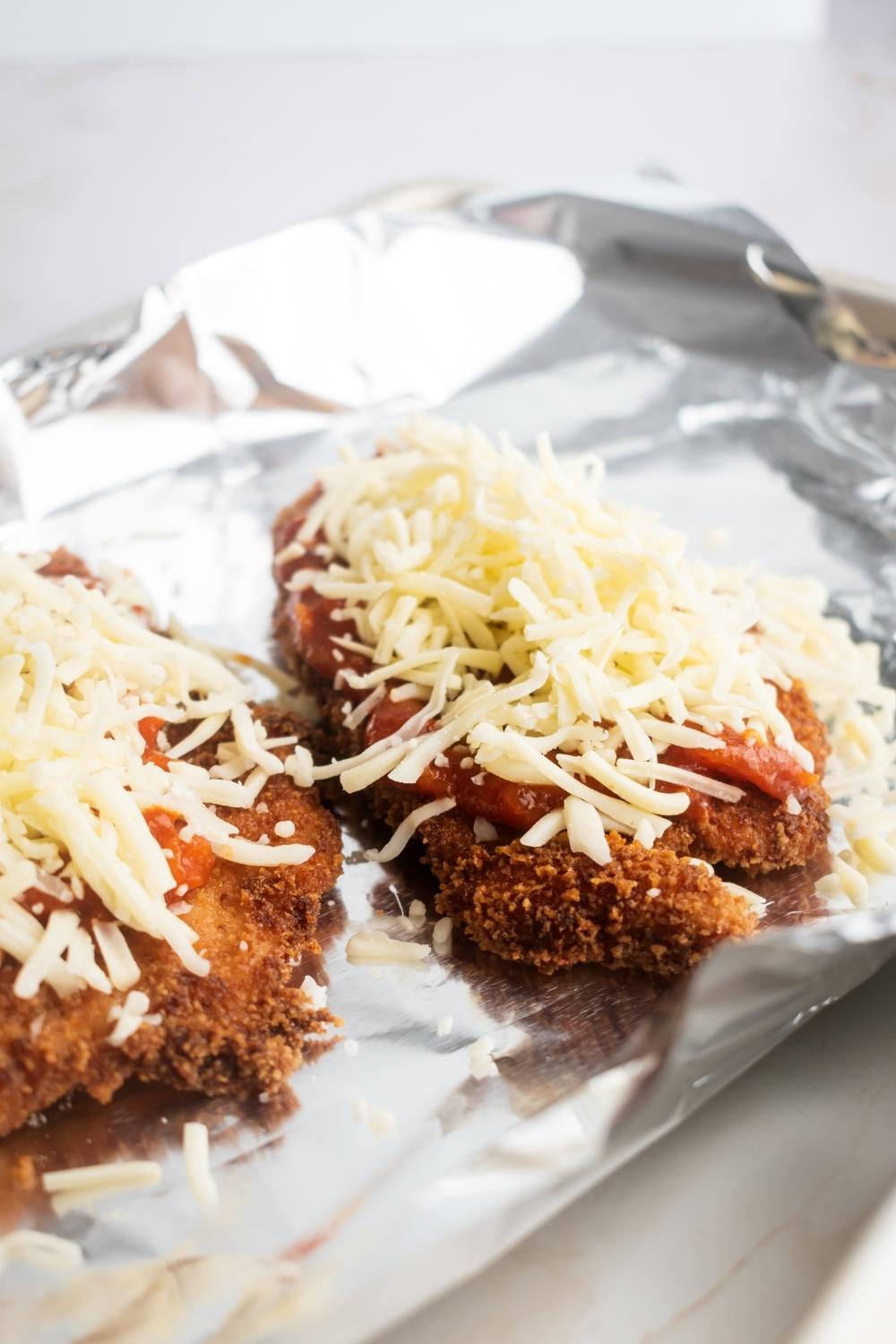 Can I make this recipe in the air fryer?
Yes! Instead of frying the chicken on the stovetop, spray both sides evenly with oil and air fry at 390°F (200°C) for 10-12 minutes. Around 7 minutes in, flip the chicken spray any dry spots with oil - if necessary - and continue cooking.
For broiling the cheese, set your air fryer to the broil function or around 450°F (230°C), and broil the chicken until the mozzarella is melted and toasty - about 2-3 minutes. And, of course, if your air fryer is on the smaller side, you can do both of these steps in batches.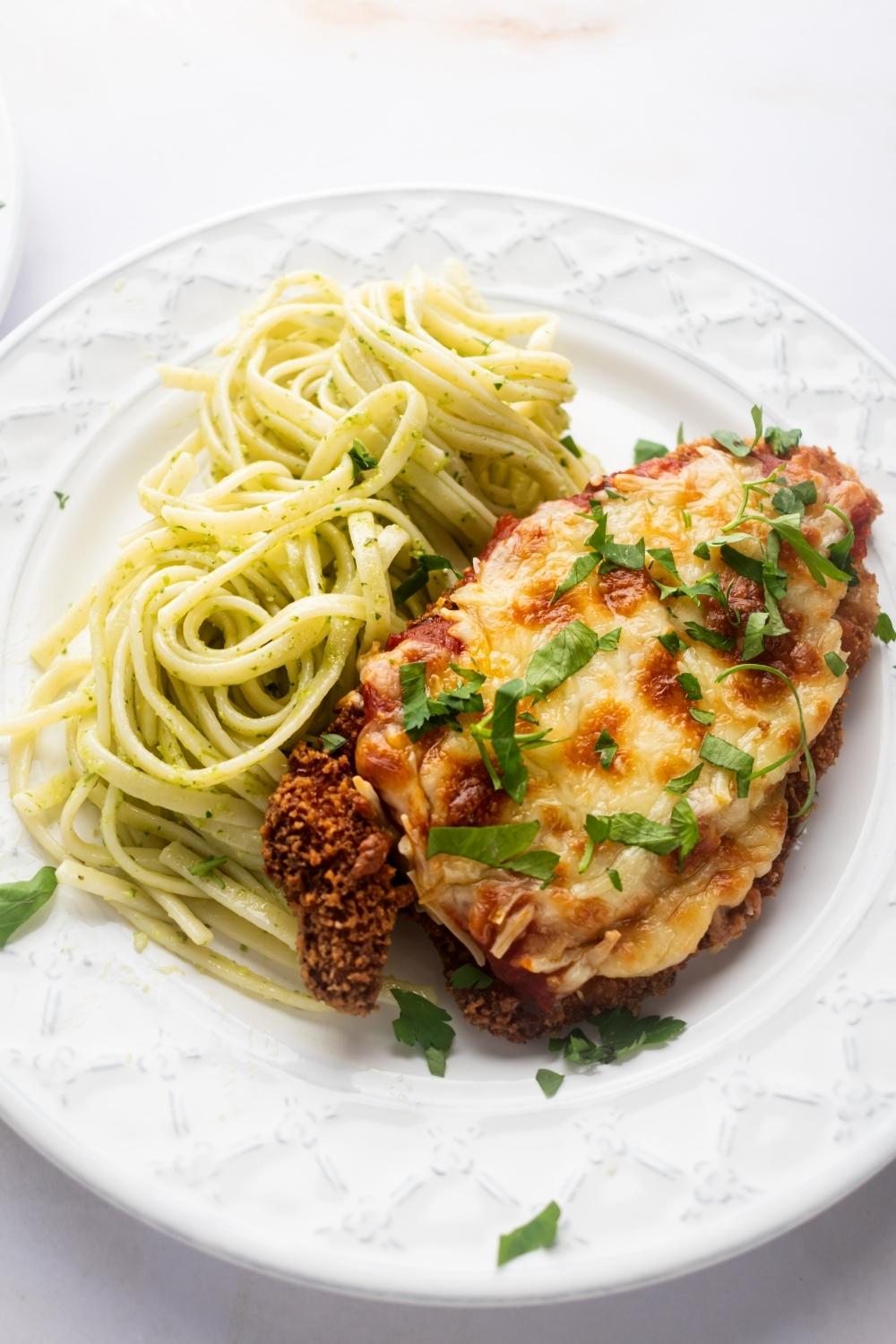 How I Recommend Storing and Reheating Leftovers
Okay, so we rarely have leftovers in the Cunningham household because we always end up finishing every bite. Truth be told, I think this chicken parmigiana is at its crunchiest and tastiest when it's freshly made. But, if you do happen to have leftovers, you can store the chicken in an airtight container in the refrigerator for up to 3 days.
My favorite way to reheat the chicken is to put it on a baking sheet and bake 350°F ( 160°C) for about 15 minutes or until the chicken is warmed through and the cheese remelts.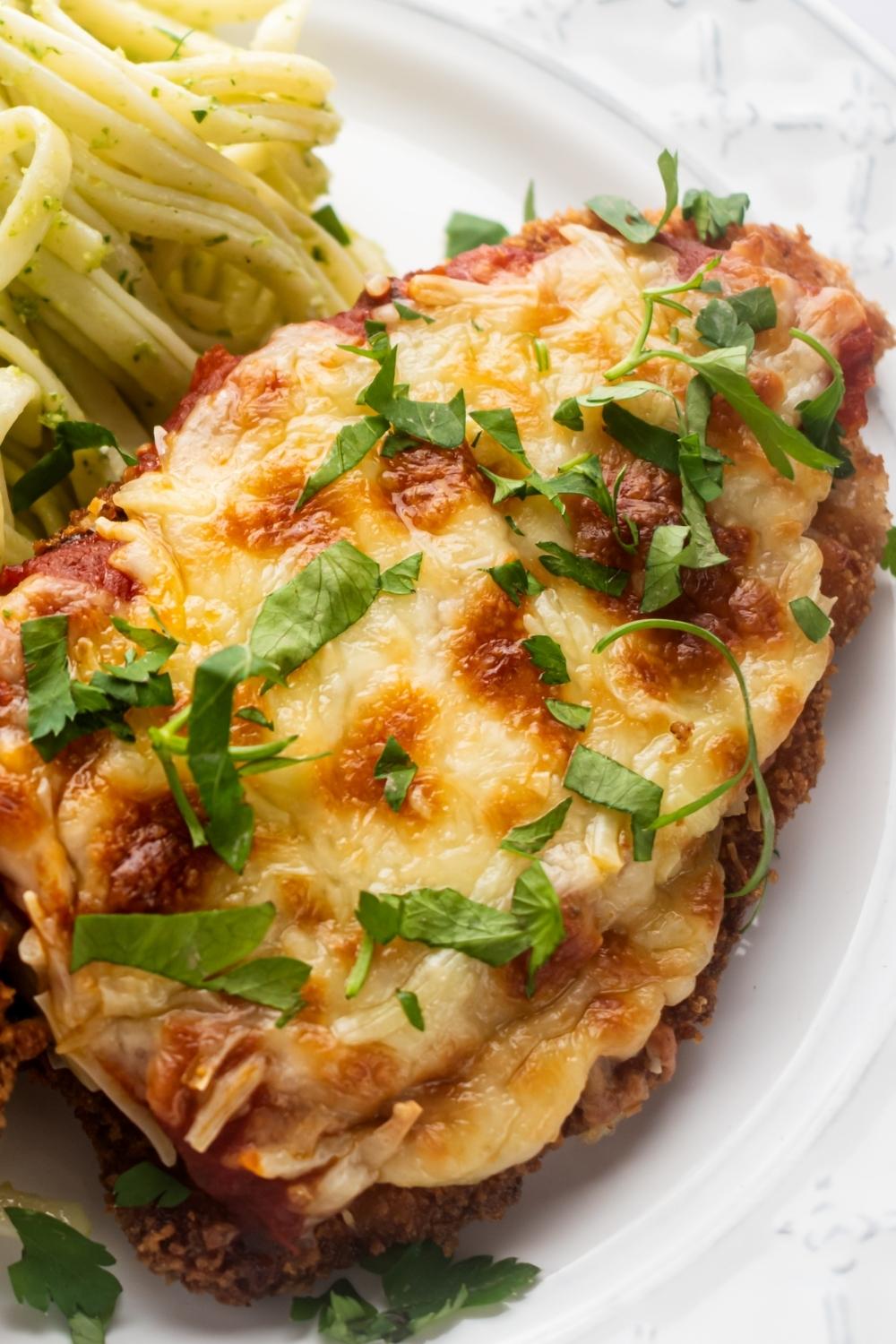 More Copycat Recipes To Try
Yield: 2 servings
Olive Garden Chicken Parmigiana Recipe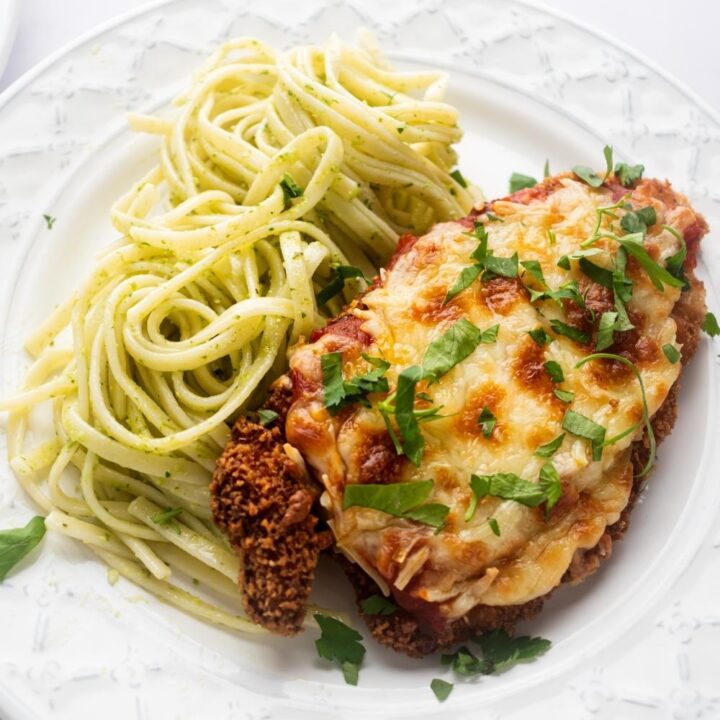 This addictive Olive Garden chicken parmigiana is coated in crunchy parmesan breadcrumbs, topped with marinara sauce, and smothered with rich, melty mozzarella cheese. It's a restaurant-quality that's easy enough to make for a weeknight dinner!
Ingredients
2 chicken breasts, boneless, skinless, pounded
1 cup flour
1 cup milk
2 eggs
1 cup Italian breadcrumbs
½ cup marinara sauce
¼ cup parmesan cheese, grated, or asiago cheese
1 cup mozzarella cheese
½ cup vegetable oil
parsley, chopped, for garnish
Instructions
Line up 3 bowls. In the first medium bowl, place flour. Then, mix milk and eggs in a second bowl.
Combine bread crumbs and grated parmesan cheese in a third bowl. Set aside.
Season chicken with salt and pepper. Coat the chicken lightly in flour, covering all sides completely. Dip into egg and milk mixture, covering completely. Coat with breadcrumbs, covering evenly, removing any lumps.
Preheat the oven to broil.
Heat oil in a cast iron pan to medium heat. Fry chicken for about 5 minutes per side or until cooked through and golden brown.
Place chicken on a paper towel to remove excess oil. Put the chicken on a baking sheet lined with parchment paper. Top fried chicken with marinara sauce and mozzarella cheese.
Broil in the oven until the cheese melts.
Garnish with fresh parsley. Serve with spaghetti or desired side dish.
Nutrition Information:
Serving Size:
1 serving
Amount Per Serving:
Calories:

1041
Total Fat:

33.9g
Saturated Fat:

14.8g
Trans Fat:

0g
Unsaturated Fat:

0g
Cholesterol:

312mg
Sodium:

1633mg
Carbohydrates:

103.4g
Fiber:

5.8g
Sugar:

14.9g
Protein:

76.3g