If you've been looking for some tasty vegan candy options, this list is for you. I went to multiple stores and searched the candy aisles and shelves for all vegan friendly candy. That said, this vegan candy list will give you plenty of options and help you know the best plant based candy to buy!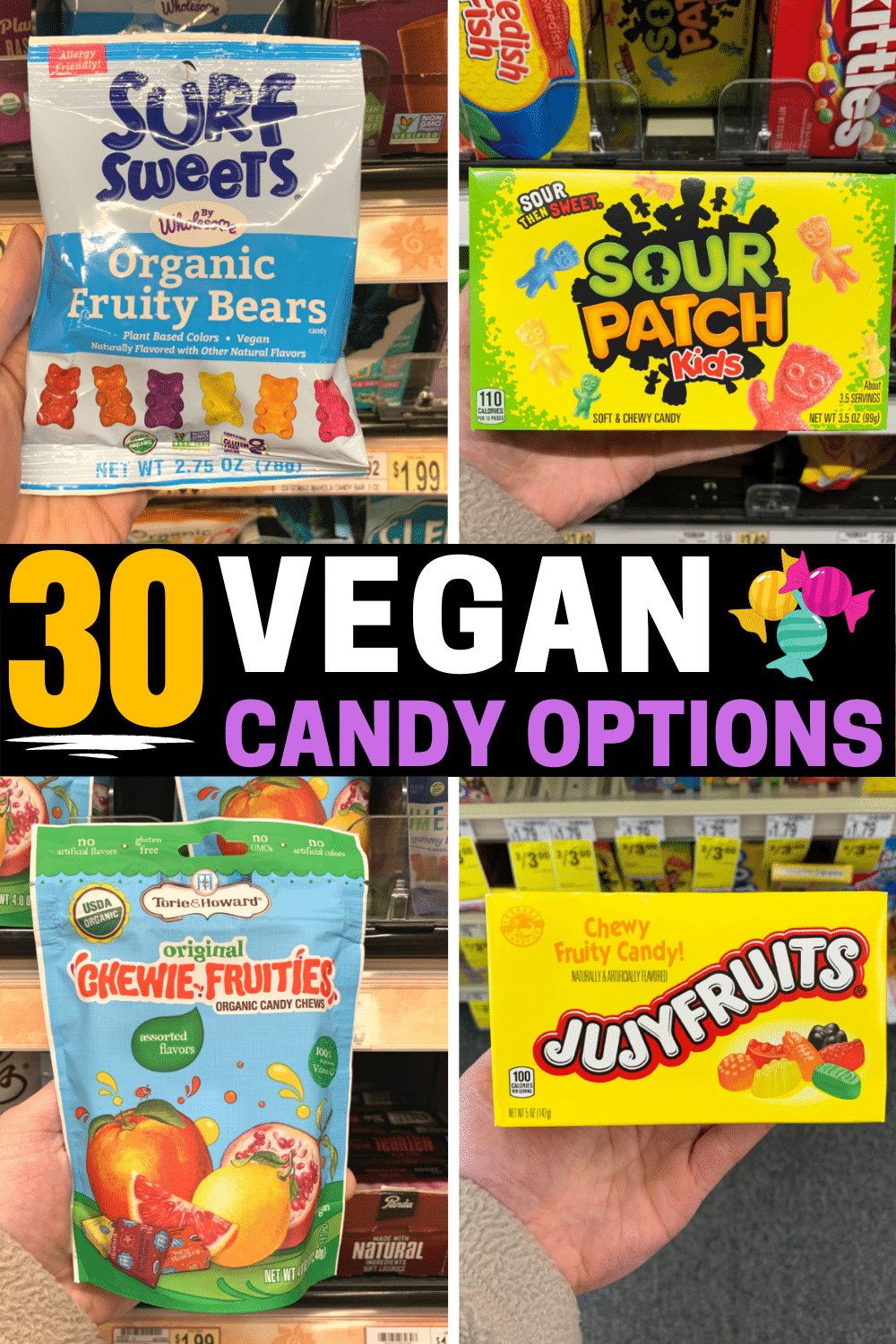 VEGAN CANDY LIST
Each one of these products is certified vegan and contains all vegan friendly ingredients, and the majority of them are organic as well.
Here you'll find some vegan candy bars, vegan chocolate, vegan gummies, and more great vegan candy options!
So, without further adieu, let's get into the good stuff!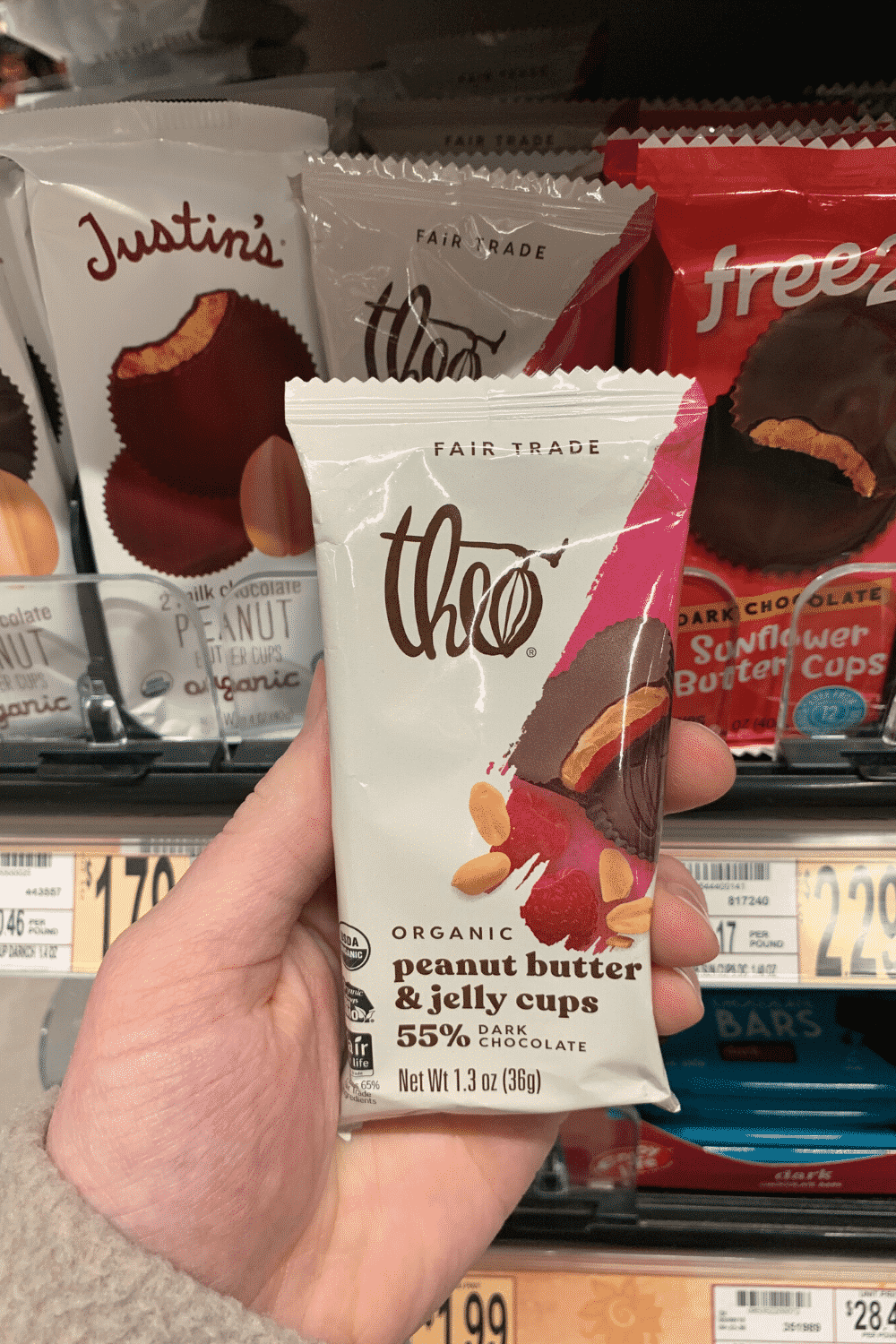 If you love peanut butter, jelly, and chocolate these are a must buy!
They're absolutely delicious, and even kids like them.
Click here to pick some up.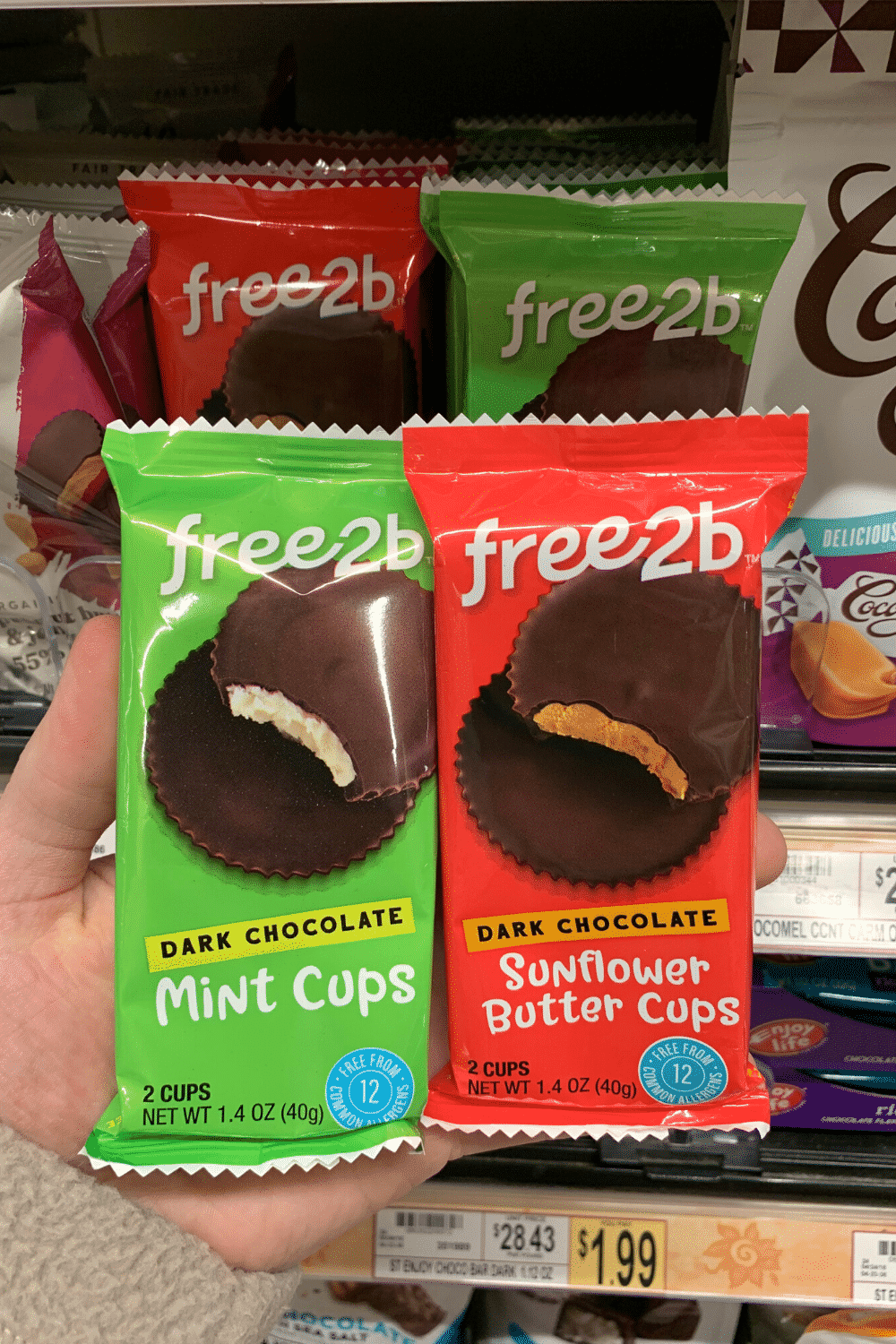 Another fantastic nut butter cup option are Free2b sunflower butter cups by Free2b.
The mint ones are a personal favorite of mine.
In fact, I think they're so good, that they're in my top 3 of best vegan candy options out there.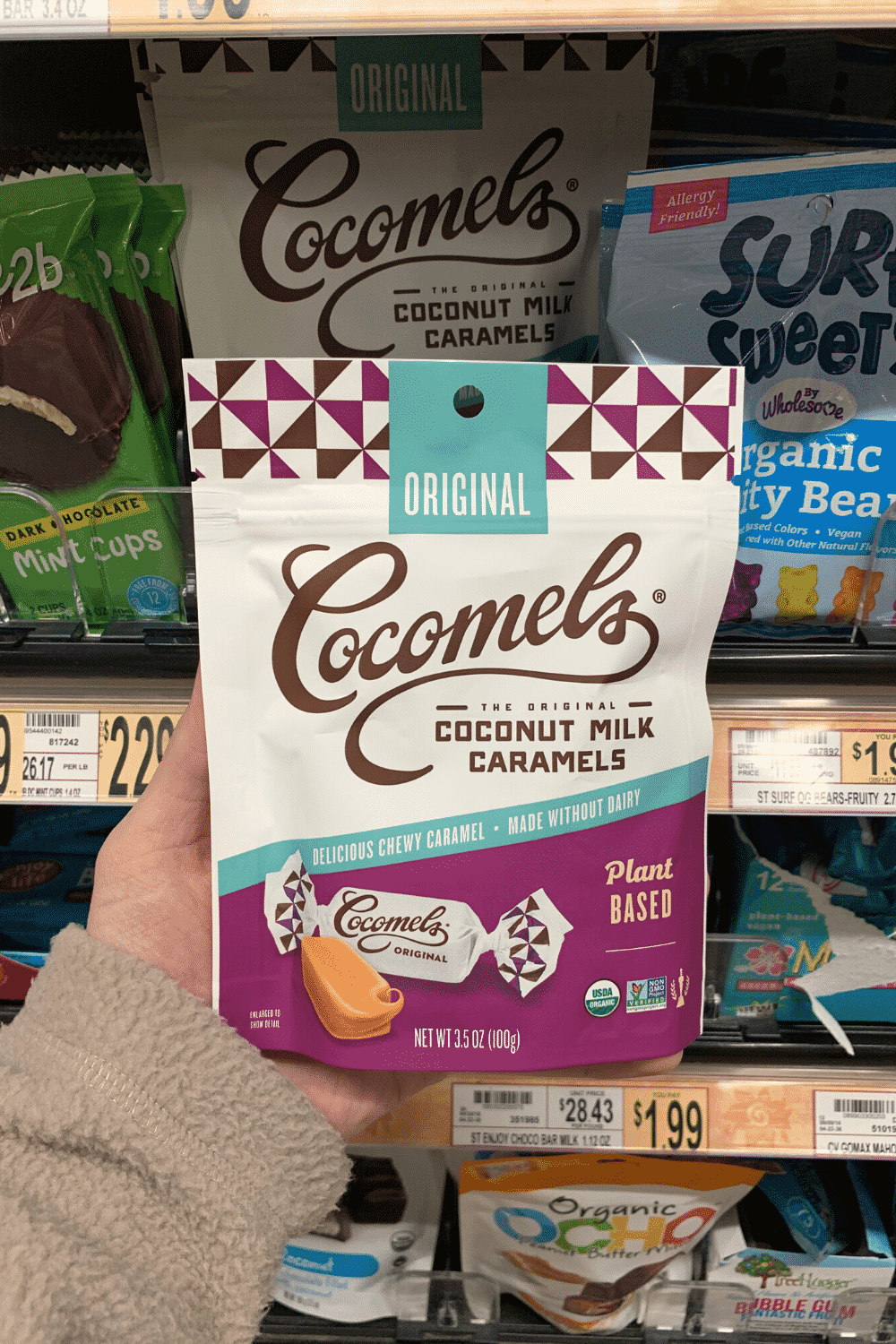 If you love caramel, then Cocomel's Coconut Milk Caramels need to be at the top of your vegan candy shopping list!
Seriously, these are totally delicious, totally chewy, and totally dairy free!
And, to say the least, they're a hit at our house.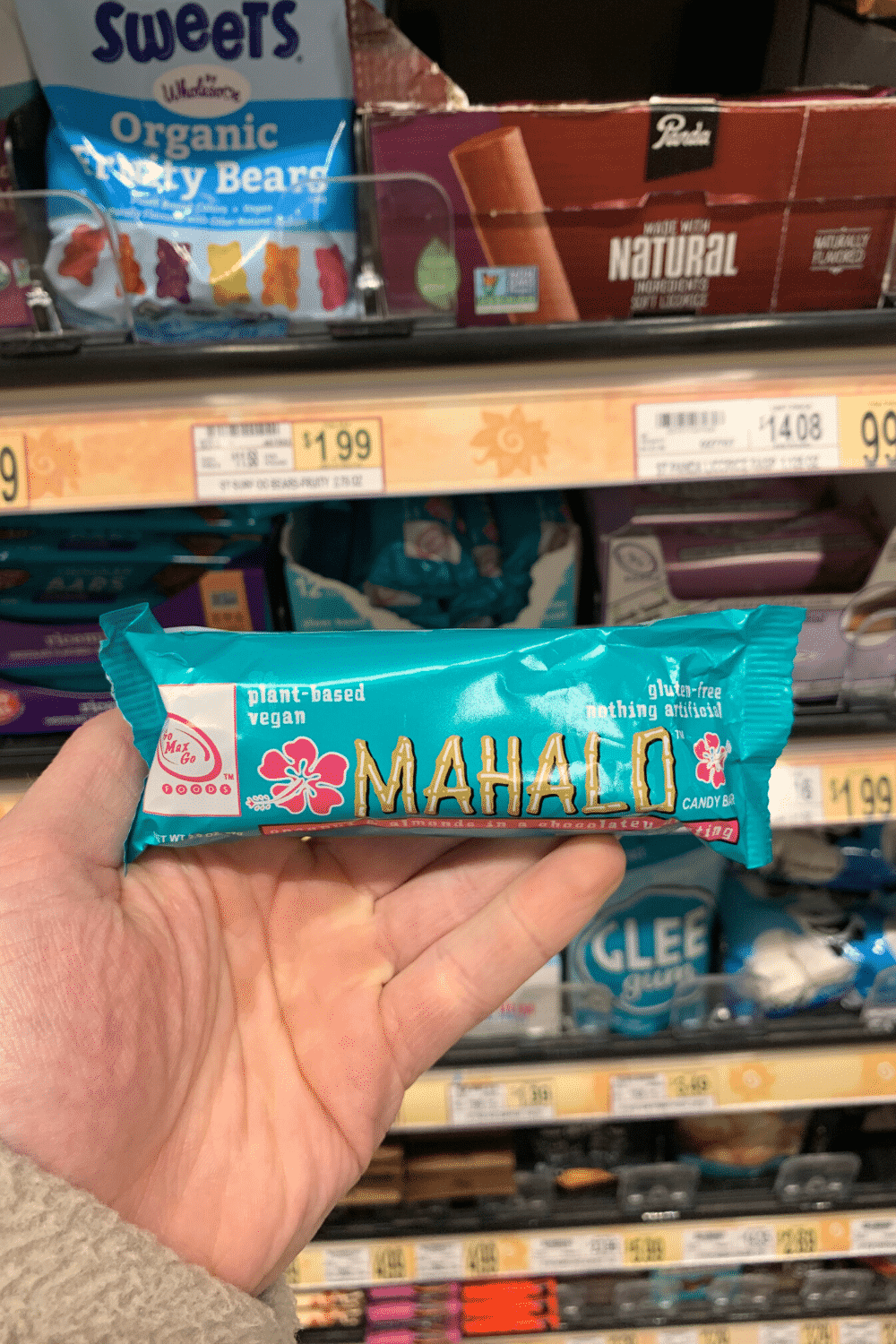 Mahalo Vegan Candy Bar are basically a vegan almond joy.
They are addictingly good. Like, so good, I have a hard time just eating one.
So, if almonds, coconut, and chocolate are your thing then you definitely should check these out.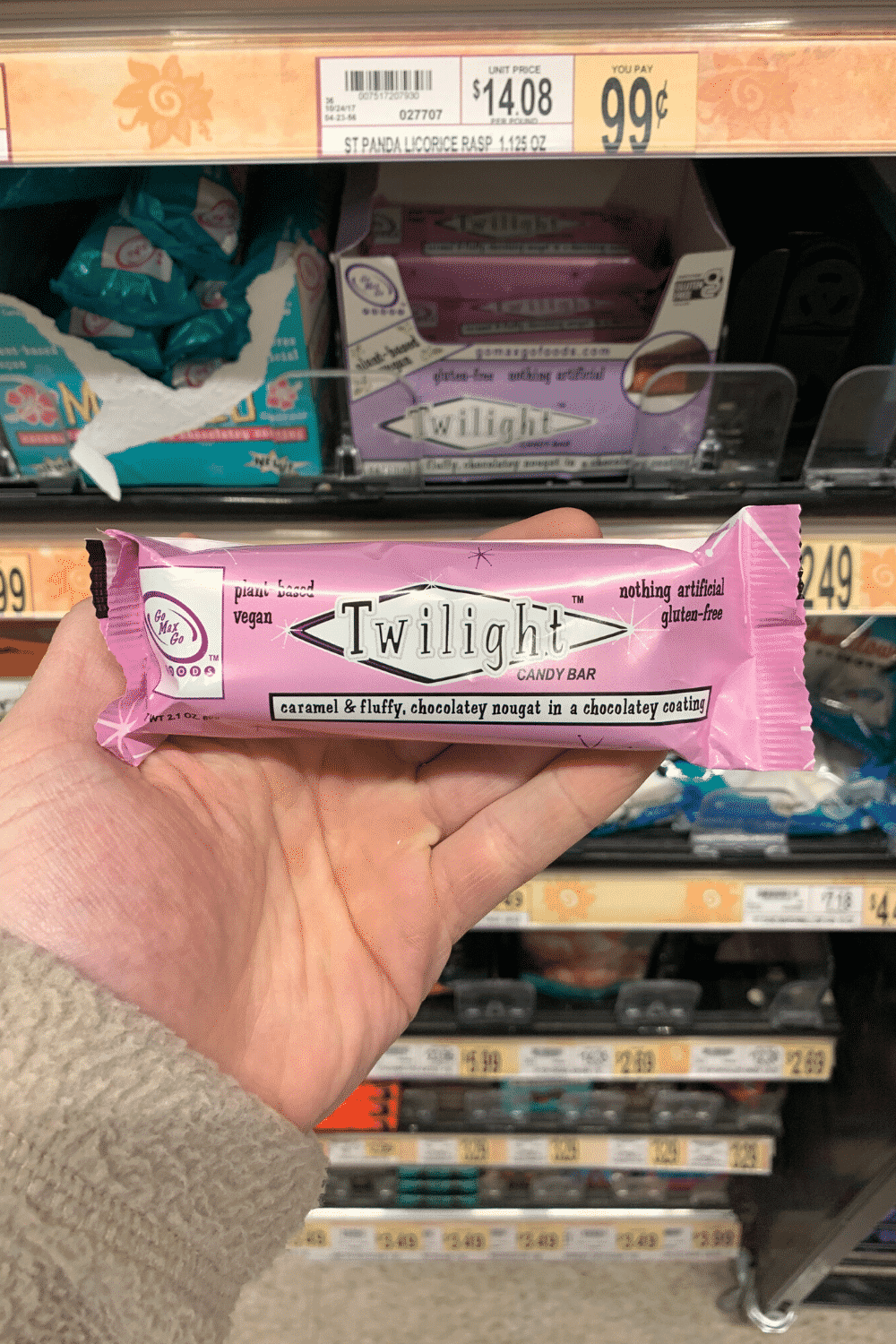 If you love caramel, nougat, and chocolate they're might not be a better vegan candy bar to buy than these ones by Twilight.
These Ocho Coconut Mini's are like tiny vegan Mounds candy bars.
I personally like the fact that these come individually wrapped because portion control is built into them by default. And, to be honest, sometimes with vegan cadies I NEED that to be the case, otherwise, I'll eat the entire bag/package.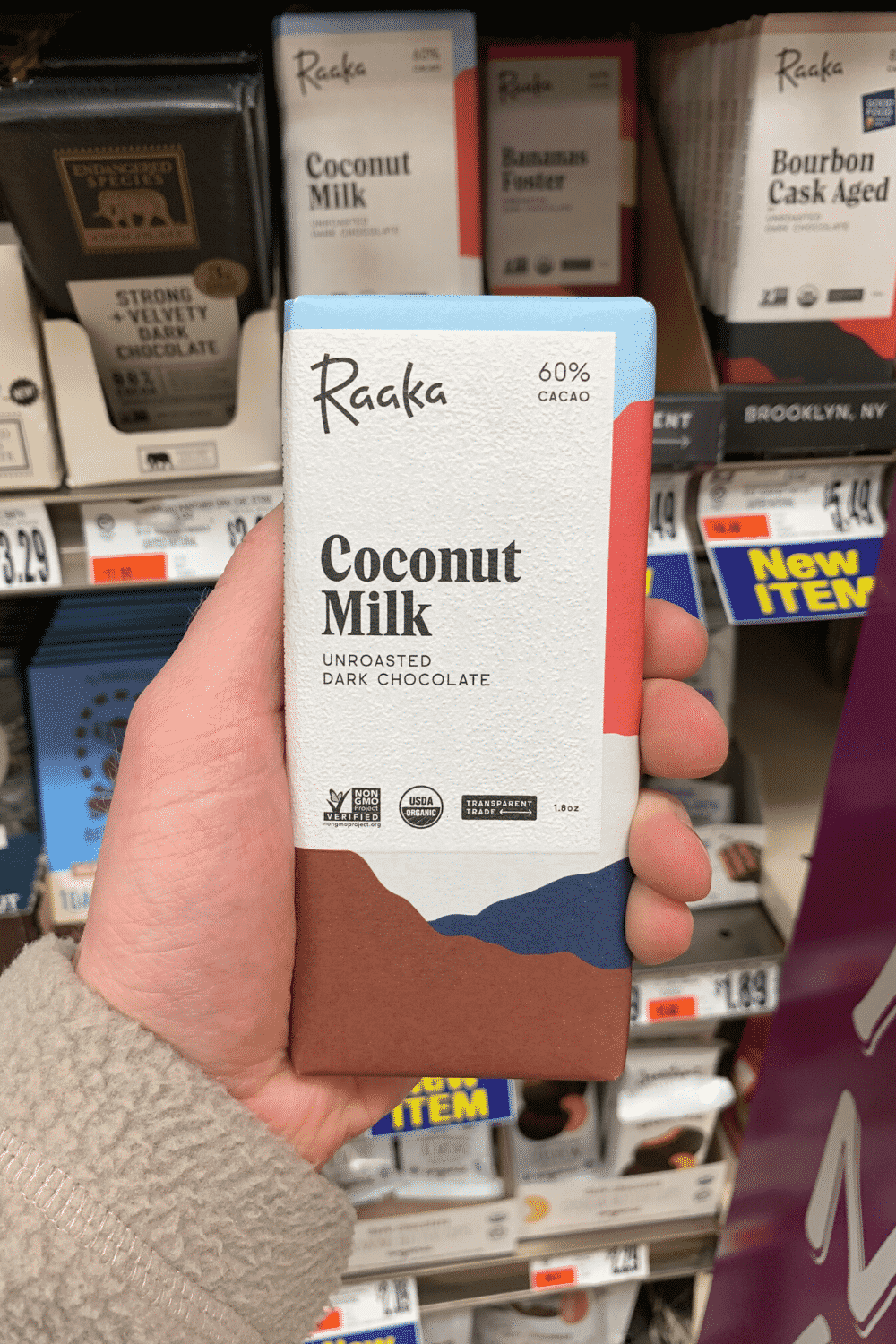 These Raaka Coconut Milk Chocolate Bars are one of my favorite plant-based chocolate bars to use when I'm making vegan s'mores.
But, just on their own, these bars are really tasty too. Each bite of these is filled with rich, chocolate decadence, and they're so good it's hard to believe they're vegan-friendly.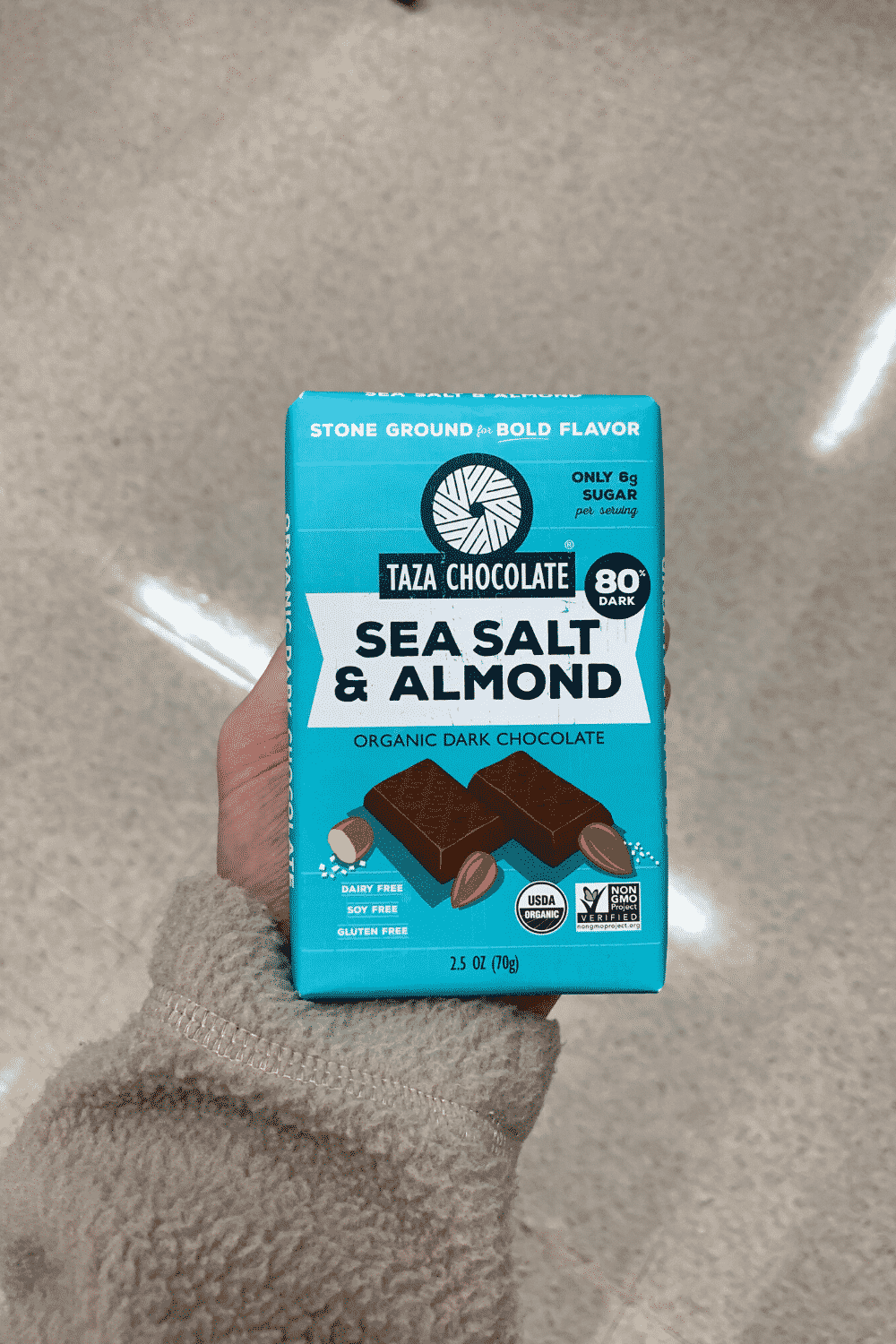 If you're in the mood for some super dark chocolate that's vegan-friendly, this 80% Dark Chocolate Bar with sea salt and almonds by Taza is a great option to go with!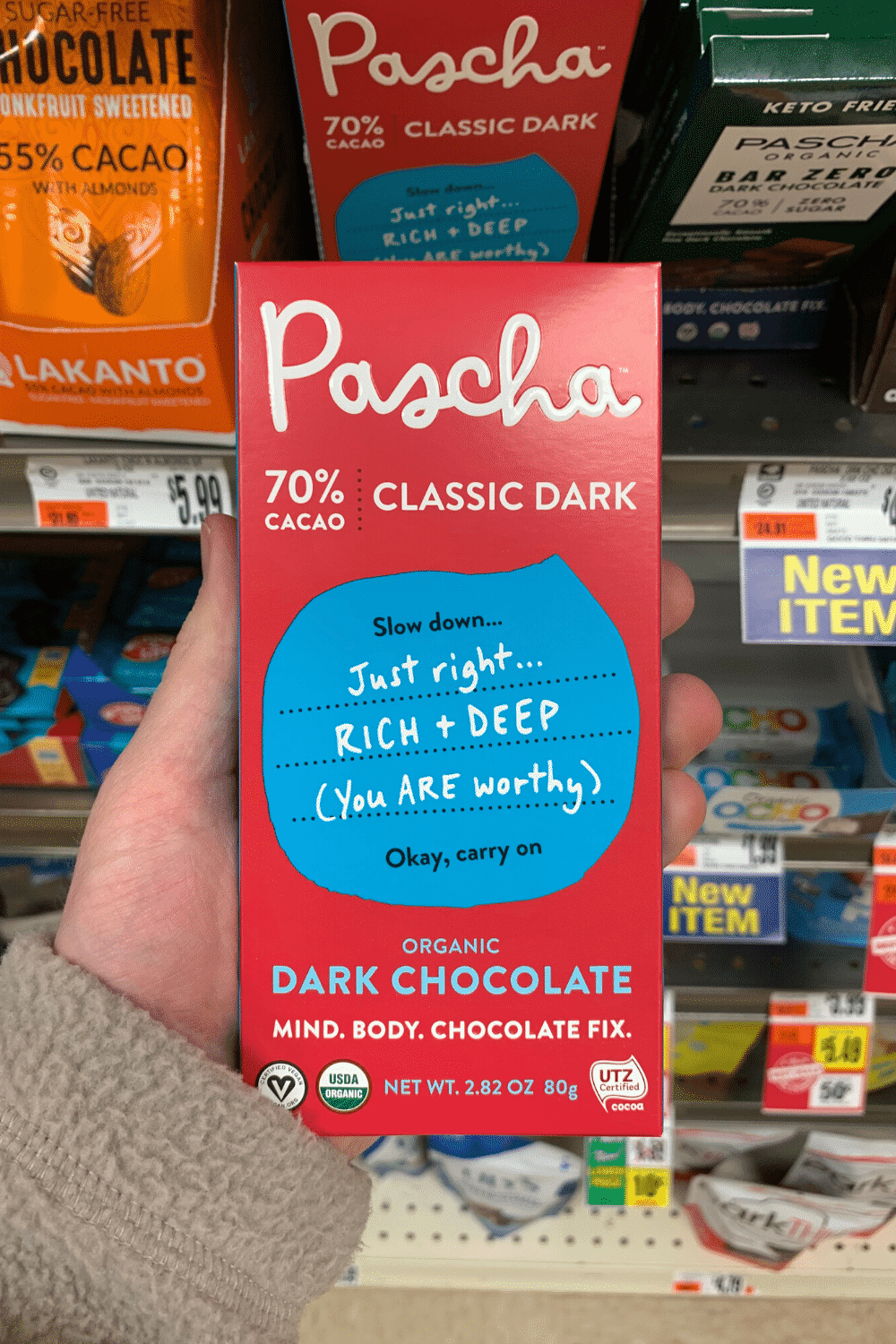 This Pascha Dark Chocolate Bar is another vegan chocolate bar to be on the lookout for the next time you're at the store.
And, for what it's worth, these are my wife's favorite plant-based chocolate bars.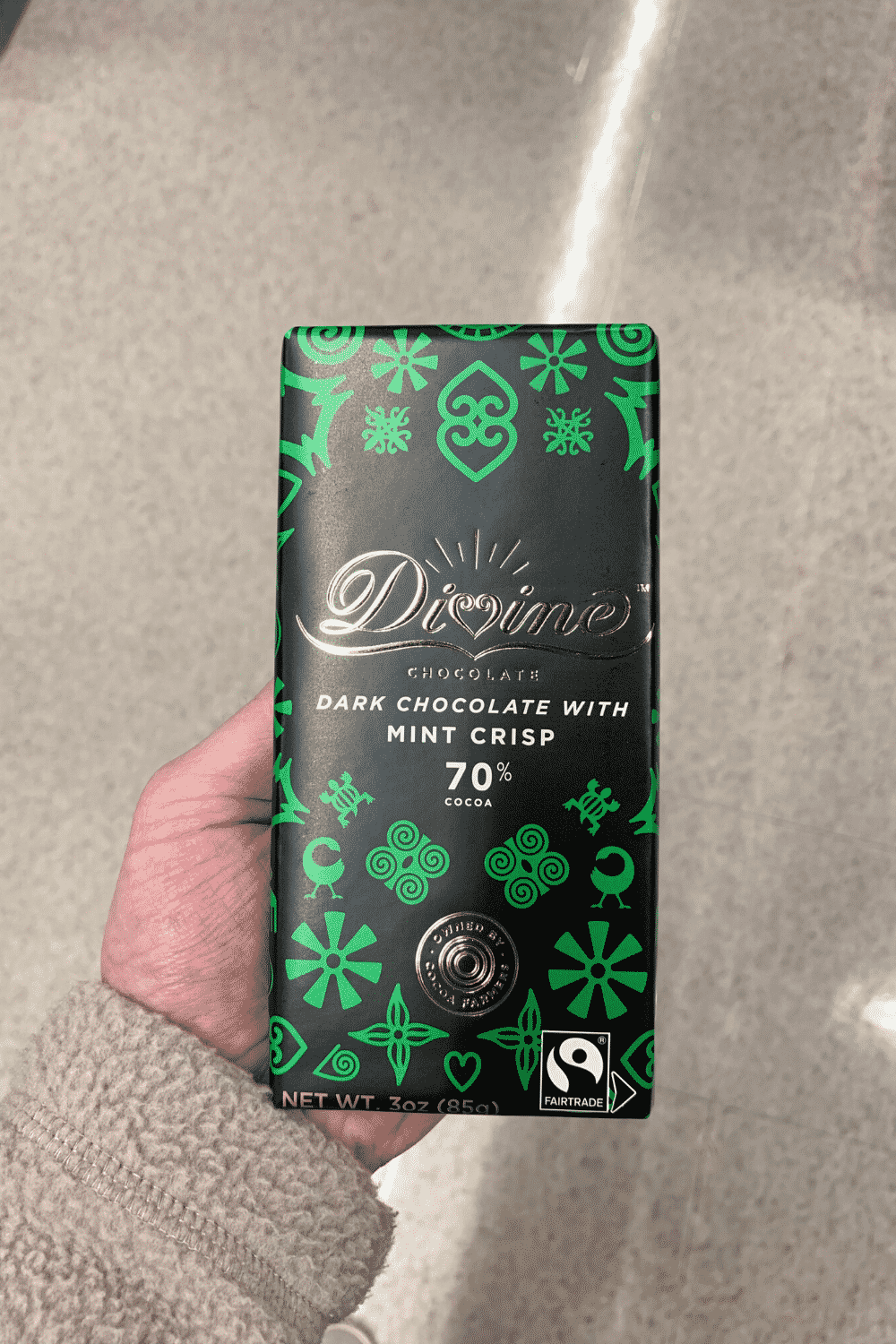 If you want to enjoy a little mint flavor in your chocolate bar, Divine Vegan Chocolate Bar are an awesome vegan-friendly option to go with.
And, as I'm sure you guessed, these are definitely one of my favorites, since I love all things minty & chocolatey.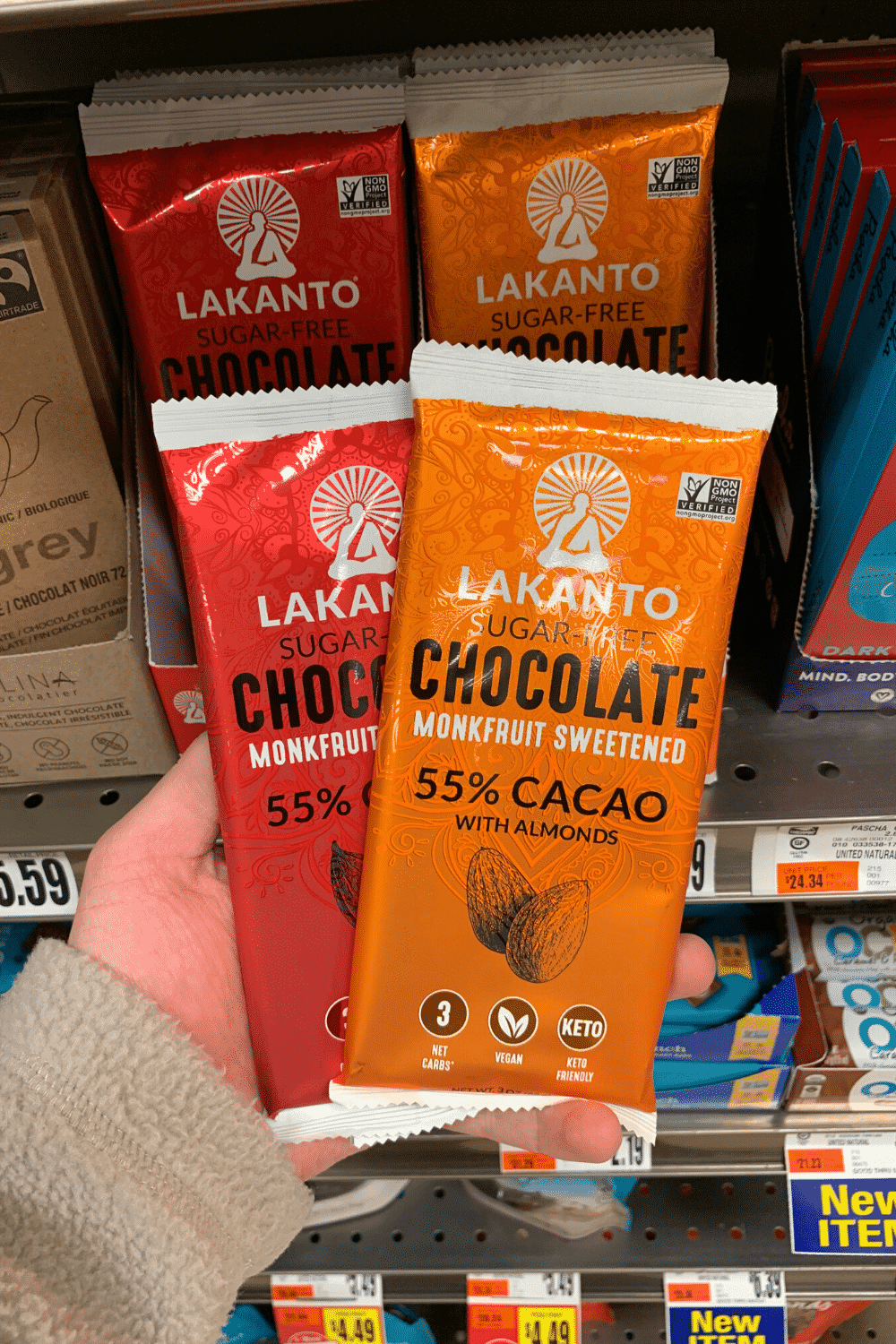 These 55% Dark Chocolate Bars by Lakanto are not just vegan friendly, but they're totally sugar free too.
So, if you're trying to watch your sugar intake - or you just want a chocolate bar that isn't as dark as some of the other ones we've went over - these would be a great option to choose.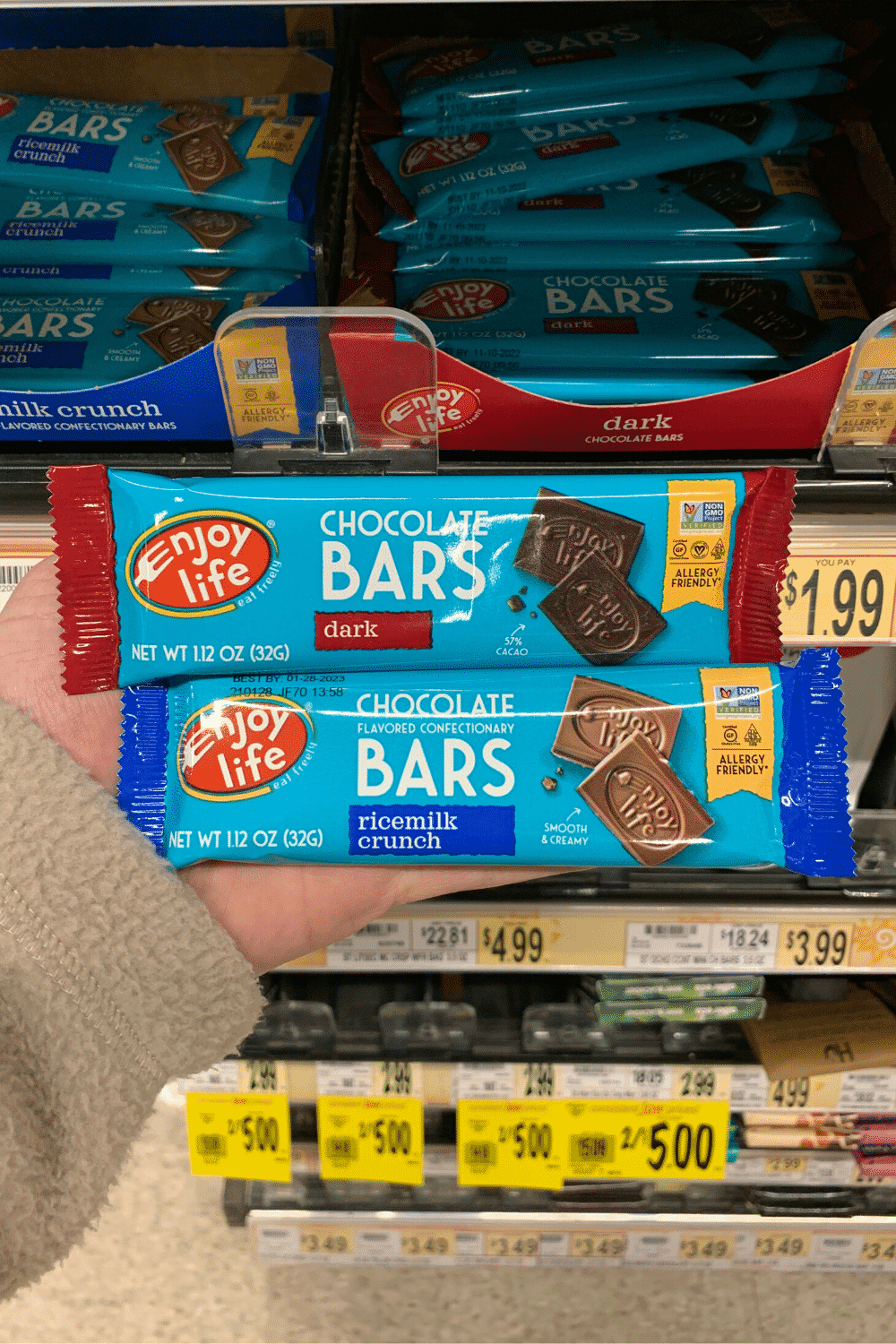 These Enjoy Life Chocolate Bars are more like vegan chocolate candy bars.
So, if you love sweet chocolate bars, these are probably the ones you'll want to buy the next time you're at the store.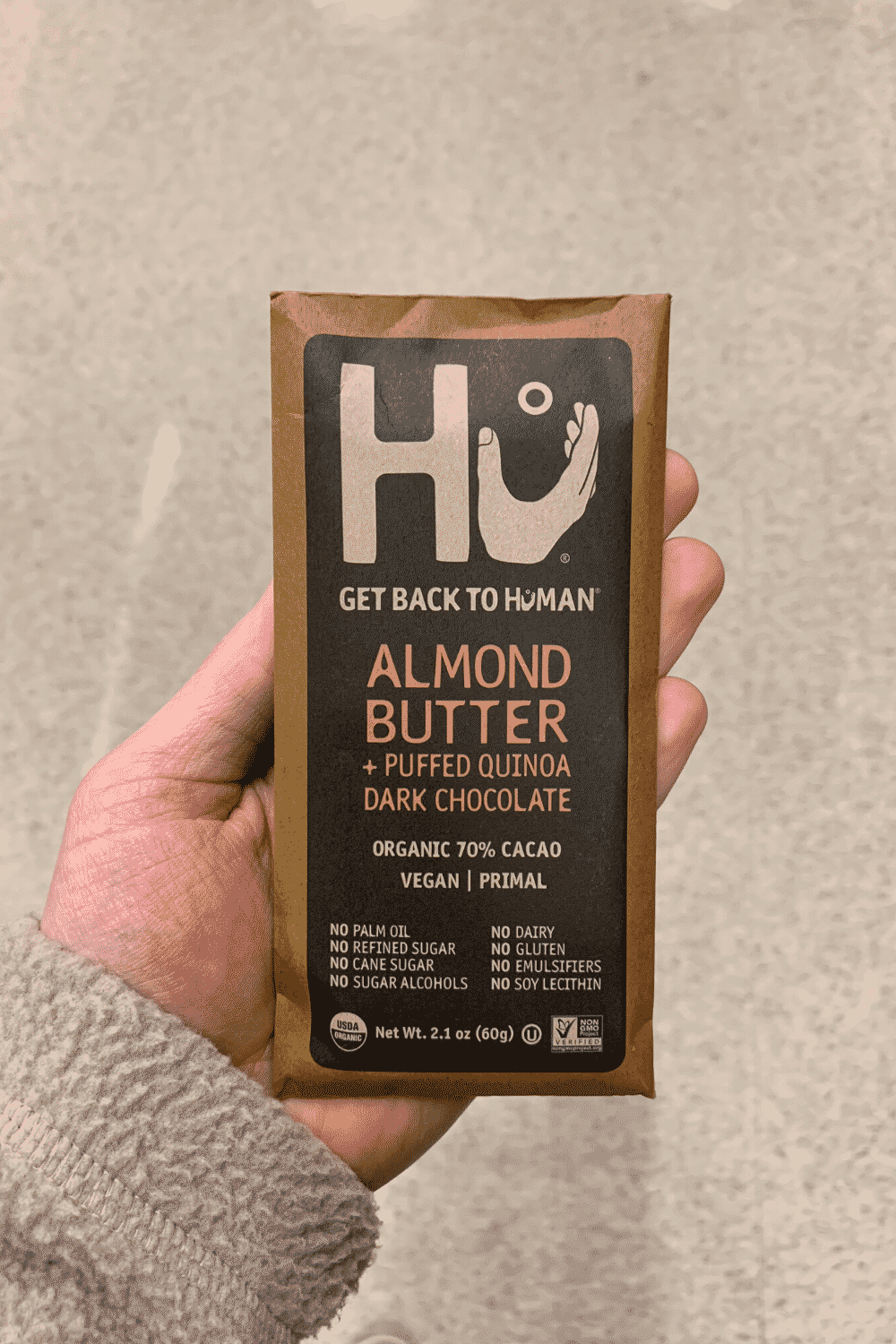 The combination of nut butter, chocolate, and puffed quinoa is out of this world good in this bar.
And as far as ingredients go, this Hu Bar is about as clean as it gets.
So, if you're looking for the best healthy vegan chocolate bar, these one's by Hu are my top choice.

Are marshmallows candy?
Well, I think they're close enough to it, so these made the list.
As I'm sure you know marshmallows are typically not vegan, but these ones by Dandies are.
And, these are actually the ones that I use to make those vegan s'mores I was talking about earlier.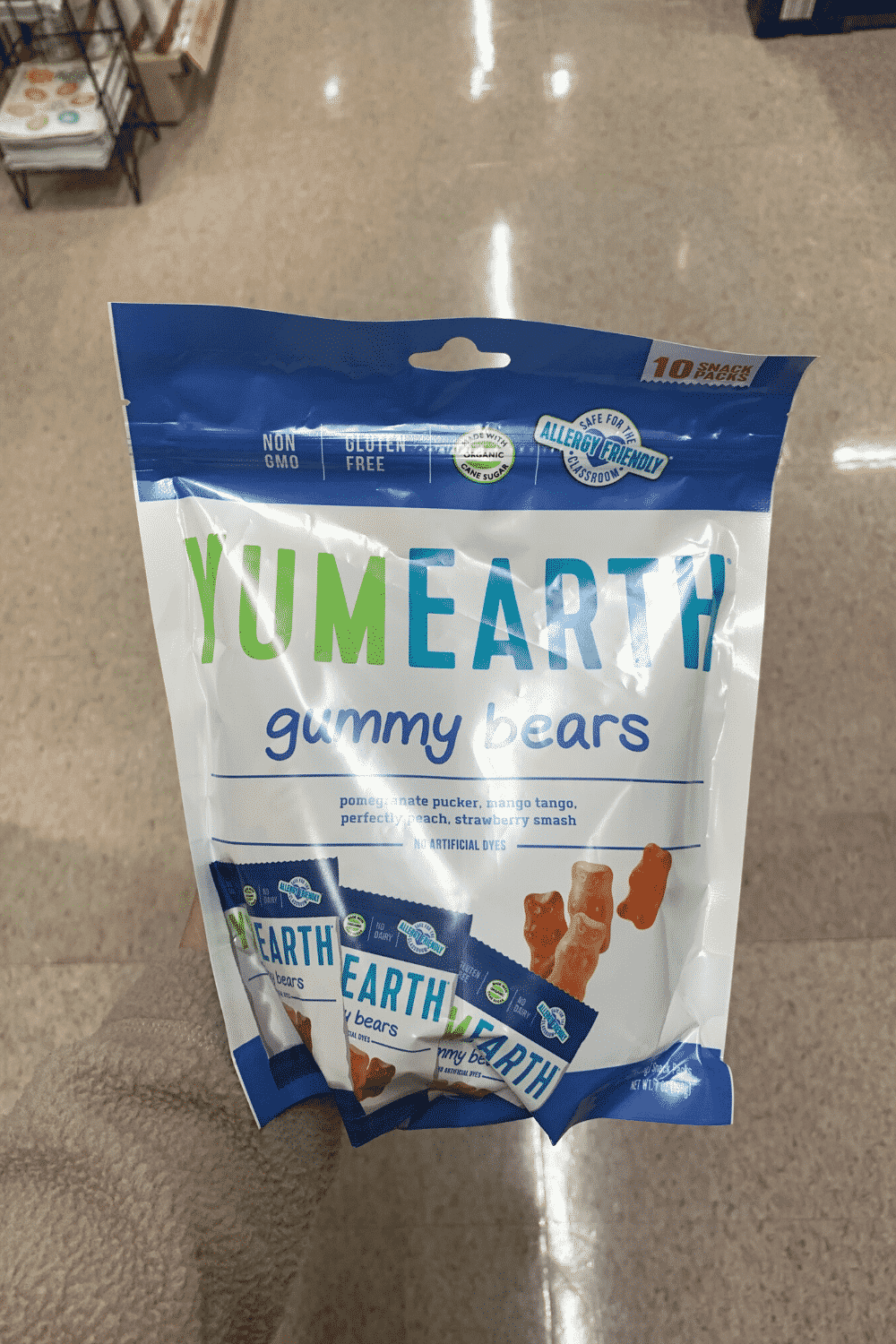 If you're looking for a chewy, fruity vegan candy, these gummy bears by YumEarth will satisfy that craving.
The flavors are incredibly tasty, and they're kid-approved too.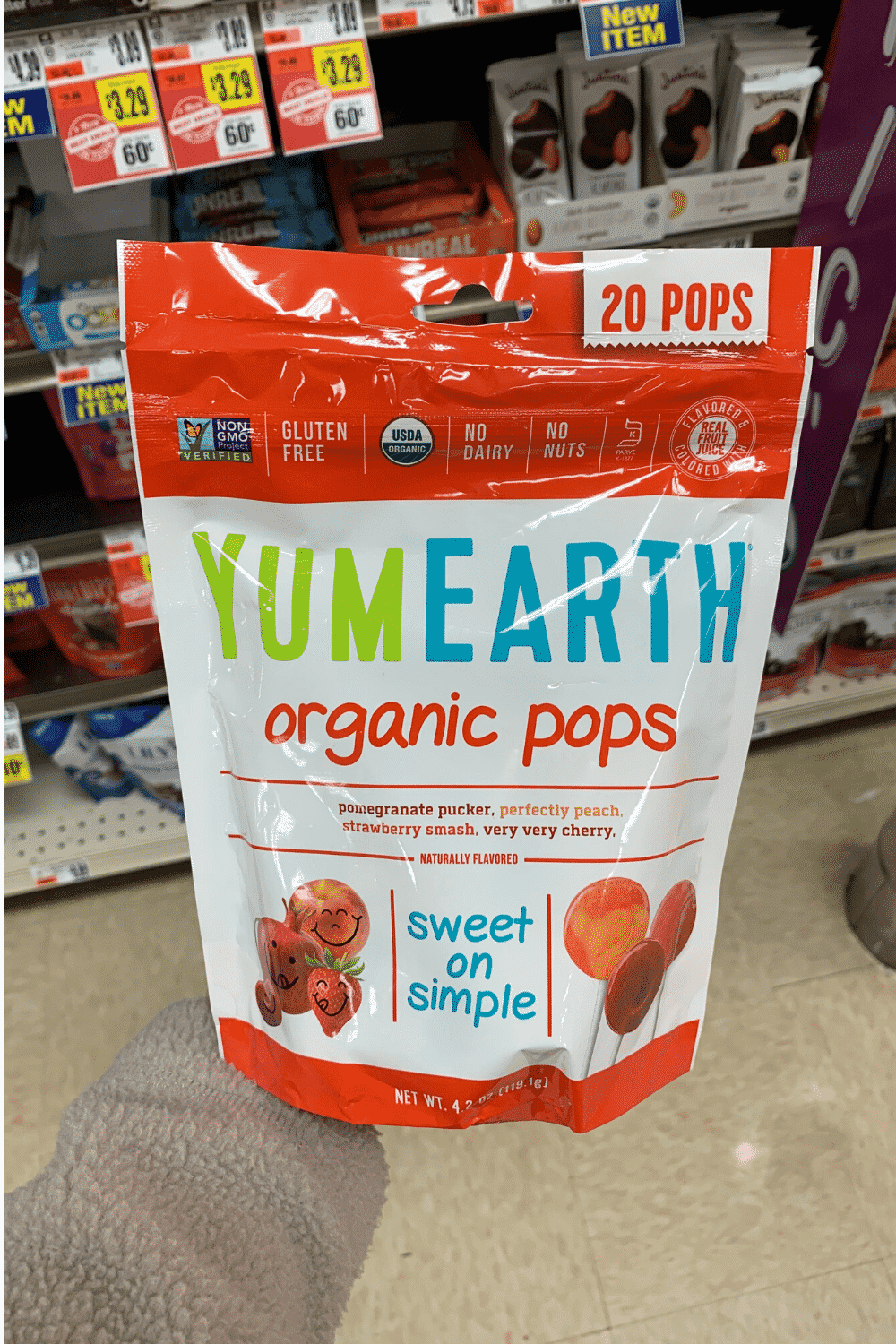 If you like suckers, these YumEarth organic pops are the best ones you can get.
They are like a classic lollipop but mini! And the fruity flavors are super tasty.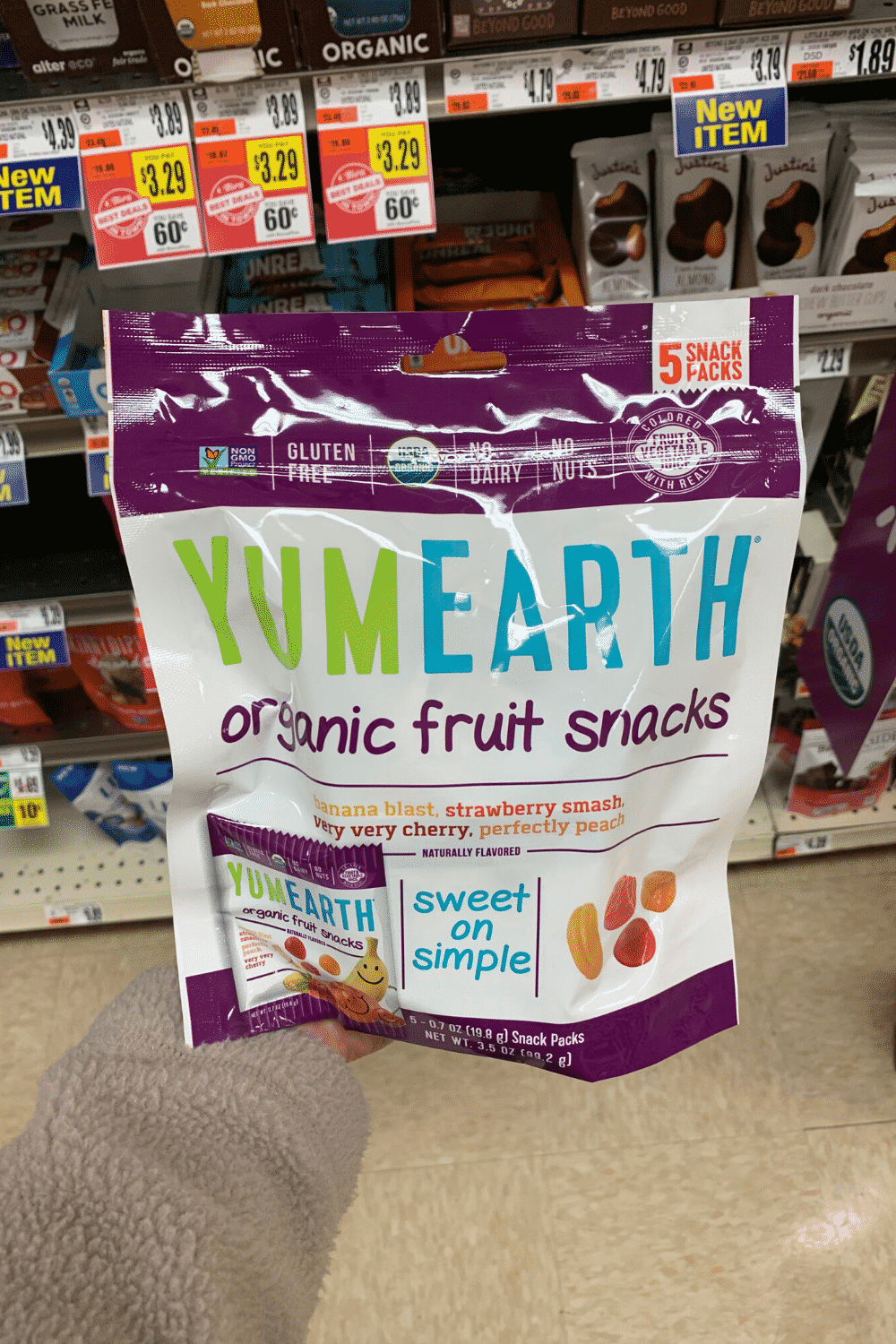 Another gummy snack pack candy is these organic fruit snacks form YumEarth.
These fruit snacks are so good and I just love the flavor combination. They make a great on-the-go snack and would be perfect to throw in your kids lunchbox.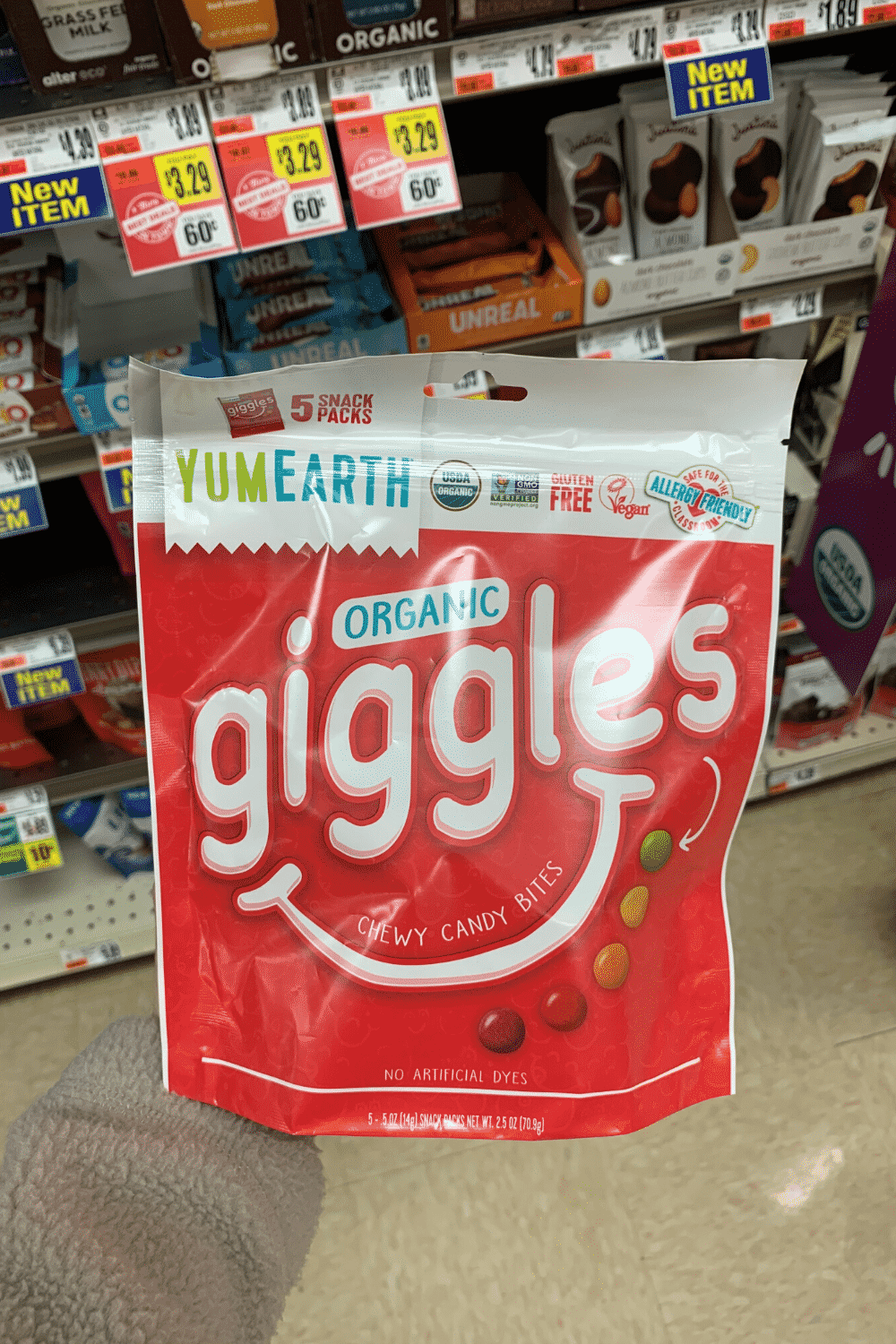 And another YumEarth candy you can get are these chewy candy bites.
If you've ever had skittles before, these are pretty much them but organic and vegan. So even though the ingredients in Skittle are vegan-friendly, these giggles are a much better option.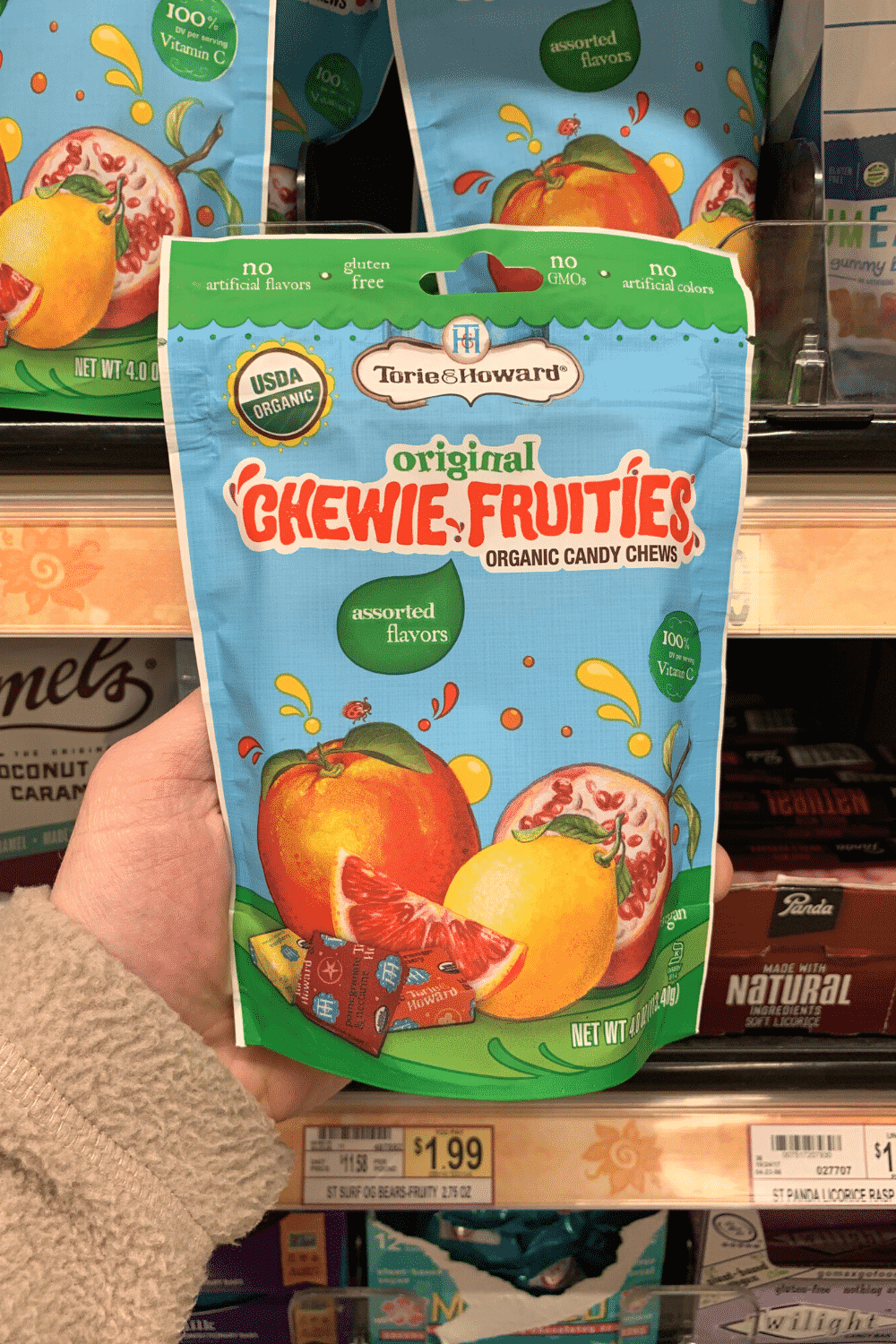 Now, Starburst are not vegan - but these chewie fruits are - and I think they taste even better than Starburst.
So if you like Starburst and have missed eating them, pick up some of these delicious chewie fruits.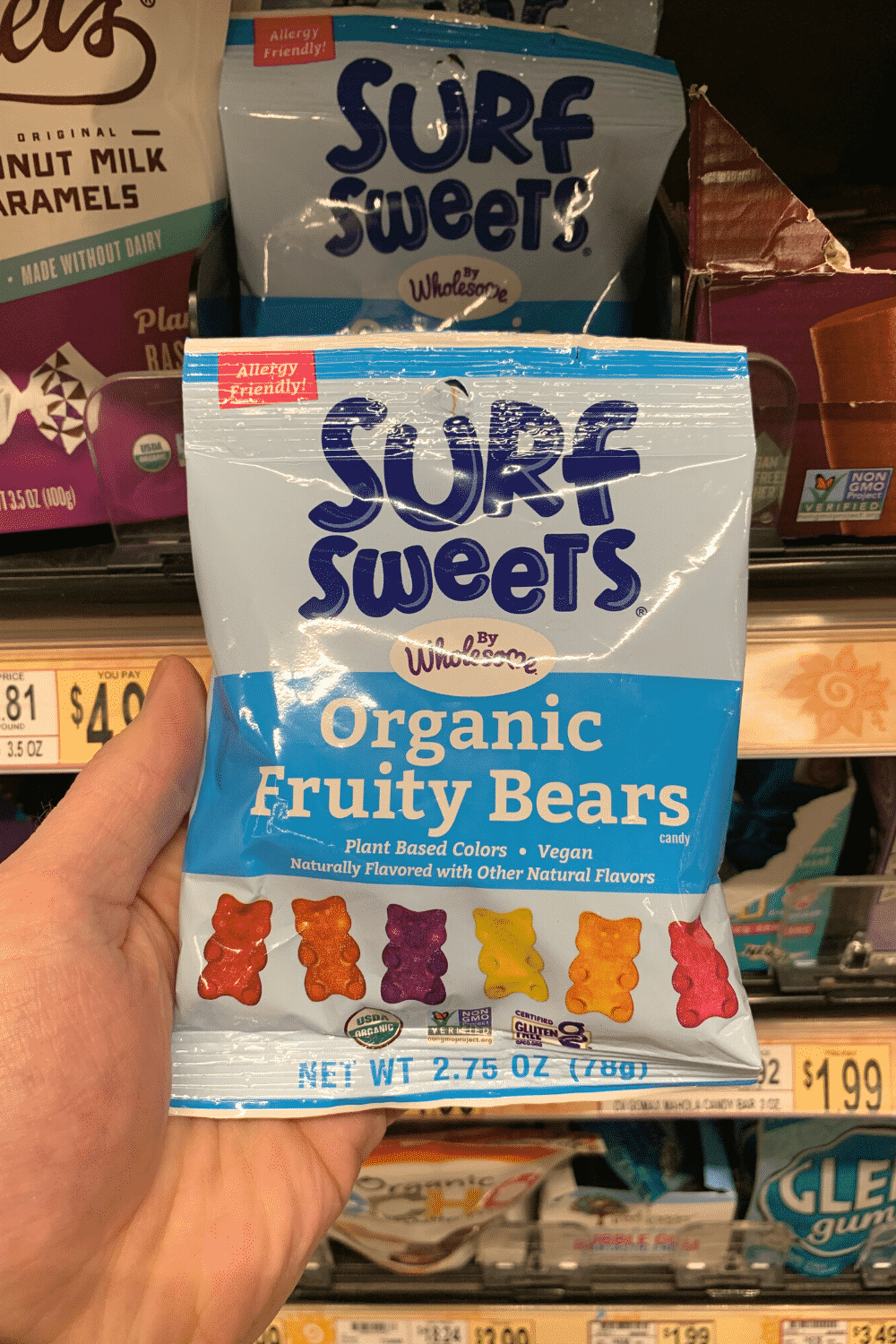 If you just want a bag of classic gummy bears, these Surf Sweets are pretty sweet.
They are made with plant based colors and are totally vegan! And let's be honest, the bears are just so cute.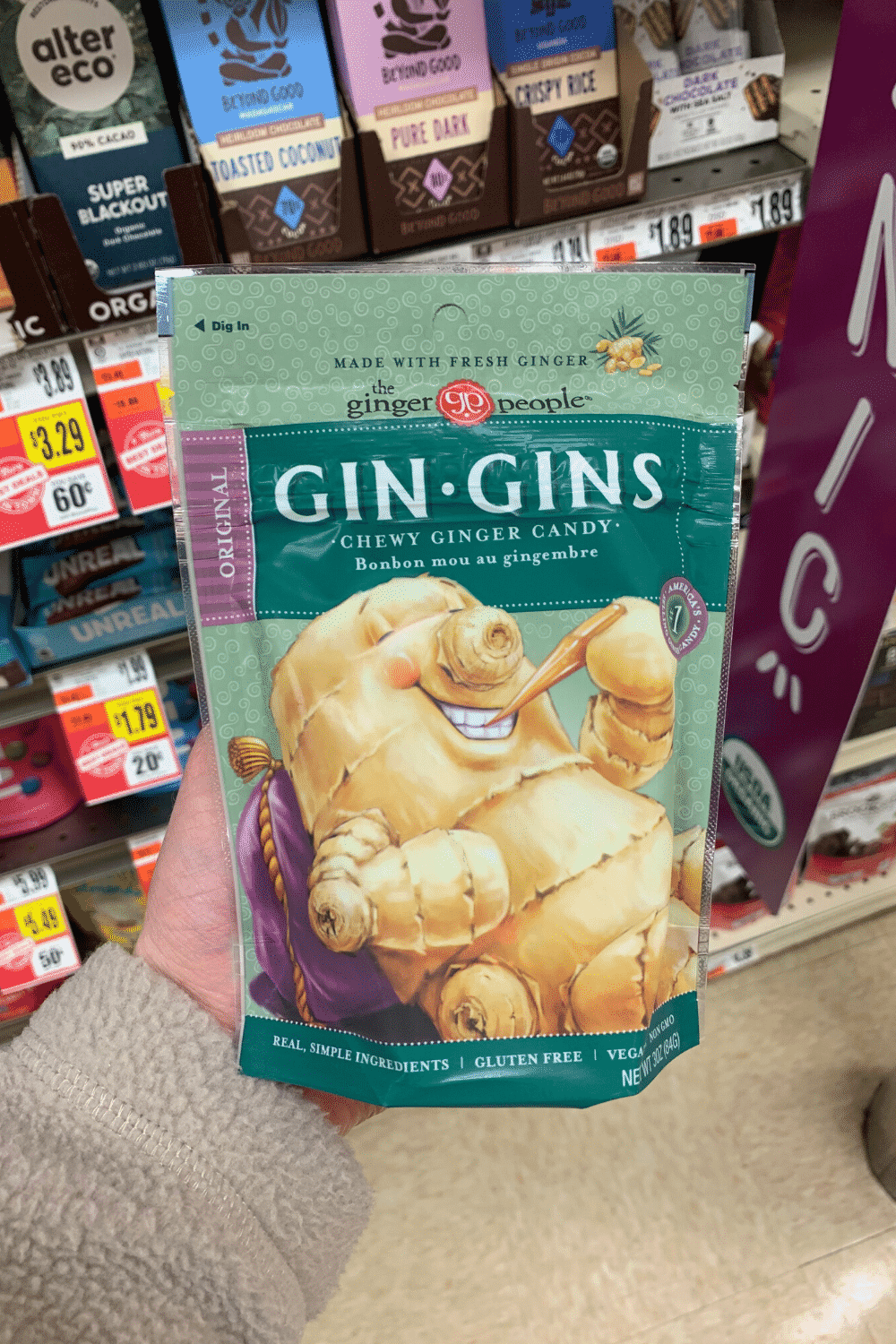 This next candy is for anyone who really likes ginger.
These can be a great thing to snack on if you are ever feeling nauseous or are experiencing motion sickness. And of course, they can just be eaten anytime since they are vegan.
Click here to pick them up.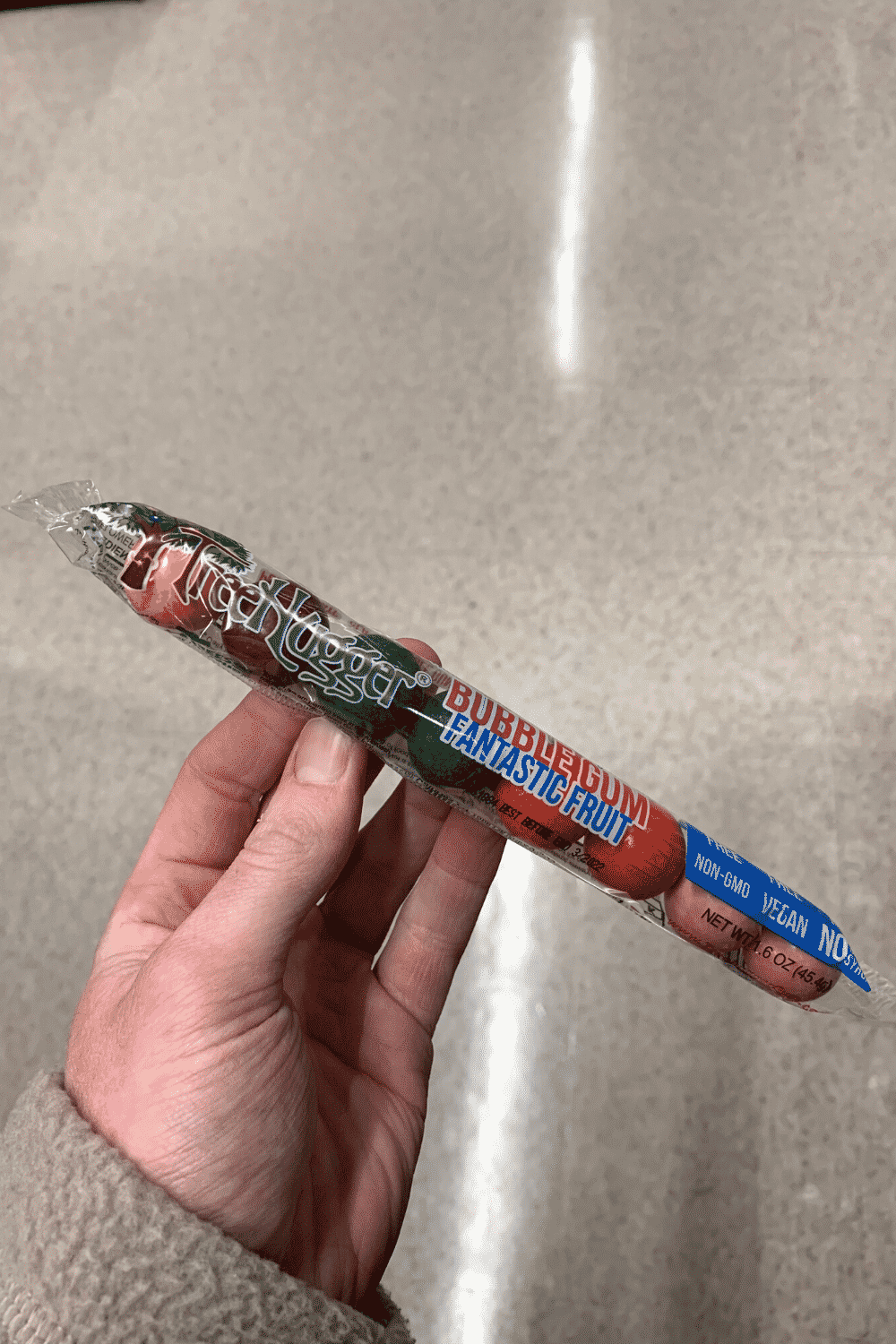 There's nothing better than a little bubble gum to chew on. It is just so satisfying to blow bubbles with real bubble gum.
Well, this is the only vegan bubble gum I've ever come across, and it's awesome.
Also, the flavor lasts a pretty long time, and there's just something fun about getting a stick of bubble gum balls.
Click here to pick these up!
OTHER VEGAN FRIENDLY CANDY
The next section of this list is a bunch of "regular" candies that just so happen to be vegan-friendly.
Now, keep in mind that none of them are certified vegan like the clean vegan candies above. So some of the ingredients can be debatable if they're vegan-friendly or not.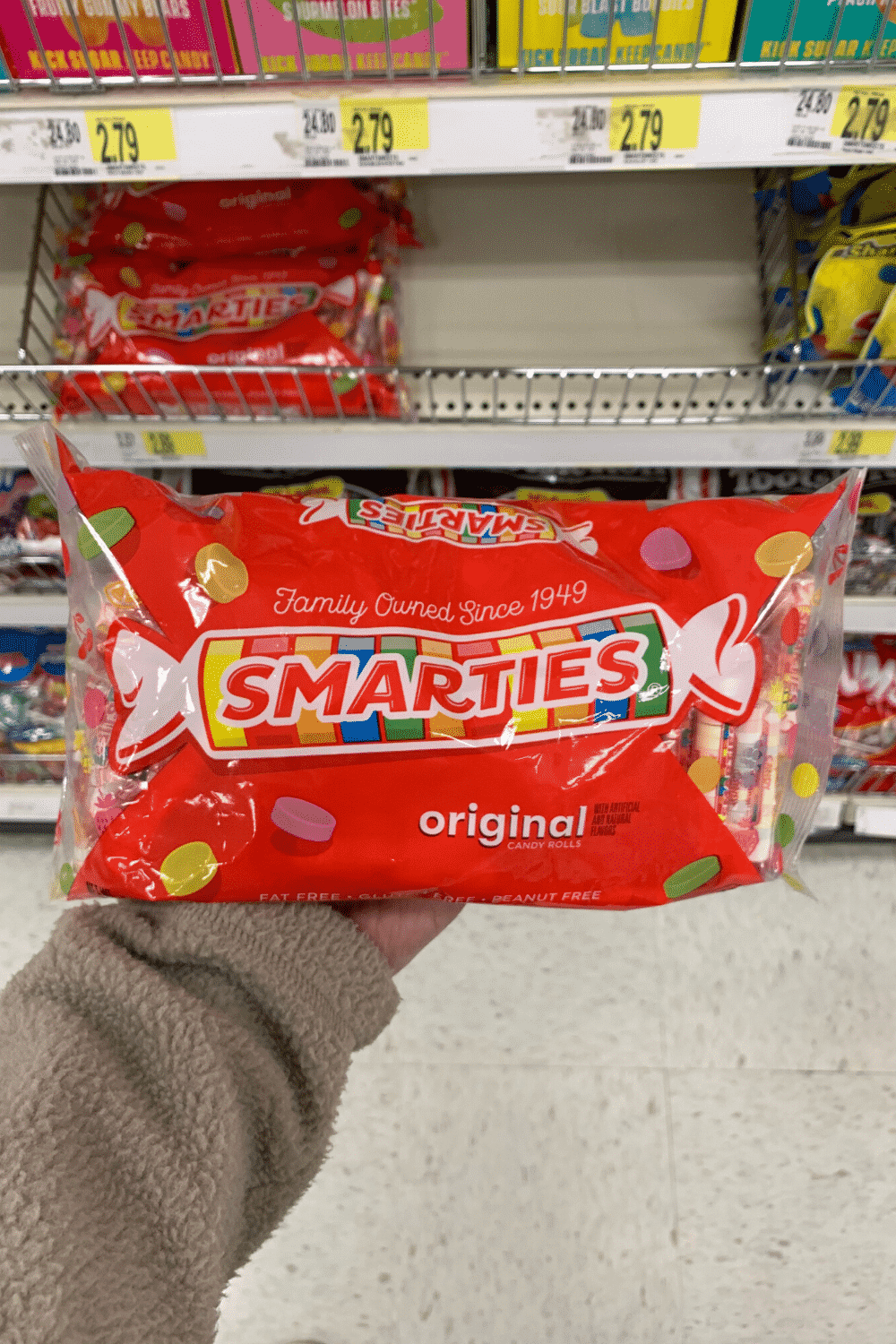 Whenever I think of smarties, it brings me back to Elementary school and being able to take some before leaving class.
So good thing this nostalgic candy has vegan-friendly ingredients!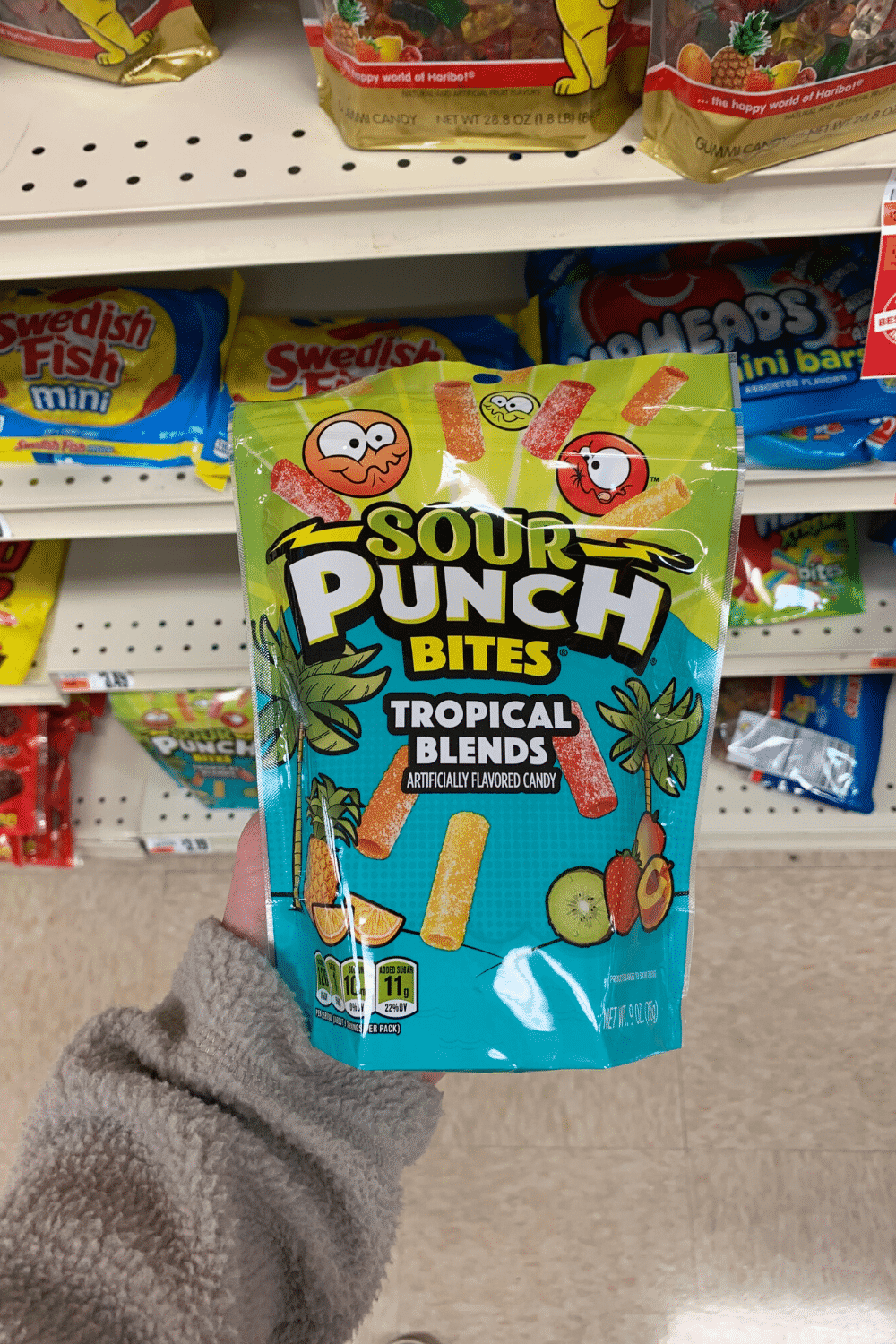 I'm not a huge fan of sour candy, but if it is your thing, these sour punch bites are a good vegan-friendly option.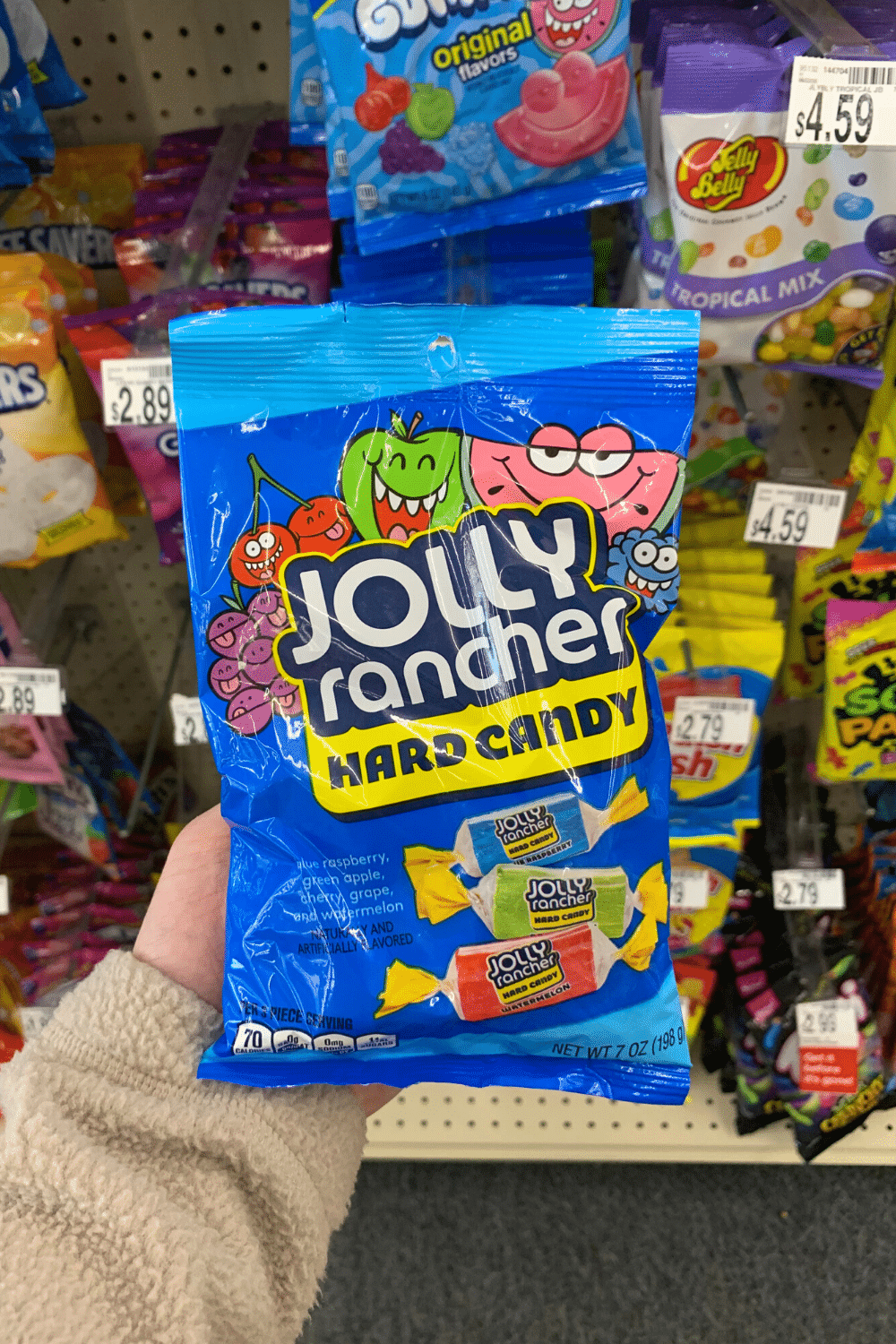 Jolly Ranchers are basically a sucker without a stick. And if you like hard candy, these are a vegan-friendly option. They're a fun candy to bring around with you like you would with gum.
And you can use them to make these candied grapes!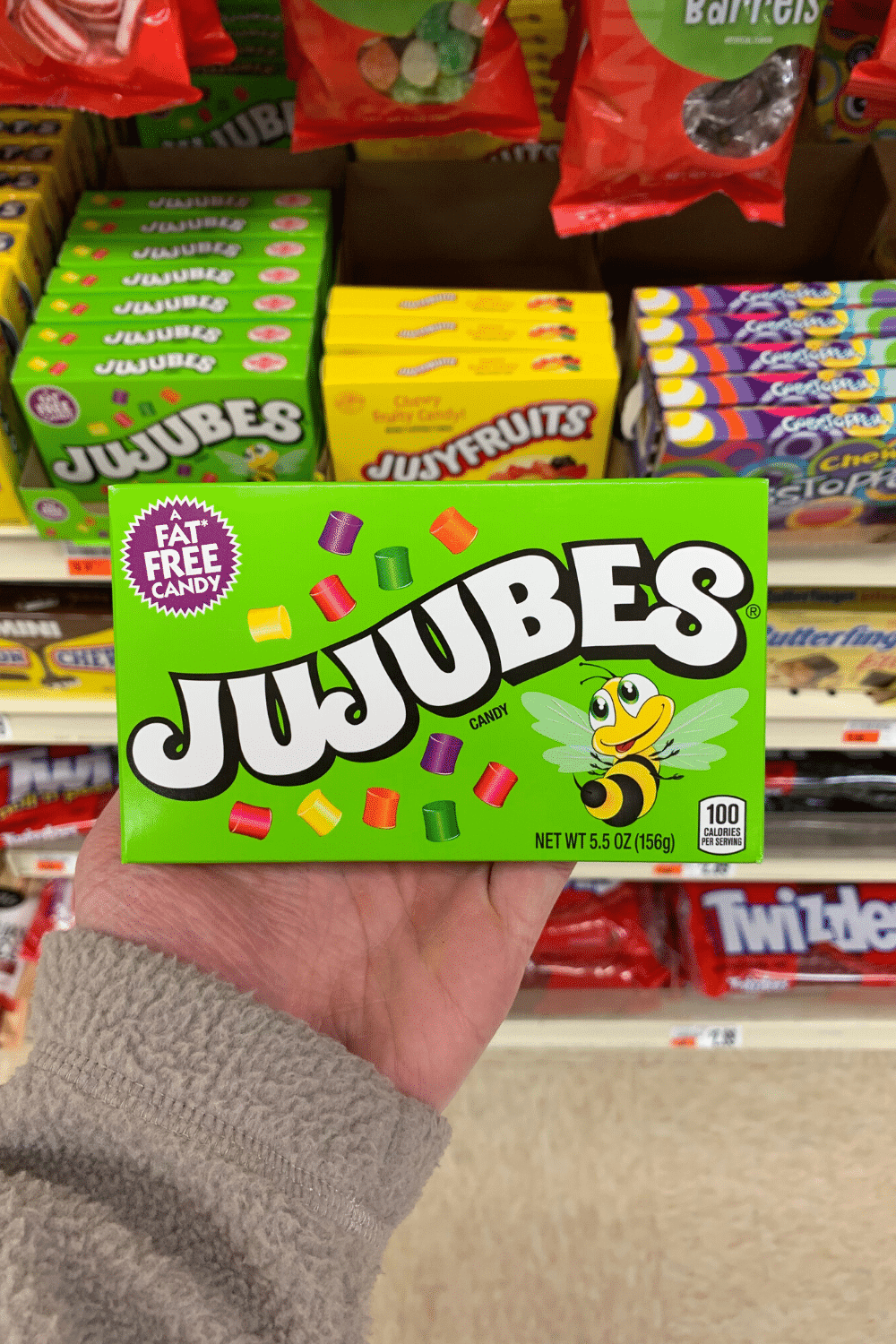 I've never had Jujubes before, but the package has some fun colors on it.
If you've had this candy, let me know what it is like in the comments.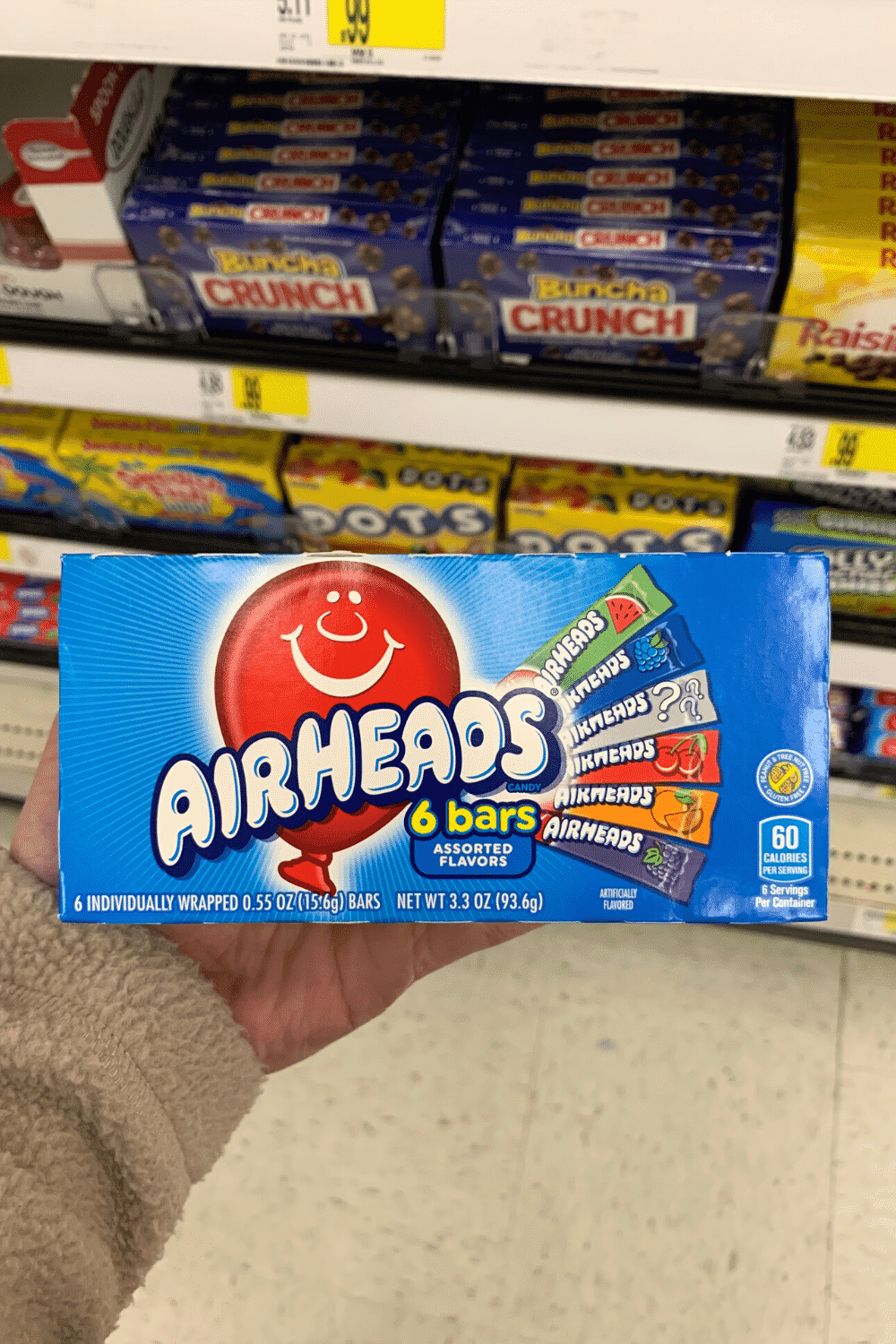 I don't know how I would describe Air Head bars - they're chewy, kind of sticky, but almost melt in your mouth. There's a ton of great flavors to choose from!
Now, the Air Head bites are NOT vegan-friendly, so only eat the bars.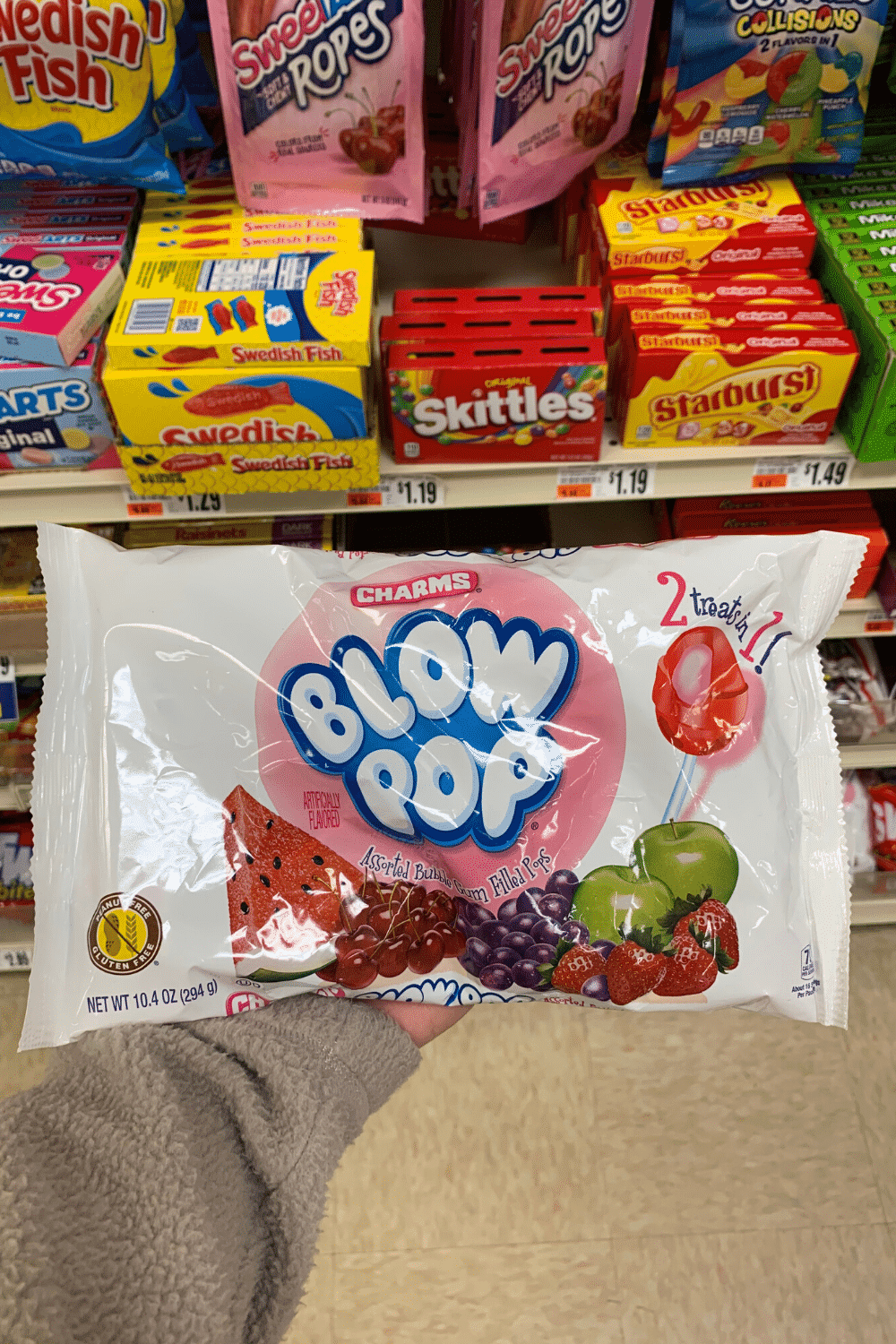 A sucker with gum in the middle - there's just nothing else like it.
If you just want a plain sucker, Dum-Dums are by the best.
And I swear there's like a million flavors.
I used to get a Dum-Dum every time I got my hair cut when I was little, so I'm glad this nostalgic candy is vegan.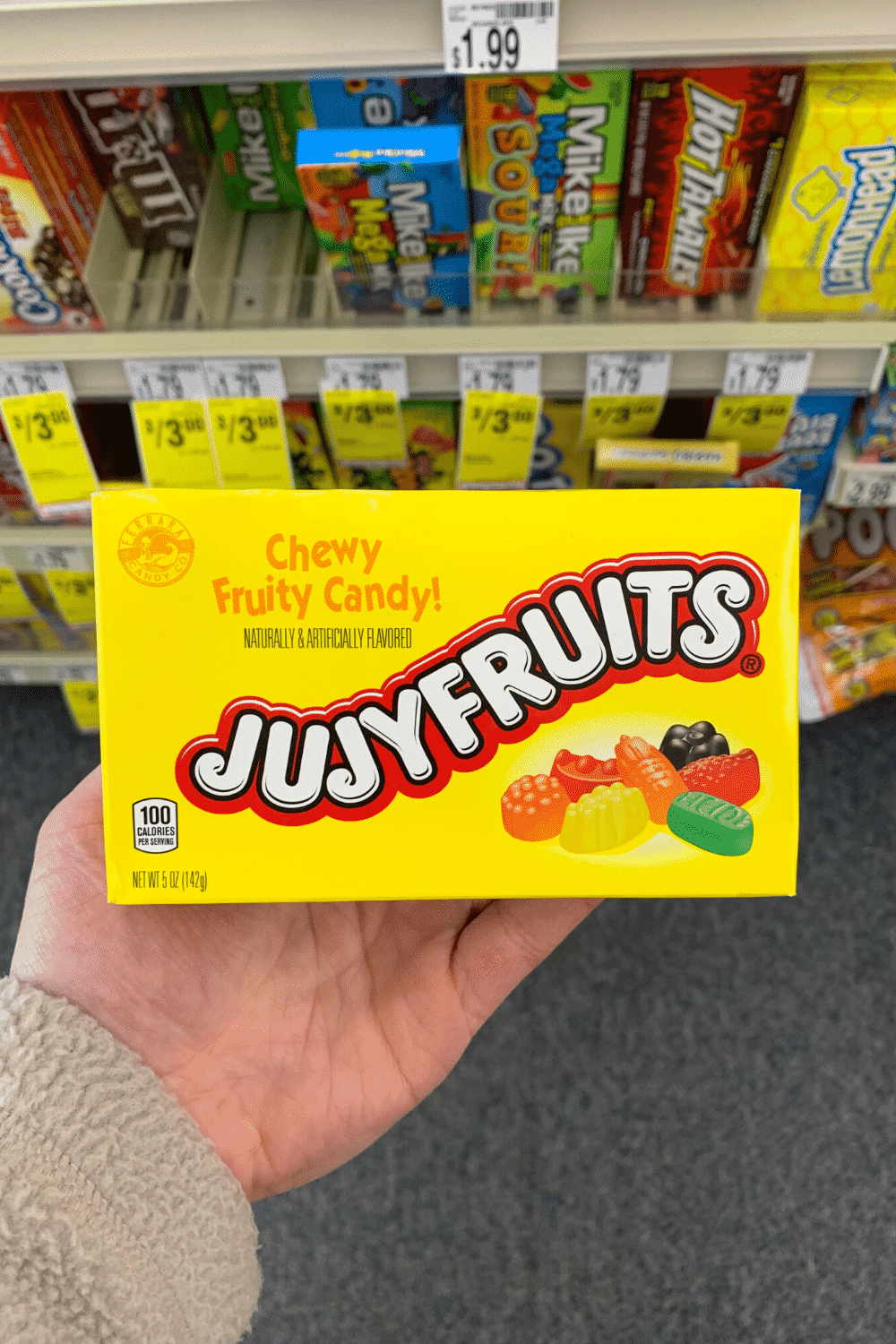 Jujyfruits are chewy, fruity, and just a classic candy. They're kind of like Mike and Ikes, but Mike and Ikes are not vegan, so these are a good alternative.
COMMON NON VEGAN INGREDIENTS IN CANDY
Ok, so now that we've gone over the list, I wanted to give you some additional information on how to pick out vegan candy the next time your at the store.
And mostly it comes down to being able to identify some obscure ingredients that are animal-based instead of plant-based.
So, before you buy/eat any candy, check the ingredients label to make sure none of the ingredients listed below are included - if they are in the candy, it is not vegan.
Gelatin
The most common non vegan ingredient in gummy-like candy is gelatin. Gelatin is made from animal collagen - a protein that makes up connective tissues such as skin, tendons, ligaments, and bones.
Beeswax
Along with gelatin, beeswax is also a common ingredient in gummy and jelly bean candies. Beeswax is the wax produced by honeybees and is the building block of beehives. In candy, it is used as a coating for these candies to make them smooth and shiny.
Shellac
The hard shiny shells on candy are typically made from shellac. Shellac is a resin on tree branches secreted by the lac beetle. The name often used for shellac on ingredient labels is "confectioners glaze."
Carmine
If any candy is red, odds are carmine is used to give the candy its bright red or even pink color. Carmine is a red pigment derived from the dried female insect Coccus cacti. Carmine can also be listed on ingredient labels as cochineal extract, K-carmine, or sneakily, Red 4.
Dairy Products
Common non vegan ingredients in chocolate is milk fat and nonmilk. If anything says milk chocolate, it has milk fat or nonmilk fat in it. Also, whey and casein can sometimes be in chocolate products - they are both milk proteins and not vegan.
Another ingredient commonly found in chocolate is egg. And many other candies like Sweet Tarts and Nerds have on their packaging "may contain egg," so to be safe, stay away from any candy that has that on their label.
THE MOST COMMON VEGAN CANDY QUESTIONS
Before we wrap things up, I want to answer a few of the most common questions about some of the most popular candies.
And all of my answers are based on if the ingredients have any animal-derived products in them. If they do not, my answer is yes. If they do, my answer is no.
ARE NERDS VEGAN?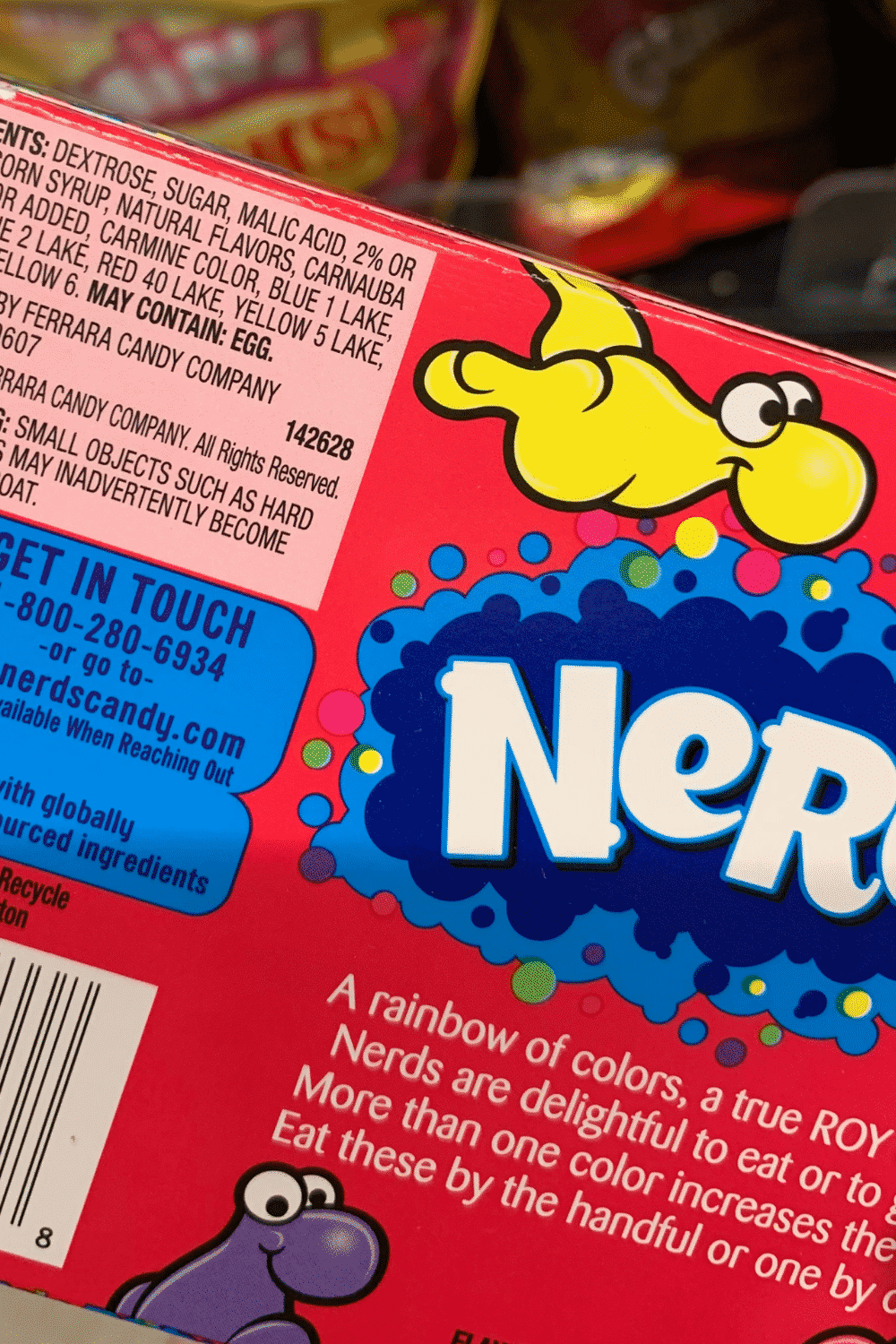 So, the first question I will be answering is, are Nerds vegan?
As I just mentioned in the dairy products section, Nerds are one of those candies that have "may contain egg" in the ingredients section.
All of the other ingredients in Nerds appear to be vegan-friendly, but since they may contain egg, we can conclude that Nerds are NOT vegan.
Instead, go for one of the vegan candies listed earlier.
Are Sour Patch Kids Vegan?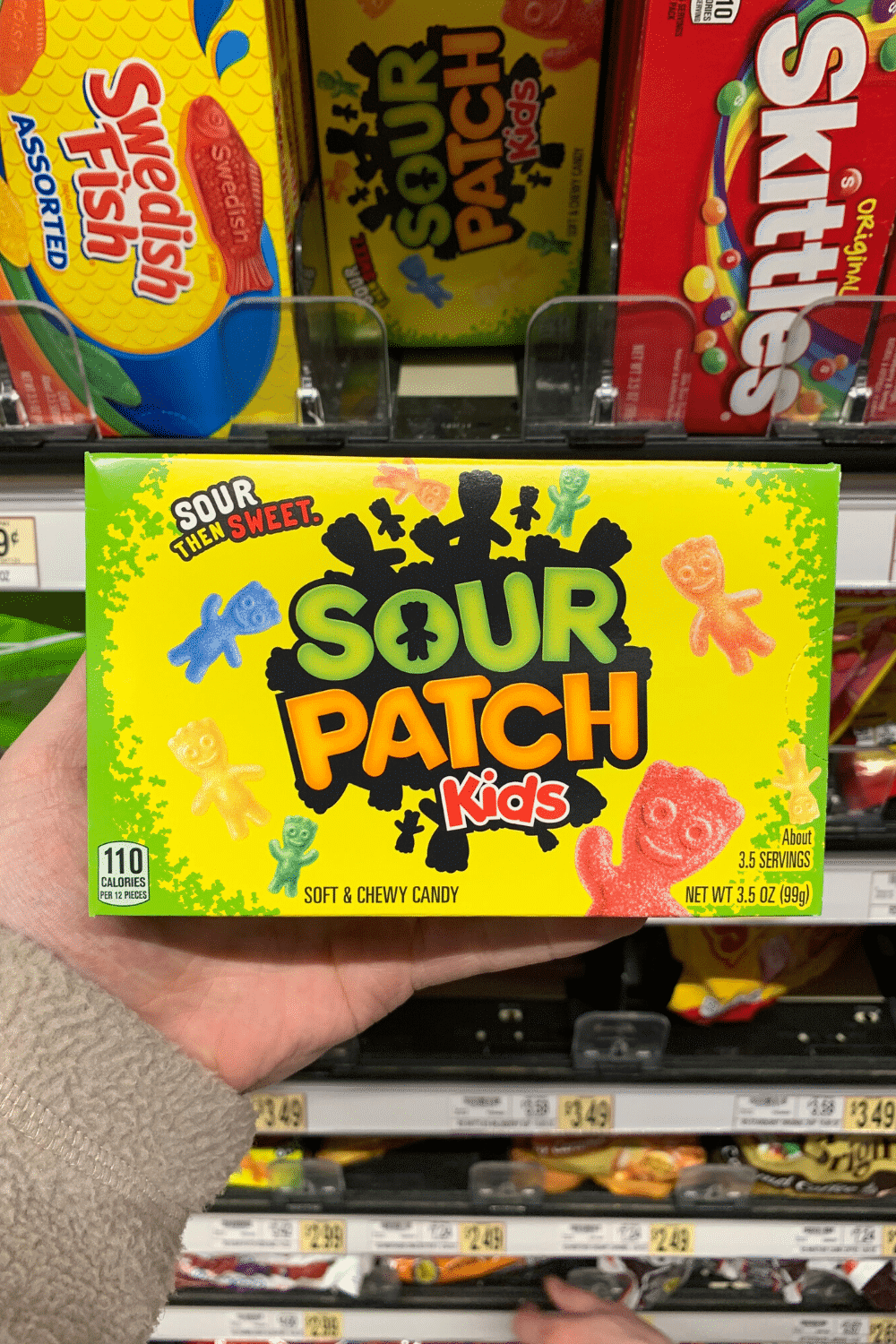 Sour patch kids are probably the best sour gummy in existence.
Actually, they might be the best gummy period.
And I don't think another candy comes to mind before sour patch kids when you're about to watch a movie.
I digress- let's get into the question - are sour patch kids vegan?
The ingredients for sour patch kids are: Sugar, Invert sugar, Corn Syrup, Modified Corn Starch, Contains Less Than 2% Of Tartaric Acid, Citric Acid, Natural and Artificial Flavors, Yellow 6, Red 40, Yellow 5, Blue 1.
Now, let's break these ingredients down. Sugar is, well, sugar.
Invert sugar is a liquid sweetener made from sugar and water.
Corn syrup is a syrup made from the starch of corn, so it's essentially what the name says, corn in syrup form.
Modified corn starch is simply corn starch that has been chemically altered.
Tartaric acid naturally occurs in plants.
Citric acid is naturally found in citrus fruits.
Natural and artificial flavor is literally flavoring.
Yellow 6, Red 40, and Blue 1 are all synthetic food colorants.
So going based on the ingredients, the answer is yes, sour patch kids are vegan.
ARE SKITTLES VEGAN?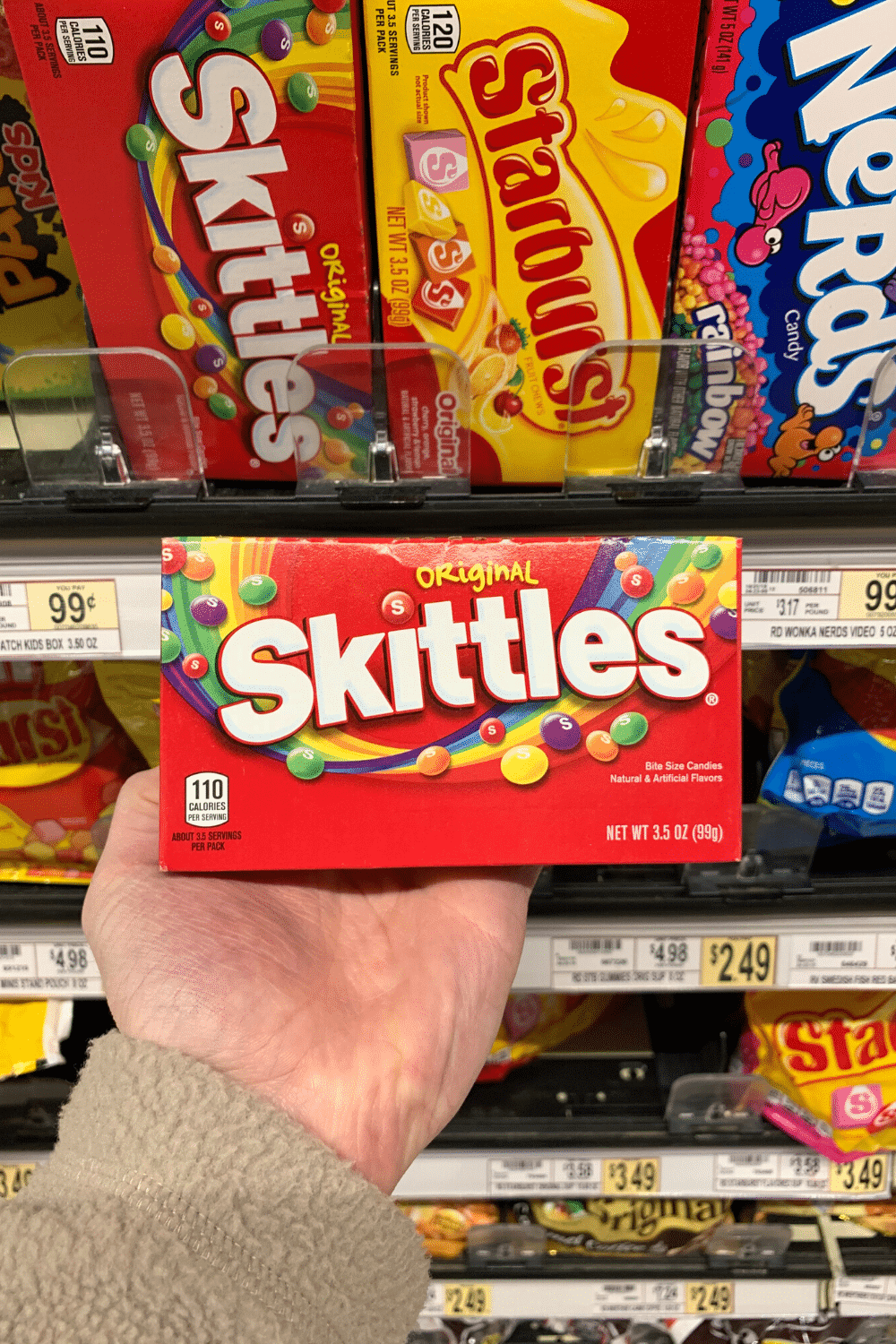 Another wonderful candy that gets a lot of attention are Skittles.
And a lot of people wonder are Skittles vegan, or not?
Well, here are the ingredients: Sugar, glucose syrup, palm fat, acids, citric acid, malic acid; dextrin, maltodextrin, flavorings, colors E162, E171, E100, E160a, E132, E133, E163, E160e; Modified starch, acidity regulator trisodium citrate, glazing agent carnauba wax.
Ok, so we already covered sugar, citric acid, and carnauba wax, but here are the rest of the skittles ingredients.
Glucose syrup is a sugar made from the hydrolysis of starch.
Palm fat is more fatty palm oil, edible vegetable oil derived from the fruit of oil palms.
Malic acid is a substance found naturally in apples and pears, giving candy a sour taste.
Dextrin is a carbohydrate produced from starch hydrolysis and maltodextrin from corn, rice, potato starch, or wheat.
E162 is a red coloring obtained from beets.E171 is a white color from titanium dioxide particles. E100 is a yellow coloring derived from turmeric root. E160a is an orange coloring derived from carrots. E132 is blue coloring synthetically derived from coal tar. E133 is a blue powder made from aromatic hydrocarbon from petroleum. E163 is a violet color derived from the sap of plants, and E160e is natural orange-red color derived from grass, nettles, or marigolds.
Modified starch is just made from starch.
Acidity regulator trisodium citrate is essentially salt.
Based on the ingredients, the answer to the question are skittles vegan, is yes.
ARE STARBURST VEGAN?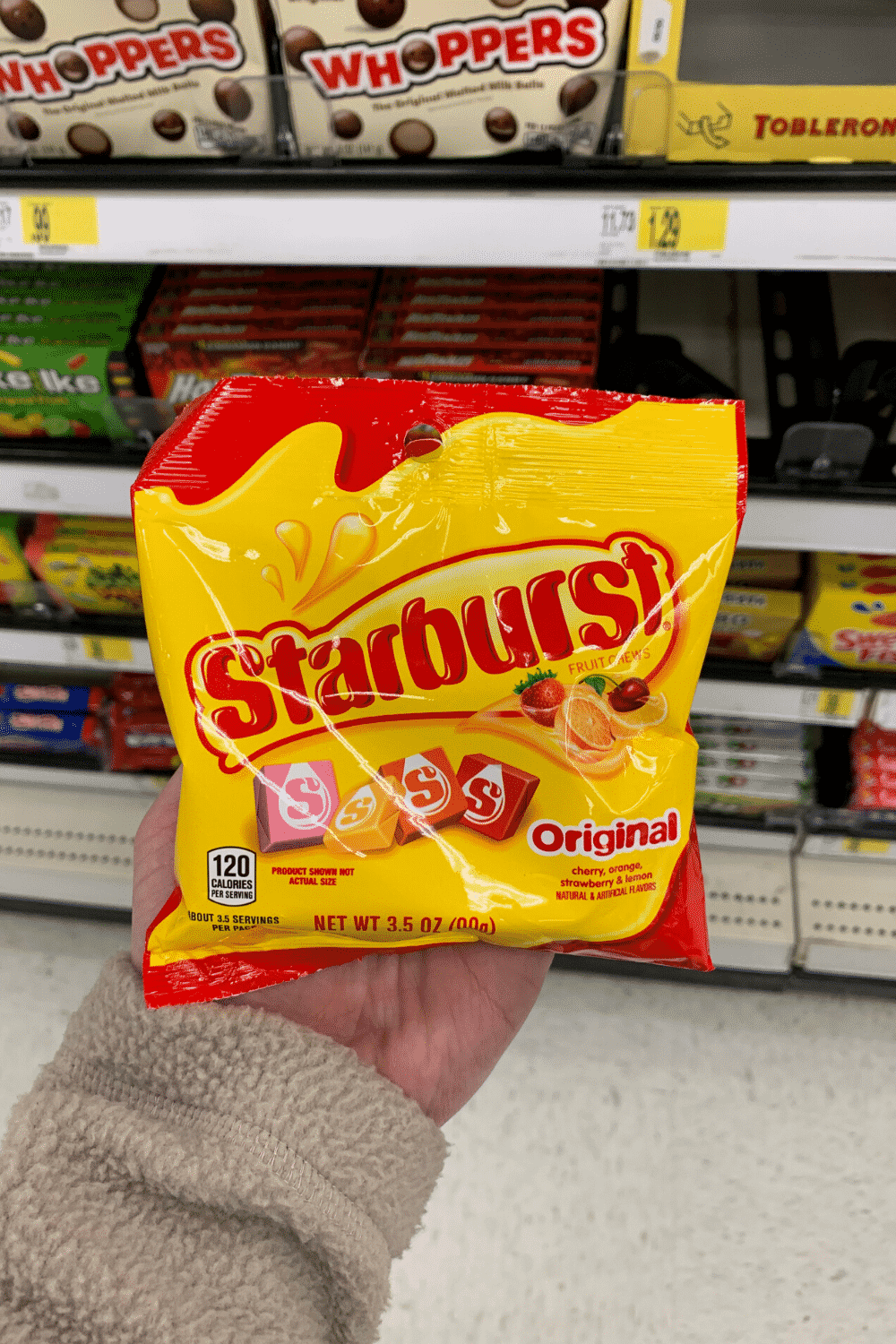 Starburst, another candy that seems like it has been around forever. Now, let's answer the question, are starburst vegan?
The ingredients in starburst are Sugar, Corn Syrup, Hydrogenated Palm Kernel Oil; Less than 2% of: Citric Acid, Tapioca Dextrin, Apple Juice from Concentrate, Gelatin, Modified Corn Starch, Natural and Artificial Flavors, Colors (Red 40, Yellow 6, Yellow 5).
The majority of these ingredients are in sour patch kids and skittles, but one ingredient that isn't is gelatin.
And like I mention earlier, gelatin is a protein derived from animal collagen. So without going into any more of the ingredients, we can conclude that Starburst is not vegan.
ARE TWIZZLERS VEGAN?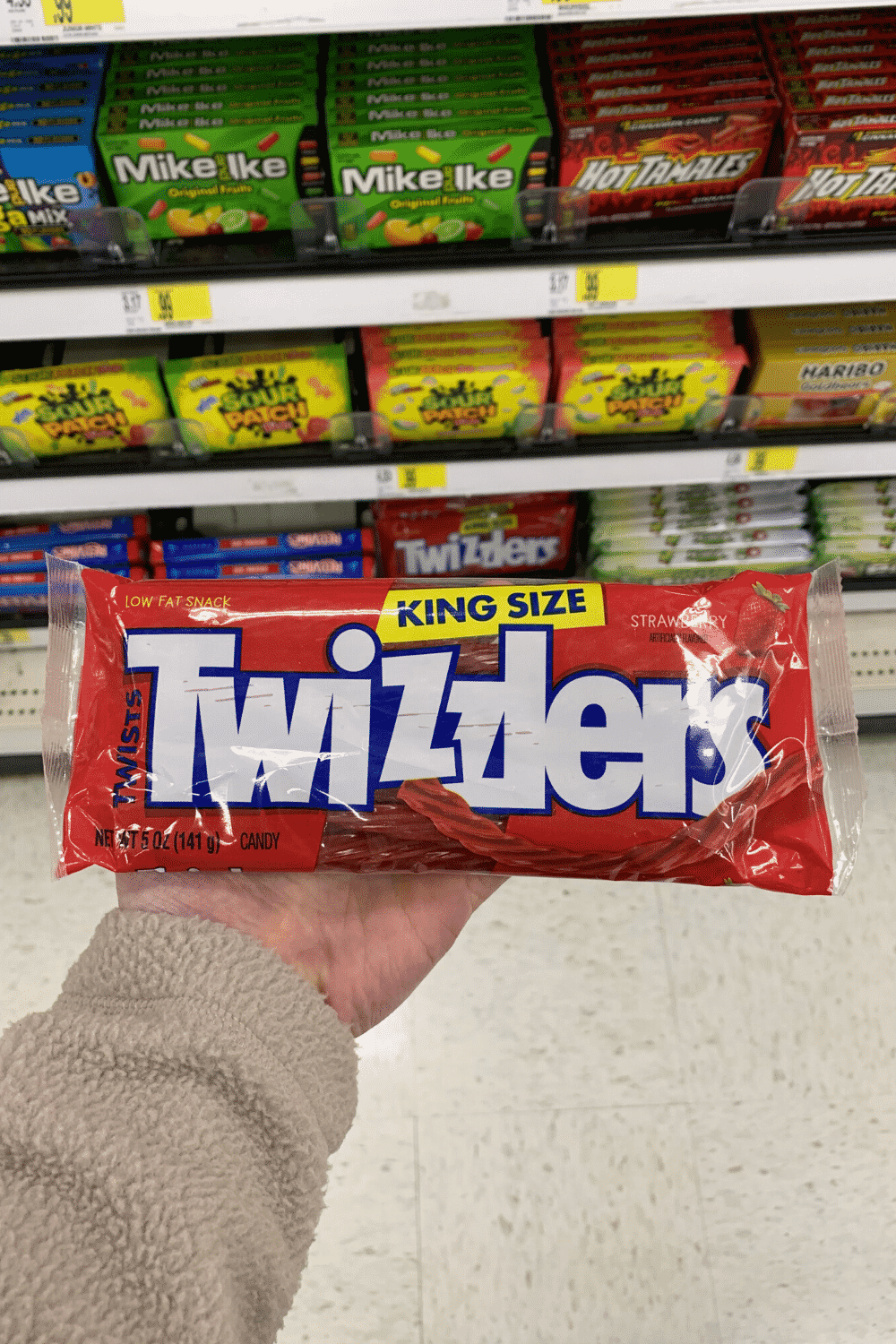 The last question that we will answer before wrapping everything up is: Are Twizzlers vegan?
First, let's check out the ingredients. Corn Syrup, Enriched Wheat Flour (Flour, Niacin, Ferrous Sulfate, Thiamin Mononitrate, Riboflavin, and Folic Acid), Sugar, Cornstarch, Contains 2% or Less of: Palm Oil, Salt, Artificial Flavor, Citric Acid, Artificial Color (RED 40), Mineral Oil, Lecithin (Soy).
Let's go over the ingredients we haven't covered. Enriched wheat flour is flour with specific nutrients restored in it.
Palm oil is an edible vegetable oil that comes from palm trees.
RED 40 is a red coloring made from coal tars.
Mineral Oil is a tasteless, colorless, and odorless oil derived from petroleum that is safe to eat.
Lecithin is a food additive that can come from various sources. Lecithin can be derived from animals if not stated otherwise, but in Twizzlers, the lecithin comes from soy.
So, according to all of the ingredients, Twizzlers are a vegan candy.
Wrapping it all Up
Well, there you have it, a vegan candy list that consists of some vegan candy bars, vegan chocolate, vegan gummies, and some other vegan friendly candy.
Now, if you are super strict with the ingredients you consume, you can choose from the many candy options under the clean vegan candy list.
And, if you are a little more lenient with the ingredients that you consume, all of the candies on this list are great vegan options.
Anyway, I hope you find this list of vegan candy helpful.
Make sure to let me know what you're favorite vegan candy is in the comments below!