These no bake Christmas cookies are a delicious festive treat to make for the holiday season. Honestly though, they're so yummy you'll want to eat them year-round! Not to mention, they're super easy to whip up. In fact, you can have them ready in as fast as 10 minutes and they only require just 6 simple ingredients to make.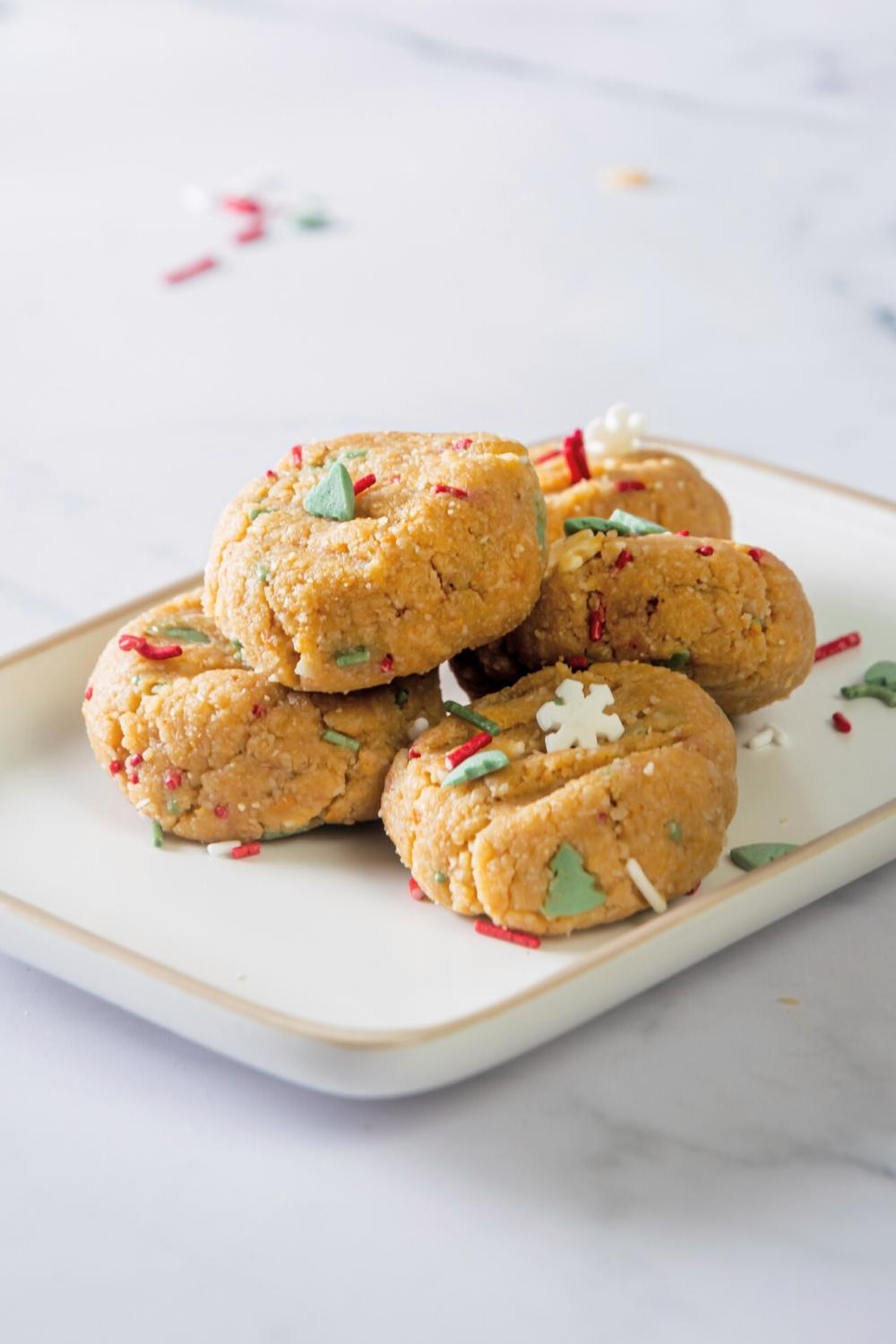 Ingredients You'll Need
One of my favorite things about this recipe is that you only need 6 simple ingredients to make it.
Here's a look at what you'll need:
1 cup Almond Flour
¼ cup Peanut Butter
3 tbsp. Agave Nectar or Honey
1 tsp. Vanilla Extract
½ tsp. Salt
3 tbsp. Christmas Sprinkles
Simple stuff, right?
By the way, you can use the sprinkles from this recipe to make this white trash recipe too. So if you want to use up some of your extra sprinkles give that recipe a go.
Also, just so you know, you can use any leftover peanut butter you end up with to make this peanut butter fudge recipe and/or this chocolate peanut butter fudge recipe.
Ingredient Additions & Substitutions
Now, as far as the peanut butter goes, feel free to use smooth or creamy peanut butter to make these no bake Christmas cookies. And, actually, you can even use another nut butter, like almond butter or cashew butter if those are more in line with your personal tastes.
As for the agave, this can also be swapped for maple syrup or honey. Or, if you want to make them sugar free, liquid allulose works great too.
Of course, since we're talking about Christmas cookies, I should probably let you in on a little secret...you don't have to stick to Christmas sprinkles! You can make these delicious no bake cookies any time of the year, and use any kind of sprinkles you want, like rainbow sprinkles or chocolate sprinkles.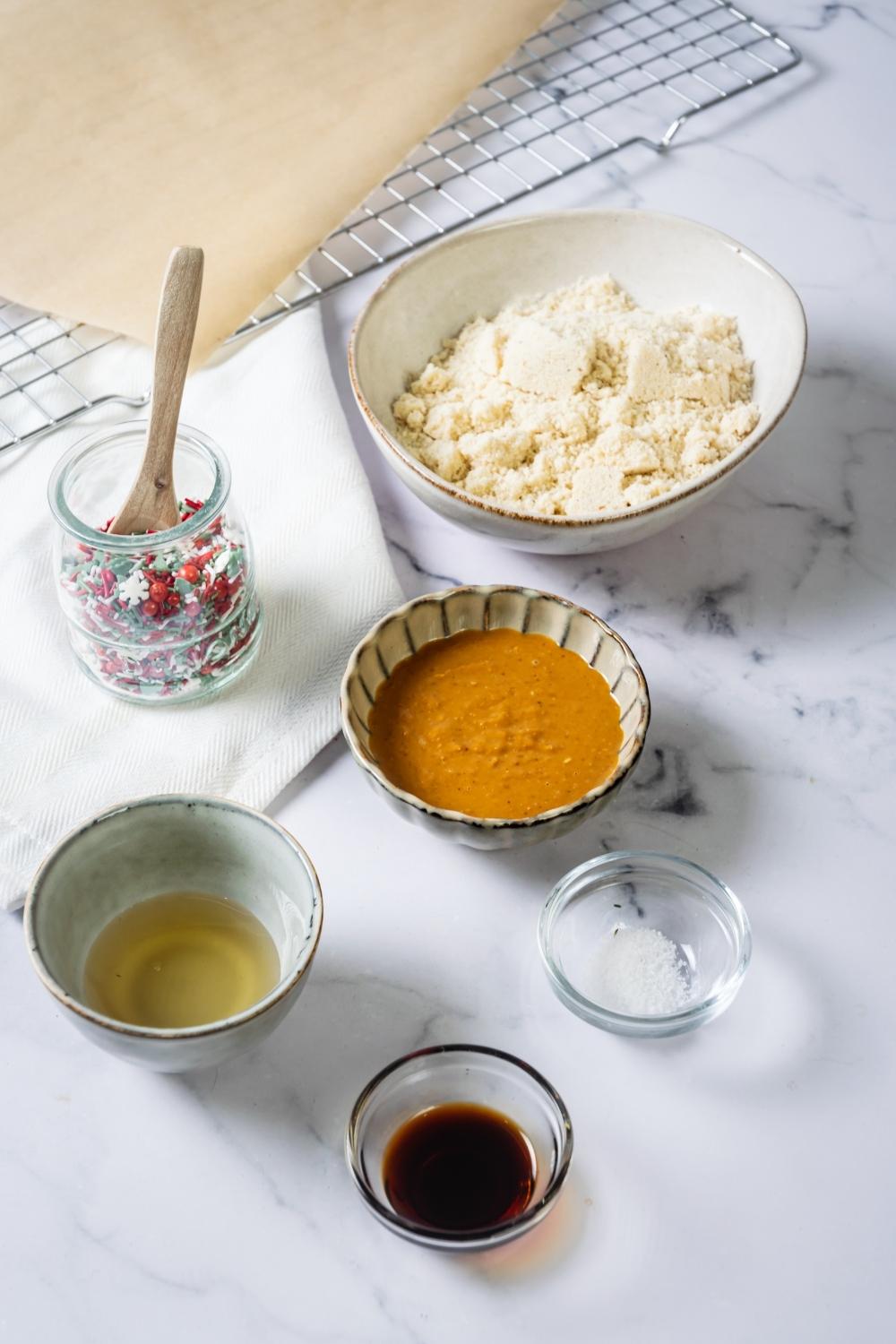 How To Modify These No Bake Cookies
If you're making these no bake cookies for a big group, you can triple the recipe and divide it into three cookie doughs with different mix-ins.
And they aren't just for the holiday season, you can switch this recipe up a million different ways to suit any occasion!
Here are some ideas to get you started:
Make a fudgy chocolate cookie by melting chocolate chips in the microwave for a chocolate ganache. Dip each cookie in the ganache, arrange them on a lined baking sheet and let set in the refrigerator. This will give them a buckeye cookie kind of vibe.

Make snowy Christmas cookies by melting white chocolate chips into a ganache with a drop of peppermint extract. Dip your cookies into the chocolate and let them chill in the fridge to set.

Combine powdered sugar with a little milk or water, then mix with red or green food coloring for an extra Christmasy frosting.

Add rice Krispies, mini marshmallows, and chocolate chips to the batter for easy no bake avalanche cookies.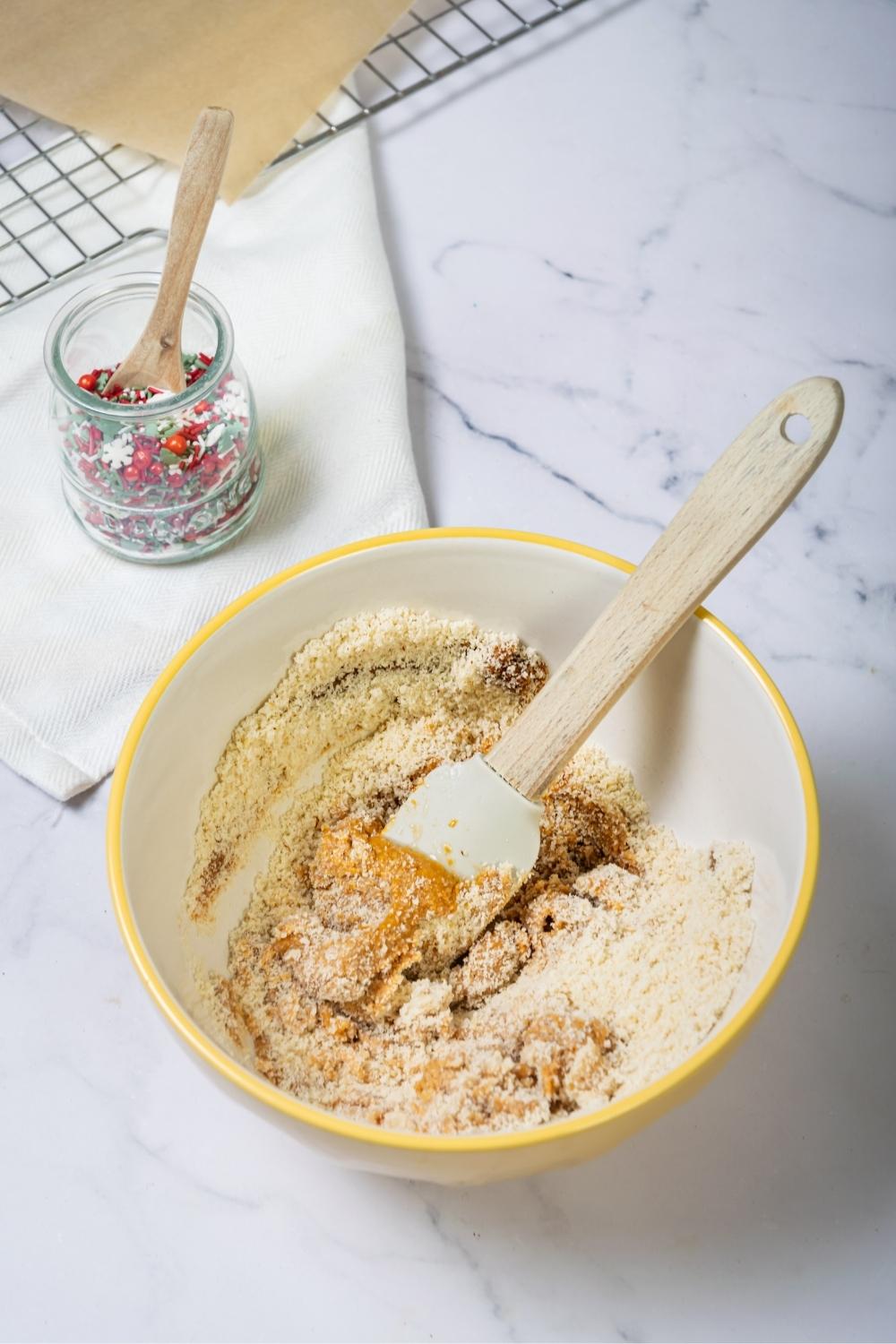 How To Make No Bake Christmas Cookies
Ok, so as you already know, it doesn't take a lot of time or effort to make these deliciously easy Christmas cookies a reality.
You can prep them in just a few minutes, and then all you have to do is let them set in the fridge before enjoying them.
Anyway, now, let's get into the details!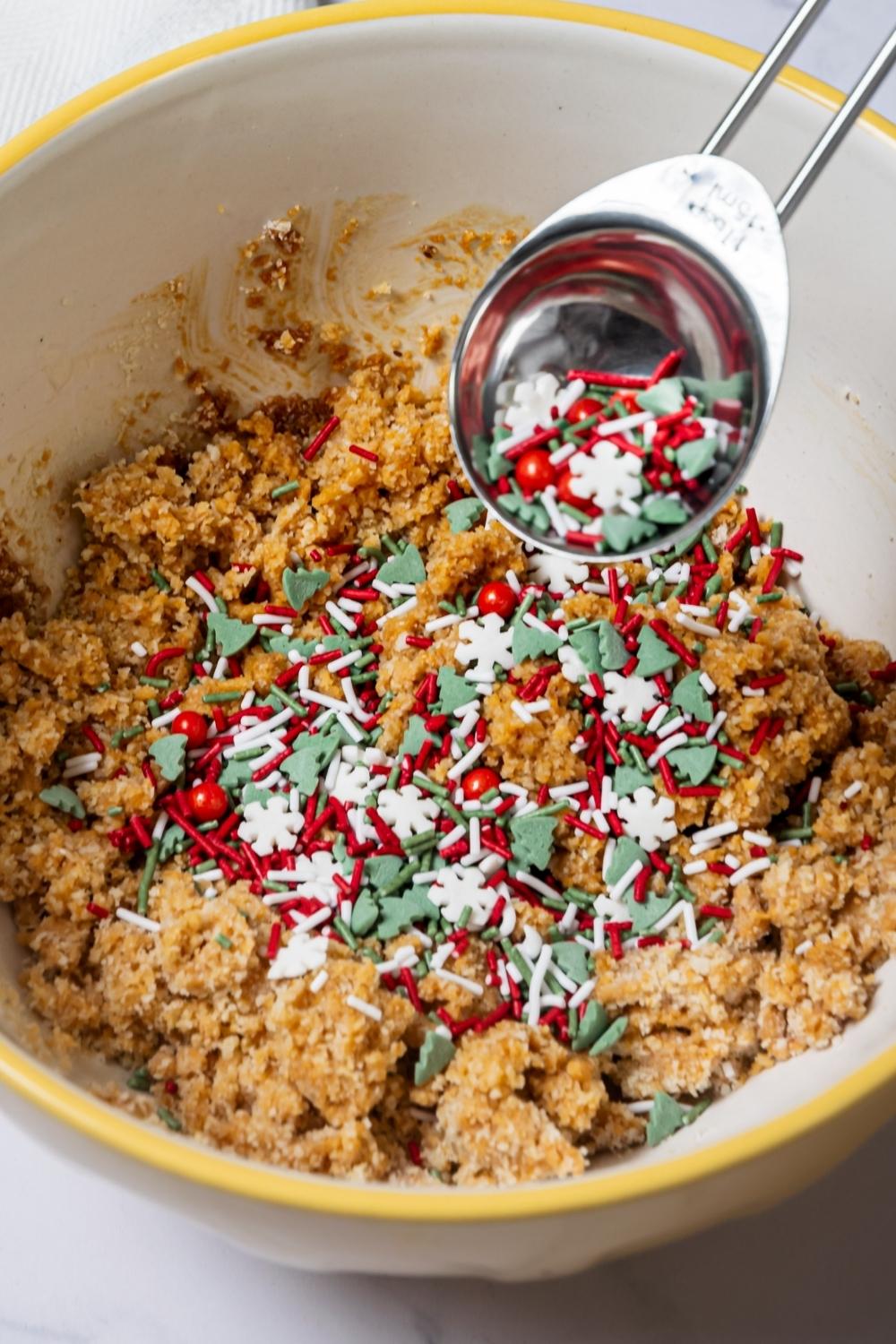 Step 1: Make The Cookie Dough
First, take a medium-sized bowl and combine your almond flour, peanut butter, agave nectar, vanilla extract, and salt.
Mix until a smooth raw cookie dough forms. Then, add in your Christmas sprinkles and fold them into the dough.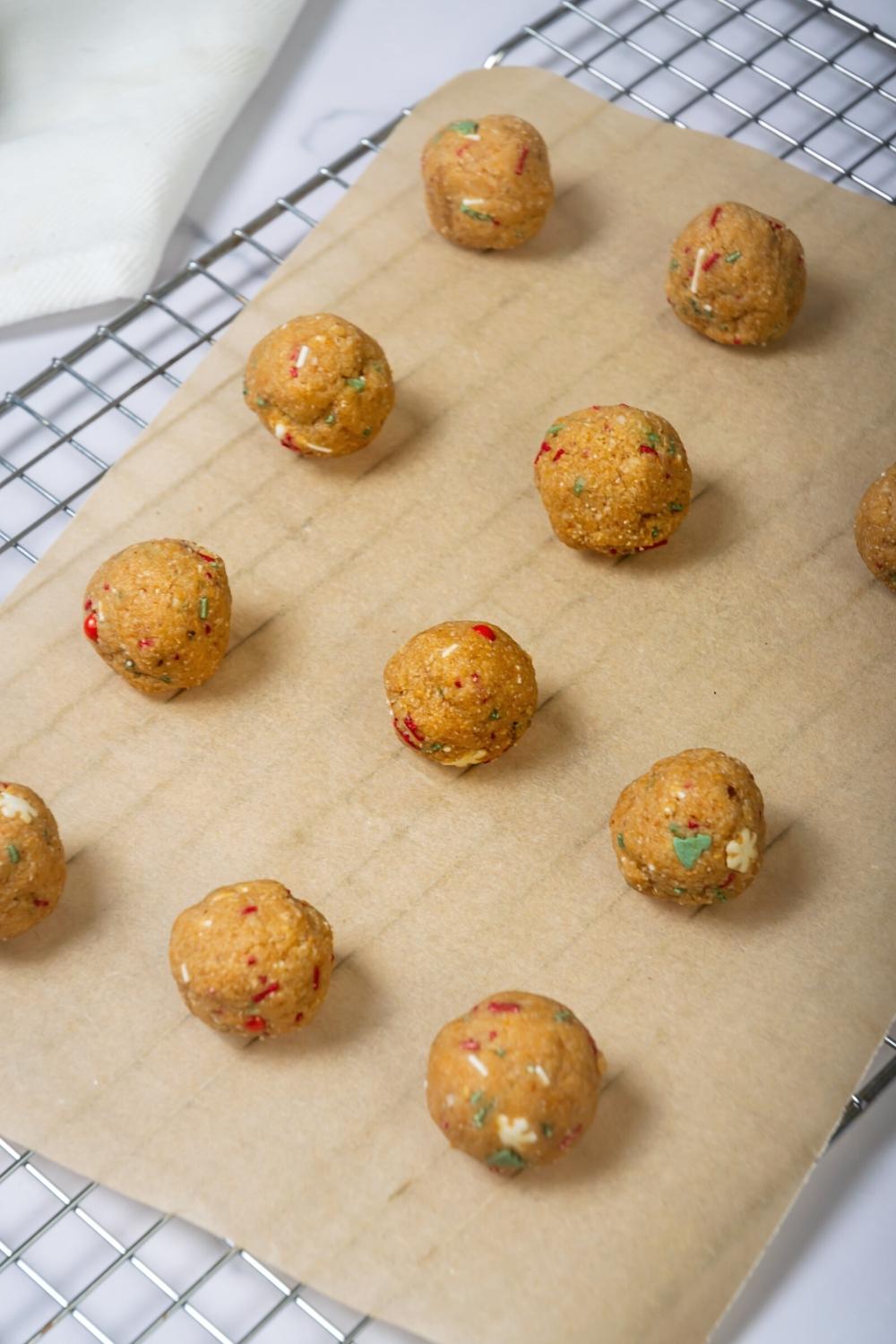 Step 2: Form Cookie Dough Balls
Next, use a cookie scoop, spoon, or clean hands to shape your dough into 12 cookie dough balls.
If the dough is too sticky to work with, you can let it firm up in the refrigerator for 10-20 minutes before shaping.
Then, arrange your dough balls on a baking sheet lined with parchment paper, and flatten each one with a fork to add some texture.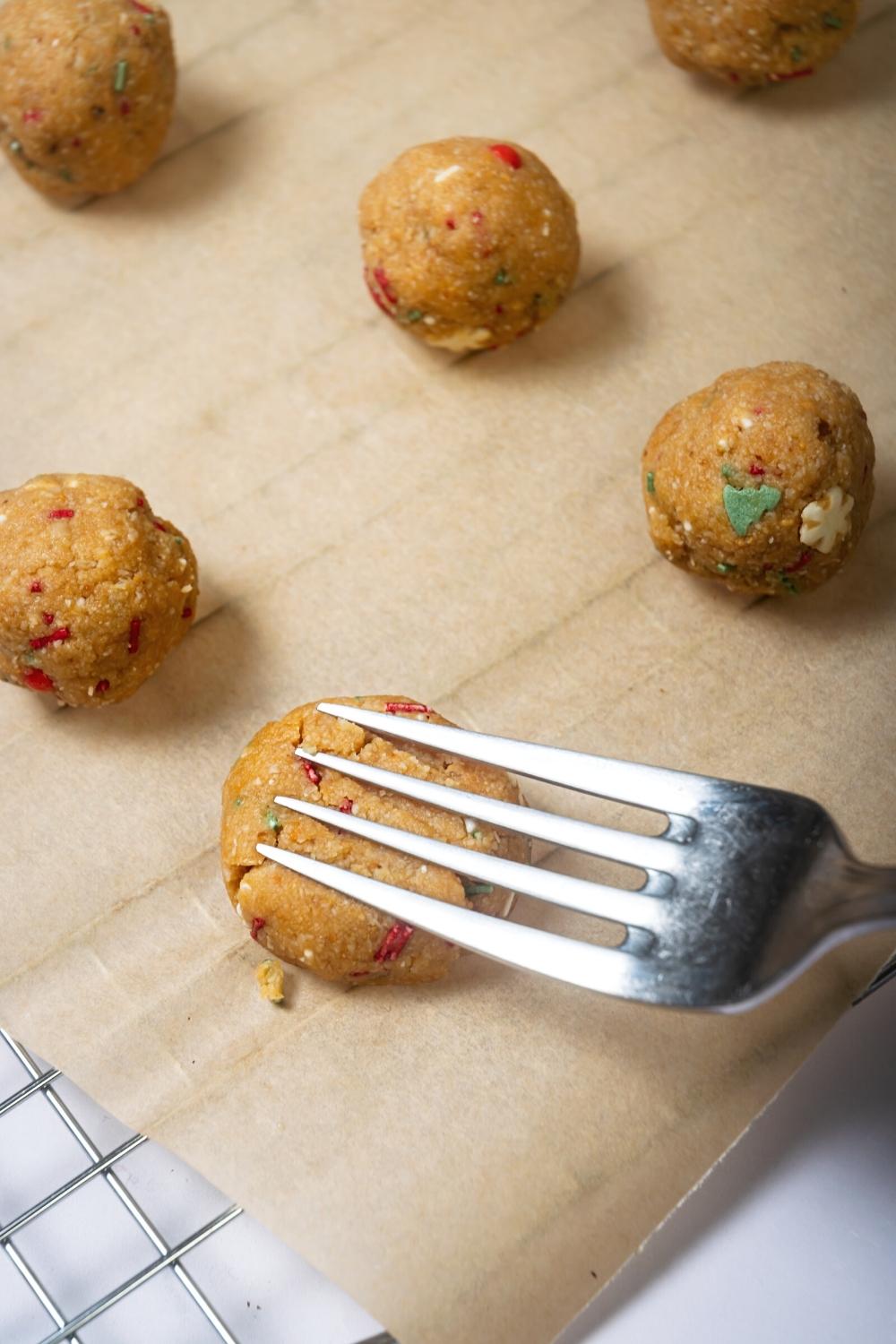 Step 3: Let The Cookies Set
Finally, decorate each one with some extra sprinkles on top and then leave them in the fridge for at least 1 hour to set.
Now, I know it's tempting to eat them once you've shaped them, but try to wait it out! Refrigerating these cookies gives them a much better texture and allows the flavors to develop.
But, if you can't wait, you can just eat these no bake Christmas cookies as is. They'll still taste really, really delicious, but their texture just won't be as good.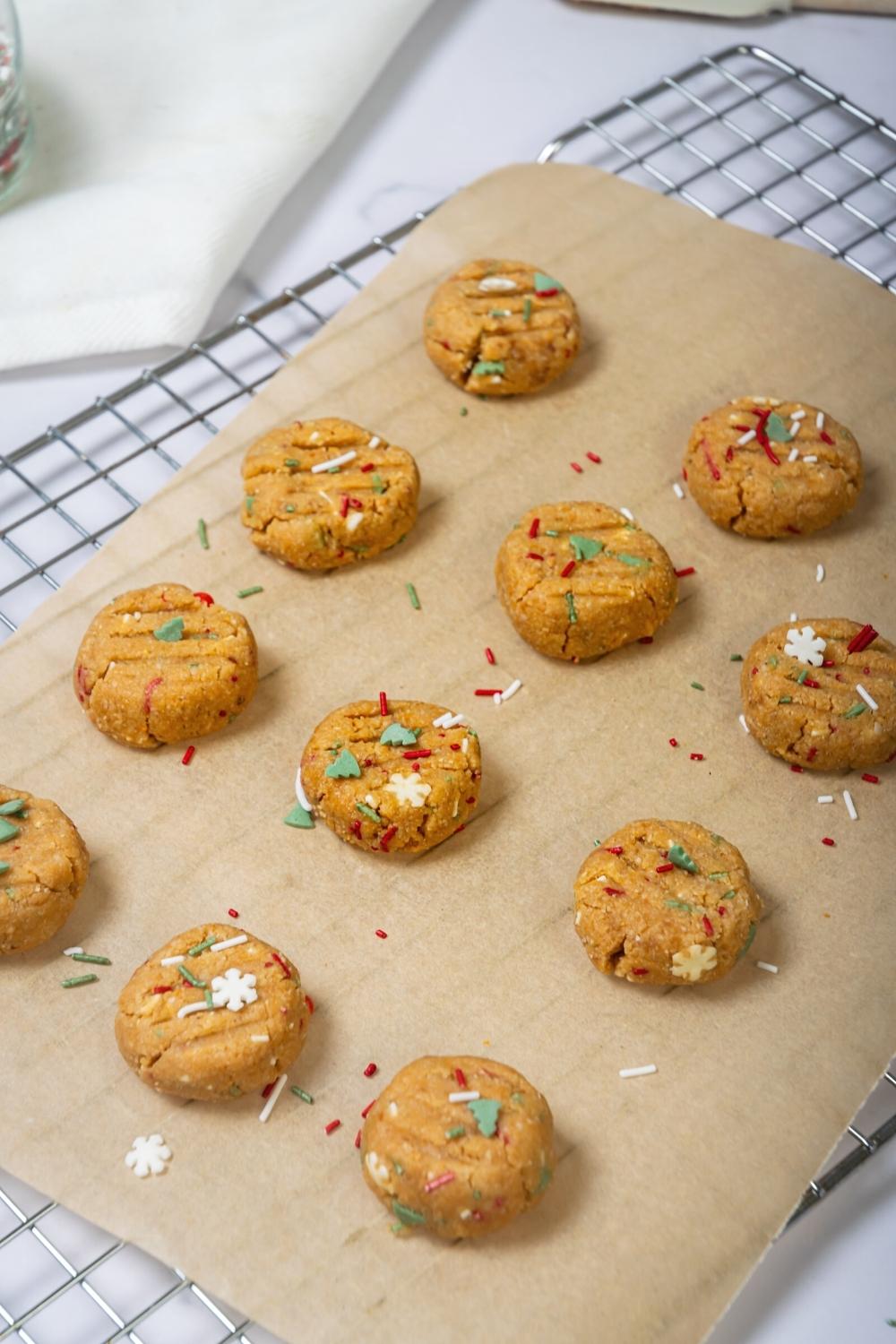 How To Store The Cookies
If you end up with some of these Christmas cookies, you can store them in an airtight container and they'll stay good in your refrigerator for up to 2 weeks.
I will say thought that since these cookies are so easy to make I like to make a double batch of them and then store the extras in my freezer. They'll keep in an airtight container in the freezer for up to 6 months.
If you go this route, I recommend freezing your formed cookies on a plate or baking sheet lined with parchment paper first to prevent them from sticking together. Then, transfer them to an airtight container or freezer bag as their final place of storage.
Then, to thaw the cookies, I recommend just transferring them to the refrigerator overnight to soften up.
Also, I don't recommend trying to bake - or heat up - these no bake cookies as this could cause them to break up and become crumbly.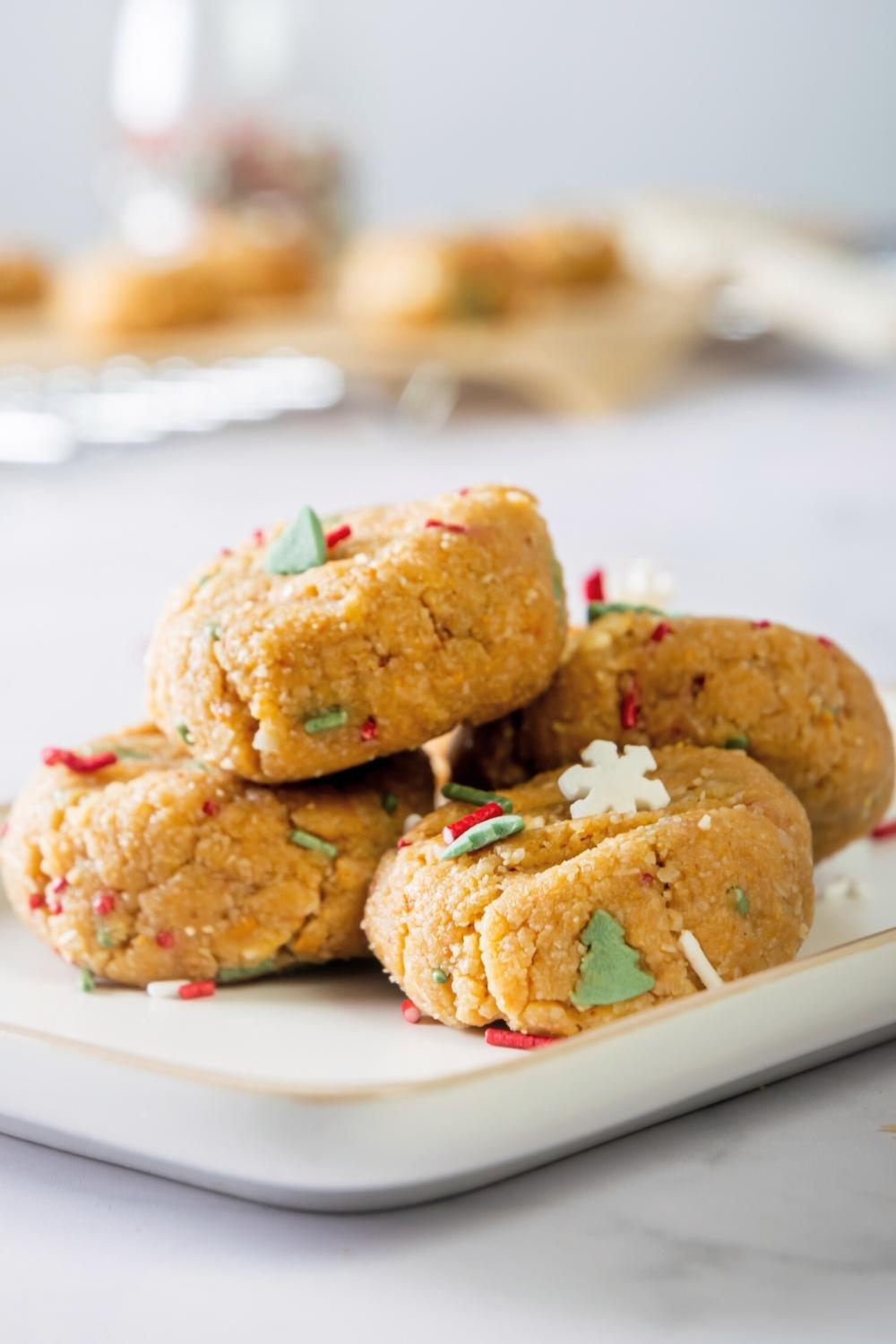 Wrapping Things Up
Well, that's how to make no bake Christmas cookies!
Not only are they a breeze to make, but they're also a huge hit at holiday parties.
Show up with a tray of these tasty no bake cookies and they'll disappear before you have time to set them on the dessert table!
Anyway, if you gave this cookie recipe a try, leave a comment below and let me know what you think.
Also, if you want to try some other fantastic holiday dessert recipes, give this Christmas cookie fudge, this no chill sugar cookie dough, these peppermint brownies, these gingerbread cookies, or these small batch sugar cookies a shot sometime.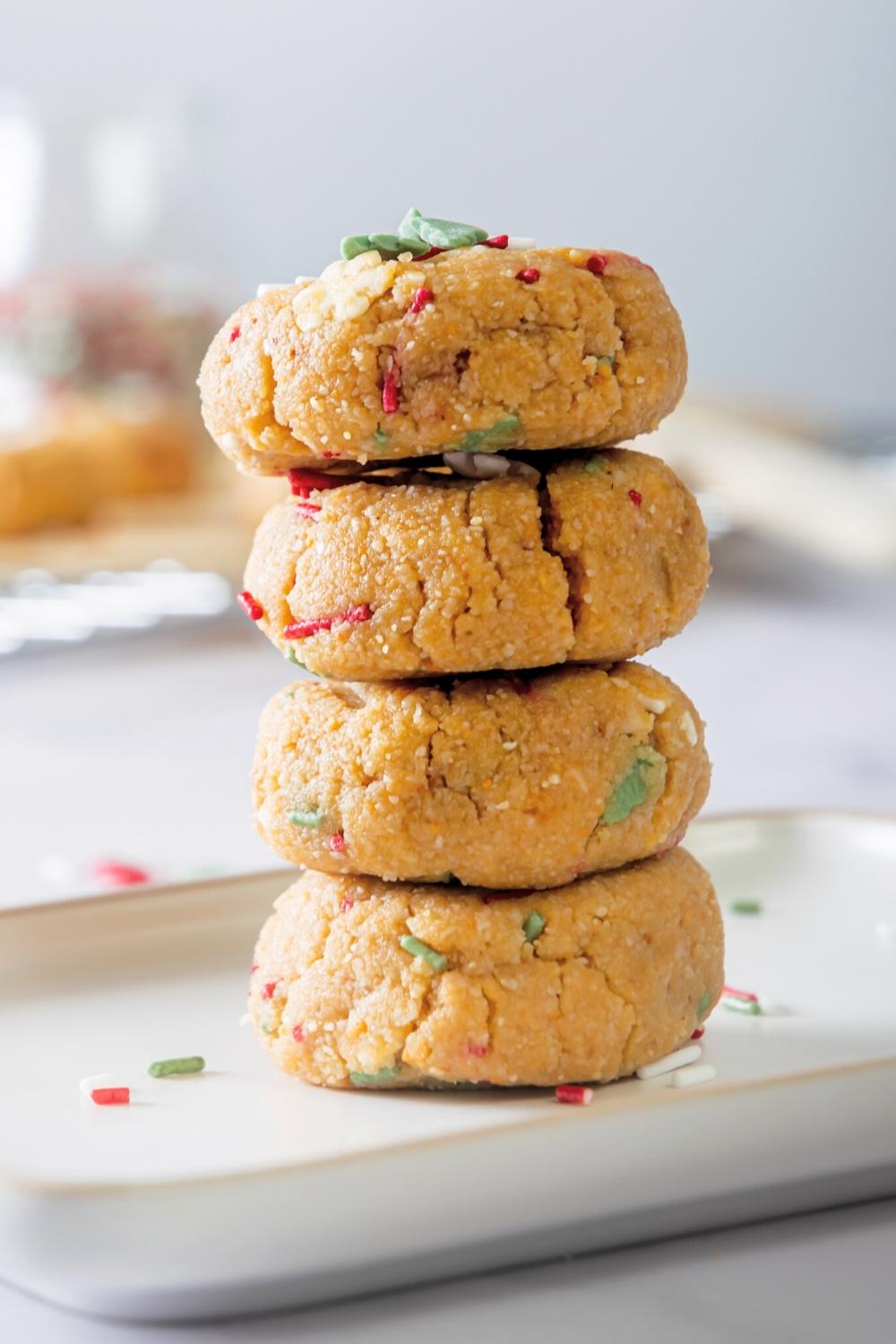 More No Bake Recipes
If you want to give some more no bake recipes a try, we have a ton on the blog I think you'll like!
Here are some of my favorites:

Yield: 12 cookies
No Bake Christmas Cookies Made In 10 Minutes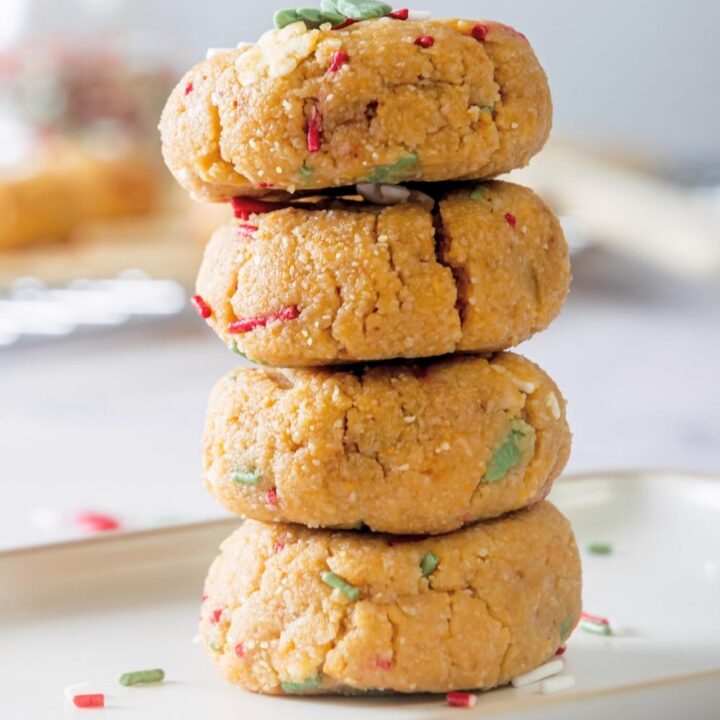 These no bake Christmas cookies are a delicious festive treat to make for the holiday season. Honestly though, they're so yummy you'll want to eat them year-round! Not to mention, they're super easy to whip up. In fact, you can have them ready in as fast as 10 minutes and they only require just 6 simple ingredients to make.
Instructions
Mix all ingredients in a bowl until a dough forms

Make 12 balls out of the dough.

Flatten them with a fork and top with more sprinkles.

Let them sit for an hour in the fridge until they set. Or you can eat them immediately.
Nutrition Information:
Yield:
12
Serving Size:
1 cookie
Amount Per Serving:
Calories:

102
Total Fat:

7g
Saturated Fat:

5g
Trans Fat:

0g
Unsaturated Fat:

2g
Cholesterol:

100mg
Sodium:

45mg
Carbohydrates:

8g
Fiber:

0g
Sugar:

7g
Protein:

3g