This homemade maple fudge recipe is incredibly rich and decadent, and it's loaded with sweet maple syrup flavor! Best of all, only 2 simple ingredients are required to make this maple fudge, and you probably have them in your pantry already. So, you definitely won't want to wait to make this easy maple fudge, it's too good to put off!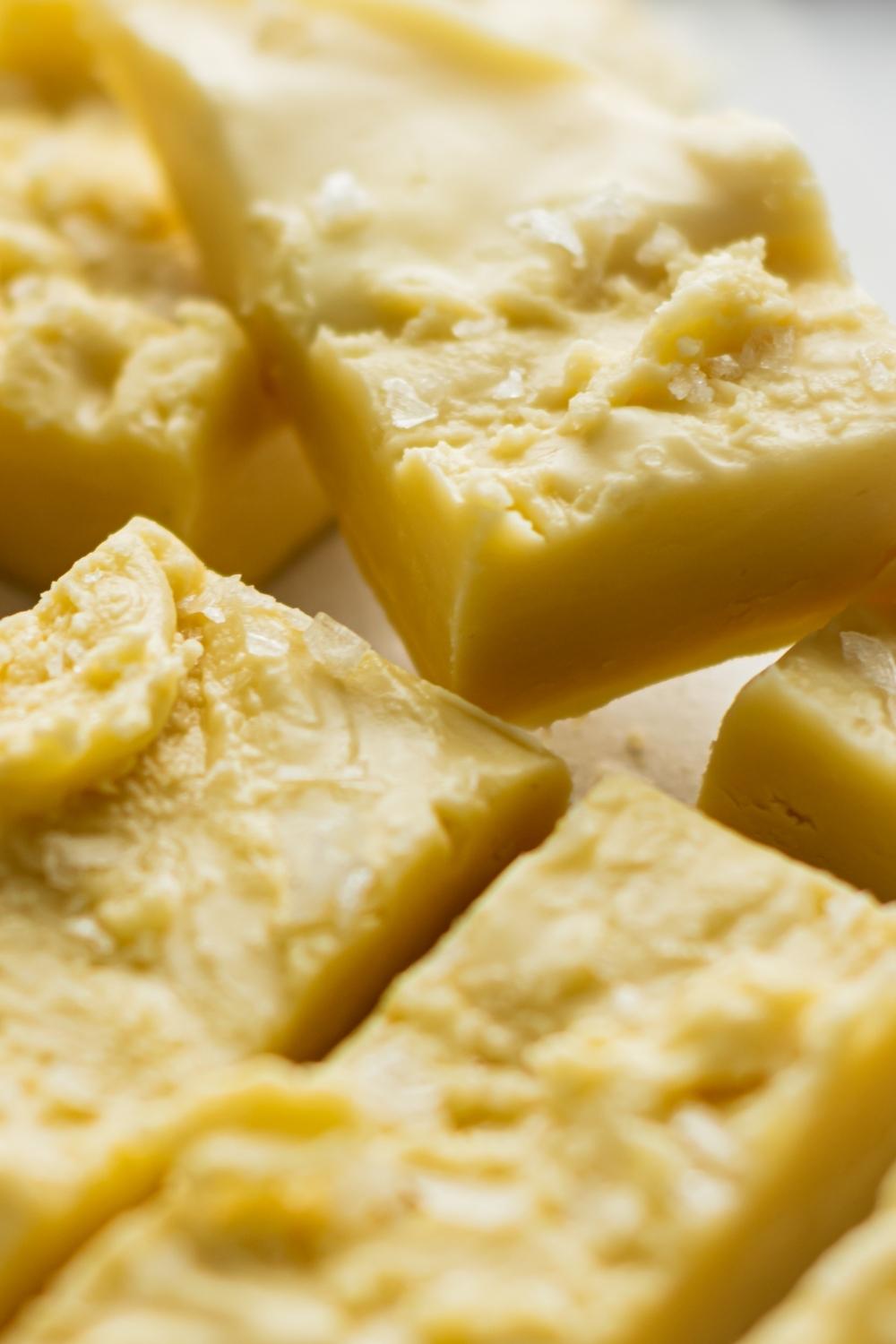 The Best Maple Fudge Recipe
If you love maple syrup and have white chocolate chips, then you've met all the recipe requirements to make this maple fudge recipe. Yup, it's that easy.
And not only is it one of the easiest fudge recipes you'll ever make, but it's one of the most delicious too. The fudge is so smooth and has a sweet maple flavor that's reminiscent of maple candies.
Now, the number one reason I love this fudge recipe is that it isn't complicated to make. No candy thermometer, double boiler, or sweetened condensed milk is required. Just a bowl and a microwave are all you need to make this stuff.
Seriously, it's so simple and doesn't even use a candy thermometer, just like some of my other fudge recipes like this peanut butter fudge and salted caramel fudge.
Oh, and the best part about this fudge recipe is that you can customize it however you want. Want to make maple walnut fudge or brown sugar maple fudge? It's easy-peasy to customize this recipe and make those using this as the base!
With that said, I'll be sure to list a couple of simple tips for making fudge your way down below.
Anyway, now let's get into the ingredients you need to make this maple fudge.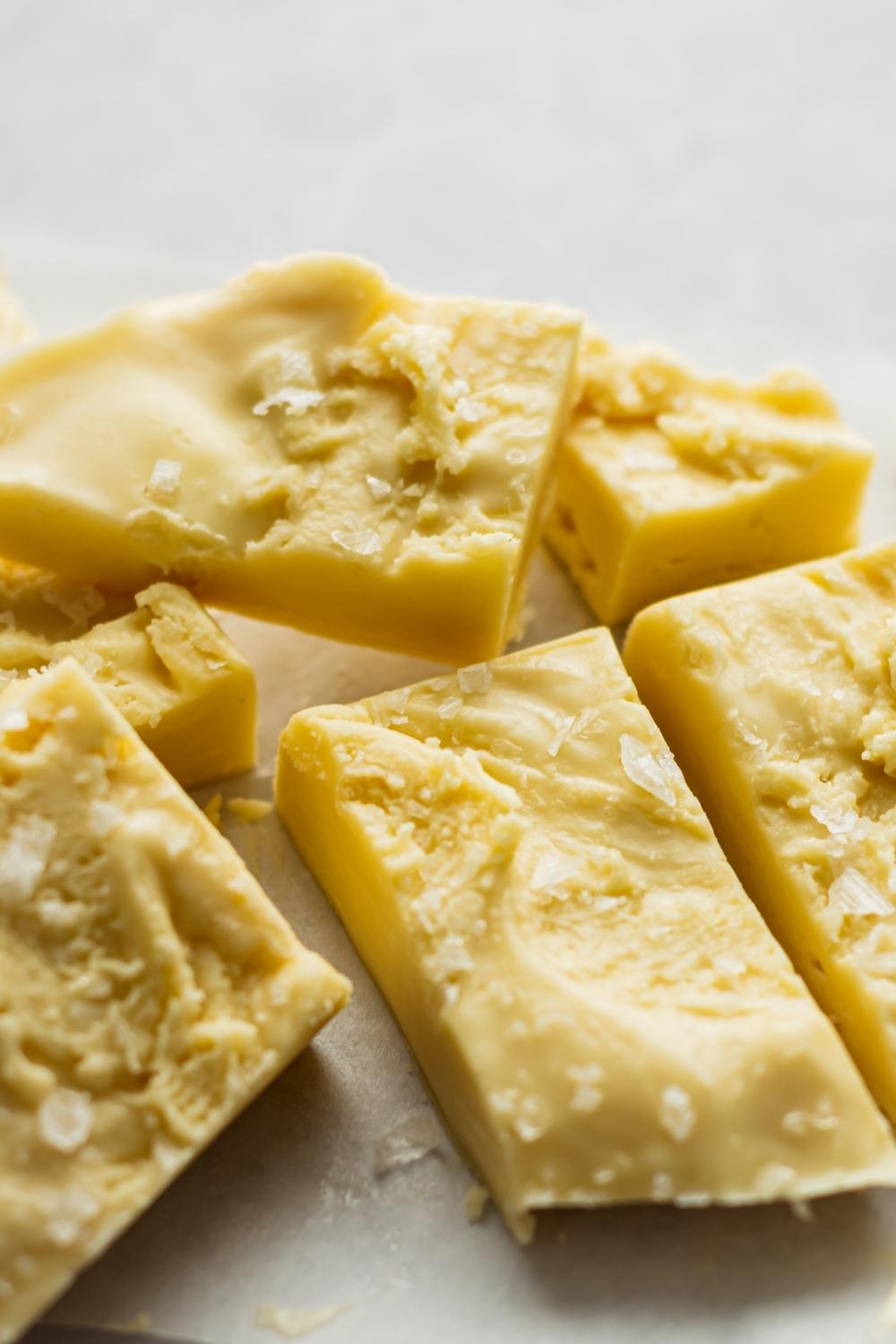 Ingredients
Just in case you missed it - there are just two main ingredients required for this recipe - the third is optional, but it does enhance the flavors if you choose to use it.
Here's what you need to make this maple fudge recipe:
250g White Chocolate
¼ cup Maple Syrup
A pinch of sea salt (optional)
See what I mean by easy?
Honestly, as far as easy fudge recipes go, this maple fudge recipe has to be one of the easiest.
By the way, feel free to use white chocolate chips, melting chocolate wafers, or bars.
As for the maple syrup, I recommend using pure maple syrup. Doing so will give you the true maple flavor that you want to use real maple syrup in this homemade fudge recipe. But with that said, pancake syrup will work great too.
Oh, and speaking of maple syrup, if you love it as I do, you have to give this sweet potato pound cake and million dollar bacon a try next. Both of them use maple syrup to add a little extra flavor to the already delicious recipes.
Different Variations Of This Maple Fudge
As I mentioned above, there is an endless number of ways to modify this recipe, so each time you make it, it never gets boring.
Here are some of my favorite ways to change it up:
Stir in ½ cup of walnuts for maple walnut fudge.

Add 1 teaspoon of vanilla extract to enhance the flavors.

Add 1 tablespoon of brown sugar to compliment the maple flavor.

Swap white chocolate for dark chocolate to make dark chocolate maple fudge.

Add crushed graham crackers and mini marshmallows on top of the fudge for some maple s'mores vibes.

Add Eggo waffle cereal on top for the ultimate breakfast-inspired maple syrup fudge.
Now, if you have your ingredients ready, let's get to making this yummy fudge.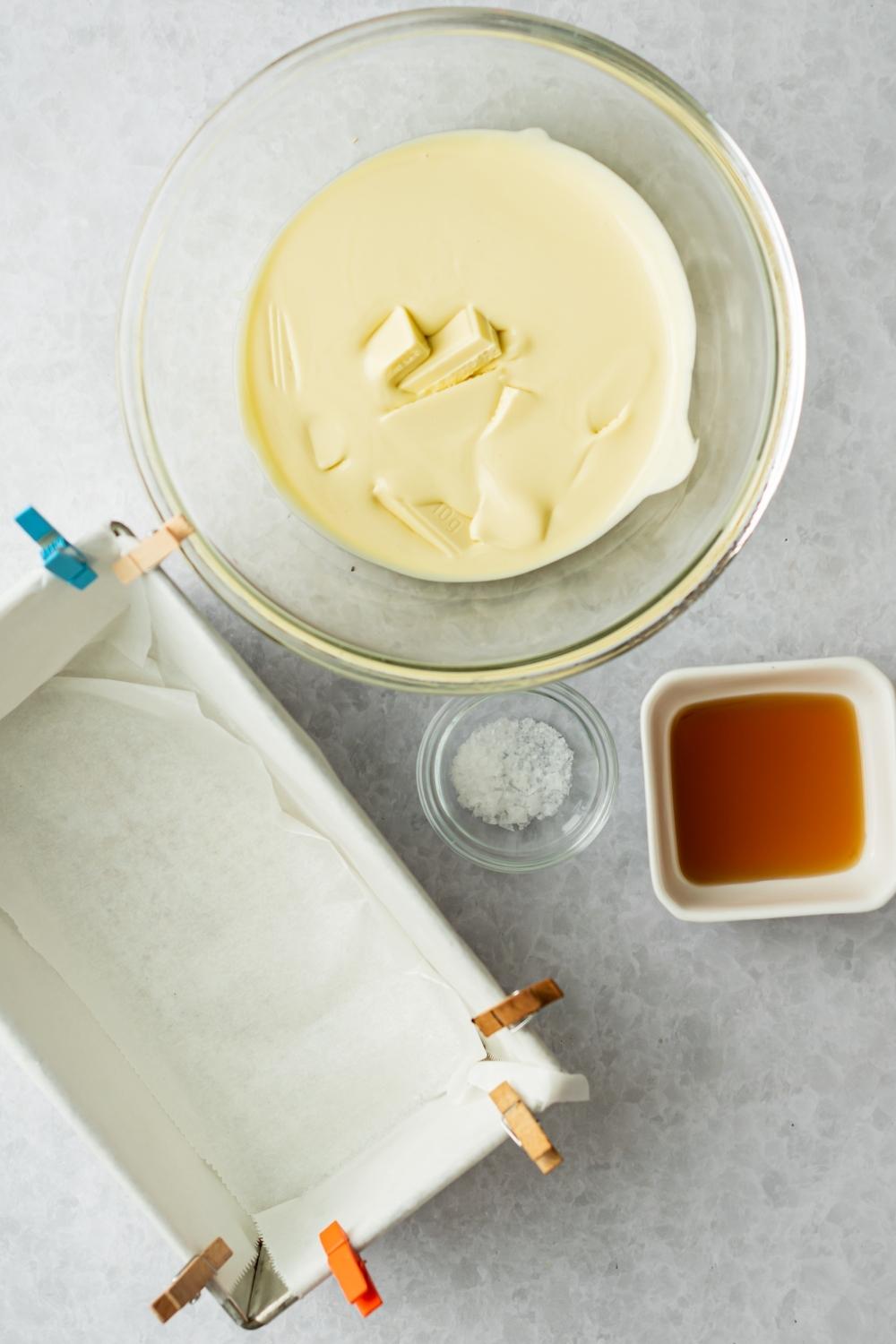 How To Make This Maple Fudge Recipe
So, this recipe takes less than 10 minutes to make, but allot a couple of hours for the fudge to set in the refrigerator.
Also, just so you know, this recipe for maple fudge will make about 8 squares of fudge, so double or triple the ingredients if you want to make more than that. You'll especially want to make more if you're serving it at a holiday party.
By the way, if you want to see me make this recipe step-by-step check out this video.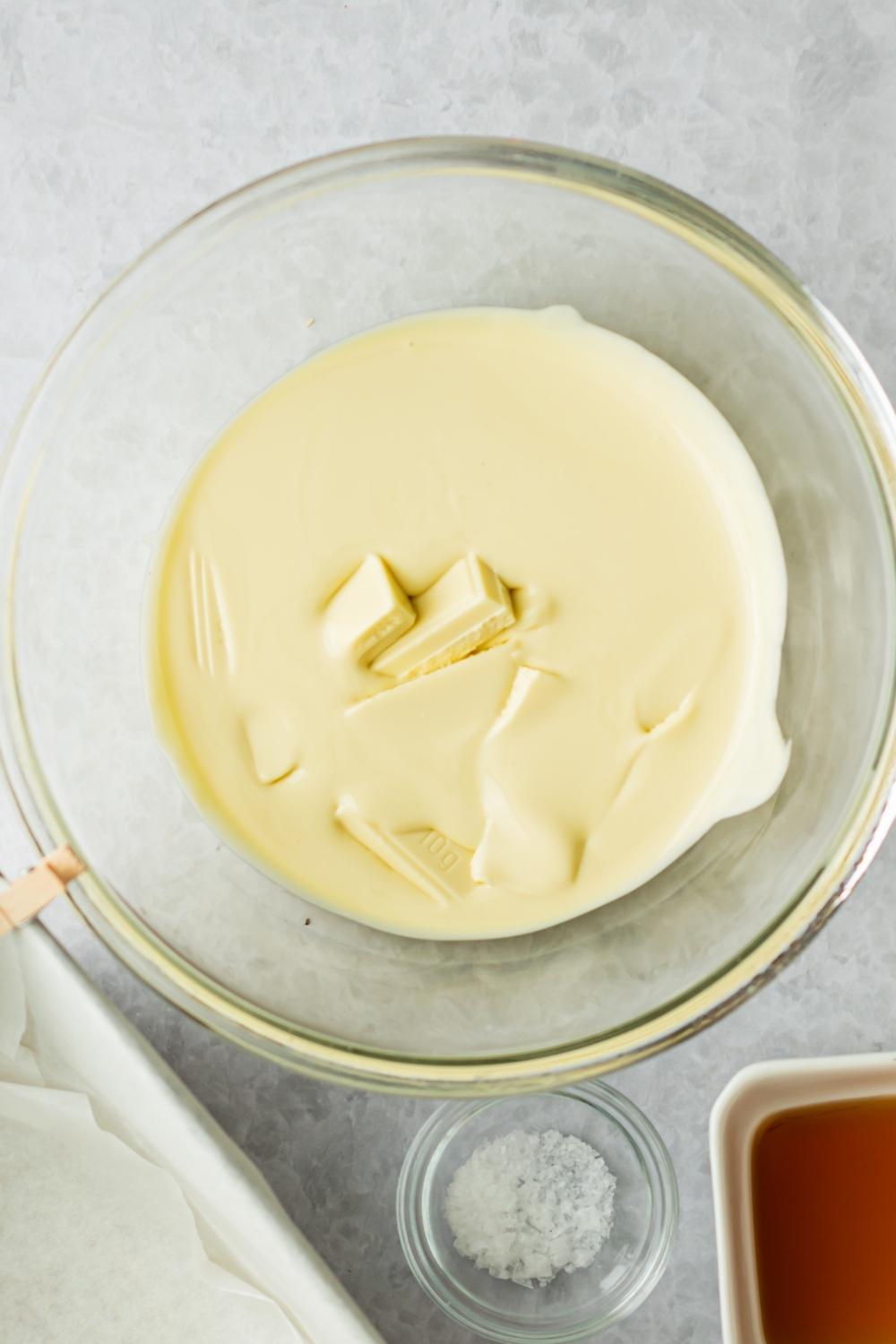 Step 1: Melt The White Chocolate
First, you're going to prepare a baking dish - or loaf pan - by lining it with parchment paper. Also, be sure to let it line the wall of the pan so that when it comes time to remove the fudge, you can lift it out by the paper. Anyway, set the prepared pan aside for later.
Next, add the white chocolate to a microwave-safe bowl and microwave it for about 1 minute, and give it a stir. Then, microwave it in 30-second increments and stir between each one until it is fully melted.
Once it's melted, stir in the pure maple syrup (or pancake syrup) and mix with a spatula until well combined.
If you're making maple walnut fudge, add the walnuts now along with the maple syrup. Alternatively, you can sprinkle them on top in the next step for another version of maple walnut fudge. Either way will add a wonderful flavor to the already delicious fudge.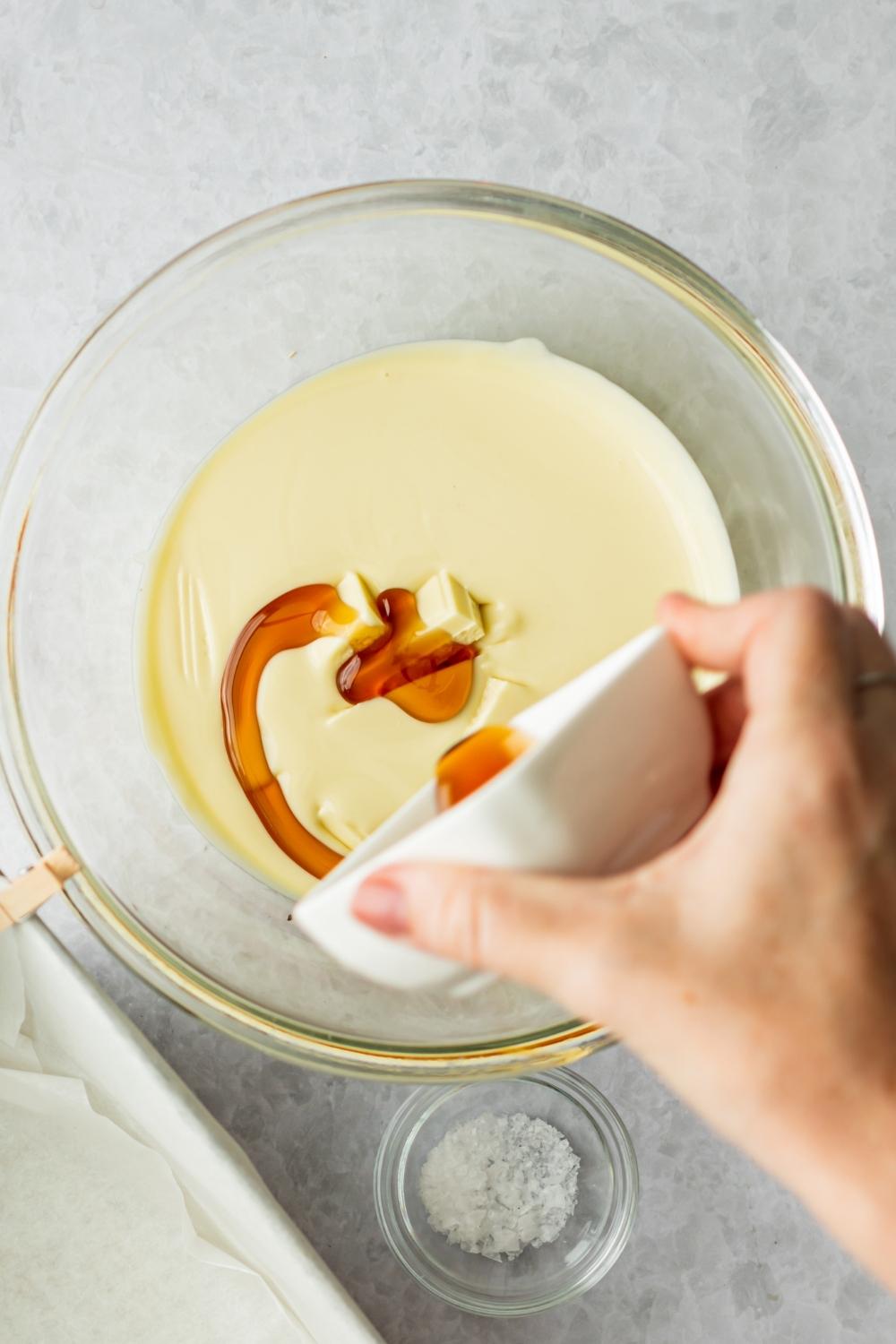 Step 2: Pour and Refrigerate The Fudge
Next, pour the smooth mixture into the prepared pan and sprinkle with sea salt on top if you want.
Then, place the homemade fudge in the refrigerator and leave it to set. About 2 hours should do the trick, but the longer you leave it in the fridge, the firmer it will be.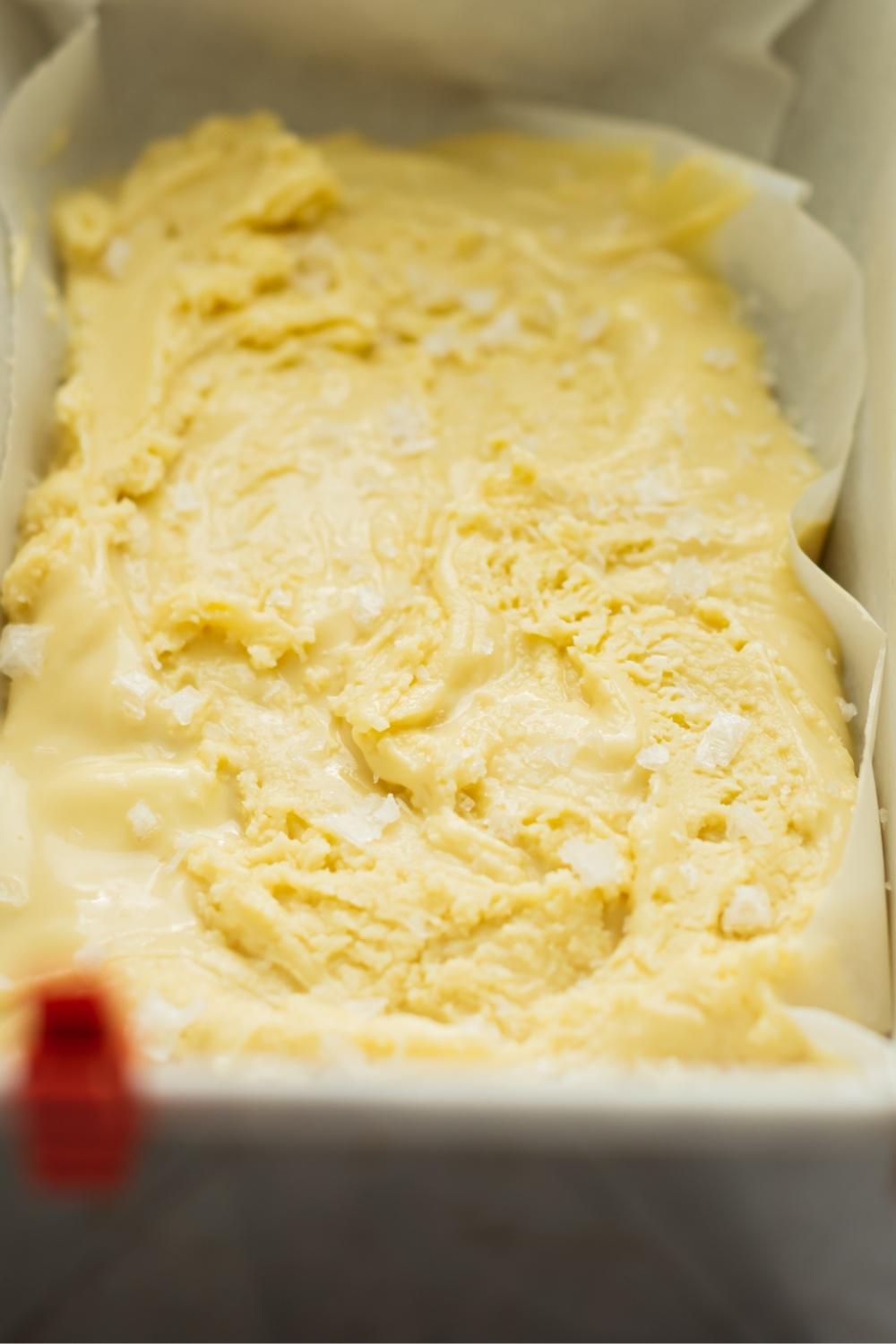 Step 3: Slice and Serve
Once your maple chocolate fudge is good and firm, go ahead and remove the fudge from the pan by gripping the parchment paper and lifting it.
Then, put the fudge on a cutting board, into chunks or squares, serve and enjoy!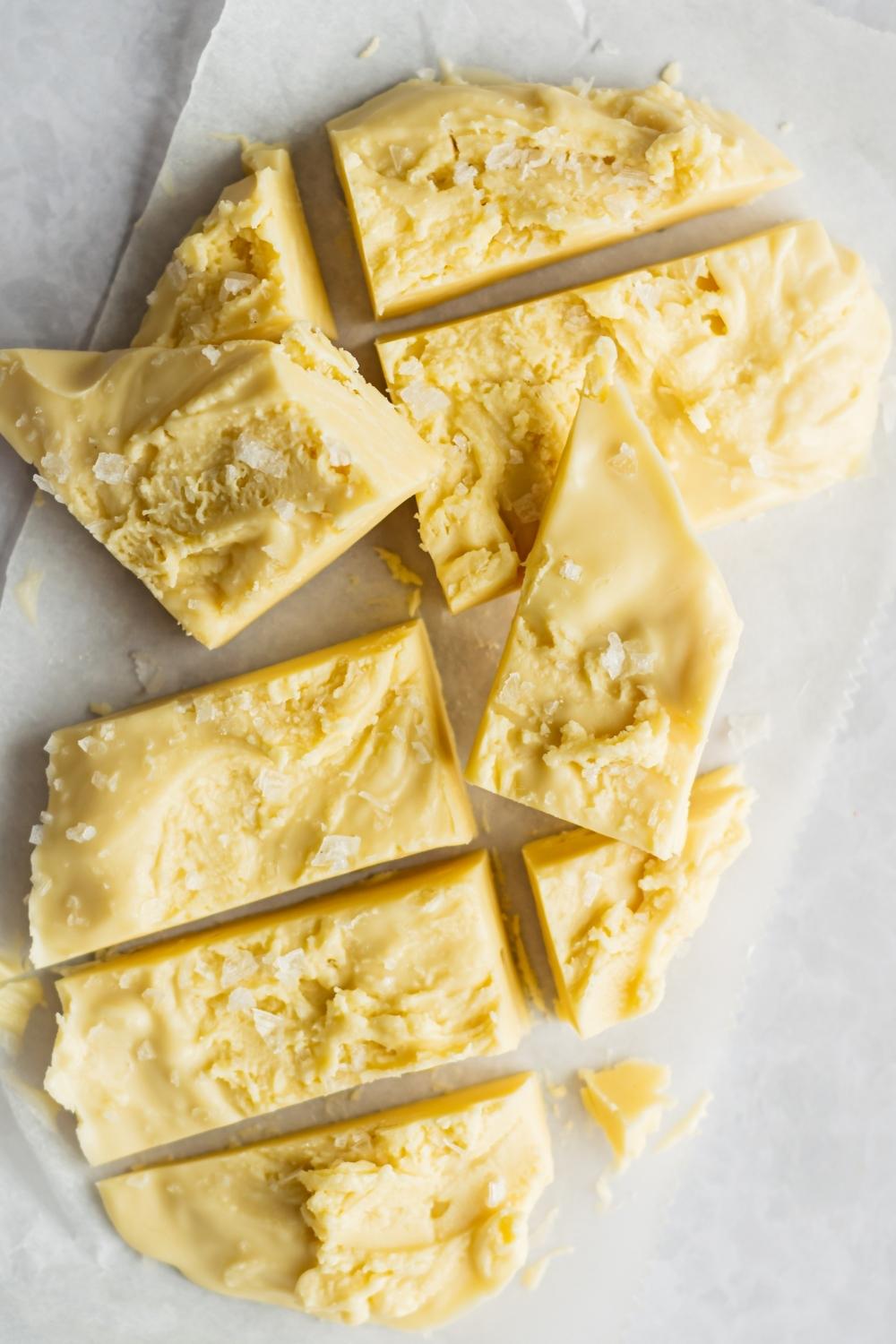 How To Store Maple Fudge
As good as this recipe is, don't feel like you have to eat it all in one sitting. This recipe for maple fudge also happens to taste just as good - or even better - the day/s after you make it.
So, to store your leftover fudge, you'll want to keep it in an airtight container and store it in the refrigerator. Stored like this, it will stay good for up to 2 weeks.
Alternatively, you can freeze fudge for up to 6 months! Then, whenever you want a square, just let it thaw for a few minutes and enjoy.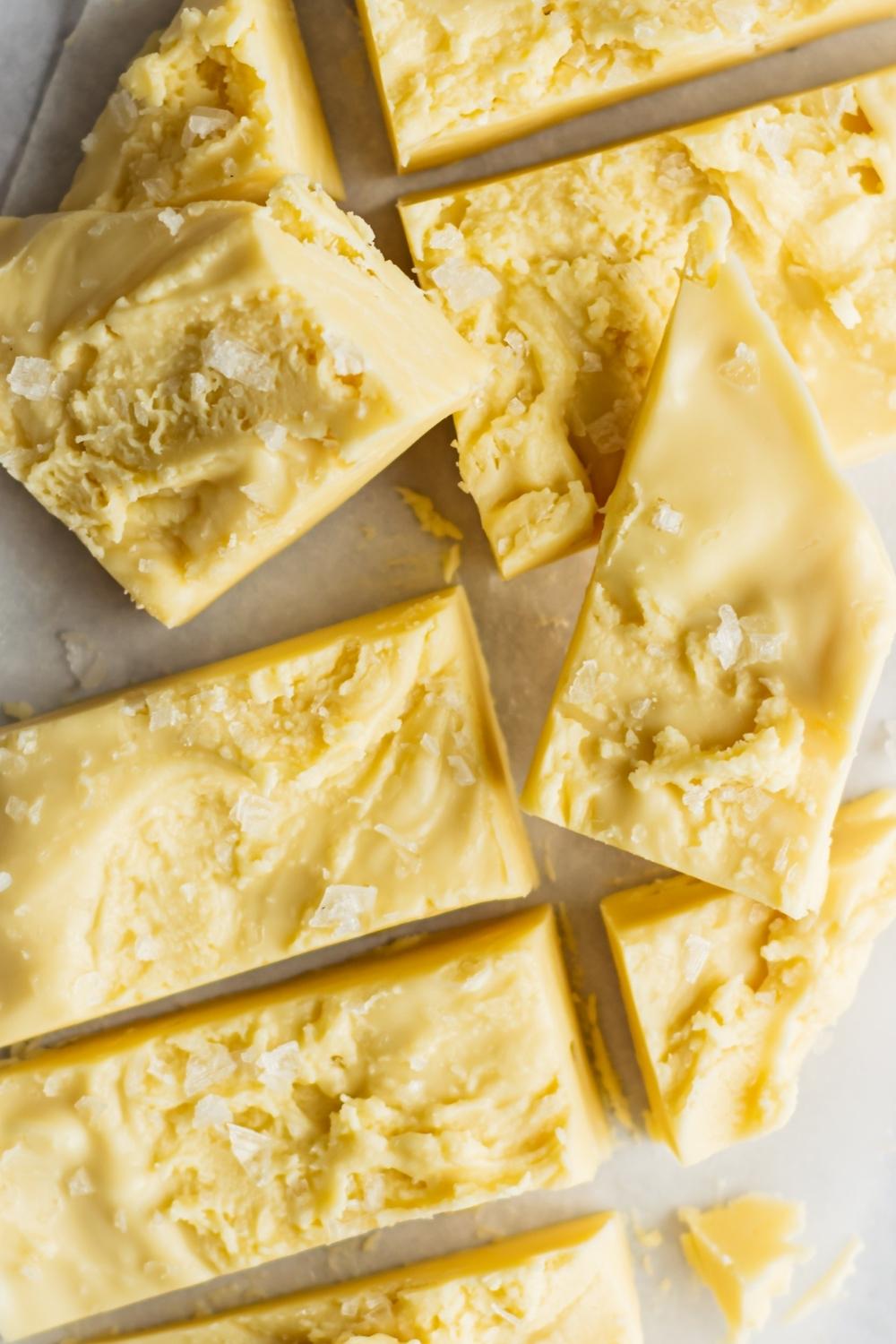 Wrapping It Up
Well, that's how to make maple fudge!
Pretty easy, right? No candy thermometer or fake maple flavoring is required. Just pure maple syrup, white chocolate, and a microwave.
Who would have thought that these two ingredients can combine to make such an easy maple fudge recipe? And, honestly, this truly is the best maple fudge, from the flavor to the texture.
Whether you're looking for a crowd-pleasing holiday dessert recipe, or a treat to bring to your next party, this easy maple fudge will not disappoint.
Anyway, if you give this fudge a try, leave a comment below and let me know how it went!
Also, be sure to check out our Youtube, TikTok, and Instagram. We post new easy dessert recipes on them every single day.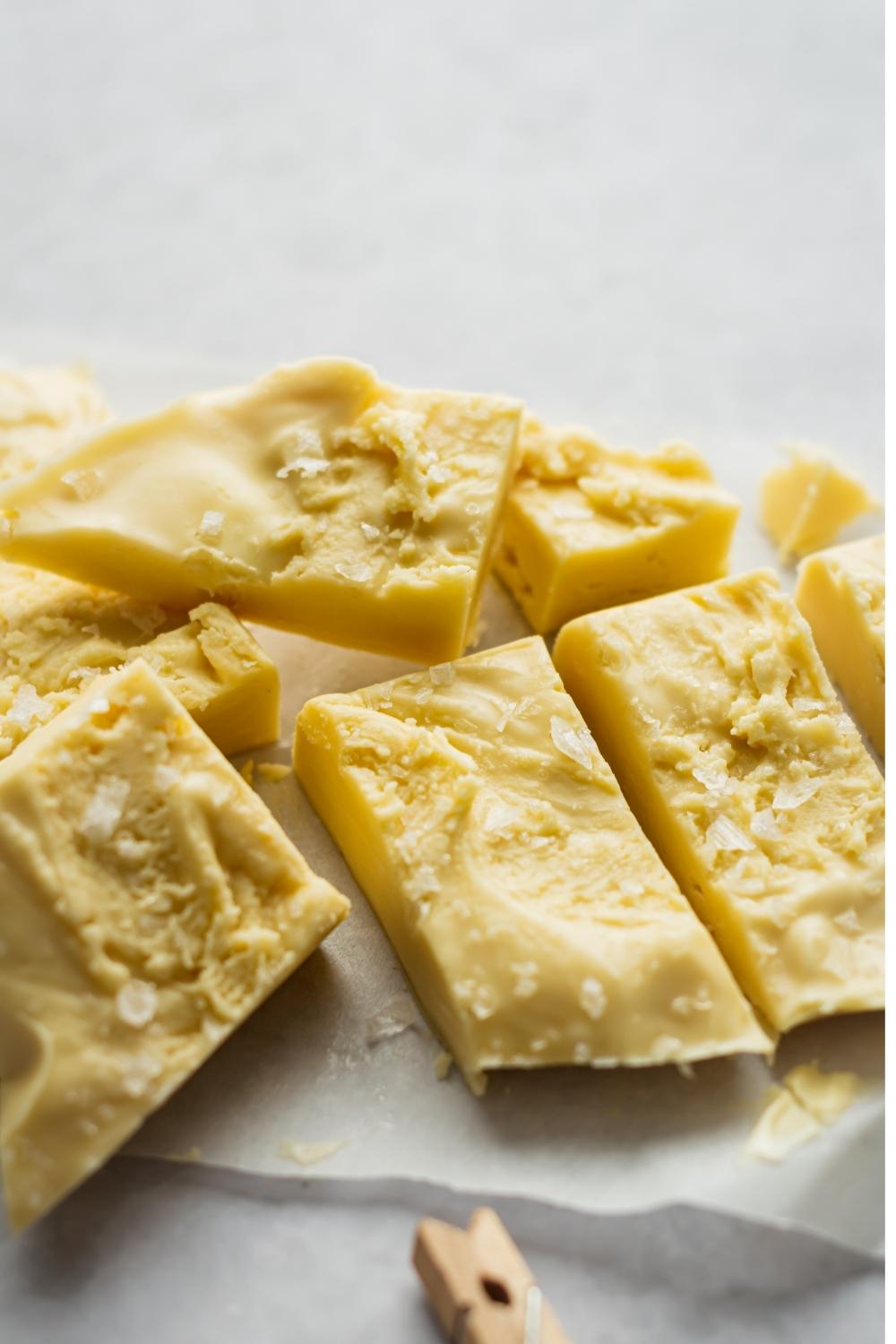 More Dessert Recipes
If you enjoyed this sweet treat and want to give some other fudge recipes and desserts a try, we have a bunch on the blog!
Check one of these out next:
Print
Maple Fudge Recipe Made With Only 2 Ingredients
This homemade maple fudge recipe is incredibly rich and decadent, and it's loaded with sweet maple syrup flavor! Best of all, only 2 simple ingredients are required to make this maple fudge, and you probably have them in your pantry already. So, you definitely won't want to wait to make this easy maple fudge, it's too good to put off!
Author:
Prep Time:

5 minutes

Cook Time:

0 minutes

Total Time:

5 minutes

Yield:

8

servings

1

x
Category:

Dessert

Method:

Microwave

Cuisine:

Fudge
Instructions
Melt the white chocolate for about 1 minute in a microwave safe bowl. Give it a stir and microwave in 15-second increments until melted and smooth.

Add the maple syrup to the bowl of white chocolate and mix to combine.

Transfer the fudge mixture to a loaf pan or baking dish lined with parchment paper and top with sea salt.

Refrigerate for a few hours until it sets.

Cut into chunks or squares and serve.
Nutrition
Serving Size:

1 serving

Calories:

204

Fat:

23

Carbohydrates:

46

Protein:

2
Keywords: maple fudge, maple fudge recipe, easy maple fudge recipe, best maple fudge recipe, maple fudge recipe with maple syrup, maple fudge recipe easy, maple fudge recipe with real maple syrup, maple fudge recipe without candy thermometer