Tanghulu is arguably the best way to eat fruit. The crispy crunch of the sugar pairs perfectly with the softness of any - and every - fruit you use to make it. Honestly, this tangulu recipe is so addictively delicious it might just change the way you eat fruit forever.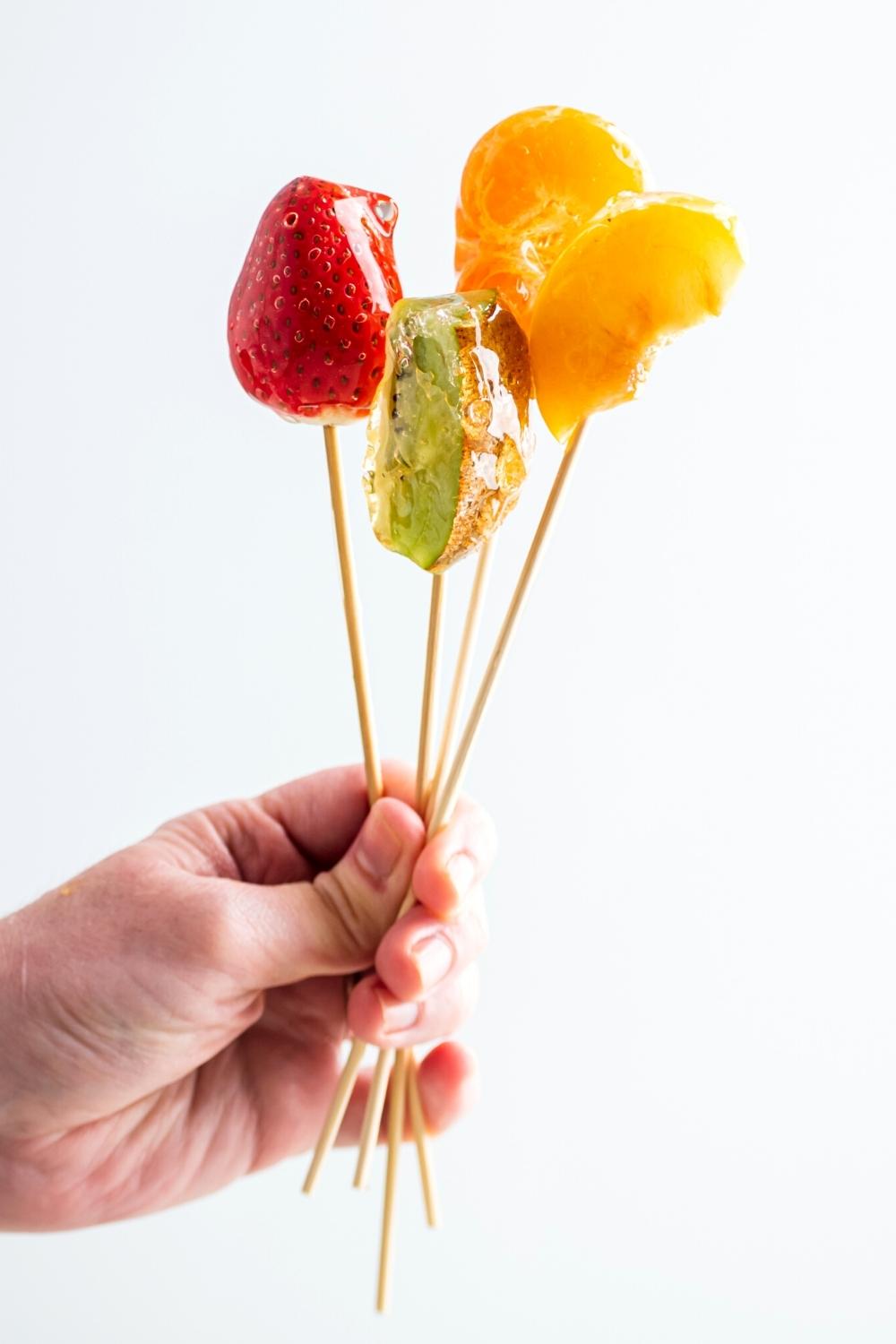 The Best Tanghulu
Tangulu is a Chinese street food that takes the beauty of fresh fruit and encapsulates it in a sugar mixture to create this healthy candied fruit.
Sounds delicious, right?!
Well, this tanghulu isn't just delicious, it's also incredibly easy to make. In fact, in just 20 minutes, you can have yourself - or your kids - a bowl of irresistible candied fruit treats for snacking. Or you can have it after dinner if you want a fruity dessert cuisine.
And, honestly, they'll - the kids that is - will like this homemade candy just as much as any fruit-flavored candy!
Seriously, the hard yet delicate sugar coating around the fresh fruit makes this little skewered fruit addictive. So it's a good thing that this fun recipe is made with fresh strawberries and any other fruit that you like!
By the way, if you like candied fruit recipes or fruit recipes in general, give these candied grapes and mango mousse a shot next!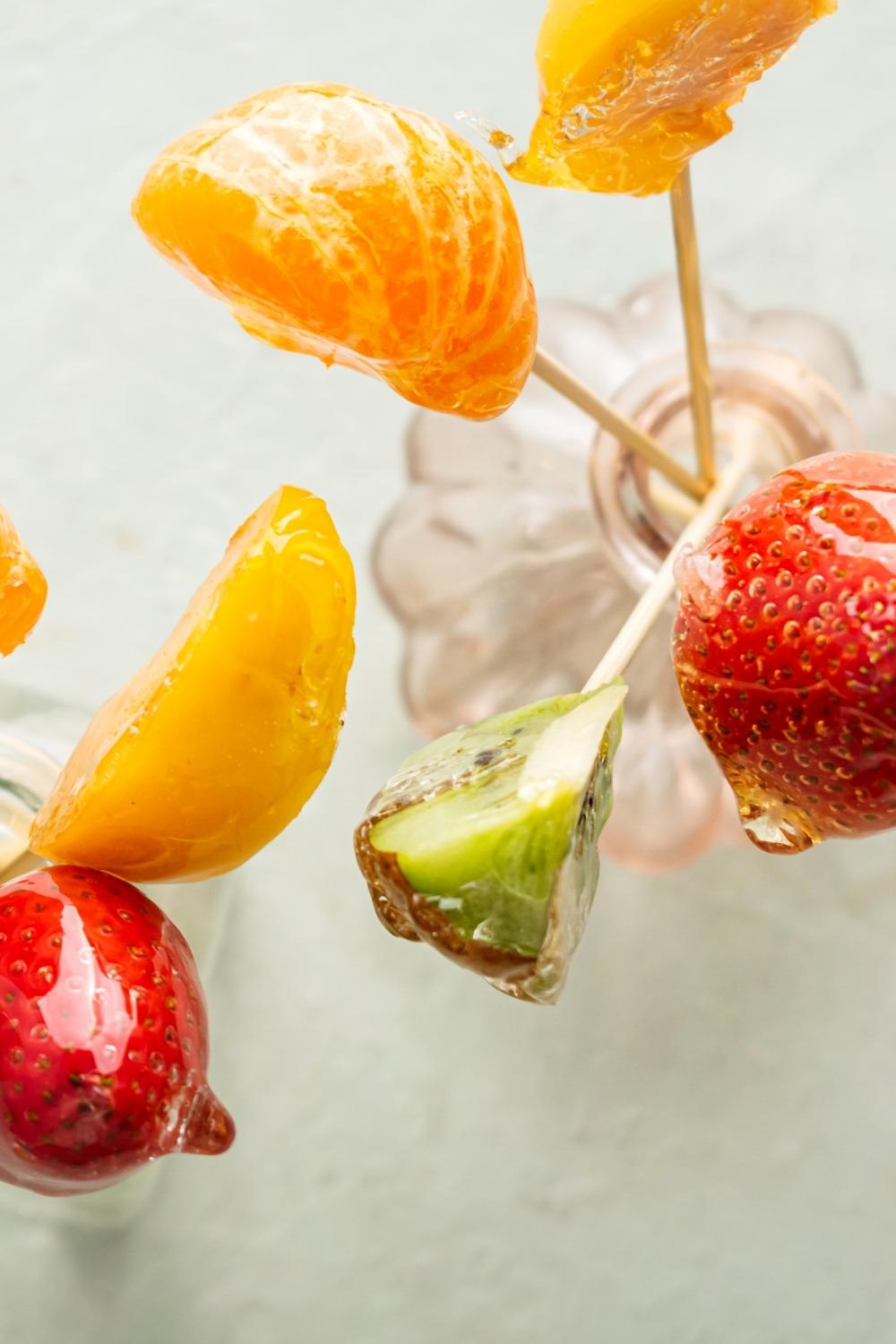 Ingredients
The great thing about tanghulu is how simple the ingredients are. You only need three of them, and they're all as simple as can be.
Anyway, here's everything you need to make tanghulu:
2 cups granulated sugar
1 cup water
1 pound fruits (tangerines, apricots, strawberries, and kiwis)
Another great thing about making this tanghulu is it requires the same process for every fruit. So you can use any type of fruit that you want to make this classic Chinese street food!
I love using a variety of fruit, but the most common fruit to use is definitely fresh strawberries to make candied strawberries. The candied strawberries are just classic and so good.
By the way, some people use corn syrup to make tanghulu, but I think that using wat and granulated sugar to make the hot sugar syrup just turns out better than the corn syrup. It makes a more traditional candied fruit.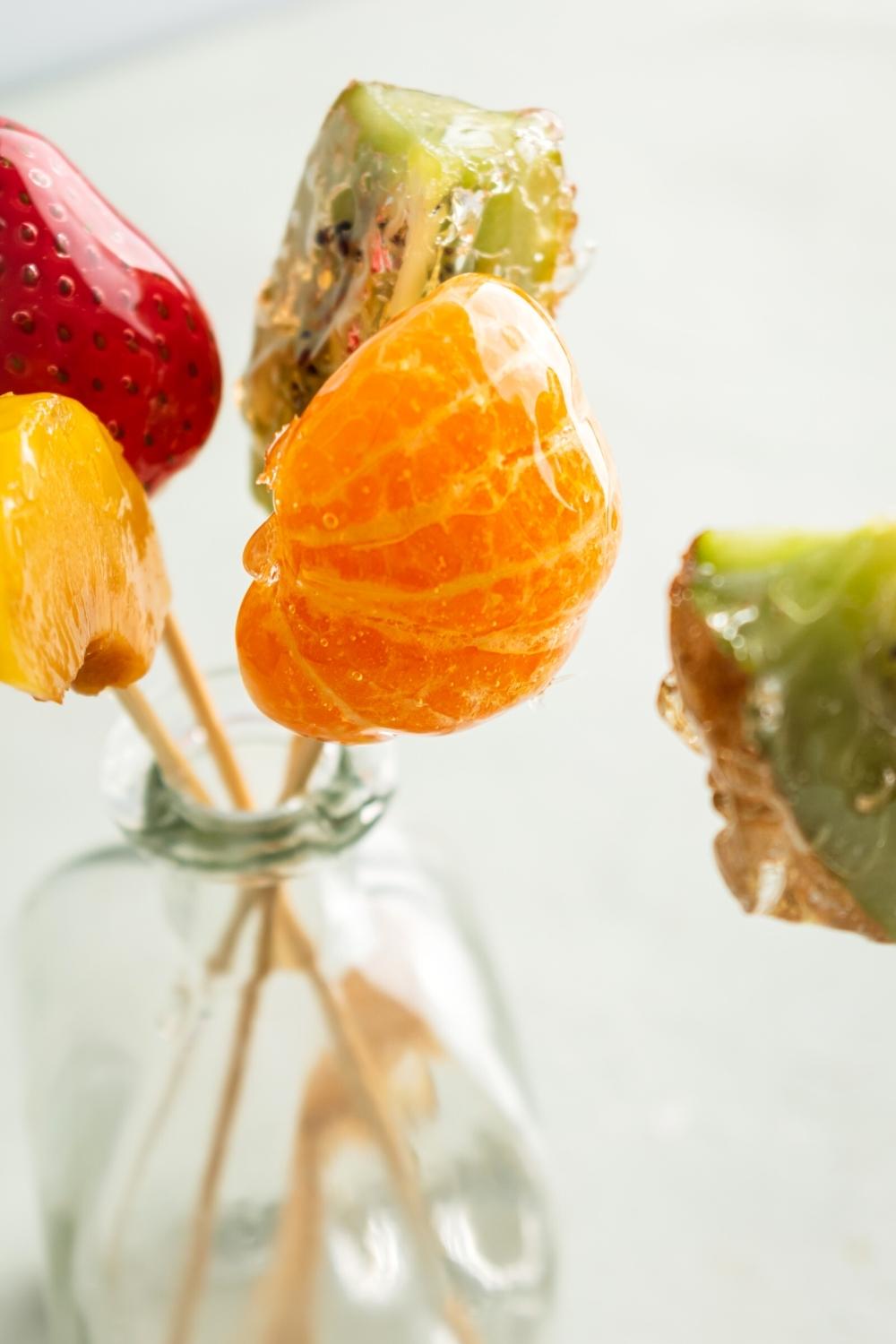 How to Make Tanghulu
So, the thing to focus on to make this tanghulu is getting the candying part right. But don't worry, I'll walk you through the process, and your tangulu will turn out perfect.
Also, for what it's worth, to make this recipe foolproof, I suggest investing in a candy thermometer. A candy thermometer is relatively affordable and ensures that you'll get the perfect temperature to get that hard crack candied outside. And, if you get a candy thermometer, you can use it to make this peanut brittle!
Anyway, get out the fruit you want to use, along with the sugar and water, and let's make some fruit skewers!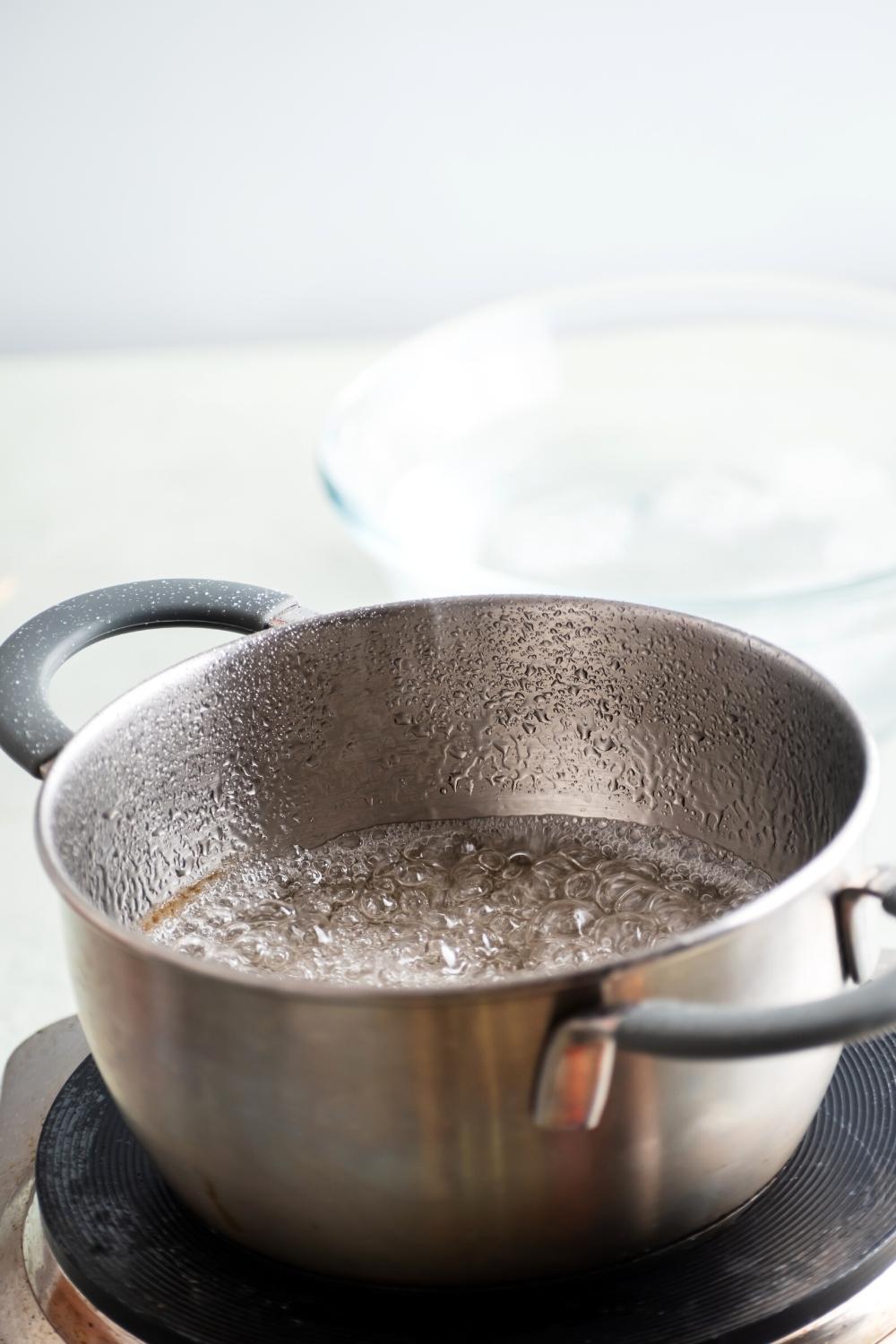 Step 1: Prep The Fruit
Before we start playing with the sugar, you'll have to do a little prep work with the fruit.
First, wash and dry the fruit thoroughly. It needs to be completely dry for the candy coating to stick, so dry it twice!
Now slice up the fruit you want to use and stick wooden skewers in each piece.
Lastly, prepare an ice bath in a large bowl. You'll need this to dip the fruit into it later on.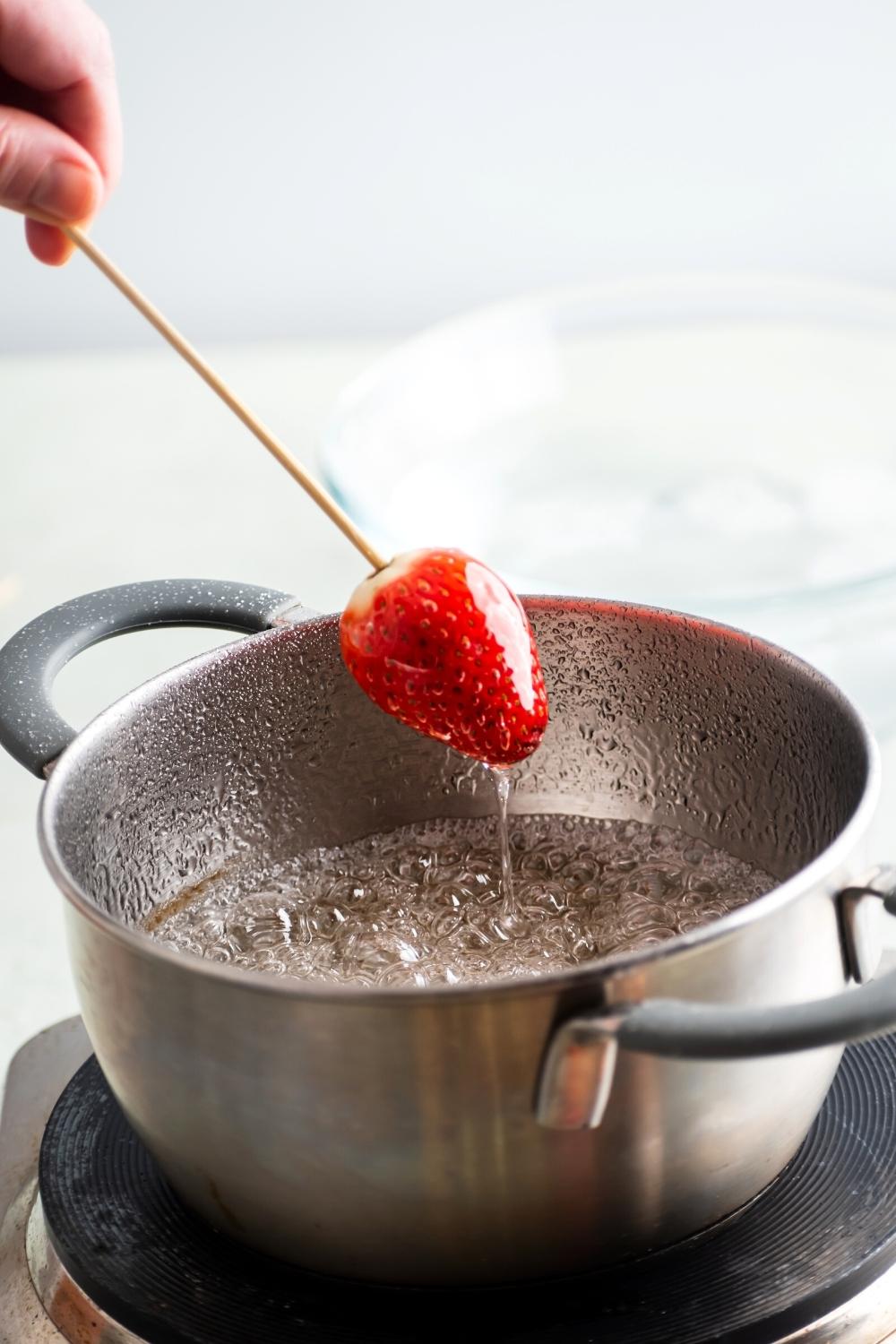 Step 2: Make the Sugar Syrup
Next, put the sugar and water in a pot over medium heat. Heat the sugar water mixture until the candy thermometer reaches 275°F. And make sure not to over stir the mixture.
And, just so you know, if you want to check the temperature without a candy thermometer, you can check if it's ready by sticking a wooden skewer in it, then immediately dipping it in the cold water. If it becomes hard and immovable, the sugar is ready.
Now, once the sugar is good to go, turn the heat down to prevent it from burning - you don't want it to go above 300°F.
Step 3: Dipping Time
So, now it's time to dip the fruit in the hot syrup and coat it. Also, make sure you use the wooden skewers and keep your hands away from the water - it will be very hot.
Now, dip each piece of fruit into the sugar water mixture and gently turn it to coat all of the sides.
Then, work quickly and allow the excess sugar to drip off, then dip the fruit into the bowl of ice water for a second to let it harden to create the candy shell. Do not keep the fruit submerged in the water - it just needs a quick dip in the sugar mixture.
To finish up, put the tanghulu in a bottle - or somewhere they can stand straight up - and eat these fruit skewers immediately.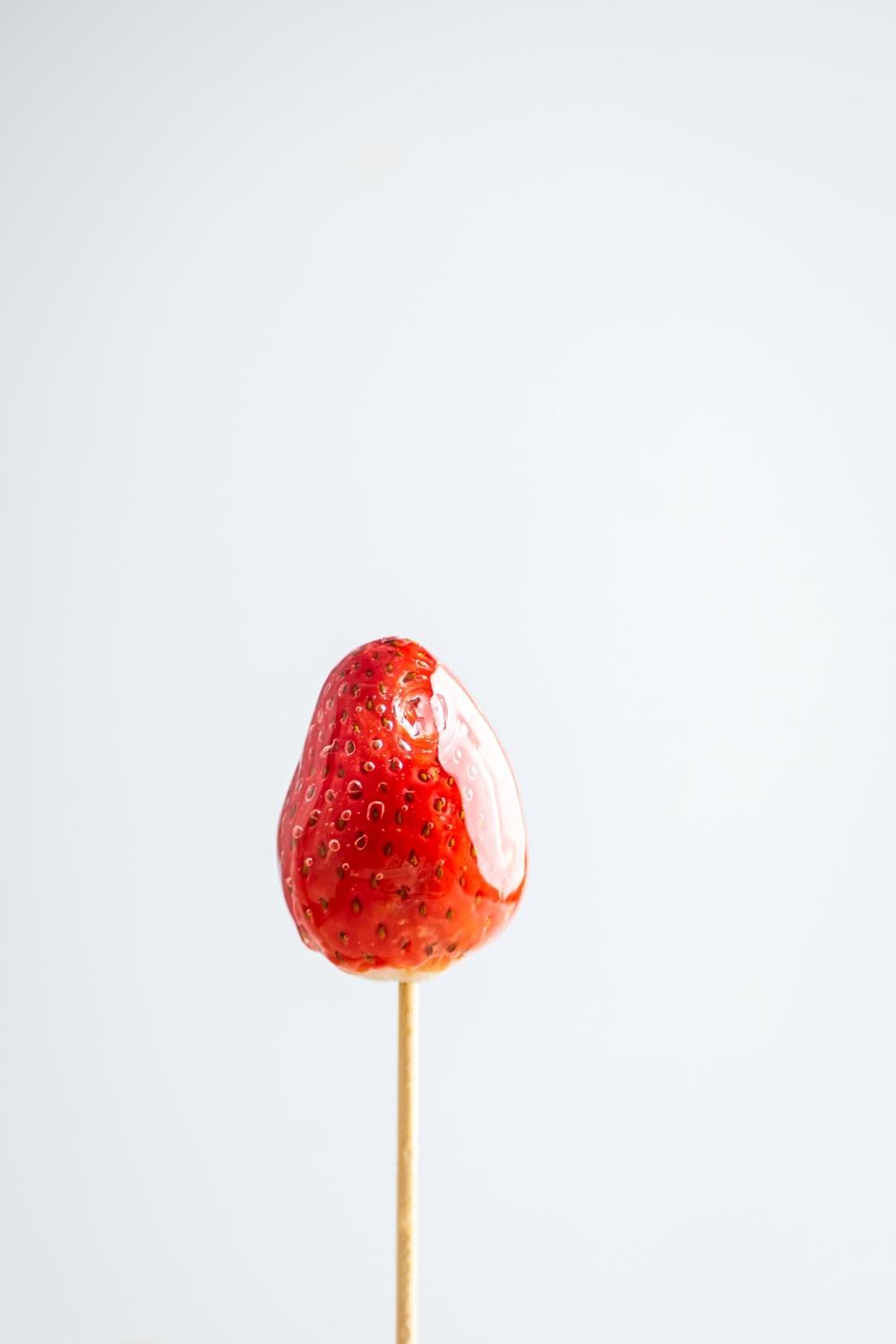 FAQS ABOUT THIS TANGHULU RECIPE
What is tanghulu made of?
Tanghulu is a Northern Chinese dessert made of fresh fruit on skewers covered in a crunchy sugar coating. Originally the fruit used Chinese hawthorn berries, but it has been expanded to include any fruit that you want, like starwberries, tangerines, kiwi, and apricots.
What does tanghulu taste like?
Tanghulu tastes sweet with the added fruity flavor of whatever fruits you decide to use. If you like a tart flavor, you can use tart fruit like berries. Now, the tanghulu is like fruit candy - it has a satisfying hard candy coating with a burst of juicy fruit on the inside. It's basically a hard fruit candy with a soft center.
How do you eat tanghulu?
These sweet candied fruits are traditionally served on skewers, so you can easily eat them without getting sticky fingers. Using skewers also makes the entire process easier. You can put the fruit right onto the skewers after you slice them, then they can stay that way from dipping, to coating, to eating.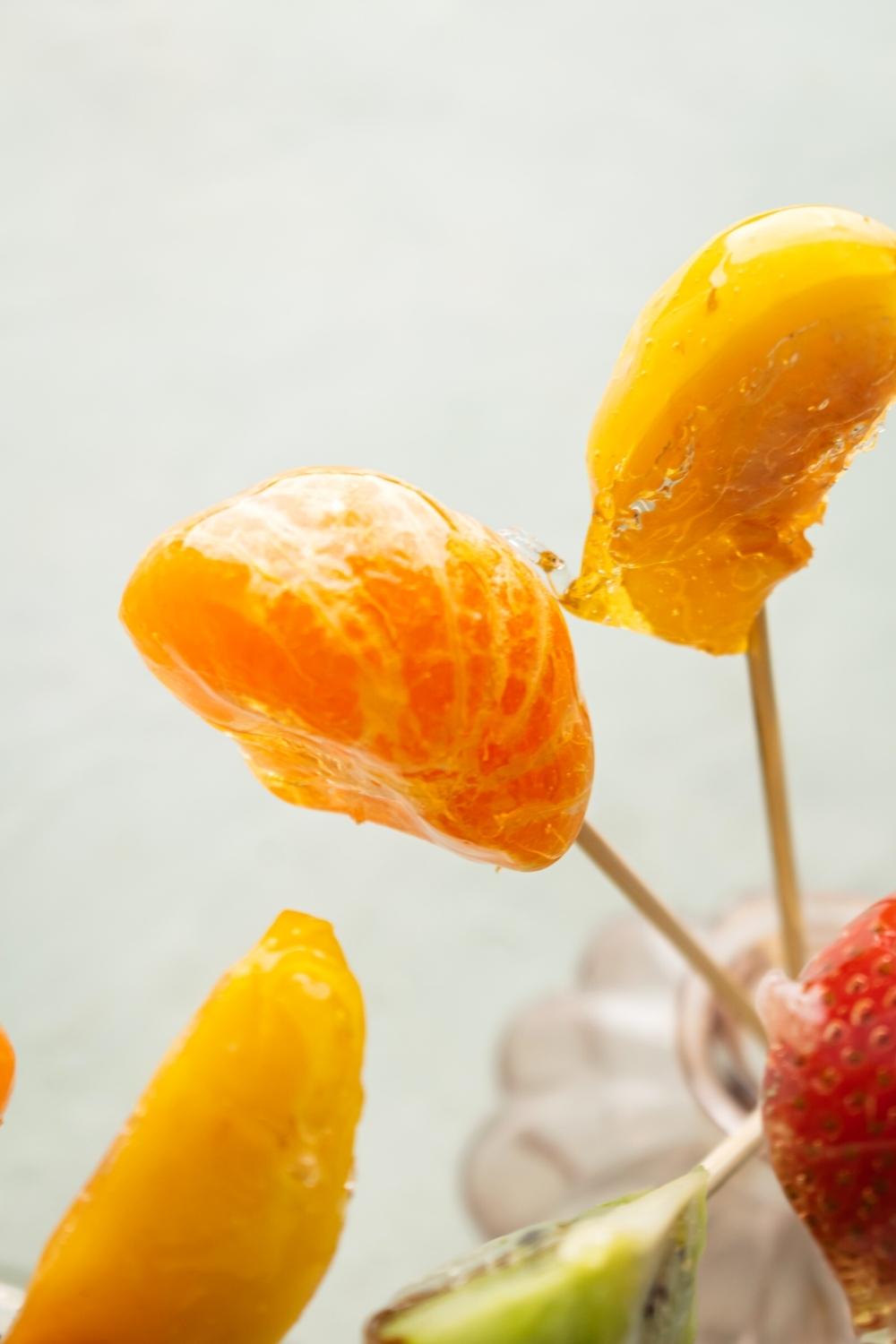 Wrapping It All Up
Well, that is how to make tanghulu at home with any fruit you want!
Not only is this fruity treat delicious, but it looks mesmerizing.
It truly is beautiful and will impress any guests you have over if you serve it. And everyone always loves this - especially kids - since it's such a tasty fruit candy.
Anyway, I hope you like this satisfying tanghulu recipe as much as I do!
If you make it, leave a comment below and let me know your thoughts.
And make sure to check out our Youtube channel for more delicious recipes just like this one.
Yield: 4 servings
Tanghulu Recipe Made With Any Fruit You Want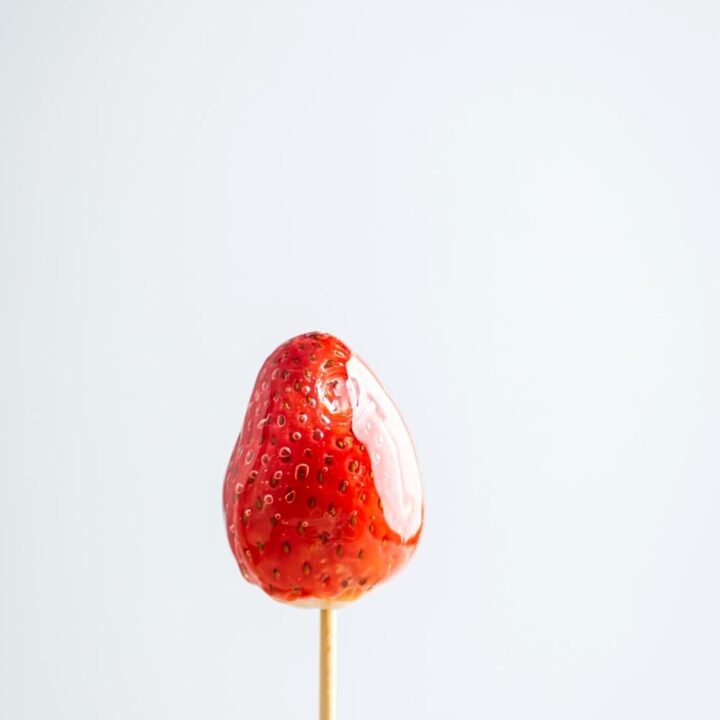 Tanghulu is arguably the best way to eat fruit. The crispy crunch of the sugar coats any fruit you want to make the perfect bite. This tangulu recipe is just addictively delicious and will change the way you eat fruit forever. 
Ingredients
 2 cups granulated sugar
1 cup water
1 pound fruits (tangerines, apricots, strawberries, kiwis, etc.)
Instructions
Wash and dry the fruit. Slice if needed. The fruit must be dry for the candy coat to adhere properly.

Skewer fruit, only add as many pieces as you can dip into the pot.

Add the sugar and water to your pot. Heat over medium heat until the candy thermometer reaches 275 F degrees. Do not stir the mixture. You can check if it's ready by sticking a wooden skewer in it and then immediately dipping it in the cold water. If it becomes hard and immovable, the sugar is ready.

When the sugar and water mixture has reached the desired temperature turn the temperature down slightly to prevent burning. Dip your fruit skewer into the sugar mixture, gently turn to coat the fruit.

Work quickly and allow excess sugar to drip off before dipping them in a bowl with iced water for a second and removing them.
Nutrition Information:
Serving Size:
1 serving
Amount Per Serving:
Calories:

391
Total Fat:

0g
Saturated Fat:

0g
Trans Fat:

0g
Unsaturated Fat:

0g
Cholesterol:

0mg
Sodium:

0mg
Carbohydrates:

98g
Fiber:

0g
Sugar:

0g
Protein:

1g