This keto cheese sauce is so creamy, flavorful, and cheesy. It tastes great on literally everything, and you can put this low carb cheese sauce on whatever you want since it has just 1 NET CARB!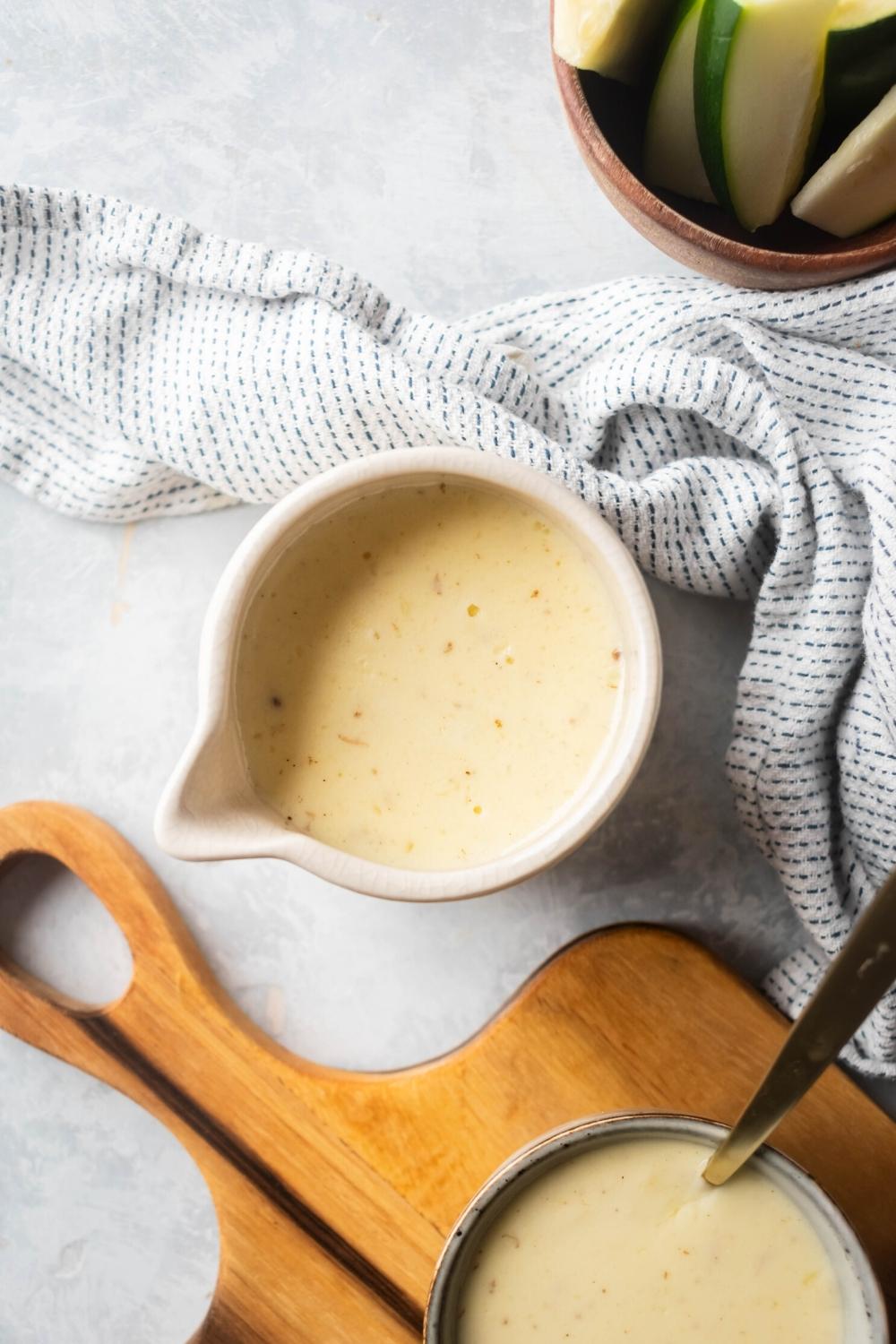 THE BEST KETO CHEESE SAUCE
Who doesn't like cheese sauce? I mean, it's so incredibly versatile and it's great for game days, parties, and holidays.
And with this recipe, you'll get a low carb keto cheese sauce that takes about 20 minutes to make! And I can almost guarantee you've never tried a healthy cheese sauce recipe like this before.
The different types of cheese used to make the sauce gives the flavor depth; and since everything cooks together, you end up with a rich, creamy, and deliciously smooth cheese dip that everyone will rave over.
Also, there are only 3 main ingredients used to make this cheese sauce recipe, and the entire cooking process is pretty passive. So, you can make anything else you want during that time!
With that said, my all-time favorite thing to eat with this keto cheese sauce are these Keto French Fries - it's like they were meant for each other.
Oh, and I'll go over some of my other favorite things to pair with this cheese sauce recipe later on too!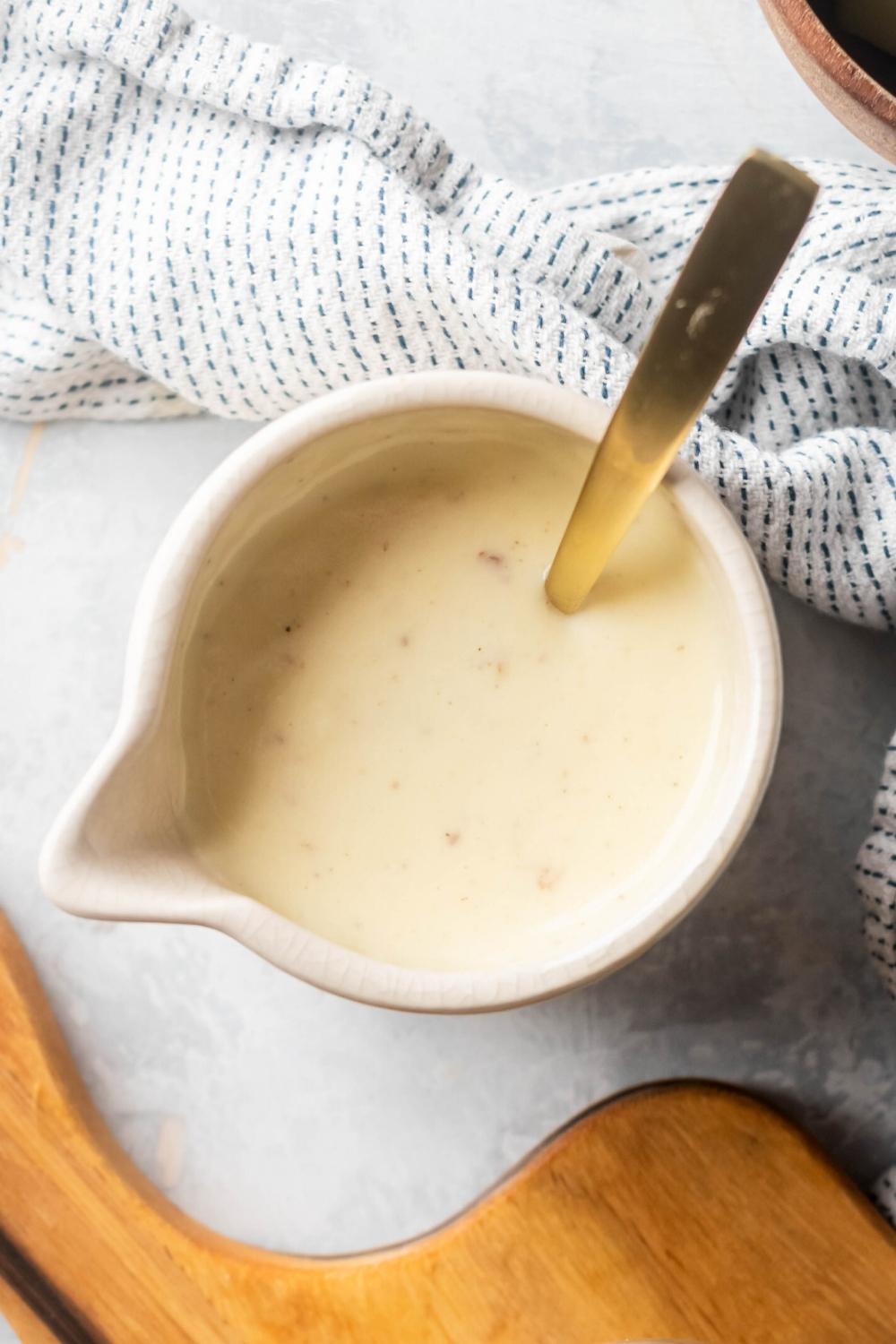 Ingredients
As I mentioned, just a hand full of ingredients is all it takes to make this cheesy keto sauce.
Here's everything you need:
1 cup of Heavy Cream
1 cup of Emmental Cheese, shredded
½ cup Mozzarella Cheese, shredded
Salt and pepper, to taste
So, I used Emmental and mozzarella cheese to give this sauce more of a keto queso flavor.
But the best part about this recipe is you can use any cheese that you want! Another delicious option is just using all cheddar cheese for a classic nacho cheese sauce flavor.
Keeping this Cheese Sauce Low Carb
This keto cheese sauce is, of course, primarily made up of cheese. And I have a tip to make sure you keep it as low carb as possible.
I suggest getting a block of cheese from the store and shredding it yourself.
Pre-shredded cheeses tend to have more carbs in them because they have added starches - this prevents the cheese from sticking and caking together, but it also adds a few unnecessary carbs.
So, to keep this keto cheese sauce as low carb as possible - depending on the type of cheese you use - shred the cheese yourself.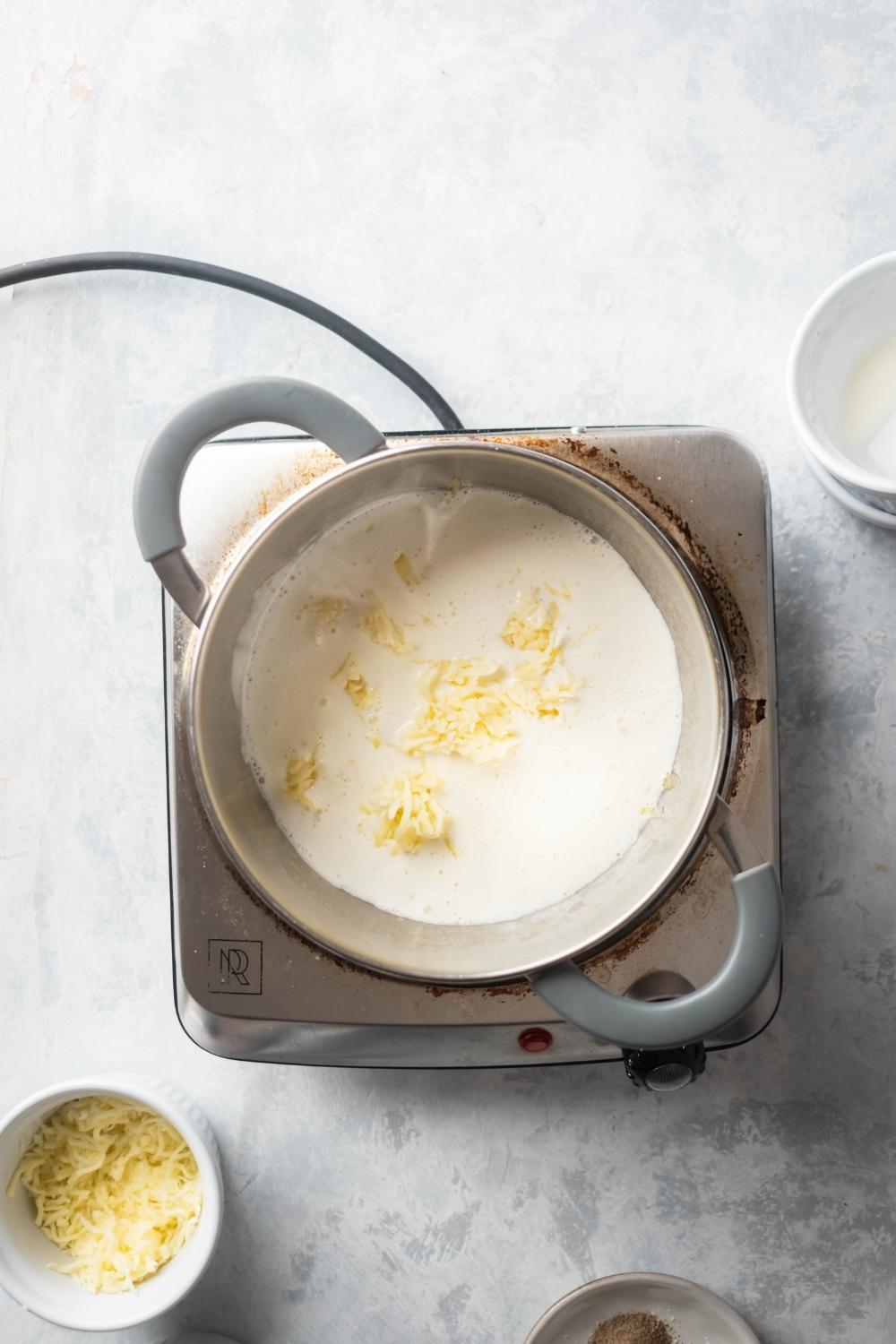 How To Make Cheese Sauce Keto
Now, before we dive into how to make this keto cheese sauce recipe, keep in mind that it makes 2 cups of cheese dip.
So, if you're planning on serving it at a party - or get-together - just double, triple, or quadruple the recipe!
Now, let's start cooking and get saucy!
Step 1: MIXING THE INGREDIENTS
First, take out a large pot and put it on your stovetop over medium heat.
Then, add the heavy cream and heat it until it just starts to bubble.
Once it does, add the shredded Emmental and mozzarella to the pot, along with the salt and pepper.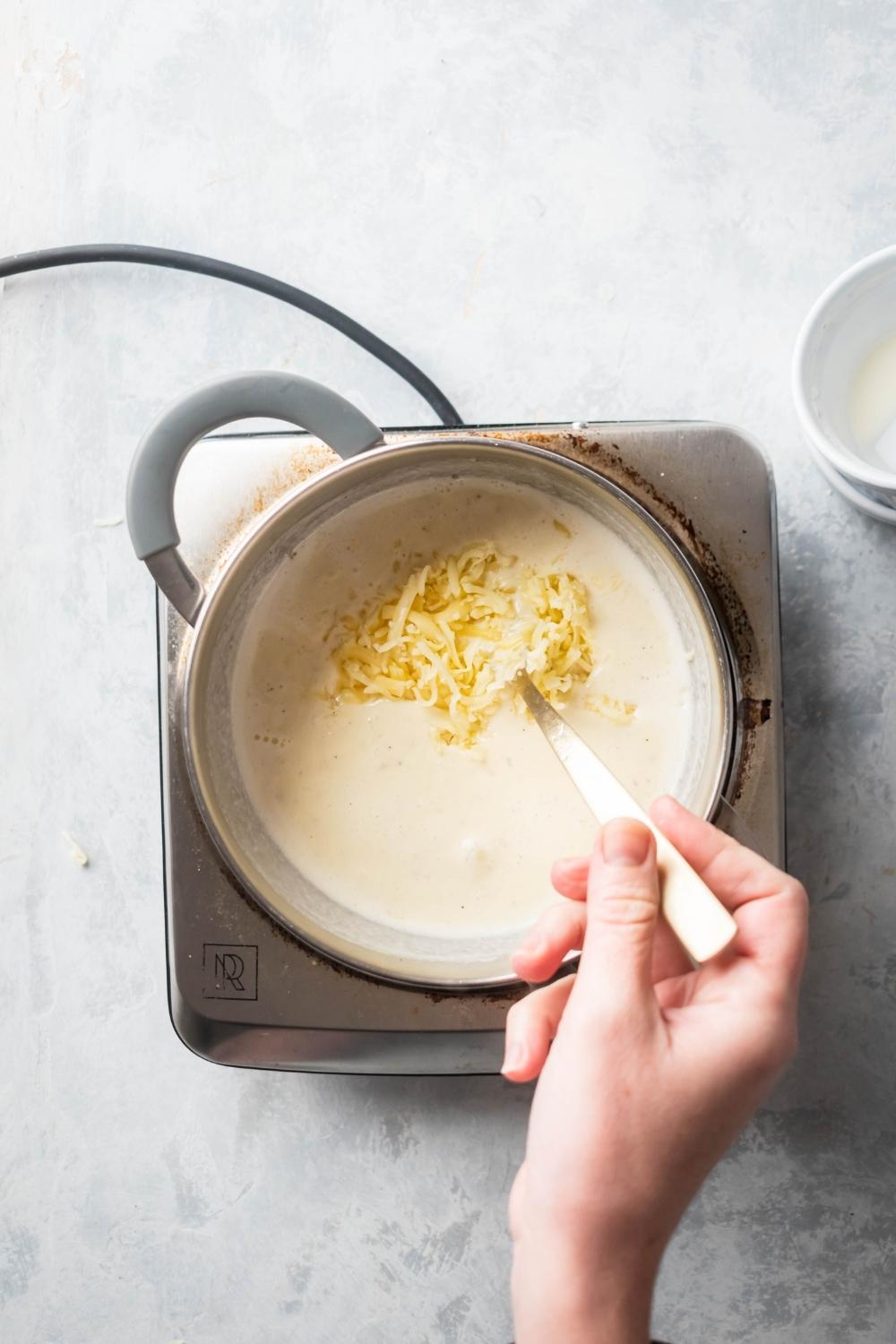 STEP 2: COOKING THE CHEESE SAUCE
Now that the ingredients are in the pot, cook everything for about 10 minutes, or until the ingredients turn into a thick cheese sauce consistency.
By the way, make sure to stir constantly, so the cheese doesn't burn!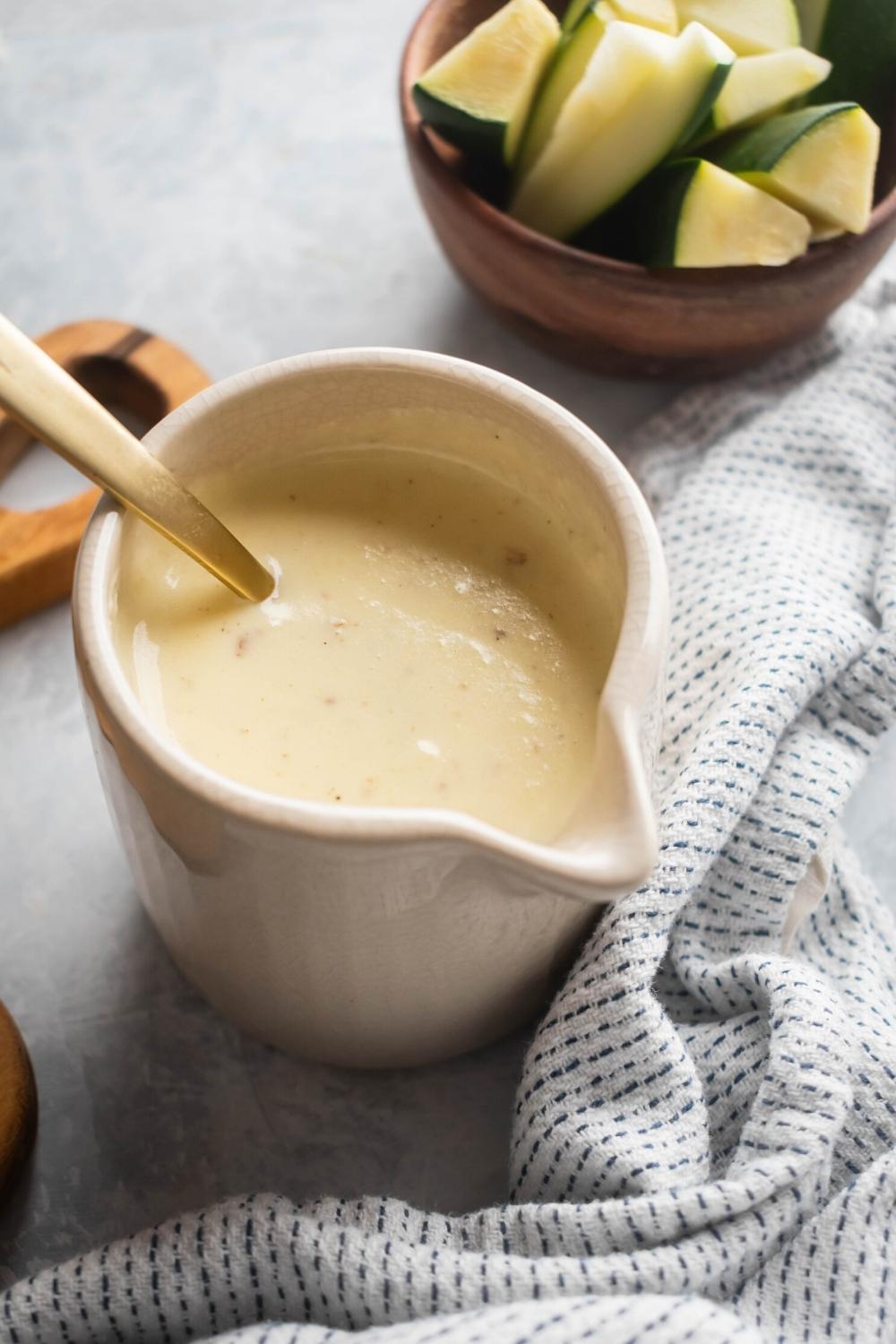 Then when you have a smooth thick cheesy sauce, pour it into a bowl and serve with anything you want!
WHAT TO EAT WITH THIS CHEESE SAUCE
So, as I mentioned, this keto cheese sauce practically goes with everything - and I mean everything!
If you're looking for some ideas, here are my favorite keto recipes to dip in it:
Those are just a few ideas to get you started, but some other great ones are any veggies, Quest protein chips, or even some bread from this Low Calorie Bread List!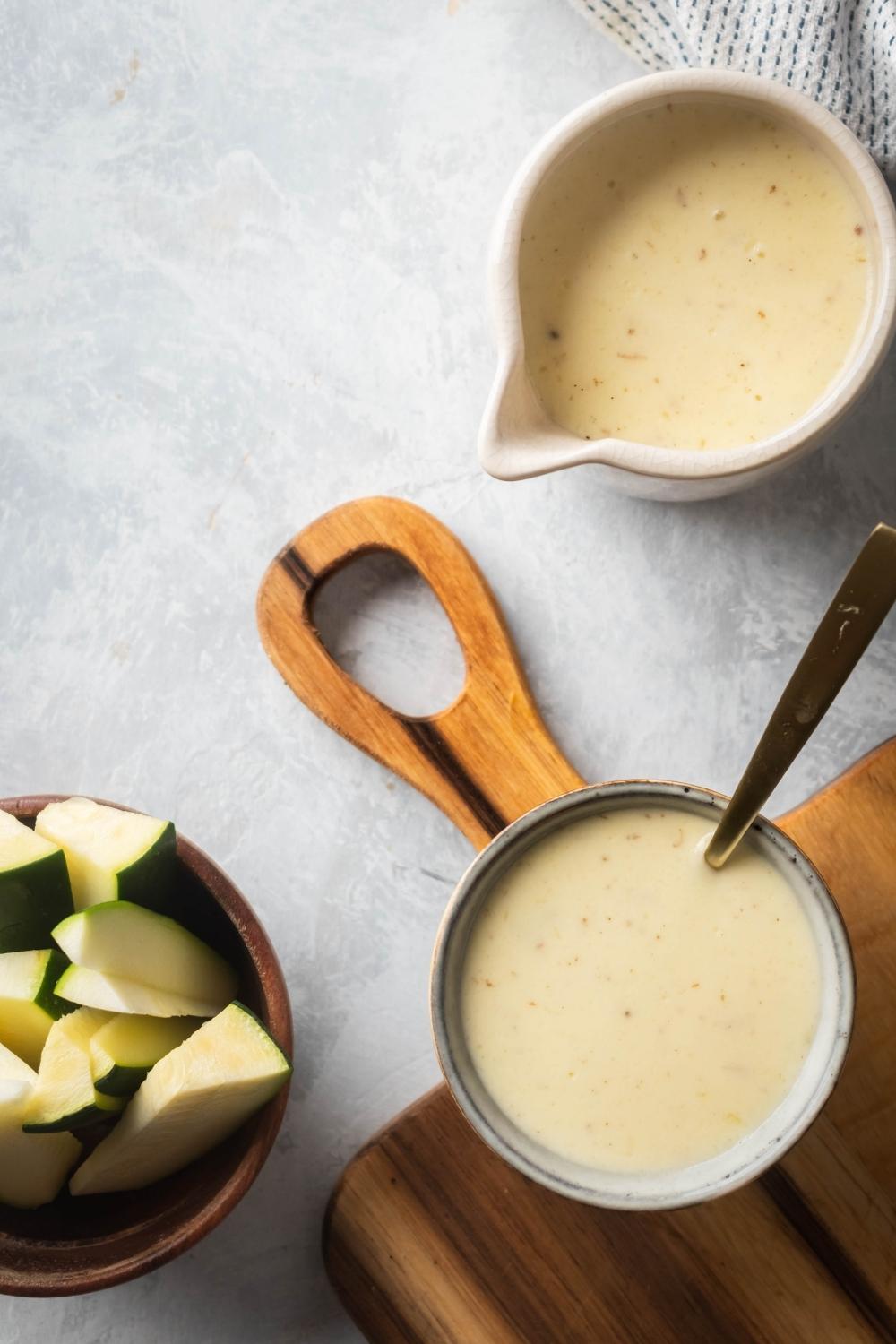 How To Store & Reheat Keto Cheese Sauce
If you doubled or tripled this recipe hopefully you have some leftovers because this keto cheese sauce stores really well.
To store it, just transfer the cheese sauce to an airtight container, and it will last in the fridge for up to 4 days! Also, you'll want to get it in the fridge within 2 hours after cooking it since it has dairy.
And to reheat the cheese sauce, you'll want to put it back in a pot on the stove over low heat and mix it frequently until it reaches your desired temperature.
By the way, I do not suggest reheating it in the microwave - you're not able to stir it as much, and it's more likely to burn.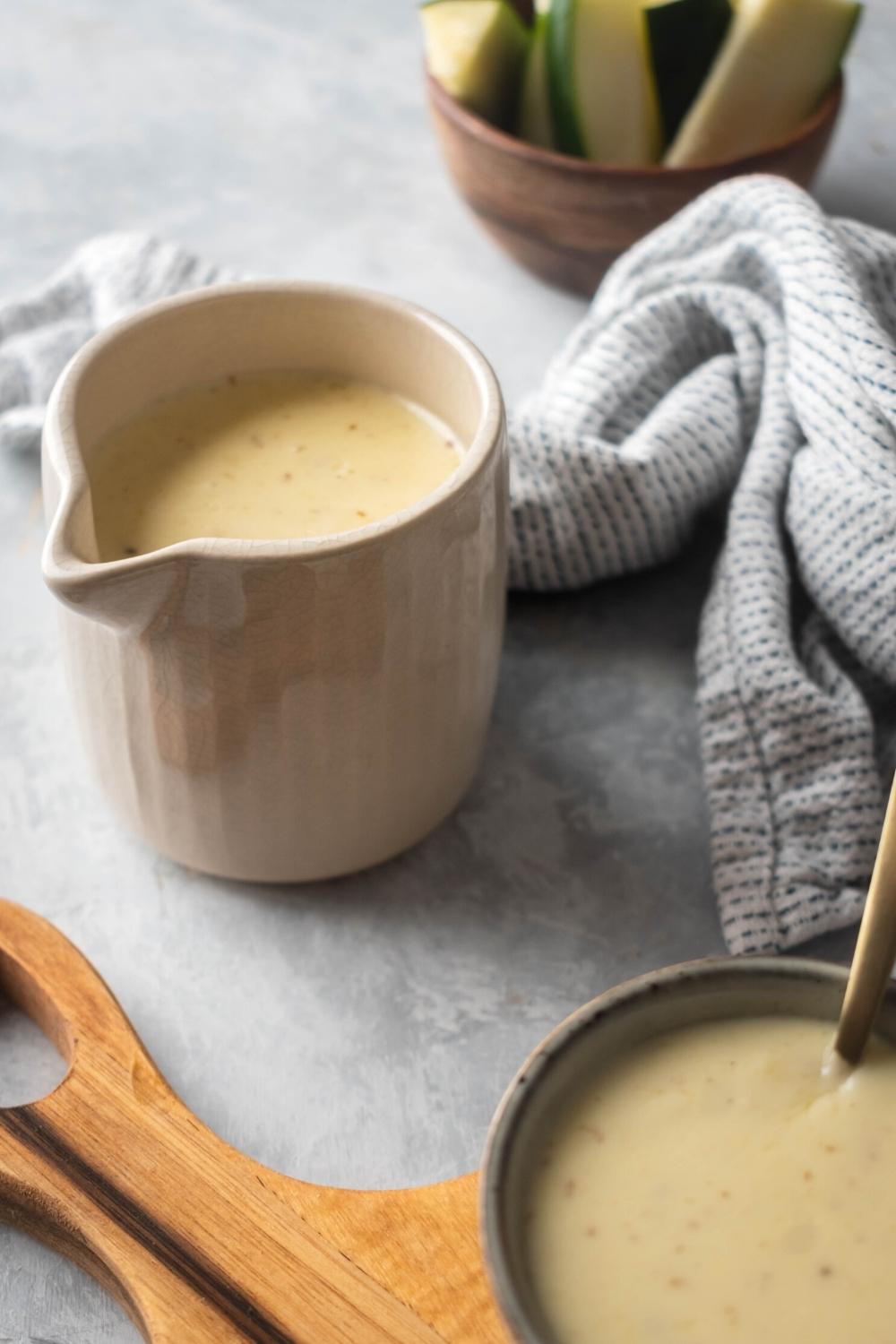 FAQS Section About This Keto Cheese Sauce
Does cheese kick you out of ketosis?
As long as the cheese you are eating is low in carbs and minimally processed, it will not kick you out of ketosis! Cheese is generally very low in carbs, and most have 0 or 1 carb per serving. So, cheese is totally ok to indulge in while you're doing the keto diet.
What cheese is suitable for keto?
Any cheese that is low in carbs and has no added sugars is great for the keto diet! Some of the best ones are cheddar cheese, mozzarella cheese, gouda, and pepper jack. Of course, there are more types, but those are the ones that seem to rotate in and out of my kitchen!
What cheese is not allowed on keto?
Highly processed cheese like American cheese or spray cheese in a can is off-limits. Cottage cheese is also sometimes high in carbs - depending on the brand you get - and should be avoided. Also, most vegan cheeses are typically lower in fat and higher in carbs, so you'll want to stay away from those.
Just check the nutrition label on any cheese you buy and make sure it's low in carbs and has no added sugars - or atleast as little sugar as possible.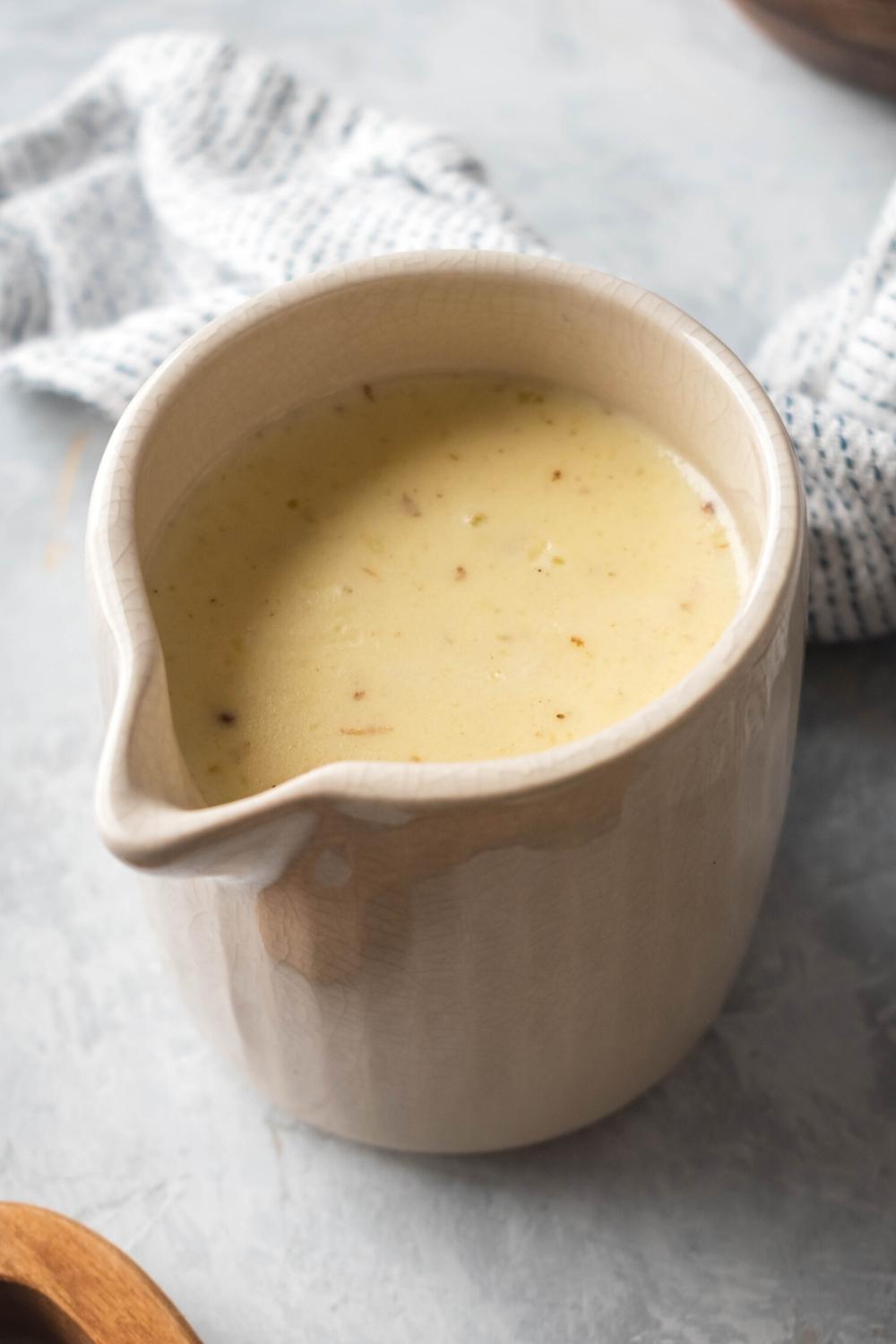 Wrapping It All Up
Well, that's it - now you know how to make keto cheese sauce that's next level good. It's an all-around great sauce for the keto diet since it has only 1 NET CARB, and it's so easy to make too.
Anyway, I hope you find as many uses as I have for this recipe!
Make sure to comment below and tell me your favorite ways to enjoy this deliciousness if/when you try it!
Print
Keto Cheese Sauce With Just 1 NET CARB
This keto cheese sauce is so creamy, flavorful, and cheesy. It tastes great on literally everything, and you can put this low carb cheese sauce on whatever you want since it has just 1 NET CARB!
Author:
Prep Time:

5 minutes

Cook Time:

15 minutes

Total Time:

20 minutes

Yield:

2 cups

Category:

Dipping Sauce

Method:

Stovetop

Cuisine:

Keto Low carb
1 cup of Heavy Cream
1 cup of Emmental Cheese, shredded 
½ cup Mozzarella Cheese, shredded
Salt and pepper, to taste
Instructions
Heat the heavy cream at medium heat in a pot. 

Add the Emmental and mozzarella cheese, salt, and pepper.

Cook for 10 minutes - constantly stirring - or until fully dissolved.

Serve hot with keto french fries or anything you want!
Nutrition
Serving Size:

¼ cup

Calories:

322

Fat:

33

Carbohydrates:

1

Fiber:

0

Protein:

10
Keywords: keto cheese sauce, keto cheese dip, keto cheese sauce recipe, keto cheese dip recipe, how to make keto cheese sauce, keto queso, keto queso recipe, keto cheese sauce without cream cheese, keto cheese sauce for broccoli, low carb cheese sauce, low carb cheese sauce for veggies, best low carb cheese sauce, easy keto cheese sauce, keto queso sauce recipe, keto white queso recipe, easy keto queso recipe,