If you want to enjoy some bread but you don't want to eat all of the calories that typically come with it, then this list of low calorie bread is for you! It has all the types of bread you could possibly want, from white bread to whole wheat bread, to low carb & keto bread, and it even some low calorie hot dog buns and hamburger buns too. So, no matter what mood you're in, you'll find a low calories bread for it on this list.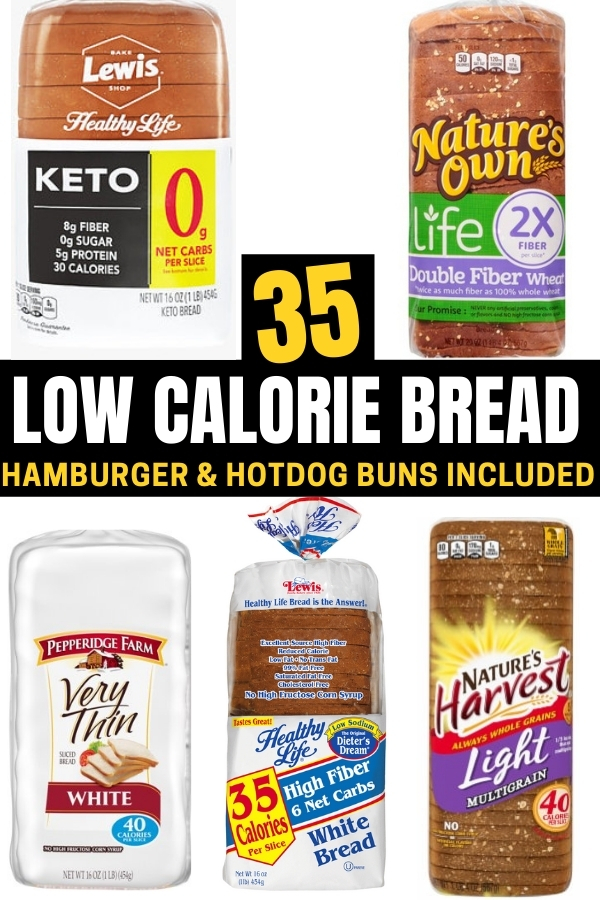 THE BEST LOW CALORIE BREAD TO BUY
When it comes to saving some calories - or following a low calorie diet - bread is usually one of the first things to cut out, but it doesn't have to be!
This extensive guide has 35 different low calorie healthy bread options to choose from. And most of them have 40 calories or less!
So, let's not waste any more time and dive right in!
LOW CALORIE WHITE BREAD
1. Healthy Life Low Calorie White Bread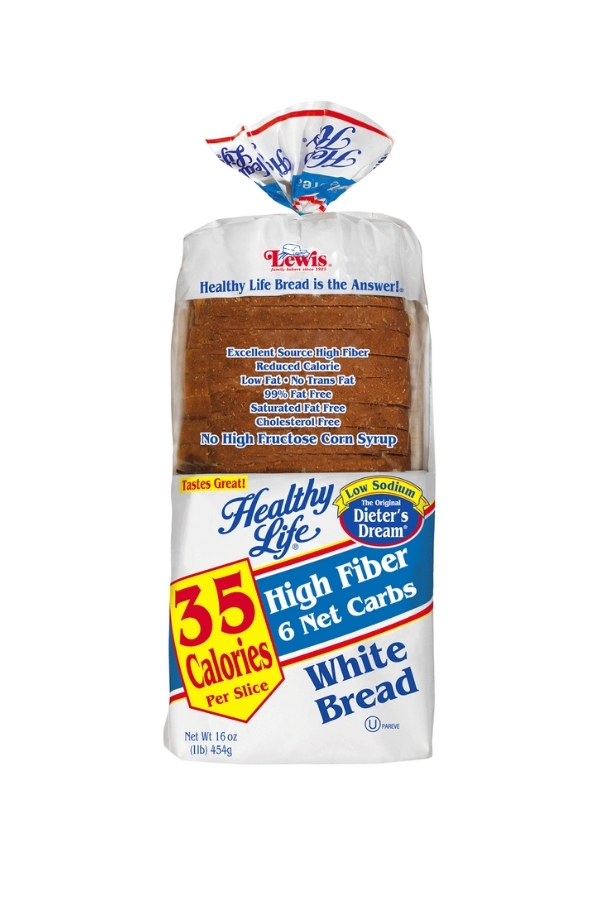 Healthy Life's low calorie bread is just what the name says - a healthier version of classic white bread.
It is high in fiber and has reduced sodium, and the best part is that each slice has only 35 calories - making it one of the lowest calorie breads out there!
2. Healthy Life 35 Calorie Sourdough Bread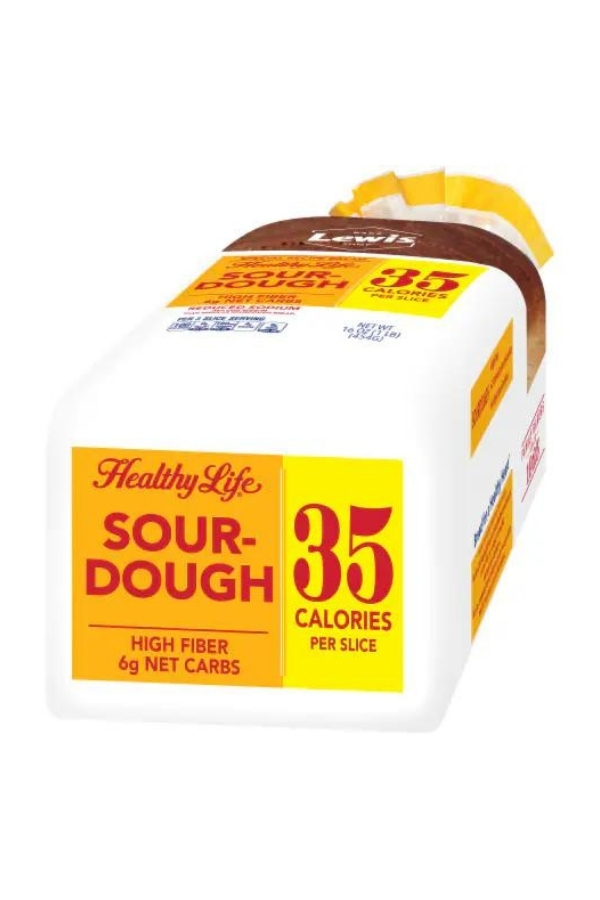 Another Healthy Life bread option is this low calorie sourdough bread. And sourdough bread that is low in calories is pretty hard to come by, making this option even more amazing.
Each slice has just 35 calories - like the white bread above - and it is also high in fiber with only 6 net carbs!
3. D'Italiano Reduced Calorie Italian Bread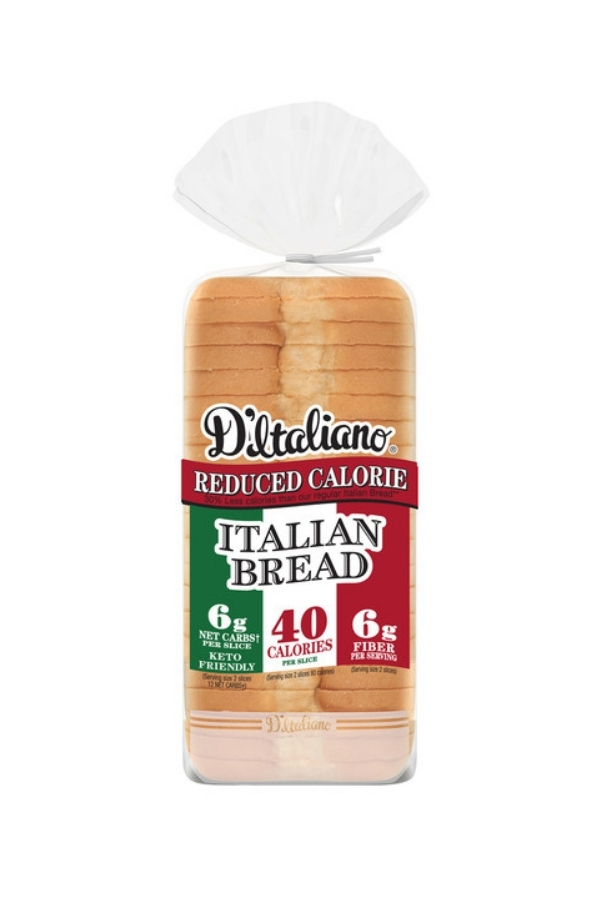 I don't know about you, but when I would get white bread, I'd always get the regular white D'Italiano bread. So, to say the least, I'm a big fan of this low calorie option!
Each slice has just 40 calories with 6g of fiber and just 6g net carbs!
4. Pepperidge Farm Enriched White Very Thin Bread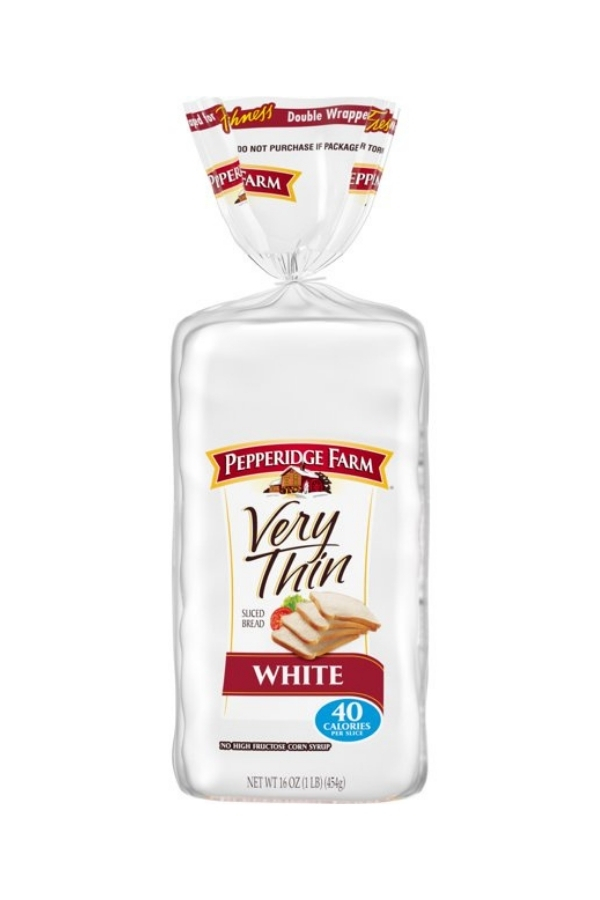 If you love Pepperidge farm products, then this option is the one for you.
It is a delicious white bread from the brand you know and love with just this 40 calories per slice!
The only downside to this option is that the slices are quite thin.
5. Schmidt Old Tyme 647 White Bread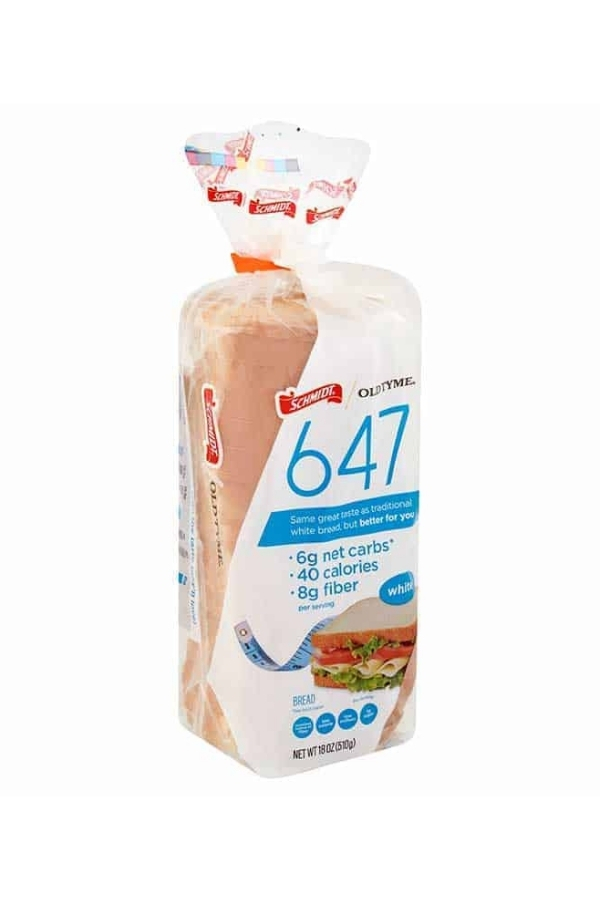 The 647 bread is so popular not just because it's available everywhere but because it tastes fantastic.
And you'd never guess it has 40 calories per slice!
6. Dave's Killer Bread White Bread Done Right Thin-Sliced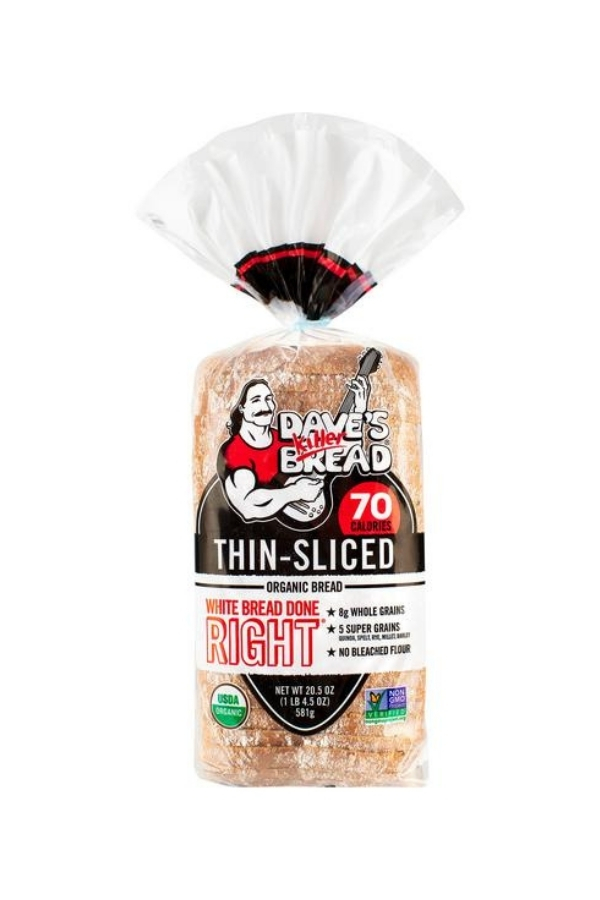 True to its name, this artisan loaf is basically super powered white bread. Its made with 5 different organic grain flours, no bleached flour, and has just 70 calories per slice.
7. Lewis Bakeshop Butter White Bread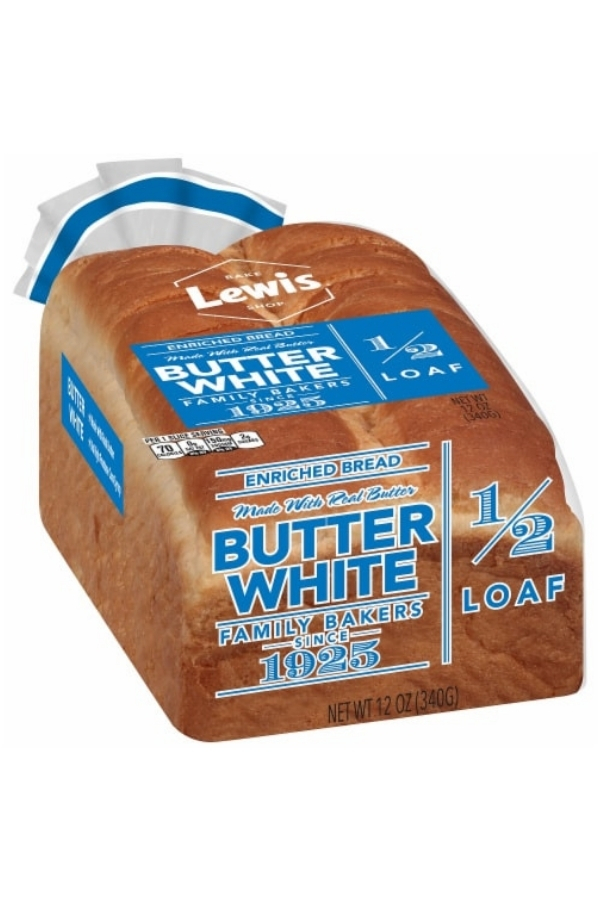 This sweet and fluffy white bread has just 70 calories and adds a bit of buttery flavor to anything you use it in, giving you another good white bread option.
8. Sara Lee White Made With Whole Grain Bread
What sets this white bread apart is that it's actually made with whole grains! So you get the nutritional value of whole grains with the sweet taste of white bread. And it also has just 70 calories per slice!
LOW CALORIE WHEAT & MULTI-GRAIN BREAD
9. Smart Lite Wheat Bread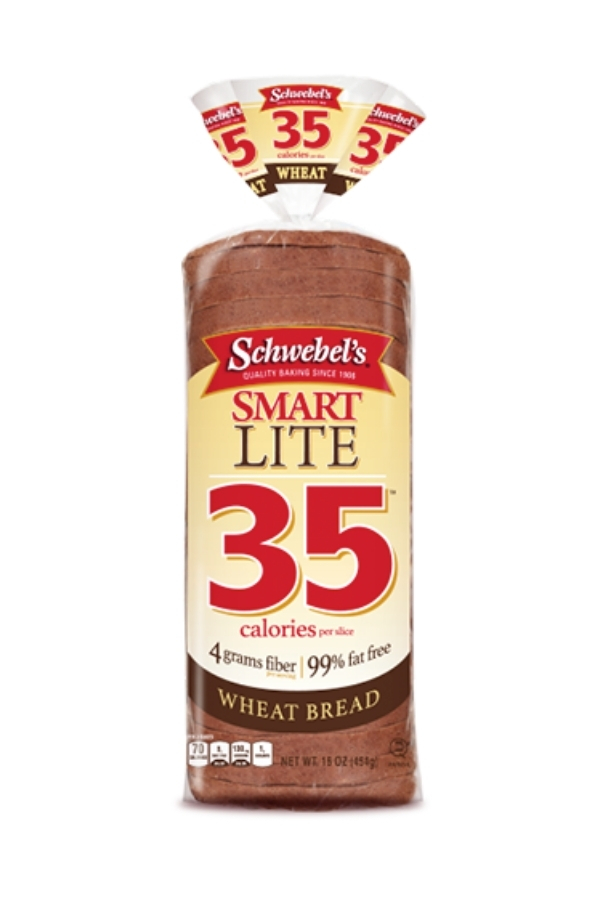 Kicking off the wheat and multi-grain low calorie bread is this Smart Lite bread from Schwebel's. It is a classic wheat bread that is 99% fat free, has 4g of fiber, and just 35 calories per slice.
10. Aunt Millie's Light Whole Grain Bread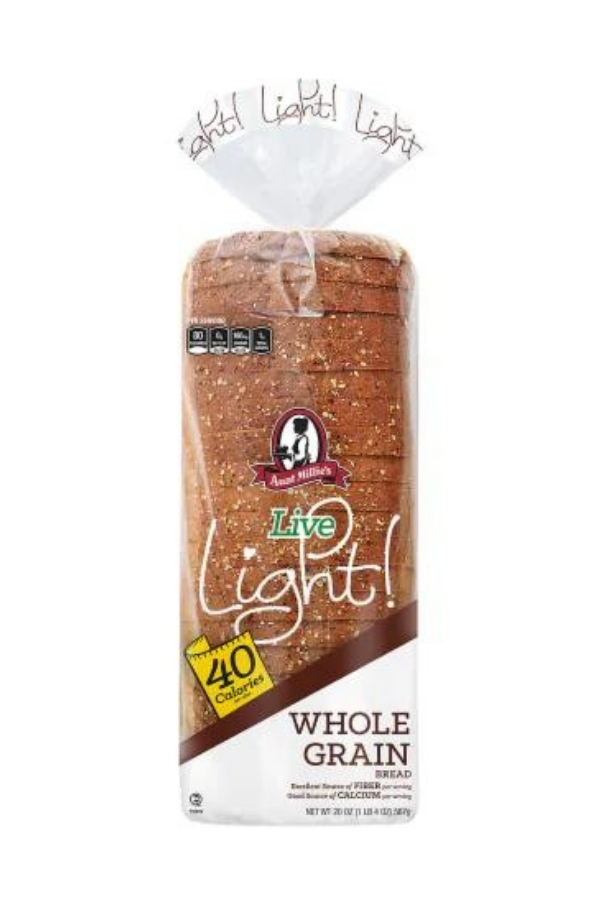 Aunt Millie's light whole grain bread is another option that is super low in calories. Each slice has just 40 calories - so you can have two slices to make a sandwich for only 80 calories!
11. Pepperidge Farm Very Thin Whole Wheat Bread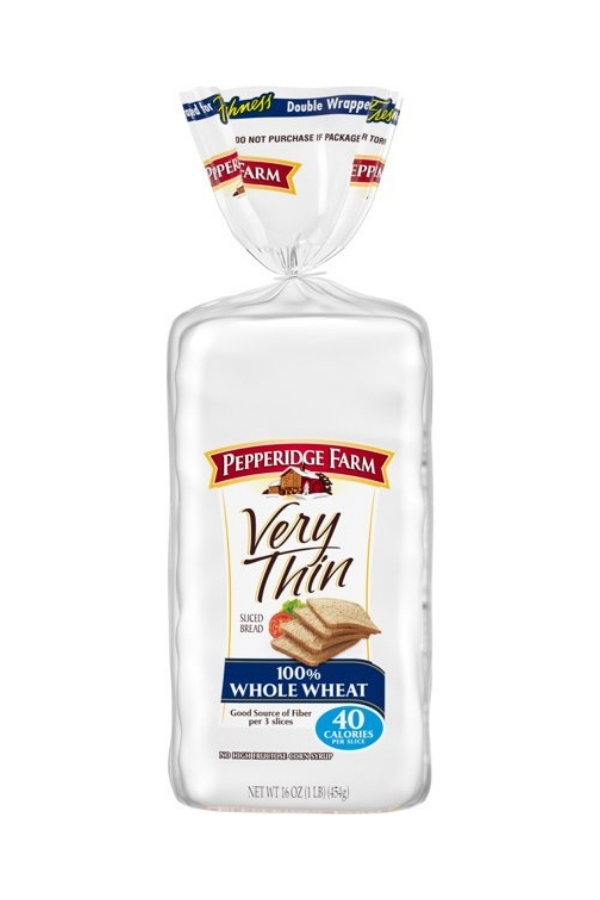 If you like Pepperidge Farm's whole wheat bread, this low calorie version comes thin-sliced. So you can enjoy the same bread you know and love but with just 40 calories per slice!
12. Nature's Harvest Light Multigrain Bread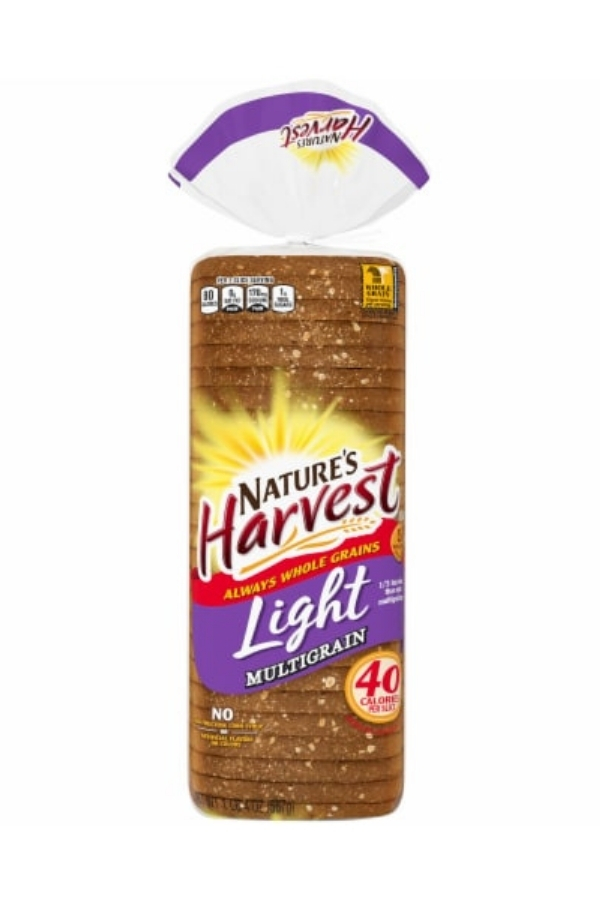 This bread is big on nutrition and flavor with whole oats, wheat, barley, triticale, rye, and amaranth.
It comes out to just 40 calories per slice, so you can keep things low cal while adding some great nutrients.
13. Trader Joe's Low Calorie Light Wheat Bread
If you're looking for a low calorie bread at Trader Joe's, pick up this healthy whole wheat option.
It' has just 40 calories per slice and tastes pretty amazing too. So pop into your nearest Trader Joe's and give it a try!
14. Sara Lee Delightful Healthy Multi-Grain Bread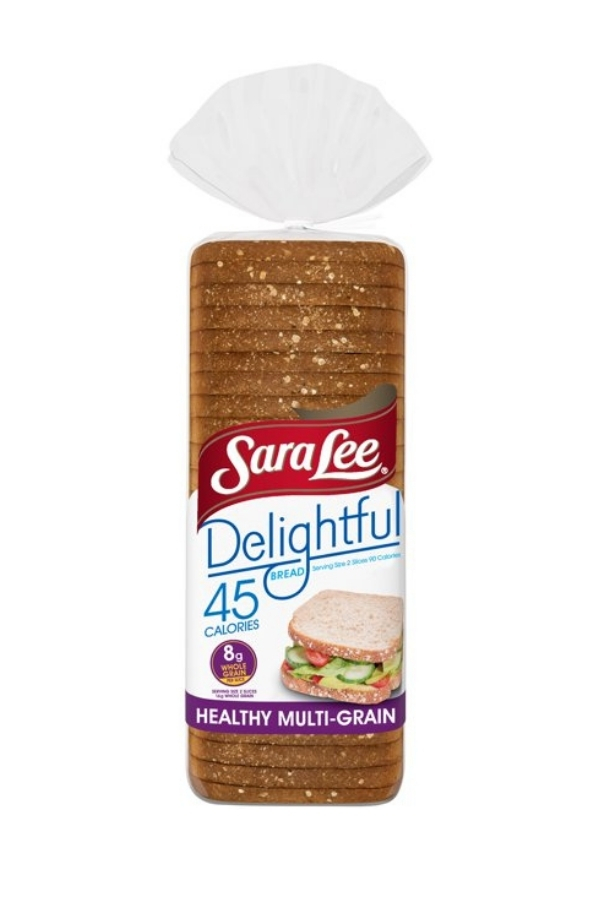 This healthy multi-grain bread has everything you love about a classic multi-grain bread but with just 45 calories per slice! So, you can have two slices for under 100 calories!
15. Pepperidge Farm 7 Grain Light Style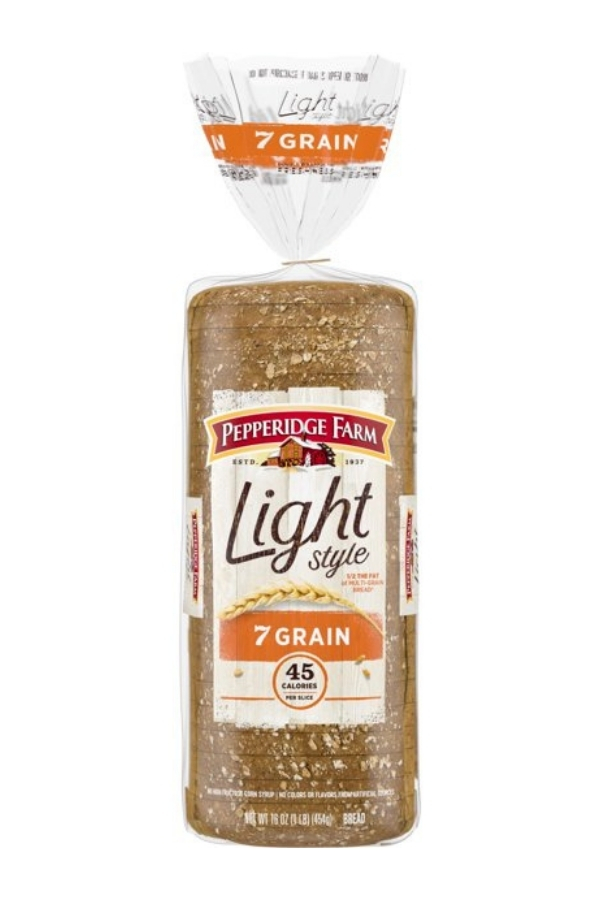 Another low calorie bread option from Pepperidge Farm is this 7 grain light style bread. It contains half the fat of regular multi-grain bread and just 45 calories per slice!
Oh, and if you like oatmeal bread, Pepperidge Farm makes the same light style in oatmeal flavor too.
16. Nature's Own Lite Whole Grain Bread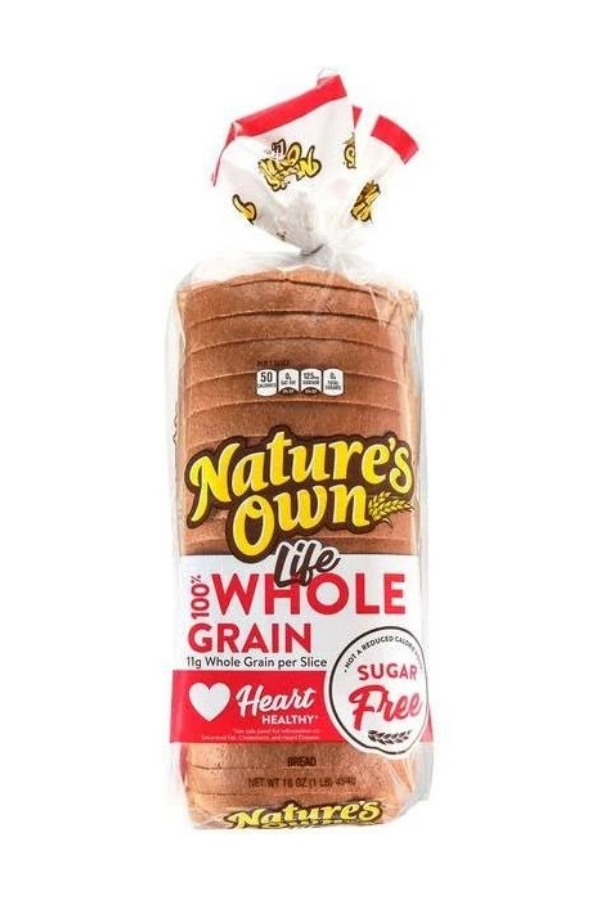 This low calorie bread has a ton of great things going for it - it is heart healthy with no sugar, 11g of whole grain per slice, and no artificial additives.
And on top of that, each slice has just 9g carbs and only 50 calories!
17. Nature's Own Double Fiber Wheat Bread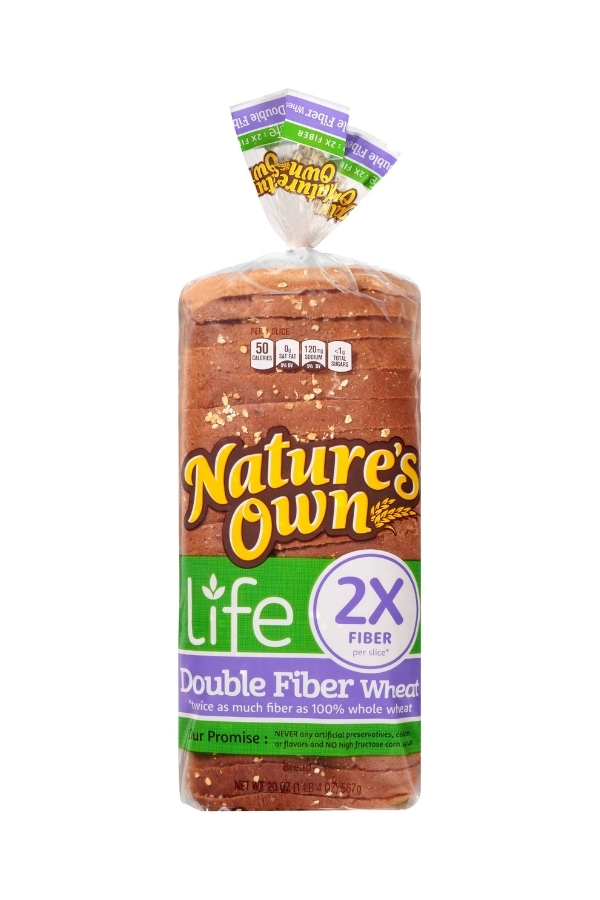 This other option from Nature's Own is a whole wheat loaf mixed with chicory for more flavor and twice the fiber, which means it can keep you feeling full faster and longer. So not only is it low calorie, but you don't have to eat as much to be satiated.
And just like the one above, each slice has just 50 calories!
18. Silver Hills Sprouted Power Little Big Bread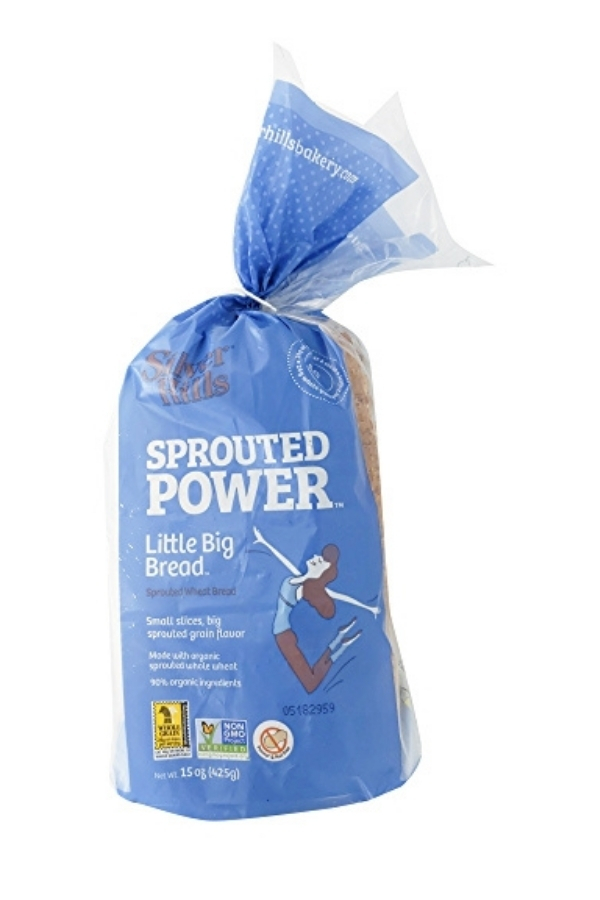 Sprouted whole wheat has even more nutrients than regular whole wheat and is also easier on your stomach. And this bread from Silver Hills kicks it up a notch with added sprouted barley for a ton of nutritional value at just 55 calories per slice!
19. Dave's Killer Bread Thin Slice Powerseed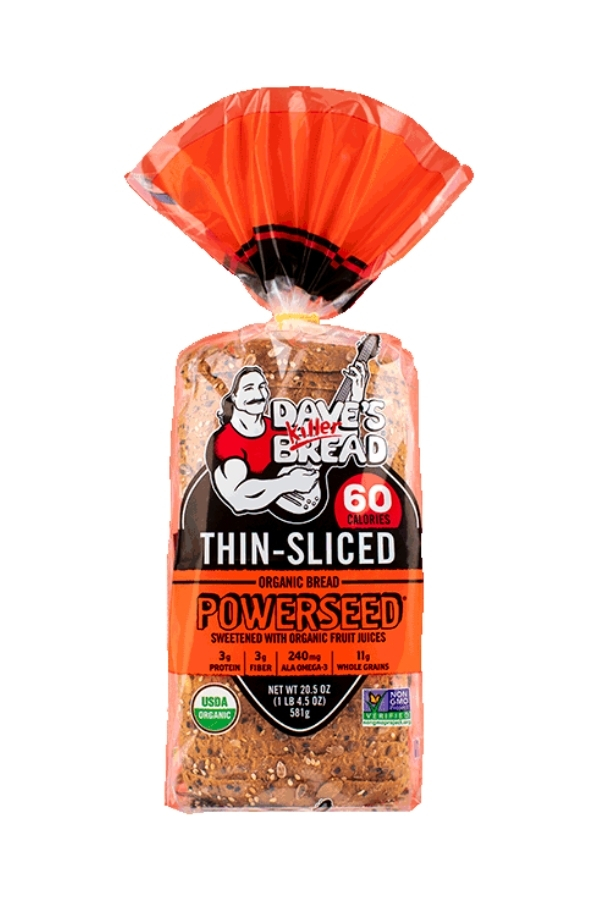 This superpowered artisanal bread has 60 calories per slice and is made with a mix of organic grains and seeds. And it has a touch of sweetness to it from organic fruit juices.
20. Wonder 100% Whole Wheat Bread
I bet you never thought there could be a low calorie wonder bread, but there is! Their whole wheat bread happens to have just 60 calories per slice.
21. Simple Truth Organic Whole Wheat Bread Thin Sliced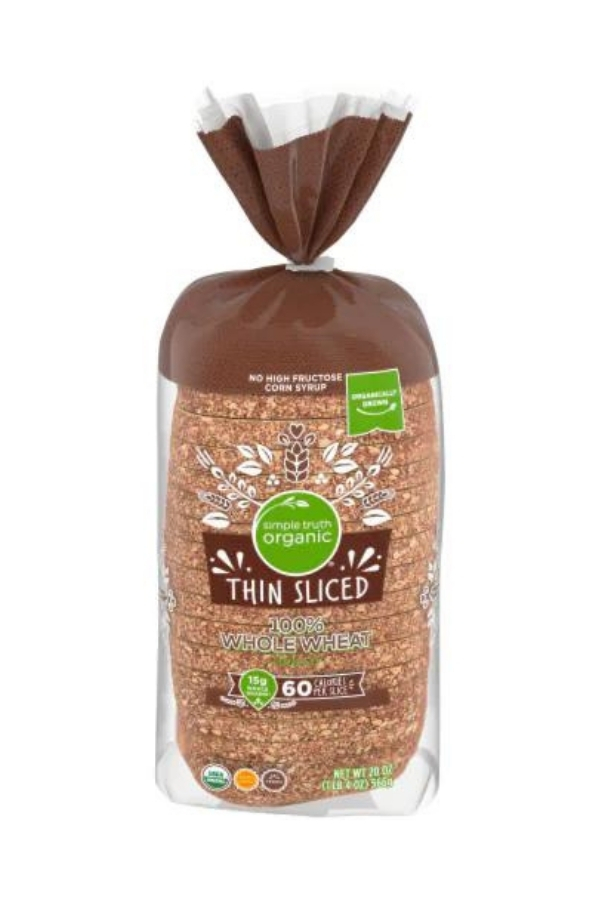 This whole wheat bread loaf is made from non-GMO organic ingredients, so you can be sure you're getting the best quality in each 60 calorie slice.
22. Alvarado St. Bakery Thin Sliced Sprouted Whole Wheat Bread
This sprouted whole wheat bread packs a ton of flavor and nutrition for just 60 calories.
23. Trader Joe's Sprouted Wheat 7-Grain Bread
For a beefed-up version of Trader Joe's light wheat bread, try this sprouted grains version, which also has quinoa, millet, oat groats, barley, rye berries, and amaranth.
All of that goodness comes out to just 70 calories per slice, so pick it up on your next Trader Joe's run!
24. Ezekiel Sprouted Whole Grain Bread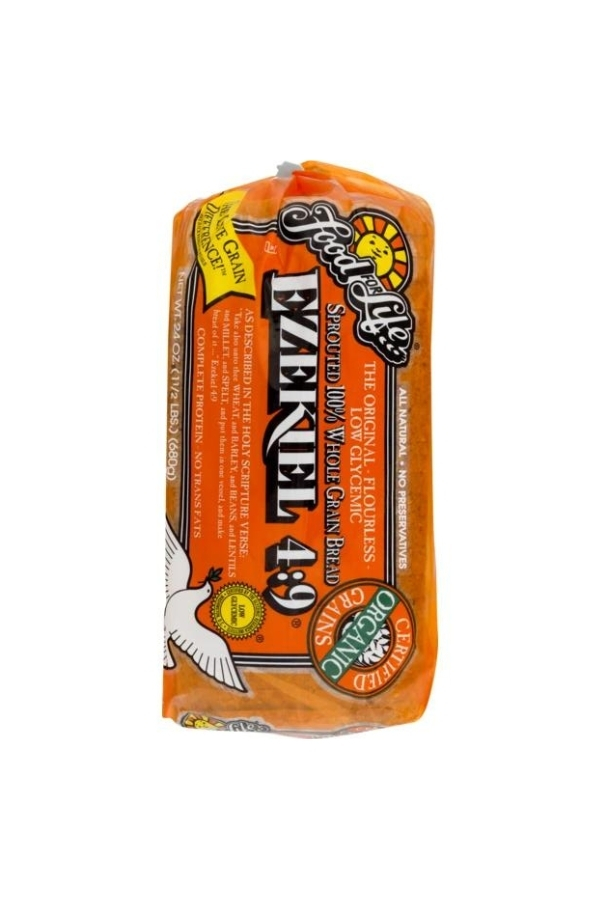 I absolutely love Ezekiel bread, so of course, I had to include it on the list!
Now, with that said, this bread isn't as low in calories as the other options, but it is a super healthy bread since it's made without flour. It also a non-GMO bread, and it has 80 calories and 5g of protein per slice.
LOW CALORIE LOW CARB KETO BREAD
Next up we've got some excellent low carb keto bread options that are low in calories too. But, before we get into them, let's go over what keto bread is and where you can buy it.
WHAT IS KETO BREAD?
Keto bread is any bread that is higher in fiber and low in carbs. And since most keto bread options are so high in fiber they usually have less than 5 net carbs per slice.
With that said, all of the keto bread options on this list have under 3 net carbs, with most having 0!
WHERE TO BUY KETO BREAD?
You can buy most keto bread options from this list at your local grocery store. But if not, they should also be at larger grocers like Walmart, and you can find them online too.
In fact, if you go to the bread brands website, they typically have a store locator where you can find exactly where to buy it locally.
25. Healthy Life Keto Bread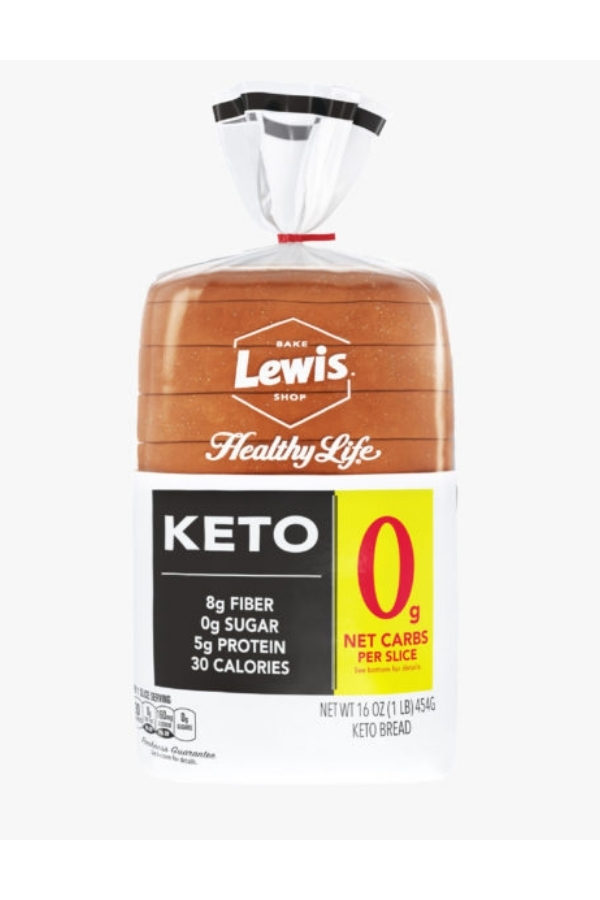 If you didn't think a low calorie bread could also be keto friendly, this white bread from Lewis Bake Shop will blow your mind.
It has just 40 calories per slice and literally 0 net carbs, so you can eat as many peanut butter and sugar free jelly sandwiches as you want.
26. L'Oven Fresh Zero Carb Bread
If you have an Aldi near you, then you'll definitely want to try their famous low carb, low calorie bread.
You can choose from wheat bread or multi-seed bread, and both come out to just 45 calories and 0 net carbs per slice! And a bonus, it also has 5g of protein.
27. Kiss My Keto Bread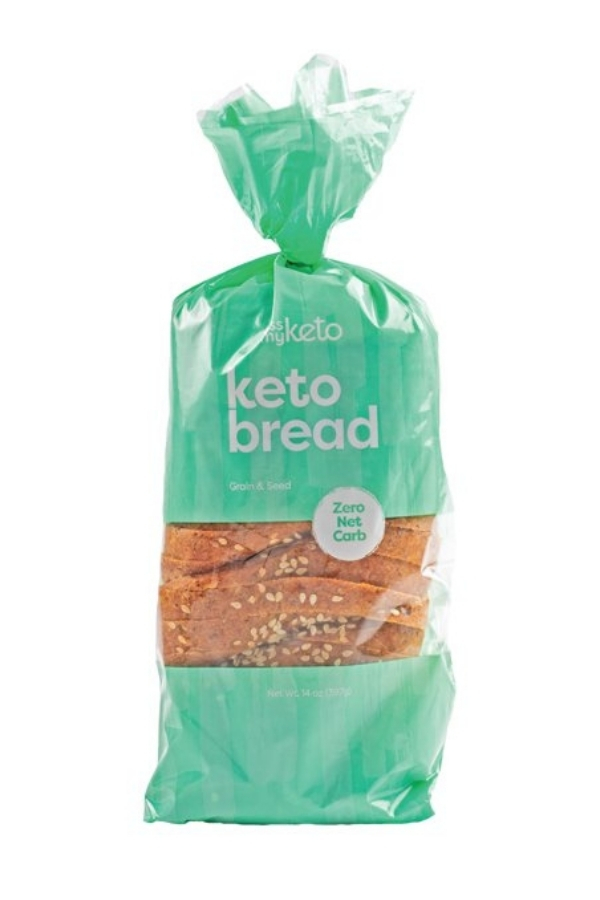 Kiss My Keto has a ton of bread options with fantastic macros. Each slice has 60 calories, 6g of protein, and 0 net carbs per slice!
Be sure to check all of their flavors - Cinnamon Raisin, Golden Wheat, Dark Wheat, and Seeded Wheat.
28. Sola Sweet and Buttery Bread
Sola's sweet and buttery bread is a low carb bread that is keto friendly, sugar free, and low calorie. Plus, you can freeze it for up to 6 months.
Oh, and did I mention that each slice has just 70 calories and 2 net carbs?
29. Sola Sweet Oat Bread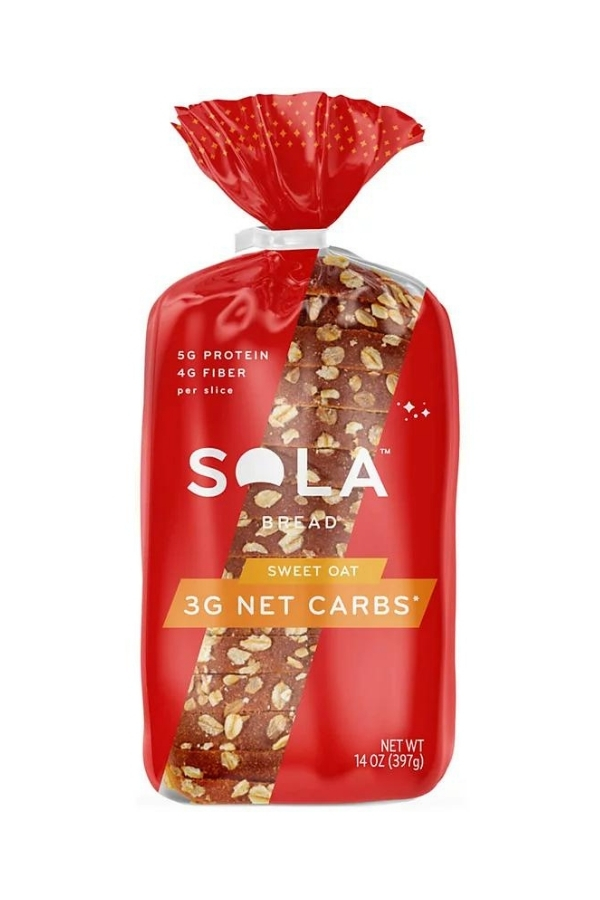 This sweet oat bread from Sola almost sounds too good to be true! It has just 70 calories and 3 net carbs per slice, plus it's vegan with no sugar added and has such a delicious flavor.
LOW CALORIE HOT DOG AND HAMBURGER BUNS
30. Extraordinary Bites Hamburger Buns
These all natural hamburger buns are big on quality and have the lowest calorie count I've seen on hamburger buns - each serving has just 50 calories.
31. Smartbun Sesame Hamburger Buns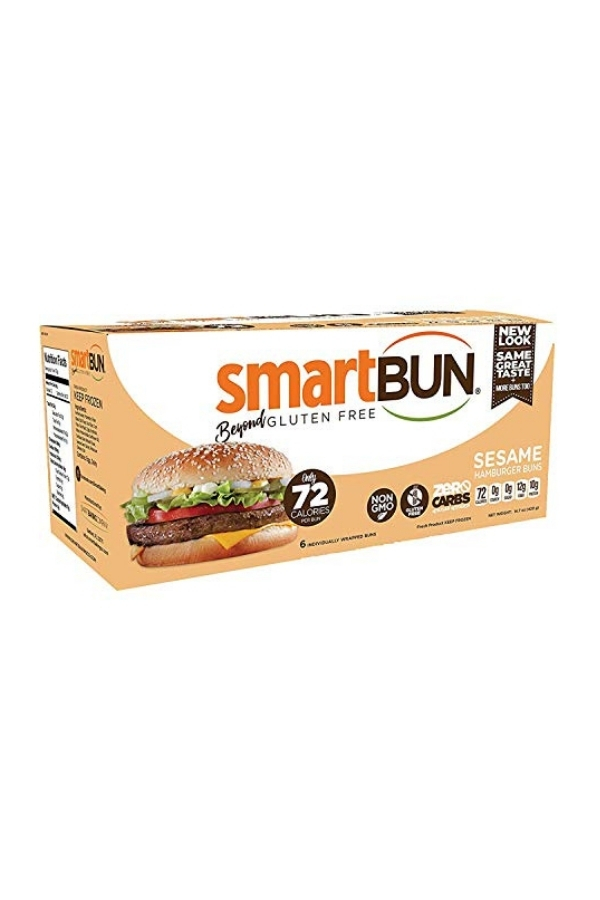 If you want a classic diner-style burger without all of the calories, these low calorie buns are just the thing. Each serving has 72 calories and 0 net carbs!
Bonus: they're gluten free and packed with fiber and Omega-3s.
32. Schmidt Old Tyme 647 Sandwich Rolls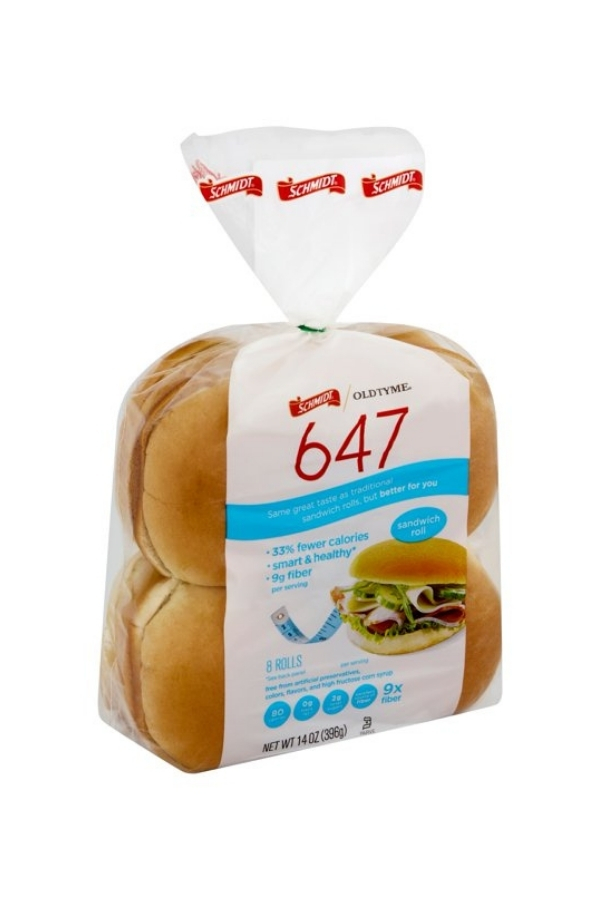 Remember the 647 white bread I mentioned earlier? Well, you can also get it in sandwich roll form for next-level low calorie burgers!
Each low calorie burger bun has just 80 calories, and you can find this in a lot of supermarkets.
33. Schmidt Old Tyme 647 Long Rolls
And, of course, you'll also want to get the long rolls version for low calorie hot dog buns. Just like the sandwich rolls, this comes out to 80 calories per roll.
34. Franz Keto Hot Dog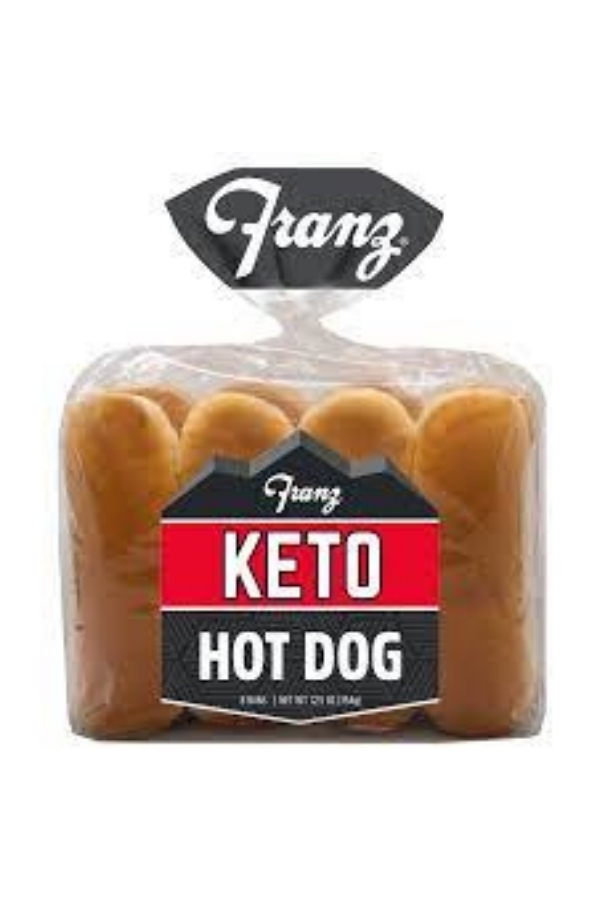 If you want to enjoy a hot dog or sausage while keeping it low carb, you have to get these low calorie hot dog buns from Franz. Each one has just 1 net carb and only 60 calories!
35. Healthy Life Hot Dog Buns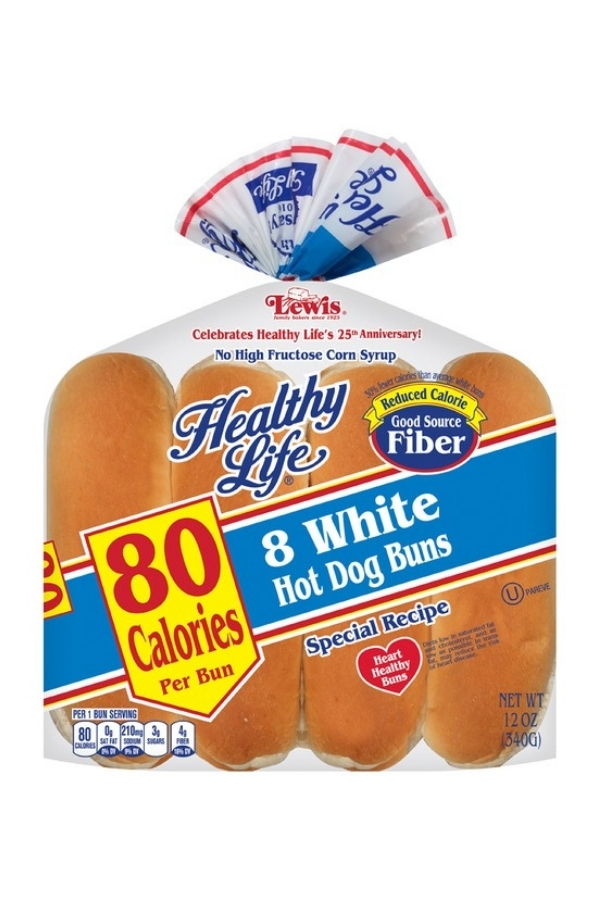 Back again is another Healthy Life low calorie option. These hot dog buns are a good source of fiber and have just 80 calories!
WRAPPING IT ALL UP
There you have it, an extensive list of all of the low calorie bread that you can possibly buy.
Every one of these low calorie bread options might not be at every grocery store, but you should be able to find one of these types of bread!
With this list, you can enjoy bread in any way that you want while keeping it low calorie.
I hope you find this low calorie bread list helpful. Let me know your favorite option and if you find any that aren't on the list!