If you've been looking for the best way to make funnel cake with pancake mix, this is it. This recipe puts the "fun" in funnel cake, and it tastes just like the one you would get at the county fair. It's deliciously crispy on the outside, yet light and fluffy inside, and it has a powdered sugar topping that just melts in your mouth.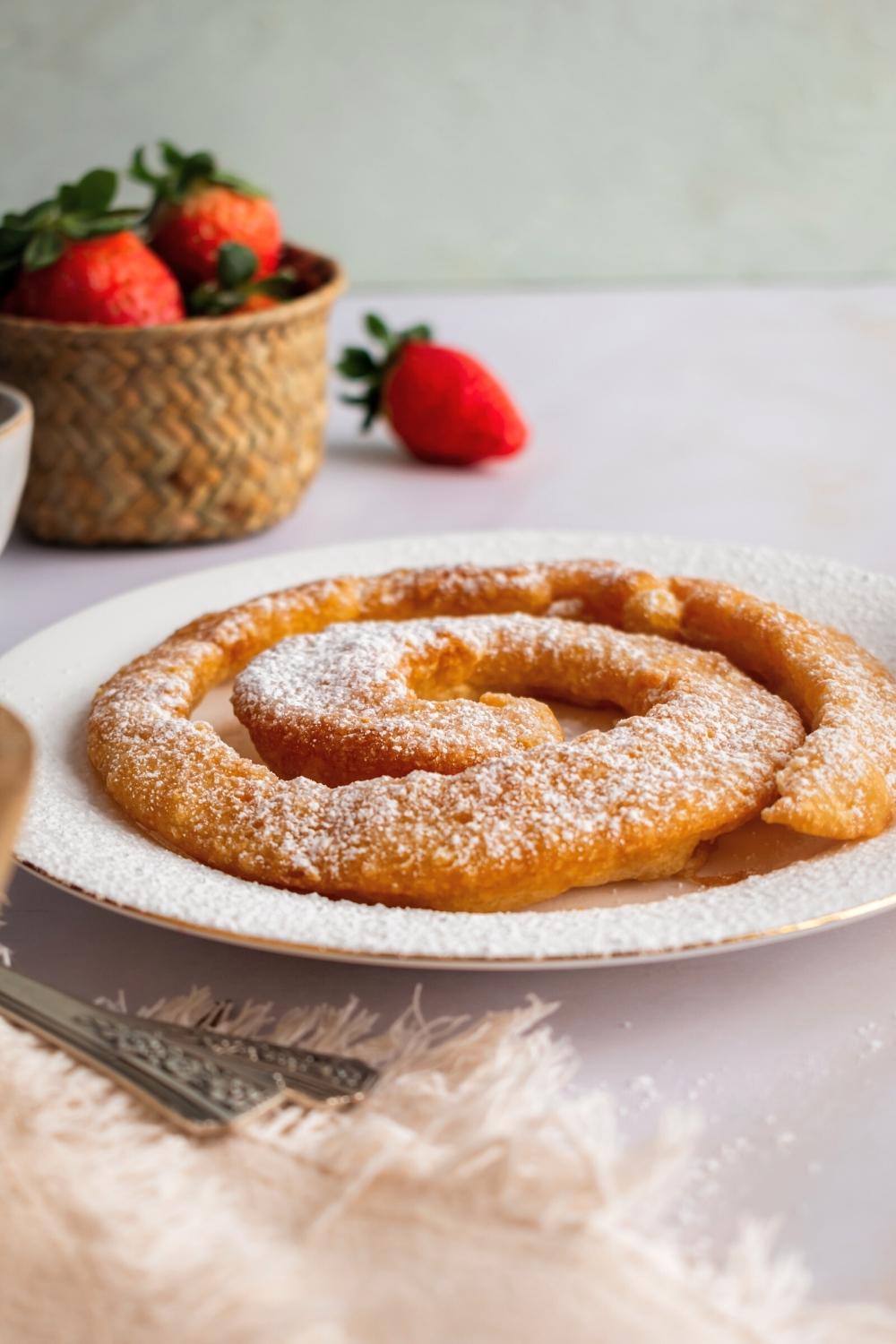 The Best Funnel Cake With Pancake Mix
Fair-style funnel cakes always bring back happy memories for me.
Biting into a warm and fluffy freshly fried funnel cakes topped with powdered sugar never fails to put me in a good mood!
That being said, making homemade funnel cakes can sometimes be a little intimidating because you typically need a lot of ingredients.
But that's not the case when you make a funnel cake with pancake mix. And even better yet is the fact that it takes just 5 minutes to make 'em when you use the premade mix! So you can easily make this kettle corn to go with it for the ultimate fair food spread.
Plus, since this funnel cake is made with buttermilk pancake mix it already has most of what you need to get the same taste and texture as the ones at the carnival or fair.
Seriously, how awesome is that?
By the way, if you love funnel cakes - or fair food in general - give our fried dough recipe a shot next!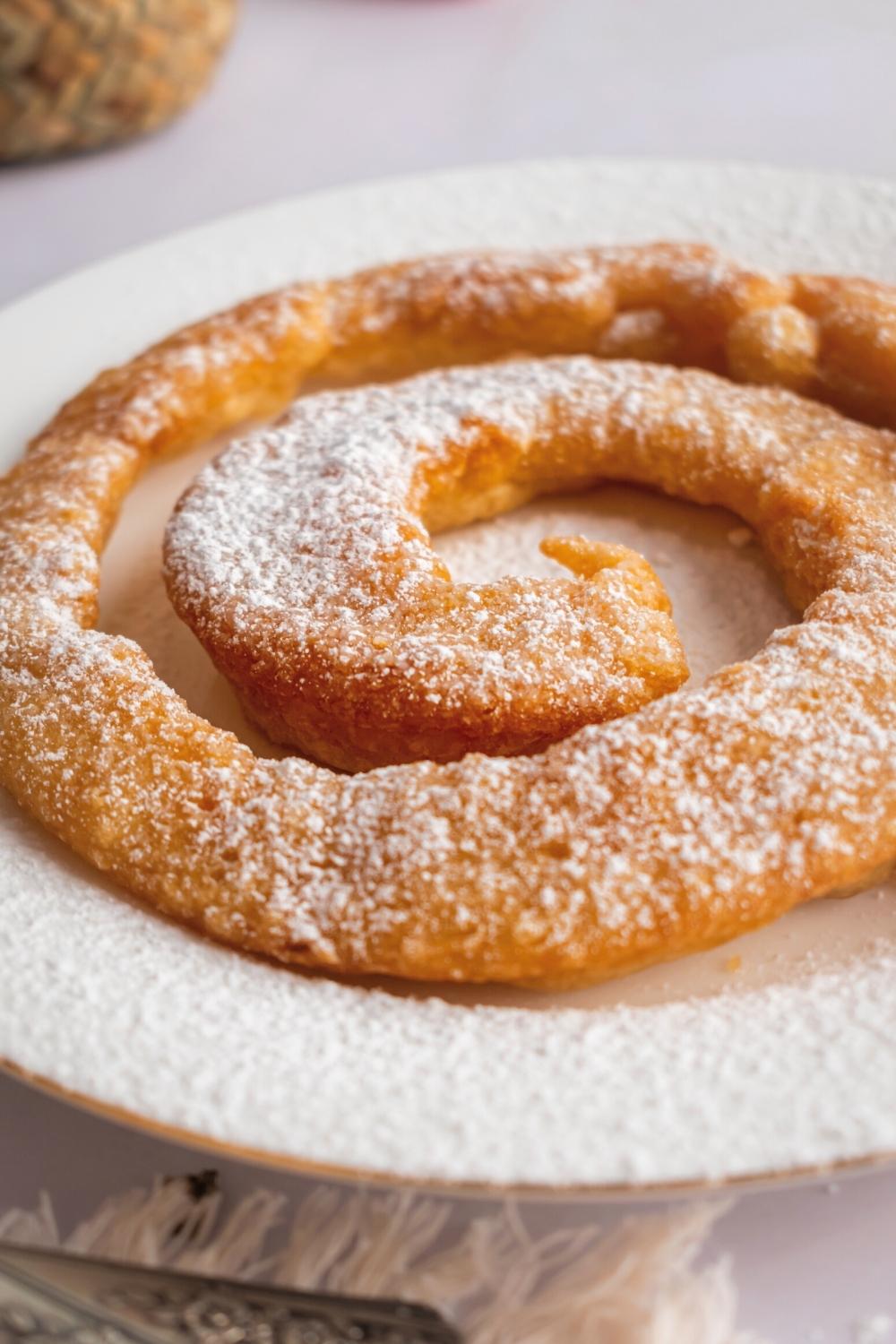 INGREDIENTS
So, all you need to pull off this addictive funnel cakes recipe is buttermilk pancake mix and just a few other pantry staples.
Anyway, here's a look at everything you'll need to make pancake mix funnel cake:
1 cup buttermilk pancake mix

1 tablespoon sugar

About ½ cup water

1 teaspoon vanilla extract

Powdered sugar

Vegetable oil, for frying

Strawberries to serve
For the buttermilk pancake mix, you'll want to look for one that only needs water. Some mixes call for an egg or even melted butter or oil, so if that's the kind you have be sure to add those in before you continue with the rest of the recipe. Oh, and you can use a lot of these ingredients to make this elephant ears food too.
By the way, you might want to pick up an extra box or two of pancake mix at the store. You can use it along with most of the other ingredients to make our air fryer oreos next!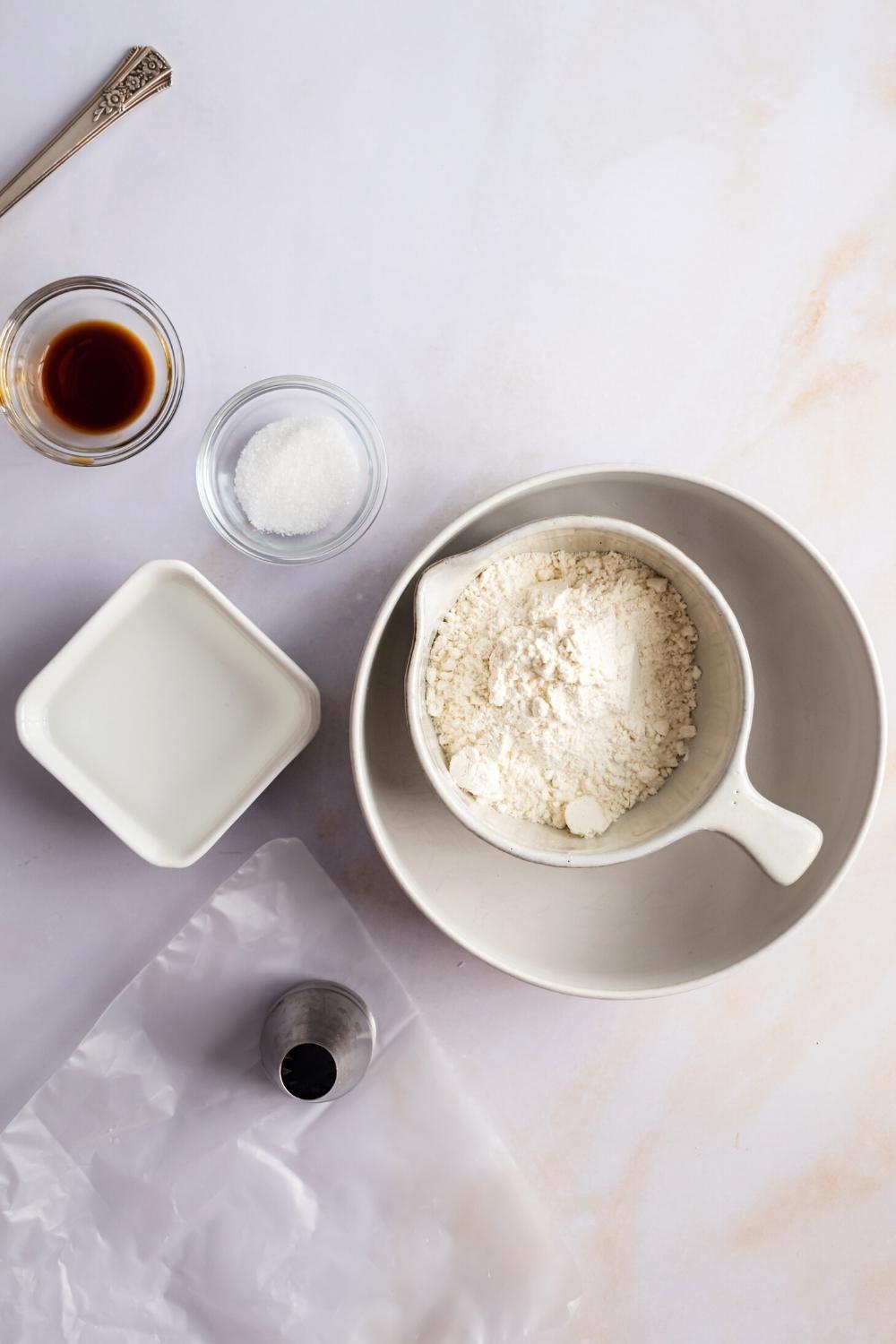 HOW TO MAKE FUNNEL CAKE WITH PANCAKE MIX
As you already know, this pancake mix funnel cake recipe is ready in 5, 10 minutes tops.
It's basically just making the batter, frying it, then add toppings. So these are basically the easiest pancake mix funnel cakes that you can make.
Now, let's make the best funnel cake recipe ever.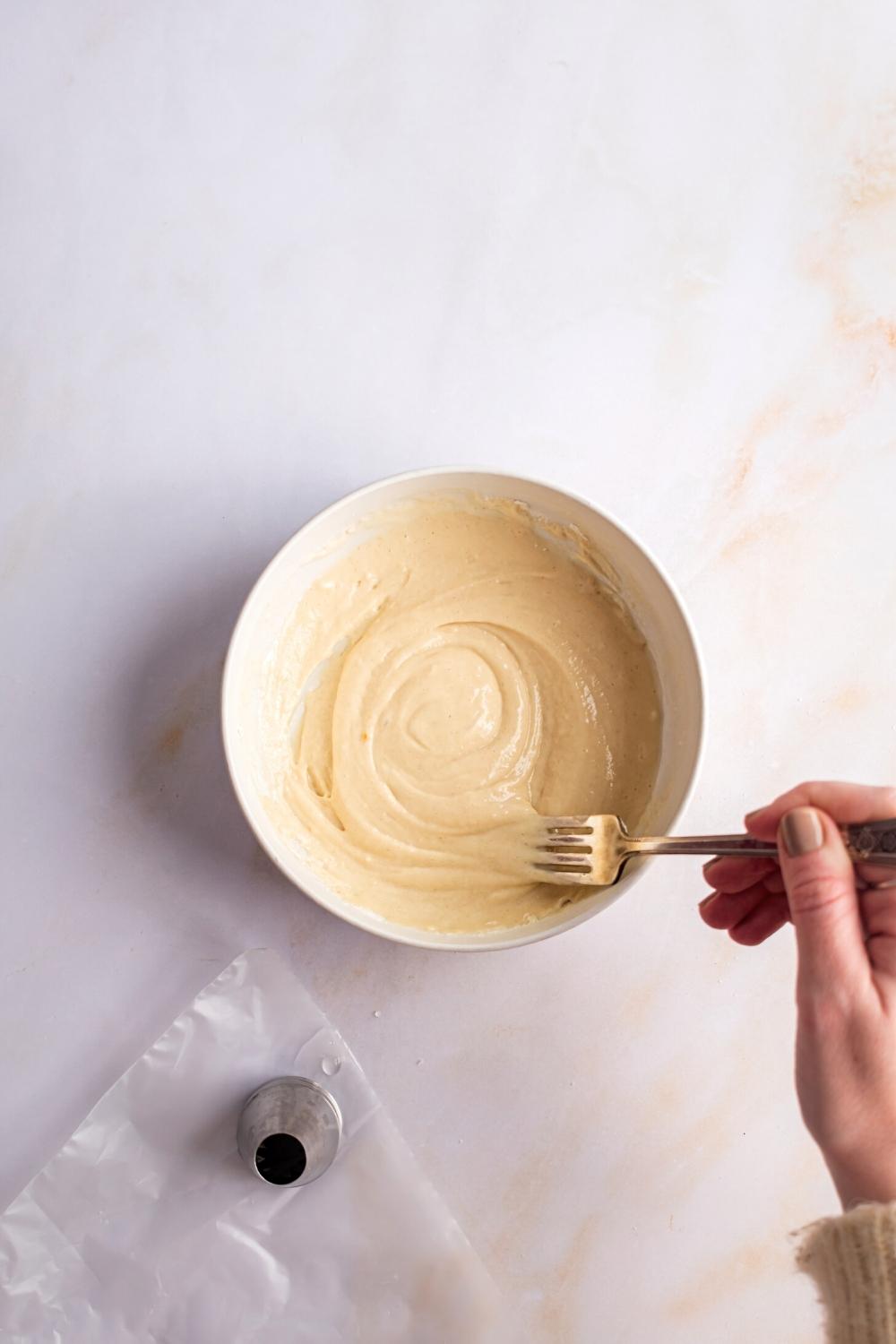 STEP 1: MAKING THE BATTER
First things first, grab a skillet and fill it halfway with oil. And an 8-inch skillet is ideal, but you can also use a 10-inch one if that's what you have.
Then, put the skillet on the stovetop and turn it up to medium heat.
Now, while that's warming up, whisk the pancake mix in a bowl with the water, sugar, and vanilla extract.
And don't be afraid to add the water in increments to make sure you get the perfect consistency.
The batter should be as thick as cake batter and shouldn't be too runny or gooey. A good way to tell if it's ready is if the batter falls from the whisk like ribbons.
Now, when your funnel cake batter is ready, put the mixture into a piping bag, and get ready to fry it.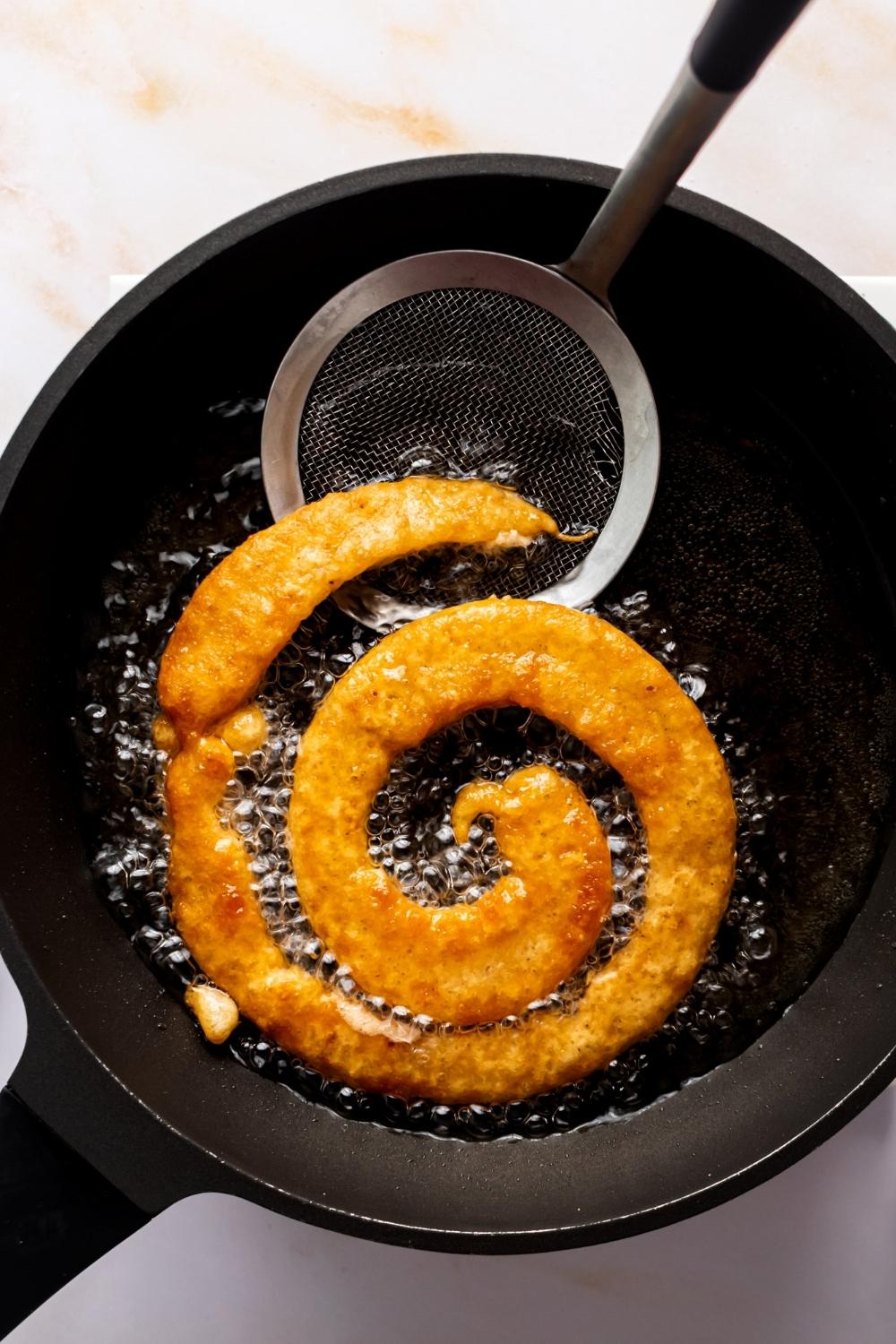 STEP 2: FRYING THE FUNNEL CAKES
Ok, let's make some funnel cakes!
First, add enough oil to the heated skillet to cover the funnel cake completely, and let it reach 375°F.
Once you have hot oil, grab a piping bag - or a ziplock bag with the corner cut - and squeeze the batter into the hot frying oil in a circular motion. Start from the center and work your way out until you've got a 5-inch disk.
Let it cook in the hot oil for about 1 minute or until the bottom is golden brown.
Then, flip it over, and cook the other side for around 30 seconds to 1 minute - or until the underside is golden brown too.
Now once the pancake mix funnel cake is finished on both sides, transfer it to a plate lined with paper towels to soak up any excess oil.
Finally, sprinkle it with powdered sugar and serve warm with a side of fresh strawberries or your choice of fruit, and enjoy!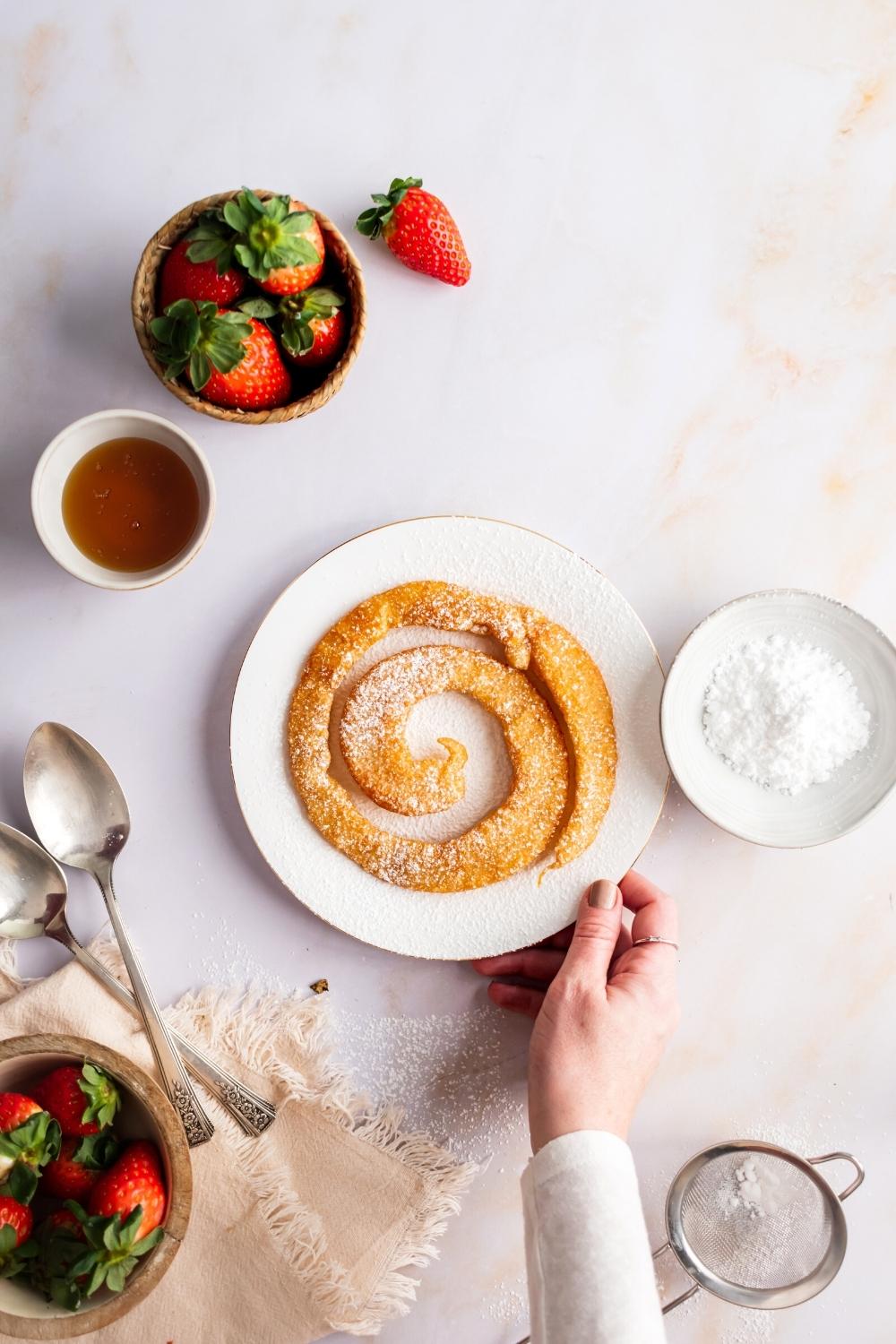 HOW TO STORE LEFTOVER FUNNEL CAKE
Ok, so this recipe makes 2 servings of funnel cake.
And, honestly, these go pretty fast so you'll definitely want to double or triple the recipe if you have any hope of storing extras for later.
They're just that good!
You can keep leftover funnel cakes in an airtight container at room temperature for 1-2 days or in the refrigerator for 3-4 days.
Also, you'll want to place a sheet of parchment paper - or paper towel - between the pieces to soak up any excess oil and keep them from getting soggy.
You can reheat the homemade funnel cake in an air fryer or oven preheated to 350°F (175°C). Tap off any powdered sugar (to prevent it from burning) and cook the funnel cakes for 1-2 minutes on each side for the air fryer or 3-4 minutes for the oven.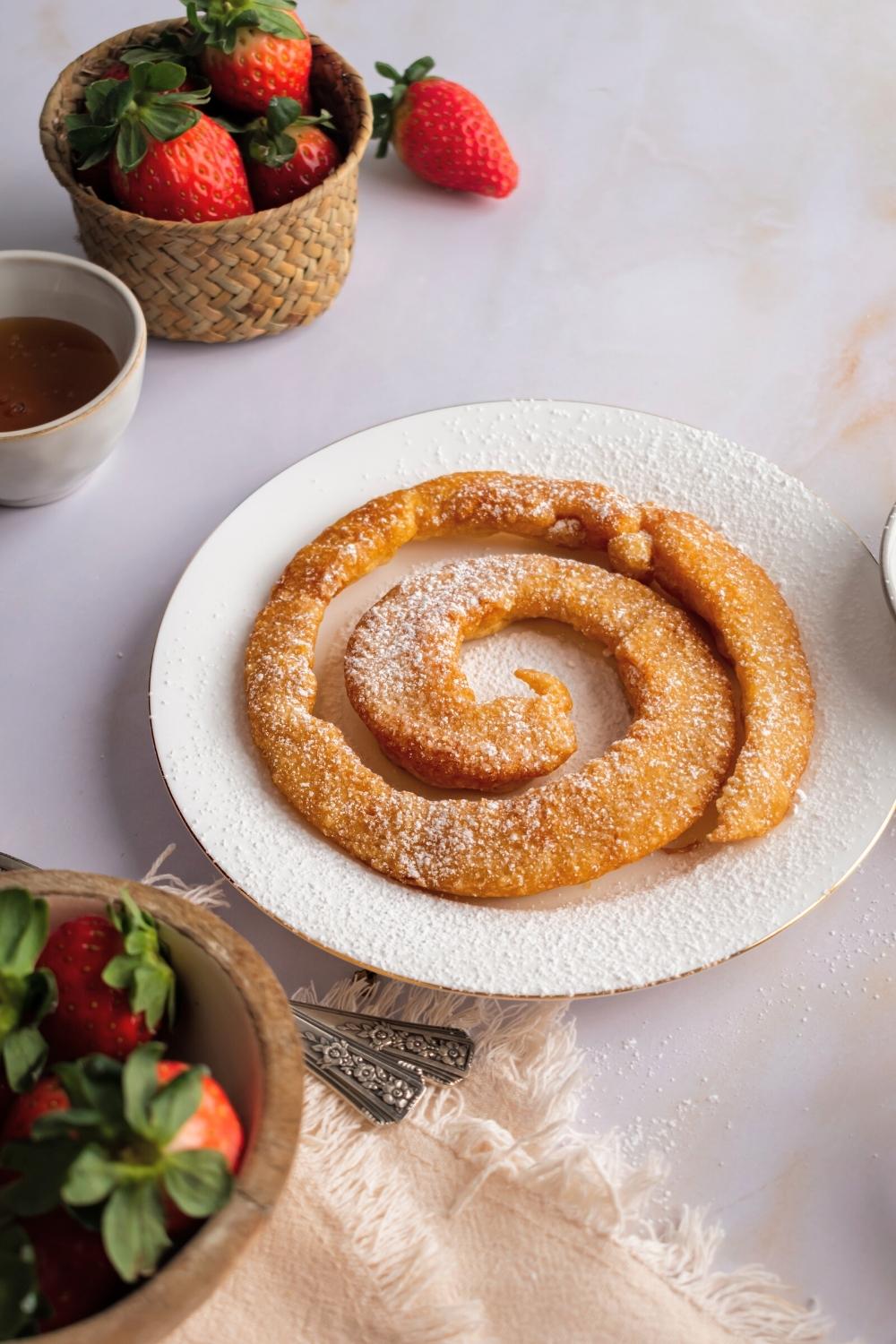 FAQ ABOUT THIS FUNNEL CAKE RECIPE
IS PANCAKE MIX AND FUNNEL CAKE MIX THE SAME?
Almost. Both are made of flour, leavening agents, sugar, and powdered egg and milk. The main difference is that funnel cake mix typically has more sugar and rarely uses buttermilk powder.
Can you use pancake mix instead of cake mix?
Absolutely! Pancake mix actually works better than cake mix to make funnel cakes. It gives the funnel cake the classic texture that it would have if you got it at the fair or carnival. Honestly, I think pancake mix funnel cakes are the best ones you can make.
Why is my funnel cake separating?
Typically the funnel cake will separate if the frying oil is too hot. You'll want the oil to be around 375°F and the best way to test it is with a candy thermometer.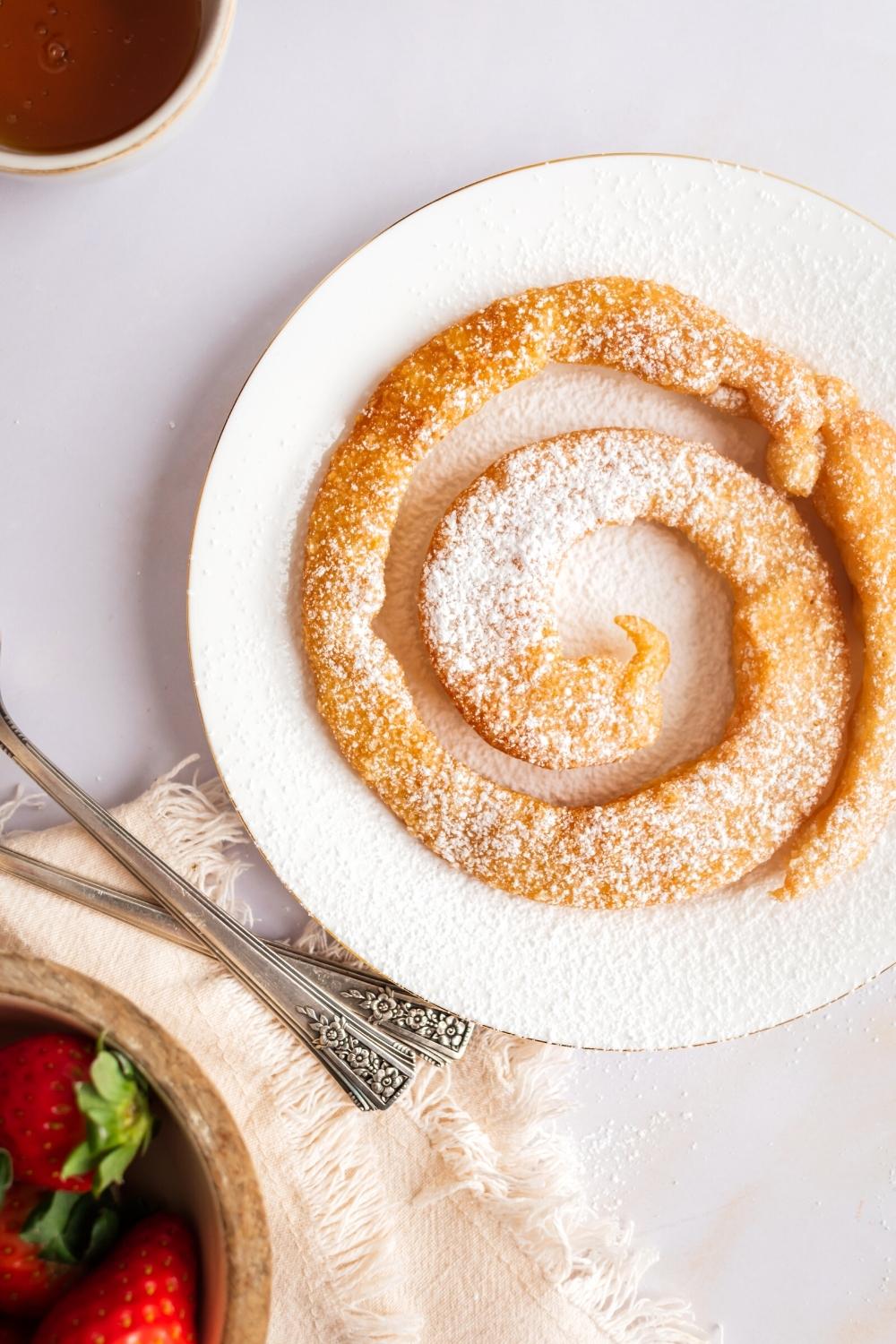 WRAPPING IT ALL UP
And that's how to make funnel cake with pancake mix!
Let me tell you, this pancake mix funnel cakes hack has become an absolute game-changer in our home.
We can now have freshly fried funnel cakes practically anytime, anywhere, and with hardly any effort at all.
And both kids and adults go crazy over them, so everyone's happy with this easy funnel cake recipe!
Anyway, I hope you love this homemade funnel cake recipe with pancake mix as much as I/we do. Don't forget to leave a comment below if you make it and let me know what you think!
Oh, and if you want to make funnel cakes from scratch, check out this homemade funnel cake recipe.
Yield: 2 servings
Easy Funnel Cake Recipe Made With Pancake Mix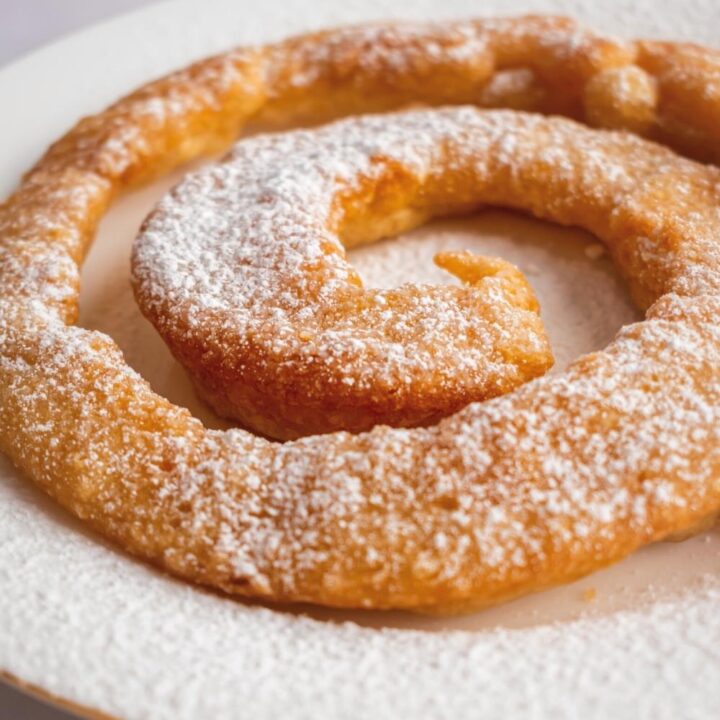 These addictive funnel cakes are crispy on the outside, fluffy on the inside, and delicious all over. Using pancake mix makes this recipe super quick and easy, resulting in the tastiest funnel cakes that are just as good as those at the county fair!
Ingredients
1 cup buttermilk pancake mix
1 tablespoon sugar
About ½ cup water 
1 teaspoon vanilla extract
Powdered sugar
Vegetable oil, for frying
Strawberries to serve
Instructions
Fill an 8-inch skillet halfway with oil, then turn it to medium heat.
Add pancake mix to a bowl and whisk in the water, sugar, and vanilla.
Batter should be the thickness of cake batter, not too runny and not too gooey. It should fall from the whisk like ribbons.
Put the mixture in a piping bag.
Quickly squeeze the batter in a circular motion into the frying pan, forming a 5-inch disk. Cook about a minute until golden brown on the bottom. Flip and cook on the other side for about 30 seconds to 1 minute, until golden brown.
Remove from the oil and transfer to a plate lined with paper towels.
Sprinkle it with powdered sugar and serve warm with strawberries.
Nutrition Information:
Serving Size:
1 serving
Amount Per Serving:
Calories:

322
Total Fat:

4g
Saturated Fat:

0g
Trans Fat:

0g
Unsaturated Fat:

0g
Cholesterol:

0mg
Sodium:

0mg
Carbohydrates:

65g
Fiber:

0g
Sugar:

0g
Protein:

7g