These air fryer tortilla chips are super fresh, crispy, and crunchy. And the best part is these tortilla chips air fryer style take only 5 minutes to make with 1 ingredient!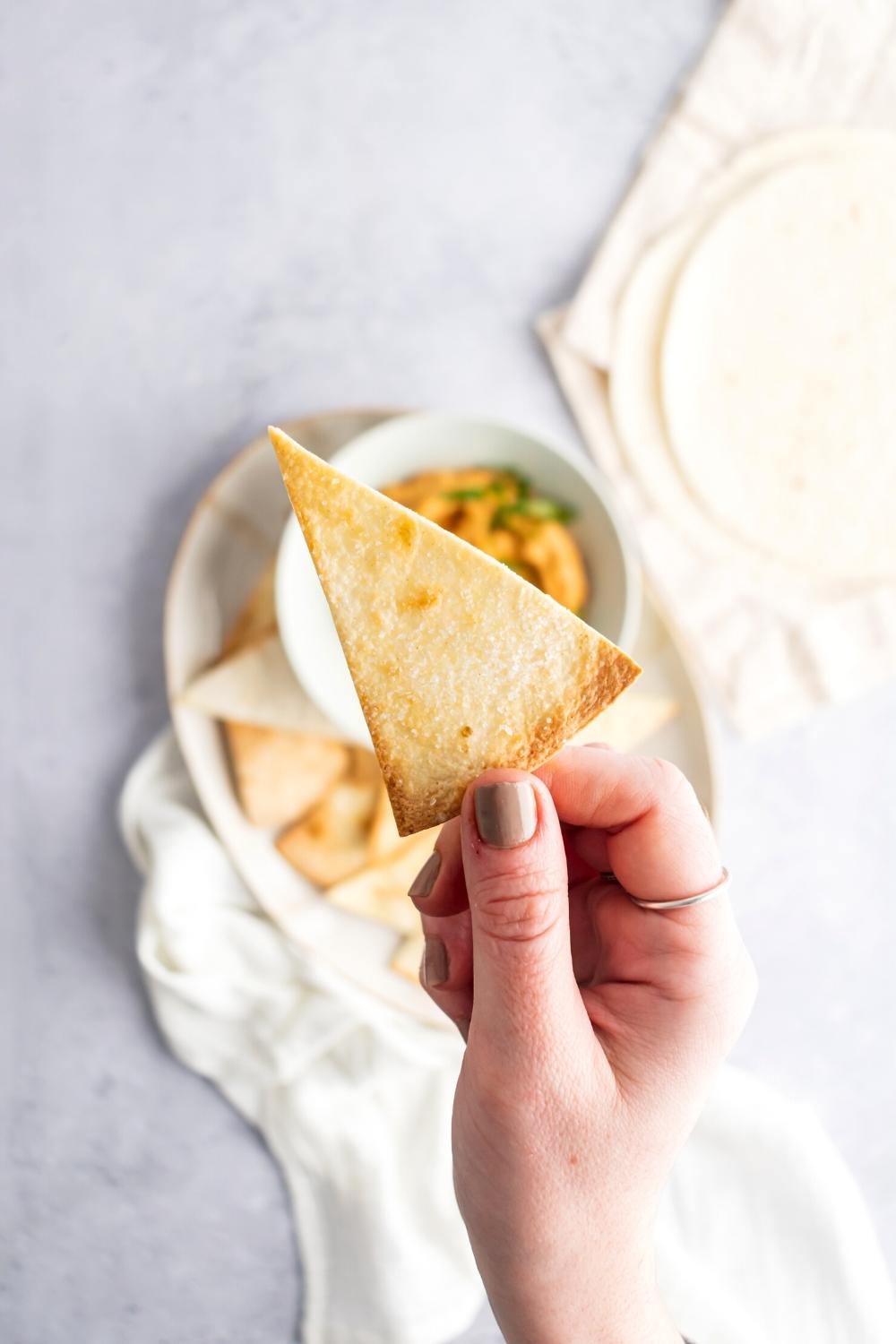 The Best Air Fryer Tortilla Chips
Homemade tortilla chips are such a delicious snack, and you can make a healthier version that tastes as good as deep fried chips you'd get at a restaurant with the power of your air fryer!
Theses air fryer tortilla chips come out insanely crispy, crunchy, and perfectly salty. They go great with this spicy hummus, Chipotle guac, dill dip, and a variety of other dips! And they're pretty darn tasty on their own.
I honestly think they can rival any of the store bought chips. So there's no need to buy chips when you can make your own super fresh homemade tortilla chips in 5 minutes!
They are ideal for serving at a party, as a game-day appetizer, or just for a little snacking on your own. But if you are hosting and serving these chips, they are great put out alongside these fried pickles and air fryer mozzarella sticks.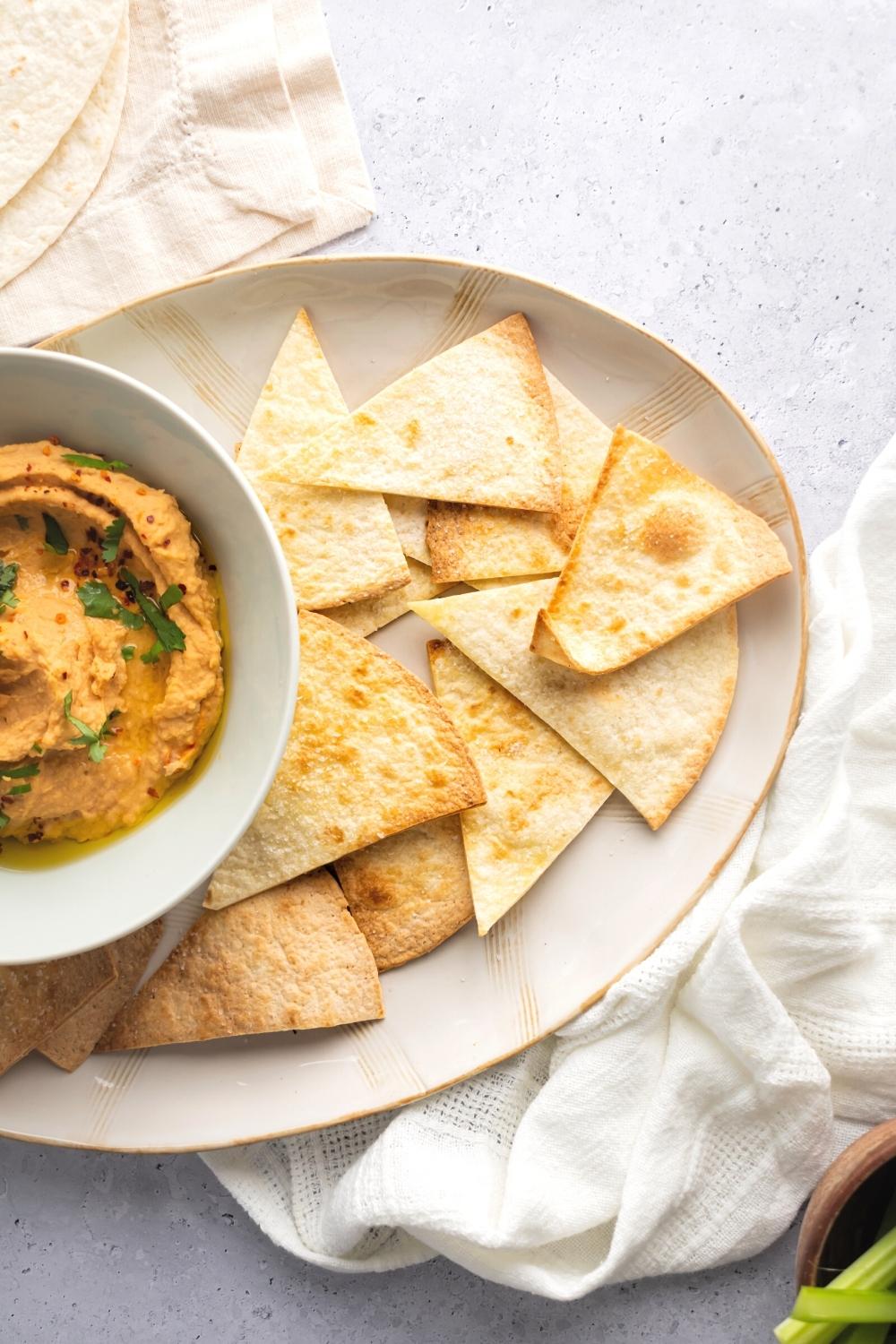 Ingredients
As I mentioned before, these air fryer tortilla chips only require 1 ingredient and then a little salt to enhance the flavor.
Here's what you'll need:
4 Small tortillas (corn tortillas or flour tortillas)
Olive oil cooking spray
Coarse salt
How simple is that? Now, the hard part is picking out the tortilla shells to use. This recipe works great with literally anything - flour tortillas or corn tortillas, yellow corn tortillas, white tortillas, wheat tortillas, or flavored tortillas - you can't go wrong with whatever you pick. I suggest getting a few different kinds of tortillas if you're serving them on a platter.
And you can put them out with this Doritos taco casserole. Putting the casserole on these tortilla chips is an incredible combination.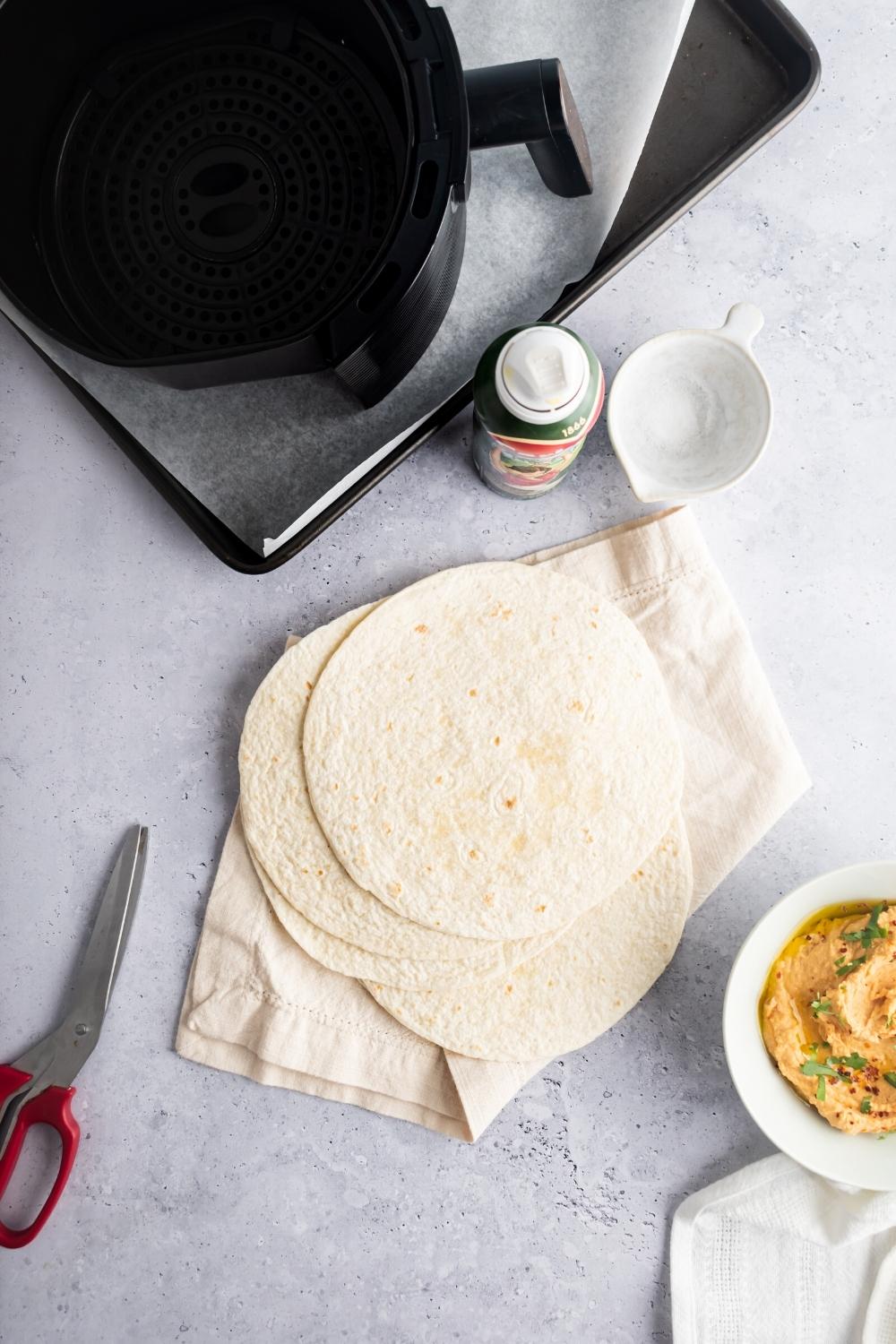 How to Make Tortilla Chips In Air Fryer
The process of making tortilla chips in the air fryer is as simple as opening up a chip bag.
And that is why I love making these air fryer chips to serve if I'm hosting. If everyone devours them, which is highly likely to happen, you can make more in just a few minutes.
So without further ado, let's dive into this quick and easy air fryer recipe!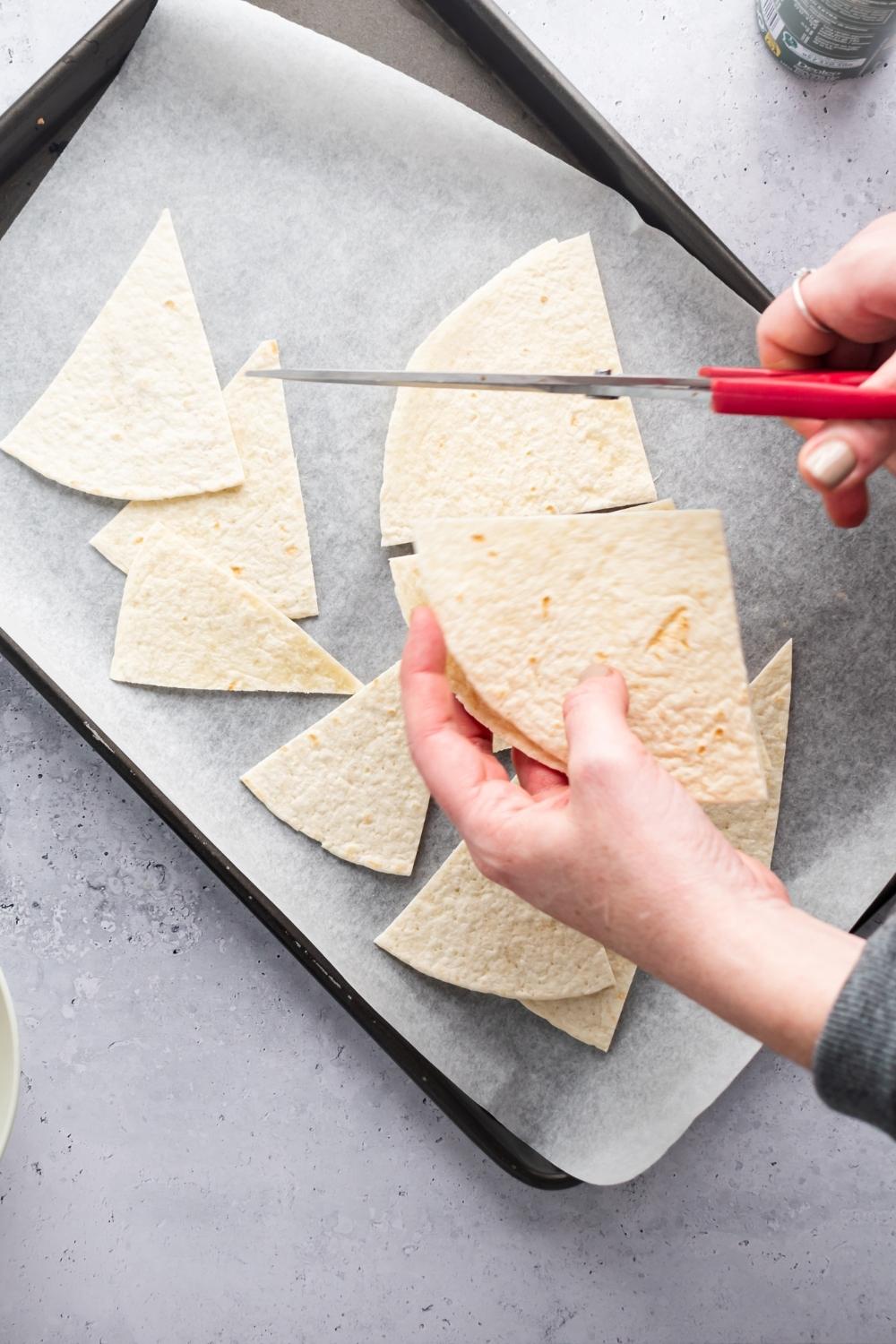 Step 1: Making Tortilla Chips
First, take out the 4 tortillas (corn tortillas or flour tortillas), a cutting board, and a sharp knife or scissors. And if you want, you can totally use more tortillas!
Now either one at a time or all at once, slice the tortillas in half, then in half the other way to make four triangles. Next cut them diagonally both ways to make eight total triangles like a pizza.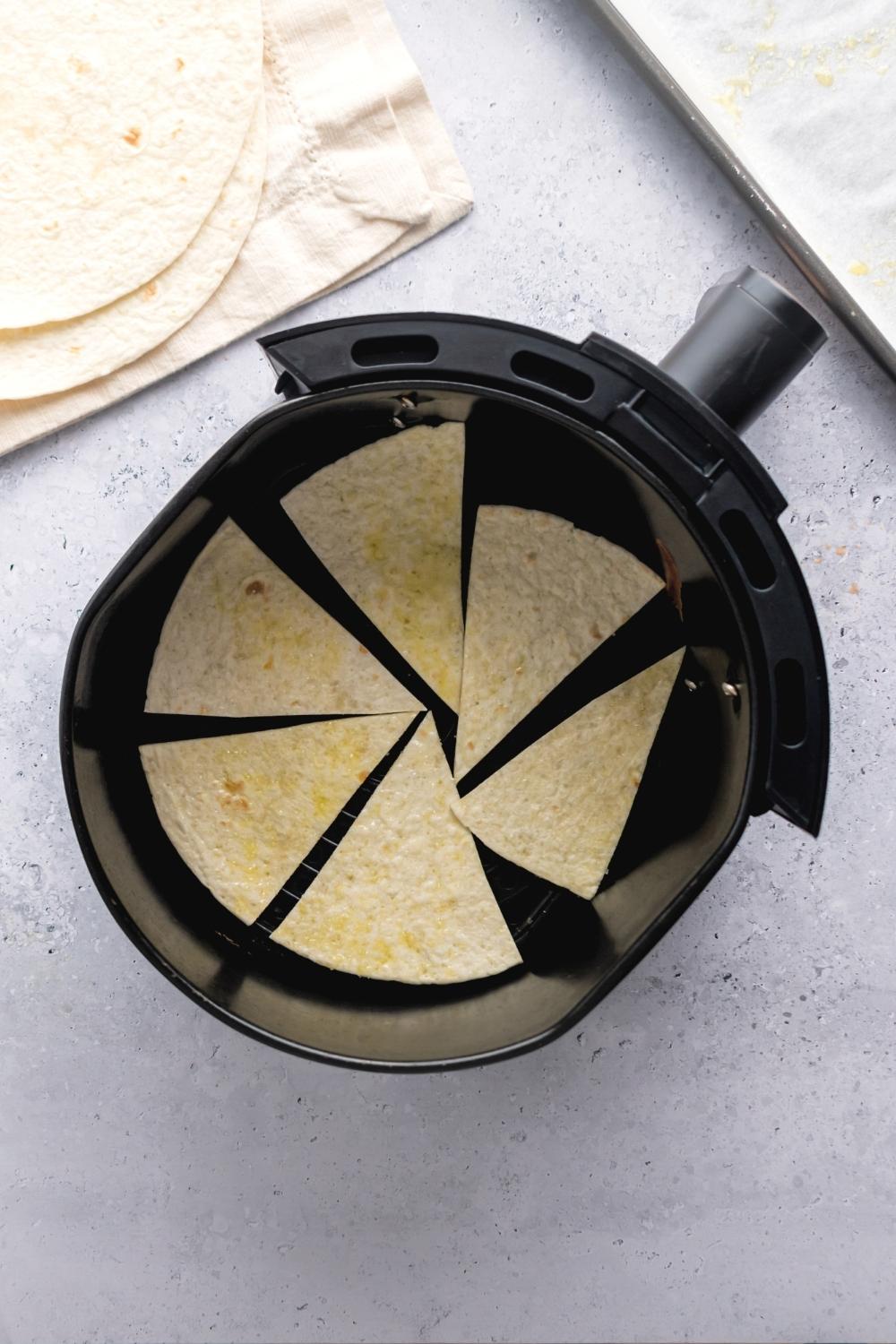 Step 2: Air Frying Tortilla Chips
Once the shells are all cut into triangular chip shapes, put a couple of them in the air fryer and make sure they are lying flat. I fit six tortilla triangles in my air fryer, but you might be able to fit more depending on your air fryer basket size.
Next, spray the tops of the tortilla triangles in the air fryer basket with cooking spray - I used olive oil - and sprinkle as much salt as you want on top.
Then air fry at 350°F (180°C) for about 5 minutes or until golden brown and you have crispy tortilla shells. Serve this tortilla chip recipe with whatever you want, and enjoy!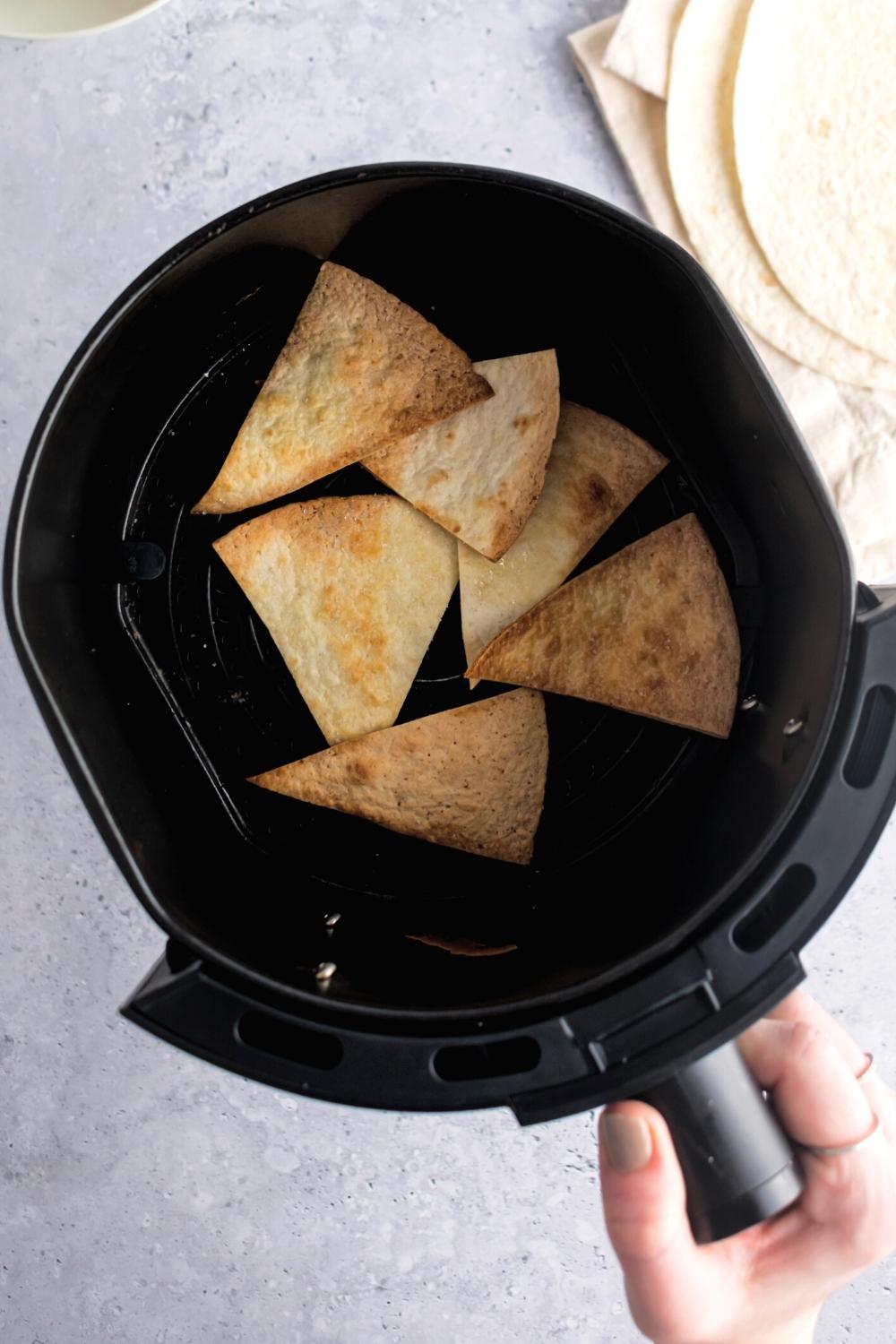 How To Store Homemade Tortilla Chips
So, this recipe will make 32 homemade chips, so there will be a good amount if you only have one or two people snacking on them.
But if you're serving them at a party, you might want to use a few more tortilla shells. And don't worry about making too many because they actually store pretty well in an airtight container.
If you have leftovers, transfer them to an airtight container, and you can keep them in the pantry for about 1 week.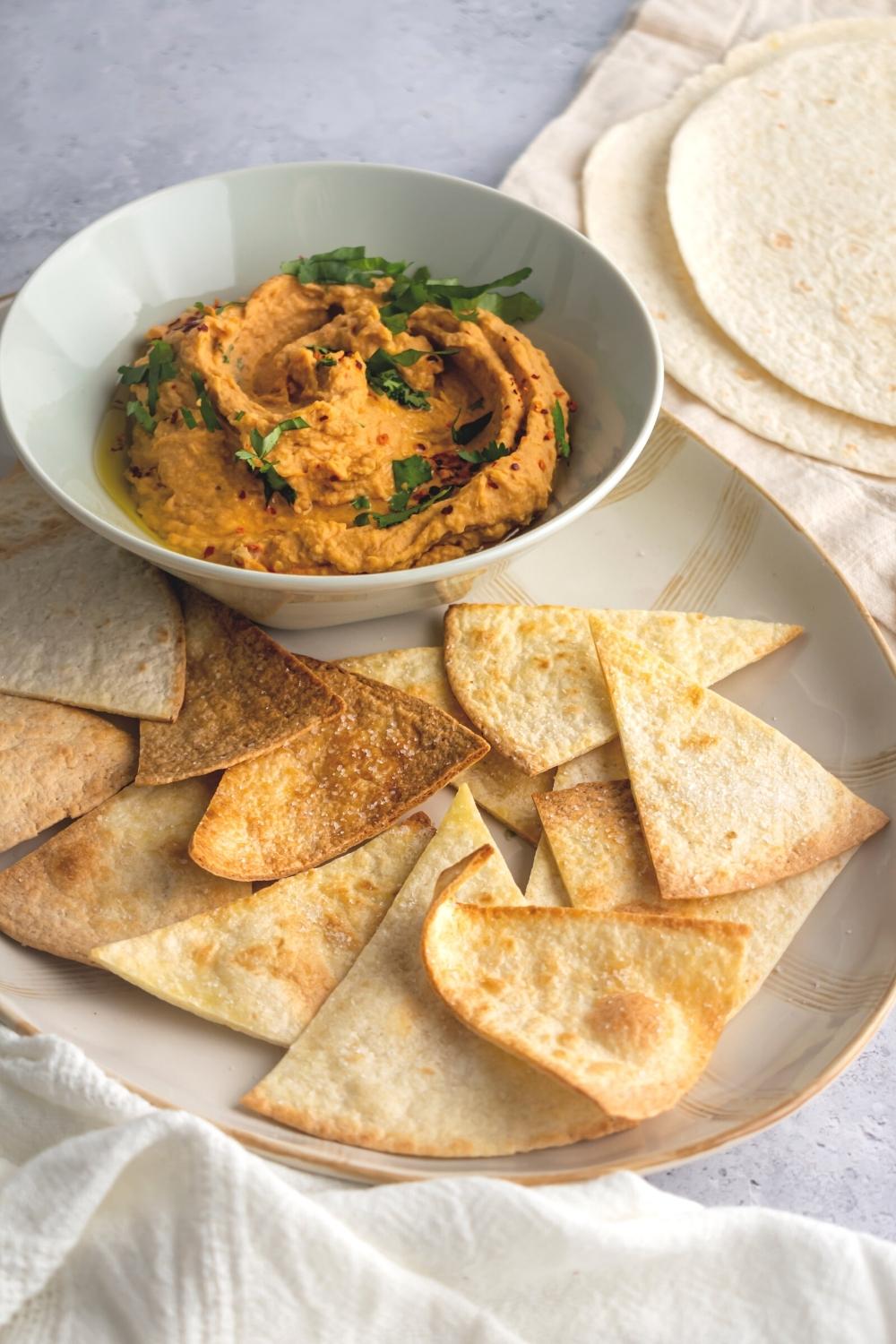 FAQS ABOUT THIS AIR FRYER TORTILLA CHIPS RECIPE
How do you make crispy tortilla chips?
To make these tortilla chips as crispy as possible, first, you'll want to make sure you spritz each one with the cooking spray. Then, make sure that each tortilla piece is lying flat in the air fryer basket. If they overlap one another, they will not get as crispy.
How do you heat tortilla chips in an air fryer?
If you want to heat these leftover tortilla chips in the air fryer, all you have to do is put them back in at 350°F for just a few minutes until warm.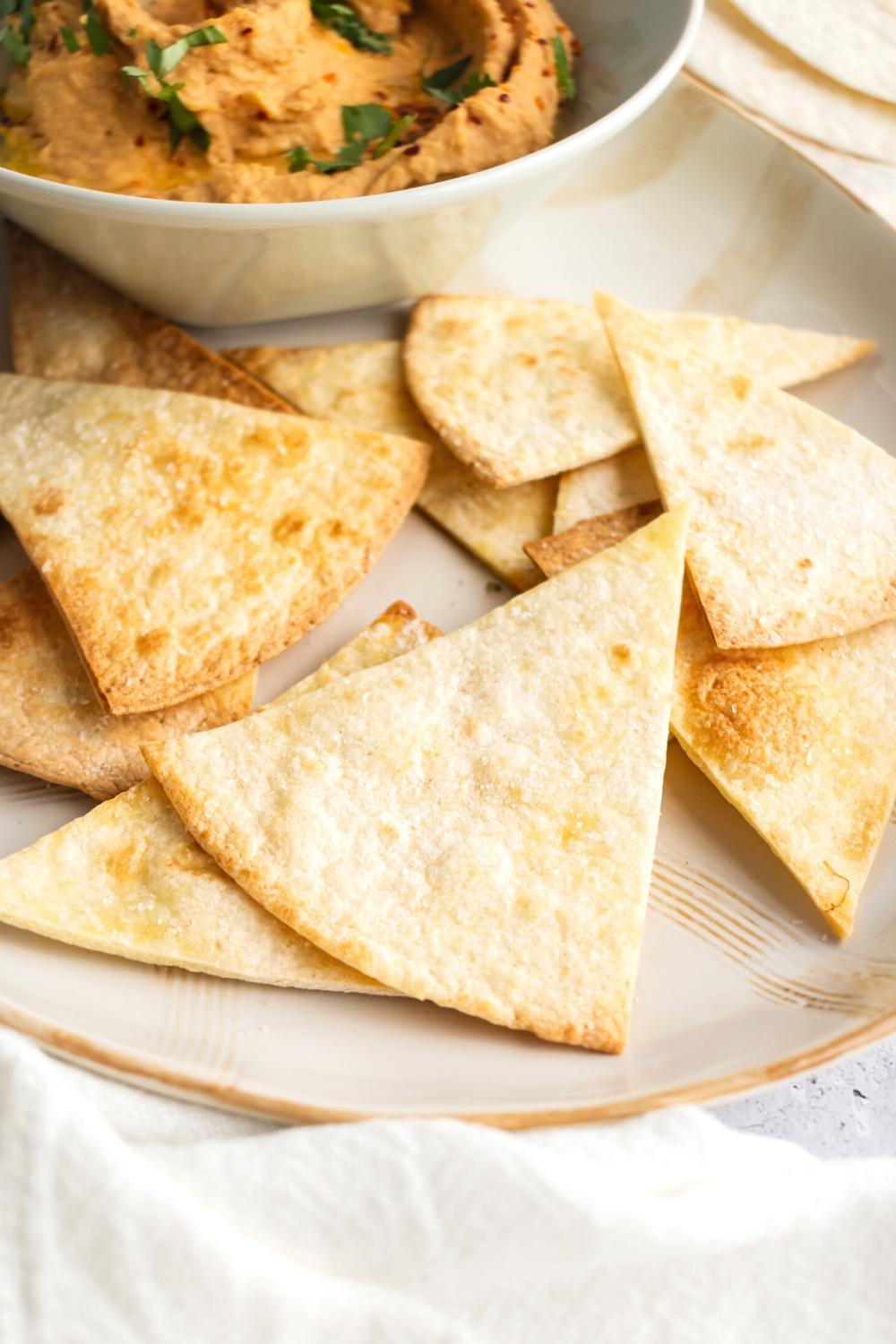 Wrapping It Up
That is how to make tortilla chips in the air fryer. Did I introduce you to your new favorite homemade snack today? I hope so!
These air fryer tortilla chips are crispy, crunchy, salty, and better in their own way than the store-bought kind. They are so versatile and pair with literally anything that you want, like salsa, guac, hummus, and so much more.
I hope you enjoy snacking on these crispy chips as much me and my friends and family have. If you make them, leave a comment below and let me know your thoughts! And for more recipes, make sure to check out our TikTok, Instagram, and Youtube channel.
Print
Air Fryer Tortilla Chips | Made With Flour or Corn Tortillas
These air fryer tortilla chips are super fresh, crispy, and crunchy. And the best part is these tortilla chips air fryer style take only 5 minutes to make with 1 ingredient!
Author:
Prep Time:

1 minute

Cook Time:

5 minutes

Total Time:

6 minutes

Yield:

4 servings

Category:

Appetizer/Snack

Method:

Air Fryer

Cuisine:

Mexican
Nutrition
Serving Size:

1 serving

Calories:

50

Fat:

1

Carbohydrates:

10

Fiber:

1

Protein:

1
Keywords: air fryer tortilla chips, tortilla chips air fryer, air fryer tortilla chips recipe, air fried tortilla chips, tortillas chips in air fryer, can i make tortilla chips in my air fryer, can you make homemade tortilla chips in the air fryer, how to make air fryer tortilla chips, homemade tortilla chips, homemade tortilla chips recipe, air fryer flour tortilla chips, air fryer flour tortilla chips recipe,