If you've ever wondered how to make popcorn without a popcorn maker, you've come to the right place. This Instant Pot popcorn makes perfectly cooked popcorn with a delicious buttery flavor reminiscent of the movie theaters. And, best of all, it's ready in less than 10 minutes, and only takes 4 ingredients to make!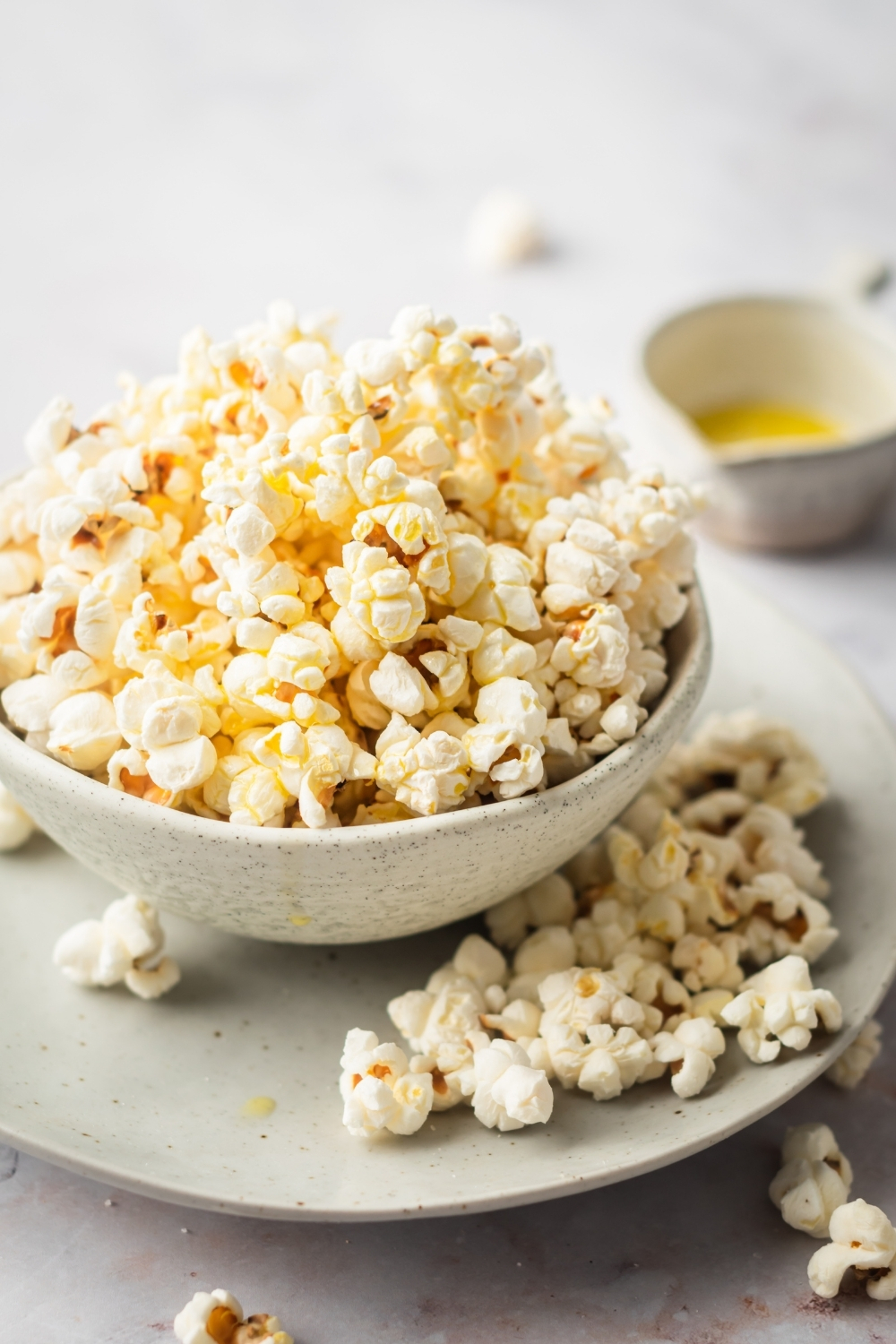 THE BEST INSTANT POT POPCORN
When it comes to movie watching and Netflix binge sessions, popcorn is hands down the undefeated snack option.
But while microwave popcorn can be pretty good, it doesn't really have the same flavor and texture as movie theater popcorn - and, in my opinion, it just isn't as satisfying. Also, even though stovetop popcorn comes close to the movie theatre stuff, it can be messy to make and takes a lot of work.
Well, this making popcorn instant pot style - at least that's how we call it at our house - is as simple as it gets. It requires minimal effort - just like most instant pot recipes - and clean-up is a breeze. Not to mention, it's as close to movie theater popcorn as it gets!
This Instant Pot popcorn has a light and crunchy texture, rich buttery flavor, and doesn't burn easily or pop all over the place. Those are all wins in my book!
Plus, all you need is 4 ingredients and less than 10 minutes to make this perfectly popped popcorn.
And since it's so quick to make, you'll have plenty of extra time to prepare some equally speedy snacks to go along with it, like this fair-style Fried Dough and creamy Peanut Butter Cookies!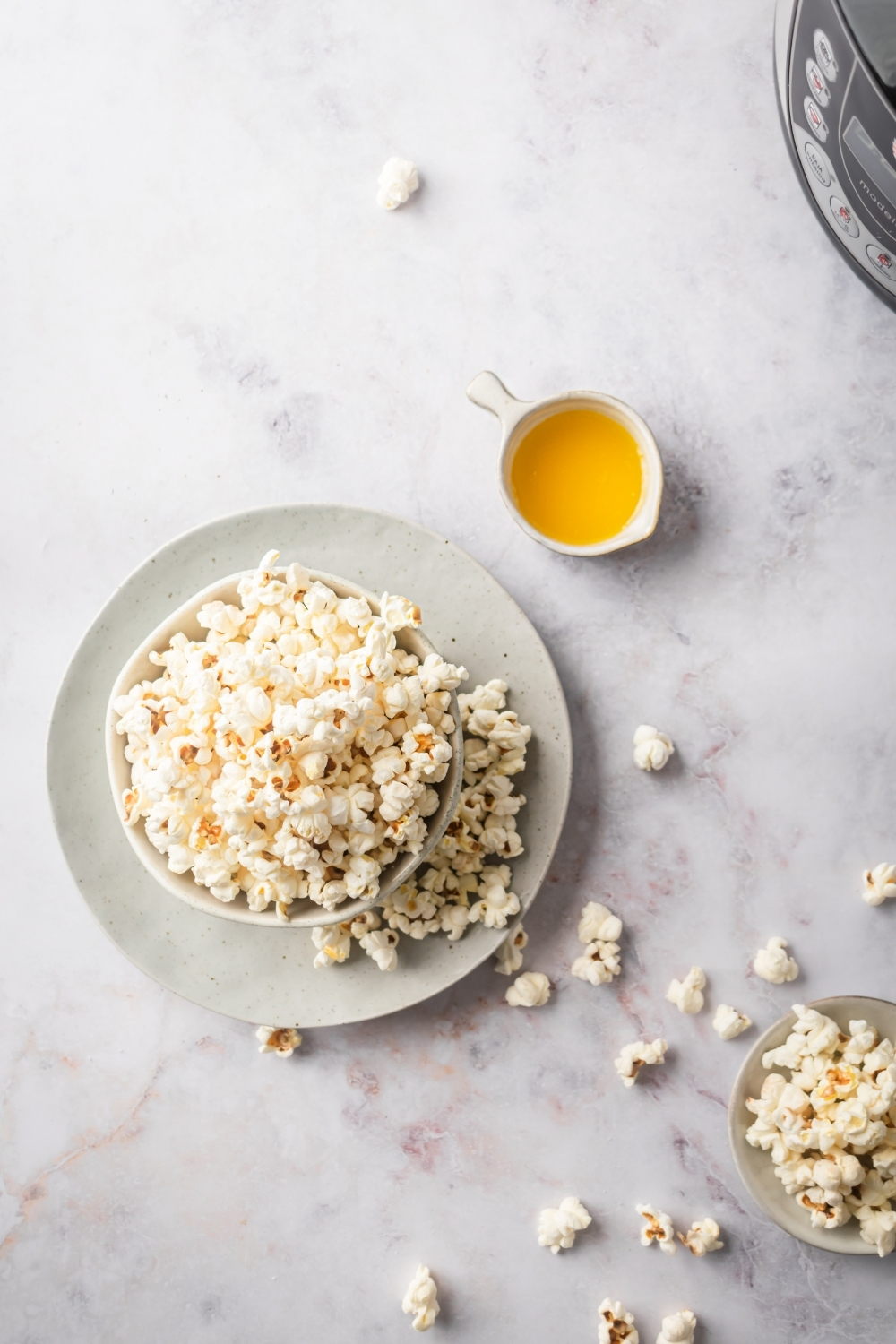 INGREDIENTS
So, there's a good chance you already have all 4 ingredients to make this Instant Pot popcorn recipe since they're all basic pantry staples you can find anywhere.
Here's what you'll need for this recipe:
2 tbsp. Refined Coconut Oil
½ cup Popcorn Kernels
4 tbsp. Melted Butter
Salt
That's all there is to it!
Now, as you may have noticed, I used refined coconut oil in this recipe. It has a neutral flavor and won't affect the taste of the popcorn. If you use unrefined coconut oil, it will have a slight coconut flavor, so just keep that in mind.
Oh, and don't forget to save some extra butter to make this Instant Pot Corn On The Cob. Just like this popcorn recipe, it comes out perfect every time. Plus, it only takes 2 minutes to make!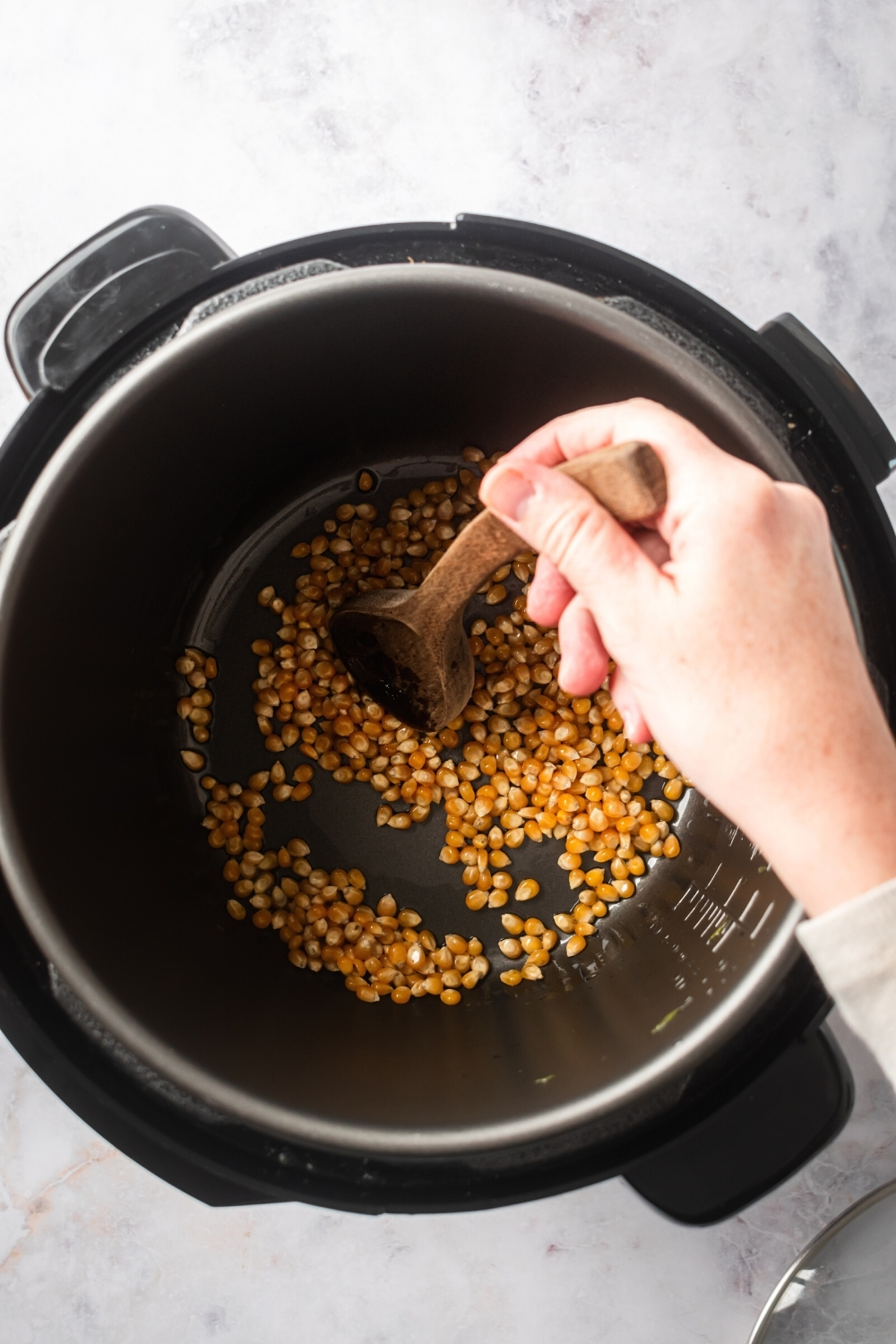 HOW TO MAKE INSTANT POT POPCORN
Again, it takes under 10 minutes to make this Instant Pot popcorn from start to finish.
Honestly, that's less time than it takes to choose what to watch on Netflix!
Now, this recipe will make about 10 cups of popcorn, so if you're planning on a long Netflix binge session, or are watching a movie with some friends or family, just double, or triple the recipe! However, since it's so quick and easy to make, you can always make more popcorn as soon as you run out.
Anyway, let's not waste any more time and dive into this recipe.
STEP 1: COOKING THE POPCORN IN THE INSTANT POT
First, set your Instant Pot to saute mode and add the coconut oil.
Let it melt completely in the pot, then add the corn kernels and mix until each kernel is coated in the oil.
Next, set your Instant Pot to the highest possible temperature and cover it with a glass lid. Or you can use the Instant Pot lid, but use it without the sealing ring.
The point here is to prevent the popcorn from escaping the pot and also to keep any steam from building up in the pressure cooker as well. With that said, let the popcorn cook for around 6 minutes or until all the kernels have popped.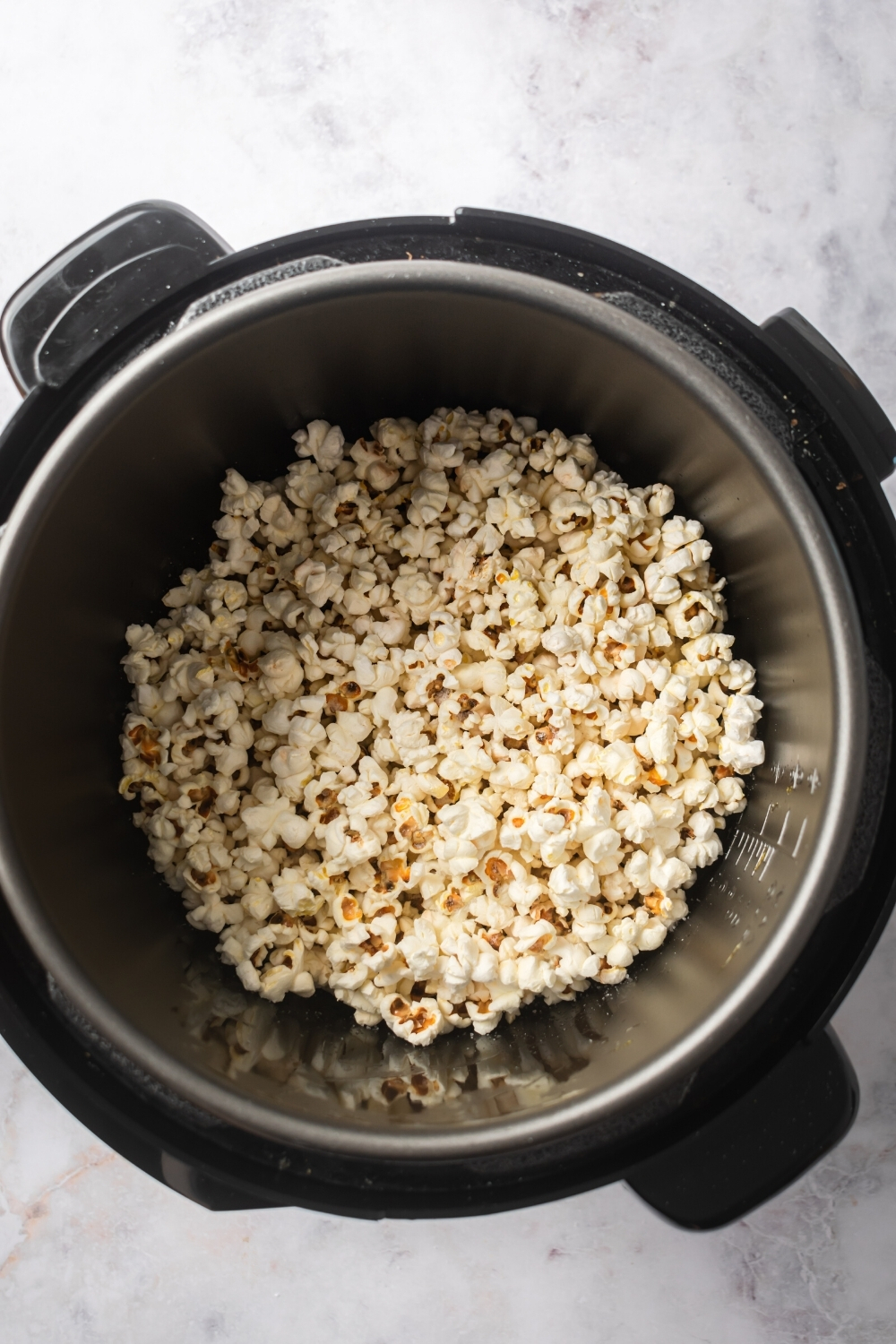 STEP 2: SEASONING THE POPCORN
Once all the popcorn is popped, transfer it to a bowl, drizzle with the melted butter, and sprinkle with a generous amount of salt.
Then, toss the popcorn in the bowl to evenly coat it in the butter and salt.
Finally, start your movie or show, and enjoy!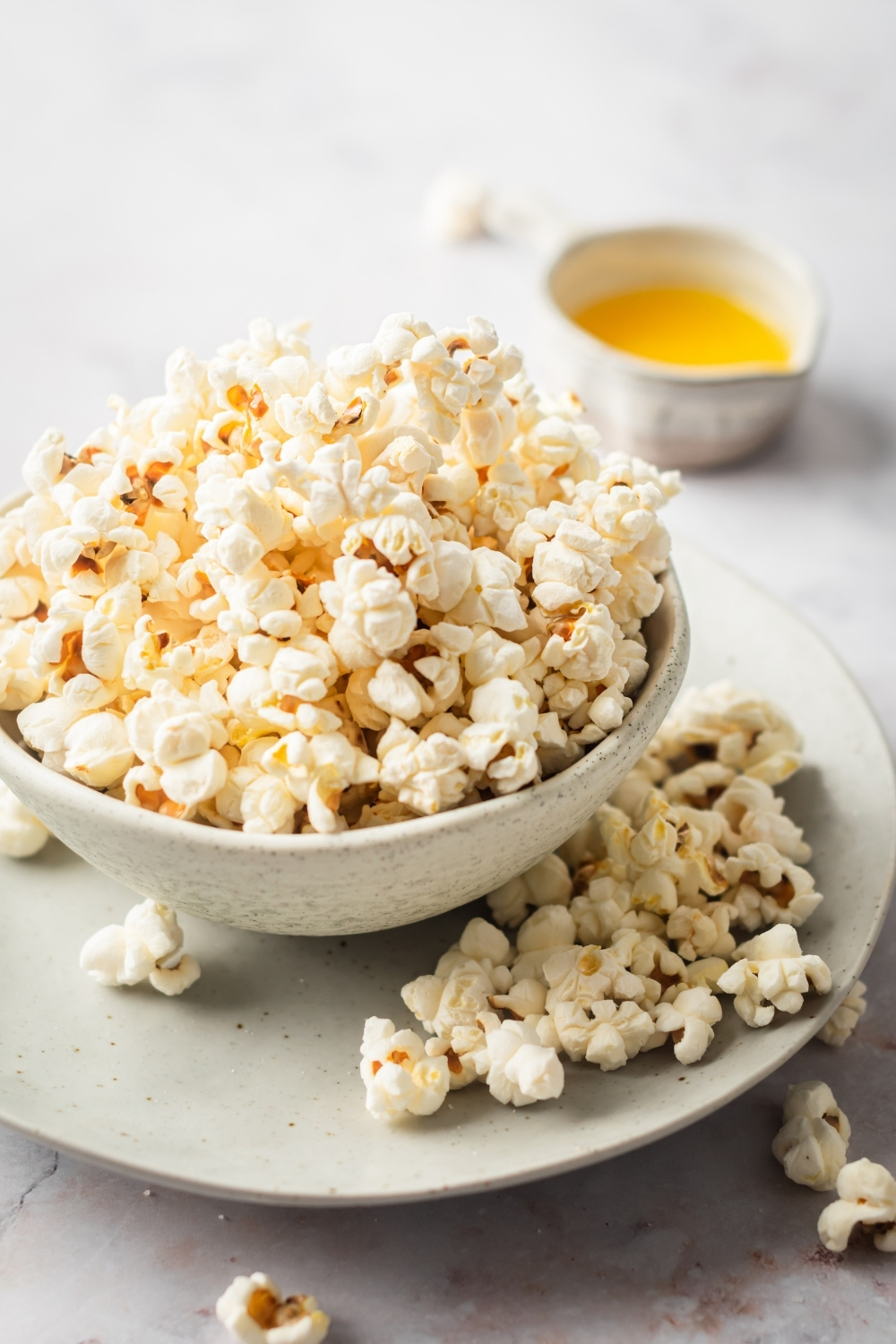 FAQS ABOUT THIS INSTANT POT POPCORN
WHAT ELSE CAN I PUT ON THIS POPCORN?
So, you can enjoy your popcorn as this recipe calls for or add any additional flavorings that you want.
Here are a few ideas:
Sprinkle parmesan cheese or nutritional yeast for cheesy popcorn

Add a little bit of sugar or caramel for sweet popcorn

Drizzle melted chocolate on top for chocolate covered popcorn

Add in some nuts, crackers, and candy for a sweet and salty snack mix
HOW DO I STORE POPPED POPCORN LEFTOVERS?
If you plan on saving some of your popcorn for later, set it aside after popping, and don't pour any butter on it just yet (you can add the butter right before eating).
To store, let your popcorn cool to room temperature, transfer it to an airtight container, and keep it in a cupboard or shaded area on the counter for up to 2 weeks.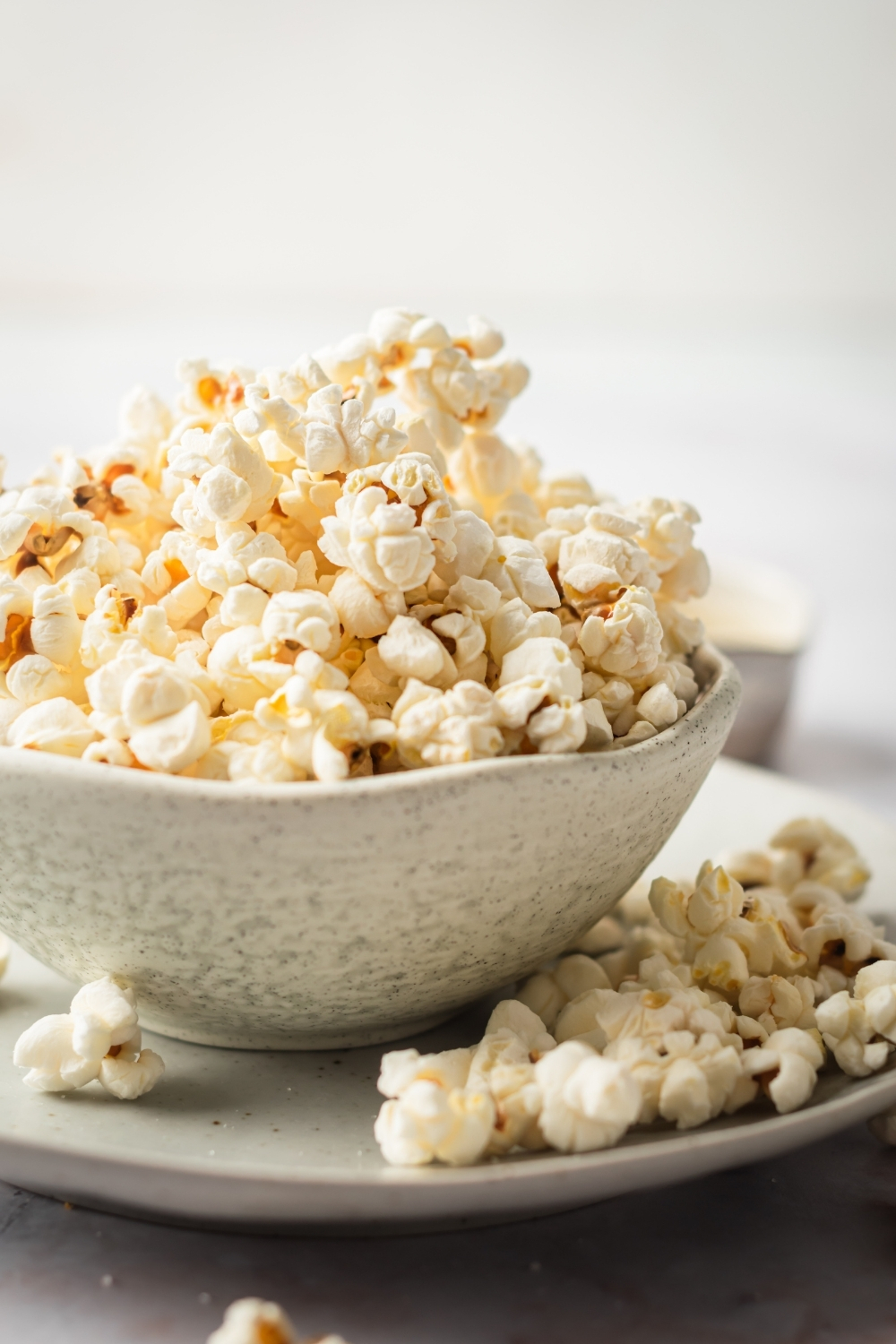 CAN YOU FREEZE LEFTOVER POPCORN?
Yes! In fact, freezing popcorn is the best way to store it so it stays as fresh as possible
Just transfer your popcorn into a freezer-safe bag and get rid of all the extra air in it. Then you can freeze it for up to 3 months!
And no to worry, it won't turn your popcorn into ice. Instead, it will just help it retain that crunchy, freshly popped texture. Then, you can enjoy it straight from the freezer - once it thaws of course - and add on your toppings!
DO I HAVE TO USE COCONUT OIL FOR THIS POPCORN?
Believe it or not, coconut oil is what gives this Instant Pot popcorn such a great texture. And it has a really high smoke point, so it is the best option for popping the popcorn.
As I mentioned earlier, I suggest using refined coconut oil if you don't want any coconut flavor in your popcorn.
Now, if you don't want to use coconut oil, the best substitutes are avocado oil, grapeseed oil, or olive oil.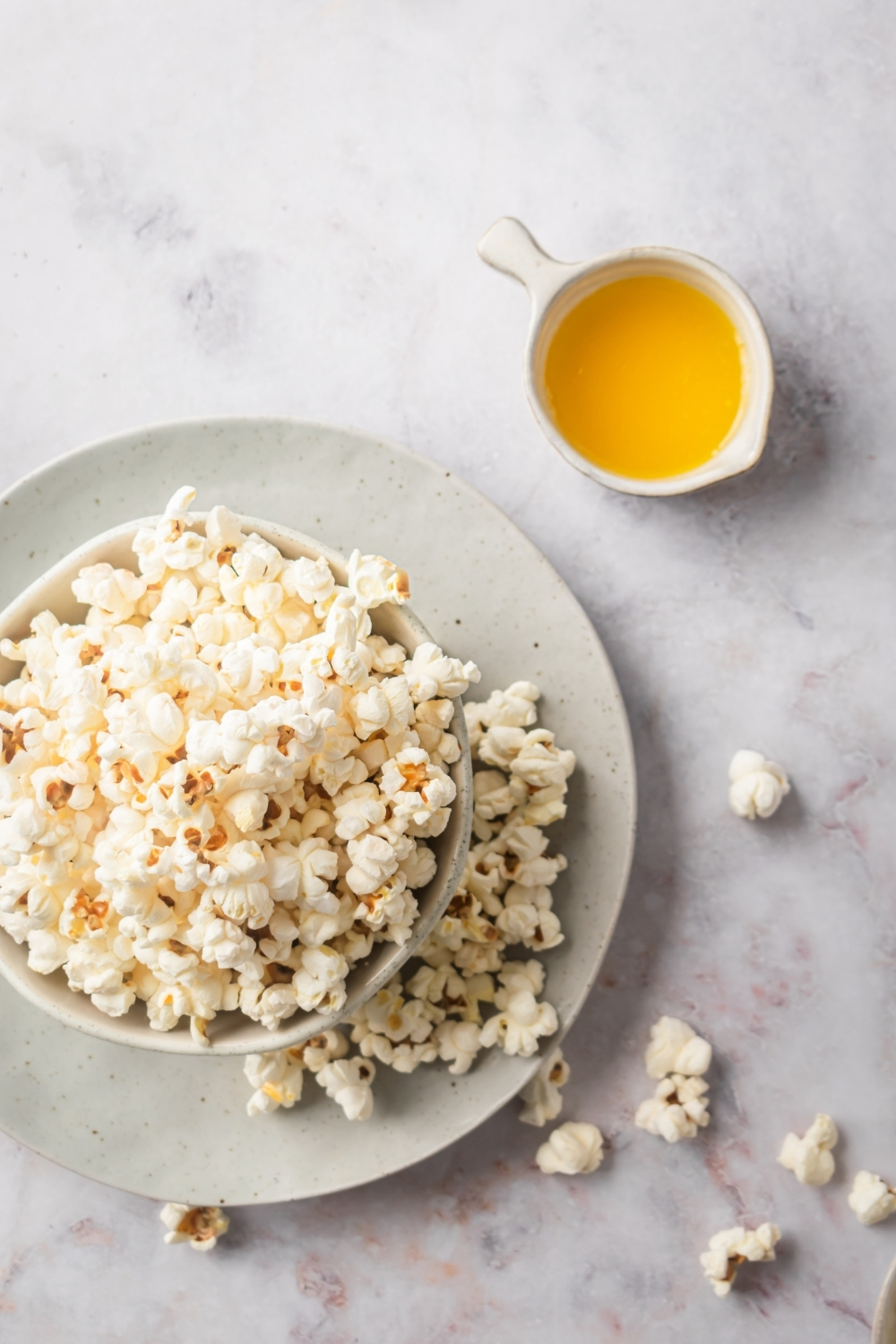 WRAPPING IT ALL UP
So that's how to make popcorn in the Instant Pot!
This method has become my absolute favorite way of making popcorn at home. It tastes so close to the popcorn at the movie theater, and it is so easy and mess-free to make.
Seriously, once you try this Instant Pot popcorn, I can almost guarantee you'll never want to go back to the microwave kind.
Anyway, I hope you enjoy this Instant Pot popcorn as much as my family and I do.
If you try it, be sure to leave a comment below and let me know if you liked it. I'd love to know how it turned out!
INSTANT POT RECIPES
If you liked how delicious this popcorn was made in the Instant Pot, we have plenty of other Instant Pot recipes you'll like too!
Give one of these a try next:
Print
Instant Pot Popcorn | The Best Way To Make Popcorn
If you've always wondered how to make popcorn without a popcorn maker, you've come to the right place. This Instant Pot popcorn makes perfectly crunchy popcorn with a delicious buttery flavor reminiscent of the movie theaters. And it's ready in less than 10 minutes and only takes 4 ingredients to make!
Author:
Prep Time:

0 minutes

Cook Time:

9 minutes

Total Time:

9 minutes

Yield:

1

serving

1

x
Category:

Snack

Method:

Instant Pot

Cuisine:

Popcorn
Instructions
Turn the Instant Pot on in sauté mode and add the coconut oil. Once it melts, add the corn kernels and mix until they are all covered in the oil. 

Adjust the Instant Pot to the maximum possible temperature. Cover the instant pot with a lid (any lid that covers the top, you are avoiding the popcorn to come out, but not sealing the pot), and cook until the kernels all pop.

Shake popcorn in a bowl with melted butter and salt.
Nutrition
Serving Size:

1 serving

Calories:

460

Fat:

47

Carbohydrates:

8

Fiber:

2

Protein:

3
Keywords: instant pot popcorn, popcorn instant pot, how to make popcorn, popcorn instant pot, popcorn recipe butter, popcorn recipe coconut oil, instant pot making popcorn, can you make popcorn in instant pot, can you cook popcorn in an instant pot, how do i make popcorn in my instant pot, popcorn recipe, instant pot popcorn with coconut oil, instant pot popcorn with butter, instant pot popcorn recipe,