This coconut pie recipe is so rich, creamy, and coconutty. And it's just so, so delicious too. It has the taste and texture of rich custard and it's flecked with shredded coconut and encased in a buttery, flaky pie crust. It's an old-fashioned pie that is made with just a handful of simple ingredients. And, best of all, it takes just 5 minutes to prep.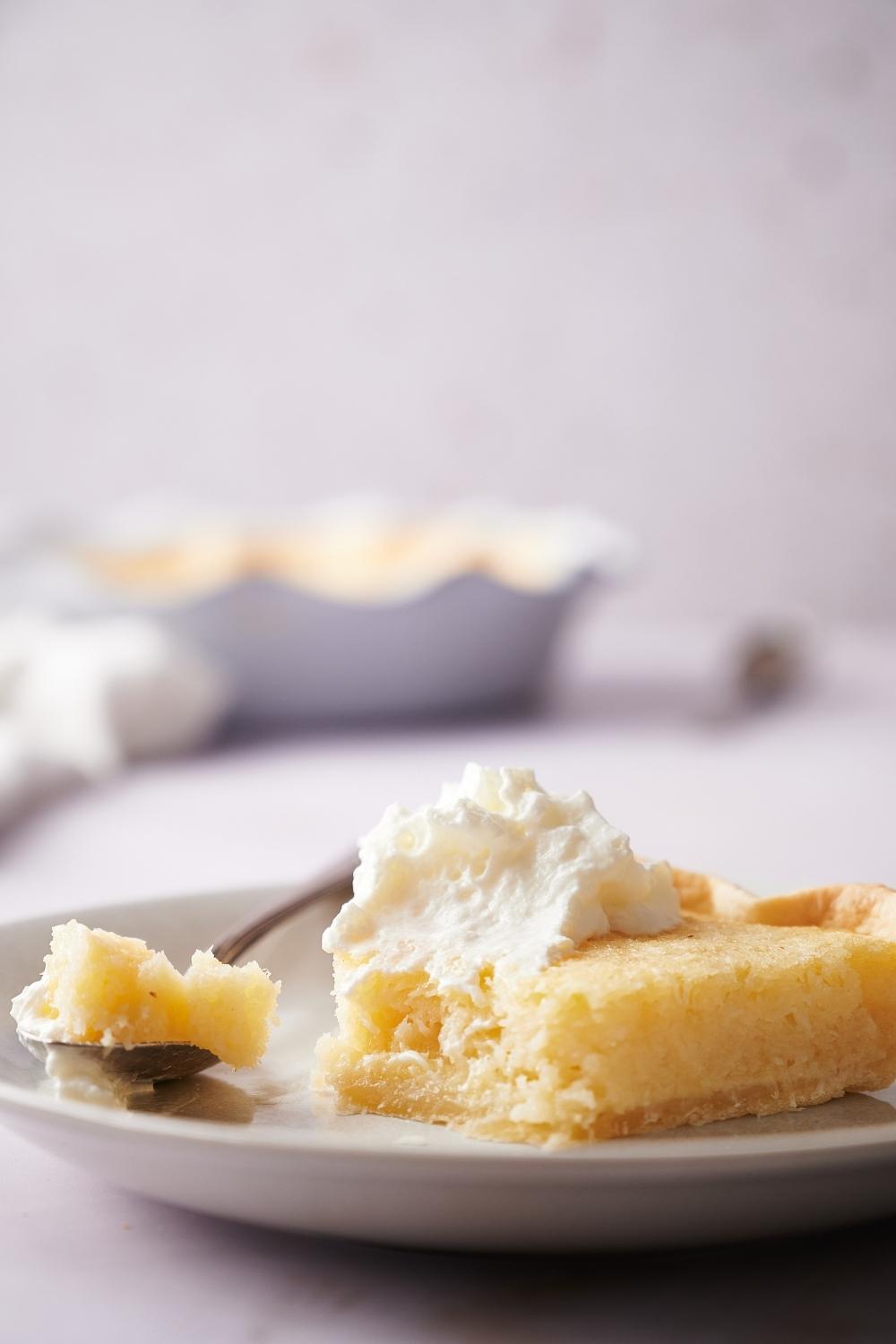 The Best Coconut Pie Recipe
When you think of pie, coconut pie probably isn't the first thing that comes to your mind. But, this recipe is going to change that!
Seriously, this coconut pie is one of my favorite pie recipes to make and eat. The coconut pie filling has a silky texture that just melts in your mouth with each bite. Along with that, it has a perfectly sweet - but not overpowering - coconut flavor that is just so delightful. And then, of course, the crisp golden brown pie crust that the filling sits on balances everything out perfectly.
Now, along with how delicious it is, this easy coconut pie recipe could not be any simpler to make! Even if you've never made a pie from scratch before, this recipe will come together for you with ease, and the results will be show-stopping.
Oh, and as I already mentioned, the best part about this coconut pie is that it takes just 5 minutes to prepare! So, it's the perfect pie recipe to make if you need a quick and easy dessert recipe.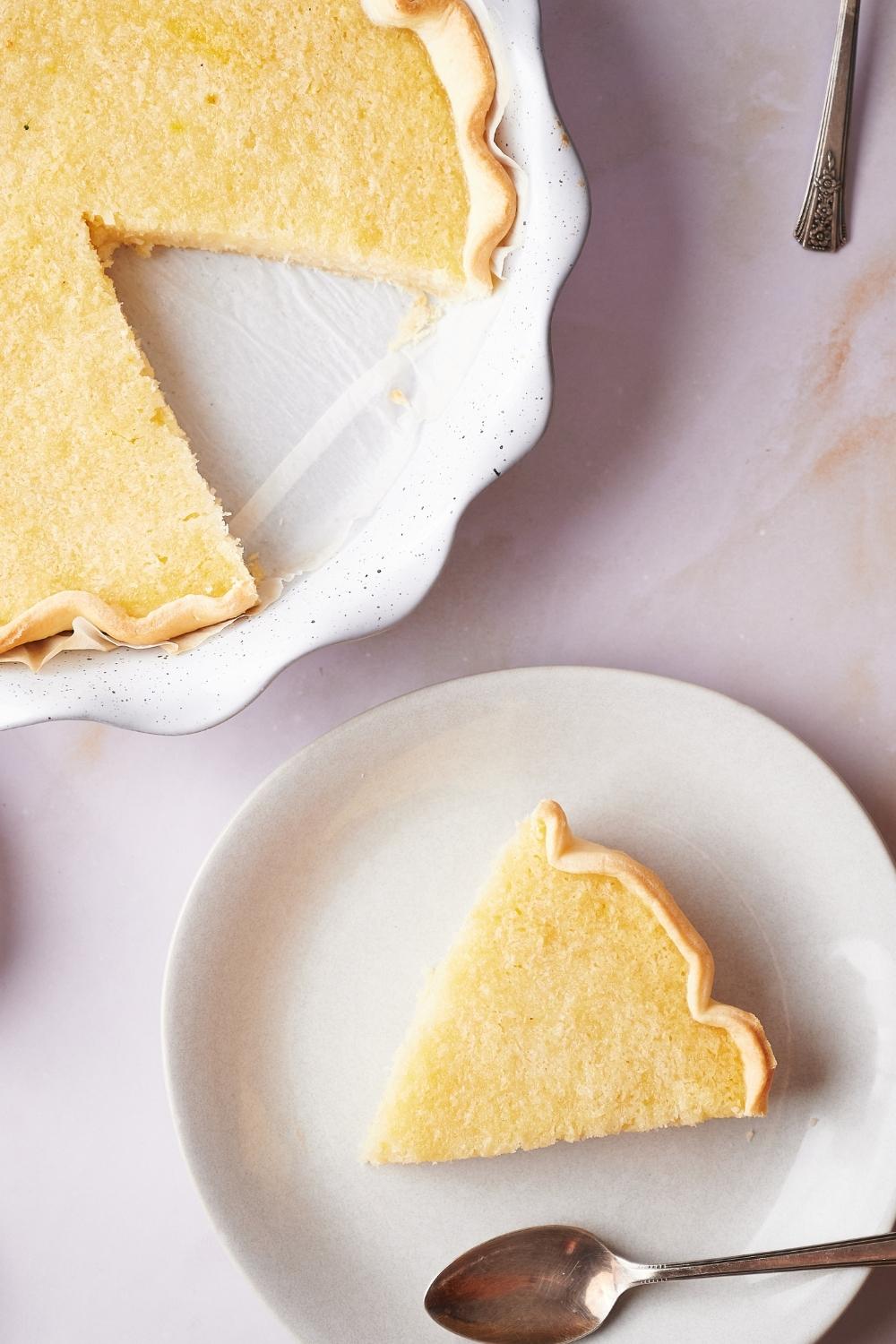 Ingredients
Now, aside from the main ingredient in this pie - the shredded sweetened coconut - every ingredient you'll need is a common one used in baking. Honestly, I bet you already have all of them in your kitchen - or pantry - already!
Anyway, here's what you'll need to make the best coconut cream pie recipe:
2 cups of shredded coconut
1 ¼ cups of whole milk
¾ cup of granulated sugar
2 beaten eggs
3 tablespoons of all-purpose flour
2 tablespoons of butter, melted
½ teaspoon of vanilla extract
1 unbaked 9-inch pie shell
See what I mean? Pretty basic ingredients, right?!
By the way, if you have all of these ingredients, you have just about everything you need to make this custard pie recipe. So, you might want to check that recipe out next.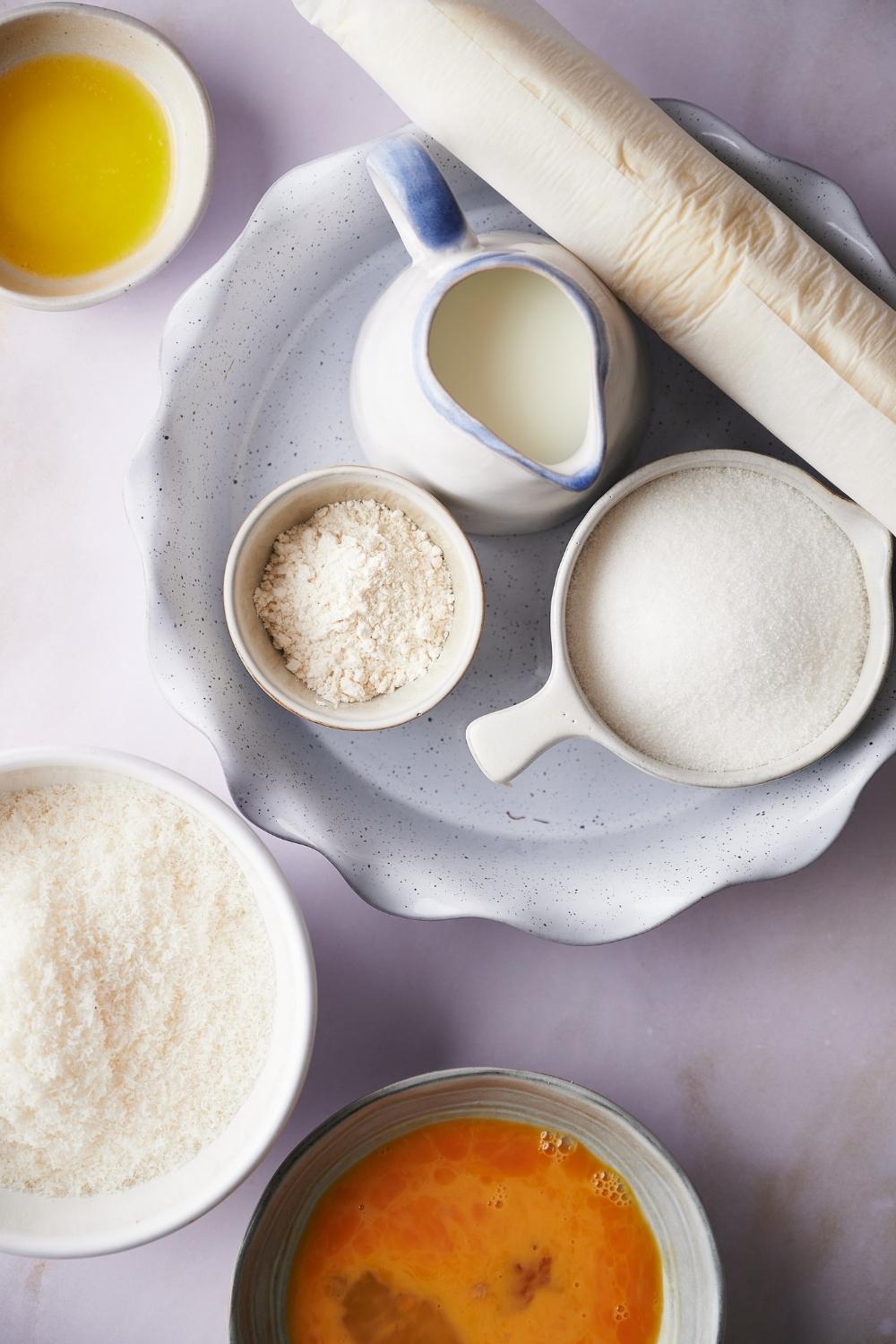 Ingredient Substitutions & Suggestions
While I recommend making this coconut pie recipe with the ingredients listed above, I do have suggestions for making substitutions if you're in a pinch.
With that said, I like to use a store-bought pie crust to save some time making this coconut pie. But, of course, you can definitely use a homemade pie crust for it if you'd like.
As for the coconut, I like to use sweetened coconut flakes to enhance the sweet flavors. But, you can also use unsweetened coconut flakes if you don't have as much of a sweet tooth. Or, if you're using sweetened coconut flakes - and you don't have a huge sweet tooth - you can use a little less granulated sugar to help balance the sweetness level of the pie out as well.
Now, if you want to get really fancy, you can use toasted coconut flakes! Toasting them brings out an even deeper, richer coconut flavor and it gives the pie a nice crunch too.
Lastly, if you don't want to use whole milk, you can use coconut milk - or any nut milk really - to elevate the coconut flavors of the pie.
Anyway, if you have your ingredients ready, let's get baking!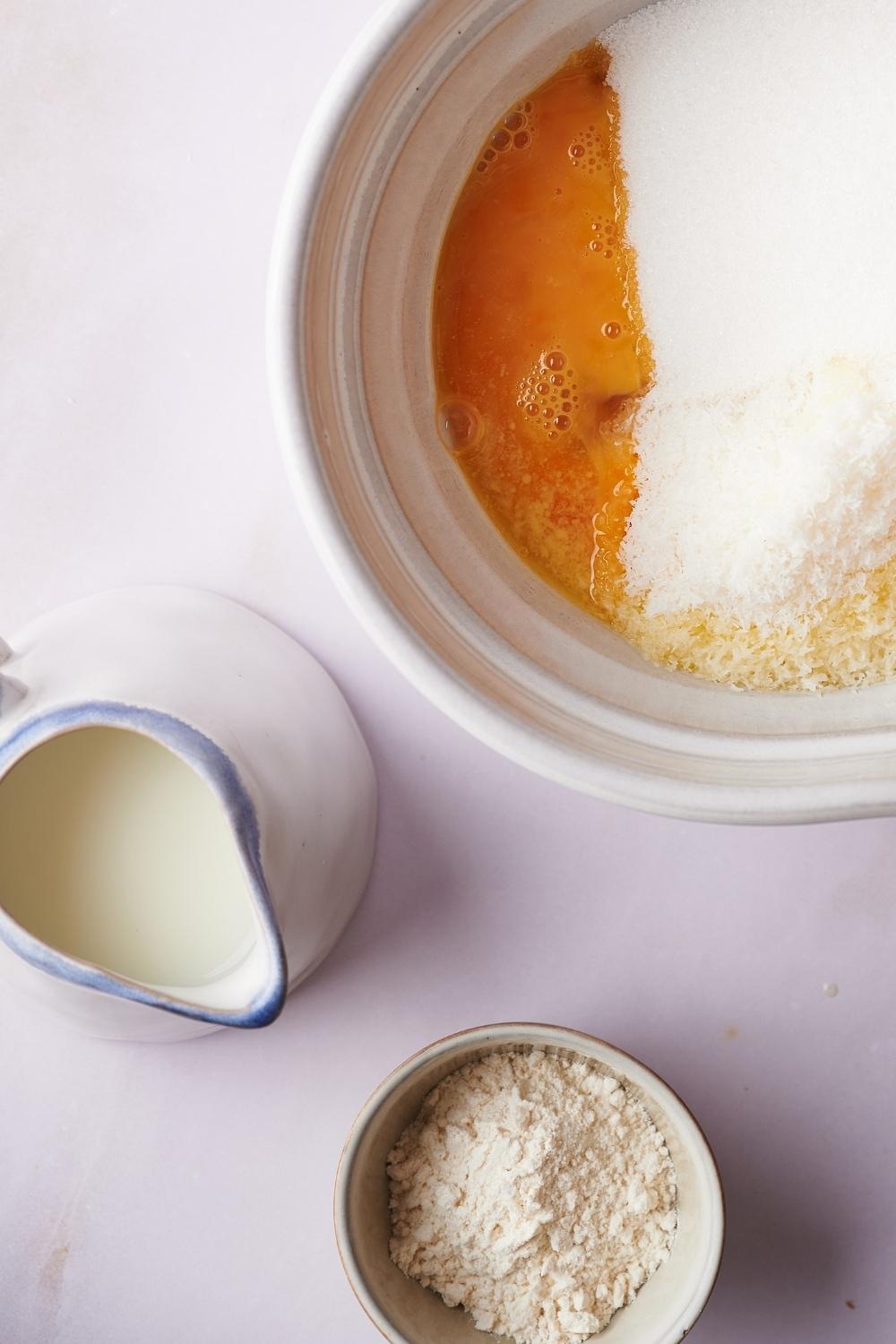 How to Make Coconut Pie
As I've mentioned a few times, this coconut pie recipe is as easy as it gets to make.
Aside from the few minutes it'll take you to prep the pie, the only thing you have to do is sit back and relax while the oven does all of the cooking. So, if you're looking for a dessert recipe to make with kids, this pie gets my vote. In fact, I make this pie all of the time with my 2-year-old daughter and she always has so much fun.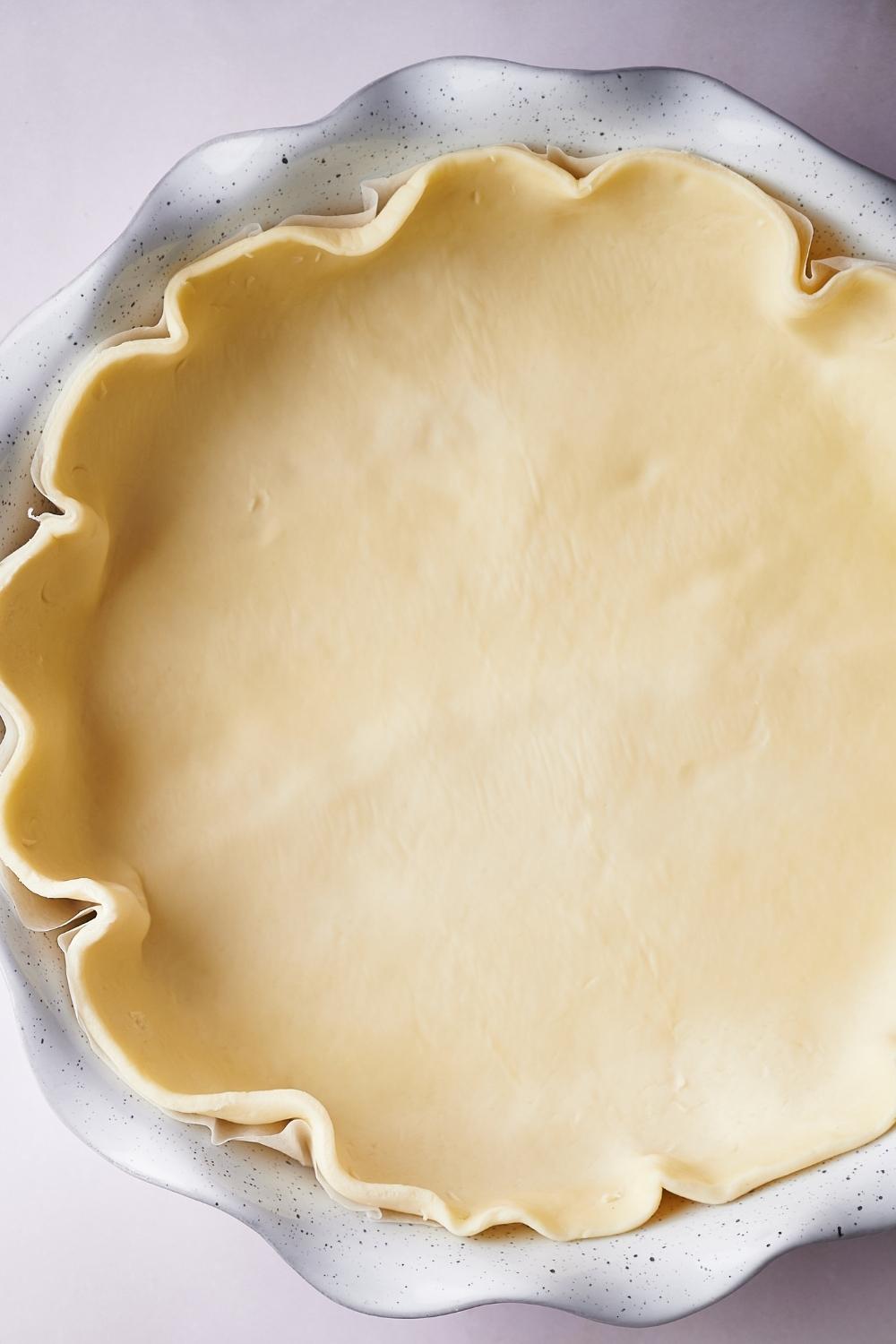 Step 1: Prepare The Pie Crust
First things first, preheat your oven to 350°F (180°C).
Then, while the oven is heating up, go ahead and grab your pie dish and give it a quick coat of cooking spray or butter.
Next, unroll the pie crust over the prepared pie dish, and press the crust into the bottom and the sides of the dish. And, just so you know, how you prepare your pie crust is totally up to you. I like to do a simple crimp on the edges of my pies. I think it gives them an elevated look, and it only takes a few extra minutes. But, with that said, you can also press the edges with a fork, and the crust will still turn out great.
Now, once the pie crust is good to go, you can set it aside for later and move on to the coconut pie filling.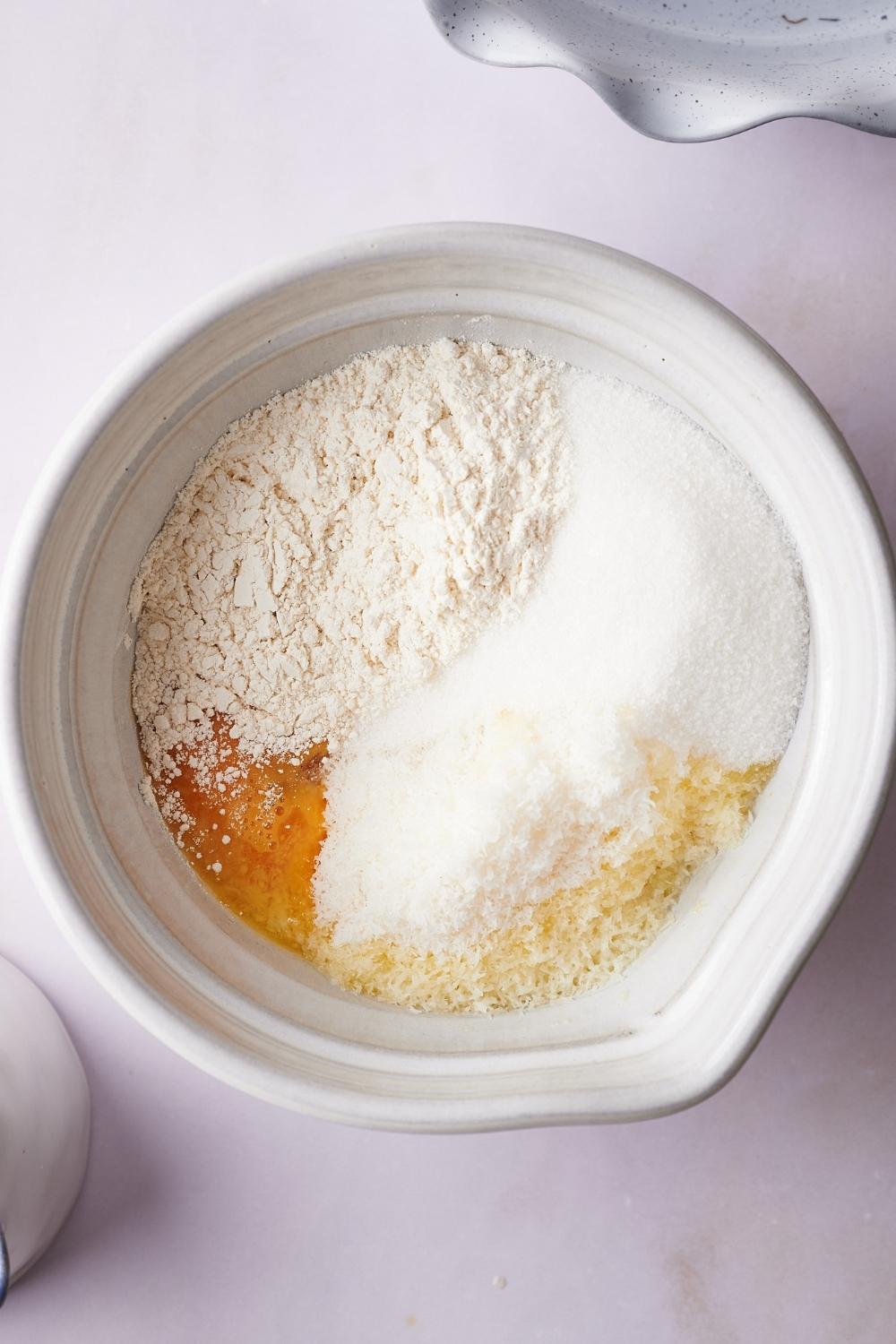 Step 2: Mix the filling
Now, to make the filling, you'll want to take out a large mixing bowl and add the eggs, milk, sugar, unsweetened or sweetened coconut, flour, and vanilla extract to it.
Then, use a rubber spatula to mix everything together until well combined, and you have a smooth filling.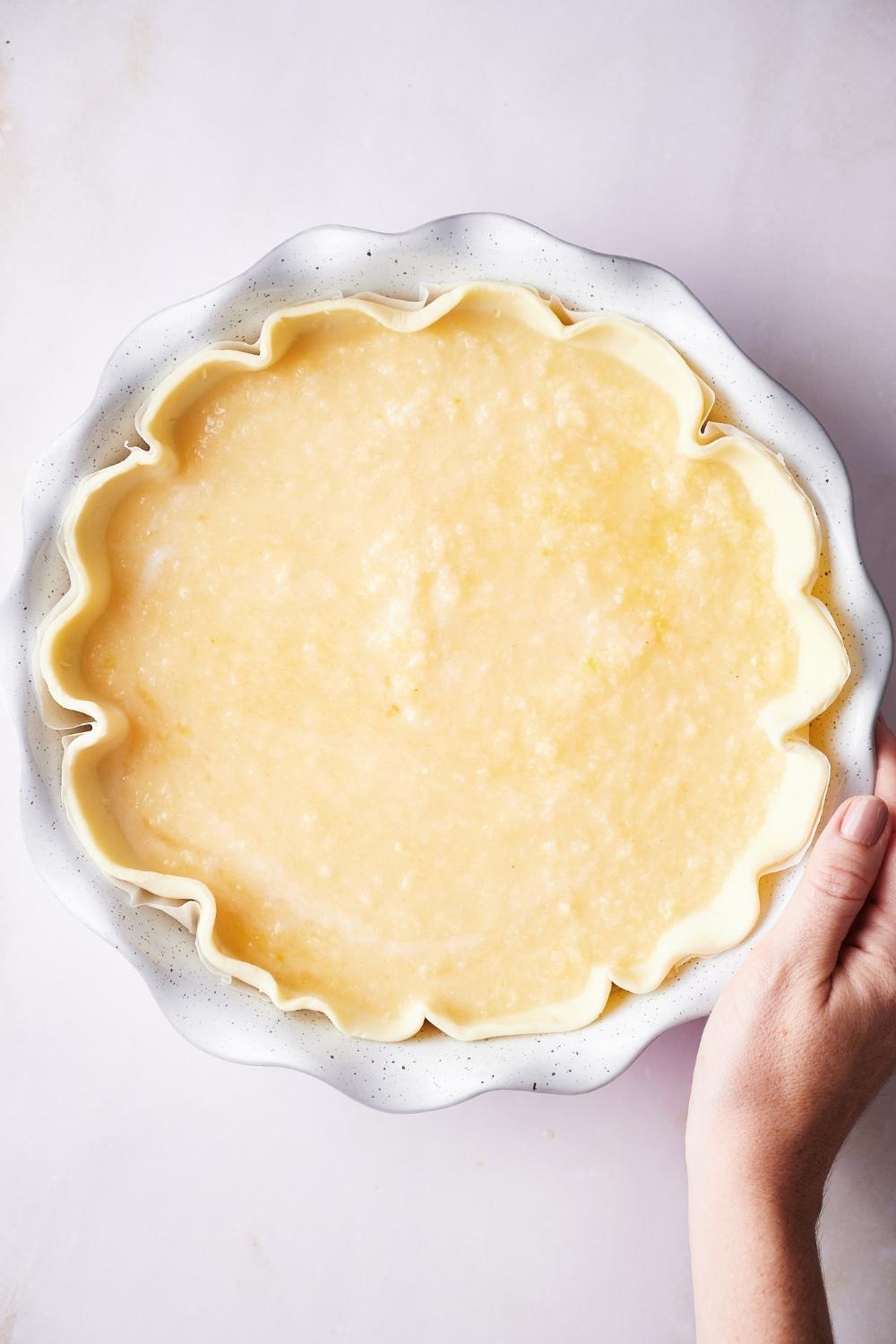 Step 3: Bake The Coconut pie
So, once the filling ingredients are completely combined you can pour them evenly into the unbaked pie crust. Then, you can tap the pie dish on the counter a few times to get rid of any air bubbles and ensure the filling is even.
Next, put the coconut pie in the oven and bake for about 50 to 60 minutes - or until the filling is firm and the pie crust golden brown.
With that said, you'll know the pie is ready when you can stick a toothpick in the center of it, and it comes out clean.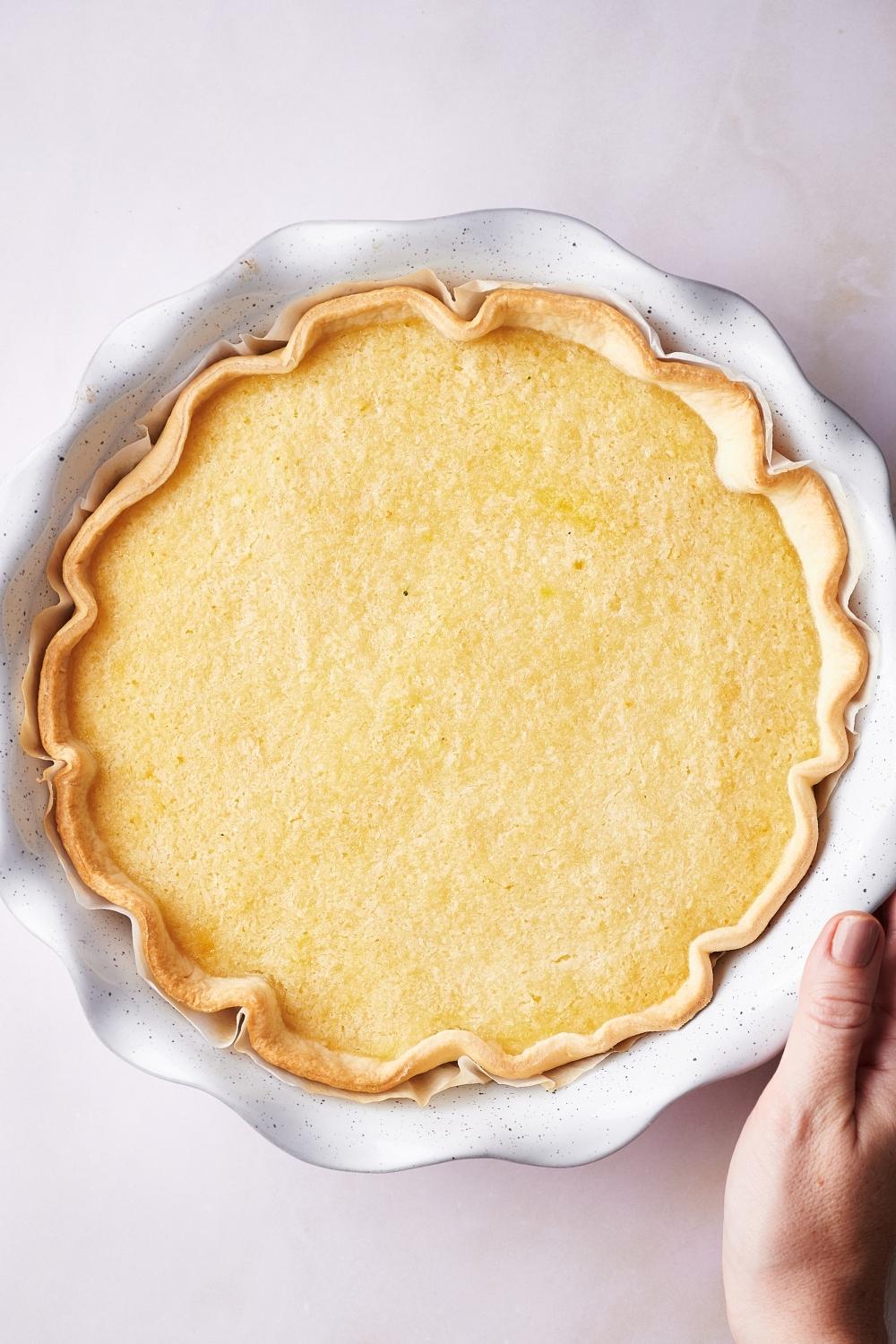 Step 4: Let it cool and Serve
Now, once the pie is baked to perfection, you can transfer it to a wire rack to let it cool completely. Then, once your pie is cooled, it's time to slice it and serve! With that said, I like to refrigerate it overnight when I make this pie. I think it's best served chilled.
Anyway, I recommend slicing your coconut pie into about 8 slices and then topping it with whipped cream or cool whip right before you serve it.
Also, if you want to take this dessert to another level of deliciousness, you can serve each slice with a little vanilla ice cream on the side. My wife absolutely loves doing that when we make it.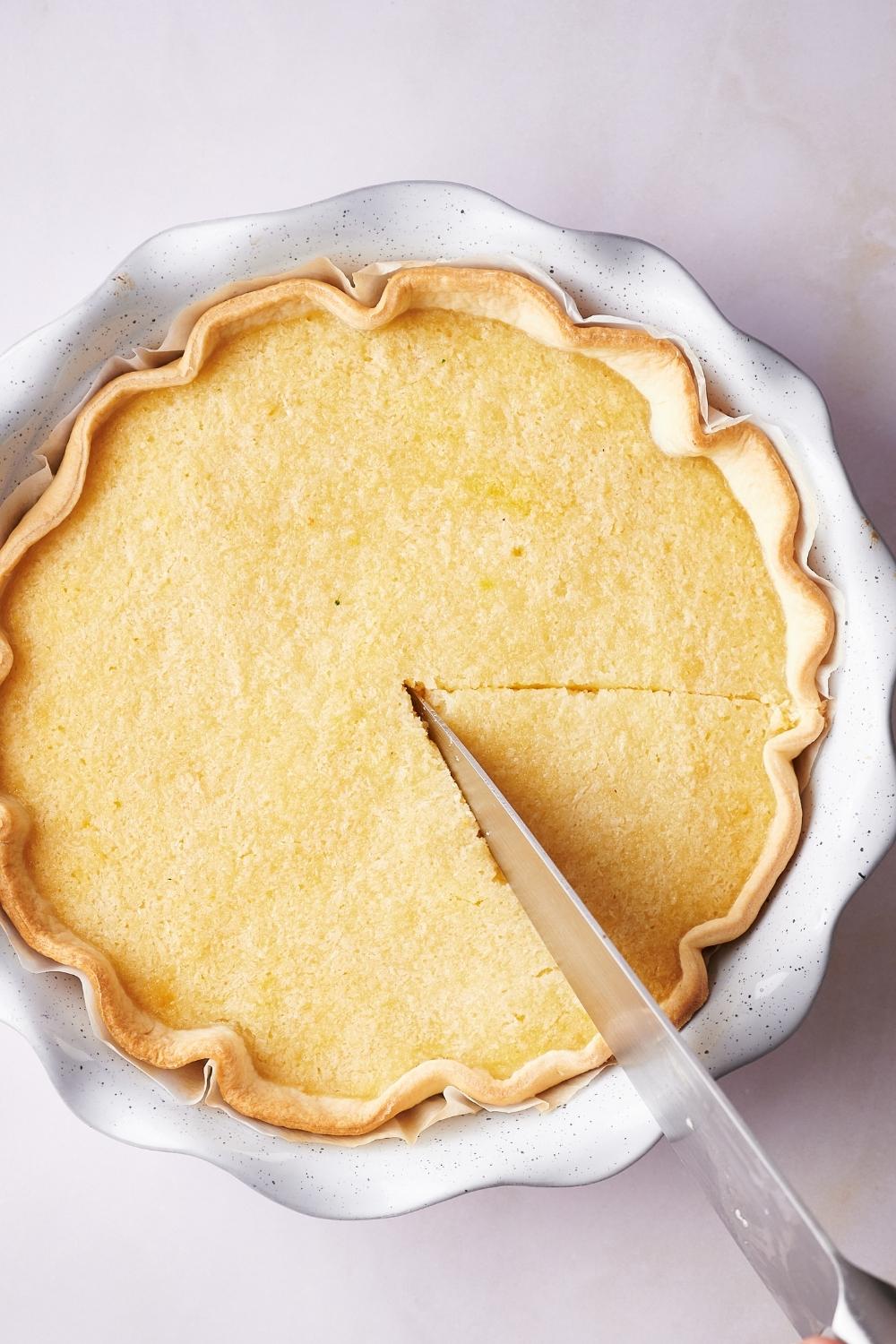 How to Store Coconut Pie
This recipe for coconut pie will make about 8 slices, depending on how you cut it. And although this coconut pie is terrific served fresh, it's actually really good leftover too. So you might want to try to save a few slices for later in the week!
Now, if you end up having leftovers, you can either wrap the pie dish tightly with plastic wrap and store it in the fridge like that, or you can transfer the slices to an airtight container and refrigerate them in there. Stored both of these ways, the pie will stay good for up to 4 days.
By the way, if you want to keep the pie for even longer, you can freeze it for up to 6 months.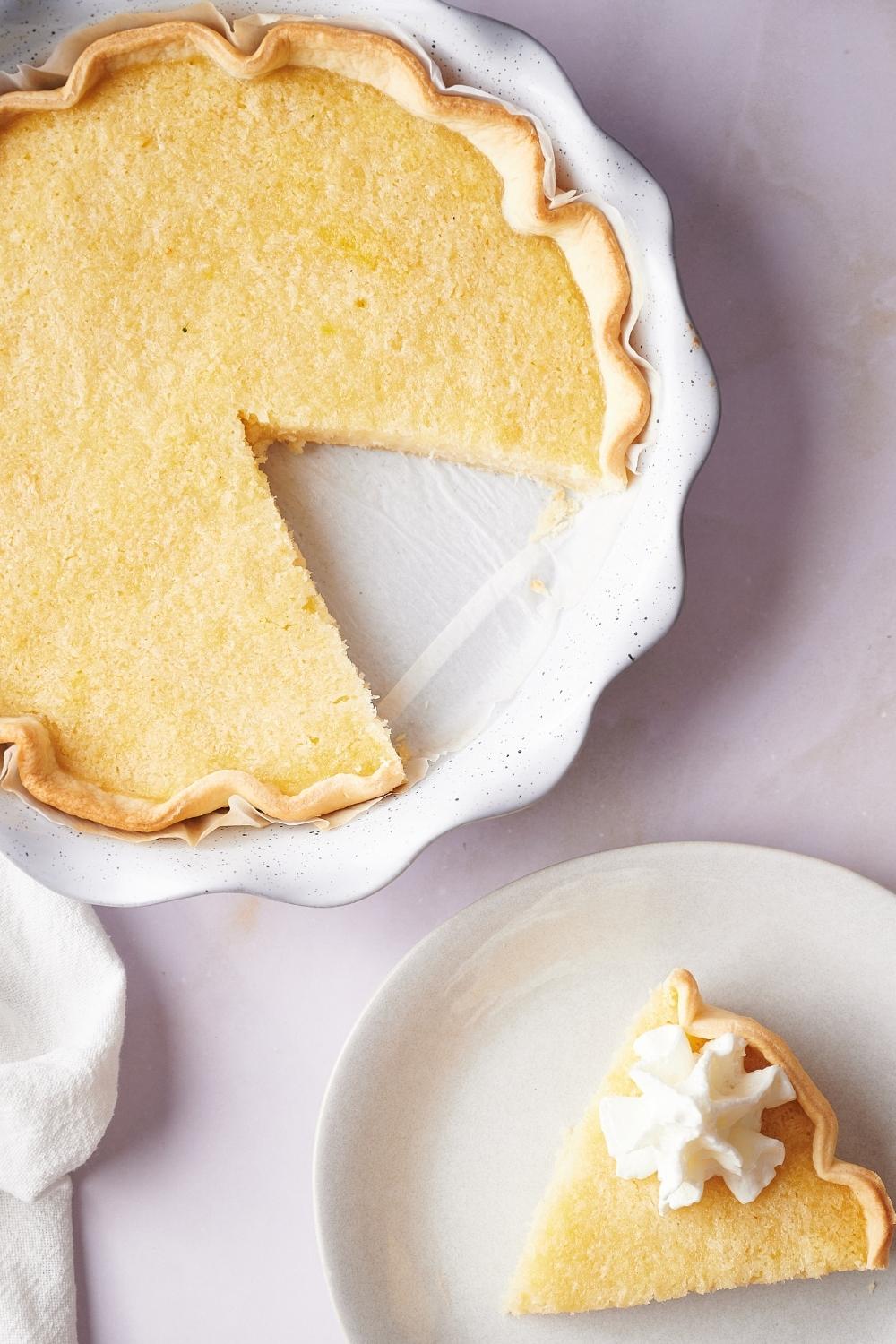 FAQs About This Coconut Pie Recipe
What Can I Serve with Coconut Pie
This coconut pie is really delicious on its own, but it actually goes really well with a variety of things!
Here are some of my favorite things to serve with coconut pie:
Whipped cream

Cool whip

Vanilla ice cream

Chopped nuts, like pecans or almonds

A drizzle of caramel or chocolate sauce

Fresh berries or this tasty strawberry compote

More toasted coconut
Can I Make Coconut Pie Ahead?
Yes, you can make coconut pie ahead of time! You can actually make the entire pie just as the recipe instructs above. Then, instead of eating it immediately after baking it, you can store it in the fridge - or freezer - until you're ready to eat it. The pre-made pie will stay good in the fridge for around 4 days, but in the freezer, it will stay good for up to 2 months.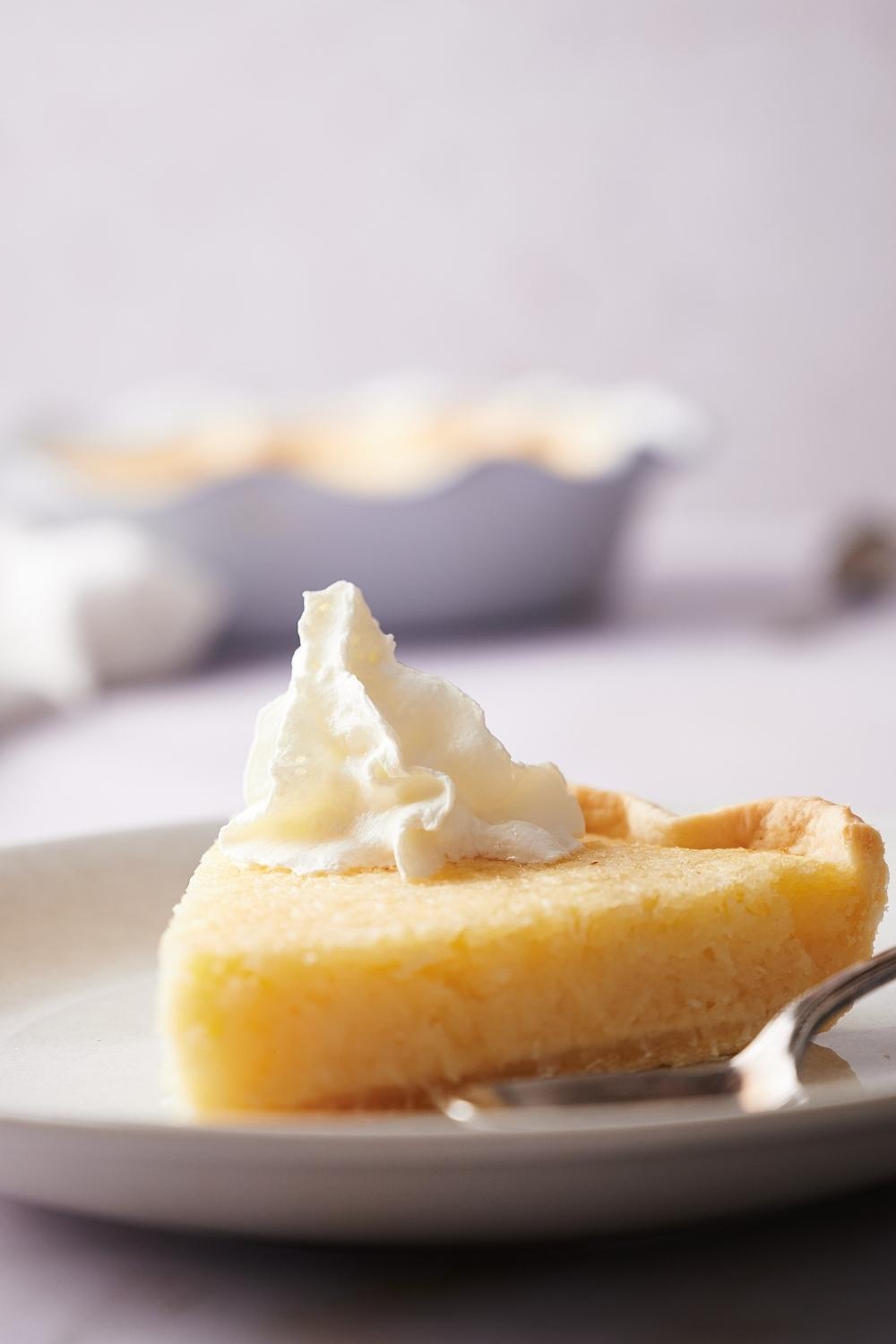 Wrapping It All Up
Well, that is how to make coconut pie!
How easy was that? You can have a whole coconut pie, from start to finish, in just about an hour and pretty much all of that is hands-off cooking.
Seriously, this coconut pie tastes absolutely amazing, and everyone I've made it for just falls in love with it. I don't know if it's the texture of the pie filling or the sweet yet subtle coconut flavor, but something about it is just so, so good.
Anyway, I hope you like this easy coconut recipe as much as I/we do. If you make it, be sure to let me know what you thought about it in the comments below!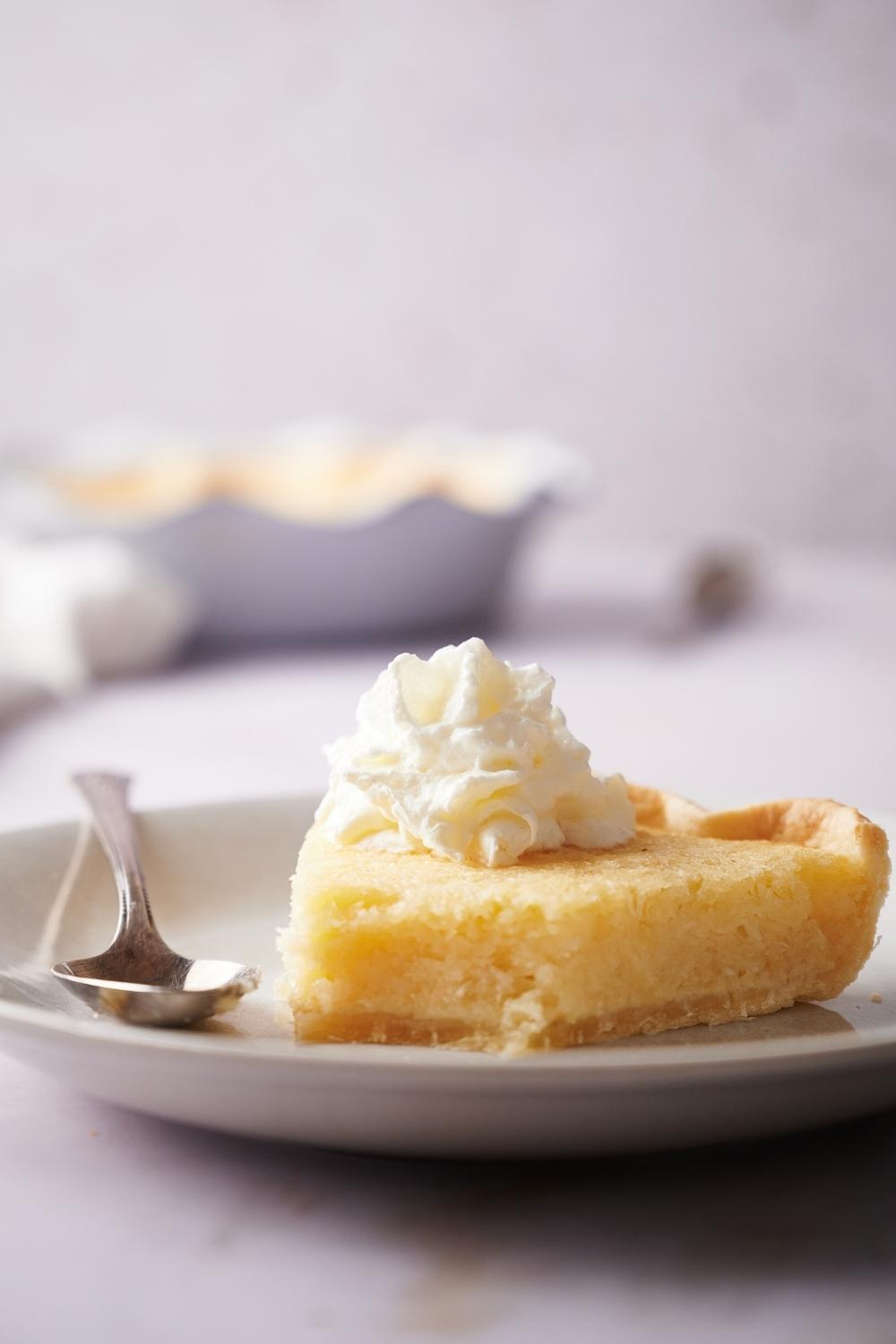 More Pie Recipes
If you liked how easy and delicious this recipe was, we have a ton of other pie recipes on the blog that you have to try next!
Here are some of our most popular ones:
Oh, and for more easy desserts, check out our Instagram, YouTube, and TikTok. We post new ones on them every single day.
Print
The BEST Coconut Pie Recipe | Just 5 Minutes Of Prep Work Needed
This coconut pie recipe is so rich, creamy, and coconutty. And it's just so, so delicious too. It has the taste and texture of rich custard and it's flecked with shredded coconut and encased in a buttery, flaky pie crust. It's an old-fashioned pie that is made with just a handful of simple ingredients. And, best of all, it takes just 5 minutes to prep.
Author:
Prep Time:

5 minutes

Cook Time:

50 minutes

Total Time:

55 minutes

Yield:

8

slices

1

x
Category:

Dessert

Method:

Oven

Cuisine:

Pie
Instructions
Preheat the oven to 350°F (180ºC).

In a large mixing bowl, combine milk, sugar, coconut, eggs, flour, and vanilla, and mix until well combined.

Grease a pie dish and unroll the pie shell over it. Crimp the edges of the pie crust.

Pour the mixture over the pie crust.

Bake for 50-60 minutes or until it sets. You will know it's ready when inserting a toothpick in it comes out clean.

Let the pie sit on a wire rack until it cools, then slice and serve.
Nutrition
Serving Size:

1 slice

Calories:

440

Fat:

22

Carbohydrates:

55

Protein:

6
Keywords: coconut pie, coconut pie recipe, how to make coconut pie, best coconut pie recipe, coconut pie recipe easy, easy coconut pie recipe, how do you make coconut pie, sweetened coconut pie, sweetened coconut pie recipe