If you're craving a hearty meal this beef pot pie recipe is the best thing you can possibly make! A delicately flakey & buttery pie crust holds a delicious filling of juicy tender beef and freshly cooked vegetables. And in less than 1 hour you'll have a filling dinner that will please even the pickiest eater's taste buds.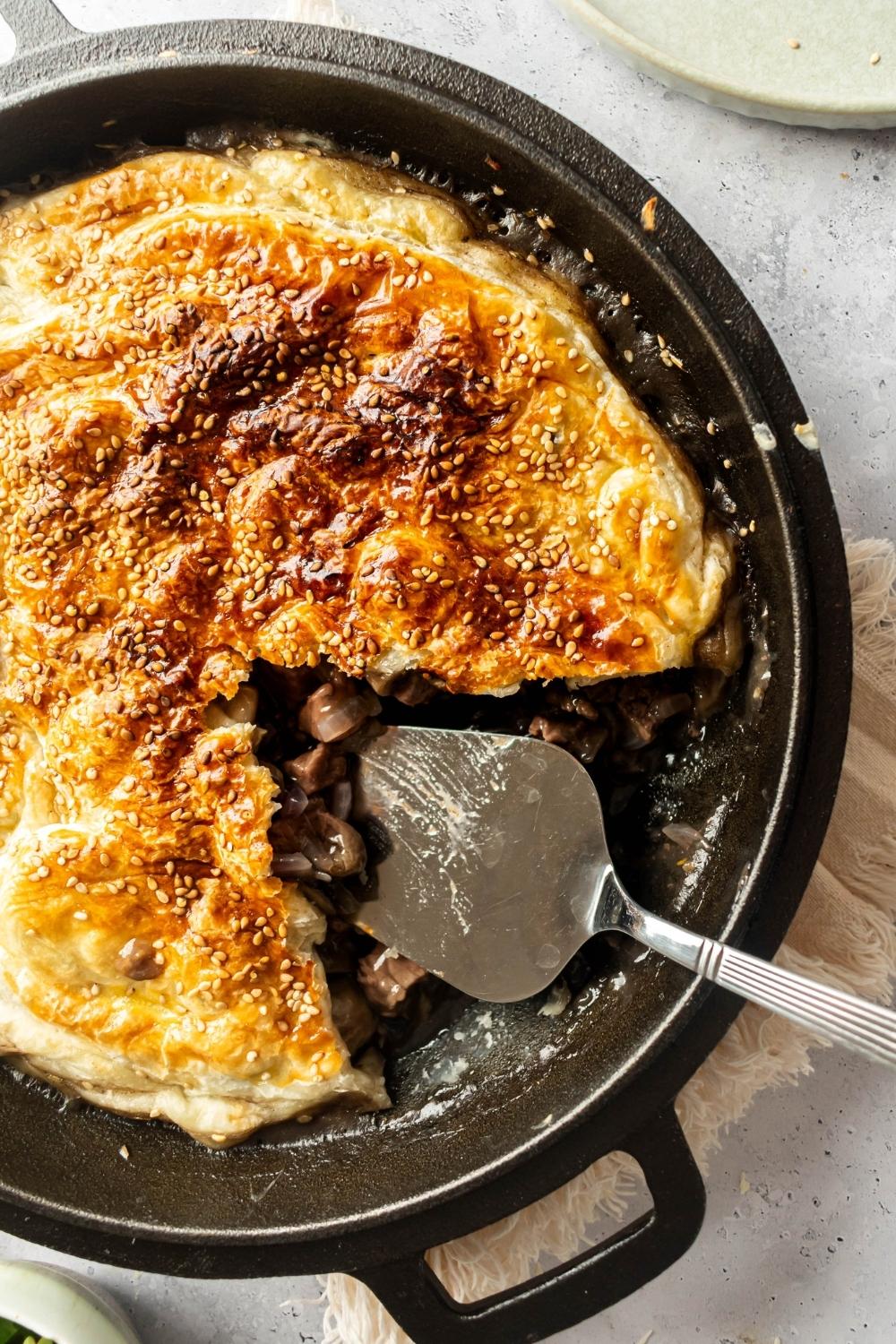 The Best Beef Pot Pie
This beef pot pie recipe is so easy to whip up and makes plenty for the entire family! It has a delicious spice blend of seasonings that immerses you in a flavorful, comforting homemade dinner experience.
And along with the tasty flavors, this beef pot pie recipe is filled with tender beef and wholesome veggies, encased in a flakey, golden pie crust. It kind of reminds me of chicken pot pie and is just as delicious.
Also, as I alluded to earlier, if you make this beef pot pie for dinner on weeknights for the family everyone is sure to leave the table satisfied. Atleast that always seems to be the case in our house.
Not to mention, it's perfect for chilly nights or the holidays when you're looking for a cozy meal.
Really, it's the best recipe for any occasion that calls for a hearty dish that will leave everyone perfectly full.
By the way, to make this beef pot pie recipe even better, you can serve it with a side of these crack green beans, honey glazed brussel sprouts, or southern cornbread. All are fantastic sides that amplify the deliciousness of the pot pie.
Now, having said all of that, let's move on to the list of ingredients.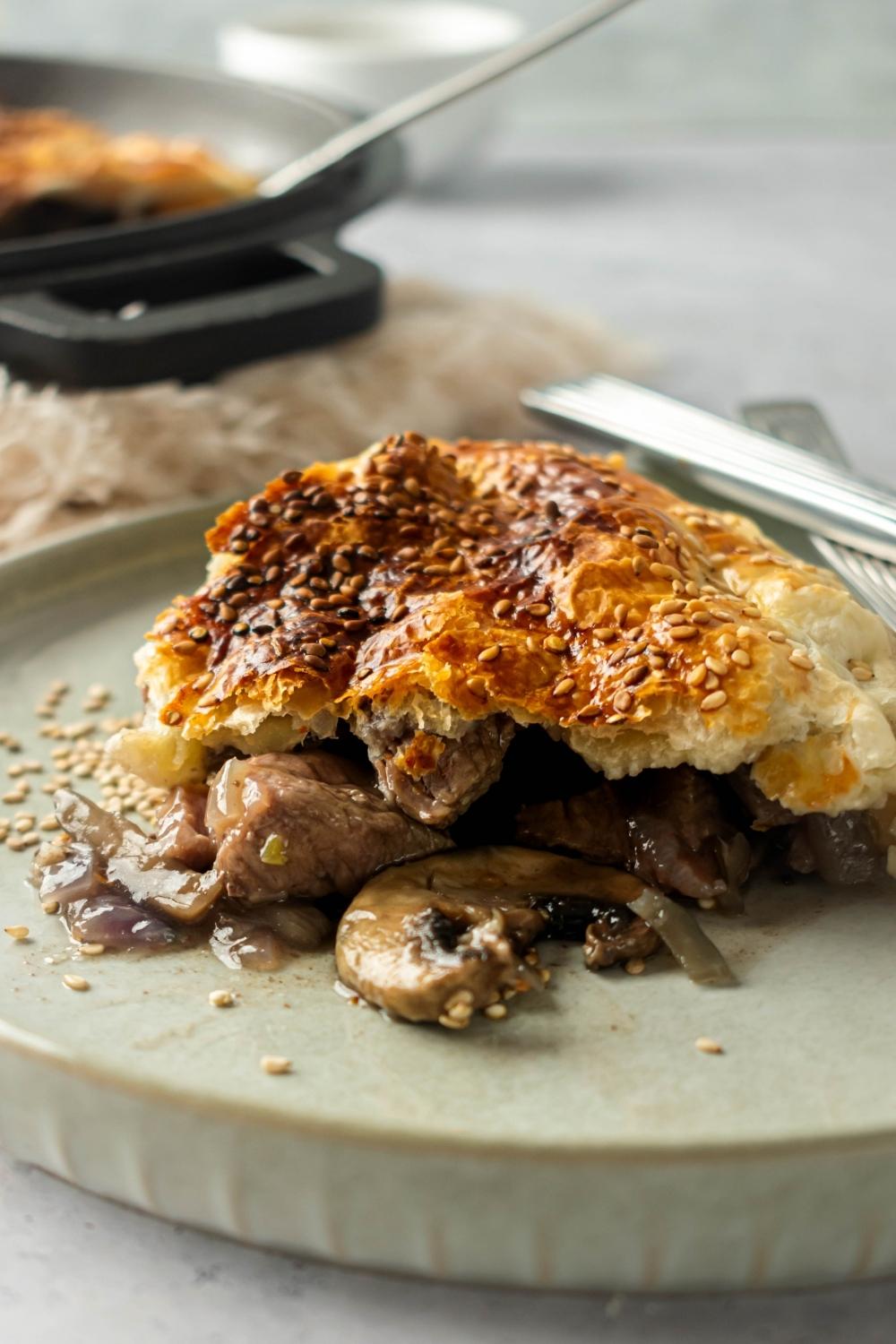 Ingredients
Like I said before, this recipe makes a deliciously hearty pot pie in less than 1 hour.
And it also uses pretty simple ingredients, most of which you might have at home already. So, don't be intimidated by the long list.
Anyway here's what you'll need for the filling:
1 pound beef chuck-eye roast, cut into beef cubes
1 tbsp. Dried Rosemary
Salt and pepper
2 tbsp. Olive Oil
2 cups Cremini Mushroom, sliced
1 red onion, finely chopped
1 Garlic Clove
½ cup Red Wine
3 tbsp. Cornstarch, dissolved in 3 tbsp. of water
2 cups Beef Broth
1 tbsp. Worcestershire Sauce
1 tbsp. Dried Thyme
And here's what you'll need for the crust:
1 Egg, beaten
1 Puff Pastry Sheet
¼ cup Sesame Seeds
And that's all you need to make this absolutely delicious beef pot pie recipe.
While you can make the pie dough yourself, buying a puff pastry dough premade certainly makes this recipe much easier and quicker.
As for the beef, chuck-eye roast works best, but if there's something you prefer more, you can use that instead. But if you're grabbing the chuck-eye roast, pick some extra to use to make these birria tacos next!
Then for the filling, I like to use mushrooms and onions as the main vegetables in this beef pot pie recipe. But feel free to add in some other vegetables like carrots, green beans, peas, celery, or potatoes.
To save time, you can even use a vegetable mix with frozen corn, carrots, and asparagus.
Now that you know exactly what you need, let's get to making our beef pot pie.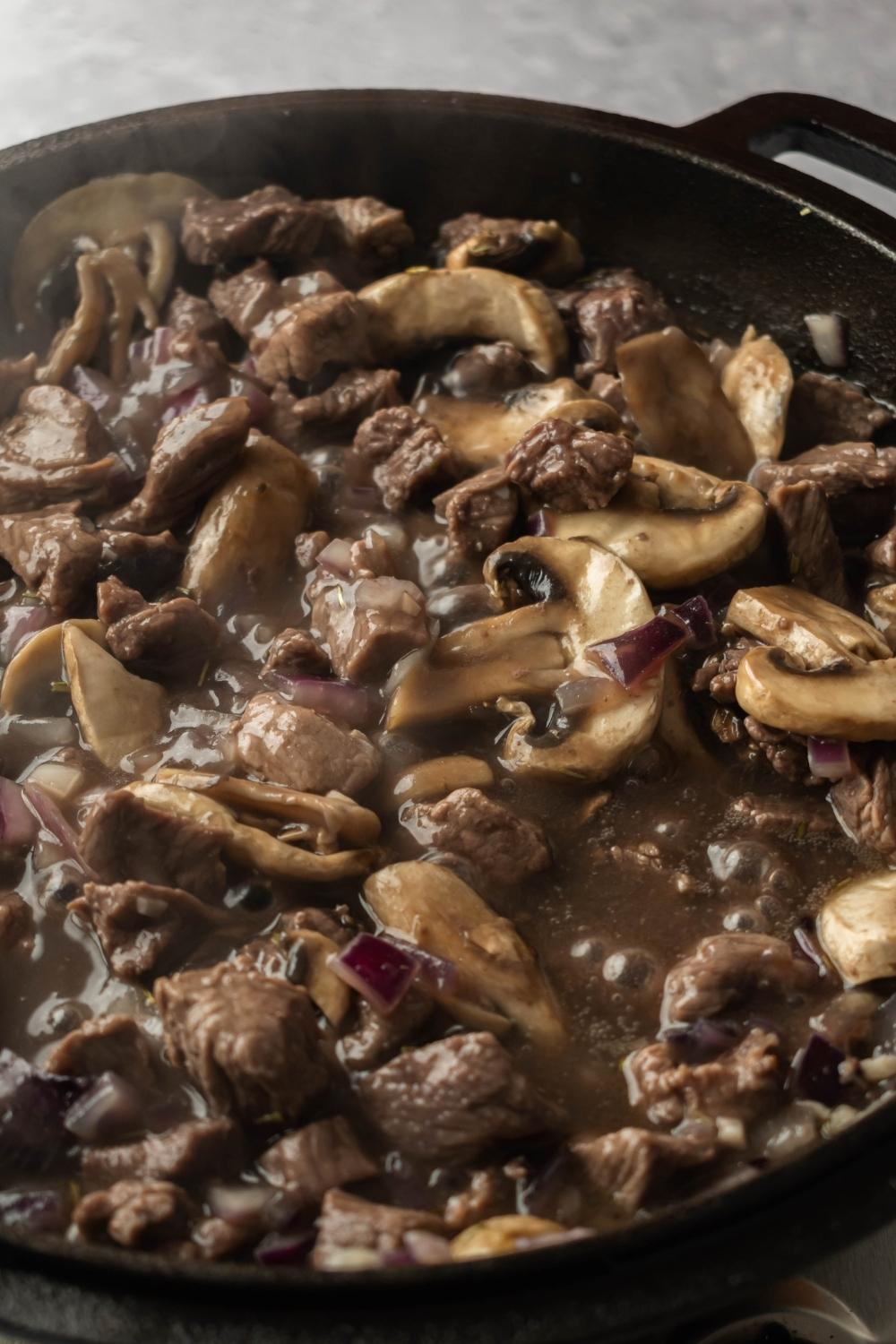 How to Make Beef Pot Pie
Ok, so even though there is a number of ingredients needed for this recipe, the process of making this beef pot pie is not at all complicated.
It takes just a few easy steps with the oven doing most of the hard work. And while it's baking in the oven, you can make one of those delicious sides I mentioned earlier.
Now, let's get into how to make the best beef pot pie!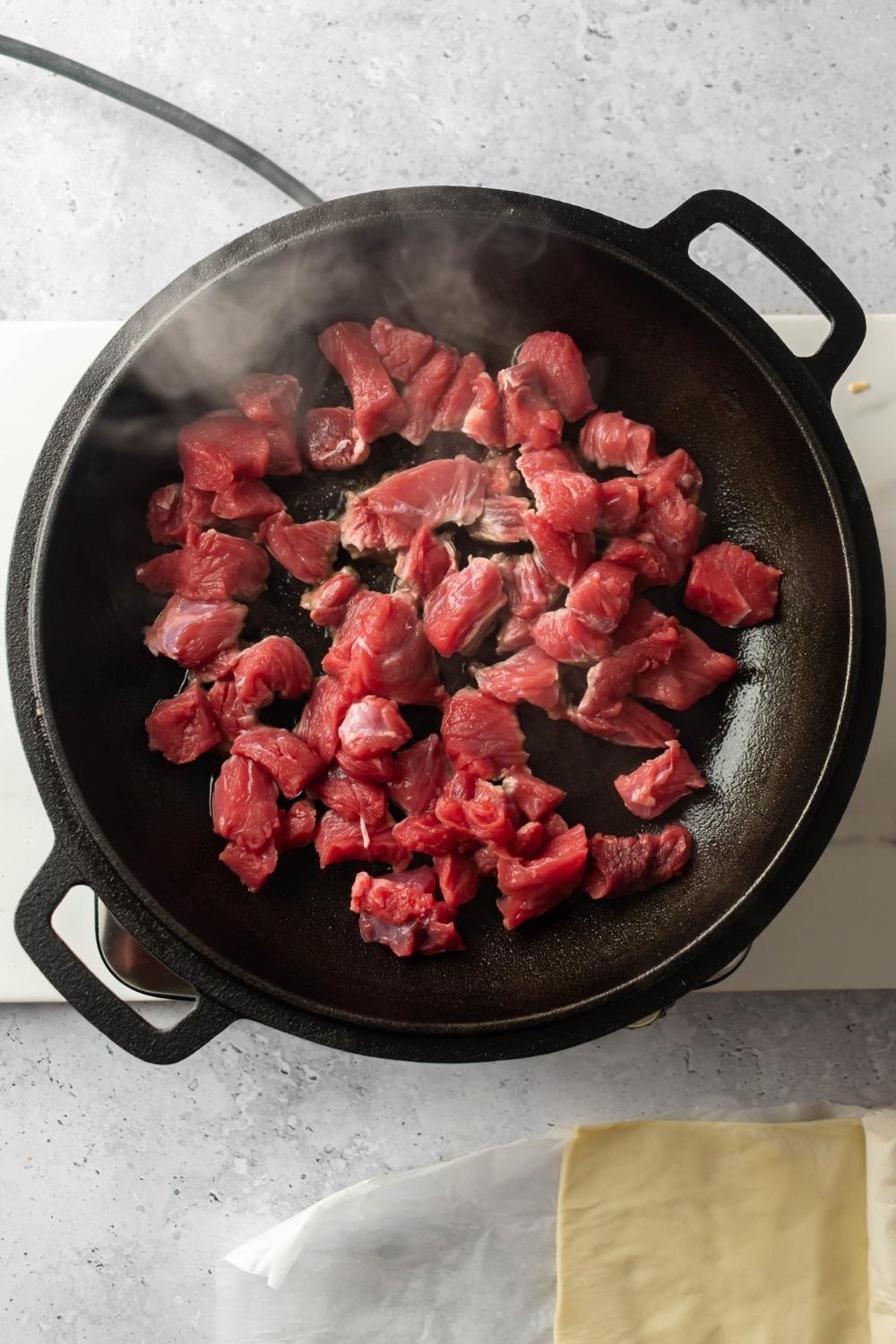 Step 1: Cooking the Beef
Before anything else, turn the oven to 350°F (180°C) so it's ready to go for later.
Then, get out a dutch oven - or any oven-safe pot - heat it on medium-high heat, and coat the surface with olive oil.
Once the oil is hot- not smoking - add in the cubed beef chuck-eye roast. Then, right away, you're going to season the meat with salt, pepper, and thyme.
Now cook the beef for a few minutes until it just browns on each side.
Now, while the beef is cooking, you'll want to dissolve the cornstarch in the water.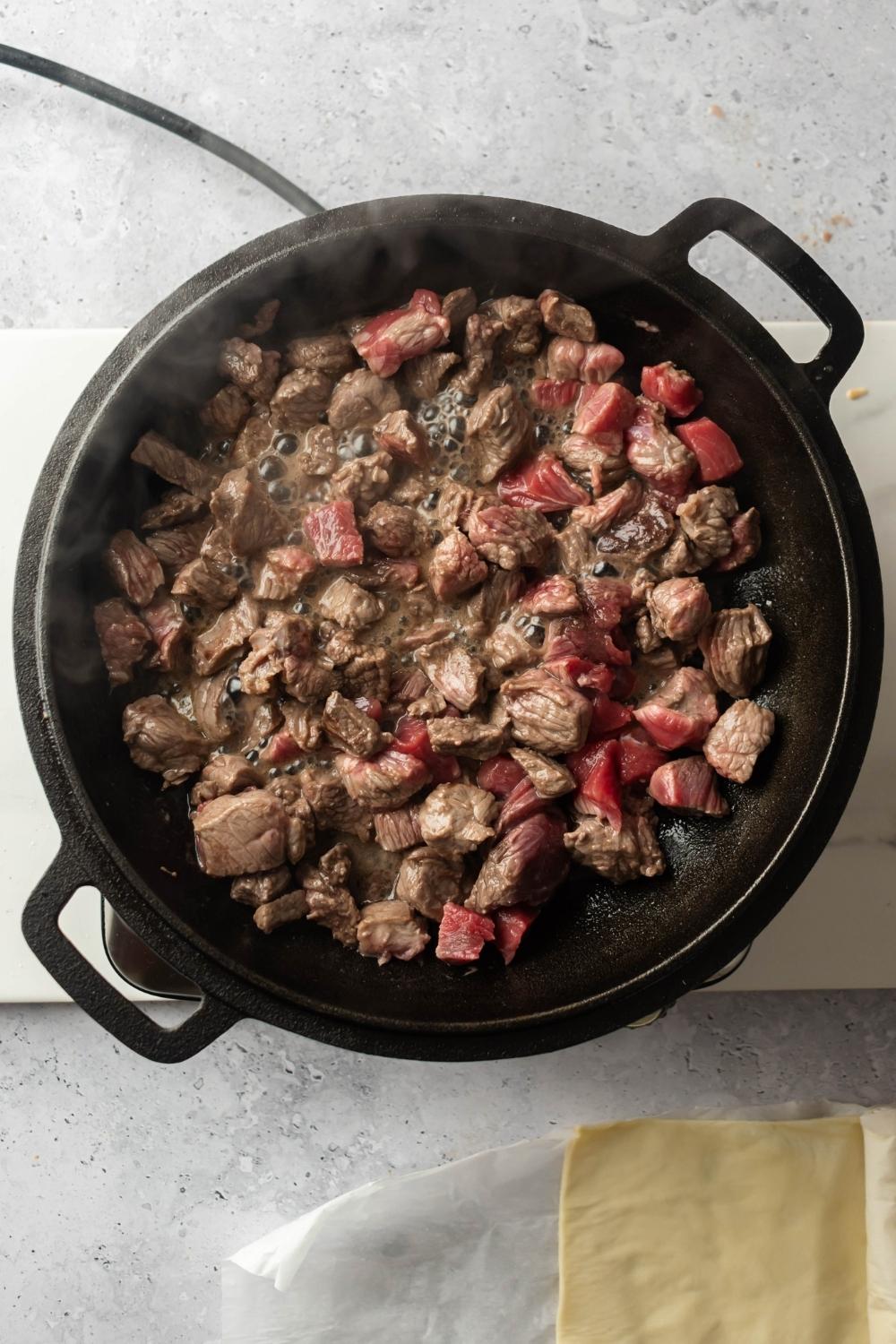 Step 2: Making the Filling
Once the beef is cooked, add the diced onion, garlic, and sliced mushrooms to the pan and sauté for 1-2 minutes. This will make sure that all the flavors combine and the vegetables soak in the beef mixture flavor.
After that, pour the dissolved cornstarch mixture, red wine, Worcestershire sauce, and beef broth into the skillet.
Let the beef mixture cook for a few more minutes until it thickens. Then, add more salt and pepper to taste.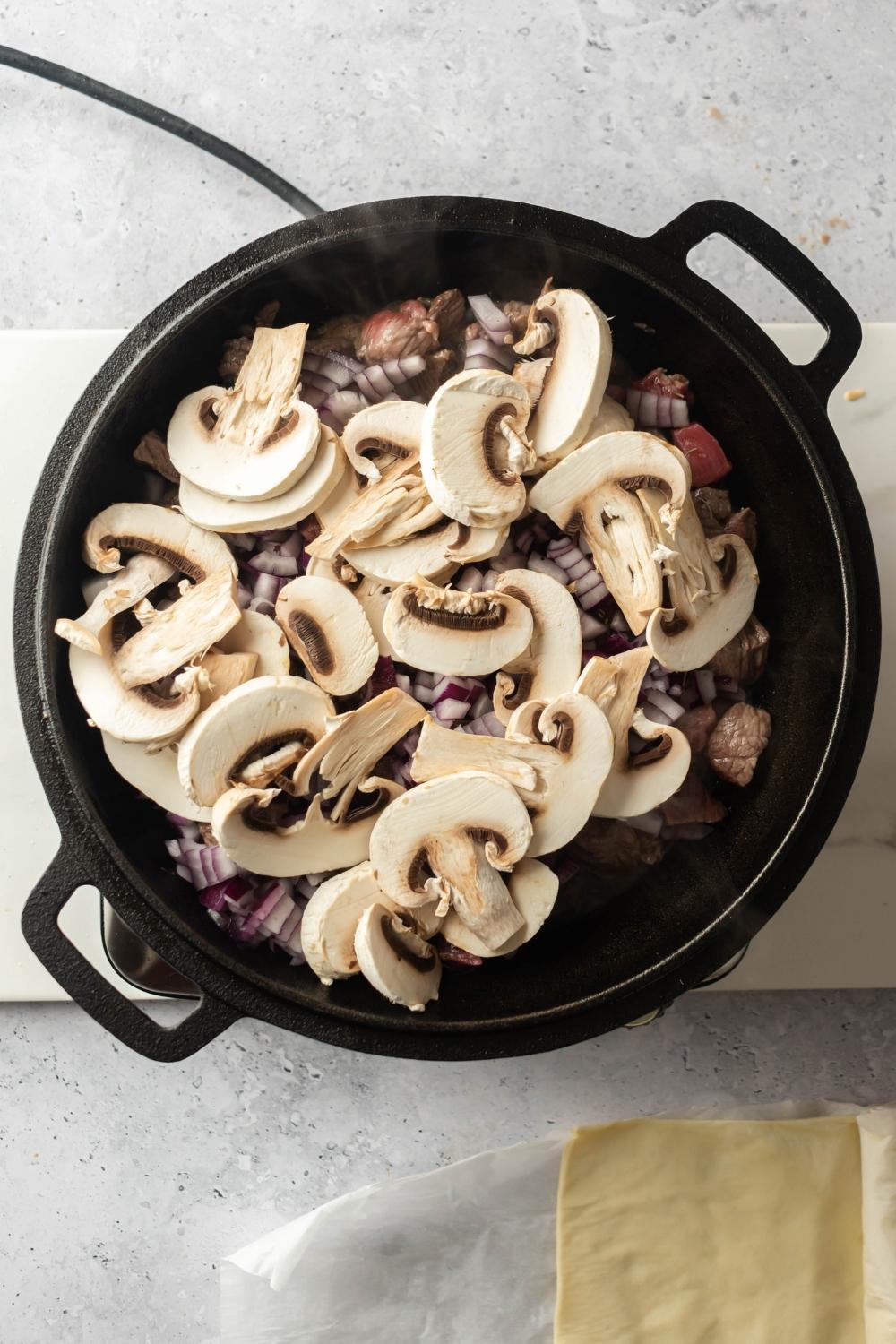 Step 3: Assembling the pie
Now, if you are making this recipe with a top and bottom crust, roll out the puff pastry over a baking dish so that the dough overhangs edges. Then, lightly pat the dough into the shape of the baking dish and cut the excess dough around the rim.
For only a top crust beef pot pie, roll the pie crust over the top of the filling in the skillet. Then tuck down the edges of the dough into the pot so that it covers the filling. And be super careful of the edges of the skillet because they will be very hot!
Next, beat an egg in a bowl to combine the whites with the yolks. Brush the egg evenly over the top of the crust and sprinkle the sesame seeds on top.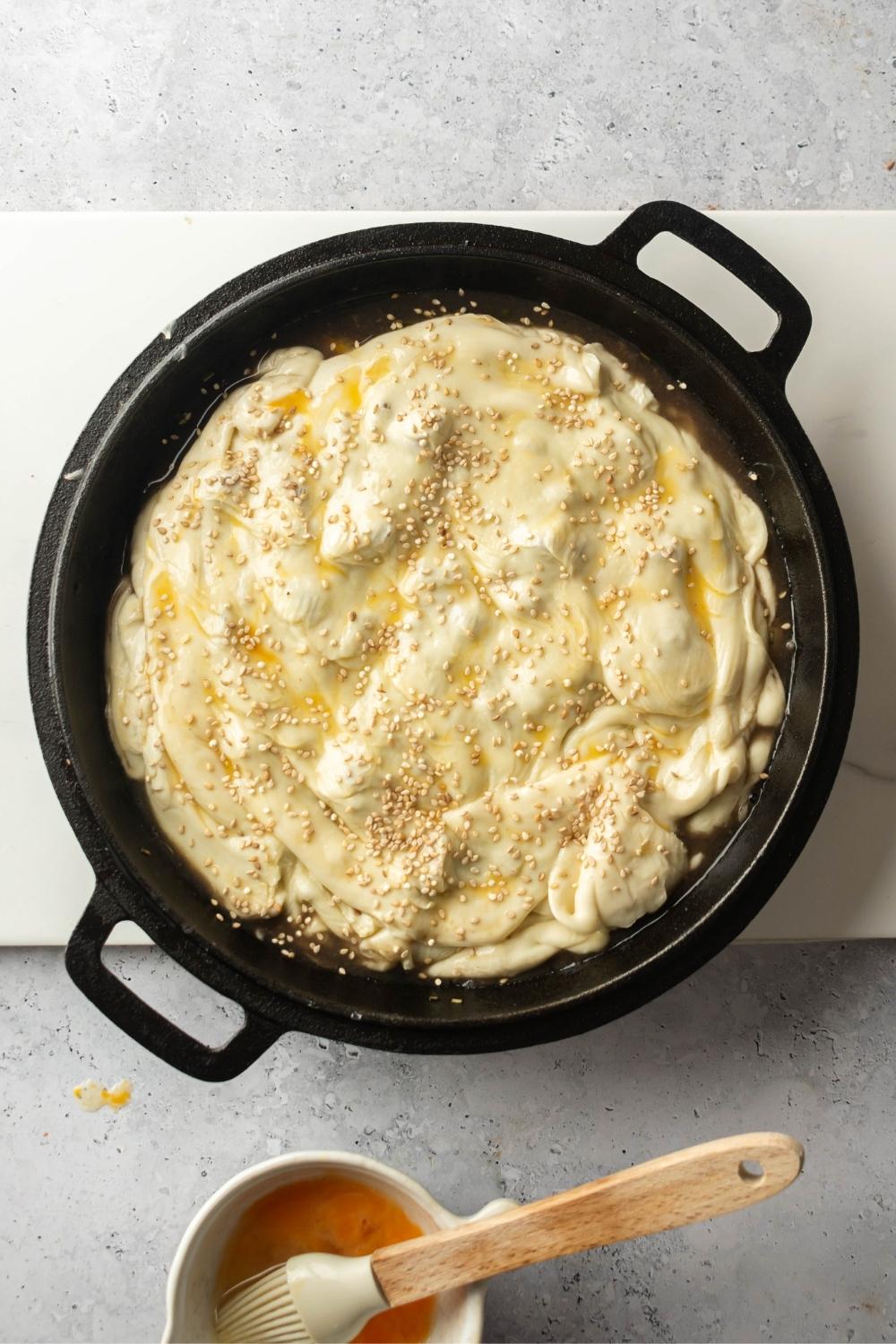 Step 4: Baking and Serving
Finally, in the preheated oven, bake the pot pie for about 20 minutes.
The cooking time will vary, especially if you're making a beef pot pie with the additional bottom crust. In any case, once the crust is golden brown on top, you can remove the pot pie from the oven.
Slice into about 8 slices, serve warm and enjoy!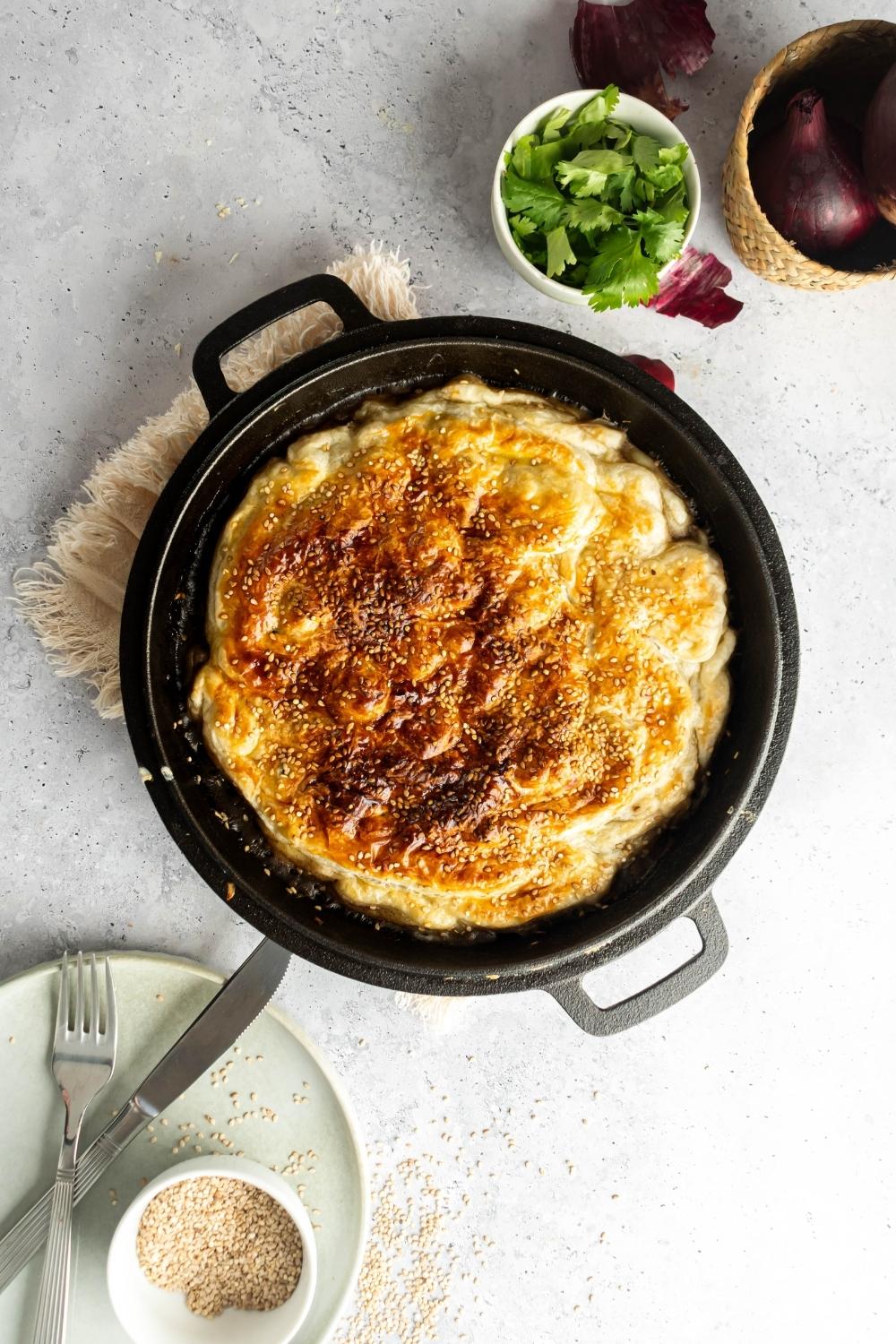 How to Store Beef Pot Pie
As I just mentioned, this beef pot pie recipe will make about 8 servings depending on how you cut it.
And, honestly, my family and I have finished an entire pie before, but if you have any leftovers, don't worry, they store well.
To store, let the beef pot pie cool completely, then transfer to an airtight container. The beef pot pie will stay goo in the refrigerator for 3-5 days.
Reheating Beef Pot Pie
The easiest way to reheat leftover beef pot pie is using the oven. Preheat the oven to 350°F and cover the beef pot pie in an oven-safe dish with aluminum foil.
Then, reheat for about 10 minutes or until it reaches your desired temperature.
You can also use the microwave for reheating refrigerated pot pie leftovers. Place the leftovers on a microwave-safe plate and microwave in 30-second increments or until the filling is heated all the way through.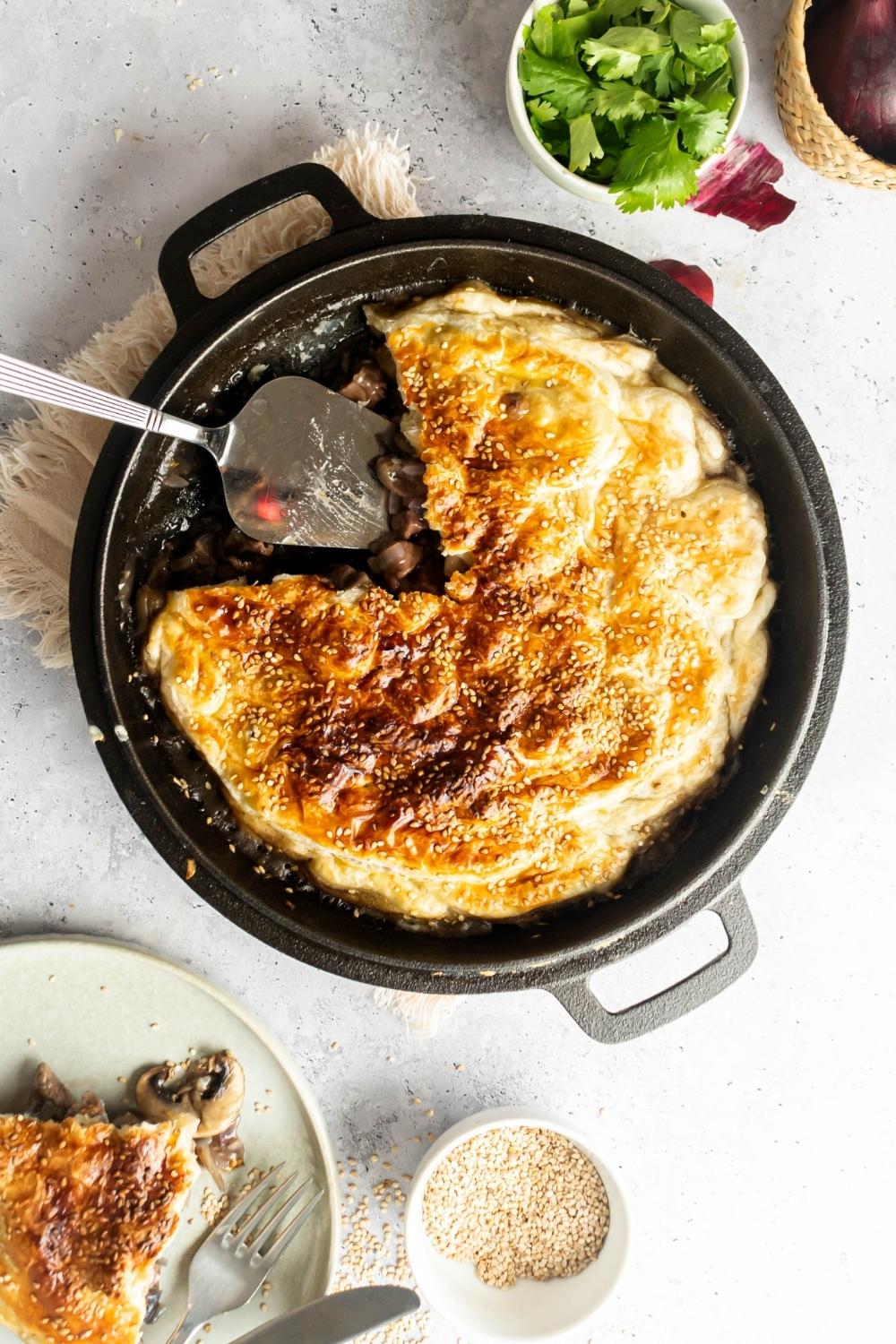 Wrapping It All Up
And that's how to make beef pot pie!
This beef pot pie recipe is loaded with flavor, makes a great meal to share, and is a delicious change of pace from typical weeknight meals.
I hope you enjoy this recipe as much as we do at our house!
As always, if you make it, leave a comment below and let me know what you think!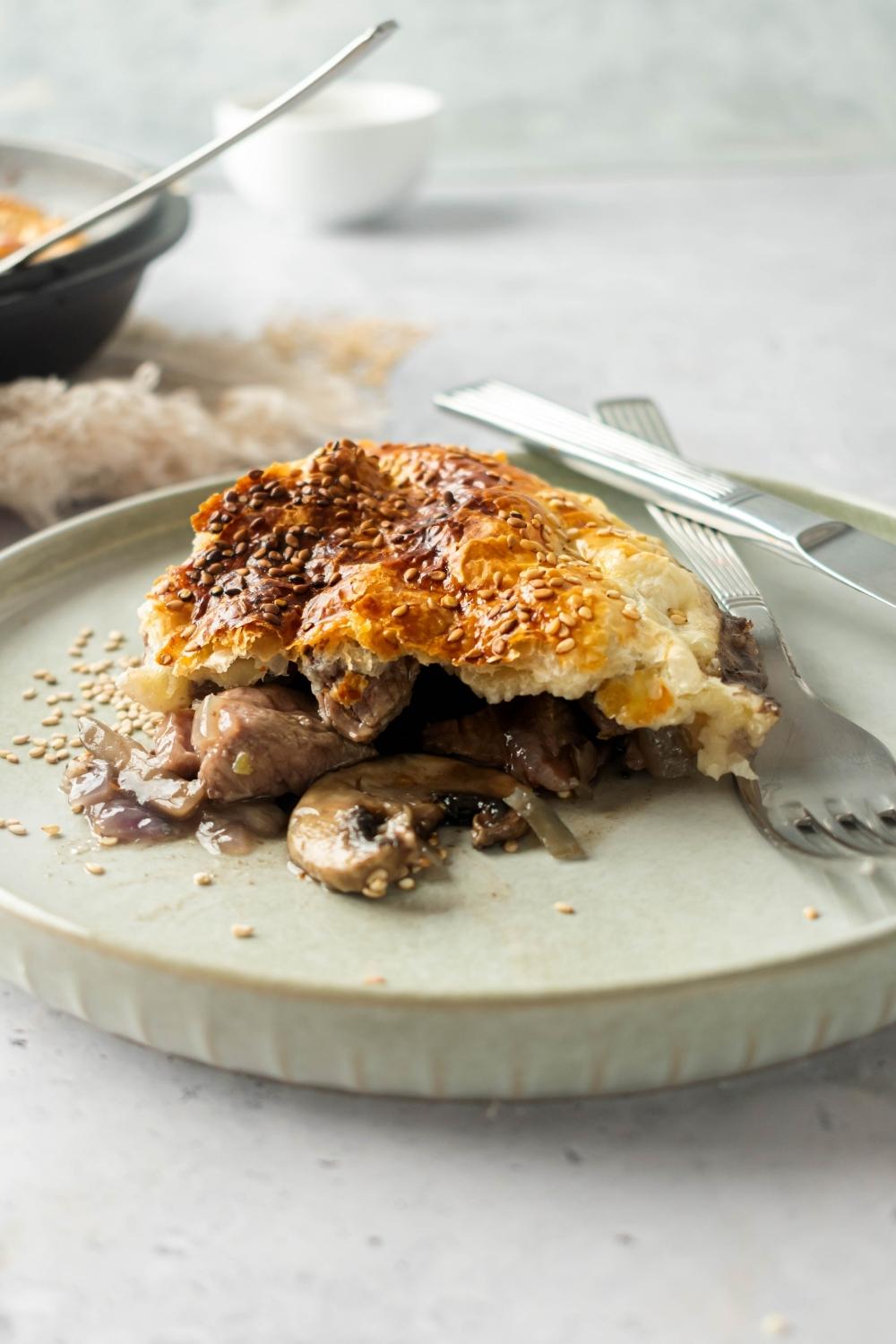 More Dinner Recipes
If you like this recipe, we have a ton of absolutely delicious dinner recipes on the blog that I think you'll like too.
Give one of these a try next:
Print
Beef Pot Pie Recipe
This beef pot pie is the best recipe to make if you're craving a hearty meal. A delicately flakey and buttery pie crust holds a delicious filling of juicy and tender beef with a mix of freshly cooked vegetables. In less than 1 hour you'll have a filling dinner that will please even the pickiest eater's taste buds.
Author:
Prep Time:

15 minutes

Cook Time:

20 minutes

Total Time:

35 minutes

Yield:

6

servings

1

x
Category:

Dinner

Method:

Oven

Cuisine:

Pot Pie
Filling: 
1 pound beef chuck-eye roast, cut into beef cubes
1 tbsp. Dried Rosemary
Salt and pepper
2 tbsp. Olive Oil
2 cups Cremini Mushroom, sliced
1 red onion, finely chopped
1 Garlic Clove
½ cup Red Wine
3 tbsp. Cornstarch, dissolved in 3 tbsp. of water
2 cups Beef Broth
1 tbsp. Worcestershire Sauce
1 tbsp. Dried Thyme
Crust:
1 Egg, beaten
1 Puff Pastry Sheet
¼ cup Sesame Seeds
Nutrition
Serving Size:

1 serving

Calories:

228

Fat:

12

Carbohydrates:

10

Protein:

16
Keywords: beef pot pie, beef pie, meat pie, beef pot pie recipe, how to make beef pot pie, beef pot pie with puff pastry, beef pot pie recipe easy, beef pot pie recipe puff pasty, beef pot pie recipe with pie crust,