These healthy, no butter, vegan biscuits are soft flakey and so delicious! And, quite honestly, these might just be the best vegan biscuits you ever make! Plus, you only need a few pantry staples to whip up half a dozen of them.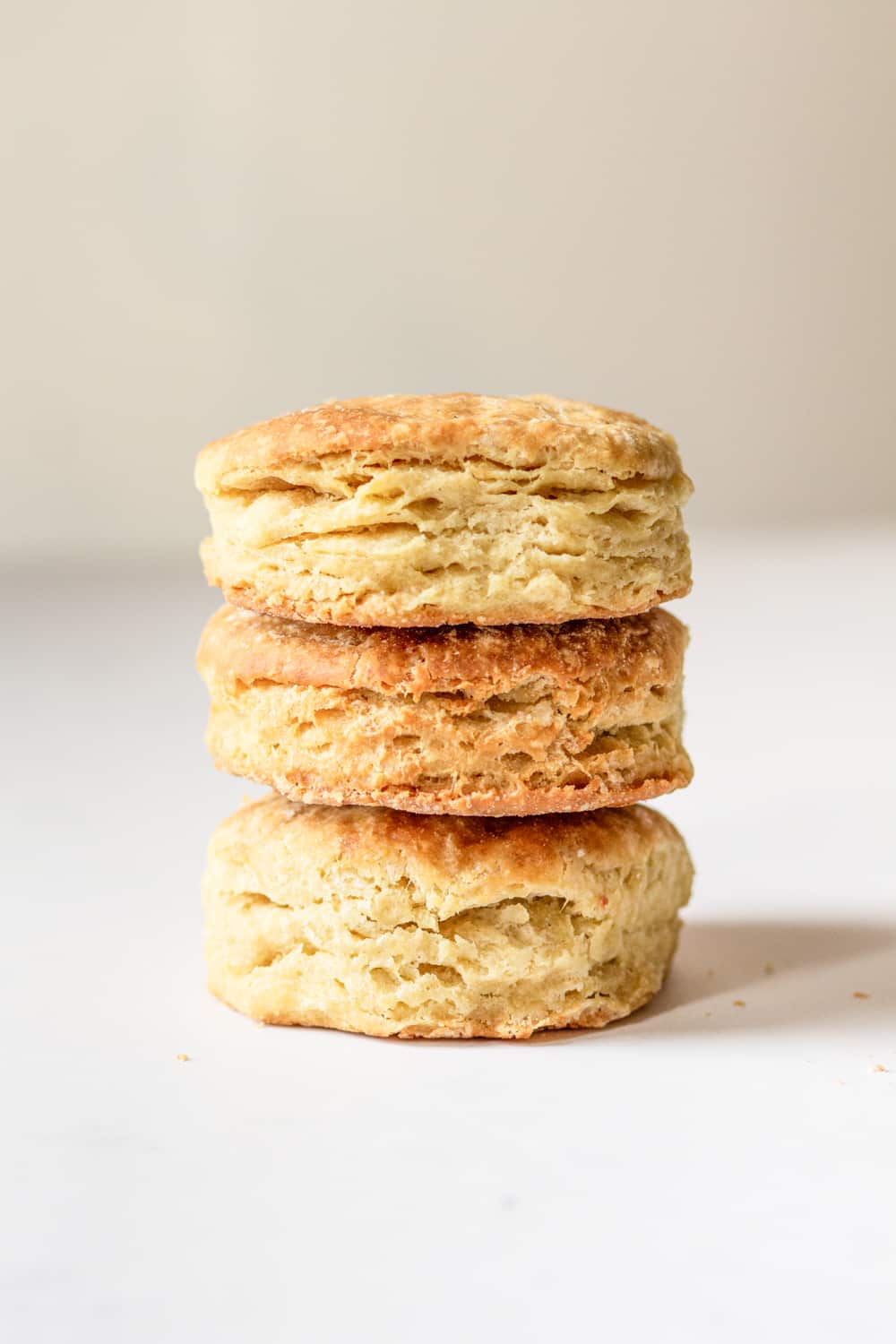 THE BEST VEGAN BISCUITS
This vegan biscuit recipe has all the hallmarks of a great breakfast biscuit. Each one has a slightly hard golden crust with a soft and flaky inside. And along with the texture, the buttery flavor of these biscuits is just to die for. 
And I love making these biscuits because there are so many ways to eat them! We'll go over that a little later, but honestly, they are so good that you can just eat them on their own. 
Now, of course, biscuits are traditionally enjoyed as a part of breakfast or brunch, but you could also have these biscuits as a vegan dinner side too. Just pair them with these cauliflower steaks, and you have yourself a tasty vegan meal. 
That said, no matter when you eat them, this recipe is super easy to whip up, and is made with common kitchen ingredients that you probably have on hand already. 
Oh, and along with being dairy-free biscuits, these are also yeast-free, making for a seamless baking process. Also, it's incredibly easy to make them gluten-free biscuits as well, but more on that in a bit. 
By the way, I also have a recipe for vegan biscuits and gravy, which features more of a savory take on vegan breakfast biscuits. The combination of creamy gravy on top of warm biscuits is out of this world good.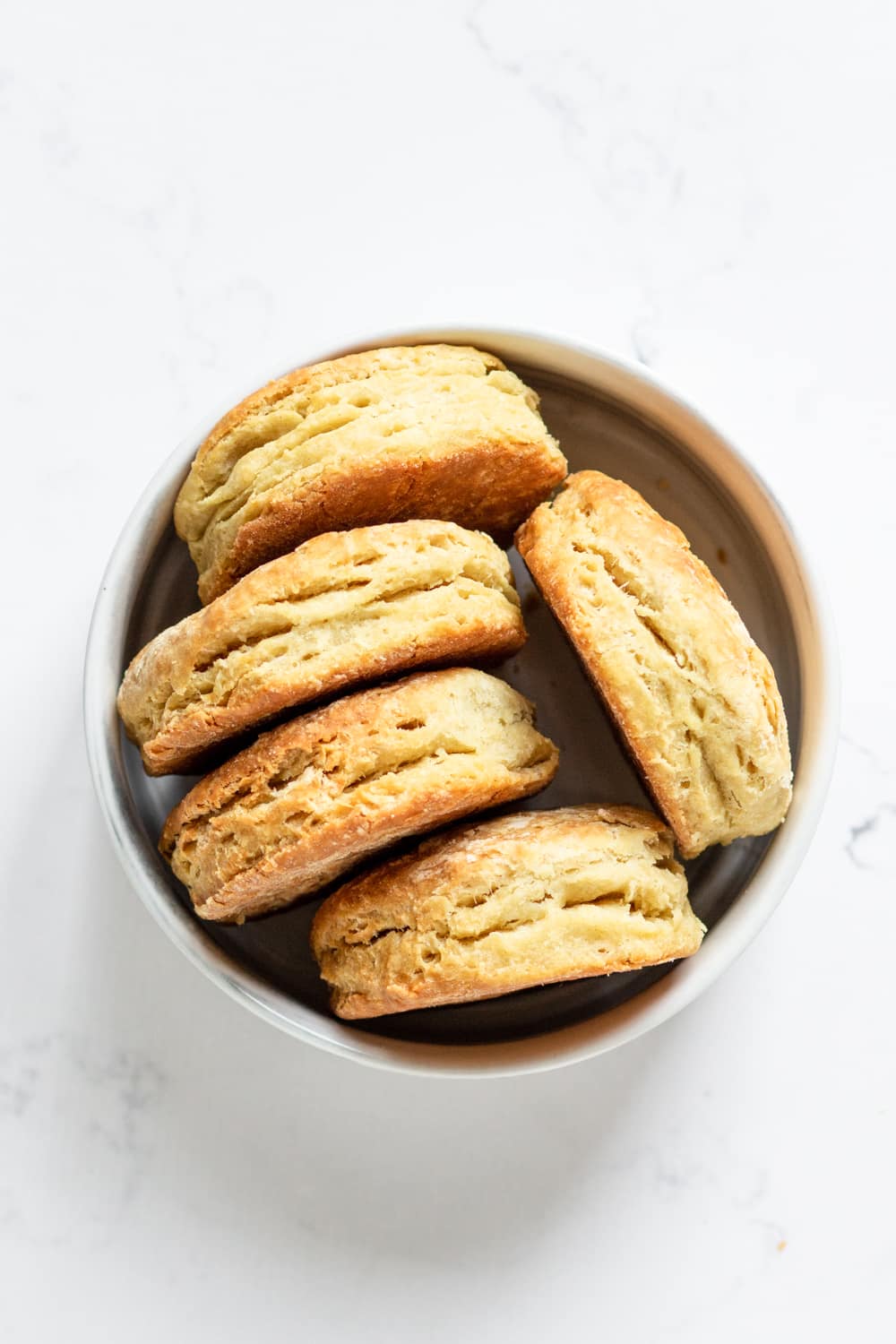 INGREDIENTS FOR VEGAN BISCUITS
For today's recipe, you only need eight common kitchen ingredients to make these vegan biscuits.
And even if you don't have all of them in your kitchen, they can easily be found pretty much anywhere.
Here is what you'll need for this recipe:
Once you've gathered the ingredients, you might as well make my vegan waffles next. They are another delicious vegan breakfast recipe that just so happens to use many of the same ingredients!
VEGAN BUTTER SUBSTITUTES
Now, the only ingredient that may not be readily available at every grocery store you go to is vegan butter.
But don't worry! Margarine will work just as well to make these biscuits vegan. Margarine is a common substitute for vegan butter because it's primarily made with only water and an oil, such as vegetable oil, canola oil, palm oil, or olive oil. 
But of course, don't forget to double-check the ingredients list to make sure the margarine brand you're using is 100% vegan-friendly - some margarine contains a small amount of milk.
No matter what you use, the key here is to make sure you're using it cold from the refrigerator in its solidified form. The temperature of the butter/margarine will have an impact on the final texture of your biscuits, so you want to make sure you only take it out of the fridge right before you're about to use it.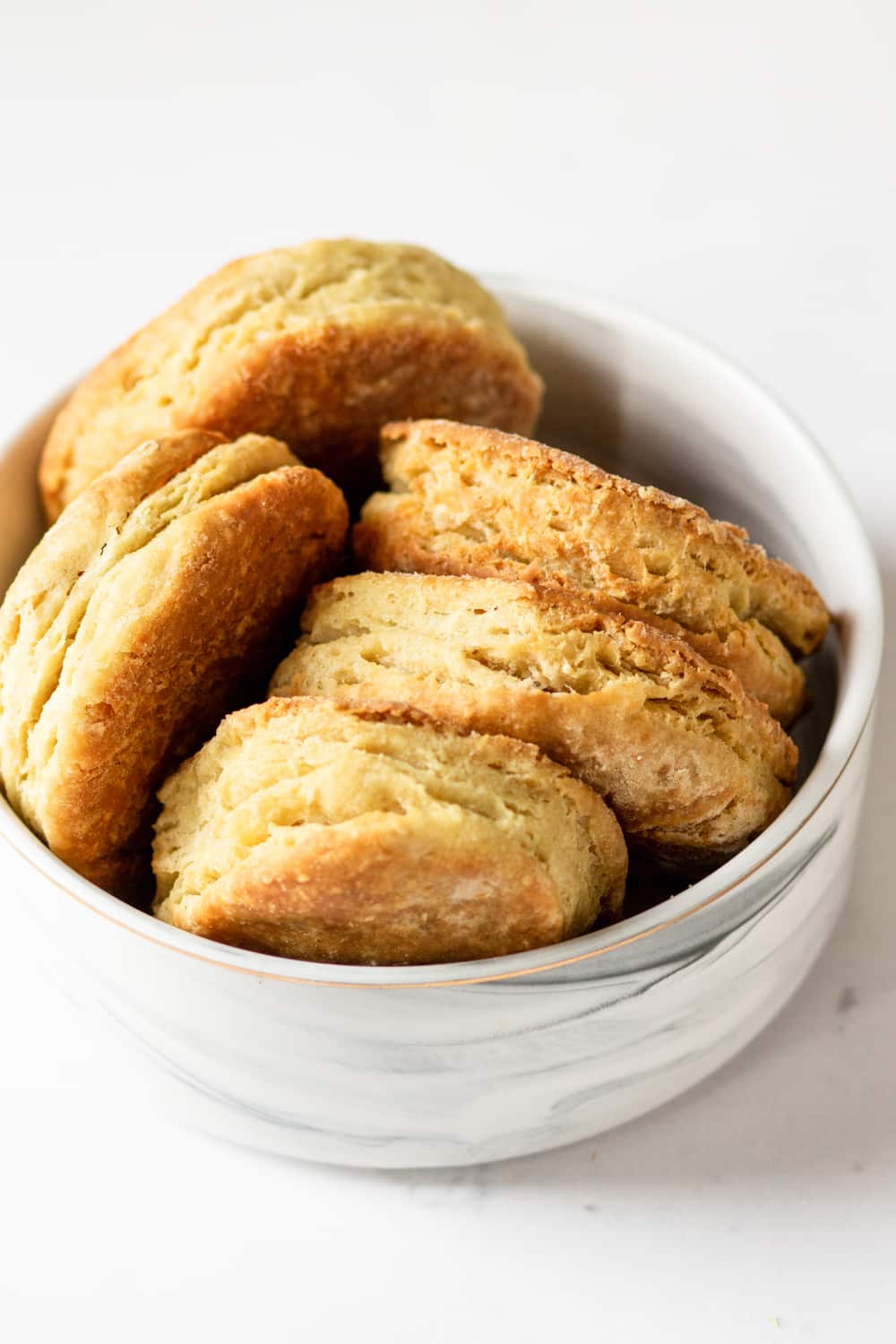 HOW TO MAKE VEGAN BISCUITS
If you've never baked biscuits before, don't worry, it's actually a lot simpler than it seems. 
All you need to do is combine the ingredients, shape and cut the dough into biscuits, and then bake them! That's about 15 minutes of work and then just 15 minutes of baking time.
So if you're ready to make some delicious vegan biscuits, let's get into the recipe!
STEP 1: PREPARING THE DOUGH
The first thing you will want to do is preheat your oven to 430°F (220 °C). 
Then, combine your lemon juice (or orange juice) and plant milk in a small bowl and set it aside.
Now, the next thing you'll want to do is whisk the dry ingredients together in a mixing bowl until well-combined - that would be your flour, sugar, baking powder, baking soda, and salt.
Then, slice your cold vegan butter into cubes and combine them with the dry ingredients, mixing until you get a breadcrumb-like texture.
Again, make sure to use cold butter straight from the refrigerator and try not to soften it before incorporating it into the dough.
The last step is to pour the wet ingredients into the dry ingredient butter mixture and stir everything together with a wooden spoon until it is just combined.
STEP 2: FORMING AND SHAPING THE BISCUITS
Now for my favorite part, turning the dough into biscuits. 
Find a large, flat surface to work on the dough, such as a smooth countertop or a pastry board. Lightly flour the surface you will be working on, and then place the dough on top. 
Next, knead the dough with your hands for about a minute. Do not overwork your dough - it is essential to use your hands to knead the dough and not an electric mixer.
And if the dough is starting to stick, don't be afraid to sprinkle some more flour on the dough to make it easier to work with it. 
The next few steps are what will give us that perfectly flaky texture for the biscuits. 
First, you are going to form the dough into a large rectangle, about 1-inch thick. 
Then, cut it in half and stack one piece of dough on top of the other. 
After that, flatten the dough until you've formed another 1-inch thick rectangle, roughly the same size as the original. Make sure you use your hands to flatten the dough, DO NOT use a rolling pin. 
Repeat cutting the dough in half, stacking it, and flattening it two more times.
Once you've got your final rectangle shape, use a round cutter to cut out about 6-7 biscuits.
STEP 3: BAKING AND SERVING
Take out a baking sheet and line it with a sheet of nonstick parchment paper. Then arrange the biscuits in two rows on your baking sheet. 
Make sure the sides of the biscuits ARE touching each other - this will help the biscuits rise higher as they bake.
Bake the biscuits for 15 minutes at 430°F (220 °C) or until the tops are lightly golden brown.
Serve your vegan biscuits warm in any way you want!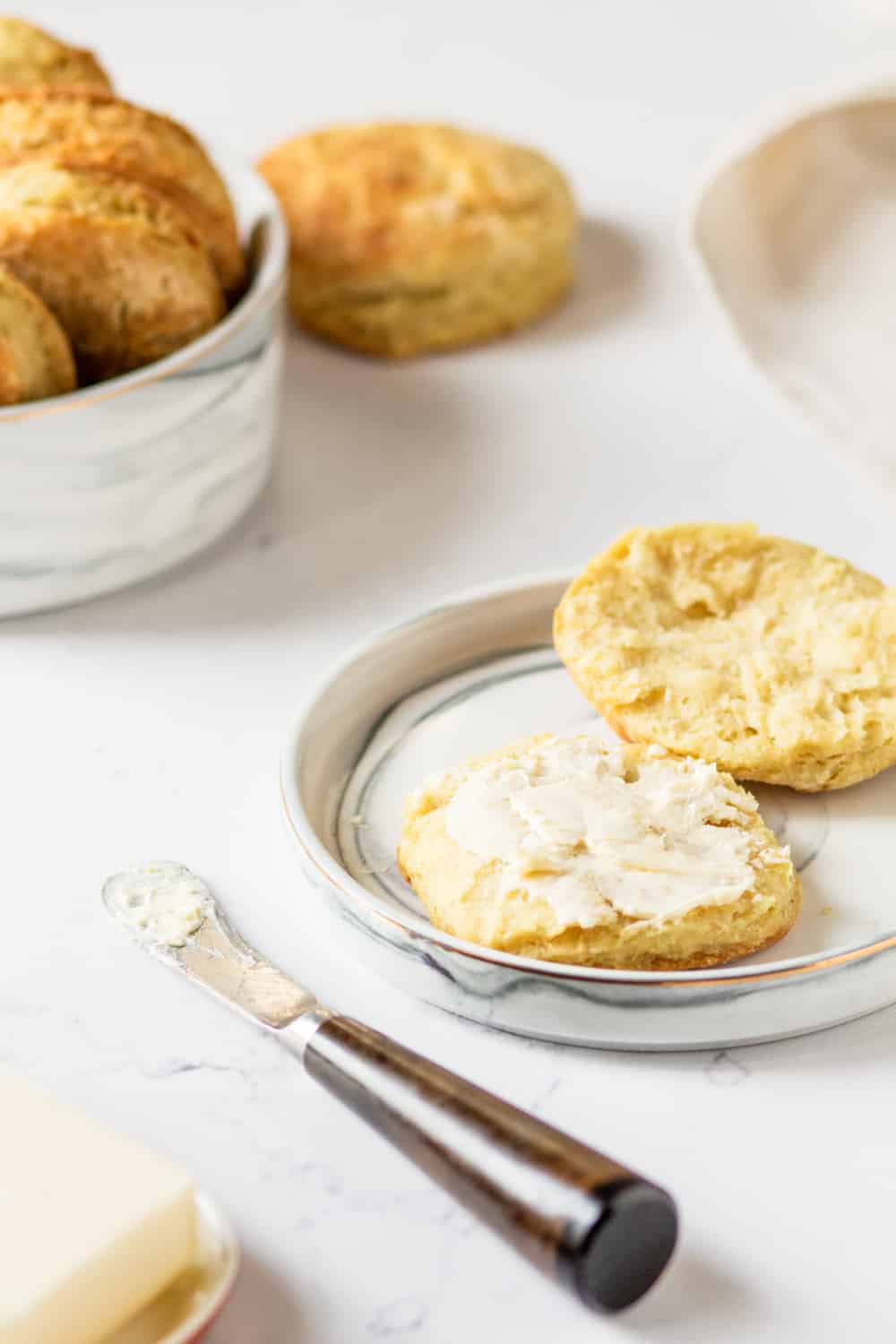 Customize Your Vegan Biscuits
Ok, so you just made your vegan biscuits, and although they are incredibly delicious alone, you want to jazz them a little bit. 
Well, you're in luck because there are so many different ways to customize your vegan biscuits for whatever mood you're in. 
Want a classic breakfast biscuit experience? Spread some vegan butter or jam on them. 
For a protein-packed breakfast, cut your biscuit in half and top off each half with your favorite nut butter, such as almond butter or peanut butter. 
Another way to enjoy these biscuits in the morning is by making a vegan breakfast sandwich. My favorite combination is keeping it simple with tofu or vegan ham, vegan cheese, and avocado.
You could also create a vegan sandwich for lunch - put some vegan bacon, lettuce, tomato, and a bit of vegan mayo between the biscuits for a vegan BLT. 
With all of that said, my favorite way to eat these biscuits is spreading this vegan lemon curd on top. The creamy, tangy vegan lemon curd adds to the buttery flavor of these vegan biscuits. And since the vegan lemon curd recipe only takes 10 minutes, you can make it while the biscuits are baking!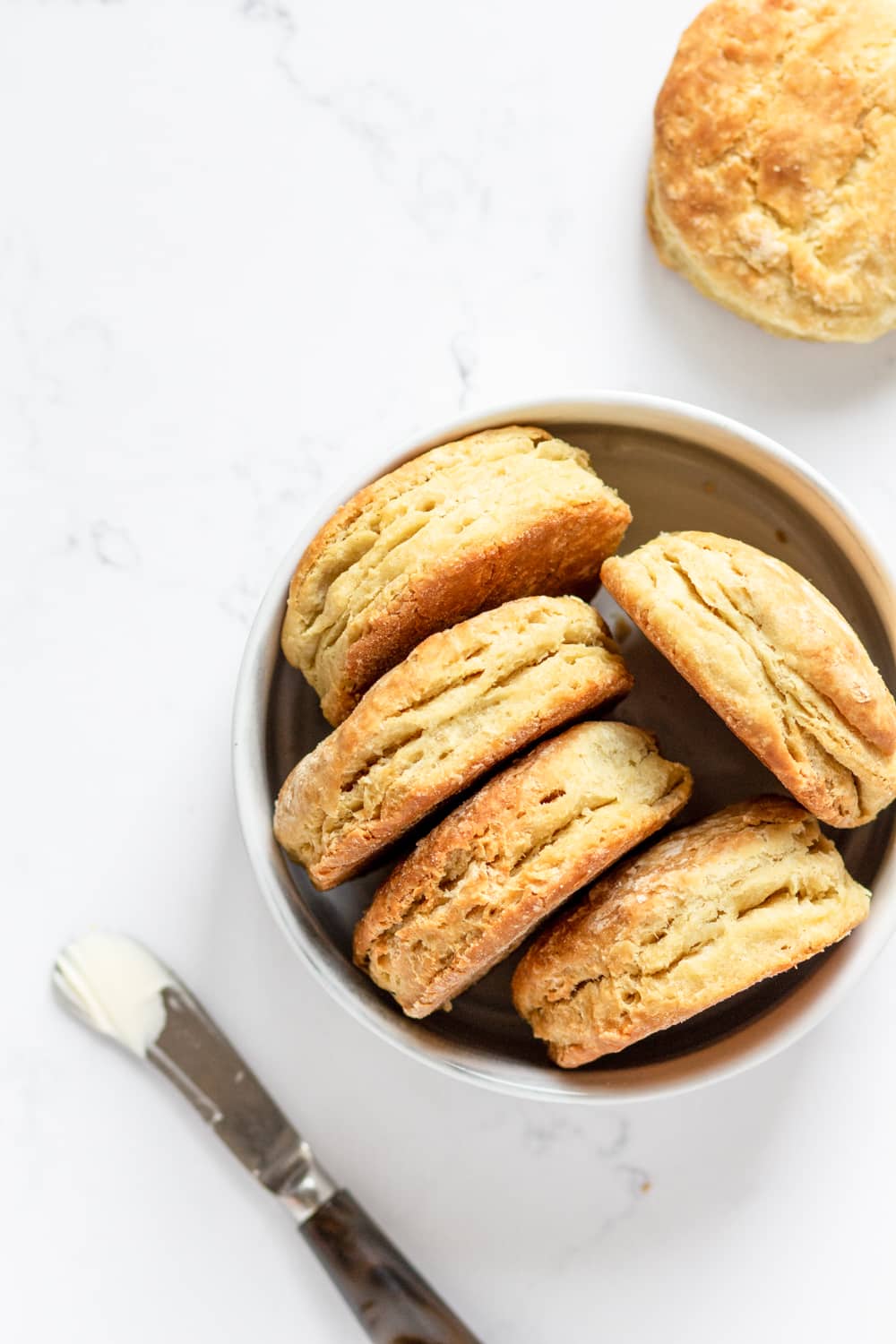 STORING YOUR VEGAN BISCUITS
One of the best things about this recipe is that the vegan biscuits last a relatively long time without any added preservatives. 
And you can store them in the fridge, freezer, or even at room temperature.
If you want to keep your vegan biscuits on the counter or in your pantry, just store them in an airtight container, and they'll last for up to 4 days. 
By storing them at room temperature, you can warm the biscuits up much quicker - super convenient for when you need a quick & easy vegan breakfast. 
Now, if you still have some biscuits leftover after a few days, you can store them in the refrigerator for up to a week. 
And if you want to keep a few extras around for a rainy day, you can store them in a freezer-safe bag or airtight container in the freezer for up to 6 months. 
REHEATING THE BISCUITS
Ok, so if you kept your vegan biscuits in the freezer, the best way to preserve there texture for reheating is by thawing them in the refrigerator overnight.
Then to reheat your room temperature biscuits or refrigerated biscuits, you can either warm them in the oven or microwave. 
For a quick method, pop them in the microwave for 20-30 seconds. 
However, I suggest reheating them in the oven - heat them at 350°F (177 °C) for about 10 minutes until warmed through. 
WRAPPING IT ALL UP
So, that's how to make the ultimate vegan biscuits in 30 minutes with only a few ingredients. 
There really is nothing like warm homemade biscuits - they can be a lifesaver when it comes to busy mornings, and the versatility of this recipe makes them that much better.  
I hope you enjoy this vegan biscuit recipe! And share it with someone who needs to make some delicious vegan biscuits themselves!
Print
Vegan Biscuits | The Best Vegan Biscuit Recipe
These healthy, no butter vegan biscuits are soft flakey and so delicious! And, quite honestly, these might just be the best vegan biscuits you ever make! Plus, you only need a few pantry staples to whip up half a dozen of them. Not to mention, these vegan biscuits are the perfect vessel to make a vegan breakfast sandwich.
Author:
Prep Time:

15 minutes

Cook Time:

15 minutes

Total Time:

30 minutes

Yield:

6

biscuits

1

x
Category:

Breakfast

Method:

Oven

Cuisine:

Vegan

Diet:

Vegan
Instructions
Preheat oven to 430 degrees°F (220°C).

Add lemon/orange juice and plant milk to a small bowl and set aside. 

In a mixing bowl, whisk together all the dry ingredients.

Cut the cold butter into cubes and add them into the dry ingredients. Mix together until you get a breadcrumb-like texture.

Pour the juice and milk mixture into the dry ingredients and using a wooden spoon stir it until just combined.

Sprinkle flour on a flat surface and knead the dough with your hands for about a minute. Add more flour if the dough sticks to your hands (make sure you use your hands and not a mixer to knead it.

Form a 1-inch rectangle shape and using a dough cutter, cut the dough in half. Stack one piece of dough on top of the other and flatten with your hands until you form it into a 1-inch rectangle. Repeat the process 2 more times.

Using a round shaped cutter, cut out about 6-7 biscuits.

Place biscuits on a baking sheet lined with parchment paper in two rows. Make sure the biscuits are touching one another.

Bake for 15 minutes until slightly golden brown.
Notes
The scale up function does not change the gram measurements.
Nutrition
Serving Size:

1 biscuit

Calories:

216

Fat:

11.6

Carbohydrates:

26.28

Fiber:

3

Protein:

4
Keywords: vegan biscuits, vegan biscuit recipe, how to make vegan biscuits, dairy free biscuits, vegan biscuit recipe no butter, plant based breakfast, vegan biscuits no butter, eggless biscuits, vegan breakfast biscuits, gluten free biscuit recipe, recipe for vegan biscuits, gluten free breakfast, butteries biscuits, breakfast biscuits, vegan breakfast, easy vegan biscuit recipe, biscuit recipe no milk, making biscuits vegan, what to put on biscuits, easy vegan biscuits,