This flavorful chicken vesuvio is delicious, healthy, and so easy to put together. With perfectly roasted chicken and potatoes mixed in a flavorful white wine and herb sauce, it's a hearty and comforting one-pan meal that's sure to be a family favorite.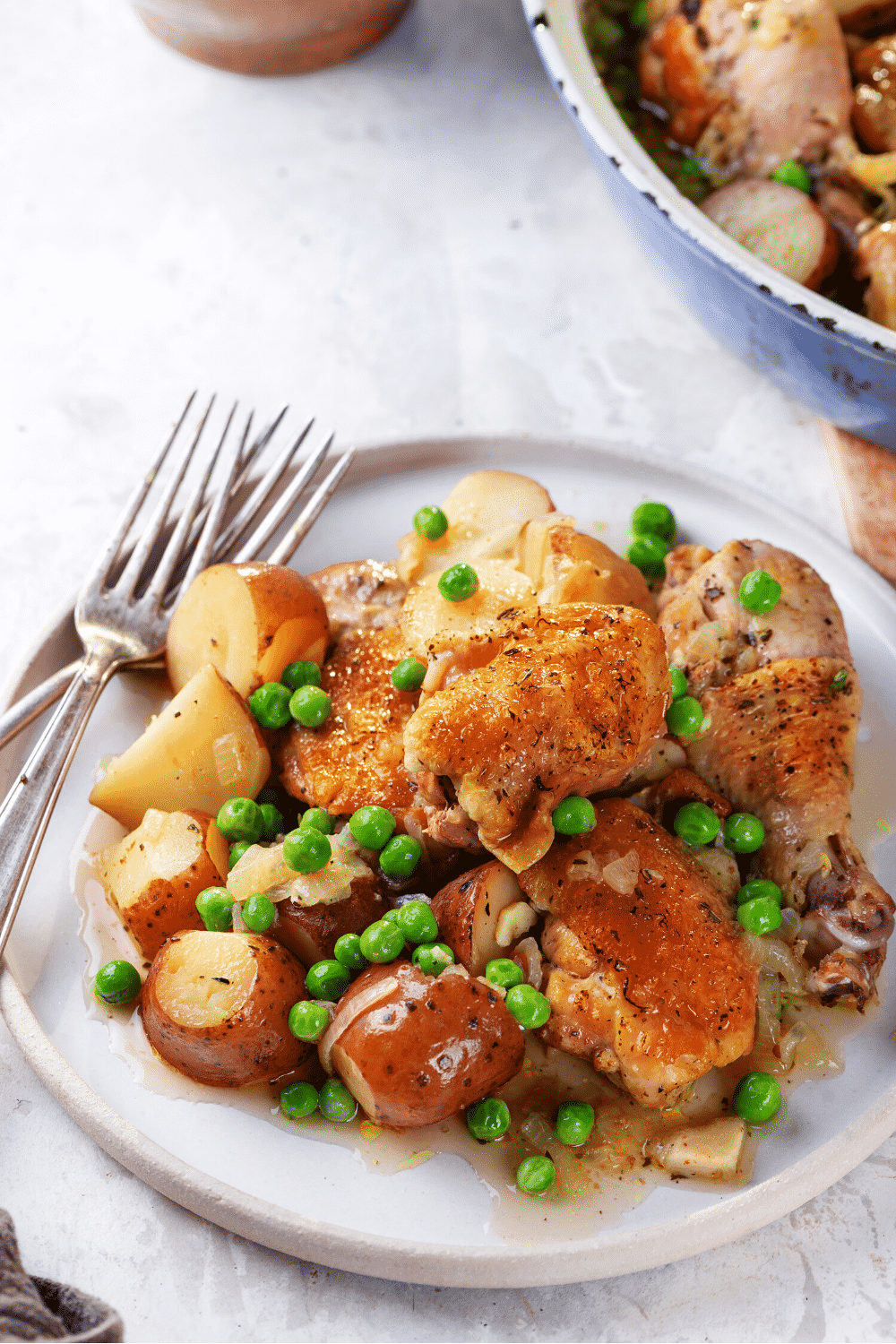 THE BEST CHICKEN VESUVIO
This chicken vesuvio recipe is the ultimate weeknight meal - it has succulent cuts of chicken, crisp roasted potatoes, and tender vegetables, all seasoned to perfection.
If you like the sound of that, you're going to love this classic Italian dish.
And best of all, the whole thing comes together in just one pan, which means minimal clean-up and maximum flavor.
Plus, this is one of the easier chicken recipes you can make. All you need are a few simple ingredients to have a hearty and delicious chicken and potatoes dish ready and on the table in just a little over an hour.
And don't be intimidated by the cooking time – more than half of it is just waiting for the dish to finish roasting in the oven.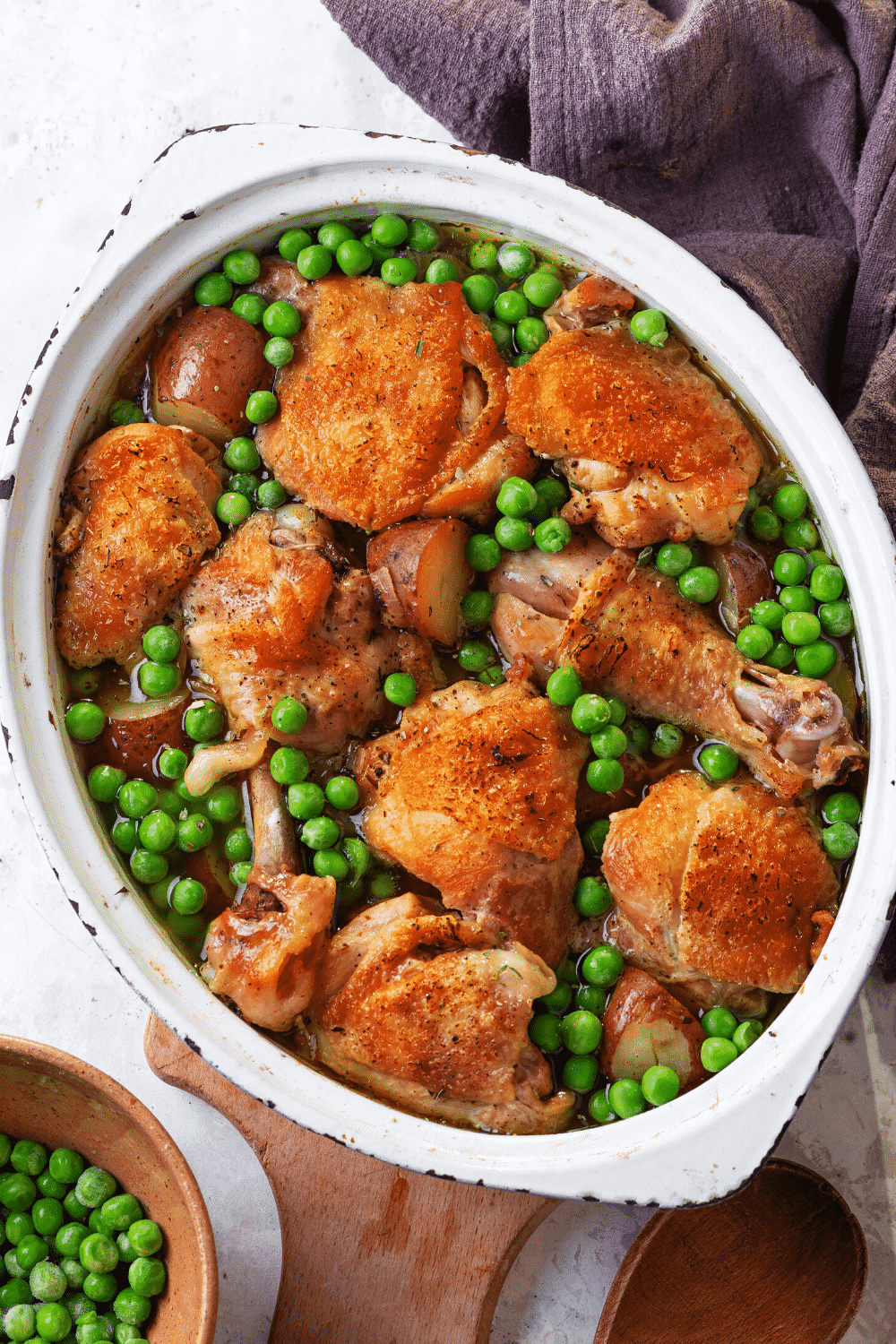 INGREDIENTS
Now what I love about this recipe is that the ingredients are all basic kitchen staples.
You can easily find them in any grocery store or may already have the majority of them in your pantry and fridge.
And if that sounds too good to be true, have a look at what you'll need:
2 pounds chicken pieces
Salt and black pepper
2 tablespoons olive oil
½ onion, chopped
3 cloves garlic, minced
2 cups potatoes, cut into about 1 inch pieces
½ cup dry white wine (or apple cider vinegar)
1 cup chicken stock
½ tablespoon Italian seasoning
½ cup frozen peas
Pretty simple ingredients that create a whole lot of flavor!
And the best part, as I mentioned earlier, all of these ingredients will be cooking together in one pan to create this delicious restaurant-style meal.
Oh, and if you like recipes where everything cooks together, you have to make these sheet pan chicken fajitas next!

THE MAIN INGREDIENT: CHICKEN
Ok, so this recipe calls for skin-on chicken pieces. The skin crisps up and renders a lot of delicious fat that really helps bring together the flavors of the dish.
The specific cut you go for is ultimately up to you, but your best bet is chicken thighs or chicken legs. Both tend to be juicier and can hold up to longer cooking times without drying out.
That said, you can also make this recipe with skin-on chicken breast - it'll still turn out fantastic and have tons of flavor.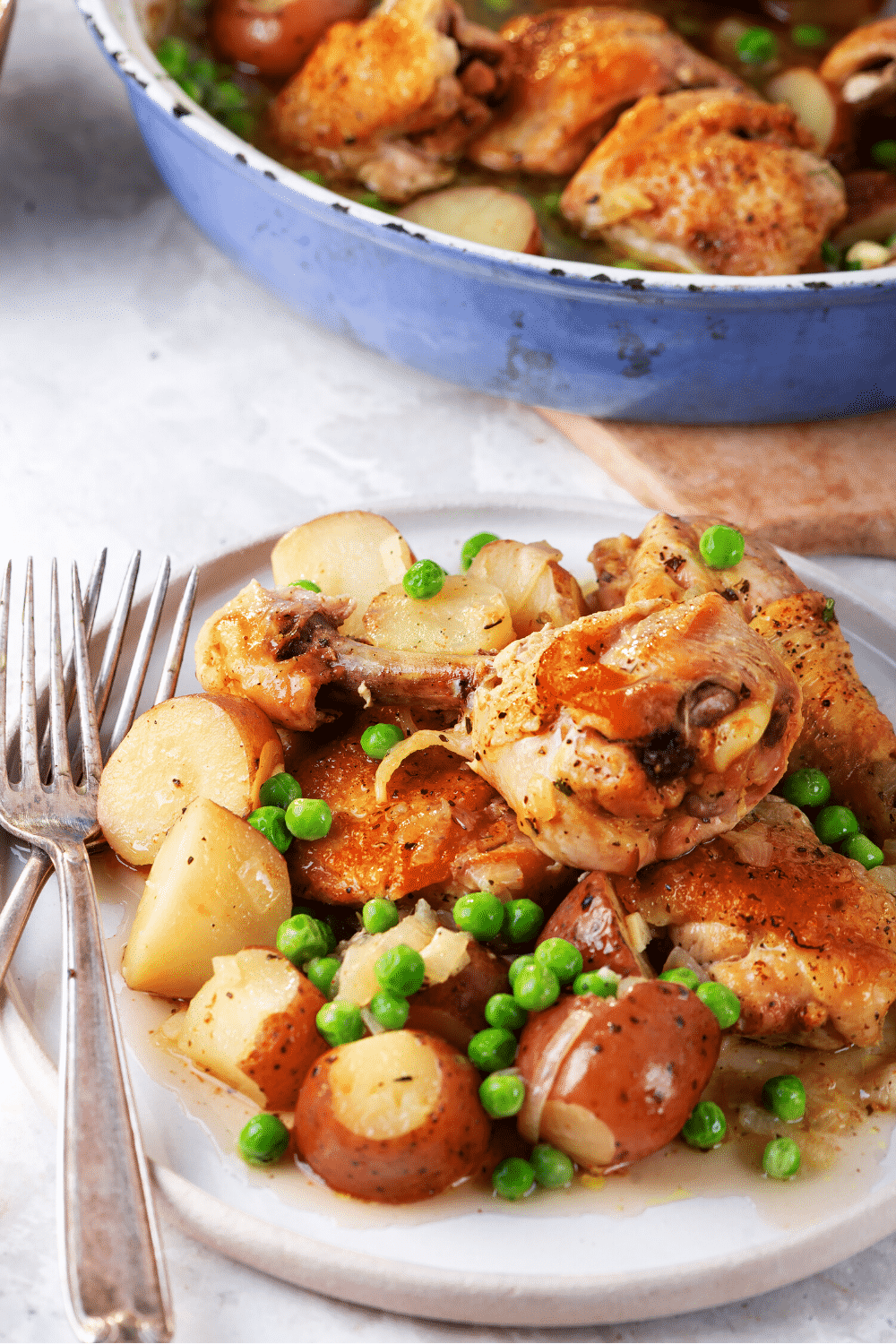 THAWING YOUR CHICKEN
If you are using frozen chicken, I have two tried and tested methods you can use for thawing it safely and efficiently.
The first method is great if you'll be making the recipe in a few days. All you have to do is move the chicken from the freezer to the fridge and let it defrost in a bowl. Thawing the chicken this way should take about a day or two. And once it's fully thawed, the chicken will be good to use for up to two days.
But if you're going to cook your frozen chicken on the same day, you can thaw the chicken in water. To do this, place your chicken in a leak-proof ziplock bag and submerge it in cold water.
Change the water out every 30 minutes until the chicken is fully thawed. For 2 pounds worth of chicken, this method should take about 2 hours.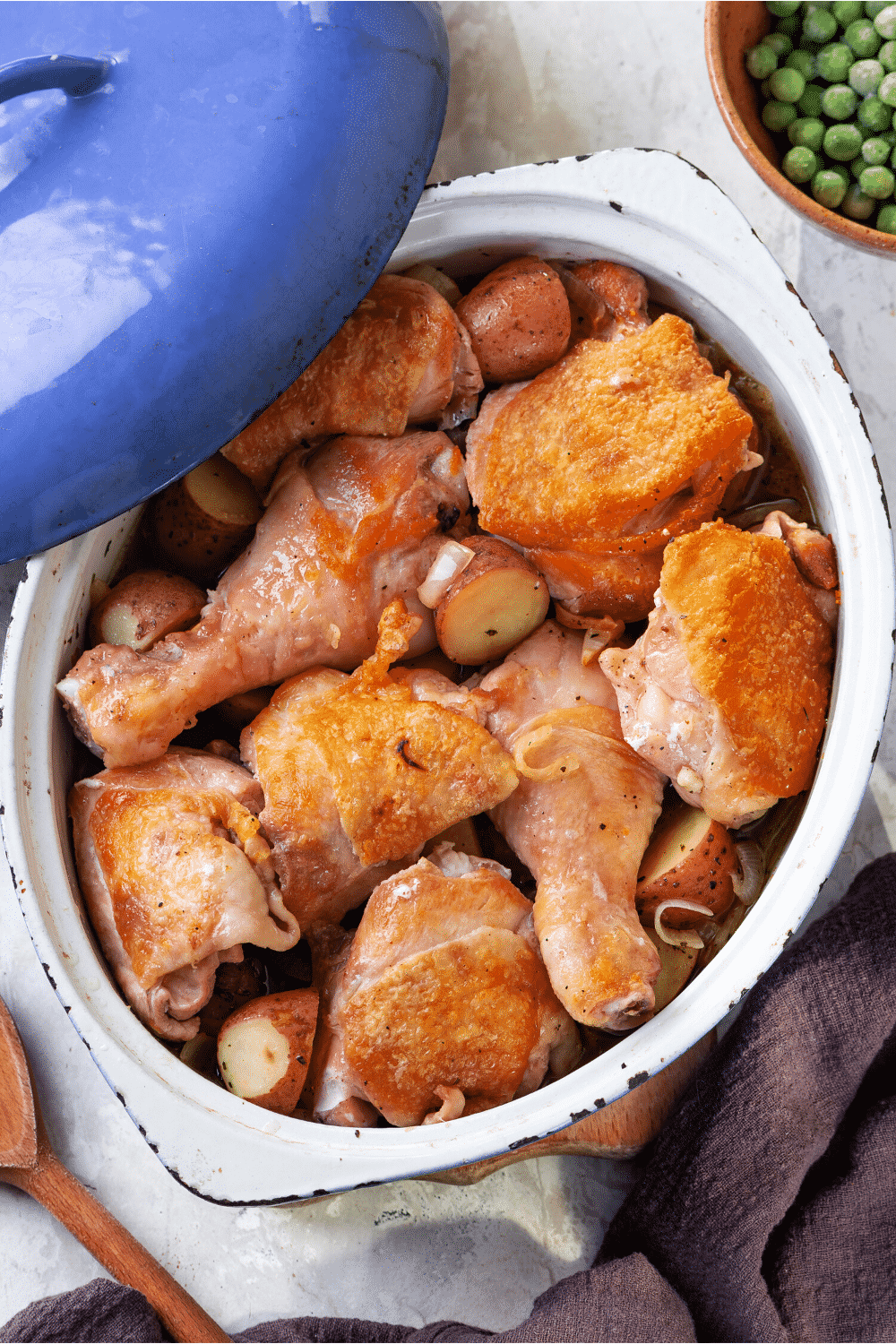 HOW TO MAKE CHICKEN VESUVIO
As I mentioned earlier, this chicken vesuvio takes a little over an hour to make. But don't worry, you won't be standing in the kitchen for that long!
Most of the cooking time - about 50 minutes - is actually just waiting for the dish to finish up in the oven.
So, gather your ingredients and let's get into the recipe!
Step 1: Browning The Chicken
The first thing you will want to do is preheat the oven to 400 degrees Fahrenheit (200°C).
Then, prepare the chicken by seasoning it with your desired amount of salt and pepper and heat the olive oil in an oven-safe pan over medium heat.
Once heated, place the chicken pieces in the pan skin-side down, and cook until the skin is golden brown and some of the fat has rendered - this will take about 5 minutes.
Next, flip the chicken over and cook until the other side has browned. Then transfer it to a plate and set it aside.
Pro-tip: For even browning and crispy skin, it is better not to overcrowd the pan. So you may want to use a large pan, two pans, or divide the chicken into batches to ensure everything cooks perfectly.
STEP 2: COOKING THE VEGETABLES
Next, in the same pan, sauté the chopped onion, minced garlic, and potato wedges until the onion is translucent and the potatoes begin to brown.
Then add the white wine, making sure to scrape up the flavorful brown bits stuck to the bottom of the pan.
Lastly, add the chicken stock and Italian seasoning to the pan, then place the chicken pieces on top.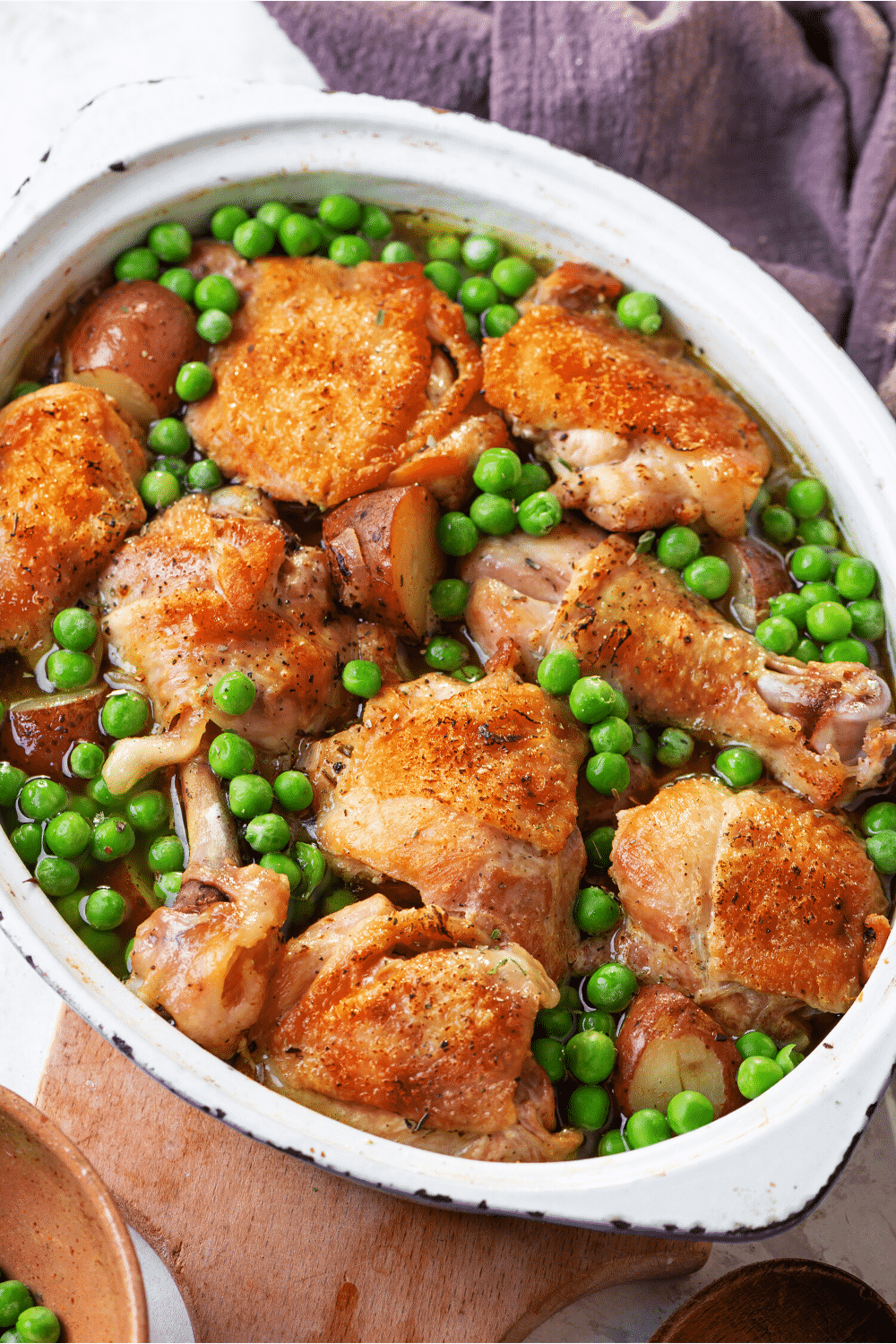 STEP 3: ROASTING IN THE OVEN
To roast everything, cover the pan and transfer it into the oven. If your cookware doesn't come with an oven-safe lid, you can achieve the same effect with a layer or two of tin foil-wrapped securely over the pan.
Bake for about 40 minutes, or until the chicken is completely cooked through.
And if you're not sure if it's ready, you can use a meat thermometer to check if the chicken is at least 165°F (74°C).
STEP 4: FINISHING TOUCHES
Once your chicken is ready, remove the lid or foil from the pan and broil for 5 minutes.
Then, scatter the peas throughout the dish and continue to cook in the oven at 400°F (200°C) - not on broil - for 5 more minutes.
Serve and enjoy!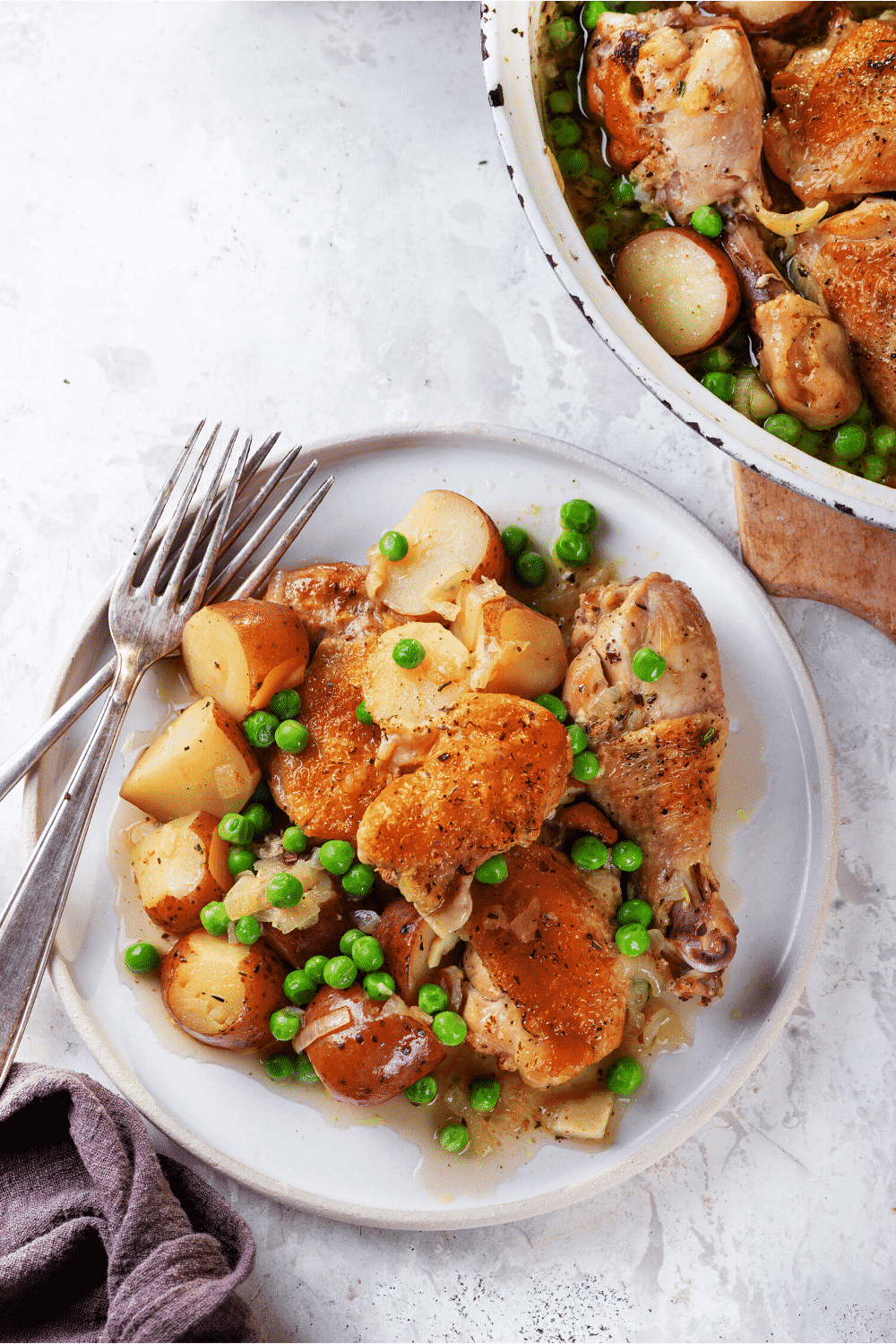 STORING & REHEATING YOUR CHICKEN VESUVIO
Ok, so you made the chicken vesuvio, it came out fantastic, and now you want to save the leftovers so you can enjoy it again the next day.
Well, all you have to do is transfer everything to an airtight container and store it in the refrigerator for up to 3 days.
When you're ready to eat, you can reheat everything in a skillet over medium heat and cook until warmed all the way through.
Or, you can warm it in the oven at 350°F (177°C) using a covered pan. Make sure to add a few tablespoons of chicken stock or water - just enough to cover the surface of the pan.
WRAPPING IT ALL UP
This chicken vesuvio is sure to become a part of your regular dinner rotation.
And since this recipe makes 6 servings, it is a simple and delicious meal that is perfect for a family dinner!
Well, I hope you enjoy this chicken vesuvio recipe as much as I do! If you make it, leave a comment below and let me know your thoughts.
Oh, and if you're looking for more simple and delicious chicken recipes, here are a few others I think you'll enjoy:
Print
Chicken Vesuvio | Cooks In One Pan
This flavorful chicken vesuvio is delicious, healthy, and so easy to put together. With perfectly roasted chicken and potatoes mixed in a flavorful white wine and herb sauce, it's a hearty and comforting one-pan meal that's sure to be a family favorite.
Author:
Prep Time:

5 minutes

Cook Time:

70 minutes

Total Time:

1 hour 15 minutes

Yield:

6

Servings

1

x
Category:

Dinner

Method:

Stove and Oven

Cuisine:

Italian
Instructions
Preheat the oven to 400°F.

Sprinkle the chicken with salt and pepper

Warm olive oil in an oven-safe pan over medium heat and add chicken, skin-side down. Cook until chicken is browned for about 5 minutes. Turn over and cook until golden brown on the other side. Remove chicken and set aside.

Add potatoes, onion, and garlic to the pan and cook until onion is translucent and potato wedges are starting to brown a little.

Add the wine and stir to scrape up any brown bits on the bottom of the pot. Add chicken stock and Italian seasoning. Place chicken pieces on top.

Cover the pan and transfer to the preheated oven. Bake until chicken is cooked through, about 40 minutes. Uncover and broil for the last 5 minutes.

Add peas and cook 5 minutes longer (without broil).
Notes
The scale up function does not change the gram measurements.
Nutrition
Serving Size:

1 Serving

Calories:

352.3

Fat:

19.5

Carbohydrates:

16.5

Fiber:

1.8

Protein:

26.3
Keywords: Chicken vesuvio, chicken vesuvio recipe, chicken recipes, chicken dinner, keto chicken thigh recipes, chicken recipe for dinner, chicken recipes easy, chicken recipes healthy, chicken dinner recipes, keto chicken recipes, keto chicken vesuvio, low carb chicken recipes, how to make chicken vesuvio, one pan chicken recipes, chicken vesuvio chicago, chicken vesuivio giada, easy chicken recipes