This taco cornbread casserole is layered with flavor. It combines fluffy, buttery cornbread with seasoned ground beef, veggies, sour cream, and a melty Mexican blend of cheeses on top. In one word it's delicious! Plus, this taco cornbread casserole couldn't be easier to make.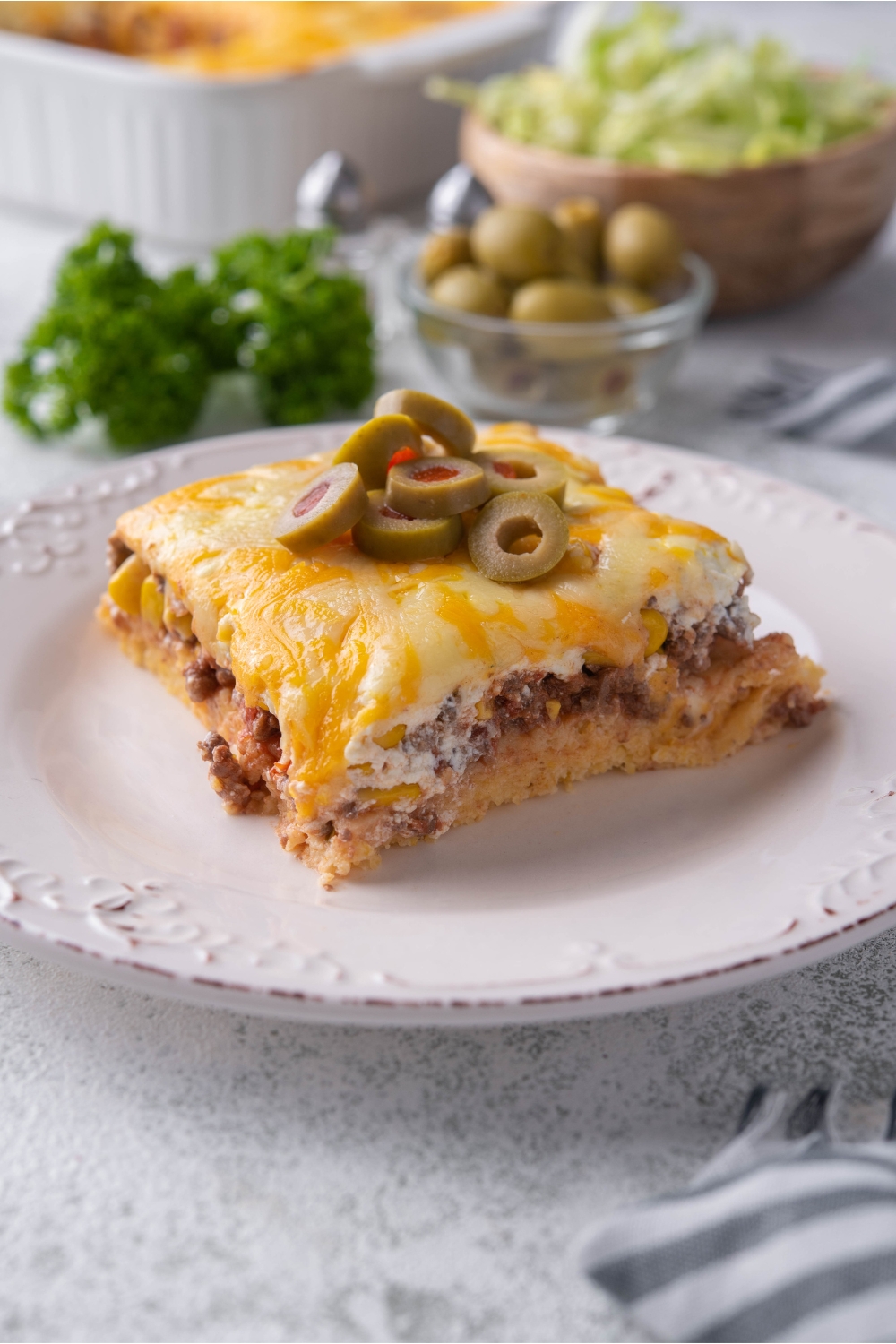 My Take On Taco Cornbread Casserole
Tacos and cornbread are two things that don't seem like they go great together, but, let me tell you, they totally, totally do! I recently had this casserole at a get-together and it was the talk of the party. In fact, it went so fast I couldn't even get seconds.
So, needless to say, I had to get the recipe from my friend Tom and make it for the blog. I just had to share this one with you guys because it's so darn good.
From the bed of fluffy cornbread to the perfectly cooked and seasoned ground beef, savory veggies, sour cream, and melted cheese on top, it's impossible not to love this layered Mexican casserole.
By the way, if you're looking for some tasty Mexican recipes to pair with this casserole, these Taco Bell nacho fries, these Mexican pinto beans, and this fideo soup are always winners. My wife especially loves it when I make the pinto beans with it.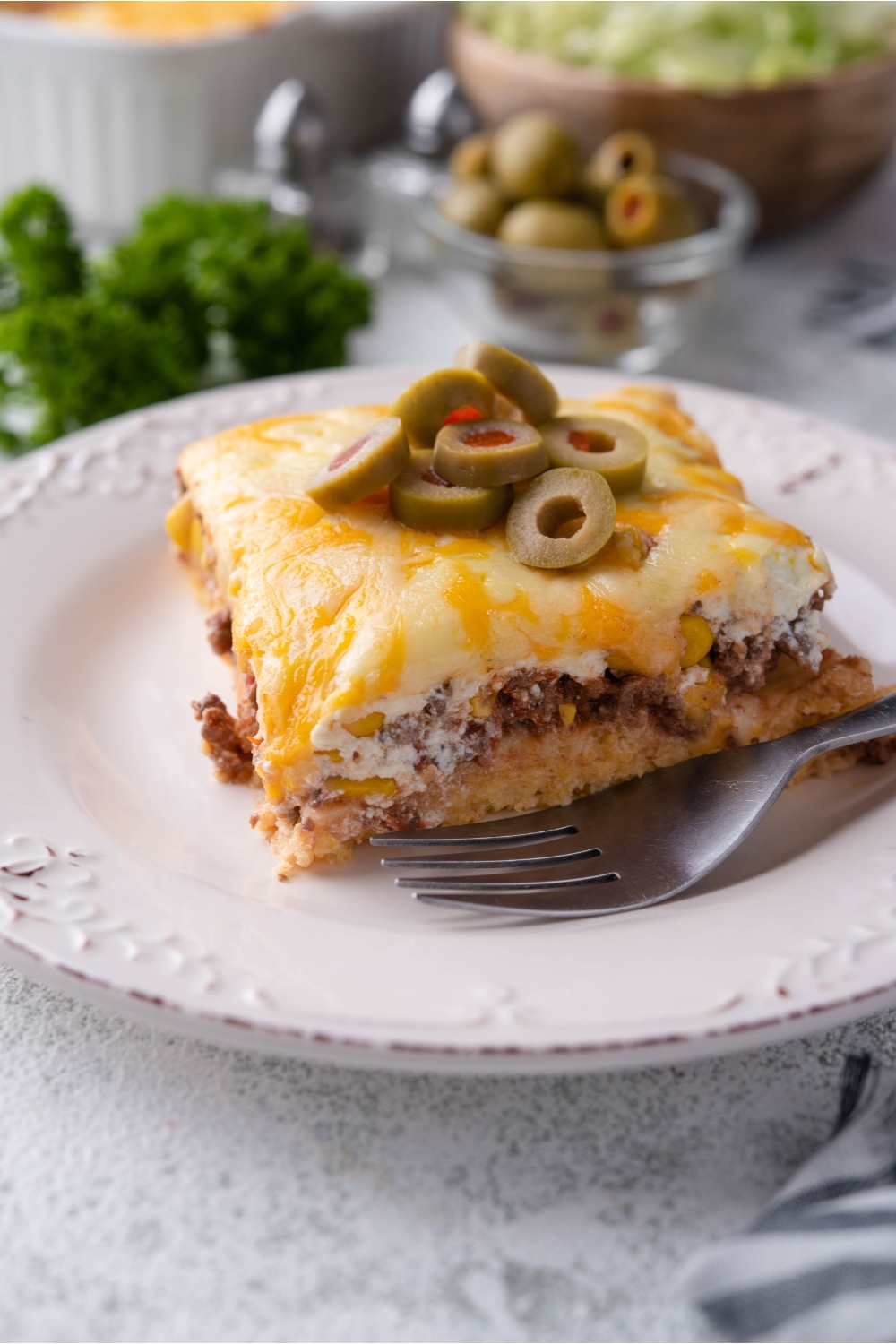 Why I Love This Recipe
Quick and easy. This taco casserole is prepared in just 15 minutes! All you have to do is cook the beef, mix the cornbread, and layer the casserole. Making it is almost as easy as counting to 3.
It's a winning combination. The balance of sweet, spicy, and savory flavors with the layered textures makes for a cornbread casserole like no other.
Easy to customize. Just like regular tacos, you can switch up the ingredients to suit your preferences or save you a trip to the store.
Crowd-pleaser. Anyone who loves tacos will love this recipe, so it's a guaranteed winner if you're hosting or making for busy weeknight dinners - especially on Taco Tuesday.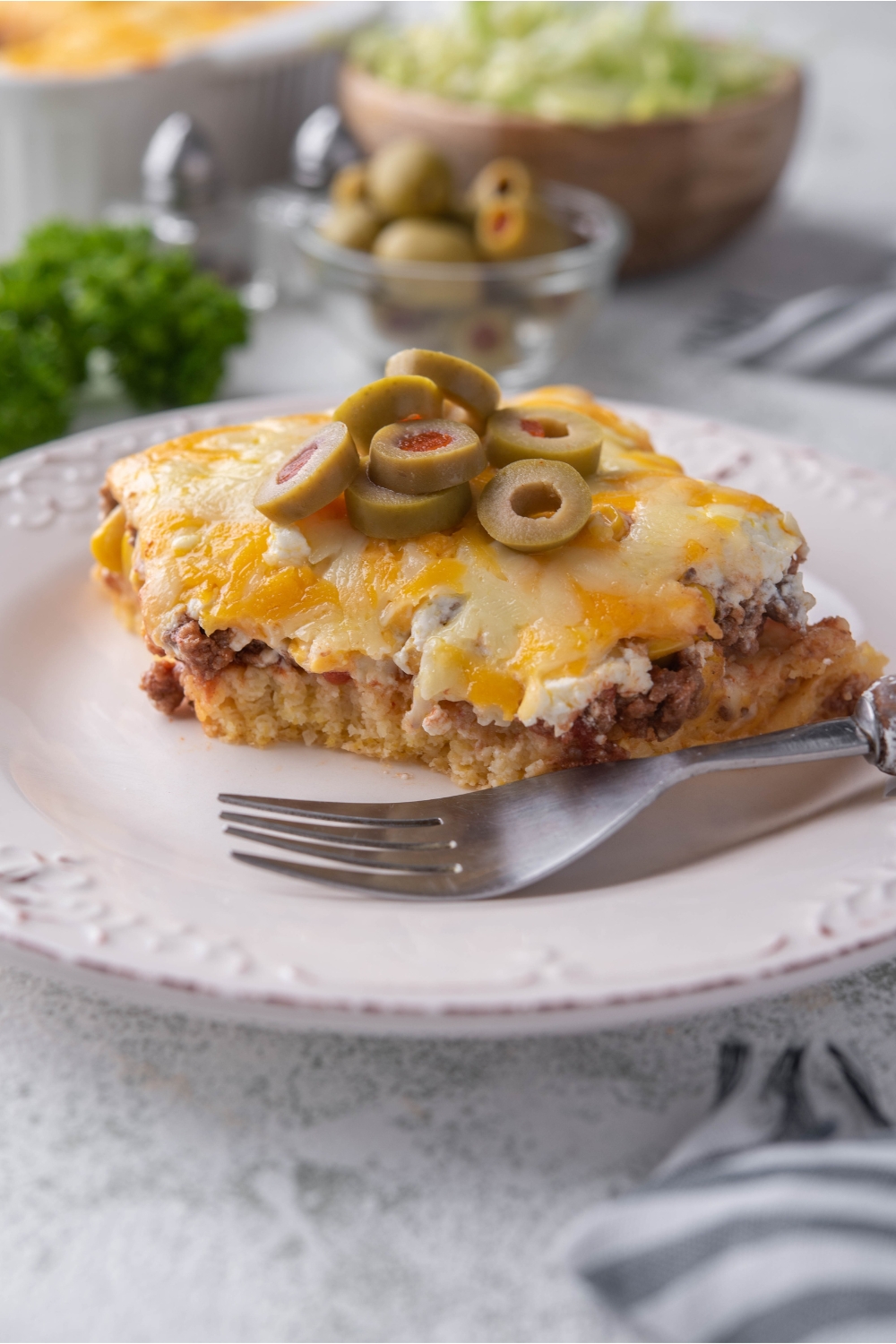 Ingredients
Another thing I love about this recipe is that it's made with simple easy-to-find ingredients. Honestly, there's a good chance that you have most - if not all - of them on hand already!
Cornbread mix - this is the hearty foundation of the casserole that everything gets built upon.
Milk and egg - these are the binders for the cornbread mixture and also what gives the bread its light fluffy texture.
Ground beef - for that classic meatiness you find in a taco.
Taco seasoning - gives the ground beef that classic taco taste.
Water - to help distribute the seasoning and simmer the beef.
Canned corn - for a sweet crunch of flavor.
Chopped tomatoes - these add a tangy note to the dish that helps break up the richness of the cheese and beef.
Pickled jalapenos - add a spicy kick. Feel free to leave them out if you're making the casserole for people who aren't big spice lovers.
Sour cream - balances out the spiciness of the jalapenos and also adds a nice creamy tanginess to this taco cornbread casserole. You can use Greek yogurt in it's place if you're in a pinch
Mexican shredded cheese - this pulls the entire casserole together and also gives the casserole its warm, creamy, and cheesy crust. Cheddar or Monterey Jack cheese is a good substitute if you don't have any Mexican shredded cheese on hand.
Sliced olives - for a garnish
Simple stuff, right?!
By the way, you can use a lot of these same ingredients to make this chili cornbread casserole and this taco pasta casserole as well. So, keep those casserole recipes in mind if you end up with some extra ingredients after you make this one.
As always, for full measurements check the recipe card below.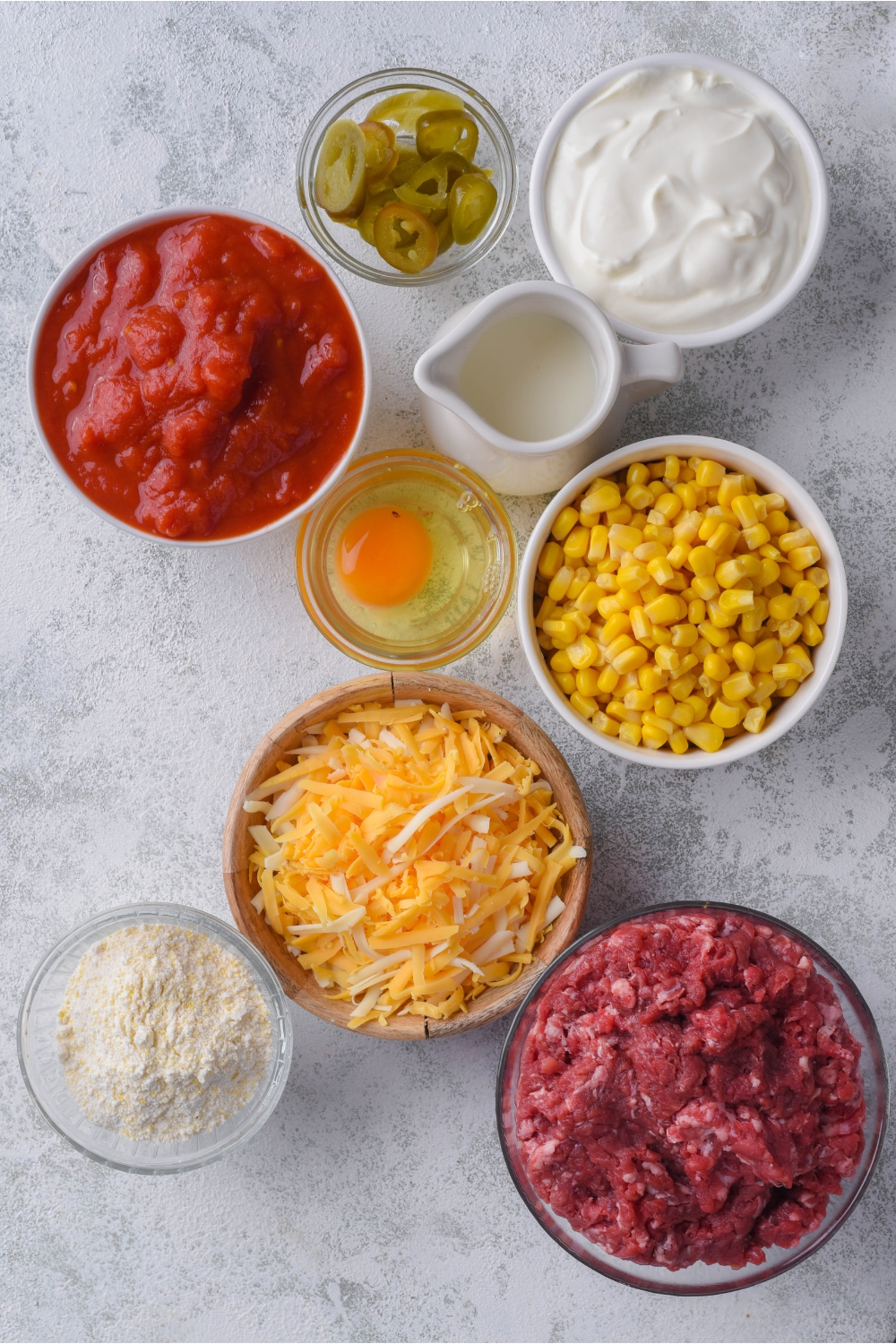 How To Make Taco Cornbread Casserole
1. Prep: Preheat the oven to 350°F and lightly grease a 9-inch baking dish with nonstick cooking spray or butter.
2. Cook the cornbread: Combine the cornbread mix with the milk and egg. Then, pour the mixture into the baking dish and bake for 15 minutes. When it's finished, remove it from the oven and set it aside.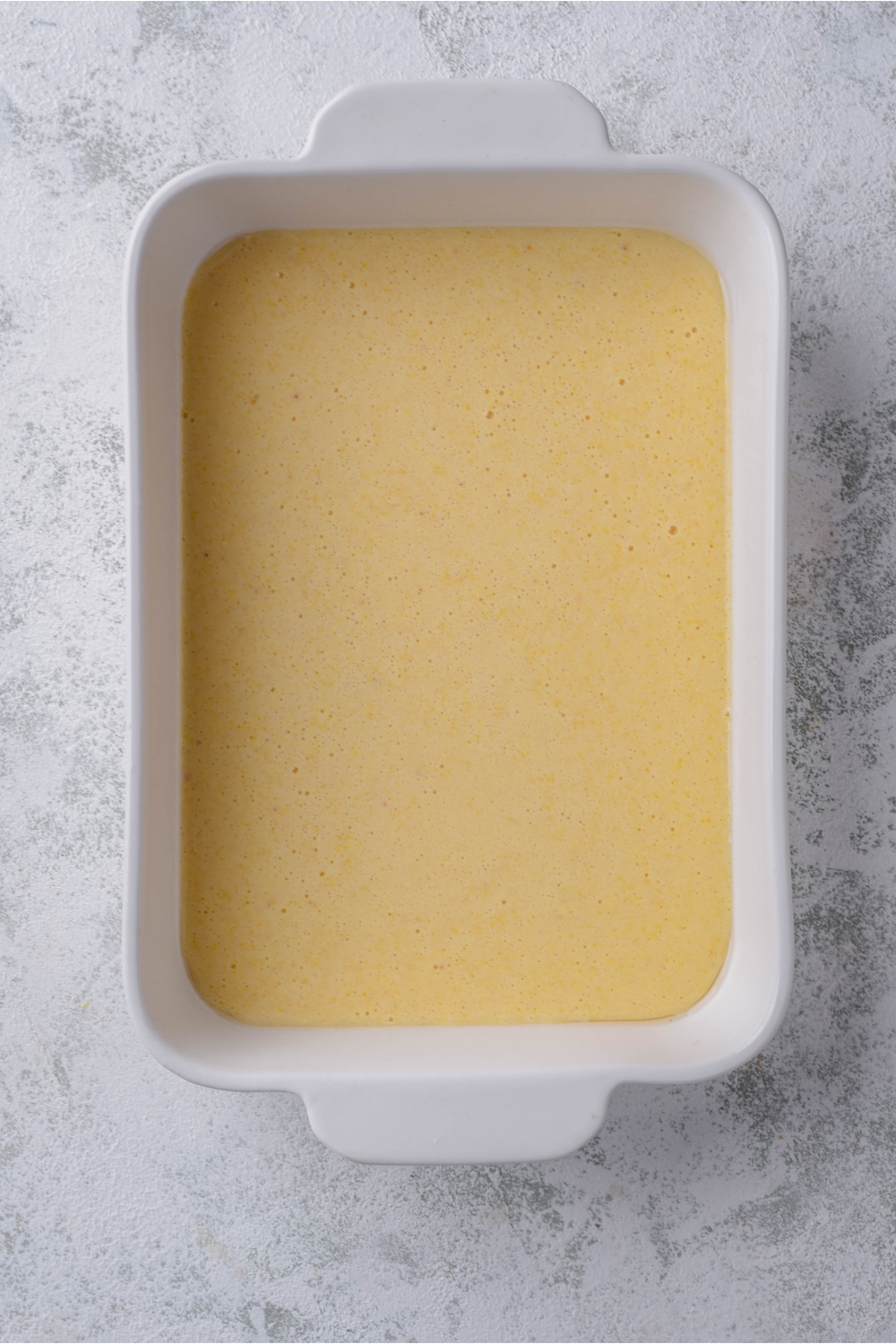 3. Cook the ground beef: While that's baking, you'll want to take out a large skillet and cook the ground beef with the taco seasoning until it's nicely browned on all sides. Then, add the water to the skillet and let the ground beef mixture simmer for 5 minutes.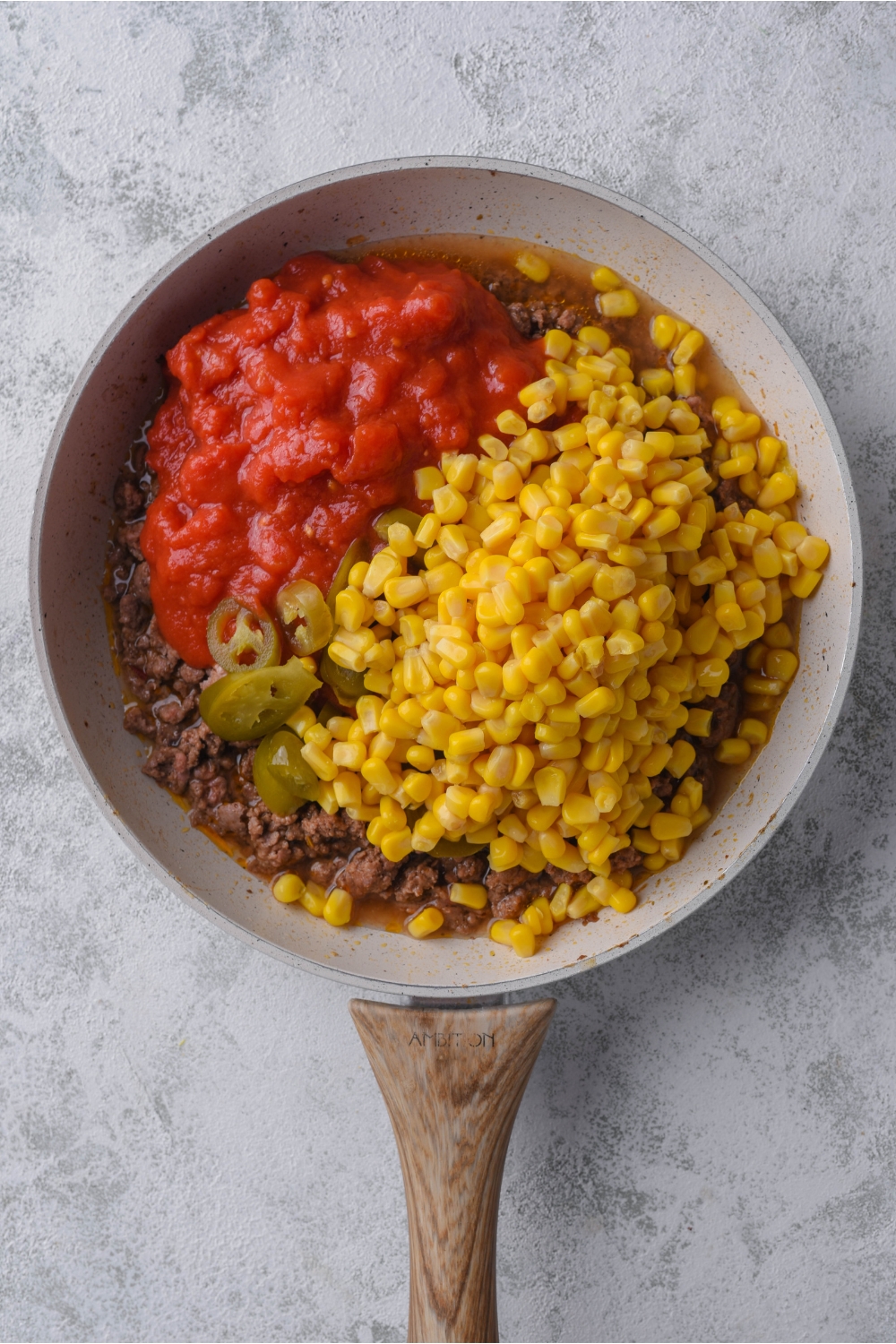 4. Add veggies: After it simmers, stir the drained canned corn, chopped tomatoes, and jalapeños with the hamburger meat.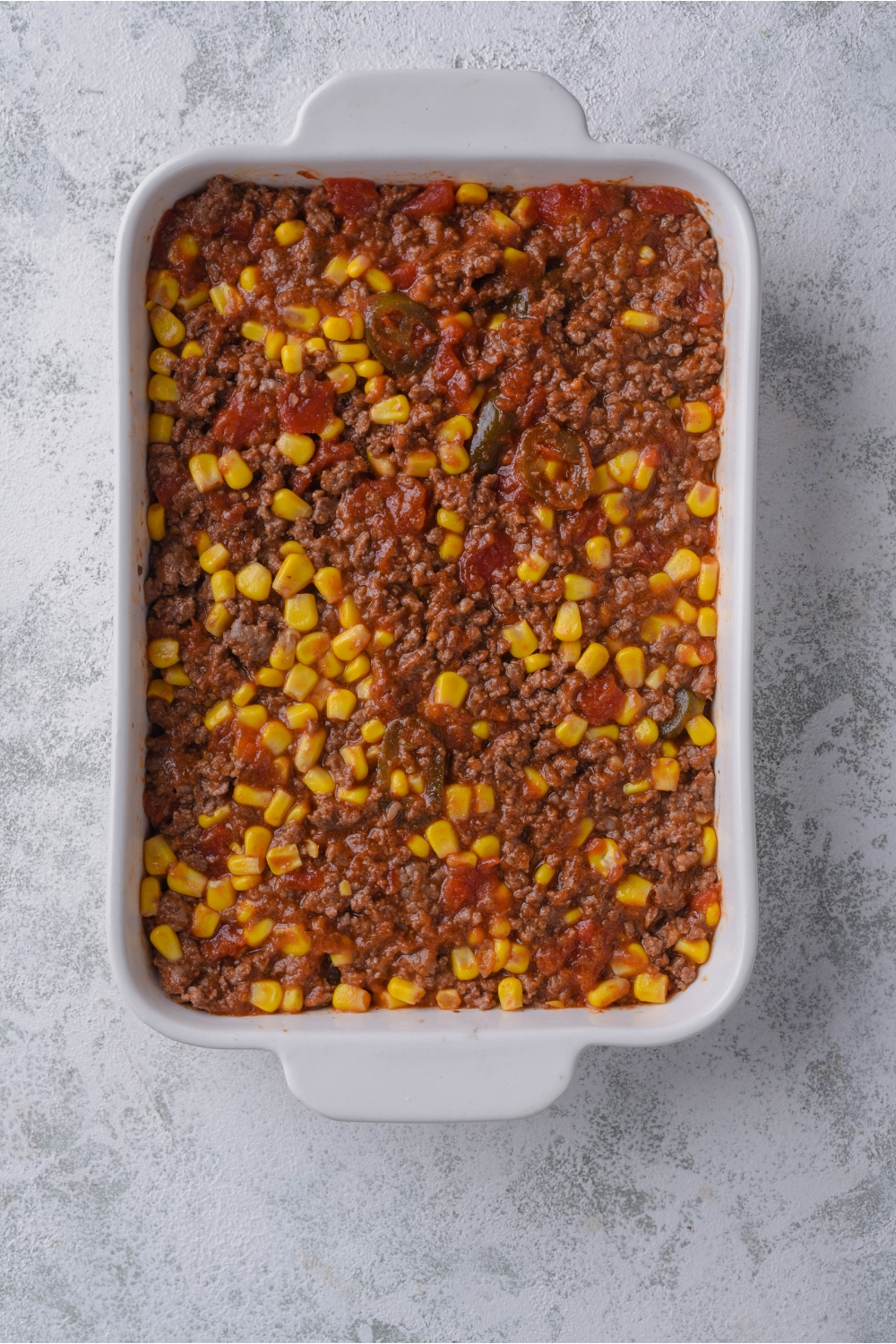 5. Assemble the casserole: Spread the meat mixture over the cornbread mixture in the baking dish. Then, spread the sour cream over the ground beef and top it off with the Mexican cheese blend.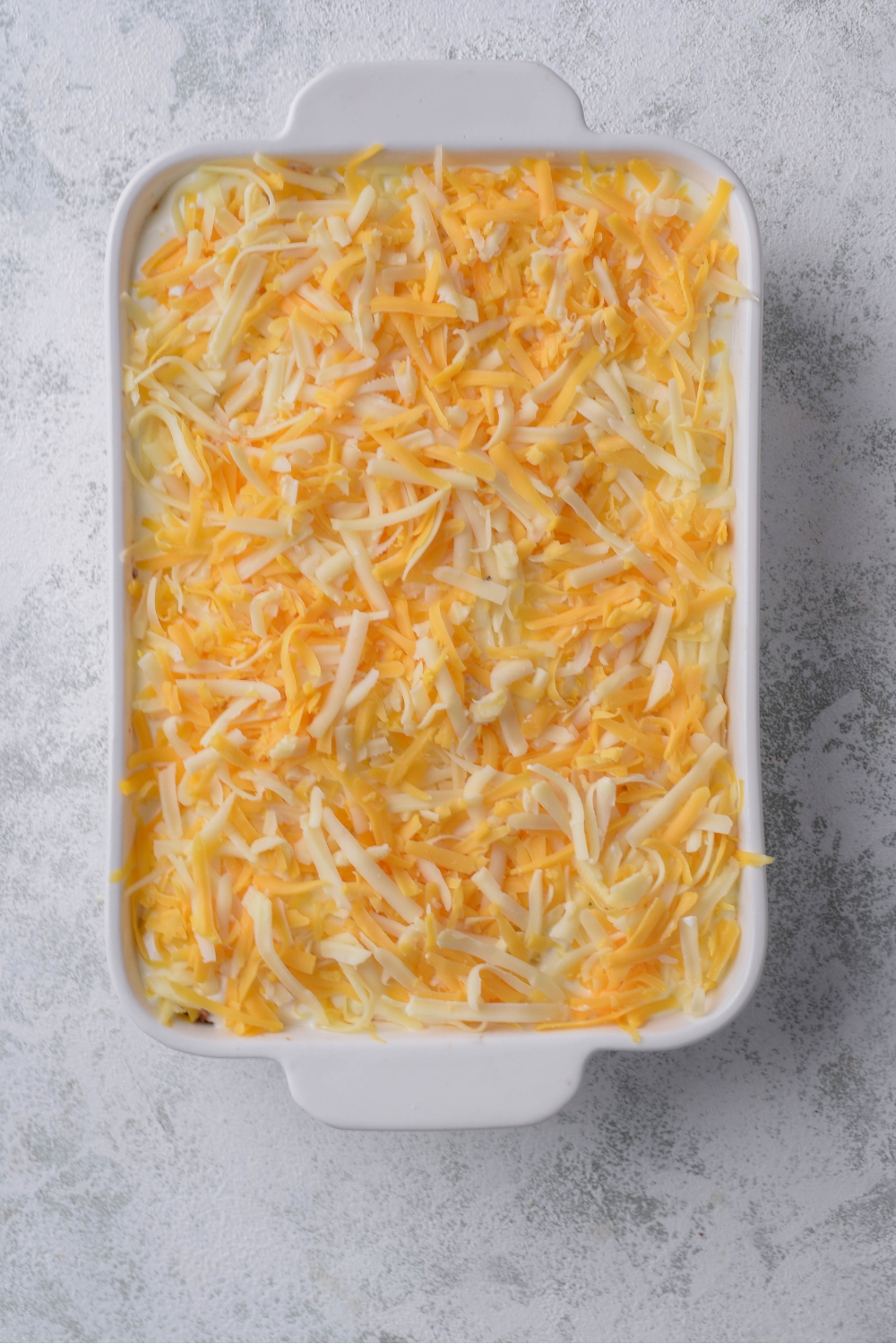 6. Bake and serve: Bake the casserole for 25 minutes or until the cheese is melted and bubbly. Allow the casserole to cool slightly, then garnish with some sliced black olives or some parsley and serve it warm. Enjoy!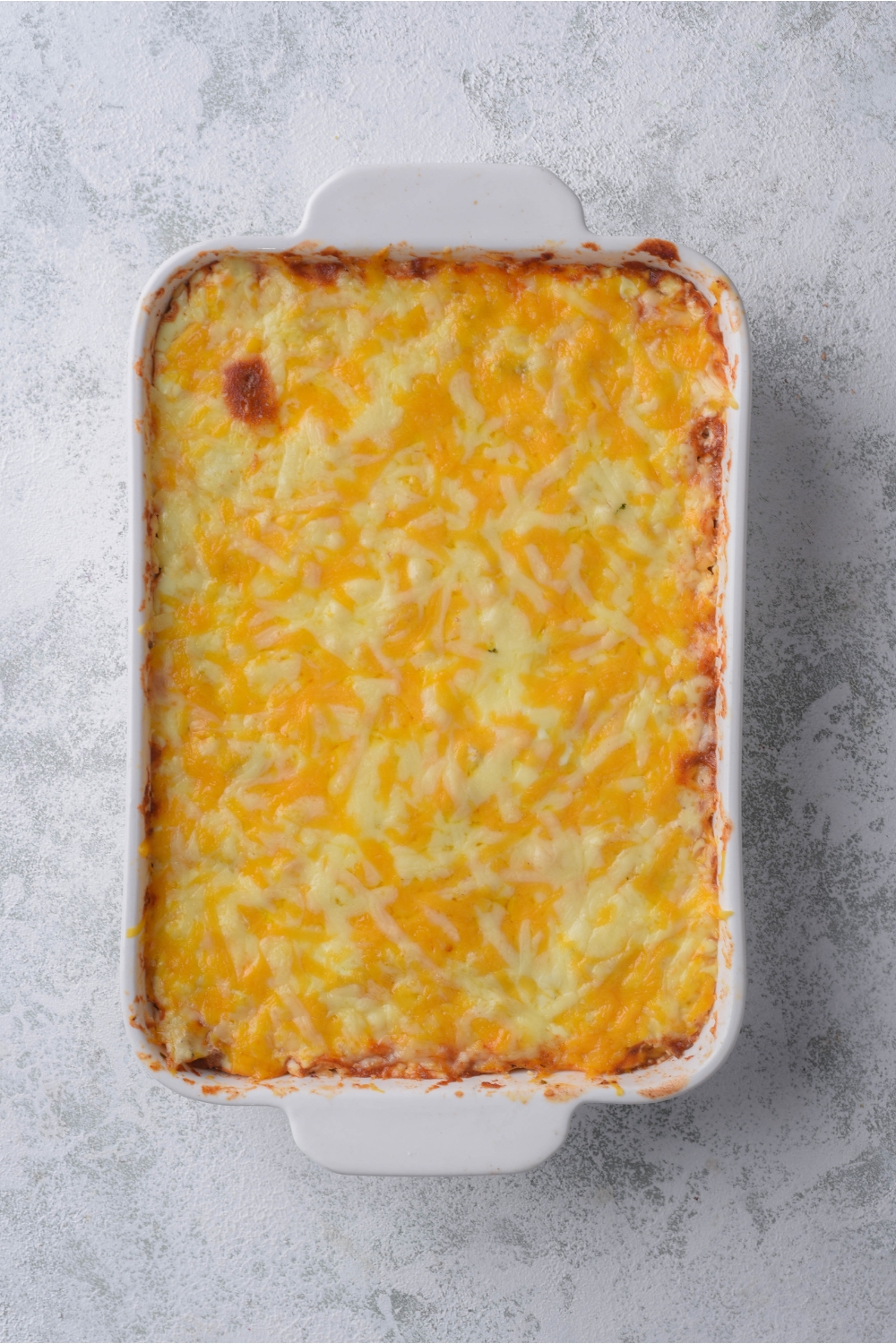 My Pro-Tips To Make The Best Recipe
Break the ground beef apart as it cooks so it browns evenly on all sides.
Add some creamed corn to the Jiffy cornbread mix before baking it to add extra flavor and texture to the cornbread. This is a popular option with my wife.
Change the meat and use ground chicken or ground turkey instead of ground beef. You can even use refried beans or black beans instead to make a vegetarian version.
Swap the cheese. Use shredded cheddar cheese, Monterey Jack cheese, or cotija instead of Mexican cheese - or use a mix of cheeses.
Serve the casserole with sliced avocado, shredded lettuce, or salsa on top.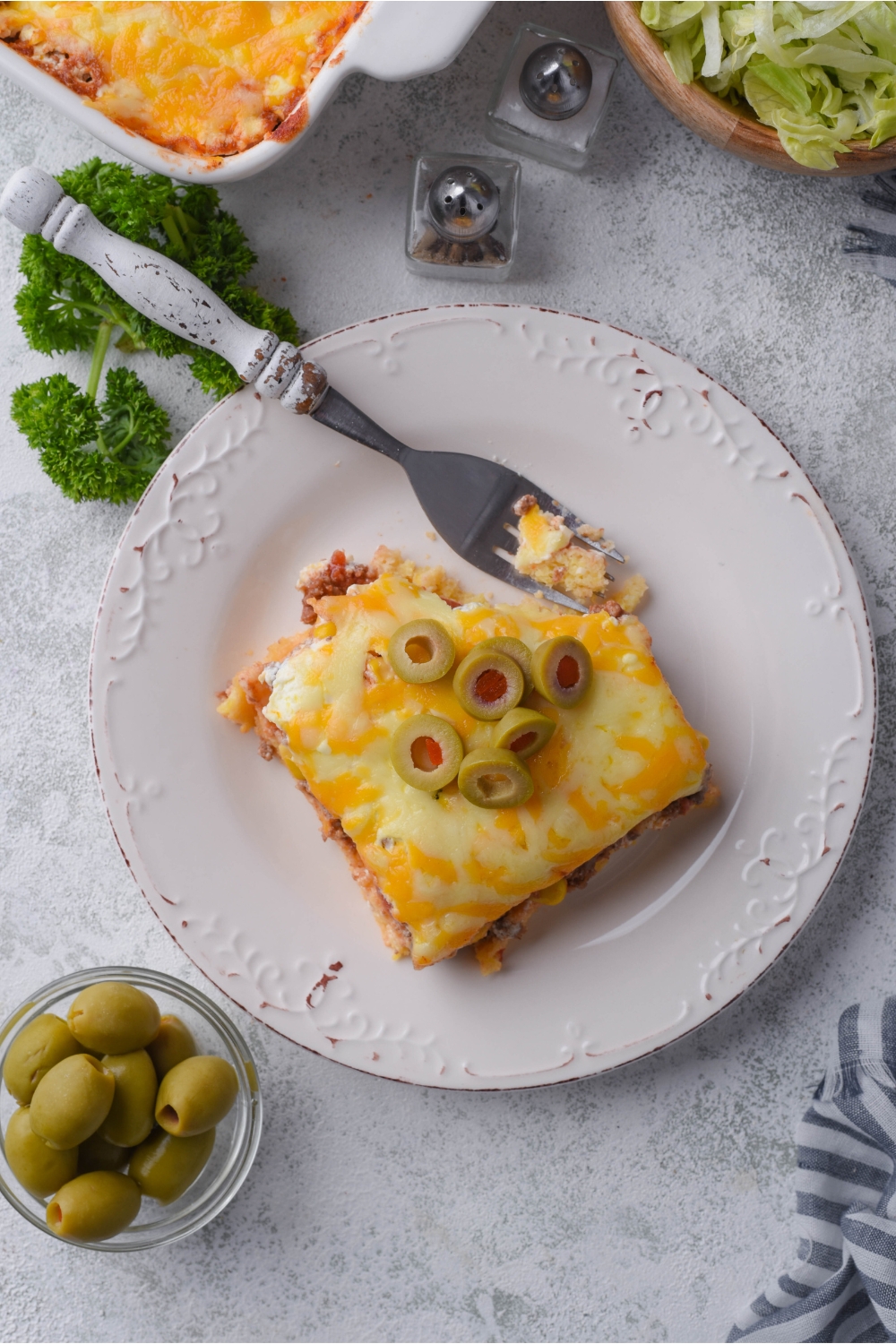 How I Recommend Storing and Reheating This Taco Cornbread Casserole
In the fridge: Store any leftover taco cornbread casserole you end up with in the fridge for up to 4 days. Just make sure you've got it stored in an airtight container when you do.
In the freezer: Allow the casserole to cool completely, then transfer it to a freezer-safe container and it'll stay good in the freezer for up to 3 months.
Reheating: Put the casserole back in the oven at 350°F for about 10 minutes or until the cheese melts again and it's heated through. Alternatively, you can heat up single servings in the microwave in 1-minute increments. Usually just 1 or two of them is enough to warm 'em back up.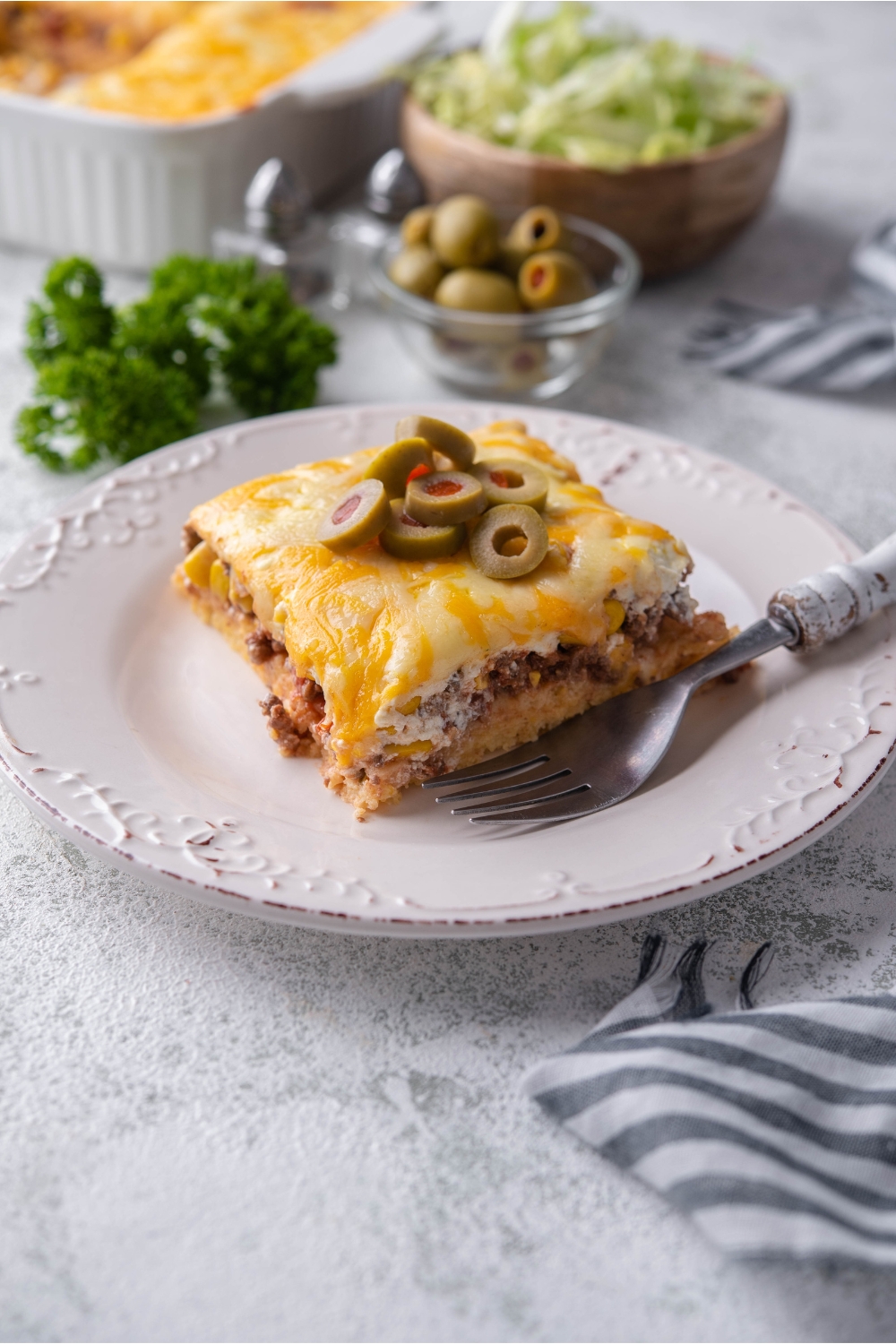 FAQS About This Taco Cornbread Casserole Recipe
What can I serve with taco cornbread casserole?
Any Mexican food like chipotle guac, Chipotle cilantro lime rice, or Mexican street corn casserole goes well.
How do I make this casserole spicier?
Add extra diced jalapenos or throw in some green chiles to the ground beef mixture and top the casserole with hot sauce or enchilada sauce.
Can I make this casserole ahead of time?
Yes, you can definitely make this casserole recipe ahead of time. If you do, you'll just want to make sure you eat it with 4 days of making it. Then, just follow the reheating instructions I listed above.
More Casserole Recipes
If you love casseroles as much as I do, there's a bunch on the blog worth checking out.
Here are some of my favorites:
Yield: 6 servings
Taco Cornbread Casserole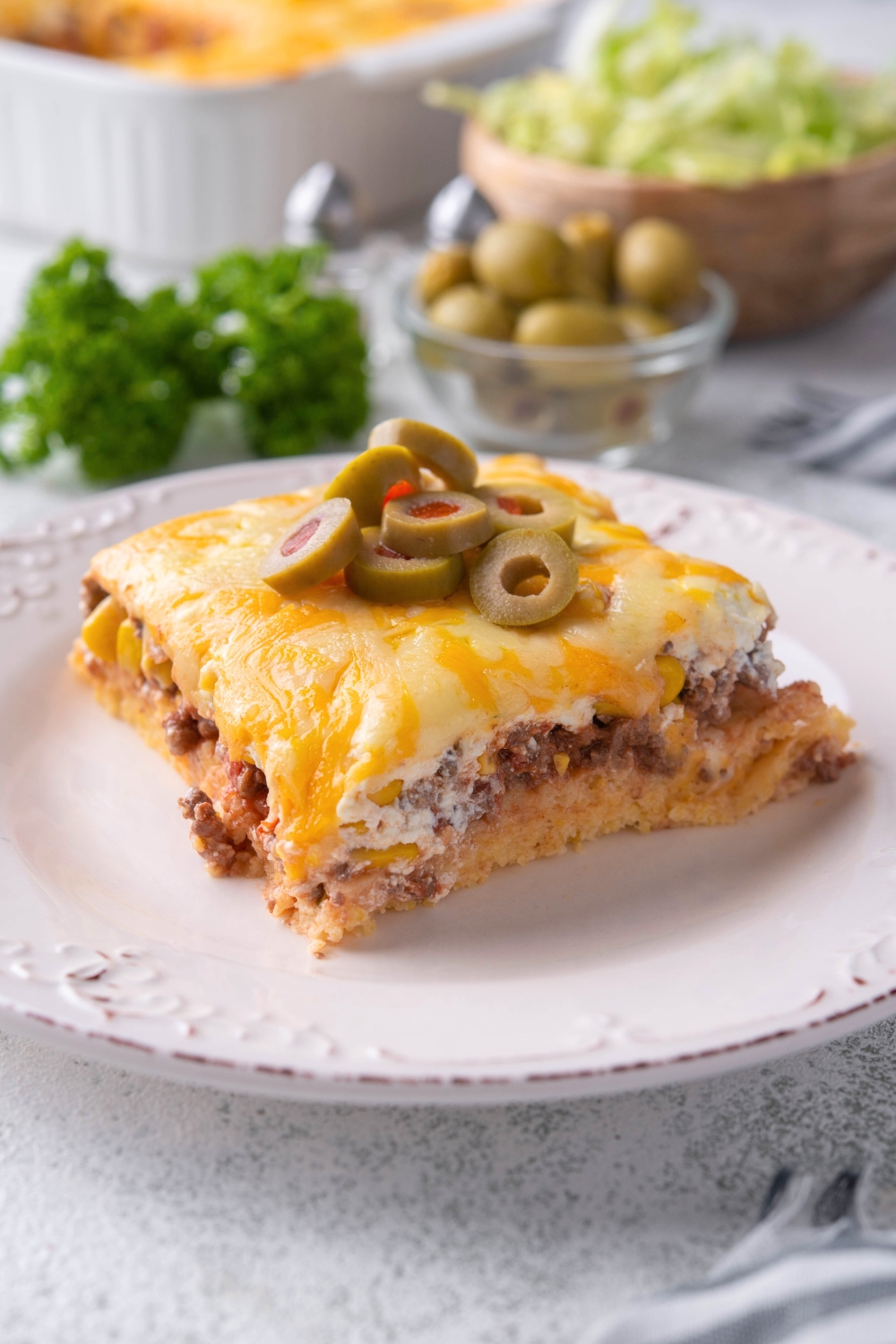 This taco cornbread casserole is layered with flavor. It combines fluffy, buttery cornbread with seasoned ground beef, veggies, sour cream, and a melty Mexican cheese blend on top. Delicious! 
Ingredients
5oz. cornbread mix
⅓ cup milk
1 small egg
0.75lb. ground beef
2 tablespoon taco seasoning
¼ cup water
8oz. can corn, drained
8oz. can chopped tomatoes
¼ cup pickled jalapenos
1 ½ cup sour cream
1 ½ cup Mexican shredded cheese blend
Sliced olives, for garnish
Instructions
Preheat oven to 350°F. Slightly grease a 9-inch baking dish with some cooking oil.
Combine cornbread mix with milk and egg. Pour the mixture into the baking dish and bake for 15 minutes.
In the meantime, cook the beef with taco seasoning until browned. Add water and simmer for 5 minutes.
Stir in corn, chopped tomatoes, and jalapenos.
Spread the beef mixture over the cornbread mix. Spread the sour cream over the beef, and finally add the Mexican cheese blend over the sour cream.
Bake the casserole for 25 minutes. Cool slightly before serving.
Garnish with some sliced olives or anything you want.
Nutrition Information:
Yield:
6
Serving Size:
1 serving
Amount Per Serving:
Calories:

418
Total Fat:

30g
Saturated Fat:

15g
Trans Fat:

1g
Unsaturated Fat:

11g
Cholesterol:

136mg
Sodium:

347mg
Carbohydrates:

11g
Fiber:

1g
Sugar:

6g
Protein:

26g