This mayo parmesan chicken recipe has extra tender and juicy chicken breasts coated in a super crispy panko crust. It tastes even better than something you'd get at a restaurant! Every bite is filled with flavor, and you'll never believe how easy it is to make.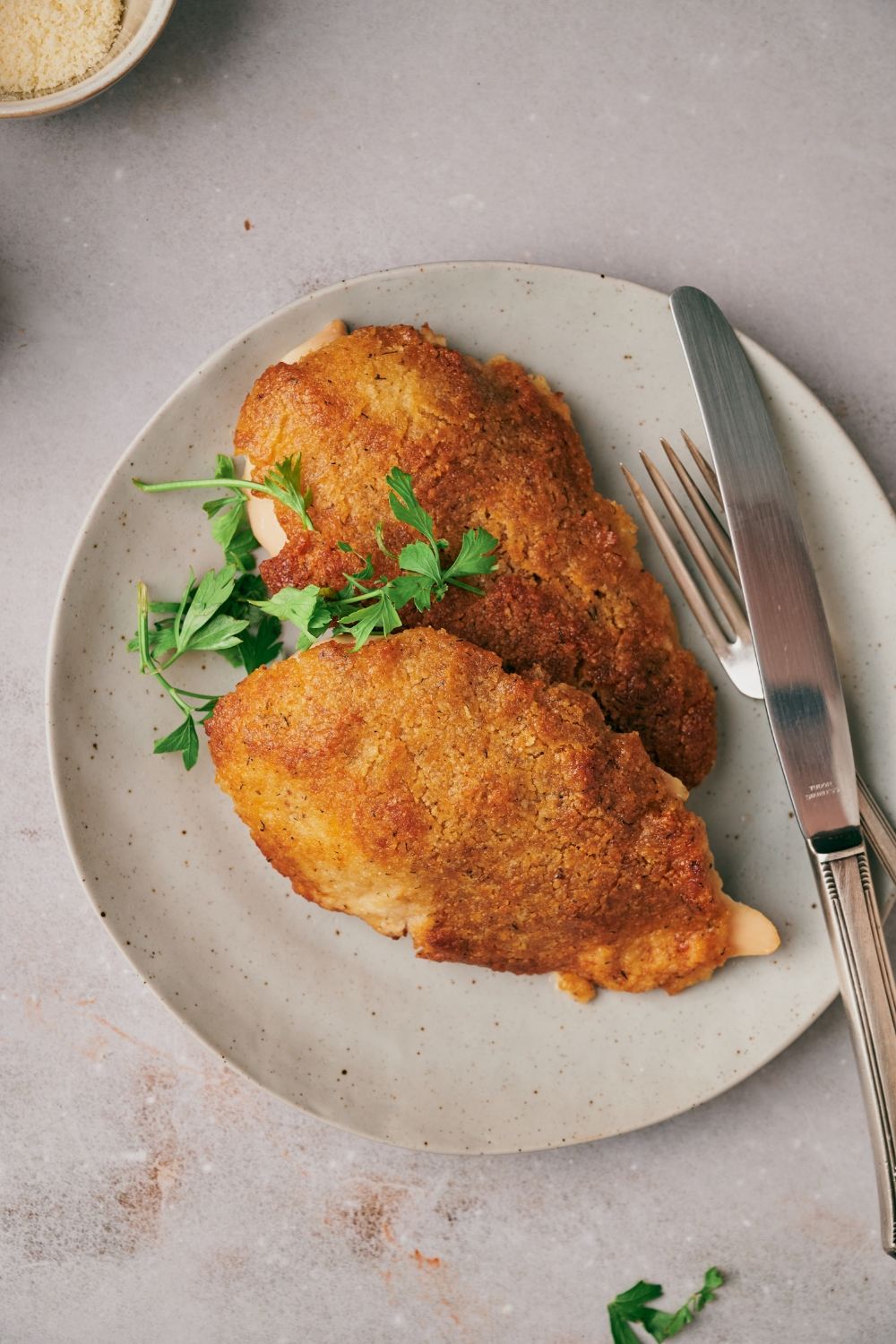 The Best Mayo Parmesan Chicken
This mayo parmesan crusted chicken recipe takes a few basic ingredients and transforms them into perfectly seasoned, flavorful, crazy juicy chicken breasts. It honestly might be my new favorite way to cook chicken, which is really saying something because I have a ton of delicious easy chicken recipes on the blog.
This mayonnaise chicken recipe is made with boneless skinless chicken breasts that are first coated in a flavorful mayo, parmesan cheese, and ranch seasoning mixture. Then they're breaded in a crispy panko breadcrumb mixture, giving each bite a delicious crunch and even more flavor.
Each chicken breast is baked until the outside is golden brown and crunchy while the inside stays extra juicy thanks to the mayo.
This mayonnaise parmesan chicken bake is the perfect weeknight dinner since it's so easy and satisfying, and it's also impressive enough to serve for a big family get-together or if you're hosting friends.
As good as the mayo chicken is by itself, it's even better when you serve it alongside this corn casserole with cream cheese or cream cheese pasta for the ultimate comfort food meal.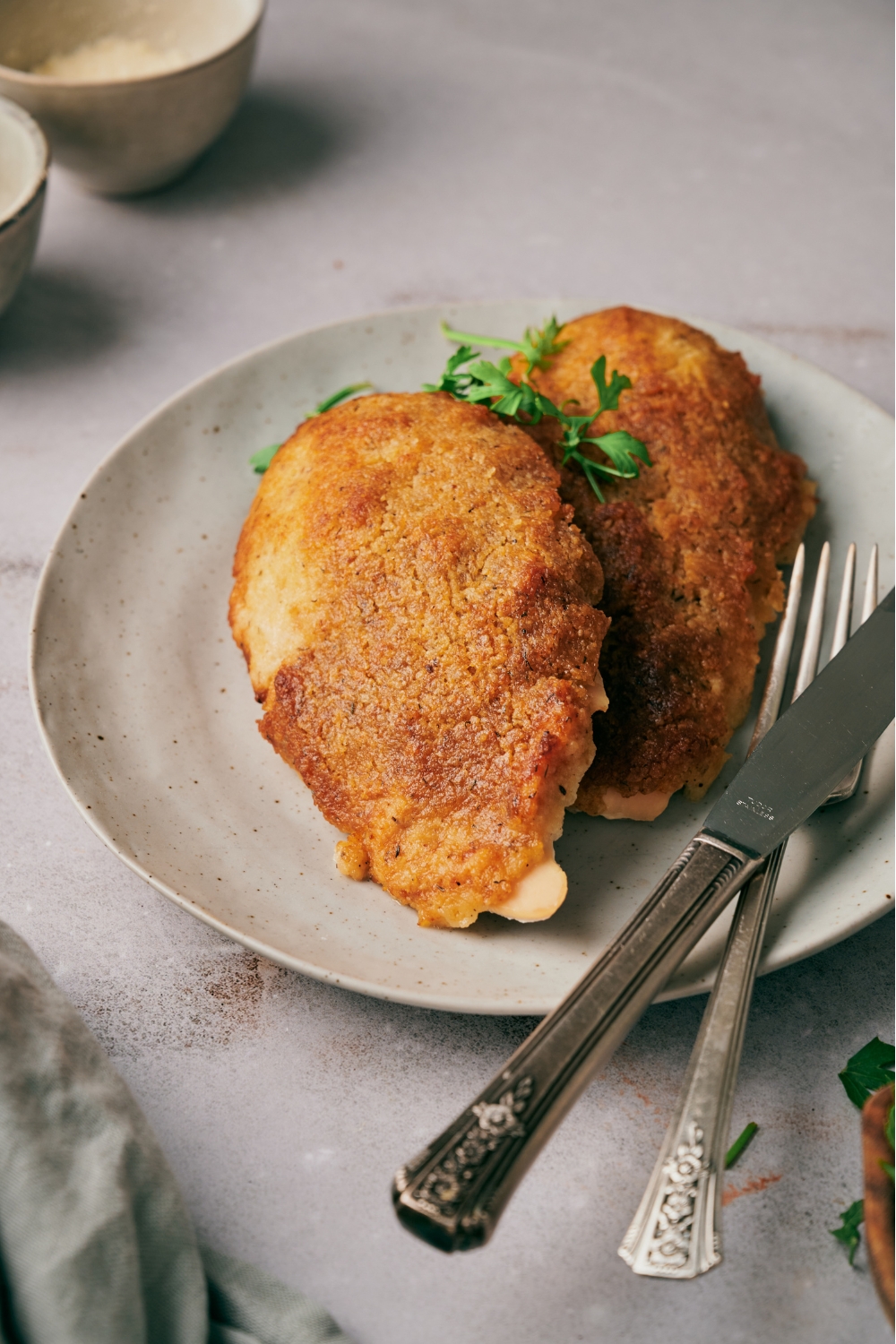 Why This Recipe Works
A winning combination. From the juicy chicken breast to the decadent mayo and ranch coating and crispy breading, there's a whole lot to love about this recipe.
Quick and easy to make. All you have to do is combine your mayo mixture, smother the chicken, sprinkle bread crumbs over the top, then let them bake in the oven. That's less than 10 minutes of prep time!
Crowd favorite. Anyone who loves chicken and ranch will love this mayo chicken recipe. It's a hit at every family dinner and gathering with friends that I've made it for, and even the picky eaters will be going back for seconds!
5 ingredients. Yes, you read that right. Just 5 super simple ingredients are all you'll need to make this delicious recipe!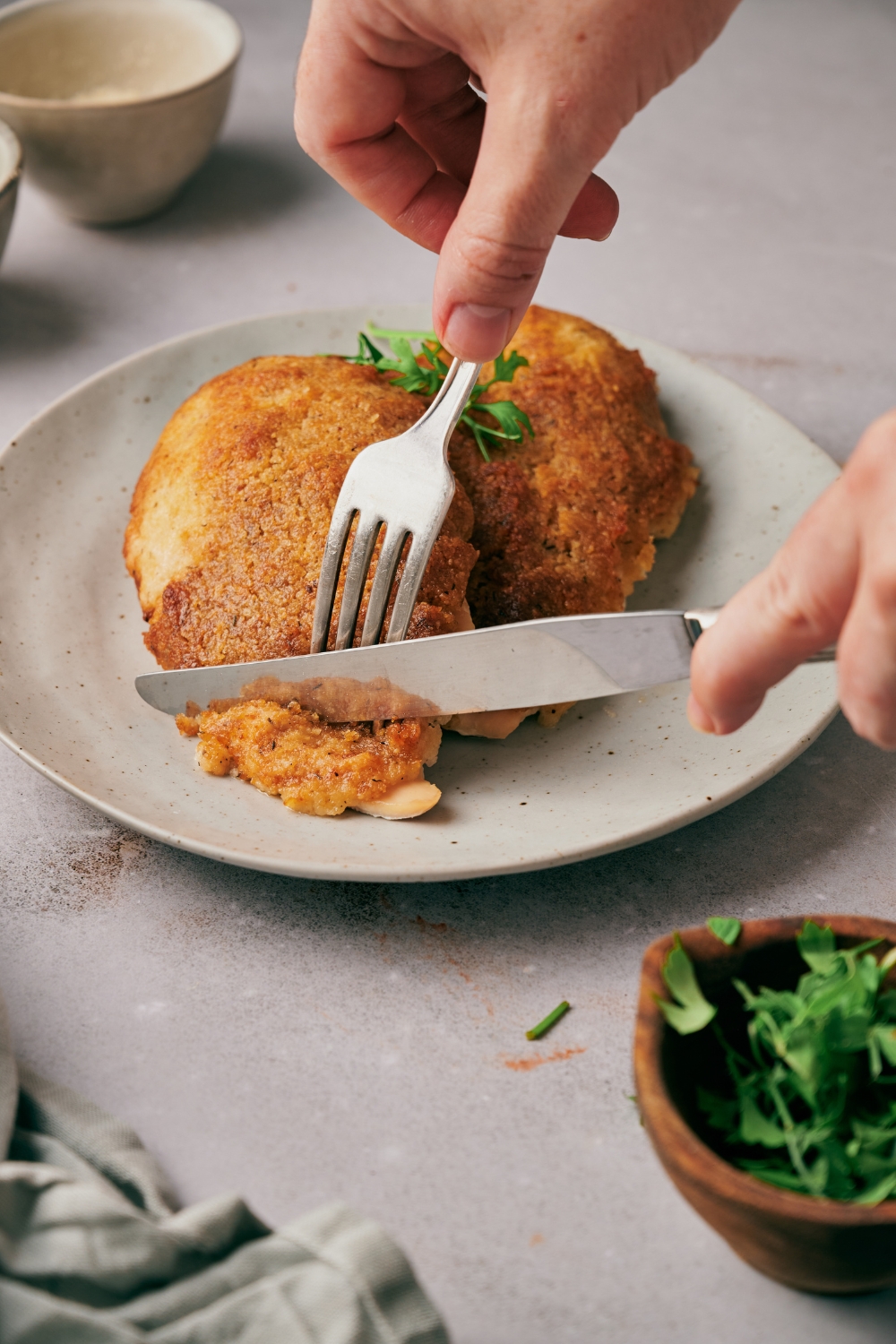 Ingredients
I just mentioned that you only need a few ingredients to make this parmesan crusted chicken recipe, and those ingredients are:
1 ½lbs. boneless skinless chicken breasts

⅔ cup mayonnaise

2 tbsp. ranch dressing mix

½ cup grated parmesan cheese

4 tbsp. panko bread crumbs
You can use most of these ingredients to make this ranch chicken. It's another one of my go-to baked chicken breast recipes, so you'll definitely want to give it a try next!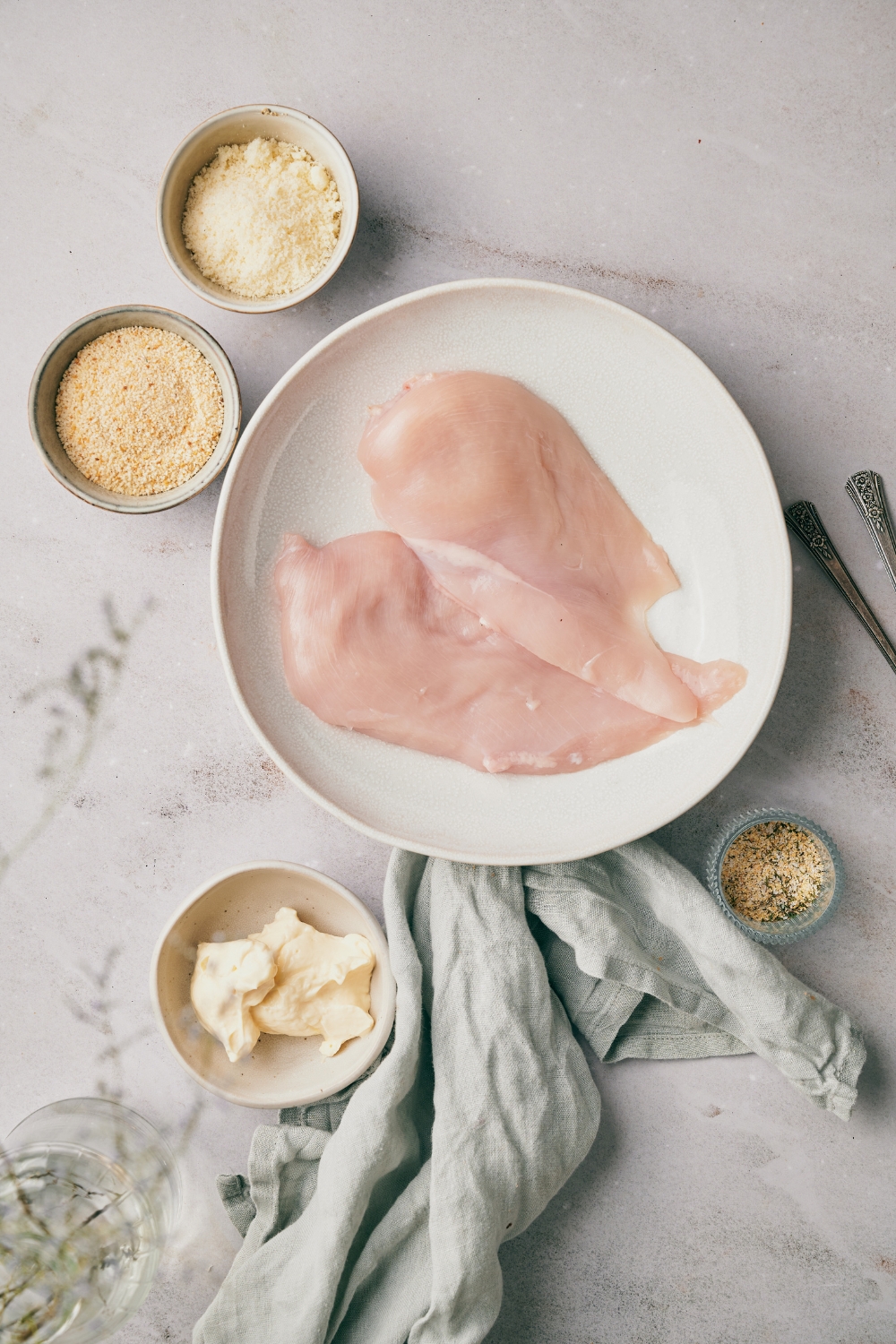 How To Make Mayo Parmesan Chicken
1. Prep work: Preheat the oven to 400°F (200°C) and line a baking sheet with parchment paper.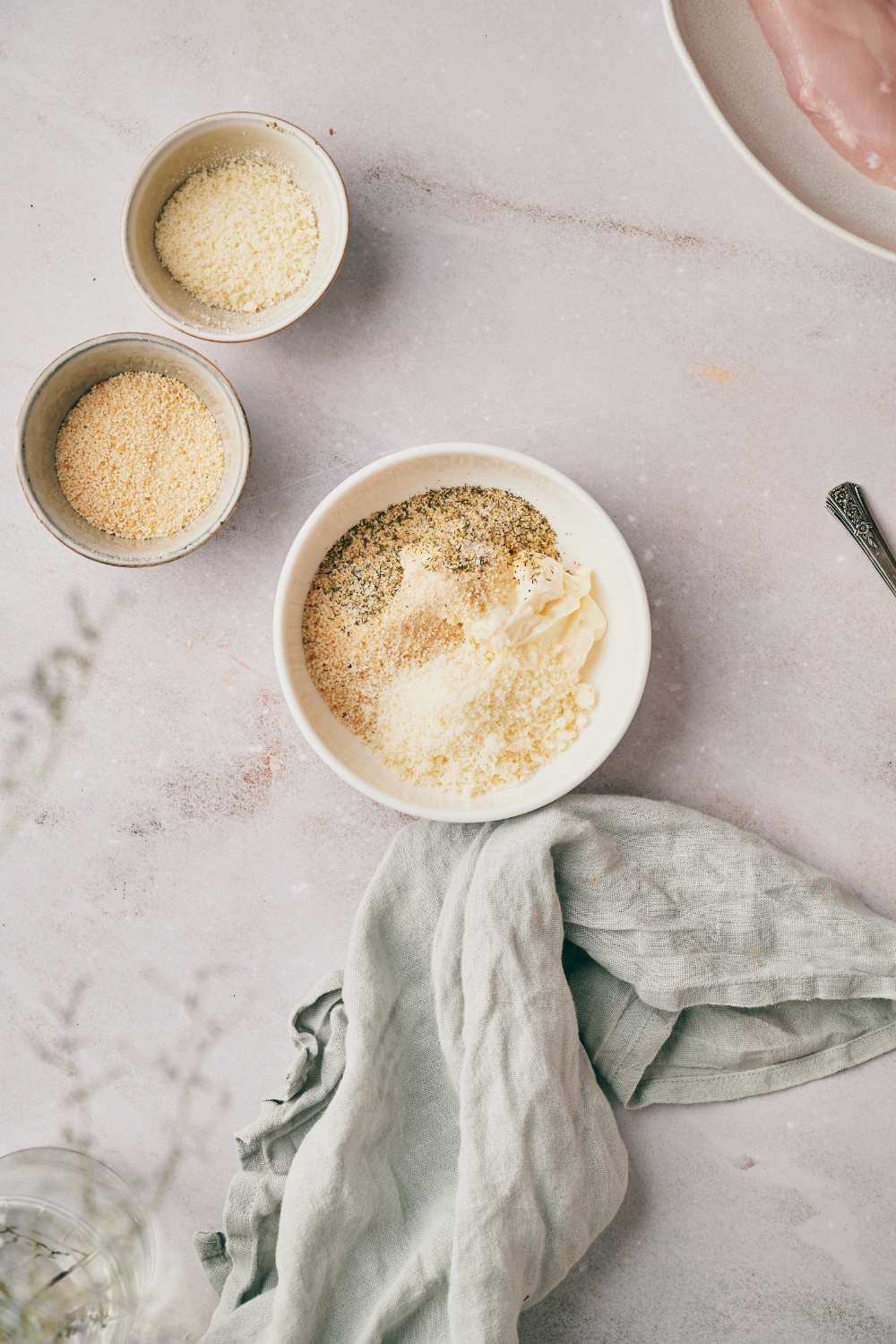 2. Make the mayonnaise mixture: In a small bowl, combine the ranch mix, mayo, and parmesan cheese. Make sure to mix until everything fully blends together.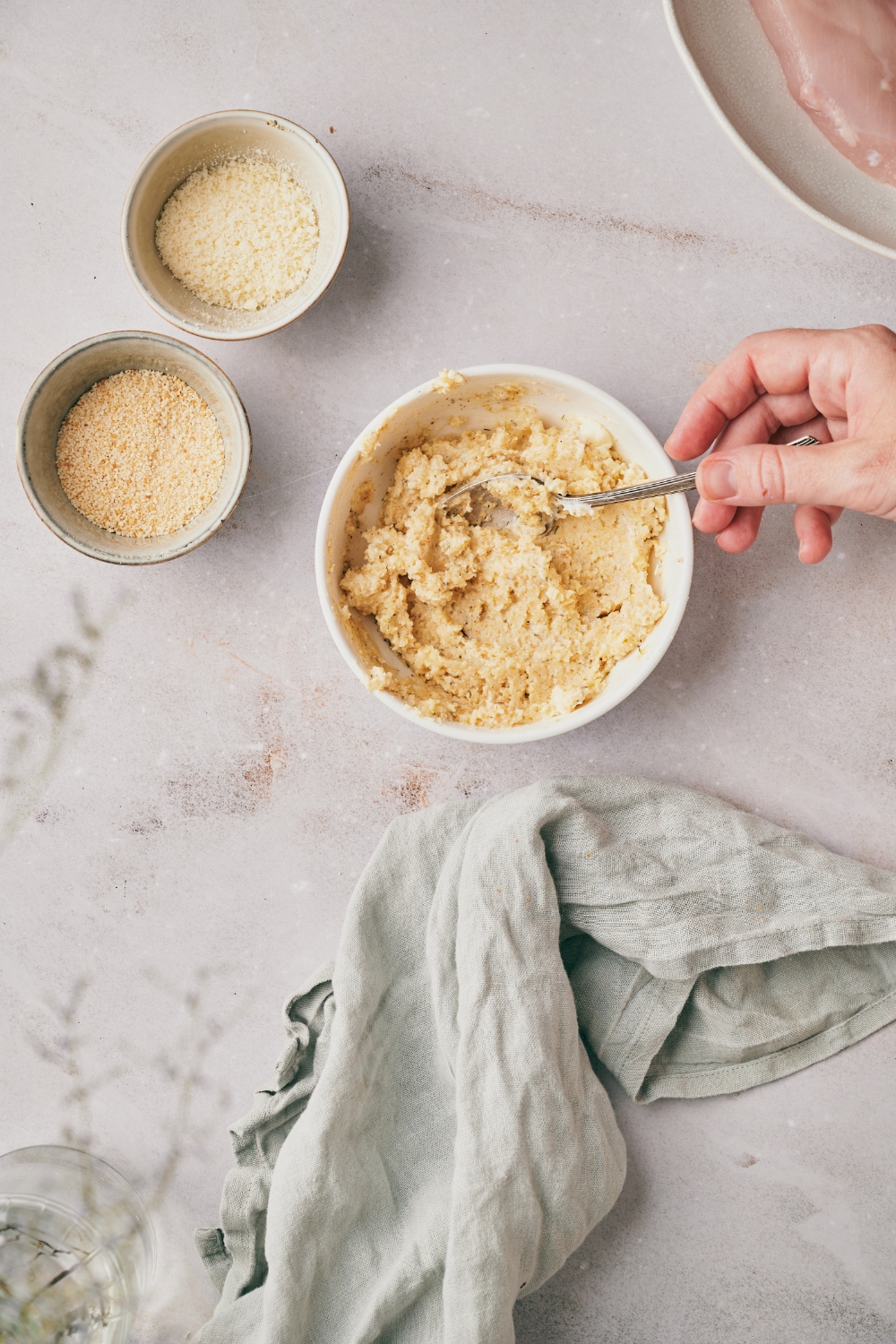 3. Coat the chicken: Place boneless chicken breasts on the baking sheet and spread the mayonnaise mixture over each side of the chicken breast. Then sprinkle bread crumbs evenly over the top.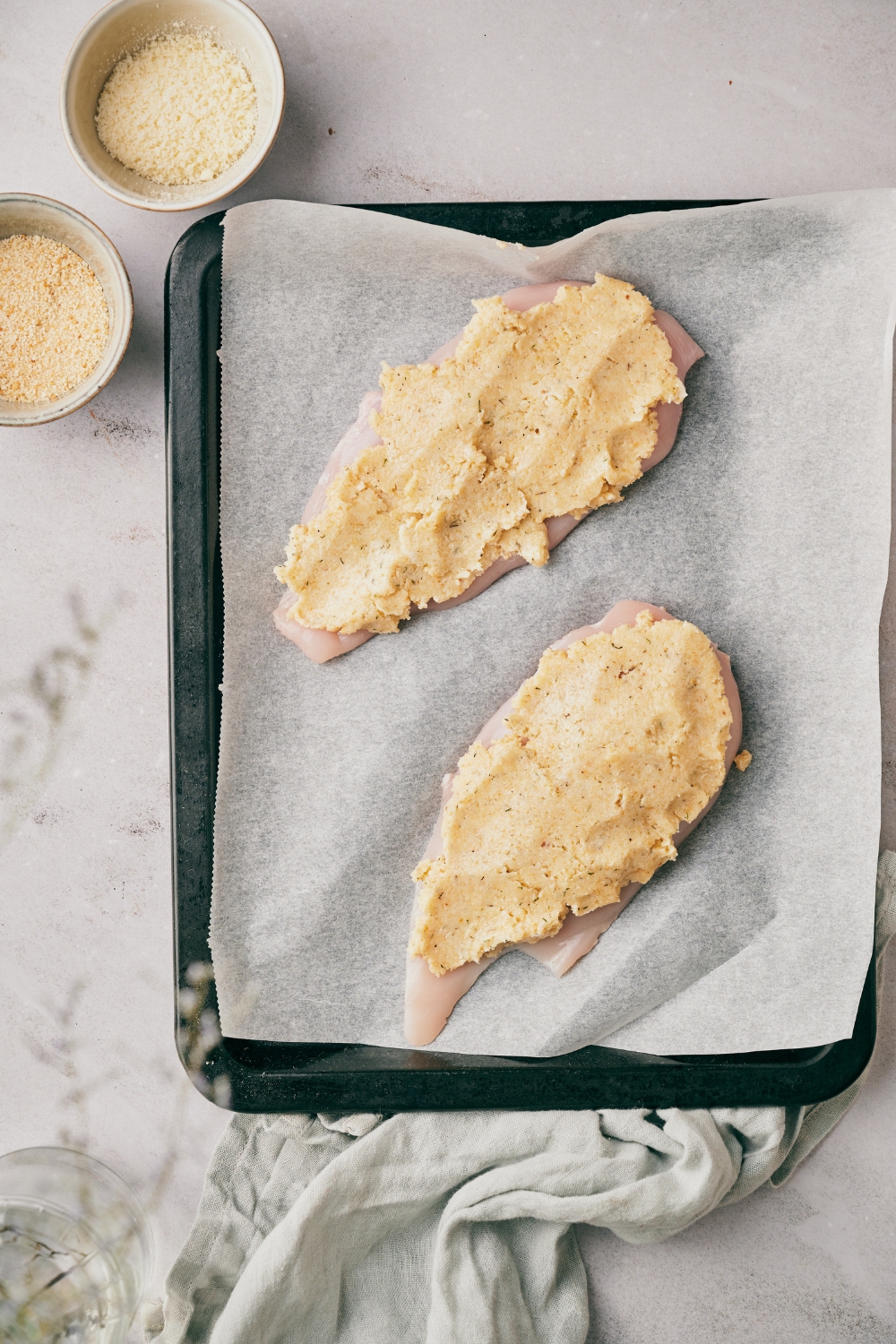 4. Bake and serve: Bake the chicken breasts for about 25 minutes or until the breading is crispy and the chicken breasts are cooked through. Serve warm with anything you want, and enjoy!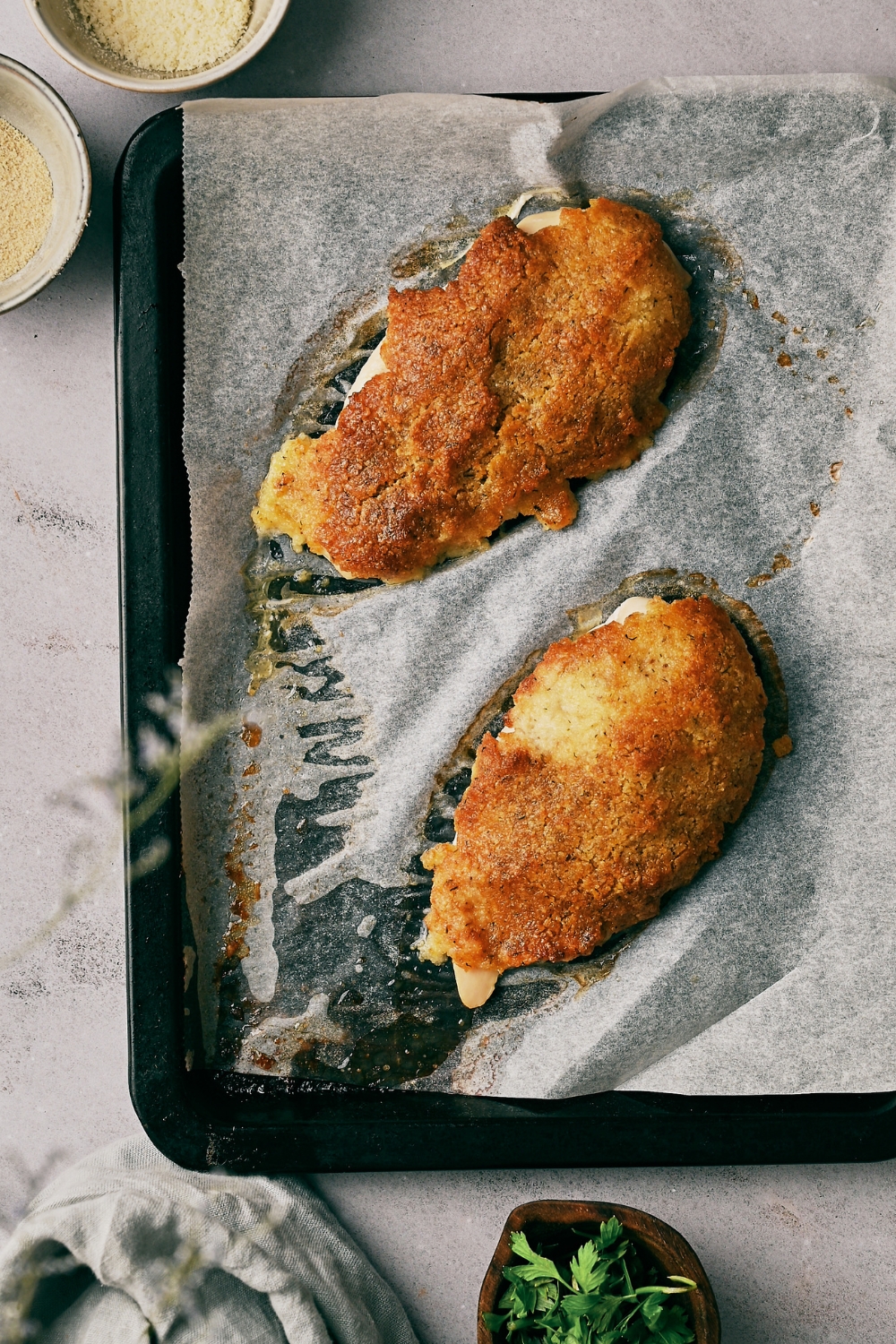 Tips To Make The Best Recipe
Use a meat thermometer and check for an internal temperature of 165°F to know when the chicken breasts are done cooking. The time it needs to bake for will depend on the thickness of the chicken.
Add a teaspoon of garlic powder to the mayo mixture to impart more garlic flavor.
Use boneless skinless chicken thighs instead of boneless skinless chicken breasts for more flavor.
Add Italian seasoning to make Italian bread crumbs for a slightly different flavor.
Butterfly the chicken breasts if they're super thick, so they cook more quickly.
Double or triple the recipe for a crowd. Everyone's going to want seconds!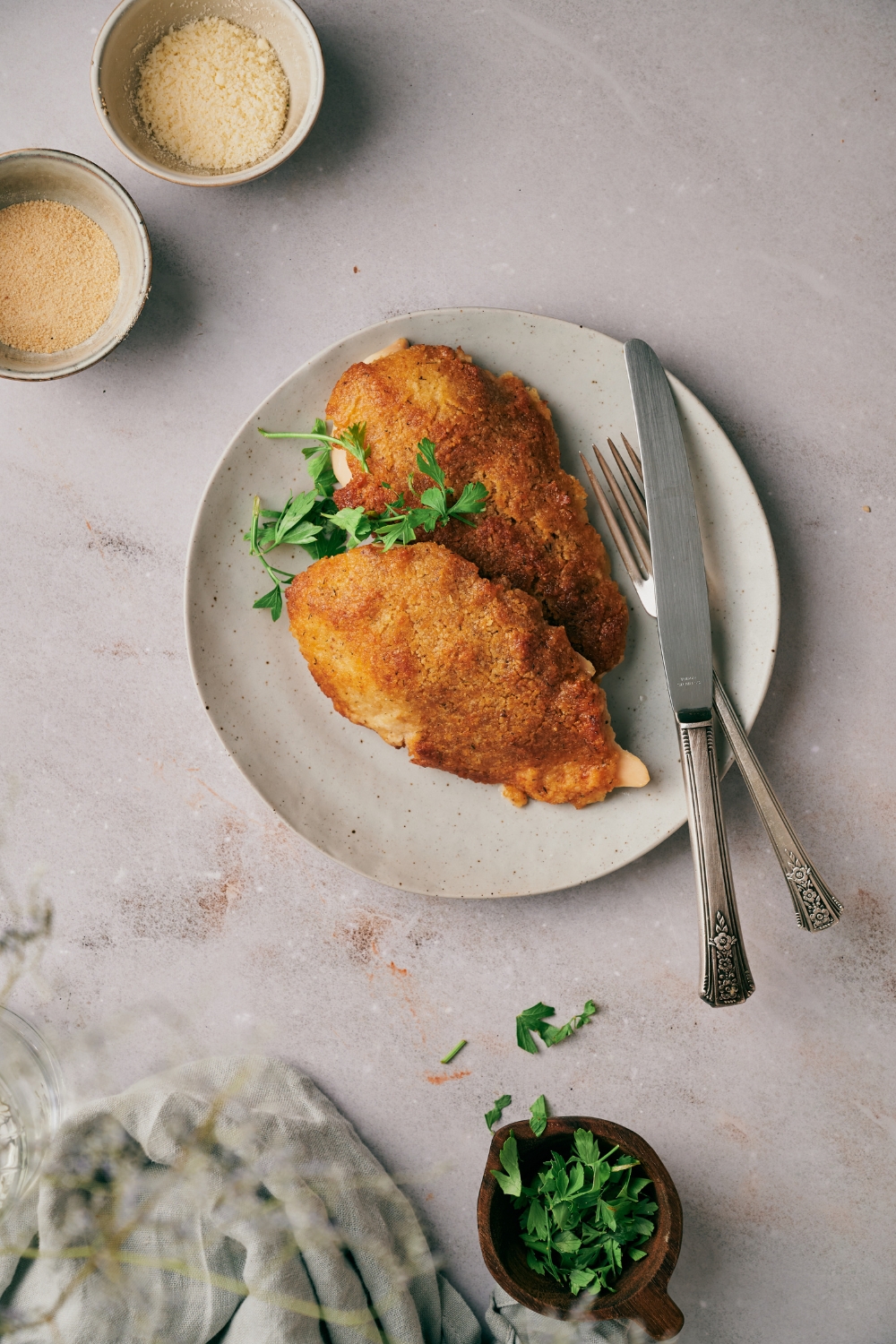 How To Store Mayo Parmesan Chicken
In the fridge: Store leftover mayo parmesan crusted chicken in an airtight container, and it'll last in the fridge for 3-4 days.
In the freezer: Allow the leftover chicken to cool completely, then transfer it to a freezer-safe container or freezer-safe bag and freeze for up to 4 months.
Reheating: Put the leftovers back in a baking dish and warm in the oven at 350°F for about 10-12 minutes, or until it reaches your desired temperature. Let the frozen chicken thaw in the fridge before reheating, or add more reheating time.

FAQS About This Mayo Parmesan Chicken Recipe
What can I serve with mayo parmesan chicken?
Parmesan crusted chicken with mayo tastes great served with these ham, green beans, and potatoes, this Chick Fil A mac and cheese, or this Cheesecake Factory brown bread.
What mayonnaise did you use?
I used Hellman's mayonnaise to make Hellman's parmesan crusted chicken. Any brand of mayo will work, but I think using Hellman's results in the most delicious parmesan crusted chicken with mayo.
Can I use Miracle Whip instead of mayonnaise?
Unfortunately, Miracle Whip should not be used in place of mayonnaise. Miracle Whip is much sweeter and won't form the desired crust with the parmesan cheese. So stick to regular mayonnaise in this recipe for the best results.
More Easy Dinner Recipes
Yield: 2 servings
Parmesan Crusted Chicken with Mayo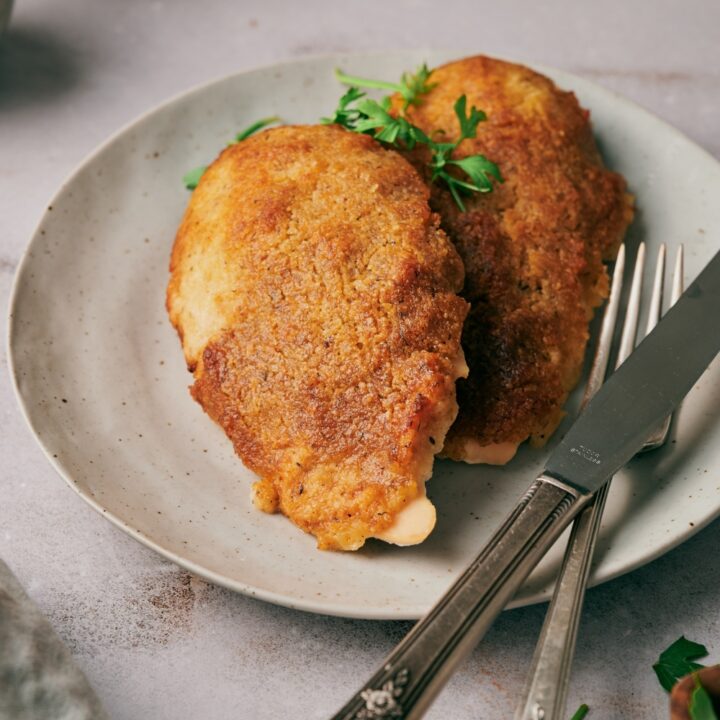 This mayo parmesan chicken recipe has extra tender and juicy chicken breasts coated in a super crispy panko crust. It tastes better than something you'd get at a restaurant! Every bite is filled with flavor, and you'll never believe how easy it is to make.
Instructions
Preheat the oven to 400°F (200ºC).

Combine mayonnaise, ranch mix, and parmesan in a bowl.

Place chicken on a baking sheet.

Spread the mayonnaise mixture over the chicken, then sprinkle Panko evenly on top.

Bake chicken for 25 minutes or until crispy and cooked through.
Nutrition Information:
Serving Size:
1 chicken breast
Amount Per Serving:
Calories:

744
Total Fat:

63g
Saturated Fat:

0g
Trans Fat:

0g
Unsaturated Fat:

0g
Cholesterol:

0mg
Sodium:

0mg
Carbohydrates:

1g
Fiber:

0g
Sugar:

0g
Protein:

40g