This buttery and fluffy mangu is a filling - and oh-so-comforting - side dish that you'll want to make over and over. Best of all, the recipe is incredibly quick and easy to make. All you need is just a handful of simple ingredients to make this Dominican staple.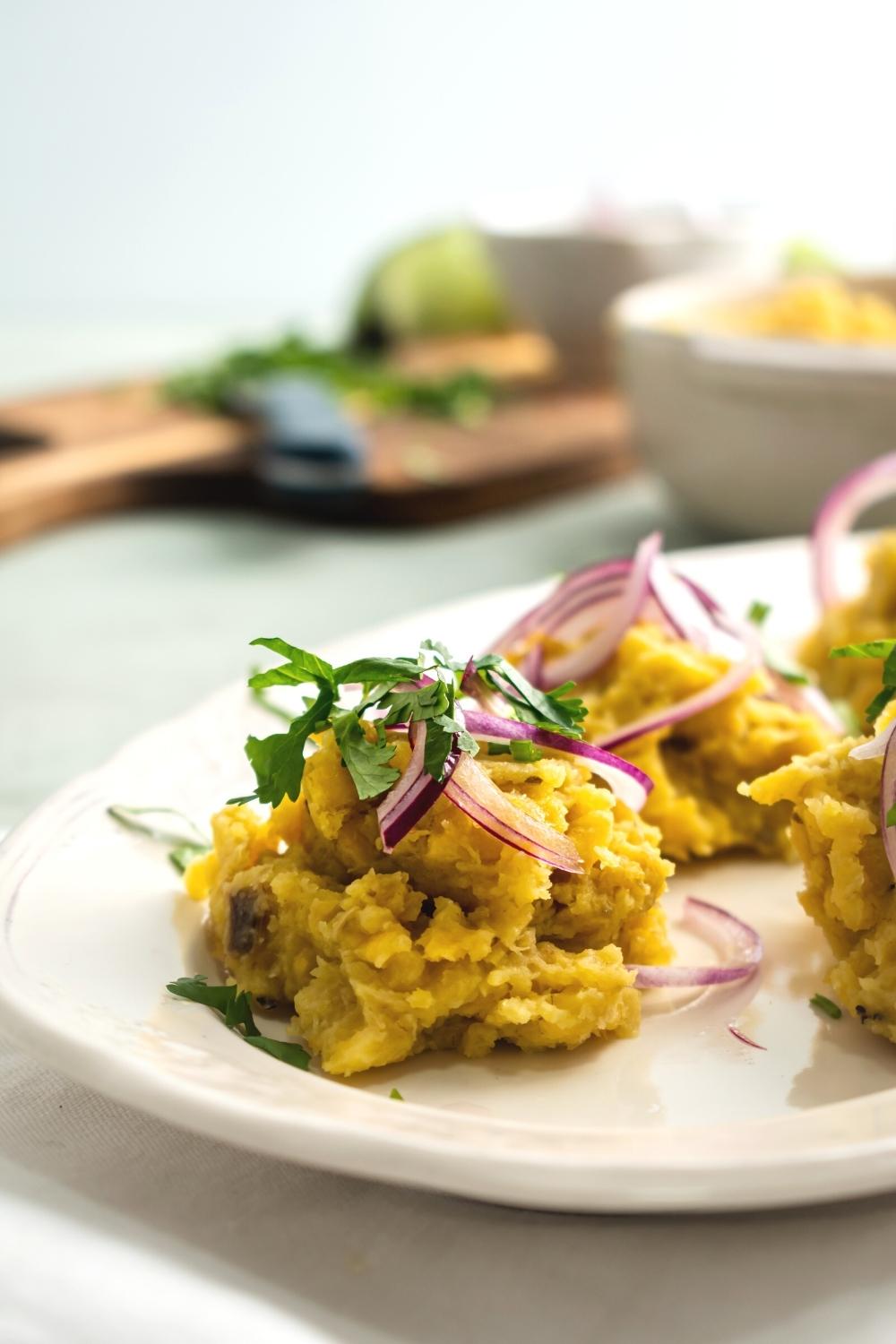 THE BEST MANGU RECIPE
Today, we're talking about mangu. Not mango, but mangu!
These rich and pillowy mashed plantains make a fantastically versatile side dish. It reminds me a lot of mashed potatoes but heartier.
In the Dominican Republic, mangu is considered the national breakfast. But it's so delicious and so easy to make that most people also have it for lunch and dinner as well.
All you need to do is boil and mash the plantains, then season them with a couple of optional aromatics to really make the savory flavor pop. And that's it!
Plus, not only is this mangu recipe a breeze to whip up, but it's also incredibly filling and nutritious.
Also, for what it's worth, we've been enjoying this dish so much that it's quickly become a part of our regular dinner rotation at home - just like these fried plantains and Jamaican fried dumplings.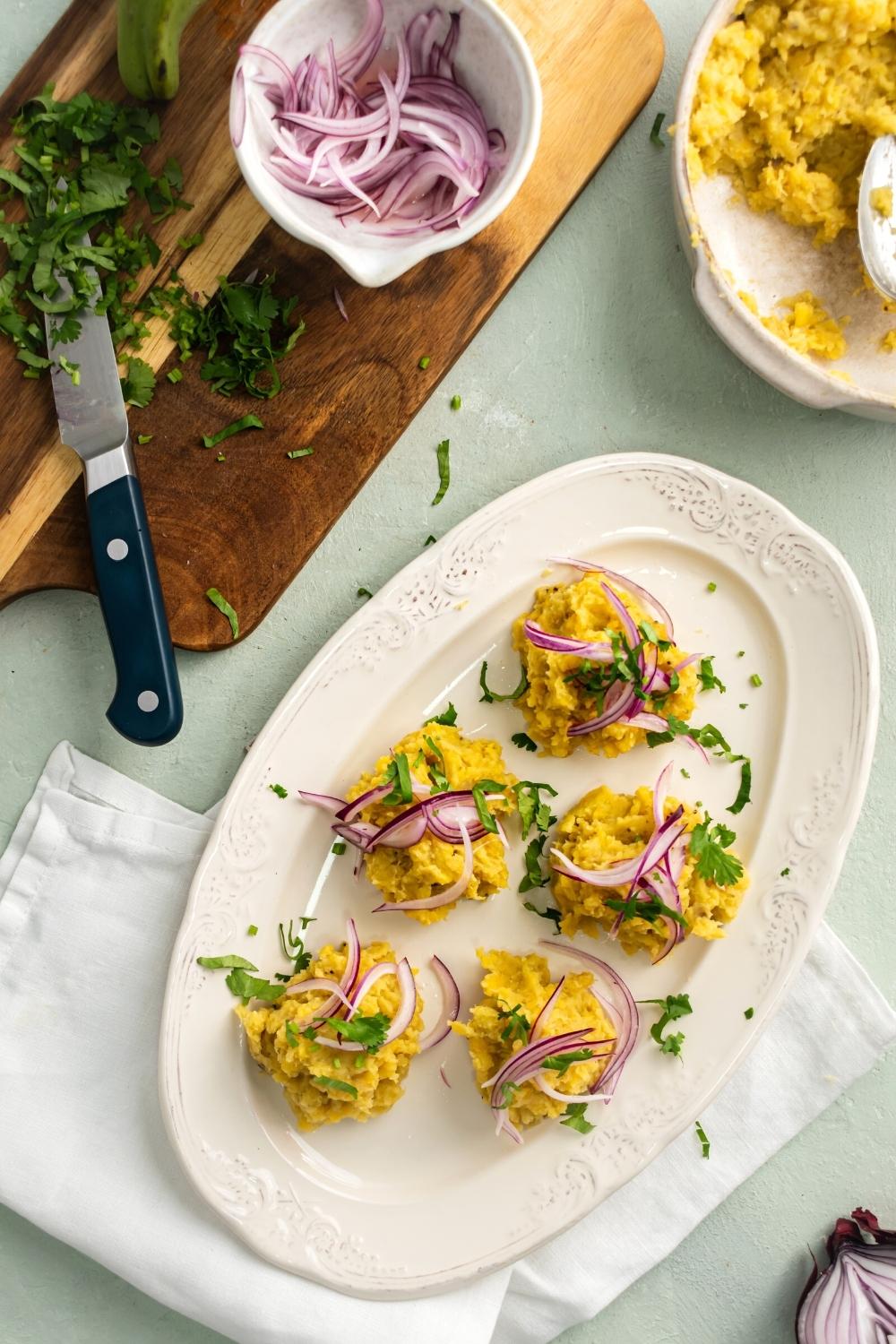 INGREDIENTS
As I mentioned earlier, for this mangu recipe you only need green plantains, some basic boiling ingredients, and butter.
And I like to kick the flavor up a notch by serving these Dominican mashed plantains with some zesty aromatics.
So, here's what you'll need to make your mangu:
4 Green Plantains

4 tablespoons Butter

Water for boiling (1 cup from the pot will be reserved)

Salt
And for serving on top:
Pickled Onions

Fresh Cilantro
So, you can buy pickled onions from the store, but they're just as easy to make at home. Just marinate sliced red onions with 2 parts water, 1 part apple cider vinegar, plus some sugar and a little bit of salt, and let them sit in a jar overnight.
Or another Dominican-style way is to sauté sliced red onions with apple cider vinegar, oil, and salt to taste.
And don't forget to save some pickled onions for these air fryer quesadillas!
By the way, I used green plantains to make this Dominican mashed plantain recipe. But with that said, you can use green and yellow plantains! I think green plantains have a better taste and texture since they are not as ripe as a yellow plantain. So I definitely recommend using green plantains, but with that said, green and yellow plantains both work here.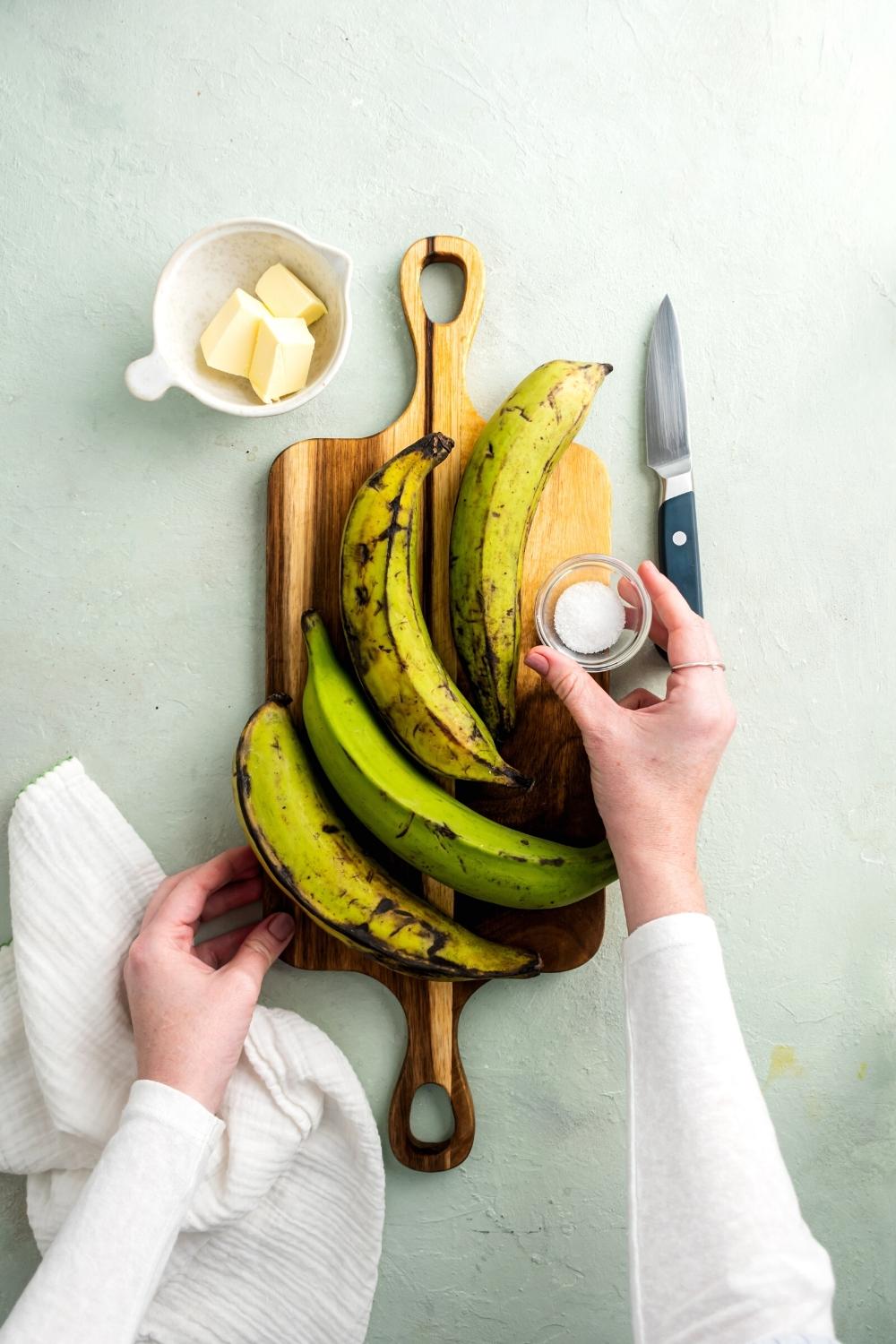 HOW TO MAKE MANGU
Again, this mangu Dominicano is incredibly simple to make and is mostly hands-off time. Just boil the green plantains, mash them, then season to taste.
All in all, it'll only take about 30 minutes to make this mangu from start to finish - and only 10 minutes of that is the actual prep time.
Anyway, gather up the ingredients, and let's get into cooking this traditional Dominican dish!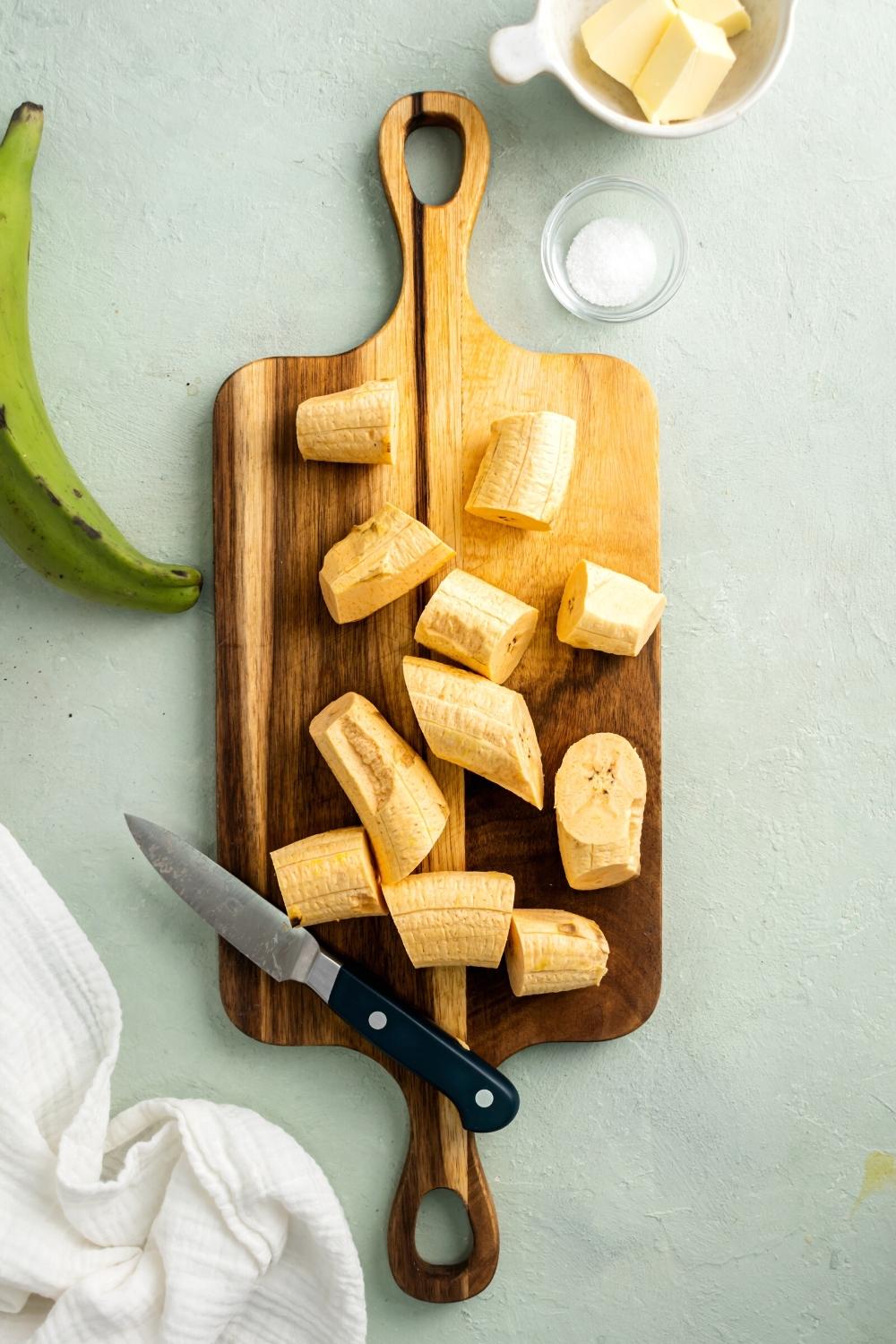 STEP 1: BOILING THE PLANTAINS
First, peel the green plantains and slice them into pieces that are about ½ inch thick.
Next, boil the plantain pieces in salted water for about 20 minutes, or until you can pierce a fork through them with no resistance.
By the way, you'll want to use as much salt as you normally would when boiling potatoes, then add a little more to the finished mangu according to your taste.
Now, once the boiled green plantains are cooked through, reserve 1 cup of the boiled water from the pot before draining the plantains.
Then, add the butter to a large mixing bowl and add the cooked plantain on top.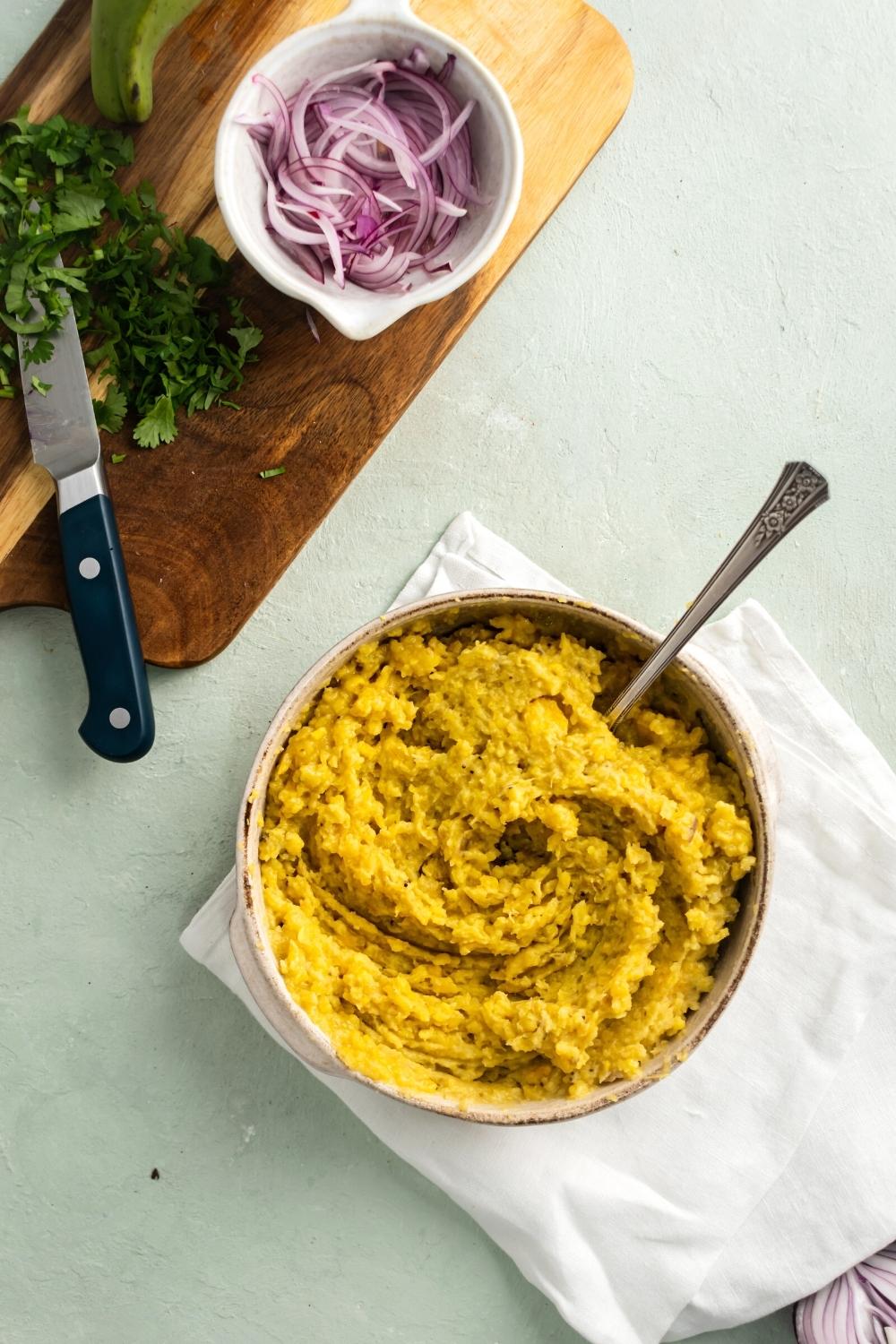 STEP 2: MASHING THE PLANTAINS
Now, use a fork, potato masher, or large mortar and pestle to mash the plantains with the butter.
And, as you're mashing them, slowly add in the whole cup of reserved water - but not too slowly, because the mangu will start to thicken as it sits.
Continue mashing until you reach your desired consistency. Some people like a velvety and smooth mangu while some people like to have a few tender chunks of plantain in the mix. It all depends on you!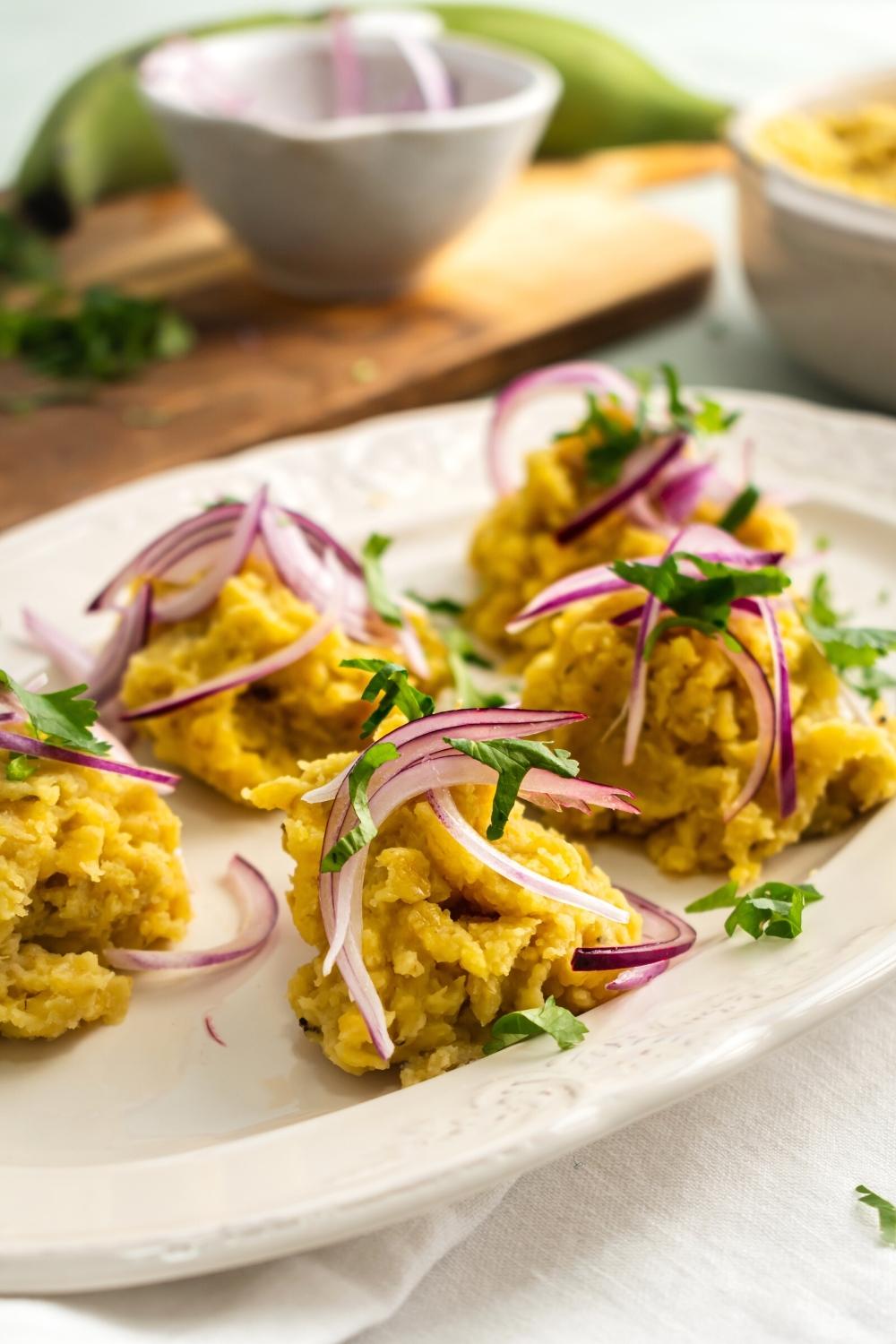 STEP 3: SEASONING AND SERVING THE MANGU
Once your mangu Dominican is done, leave it for a few minutes to set, then season with salt as needed.
Then to serve the sweet plantains, scoop out golfball-sized clusters of the mangu and top them with pickled red onions and cilantro.
Finally, enjoy this Dominican cooking masterpiece!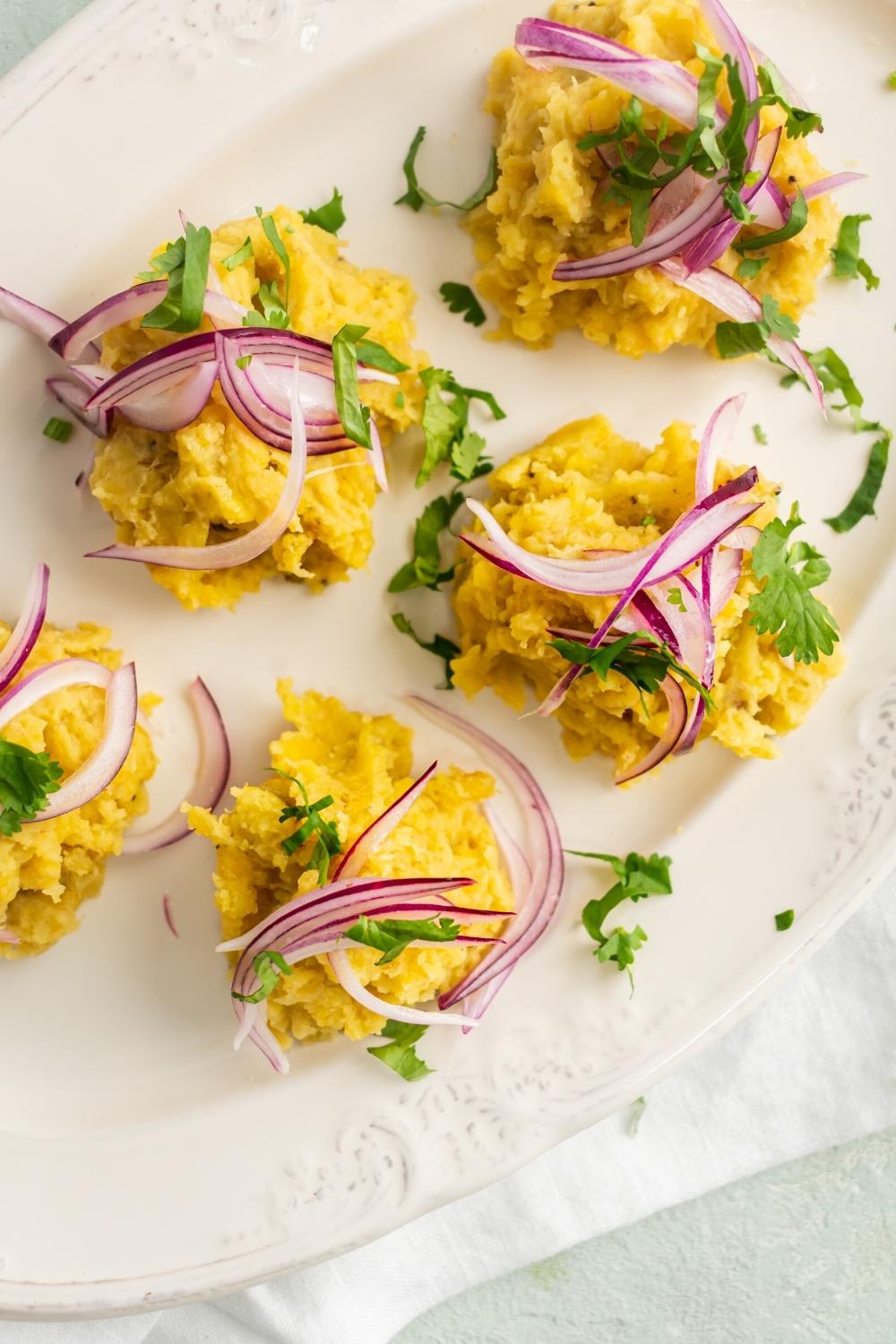 HOW TO STORE AND REHEAT MANGU
So, the best time to enjoy mangu is when it's freshly made. Luckily, this recipe is super quick and simple so you can easily prepare another batch when the craving hits.
That said, if you happen to have any leftovers, you can store them in an airtight container in the fridge for up to 2 days.
And to reheat them, just cook them in the microwave - or in a pan - with a little bit of water mixed into them until warm.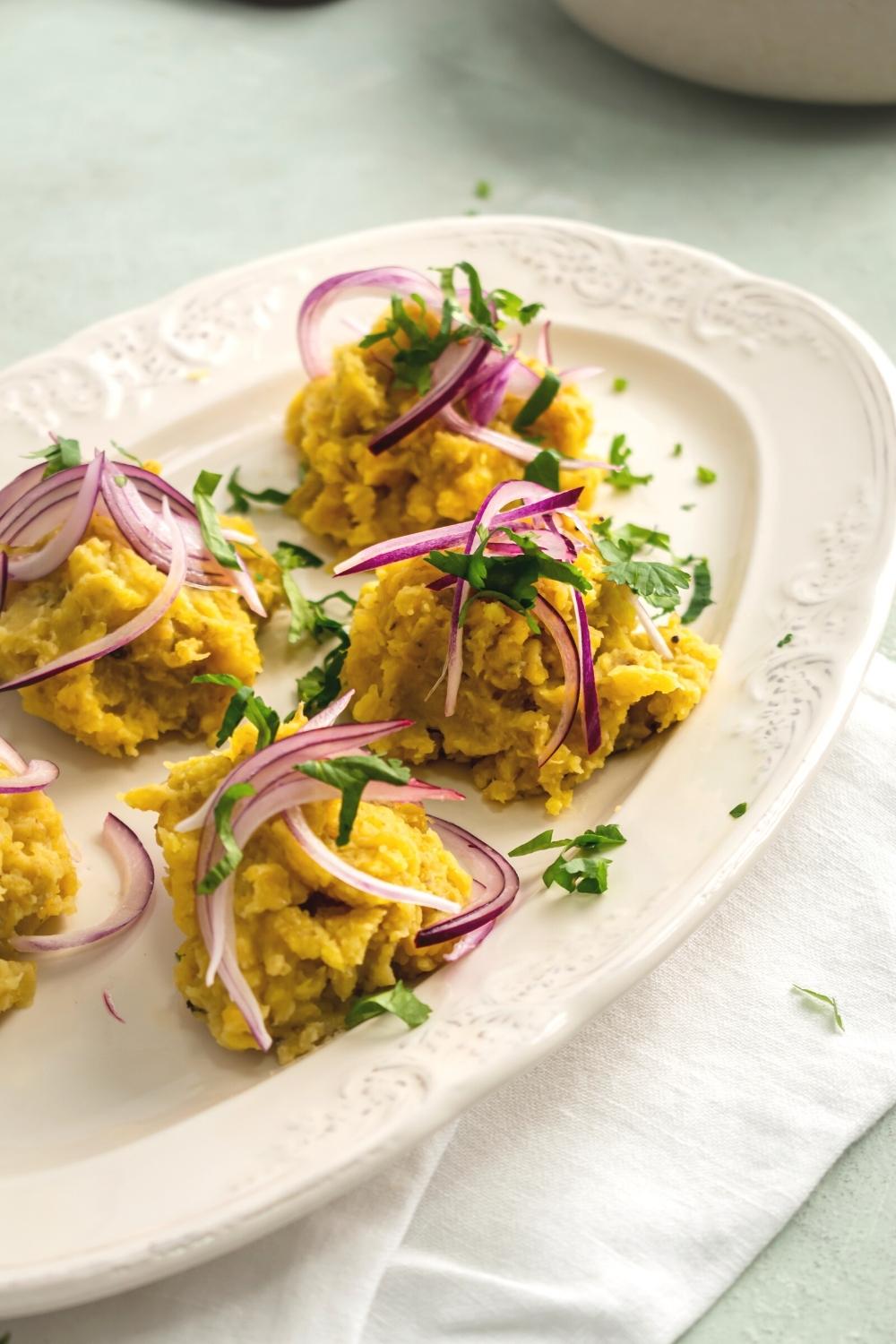 FAQS ABOUT THIS MANGU RECIPE
WHAT CAN YOU EAT WITH MANGU?
Mangu is a really versatile side and goes great with stews and fried food. Traditionally, mangu is served for breakfast with fried cheese, fried salami, and fried or scrambled egg (that addictive trio is called los tres golpes or the three hits). Add some sliced avocado to bring it all together. Mangu also tastes fantastic with meat and fish. Lately, I've been loving it with this huli huli chicken and fried mahi mahi.
What does mangu taste like?
Mangu is rich and creamy, like mashed potatoes, with a mild taste that really takes on whatever you season it with. The subtly sweet and buttery taste is really unique and kind of hard to compare to anything else, so you'll just have to give this recipe a try for the full experience.
IS MANGU VEGAN?
This mangu recipe is vegetarian-friendly, and you can easily make it completely vegan by swapping the butter with olive oil. Or, you can also substitute the butter with any vegan butter that you want stand this mangu will be vegan!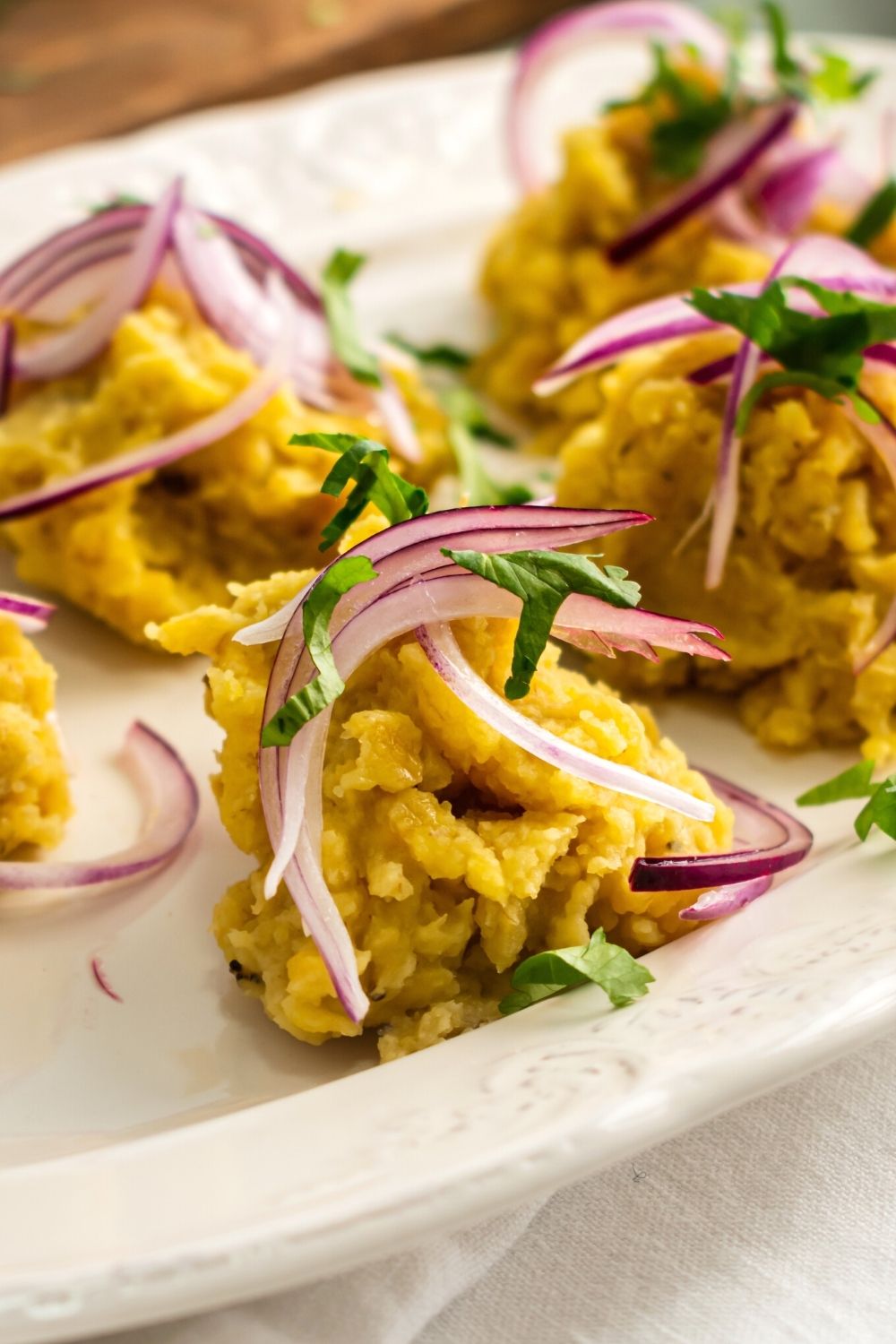 WRAPPING IT ALL UP
Well, that's how to make mangu Dominicano a.k.a. Dominican mashed plantains!
This mangu recipe is a great switch up to your usual mashed potatoes. It has a similar fluffy and starchy texture and a mild buttery flavor that's the perfect canvas for any main dish. And of course, it helps that it's insanely easy to make from simple ingredients.
Seriously, it's a great way to bring something totally new to the table with flavors your family is sure to love.
So, I hope you love this easy mangu recipe as much as I do. If you make it, be sure to let me know how it went!
Easy Recipe To Try
If you're looking for some more easy recipes to make next, we have a bunch on the blog that you have to make!
Here are some of our favorites:
Print
Mangu Dominicano | The Best Mashed Plantains Recipe
This buttery and fluffy mangu is a filling and oh-so-comforting side dish that you'll want to make over and over. Best of all, the recipe is incredibly quick and easy with just a handful of simple ingredients. You'll want to make this Dominican staple for breakfast, lunch, and dinner!
Author:
Prep Time:

10 minutes

Cook Time:

20 minutes

Total Time:

30 minutes

Yield:

4

servings

1

x
Category:

Side

Method:

Stovetop

Cuisine:

Dominican
4 Green Plantains
4 tablespoons Butter
Water for boiling (1 cup from the pot will be reserved)
Salt
Pickled Onions
Fresh Cilantro
Instructions
Peel the plantains and cut into pieces about ½ inch thick. Boil in salted water for 20 minutes, until a fork easily pierces through it.

As the plantains finish cooking, reserve 1 cup of the water from the pot, then drain the rest and pour the plantain pieces into a large bowl with the butter in it.

Begin mashing, adding the 1 cup water in increments. You can add it a little at a time, but remember mangu thickens as it sits so you should use the whole cup of water.

Mash to the consistency you desire. Let sit for a few minutes before serving to allow it to "set." Season with salt. 

Make small clusters (around the size of a golf ball). Top with pickled red onions and cilantro.
Nutrition
Serving Size:

1 serving

Calories:

304

Fat:

11

Carbohydrates:

54

Fiber:

4

Protein:

1
Keywords: mangu, mangu recipe, how to make mangu, mangu dominicano, mashed plantains, mashed plantains recipe, mashed plantains with onions, mashed plantains breakfast, best mangu recipe, how to make mangu step by step, how to make mangu creamy, how to make mangu dominican, how to make mangu domicano, easy mangu recipe,